Mak Hosts Association of African Universities Advancement Workshop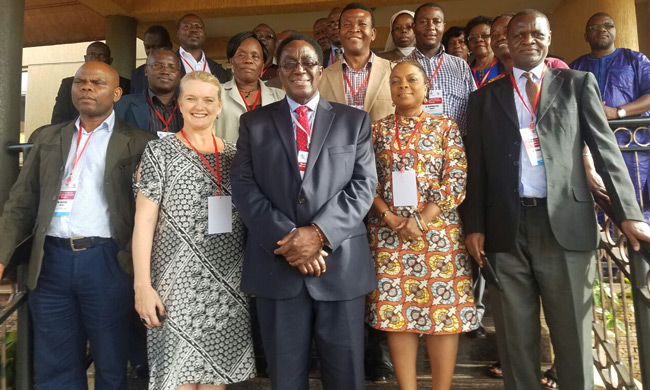 The advancement workshop was held at Africa Suites Hotel, Mutungo from 27th -29th September 2016. The workshop brought together Academic Registrars, Human Resource Managers and directors and Chief Financial Officers from Western, Eastern and Southern Africa Universities that constitute the Association to discuss and dialogue on their roles as Registrars, Financial Officers and Human Resource Officers, articulating their needs in terms of the value adding services they need to provide in the 21st Century University.
In his opening speech, the Secretary General of the AAU extended his apologies for his inability to attend due to other developments at the Secretariat which required his attention and presence. He was however represented by the Vice Chancellor, Makerere University, Prof John Ddumba Ssentamu, who read his speech and also warmly welcomed the participants to the three-day workshop for Executives of African Universities Programme offered by the AAU and Stellenbosch Academy of Advancement.
"In line with our mission, we consider this theme "University Advancement – The Role of the Registrar, CFO and CHR in the 21st Century University" very timely for the topical issues it seeks to address.
Ladies and Gentlemen, all modern organizations today, aspire to sustainable excellence, and universities can surely not be left out of this current trend. Most importantly, those of us in various key positions of leadership have a major role to play in advancing our respective higher education institutions. Registrars, Chief Financial Officers and Chief Human Resource officers certainly form a major segment in piecing together efforts by the various sections of the university towards its transformation.
As leaders of your various institutions, departments and units, you hold the future of your institutions in your hands, providing strategic and critical direction and leadership to the University, and ensuring a coherent vision across all the constituent parts of the University.
It is our hope that through this platform, your needs, will be articulated in terms of the value adding services that should be provided to 21st century Africa HEI's. I am confident that as we share and discuss through the carefully selected topics and planned session, we can together identify common issues across our universities and come up with their solutions thereof.
Whilst maintaining a good level of optimism about the outcomes of our meeting here, let me also say, that this workshop should not be seen to provide tailor-made solutions to the many challenges within HEIs, but as a collective opportunity to engage in a dialogue, facilitated by the Advancement Academy at Stellenbosch, and other resource persons towards strategic approaches to overcoming some of those common issues identified.
Distinguished guests, you would agree with me, that the classical university model has been challenged by massification, marketization, internationalisation, technology and globalisation among other key emerging issues in the the 21st Century.
All these factors do have a ripple effect on the governance structures of our universites, including the offices of Registrars, CFOs and CHRs in ensuring sustainability and relevance of higher education to society. And most importantly in advancing our institutions. The need to reflect on, and adapt to the changing times can surely not be overemphasised.
Your individual roles in assisting the university pursue its vision, makes you a unique group in the higher education circle whose actions and inactions can affect your institutions in a critical way.
This is why the AAU, has since 2007 been organizing several workshops on Leadership as well as Management Skills Development for senior executives and middle level managers of African Universities respectively. These are aimed at enhancing the leadership skills of university leaders, particularly in the promotion of innovation and management of change, as well as to strengthen collaboration, networking, and capacity building among this group".
He went on to say that, in 2017, the AAU will be celebrating its Golden Jubilee at the next General Conference that will be hosted in Accra, Ghana and extended an invitation to all participants. 50 years of serving the African continent as its voice for matters on higher education and developmental issues, was indeed a great feat worth celebrating.
He reiterated the commitment and dedication of the AAU and its partners, to continuously engage in effective collaborations with Higher Education stakeholders to implement quality and strategic programmes targeted at improving the quality of education in Ghana and on the African continent as a whole.
I am confident that the various discussions and resolutions which will be reached at this conference will be fervently pursued to the letter.
The Workshop was facilitated by Professor Tobias De Coning of Stellenbosch Advancement Academy. This was done through presentations on different topics such as driving forces that will fundamentally affect the 21st century African universities. The forces singled out were competitive domestic and international student markets, challenges of government funding, competition for new sources of funding, use of digital technologies in campus based learning, blended learning, global student mobility, integration with industry, the scale and depth of industry-based learning, research partnerships and commercialisation, among others. This was followed by discussions on the practical impact of these driving forces. There was also a presentation on what Vice Chancellors and University presidents expect from their senior managers and how these managers meet those expectations through discussions of the challenges they face. Some of the challenges mentioned were, how to attract and sustain sufficient resources, how to attract the best staff and students, how to become the preferred recipient for external support, service delivery that satisfies their clients (staff, students and other stakeholders). There was also sharing of views on what should be done to ensure optimal functionality of Registrar's, Financial Officers and Human Resource Officers from different perspectives of the various universities present.
Universities represented were University of Cape Coast, Ghana; Stellenbosch University, South Africa; Ezekiel Guti University, Zimbabwe; Eduardo Mondlane University, Mozambique; Kyambogo University; Bugema University; Busitema University; Islamic University in Uganda; Muni University; Uganda Martyrs University, Nkozi and Ndejje University.
In his closing remarks, The Vice Chancellor, Makerere University, Professor John Ddumba Ssentamu said, "I am certain that this workshop has expanded your thinking of the different roles of technical staff in a University and especially the African University within the dynamic global higher education setting. It is no doubt that the roles of the Registrar, Chief Financial Officer and Chief Human Resource Officer are the backbone of the University and the thrusts upon which a successful Vice Chancellor operates". You know the work you do in your institutions and its level of importance. It is crucial that your services are performed with diligence, precision and above all excellence if African Universities are to reach global competitive standards.
This workshop has equipped you with the required mindsets and strategic tools to help you rethink, redesign and realign your various functions to be able to function effectively serve the Vision and Mission of the University.
As member of the Governing Council of the Association of African Universities, the Association of African Universities and its partners are committed and dedicated to continuously engage in effective collaborations with Higher Education Stakeholders to implement quality and strategic programmes targeted at improving the quality of higher education on the African continent.
He thanked Prof. Tobie De Coning for successfully facilitating the workshop and thanked all the participants for engaging in this important conversation that will help us improve our universities. In a special way, he thanked the participants from Zimbabwe, South Africa, Ghana and Mozambique for attending the workshop.
Lastly, he extended his sincere thanks to the Association of African Universities Secretariat, particularly the Secretary General for supporting the workshop and Ms Yvette Quashie (from AAU) and Ms Martha Muwanguzi on behalf of Makerere University for organizing the workshop successfully.
He awarded certificates to the participants and officially closed the workshop.
Article by:
Martha Muwanguzi
Head International Office
Uganda's policymakers implored to address forest loss, plastic & water pollution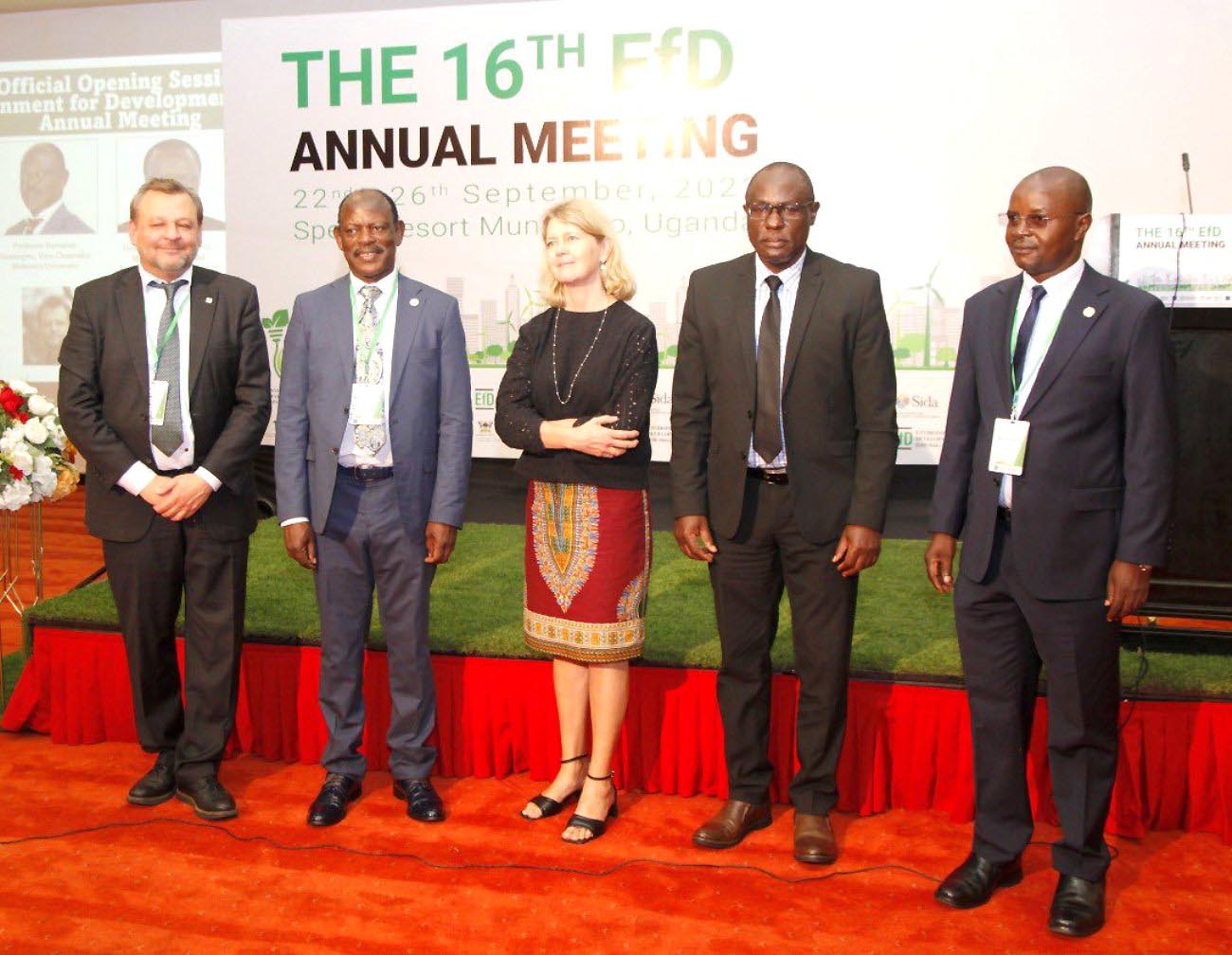 The Vice Chancellor Professor Barnabas Nawangwe on Thursday 22nd September, 2022 participated in the opening of the EfD Annual meeting hosted by Makerere University at Speke Resort Munyonyo where he appealed to government to implement the ban on kaveera and address other environmental issues.
The opening ceremony moderated by the EfD Global Hub Manager Gunnar Köhlin and was graced by Uganda's Minister for Water and Environment represented by the Commissioner for Water, Mr. Julius Mafumbo and the Swedish Ambassador to Uganda, H.E. Maria Håkansson.
Prof. Nawangwe urges Makerere University community to support the Mastercard Foundation E-learning Initiative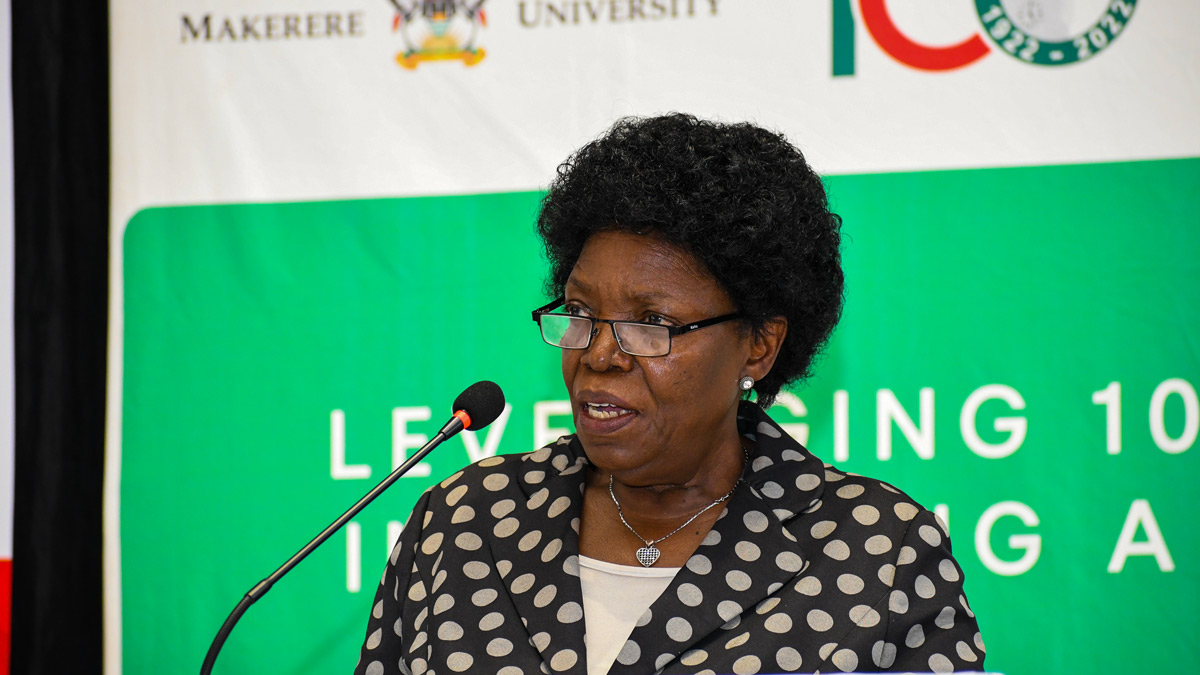 By Bernard Buteera
Makerere University has launched a two million dollar E-learning Project, dubbed The Mastercard Foundation Scholars Program E-learning initiative.  
The launch was held on Tuesday 20th September 2022 at Makerere University, Yusuf Lule Central Teaching Facility Auditorium. It attracted over 200 participants, who included members of University Management, College Principals, School Deans, Academic and Administrative staff, students and the general university community.
While addressing the gathering, the Chief Guest, Prof. Mary Okwakol, the Executive Director of National Council for Higher Education (NCHE), congratulated Makerere University for winning such a huge grant, which will go a long way in transforming the eLearning infrastructure at Makerere University.
"I am happy to be joining you in launching a project that is at the heart of National Council for Higher Education. Online learning is at the heart of the Council, not only because of the challenges presented by the Covid-19 pandemic, but also the world is now a digital world." Prof. Okwakol remarked.
Prof. Okwakol thanked Mastercard Foundation and other development partners who have continued to support initiatives that help transform higher institutions of learning in Uganda.
"I sincerely thank the Mastercard Foundation and other partners who have continued to support higher education in Uganda, especially in the area of research and online learning. Globally, the outbreak of the COVID-19 pandemic, greatly disrupted education systems forcing learners and some schools to shift to virtual learning to curb the spread of the pandemic." Prof. Okwakol pointed out.
On his part, the Vice Chancellor, Prof. Barnabas Nawangwe urged the university community, especially the academic staff to take advantage of the Mastercard Foundation E-learning initiative to develop e-content across all Colleges of the University, to enhance capacity for eLearning at Makerere University.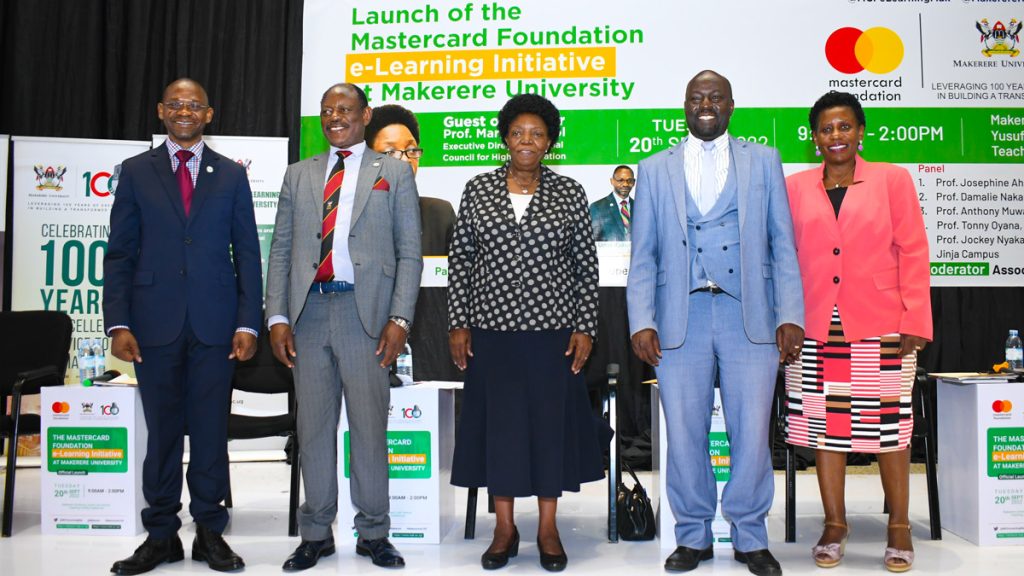 "I appeal to the Colleges to embrace this project and have as many courses adopt this pedagogy development system, even though students will continue with face-to face and phyisical learning, they should be allowed the option of online learning. The platforms that are going to be built, will give our students an opportunity to interact with international students, scholars, teachers and with each other." Prof. Nawangwe applealed.
The Vice Chancellor, further called upon all other development partners to emulate Mastercard Foundation in supporting Makerere University and other universities on the entire African continent in strengthening digital literacy, so that Africa is not left behind.
"In 2018 I attended a conference on E-learning in Beijing China, where a critical question was asked; Will Africa be left behind again? This was in reference to many advancements that were taking place in the western world, in which Africa had been left behind." The Vice Chancellor reminded the audience.
Prof. Nawangwe further emphaised the importance of e-learning as one of the critical modes of teaching and learning in the 21st first century.
"Ladies and Gentlemen, I cannot over emphasise the importance we attach to e-learning the 21st Century, that is why we took a decision to elevate the Department of Open and Distance Learning into an Institute of Open and Distance E-learning with an intention of having e-learning extended to other Colleges of the university." Prof. Nawangwe pointed out.
The Deputy Vice Chancellor Academic Affairs, and Chairperson of the Steering Committee of the E-learning Initiative, Prof. Umar Kakumba, rallied the University community to support the implementation of the project in the University.
"The Mastercard Foundation Scholars Program E-learning initiative could not have come in at a better time than post COVID19 era. A pandemic, which exposed our systems and methods of teaching and learning. You all recall, when were hit by the pandemic, with lockdowns and closures of institutions of learning, we all went into a panicky mode on how were going to cope with online learning. I therefore call upon every member of the university to give this project the support it deserves.
Prof. Kakumba reminded the audience the importance and relevancy of online learning at Makerere University and other universities in Uganda.
"The online method of learning is best suited for everyone. This digital revolution has led to remarkable changes in how the content is accessed, consumed, discussed, and shared. Office goers and stay home mothers can take up online educational courses too, at the time that suits them. Depending on their availability and comfort, many people choose to learn at weekends or evenings." Prof. Kakumba remarked.
Prof. Paul Birevu Muyinda, the Coordinator of the Mastercard Foundation E-learning Initiative, informed the audience the importance of the project and the expected outcomes for the University.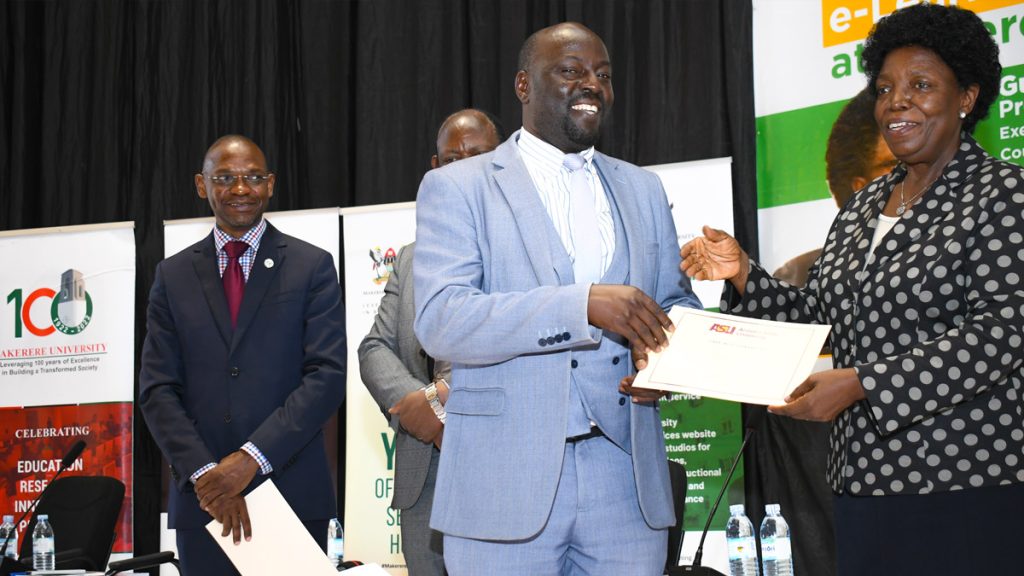 "The Mastercard Foundation e- Learning Initiative is a Project funded by Mastercard Foundation aimed at addressing the negative impact of COVID-19 pandemic that constrained access and continuity of teaching, learning, research and community engagement activities at Makerere University" Prof. Muyinda pointed out.
Prof. Muyinda further thanked the team that he worked with in putting up the proposal in a very short time that yielded such an important grant for the University.
"I thank the team that spent sleepless nights putting together the proposal that resulted into this project. I must report that Makerere University is privileged to be having the most highly qualified persons in online instruction design and online pedagogy at the IODeL and beyond. It is now up to Makerere University in particular and the Country in general to make use of these persons to transform the terrain of online, blended distance and e-learning education." Prof. Muyinda remarked.
Prof. Justine Namaalwa, the Program Coordinator for Mastercard Foundation Scholars Program at Makerere University, informed the audience, that the E-learning initiative was one of the many partnerships between Mastercard Foundation and Makerere University geared at supporting the young people to succeed on the African continent.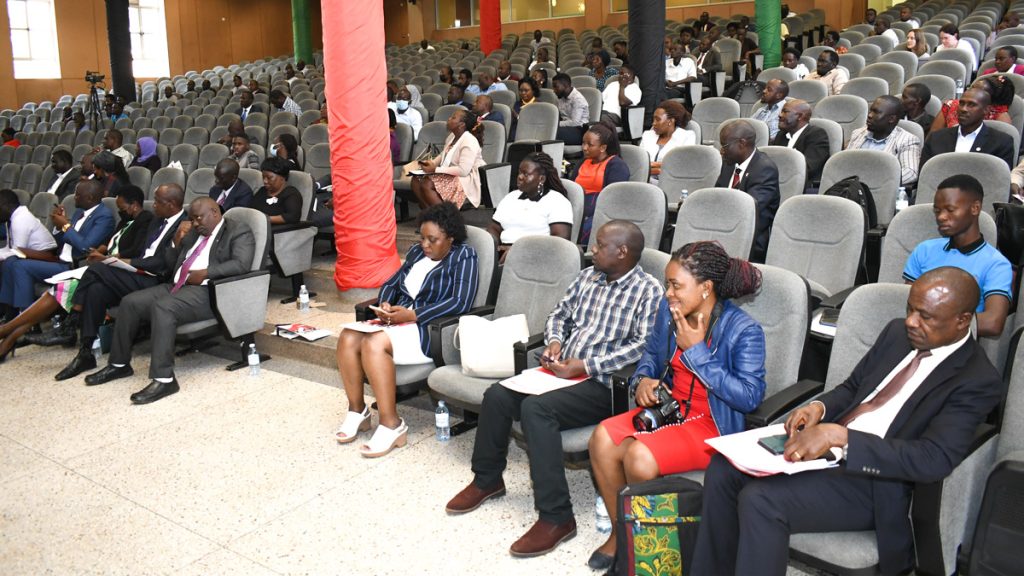 "The Mastercard Foundation Scholars Program continues to recognize that in order to enable young people across Africa to succeed, there is need to; Address systemic barriers in Higher education, Strengthen the capacity of Institutions that serve the Young People, and Support innovative solutions across critical sectors." Prof. Namaalwa remarked.
The colourful launch ended with a panel discussion in which panelists digested the importance and opportunities for open distance and eLearning in higher institutions of learning.
Bernard Buteera is the Communications Officer of the Mastercard Foundation Scholars Program at Makerere University.
Supplementary Admissions to Bachelor of Laws Under Private Sponsorship 2022/23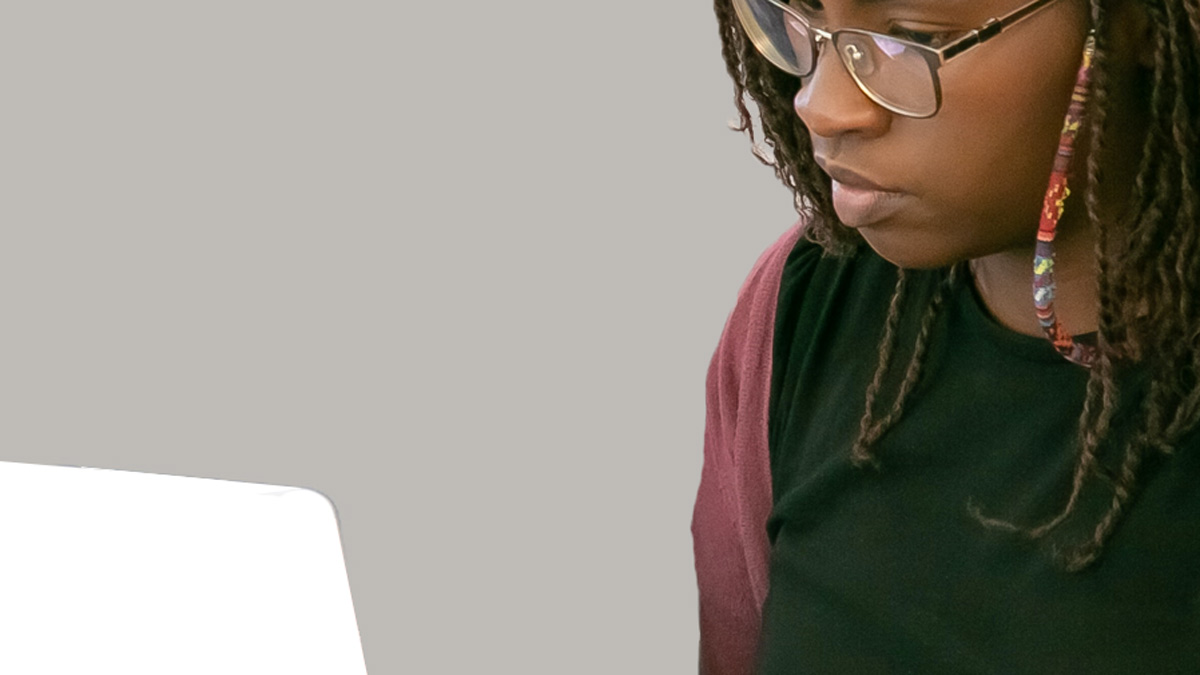 The Academic Registrar, Makerere University, informs applicants wishing to be admitted to Bachelor of Laws Private for 2022/2023 Academic year but failed to submit their application online to submit their applications from Friday 23rd to Friday 30th September, 2022 at a non-refundable fee of 50,000/= (Fifty thousand shillings only).
The applicants MUST have passed the Pre-entry Examinations for Bachelor of Laws.
Diploma/Degree holders should submit certified copies of their academic transcript to Room
315 Level 3, Senate Building.
Applicants who have already been admitted need not apply.
For any additional information, contact Undergraduate Admissions Offices 301/303 for A'Level Applicants and Office 315 for Diploma/Degree holders.
ALFRED MASIKYE NAMOAH
AG. ACADEMIC REGISTRAR
Date: 22nd September, 2022