The Resilience Innovation Challenge Grants Call open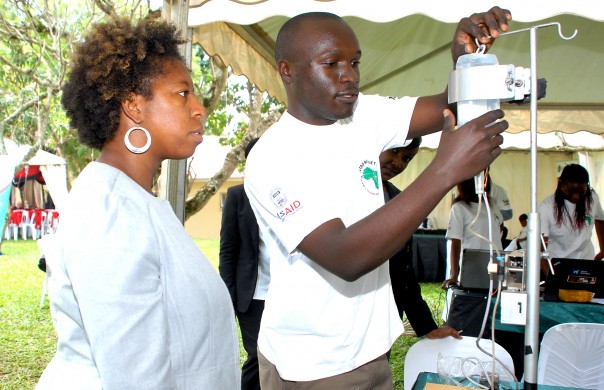 Resilient Africa Network (RAN) is one of the eight university-based Development Labs making up the Higher Education Solutions Network (HESN) established by the United States Agency for International Development (USAID) and existing within its Global Development Lab (http://www.usaid.gov/GlobalDevLab). RAN's core partners include Stanford University, Tulane University, and the Centre for Strategic and International Studies (CSIS).
Within Africa, RAN brings together 20 Universities in 16 countries. The Network is led by Makerere University in Kampala, Uganda and the secretariat is located at Makerere
University's School of Public Health. RAN is structured around four core establishments referred to as Resilience Innovation Labs (RILabs) which include: the Eastern Africa RILab (EA RILab) based in Uganda and hosted by Makerere University, the West Africa RILab (WA RILab) based in Ghana and hosted by the University for Development Studies, the Horn of Africa RILab (HoA RILab) based in Ethiopia and hosted by Jimma University, and the Southern Africa RILab (SA RILab) based in South Africa with University of Pretoria as host.
By applying science, technology, innovation, and partnerships, and using evidencebased approaches, RAN seeks to identify, develop and scale innovative solutions that will strengthen the resilience of African communities afflicted by natural as well as man-made shocks and stresses.
This call focuses on the sourcing, developing, and scaling of transformative technologies and approaches that will strengthen resilience to food insecurity and limited opportunities for income generation that are associated with climate variability and limited infrastructure overlay by high burden of HIV/AIDS. In particular, SA RILab is looking to select and incentivize the development of solutions that will impact on entrepreneurial and life skills, agricultural production and access to markets, as well as promote livelihood diversification while ensuring improved financial inclusion and community engagements.
Grants ranging between US$15,000 to US$35,000 are anticipated to be awarded in Phase 1 of this call.
Winners of Phase 1 Grants will then qualify to compete for Phase 2 grants (which will likely range between US$35,000 to US$65,000); while winners of Phase 2 grants may subsequently compete for Phase 3 grants (Awards will likely range between US$75,000 and US$125,000).
The grants will support development of innovative approaches and technologies that will strengthen resilience to food insecurity and limited opportunities to generate income arising from climate variability and limited infrastructure within target communities in the Southern African region. [Note: RAN reserves the right to change the projected award amounts or the number of anticipated awards at any time.]
The Southern Africa RILab will fund projects in three priority intervention pathways for building resilience to food insecurity and limited opportunities for income generation in target communities, including those communities affected by high burden of HIV/AIDS:
• Intervention Pathway 1: Improve Life and Entrepreneurship skills (changing mindset while providing entrepreneurial skills set!)
In our communities, there is lack of education and skills and the inability of people to get employment in skilled or better paying jobs. This limits human capital in the face of adversities. In addition to over-reliance on social grants and other social safety-nets provided by government and non-governmental organizations, there are psycho-social problems, including stigma associated with disease such as HIV/AIDS that is eroding social capital. Unemployment in particular has also created a 'hopeless' situation particularly among the youth and some youths engage in criminal acts to 'survive'.
Owing to their desperate situation, some members of the communities also resort to drug abuse. We are looking for solutions that will empower target communities with
life and entrepreneurial skills that promote optimism (positive outlook) and a sense of self-determination while encouraging community connectedness (a social
infrastructure).
• Intervention Pathway 2: Diversify local economy for resilience
The target communities are highly dependent on rain-fed subsistence farming that is vulnerable to adverse effects of climate variability. Nonetheless, the communities
have a lot of potential to thrive under this natural resource limitation. This is evident from years of positive adaptation and coping strategies. However, adaptation is
constrained by limited livelihoods options and limited financial inclusion and engagement. We are looking for solutions that will substantially empower target
communities by diversifying their livelihoods using simple but highly profitable farm and non-farm businesses and solutions that also create opportunities for better
financial inclusion through savings and access to credit.
• Intervention Pathway 3: Transform agricultural practices and markets for resilience
Most of our communities rely on agriculture for livelihood. However, because of prolonged dry spells, drought and sometimes floods, the agricultural methods
employed are usually not effective to grow sufficient crops and raise livestock. The communities are stuck in a cycle of low productivity and skewed markets in which
they have limited leverage. Therefore, we are seeking innovations that will make changes to the current situation.
Submission of applications will be done online at http://grants.ranlab.org. All applications must be submitted via this platform and RAN will not accept applications submitted via any other means. Complete instructions on how to submit applications are provided on the website.
Applicants must ensure that their applications are successfully submitted on the platform in their entirety, and they will receive a confirmatory email from the online platform as proof that their application has been successfully submitted. If the Applicant experiences any difficulty with submitting an application through the online Application Platform, the Applicant should send an e-mail to the Southern Africa RILab RIC4FIG support team at: support.sarilab@ranlab.org
Applications must be written and submitted in English.
Applications must be submitted via the web-based platform at grants.ranlab.org/.
Those submitted via regular mail, facsimile, or email will not be accepted.
Complete concept note applications must be submitted by the RIC4FIG call Concept Note submission deadline (5:00 pm South Africa Time on 30th January 2015) using the online platform (grants.ranlab.org). No additions or modifications to the applications will be accepted after this submission deadline.
Full applications must be submitted by the RIC4FIG Full Application submission deadline (5:00 pm South Africa Time on 31st March 2015) using the online platform (grants.ranlab.org). No additions or modifications to the applications will be accepted after this submission deadline. This deadline applies to only those applicants who are invited to submit full applications after the concept notes are evaluated.
RAN bears no responsibility for any transmission errors associated with electronic submissions.
If no application meets the required threshold to receive a grant, the call may be reopened at the sole discretion of RAN, the SA RILab, and USAID.
Liability: Participants agree to assume any and all risks, and waive claims against RAN and its related entities and partners for any injury, death, damage, or loss of property, revenue, or profits, whether direct, indirect, or consequential, arising from their participation in this innovation challenge.
Teams can submit more than one application. In such instances, each of the different projects will be submitted and reviewed separately.
Questions during the pre-submission period
Applicants will have an opportunity to pose questions regarding the innovation challenge or any part of the application process. The question submission period will run from 1st December 2014 to 15th December 2014 and from 5th January 2015 to 23rd January 2015.
Applicants may submit questions to support.sarilab@ranlab.org during this timeframe. The Questions and Answers will be posted on the FAQ section on the platform website (grants.ranlab.org) by 3rd December, 2014. Note that Applicants can reach the SA RILab at any time via our support email, support.sarilab@ranlab.org.
Webinar
RAN will host a public webinar on 9th December, 2014 to allow potential RIC4FIG applicants to ask any pertinent questions and seek clarifications for anything that may not be clear regarding the call.
More information is provided in the documents provided below:
A Successful Ph.D. Defense by Vianney Andrew Yiga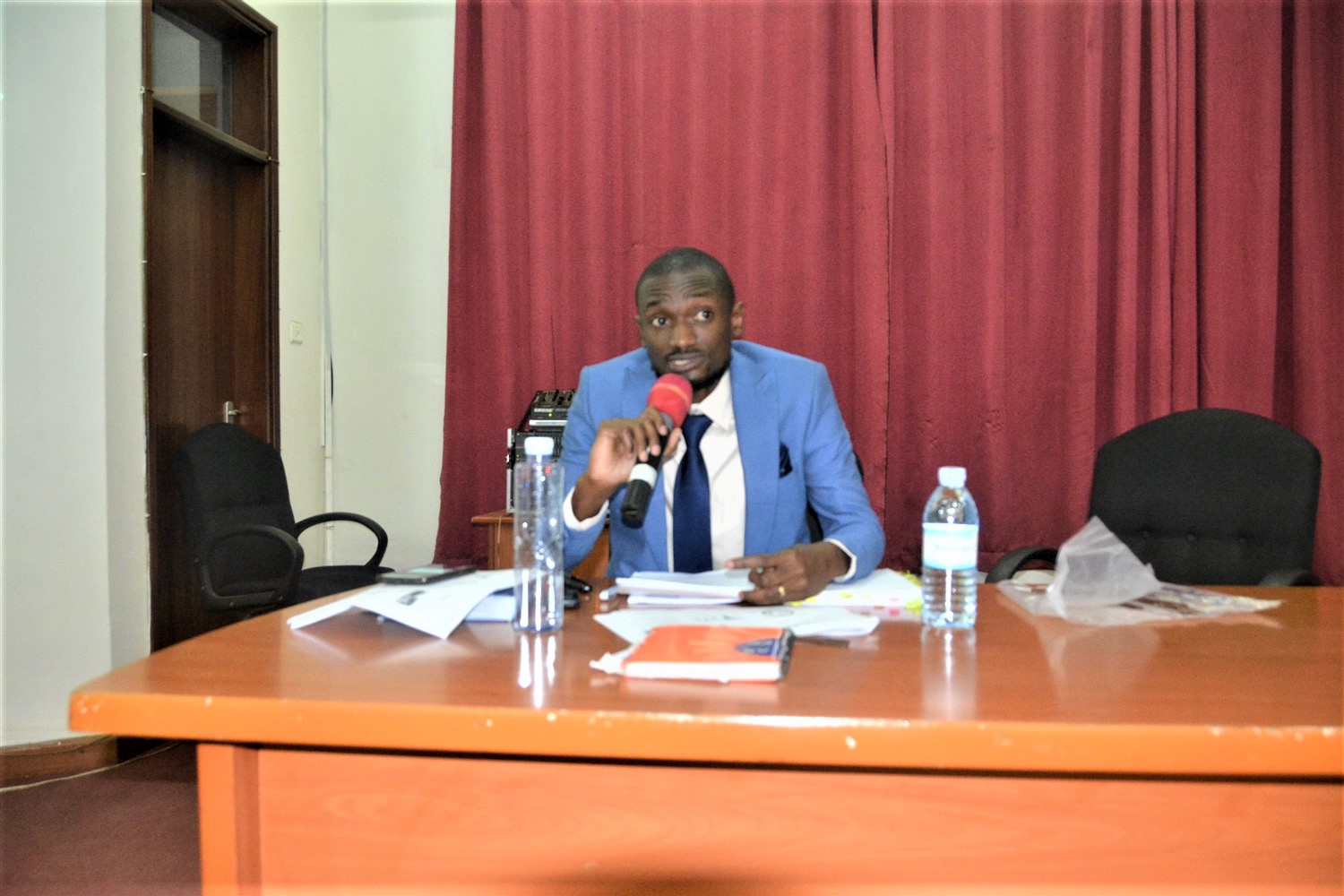 The CEDAT community is proud to share our congratulations to Vianney Andrew Yiga following his successful Ph.D. defense that happened yesterday Monday 3rd October 2022 at the College of Engineering, Design, Art, and Technology (CEDAT).
His Thesis was titled; Thermal Stability of Fiber- Reinforced Polylactic Acid Composites for Flameretarded Applications.
The candidate was supervised by Eng. Dr. Michael Lubwama and Eng. Dr. Peter W. Olupot both from the Department of Mechanical Engineering, at CEDAT.
Dr. John Wasswa, Department of Chemistry, College of Natural Sciences (CONAS), Makerere University was the opponent that interrogated the candidate to enable a clear understanding of the study.
Makerere University Launches National Parenting Draft Manual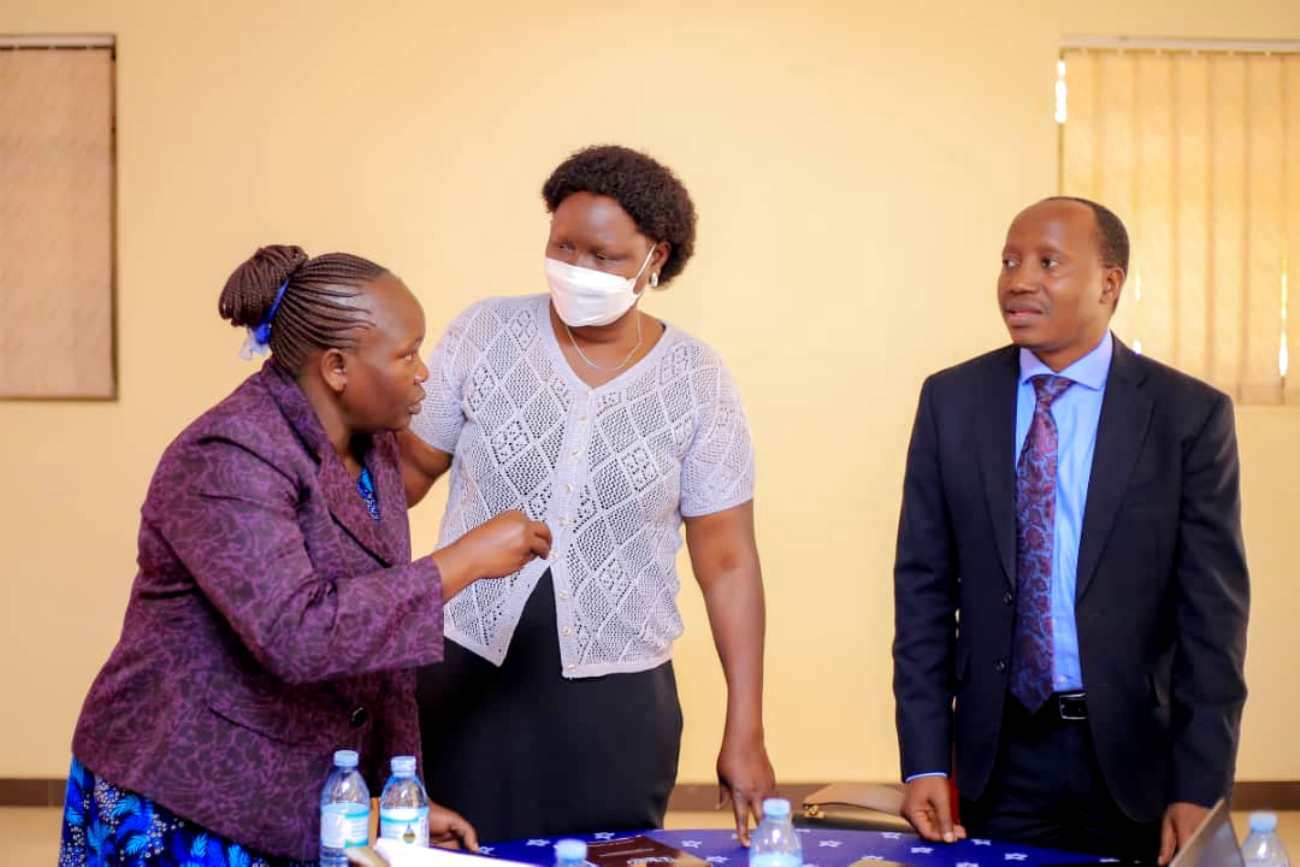 By Agnes Namaganda
On July 22nd 2022, Makerere University–Child Health and Development Centre (Mak–CHDC) launched a draft manual for the National Parenting Standards. The Centre has been working together with the Ministry of Gender, Labour and Social Development (MGLSD) with funding from UNICEF (United Nations Children's Emergency Fund), to develop standards that are agreeable to all organisations in the country that are involved in parenting work. The draft manual was being presented to members of a consortium that brings together all these organisations together, called the Parenting Agenda Consortium.
"We produce many documents and they are shelved," Irene Ayot Chono, who was speaking on behalf of UNICEF said. "We hope that this document will not be one of them," she emphasized.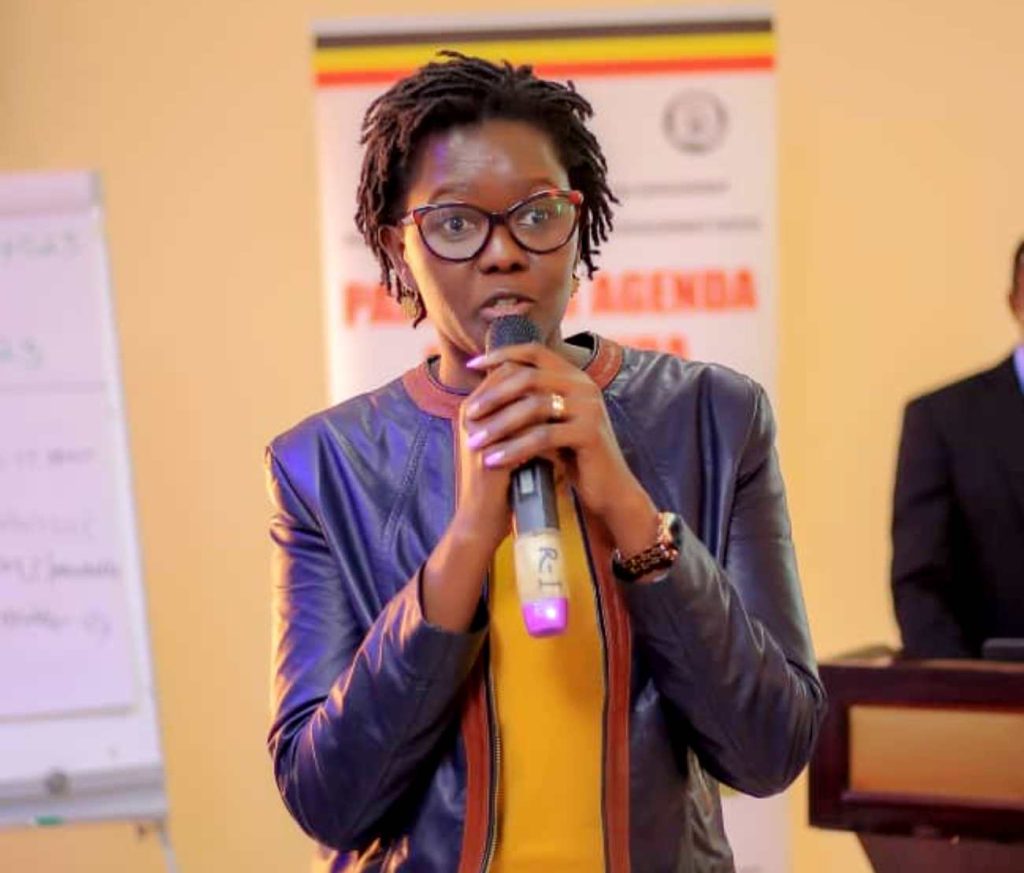 Dr. Godfrey Siu, the Principal Investigator from Mak-CHDC who presented the draft manual to participants, emphasized that if any organization is doing parenting work, there should be a minimum package that they should offer.
Draft Manual Content
The manual which will have several modules. These modules will be delivered face-to-face in 1.5 hour sessions. Some of these include; Module 6 which will focus on "understanding responsible masculinity and fatherhood" and on "understanding the concept of head of family."The draft manual also proposed that Module 11 focuses on Parenting in the 21st Century. Some of the sessions in this module will include Children and Technology, Contemporary Influence on Children and Modernity, Culture and Morality.Module 9 will focus on Parenting for Adolescents and some of the suggested sessions within this module are Needs for Adolescents and The Art of Communicating with Adolescents. Module 5 will focus on Preventing Violent Parenting and Promoting Alternative Discipline Strategies while Module 10 will be about Parenting to Address the Mental Health for Children and Adults.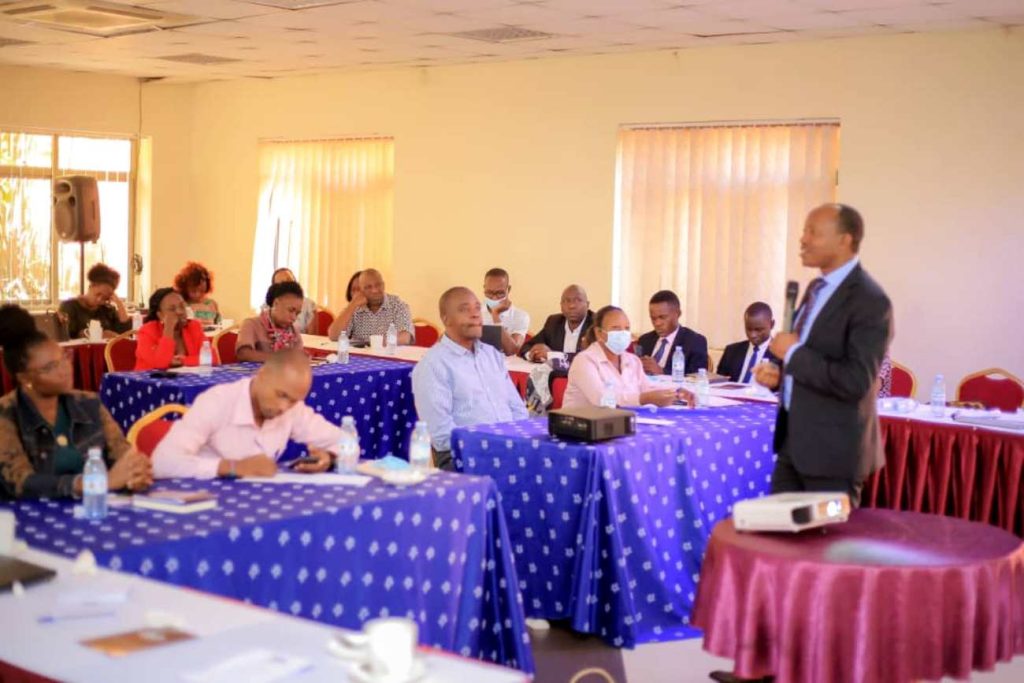 Participants' suggestions
After the presentation, participants raised several suggestions for discussion and consideration. These included whether there should be a module on spirituality since Uganda is a strongly religious nation. There was also the concern of how children in remand homes should be parented. Another concern raised by a participant was as to whether teachers who make an undeniable contribution to parenting, should be taken through the parenting manual.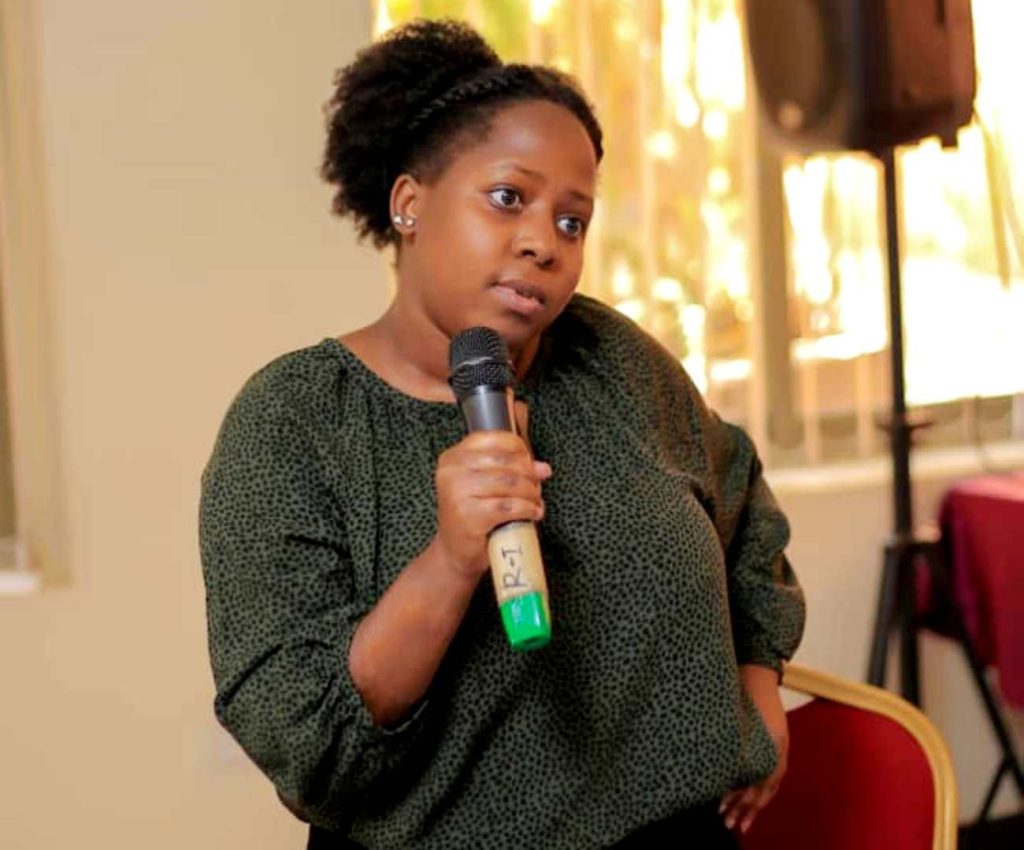 In her closing remarks, Ms. Juliana Naumo Akoryo, the Director of Cultural Affairs at the Ministry of Gender, Labour and Social Development (MGLSD) said that the manual is for the parenting organisations to utilize and not for MGLSD.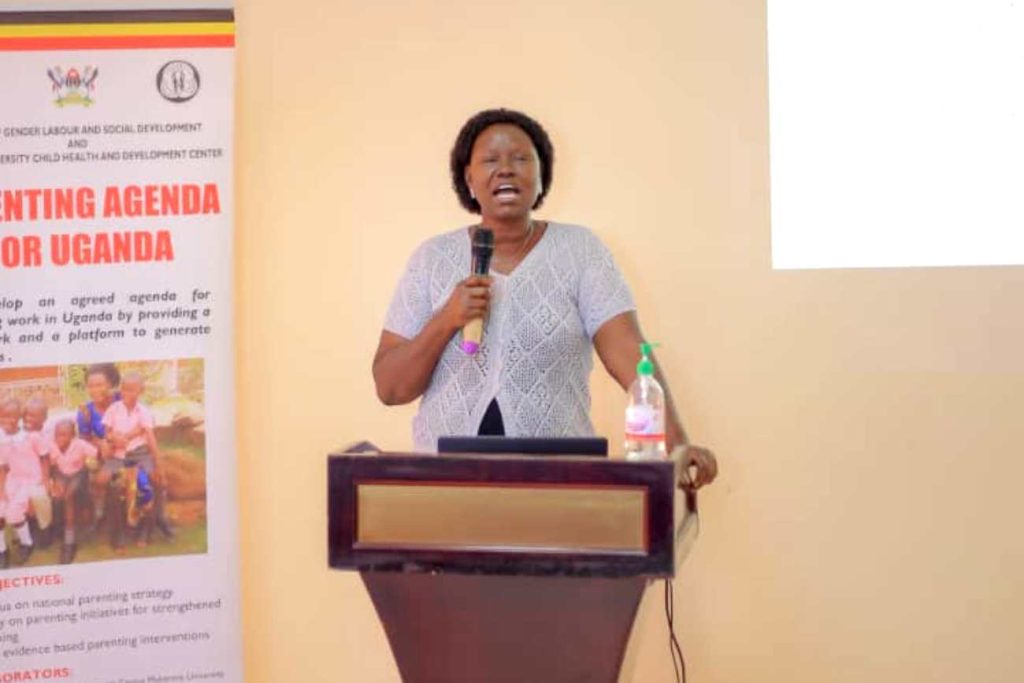 Ms. Chono also adjured the team behind the manual to use picture illustrations in the manual that can be relatable by the Ugandan parents.
Contact: Agnes Namaganda – agnesvioletnamaganda@gmail.com
Launch of Mak-RIF Round 4 Awards & PhD Call for Proposals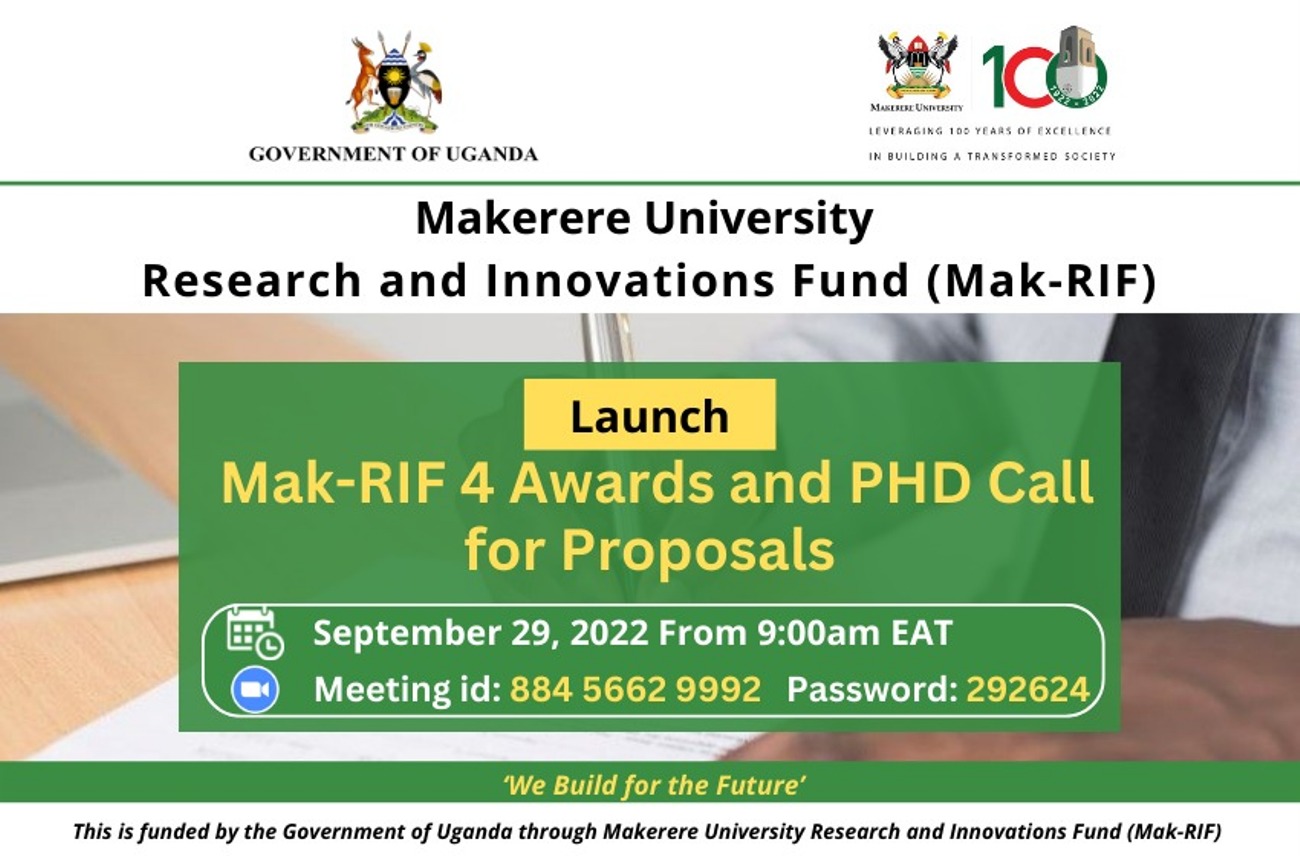 Makerere University received funding from the Government of the Republic of Uganda, earmarked to support high impact Research and Innovations. This unique initiative arose after engagements between the top University Management and the Government of Uganda. This fund illustrates the increasing importance that the Government attaches to Research and Innovation as a driver of development and transformation. The objective of the fund is to increase the local generation of translatable research and scalable innovations that address key gaps required to drive Uganda's development agenda. 
In the Financial years 2019/2020, 2020/2021 and 2021/2022 the Government of the Republic of Uganda through Mak-RIF has funded implementation of over 750 multidisciplinary research and innovations within the various Colleges, while engaging multiple stakeholders within and outside Makerere University. The Grants Management Committee (GMC) has finalized the award process for the Mak-RIF round 4 call for funding for this Financial Year 2022/2023.
The Grants Management Committee (GMC) hereby invites you to the Launch of the Mak-RIF Round 4 awards and PhD Call for Proposals scheduled to take place tomorrow Thursday 29th September 2022 from 9:00 to 10:00 a.m. EAT. 
Please use the following details to join the launch.
Register in advance for this meeting:
https://us06web.zoom.us/meeting/register/tZwpcu-urDIjE9ZgxdsbEmA2IkNMMiJVECt_ 
Meeting ID: 884 5662 9992
Password: 292624