Makerere Staff pay tribute to Prof. Ali Mazrui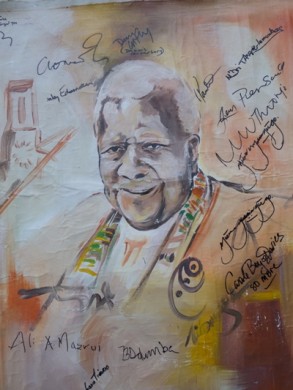 Following the opening of  a condolence book at the office of the Makerere University Vice Chancellor, a number of members of staff of Makerere University have written moving messages to pay tribute to the departed Scholar. Prof. Ali Mazrui was pronounced dead in the U.S.A on Monday, 13th October 2014.
In the condolence book the Chancellor Makerere University, Prof. George Mondo Kagonyera, wrote: 'Prof. Mazrui led an intellectually honest life. He maximized his exposure to many civilizations in shaping his positions on issues that affected the human race. I loved Prof. Mazrui's simple approach to life. He was a man you ought to love. We remember with affection his last visit to Makerere University. We are proud to have identified ourselves with this giant of a person. It is not only his family, not Kenya, not East Africa and not Africa that have lost but the whole world. May his soul rest in eternal peace, he so richly deserves.'
The Chairperson Makerere University Council, Eng. Dr. Charles Wana Etyem wrote: 'I learnt of Prof. Mazrui when I was  a young student in 1969. His oratory and intellectual power shook Makerere and Uganda. He challenged the political leadership throughout Africa without fear. He inspired young African intellectuals up to his death. We shall miss him. May his soul rest in eternal peace.'
The Vice Chancellor Makerere University, Prof. John Ddumba-Ssentamu wrote: 'Makerere University will forever remember the blessing that Prof Ali Mazrui was to us. He was a selfless person, who sought to impact the world through his God-given intellectual abilities. He is one of the few people who stood up to be counted for their views irrespective of the tumultuous post-colonial political period across the African continent. He laid a firm foundation for many in academia. At Makerere University, his candle will forever burn bright. We thank the Almighty God for his life. May his soul rest in the fine heavens, forever at peace.'
The Chairperson of Appointments Board, Stephen Maloba wrote: 'What a rare gift from the Almighty! Many of us will always remember you for the inspiration, guidance, love and always being available. You always kept track of your former students and I was one such person that you graced with your acceptance of being a Guest Speaker to my history students at St. Peters College Tororo in Eastern Uganda. I was just a classroom teacher. Condolences to the family. I take this opportunity to convey our most sincere condolences from the Appointments Board of Makerere University, an institution you served to the best of your ability. Almighty God, grant Prof. Ali Mazrui eternal rest.'
Other members of Staff of Makerere Universityhave written that they will remember Prof. Ali Mazrui forever and ever, and that he will remain in their hearts. They all wish him  a peaceful eternal rest.
Many well wishers have also signed the condolence book. One of them is Henry Kyemba of the Judicial Service Commission who wrote: 'It was a great pleasure for me to interact with the late Prof. Ali Mazrui both in Uganda and in exile during the difficult years in Uganda. He was a brilliant debator during the Obote 1 regime (1962 – 1971) on Uganda's way forward and he was an academician not to be ignored. May his soul rest in peace.'
By press time, more Members of Staff and well wishers were at the Vice Chancellor's office to sign the condolence book. Many others who opted for the mailing lists such as Prof. James Ntozi noted 'it was under him as a Dean of Social Sciences that courses in accounting and rural economics were started in 1968. These two courses later evolved into current MUBS and Department of Agricultural Economics, respectively. I know this because I joined Makerere at the same time with the pioneers of the two courses and graduated with them in 1971, having done both courses as my optional papers. May the soul of Ali Mazrui rest in Peace.'
The view of an Artist. An artist at Makerere University, Rolands Tibirusya says the late Ali Mazrui loved art. "Professor Ali Mazrui personally loved art which he believed to be an effective communication tool for diversity exhibited within our cultures. He gladly accepted to sign on the art work painted in his honor for his contribution to human kind. He signed two art works I painted; one at his 77th birthday at Makerere university in 2009 and another during his 80th birthday  in 2013; held in the USA alongside  the African studies conference. This was a great gesture of humility which I will live to emulate."
 Burial: Prof. Ali Mazrui will be burried on Saturday 18th October 2014 at his family's graveyard in Fort Jesus, Mombasa Kenya.
Compiled by Marion Alina, Public Relations Office
Related article:
Climate Change and Global warming: Researchers and partners discuss Climate Smart Agriculture approaches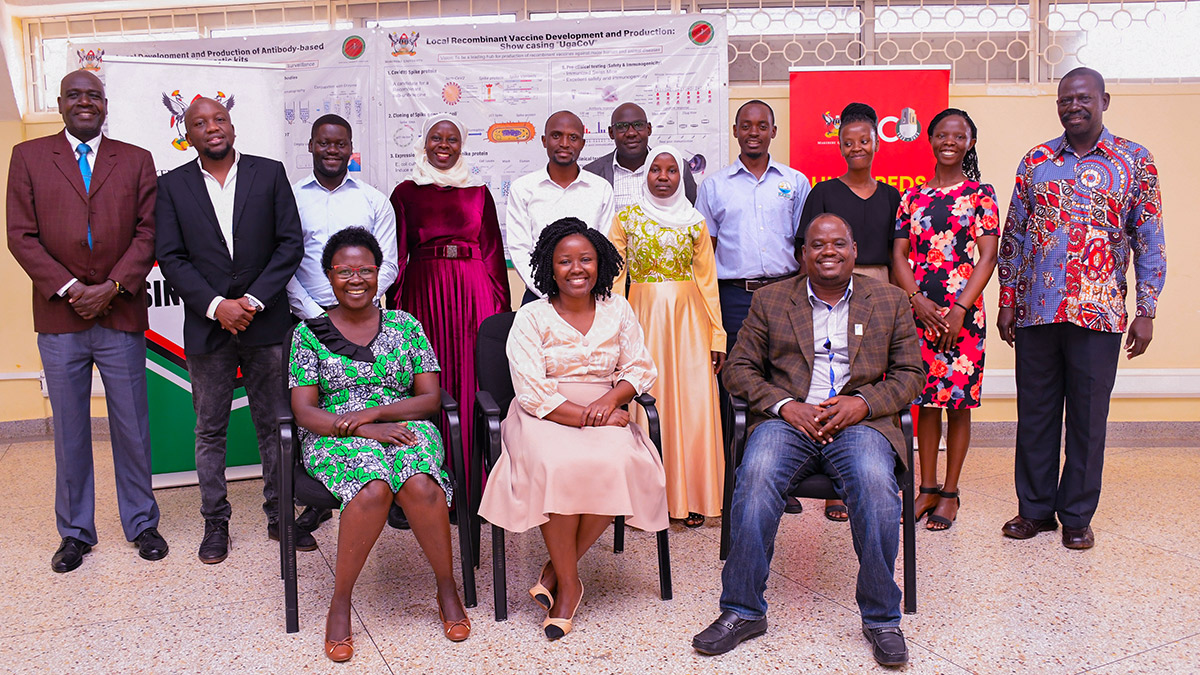 By Ritah Namisango
Global warming due to uncontrolled human activity, industrialization and rapid population growth as well as emission of greenhouse gases is a threat to both humans and animals.
Global warming is an aspect of climate change, referring to the long-term rise of the earth's temperatures. It is caused by increased concentrations of greenhouse gases in the atmosphere, mainly from human activities such as burning fossil fuels and farming.
To address the emerging danger of climate change and global warming that threatens the very existence of the human race, animals and the world in general, countries and international bodies have come up with strategies, measures and programmes aimed at mitigating the disastrous effects of climate change and greenhouse gas emissions.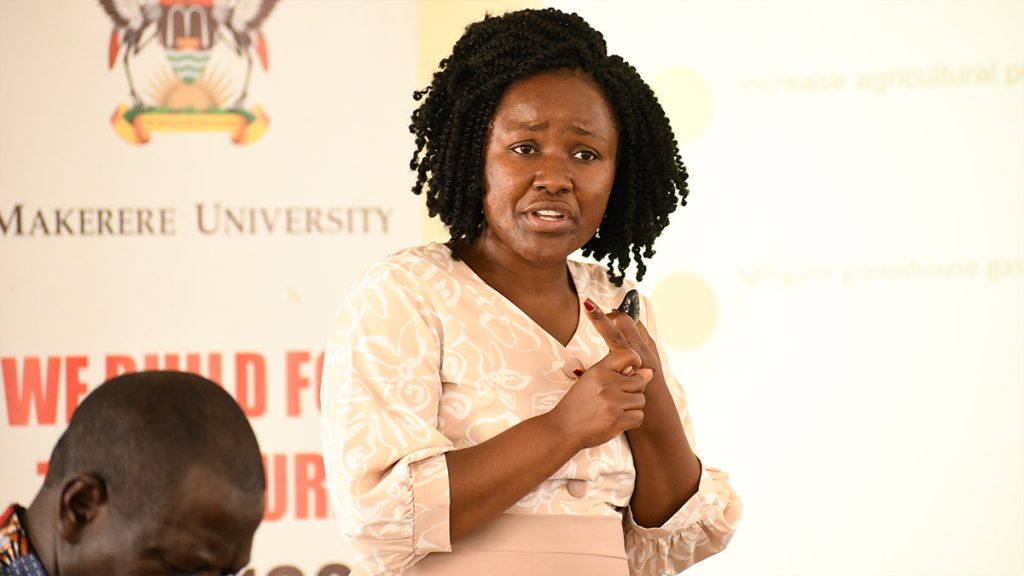 Researchers at Makerere University (Uganda) in partnership with the Norwegian University of Life Sciences (Norway), Maseno University (Kenya), and LUANAR and DARS (Malawi), and with funding from Norwegian Agency for International Cooperation and Quality Enhancement in Higher Education (Diku), are implementing a four-year collaborative research project titled, "Building Capacity for Innovation and Advancement of Climate Smart Agriculture in East and Southern Africa" (CICSA-E&SA).
This is a multi-disciplinary project bringing on board experts in climate change, livestock, animal science and agriculture. In Uganda, Dr. Dorothy Nampanzira, a researcher at Makerere University College of Veterinary Medicine, Animal Resources and Biosecurity (CoVAB) is the Principal Investigator. One of the objectives of the project is to develop a platform that includes key stakeholders who are engaged and interested in activities and initiatives that promote Climate Smart Approach practices and technologies to share experiences and lessons to further the resilience of farmers and promote activities that limit greenhouse gas emissions and receive outreach for adopting new, proven Climate Smart Agriculture technologies.
Why Climate Smart Agriculture?
Climate change and global warming are a threat to the agricultural sector, which is the source of food and income for developing countries in Africa, Uganda being one of them. According to the Uganda Bureau of Standards (UBOS) about 70% of Uganda's working population is employed in agriculture. So, climate change and global warming threaten the very existence of livelihoods in Uganda, which calls for adoption of climate smart agriculture approaches, strategies, measures and practices.
On Tuesday 6th December 2022, researchers, scientists and experts in livestock feeding and nutrition, animal science, agriculture, climate change, education and capacity building convened at CoVAB. The stakeholders' meeting was held under the theme: Livestock feeding and nutrition as Climate Smart Agriculture option: Current status and future strategies to mitigate greenhouse gas emissions from livestock production systems in Uganda.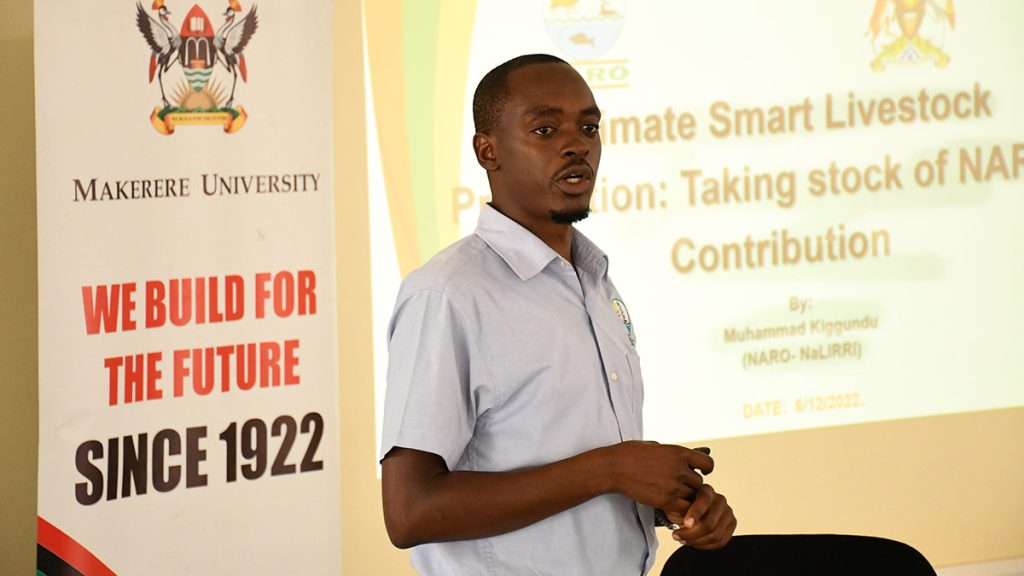 Opening the stakeholders' workshop, Associate Professor Lawrence Mugisha, the Head, Department of Livestock and Industrial Resources, CoVAB, welcomed the partners to Makerere University. Highlighting that climate change is a cross cutting issue, he was happy to note that this multi-disciplinary project brings on board staff and experts from other Colleges at Makerere University namely; the College of Agricultural and Environmental Sciences (CAES) and the College of Education and External Studies (CEES), and international partners from Universities in East and Southern Africa as well as Norway.
Representing Associate Professor Robert Tweyongyere, the Dean, School of Veterinary Medicine and Animal Resources, CoVAB, Associate Professor Mugisha shared that the Government of Uganda was committed to mitigating climate change. He pointed out that Makerere University's strategic approaches through this collaborative project that focuses on climate smart agriculture would further enhance Government efforts.
Associate Professor Mugisha reiterated the appeal from the Minister of Science, Technology and Innovations, Hon. Dr. Monica Musenero to researchers at Makerere University. "On several occasions, Hon. Monica Musenero has encouraged us to conduct research that will solve the problems that Uganda is facing. The impacts and consequences of climate change are with us. We need researchers and experts to address the problem. I am therefore glad that this collaborative project focuses on coming up with innovations in climate smart agriculture."
He advised the research project team to widen the stakeholder engagements, write policy briefs, and translate research into conventional and popular formats for public consumption and usage.
Dr. Vincent Muwanika then invited the respective researchers, scientists, experts and partners to participate in round table discussions with key stakeholders in climate change, agriculture, animal science and capacity building.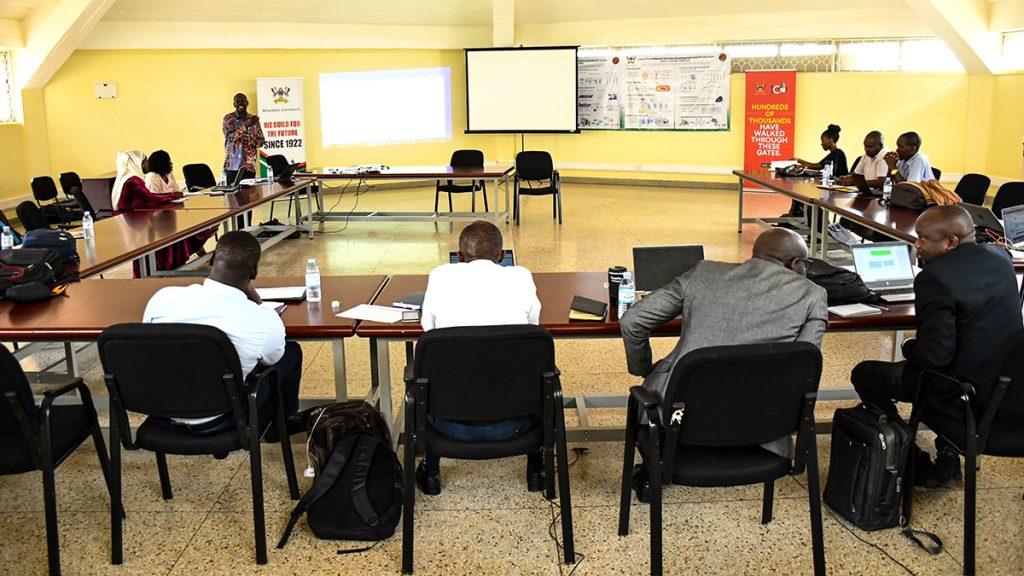 From the presentations, participants observed that a number of livestock climate smart agriculture initiatives were being undertaken in Uganda. Some of these include:
Interventions addressing livestock feed quantities in order to produce nutritious feeds for livestock throughout the year.
Feed quality improvement innovations.
Forage conservation innovations and technologies aimed at providing enough nutritious feeds for livestock during times of scarcity especially as a result of the long dry spells.
Promotion of drought tolerant multipurpose tree species.
Promotion of livestock and poultry breeds that are better performing and tolerant high temperatures.
Innovations for improved grazing management especially in rangelands.
Water conservation and harvesting technologies that store enough water for both livestock production and household use.
Based on the informative discussions and interactive engagements, the participants resolved to establish a platform that includes key stakeholders who are engaged and interested in activities and initiatives that promote Climate Smart Agriculture practices and technologies. The platform will act as a mechanism to share experiences and lessons to further the resilience of farmers and promote activities that limit greenhouse gas emissions.
Mak Management expresses readiness to work with 88th Students' Guild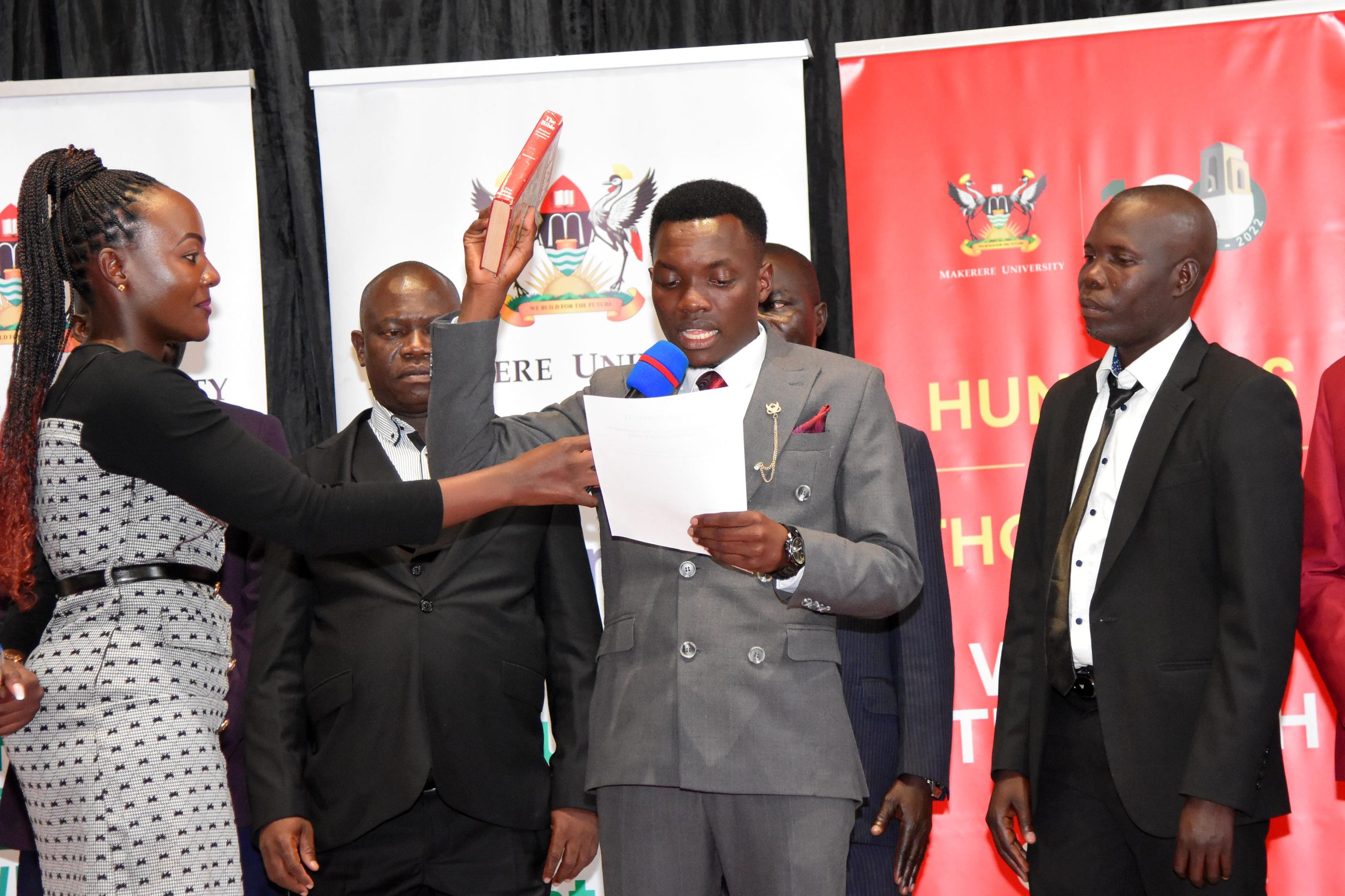 By Ritah Namisango
Officiating at the Swearing-in-Ceremony of the 88th Students' Guild held on Monday 5th December 2022, the Vice Chancellor, Prof. Barnabas Nawangwe called upon the student leaders to work with the University Management, Senate and Council to promote a favourable brand of Makerere University that is renowned for research, innovations and excellence.
"The University exists because of students. We cannot exist without you students. Our goal is to ensure that students are handled well. So, I request that the Students' Guild works together with the University Management to make the University a better place. Let us work together to promote the best practices such as excellence and intellectual discourse," he remarked.
In a speech read by the Ag. Deputy Vice Chancellor (Finance and Administration), Prof. Henry Alinaitwe, the Vice Chancellor further urged the student leadership to uphold dialogue in issues of management and conflict resolution.
"Issues can be solved amicably by use of dialogue and solutions can be found without necessarily using force or strikes," he said.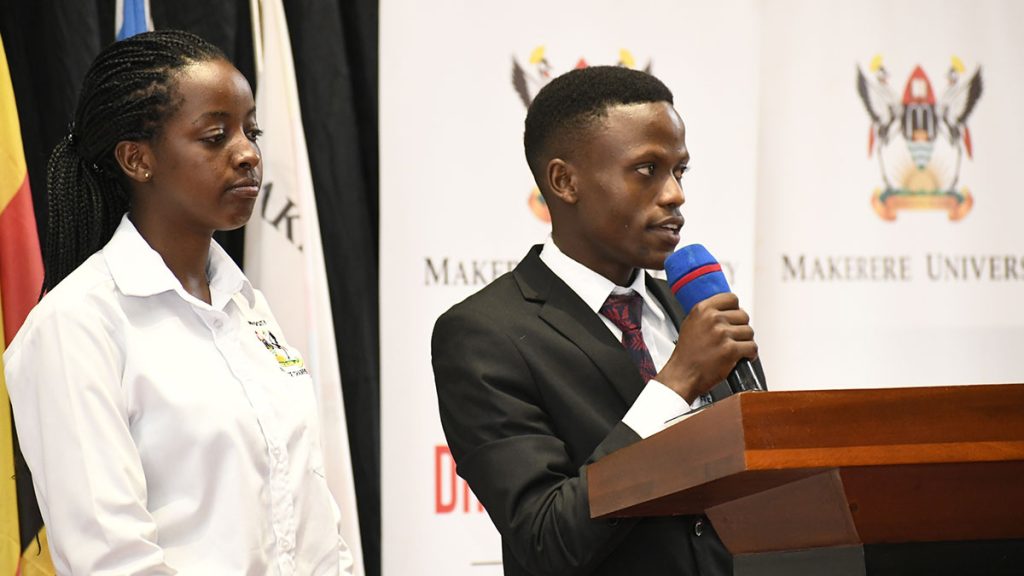 The Vice Chancellor congratulated H.E. Lawrence Alionzi, a student of Bachelor of Science in Electrical Engineering at the College of Engineering, Design, Art and Technology (CEDAT) upon his election as the 88th Guild President of Makerere University. In the same spirit, he expressed gratitude to the students who took the bold step to contest for leadership at the different levels, and congratulated each and every one who emerged a winner at the Cabinet level, Guild Representative Council, Hall Chairpersons and Senior Common Room, Representatives of College Guild Council among other categories.
Prof. Nawangwe hailed the Students' Electoral Commission led by Mr. Edrine Nsobanyi for conducting peaceful, free and fair elections in a shortest time possible.
"I have been briefed by the Chairperson of the Students' Electoral Commission and the Dean of Students, Mrs. Winifred Kabumbuli that during the physical elections, we would have between 5,000 and 6,000 participants, but this time, when we conducted elections virtually, over 10,000 students participated in the polls. I thank the team that managed the University e-voting system led by Mr. Samuel Mugabi, the Director of DICTS and Ms. Ruth Eteu from the Department of the Academic Registrar," he said.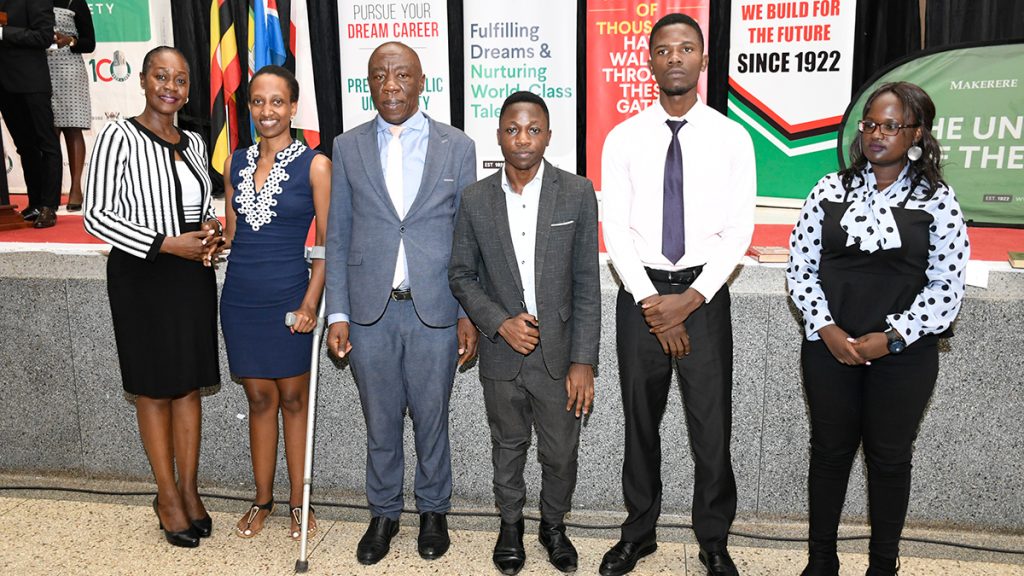 He reminded students to guard against unfortunate incidents such as the one that led to suspension of the earlier Guild elections, where a student of the Uganda Christian University lost his life while participating in Makerere University Guild campaigns.
Sharing lived examples as a student leader at various levels during his school days, Prof. Alinaitwe advised the student leaders to value their time, and the time of other people. He emphasized the need to respect time and rallied the student leaders to always keep time by starting meetings on time and meeting deadlines.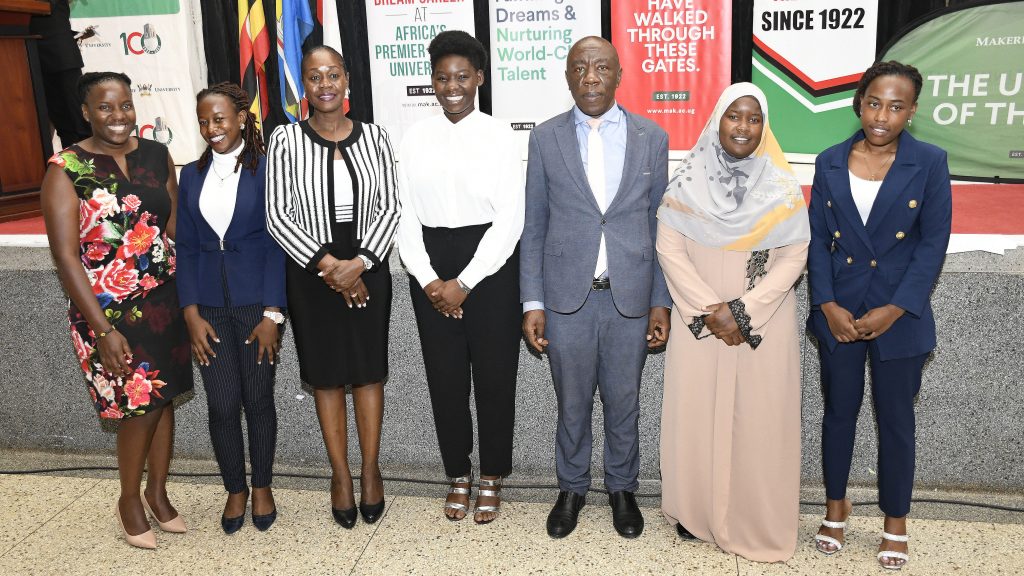 "Leaders should lead by example. I encourage you to always consult and value time management. I was a time keeper in primary and secondary school. Time management is very essential in delivery of services, and ensuring that meetings, activities, programmes and projects are executed well," said Prof. Alinaitwe.
In his remarks, Mr. Nsobanyi appreciated the University Management for the support rendered to the Students' Electoral Commission. "I thank the administration for restoring the students' leadership. You have really supported activities of the elections including online elections which have been extremely peaceful, free, fair with no chaos," he said.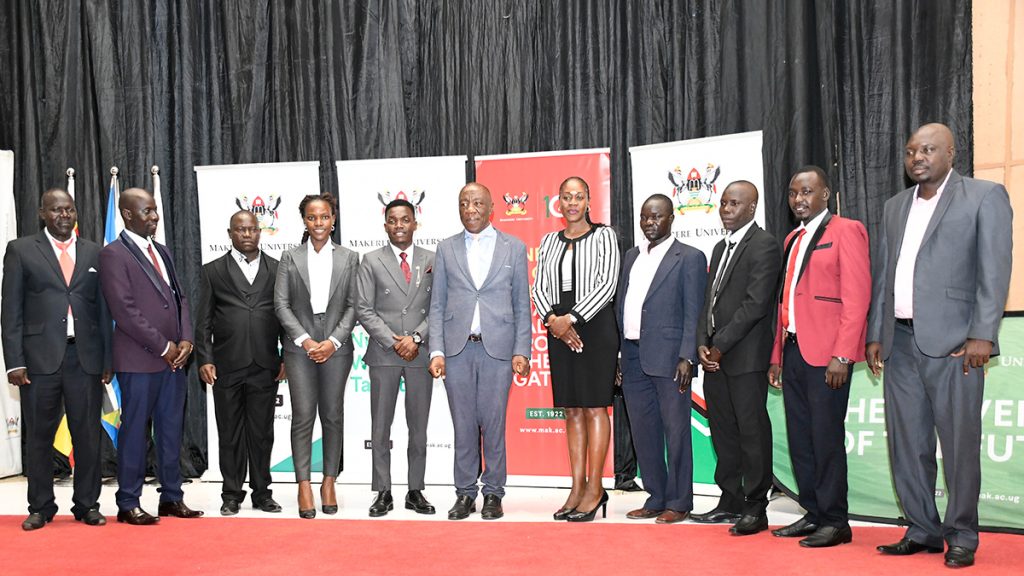 Delivering his inaugural speech, the 88th Guild President H.E. Alionzi glorified God for the gift of life, studies and for his elevation to the position of Guild President. He saluted his parents, his uncle (Mr. Pariyo Albert), teachers, religious leaders and everyone who has significantly made a positive contribution to his life journey.
H.E. Alionzi appreciated the students for not only participating in the Guild elections, but also choosing him as their next leader. The Guild President expressed readiness to work with every student at Makerere University regardless of his or her political and religious affiliation.
"I was voted by the students. I believe in a Guild for the students, by the students. During the three months of the Guild Government, I will prioritise dialogue and intellectual discourse," said H.E. Alionzi.
The Guild President is fully committed to working with the University Management to prioritise the renovation of Halls of Residence as well as proposals aimed at expanding teaching and learning facilities on campus.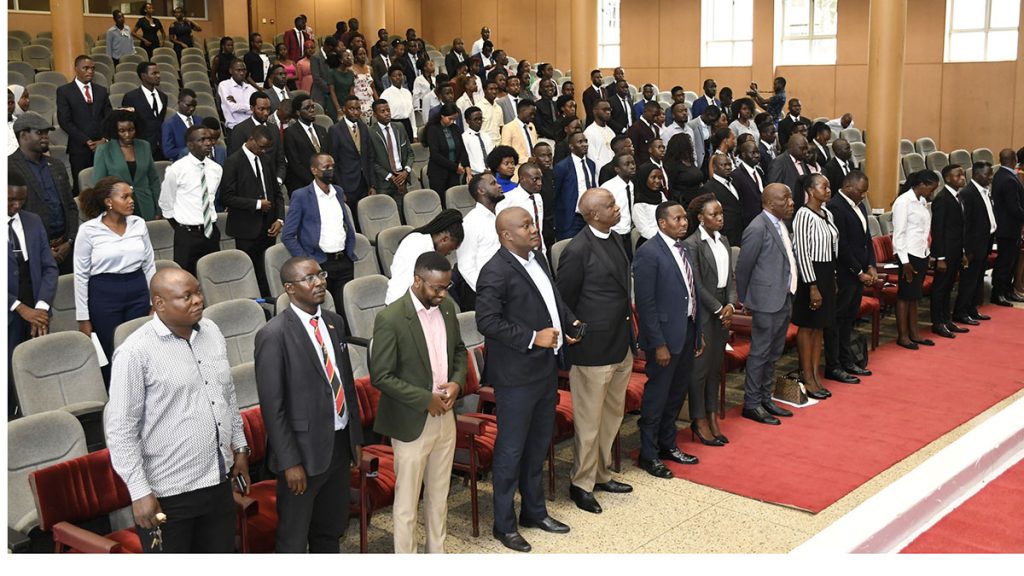 While handing over the Office, the 87th Guild President of Makerere University, H.E. Shamim Nambassa congratulated the 88th Students' Guild upon their election and appealed to them to be result oriented.
"In execution of your duties, please always remember the students who voted you into office. Prioritise the demands and interests of the students. Stand with Makerereans and remain accountable to them for the time you will spend in office," she said.
Delivering the closing remarks, the Dean of Students, Mrs. Winifred Kabumbuli, informed the 88th Students' Guild about an upcoming induction workshop organized by the Dean of Students where the Students' Guild will interact/engage with key University officials and experts in different fields.
Mastercard Foundation Scholars at Makerere University light up Agago community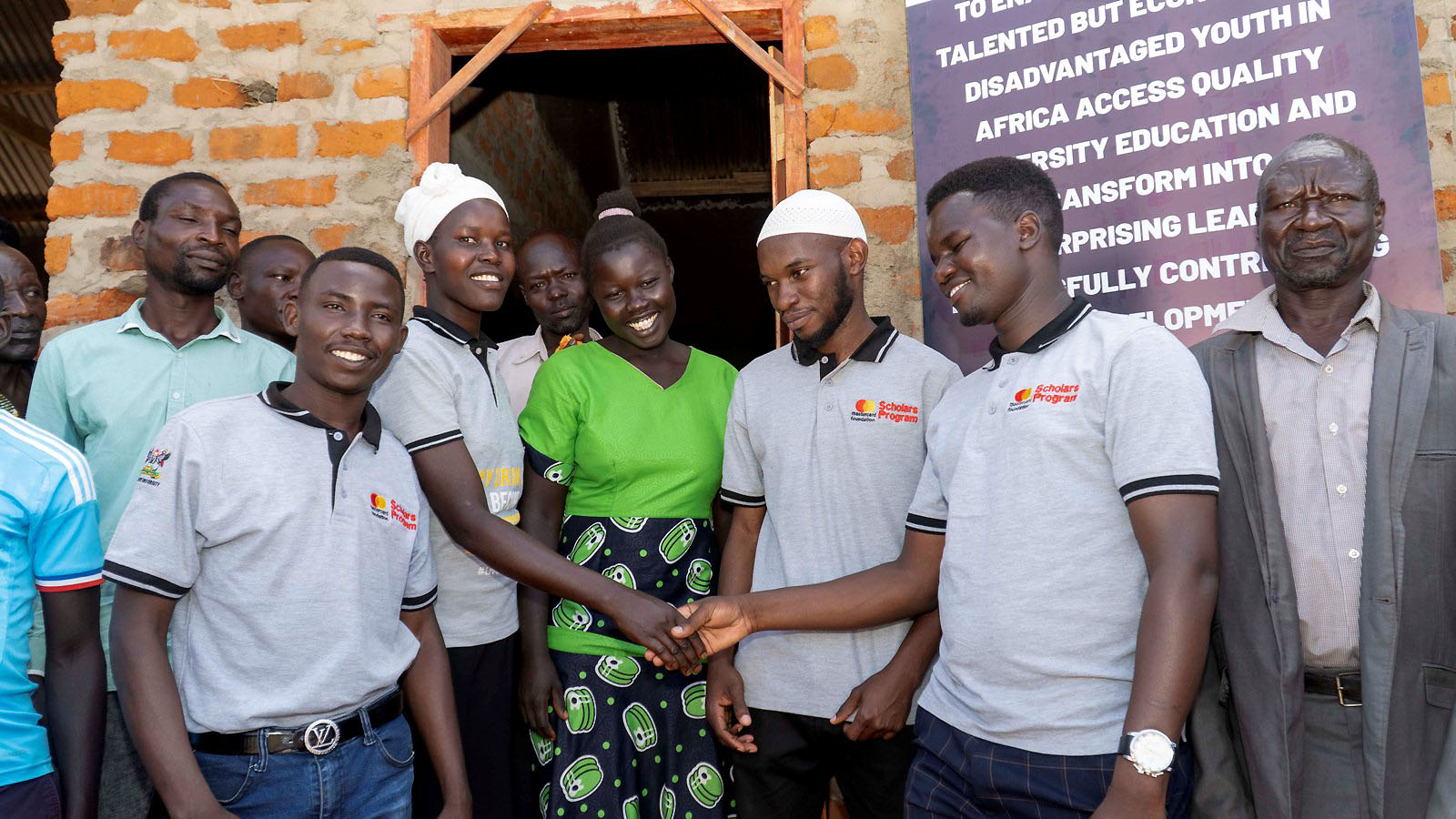 By Bernard Buteera
On Saturday 3rd December 2022, residents of Okudu-Teyaa Village, Adilang sub-county in Agago district, Northern Uganda, were thrown into a frenzy of excitement, when they received unusual visitors- Scholars and Staff of Mastercard Foundation Scholars Program at Makerere University, who had gone for the climax of this year's Scholars Give Back by unveiling a two-class block they constructed for St. Catherine Nursery and Primary School.
Every year, Scholars of Mastercard Foundation at Makerere University identify a community to support through giving back, in what is called the Scholars' community day of service. This year, the Scholars identified St. Catherine Nursery and Primary School, a small community school, in Okudu-Teyaa Village, Adilang sub-county, Agago district in Northern Uganda, which lacked a proper classroom structure, instead the pupils were studying under tree shades and in a small grass thatched structure.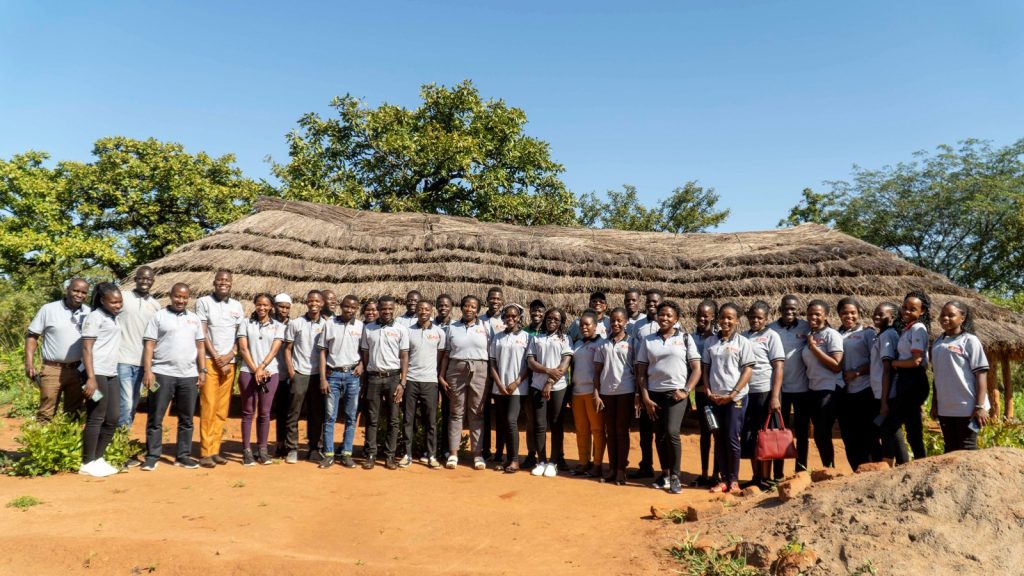 Through mobilization from amongst themselves and with support from the Program staff, and other partners such DFCU Bank, Kare hostel and Garden Courts hostel, Mentors and Alumni, Scholars were able to raise funds and constructed a two class block for St. Catherine Nursery and Primary School, to enable the young children study from a decent environment.
During the launch of the two classroom block, the local residents and local council officials of the area were visibly excited and humbled by the generosity of the Scholars, which had created an instant impact for the school and the area.
In his welcome remarks, the LC 1 Chairperson of the area, Mr. Robert Odong, thanked the Scholars, Makerere University and the Foundation for the spirit of giving back to the communities, especially the rural communities which lack a lot of infrastructure development.
"This class room block you have constructed for this school has given us a lot of hope that we are going to be able to educate many of our young children, who will even be able to reach even university level" Odong said.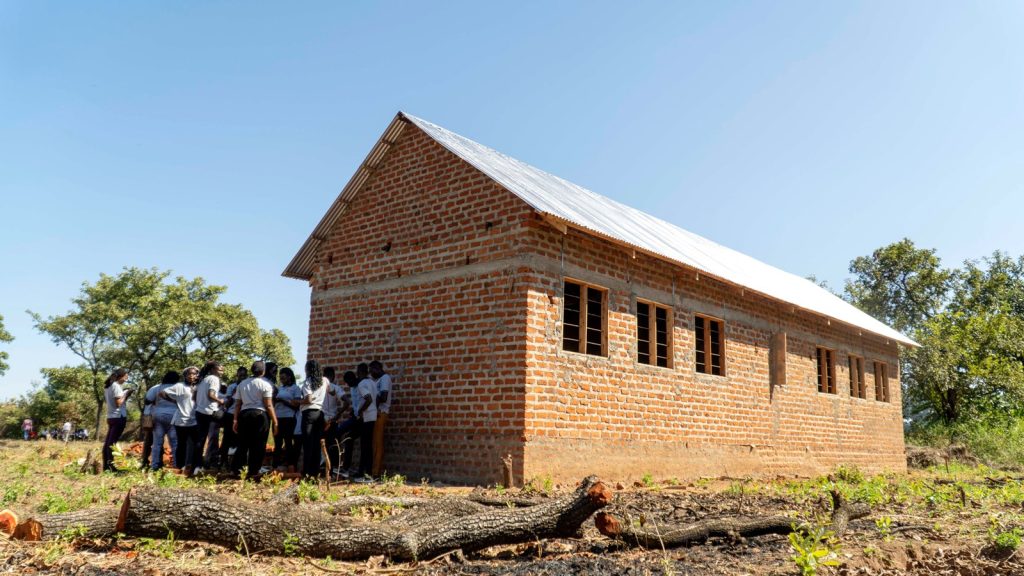 Mr. Odong challenged the local community, especially the leaders to emulate Mastercard Foundation Scholars, and construct more class room blocks for the School, because one class room block was not enough.
"This class room block which these young people have constructed is key milestone and a good starting point for us, therefore as a community and especially the leaders, we need to emulate these Mastercard Foundation Scholars, and raise resources to construct more class room blocks for our school." Mr. Odong remarked.
On her part, the Head teacher of the School, Ms. Betty Angom, thanked Mastercard Foundation Scholars at Makerere for having identified St. Catherine Nursery and Primary School, as the most deserving for this year's give back beneficiary.
"We thank you Mastercard Foundation Scholars at Makerere for reaching deep down in your hearts and gave our children this classroom block, we very happy." Ms. Angom said with tears of joy in her eyes.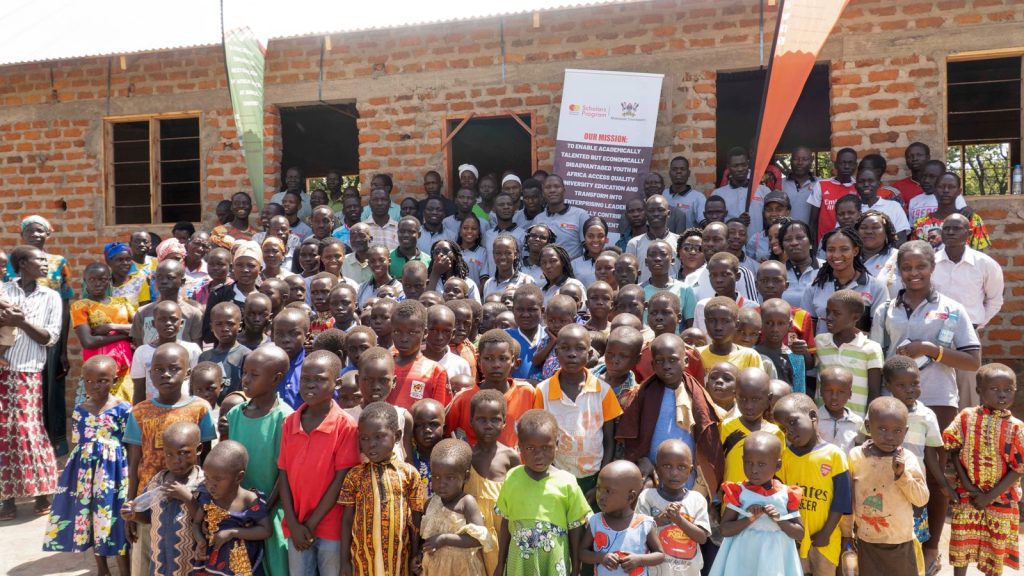 Ms. Angom called upon the parents and the entire community to join hands and support the school, because it lacked a lot in terms of infrastructure in order to be able to offer a befitting learning environment for the young people. Ms. Angom went on to highlight a number of challenges the school faced, which required support from the government, the Catholic Church and well-wishers, if it is offer effective education to the young children.
The challenges she highlighted included; Lack of furniture, cooking utensils for children's meals, Lack of water, Scholastic materials, staff quarters, more classroom blocks among many other challenges which required immediate attention.
The Guest of honour at the event, the LC 111 Chairperson of Adilang Sub-county, Mr. Okwir Muhammad, joined fellow residents and leaders to thank Mastercard Foundation Scholars for the support given to the school which he described as the cornerstone for the School and the area.
"As a community, we are very happy to see this new development in our area. You have turned our area into a very powerful one with this class block, I hope the community will take advantage and make good use of the class room block." Mr. Okwir remarked.
Mr. Okwir pledged on behalf of the sub-county to support the school by mobilizing more resources from the district so that more class room blocks can be constructed for the School.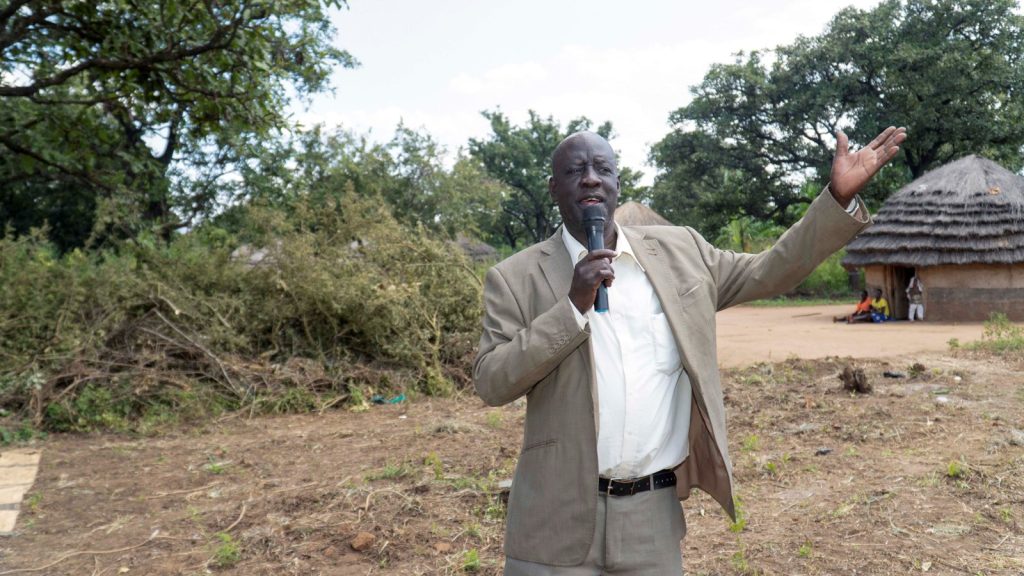 He thanked the community for donating the land on which the classroom block was constructed and also for contributing in making the bricks, he pointed out that if all communities could get the kind of partnership the Scholars forged with the community, Agago district and other areas in Uganda would be very far in terms of infrastructure development.
Speaking on behalf of the Scholars Community, the Scholars Council representative, Mr. Abubakar Batte, thanked the Scholars for the spirit of give back, which had enabled them to construct the class room block, which had brought smiles on the young pupils of St. Catherine, and the area residents.
"I thank my fellow Scholars for selecting this school as our area of give back this year, because it was well deserving. I am also delighted by the financial contributions you made together with PIT, Mentors, DFCU Bank, Kare Hostel, Garden Courts hostel, and the Alumni, which enabled us to deliver this classroom block for this community" Mr. Batte said.
Mr. Batte urged the community to join hands with Scholars and try to raise resources to finish up with the remaining work which included plastering the building and finishing up the construction of the Pit latrine for the School.
"I call upon the community especially the local council leaders to join hands with the Scholars in mobilizing more resources, so that we complete the remaining work, which included plastering the classroom block and also the construction of the Pit latrine for the School." Mr. Batte urged.
Speaking on behalf of the Program Coordinator, Ms. Grace Sennoga, the Welfare and Support Services Officer on the Scholars Program, who is also the Coordinator of Scholars' give back activities, joined the rest of the people in thanking the Scholars and all other partners who contributed generously to enable the construction of the class room block.
"As the Scholars Program staff, we are delighted by the generosity and thoughtfulness of the Scholars, and we proud of what the young people have been able to do for this community." Ms. Sennoga said.
Ms. Sennoga further informed the gathering that Mastercard Foundation Scholars Program at Makerere University was designed to foster transformative leadership through equipping Scholars with the requisite knowledge and skills, which has helped them become change makers in their communities.
"This classroom block is a clear example of the impact Scholars were making in the community. I therefore call upon the community to emulate the Scholars and start giving back to other people in our areas as who less fortunate in one way or the other" Ms. Sennoga urged.
St. Catherine Nursery and Primary School, is a small community school, which was established in 2019 under the Catholic Church. The School currently has 120 children, most of whom where trekking long distances to go schools in far off places.
Bernard Buteera is the Communications Officer, Mastercard Foundation Scholars Program at Makerere University