Katende Has Touched Lives in Five Schools
Armed with an arts in arts degree from Makerere University from where he graduated in 2002, Katende returned to Kiira High School in Jinja, a school he attended for his A'level, this time not as a student but a teacher of history and divinity. Even when his dream of earning a reasonable salary and other benefi ts that a fresh university graduate would expect upon employment, was not forthcoming, Katende did not lose hope and served the school until 2005.
Call For Nominations for the Position of Chancellor Makerere University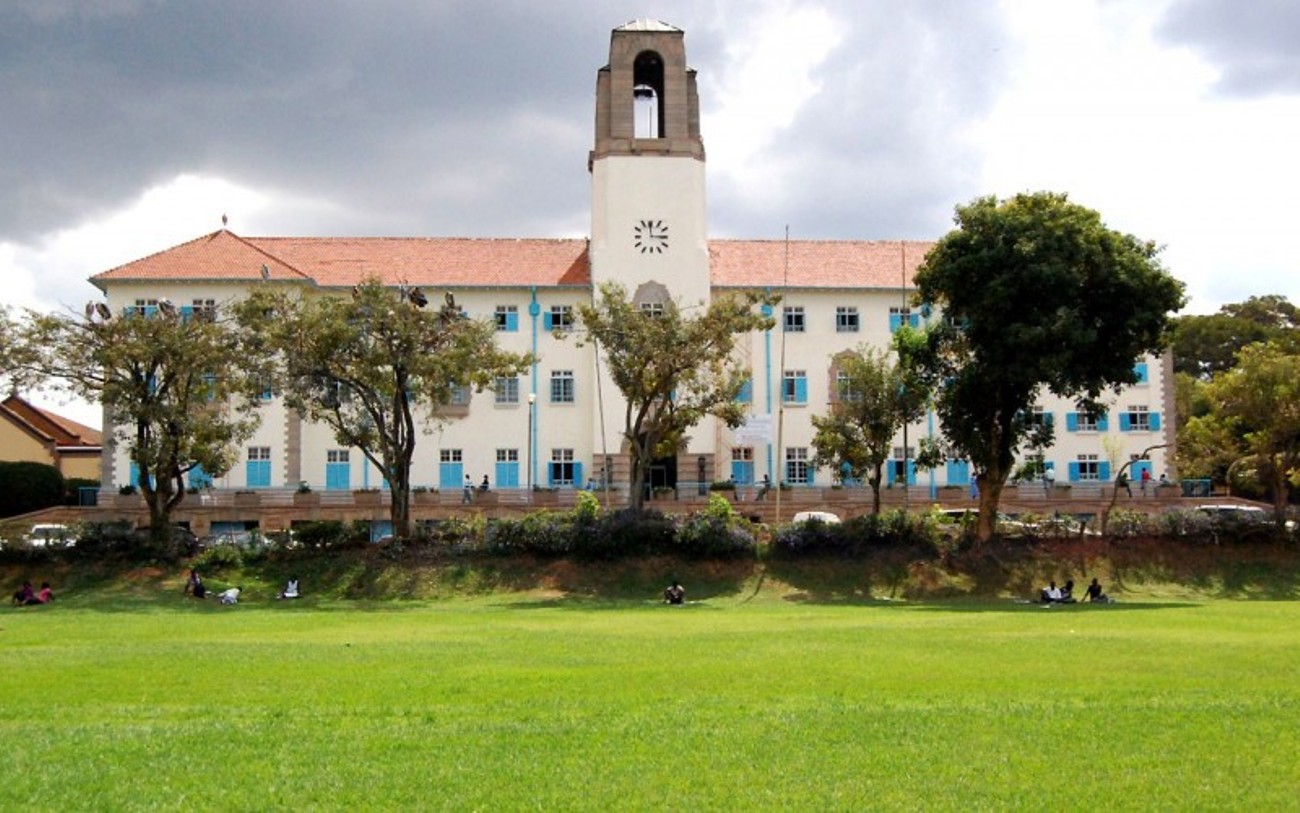 Makerere University invites nominations for the position of Chancellor of the University.
Purpose of the position
The Chancellor is the titular head of the University, presides over all ceremonial assemblies of the University and confers degrees and other academic titles and distinctions of the University.
Please see Download below for details.
The deadline for submission of nominations is 11th January 2024 at 5:00 p.m. East African Time.
Makerere Innovations Hub celebrates Persons living with Disabilities
Makerere University Innovations Hub has commemorated the international day for persons living with disabilities by celebrating these young innovators.
The celebrations were held at Makerere University in the Yusuf Lule Teaching Facility-Auditorium on December 01.
The persons living with disabilities showcased different skills in shoe making, soap making, bracelets making, weaving among others, parading their items they make to earn a living.
Makerere University Innovations Hub started up a project last year dubbed, "Innovativeness of Young Persons with Disabilities in Uganda" to support them in discovering their skills and help them to start a journey to economic empowerment. The programme is sponsored by the Royal Academy of Engineering, a UK based agency.
Dr Cathy Mbidde, the Principal Investigator (PI) of this programme, said she conceived the idea in December 2022 from a class assignment that she gave to students to go into the community and identify problems.
"I wanted them to go and find problems in the community to start a business. So they identified a few problems but one of the groups of students had a disabled person and she was struggling as they were arguing how to develop the product. That is how I realized that I can do something to impact people with disabilities," she said
Dr Mbidde said she took a step to initiate a programme that can keep these persons busy and at the same time start up some businesses convenient for them to do.
"In December last year, there was a call from the Royal Academy of Engineering providing grants and I wrote and won the Frontiers Champions grant of around Shs42 million to organize an event," she said.
She says one of the objectives of this programme was to identify persons living with disabilities who are innovative.
"How are they able to maneuver and start an enterprise or do some kind of business in an innovative way. I also wanted to look for stakeholders who can support them to execute their innovativeness," she said.
The PI wanted to get for them a platform where they can come together and share experiences.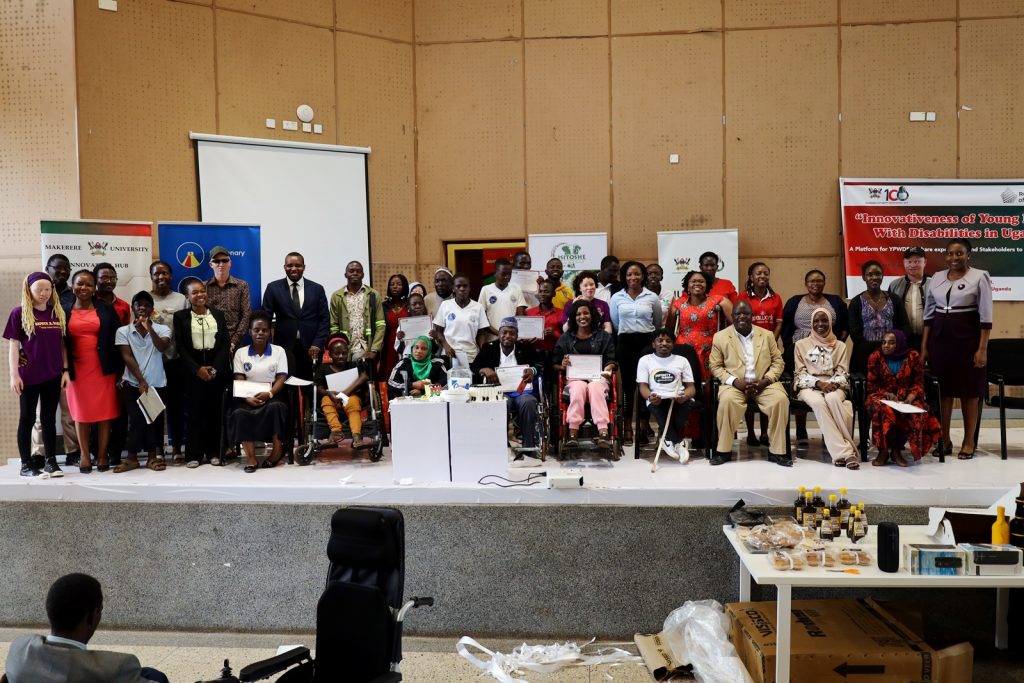 During the initial stages of the programme, Dr Mbidde went out to the field and made research about persons living with disabilities. She identified a few things that they needed including decent housing after noting that some of them were living in houses which could not accommodate them.
She also found out that these people lacked school fees to take their children to school and something needed to be done to see a way to bail them out of this situation.
"They had the skills but did not have the resources, we therefore came up and picked 15 persons during our pilot study of one year," she said.
Dr Mbidde partners with different agencies and organizations to pave a way of helping skilled persons living with disabilities.
Ms Penninah Nakandi, one of the persons living with disabilities who doubles as the Executive Director of Persons with disabilities in Business Uganda (PIB-UG) said she empowers youth and mothers of children living with disabilities through an economic skilling programme.
"We believed that after dropping papers of applications seeking for jobs and people at times don't even respond to us, we decided to startup that initiative and we have moved a long way because we have a total of 55 members," she said adding that PIB-UG offers mentorship and empowers people to work as a team.
Mr Gerald Sunday, the Centenary Bank branch manager at Makerere said they have special packages for PWDs who are doing private businesses, small scale cottage businesses like those doing tailoring, liquid soap making, shoe making among others.
"We invite them to come for startup capital. We have youth negotiable loans at 16 percent per annum right from shs50,000 up to shs5 million as long as they qualify and are in the age bracket of the youth," he said.
Mr Edwin Leroy, the Operations manager at Isitoshe Tours and Travel company, which mostly deals with people living disabilities in touring services said most of these people have been left behind but they have now embarked on helping them to engage in different job opportunities.
"We want to take the initiative to be part of this programme to see that the persons living with disabilities can exercise their skills and at the end of the day, they can improve their well-being," he said.
He added: "We want to help them to engage in different activities that can generate income for them and equally participate and compete with all other people that do not have disabilities."
Ambassador of Sweden to Uganda calls for full involvement of men and boys in achieving Gender Equality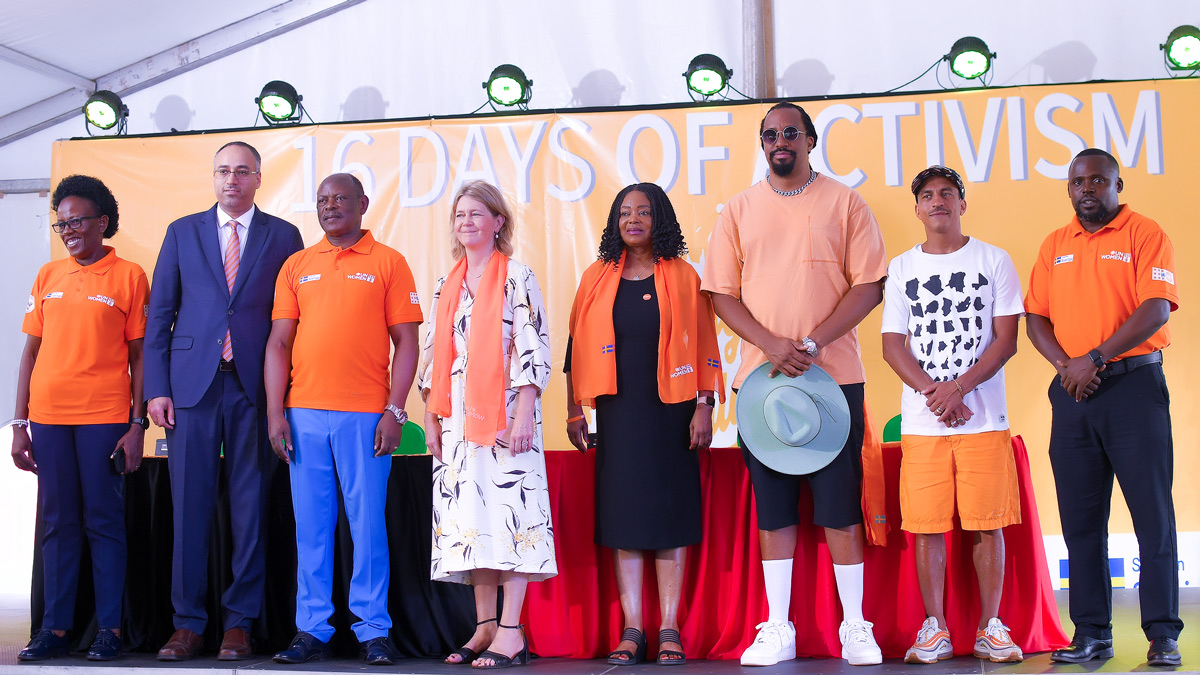 The Ambassador of Sweden to Uganda Her Excellence Maria Håkansson has emphasized the need to fully engage men and boys in all the initiatives geared towards achieving Gender Equality in Uganda and other parts of the world. She said this on 28th November 2023 at a press conference organized by the Embassy of Sweden in close collaboration with Makerere University Gender Mainstreaming Directorate, UN Women and United Nations Population Fund (UNFPA) to unveil the National Orange Pledge campaign and officially launch the 16 Days of Activism against Gender-Based Violence.
The press conference was headlined by a Ugandan rapper and record producer Daniel Lubwama Kigozi, popularly known by his stage name Navio and his fellow from Sweden Jason Michael Bosak Diakité popularly known as Timbuktu. Over 200 students both male and female from Makerere University and other institutions of higher learning attended the press conference at Makerere University Rugby Grounds.
According to Her Excellence Maria Håkansson, Gender Equality cannot be achieved without involving men and boys to take their responsibilities and be the drivers of change. "For real change to happen, we need to change attitudes and norms that might cause Gender Based Violence, one of the social ills in Uganda and an extreme of gender inequality that occurs at all levels of society," she said.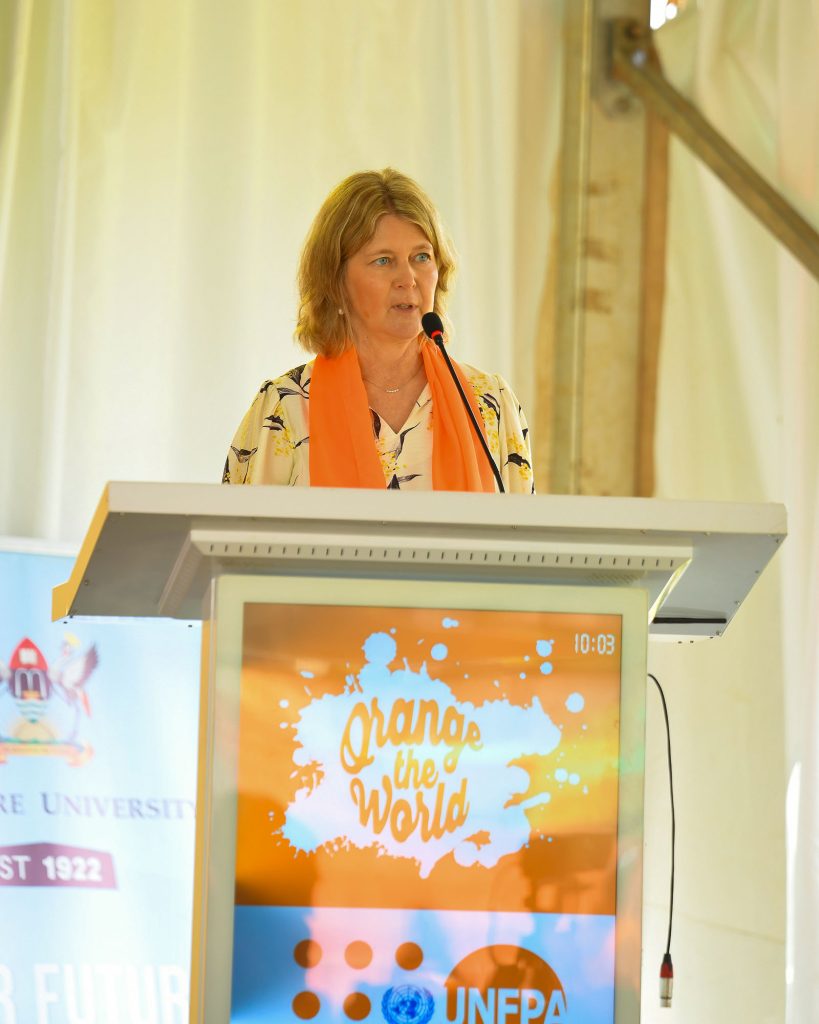 Referring to the national survey conducted in 2020, the Ambassador was concerned about the escalating burden of gender based violence in Uganda when she said, "the Survey highlighted that 95% of women and girls experience physical or sexual violence since the age of 15."
She therefore emphasized the Global 16 Days of Activism as key international movement to increase awareness and advocate for an end to Gender Based Violence. The Ambassador also mentioned that preventing and responding to Gender Based Violence is a cornerstone for Sweden's commitment to promote democracy, human rights and gender equality and this is done as an investment in a society that upholds the principles of equality, dignity and justice.
She acknowledged the full participation of university students in all campaigns and activities geared towards achieving gender equality as well as ending Gender Based Violence when she said, "You are the leaders of tomorrow and you have an opportunity to build a future where everyone can thrive. So please use today to take an active stand against Gender Based Violence."
Every year Uganda joins the rest of the world to enhance the global campaigns on 16 Days of Activism against Gender-Based Violence and also add a voice to the call for an end to violence against women and girls.   These campaigns run from 25th November (the International Day for the Elimination of Violence against Women) until 10th December of the Human Rights Day.
The United Nations Secretary-General's UNiTE by 2030 initiative calls for global action to increase awareness, galvanize advocacy efforts and share knowledge and innovations to help end all types of violence against women and girls.  This year 2023, the UNiTE campaign theme is; Invest to Prevent Violence against Women & Girls.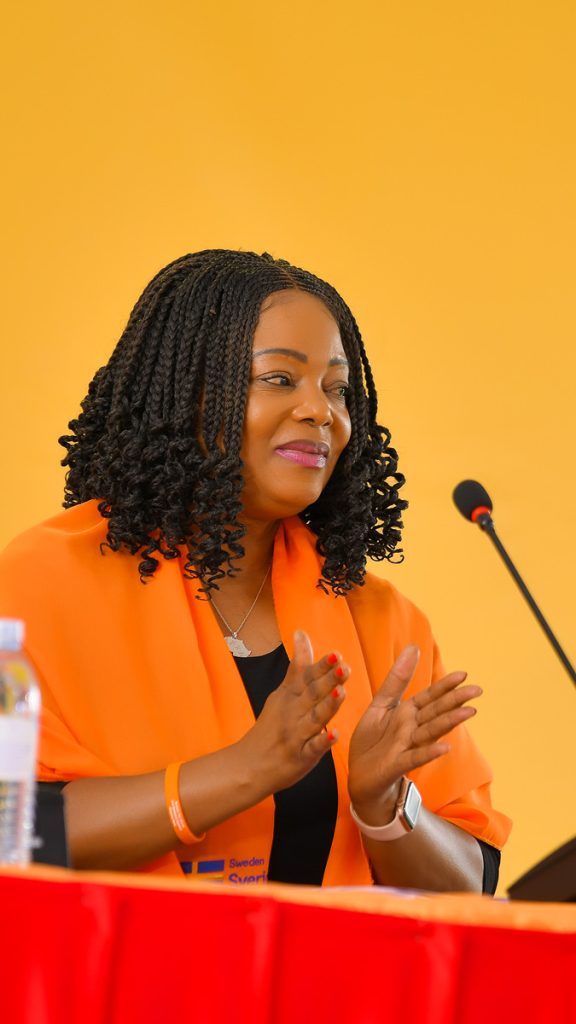 Over the years, Makerere University through its Gender Mainstreaming Directorate and School of Women and Gender in partnership with UN Women and many other partners have been at the fore front to support the campaign on 16 Days of Activism against Gender Based Violence in Uganda. This has been done through debates, theatre forums, student dialogues, thematic artistic presentations, media exposures, drama and music skits presentation, and student peer led discussions and quarterly competitions.
This year 2023, the University in partnership with the Embassy of Sweden, UN Women and United Nations Population Fund (UNFPA) unveiled the Orange Pledge. According to Eric Tumwesigye the Senior Gender Specialist at Makerere University Gender Mainstreaming Directorate, this campaign calls upon government, policymakers, activists, civil societies, academicians, students and all members of community from all parts of the country to make their heartfelt pledges towards ending Gender Based Violence in Uganda and the rest of the world.
The UN Women Country Representative Paulina Chiwangu recognized the investment Makerere University, the Embassy of Sweden and UNFPA have made to end violence against women and girls. "Thanks to our collective efforts, the silence that used to shroud violence against women has now been broken" said.
In the same spirit, she acknowledged the progress Makerere University has made in establishing and implementation of the University's Policy and Regulations against Sexual Harassment to protect students and staff from potential abuses of power and conflict of interest. She also applauded the increased support and training for students and the strengthened mechanisms for investigations that allow students and staff to anonymously report sexual misconduct.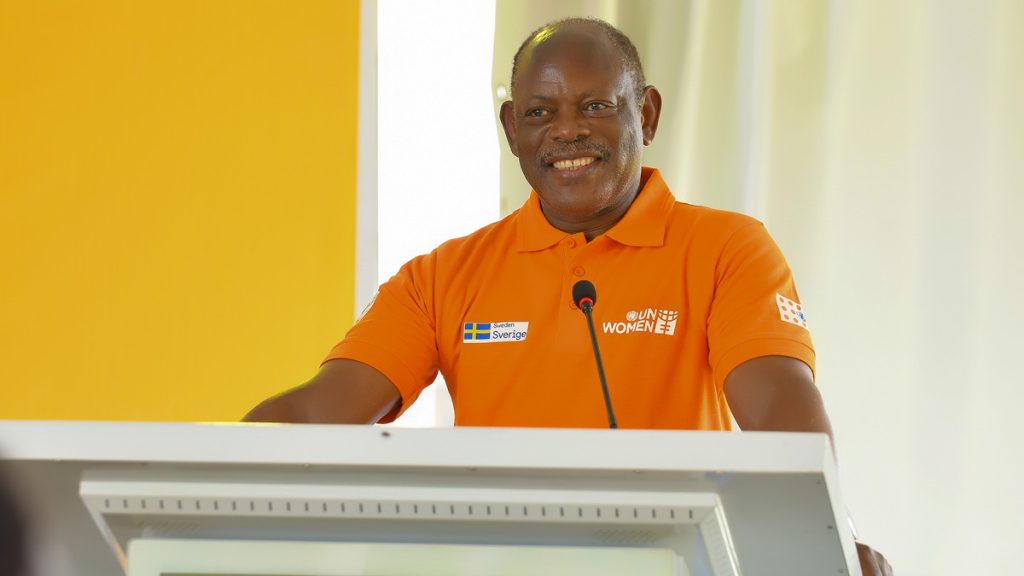 "We are however, aware that despite this, sexual harassment is still happening in the university and that not many students report to the authorities when they experience it. It is therefore, our humble appeal to the university leadership to continue monitoring the implementation of the Policy and Regulations Against Sexual Harassment, take all allegations of sexual harassment and violence seriously, ensure that all personnel have information on available support services and take action to ensure that perpetrators are held accountable."
Reaffirming the University's position in fighting GBV and particularly sexual harassment, the Vice Chancellor of Makerere University Prof. Barnabas Nawangwe was highlighted the various measures Makerere University has put in place to prevent and respond to Gender Based Violence. To him, the Policy and Regulations against Sexual Harassment; the appointment and capacity building for the Vice Chancellor's Roster of 100 eminent people from the various colleges and administrative units; recruitment and training of the Gender Mainstreaming Programme Student Peer Trainers and setting up Sexual Harassment Investigation Committees are bigger milestones to celebrate.
He appreciated the move by the Gender Mainstreaming Directorate and all the partners to embrace entertainment and artistry as a critical advocacy and awareness tool to reach several communities especially the youth.
"We firmly believe in the transformative power of music and the arts in promoting social change. Music and art does serve as a powerful medium to advocate for the world free from violence especially violence against women," said to Mr. Dainel Alemu, the UNFPA Deputy Country Representative.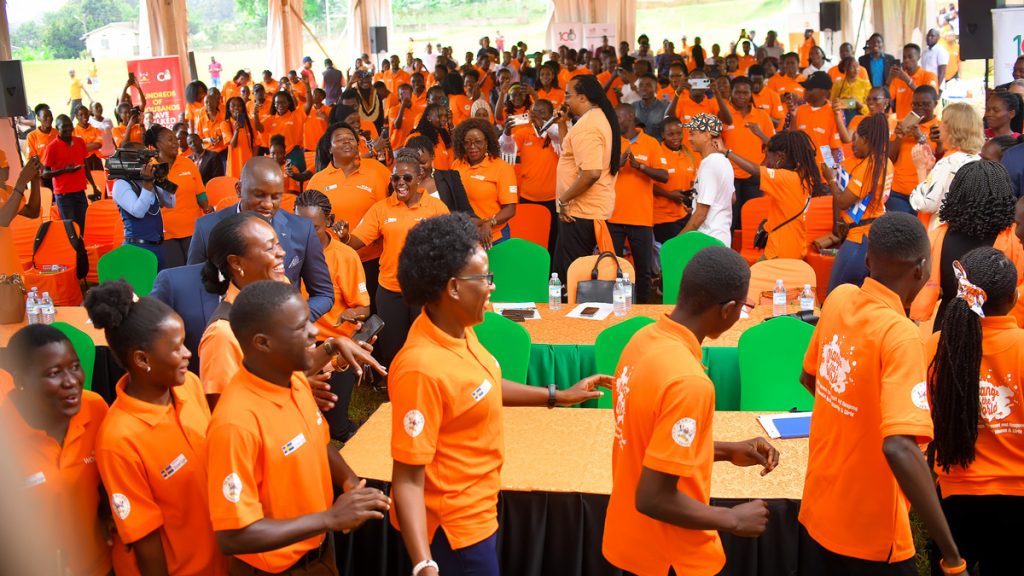 "It is heartening to see artists like Navio taking a stand and using their influence to challenge harmful norms. As we revel in the beats and melodies, let us not forget he underlying message that everyone , regardless of gender, has a role to play in fostering a world where everyone is free from shackles of gender based violence," he added.
Speaking at the Press Conference at Makerere University Rugby Grounds, Navio said that for the 20 years he has been an activist of Gender Based Violence, he has faced the reality of many young girls and women in Uganda being victims of sex and physical abuse. He therefore sent a huge condemnation to men especially artists that who are perpetrators of Gender Based Violence and called for serious government action and clear policies and laws against such injustices.
Navio applauded the women and men who have stood tall over the years to fight against Gender Based Violence in Uganda when he said, " As we launch the 16 days activism in Uganda and through these pledges we are making, let us be accountable for our actions. For long in our cultures, men have considered force and violence as power and protection. They have been tough to their children hence instilling fear to the extent that the children cannot freely interact with them on serious matters such as abuse and torture."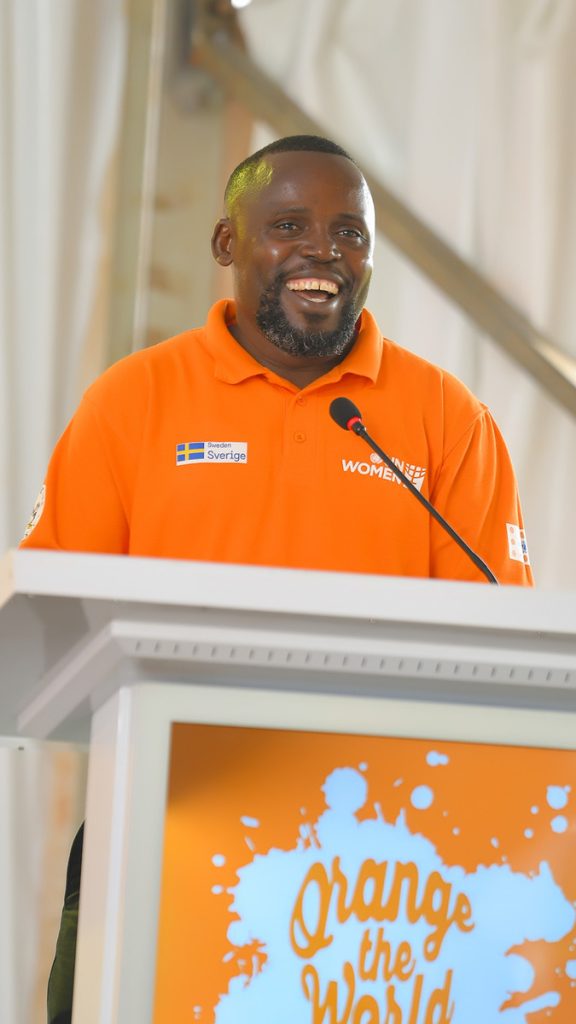 He applauded all families that have adopted the new parenting model of free conversations and interaction hence encouraging children to freely open up whenever they have challenges. Navio also acknowledged the role of his mother Mrs Maggie Kigozi as a human rights activist and a champion in fighting against Gender Based Violence in Uganda.
Jason Michael Bosak Diakité popularly known as Timbuktu from Sweden appreciated the wider platform provided by the music industry globally for artists to act as role models and champion of change. The rapper highlighted the need to respect women for their roles and support towards community development.
"I am a son and it is extremely important for me to respect my mother and all women. Also being a father to a beautiful daughter, I am always eager and looking forward to seeing the best future for her. I want daught to grow up in the world where she is able to feel safe and be allowed to freely associate without being discriminated or threatened because of her gender," he said.