Minister Nyiira Plegdes Government support to Makerere University Innovations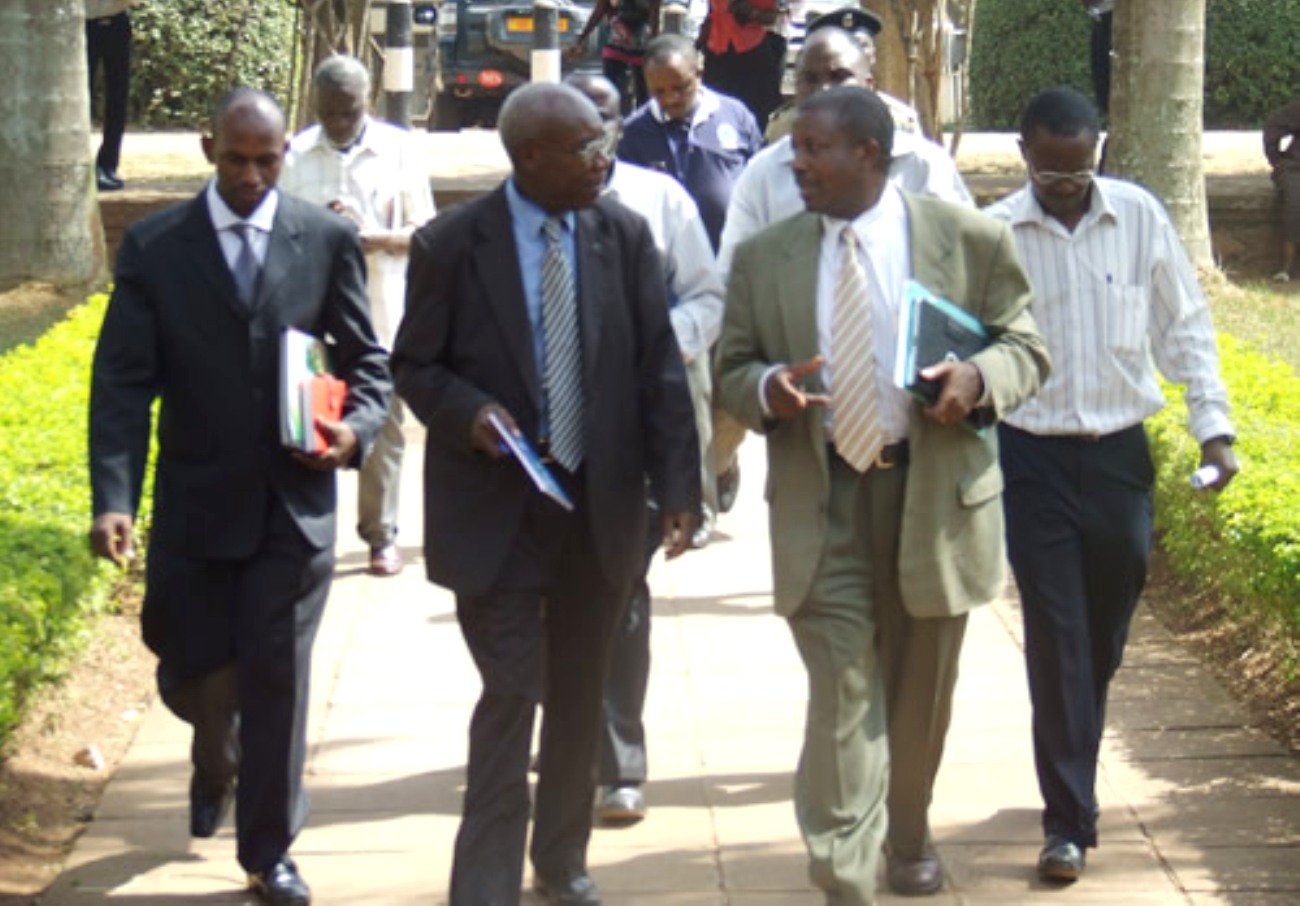 The Minister of State for Agriculture Hon. Zerubabel Nyiira has pledged government support to innovations in science and technology at Makerere University as a cornerstone for the country's economic development.
The minister  was on 3rd February 2012 meeting Makerere University top management and officials from the of College of Agricultural and Environmental Sciences  and that of Veterinary Medicine, Animal Resources and Bio-security  to discuss how the  university can partner with government to enhance agricultural and livestock development.
He said in developed countries where university scientists take up government contracts, there has been a lot of break through impacting positively on peoples livelihoods. He however decried the low level of awareness about the potential of universities, urging Makerere University to break this gap to improve agricultural productivity.
"We are breaking the myth that academicians are not practical. The university has competent human resources that should engage in research of practical nature, enhance extension service delivery and build capacities to transform society".
Minister Nyiira said that the purpose of his visit was to meet with university officials, discuss developmental ideas, mainstream and formalize them to get administrative support.
He acknowledged the importance of science, innovation and technology saying, the trio are government priorities "There is no country that develops without investing in science and technology and government is willing to pay scientists well and invest in research". He urged university officials to develop proposals and present them to government for funding.
The minister later toured facilities in the two colleges including research laboratories, the Food Technology and Business Incubation Centre (FTBIC), the Food Parlor and the AFRISA Secretariat where he lauded the University for the Job well-done.
Mak Trains over 550 Technical & Extension Workers under DINU
On 27th January 2023, The Academic Registrar, Prof. Buyinza Mukadasi represented the Vice Chancellor, Prof. Barnabas Nawangwe at the closing ceremony of the training of technical staff of local governments under the Development Initiative for Northern Uganda (DINU) program. The training was conducted by a joint team from the Colleges of Agricultural and Environmental Sciences (CAES), Natural Sciences (CoNAS), Veterinary Medicine, Animal Resources and Bio-security (CoVAB), Makerere University Business School (MUBS) and the National Agricultural Research Organization (NARO).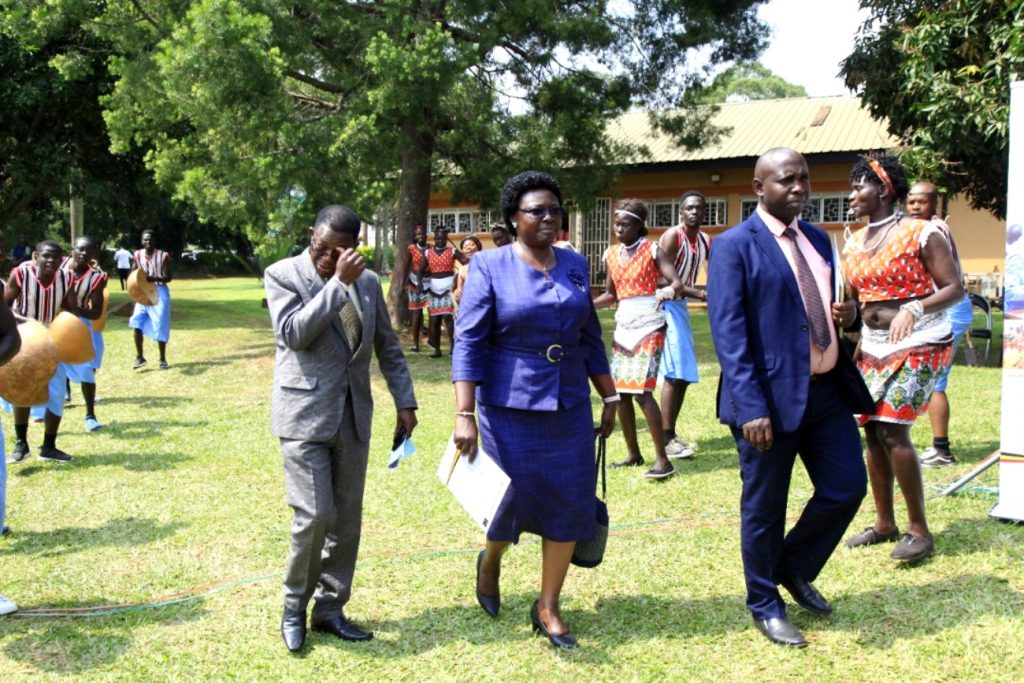 DINU is a Government of Uganda programme supported by a grant of 150 million Euros from the European Union (EU) and supervised by Office of the Prime Minister (OPM). It is a multi-sectoral programme aimed at improving livelihoods in 41 districts in the five sub-regions of Acholi, Karamoja, Lango, Teso and West Nile for a duration of six years (2017-2023).
Over 550 technical and extension workers have received training in the field of integrated pest and disease management, climate smart agriculture, apiculture, post harvest handling, integrated soil fertility management, marketing, agribusiness and financial management.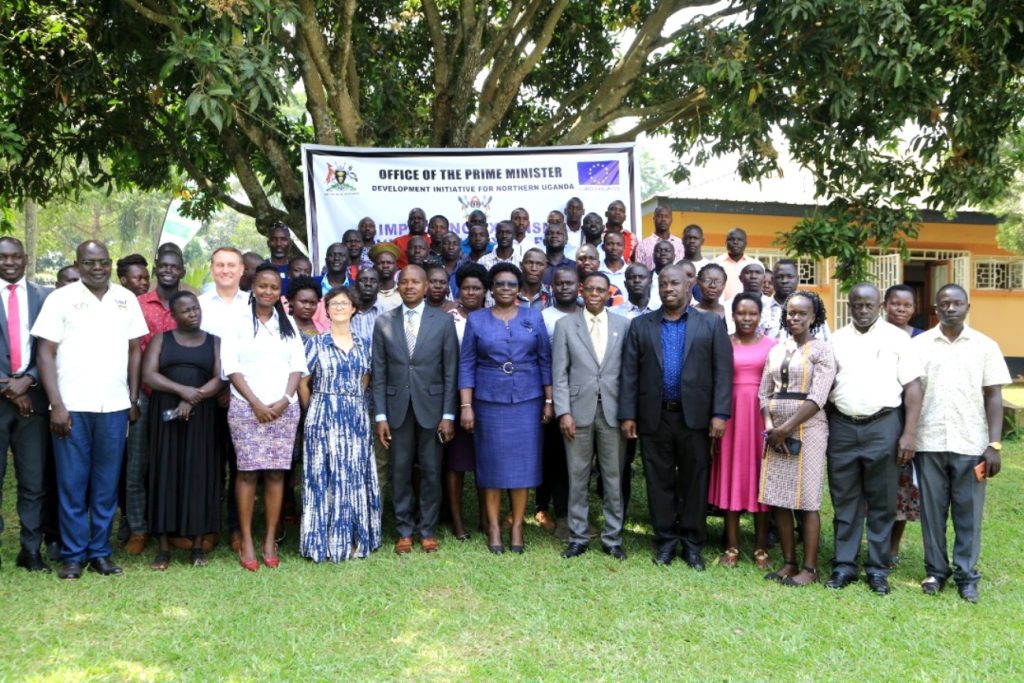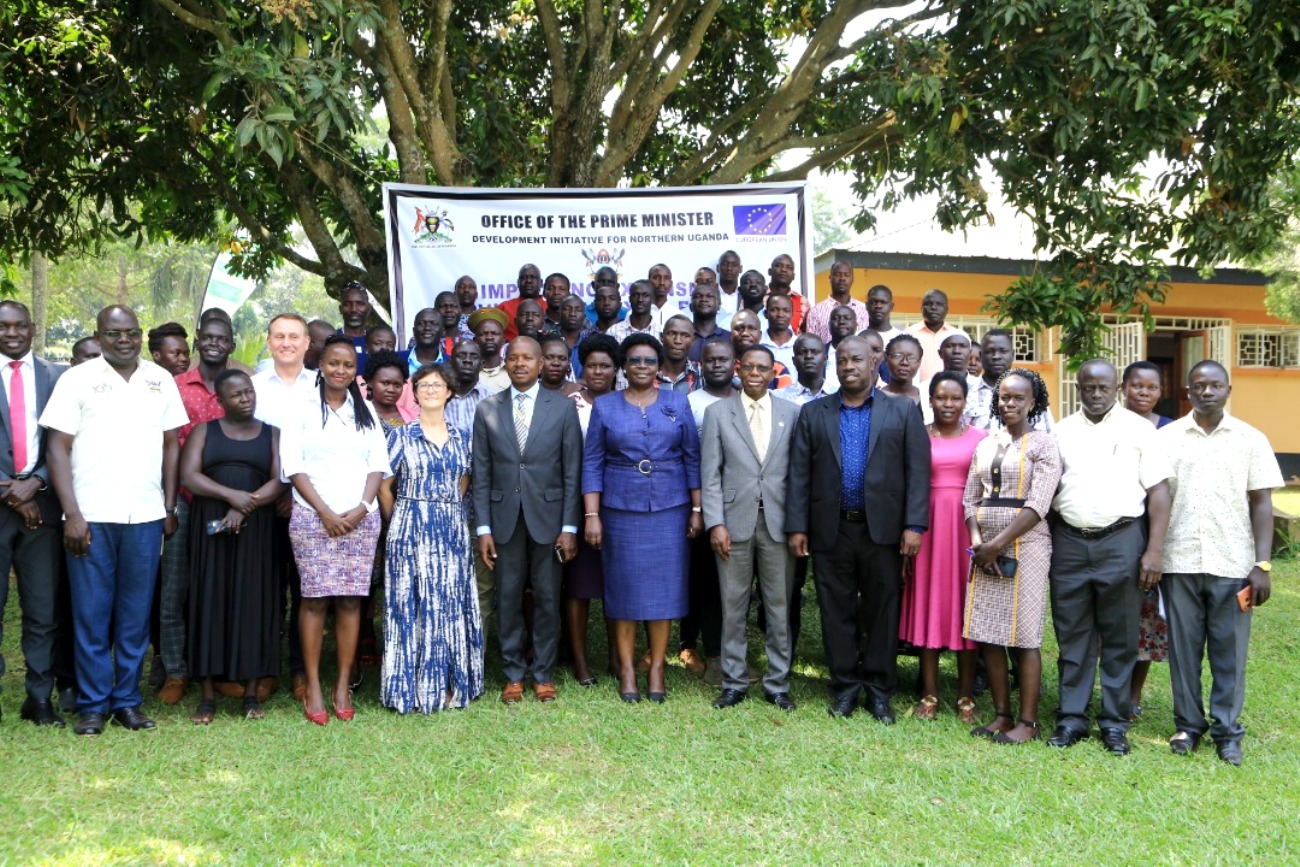 The Minister of Karamoja Affairs, Hon. Dr. Mary Goretti Kitutu was the Guest of Honour at the closing ceremony held at the Continuing Agricultural Education Centre (CAEC) of the Makerere University Agricultural Research Institute Kabanyolo (MUARIK).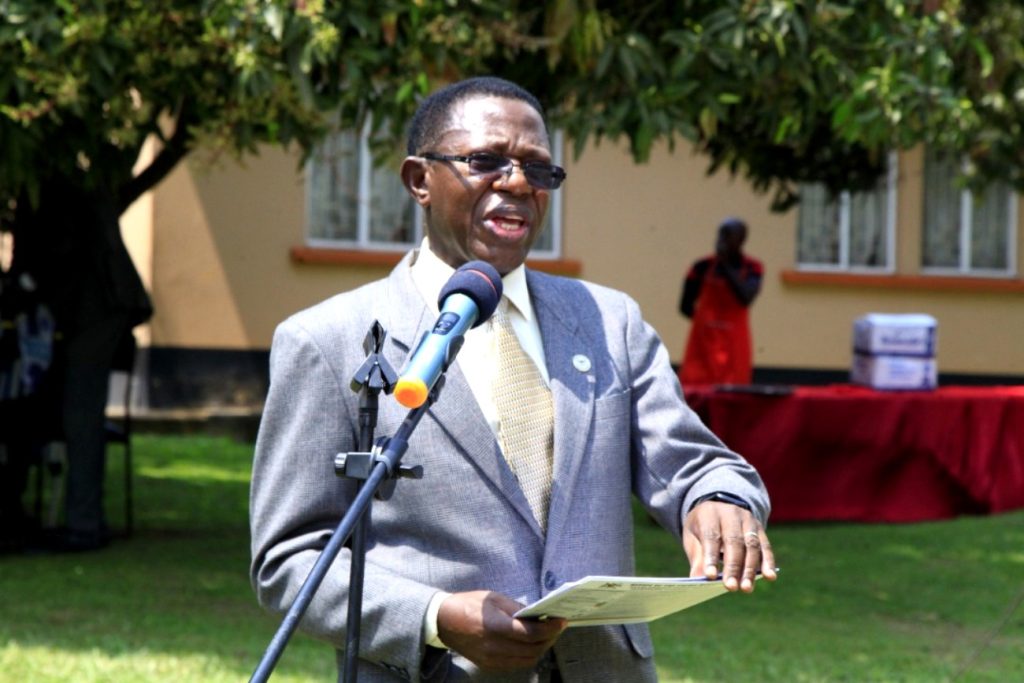 The ceremony was attended by Head of the EU delegation Ambassador Jan Sadek, Minister of State for Agriculture, Permanent Secretary OPM, and over 30 Chief Administrative Officers (CAOs). DINU will continue to partner with CAES to enhance knowledge, skills and practice in line with the Parish Development Model (PDM), which is aimed at serving as an engine for socio-economic transformation.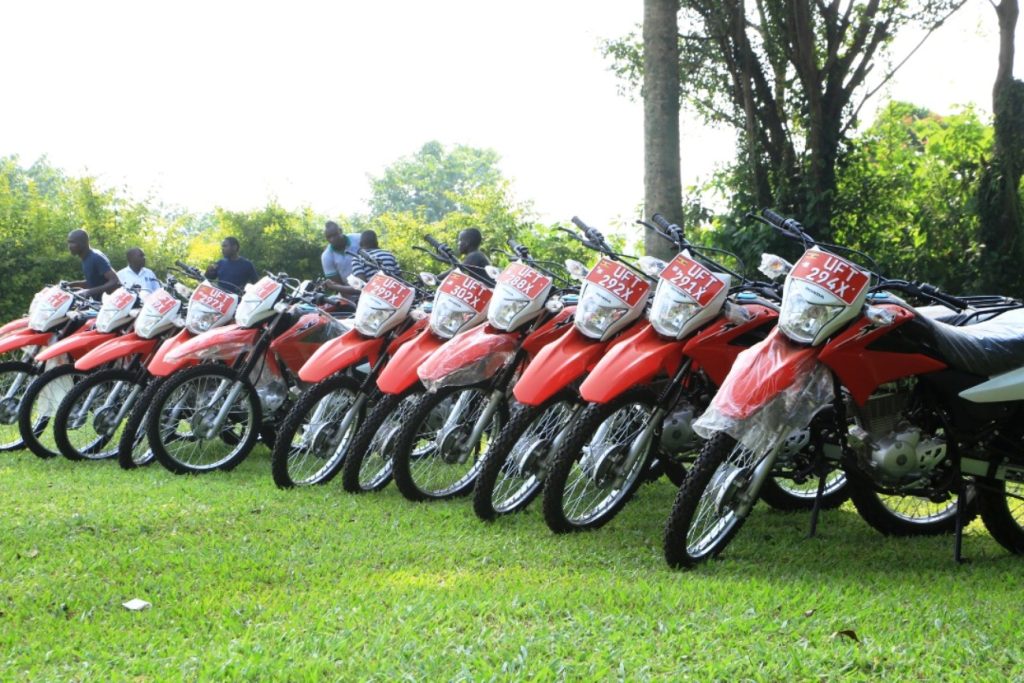 Mak Hosts 2nd African Conference on Precision Agriculture (AfCPA) 2022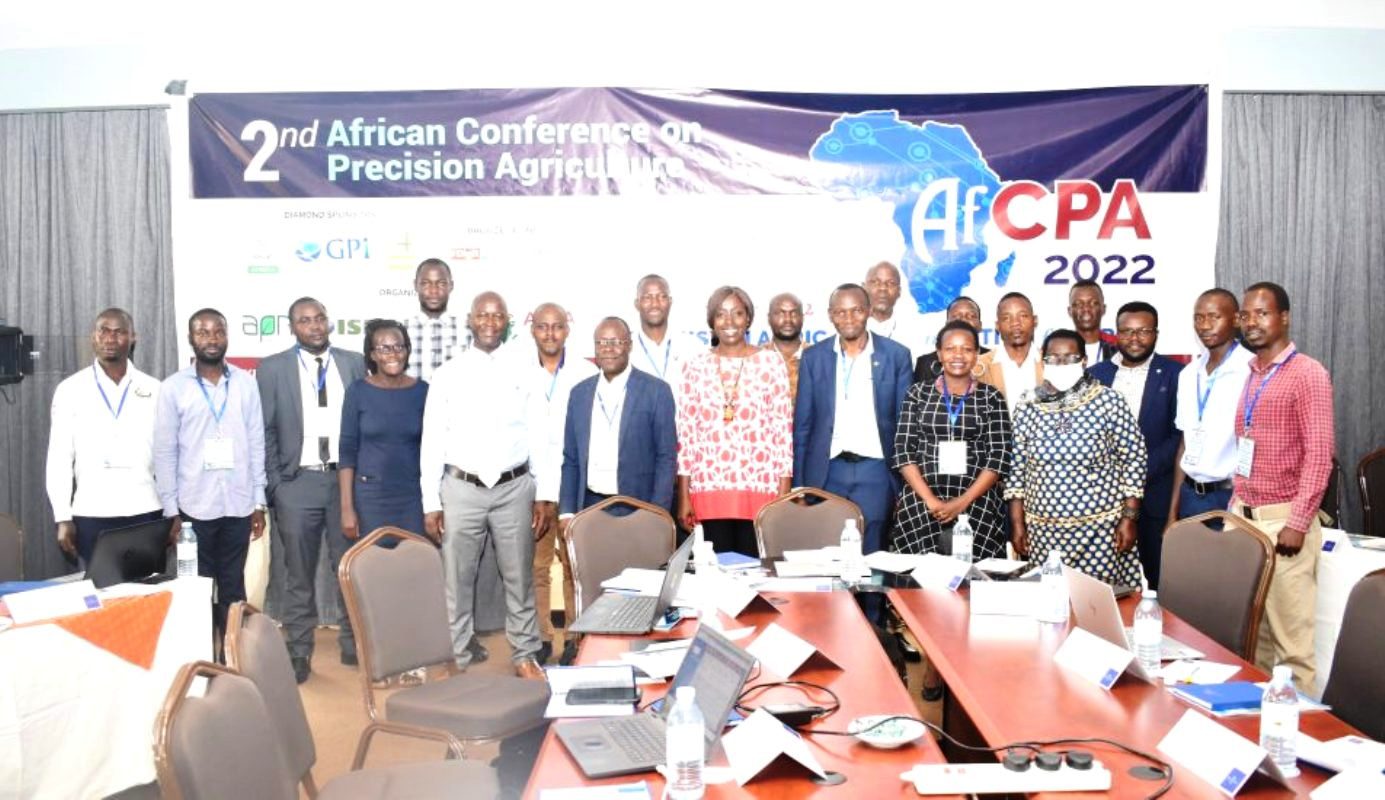 Makerere University College of Agricultural and Environmental Sciences (CAES) represented by Dr. Patrick Musinguzi, a Lecturer in the Department of Agricultural Production, hosted a satellite event of the 2nd African Conference on Precision Agriculture (AfCPA) from 7th to 9th December 2022, at Protea Hotel in Kampala, Uganda. AfCPA is a biennial event and an initiative of the African Plant Nutrition Institute (APNI) in partnership with Muhammed VI Polytechnic University (UM6P), the International Society of Precision Agriculture (ISPA), and the African Association for Precision Agriculture (AAPA). The satellite event offered an opportunity for the local presenters and stakeholders to participate in the main conference held in Nairobi, Kenya, on issues of precision agriculture as a novel management approach for optimizing soil/crop health and productivity. The mission of AfCPA is to build a forum dedicated to "connecting the science and practice needed to put precision agriculture in action for Africa."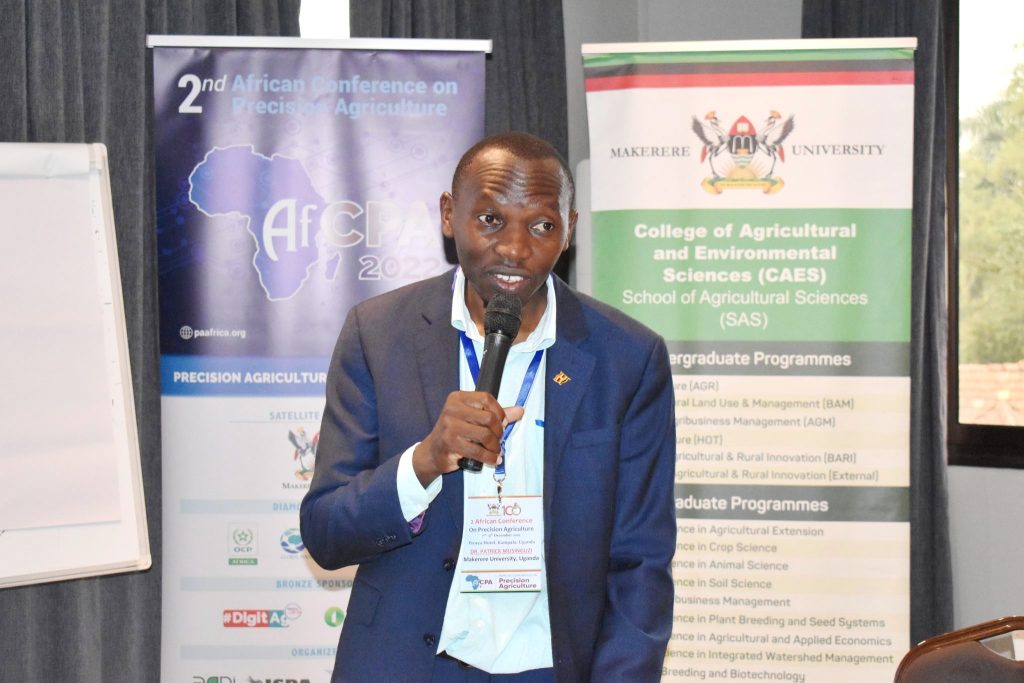 The conference was sponsored by OCP Africa, Global Phosphorous Institute, 4R Solution Global Affairs Canada, Digital Agriculture Convergence Laboratory, and Investiv. The conference aimed at strengthening and supporting the precision agriculture community within the African context. The conference engaged stakeholders including scientists, policy makers, extension staff, crop consultants and advisors, agronomists and service providers towards a common goal of building the capacity and resilience of African cropping systems.
AfCPA partner organizations that served as national satellite site hosts included:
National Polytechnic Institute Félix Houphouët-Boigny (INP-HB), Abidjan, Côte d'Ivoire
National Authority for Remote Sensing & Space Sciences (NARSS), Cairo, Egypt
Ethiopia Institute of Agricultural Research (EIAR), Addis Ababa, Ethiopia
CSIR-Savanna Agriculture Research Institute, Tamale, Ghana
Nassarawa State University, Keffi, Nigeria
University of KwaZulu-Natal, Pietermaritzburg, South Africa
Advanced School of Agronomy/University of Lomé (ESA-UL), Lomé, Togo
National Institute of Agronomic Research of Tunisia (INRAT), Tunis, Tunisia
College of Agricultural and Environmental Sciences Makerere University, Kampala, Uganda
Plant Production Sciences and Technologies, University of Zimbabwe, Harare, Zimbabwe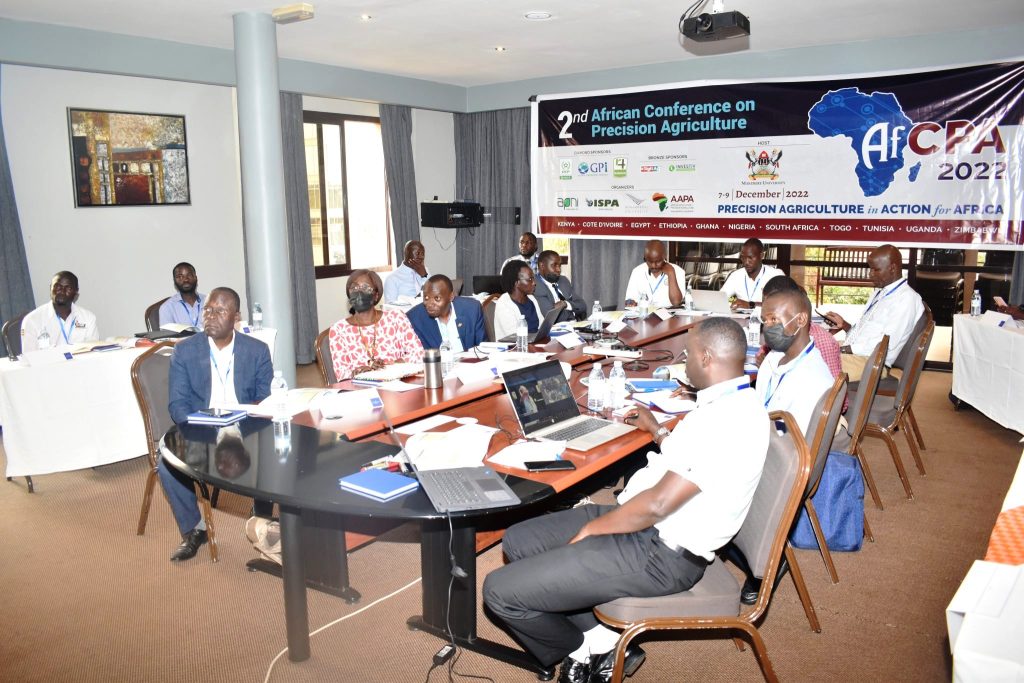 Strategies to promote rapid adoption of precision agriculture
Education: Schools especially higher institutions of learning like universities should develop programmes and expand curricula to spur digital innovation and skills development of precision agriculture technologies and techniques.
Youth inclusion programmes: Non-Governmental Organizations (NGOs) should focus on youth inclusion and create programmes targeted towards the youth to educate, train and challenge them to engage in precision agriculture advancement.
Strengthening collaborations and knowledge sharing: Local organizations and international bodies should develop partnerships that ensure cross-fertilization of knowledge, ideas, and technologies in precision agriculture, with youth in the picture.
Research engagement: The youth are the powerhouse of innovative ideas and they posses the stamina needed in research that would advance precision agriculture. Research programmes must be developed to target and leverage the strength of the youth in Africa.
Policy Development: Government at all levels must develop policies and regulations that favour the advancement of precision agriculture in Africa, while encouraging the youth to lead with technology development and start innovations that promote precision agriculture.
Finance towards research and youth-led AgTech startup/SMEs: Precision agriculture product development especially in the African local context requires generous funding to prototype. Therefore funding is critically important to cause significant progress and to speed up precision agriculture in Africa.
Community engagement: The concept of precision agriculture comes with ideologies and it is vital to use the power of community engagement to bring about ideological change for rapid adoption of precision agriculture in Africa. The youth are valuable agency to deliver this change. When the youth accept precision agriculture, they easily influence the narrative its favour.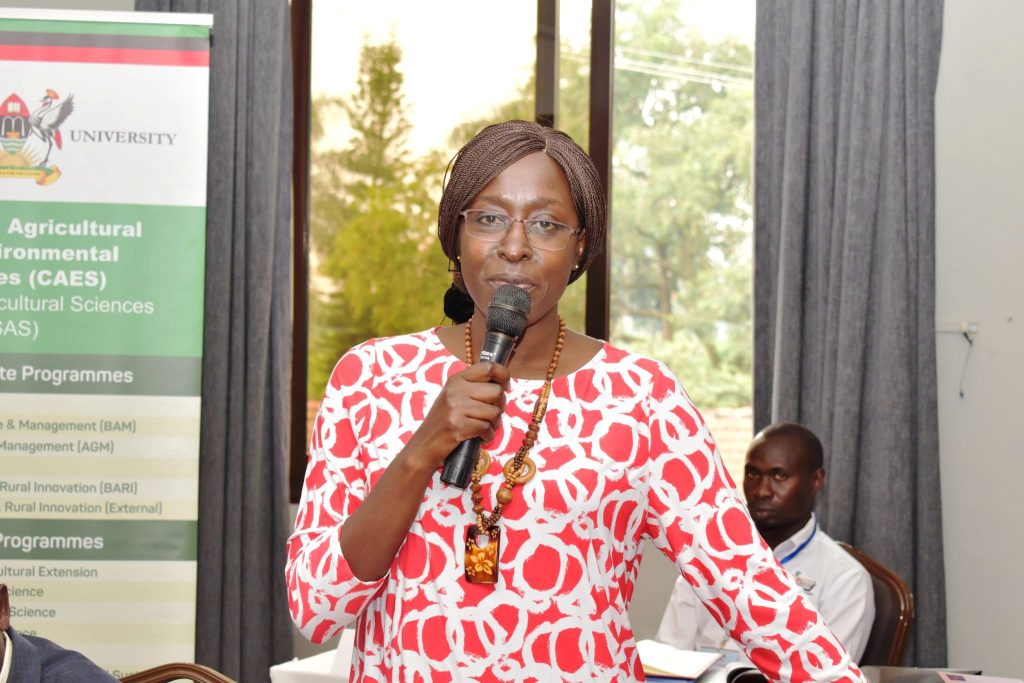 In her remarks, Dr. Mildred Ochwo, Head department of Agricultural Production, CAES said strengthening Networks would greatly boost precision agriculture in Africa.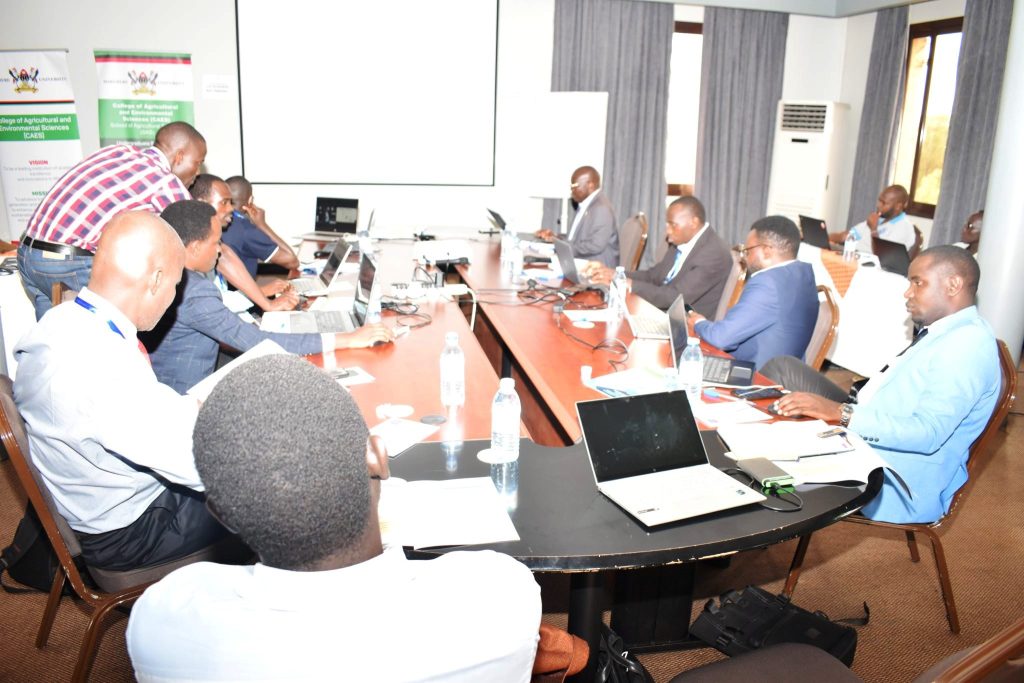 The Deputy Principal of CAES, Prof. Yazidhi Bamutaze cited the need to embrace and optimize emerging technologies intended improve agricultural productivity. Prof. Bamutaze aslo noted the need for Uganda's commitment to collecting quality data. "We need to redirect our efforts to data collection consistently in a clean way for science to work. With poor quality data you can not run simulations or models, and targeted interventions. We all have to work together towards this," he said. According to Prof. Bamutaze, Uganda as a country is increasingly appreciating technology, and with leadership, we can work together, setup trials to ensure that what we are doing goes to the next level.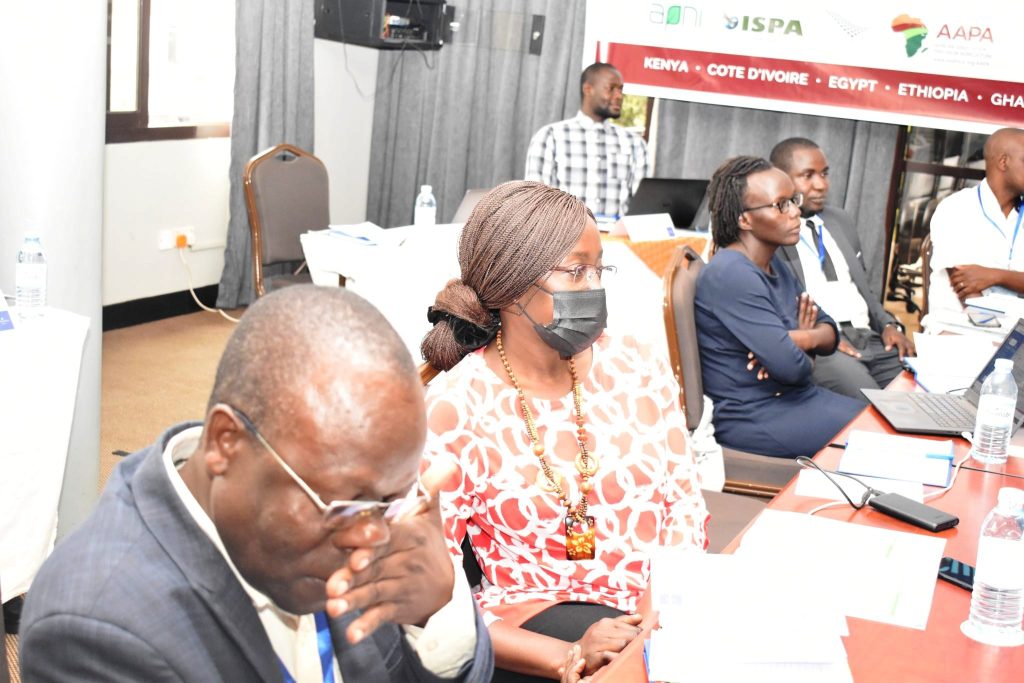 Prof. Bamutaze noted that the College was keen to work with partners, through student-staff mobilities. Prof. Bamutaze appealed to government for funding in order to produce competent students. "We can't develop the country without good capital base, which requires resources," he said.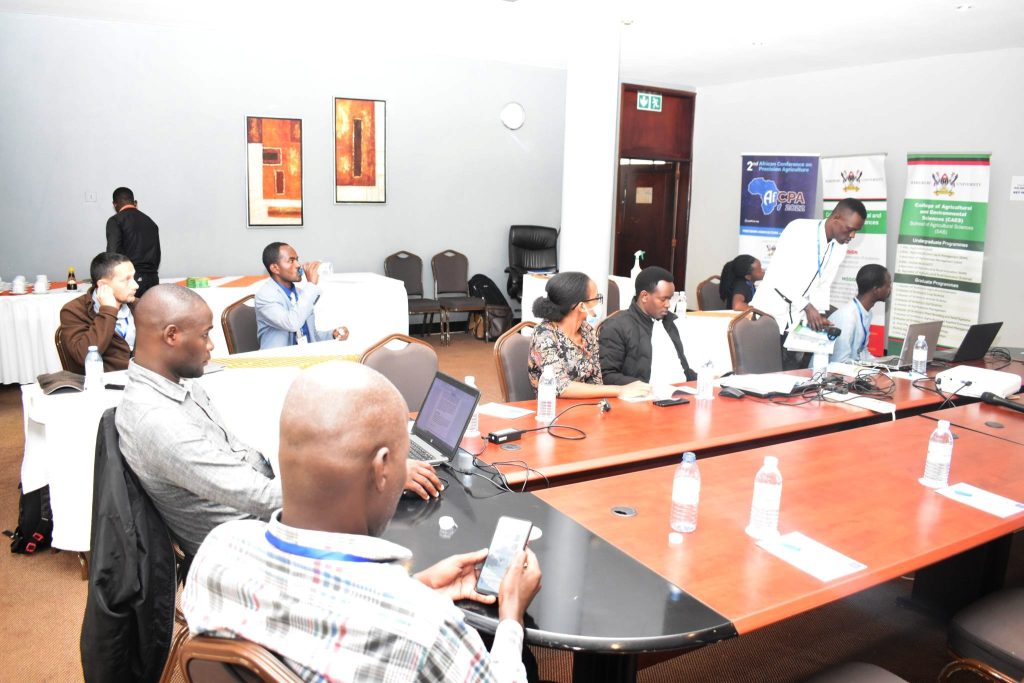 According to Mr. Fred Kabango, Commissioner, Ministry of Agriculture, Animal Industry and Fisheries, the ministry has undertaken many initiatives like climate smart agriculture, geared towards addressing the effects of climate change. Mr. Kabango called for adoption of precision agriculture as a measure to improve productivity. In achieving NDP Goal 3, on industrialization, were, one of the pillars is to increase production and productivity, Mr. Kabango emphasized the need to look at agriculture as business, and to retool farmers with the best agricultural practices.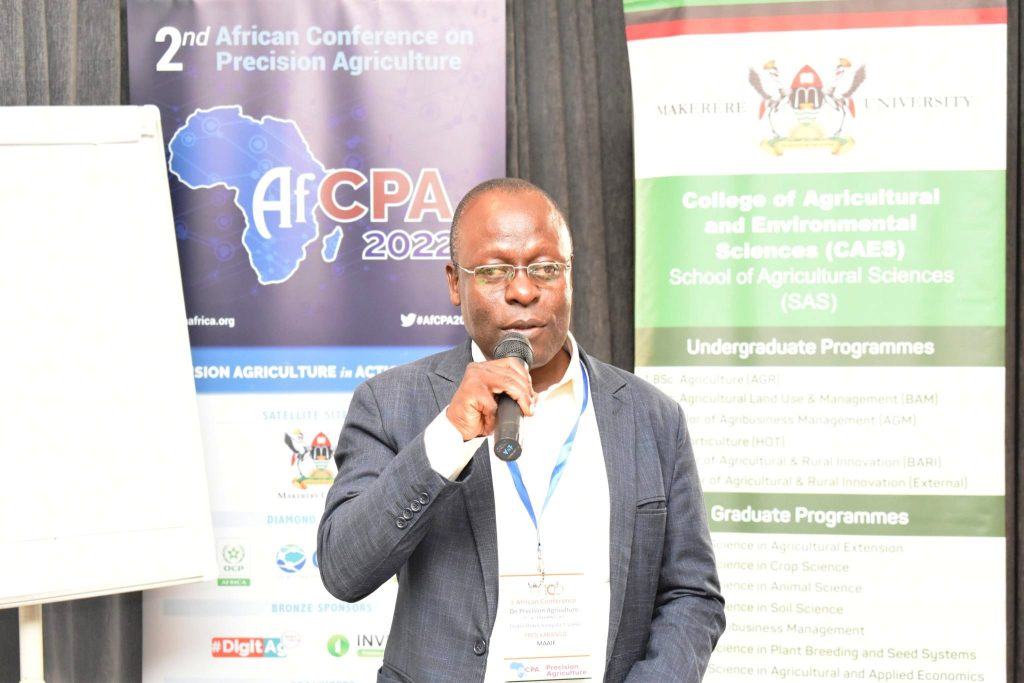 Mr. Paul Senyange, Project Manager E-services, National Information Technology Authority, Uganda (NITA-U) presented an assessment of how the Authority can support the implementation of precision agriculture through Agriculture technology initiatives discussed in the conference. Mr. Senyange presented a number of ideas on how NITAU can support the initiative including: creating an enabling environment with special focus on necessary laws, connecting through the National Backbone Infrastructure (NBI), supporting data sharing and security through the UGHUB which is a Government integration platform, supporting unit hosting of applications in the current cloud data centre, and supporting innovations and e-services in the precision agriculture space.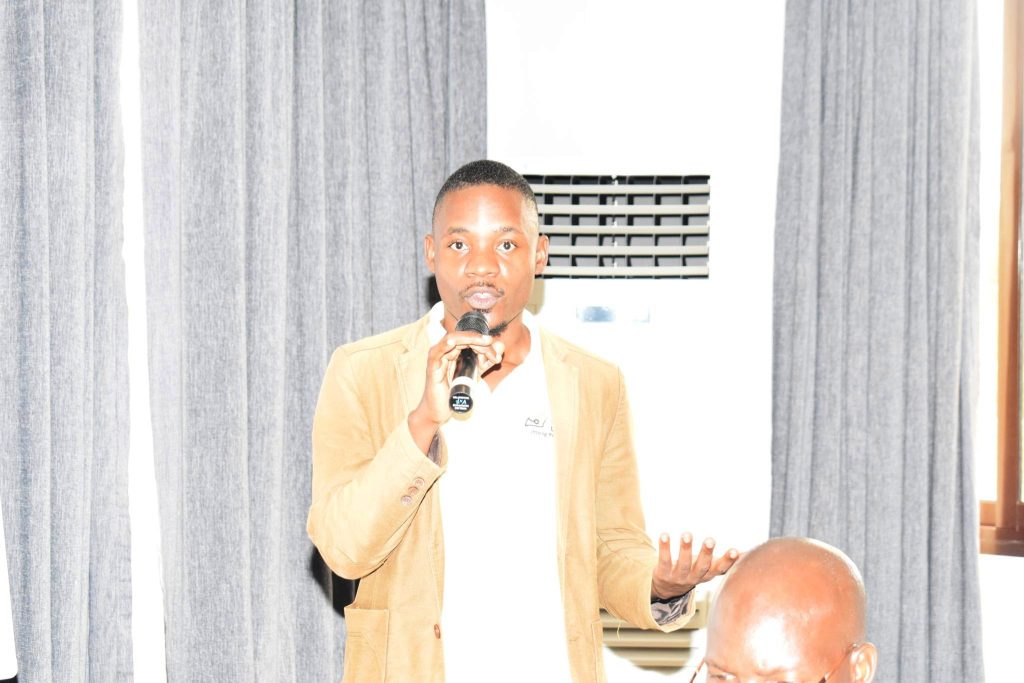 CAES Botanical Gardens Launched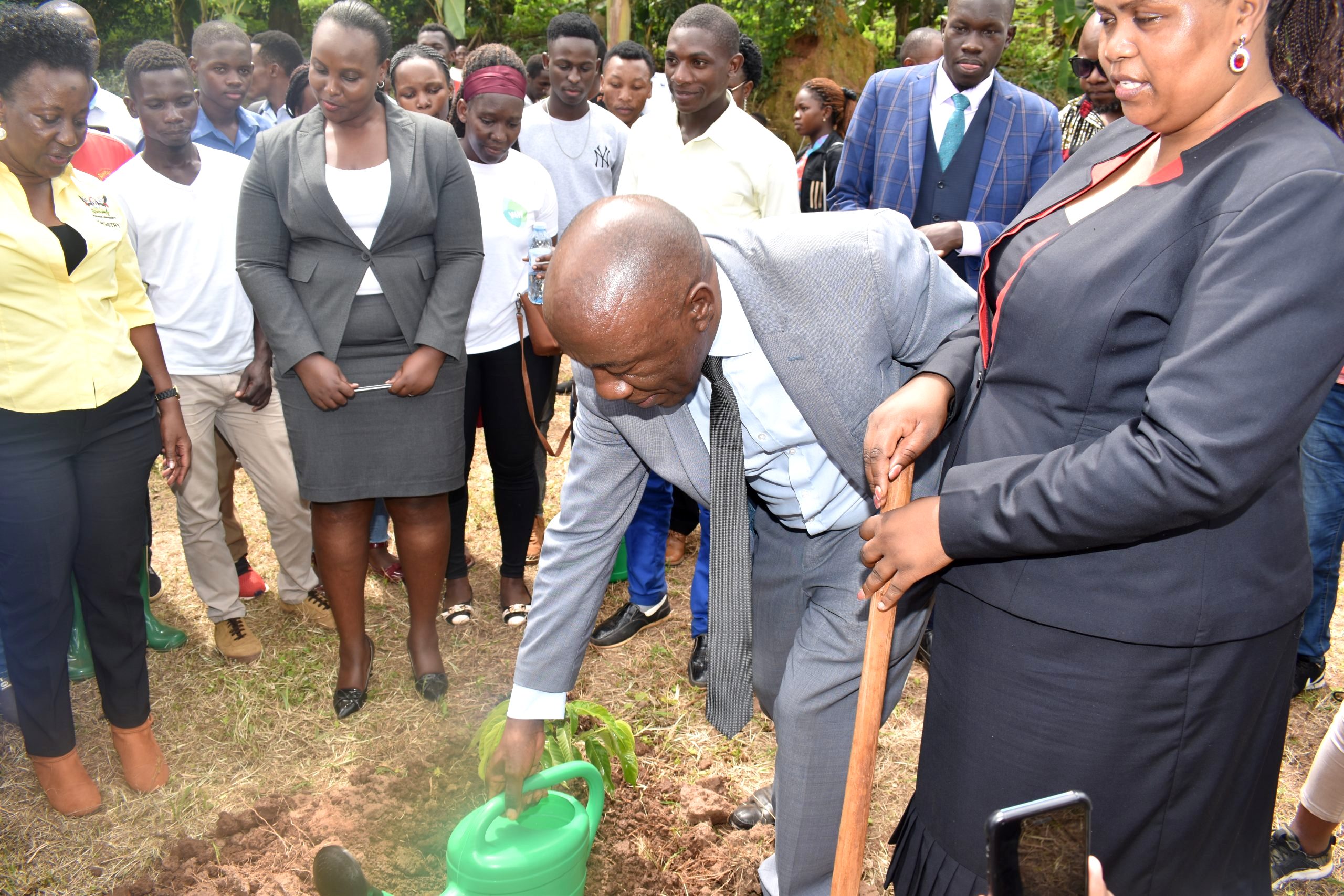 The College of Agricultural and Environmental Sciences (CAES) through the School of Forestry, Environmental and Geographical Sciences (SFEGS) on 6th December launched the first CAES Botanical Gardens at Makerere University Agricultural Research Institute Kabanyolo (MUARIK). The Botanical Gardens will cover 30 acres of MUARIK land. This is one of the College initiatives geared towards the protection, conservation and recreation of ecosystems. The gardens will also be used for teaching and research. During the launch, over 300 trees were donated to the Gardens.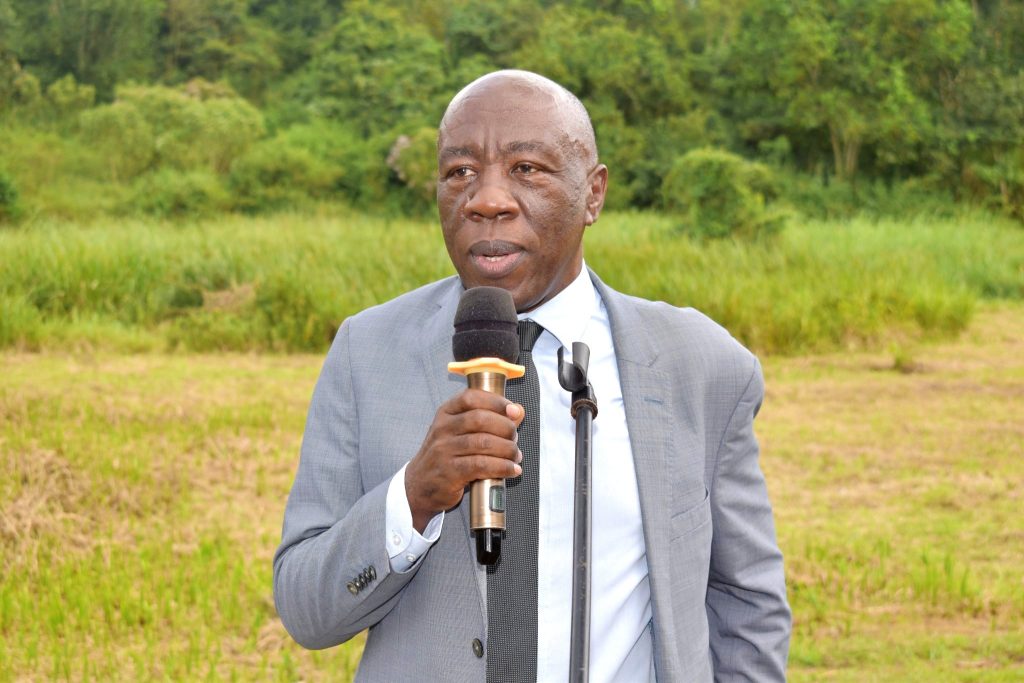 The CAES Botanical Gardens is an iconic monument set up to commemorate 100 years of Makerere University and 50 years of the School of Forestry, Environmental and Geographical Sciences. The idea of the gardens was an initiative by Prof. Bernard Bashaasha, following his visit to Stellenbosch University where he was impressed by the green scenery.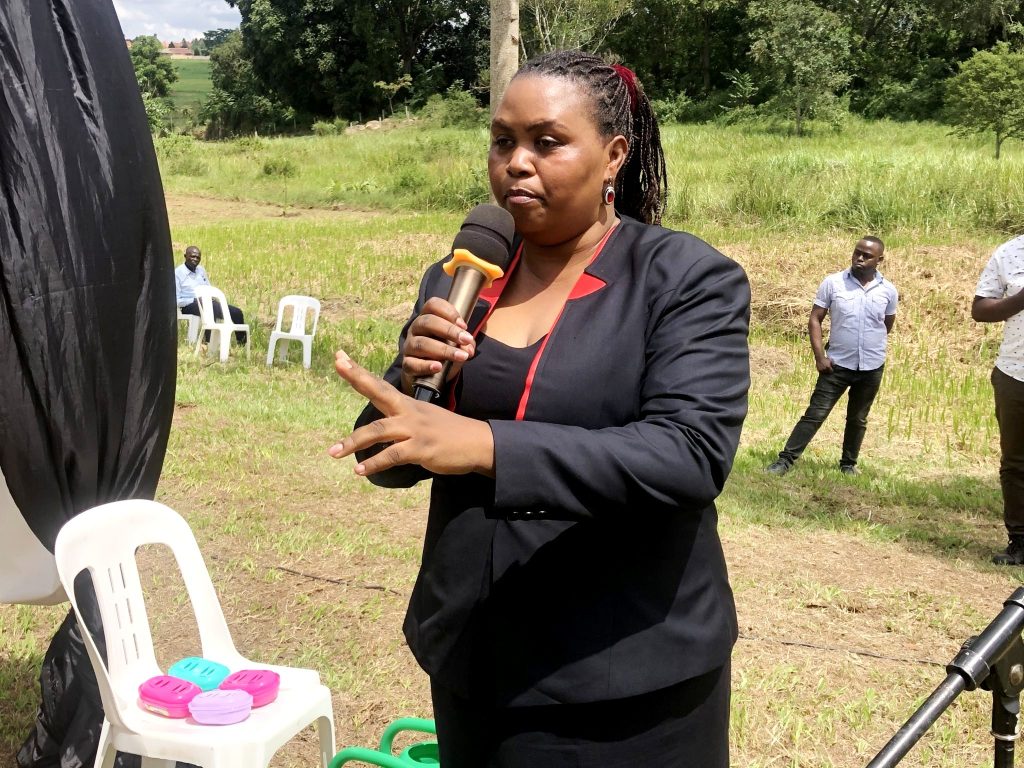 Established in 1953, MUARIK is one of the research institutes of CAES, Makerere University, with the main role of supporting the College's mandate of teaching, research, outreach and production. MUARIK carries out research based on the nation's priorities, including: biotechnology, tissue culture technology, plant breeding, development of improved farming techniques, agro-processing, marketing and value addition. The institute has had a number of achievements including: increased banana plantation acreage, poultry unit renovation, increased soybean production to 14 acres between 2018-2020, expansion of pasture gardens, improvement of the coffee plantation, and provision of training services to education institutions.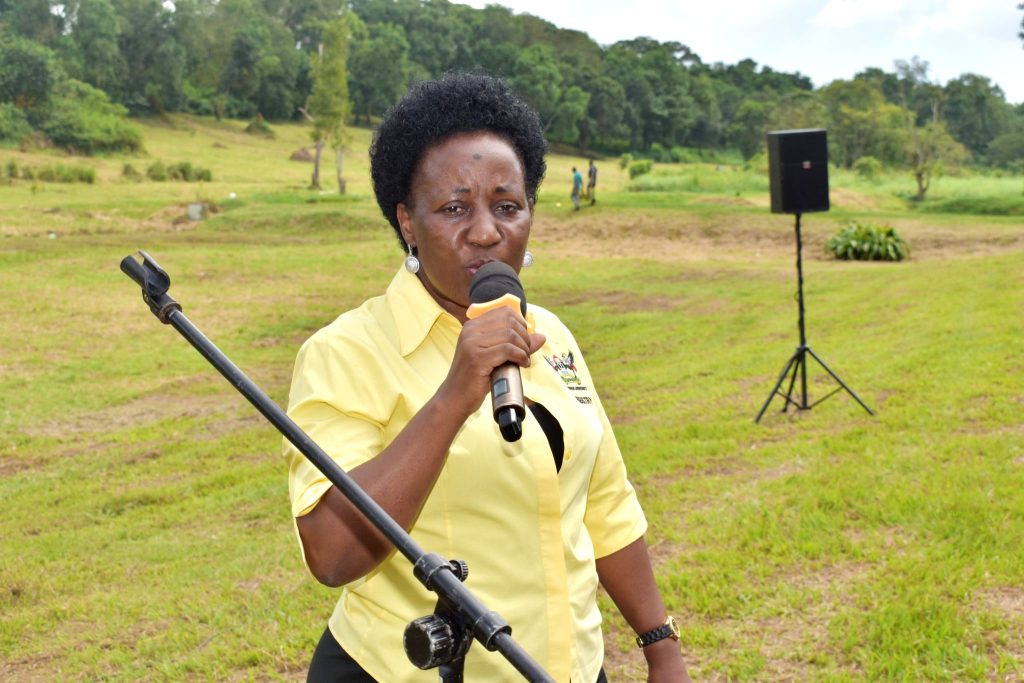 On behalf of Makerere University Vice Chancellor, the Acting Deputy Vice Chancellor in charge of Finance and Administration, Prof. Henry Alinaitwe, commended CAES for the initiative, emphasizing the importance of forests in combating climate change. "We all rely on the environment and I am sure we have all witnessed how fast the environment is changing, and as a Civil Engineer I confess that we are part of the problem. We cut trees for construction purposes, with no effort to replace them," he said.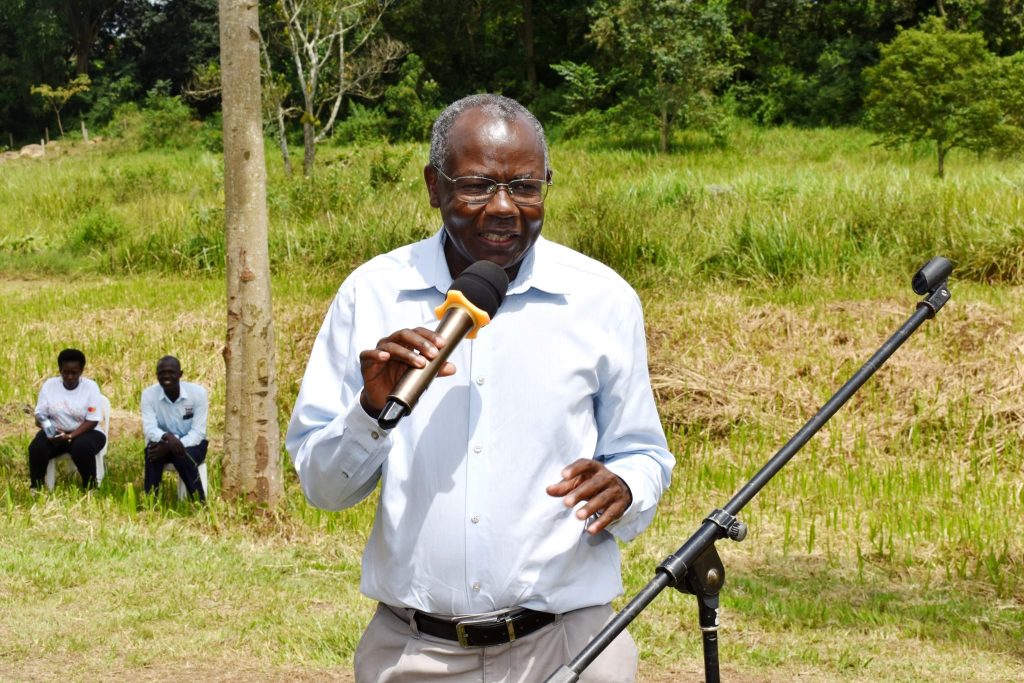 Prof. Gorettie Nabanoga, Principal CAES, urged the First Year students at the College to take charge in as far as protection and conservation of forests is concerned. "Your cohort comes in at the beginning of a new century. We assign you the responsibility to take this forward," she said. Prof. Nabanoga re-echoed the need for sustainable management of ecosystems for improved livelihoods.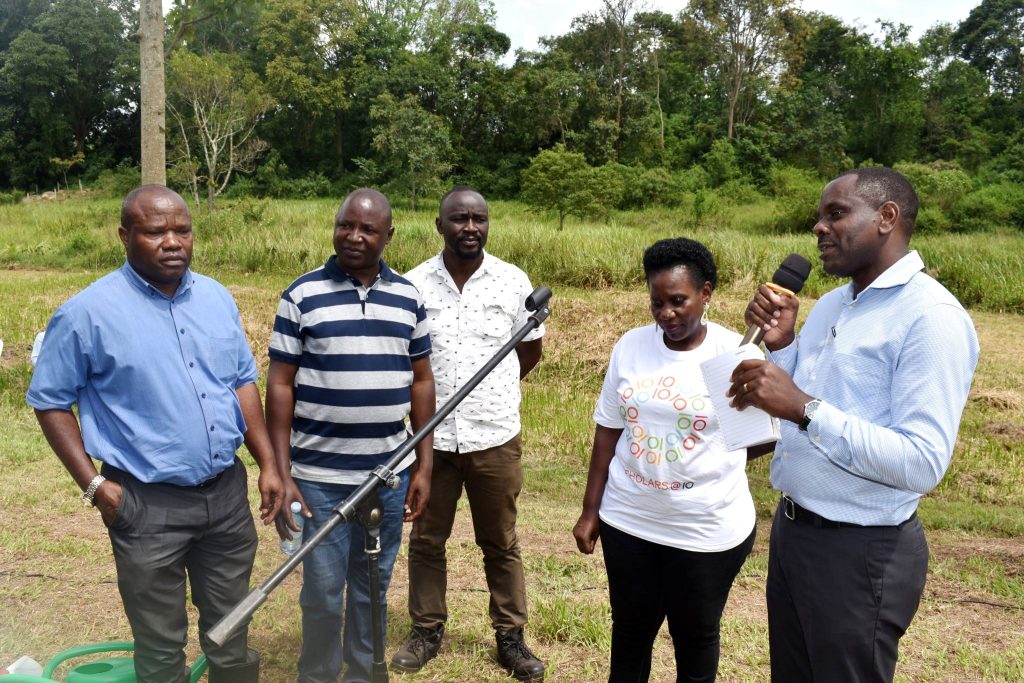 According to Prof. Fred Babweteera, Dean School of Forestry, Environmental and Geographical Sciences, the CAES Botanical Gardens will serve as a centre for replicating a number of ecosystems, promoting and conserving the indigenous species, especially those with medicinal value, and setting up recreational spaces.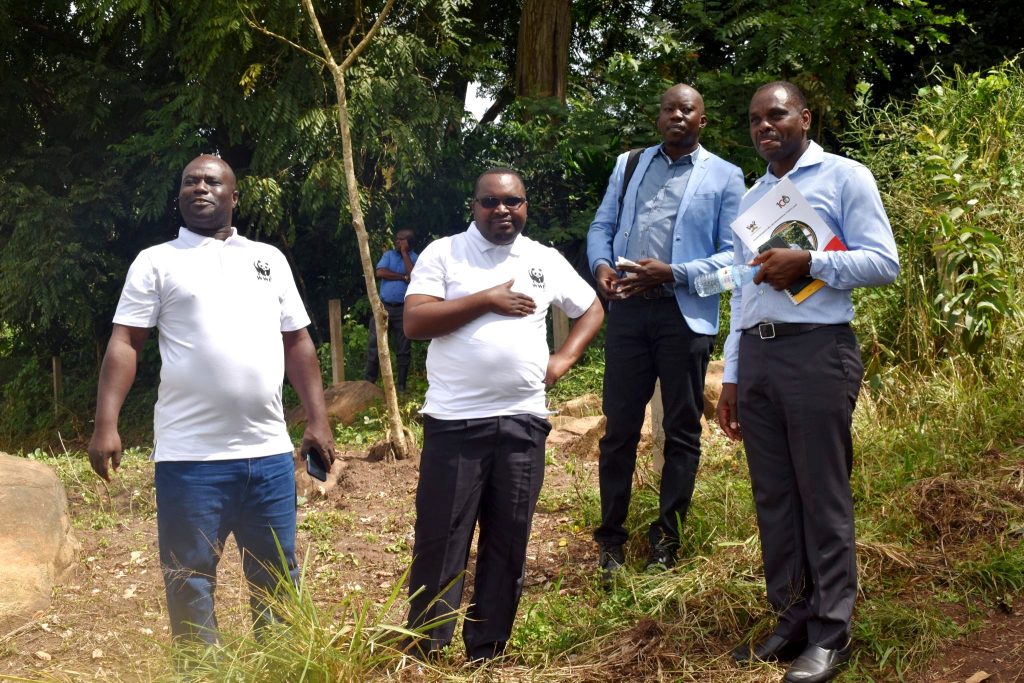 In her remarks, Hon. Kaaya Christine Nakimwero, Woman Member of Parliament, Kiboga District called on the public to support popularization of the Botanical Gardens. "I feel you are the centre of biological diversity, and having the gardens at the best University in Uganda is indeed something to celebrate," she said.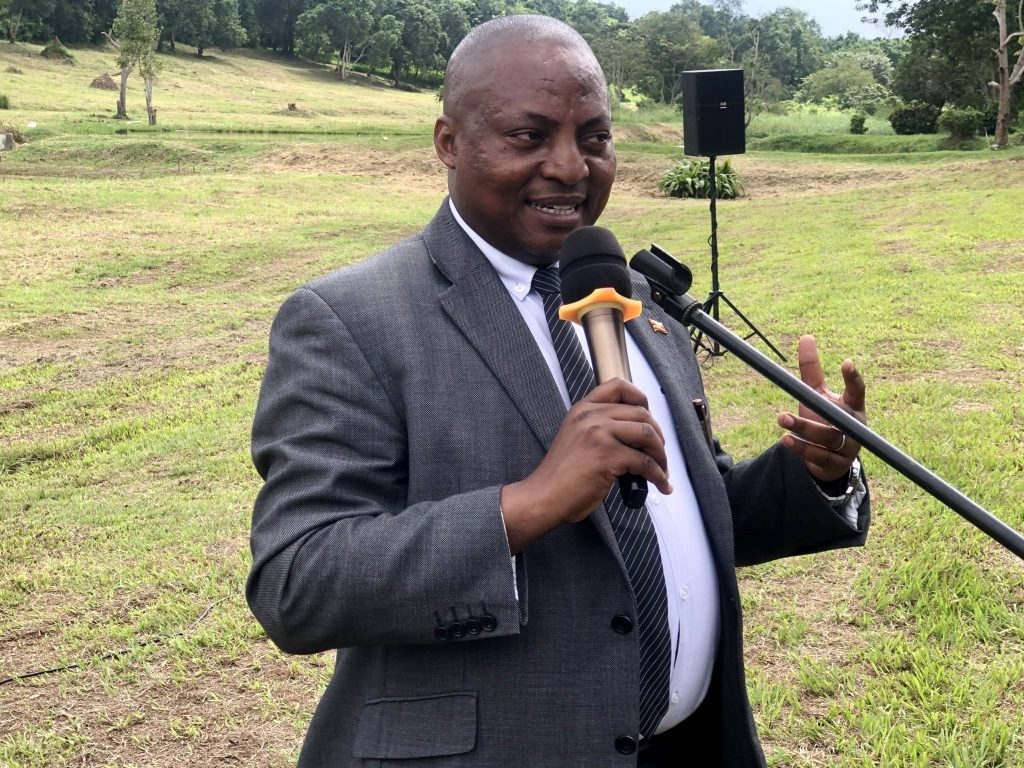 The Permanent Secretary, Ministry of Water and Environment, represented by Commissioner Mr. Alfred Okot Okidi described the Botanical Gardens as a great initiative that would boost Government efforts geared towards preserving forests.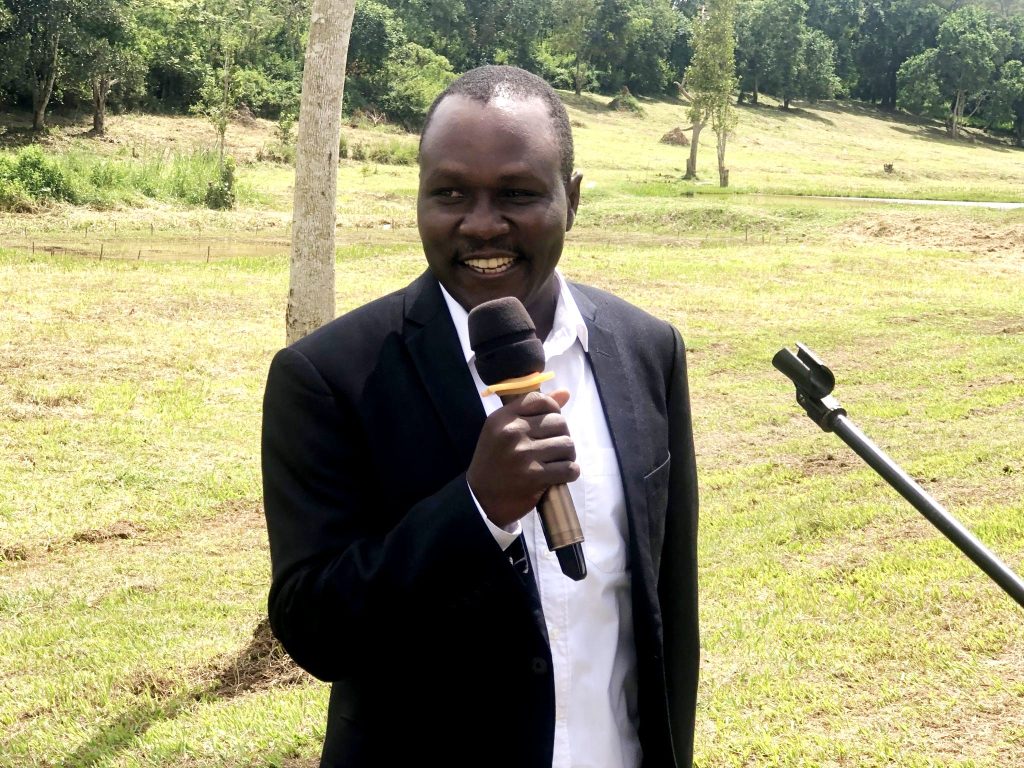 According to Dr. Daniel Waiswa, Lecturer, Department of Geography, Geoinformatics and Climatic Sciences, CAES, the Botanical Gardens will serve as a laboratory for many studies. It will also help in the promotion and conservation of endangered and indigenous species, as well as serve as a recreation centre.
The event was moderated by Dr. Patrick Byakagaba, Lecturer at the Department of Environmental Management, CAES.