Tanzanian PM Rt. Hon. Majaliwa Graces Islam@75 & MUMSA@50 Celebrations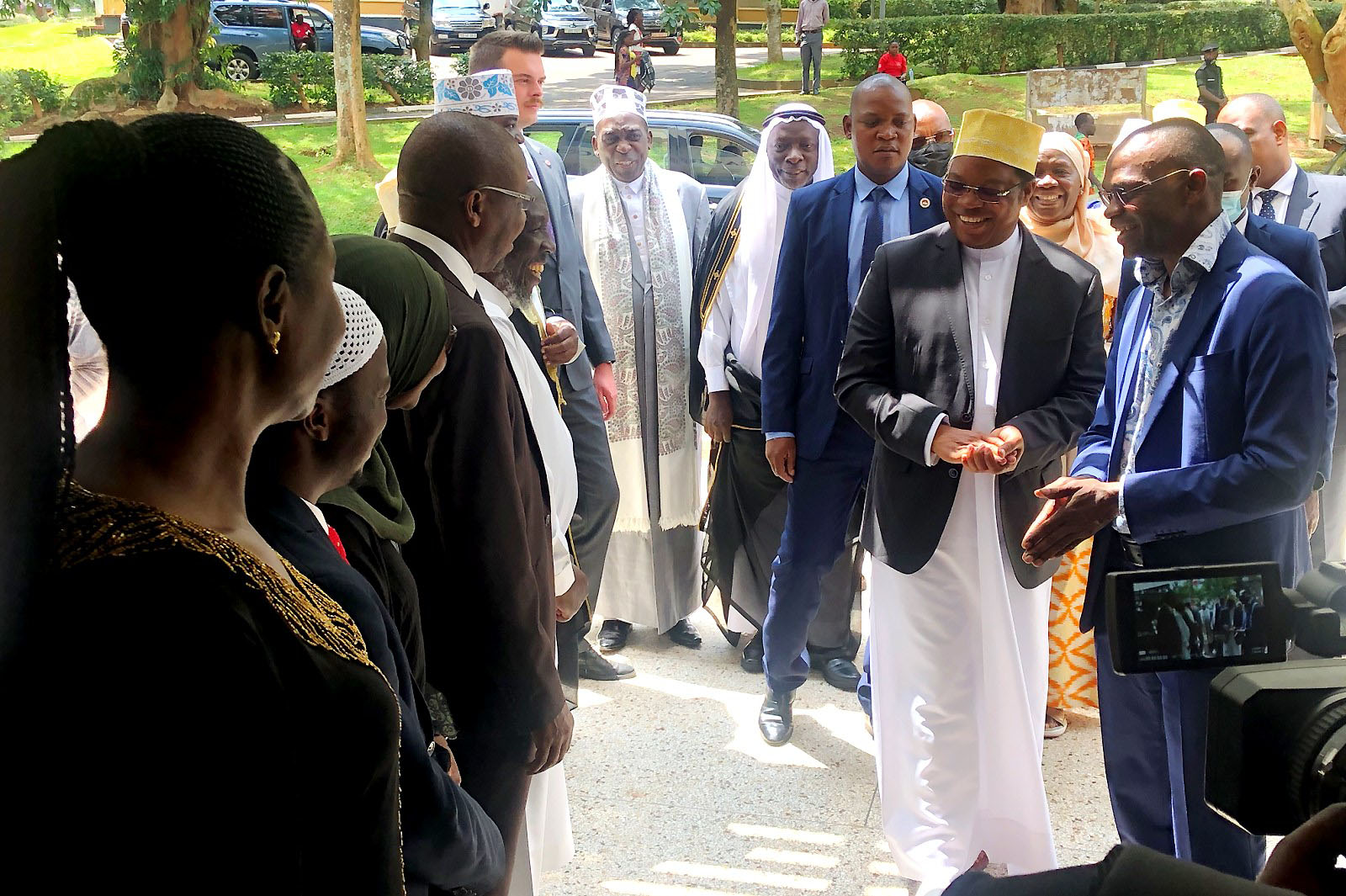 The clouds gathered as the clock struck midday, threatening to pour out their rain, perhaps to bless the day's proceedings, as the Muslim community gathered on Saturday 17th December 2022 at the Main Campus to celebrate 75 years of Islam and 50 years of the Makerere University Muslim Students Association (MUMSA). Suddenly, and as if sensing that the dignitaries were about to arrive, the dark clouds cleared, giving way to a bright sunny afternoon. Right on cue, a grand motorcade gently made its way to the Frank Kalimuzo Central Teaching Facility, stopping right in front of the Main Entrance. Out he alighted, graceful, resplendent in his flowing white tunic to exchange Salaams with the welcoming party.
Rt. Hon. Kassim Majaliwa Majaliwa, Prime Minister of the United Republic of Tanzania and Chief Guest at the celebrations had arrived, accompanied by the Tanzania Chief Mufti – Sheikh Dr. Aboubakary Zubeiry, Zanzibar Grand Mufti Sheikh Saleh bin Omar Kaabi, Ministers, Tanzanian High Commissioner to Uganda – H.E. Dr. Aziz Ponary Mlima and other dignitaries. On hand to receive the Chief Guest were the Minister for Kampala Capital City and Metropolitan Affairs – Hon. Hajjat Minsa Kabanda, Acting Vice Chancellor and Deputy Vice Chancellor (Academic Affairs) – Prof. Umar Kakumba, Turkish Ambassador – H.E. Fikret Kerem Alp represented by his Deputy, Uganda Supreme Mufti – Sheikh Muhammad Shaban Galabuzi, Deputy Supreme Mufti – Sheikh Abdallah Semambo, Dean of Students – Mrs. Winifred Kabumbuli, Principal College of Humanities and Social Sciences (CHUSS) – Prof. Josephine Ahikire, University Imaam – Dr. Sowed Juma Mayanja, Patron MUMSA – Dr. Muhammad Kiggundu Musoke, Head Department of Journalism and Communication and Chairperson Makerere University Muslim Staff Association (MUMSTAF) – Dr. Aisha Sembatya Nakiwala and other officials.
Welcoming the Chief Guest, Prof. Kakumba conveyed the warm greetings of the Vice Chancellor, Prof. Barnabas Nawangwe who was away on official duty and thanked Rt. Hon. Majaliwa for leading the delegation to represent the President of the United Republic of Tanzania, H.E. Samia Suluhu Hassan at the esteemed occasion. "Makerere has grown by leaps and bounds from the good establishment and relationship it has enjoyed with the people and Government of the United Republic of Tanzania."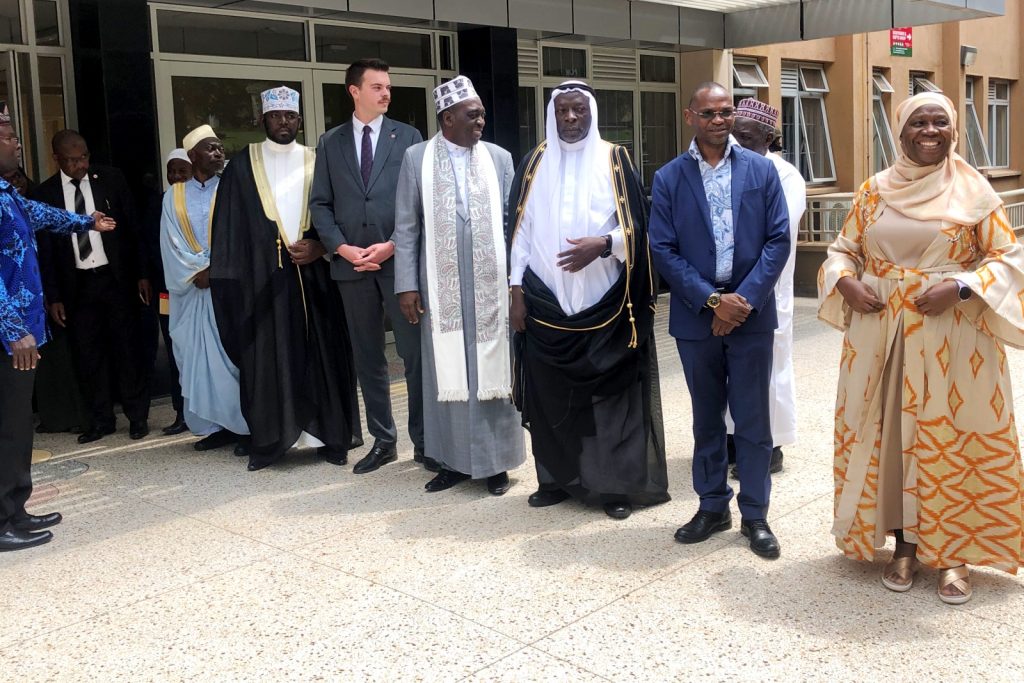 The Acting Vice Chancellor added that the University Mosque, officially opened in May 1948 by His Highness Crown Prince Abdulla of Zanzibar, is testimony of this good relationship that has existed between Makerere and the Sultan of Zanzibar.
Prof. Kakumba noted that the University Management nevertheless takes cognizance of the fact that Makerere is a secular university that highly respects and gives due consideration to the different religious affiliations and the freedom of worship. "It is the reason why the Management has been very supportive of the different sects of religion and creating opportunity for their growth and engagement of knowledge. For example, under the leadership of the Principal of the College of Humanities and Social Sciences, Makerere University hosts many centres of languages, among them the Centre for Arabic Language."
He concluded by admitting that in addition to priding itself in a century of training Human Capital and leadership for the region such as Tanzania's Founding Father H.E. Julius Kambarage Nyerere, Makerere University is privileged to host the Julius Nyerere Leadership Centre. He therefore requested the Rt. Hon. Prime Minister to convey the institution's warm greetings to H.E. Suluhu Hassan, whose role as Head of State has inspired many young women particularly those of the Muslim faith to take on leadership roles.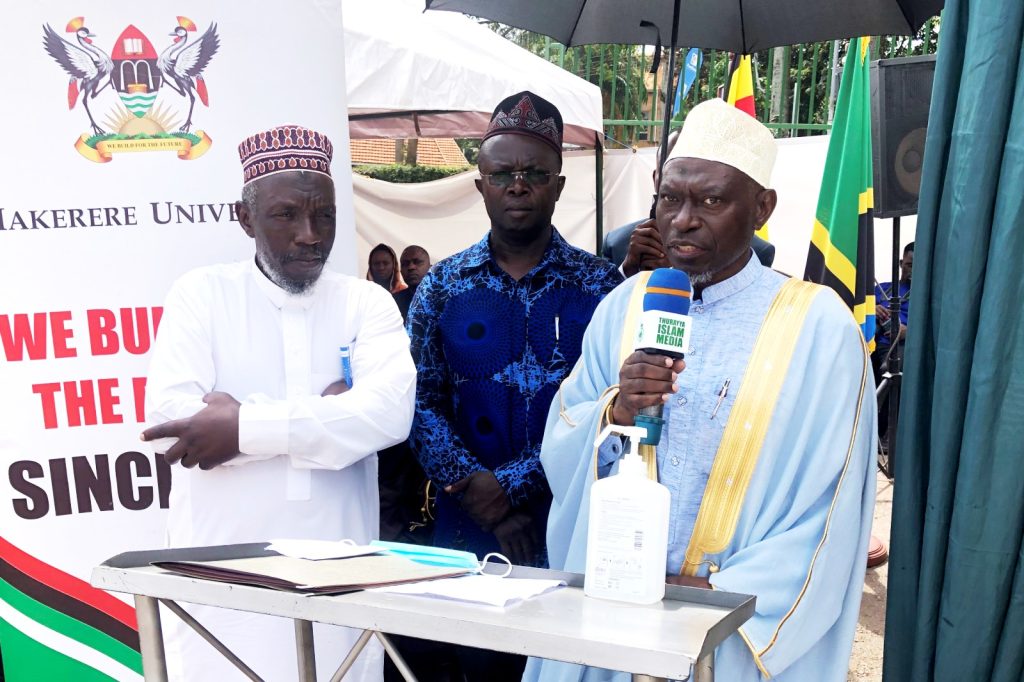 Congratulating Makerere upon celebrating 100 years of existence, Rt. Hon. Majaliwa Majaliwa recognized the University's prestigious role in educating leaders for the region in general and H.E. Mwalimu Julius Nyerere and H.E. Benjamin Mkapa of Tanzania in particular.
"I also understand the relationship you have between Makerere and the University of Dar-es-Salaam and the programme of exchange of students. This is of course making the East African Community to be strong, and we expect to establish a lot of programmes that will develop our colleges" added the Rt. Hon. Prime Minister.
In the true spirit of the East African Community, Rt. Hon. Majaliwa Majaliwa delivered his congratulatory remarks in Kiswahili.
"I am happy to be here today because of two important reasons, one is we are celebrating 75 years of Islam and the second one, the Chief Guest today is going to deliver the speech through Kiswahili, which is the EAC language and AU language, so I will try to go slowly so that you don't get lost" he counseled, much to the amusement of the majority English-speaking audience.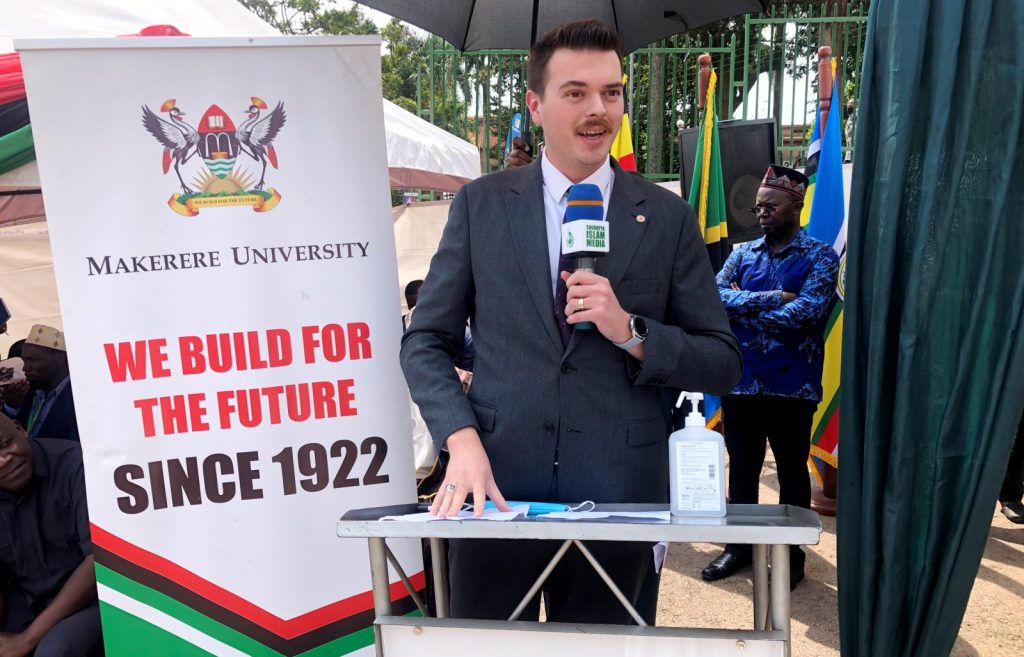 Prior to the Chief Guest's address, the Deputy Turkish Ambassador in his remarks acknowledged that Makerere plays a vital role in developing human capital for the improvement of Uganda and the East African Community, "I think this country is lucky to have such a well-established and qualified university because education of new generations is the most essential part of development and stability of the country."
He added that the Republic of Turkey seeks mutual gains and interests in its relationship with Uganda through humanitarian efforts that reach out to every corner of the country. "Currently, my Ambassador is in Lira, which is proof of our struggle to reach out to every corner of Uganda."
Delivering a highly abridged version of his keynote address owing to the activity-packed programme, Prof. Abasi Kiyimba started by sharing that in 1997, Makerere was privileged to host both H.E. Benjamin Mkapa and H.E. Ali Hassan Mwinyi as the University, Islam and MUMSA celebrated 75, 50 and 25 years of existence respectively. He added that Makerere had benefited most from the Southern route through which Islam reached Buganda Kingdom from Zanzibar, in the form of teachers, scholars and the brand of Islam practiced. The other two routes through which Islam reached Uganda and Buganda Kingdom were the Eastern route through Mombasa and Northern route through Sudan.
He added that the formation of MUMSA in 1972 was a significant development in the history of the Muslim Community, for it helped to formalize the Association's membership and constitution as well as nurture leaders such as the founding Chairman Dr. Makumbi, now a retired Doctor in Kasese. Turning to the fundamental role played by the Sultanate of Zanzibar in donating the first University Mosque, Prof. Kiyimba said "we cherish very much our relationship with the Muslims and people of Zanzibar."
The Chairperson MUMSTAF Dr. Aisha Nakiwala in her welcome remarks thanked the University Management for various infrastructure projects that have benefited the Muslim community, and support extended to Students' activities. She thanked the Chief Guest  for gracing the event and requested him communicate to H.E. Suluhu Hassan that her invitation to visit Makerere University and address the community still stands and remains highly anticipated particularly by the female Muslim Staff and Students.
The celebrations notwithstanding, when the call for prayer was made, the Chief Guest, visiting delegation and Muslim faithful put the day's proceedings on hold and made their way to the University Mosque. The proceedings, ably moderated by Dr. Muhammad Kiggundu Musoke were graced by the past leadership of MUMSA, most notably Hon. Al Hajji Latif Ssebagala – Chairman MUMSA (1992-1994), whose energetic salaams to the faithful led smiles to break across their faces.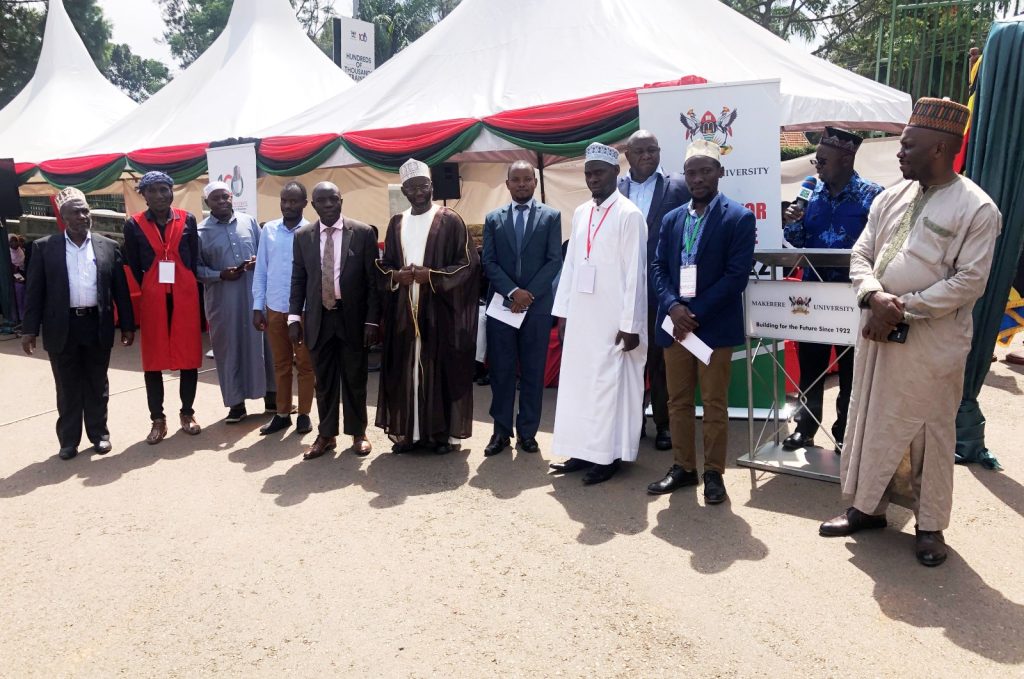 The current Chairman MUMSA Mr. Noordin Mutebi appealed to the gathering to support the association's outreaches to less privileged communities in Uganda, by procuring a bus to help transport participants and eliminate one of the biggest recurring expenses. Responding to all the requests put forth, Rt. Hon. Majaliwa offered to update H.E. Suluhu Hassan on the invitation to visit Makerere. He equally pledged to contribute Six (6) Million Tanzanian Shillings to help various causes of the Muslim community and work together with the leadership to address the bus issue raised by the MUMSA Chairman.
Mak Participates in New Vision Education Expo 2023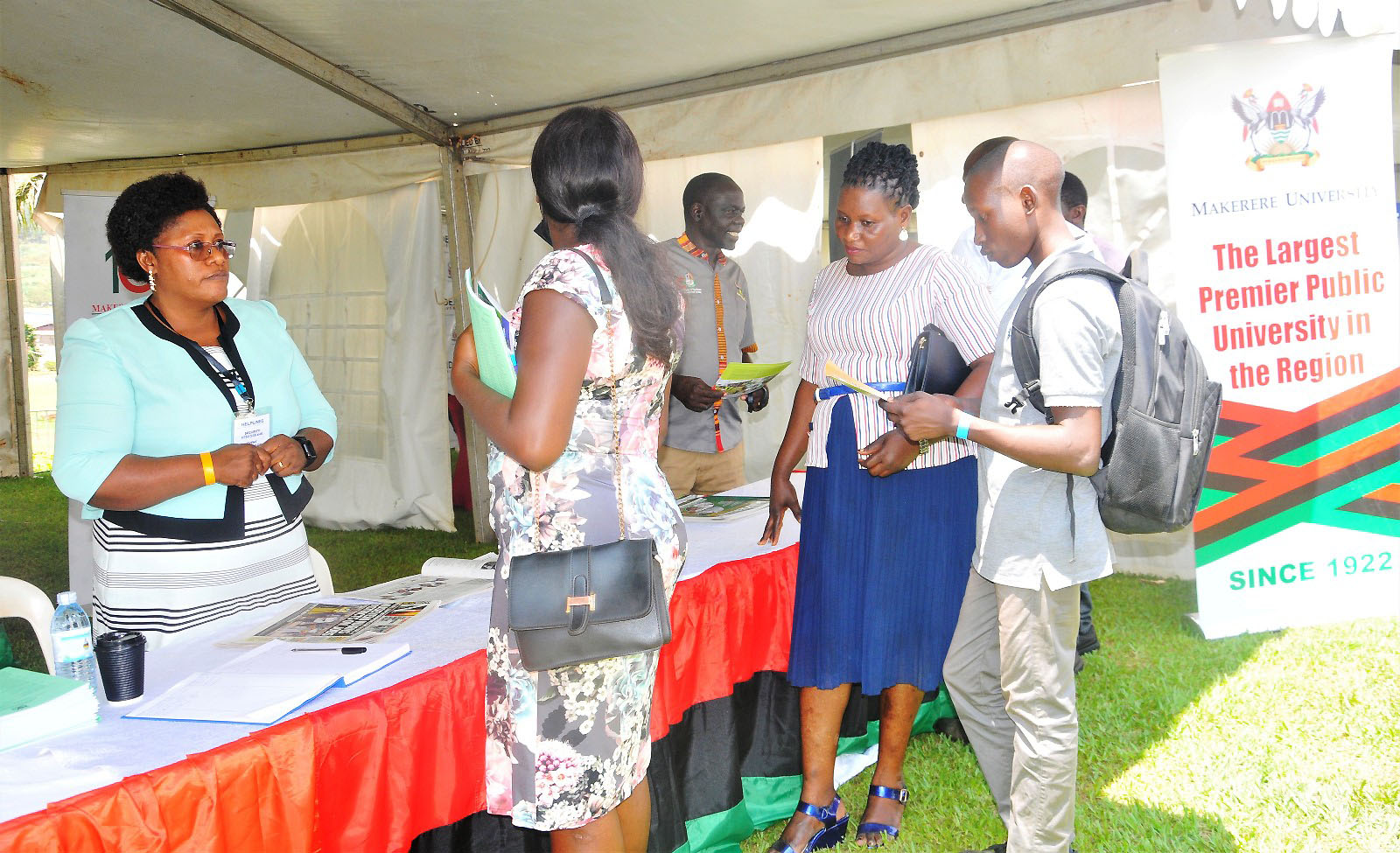 Makerere University is participating in the New Vision Education Expo 2023 to strengthen its niche as the leading provider of education services.
The three-day New Vision Expo (Friday 27th January 2023 to Sunday 29th January 2023) at the Uganda Institute of Information and Communications Technology (UICT) Nakawa brings on board players in the education and business fields to forge partnerships to improve the quality and outcomes of education in Uganda.
Makerere University seeks to maximally utilize the three days to ensure that the participants at the Education Expo gain a deeper understanding of its 100 year journey of providing excellent services to humanity through academic programmes, services offered and ongoing efforts aimed at producing employable graduates as well as entrepreneurs.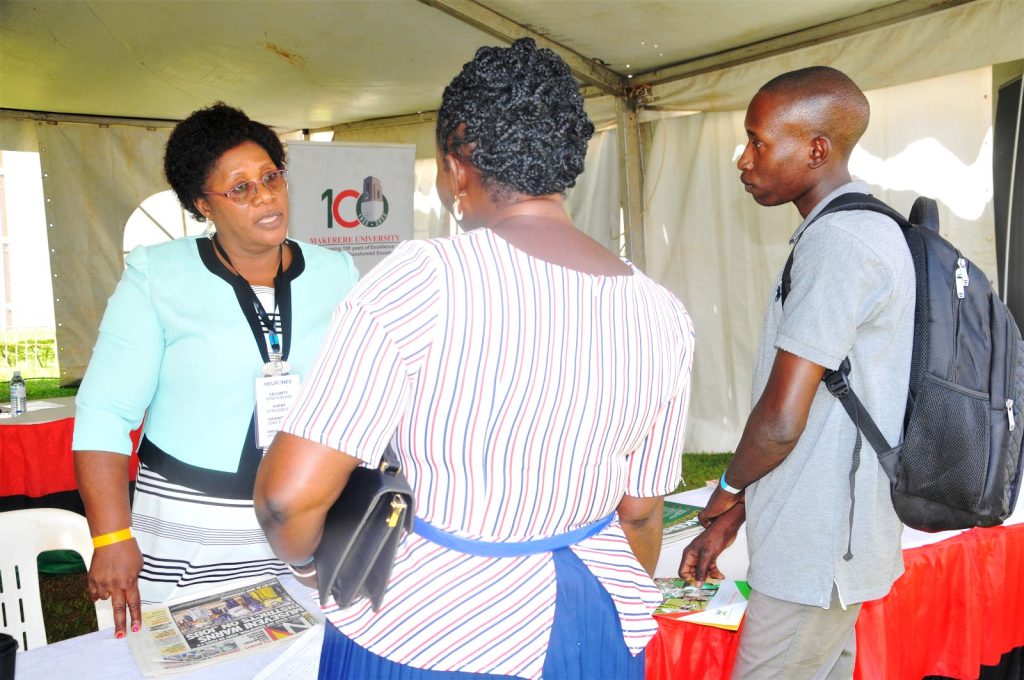 The Vice Chancellor, Prof. Barnabas Nawangwe highlights that Makerere University values stakeholder engagements and partnerships.  "The New Vision Expo 2023 presents Makerere University with an opportunity to enhance stakeholder engagements. It is about consolidating the relationships with schools, prospective students and parents, and partners in the education sector. I applaud the CEO of Vision Group-Mr. Don Wanyama for coming up with the Education Expo."
To respond to the information needs of stakeholders, Makerere University has lined up a team of experienced staff from the Department of the Academic Registrar, the Admissions Office, Public Relations Office, Career Guidance experts as well as the Institute of Open Distance and e-Learning (IODeL) under the College of Education and External Studies (CEES).
According to the Principal PRO of Makerere University Ms. Ritah Namisango, the Education Expo provides a platform to reach out to the clients that Makerere University exists to serve. "You must be in touch with your prospective parents, students as well as schools and partners that continue to recommend you as the leading university in the region. Makerere University has celebrated 100 years of excellent service to humanity (1922-2022). So, as we continue to promote the academic programmes, innovations and services that we offer, we are ready to listen, interact and learn from respective stakeholders about what they expect from the University as we embark on the next 100 years."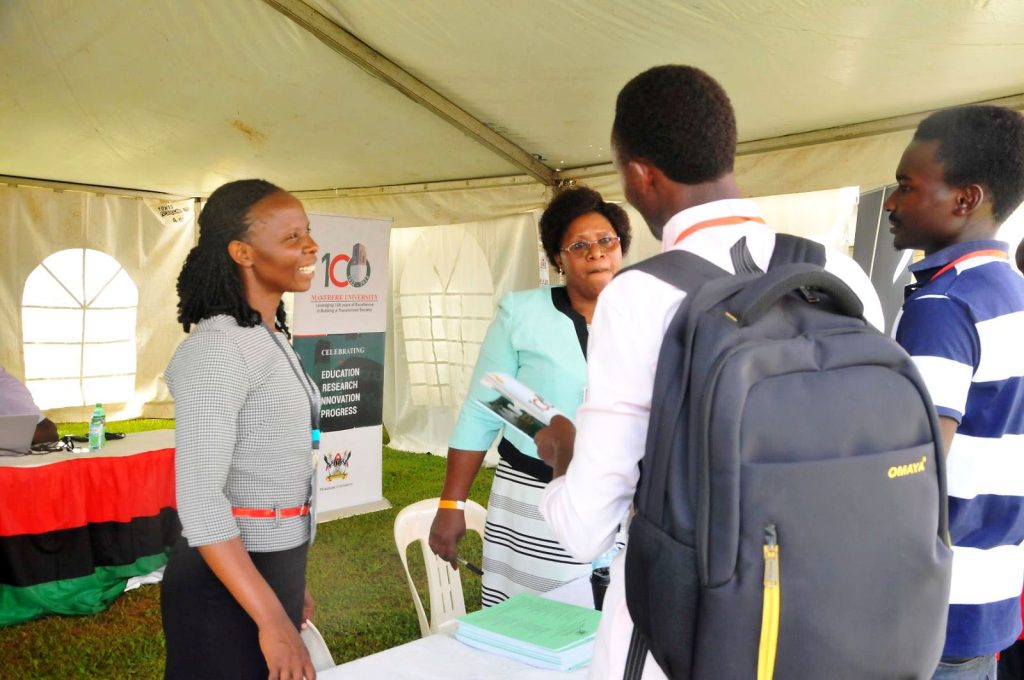 The New Vision Expo 2023 is happening at an opportune (holiday) time, which accords the students, parents and guardians quality time to visit the exhibition and interact with experts in the education sector.
In addition, Makerere University has recently advertised its academic programmes and it is preparing to receive students for the Academic year 2023/2024. Sharing her experience about the interaction with participants who visited the Makerere University exhibition space, Ms Joyce Muhanguzi, Senior Assistant Registrar in the Department of the Academic Registrar noted that most of the prospective students and parents wanted to know about the academic programmes, the subject combinations that students should study to qualify to apply for the respective academic programmes, and the available admission avenues i.e. government sponsorship, private sponsorship, diploma entry, direct entry, national merit, talented sports entry and district quota programme).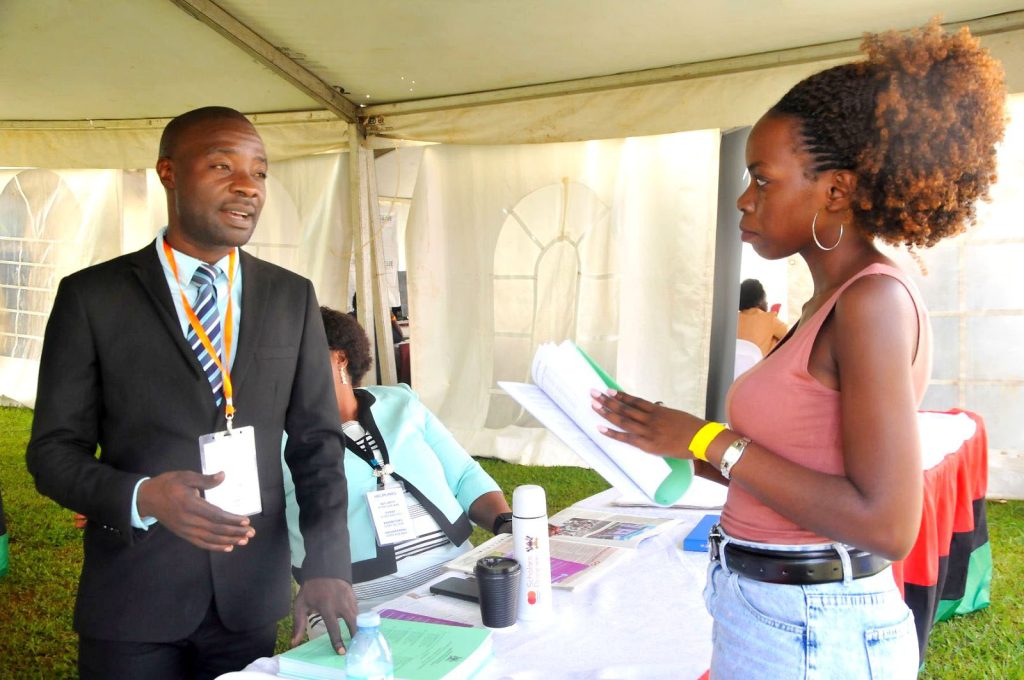 Ms Joyce Muhanguzi and Mr. Dennis Kibuuka's interaction focused on students who expressed their desire to join Makerere University in the coming years, and needed a case by case approach to their information needs, career guidance and linkages to Professors and Administrative staff in the respective Colleges at Makerere University.
The prospective students and parents also disclosed that in addition to the information on the Makerere University website, they welcome interactive and friendly approaches such as the New Vision Education Expo where they are presented with a golden opportunity to interact with Makerere University officials face-to-face.
At the New Vision Education Expo 2023, Makerere University joins other exhibitors that include; Government agencies, NGOs, Telecom companies, Banks, Insurance companies, Kindergartens/Daycare Centres, Primary and Secondary schools, Ugandan and Kenyan Universities, International schools, Study Abroad Agencies, Vocational institutions, Scholastic materials suppliers and SME service providers.
73rd Graduation Highlights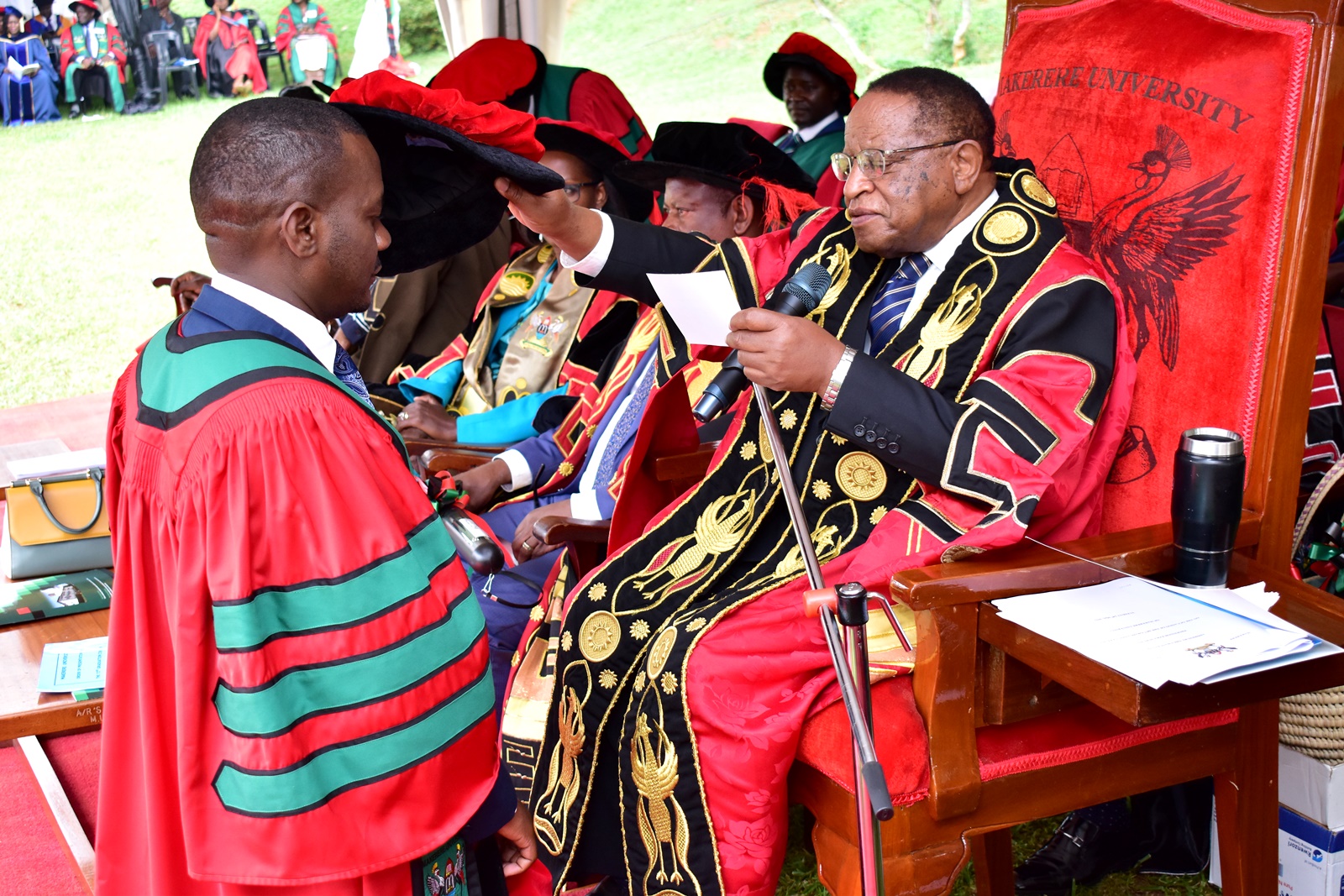 The 73rd Graduation Ceremony of Makerere University will be held from Monday 13th to Friday 17th February 2023 following the schedule below:
Monday, 13th February, 2023
College of Health Sciences (CHS)
College of Natural Sciences (CoNAS)
School of Law (SoL)
Tuesday, 14th February, 2023
College of Agricultural and Environmental Sciences (CAES)
College of Education and External Studies (CEES)
Wednesday, 15th February, 2023
College of Business and Management Sciences (CoBAMS)
College of Computing and Information Sciences (CoCIS)
College of Veterinary Medicine, Animal Resources and Bio-security (CoVAB)
Thursday, 16th February, 2023
Makerere University Business School (MUBS)
Friday, 17th February, 2023
College of Engineering, Design, Art and Technology (CEDAT)
College of Humanities and Social Sciences (CHUSS)
HEST Graduate Programme: Internship Placement Advert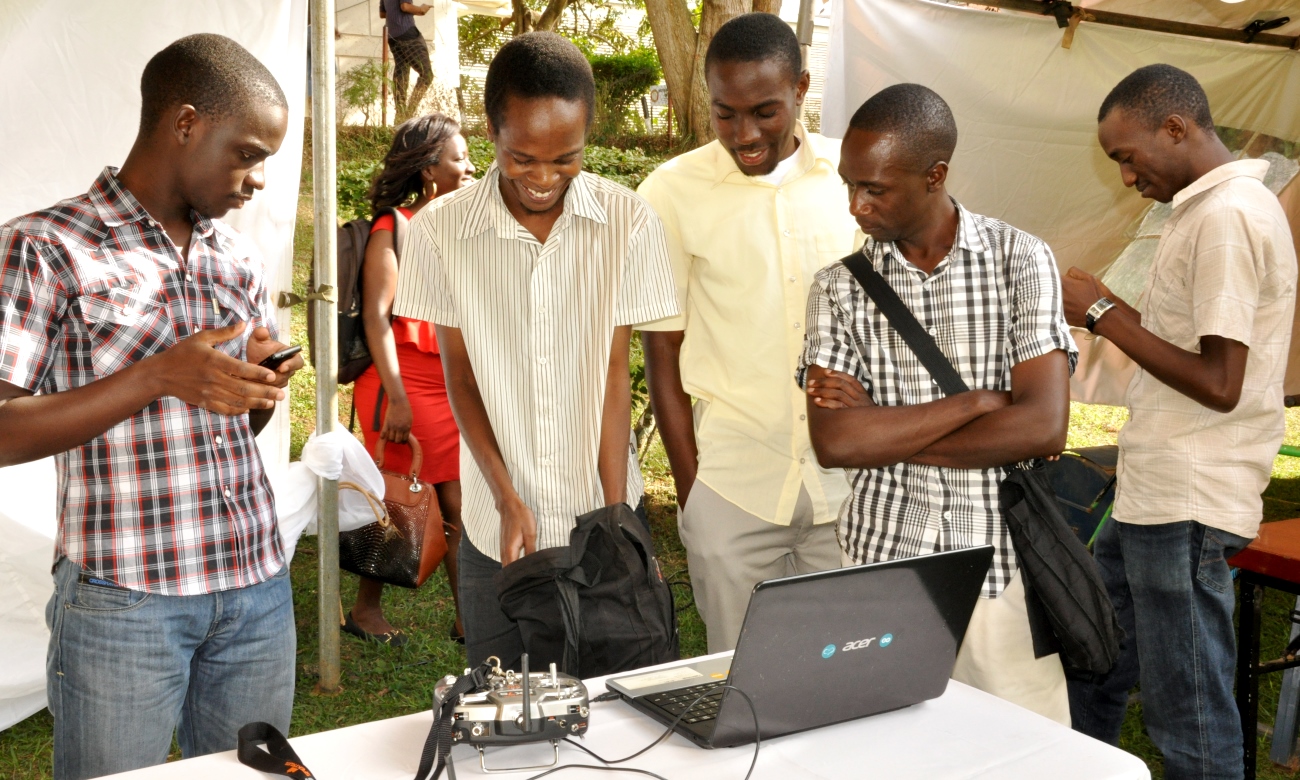 Purpose
The program aims to improve graduates' skills by placing them into selected partner industries for skills gain, facilitating the process and supervising placed interns. Graduates will be placed in their areas of study accordingly.
Time frame
The phased recruitment and placement will start from 1st December 2022 for a period of three months. Recent university graduates and those awaiting graduation should apply for this opportunity.
Eligibility
The project mainly focuses on university graduates from Makerere University (Mak), Makerere University Business School (MUBS) and Kyambogo University (KYU) who have undertaken the following courses
Makerere University and Kyambogo University
Bachelor of Science in Civil Engineering
Bachelor of Science in Electrical Engineering
Bachelor of Science in Computer Engineering
Bachelor of Science in Telecommunication Engineering
Bachelor of Science in Mechanical Engineering
Bachelor of Architecture
Bachelor of Science in Construction Management
Bachelor of Science in Land Economics
Bachelor of Science in Quantity Surveying
Bachelor of Science in Land Surveying and Geomatics
Bachelor of Visual Communication Design
Bachelor of Science in Actuarial Science
Makerere University Business School
Bachelor of Arts in Economics
Bachelor of Science in Business Statistics
Bachelor of Business Administration
Bachelor of Commerce
Bachelor of Real Estate Business Mgt.
Bachelor of Science in Accounting
.Bachelor of Science in Finance
Bachelor of Human Resource Mgt.
Bachelor of Leadership and Governance
Bachelor of Procurement and Supply Chain Mgt.
Bachelor of Transport & Logistics Mgt.
Bachelor of International Business
Bachelor of Catering and Hotel Mgt.
Bachelor of Science in Marketing
Bachelor of Travel and Tourism Mgt.
Bachelor of Entrepreneurship and Small Business Mgt.
Bachelor of Business Computing
Bachelor of Office and Information Mgt.
They should not be employed anywhere and should have gone through the traditional internship placement required by their respective universities.
How Students join
Interested university graduates shall submit an online application and contact the designated university contact or focal persons. Successful applicants will be required to complete the three (3) months internship pgoram uninterrupted to fully benefit from the program. Apply here: https://bit.ly/HEST2022
How companies participate
A company interested in hosting interns under the program can fill out an internship acceptance form and forward it to the internship placement officer.
Contacts of University focal persons
Makerere University (Mak)
Dr. Christine Amito
Tel: +256-771-321384
Email: amitoxtine@gmail.com
Makerere University Business School (MUBS)
Ms. Christine Nantambi
Tel: +256-772-654454/+256-703-878277
Email: cnantambi@mubs.ac.ug
Kyambogo University (KYU)
Ms. Nandugwa Harriet
Tel: +256-786030640
Email: hnandugwa@kyu.ac.ug
Contacts of IEED Project Team
Makerere University School of Public Health (MakSPH)
Ms. Mary Kaakyo,
IEED Project Coordinator
Email: mkaakyo@musph.ac.ug
Tel: +256-706-960075
Makerere University School of Statistics and Planning (MakSSP)
Ms. Afazali Zabibu,
HEST Study Coordinator
Email: zabibu.afazali@gmail.com
Tel: +256-779-912365/+256-705-587072