Tackling unemployment: Archdiocese of Kampala partners with Mak to train female entrepreneurs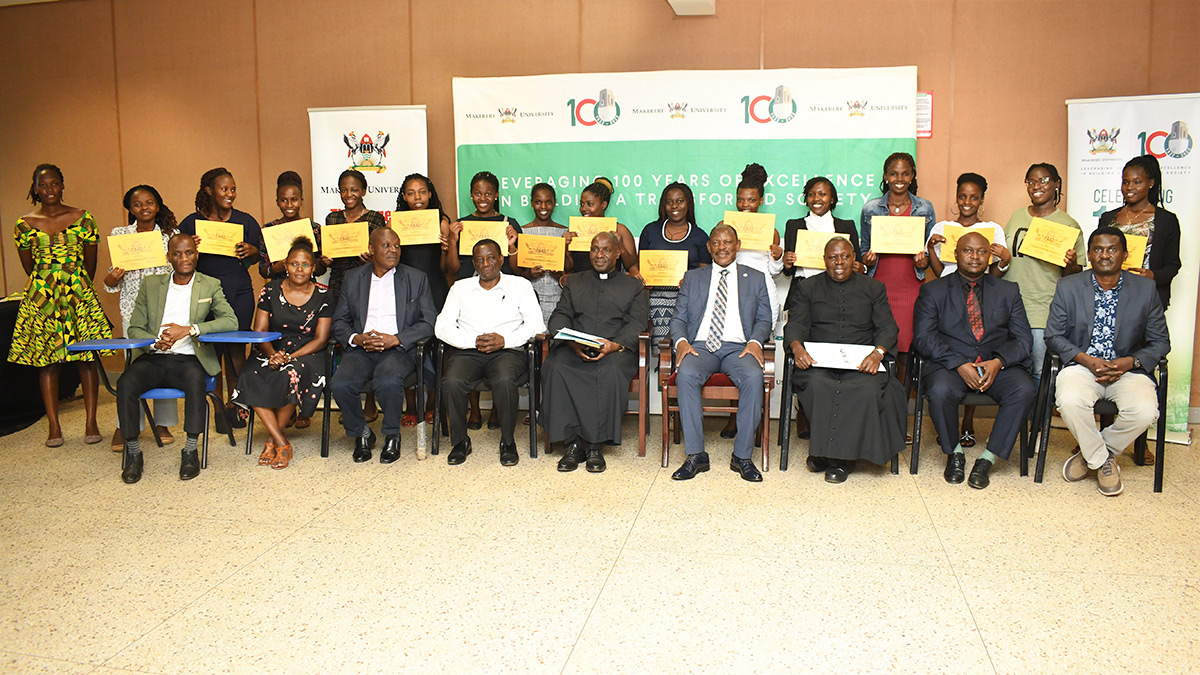 By Ritah Namisango
The escalating levels of unemployment among the youth and graduates in Uganda are of great concern to the Government, civil society and other institutions such as religious organizations. In order to contribute to efforts aimed at addressing the challenge, the Archdiocese of Kampala and Makerere University are jointly implementing a youth employability collaborative programme to equip youth, students and graduates with entrepreneurship skills.
The programme that kicked off with 97 female students was conducted from 29 th July 2022 to 2nd October 2022 based on the theme: "From COVID-Socio-Economic Anxiety to STEP-Youth Training Entrepreneurship in Post COVID times." The students who were selected from the ten (10) colleges at Makerere University were trained by experts in STEP (Student, Training for Entrepreneurial Promotion) from the Department of Philosophy under the College of Humanities and Social Sciences; and the College of Education and External Studies.
The joint partnership trained and equipped participants with knowledge and skills that have unlocked their entrepreneurial potential and abilities. The students are members of the St. Augustine Catholic Community at Makerere University.
Addressing the audience that convened on 18th October 2022 to witness the award of certificates to the budding entrepreneurs, the Vice Chancellor – Prof. Barnabas Nawangwe congratulated the female students upon acquiring 21st century skills relevant to both their career and life journey.
"I applaud Dr. Ferdinand Kasozi, Senior Lecturer in the Department of Philosophy at Makerere University for championing the cause of turning students into entrepreneurs. I am happy that the trainers and partners started with female students. I appeal to the female students to look up to the greatest women who have succeeded in life, for example, Marie Curie, the greatest woman who conquered the world of chemistry. It is pleasing to note that most of you have created jobs, while others are ready to start their own companies. Beyond academic qualifications, entrepreneurship skills are the best gift that the youth could ever secure, which makes us proud of this partnership between Makerere University and the Archdiocese of Kampala," he said.
Marie Curie was the first woman to be awarded a place in the Pantheon for her own achievements. Marie Curie's life as a scientist was one which flourished because of her ability to observe, deduce and predict. She is also arguably the first woman to make such a significant contribution to science.
Reflecting on the high levels of unemployment among youth and graduates in Uganda, Prof. Nawangwe noted that whereas universities continue to churn out graduates, the jobs have remained very few.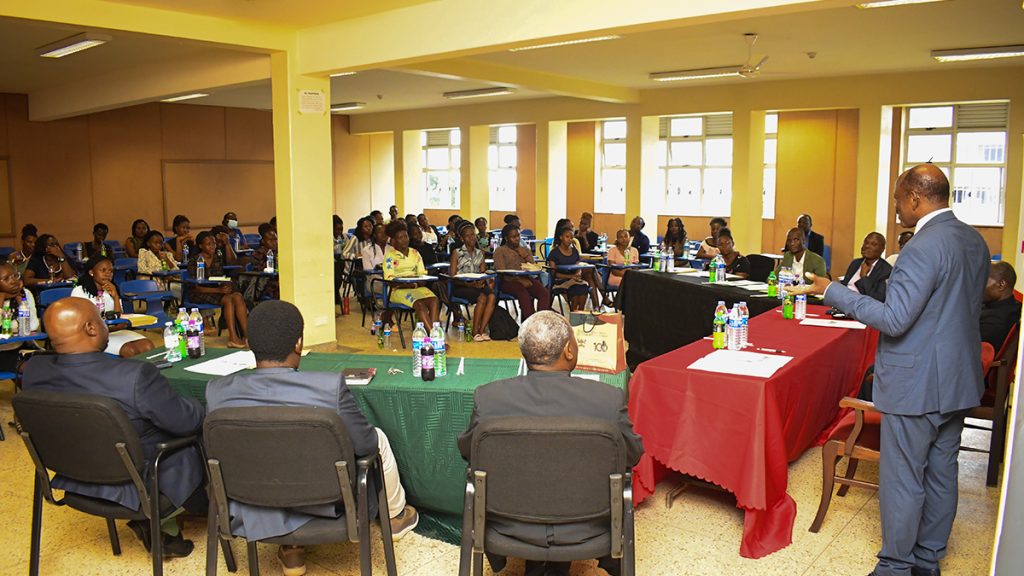 "Many of our youths and students who have graduated are unemployed due to lack of jobs. Guided by the Makerere University ten-year strategic plan, we are focusing on training entrepreneurs who will be job creators rather than job seekers. I am therefore pleased that Makerere University and the Archdiocese of Kampala are training young people so that by the time they leave the university, they are ready to create jobs or start companies," he stated.
Impressed by the initiative to build a critical mass of student entrepreneurs, the Vice Chancellor committed to link both trainers and trainees under this programme to the Makerere University-United Nations Development Programme (UNDP) innovations hub. This linkage, he said, would serve as a platform to source additional funding, support as well as mentorship in creating jobs and start-ups.
"I told Dr. Ferdinand Kasozi, the member of staff leading the training team that we can connect this programme to the Innovation hub at Makerere University. I am glad that the Chaplain of St. Augustine Catholic Community, Rev. Fr. Josephat Ddungu and Centenary Bank are already on board. We can enhance these good efforts by reaching out to the innovations hub to support the student entrepreneurs."
The Archbishop His Grace Paul Ssemogerere expressed his commitment to work with Makerere University to transform the lives of the youth, students and graduates. Rev. Fr. Dr. John Bosco Ssettumba, the Officer in-charge of Formal education at Kampala Archdiocese represented the Archbishop. The Archbishop rallied Ugandans and stakeholders to come up with solutions to address the challenge of unemployment that stifles livelihoods. "One of our biggest problems in Africa is the high levels of unemployment of young people including graduates. There are many problems arising from unemployment of young people. Some have become demoralised and restless, some end up on the streets, others resort to drugs, while some are forced to engage in criminal activities. Therefore, we should be concerned and work together to create a positive difference by skilling young people to become entrepreneurs."
He commended the training team at Makerere University for partnering with the Archdiocese of Kampala and St. Augustine Catholic Community to come up with this initiative that is focused on training employable graduates. "I am happy that the student entrepreneurs have gone through a phase of self-discovery, understanding the environment, markets and opportunities in their communities, acquired experience and skills and are ready to lead the transformation."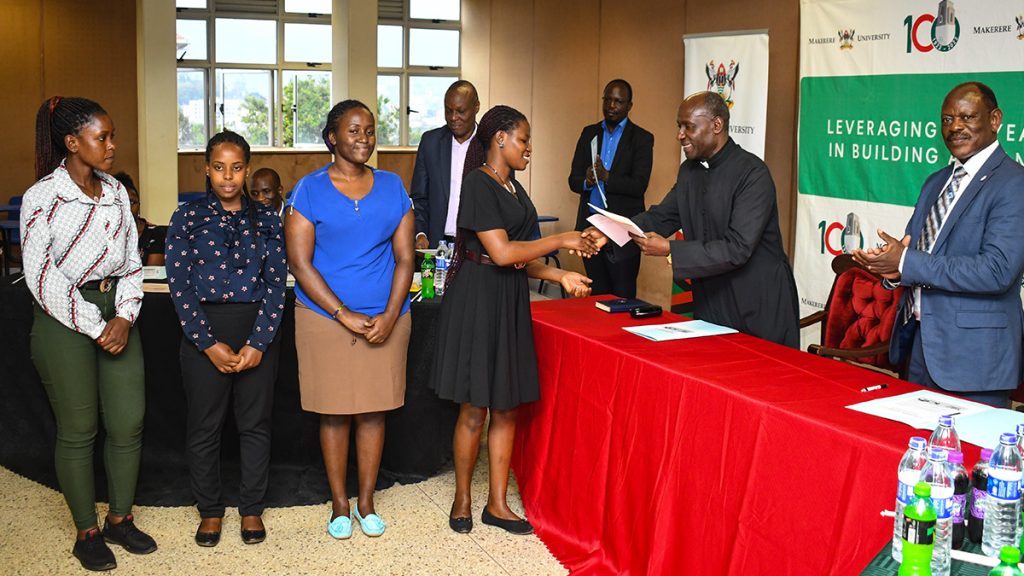 His Grace Ssemogerere called upon the student entrepreneurs to go forth and light a candle in the world of unemployment. "Go and take Makerere University to the community by being resourceful. I encourage you to add on other skills namely; communication, leadership and team work. May the good Lord bless you," he said.
Congratulating the entrepreneurship trainees, the Deputy Principal of the College of Humanities and Social Sciences (CHUSS), Dr. Eric Awich Ochen advised the beneficiaries to take Makerere University to the people/communities. Dr. Awich Ochen informed the audience that he has been involved in initiatives that instill a culture of working with the communities in the youth and students. He pointed out community engagements in Luuka District – Eastern Uganda and Gulu – Northern Uganda where social labs were initiated for students to work in the local community settings. The students did not only encourage parents to take their children to school, but also participated in the cause of giving back to community. He appealed to Makerere University students to use every opportunity to share the knowledge acquired at the University with the communities in order to make a positive difference in the
lives of other people. "I am delighted that through this programme of skilling young people, Makerere University is giving back to the community."
Dr Jimmy Spire Ssentongo, Head Department of Philosophy thanked Dr Kasozi for his devotion to uplifting the public face and self-worth of female students in and beyond the Philosophy Department.
Focusing on the continuity of the entrepreneurship programme, one of the trainers, Dr. Josephine Najjemba, a Lecturer in the College of Education and External Studies (CEES) appreciated the Archbishop of Kampala Archdiocese and the Vice Chancellor for their commitment towards the success of the partnership. She stated that the trainers' interactions with the Archbishop and Vice Chancellor have energised them to double their efforts in order to groom, empower and motivate more youth and students.
The trainers included: Dr. Ferdinand Kasozi, Dr. Badru Musisi, Ms. Dorcas Nambi, Mr.Alex Byamukama, Dr. Rebecca and Dr. Josephine Najjemba. Dr Dickson Kanakulya Lecturer in the Philosophy Dept. was the Master of Ceremonies.
Mak Participates in New Vision Education Expo 2023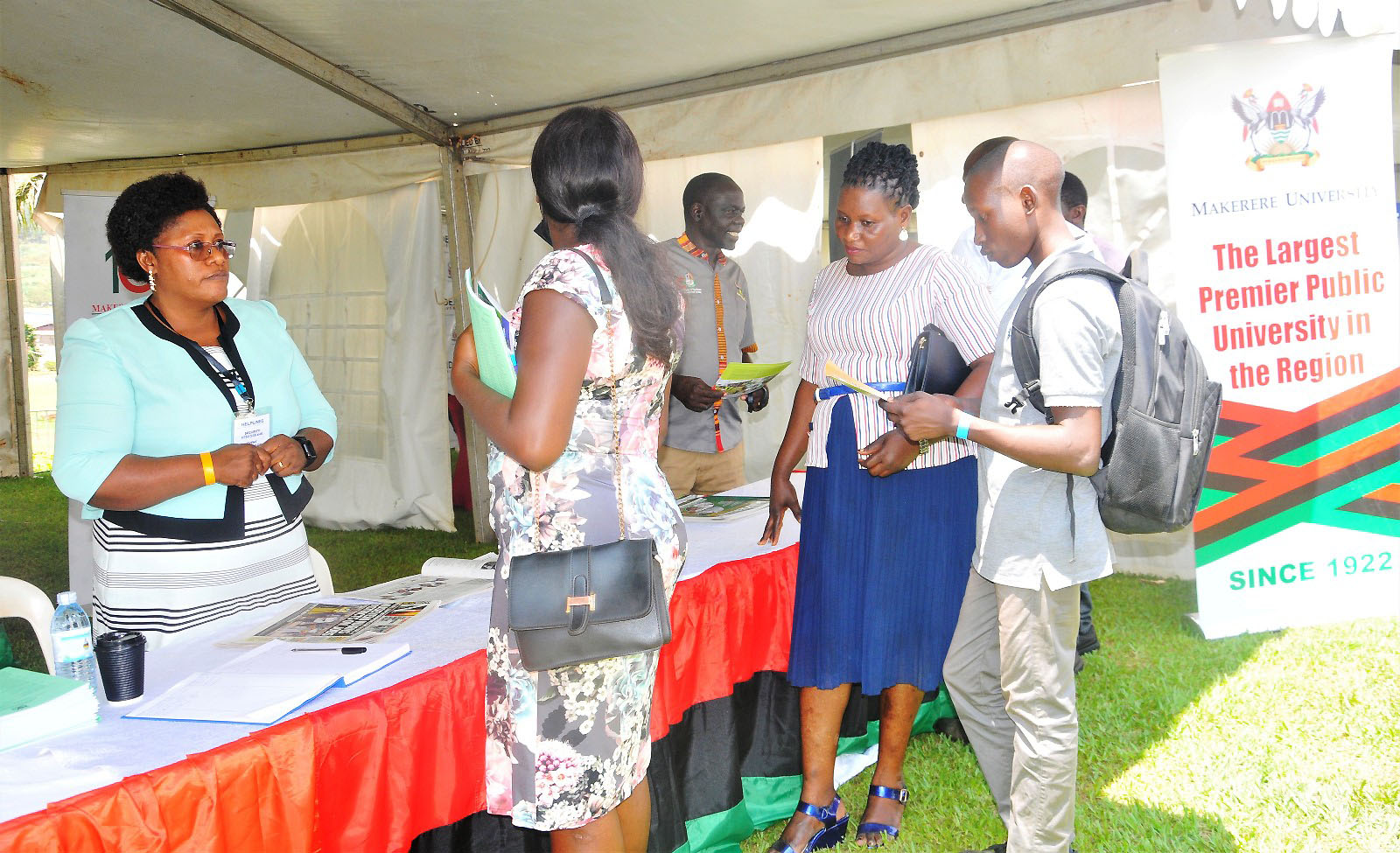 Makerere University is participating in the New Vision Education Expo 2023 to strengthen its niche as the leading provider of education services.
The three-day New Vision Expo (Friday 27th January 2023 to Sunday 29th January 2023) at the Uganda Institute of Information and Communications Technology (UICT) Nakawa brings on board players in the education and business fields to forge partnerships to improve the quality and outcomes of education in Uganda.
Makerere University seeks to maximally utilize the three days to ensure that the participants at the Education Expo gain a deeper understanding of its 100 year journey of providing excellent services to humanity through academic programmes, services offered and ongoing efforts aimed at producing employable graduates as well as entrepreneurs.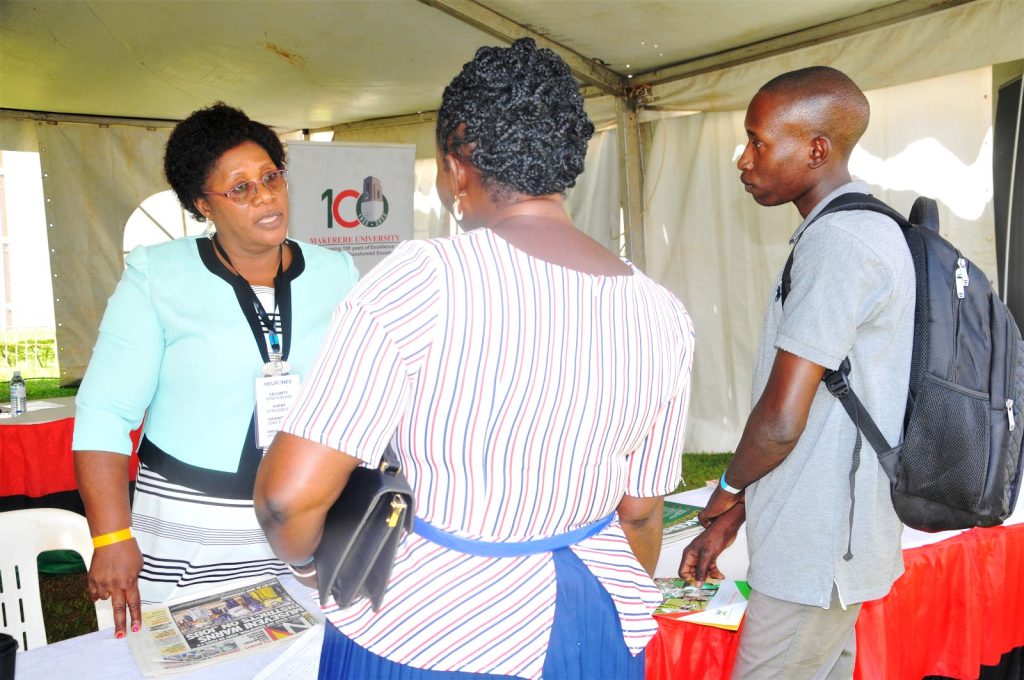 The Vice Chancellor, Prof. Barnabas Nawangwe highlights that Makerere University values stakeholder engagements and partnerships.  "The New Vision Expo 2023 presents Makerere University with an opportunity to enhance stakeholder engagements. It is about consolidating the relationships with schools, prospective students and parents, and partners in the education sector. I applaud the CEO of Vision Group-Mr. Don Wanyama for coming up with the Education Expo."
To respond to the information needs of stakeholders, Makerere University has lined up a team of experienced staff from the Department of the Academic Registrar, the Admissions Office, Public Relations Office, Career Guidance experts as well as the Institute of Open Distance and e-Learning (IODeL) under the College of Education and External Studies (CEES).
According to the Principal PRO of Makerere University Ms. Ritah Namisango, the Education Expo provides a platform to reach out to the clients that Makerere University exists to serve. "You must be in touch with your prospective parents, students as well as schools and partners that continue to recommend you as the leading university in the region. Makerere University has celebrated 100 years of excellent service to humanity (1922-2022). So, as we continue to promote the academic programmes, innovations and services that we offer, we are ready to listen, interact and learn from respective stakeholders about what they expect from the University as we embark on the next 100 years."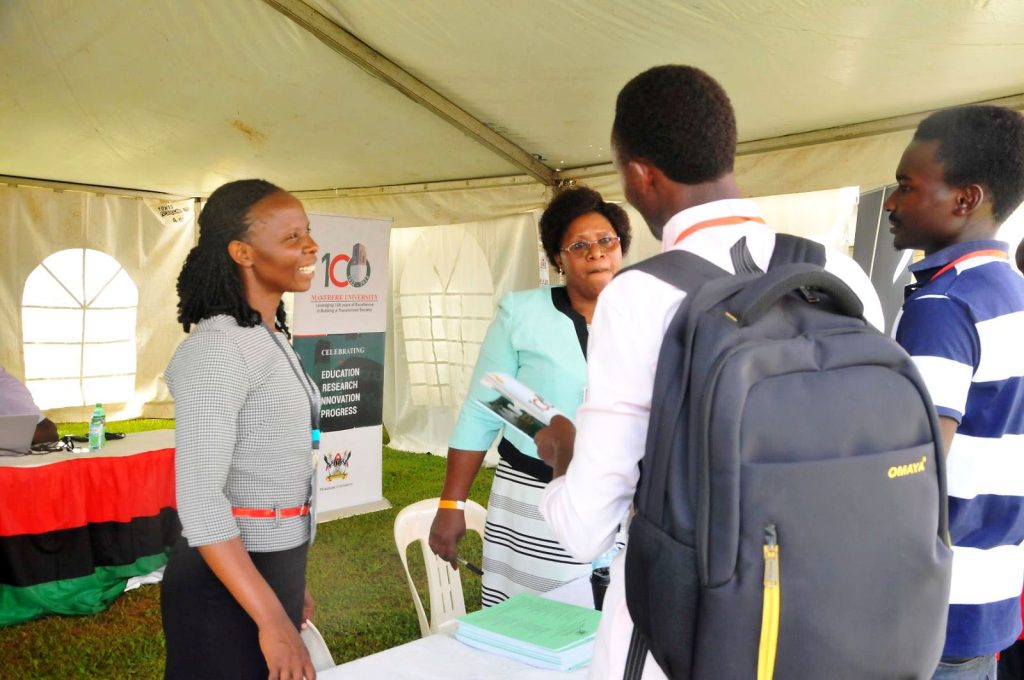 The New Vision Expo 2023 is happening at an opportune (holiday) time, which accords the students, parents and guardians quality time to visit the exhibition and interact with experts in the education sector.
In addition, Makerere University has recently advertised its academic programmes and it is preparing to receive students for the Academic year 2023/2024. Sharing her experience about the interaction with participants who visited the Makerere University exhibition space, Ms Joyce Muhanguzi, Senior Assistant Registrar in the Department of the Academic Registrar noted that most of the prospective students and parents wanted to know about the academic programmes, the subject combinations that students should study to qualify to apply for the respective academic programmes, and the available admission avenues i.e. government sponsorship, private sponsorship, diploma entry, direct entry, national merit, talented sports entry and district quota programme).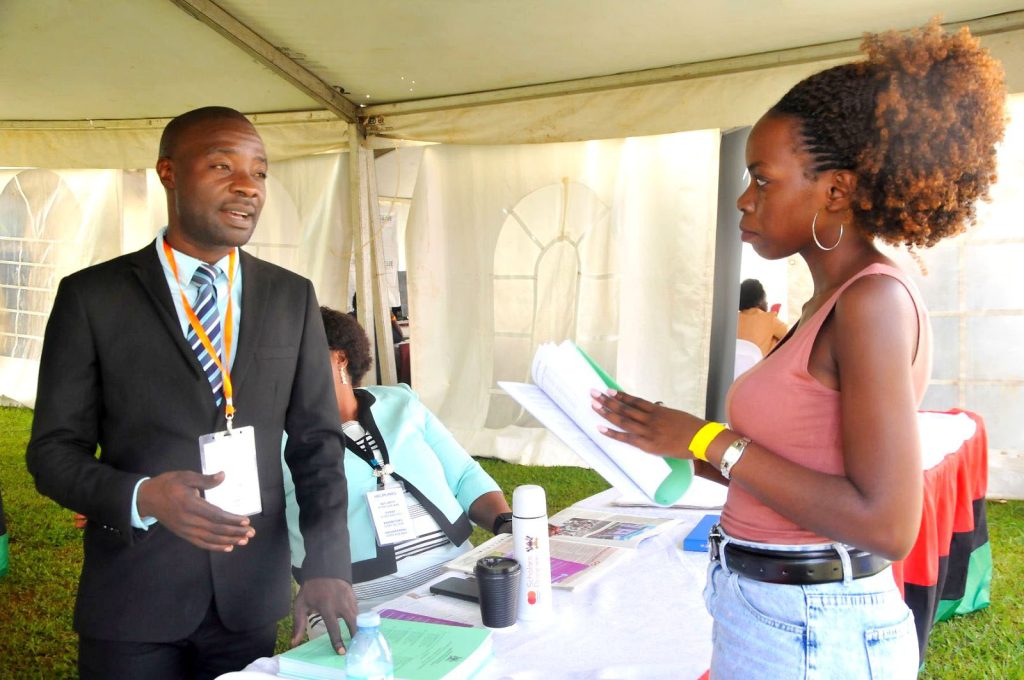 Ms Joyce Muhanguzi and Mr. Dennis Kibuuka's interaction focused on students who expressed their desire to join Makerere University in the coming years, and needed a case by case approach to their information needs, career guidance and linkages to Professors and Administrative staff in the respective Colleges at Makerere University.
The prospective students and parents also disclosed that in addition to the information on the Makerere University website, they welcome interactive and friendly approaches such as the New Vision Education Expo where they are presented with a golden opportunity to interact with Makerere University officials face-to-face.
At the New Vision Education Expo 2023, Makerere University joins other exhibitors that include; Government agencies, NGOs, Telecom companies, Banks, Insurance companies, Kindergartens/Daycare Centres, Primary and Secondary schools, Ugandan and Kenyan Universities, International schools, Study Abroad Agencies, Vocational institutions, Scholastic materials suppliers and SME service providers.
73rd Graduation Highlights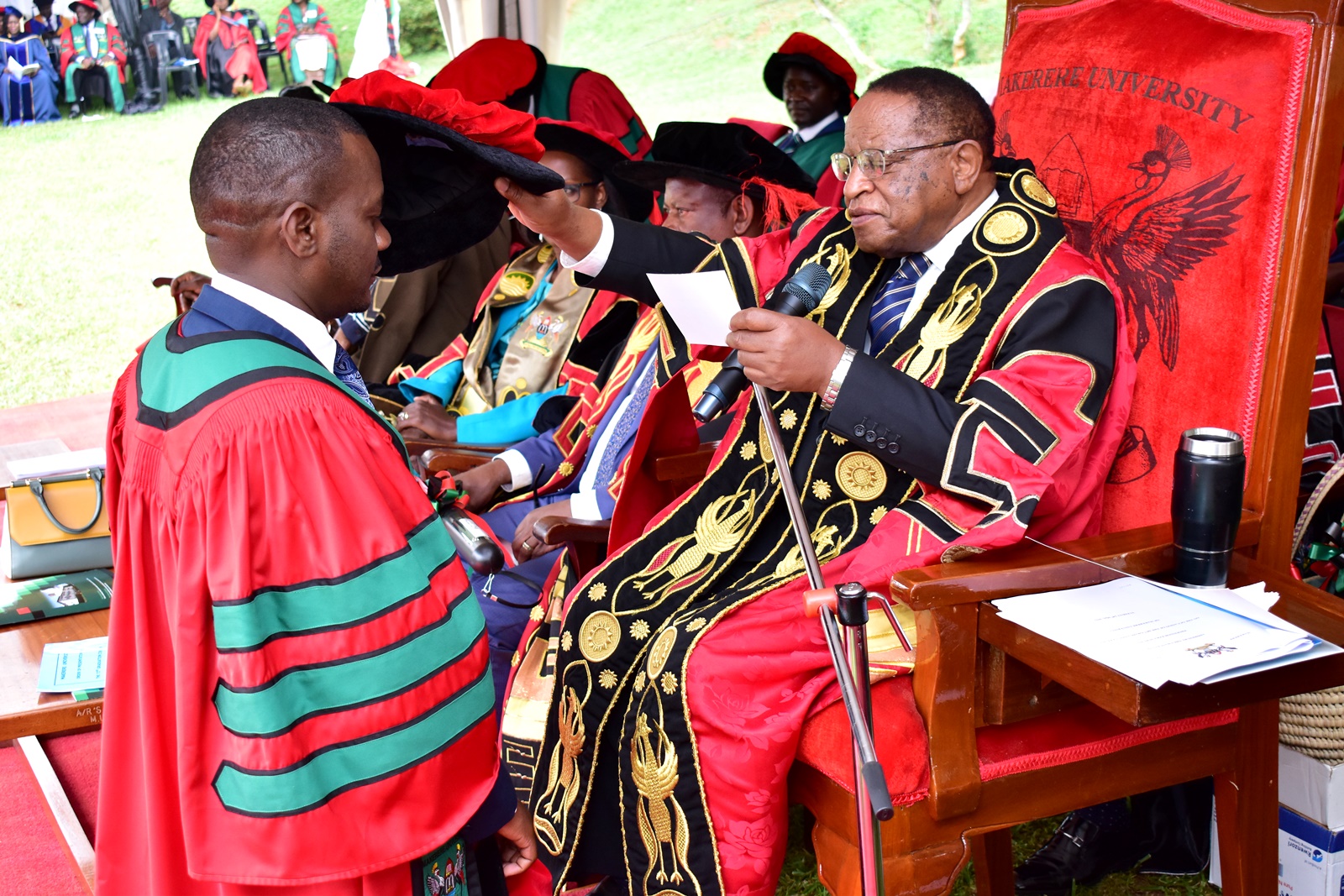 The 73rd Graduation Ceremony of Makerere University will be held from Monday 13th to Friday 17th February 2023 following the schedule below:
Monday, 13th February, 2023
College of Health Sciences (CHS)
College of Natural Sciences (CoNAS)
School of Law (SoL)
Tuesday, 14th February, 2023
College of Agricultural and Environmental Sciences (CAES)
College of Education and External Studies (CEES)
Wednesday, 15th February, 2023
College of Business and Management Sciences (CoBAMS)
College of Computing and Information Sciences (CoCIS)
College of Veterinary Medicine, Animal Resources and Bio-security (CoVAB)
Thursday, 16th February, 2023
Makerere University Business School (MUBS)
Friday, 17th February, 2023
College of Engineering, Design, Art and Technology (CEDAT)
College of Humanities and Social Sciences (CHUSS)
HEST Graduate Programme: Internship Placement Advert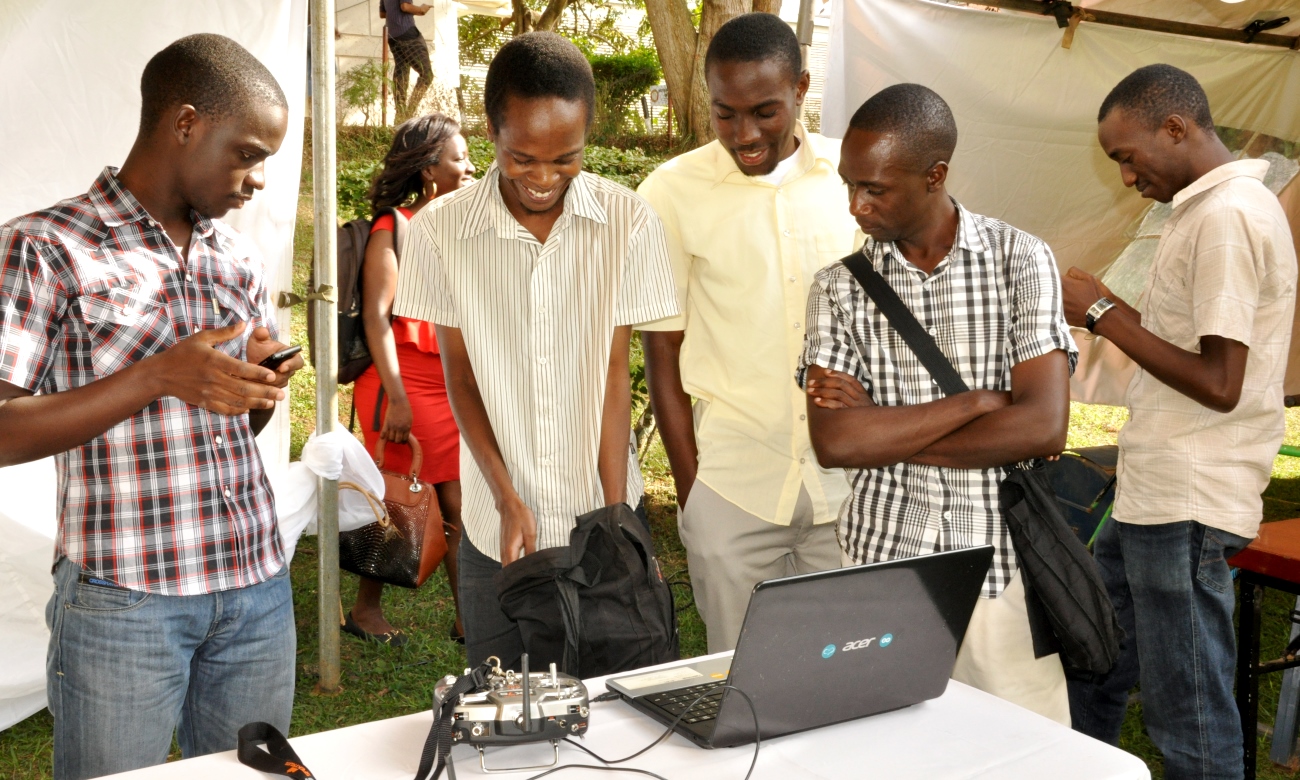 Purpose
The program aims to improve graduates' skills by placing them into selected partner industries for skills gain, facilitating the process and supervising placed interns. Graduates will be placed in their areas of study accordingly.
Time frame
The phased recruitment and placement will start from 1st December 2022 for a period of three months. Recent university graduates and those awaiting graduation should apply for this opportunity.
Eligibility
The project mainly focuses on university graduates from Makerere University (Mak), Makerere University Business School (MUBS) and Kyambogo University (KYU) who have undertaken the following courses
Makerere University and Kyambogo University
Bachelor of Science in Civil Engineering
Bachelor of Science in Electrical Engineering
Bachelor of Science in Computer Engineering
Bachelor of Science in Telecommunication Engineering
Bachelor of Science in Mechanical Engineering
Bachelor of Architecture
Bachelor of Science in Construction Management
Bachelor of Science in Land Economics
Bachelor of Science in Quantity Surveying
Bachelor of Science in Land Surveying and Geomatics
Bachelor of Visual Communication Design
Bachelor of Science in Actuarial Science
Makerere University Business School
Bachelor of Arts in Economics
Bachelor of Science in Business Statistics
Bachelor of Business Administration
Bachelor of Commerce
Bachelor of Real Estate Business Mgt.
Bachelor of Science in Accounting
.Bachelor of Science in Finance
Bachelor of Human Resource Mgt.
Bachelor of Leadership and Governance
Bachelor of Procurement and Supply Chain Mgt.
Bachelor of Transport & Logistics Mgt.
Bachelor of International Business
Bachelor of Catering and Hotel Mgt.
Bachelor of Science in Marketing
Bachelor of Travel and Tourism Mgt.
Bachelor of Entrepreneurship and Small Business Mgt.
Bachelor of Business Computing
Bachelor of Office and Information Mgt.
They should not be employed anywhere and should have gone through the traditional internship placement required by their respective universities.
How Students join
Interested university graduates shall submit an online application and contact the designated university contact or focal persons. Successful applicants will be required to complete the three (3) months internship pgoram uninterrupted to fully benefit from the program. Apply here: https://bit.ly/HEST2022
How companies participate
A company interested in hosting interns under the program can fill out an internship acceptance form and forward it to the internship placement officer.
Contacts of University focal persons
Makerere University (Mak)
Dr. Christine Amito
Tel: +256-771-321384
Email: amitoxtine@gmail.com
Makerere University Business School (MUBS)
Ms. Christine Nantambi
Tel: +256-772-654454/+256-703-878277
Email: cnantambi@mubs.ac.ug
Kyambogo University (KYU)
Ms. Nandugwa Harriet
Tel: +256-786030640
Email: hnandugwa@kyu.ac.ug
Contacts of IEED Project Team
Makerere University School of Public Health (MakSPH)
Ms. Mary Kaakyo,
IEED Project Coordinator
Email: mkaakyo@musph.ac.ug
Tel: +256-706-960075
Makerere University School of Statistics and Planning (MakSSP)
Ms. Afazali Zabibu,
HEST Study Coordinator
Email: zabibu.afazali@gmail.com
Tel: +256-779-912365/+256-705-587072