COTRA Call for Applications: Intra-Africa Academic & Administrative Staff Mobility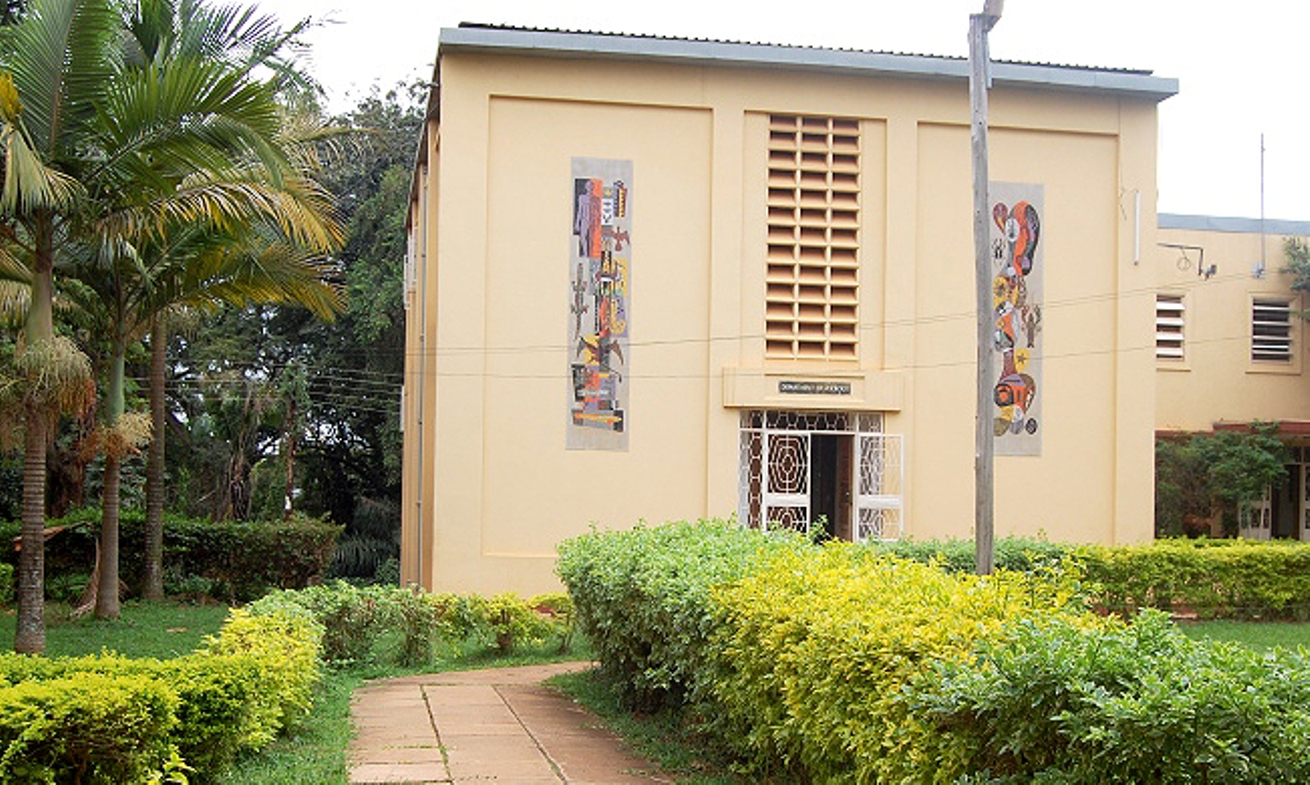 COTRA Call for Applications: Intra-Africa Academic & Administrative Staff Mobility
The EU, under the Intra-Africa Academic Mobility Scheme, provided funding to strengthen training and research in African universities (1st November 2017 until 31st October 2023). In this mobility programme five African partner institutions and one EU Technical partner embarked on training of professionals to achieve sustainable fisheries management and aquaculture resources for increased fish production and enhanced food and nutritional security, and hence, improved livelihood and household revenue. The programme is now ready to support training of Academic and Administrative Staff in the various partner institutions namely: Makerere University (Uganda), Rhodes University (South Africa), Mzuzu University (Malawi), Official University of Bukavu (Congo) and University of Eldoret (Kenya). The Collaborative training in fisheries and aquaculture in East, Central and Southern Africa (COTRA) Project has opened the call for applications from suitable Academic and Administrative Staff for the available positions indicated in Tables 1 and 2 in the advert before 29th September 2022 (23:59 HRS East African Time).
Eligibility
To be eligible for support from COTRA, applicants must:
Be a national of an African Union member state and resident in Africa at the time of application
A staff of one of the partner institutions
Must be prepared to move from home country to another country where COTRA has a partner institution
Females and candidates with disabilities are particularly encouraged to apply.
Applicants must submit fully-filled scholarship application forms which are available on the programme website– http://cotraintra-africa.org/year-five-application-intra-africa-academic-mobility-call-scholarships-year-202223
Application form can be accessed directly through – http://cotraintra-africa.org/sites/default/files/downloads/year_five/COTRA%20Application%20for%20Staff%20Mobility%20%281%29.pdf
Applications must be received by host and home institutions through the Country coordinator – see Tables 1 and 2 or find details at http://www.cotraintra-africa.org/contacts with a copy to contraintrafrica@gmail.com by 29th September 2022.
Email contacts for Makerere University Staff Mobility
Makerere University Academic Staff Mobility Coordinator – Dr Frank Masese, email: f.masese@gmail.com, and Administrative Staff Mobility Coordinator – Mr. Bob Jere, email: jere.b@mzuni.ac.mw
 Note:  Applicants are required to attach a copy of a work plan of the activities for the intended mobility.
Click on the link below for full advert.
COTRA-Call for Applications Intra-Africa Staff Mobility Advert
Dr. Julius Mulindwa Wins DFG Research Grant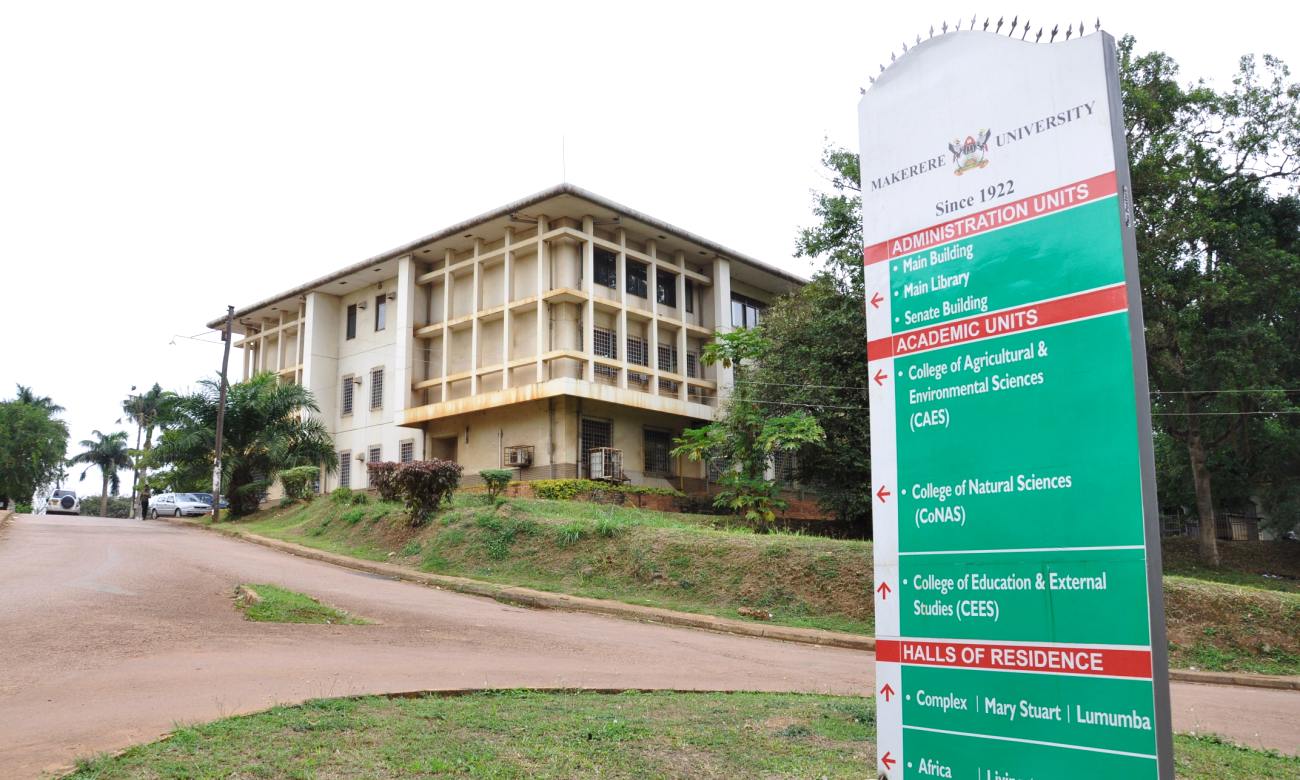 Dr Julius Mulindwa, Lecturer in the Department of Biochemistry and Sports Science, College of Natural Sciences (CoNAS), Makerere University, together with colleagues Prof. Nicolai Seigel at the University of Munchen, Germany and Dr Kevin Marucha at Kisii University, Kenya were recently awarded a research grant by the German Research Foundation (DFG) amounting to 290,985 Euro. Out of this, 179,735 Euro is for the research activities that will be conducted at the Department of Biochemistry and Sports Science, CoNAS.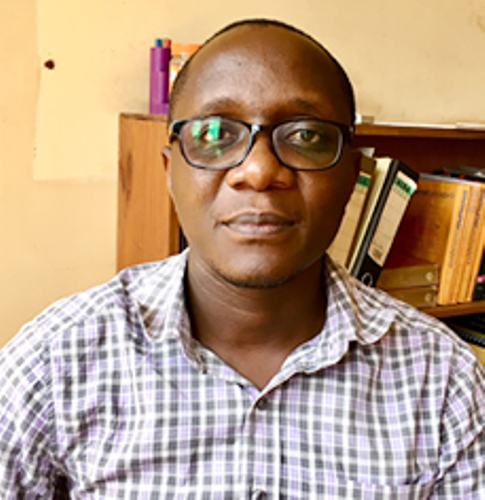 The research study is about, "Understanding cell to cell heterogeneity in African trypanosome field isolates".
The benefits of this study to Makerere University will include:
Capacity building in trypanosome single cell transcriptomics. This technic can be further exploited in other fields of research including cancer biology and it will be a great breakthrough if it is established at CoNAS.
Training of a Ugandan PhD student and MSc students.
Building research networks and fostering collaborative research between Makerere University, LMU, Germany and Kisii University, Kenya.  
Mak Hosts EnergyNET Project Annual Meeting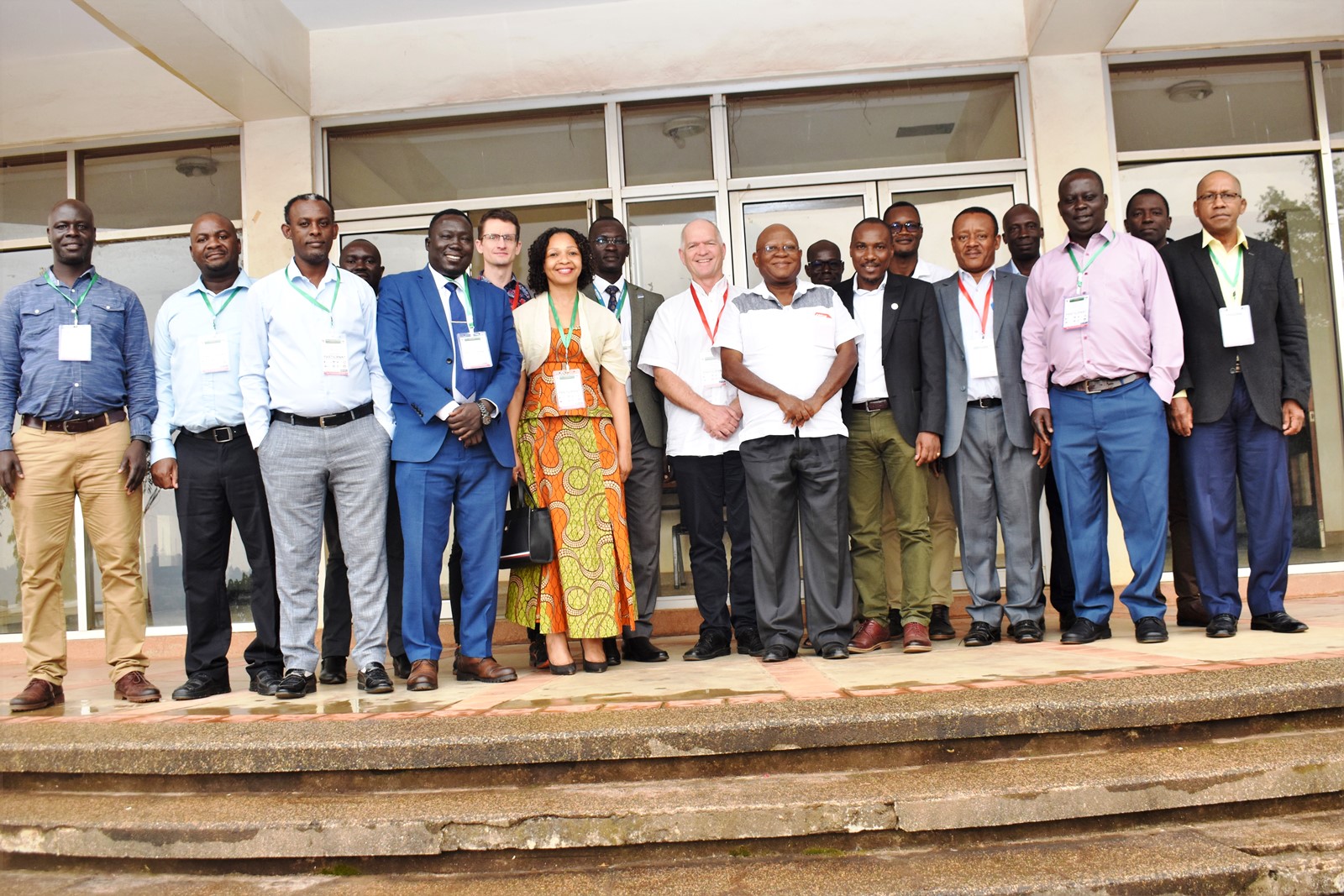 Makerere University College of Natural Sciences (CoNAS) through the Department of Physics is hosting the 2023 Annual Meeting for the Energy Technology Network (EnergyNet) Project.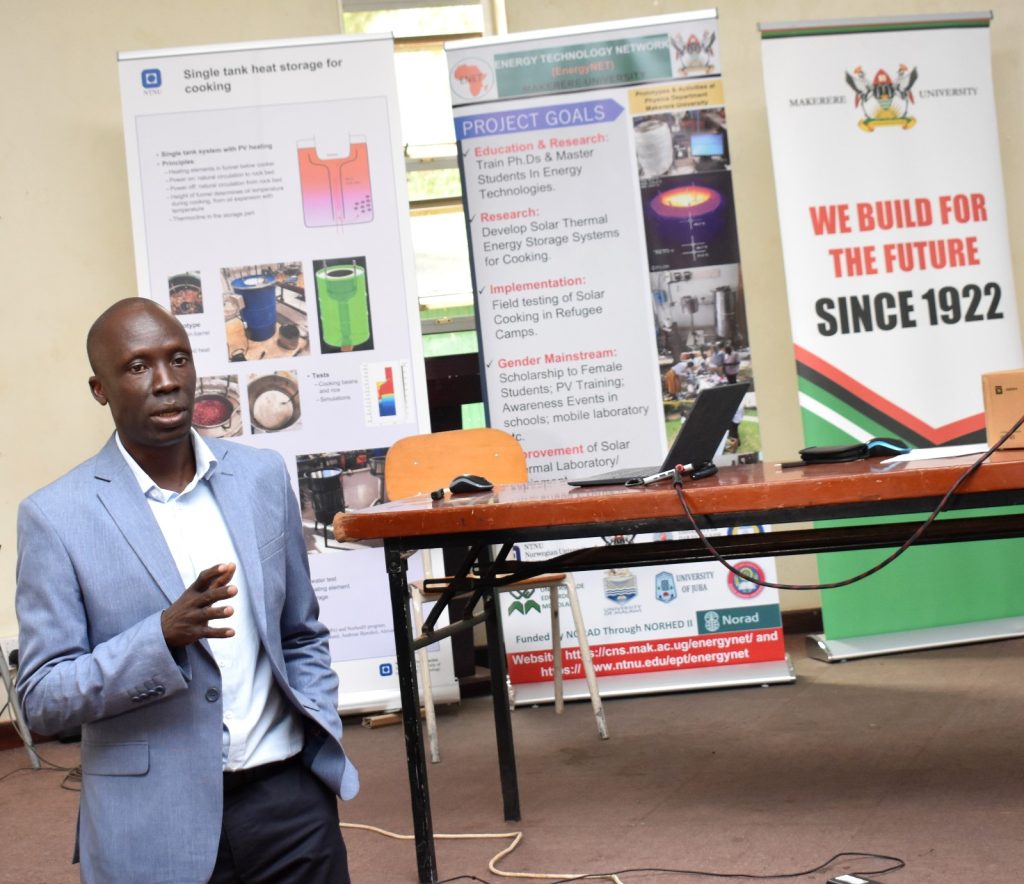 The three-day meeting taking place at the School of Food Technology, Nutrition and Bio-Engineering is being attended by partners from the Norwegian University of Science and Technology (NTNU), University of Dar es Salaam (Tanzania), Makerere University (Uganda), Mekelle University (Ethiopia), Addis Ababa University (Ethiopia) and Eduardo Mondlane University (Mozambique). It was officially opened by the Principal, CoNAS, Prof. Winston Tumps Ireeta on 9th January 2023.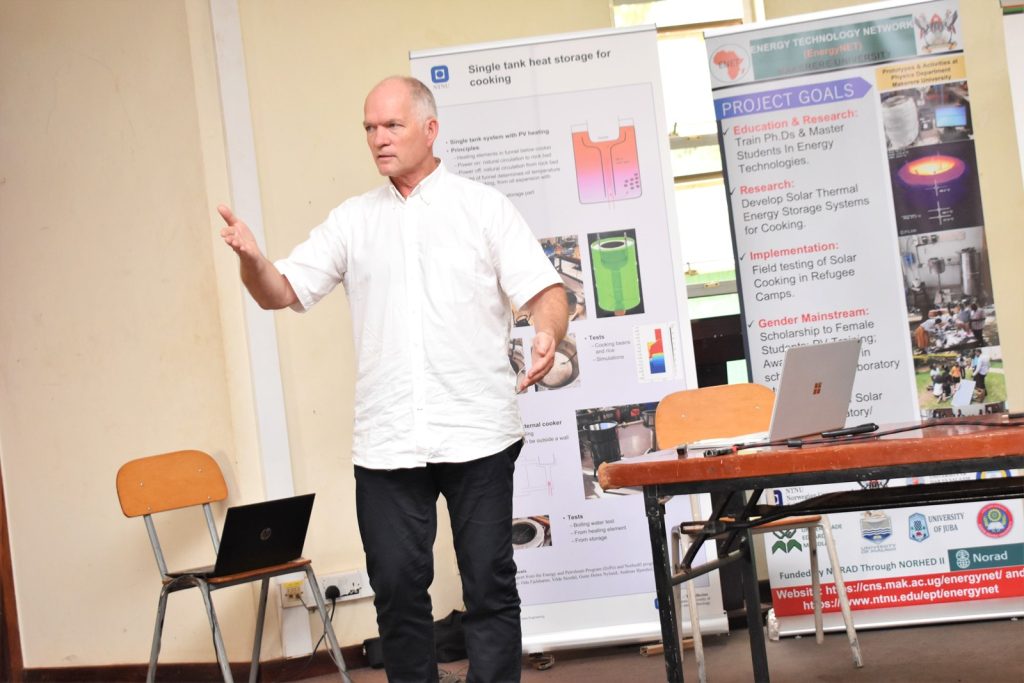 EnergyNet is a six-year (2021-2026) project supported by the Norwegian Agency for Development Cooperation (NORAD) under NORHED II. The project is a network of African universities collaborating on education and research in Energy Technology. Prof. Ole Jorgen Nydal from NTNU is the main coordinator of the Project. At Makerere University, the project is coordinated by Dr Nyeinga Karidewa, Lecturer in the Department of Physics.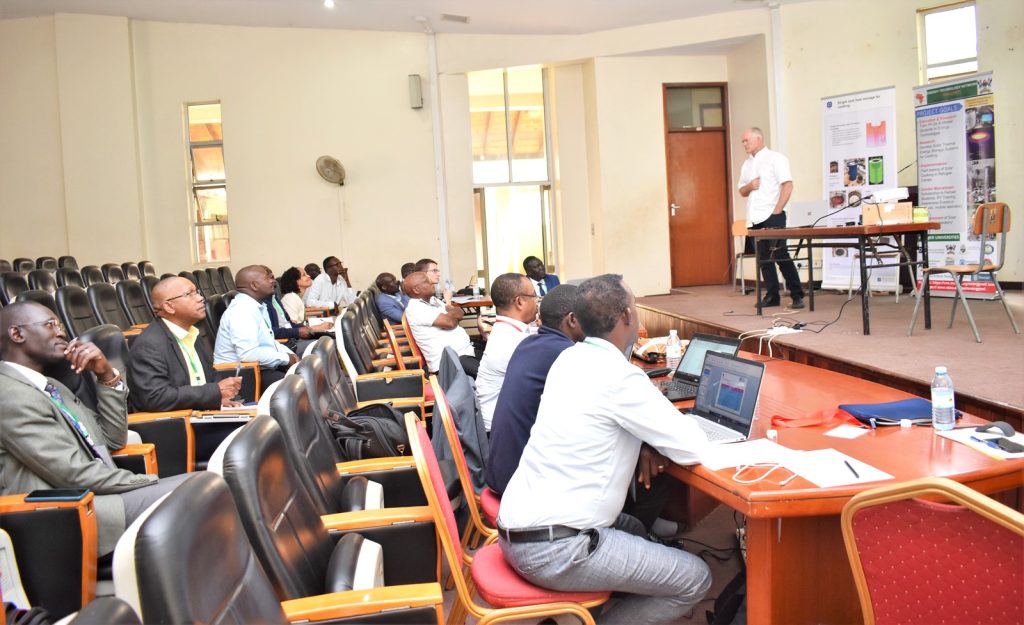 Objectives of the project
i) To increase the quality of MSc/PhD educational programmes in Renewable Energy by training PhDs and MSc students in energy
ii) Conduct research in small scale renewable energy systems
iii) Bring results from the laboratory to the society
iv) Networking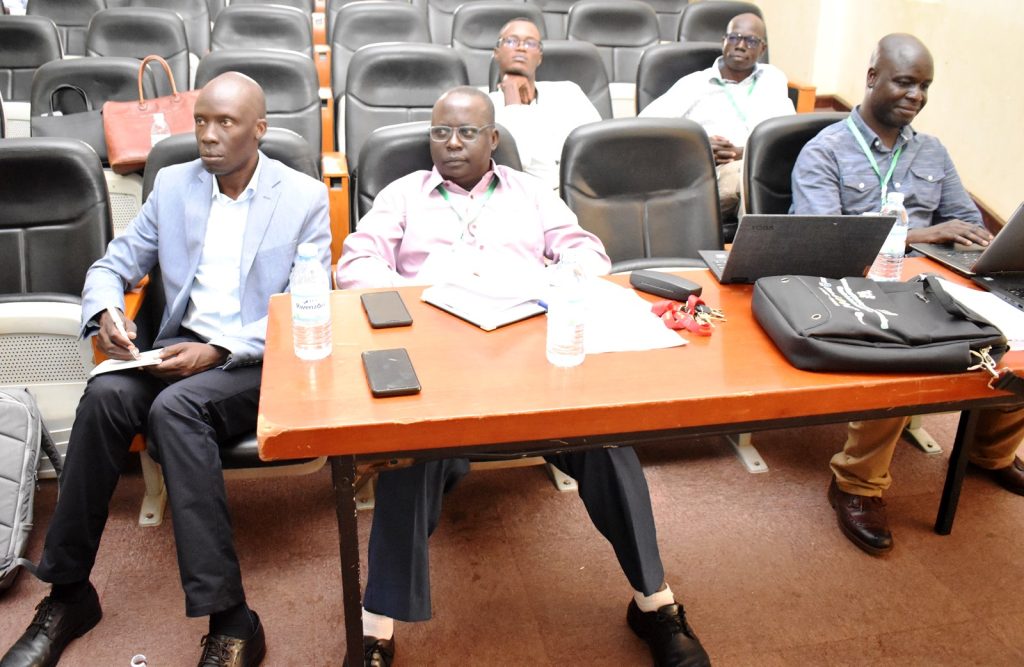 Purpose of the project workshop
The workshop was convened to share reports on the progress of the project at each of the partner institutions, complete the project activity report for 2022, and to develop a work plan and budget for 2023. The workshop featured several presentations covering both technical and social aspects of the research in energy.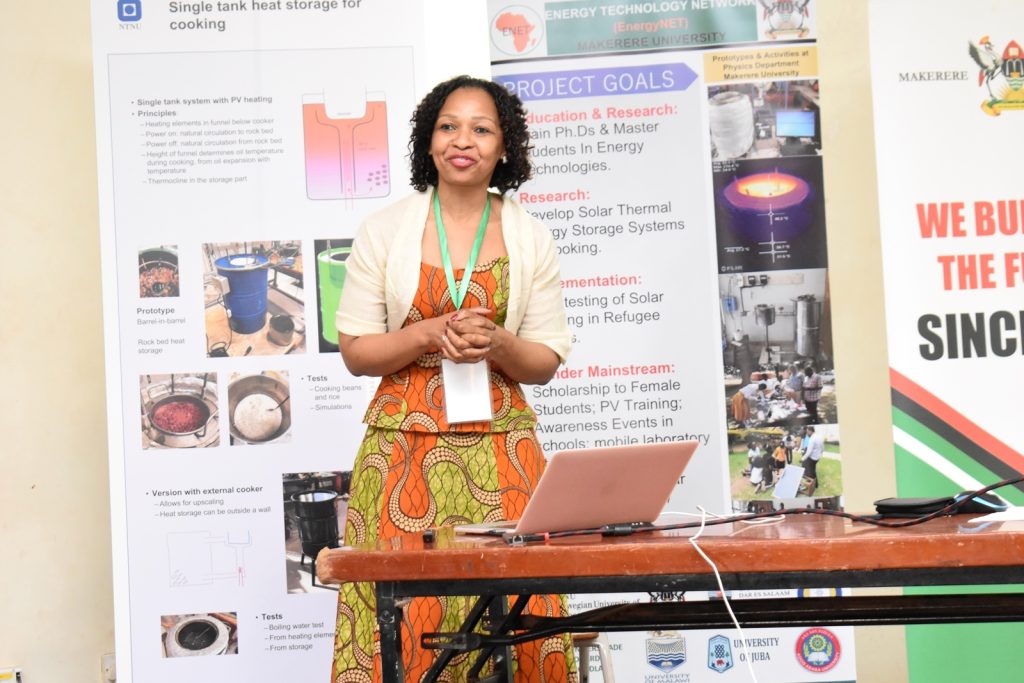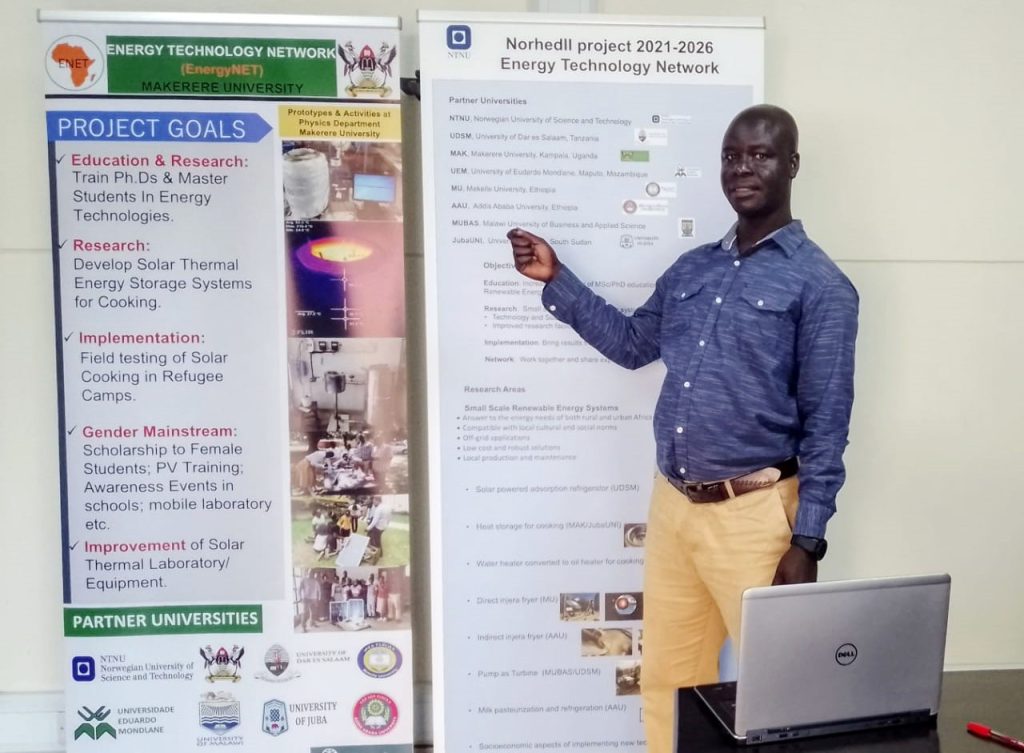 Research areas by the partner institutions under the project
Solar thermal energy storage systems for off grid cooking applications
Modelling and simulating back heating sources and multiple cookers integrated with heat storage
Dar es Saalam University (Tanzania)
Solar refrigeration
Mini hydropower – using pumps
Eduardo Mondlane University (Mozambique)
Solar cooker technologies acceptance among pastoral communities in disaster areas
Solar thermal technology – charging by evacuated tubes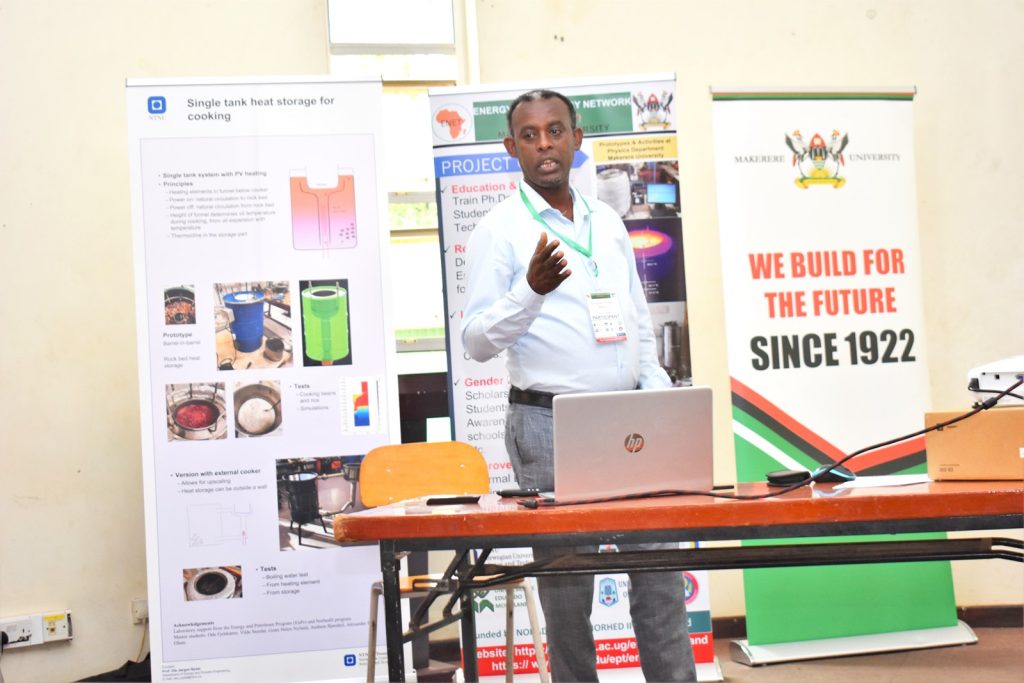 Addis Ababa University
The AAiT team at Addis Ababa University is working with two PhDs in thematic areas of refrigeration and solar thermal cooking. The first system is used for milk cooling and pasteurization with potential application for dairy farmers. The second one focuses on design, development, and experimental investigation of photovoltaic based institutional injera baking system with phase change materials with potential application in Universities, correction centres and hospitals where injera is baked in mass. Abdulkadir Aman Hassen (PhD) is the project coordinator from AAU. Other coordinators are; Boaventura Cuamba, Eduardo Mondlane University (Mozambique); Joseph Kihedu, University of Dar es Salaam; Mulu Bayray, Mekelle University; Ishmael B.M. Kosamu, University of Malawi, and Tito Achire, Juba University.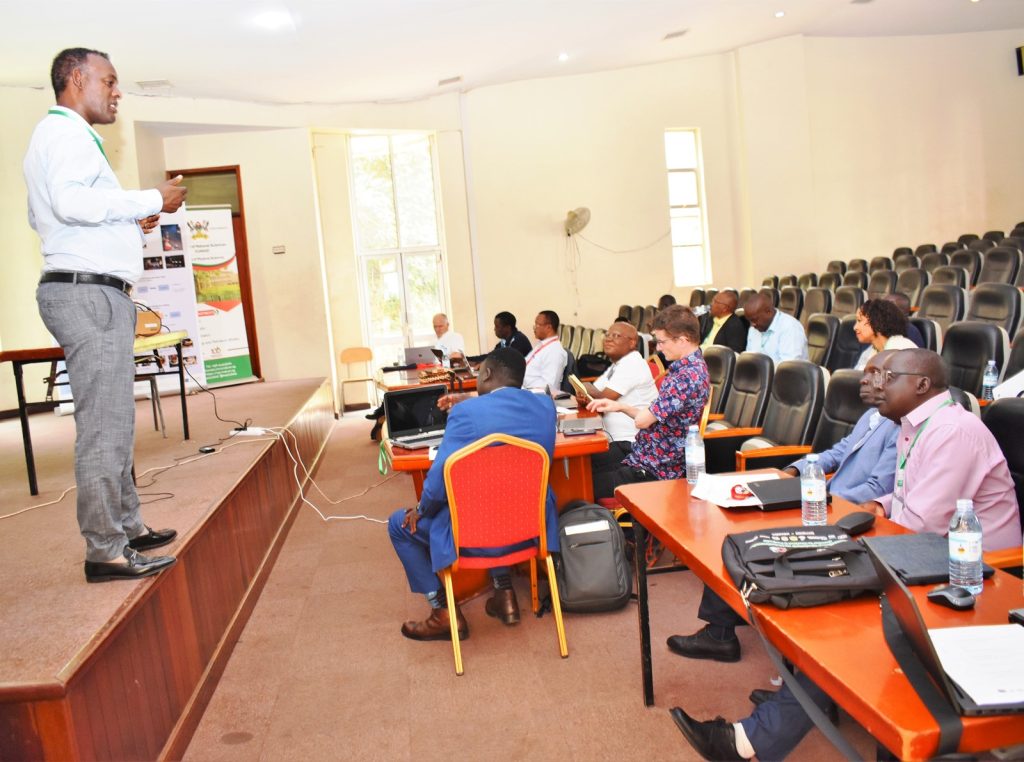 During the workshop, PhD students on the project presented progress reports and plans for 2023. Mr. Richard Ochaya from UNHCR presented energy challenges faced in refugee camps in Uganda, and the need to work closely with universities to find sustainable solutions.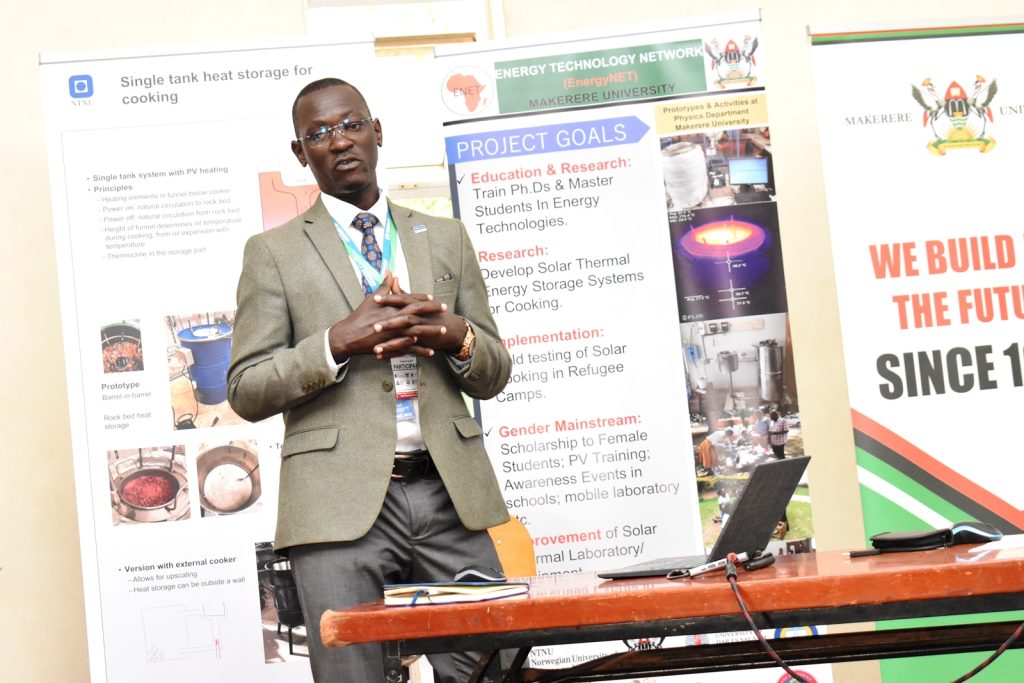 Expected output
The partner universities have a long history of collaboration on research and education in renewable energy. The experiences and the results from the group (programmes and research), will be shared as support for capacity building at the University of Malawi and the University of Juba (South Sudan) which are at an earlier stage on the research capacity path.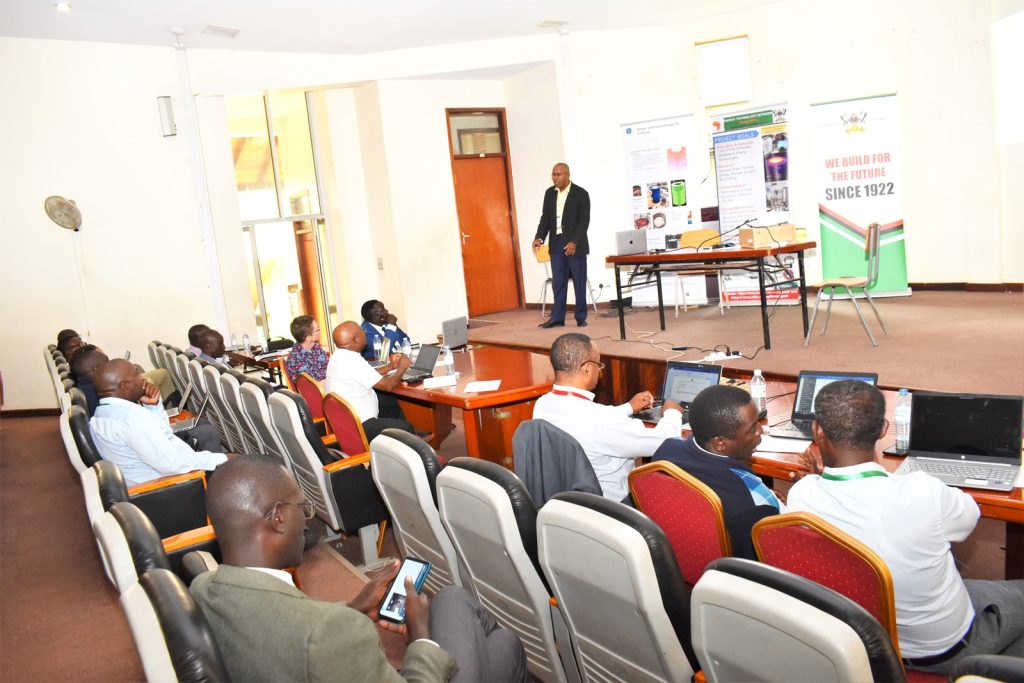 The research tasks have been solution oriented, with the exploration of new and innovative technical solutions for small scale energy components and systems related to hydro and wind power, solar and bio energy for cooking and solar refrigeration technology. Focus is on thermal energy solutions (heating, cooling, cooking) and the integration of heat batteries with electrical batteries in micro grid systems. Emphasis is on qualifying and implementing new technical solutions emerging from university research, in collaboration with relevant stakeholders. The educational part includes a new multidisciplinary PhD programme combining technical, socioeconomic and environmental studies. The quality of the existing master programmes will be enhanced by joint curriculum reviews, improvement of research based teaching and migration towards more digital teaching methods.
Call for Abstracts for Doctoral Convention 2023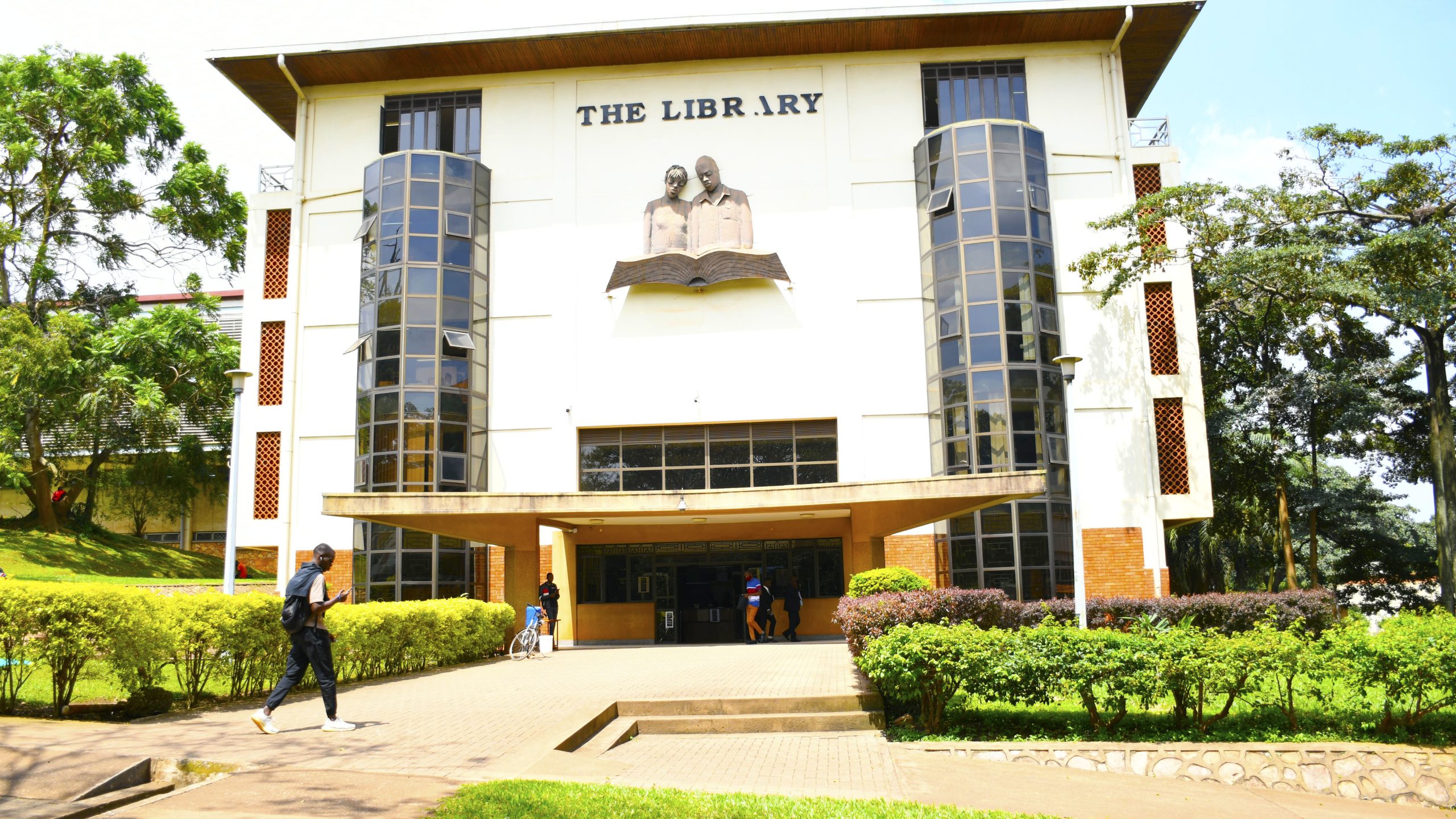 PhD Fellows of Makerere University (PF@mak) invites all PhD and other graduate scholars of Makerere University to the annual doctoral convention slated for 23rd February 2023. The theme for this Convention is "Positioning Research for the attainment of National Development Agenda" Sub-themes are aligned with Uganda's National Development Plan III.
The goal of this Doctoral Convention is to bring together the PhD Community and other graduate students from this great University to share their research projects and outputs as well as critique concepts and proposals in line with the main theme of positioning research in the attainment of national flagship development interventions e.g Uganda's Parish Development Model and Vision 2040. This Doctoral Convention offers a platform where graduate students discuss their research concepts, proposals, preliminary research findings, manuscripts and papers. This will be done through oral paper presentations and pitching sessions. In addition, there will be poster exhibitions and discussion of presenters' works. Awards will be made to the best assessed oral presenters, poster exhibitors and pitching sessions.
PF@Mak is now inviting and accepting abstracts for oral papers and poster presentations. You are invited to submit abstracts not more than five hundred words (500) of your concept note, proposal, manuscripts and/or papers that are relevant to the conference theme and subthemes. Indicate the preferred sub-theme and whether you are submitting a paper for oral or poster presentation.
Sub-themes of this doctoral convention are:
Governance, Economic and Social Change for a prosperous Region.
Natural Resources Management, Climate Smart Development & Food Security
Science, Innovation and Technological Advancement for Bio-safety & Well-being
Health & Health Systems that address Contemporary Global Threats
We look forward to a vibrant PhD Convention that feeds into an enhanced learning environment for PhD studies at Makerere University as We Build For The Future.
The PhD Convention shall be Hybrid in nature with provision for Online Live Streaming.
Abstract Submission Deadline: 23rd December 2022.
SUBMISSION GUIDELINES
The Doctoral convention leadership invites the submission of original abstracts for Oral and/or Poster presentation*. All abstracts should be submitted via the following email; phd.fellows@mak.ac.ug before the deadline (23rd December 2022). These will be forwarded to the Convention Review Board. All abstracts must be submitted and presented in clear English with grammar and spelling of a quality suitable for publication.
WRITING & SUBMITTING YOUR ABSTRACT
Please follow the guidelines below when writing and submitting your abstract/paper. The abstract should be as informative as possible, standard abbreviations may be used. It should not contain diagrams/tables/images: these may be added when submitting the paper. Before you begin submission, please prepare the following information:
Author's and co-Authors' details (Full first and family name(s), Email)
Affiliation details: Institution / University/ College/School/ and Department.
Abstract preferred sub-theme: Please choose from the list of sub-themes
Title: The title should clearly indicate the nature of the investigation. Each word should begin with a capital letter with the exception of transition words (maximum 25 words).
Length: The Abstract body should be no longer than 500 words in total.
Structure: Please ensure your abstract clearly brings out Background; Objectives; Methods;
Results (where applicable) and Conclusion.
Key Words: Outline Four Key Words in your Abstract
Formatting: Use Arial font, size 11.5 with 1.15 spacing.
CONFIRMATION OF RECEIPT
You will receive email confirmation that your abstract has been received, indicating the allocated abstract number. Please refer to that abstract number in all further correspondence regarding the abstract.
NOTIFICATION OF DECISION
After submitting your abstract, you will receive an e-mail confirming your successful submission. If you do not receive this confirmation e-mail within 05 days, please contact;
phd.fellows@mak.ac.ug
IMPORTANT TIMELINES
Issuance of Call for Abstracts: 22nd November 2022
Abstract submission deadline (MS Word Documents only): December 23rd, 2022
Acceptance notification: December 30th, 2022
Full presentation submission deadline: January 30th, 2023
Please Note: Only accepted abstracts of fully registered presenters can be included in the final Doctoral Convention program and Book of Abstracts. Registration is required to be completed within 10 days from date of acceptance notification. Registration Fee is modest UGX 30,000 which also doubles as Annual Membership Fee for PF@Mak (for the case of PhD Scholars). Presentation at this Convention will constitute part of the requirements by DRGT on Conference participation