School of Law Annual Report 2021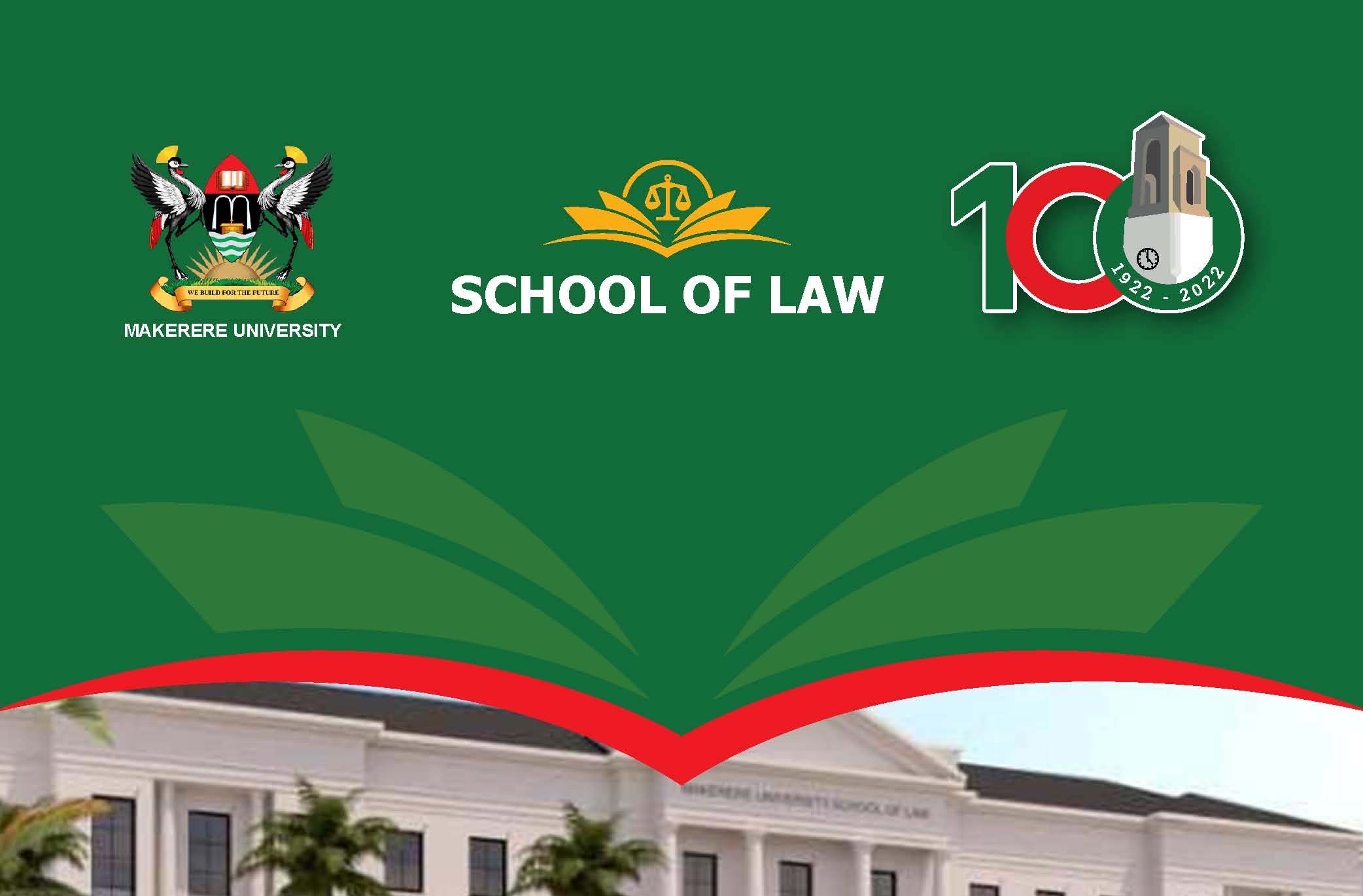 I have the pleasure to present the annual report of the School of Law (SoL) for the year 2021 which highlights our activities throughout the year. As the world recovers from the effects
of the Covid19 pandemic which impeded implementation, the year bore a lot of promise for the School in championing the mission of Makerere University.
The School has realized several developments, among which is the commissioning of the new School of Law Building. The three-storied structure will house Lecture, tutorial and seminar rooms, a library, a moot court, a cafeteria and offices. The project is funded by the Government of Uganda. In addition, SoL held consultative meetings with National Council for Higher Education (NCHE) to finalise the process of becoming a fully-fledged Constituent College of Makerere University as defined under the Universities and Other Tertiary Institutions (Management of Constituent Colleges of Makerere University) Statute, 2012.
Capacity building for our members of staff was realized through attendance of workshops and seminars both at national and international level. Our staff and students were recognized
for their work through awards and appointments including: Professor Sylvia Tamale was awarded an Honorary Doctor of Laws by the University of Pretoria, South Africa; Professor Christopher Mbazira, received the 2021 award from Uganda Law Society (ULS) for his distinguished service in the Promotion of Legal Education; and Mr. Grace Waiswa, President – Makerere Law Society (MLS) was elected Secretary General of the Federation of African Law Students (FALAS), an umbrella body for undergraduate Law students in Africa. Our students have participated in moot competitions in-country and globally. Excellence in teaching and learning has continued supported by various research activities and projects undertaken by staff and students.
The School of Law has continued to produce legal professionals from the undergraduate to doctorate levels. Members of staff have published in internationally peer reviewed journals and also formed partnerships with other institutions. This further strengthens the research base of the SoL tackling key research questions for our nation and beyond.
In the human resource arena, staff members have continued undertake further training for award of doctorates which will further strengthen the qualification capacity of our faculty. However, challenges of recruitment delays and retaining staff continue to affect the performance of the SoL.
I would like to thank the Government of Uganda, University Administration and development partners for their support of our activities during 2021. I also extend thanks to administration at the SoL, staff and students for participating in the activities of the School.
Prof. Christopher Mbazira
PRINCIPAL – SCHOOL OF LAW
Call for Abstracts for Doctoral Convention 2023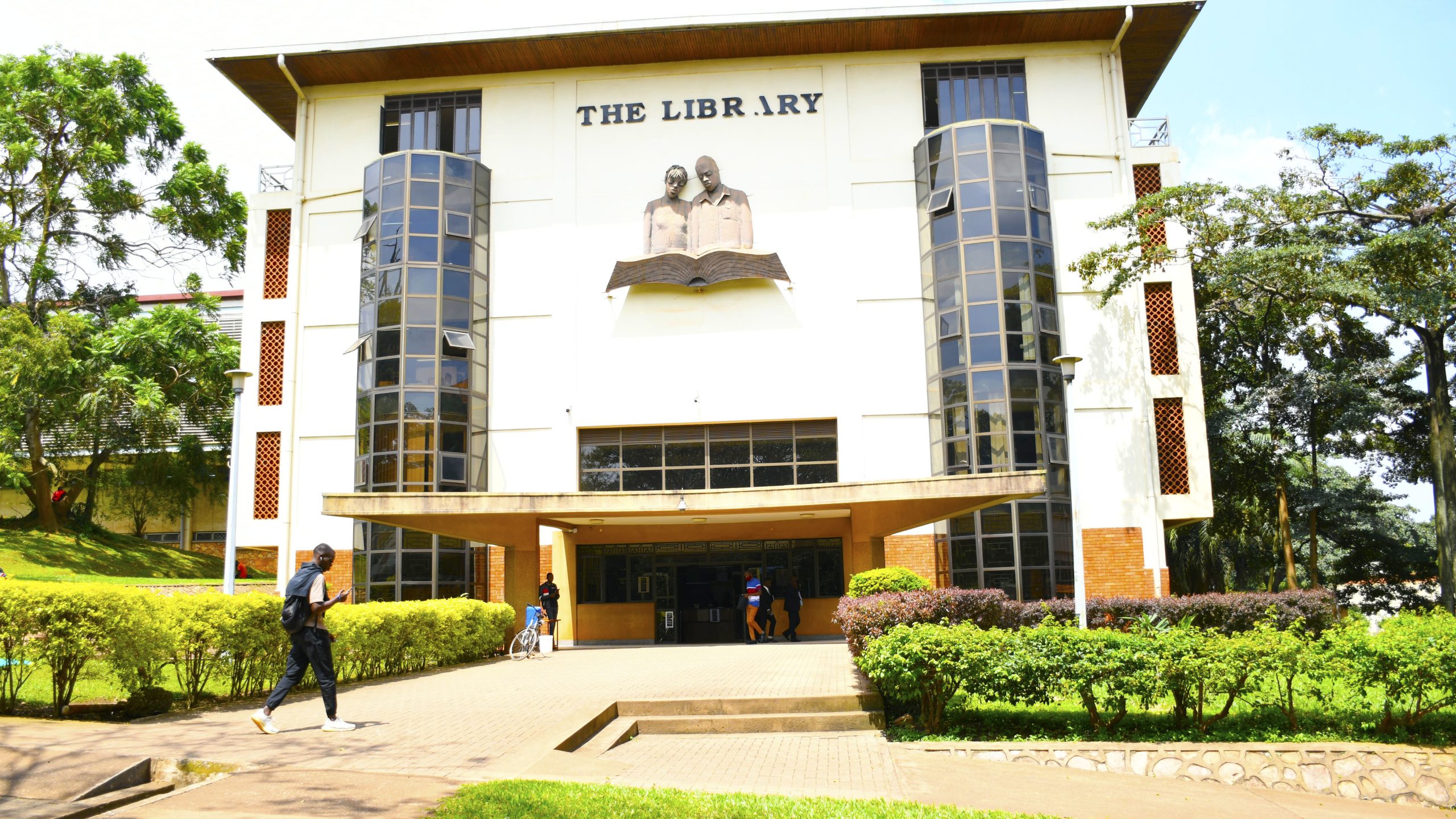 PhD Fellows of Makerere University (PF@mak) invites all PhD and other graduate scholars of Makerere University to the annual doctoral convention slated for 23rd February 2023. The theme for this Convention is "Positioning Research for the attainment of National Development Agenda" Sub-themes are aligned with Uganda's National Development Plan III.
The goal of this Doctoral Convention is to bring together the PhD Community and other graduate students from this great University to share their research projects and outputs as well as critique concepts and proposals in line with the main theme of positioning research in the attainment of national flagship development interventions e.g Uganda's Parish Development Model and Vision 2040. This Doctoral Convention offers a platform where graduate students discuss their research concepts, proposals, preliminary research findings, manuscripts and papers. This will be done through oral paper presentations and pitching sessions. In addition, there will be poster exhibitions and discussion of presenters' works. Awards will be made to the best assessed oral presenters, poster exhibitors and pitching sessions.
PF@Mak is now inviting and accepting abstracts for oral papers and poster presentations. You are invited to submit abstracts not more than five hundred words (500) of your concept note, proposal, manuscripts and/or papers that are relevant to the conference theme and subthemes. Indicate the preferred sub-theme and whether you are submitting a paper for oral or poster presentation.
Sub-themes of this doctoral convention are:
Governance, Economic and Social Change for a prosperous Region.
Natural Resources Management, Climate Smart Development & Food Security
Science, Innovation and Technological Advancement for Bio-safety & Well-being
Health & Health Systems that address Contemporary Global Threats
We look forward to a vibrant PhD Convention that feeds into an enhanced learning environment for PhD studies at Makerere University as We Build For The Future.
The PhD Convention shall be Hybrid in nature with provision for Online Live Streaming.
Abstract Submission Deadline: 23rd December 2022.
SUBMISSION GUIDELINES
The Doctoral convention leadership invites the submission of original abstracts for Oral and/or Poster presentation*. All abstracts should be submitted via the following email; phd.fellows@mak.ac.ug before the deadline (23rd December 2022). These will be forwarded to the Convention Review Board. All abstracts must be submitted and presented in clear English with grammar and spelling of a quality suitable for publication.
WRITING & SUBMITTING YOUR ABSTRACT
Please follow the guidelines below when writing and submitting your abstract/paper. The abstract should be as informative as possible, standard abbreviations may be used. It should not contain diagrams/tables/images: these may be added when submitting the paper. Before you begin submission, please prepare the following information:
Author's and co-Authors' details (Full first and family name(s), Email)
Affiliation details: Institution / University/ College/School/ and Department.
Abstract preferred sub-theme: Please choose from the list of sub-themes
Title: The title should clearly indicate the nature of the investigation. Each word should begin with a capital letter with the exception of transition words (maximum 25 words).
Length: The Abstract body should be no longer than 500 words in total.
Structure: Please ensure your abstract clearly brings out Background; Objectives; Methods;
Results (where applicable) and Conclusion.
Key Words: Outline Four Key Words in your Abstract
Formatting: Use Arial font, size 11.5 with 1.15 spacing.
CONFIRMATION OF RECEIPT
You will receive email confirmation that your abstract has been received, indicating the allocated abstract number. Please refer to that abstract number in all further correspondence regarding the abstract.
NOTIFICATION OF DECISION
After submitting your abstract, you will receive an e-mail confirming your successful submission. If you do not receive this confirmation e-mail within 05 days, please contact;
phd.fellows@mak.ac.ug
IMPORTANT TIMELINES
Issuance of Call for Abstracts: 22nd November 2022
Abstract submission deadline (MS Word Documents only): December 23rd, 2022
Acceptance notification: December 30th, 2022
Full presentation submission deadline: January 30th, 2023
Please Note: Only accepted abstracts of fully registered presenters can be included in the final Doctoral Convention program and Book of Abstracts. Registration is required to be completed within 10 days from date of acceptance notification. Registration Fee is modest UGX 30,000 which also doubles as Annual Membership Fee for PF@Mak (for the case of PhD Scholars). Presentation at this Convention will constitute part of the requirements by DRGT on Conference participation
High Level Delegation from East African Court of Justice visit Mak School of Law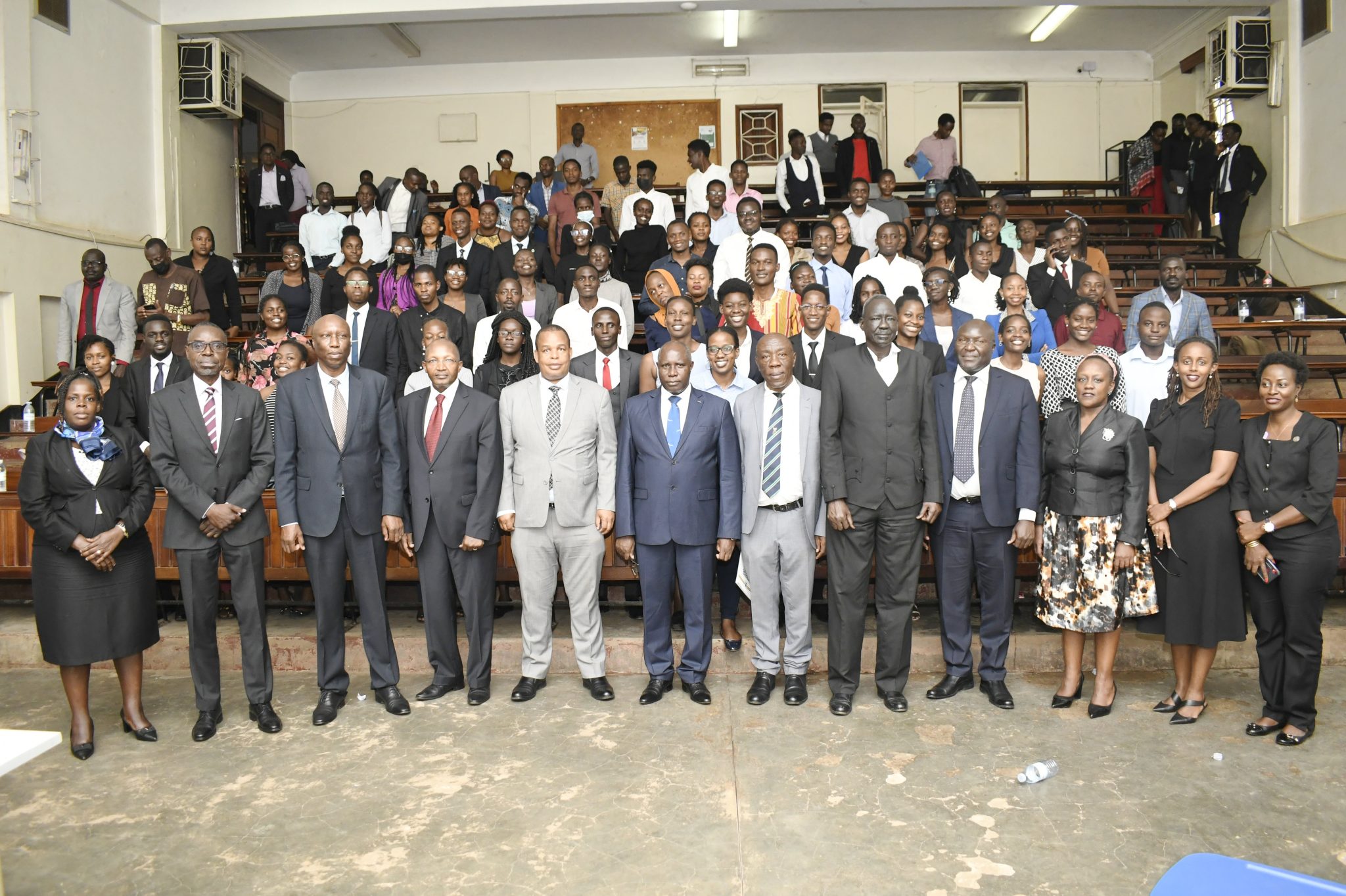 On 30th November 2022, a delegation of Honourable Justices of the East African Court of Justice (EACJ) visited Makerere University School of Law to engage academia and students in promoting Justice in the East African Community Integration Agenda.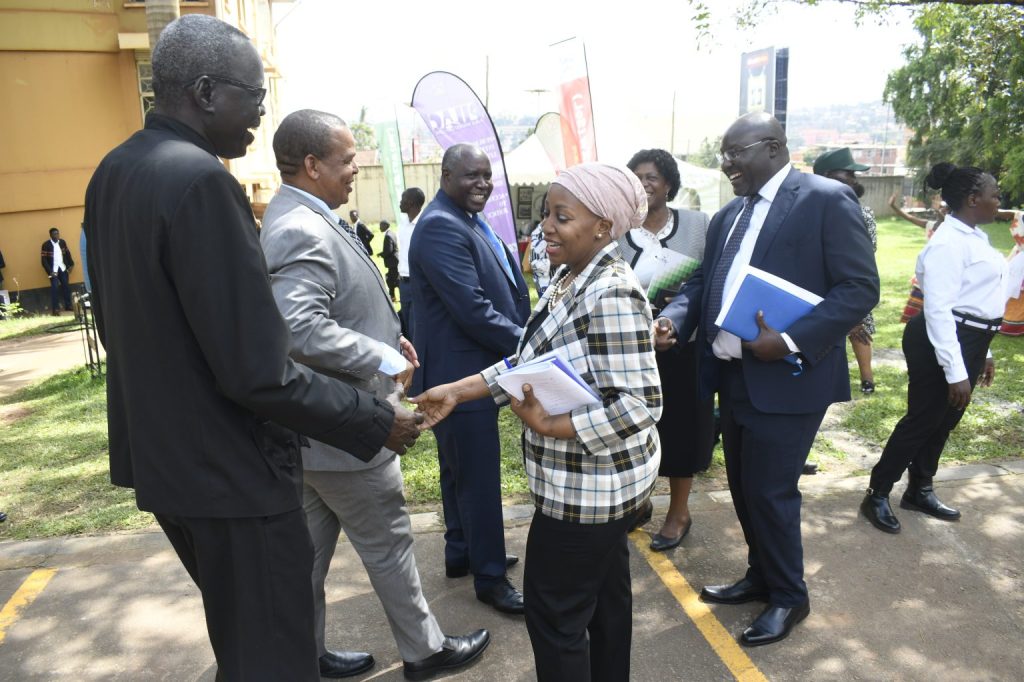 The visiting delegation was led by Hon. Justice Nestor Kayobera – Judge President of the EACJ together withHon. Justice Kathurima M'Inoti – Judge EACJ Appellate Division, Hon. Justice Cheborion Barishaki – Judge EACJ Appellate Division; Hon. Justice Yohane Masara – Principal JudgeEACJ, Hon. Justice Dr. Charles Nyawello -Deputy Principal JudgeEACJ, Hon Justice Richard Wabwire Wejuli – Judge EACJ First Instance Division and Her Worship Christine Mutimura Wekesa – Deputy Registrar EACJ.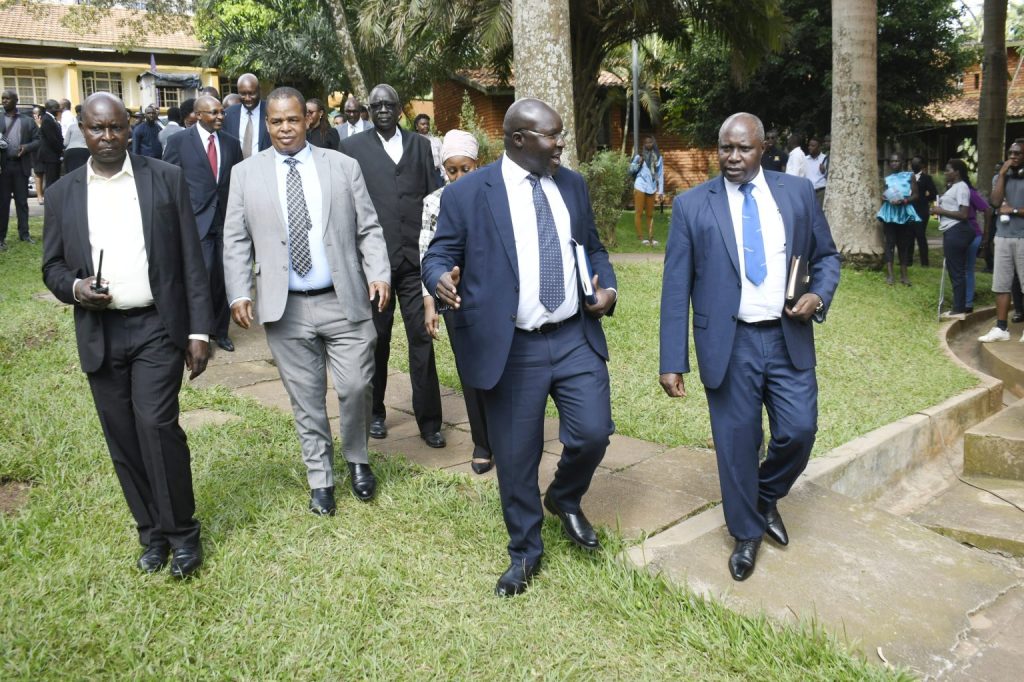 The EACJ delegation was accompanied by members from the Judiciary of Uganda i.e., Hon. Lady Justice Anne Mugenyi – Deputy Head of Commercial Division High Court Uganda, Her Worship Juliet Hatanga – Deputy Registrar Commercial Division High Court Uganda, and Her Worship Juliet Nakitende – Assistant Registrar Commercial Division High Court Uganda.
On arrival, the EACJ delegation were received by the Leadership of the School of Law led by Assoc. Professor Ronald Naluwairo – Principal, Dr. Zahara Nampewo – Deputy Principal, Heads of Department and staff. They were led on a tour of an exhibition of material produced by research centres at the School of Law.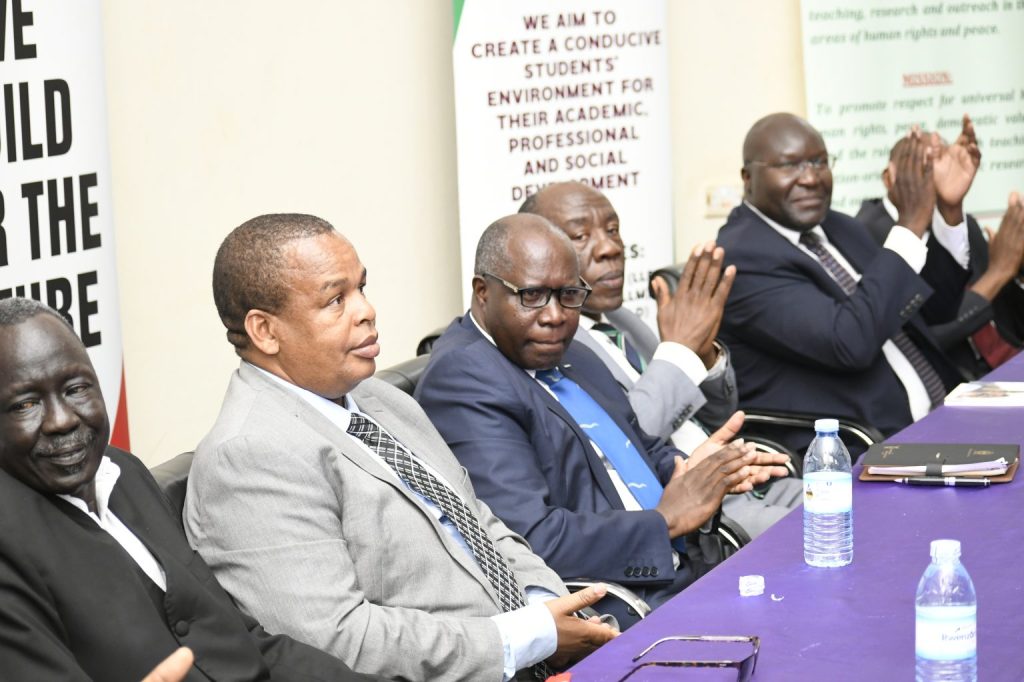 Welcoming the delegation to the School of Law, the Principal, Assoc. Professor Ronald Naluwairo said, 'we are privileged to host the EACJ as you celebrate 21 years of existence and in a year that Makerere is celebrating 100 years. We are grateful that you chose to spend this special day with us'. Assoc. Professor Naluwairo added that the School of Law recognizes the contribution of the EACJ to the fundamental principles of the East African Community especially good governance issues: adherence to principles of democracy, rule of law, social justice, accountability, transparency and gender equality.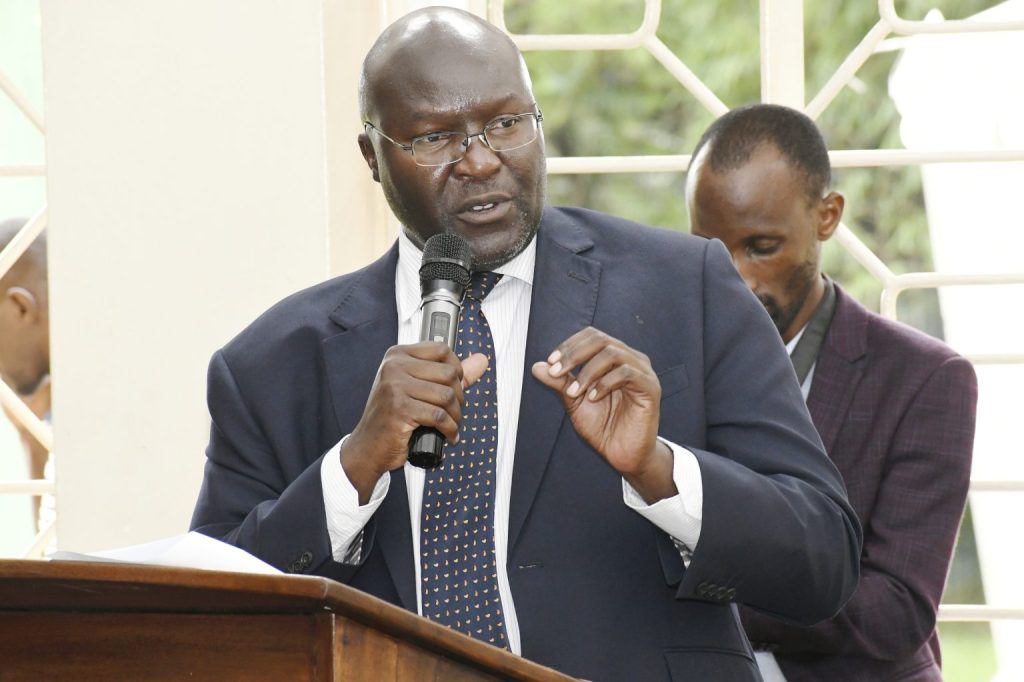 In her remarks, Dr. Zahara Nampewo, Deputy Principal School of Law noted that the visit by a high level delegation from EACJ was a great opportunity for the students. 'The students are able to see the Justices in real life, having read about their judgements', she added.
Introducing the delegation, Deputy Registrar of EACJ, Her Worship Christine Mutimura Wekesa introduced the delegation to the students. Her Worship Christine Mutimura Wekesa who is an alumnus of the School fondly reminisced about her days as a student noting that some of the current faculty were her classmates. She urged the students to work hard as soon as they start law school; 'years run so fast while you are here, don't wait for the final year to start', Her Worship advised.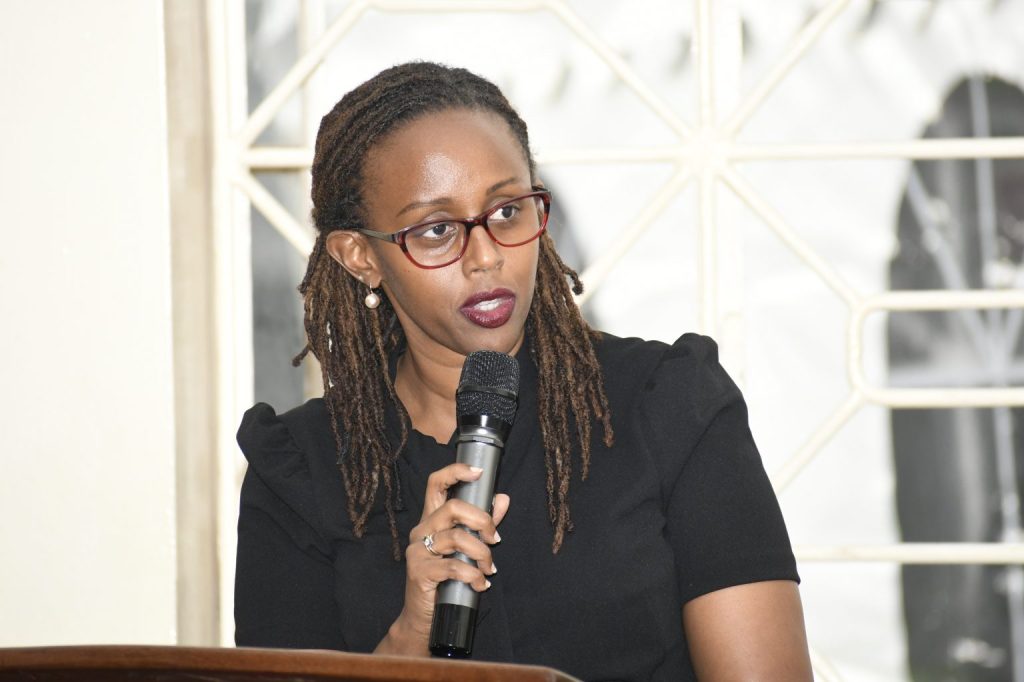 Addressing the students, Hon. Justice Nestor Kayobera, Judge President – EACJ said, 'today is the 21st Anniversary of the East African Community Treaty and the court. We are beyond honored to celebrate our anniversary at Makerere University as you celebrate 100 years'. He thanked the School for receiving the delegation, 'I am happy because I am in my house, we feel at home and a great day for us to be here'.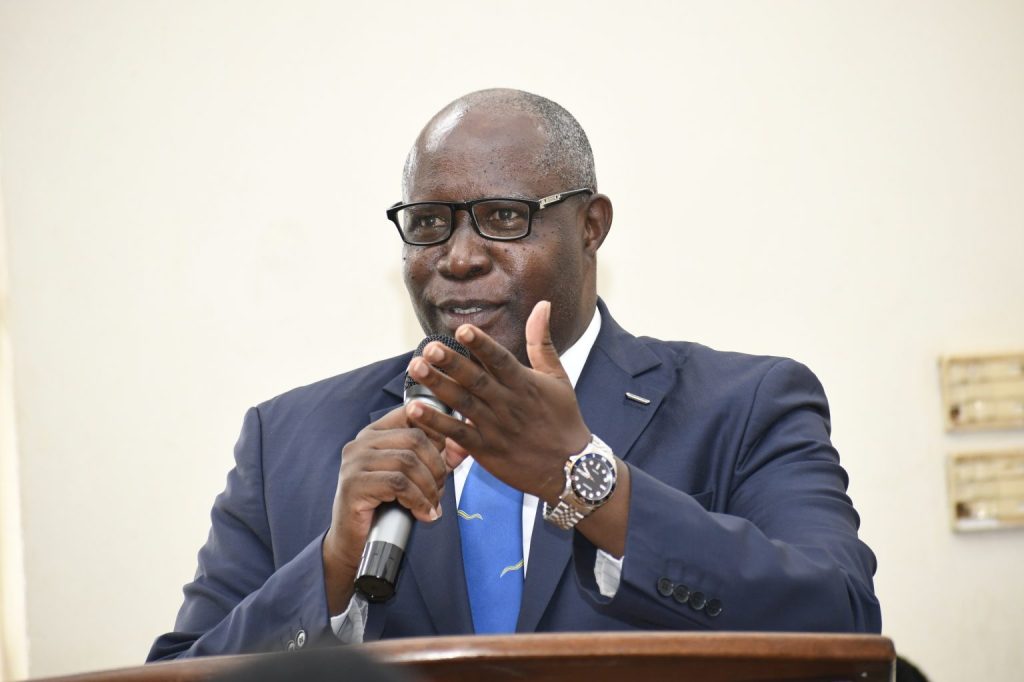 Judge President, Hon. Justice Kayobera encouraged the students to visit the EACJ and witness the work done. 'The court belongs to you, you should come and see what is happening' he said. He added that lawyers have a big role to play in as far as access to justice is concerned, 'the Community needs legal people to resolve their legal issues'.
In his remarks, Mr. Percy Mpindi – President of Makerere Law Society requested the EACJ delegation to consider introduction of a Moot under their sponsorship dedicated to the service at EACJ and East African Community Integration Agenda. 'This will help bridge the gap between student lawyers and the court', Percy said.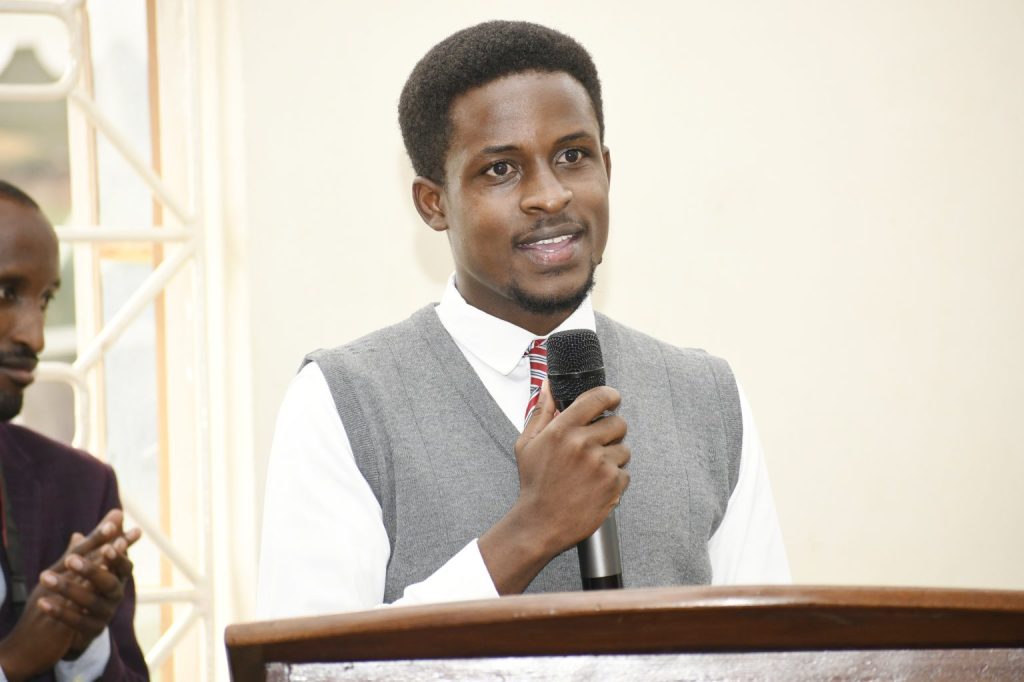 Hon. Justice Kayobera welcomed Percy' proposal and advised that Moot Competition is very important, however it would be better to have Moots organised based on judgement writing. Writing competitions could also organised for Law students and East African communities, Hon. Justice Kayobera added.
The EACJ Judge President handed over gifts to the School of Law which included: EACJ Law Reports, copies of the East African Community Treaty; and copies of the Rules of Procedure of the EACJ.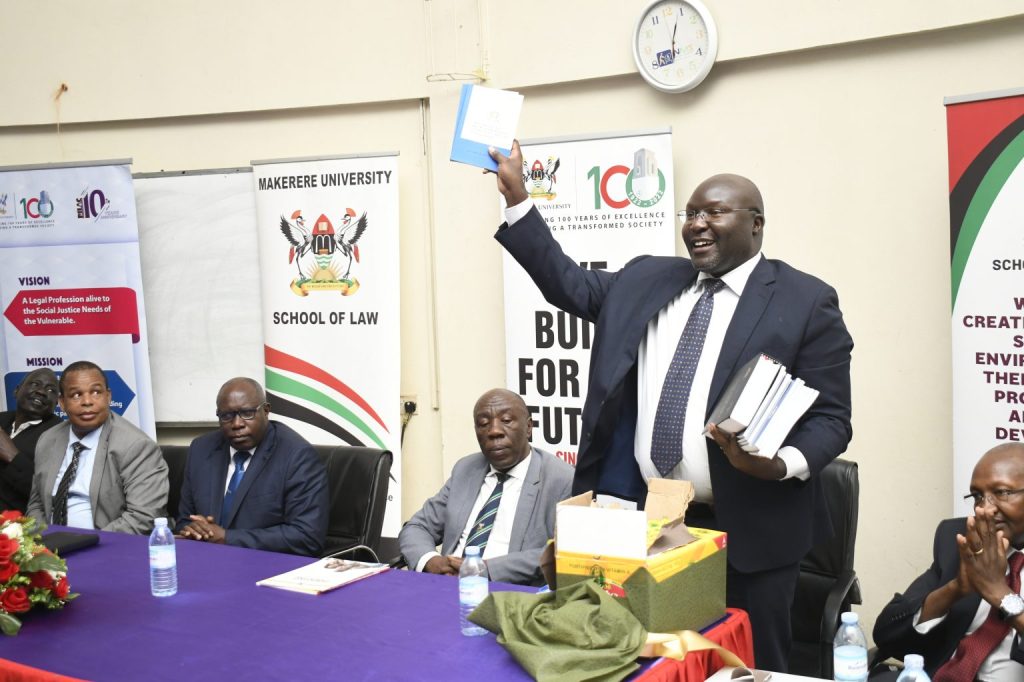 Professor Henry Alinaitwe, Deputy Vice Chancellor – Finance and Administration, Makerere University thanked the delegation for visiting Makerere University and the gifts given to the School of Law. Professor Alinaitwe noted that these visits inspire the students. 'As a University, we are committed to having a strong School of Law ensuring that we admit the best through pre-entry exams, a new building for the School is under construction which will have state-of-the-art facilities and human resource capacity building for faculty is on-going', the Deputy Vice Chancellor highlighted.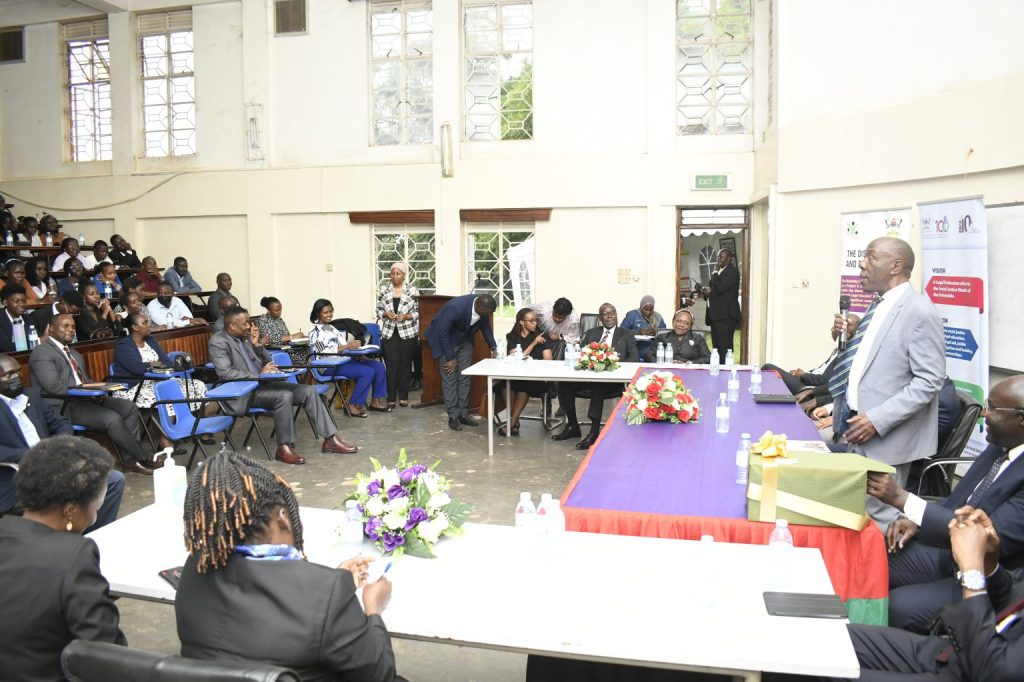 A vote of thanks was moved by Dr. Busingye Kabumba, Senior Lecturer and Ag. Director – Human Rights and Peace Centre, School of Law. Dr. Kabumba reiterated the message from Makerere Law Society of the willingness to work with the EACJ on various activities that would enhance promotion of Justice in the EA Community Integration Agenda. He added that the academia commit to continue engaging the EACJ on court jurisprudence.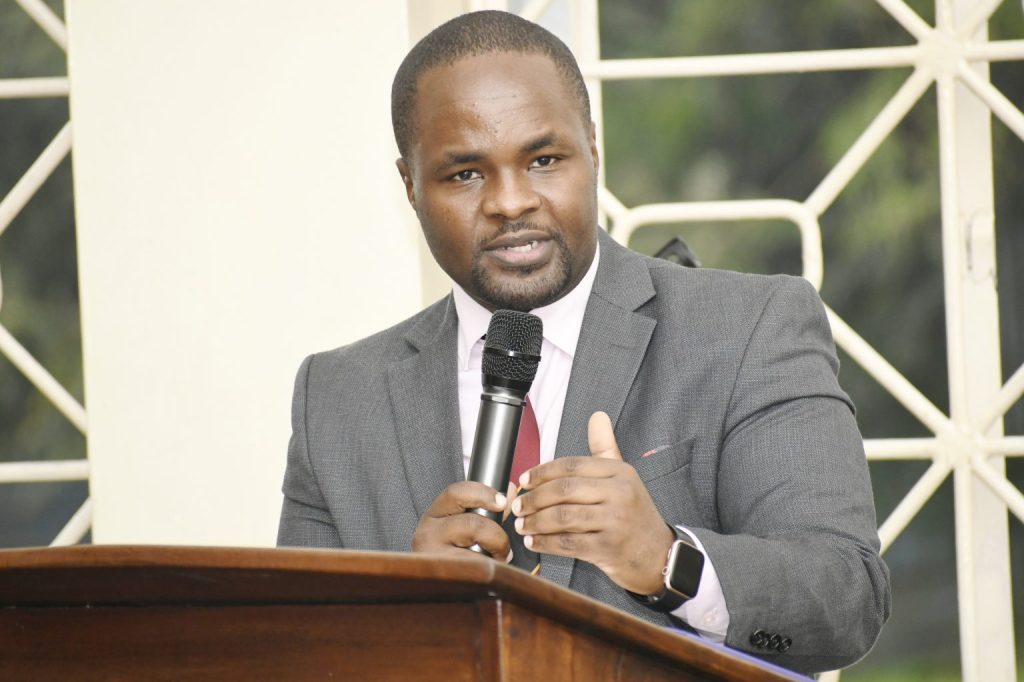 Earlier in the day, the delegation met Professor Barnabas Nawangwe – Vice Chancellor Makerere University. They also held an informative engagement with the University Management; toured an exhibition of research outputs and innovations under the Makerere University Research and Innovations Fund (Mak-RIF); and toured Makerere University Library with particular interest in the Law Section.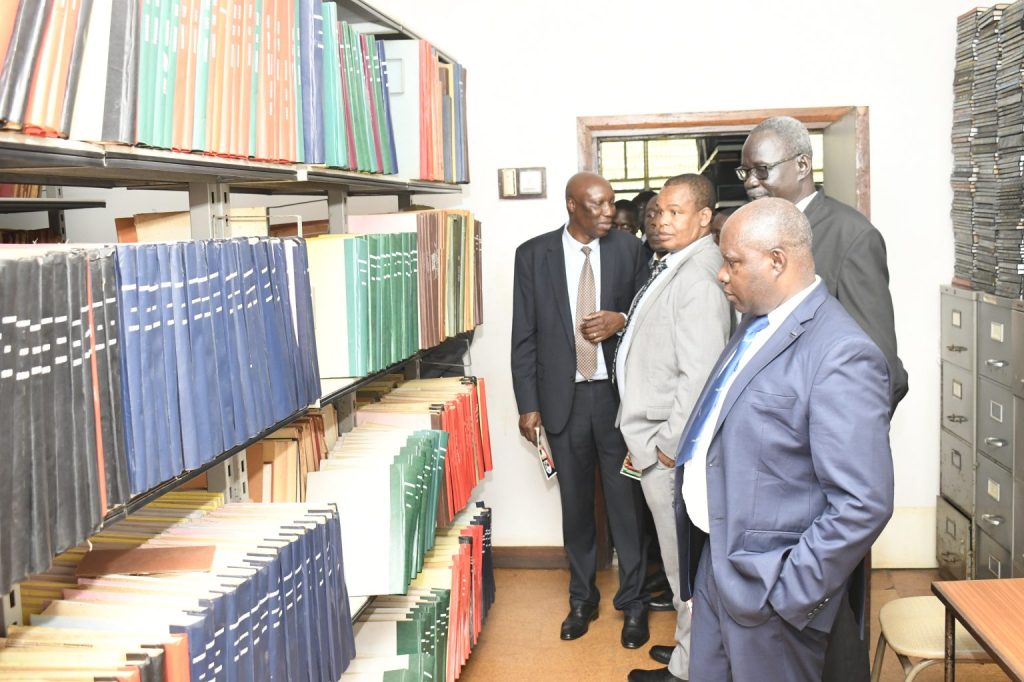 East African Court of Justice celebrates 21st Anniversary: Delegation visits Makerere University to engage academia on promoting Justice in the East African integration agenda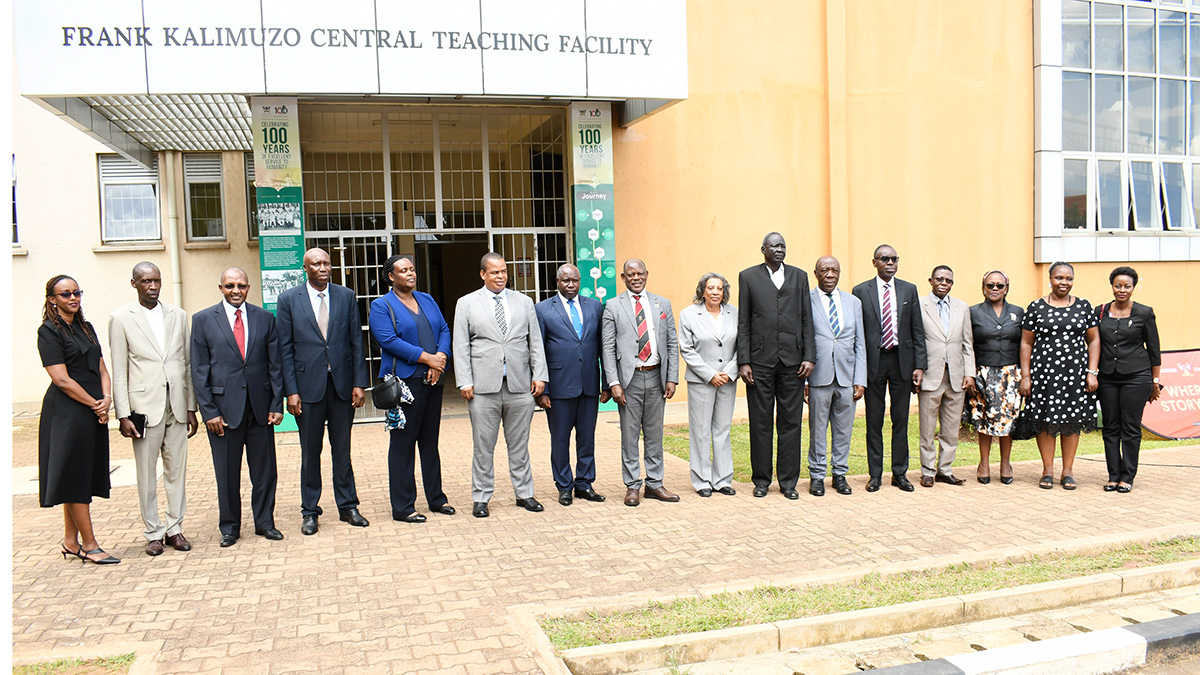 By Ritah Namisango
On 30th November 2022, the Vice Chancellor hosted a high powered delegation from the East African Court of Justice to celebrate the 21st Anniversary of the Court focusing on engaging the academia in promoting Justice in the East African community integration agenda.
The President of the East African Court of Justice, Hon. Justice Nestor Kayobera led the delegation consisting of Hon. Lady Justice Sauda Mjasiri- Vice President East African Court of Justice, Hon. Justice Yohane Masara- Principal Judge East African Court of Justice, Hon. Justice Dr. Charles Nyawello- Deputy Principal Judge East African Court of Justice, several other officials from the East African Court of Justice and members of Uganda's judiciary.
The Vice Chancellor, Prof. Barnabas Nawangwe received the high powered delegation amidst lively performances and entertainment by Makerere University students from the Department of Performing Arts and Film (PAF).
Welcoming the Justices, the Vice Chancellor commended the delegation for ensuring that this historic visit and interaction with the academia happens during Makerere University's centennial year (1922-2022).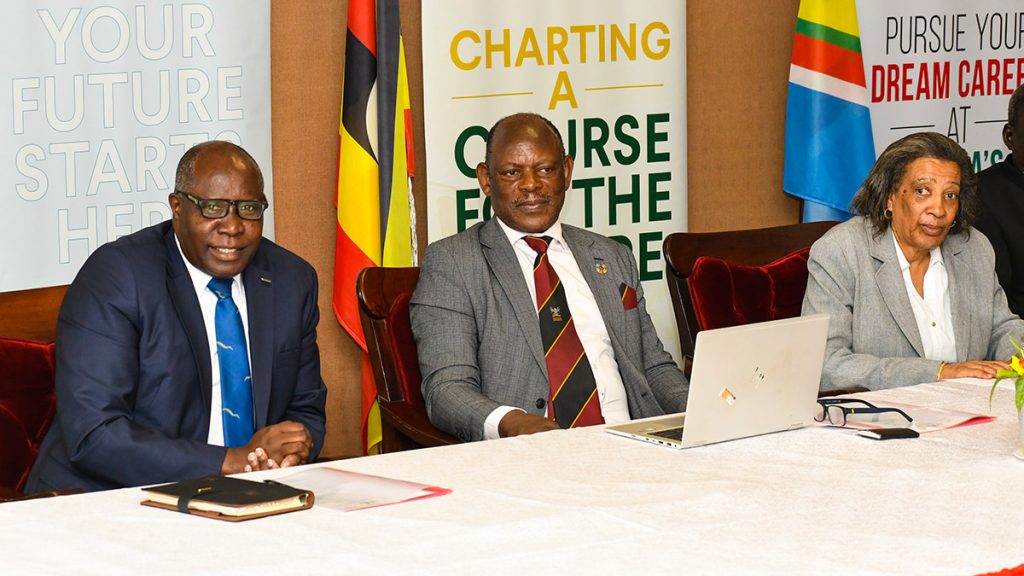 Starting his presentation, Prof. Nawangwe highlighted the evolution of the institution from a technical school with only 14 day students. In 1949, it became a University College affiliated to the University College of London, offering courses leading to the general degrees of its then mother institution. With the establishment of the University of East Africa in June 29, 1963, the special relationship with the University of London came to a close and degrees of the University of East Africa were instituted. On July 1, 1970, Makerere became an independent national university of the Republic of Uganda, offering undergraduate and postgraduate courses leading to its own awards. In 2011, the University transformed from a Faculty based institution to a Collegiate University with ten (10) colleges.
The gist of the Vice Chancellor's presentation centered on Makerere University's community based approach. He pointed out that in addition to training students, Makerere University is focused on solving development challenges facing the communities, the country, East Africa and the world in general.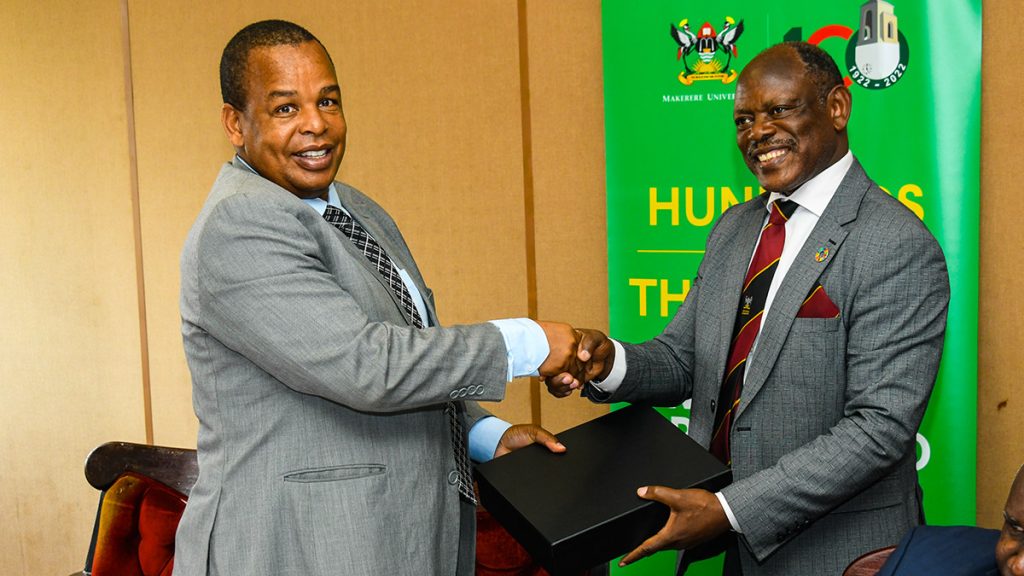 The Vice Chancellor underscored that the University exists to transform communities through identification of development challenges and coming up with tangible solutions. In line with national and global challenges, Makerere University will continue to work with partners to provide solutions to the following challenges: Rapid population growth, Youth unemployment, Climate Change, Food Insecurity, Emerging Diseases, and Conflict.
As Makerere University continues to celebrate 100 years of existence, Prof. Nawangwe emphasized that engagement of the academia to find solutions to the problems affecting communities is one of the best approaches that has enabled Makerere University to remain relevant. To qualify this statement, Prof. Nawangwe mentioned that Makerere University is one of the leading research institutions on HIV/AIDS in Uganda. Makerere University is credited for its role in the development of the Nevirapine drug that prevents mother to child transmission of HIV/AIDS as well as breakthroughs in research in Tuberculosis and Malaria. To address the transportation challenge, the staff and students of Makerere University working with other partners came up with the electric vehicle innovation (Kiira EV) that provided a vision for the development of the Kayoola Electric Vehicle under the Kiira Motors Corporation. Working with the local sector, Makerere University staff and students developed the first indigenous diesel engine made fully from local materials. He also mentioned the strides in crop improvement namely sweet potatoes, tomatoes, soybean, sorghum, millet, and among others that are drought resistant and high yielding. He revealed that during the Covid-19 pandemic, the Government of Uganda funded Makerere University staff and researchers who came up with research outputs and innovations to curb the spread of Covid-19.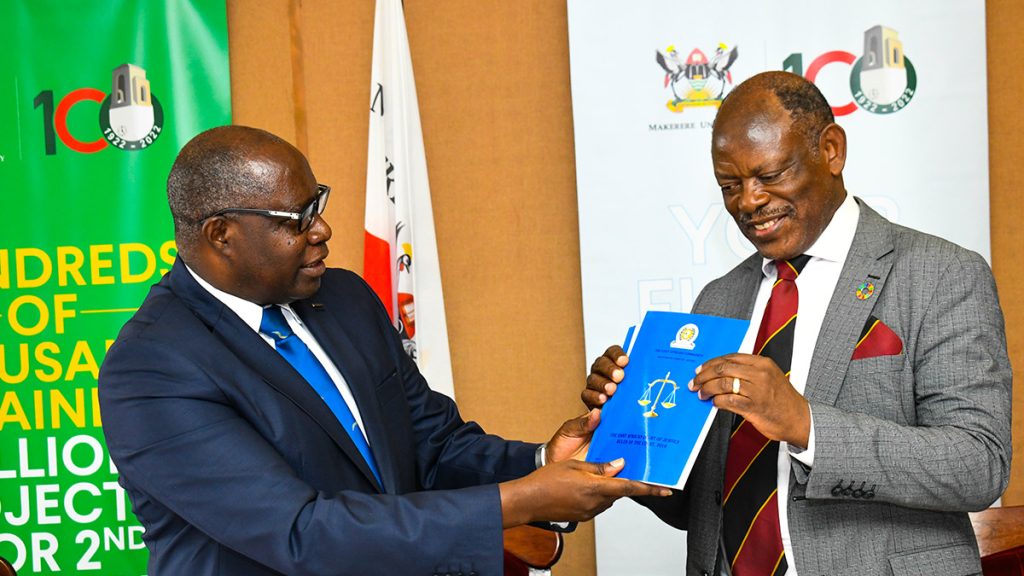 Responding to the Vice Chancellor's presentation, Hon. Justice Nestor Kayobera applauded Makerere University for not only offering education, but also solving problems affecting society through conducting research and innovations. Hon. Justice Kayobera congratulated Makerere University upon its centennial celebrations. He was pleased to note that the East African Court of Justice was celebrating its 21st anniversary at Makerere University-a renowned alma mater for notable alumni across the globe.
"Today, 30th November 2022 is an extraordinary day. Today is the 21st anniversary of the East African Court of Justice (EACJ) and the East African Community (EAC). We are honoured to celebrate our anniversary at Makerere University as this great institution continues to celebrate 100 years of existence. As we celebrate 21 years, we have dedicated 40 days of practicing Justice in Uganda, hosting joint conferences, delivering judgements, visiting partners and celebrating with Makerere University," he remarked.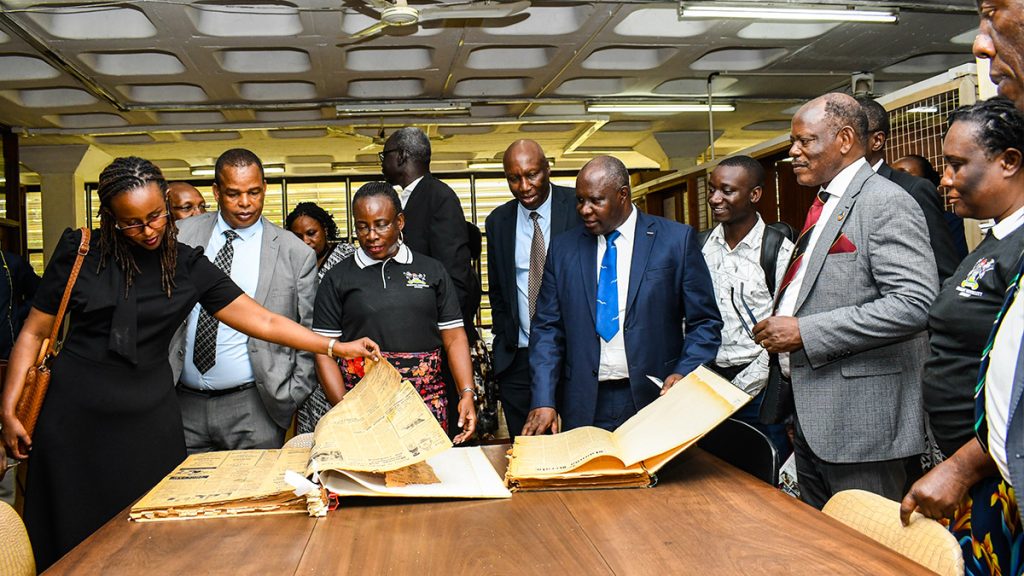 Noting that most of the members of the delegation were proud alumni of Makerere University, the President Judge Hon. Kayobera saluted the institution for its great contribution in legal training, capacity building and practice.
"We thank the University for giving unto us great Judges in the Court of Justice of the East Africa, because almost all of the judges in today's delegation are alumni of the Makerere University School of Law," he said.
The Judge President disclosed to the University Management that their visit to Uganda, is among the objectives of the EAC treaty, of implementing the principle of social justice and community engagement.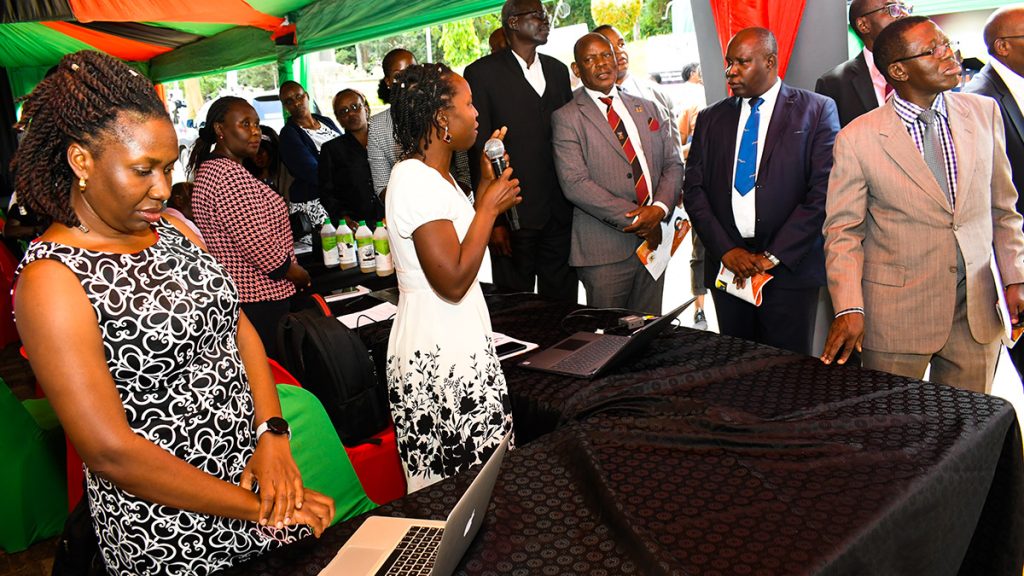 "We are demystifying the practice of Judges sitting in their chambers. So, apart from issuing judgements, do the judges interact with the communities? This will not remove your independence," he stated.
"The EACJ delegation has been in Uganda 26th October 2022. We are integrating the community. We are using facilities of our colleagues in Uganda, their boardrooms and chambers. The staff from EACJ are here, we have visited places and we are dealing with cases. We are focused on ensuring human dignity in the chambers," he said.
Giving a vote of thanks, Prof. Anthony Mugagga Muwagga, Principal of Makerere University College of Education and External Studies (Mak CEES) appreciated the delegation coming up with the idea of engaging the academia in promoting justice and the rule of law.
After an informative engagement with the University Management, the Vice Chancellor led the delegation to exhibition stalls where university staff and students showcased research outputs and innovations under the Makerere University Research and Innovations Fund (MakRIF).
The delegation toured Makerere University Library with particular interest in the Law Section. The University Librarian, Dr. Helen Byamugisha highlighted the central role of the University Library in teaching, learning and research.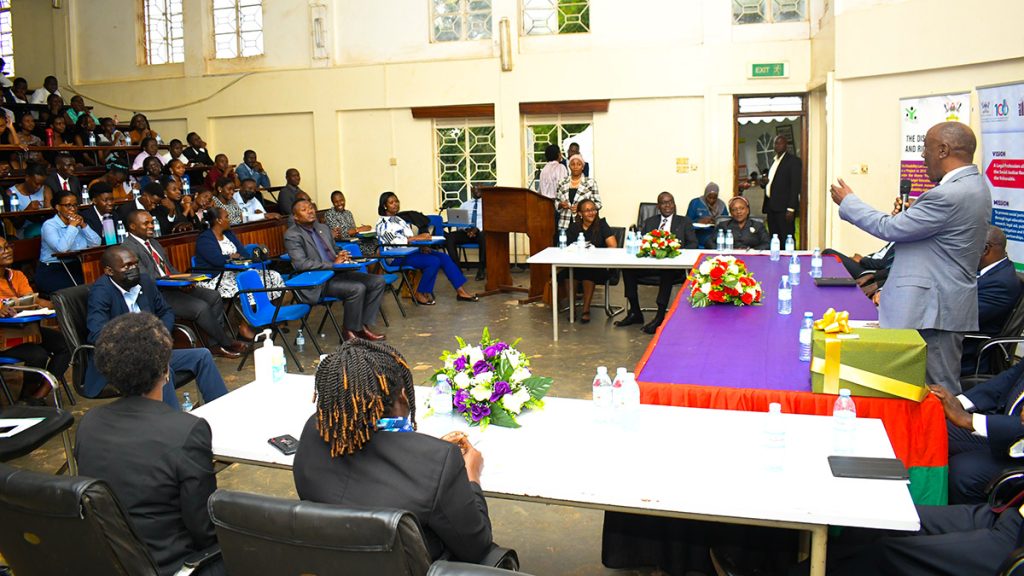 The delegation then moved to Makerere University School of Law to interact with the leadership, staff and students. The Ag. Principal-School of Law, Dr. Ronald Naluwairo received the delegation accompanied by the Ag. Deputy Vice Chancellor (Finance and Administration), Prof. Henry Alinaitwe.
Commenting on the visit of the delegation from the East African Court of Justice to Makerere University, Dr. Zahara Nampewo, the Ag. Deputy Principal of the School of Law who moderated the proceedings at the several places that the delegation visited said: "The interaction with the different stakeholders at Makerere University reminds us that we all have a cardinal duty to promote the rule of law."
List of research and innovations showcased by Makerere University Research and Innovations Fund (Mak-RIF) at the exhibition:
Further Reporting by the School of Law: High Level Delegation from East African Court of Justice visit Mak School of Law