Ms. Caroline Adoch: First Female Doctor of Laws (LL.D) of Makerere University Recipient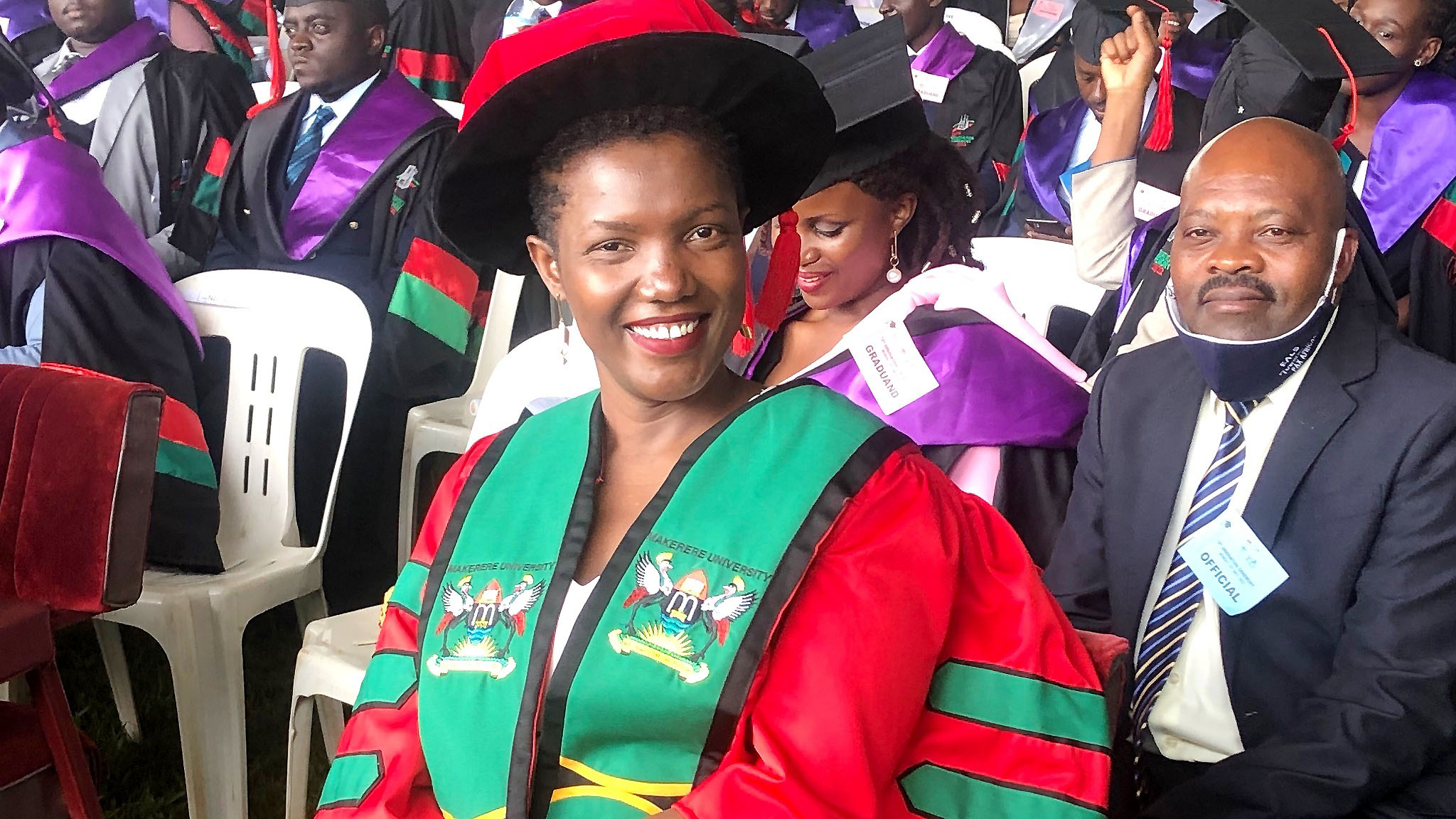 Dr. Caroline Adoch was awarded a Doctor of Laws (LL.D) yesterday, Monday 23rd May, 2022 during the first day of Makerere University's 72nd Graduation Ceremony. Dr. Adoch became the first female to be awarded a Doctor of Laws (LL.D) of Makerere University in the institution's100 year history. Her doctoral thesis was titled 'Access to Gender Justice in Uganda: A Feminist Analysis of Experiences of Rape victims in the Reporting and Prosecution processes''. She was supervised by Professor Sylvia Tamale and Professor Christopher Mbazira. Dr. Adoch shared her background, experiences and inspiration in an interview and highlights are captured below.
Q: Who is Caroline Adoch?
A: I am a Ugandan female; I work at Makerere University School of Law as an Assistant Lecturer. I joined the Makerere University Service in 2012 as a Teaching Assistant. My education background: I attended primary school at St. Agnes Catholic Girls' Boarding Primary School Naggalama, Uganda; Secondary school at Mount St. Mary's Namagunga (emerged as national best student in her year for A'Level exams). Attended University of Dar es Salaam for Bachelor of Laws (LL. B) graduating as best student of my class 2004-2007. I was awarded a Commonwealth Scholarship to study for a Master of Laws (LL.M) at University of Cambridge, United Kingdom from 2009-2010.
Q: What inspired you to study Law?
A: I have always wanted to be a lawyer as far as I can remember. However, I almost missed the calling; my Dad passed on the first day of my O level exams. I didn't want to give my guardians the burden of paying tuition for a four-year course. My only hope to access University education was through government sponsorship. I wasn't sure I would qualify for Law. I therefore applied for a Bachelor of Social Work and Social Administration with a belief that I would qualify for the programme on government sponsorship.
When results were released I was the best student; I was admitted to study Social Work and Social Administration at Makerere University. However, because I also qualified for change of programme to LL. B, I applied to change programme of study. The in-charge in the Academic Registrar's Office advised that I qualified for the Inter University Council for East Africa exchange programme. I applied and was admitted to study LL. B at the University of Dar es Salaam, Tanzania and here we are. Laughs!
Q: What was your experience completing your Doctorate at Makerere University while teaching?
A: I joined Makerere University as a Teaching Assistant in 2012 because that was the only available opening. With support of the then Director of HURPEC Professor Joe Oloka Onyango, I was shortly promoted to Assistant Lecturer. I have taught courses including Human Rights, Public International Law, Administrative Law and Constitutional Law.
A couple of years ago I was offered a scholarship to study for a Doctor of Laws in Canada but I decided to stay at Makerere University. Why? I always tell people the School of Law is a good Law School with a great faculty, so why not me.
It's been a challenge though, considering the student numbers that we teach and the scripts for marking. Creating a balance between teaching and studying calls for commitment. I wish to thank my supervisors and Doctoral Committee for the support through my journey. I also take this opportunity to thank Prof. Sylvia Tamale who was my main supervisor for the mentorship and encouragement. Prof. Tamale was so committed and supportive.
I sponsored myself which is quite expensive but I am happy I managed to do. I also thank Makerere University for the one-year tuition waiver. I think more years could have been given but the process to get the waiver approved is challenging.
Q: Why did you decide to study rape?
A: It is my conviction that rape is a big issue for women and girls. The fear of rape defines so many parameters of the lives of women and girls. When girls are young, we are warned about sitting, movements and company with the male because of the worry for parents regarding safety for the girl-child against sexual abuse and violence. Girls and women bear a huge responsibility and shame when they are raped. I therefore felt it was not only an interesting study area but also important.
Q: Do you have any advice for the girl child and the Makerere University?
A: To the University, I wish to say, at 100 years we shouldn't be talking about 'firsts' in terms of opportunities. As an institution providing an enabling environment and opportunities for women should be intentional.
To students and more especially the girl child, I genuinely believe academic excellence matters; the class of degree awarded is very important. Always strive for the best, remain focused and work hard, be imaginative, have dreams and visions even when the odds seem impossible.
Q: What next?
A: I look forward to paying forward the support from my supervisors and colleagues through this journey; this I hope to do through supervising other doctoral students. It is good that while I was the first female to complete the Doctor of Laws at Makerere University School of Law, many are currently registered and more will graduate in the coming years.
"A historical note from today, upon graduation Dr. Adoch will be the first woman to earn the Doctor of Laws of Makerere University School of Law"



~ Dr. Busingye Kabumba on twitter after Carol had defended her Doctor of Laws thesis
Call For Applications: Administrative Officers' Law Short Course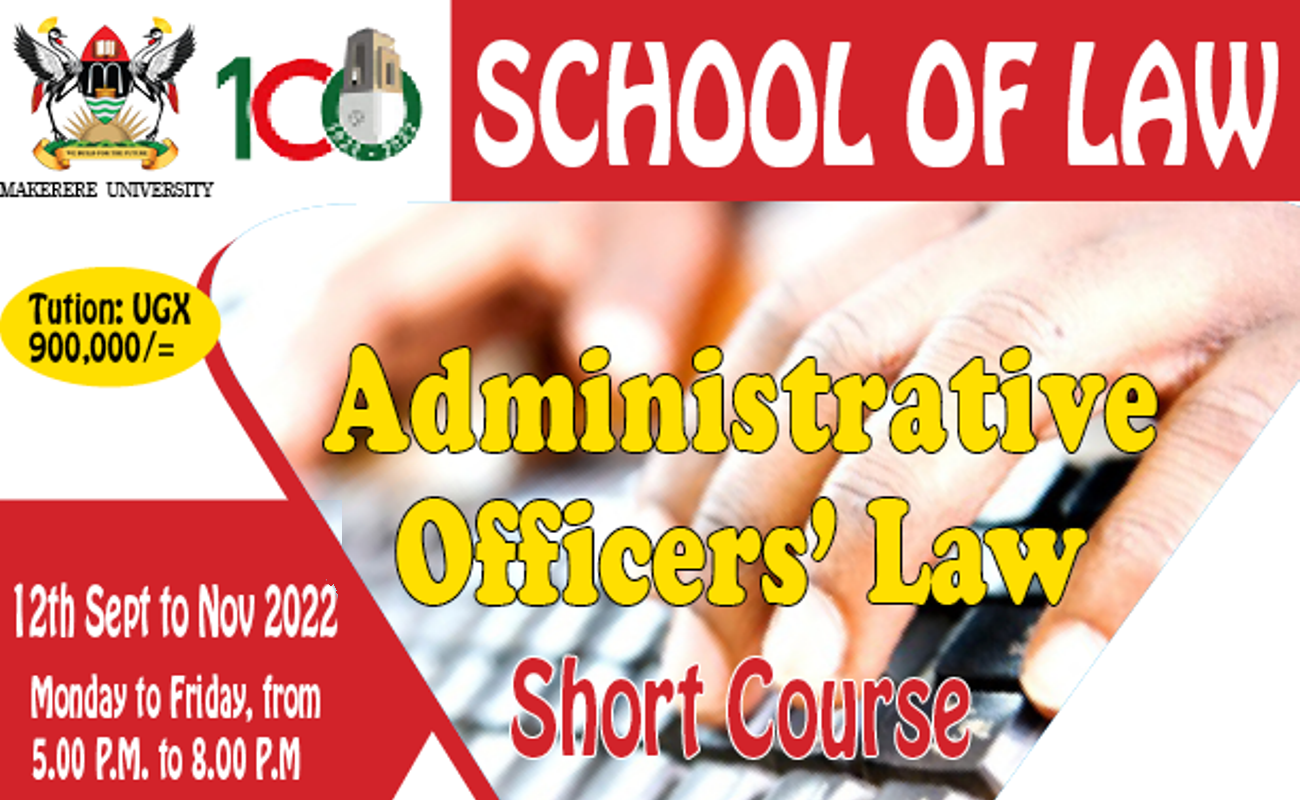 Makerere University School of Law invites applications for admission to the Administrative Officers' Law Short Course for the KAMPALA CENTRE that will run for two (2) months during the period (12th Sept. to Nov. 2022). The course will start on Monday 12th Sept.  2022 at the School of Law premises. Classes will be conducted from Monday to Friday, between 5.00 P.M. to 8.00 P.M.
The tuition for the course is UGX 900,000/= and the application fee is UGX 50,000/= plus bank charge of UGX 2,750/=. Payments should be made to Makerere University/Uganda Revenue Authority, using a Deposit Reference Number (DRN) obtained from the Office of the Bursar of the School. Please contact Mr. Rolland Mpiriirwe on 0777699887/0701338259 or rmpiriirwe@gmail.com/ rmpiriirwe@law.mak.ac.ug
The minimum admission requirement for the course is 'A'Level or its equivalent.
We also have other centres in Tororo, Jinja, Mukono, Mityana, Masaka, Arua, Lira, Gulu, Moroto on weekends, for (9 weekends).
For more information, contact the Course Coordinator, Assoc. Prof. Ronald Kakungulu-Mayambala on 0772318528/0752983648 or rkakungulu@law.mak.ac.ug
Ndagire Joyce Irene (Administrator) on 0772498954/0701498954 or  joyce.ndagire@mak.ac.ug/ ndagirejoys@gmail.com, Department of Public and Comparative Law, for Application forms and also a soft copy can be sent
Desk Officers for the Centres
| | | | |
| --- | --- | --- | --- |
| 1. | Kampala Centre (MUK) | Ndagire Joyce Irene | 0772498954/0701- ongo |
| 2. | Masindi Centre (Capstone Institute) | Ajuna James | 0779810080/0776676769 |
| 3. | Mukono Centre (DLG) | Zaina Ssebidde | 0772717842/0752655387 |
| 4. | Jinja Centre (Campus) | Asiimwe Donah | 0782767650/0702978936 |
| 5. | Masaka Centre (Sazza) | Namanda Rose Sylvia | 0706343052/07820280815 |
| 6. | Tororo Centre | D.J. Ochieng | 0772662368/0753464655 |
| 7. | Mityana Centre (Kolping) | Ssemango Lawrence | 0706856979 |
| 8. | Gulu Centre | Ouma Victor | 0780190926 |
| 9. | Lira Centre | Okwir Isaac | 0773895958 |
| 10. | Moroto | Lotyang Judith | 0775208529 |
| 11. | Kabale | Tumuheereze Julius | 0772323114 |
Vice Chancellor congratulates School of Law team upon winning the 2022 All-Africa Human Rights Moot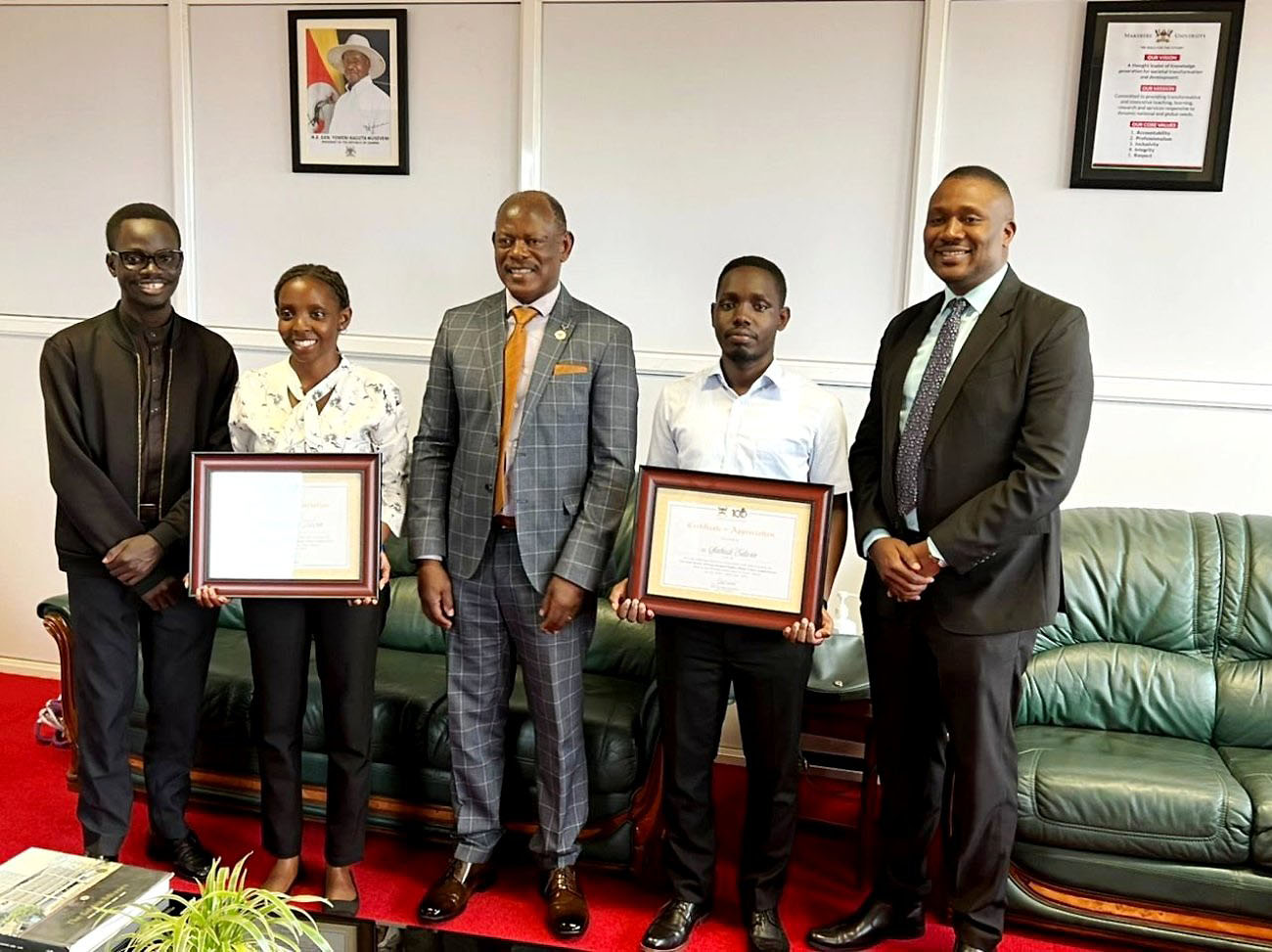 Professor Barnabas Nawangwe, Vice Chancellor – Makerere University has congratulated the Makerere University School of Law (SoL) team – Ms. Kevin Nakimbugwe and Mr. Edwin Sabiiti upon winning the 2022 edition of the Christof Heyns African Human Rights Moot Court Competition. The Moot Competition held from the 25th – 30th July in Cairo, Egypt was hosted by The British University in Egypt.
The All Africa Moot Competition is named after Professor Christof Heyns (1959-2021)who was a Professor of Human Rights Law, Director of the Institute for International and Comparative Law in Africa at the University of Pretoria and a member of the United Nations Human Rights Committee. The 2022 edition attracted a total of 50 Law Schools, 38 of these were English speakers.
The Vice Chancellor hosted the winning team in his Office on Thursday, 4th August, 2022 and presented Certificates of Recognition to Kevin and Edwin for making Makerere University proud. Dr. Daniel Ruhweza, Lecturer at SoL and Patron of the Makerere University Moot Society and Mr. David Kasibante, alumni – SoL and team coach also attended the presentation.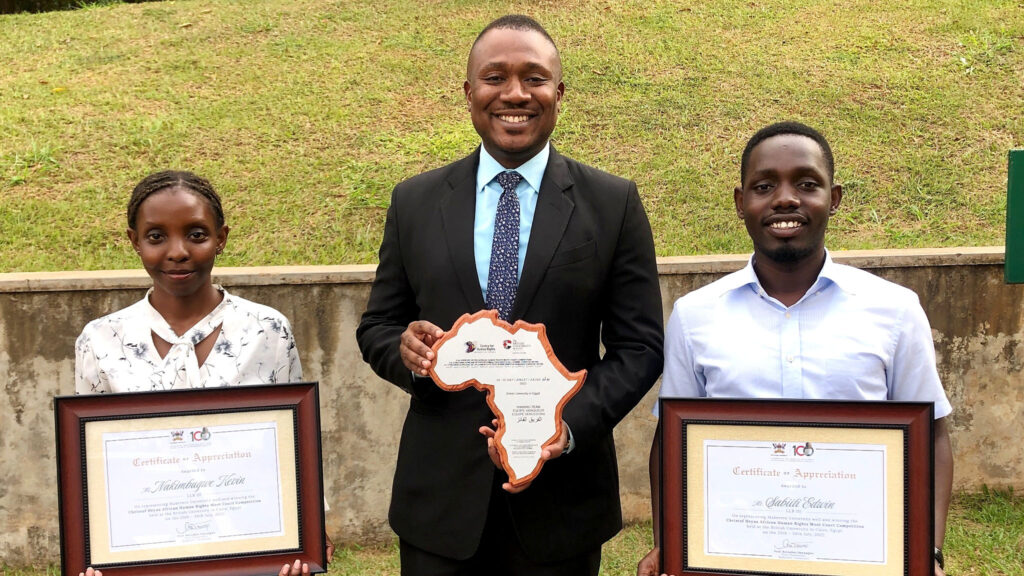 Explaining to the Vice Chancellor, Dr. Ruhweza said, "We are happy that you have hosted this team which worked so hard to bring the trophy home". He also highlighted the rigorous process through which the team that represented Makerere University was selected.
In his remarks, Professor Nawangwe said, "I congratulate you for winning the competition and making Makerere University proud, more especially in this centennial year of celebration for the institution. Thank you for flying the Makerere flag high which instils confidence that the University and our School of Law are centres of excellence". He commended the team for their commitment and doing their best to represent Makerere University. Professor Nawangwe also thanked Dr. Ruhweza for committing time to support the students. He added, "this is an activity that should be supported and I will present it to the University Council for inclusion in the budget for financial year 2023/2024".
Sharing their experience from attending the competition, Kevin and Edwin explained to the Vice Chancellor what is entailed in participating.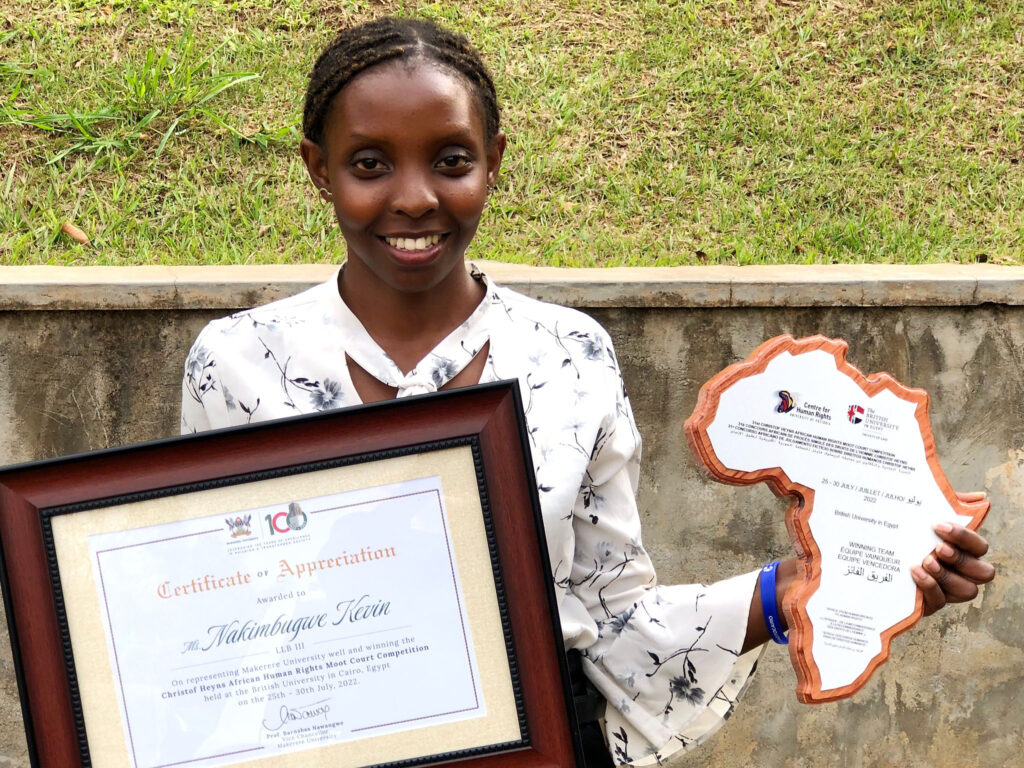 "The Moot was very challenging in-terms of preparing for the competition while balancing it with class work; the processing of travel documents and visas was also quiet hard. We are grateful that you have hosted us here today and also the support of the SoL, University that enabled us to triumph despite the challenges", Ms. Nakimbugwe said. Kevin added, "we are a brilliant team and our win is evidence".
Edwin Sabiiti who is also the President of the Makerere University Moot Society said, "the society organises internal moots, identifies the students to represent the University at various competitions. We participate in several competitions within the country, continent and internationally, only that this is the most prestigious. Makerere University are reigning champions of the national Center for Health, Human Rights and Development (CEHURD) Moot Court Competition".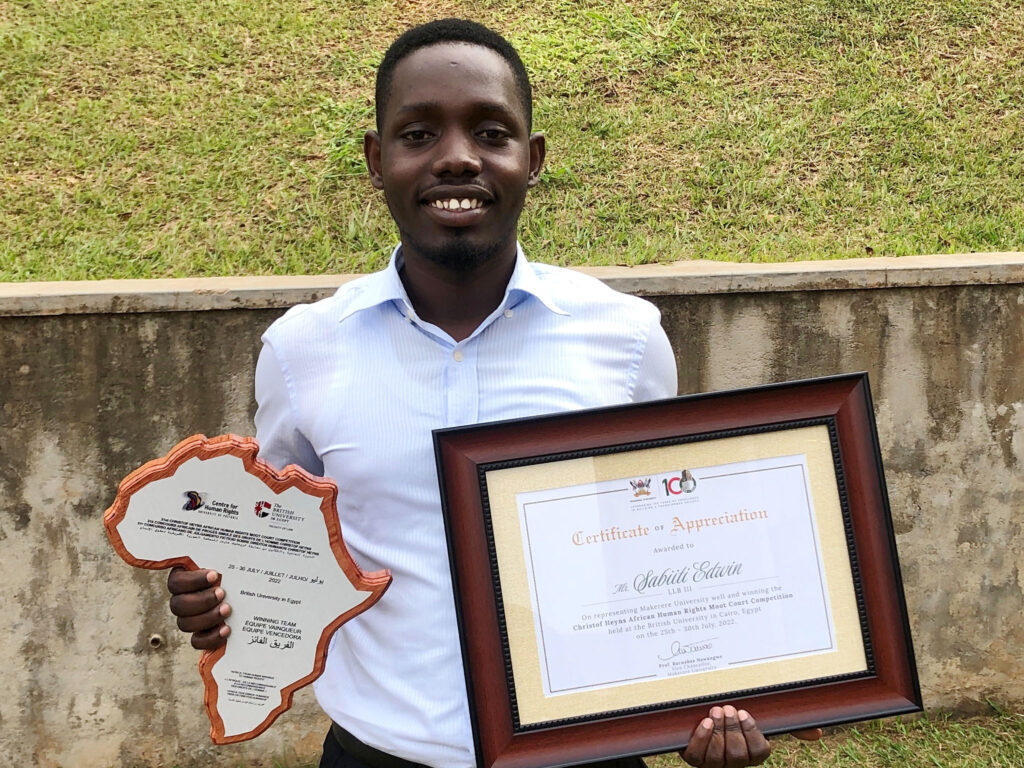 Edwin further explained that mooting is an opportunity to learn as well as apply the law that we learn in class. He expressed that the University should consider inclusion of mooting as a course unit on the academic transcript because a lot of time is spent in preparing for the various competitions. Edwin also requested that the University extends a supporting arm in facilitating preparations for the various moots that the students participate in.
SoL teams also won the 2018 competition held in Accra Ghana; were 2nd in 2019 edition held in Gaborone, Botswana and emerged finalists in the 2020 edition held online and the 2021 edition held in Stellenbosch, South Africa.
Read more about the Competition:https://www.chr.up.ac.za/moot#:~:text=The%20Christof%20Heyns%20African%20Human,of%20human%20rights%20in%20Africa
Inaugural Makerere Law Journal Symposium held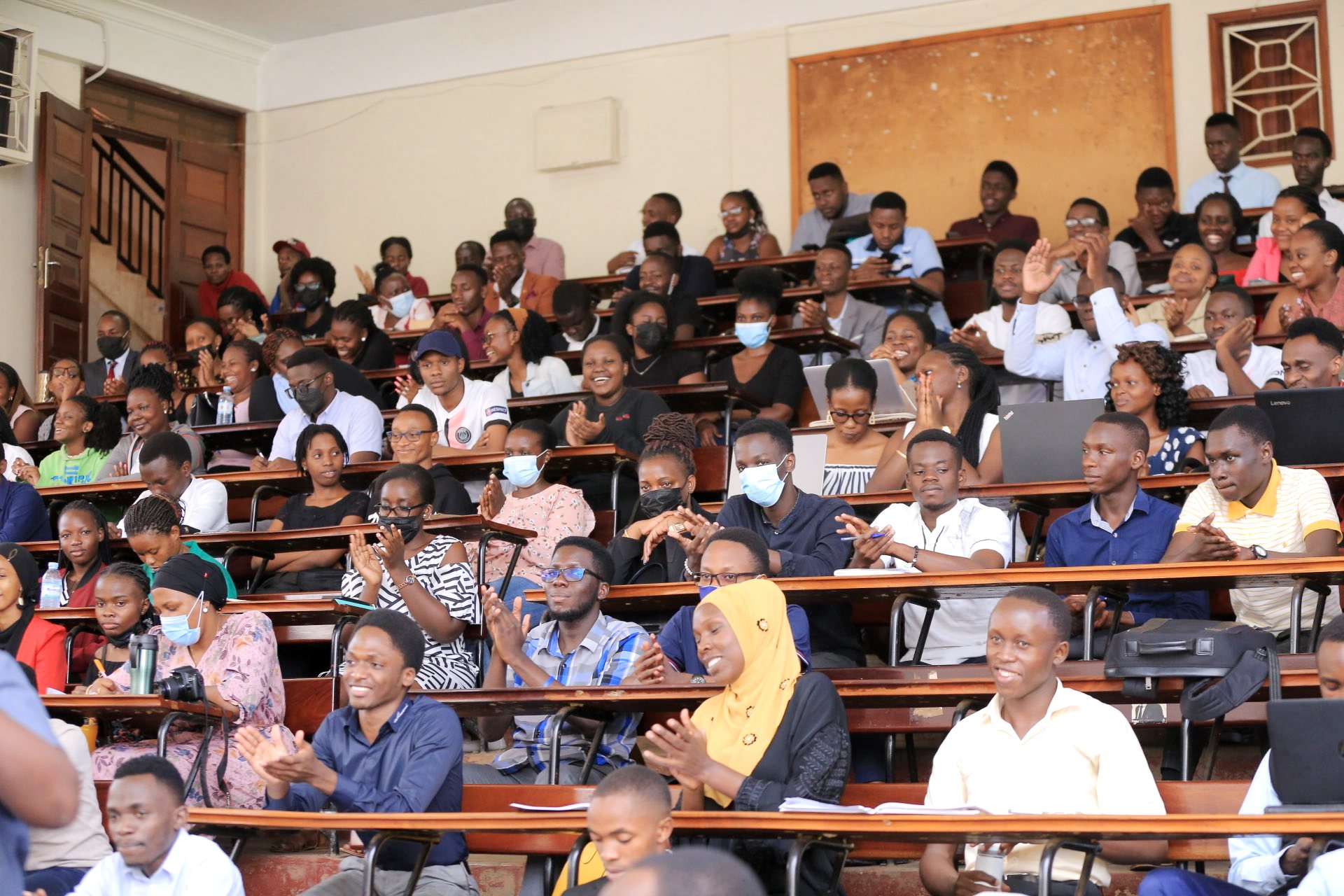 The Makerere University School of Law (SoL) held the Inaugural Makerere Law Journal (MLJ) Symposium on 17th June 2022 under the theme, 'Charting the Course and Diversifying Scholarly Content'. The symposium was held to give opportunity to authors of outstanding papers in recent issues of the MLJ to present their work to the general membership of the Makerere Law Society (MLS) and the public. The symposium was supported by the Public Interest Law Clinic (PILAC), SoL.
The MLJ is a student-edited law journal published by the SoL under the auspices of the law students' union, MLS. The journal founded in 1971 considers submissions from legal writers, students, and scholars within Uganda and beyond. Quoting the pioneer editor of the MLJ, Daniel Omara Atubo, 'the journal was intended as a medium for discourse on the immense problems of law'. The submissions may be for education purposes; aimed at causing law reform in the jurisprudence of Uganda or other African jurisdictions on matters of legal doctrine and philosophy; human rights; public policy; governance; economics among others.
Previously, the MLJ was printed annually, however, it is now a free-access online publication that considers, reviews and publishes submissions on a rolling year basis throughout the year. Access issues of the MLJ here: https://makererelawjournal.org/. At the inaugural symposium four papers were presented and interrogated by subject experts. Highlights of the papers are detailed below.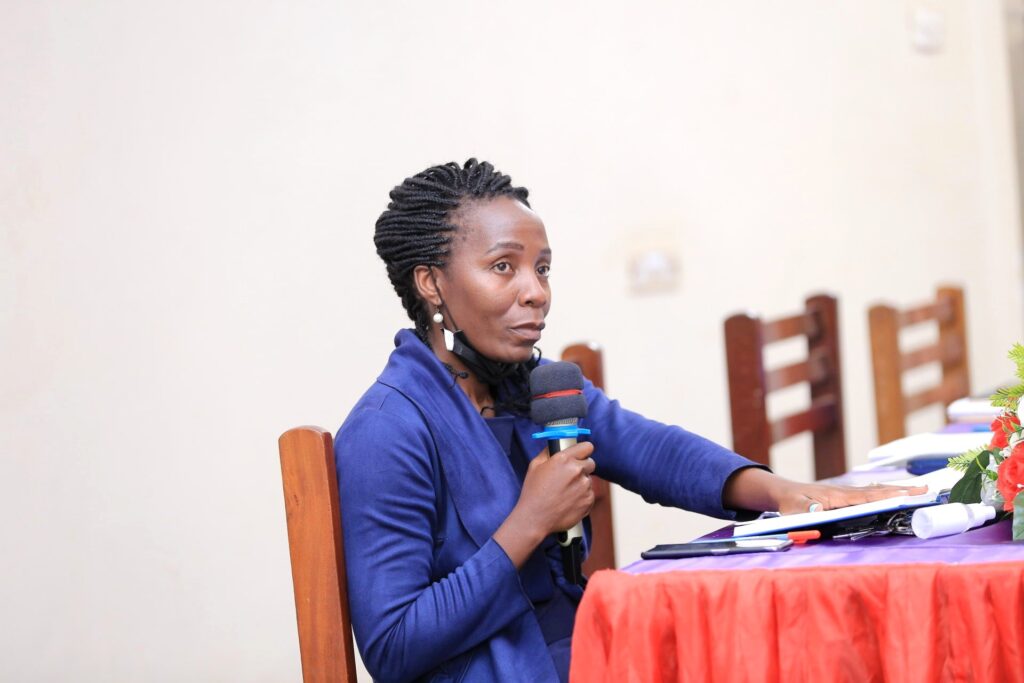 Tukwatanise Hans Rwantangare presented his paper titled, 'A Case for The Application of the Theory of Deferred Indefeasibility in Uganda as an Instrument to Promote Indefeasibility of Title Under the Registration of Titles Act'. Abstract: The theory of deferred indefeasibility as opposed to immediate indefeasibility is presented as a means to improve security of title today. A comparison is made of the relative merits and demerits of the two theories of deferred and immediate indefeasibility. In so doing, the aim is to reconcile the outdated theory of immediate indefeasibility with the modern legal regime and to preserve its relevance in the prevailing socio-economic situation. In a comparative analysis, other jurisdictions, especially Canada are studied to ascertain how they have evolved their interpretation of the same. Inevitably, indefeasibility, as a concept of real property is analysed considering human rights perspectives as relatively impacted by the two theories.For more about Hans' paper click: https://makererelawjournal.org/view-publication/35. The paper was discussed by  Dr. Rose Nakayi, Senior Lecturer at SoL. Dr. Nakayi is a seasoned expert in land law and rights and an advocate for the reform of the mailo land tenure system.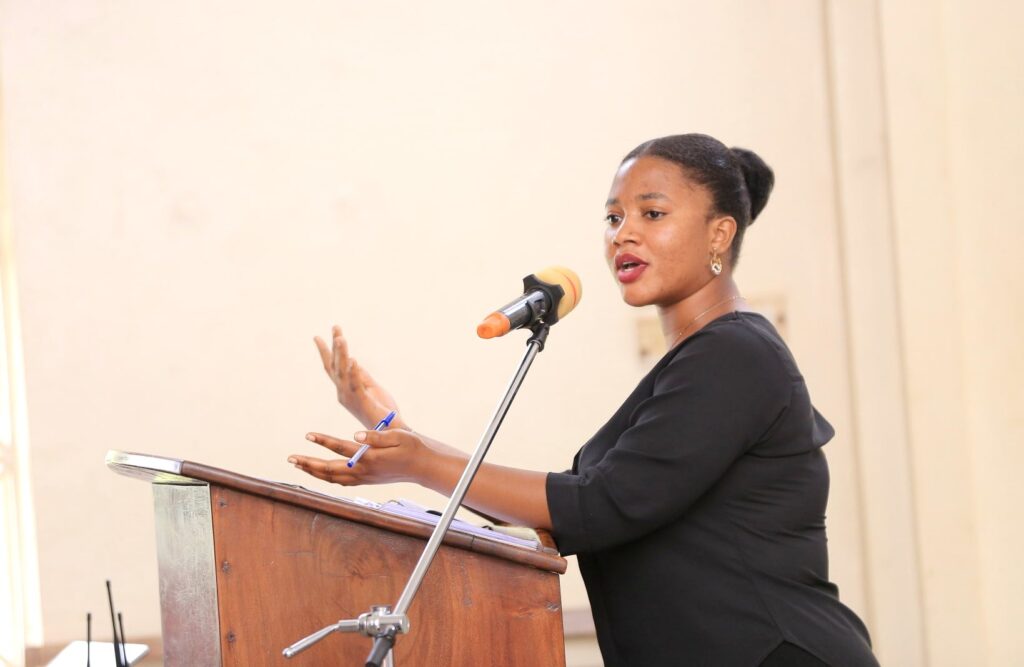 Fatumah Ramathan-Nabulya presented her paper which had reviewed a case Baryamureeba V Kabakonjo Abwooli. In her review she argued that it was 'A Win for Women's Property Rights in Cohabitation'. Abstract: Marriage, especially at its dissolution, tends to be contentious owing to its cross cutting effects on property rights, children custody, spousal maintenance among others. It is more complex when that "union" is not legally recognized. Over 65% of Uganda's couples are left out under the law because their arrangements are not contracted in accordance with the laws provided for. This potentially subjects women to unequal social laws (patriarchy) usually with no legal remedies. Hence, marriage, due to its overarching effects, can be breeding ground for the entrenchment of gender inequality. This paper reviews a High Court decision through which judicial activism is employed to lessen the plight of cohabiting women. Due to the time they have been in operation, it is often difficult to see our matrimonial laws for what they really are; patriarchal and gender indiscriminate. There is need for Judges to be fully alive to the history of these laws and the debates that led to their passing, to correct the wrongs of history.For more about Fatumah's paper click: https://makererelawjournal.org/view-publication/23. Dr. Diana Musoke, Senior Lecturer, Islamic University in Uganda and expert on family law discussed the paper.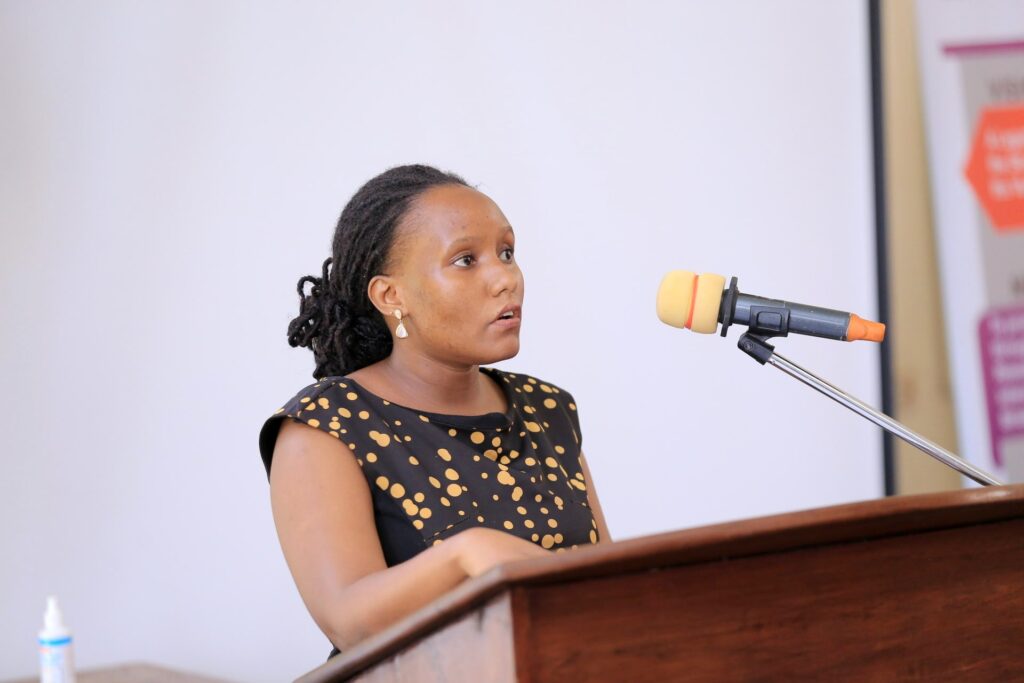 'The Human Rights Implications of Uganda's Borrowing' paper was presented by Ruth Muhawe. Abstract: The relationship between the sovereign debt of developing countries and the protection of the social rights of citizens in those countries has received considerable analysis from the economic, political and moral perspectives, but relatively little has been written from the legal point of view. Consequently, this paper provides legal insights into the lingering crisis that sovereign debt poses to human rights, with a specific focus on the economy of Uganda. The paper is particularly concerned with examining what Uganda's debt burden means for the basic observance and enjoyment of human rights by its citizens of both the present and the future.For more about Ruth's paper click: https://makererelawjournal.org/issues (MLJ 2019 Issue) A constitutional law and international law expert, Dr. Busingye Kabumba, Senior Lecturer at SoL was the discussant of the paper.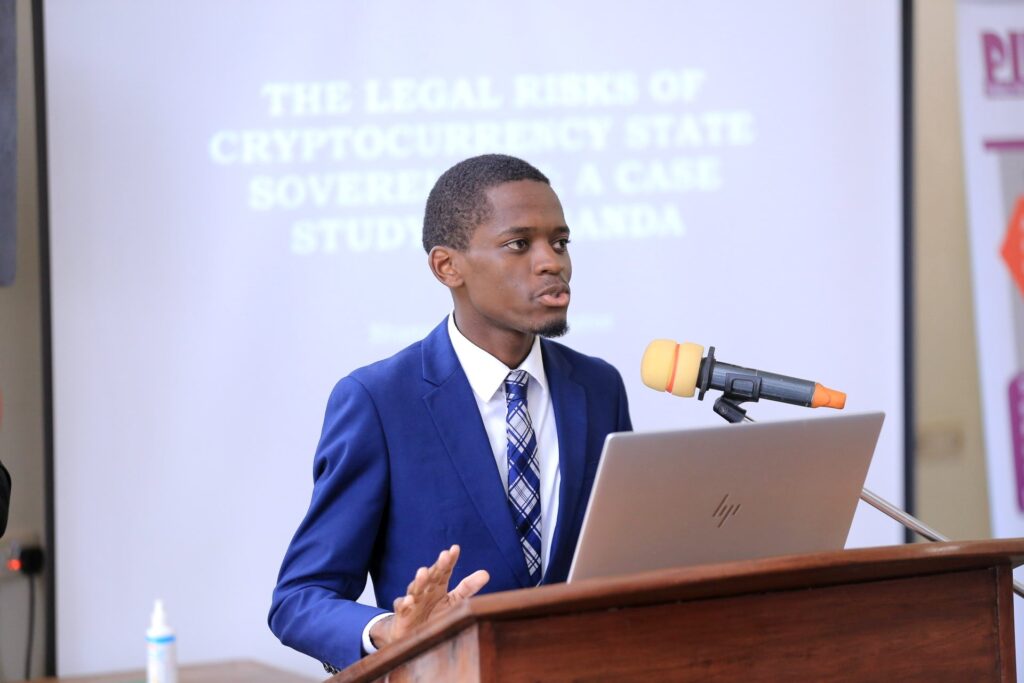 A joint paper titled, 'The Legal Risks of Cryptocurrency On State Sovereignty; A Case Study of Uganda' was presented by Ntamugabumwe Victor & Joshua Kingdom. Abstract:State sovereignty is conventionally known to mean that all states are equal under Public International Law, the decisive criterion being effective power over territory and people. Indeed, the most rudimentary definition of a state is the organization of power over territory and people within that territory. However, sovereignty today depends much on the state's monetary independence – the state's capacity to control the flow of money and currency in their jurisdiction. With the constant evolution of money transactions from Cash to credit and then to crypto, the state must always be ready for each revolution so that sovereignty is kept. Cryptocurrencies work outside the existing legal financial framework and as such avoid the state's invented structure to control their monetary policies, stability to achieve sovereignty.For more about the paper click: https://makererelawjournal.org/view-publication/17