ICGSA 2022 Sets the Pace for Re-Imagining Future of Gender Studies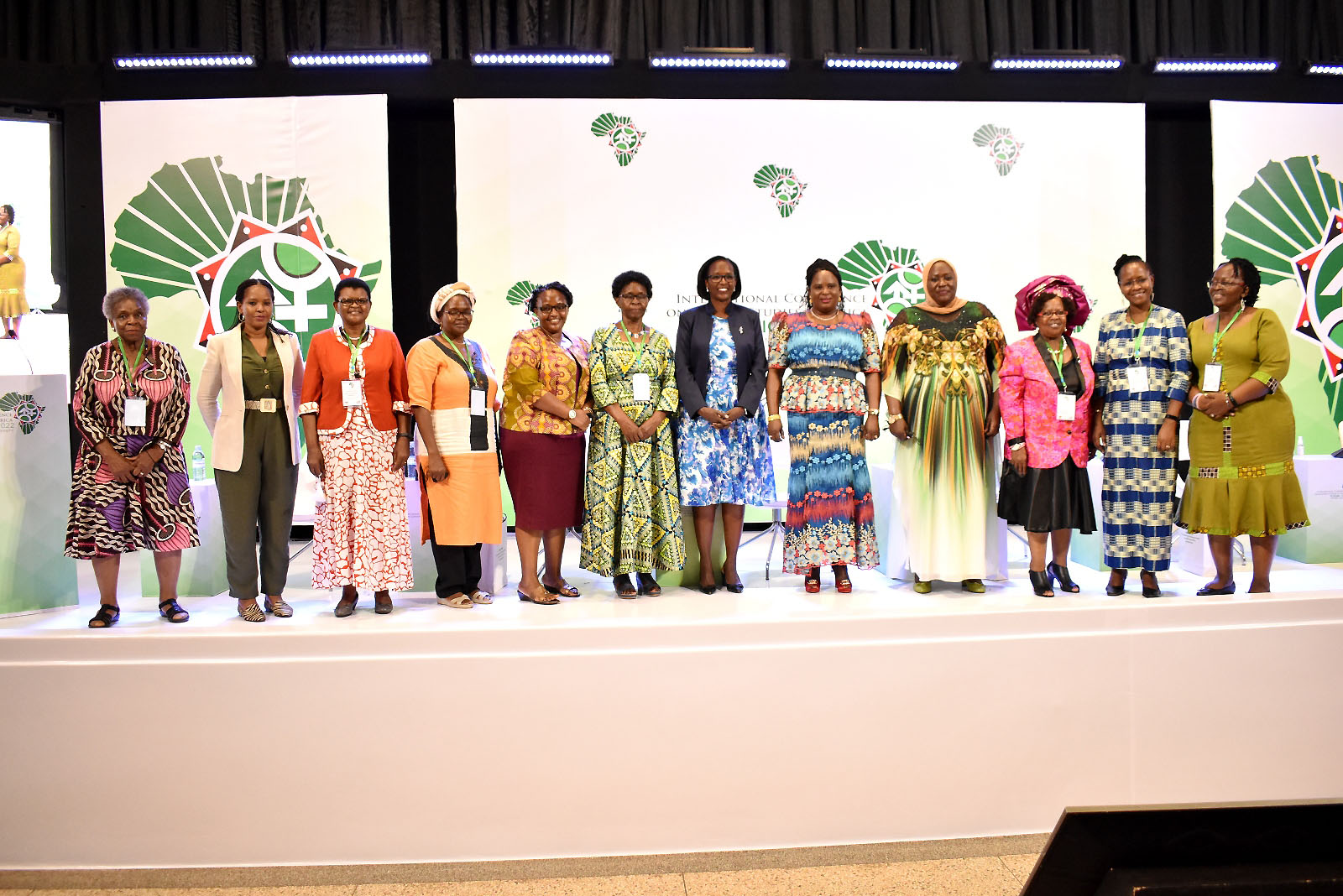 The International Conference on Gender Studies in Africa (ICGSA) closed on a high note on Friday 25th February, 2022 with resolutions on how to champion Gender Studies on the African continent. These called for the need to; theorise from the African context, network across the academia at local level, teach better, conduct more research and mentorship, as well as network more between academia and the field of practice in Africa and internationally.
"Networking across the academy on the continent is very important" emphasised Assoc. Prof. Sarah Ssali, the Dean, School of Women and Gender Studies (SWGS), Makerere University. "We have been able to inspire many other gender units to come up on the African continent; the current one being worked on is with the University of Nigeria, Nsukka, which is being spearheaded by Dr. Tabitha Mulyampiti," she added.
Other resolutions shared by Assoc. Prof. Ssali included the need to build a community of practice comprised of teachers and practitioners at the continental level as well as document and archive more in order to build memories.
"This is one of the things that is lacking heavily in Africa not just in Gender Studies but all over; we are constantly researching because we don't know what those before us did. This creates a problem in that the memories become fractured," she explained.
To help galvanise all these aspirations, ICGSA 2022 resolved to establish a Pan-African feminist network for Women and Gender Studies. "This is supposed to be a platform that is going to bring together the 500+ Gender Scholars and those yet to come, to build a better community of practice, academia and take the discipline further" Assoc. Prof. Ssali added.
The resolutions shared by the Dean tied in nicely with those of fellow panelist Prof. Shefer Tamara, Director of Women's and Gender Studies at the University of the Western Cape (UWC), South Africa, as well as those of Prof. Joy Kwesiga, Vice Chancellor, Kabale University who chaired the Fifth and final Plenary Panel on The Future of Gender Studies in Africa.
Prof. Kwesiga in her presentation themed The Door is only Ajar made a few propositions to help Gender Studies Open the Door Fully, and Enter the Corridors of Power and Equity. These included;
The need to acknowledge that Gender Studies are varied and their enhancement require both general and specific interventions.
Curriculum reviews that emphasise transformatory areas (e.g. masculinity) are urgently required.
The need to record and know our history: it underpins our cultural norms and practices, and informs us about the origins of gender inequality in our specific environment.
Form networks along interests and specialties (education, health, economics, training, etc), regionally and even on linguistic basis.
Learn from experience of the 1995 Beijing International Conference on Women – a stimulant to Gender Studies and birth of many organisations that promote gender equality.
Prof. Tamara in her reiteration critically observed that "Imagining future possibilities requires working with our pasts, especially those that continue to haunt us in the present." These, she noted, include neoliberal capitalism and its consumerist universities, "where critical feminist scholarship only matters when it is packaged in particular ways and proliferates particular kinds of outputs. "
She called for the need to decolonise the curriculum by adopting alternative approaches to the classroom such as emphasis on non-didactic, collaborative, participatory, embodied, relational and affective feminist practices, as well as the value of working across modalities of art, activism and scholarship in both pedagogical and research practices, as key terrains of possibility on the way forward.
Citing the keynote address delivered by Prof. Amina Mama on the opening day of the conference, Prof. Tamara said, "We cannot simply acknowledge that we emerged from feminist grassroots movements, but we need to make sure that these connections are vibrant and alive.
"We need to be consistently reviving and reinvigorating these synergies, as she put it, between civil society movements and the scholarly projects, which of course means ongoing collaborations and networking" emphasised Prof. Tamara.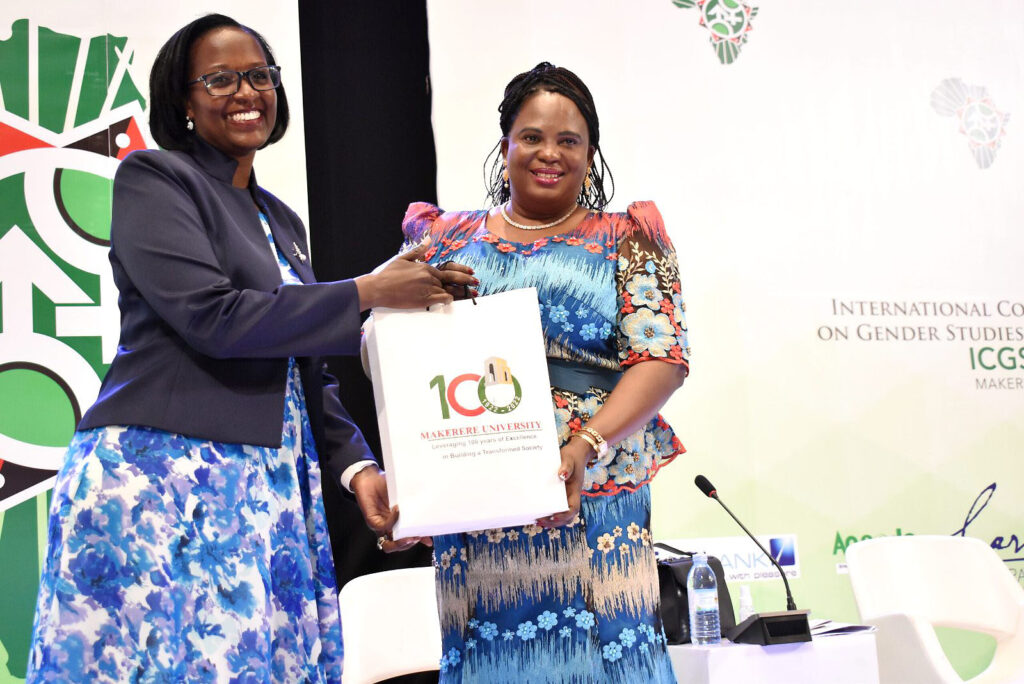 Delivering her remarks at close the conference, the Chairperson of Council, Mrs. Lorna Magara thanked the Vice Chancellor, Prof. Barnabas Nawangwe, Principal College of Humanities and Social Sciences (CHUSS), Assoc. Prof. Josephine Ahikire, Dean SWGS Assoc. Prof. Sarah Ssali, as well as the faculty, staff and volunteers for the excellently organised and well-facilitated conference.
"I am delighted to note that in addition to my expectations being met, I had, in the few sessions I attended, the rare opportunity to hear firsthand, the accounts of the brave heroines of Afro-feminism and how important these accounts are for shaping future mindsets" remarked Mrs. Magara.
The Chairperson of Council nevertheless cautioned that in addition to decolonising the African academy, the debate should be blended with a candid discussion on the application of African scholarship to the needs and aspirations of African communities.
"The debate must go beyond the goal of accommodating the voices of African scholars in academia. The academy must provide space for indigenous knowledge, sharing local experiences, and prioritising discourse on African problems from African lenses" she noted.
The closing keynote address was delivered by Dr. Nyepudzayi Mercy Nyangulu, Founder and Chair, of the Women in Management Business and Development (WIMBD) TRUST of Zimbabwe, which coincidentally marks 30 years of existence on 27th October, 2022. On this celebratory note, Dr. Nyangulu proposed the following as recommendations to SWGS for the next 30 years.
Leverage the rich list of SWGS alumni to influence Government Ministries as well as Higher Education Institutions to include a gender component in their curricula.
Develop programs that can enhance collaboration, solidarity and sharing of experiences with Women's Movements so as to strengthen needs assessment and data collection at the grassroots.
Take advantage of e-learning to reach those in full-time employment with the aspirations of upgrading their qualifications in leadership and management
Adopt community dialogues as a mechanism for learning more about gender-related issues such as child marriages and Gender Based Violence.
Adopt gender programmes that encourage inter-generational learning and knowledge sharing
Explore opening up SWGS Centres in other African countries as an income generating activity.
Collaborate with National Gender Commissions to bring theory and practice together and develop new theories for Gender Praxis.
Tap into the debate on masculinity that is gaining momentum so as to develop relevant programmes and grow the number of male champions
Think outside the box, dream big and turn all the challenges afflicting gender studies into opportunities
Follow up past students and their impact on society and use data findings to inform future programmes
Broaden funding base by; going beyond development partners to institutions such as the African Union (AU) that have Ambassadorial positions e.g. in Child Marriages, Offering consultancy services to Countries as SWGS, etc.
The Guest of Honour at the closing ceremony and Minister of Gender Labour and Social Development, Hon. Betty Amongi Akena, who was accompanied by the Chairperson of the National Women's Council (Uganda), Hajat Faridah Kibowa in her speech congratulated Makerere University upon successfully hosting the conference whose recommendations will inform policy.
Hon. Amongi Akena, a double alumna of the Bachelor of Political Science and Public Administration and Masters of International Relations and Diplomatic Studies commended her alma mater for pursuing a broad gender agenda, by establishing academic programmes at Undergraduate, Masters and PhD level. "You've harnessed, advanced and promoted gender equality over the years."
She observed that the conference theme; Africa and Gender Studies: Celebrating 30 Years of Transformation and Re-imagining the Future was a timely underpinning of SDG 5. "We know that social, political and economic equality for women is an integral part of achieving all the SDGs."
The Honourable Minister shared that the Government has come up with a comprehensive approach to reducing gender inequality by; repealing laws that discriminate against women and girls, increasing protection against violence, closing the gap in girls accessing education, digital technology, as well as sexual reproductive health services and rights.
"We also look at women's equal leadership and participation as fundamental and with the quotas that guarantee women's participation in politics, which we have been implementing, we have at least achieved a shift in the balance of power in those corridors" she said.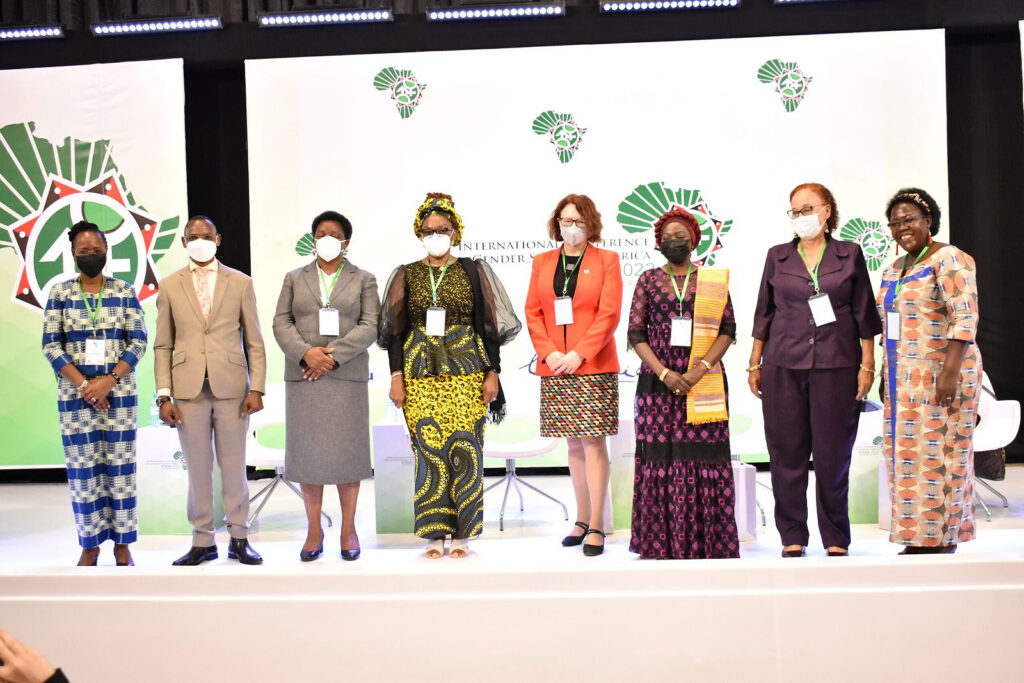 The extent of this shift was elucidated upon by the Minister of State, for Gender, Labour and Social Development, Hon. Peace Regis Mutuzo as she took part in the UN WOMEN High Level Policy Panel on Gender Studies and Practice: Lessons from the Field, held earlier on closing day.
"As we talk right now, we have 178 women in Parliament. Out of 178, 168 are elected; not just appointed but elected. And so I think we have moved a milestone. That goes to show how the Government of Uganda is committed to women empowerment, and has put in place legal and policy mechanisms for its attainment.
"The Constitution mandates the same to ensure gender balance and representation of marginalised groups on all constitutional and other bodies, guarantees women's equal rights with men, and affirmative action to redress imbalance created by history, tradition, customs among other factors" said Hon. Mutuzo.
The UN Women High Level Policy Panel was presided over by the Deputy Vice Chancellor (Academic Affairs), Assoc. Prof. Umar Kakumba and chaired by the Principal CHUSS, Assoc. Prof. Josephine Ahikire. Other panelists included; Ms. Awa Ndiaye, UN WOMEN Representative to the African Union, Ms. Susan Ngongi Namondo, UN Resident Coordinator for Uganda, Dr. Maggie Kigozi, Chairperson of the Makerere University Endowment Fund (MakEF) who represented the Private Sector, and Hon. Bjørg Sandkjær, Deputy Minister of International Development in the Norwegian Government.
Please click the links below to view video recordings of the Closing Ceremony and UN Women High Level Panel.
Closing Ceremony: https://twitter.com/i/broadcasts/1ZkKzbnrjPaKv
UN Women High Level Policy Panel: https://twitter.com/i/broadcasts/1rmxPgbejYZJN
Downloads
Mak Almnus Prof. Ngugi Wa Thiongo Honored, Humanities Book Launched during the Humanities Conference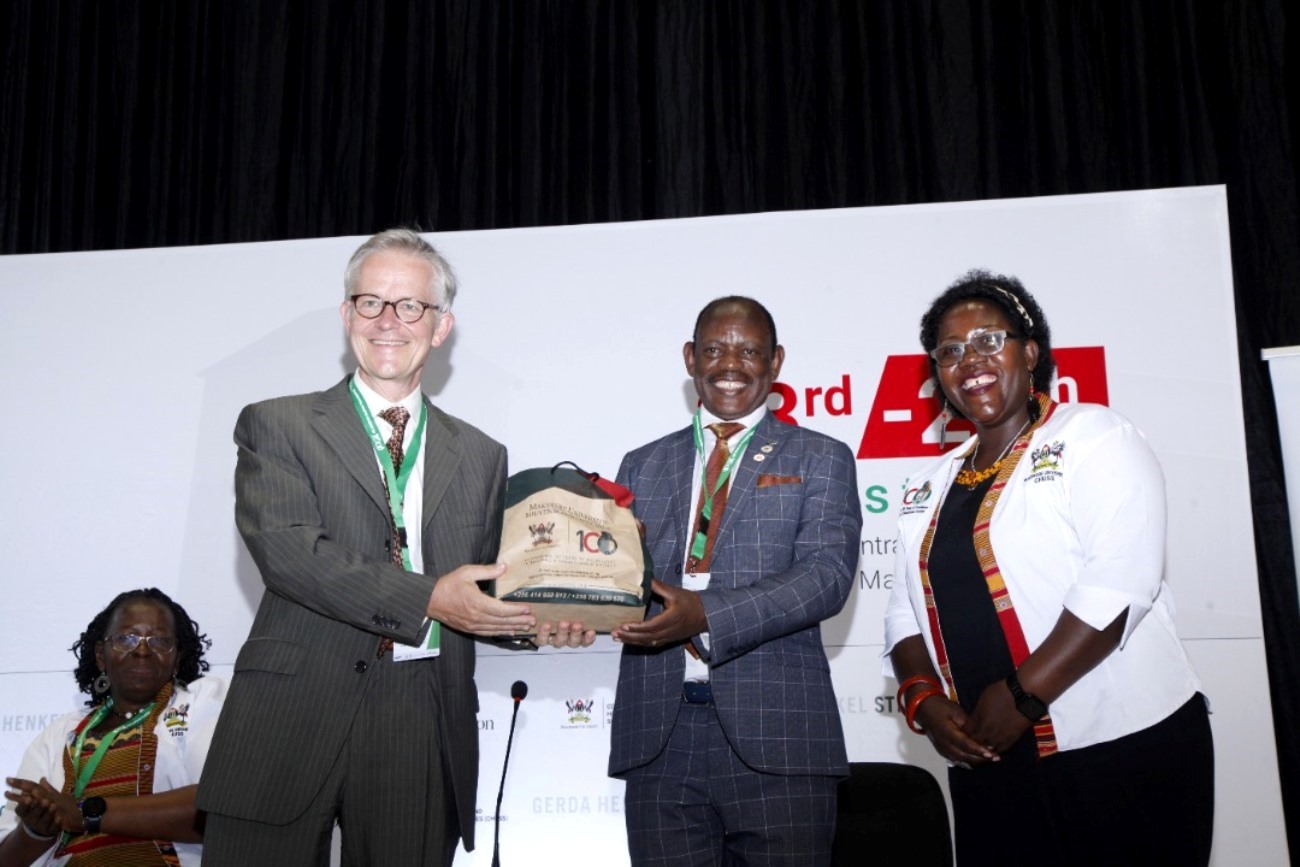 The three-day International Humanities  Conference organized by the College of Humanities and Social Sciences (CHUSS) was on 23rd August 2022 opened with the Graduate Mentorship session, followed by  planting a  tree in honor of Makerere University Alumnus Prof. Ngungi Wa Thiong'o by the Vice Chancellor Prof. Prof. Barnabas Nawangwe At the Arts Quadrangle.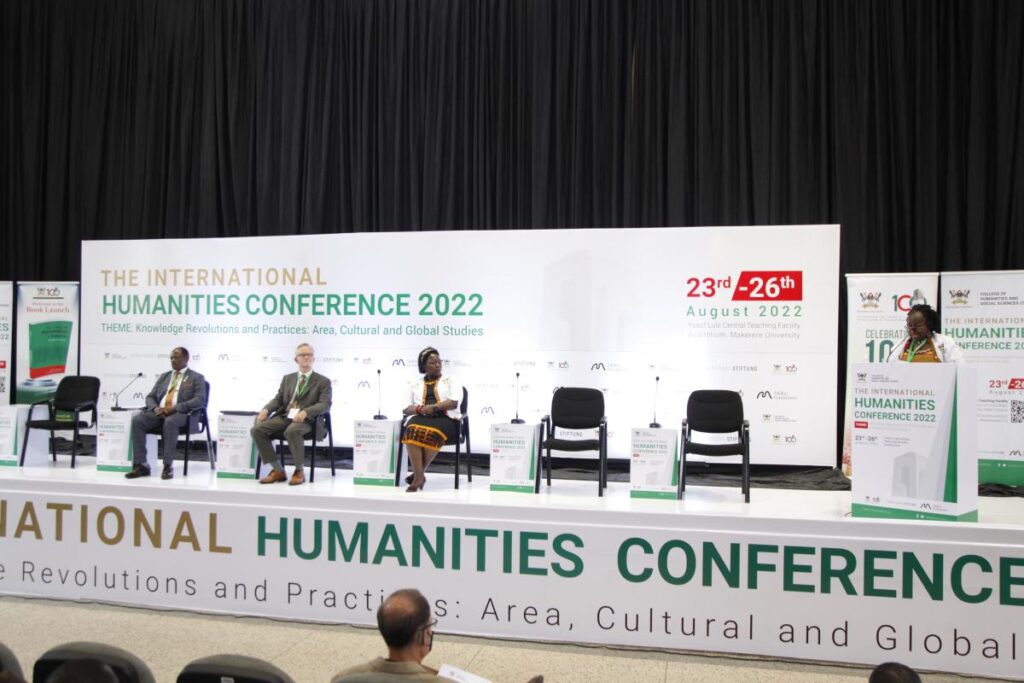 Prof. Nawangwe also launched a book titled, " Historicising Humanities at Makerere: Trends, Patterns and Prospects". The book authored by over 20 people with 16 chapters is an outcome of a project on historicizing the humanities at Makerere supported by the Andrew Mellon Foundation of New York.
The conference convener Dr. Levis Mugumya said the key goal of the project was to rethink and reshape the role of humanities in Uganda and reexamine the basis and significance of humanities and humanistic social sciences at Makerere University from a historical perspective.
"The sixteen chapters have taken a slice of the history of some disciplines and raised questions around their basis and trajectory. It is an attempt to renew conversation and debate as well as ideational leadership of the academy ", Dr. Mugumya said
The three day Humanities conference 23rd-26th August 2022 was part of the activities to celebrate the 100 years of Makerere University service to Humanity, held at the Yusuf Lule Auditorium.
The overriding thrust of the conference was to explore how the knowledge revolutions have impacted university practices and transformed the teaching of and research in the Humanities and Social Sciences. The conference also acted as a discursive zone to interrogate innovative ways through which Humanities and Social Sciences scholarship has refocused beyond the knowledge revolutions to imagine the inevitable future economic, social, biological and political challenges to humanity.
The conference was blended to enable physical and virtual engagements, presentations, and insightful and vibrant discussions. It will consist of keynote addresses, individual and panel presentations, and graduate student panel discussions.
It attracted key note speakers:- Prof. Ngungi Wa Thiong'o – a distinguished Professor of English and Comparative Literature from the University of California;Derrick Peterson – Ali Mazrui Collegiate Professor of History from the Afro-American and African Studies University of Michigan and; Nakanyike Musisi – a Professor from the African Women Education and Development, Makerere University/ University of Toronto
It would be a mistake to discredit humanities as a second class subject
The conference was officially opened by the German Ambassador to Uganda H.E Matthias Schauer. The ambassador underscored the role of humanities in society saying, it is un imaginable to create a legal regulatory system without a profound knowledge of history of society and language which is part of the humanities.
He observed that scholars in humanities and social sciences have witnessed three major knowledge revolutions since 1945 from Area studies, cultural studies and global studies. Ambassador Schauer noted that today, there are signs that scholars may be at another brink of the fourth revolution as witnessed by problems in maintaining global production process, amidst rising transport costs, political unrest and the realization that countries may not be dependent on one other.
"We have been fooling ourselves that economic interdependence would prevent out conflicts but this is not the case. We may now need a new focus on global cooperation and create new fields of research in humanities and social sciences". He said.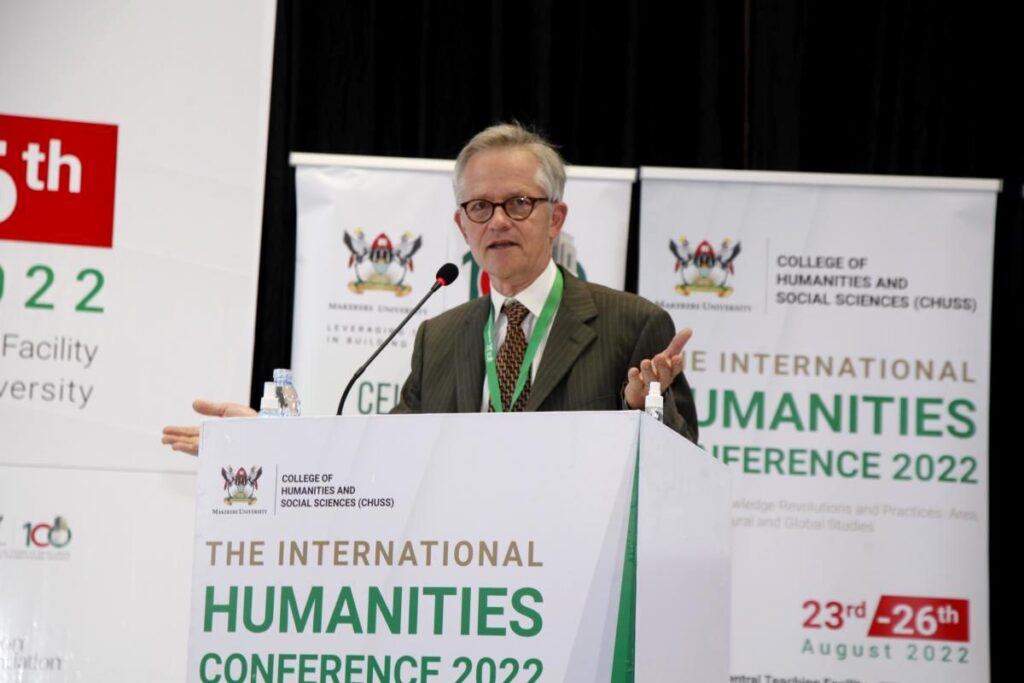 He said humanities attracts a huge number of students at universities because of the diversity of subjects and rich menu for offer. On the political debate on education, Ambassador Schauer noted that its common to hear that countries may need natural scientists, engineers and technicians to increase economic performance.
Though that may be right to some extent, Ambassador Schauer described the humanities and humanistic social sciences as vital to society saying, it would be a mistake to discredit humanities as a second class subject. He advised that young people should do what they feel passionate about.
"First of all they (Humanities) help us understand each other. Language, history and culture shapes each one of us. Without communication that works, nothing much else can work. Humanities also teach us to approach new complex issues in a systematic way to assess information and considering different facts from all sides, Humanities make us informed and critical citizens and, without humanities, democracy would not work. Humanities also foster social justice and teach us empathy and make international relations broader and stronger. Humanities encourage us to think creatively, to reflect upon ourselves and human nature and to think outside the box. Humanistic services enrich the soul and make us a cultured individual," The ambassador asserted.
The ambassador also described as false the thinking that humanistic degrees are not marketable as degrees in STEM, business management and other natural sciences.
"At sight that might seem true, but in my experience a student who diligently study in humanistic subjects will always carry this energy and motivation successfully into his professional life and sell more as in finding a good job. Almost all employers desperately need employees who can communicate fluently, intelligently and persuasively and, employees who can organize their thoughts and synthesis their scattered information into a coherent story.
Employers need employees who are equipped with soft skills such as the ability to converse with difficult topics in a constructive manner and it is the humanities that helps them to express very well. Humanistic education will enrich you very well, emotionally, socially and intellectually and gain a wide experience while at college", The ambassador asserted.
The Ambassador hailed the long standing relationship and collaboration that Germany enjoys with Makerere University especially with CHUSS.
He said it was now over 60 years when Germany was taught in the evening class at Makerere University as an extracurricular language program that continued till 1967 when the first bachelor of arts was established and it became the first German phonology in East Africa.
He highlighted a number of advantages of studying Germany including teacher employment opportunities in education sector, participation in internships, huge range of opportunities in tourism, training opportunities and on job trainings in companies and unique connections, interaction and demand across the world.
The ambassador encouraged the university leadership to foster the teaching of foreign languages at Makerere in prominent way at CHUSS department of European and Oriental languages and proposed the establishment of Master of Arts program in Germany as the most appealing to him.
He expressed the Germany commitment to continue funding the Ugandan students and staff in their academic and other endeavors.
CHUSS reputed for producing eminent scholars
The Vice Chancellor Makerere University Prof. Barnabas Nawangwe reported that the Humanities and Social Sciences have been at the heart of Makerere University since the introduction of History in 1946, and the East African Institute of Social Research in 1948.
He explained that the Faculty of Arts and Social Sciences is reputed for producing eminent scholars and political leaders, including Julius Nyerere, Milton Obote, Mwai Kibaki, Benjamin Mkapa, Oginga Odinga, Okot p'Bitek, Ali Mazrui, David Rubadiri, Nuruddin Farah, Ngugi wa Thiong'o, John Ruganda, V. S. Naipul and Wole Soyinka among others.
Prof. Nawangwe informed participants that CHUSS has championed the critical role of humanities and humanistic social sciences in comprehending, interpreting, and recognizing societal commonalities and differences as well as fostering critical thought, social justice, equity and democratic practice stressing that, in the 1960s and 1970s before the onslaught of neoliberalism and the emphasis on STEM, the humanities and humanistic social sciences were vibrant.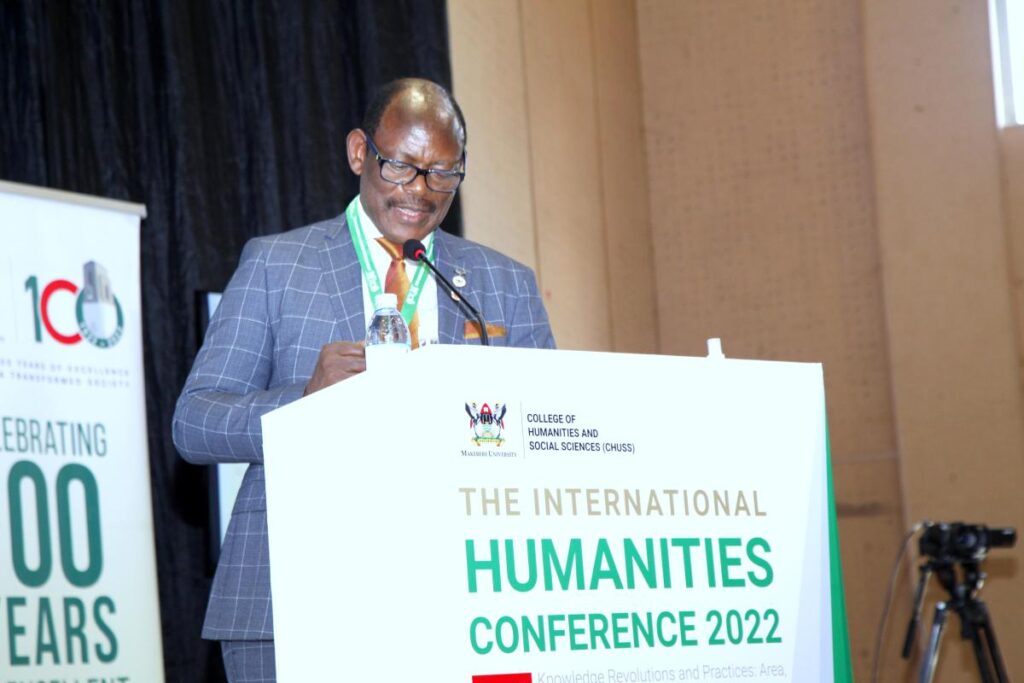 In spite of this rich history, Prof. Nawangwe pointed out that the current positionality and relevance of the disciplines of humanities and humanistic Social Sciences has come under scrutiny as compared to the natural scientific disciplines.
While the University is prized in scientific research, Nawangwe said, today's complex global challenges such as 'global warming, global poverty, global epidemics' and gender inequality cannot be solely explained or resolved by natural scientific disciplines.
"It is therefore important to understand the human factor, which is central in most of the modern scientific glitches. Not only do the humanities and humanistic social sciences explicate our existence as human beings, but they also contribute to creating "tolerance and understanding between citizens", which promote social cohesion, and challenge established positions, social norms and traditions through critical thinking, and preserve heritage, cultural memory and identity", He said.
The Vice Chancellor was optimistic that the knowledge and strategies generated through the conference will go towards uplifting the lifestyles of the people and also aid in conducting a comprehensive review of all aspects of teaching, theorizing, research and practice in the humanities and social sciences disciplines.
Prof. Nawangwe extended appreciation to development partners for the support extended through generous acts such as sponsoring this fora, capacity building, research and developing infrastructure with particularly recognition to the Andrew Mellon Foundation and Gerda Henkel Stiftung for supporting academic activities in the College of Humanities and Social Sciences as well as the Government of Uganda for supporting research and creating an environment conducive for the same to thrive at Makerere University.
The Vice Chancellor also appreciated keynote speakers, Prof. Ngugi wa Thiong'o, Prof. Nakanyike Musisi and Prof. Derek Peterson, the participants, and all guests for honouring the invitations.
To the students (PhD and Masters), The Vice Chancellor expressed happiness that that the International Humanities Conference 2022had commenced with the Graduate Mentorship session.
"You are being nurtured and mentored to not only become the next generation of academics, but to also provide leadership and championship towards Uganda's development and transformation of your communities.
I encourage you to actively participate in the conference so that you learn more as you pursue your PhD and Masters" Nawangwe said and applauded CHUSS management under the leadership of the Principal, Associate Professor Josephine Ahikire for hosting a number of activities in line with the centenary celebrations.
The conference looked at the world with resolve for greater humanity
The Principal CHUSS, Associate Prof. Josephine Ahikire welcomed all to the conference saying, this was the first Conference to be held after the serious lockdown for two years as the university celebrates the Humanities and Social Sciences and make a mark on the nation, continent and the world at large.
This conference themed: Knowledge revolutions and Practices: Area, Cultural and Global Studies she said , is structured as part of Makerere's Centennial celebration aimed at exploring how the knowledge revolutions have impacted university practices, the teaching of and research in the Humanities and Social Sciences as well as human praxis.
"We use this space as a discursive zone to interrogate innovative ways through which Humanities and Social Sciences scholarship has refocused beyond the knowledge revolutions to imagine inevitable futures. We use this very space to foster critical thought about life, its afflictions, and ideals of human society – to debate and rejuvenate theory and practice", The Principal said.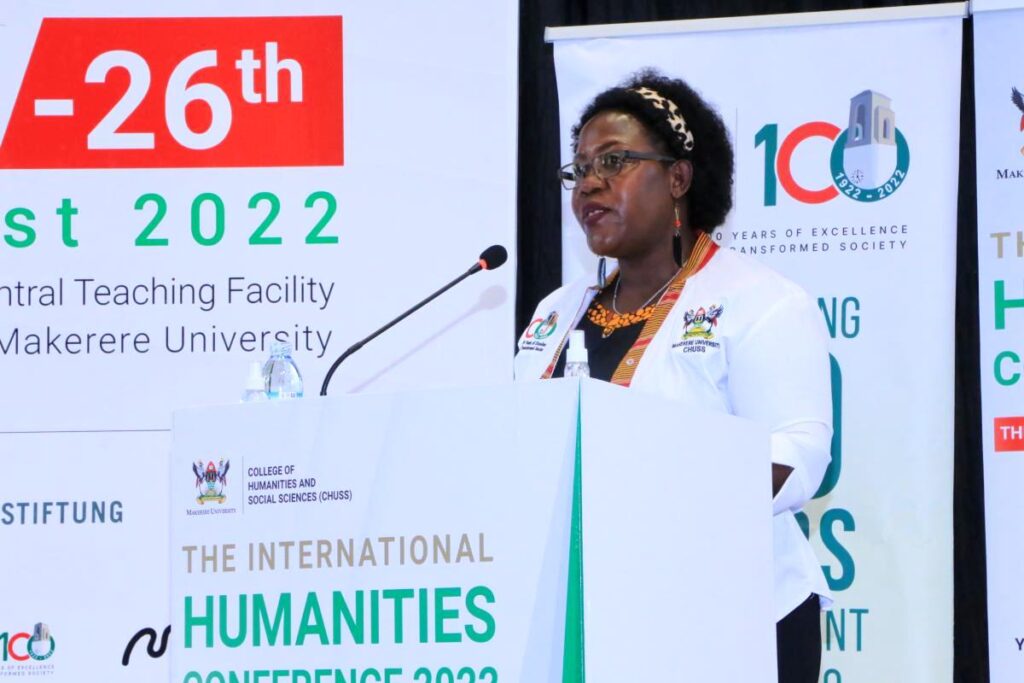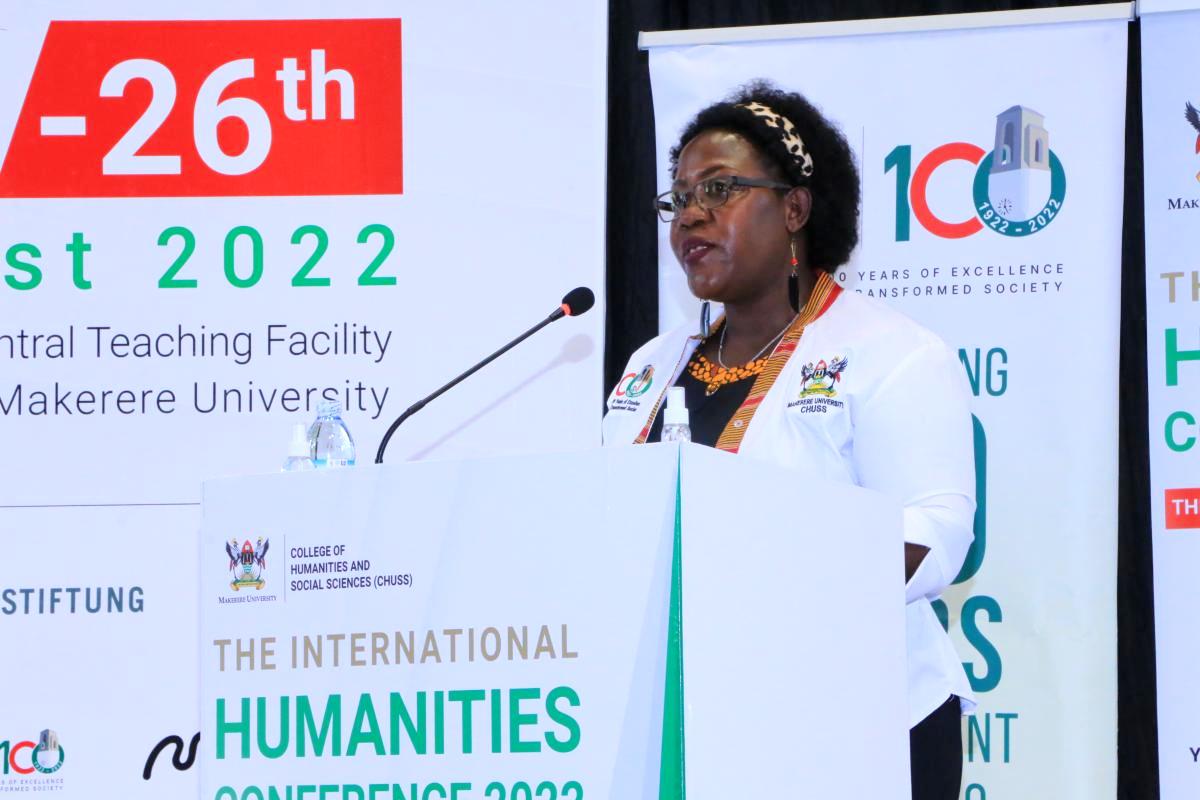 Prof. Ahikire acknowledged the friendship and partnership between Germany, Makerere and the country at large and specifically, the support by the Gerda Henkel Stiftung to the college that has soared the capacity of PhD training at CHUSS.
On behalf of CHUSS and Makerere University, the Prof Ahikire thanked the keynote speakers: Prof Ngugi who was not able to join, saying that he was and is still enthusiastic about this Conference and what happens at Makerere adding that , Prof. Ngungi has always believed/ and openly confessed that Makerere made him and Perhaps he also made Makerere.
"This symbiotic relationship is one we greatly cherish at CHUSS. Prof Nakanyike Musisi – a gem- renown historian of our time. Welcome home- proud alumnus. Prof Derek Peterson, we treasure your commitment on restoring and conserving history", Prof. Ahikire commended.
Prof. Ahikire emphasized that the humanities have been at the heart of Makerere University since its birth and is reputed for eminent scholars, post-independence political leaders and activists. Under the ambit of the CHUSS program dubbed Humanities@ Mak 100, the Principal said, this conference was part of the efforts to galvanize humanities scholarship for even greater human utility on the African continent.
"As humanity continues to grapple with challenges such as mis -governance, conflict, climate change, and pandemics there is need for more ingenuity and inventiveness. In very specific ways, the COVID-19 pandemic has demonstrated the need for a multidisciplinary approach to this unprecedented global health challenge, with the human subject at the centre." She said adding that:"These conversations are important because our disciplines allow us to experience humanity at its best. This Conference is therefore aimed at facilitating these debates and key issues in the Humanities and Social Sciences. It is our hope that the conversations that start here do not stop here, but help us critically look at world we live in with resolve for greater humanity".
Prof. Ahikire acknowledged the generous support of the Mellon Foundation (USA) which allowed the college to dream three years ago – when the idea of the book was proposed. The Mellon Foundation she reported has also supported various research efforts by Early Career and Senior Scholars in the college including the support for this conference that was also committed three years ago.
She thanked the University management for enabling the college to meaningfully pursue the strategic goal of a truly research led university and, the chair of the Organising Committee, the Convener of the Conference and all members of the organising committee for the job well done.
Conference planned to discuss issues important for the survival of human race
The chairperson CHUSS organizing committee Prof. Grace Bantebya said each year the college organizes a conference adding that what started as symposia has metamorphosed into great and rich academic conferences.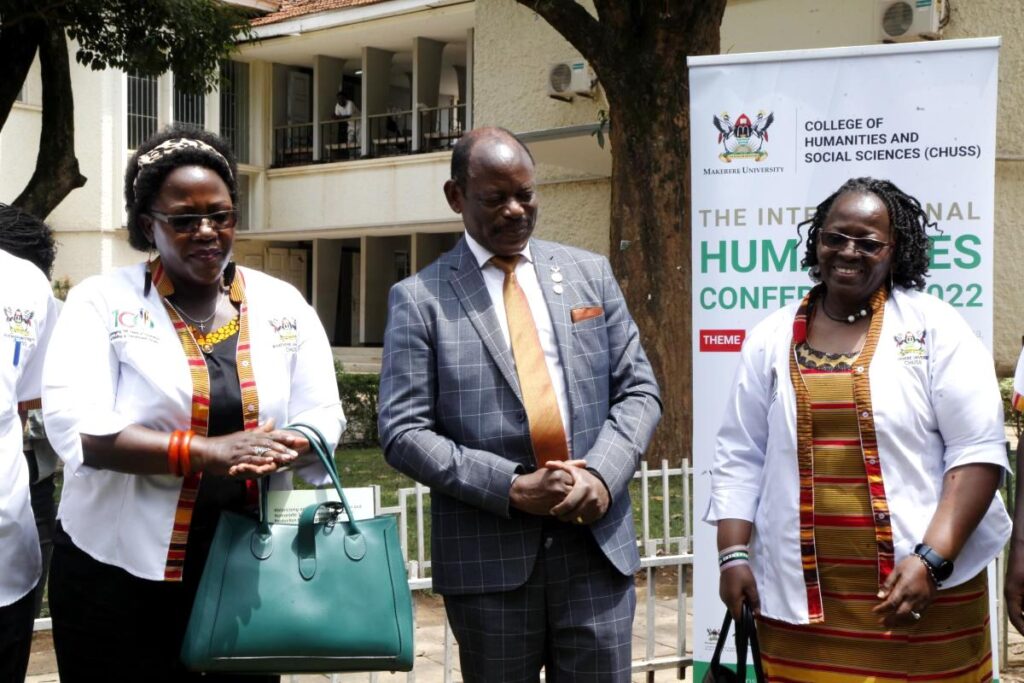 Prof. Bantebya hailed the college leadership for the support and the organizing committee for the commitment that led to the success of the conference noting that they have tirelessly worked in their different committees to see to it that it materializes.
She also thanked the Andrew Mellon Foundation and the Gerda Henkel Foundation for the support to the conference as well as the different doctoral students cohorts over the years.
"The issues this team has prepared for you to chew are those that are pertinent to our being human. It is for this reason that we are sometimes looked at as activists because issues of urgency within the global context are important for the survival of human race and this is why conferences of this nature need to keep happening". Prof. Bantebya said.
US Embassy Engages Makerere on International Collaboration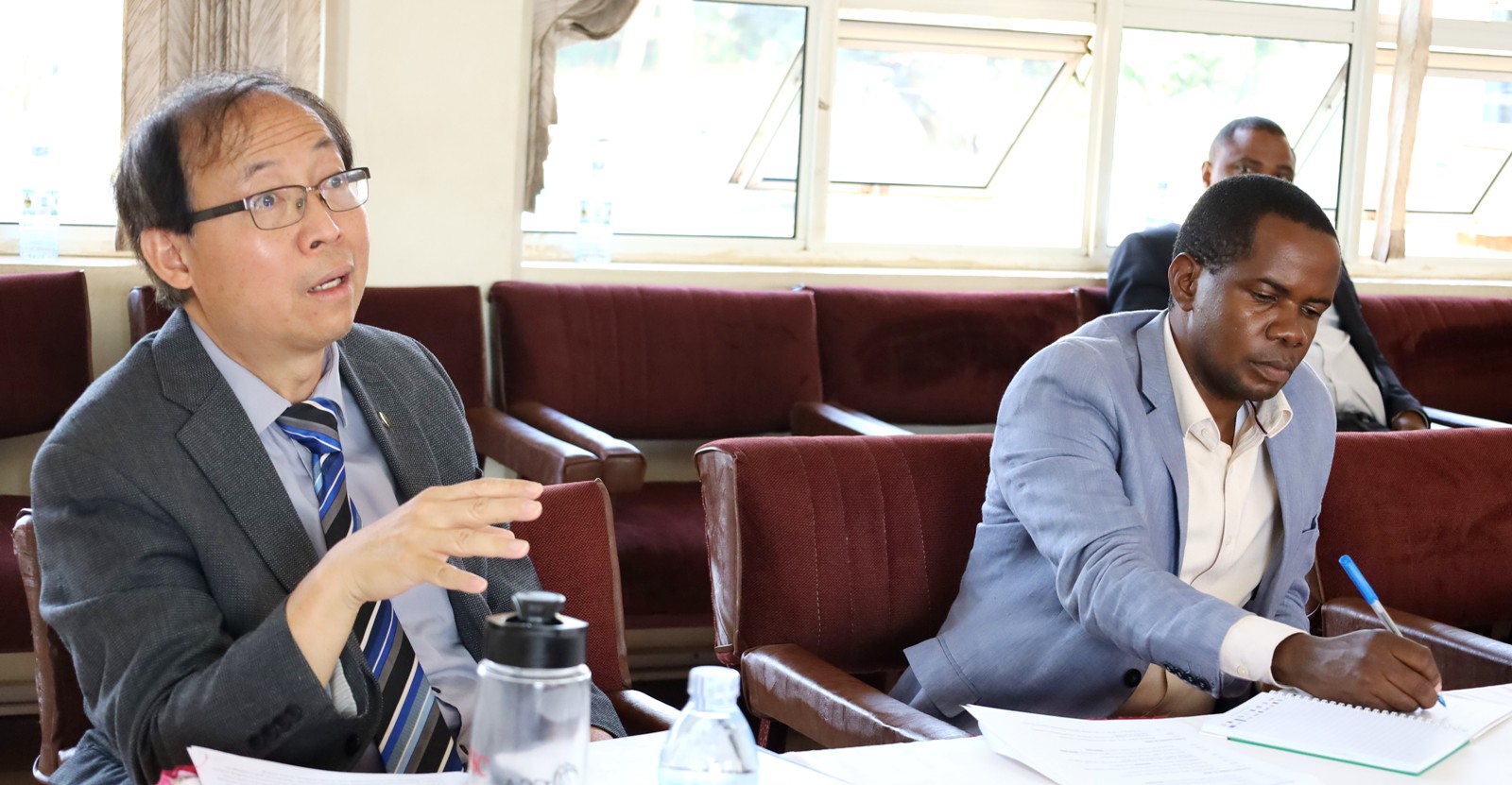 The Embassy of the United States of America in Uganda is coordinating a study Abroad engagement entitled, "Establishing University Partnerships to attract more US Scholars and Students".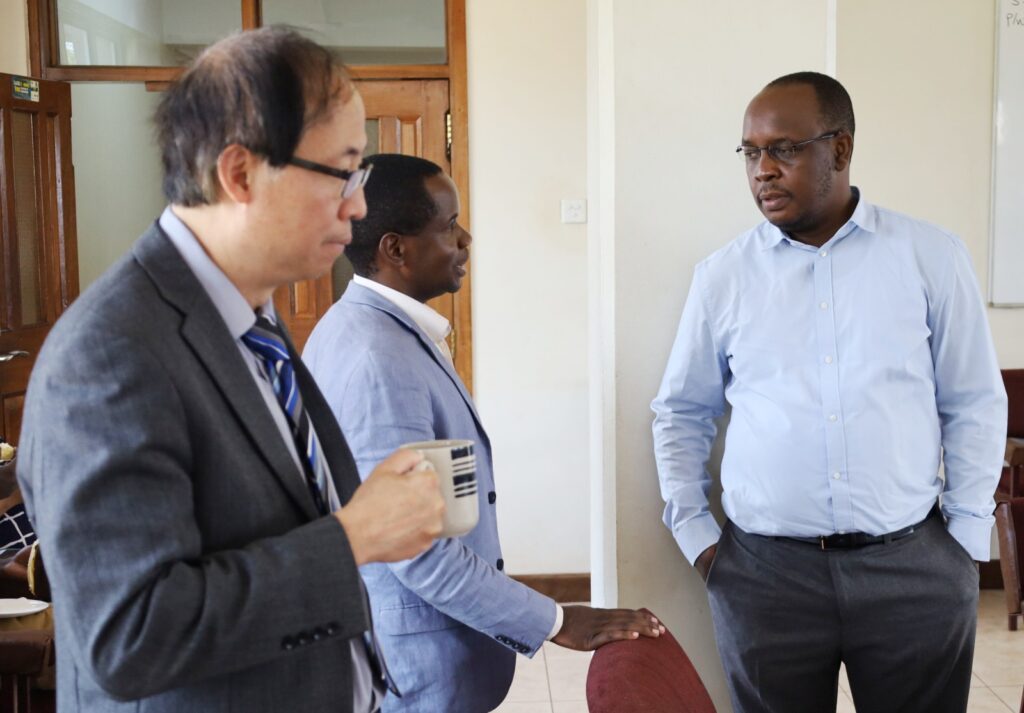 The Study Abroad engagement which is sponsored by the US Department of State's Bureau of Educational and Cultural Affairs will focus on holding institutional capacity of Ugandan Colleges and Universities to host more US students, interns, researchers and teachers.

The embassy hired the US  consultant Prof.  Wing-Kai, the Assistant Provost for Global Engagements and Senior International Officer at Bridge Water State University to conduct eight workshops  at Makerere University colleges.
The embassy engaged Dr. Daniel Ddumba, a Lecturer from the department of Geography, Geo-Informatics and Climatic Sciences to facilitate the execution of this program.

In the morning of 10th August 2022, Prof. Wing-Kai, was in the College of Computing and Information Sciences (CoCIS) where he met the Principals, Deans, Heads of Departments, scholars and students to understand the process of global cooperation.
Prof. Wing-Kai said,  the meeting was used  as a channel to improve the  activities for international collaborations.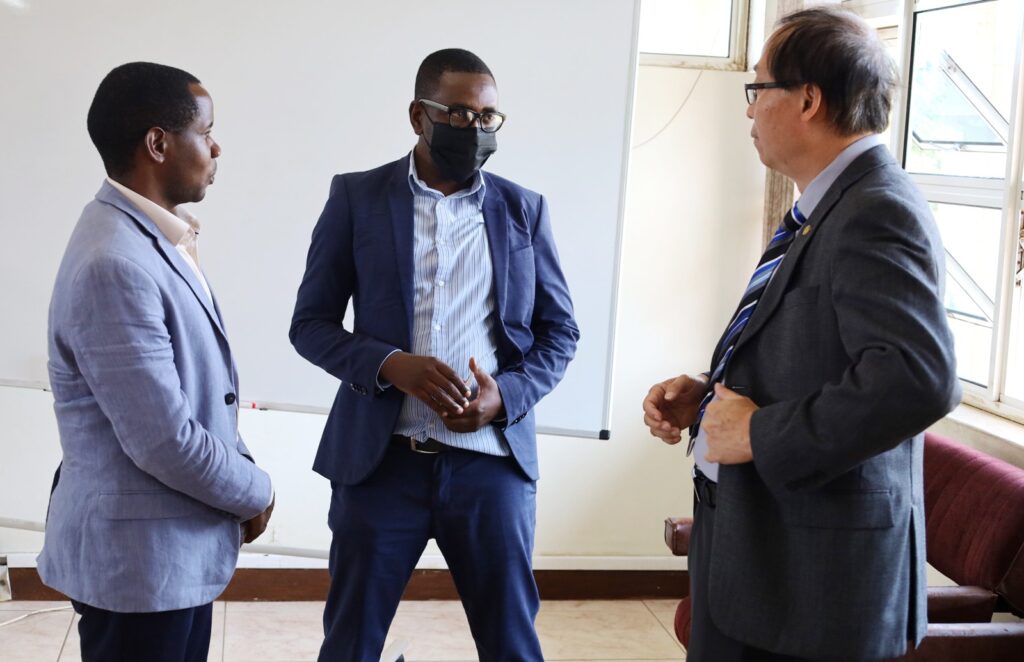 "What I found is that this college has productive exchanges with Europe and United States but there some people are not aware of these collaborations and these collaborations can be improved by providing funding for Ugandan students to go to the West for short term opportunities. I hope that my visit can encourage the US government and American universities to start working with this college and to provide more opportunities for professors and students", Prof. Wing-Kai.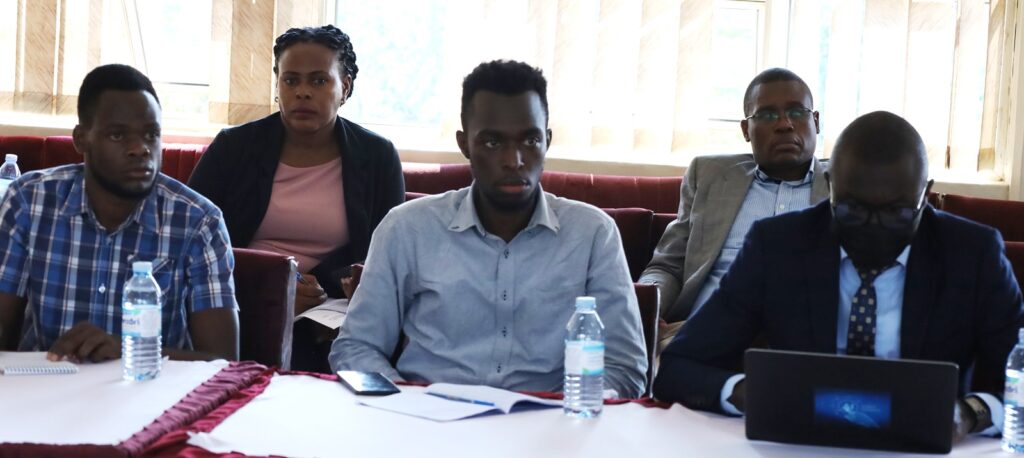 Following the COVID-19 Pandemic and its impacts on all sectors, Prof. Wing-Kai stressed that this was the time for the college and partners to rethink their structure for improving international collaboration.

"We are going to talk to the Principal whether there is going to be an international office and a coordinator to manage the collaborations with international entities and how to develop different strategies for prioritizing the partnerships so that they have clear goals and outcomes and try to make it sustainable for the future", Prof. Wing- Kai pledged.
On the same day 10th August 2022 afternoon, Prof. Wing-Kai held a meeting with management, staff and students from the College of Humanities and Social Sciences (CHUSS).  Prof. Wing -Kai described the meeting especially with students who  formed  the majority as interesting.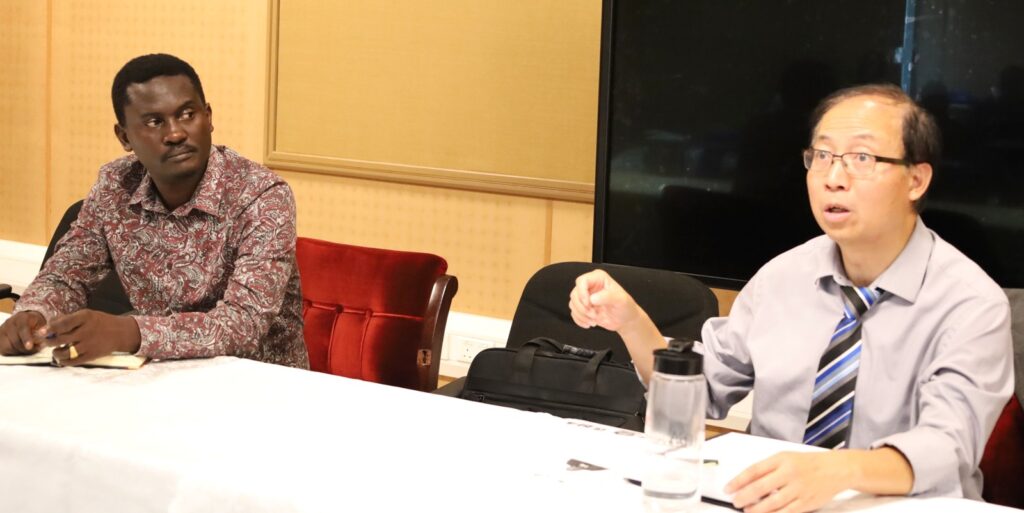 " Most of the audience are undergraduate and some graduate students. I hear about their experiences. I want to encourage them to think  about having an international experience in future by trying to go abroad for short term and developing some international activities and to internationalize the curriculum on campus not just going abroad. It is easier to internationalise through connecting  with international community in Kampala and abroad  here physical and virtually", Prof. Wing- Kai said.
Prof. Wing-Kai implored the university management to increase the capacity for internationalization so that Makerere can improve the infrastructure and   programs, and to tap into the United States experience in internationalization.

Some of the proposed initiatives by students include creating  internship platforms and streamlining scholarship to  cater for undergraduates,  streamlining  international coordination, facilitating online discussions between Western and African students and strengthening the office of the Dean of students to facilitate  academic exchanges.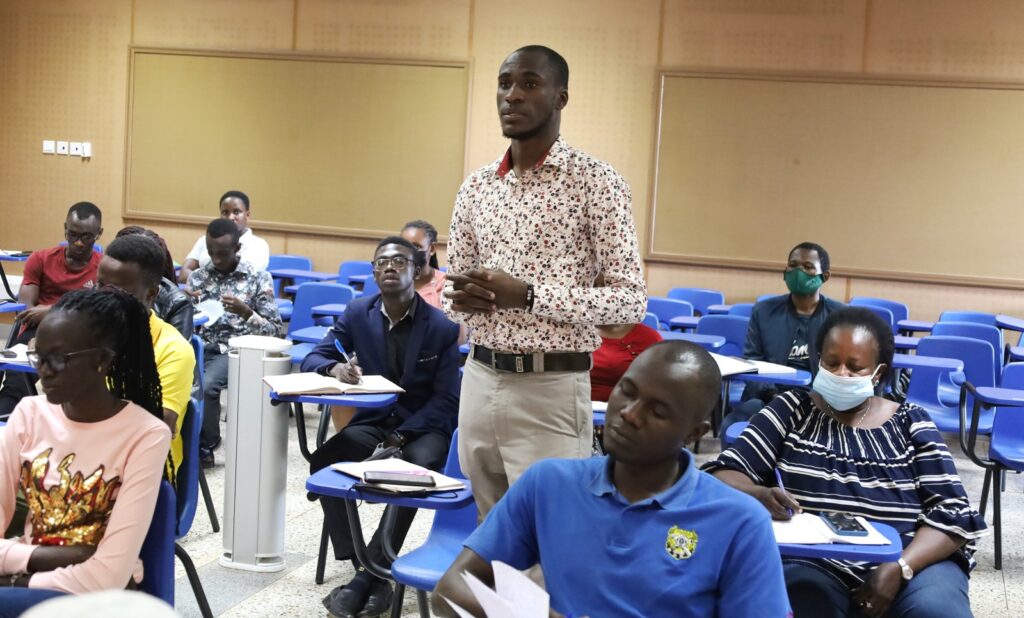 Other initiatives to strengthen collaboration suggested include organizing the US-Makerere special events such as  competitions, workshop, annual exhibitions, camps, cultural performances that would provide opportunities to highlight international education as well as the  American, European , Chinese etc culture on campus.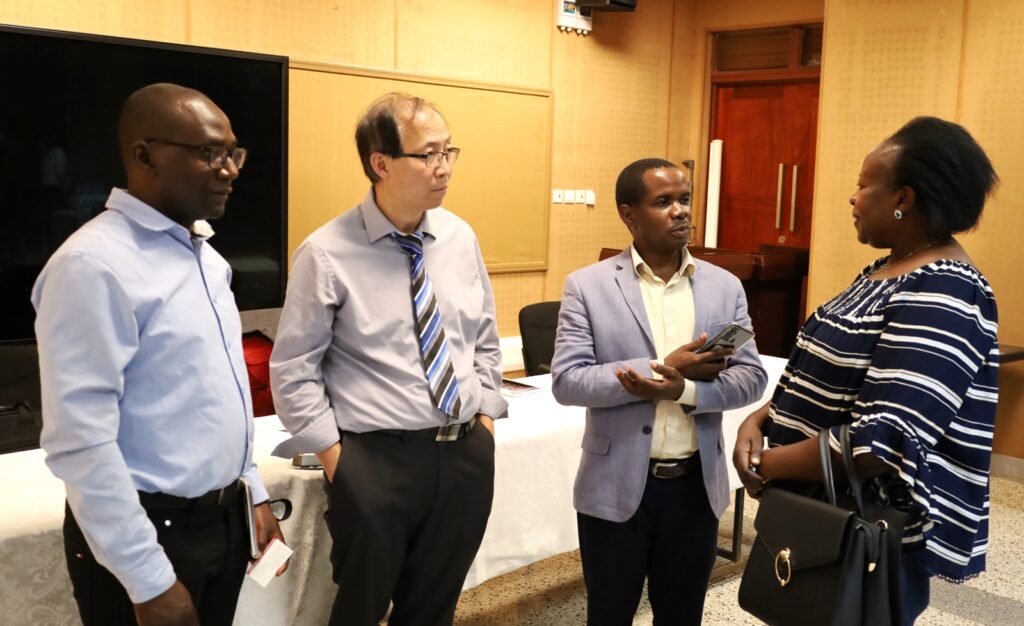 Other proposals were the need to form the US-Mak Alumni association, organizing short visits for students and staff to and from Africa to see how programs are run, joint research and, forming a community of practice to share ideas and to network.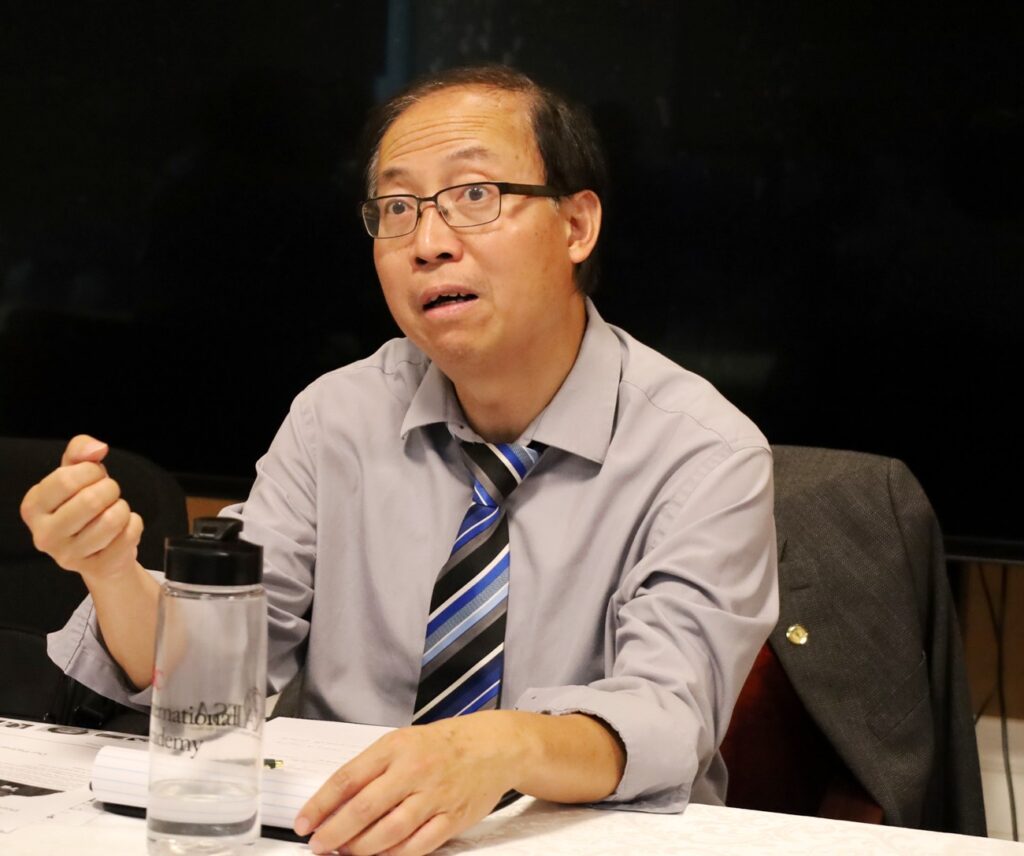 Other proposed initiatives include  promoting online education to expose students and staff to  best structures and expertise, promoting virtual conferences, joint publications and more student engagement of students outside the classroom through debates and clubs.
Jane Anyango is the Principal Communication Officer, CHUSS and CoCIS
Sr. Prof. Dominica Dipio receives the SIGNIS-Africa Award of Excellence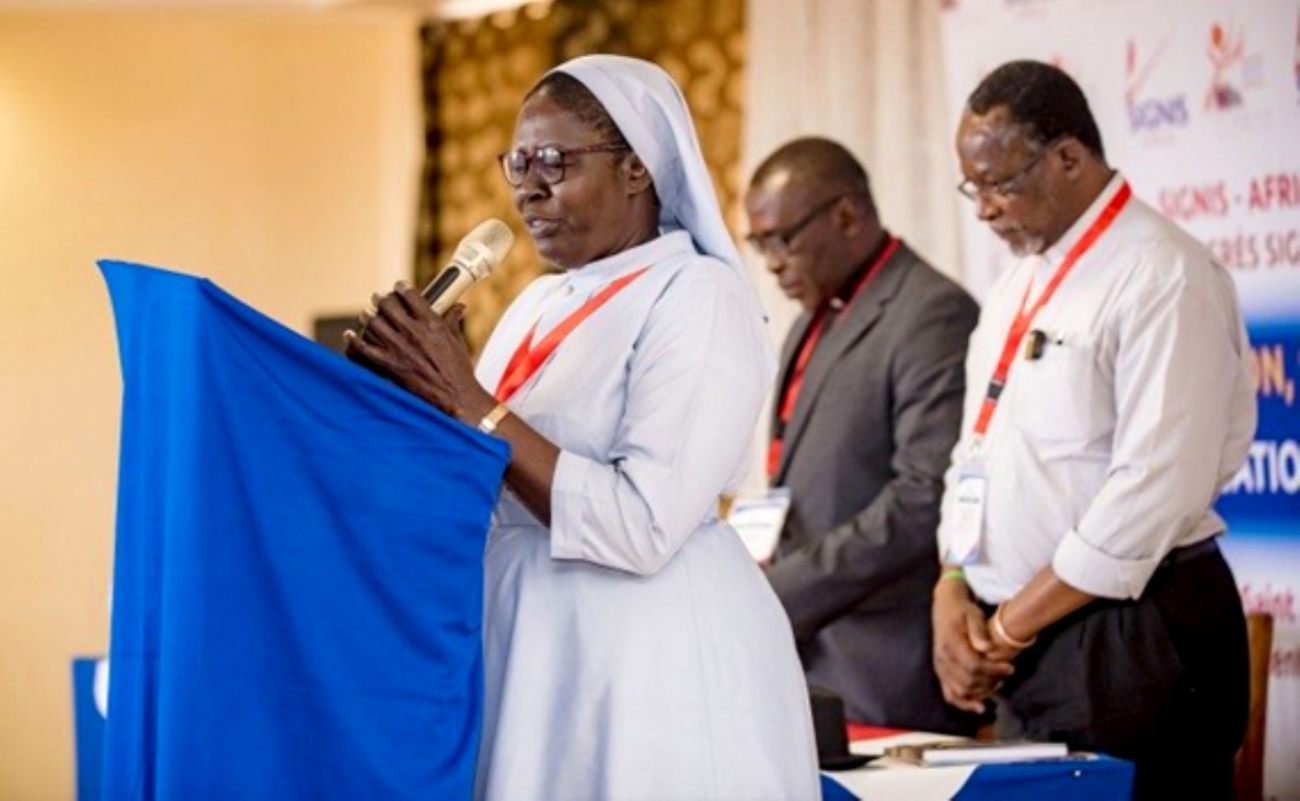 Reverand Sister Prof. Dominica Dipio, of the Department of Literature, College of Humanities and Social Sciences has received the SIGNIS-Africa Award of Excellence for Contributing to the Communication Apostolate in Africa.
Sr. Prof. Dipio was recognized during the premiere SIGNIS-Africa delegates Conference held in Kigali, Rwanda.
At the Kigali Delegates Conference held from July 11th -15th 2022, SIGNIS-Africa recognized, for the first time, individuals and organizations – Africans and non-Africans – who have, over the years, contributed to the vision and mission of SIGNIS-Africa, which is basically to enhance human communication and to provide a forum for people to speak out.
"I was identified as one of such persons. I have, since 2001, as a film student at the Pontifical Gregorian University (Rome), associated with the SIGNIS world; and in this capacity, I have not only participated in the organization's conferences, but also represented it at several global film festivals as a juror. This experience has, over the years, helped me harness my juror experience; and this has been extremely useful in providing guidance for the young film industry in Uganda", Sr. Prof. Dominic Dipio said.
SIGNIS stands for World Catholic Association for Communication. It is a Catholic lay movement that brings together communication professionals around the world, covering the entire gamut of the media: press, radio, television, cinema, video media education, internet and new technology.
It came into existence as a result of a merger between two Catholic Media organizations which until 2001, operated separately as the International Catholic Organization for Cinema and Audiovisual (OCIC) and the International Catholic Association for Radio and Television (Unda). Now, the two and the new media, all come under SIGNIS as the official body of media related affairs in the church's apostolate.
SIGNIS is recognized by the Holy See as an International Organization of the Faithful (not the clergy). The word itself is a combination of 'sign' and 'ignis', a Latin word that means fire. The main objective of the organization is to use the media as an instrument of enhancing human and Gospel values in society.
Although it is a global network of communication professionals, SIGNIS is structured in continental segments for more effective management, thus SIGNIS-Africa.
Read more: