Staff Appeals Tribunal Swears in Senate & MASA Representatives
The Makerere University Staff Appeals Tribunal on 20th December 2021 swore in two new members to represent the Senate and Mak Administrative Staff Association (MASA) constituencies. The ceremony was presided over by the Chairperson of the Tribunal Justice Dr. John Patrick Tabaro and witnessed by the Vice Chancellor, Prof. Barnabas Nawangwe, represented by the Deputy Vice Chancellor (Academic Affairs), Dr. Umar Kakumba as well as Members of Management.
Delivering the opening remarks, Justice Dr. Tabaro thanked the University Administration, Staff and Students for all the hard work that ensures that Makerere remains ranked among the top institutions on the continent, noting that this brings great pride to members of the public in general and the alumni in particular. As such, he said, it is important for the University to continue resolving disputes fairly, and in accordance with justice, so as to keep in step with its good ranking.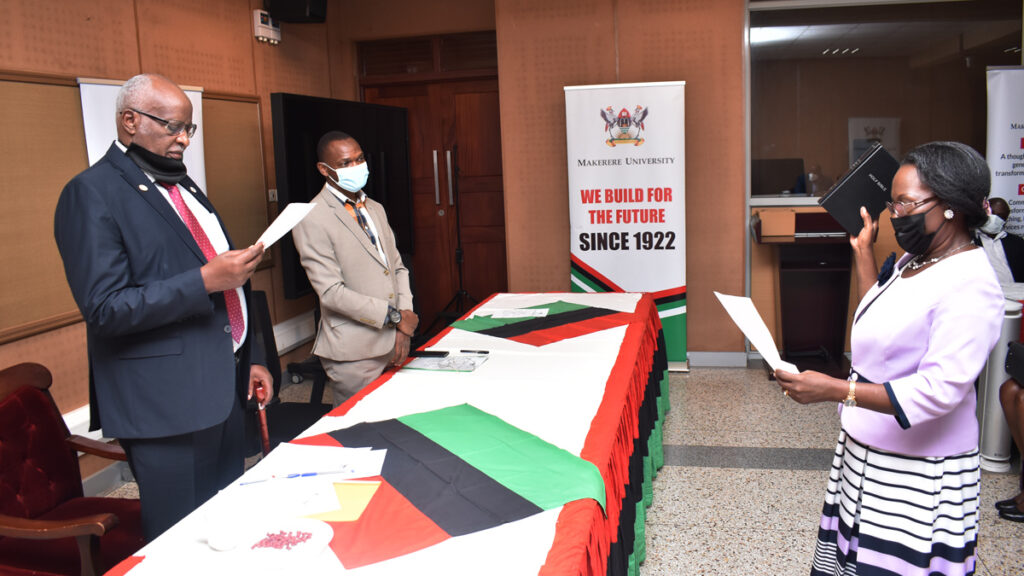 On the same occasion, he appealed to Senior Academic and Administrative staff to groom their upcoming colleagues so as to leave behind a legacy that will enable Makerere to continue performing excellently and competing favourably with other institutions.
"It is my dream that one day the academic excellence of this University and justice that the leadership and tribunal are promoting will one day lead it to top position in Africa and beyond" concluded Justice Dr. Tabaro.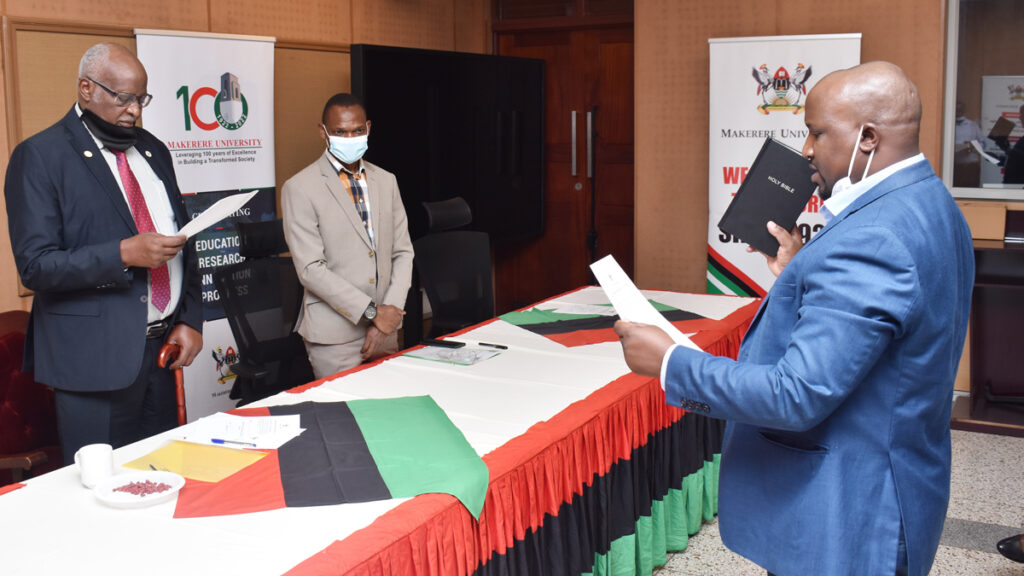 Addressing participants at the ceremony, Dr. Kakumba conveyed the appreciation of the Vice Chancellor to the Chairperson and Members of the Staff Appeals Tribunal for the great work done to resolve staff disputes impartially and transparently.
"This is a very important process in any democratic institution that upholds the principles of the rule of law and human rights" remarked the Deputy Vice Chancellor.
Dr. Kakumba reiterated the readiness of the Vice Chancellor and University Management to ensure that all matters raised by the Staff Tribunal to the University Appointments Board are addressed for purposes of continuous improvement and building a strong human resource. He added that the tribunal provides an internal mechanism through which there can be a reduction of cases in the Courts of Law.
The Vice Chancellor concluded by welcoming the new members of the Staff Appeals Tribunal; Assoc. Prof. Sylvia A. Nannyonga-Tamusuza, Head, Department of Performing Arts and Film (PAF) and Representative of University Senate and Mr. Joseph Kalema, Warden, Nkrumah Hall and Representative of Senior Administrative Staff (Male) under MASA.
"The University shall continue to provide support to the Tribunal as they dispense justice to the staff appealing decisions of the Appointments Board and we trust that you shall uphold the standards set by the Tribunal" said the Vice Chancellor to the newly-appointed members.
The swearing-in ceremony was witnessed by the University Bursar-Mr. Evarist Bainomugisha, Director Internal Audit-Mr. Walter Yorac Nono, Dean of Students-Mrs. Winifred Kabumbuli, Director Human Resources represented by Principal Human Resources Officer-Mr. Mujuni Tayari Deus and Mrs. Naome Kiconco Ochieng-Office of the University Secretary.
In attendance were; Dr. Josephine Ndagire-Secretary to the Staff Tribunal as well as Members – Dr. Phiona Muhwezi Mpanga and Dr. Ronald Kakungulu-Mayambala (MUASA Representatives), Ms. Sarah Wegosasa (MASA Representative) and Mr. Peter Eneru-Tribunal Clerk.
Graduate Admission Lists 2021/22
Admission Lists: Appeals and Re-advert for internationals 2021/2022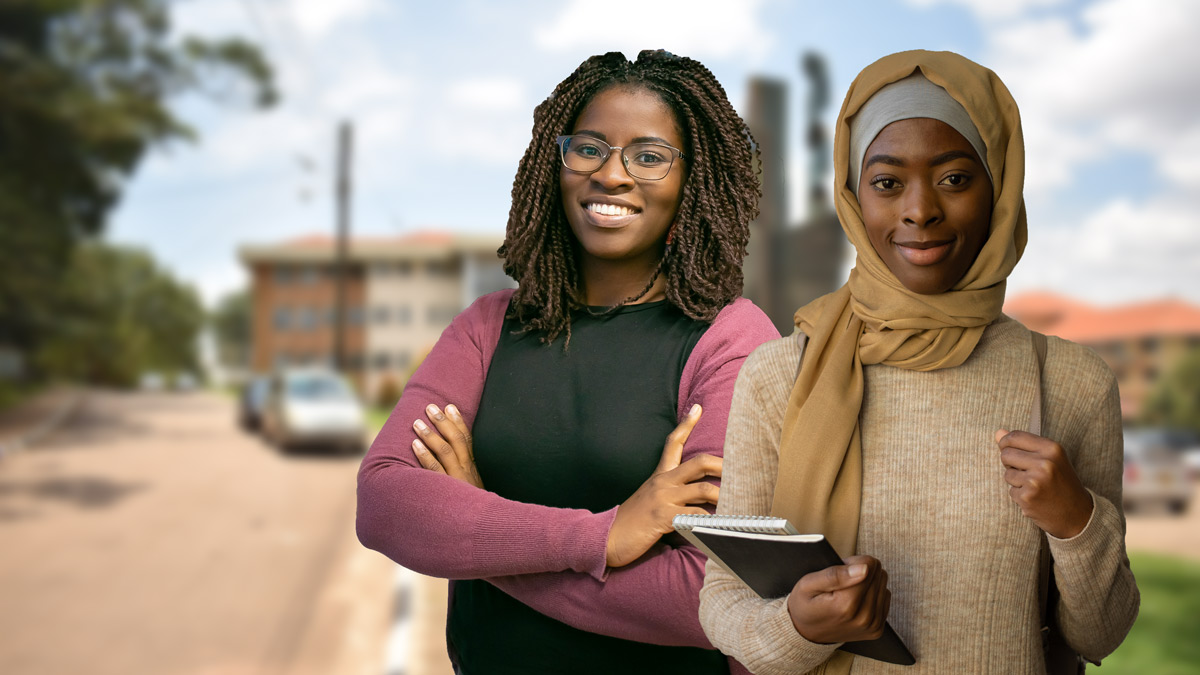 The Office of Academic Registrar, Makerere University has released lists of applicants who appealed and have now been admitted.
The following candidates have been admitted as follows;
MOP-UP Cases (Government)
Index No.                Name                       Sex           Course    Results  
(i)    U0025/667      HANS Murungi      M                       LAW       58          National Merit  
(ii)   U0004/631      AINE Aaron Amanya     M              ELE Sports Scheme
MOP UP Cases (Private Mature Entry Scheme)
NAME                      Sex    Mature results   Pre-entry Results      Programme
ARINAITWE Job    M                70                           55                            LAW (Private)
The lists for the successful appeals for Private Sponsorship Scheme, Re-advert and mop-up for International applicants can be accessed below:
Fees Waiver Scholarships for First Year Female Students for the Academic Year 2021/2022
In 2010 Makerere University established a Fees-Waiver Scholarship Scheme managed by the Gender Mainstreaming Directorate. The Scheme supports academically bright female students from disadvantaged socio-economic backgrounds to study various undergraduate degree programmes at Makerere University. The scholarship is administered by waiving off tuition and functional fees ONLY for the duration of study programmes of the scholarship beneficiaries. The applicant must be able to meet other costs by herself (for their feeding, accommodation and other learning necessities required by the University) for the duration of the scholarship and study period.  
The Gender Mainstreaming Directorate is pleased to announce 40 Fees Waiver scholarships for the academic year 2021/2022.  All Programmes in the 10 Colleges of Makerere University are eligible for this scholarship support and each College has four slots.
Eligibility
Scholarship applicants should meet the following criteria:
Should be female of Ugandan Nationality
Should be a first-year student admitted at Makerere University Main Campus for the academic year 2021/2022 under the Direct Entry Scheme, i.e. from A level
Should be from a genuinely disadvantaged socio-economic background.
Should not have been admitted on Uganda Government sponsorship to any public university.
Should not be a beneficiary of any other scholarship e.g. District Scholarship, the Higher Education Students Financing Board (HESFB)
Must be willing to participate in a selection process as shall be determined by the Gender Mainstreaming Directorate Scholarship Committee
Female students with disabilities are encouraged to apply.
An application shall be deemed complete once it contains the following attachments;
Photocopies of 'O' and 'A' level Academic Documents.
Three Passport size photographs of the applicant.
A copy of the applicant's Birth Certificate
In case of deceased parents, copies of death certificate(s)
A hand drawn physical map of the applicant's home/residence with clear directions of how to get to that home or residence from the nearest main road (indicate approximate distances in kilometres).
A copy of the admission letter to Makerere University.
A copy of 'A' Level fees payment slips for at least two terms
Interested and eligible applicants can download the application form from our website: www.gendermainstreaming.mak.ac.ug
OR pick an application form in Room 402 Senate Building, Level 4, Gender Mainstreaming Directorate. The deadline is Friday, 28th January 2022 at 5:00 pm.
NOTE:  Only shortlisted applicants will be contacted.
Euzobia Mugisha Baine (PhD)
DIRECTOR