Prof. Sylvia Tamale awarded Honorary Doctor of Laws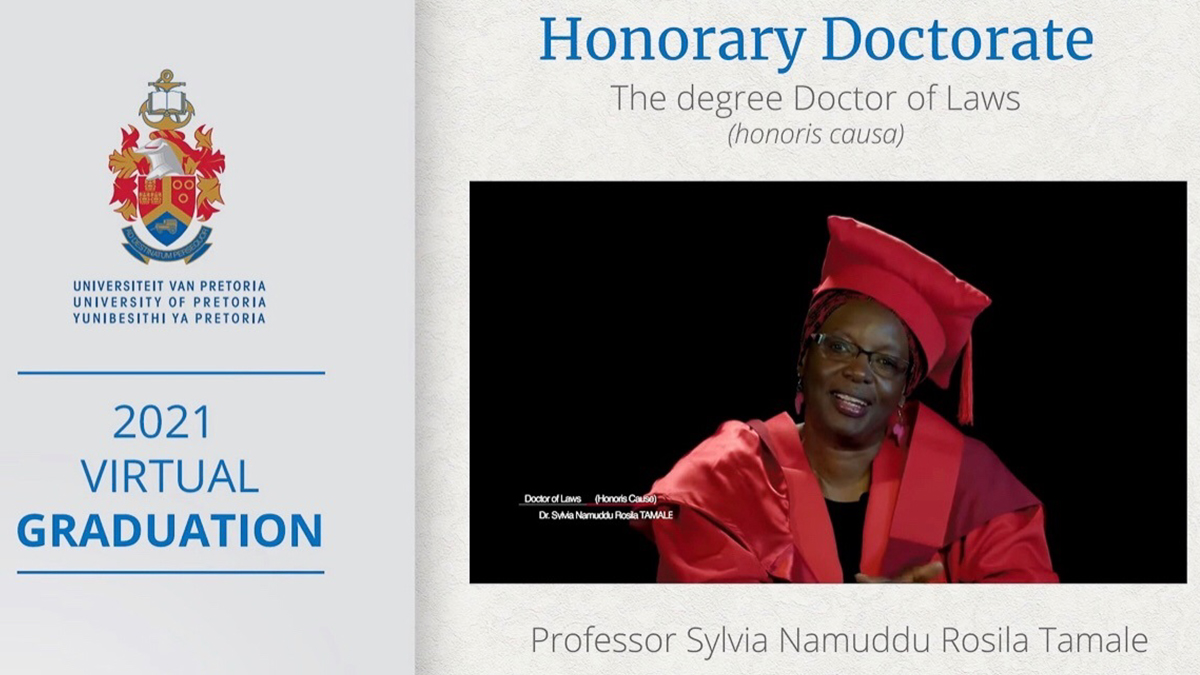 Professor Sylvia Tamale was awarded an Honorary Doctor of Laws by the University of Pretoria, South Africa at their 2021 Virtual Graduation Ceremony held on the 10th December 2021. The award is in recognition of her contribution to shifting boundaries for African women, the rights of sexual minorities, trail-blazing role as an African woman with her principles and provocative scholarship on sexual and reproductive rights and advancing
African feminism.
Professor Sylvia Tamale holds a PhD from the University of Minnesota, U.S.A; Master of Laws from the Harvard Law School, U.S.A and Bachelor of Laws from Makerere University. She was the first female Dean of the Faculty of Law (2004 – 2008) at Makerere University; and the first female Professor to give a Professorial Inaugural Lecture (2016) at the Makerere University. Professor Tamale is an internationally recognized leading scholar and has received several awards including African Studies Association of International Visitors and the Fulbright McArthur Scholarship. She is a unique voice around African culture, sexuality, the law and human rights.
She has served on numerous editorial boards and is widely respected for her leadership roles including Commissioner of the Global Commission on HIV/Aids and the Law; Board Member of the Open Society Initiative for East Africa and Board of Trustees of the Equal Rights Trust.
Presenting Prof. Tamale for the honorary doctorate, Professor Elsabe Schoeman, Dean – Faculty of Law, University of Pretoria said thus 'as a scholar, Sylvia has been a distinct African voice on women sexuality, an area under-explored in Africa and by Africans. Hers is a unique voice in African Scholarship around culture, human rights, women sexuality and the law'.
Accepting the award, Prof. Tamale said 'for this esteemed and wonderful honour and recognition, I say thank you to the University of Pretoria'.
Congratulations Prof. Sylvia Tamale!
Graduate Admission Lists 2021/22
Admission Lists: Appeals and Re-advert for internationals 2021/2022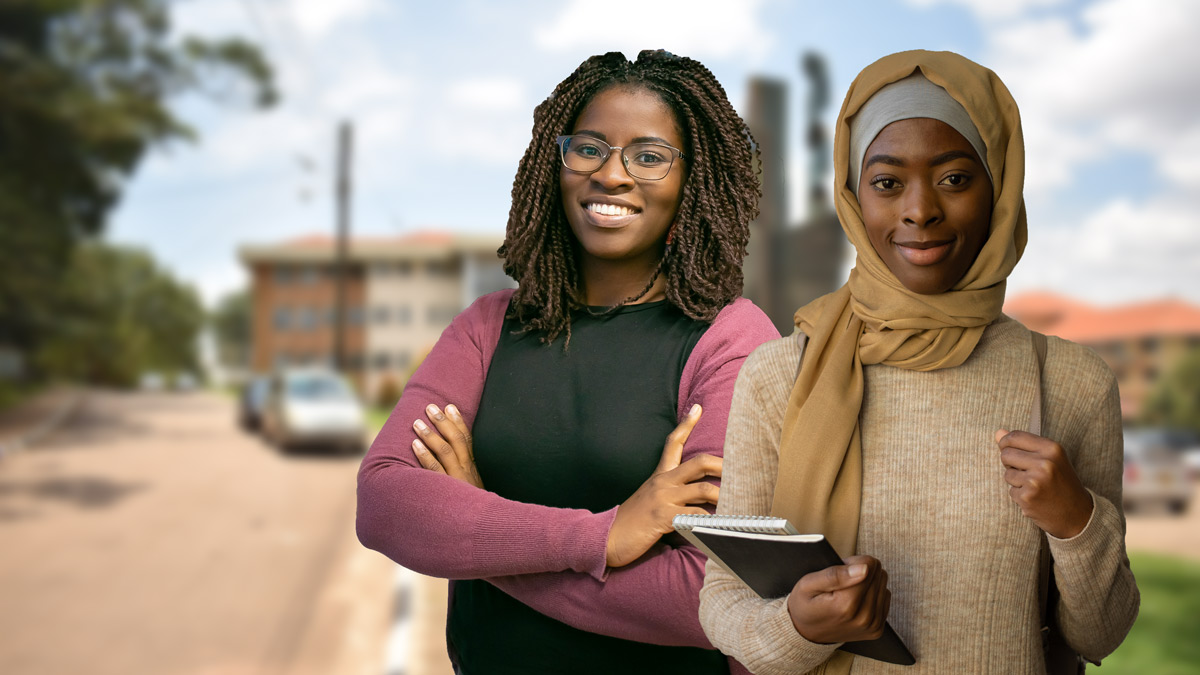 The Office of Academic Registrar, Makerere University has released lists of applicants who appealed and have now been admitted.
The following candidates have been admitted as follows;
MOP-UP Cases (Government)
Index No.                Name                       Sex           Course    Results  
(i)    U0025/667      HANS Murungi      M                       LAW       58          National Merit  
(ii)   U0004/631      AINE Aaron Amanya     M              ELE Sports Scheme
MOP UP Cases (Private Mature Entry Scheme)
NAME                      Sex    Mature results   Pre-entry Results      Programme
ARINAITWE Job    M                70                           55                            LAW (Private)
The lists for the successful appeals for Private Sponsorship Scheme, Re-advert and mop-up for International applicants can be accessed below:
Fees Waiver Scholarships for First Year Female Students for the Academic Year 2021/2022
In 2010 Makerere University established a Fees-Waiver Scholarship Scheme managed by the Gender Mainstreaming Directorate. The Scheme supports academically bright female students from disadvantaged socio-economic backgrounds to study various undergraduate degree programmes at Makerere University. The scholarship is administered by waiving off tuition and functional fees ONLY for the duration of study programmes of the scholarship beneficiaries. The applicant must be able to meet other costs by herself (for their feeding, accommodation and other learning necessities required by the University) for the duration of the scholarship and study period.  
The Gender Mainstreaming Directorate is pleased to announce 40 Fees Waiver scholarships for the academic year 2021/2022.  All Programmes in the 10 Colleges of Makerere University are eligible for this scholarship support and each College has four slots.
Eligibility
Scholarship applicants should meet the following criteria:
Should be female of Ugandan Nationality
Should be a first-year student admitted at Makerere University Main Campus for the academic year 2021/2022 under the Direct Entry Scheme, i.e. from A level
Should be from a genuinely disadvantaged socio-economic background.
Should not have been admitted on Uganda Government sponsorship to any public university.
Should not be a beneficiary of any other scholarship e.g. District Scholarship, the Higher Education Students Financing Board (HESFB)
Must be willing to participate in a selection process as shall be determined by the Gender Mainstreaming Directorate Scholarship Committee
Female students with disabilities are encouraged to apply.
An application shall be deemed complete once it contains the following attachments;
Photocopies of 'O' and 'A' level Academic Documents.
Three Passport size photographs of the applicant.
A copy of the applicant's Birth Certificate
In case of deceased parents, copies of death certificate(s)
A hand drawn physical map of the applicant's home/residence with clear directions of how to get to that home or residence from the nearest main road (indicate approximate distances in kilometres).
A copy of the admission letter to Makerere University.
A copy of 'A' Level fees payment slips for at least two terms
Interested and eligible applicants can download the application form from our website: www.gendermainstreaming.mak.ac.ug
OR pick an application form in Room 402 Senate Building, Level 4, Gender Mainstreaming Directorate. The deadline is Friday, 28th January 2022 at 5:00 pm.
NOTE:  Only shortlisted applicants will be contacted.
Euzobia Mugisha Baine (PhD)
DIRECTOR