Management Recognises Outgoing Members at Last Meeting of 2021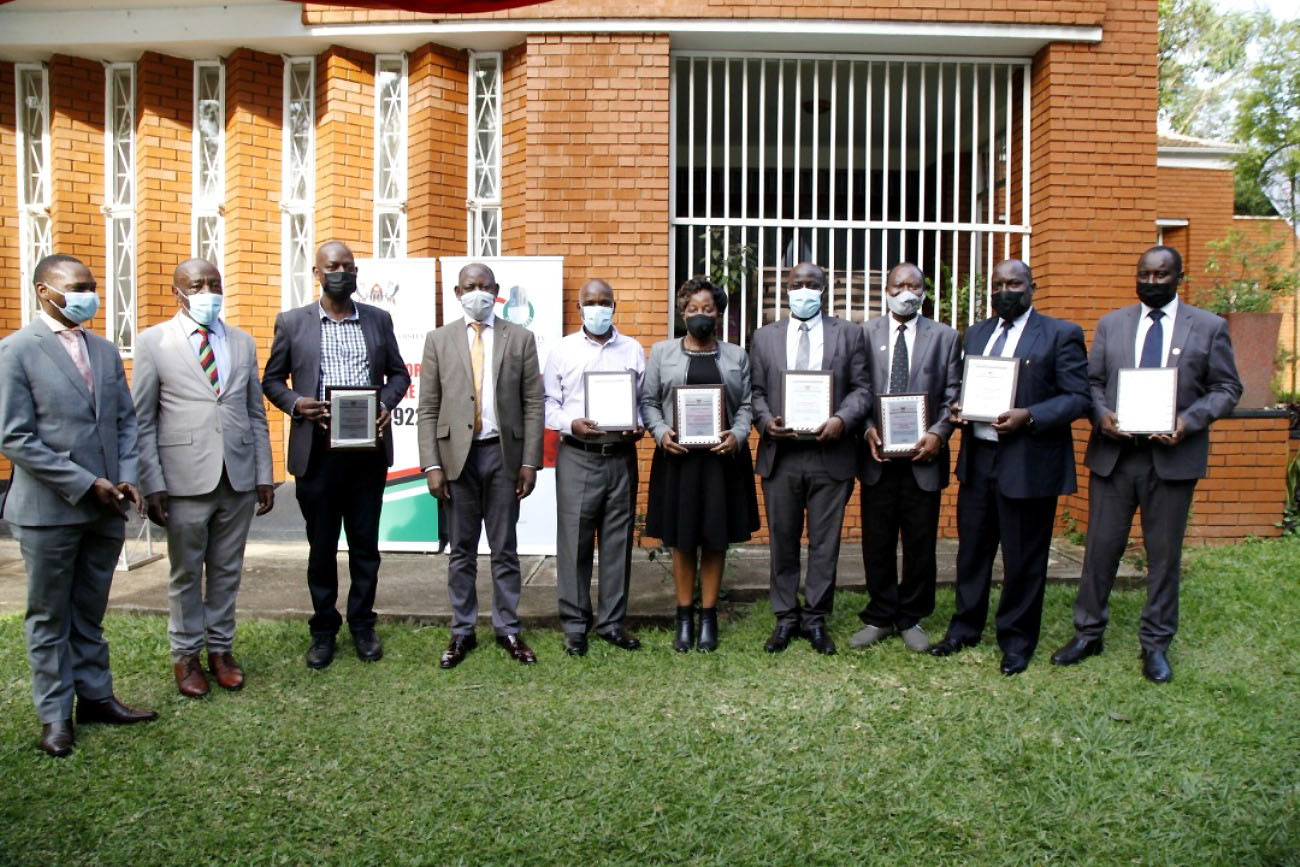 The University Management on 22nd December 2021 held its last meeting to take stock of the year and paint a picture of what 2022 holds. The special session held at the Vice Chancellor's Lodge was also an opportunity to unwind in the lush green garden setting and recognise Members who had served their terms of office.
Welcoming his guests, the host, Prof. Barnabas Nawangwe thanked Members of Management and Staff present for honouring the invitation to attend the last meeting. Singling out the aspect of community engagement, the Vice Chancellor thanked all heads of Academic and Administrative units for taking the University to the community through impactful programmes.
"The Infectious Diseases Institute alone supports approximately 30% of People Living With HIV/AIDS in Uganda through various programmes" added the Vice Chancellor.
Turning to partnerships, the Vice Chancellor applauded the staff, noting that this was one of the main avenues through which the University's research output was being fostered.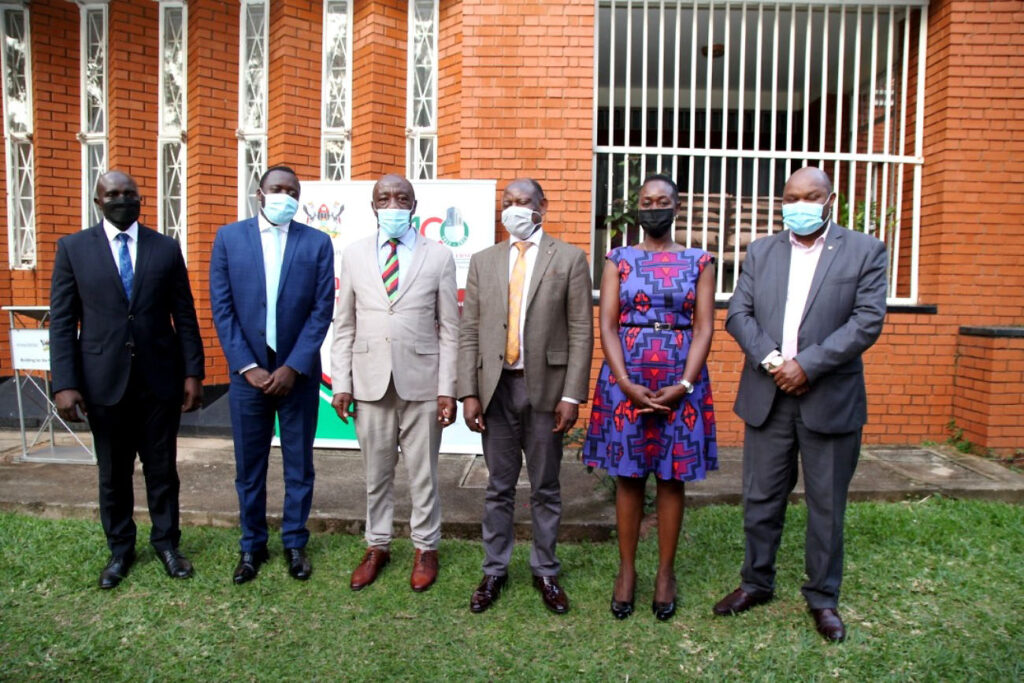 "I have signed more than 100 partnership agreements since July this year and we have more than 2,000 MoUs with Universities from all over the world, with ranking agencies placing our staff at the top globally in terms of co-publishing with staff in other universities" added the Vice Chancellor to applause from the audience.
He thanked all staff for ensuring a harmonious work environment at all levels, which had enabled them to be more productive. At the end of his remarks, the Vice Chancellor requested all present to observe a moment of silence in recognition of all colleagues who had passed on during the year.
In his remarks, the Deputy Vice Chancellor Academic Affairs (DVCAA), Dr. Umar Kakumba acknowledged that although 2021 had been a tough year, especially due to COVID-19, it was right and fitting to give thanks to the Almighty God who had seen us through various challenges.
He nevertheless acknowledged that a lot had been achieved in terms of productivity. "COVID-19 pushed us to explore our full potential and our staff have have been at the forefront of various scientific committees in the Government's fight against COVID-19" he said.
Furthermore, the DVCAA informed the meeting that the University Council had successfully passed 79 academic programmes, with approximately 20% being new Masters while the rest had undergone review. "I wish to assure members that these are quality programmes with a lot of value addition from our partners."
He added that the ability of the University to sustain operations despite disruptions caused by COVID-19 had resulted in continued confidence in our academic system. In this regard, he thanked Members of the University Senate for acting fast to make adjustments that enabled students to do internship using innovative ways, as well as coming up with alternative modes of assessment.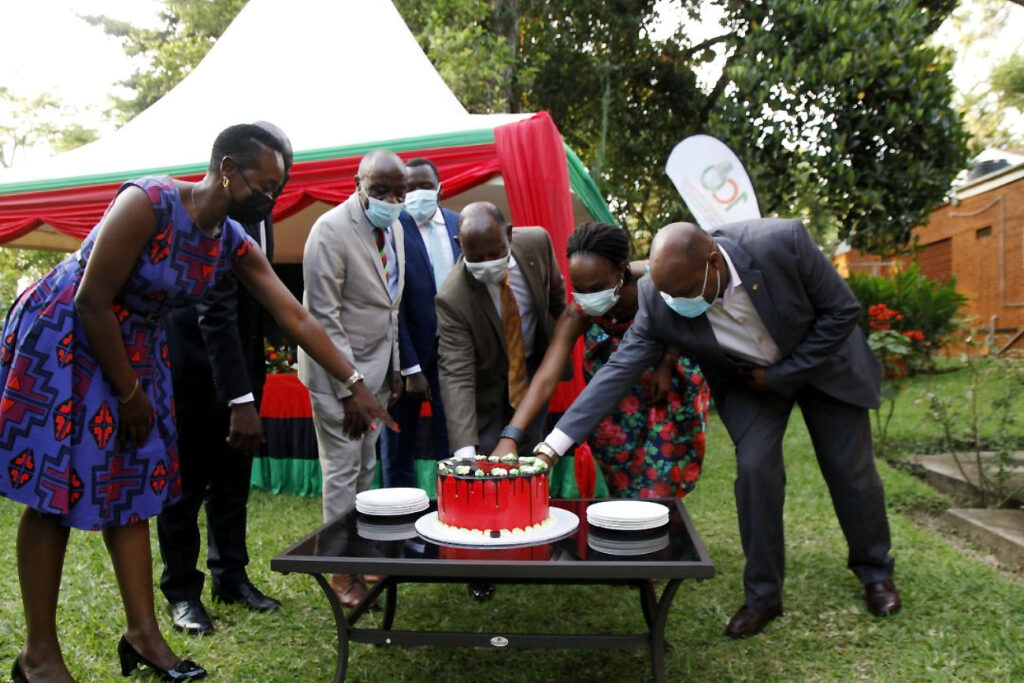 In his remarks, the Acting Deputy Vice Chancellor (Finance and Administration), Prof. Henry Alinaitwe reminded the audience that COVID-19 is still with us and urged members to remain cautious and lead by example by always wearing their masks.
He encouraged Members of Management to stay abreast of all procedures as outlined in the Organisational Manual so as to ensure efficiency in the operating environment. Furthermore, he urged staff to be more frugal with resources in light of budget cuts by the Government to all Ministries, Departments and Agencies (MDAs).
On the infrastructure front, Prof. Alinaitwe noted that although a lot of the establishments were very old, projects such as the construction of the School of Law Building and the reconstruction of Main Building were underway and in the final preparatory stages respectively.
"I thank the Vice Chancellor for spearheading the mobilisation of funds for reconstruction of the Main Building and urge members of the Makerere University community to be patient with the disruptions that the works may cause" added Prof. Alinaitwe.
Other remarks of the day came from the University Secretary, Mr. Yusuf Kiranda who paid tribute to all the unsung heroes whose hard work guarantees that payment of salaries and other obligations are executed timely. He expressed hope that coming online of more systems such as electronic Human Resource Management System (e-HRMS) would help reduce the paper trail and improve efficiency.
The Director Makerere University Jinja Campus (MUJC), Prof. J.B. Nyakaana thanked the University Management and Staff for all the support accorded to the Centre but called for more inputs to make MUJC even more vibrant. The Director, Directorate of Research and Graduate Training (DRGT), Prof. Buyinza Mukadasi thanked the University Council and Management for continuing to build an enabling environment for research to thrive.
Prof. Buyinza noted that as the University continues to march towards its ten-year strategic direction of being more research led, there was need to renew commitment to hit the 5,000 Graduate Students by 2025 target. "Partners in the Global North and Global South are looking to Makerere University for mentorship."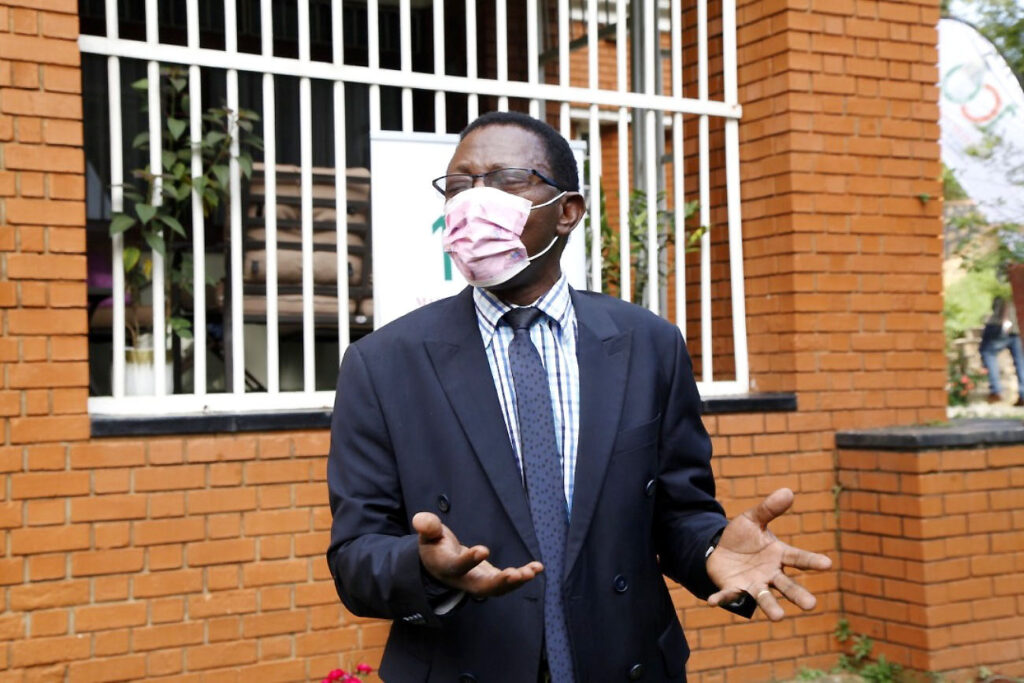 The following leaders were recognised for their service to Makerere University;
Prof. William Bazeyo, Chairperson, Mak-RIF Grants Management Committee
Dr. Josephine Nabukenya, Ag. Deputy Vice Chancellor (Finance and Administration)
Dr. Vincent Ssembatya, Director, Quality Assurance
Prof. Joseph Y.T. Mugisha, Principal, College of Natural Sciences (CoNAS)
Prof. Fred Masagazi Masaazi, Principal, College of Education and External Studies (CEES)
Prof. John David Kabasa, Principal, College of Veterinary Medicine, Animal Resources and Biosecurity (CoVAB)
Prof. Tonny Oyana, Principal, College of Computing and Information Sciences (CoCIS)
Prof. Bernard Bashaasha, Principal, College of Agricultural and Environmental Sciences (CAES)
Dr. Fredrick Jones Muyodi, Deputy Principal, College of Natural Sciences (CoNAS)
Dr. Samuel Majalija, Deputy Principal, College of Veterinary Medicine, Animal Resources and Biosecurity (CoVAB)
Dr. Paul Birevu Muyinda, Deputy Principal, College of Education and External Studies (CEES)
Dr. Gorettie Nsubuga Nabanoga, Deputy Principal, College of Agricultural and Environmental Sciences (CAES)
Dr. Agnes Semwanga Rwashana, Deputy Principal, College of Computing and Information Sciences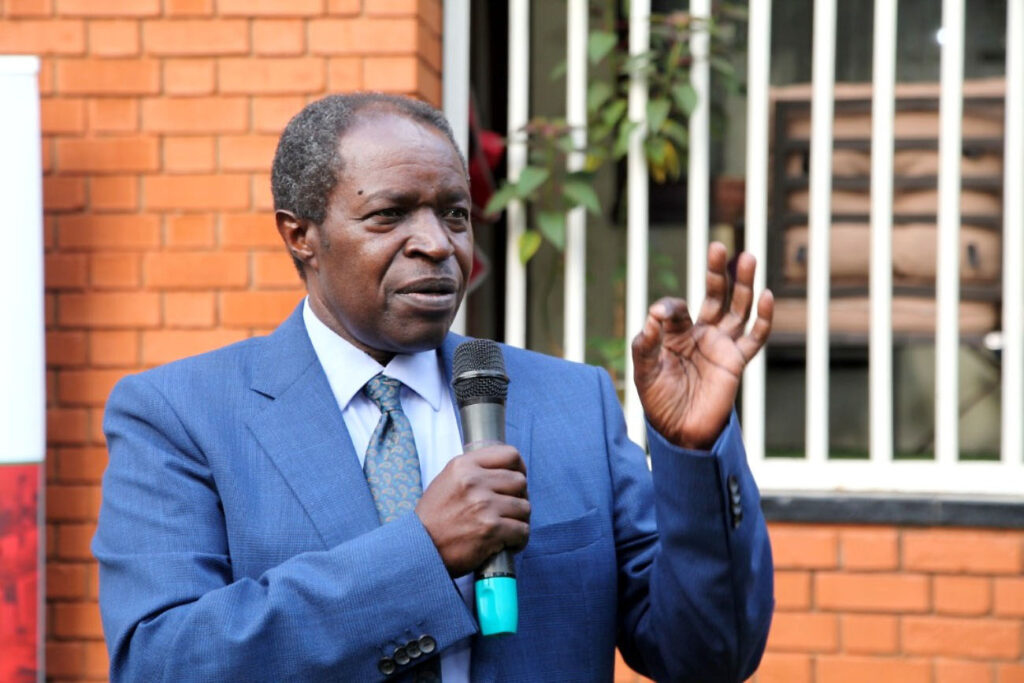 In his acceptance remarks, Prof. Bazeyo who retires from Makerere University service at the end of December 2021 thanked the University Council for appointing him and the Vice Chancellor for the invitation to bid farewell to a team he worked with.
"I started work on 22nd August 1993 and I wish to assure you that the best employer is Makerere University and I can see Makerere becoming a much better employer in the years to come" he reassured.
Prof. Bazeyo who was in November 2021 appointed Chairperson of the Business Processing Outsourcing (BPO) and Innovation Council reiterated his commitment to continue working with Makerere to improve employability of Ugandan graduates.
"We have been appointed to skill graduates from all over the country and the President has given us a target of creating 20,000 jobs within the first 18 months" he explained.
Graduate Admission Lists 2021/22
Admission Lists: Appeals and Re-advert for internationals 2021/2022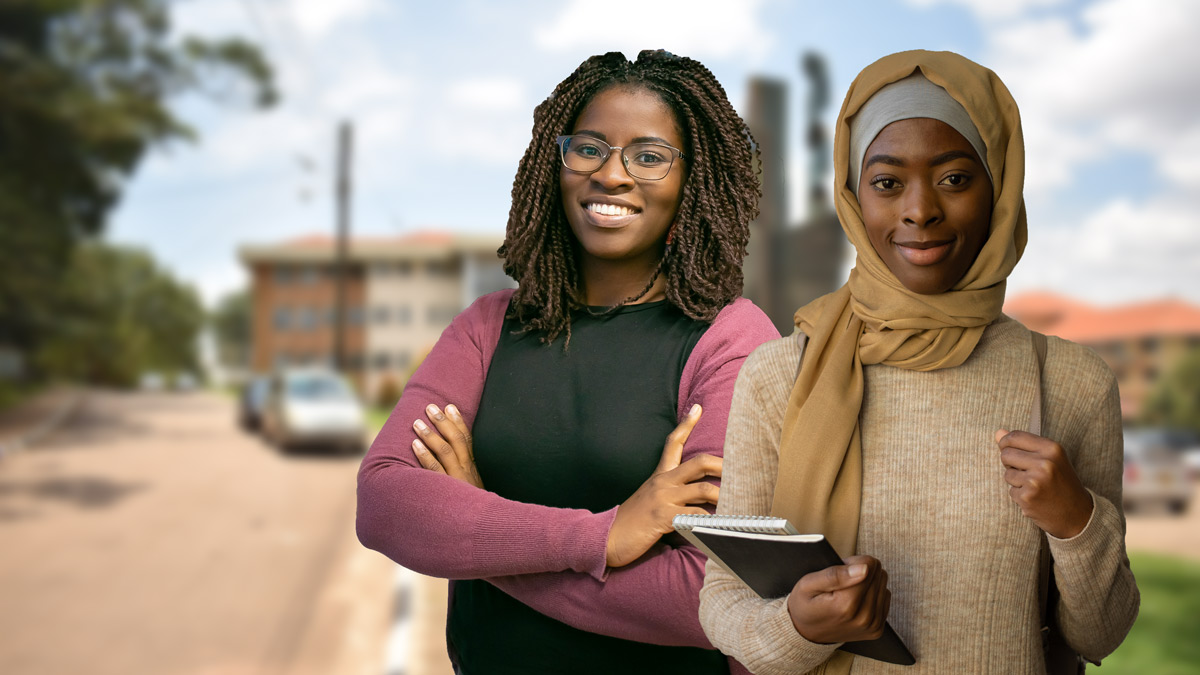 The Office of Academic Registrar, Makerere University has released lists of applicants who appealed and have now been admitted.
The following candidates have been admitted as follows;
MOP-UP Cases (Government)
Index No.                Name                       Sex           Course    Results  
(i)    U0025/667      HANS Murungi      M                       LAW       58          National Merit  
(ii)   U0004/631      AINE Aaron Amanya     M              ELE Sports Scheme
MOP UP Cases (Private Mature Entry Scheme)
NAME                      Sex    Mature results   Pre-entry Results      Programme
ARINAITWE Job    M                70                           55                            LAW (Private)
The lists for the successful appeals for Private Sponsorship Scheme, Re-advert and mop-up for International applicants can be accessed below:
Fees Waiver Scholarships for First Year Female Students for the Academic Year 2021/2022
In 2010 Makerere University established a Fees-Waiver Scholarship Scheme managed by the Gender Mainstreaming Directorate. The Scheme supports academically bright female students from disadvantaged socio-economic backgrounds to study various undergraduate degree programmes at Makerere University. The scholarship is administered by waiving off tuition and functional fees ONLY for the duration of study programmes of the scholarship beneficiaries. The applicant must be able to meet other costs by herself (for their feeding, accommodation and other learning necessities required by the University) for the duration of the scholarship and study period.  
The Gender Mainstreaming Directorate is pleased to announce 40 Fees Waiver scholarships for the academic year 2021/2022.  All Programmes in the 10 Colleges of Makerere University are eligible for this scholarship support and each College has four slots.
Eligibility
Scholarship applicants should meet the following criteria:
Should be female of Ugandan Nationality
Should be a first-year student admitted at Makerere University Main Campus for the academic year 2021/2022 under the Direct Entry Scheme, i.e. from A level
Should be from a genuinely disadvantaged socio-economic background.
Should not have been admitted on Uganda Government sponsorship to any public university.
Should not be a beneficiary of any other scholarship e.g. District Scholarship, the Higher Education Students Financing Board (HESFB)
Must be willing to participate in a selection process as shall be determined by the Gender Mainstreaming Directorate Scholarship Committee
Female students with disabilities are encouraged to apply.
An application shall be deemed complete once it contains the following attachments;
Photocopies of 'O' and 'A' level Academic Documents.
Three Passport size photographs of the applicant.
A copy of the applicant's Birth Certificate
In case of deceased parents, copies of death certificate(s)
A hand drawn physical map of the applicant's home/residence with clear directions of how to get to that home or residence from the nearest main road (indicate approximate distances in kilometres).
A copy of the admission letter to Makerere University.
A copy of 'A' Level fees payment slips for at least two terms
Interested and eligible applicants can download the application form from our website: www.gendermainstreaming.mak.ac.ug
OR pick an application form in Room 402 Senate Building, Level 4, Gender Mainstreaming Directorate. The deadline is Friday, 28th January 2022 at 5:00 pm.
NOTE:  Only shortlisted applicants will be contacted.
Euzobia Mugisha Baine (PhD)
DIRECTOR