Management Recognises Outgoing Members at Last Meeting of 2021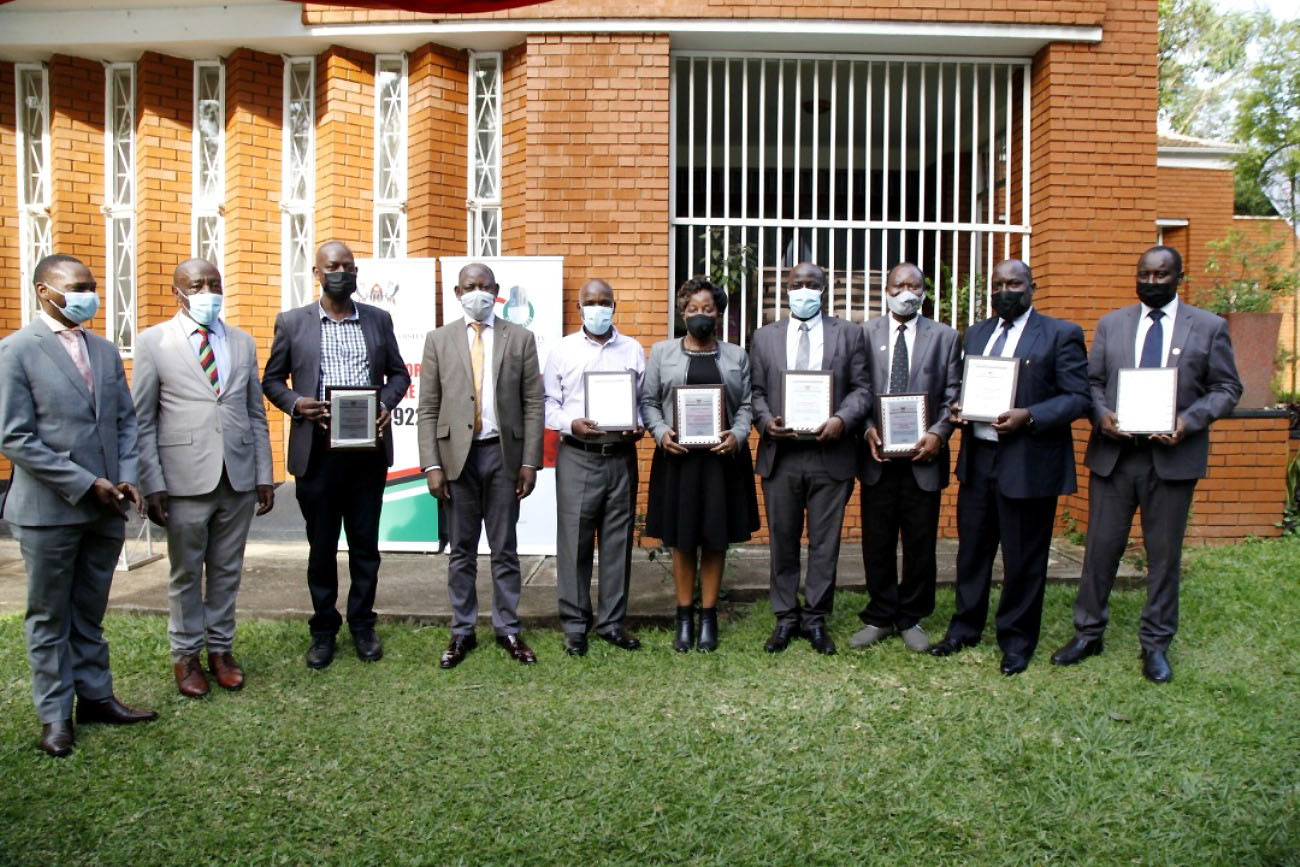 The University Management on 22nd December 2021 held its last meeting to take stock of the year and paint a picture of what 2022 holds. The special session held at the Vice Chancellor's Lodge was also an opportunity to unwind in the lush green garden setting and recognise Members who had served their terms of office.
Welcoming his guests, the host, Prof. Barnabas Nawangwe thanked Members of Management and Staff present for honouring the invitation to attend the last meeting. Singling out the aspect of community engagement, the Vice Chancellor thanked all heads of Academic and Administrative units for taking the University to the community through impactful programmes.
"The Infectious Diseases Institute alone supports approximately 30% of People Living With HIV/AIDS in Uganda through various programmes" added the Vice Chancellor.
Turning to partnerships, the Vice Chancellor applauded the staff, noting that this was one of the main avenues through which the University's research output was being fostered.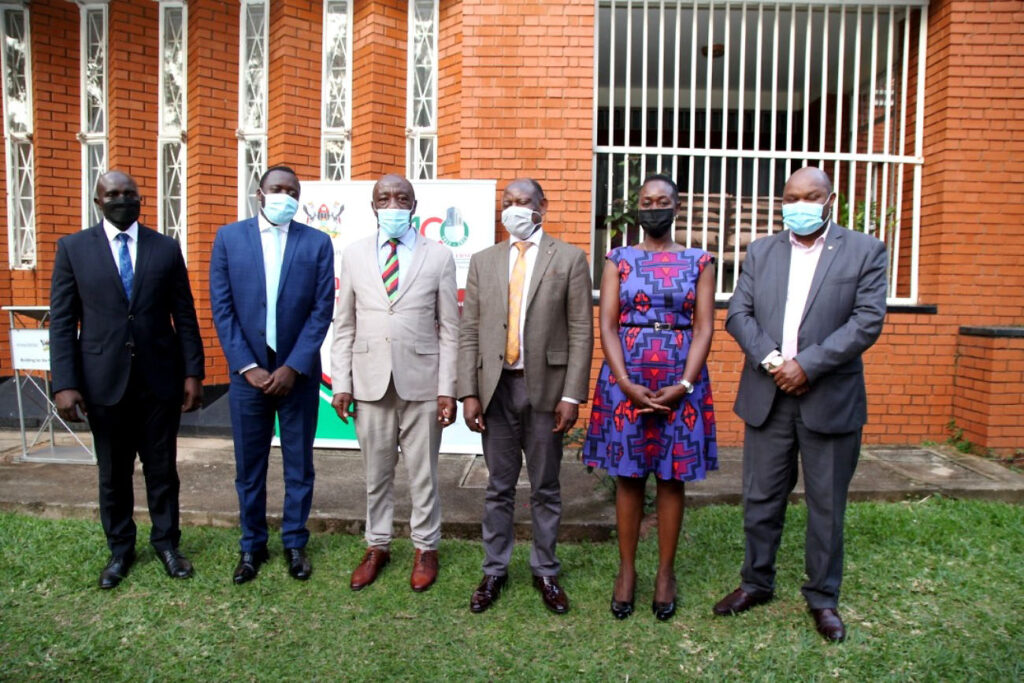 "I have signed more than 100 partnership agreements since July this year and we have more than 2,000 MoUs with Universities from all over the world, with ranking agencies placing our staff at the top globally in terms of co-publishing with staff in other universities" added the Vice Chancellor to applause from the audience.
He thanked all staff for ensuring a harmonious work environment at all levels, which had enabled them to be more productive. At the end of his remarks, the Vice Chancellor requested all present to observe a moment of silence in recognition of all colleagues who had passed on during the year.
In his remarks, the Deputy Vice Chancellor Academic Affairs (DVCAA), Dr. Umar Kakumba acknowledged that although 2021 had been a tough year, especially due to COVID-19, it was right and fitting to give thanks to the Almighty God who had seen us through various challenges.
He nevertheless acknowledged that a lot had been achieved in terms of productivity. "COVID-19 pushed us to explore our full potential and our staff have have been at the forefront of various scientific committees in the Government's fight against COVID-19" he said.
Furthermore, the DVCAA informed the meeting that the University Council had successfully passed 79 academic programmes, with approximately 20% being new Masters while the rest had undergone review. "I wish to assure members that these are quality programmes with a lot of value addition from our partners."
He added that the ability of the University to sustain operations despite disruptions caused by COVID-19 had resulted in continued confidence in our academic system. In this regard, he thanked Members of the University Senate for acting fast to make adjustments that enabled students to do internship using innovative ways, as well as coming up with alternative modes of assessment.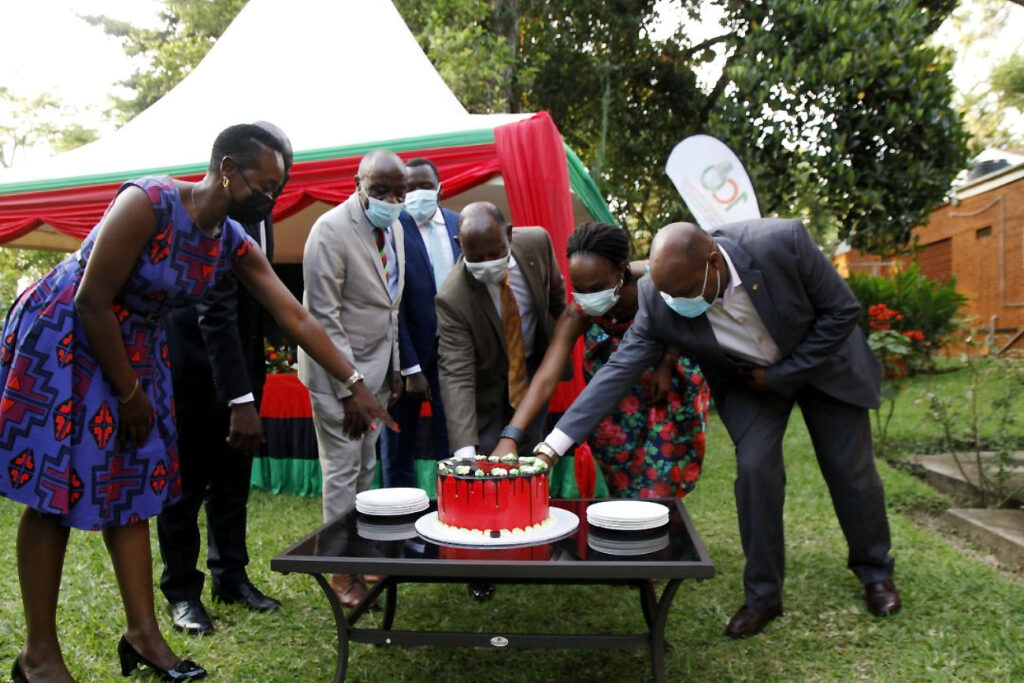 In his remarks, the Acting Deputy Vice Chancellor (Finance and Administration), Prof. Henry Alinaitwe reminded the audience that COVID-19 is still with us and urged members to remain cautious and lead by example by always wearing their masks.
He encouraged Members of Management to stay abreast of all procedures as outlined in the Organisational Manual so as to ensure efficiency in the operating environment. Furthermore, he urged staff to be more frugal with resources in light of budget cuts by the Government to all Ministries, Departments and Agencies (MDAs).
On the infrastructure front, Prof. Alinaitwe noted that although a lot of the establishments were very old, projects such as the construction of the School of Law Building and the reconstruction of Main Building were underway and in the final preparatory stages respectively.
"I thank the Vice Chancellor for spearheading the mobilisation of funds for reconstruction of the Main Building and urge members of the Makerere University community to be patient with the disruptions that the works may cause" added Prof. Alinaitwe.
Other remarks of the day came from the University Secretary, Mr. Yusuf Kiranda who paid tribute to all the unsung heroes whose hard work guarantees that payment of salaries and other obligations are executed timely. He expressed hope that coming online of more systems such as electronic Human Resource Management System (e-HRMS) would help reduce the paper trail and improve efficiency.
The Director Makerere University Jinja Campus (MUJC), Prof. J.B. Nyakaana thanked the University Management and Staff for all the support accorded to the Centre but called for more inputs to make MUJC even more vibrant. The Director, Directorate of Research and Graduate Training (DRGT), Prof. Buyinza Mukadasi thanked the University Council and Management for continuing to build an enabling environment for research to thrive.
Prof. Buyinza noted that as the University continues to march towards its ten-year strategic direction of being more research led, there was need to renew commitment to hit the 5,000 Graduate Students by 2025 target. "Partners in the Global North and Global South are looking to Makerere University for mentorship."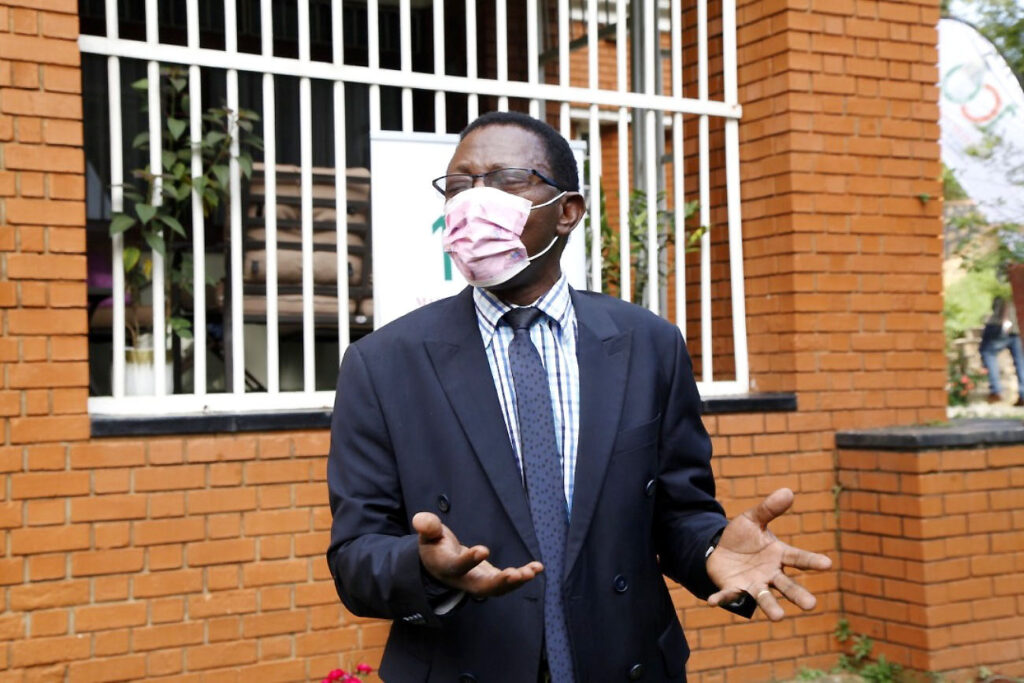 The following leaders were recognised for their service to Makerere University;
Prof. William Bazeyo, Chairperson, Mak-RIF Grants Management Committee
Dr. Josephine Nabukenya, Ag. Deputy Vice Chancellor (Finance and Administration)
Dr. Vincent Ssembatya, Director, Quality Assurance
Prof. Joseph Y.T. Mugisha, Principal, College of Natural Sciences (CoNAS)
Prof. Fred Masagazi Masaazi, Principal, College of Education and External Studies (CEES)
Prof. John David Kabasa, Principal, College of Veterinary Medicine, Animal Resources and Biosecurity (CoVAB)
Prof. Tonny Oyana, Principal, College of Computing and Information Sciences (CoCIS)
Prof. Bernard Bashaasha, Principal, College of Agricultural and Environmental Sciences (CAES)
Dr. Fredrick Jones Muyodi, Deputy Principal, College of Natural Sciences (CoNAS)
Dr. Samuel Majalija, Deputy Principal, College of Veterinary Medicine, Animal Resources and Biosecurity (CoVAB)
Dr. Paul Birevu Muyinda, Deputy Principal, College of Education and External Studies (CEES)
Dr. Gorettie Nsubuga Nabanoga, Deputy Principal, College of Agricultural and Environmental Sciences (CAES)
Dr. Agnes Semwanga Rwashana, Deputy Principal, College of Computing and Information Sciences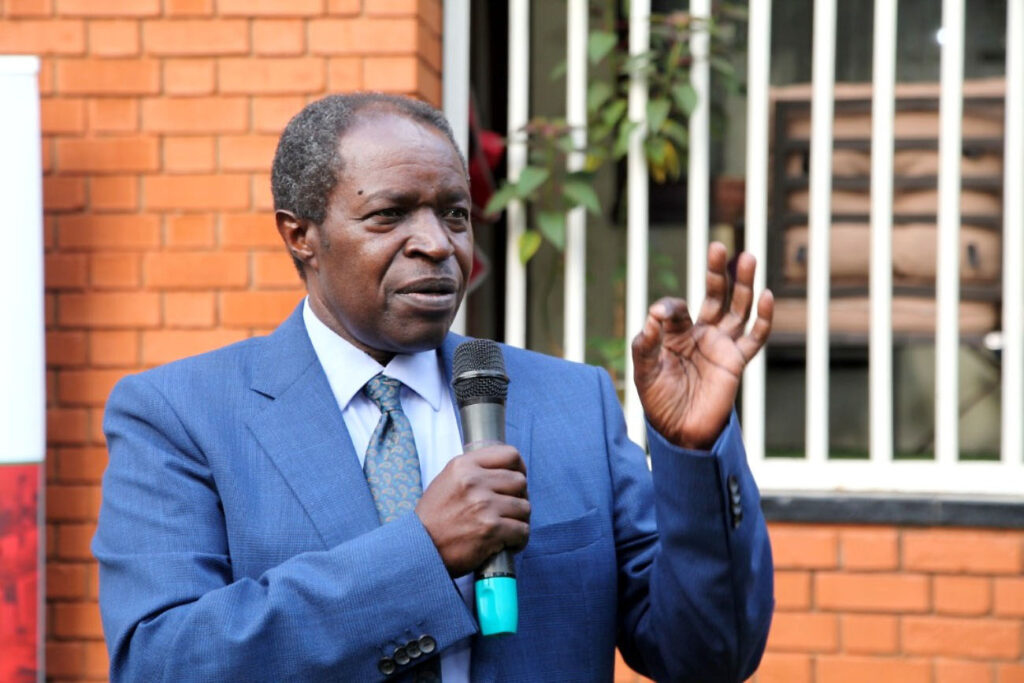 In his acceptance remarks, Prof. Bazeyo who retires from Makerere University service at the end of December 2021 thanked the University Council for appointing him and the Vice Chancellor for the invitation to bid farewell to a team he worked with.
"I started work on 22nd August 1993 and I wish to assure you that the best employer is Makerere University and I can see Makerere becoming a much better employer in the years to come" he reassured.
Prof. Bazeyo who was in November 2021 appointed Chairperson of the Business Processing Outsourcing (BPO) and Innovation Council reiterated his commitment to continue working with Makerere to improve employability of Ugandan graduates.
"We have been appointed to skill graduates from all over the country and the President has given us a target of creating 20,000 jobs within the first 18 months" he explained.
A Successful Ph.D. Defense by Vianney Andrew Yiga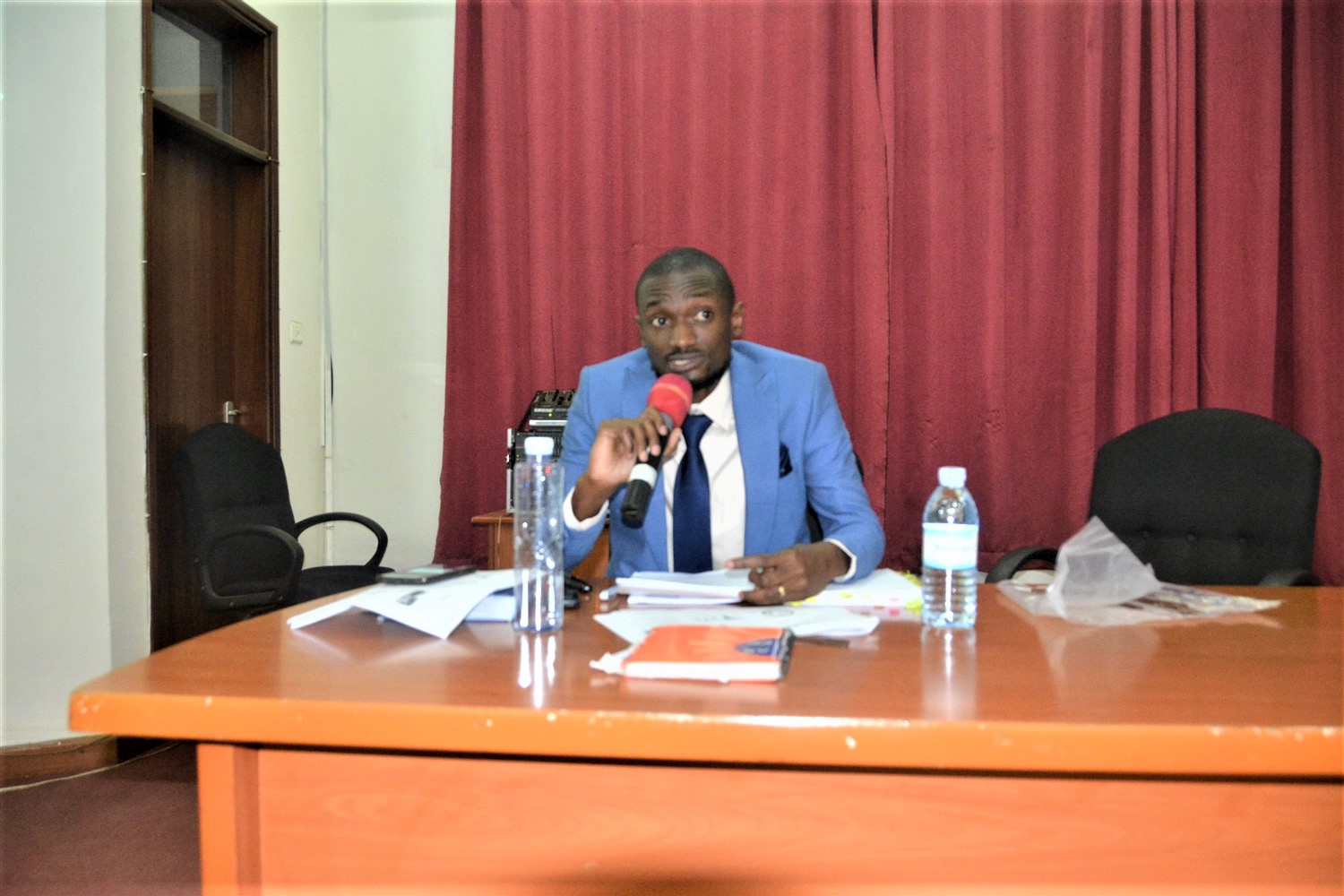 The CEDAT community is proud to share our congratulations to Vianney Andrew Yiga following his successful Ph.D. defense that happened yesterday Monday 3rd October 2022 at the College of Engineering, Design, Art, and Technology (CEDAT).
His Thesis was titled; Thermal Stability of Fiber- Reinforced Polylactic Acid Composites for Flameretarded Applications.
The candidate was supervised by Eng. Dr. Michael Lubwama and Eng. Dr. Peter W. Olupot both from the Department of Mechanical Engineering, at CEDAT.
Dr. John Wasswa, Department of Chemistry, College of Natural Sciences (CONAS), Makerere University was the opponent that interrogated the candidate to enable a clear understanding of the study.
Makerere University Launches National Parenting Draft Manual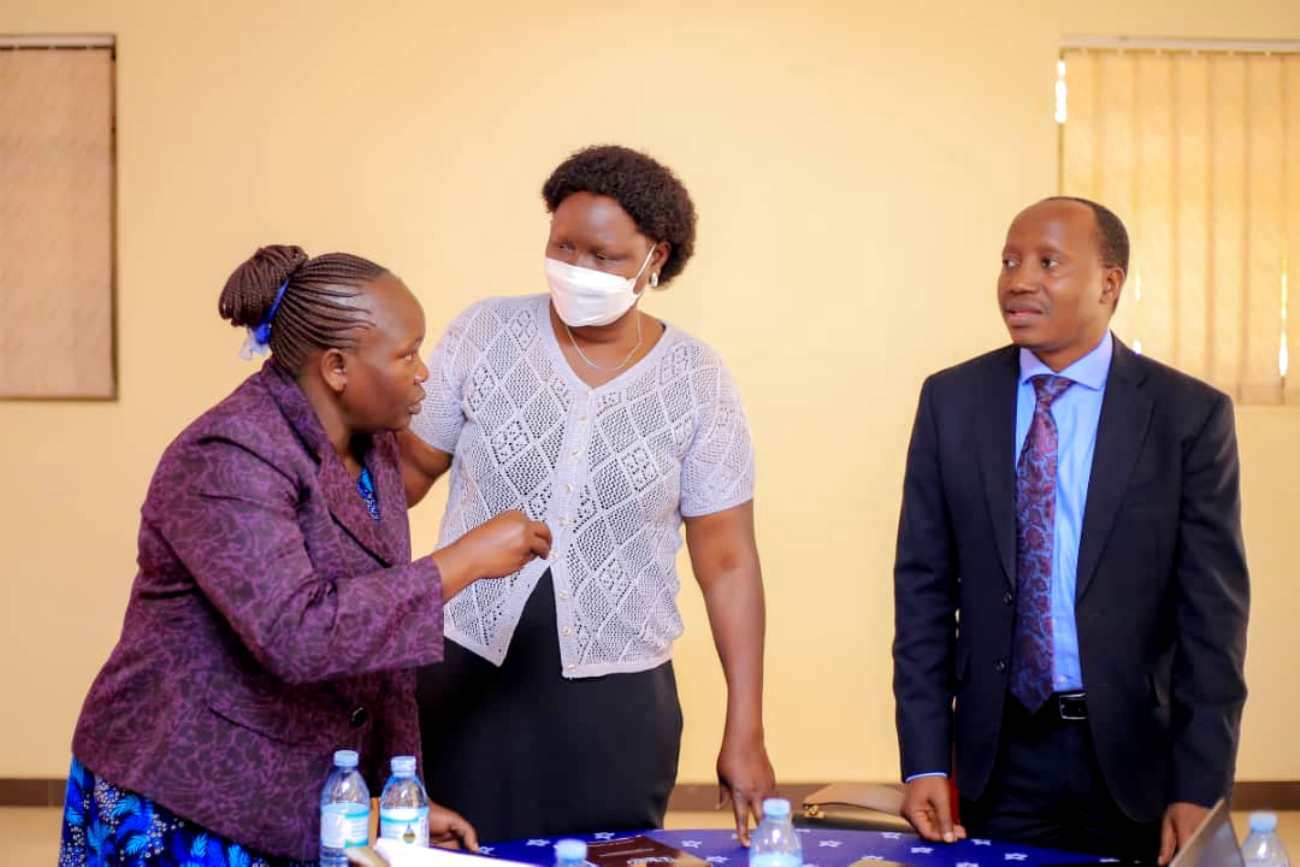 By Agnes Namaganda
On July 22nd 2022, Makerere University–Child Health and Development Centre (Mak–CHDC) launched a draft manual for the National Parenting Standards. The Centre has been working together with the Ministry of Gender, Labour and Social Development (MGLSD) with funding from UNICEF (United Nations Children's Emergency Fund), to develop standards that are agreeable to all organisations in the country that are involved in parenting work. The draft manual was being presented to members of a consortium that brings together all these organisations together, called the Parenting Agenda Consortium.
"We produce many documents and they are shelved," Irene Ayot Chono, who was speaking on behalf of UNICEF said. "We hope that this document will not be one of them," she emphasized.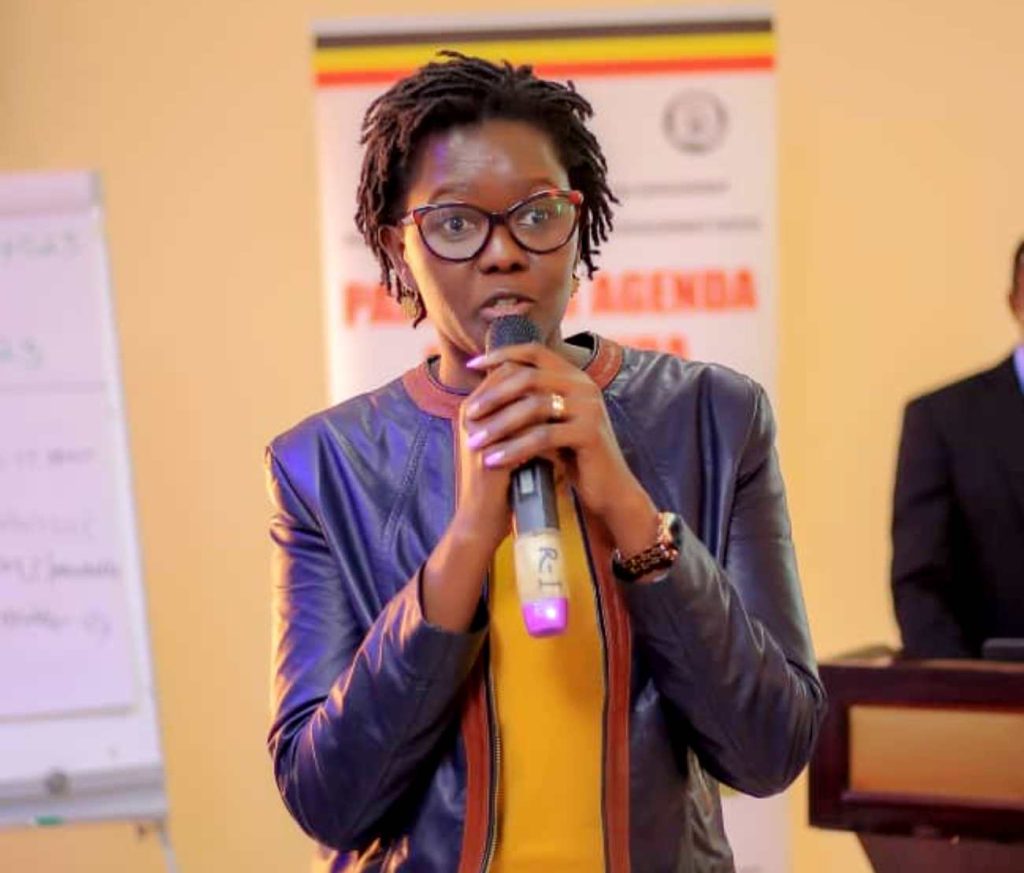 Dr. Godfrey Siu, the Principal Investigator from Mak-CHDC who presented the draft manual to participants, emphasized that if any organization is doing parenting work, there should be a minimum package that they should offer.
Draft Manual Content
The manual which will have several modules. These modules will be delivered face-to-face in 1.5 hour sessions. Some of these include; Module 6 which will focus on "understanding responsible masculinity and fatherhood" and on "understanding the concept of head of family."The draft manual also proposed that Module 11 focuses on Parenting in the 21st Century. Some of the sessions in this module will include Children and Technology, Contemporary Influence on Children and Modernity, Culture and Morality.Module 9 will focus on Parenting for Adolescents and some of the suggested sessions within this module are Needs for Adolescents and The Art of Communicating with Adolescents. Module 5 will focus on Preventing Violent Parenting and Promoting Alternative Discipline Strategies while Module 10 will be about Parenting to Address the Mental Health for Children and Adults.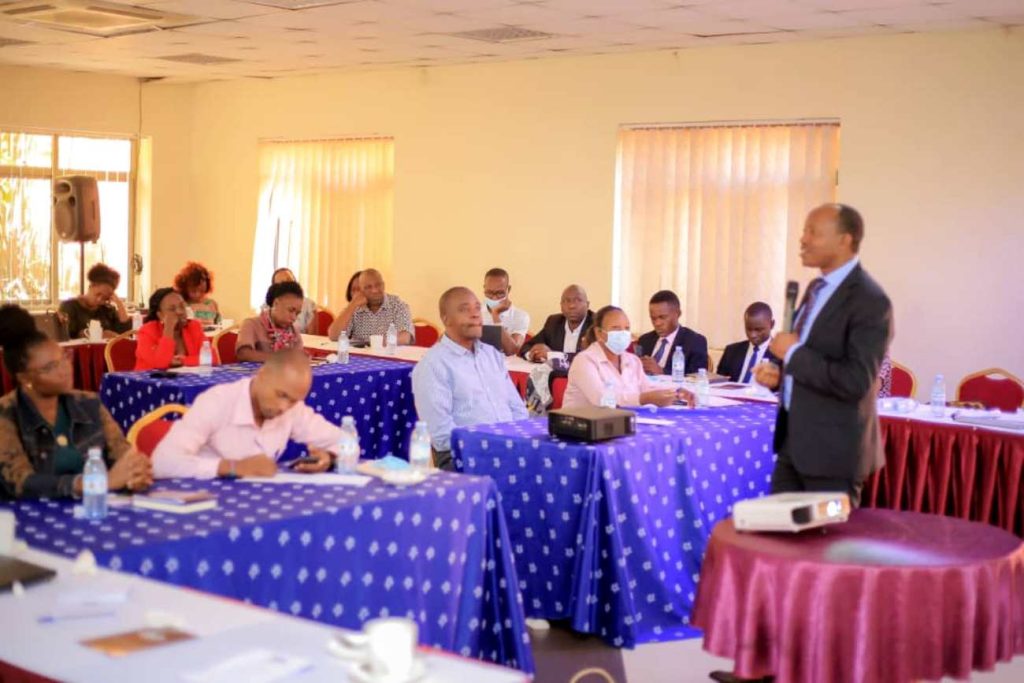 Participants' suggestions
After the presentation, participants raised several suggestions for discussion and consideration. These included whether there should be a module on spirituality since Uganda is a strongly religious nation. There was also the concern of how children in remand homes should be parented. Another concern raised by a participant was as to whether teachers who make an undeniable contribution to parenting, should be taken through the parenting manual.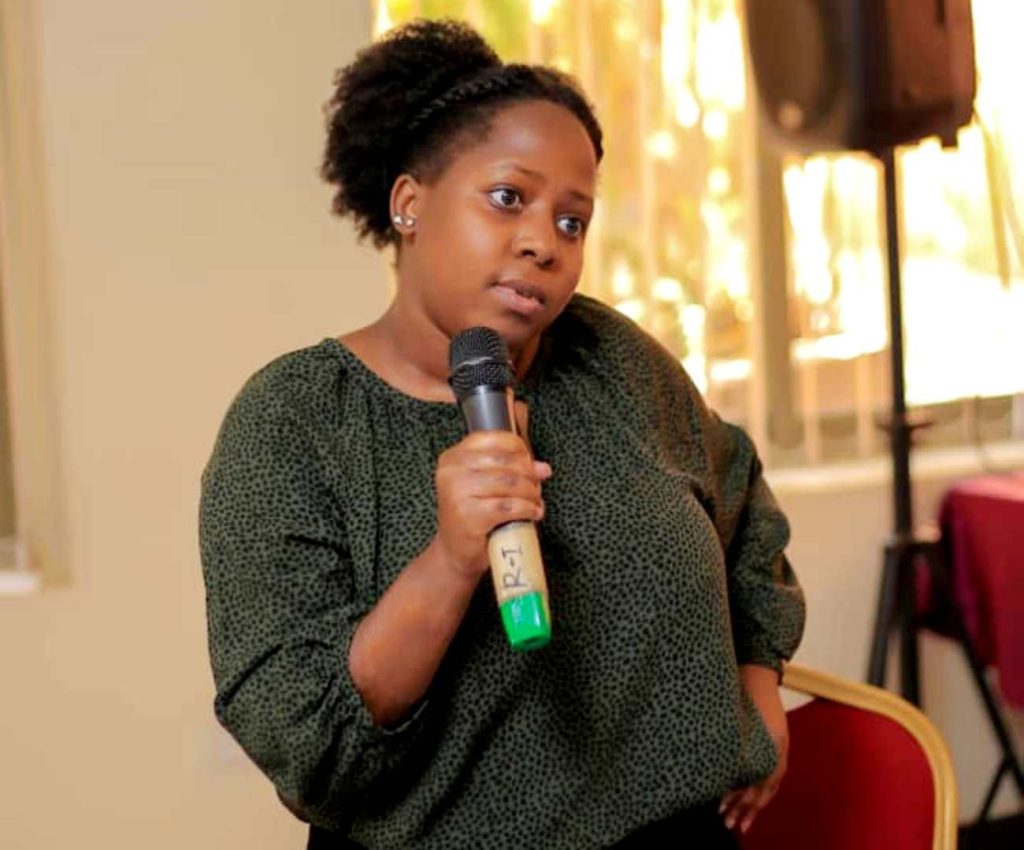 In her closing remarks, Ms. Juliana Naumo Akoryo, the Director of Cultural Affairs at the Ministry of Gender, Labour and Social Development (MGLSD) said that the manual is for the parenting organisations to utilize and not for MGLSD.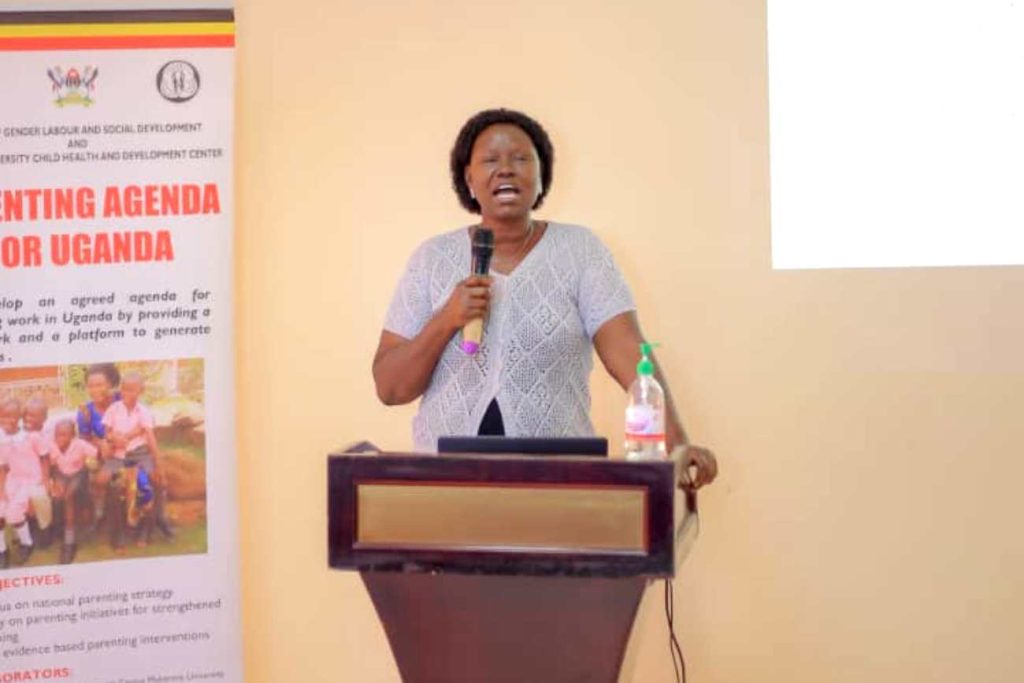 Ms. Chono also adjured the team behind the manual to use picture illustrations in the manual that can be relatable by the Ugandan parents.
Contact: Agnes Namaganda – agnesvioletnamaganda@gmail.com
Launch of Mak-RIF Round 4 Awards & PhD Call for Proposals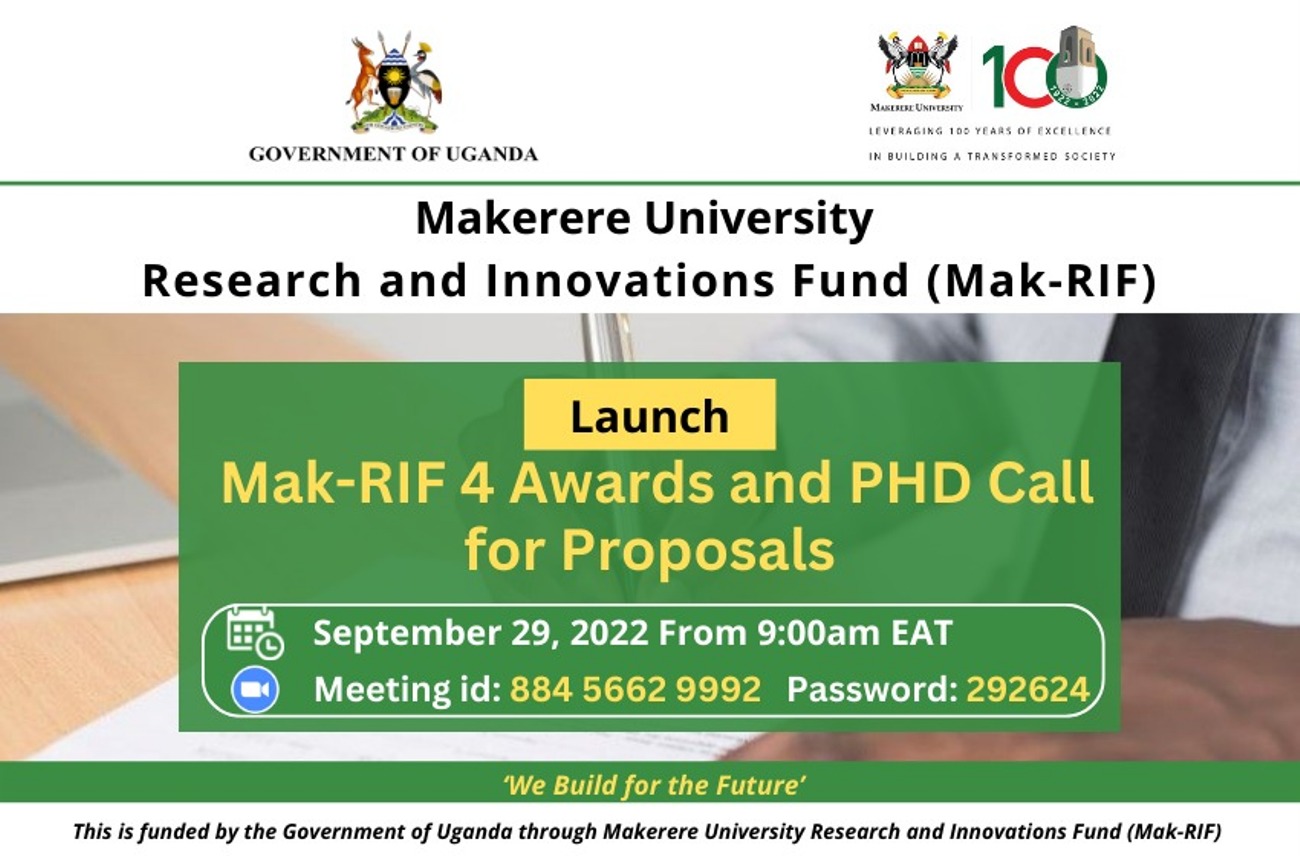 Makerere University received funding from the Government of the Republic of Uganda, earmarked to support high impact Research and Innovations. This unique initiative arose after engagements between the top University Management and the Government of Uganda. This fund illustrates the increasing importance that the Government attaches to Research and Innovation as a driver of development and transformation. The objective of the fund is to increase the local generation of translatable research and scalable innovations that address key gaps required to drive Uganda's development agenda. 
In the Financial years 2019/2020, 2020/2021 and 2021/2022 the Government of the Republic of Uganda through Mak-RIF has funded implementation of over 750 multidisciplinary research and innovations within the various Colleges, while engaging multiple stakeholders within and outside Makerere University. The Grants Management Committee (GMC) has finalized the award process for the Mak-RIF round 4 call for funding for this Financial Year 2022/2023.
The Grants Management Committee (GMC) hereby invites you to the Launch of the Mak-RIF Round 4 awards and PhD Call for Proposals scheduled to take place tomorrow Thursday 29th September 2022 from 9:00 to 10:00 a.m. EAT. 
Please use the following details to join the launch.
Register in advance for this meeting:
https://us06web.zoom.us/meeting/register/tZwpcu-urDIjE9ZgxdsbEmA2IkNMMiJVECt_ 
Meeting ID: 884 5662 9992
Password: 292624