Mak Launches Project to Aid Remote Health Facilities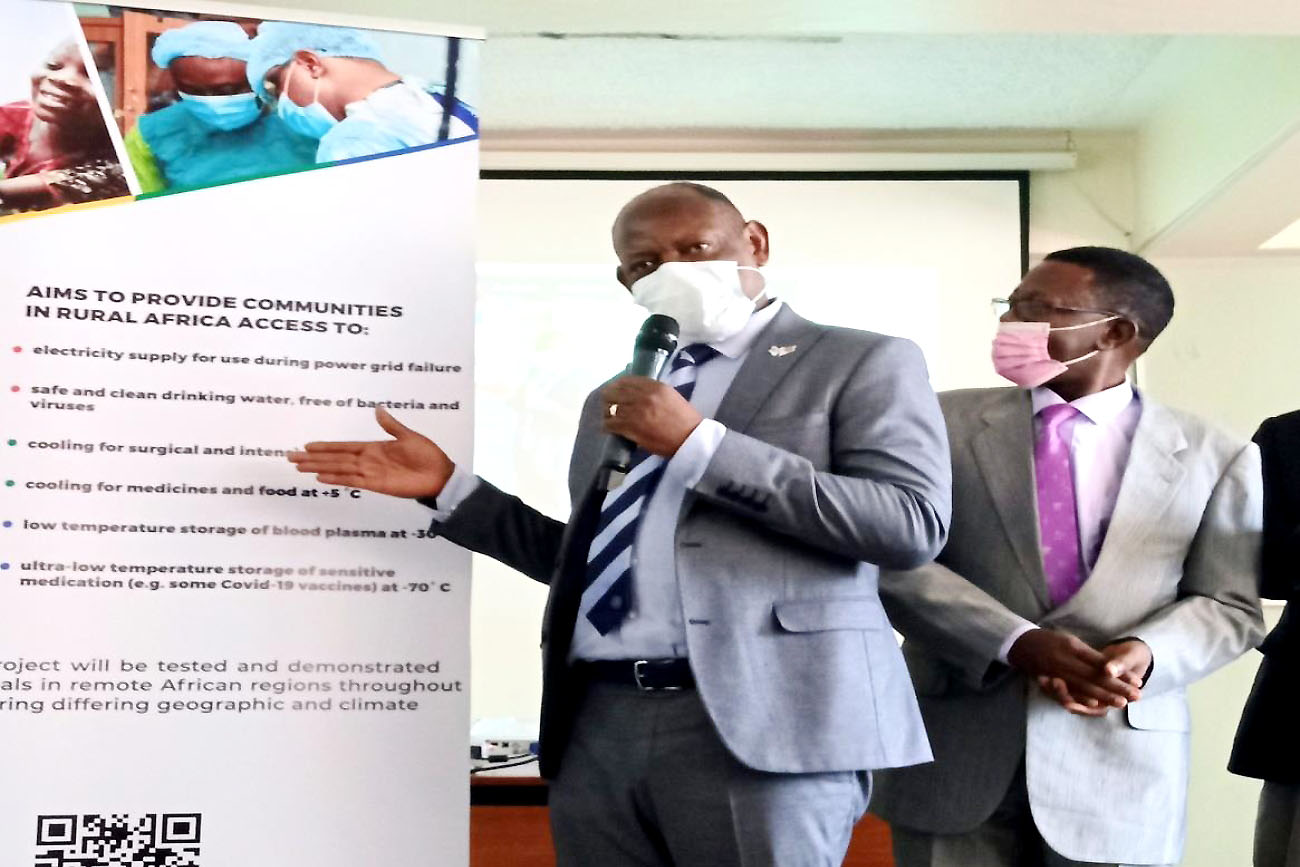 Makerere University on 8th December 2021 officially unveiled an African project to Benefit Health Facilities across the continent. The Project is called sustainable Off-grid solutions for Pharmacies and Hospitals in Africa (SophiA).
The launch was presided over by the Vice Chancellor of Makerere University Professor Barnabas Nawangwe. The SophiA project will benefit both Makerere and the Health system in remote parts of the country by granting access to off-grid carbon-neutral electricity, heating and cooling of food and medicines, storage of vaccines up to -70°C as well as access to safe and clean drinking water.
Makerere is partnering with 13 organizations across Europe and Africa in the project funded by the European Union to ensure extended support to Health Centre Fours (HC IVs) across four African countries. It will be a 4-year multi-disciplinary project with activities in Burkina Faso, Cameroon, Malawi, and Uganda.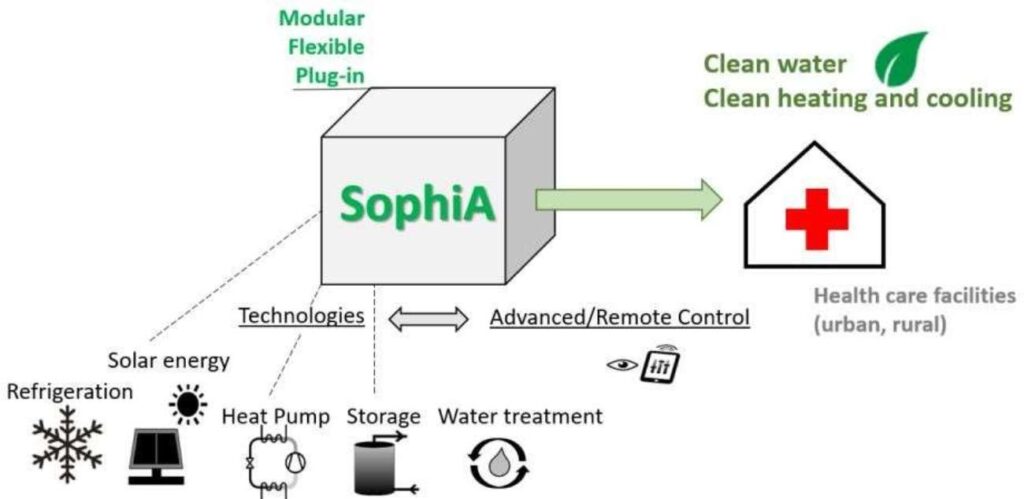 Makerere University will take the lead in two of the project's nine work packages. Work Package 1 (WP 1) is aimed at assessing the needs of several health facilities in the above mentioned countries in order to identify and match in each country ONE most significant and suitable health facility. The facility, which must be located in a rural remote region of the country will then be served by a SophiA system on a pilot basis.
Makerere will also take the lead in work package 7 (WP 7), which will investigate the environmental, economic, and social aspects to demonstrate the benefits of SophiA solutions.
During the launch, Vice Chancellor congratulated the team upon winning the grant adding that it is projects of this nature that will help Makerere implement its new strategic plan.
"First of all, I want to congratulate the team of Dr. Kiggundu, Dr. Bimbona, and Dr. Muhangi upon winning this grant. Makerere has a strategic plan which seeks to make the University even more research-intensive and we are only going to succeed in that if we have got the requisite human resource that not only applies for and wins grants but also does the research and disseminates the findings". Prof Nawangwe stated.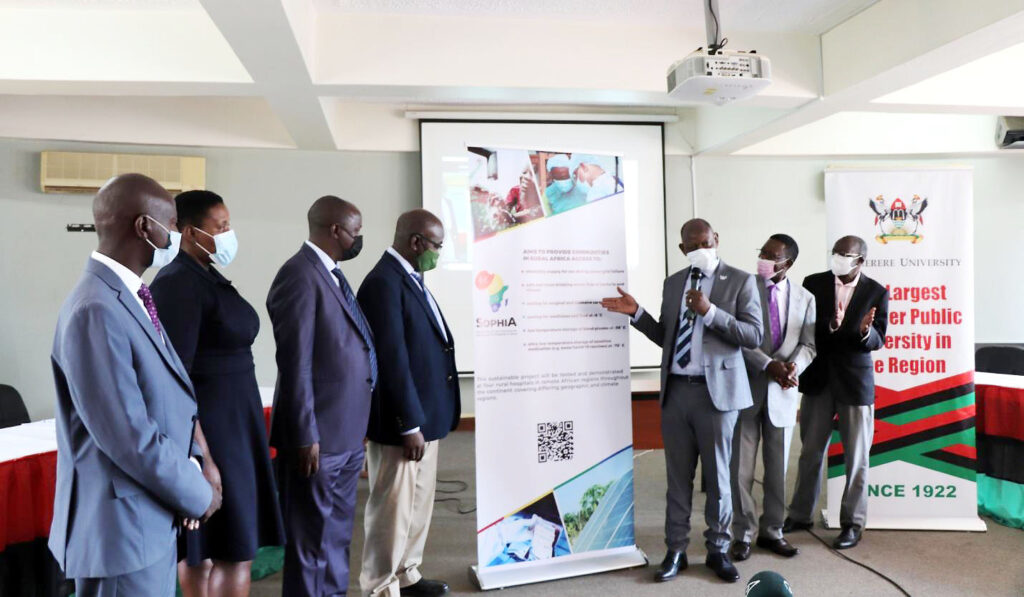 "This is a very good example of the capacity built by Makerere University over the years to improve its capacity in doing research and also wining grants. At the moment more than 50% of all the money for research that is coming into Makerere is either by individual researchers or groups of researchers or consortia like the one we are seeing here. I therefore want to believe that Makerere has really has reached the capacity of doing research of the highest standard with big grants won competitively at an international level and I want to congratulate you once again" the Vice Chancellor added.
In the same spirit, Professor Nawangwe acknowledged the European Union for considering Makerere's application for the grant and supporting the University in the implementation of the project. He also applauded the researchers and their partners for joining efforts to see that this project is a success.
"I thank the European Union for the grant, as well as the other partners of the project and all researchers for their efforts. It's now my honor to launch the SophiA project." Professor Nawangwe said.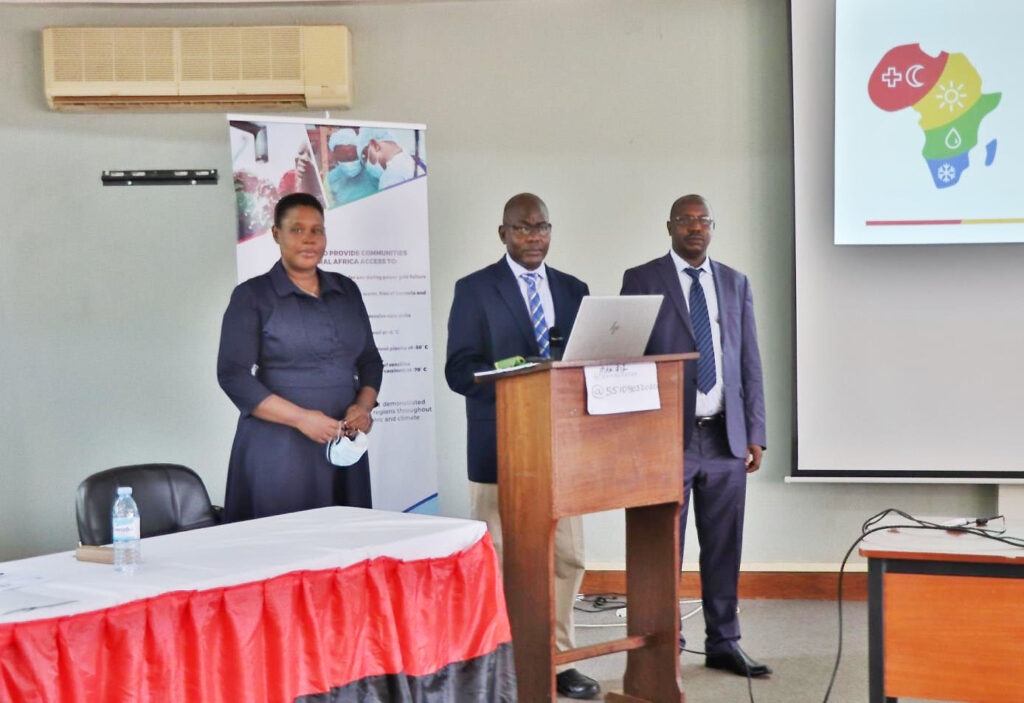 Dr. Nicholas Kiggundu the project team leader from the Department of Agricultural and Bio systems Engineering, College of Agricultural and Environmental Sciences (CAES) made it clear that the project will focus on four major areas including availing electricity to health facilities, preservation of medicine, water purification and improving hospital room temperatures.
"You may have heard in the past that Uganda might not get certain vaccines for COVID-19 because most of our facilities don't store such vaccines, so this project will restore that possibility. We have a challenge of purified water whereby when you go to the hospital and are given some medicine to swallow but the water is not safe. And so we shall be able to purify water in a sustainable and environmentally friendly way without mixing the chemicals such as chlorine. We shall also make sure that the rooms in the hospital are cool". Dr. Kiggundu said.
Dr. Denis Muhangi from the Department of Social Work and Social Administration, College of Humanities and Social Sciences (CHUSS) noted that this project will be multidisciplinary so as to find comprehensive solutions for health challenges in Uganda.
"If this project provides refrigeration to the health centres in remote parts of the country, solar energy, as well as all these water treatment and safe storage facilities, we will for sure have solved the bulk of challenges facing health centres in this country." Dr. Muhangi said.
Graduate Admission Lists 2021/22
Admission Lists: Appeals and Re-advert for internationals 2021/2022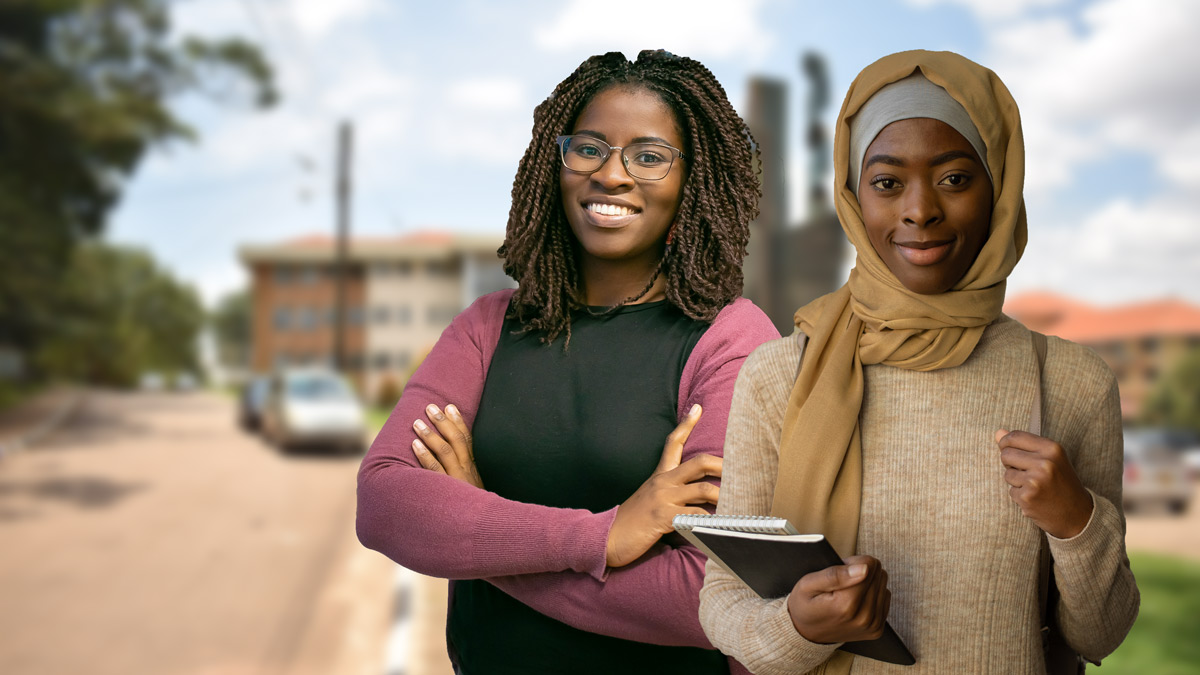 The Office of Academic Registrar, Makerere University has released lists of applicants who appealed and have now been admitted.
The following candidates have been admitted as follows;
MOP-UP Cases (Government)
Index No.                Name                       Sex           Course    Results  
(i)    U0025/667      HANS Murungi      M                       LAW       58          National Merit  
(ii)   U0004/631      AINE Aaron Amanya     M              ELE Sports Scheme
MOP UP Cases (Private Mature Entry Scheme)
NAME                      Sex    Mature results   Pre-entry Results      Programme
ARINAITWE Job    M                70                           55                            LAW (Private)
The lists for the successful appeals for Private Sponsorship Scheme, Re-advert and mop-up for International applicants can be accessed below:
Fees Waiver Scholarships for First Year Female Students for the Academic Year 2021/2022
In 2010 Makerere University established a Fees-Waiver Scholarship Scheme managed by the Gender Mainstreaming Directorate. The Scheme supports academically bright female students from disadvantaged socio-economic backgrounds to study various undergraduate degree programmes at Makerere University. The scholarship is administered by waiving off tuition and functional fees ONLY for the duration of study programmes of the scholarship beneficiaries. The applicant must be able to meet other costs by herself (for their feeding, accommodation and other learning necessities required by the University) for the duration of the scholarship and study period.  
The Gender Mainstreaming Directorate is pleased to announce 40 Fees Waiver scholarships for the academic year 2021/2022.  All Programmes in the 10 Colleges of Makerere University are eligible for this scholarship support and each College has four slots.
Eligibility
Scholarship applicants should meet the following criteria:
Should be female of Ugandan Nationality
Should be a first-year student admitted at Makerere University Main Campus for the academic year 2021/2022 under the Direct Entry Scheme, i.e. from A level
Should be from a genuinely disadvantaged socio-economic background.
Should not have been admitted on Uganda Government sponsorship to any public university.
Should not be a beneficiary of any other scholarship e.g. District Scholarship, the Higher Education Students Financing Board (HESFB)
Must be willing to participate in a selection process as shall be determined by the Gender Mainstreaming Directorate Scholarship Committee
Female students with disabilities are encouraged to apply.
An application shall be deemed complete once it contains the following attachments;
Photocopies of 'O' and 'A' level Academic Documents.
Three Passport size photographs of the applicant.
A copy of the applicant's Birth Certificate
In case of deceased parents, copies of death certificate(s)
A hand drawn physical map of the applicant's home/residence with clear directions of how to get to that home or residence from the nearest main road (indicate approximate distances in kilometres).
A copy of the admission letter to Makerere University.
A copy of 'A' Level fees payment slips for at least two terms
Interested and eligible applicants can download the application form from our website: www.gendermainstreaming.mak.ac.ug
OR pick an application form in Room 402 Senate Building, Level 4, Gender Mainstreaming Directorate. The deadline is Friday, 28th January 2022 at 5:00 pm.
NOTE:  Only shortlisted applicants will be contacted.
Euzobia Mugisha Baine (PhD)
DIRECTOR