Request for Expression of Interest: CTCA Consultancy-Train Board in Corporate Governance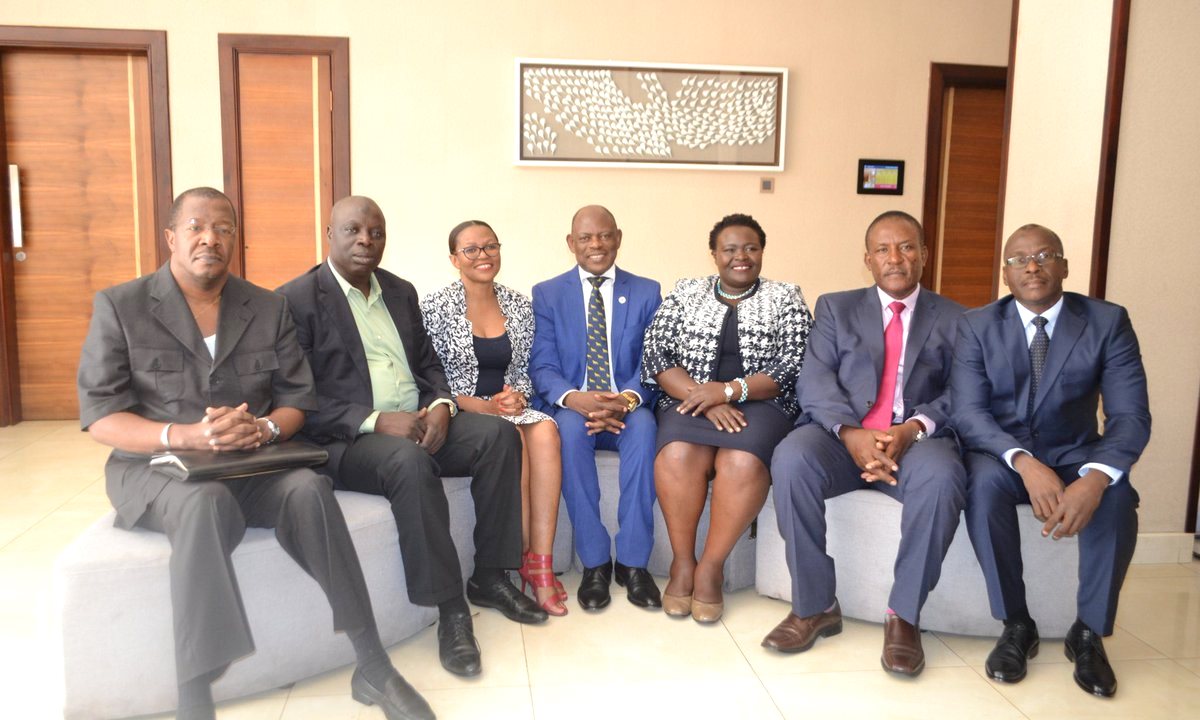 Project Title: Enhancing Tobacco Control Sustainability in Africa
Expression of interest No: CTCA/EOI/2021/015
Introduction:
Established in 2011, the Centre for Tobacco Control in Africa was established by the World Health Organization and funded by the Bill and Melinda Gates Foundation. CTCA envisions a tobacco free Africa. The mission of the Centre is to enhance African governments' capacity to formulate and implement Tobacco Control programs through partnerships and cooperation. The Centre is currently an autonomous unit guaranteed by Makerere University.
The Centre's focus is premised on its 5 strategic objectives that include.
Strengthening the capacity of countries in Africa to formulate and implement FCTC compliant programs
Promoting evidence-based tobacco control policy formulation and program implementation
Mobilizing human, material and financial resources for sustainable tobacco control in Africa
Promoting partnerships for tobacco control at national, regional and international levels
Enhancing CTCA's ability to support capacity development in tobacco control
CTCA has just formed the Board of Directors that have overall responsibility of overseeing management's implementation of the Centre's strategic objectives, governance framework and corporate culture. Governance issues is one challenge faced by corporate executives today particularly in agencies like CTCA with cross cultural, cross geopolitical spheres, increased burden of disease, resource limitation with continuing narrowing fiscal space and in the face of tobacco industry interference.
The Centre through its capacity development initiative is therefore seeking for a consultant to
train its Board members in Corporate Governance. The proposed training aims at providing the knowledge and skills needed by the Board of Directors to improve the efficiency and effectiveness of the Centre in tobacco control space.
Specifically, the training should:
Enhance the Directors' knowledge, skills and competencies of Corporate Governance
Highlight the role of the Board of Directors within the CTCA governance structure
Enhance the Board's ability in strategic positioning of CTCA

3. Scope of the assignment
The consultant will be required to:
Prepare training papers and illustration materials to cover leadership and governance in the following areas but not limited to;

transformative and effective leadership
Leadership and strategic values for ethical and moral leadership
Leadership skill and competencies for network building, management, and quality improvement, resource mobilization
Enhancing trust, social capital, stakeholder and community mobilization and effective participation
Organizational management and leadership to promote HR management Financial Resources management and accountability
Negotiation and conflict resolution

Administer the training to participants;
Prepare a training report that assesses the implementation of the activity. The report
should highlight the Consultant's and participants overall perspective of the
activity, limitations of the training, strengths and weaknesses, and
recommendations for improving similar training sessions in the future;

4.Qualifications and Experience
A minimum of an advanced degree in Organisational Psychology, International Development, Business Administration or related field
Minimum of 5 years' experience in organizational development
A thorough knowledge of the Corporate Governance regulations and should be a recognized authority in the field.
A track record of delivering similar courses to participants
Language: Excellent command in English or French
Command of English or French
Sensitivity to different cultures, skills set, language and political affiliations

5. Expected Key Deliverables
The Consultant will be expected to deliver on the following.
Concept note on proposed training to include training components, agenda
Training evaluation
Training report

6. Duration and timing of the Training
It is intended that the training course will be organized and completed in December 2021
and will take two days from 13th to 14th.
7. Selection of best candidate
The best candidate will be selected on merit in accordance with the Selection Based on the Individual Qualifications and experience.
8.How to apply
Interested and suitably qualified candidates may apply for the Consultancy by:
Submitting a motivation letter of not more than 1000 words and clearly marked as "Expression of interest to train the CTCA Board of Directors" in soft copies at the address below not later than 17:00 hours EAT on December 5, 2021
In addition to the requirement in (a), interested applicants should submit:
a detailed CV with previous work done related to the assignment
a copy of all relevant academic documents.
Applications may be sent to:
Email:   eoi[at]ctc-africa.org
Mak Claims Lion's Share of Jim Leech Fellowship Cohort 1 2020-2021 Awards
Makerere University Alumni have claimed the lion's share of fellowships awarded by Cohort 1 of the Jim Leech Mastercard Foundation Fellowship on Entrepreneurship 2020-2021. According to the recently concluded selection by Queens University, Canada, sixteen (16) out of the sixty (60) Jim Leech Fellows selected are from Makerere University, seven (7) of them being Mastercard Foundation Scholars/Alumni.
Kwame Nkrumah University of Science and Technology (Ghana) at eleven (11) had the second highest number of fellows awarded followed by University of Pretoria (South Africa) with seven (7). The University of Abomey Calavi (Benin) followed with four (4) fellows in the program that selected fellows from twenty one (21) institutions.
These included; Africa Nazarene University (Kenya), African Institute for Mathematics (South Africa), Ashesi University (Ghana), Carnegie Mellon University (Rwanda) and Covenant University (Nigeria). Others were Enugu State University of Science and Technology, Federal University of Technology and Ladoke Akintola University of Technology all from Nigeria, McGill University (Canada) and Moi University (Kenya).
Mphohadi College (South Africa), Obafemi Awolowo University (Nigeria), Southern New Hampshire University (United States) and United States International University (Kenya) were the others. The list was completed by University for Development Studies (Ghana), University of Gondar (Ethiopia) and University of Cape Town (South Africa).
We congratulate all Jim Leech Fellows 2020-2021 from Makerere University upon their successful selection.
Please see Downloads for the full list.
Makerere University 87th Guild President, GRCs Sworn In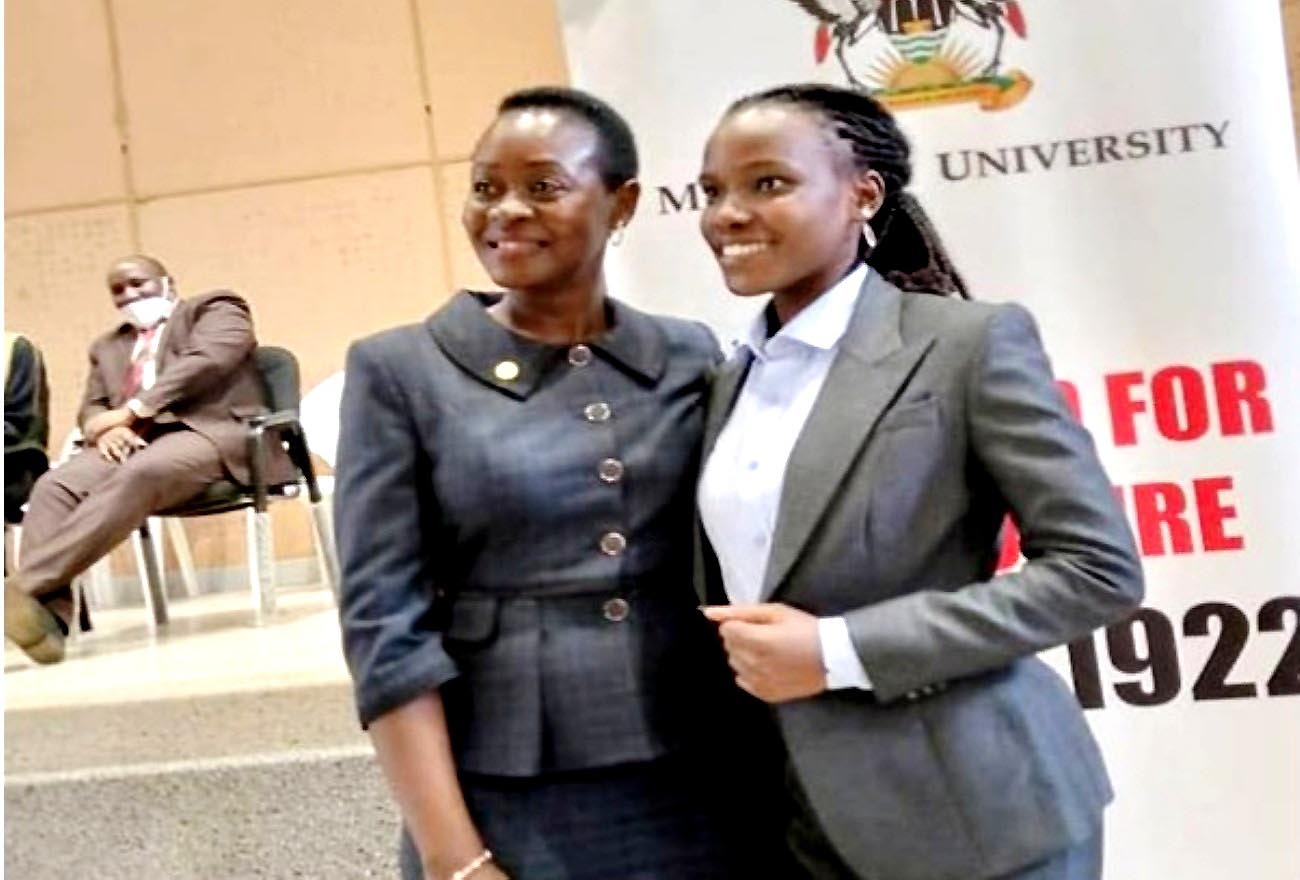 The newly elected Makerere University Guild President, Cabinet and Guild Representatives have been sworn in today, 26th November 2021 to effectively commence duties.
The swearing-in-ceremony took place at the CTF 2 Auditorium, presided over by the Dean of Students Mrs. Winifred Kabumbuli who represented the Vice Chancellor Professor Barnabas Nawangwe.
On a brilliant event graced by many elders, both the outgoing and incoming students' representatives, a number of guild representatives from Halls of Residence, Colleges, Schools, Persons with Disabilities, Dag Hammarskjold Hall, Kabanyolo hostels and Galloway Hall were sworn in. The Guild President Ms. Shamim Nambassa and her Guild Cabinet were also sworn in.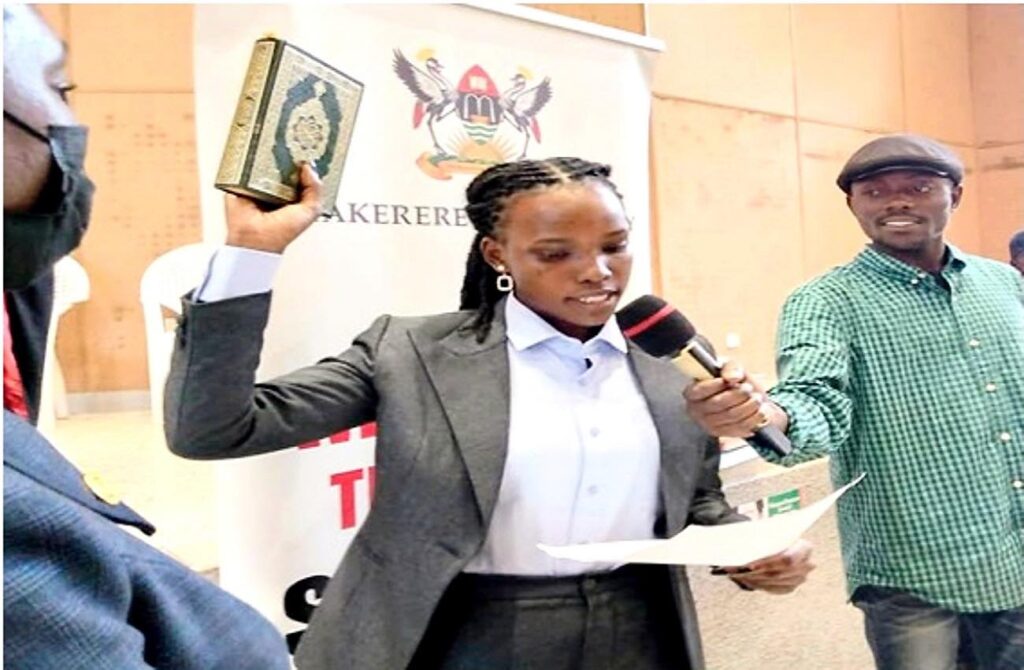 At the beginning of this month, Ms. ShamimNambassa won the Guild Presidential race after garnering 5,610 Valid Votes, representing 54.16% of the total ballot count. Ms. Nambassa replaced Ivan Ssempijja in the office.
After swearing in, H.E. Nambassa said she is excited to lead the student guild that will usher in Makerere's 100 years of existence celebrations. "I assume office at a very critical time when Makerere University is about to celebrate 100 years. For the 87 years of the 100 the students' guild has been around but I am only the 5th lady out of the 87," Nambassa briefly stated.
Representing the Vice Chancellor, the Dean of Students Mrs. Winifred Kabumbuli applauded the outgoing Guild leadership for the good leadership they have exhibited during their term of service.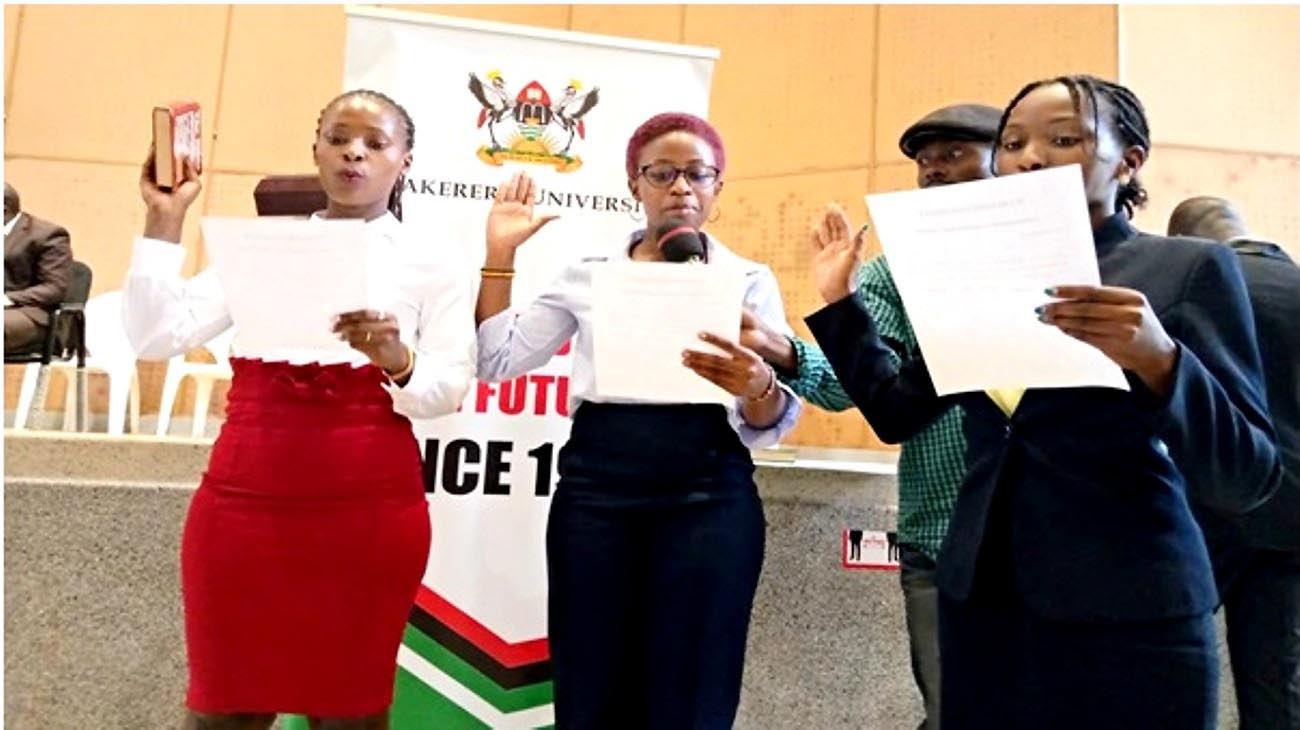 "I thank the outgoing guild leadership led by Ivan Ssempijja for the outstanding performance. I must admit that they contributed to quality enhancement of academic and social well being of students."
Mrs. Kabumbuli also acknowledged the central role played by the guild electoral commission led by chairman William Kananga for organising a petition-less election. "The electoral commission, thank you very much, you are exceptional, excellent much less unsurpassed, indeed you were fit for the purpose, you deserve all the accolades," she said.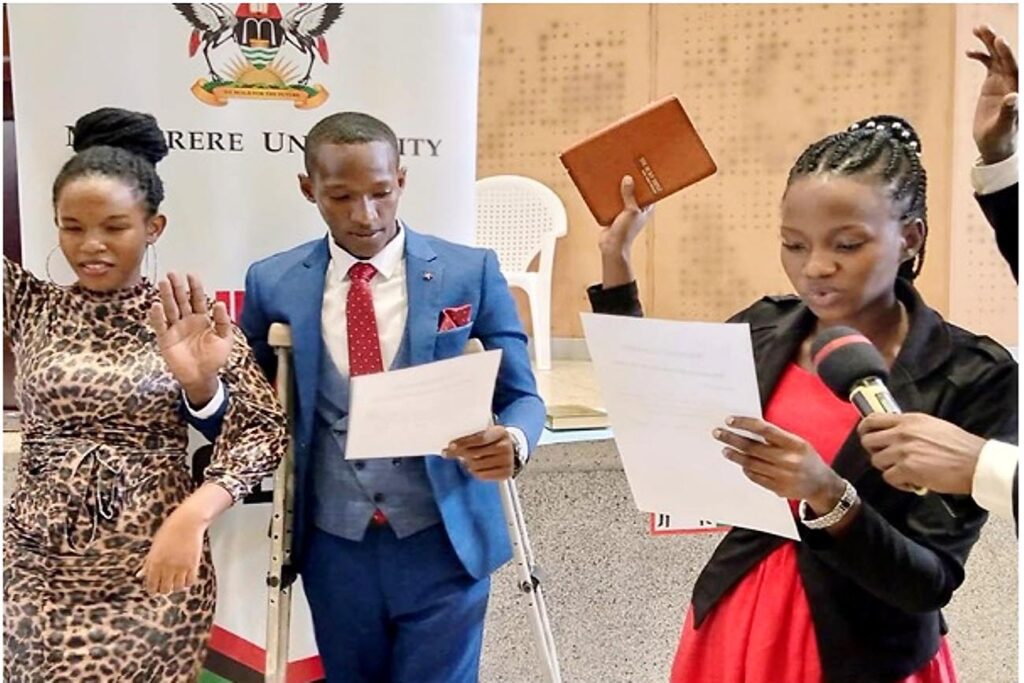 In a speech read by the Dean of Students, the Vice Chancellor Professor Barnabas Nawangwe congratulated the newly elected leaders for the triumph. "I congratulate all those who stood for various posts and were successfully elected as well as those who have been appointed in various positions of the executive leadership of the guild, I warmly congratulate you. I also thank the voters who turned up to vote in big numbers".
Professor Nawangwe also appealed to the newly sworn-in leaders to cooperate with University administration to ensure the wellbeing of students.
"To the new guild leadership, I appeal to you to begin your work with dedication and humility knowing very well that you have been called upon to serve your university beyond self. Please pay special attention to the University Council, the Senate, the College Boards and other statutory organs, the GRC as well as policies, procedures and regulations of the University. In particular, the guild leadership should join Management to encourage students to pay fees in the remaining time," Prof Nawangwe added.
School of Statistics and Planning receives ICT equipment worth $500,000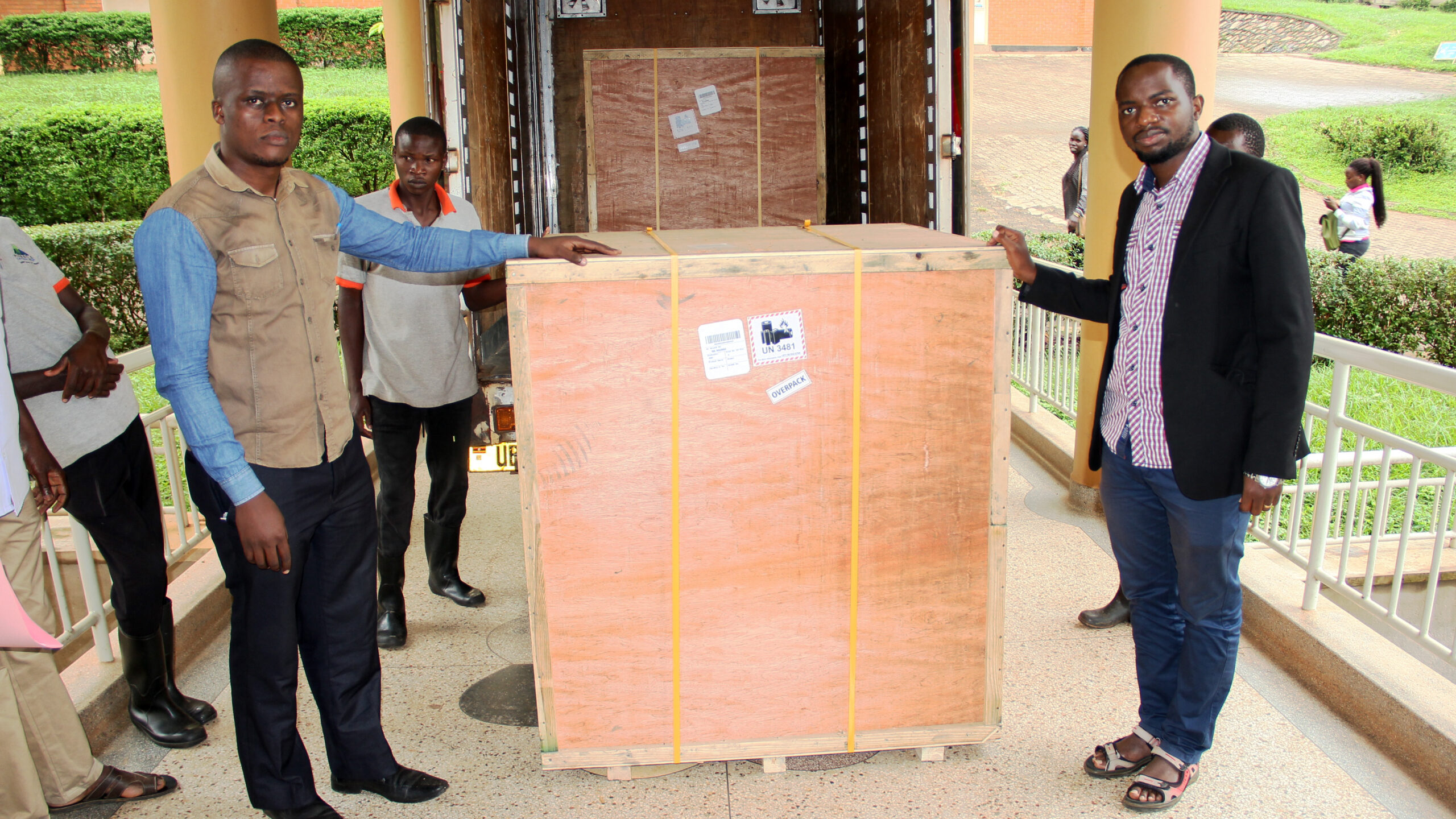 The School of Statistics and Planning today received a consignment of ICT equipment worth $500,000 from the East African Community. The purchase of the equipment was facilitated by funding from the World Bank to the East African Community.
The equipment was this morning received by Dr. JB Asiimwe, the HoD of Planning and Applied Statistics, Mr David Kisitu, the Systems Administrator and Mr Frank Namugera from the Department of Planning and Applied Statistics.
The equipment includes 153 desktop computers, laptops, digital cameras, computer tables, power banks, UPS, cooling systems, security cameras, network accessories and computer chairs among other things.
The equipment will go a long way in improving teaching and learning as the university moves to be a research led institution.