Makerere University 87th Guild President, GRCs Sworn In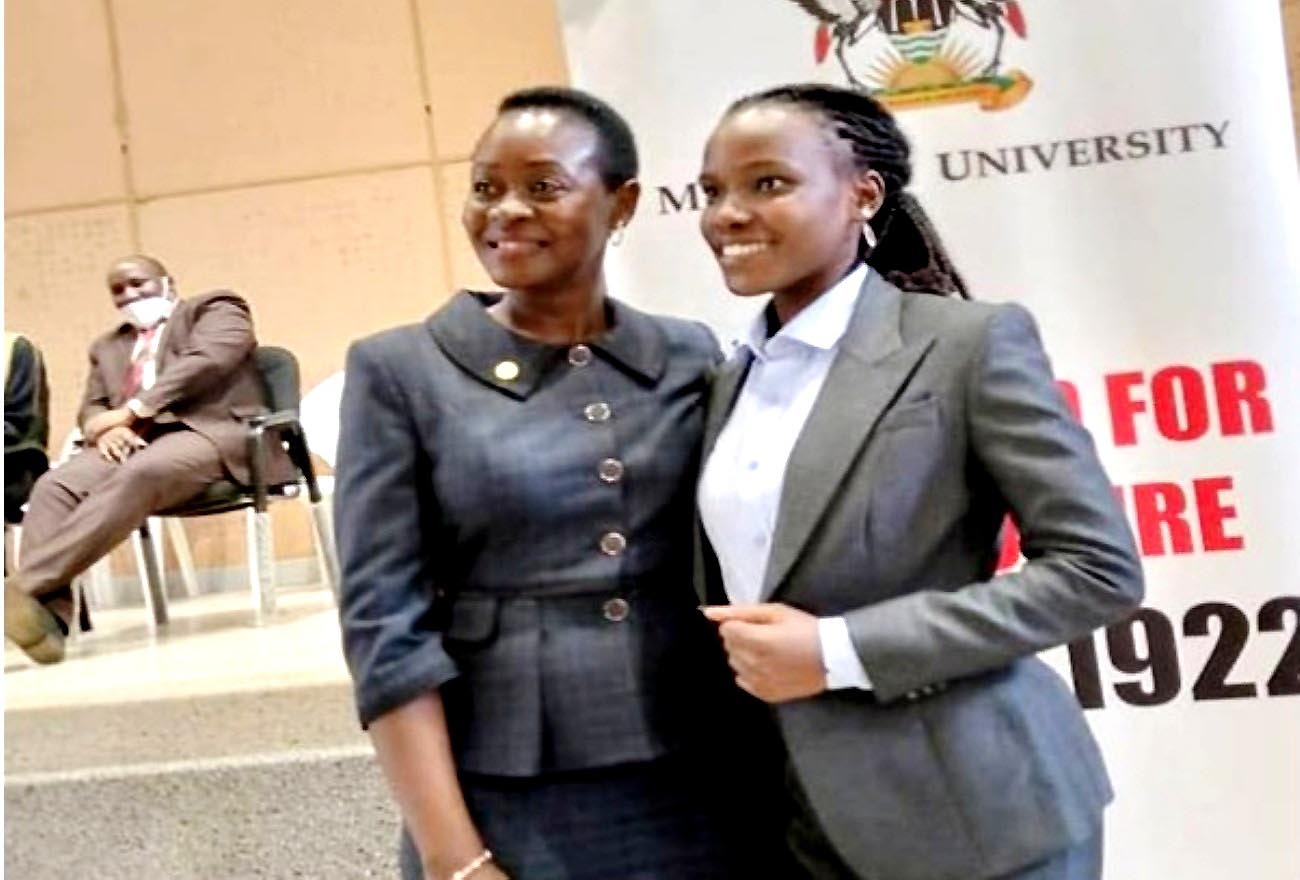 The newly elected Makerere University Guild President, Cabinet and Guild Representatives have been sworn in today, 26th November 2021 to effectively commence duties.
The swearing-in-ceremony took place at the CTF 2 Auditorium, presided over by the Dean of Students Mrs. Winifred Kabumbuli who represented the Vice Chancellor Professor Barnabas Nawangwe.
On a brilliant event graced by many elders, both the outgoing and incoming students' representatives, a number of guild representatives from Halls of Residence, Colleges, Schools, Persons with Disabilities, Dag Hammarskjold Hall, Kabanyolo hostels and Galloway Hall were sworn in. The Guild President Ms. Shamim Nambassa and her Guild Cabinet were also sworn in.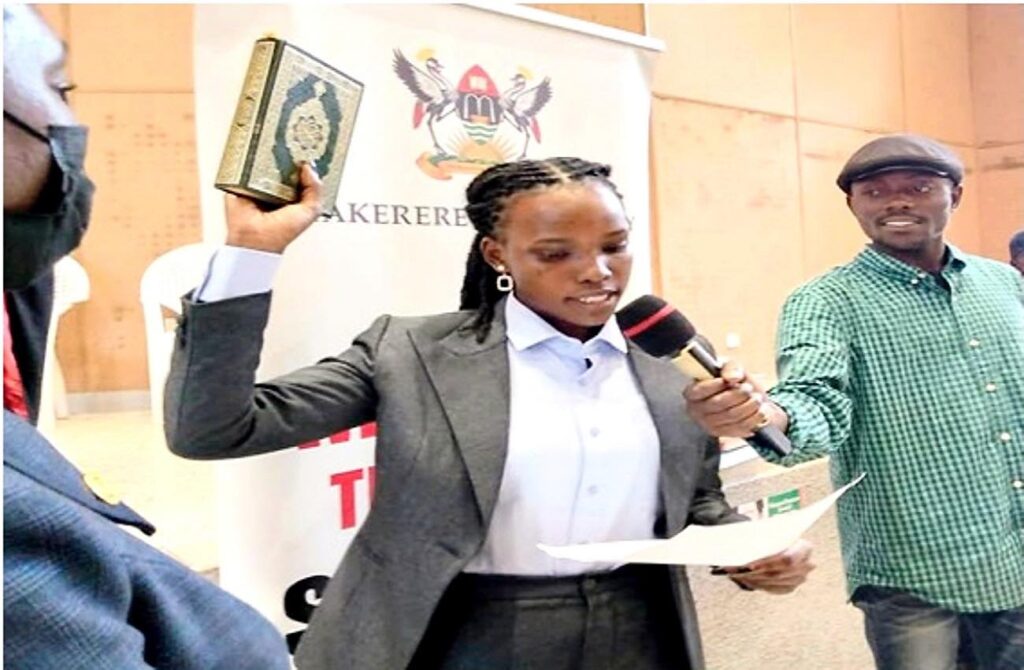 At the beginning of this month, Ms. ShamimNambassa won the Guild Presidential race after garnering 5,610 Valid Votes, representing 54.16% of the total ballot count. Ms. Nambassa replaced Ivan Ssempijja in the office.
After swearing in, H.E. Nambassa said she is excited to lead the student guild that will usher in Makerere's 100 years of existence celebrations. "I assume office at a very critical time when Makerere University is about to celebrate 100 years. For the 87 years of the 100 the students' guild has been around but I am only the 5th lady out of the 87," Nambassa briefly stated.
Representing the Vice Chancellor, the Dean of Students Mrs. Winifred Kabumbuli applauded the outgoing Guild leadership for the good leadership they have exhibited during their term of service.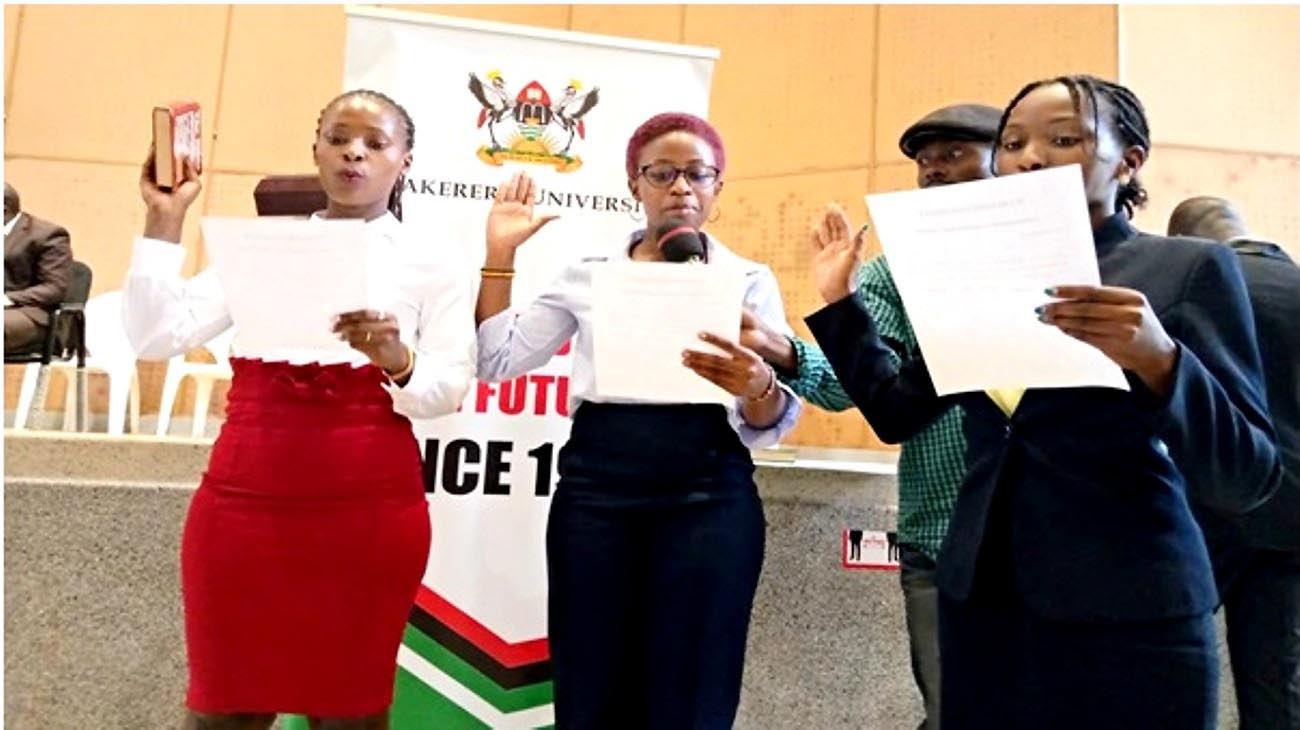 "I thank the outgoing guild leadership led by Ivan Ssempijja for the outstanding performance. I must admit that they contributed to quality enhancement of academic and social well being of students."
Mrs. Kabumbuli also acknowledged the central role played by the guild electoral commission led by chairman William Kananga for organising a petition-less election. "The electoral commission, thank you very much, you are exceptional, excellent much less unsurpassed, indeed you were fit for the purpose, you deserve all the accolades," she said.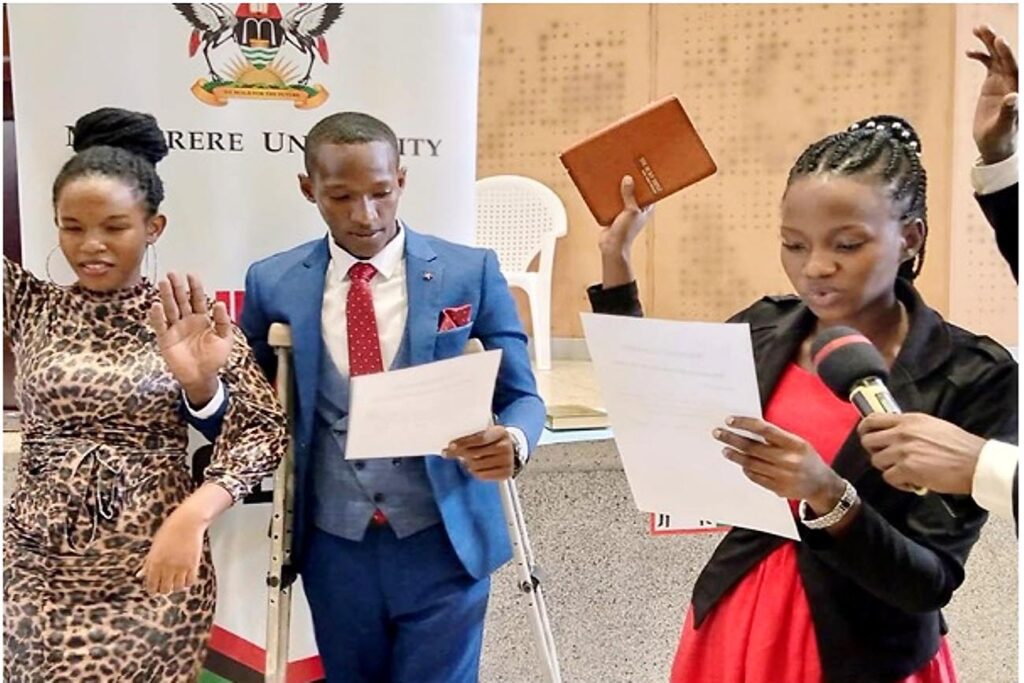 In a speech read by the Dean of Students, the Vice Chancellor Professor Barnabas Nawangwe congratulated the newly elected leaders for the triumph. "I congratulate all those who stood for various posts and were successfully elected as well as those who have been appointed in various positions of the executive leadership of the guild, I warmly congratulate you. I also thank the voters who turned up to vote in big numbers".
Professor Nawangwe also appealed to the newly sworn-in leaders to cooperate with University administration to ensure the wellbeing of students.
"To the new guild leadership, I appeal to you to begin your work with dedication and humility knowing very well that you have been called upon to serve your university beyond self. Please pay special attention to the University Council, the Senate, the College Boards and other statutory organs, the GRC as well as policies, procedures and regulations of the University. In particular, the guild leadership should join Management to encourage students to pay fees in the remaining time," Prof Nawangwe added.
Graduate Admission Lists 2021/22
Admission Lists: Appeals and Re-advert for internationals 2021/2022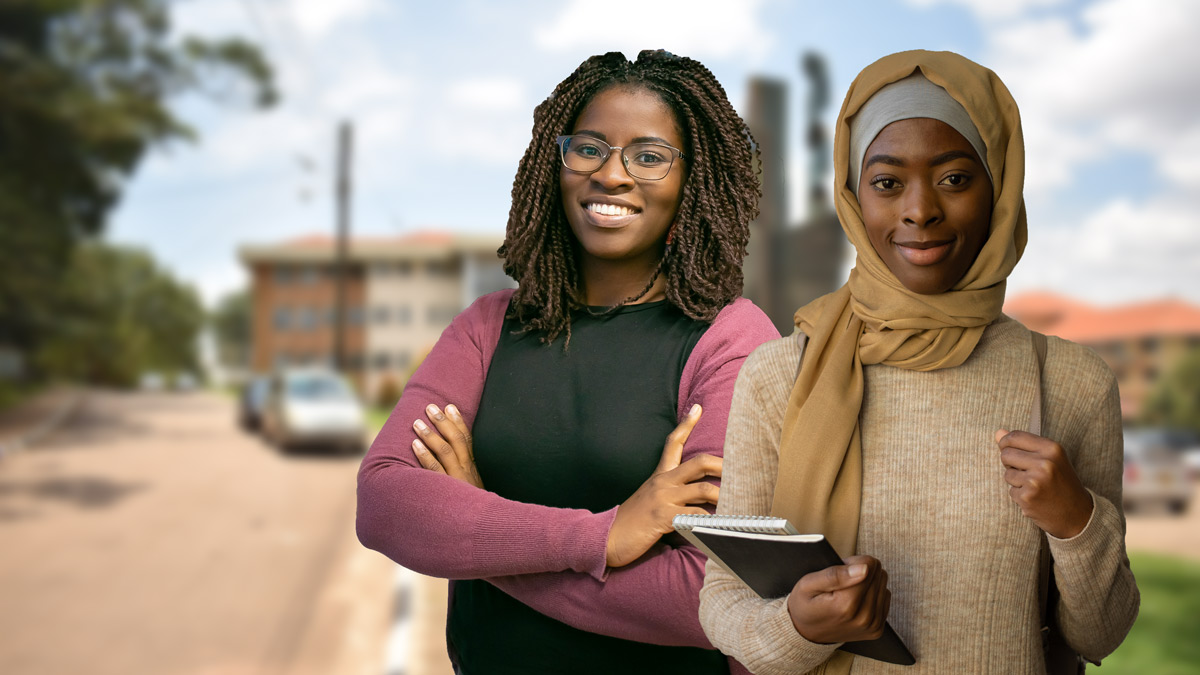 The Office of Academic Registrar, Makerere University has released lists of applicants who appealed and have now been admitted.
The following candidates have been admitted as follows;
MOP-UP Cases (Government)
Index No.                Name                       Sex           Course    Results  
(i)    U0025/667      HANS Murungi      M                       LAW       58          National Merit  
(ii)   U0004/631      AINE Aaron Amanya     M              ELE Sports Scheme
MOP UP Cases (Private Mature Entry Scheme)
NAME                      Sex    Mature results   Pre-entry Results      Programme
ARINAITWE Job    M                70                           55                            LAW (Private)
The lists for the successful appeals for Private Sponsorship Scheme, Re-advert and mop-up for International applicants can be accessed below:
Fees Waiver Scholarships for First Year Female Students for the Academic Year 2021/2022
In 2010 Makerere University established a Fees-Waiver Scholarship Scheme managed by the Gender Mainstreaming Directorate. The Scheme supports academically bright female students from disadvantaged socio-economic backgrounds to study various undergraduate degree programmes at Makerere University. The scholarship is administered by waiving off tuition and functional fees ONLY for the duration of study programmes of the scholarship beneficiaries. The applicant must be able to meet other costs by herself (for their feeding, accommodation and other learning necessities required by the University) for the duration of the scholarship and study period.  
The Gender Mainstreaming Directorate is pleased to announce 40 Fees Waiver scholarships for the academic year 2021/2022.  All Programmes in the 10 Colleges of Makerere University are eligible for this scholarship support and each College has four slots.
Eligibility
Scholarship applicants should meet the following criteria:
Should be female of Ugandan Nationality
Should be a first-year student admitted at Makerere University Main Campus for the academic year 2021/2022 under the Direct Entry Scheme, i.e. from A level
Should be from a genuinely disadvantaged socio-economic background.
Should not have been admitted on Uganda Government sponsorship to any public university.
Should not be a beneficiary of any other scholarship e.g. District Scholarship, the Higher Education Students Financing Board (HESFB)
Must be willing to participate in a selection process as shall be determined by the Gender Mainstreaming Directorate Scholarship Committee
Female students with disabilities are encouraged to apply.
An application shall be deemed complete once it contains the following attachments;
Photocopies of 'O' and 'A' level Academic Documents.
Three Passport size photographs of the applicant.
A copy of the applicant's Birth Certificate
In case of deceased parents, copies of death certificate(s)
A hand drawn physical map of the applicant's home/residence with clear directions of how to get to that home or residence from the nearest main road (indicate approximate distances in kilometres).
A copy of the admission letter to Makerere University.
A copy of 'A' Level fees payment slips for at least two terms
Interested and eligible applicants can download the application form from our website: www.gendermainstreaming.mak.ac.ug
OR pick an application form in Room 402 Senate Building, Level 4, Gender Mainstreaming Directorate. The deadline is Friday, 28th January 2022 at 5:00 pm.
NOTE:  Only shortlisted applicants will be contacted.
Euzobia Mugisha Baine (PhD)
DIRECTOR