CoVAB Open Day Showcase Research and Innovations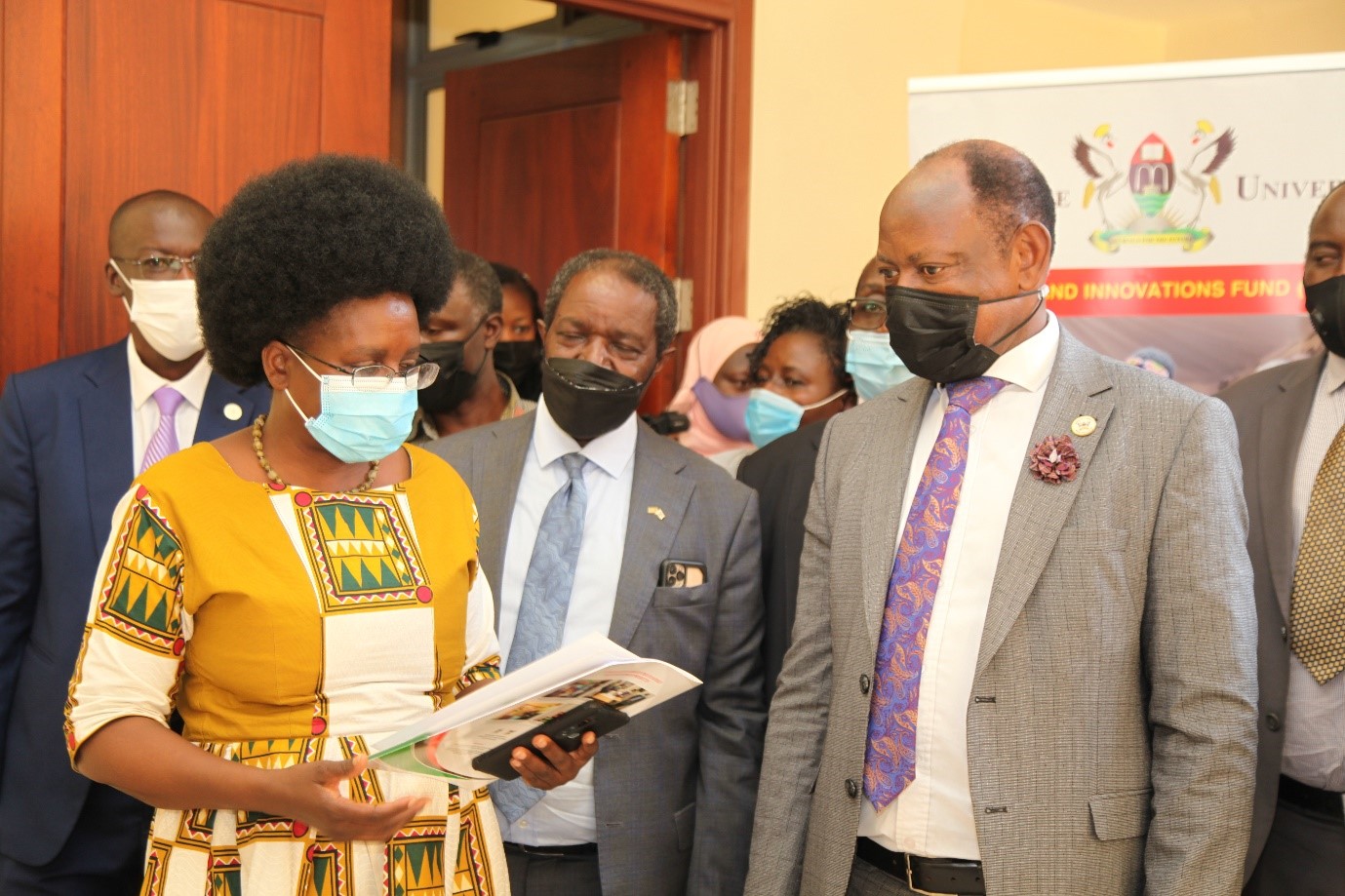 The College of Veterinary Medicine, Animal Resources and Bio Security (COVAB) with support from the Makerere University Research and Innovations Fund (Mak-RIF) held an open day during which a number of research outputs and innovations were disseminated.
The event held on Monday 15th November 2021 in Makerere University brought together a number of stakeholders to hear from the college about research and innovation that has been going on for the past three years with over 7 billion shillings spent on 60 Mak-RIF supported research projects over a three-year period.
While presiding over the event where ten of the projects were disseminated, the Minister of Science, Technology and Innovation Dr. Monica Musenero Masanza commended the leadership at the college and the University as a whole for the flexibility and outlook that has enabled the realigning of university business to the National development Plan III which she said emphasizes science led economic social transformation.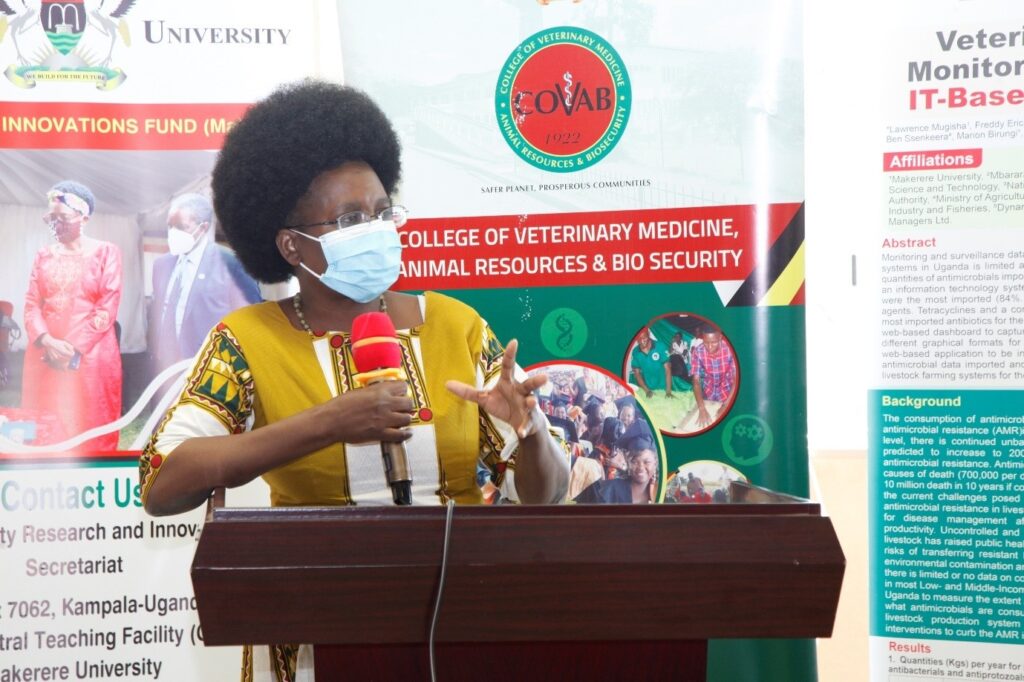 Dr. Musenero emphasized the importance of the output from the University indicating that many of the strategic industrial value chains were aligned to colleges in the University. She enumerated them to include the engineering economy, mobility, beauty and apparel, the digital economy, agro-security and the pathogenic economy.
'We have created a prototype along many value chains and Makerere has to play a core role taking on a new mantra as a University for Technology advancing the country' she said urging the institution to aim at making more influence on the economy. The Minister cited the example of the two centres of excellence in CoVAB like the Bio Security centre which was to be supported to become a national centre of excellence.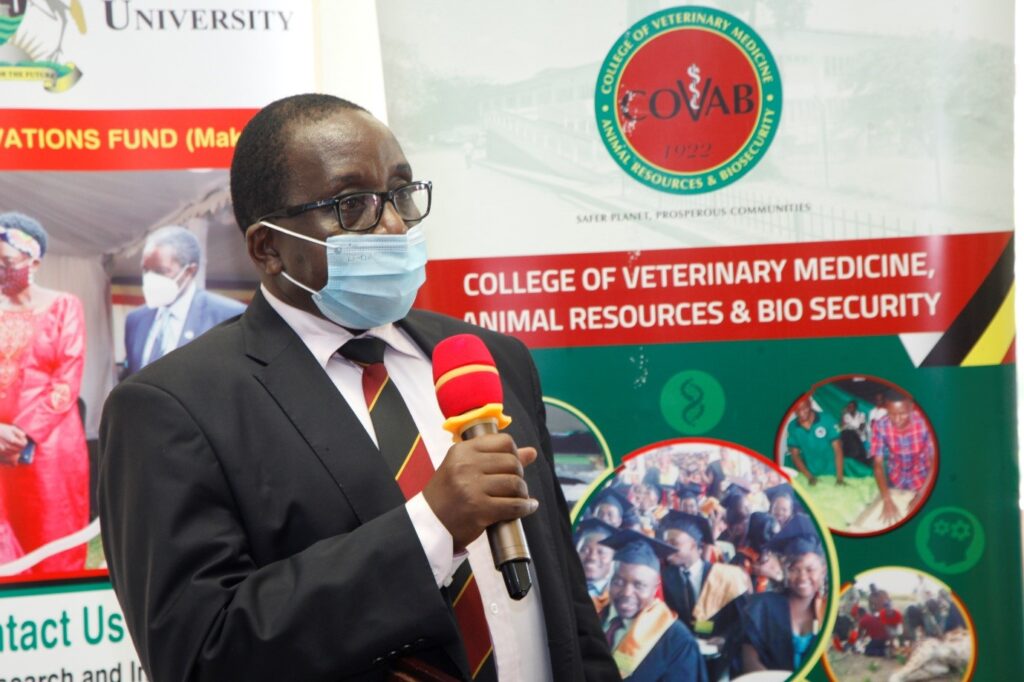 In his remarks, the Vice Chancellor Makerere University Prof. Barnabas Nawangwe noted that there was tremendous transformation going on in the colleges adding that he was excited to witness what he always wanted the University to be. While congratulating the researchers from CoVAB for the good work done, the Vice Chancellor noted that universities were increasingly getting tasked to show what they are doing for society for instance their contribution towards the realization of the Strategic Development Goals. 'As a university we have a role to transform the nation' he said adding that we were duty bound to be part of the solution to our society.
The Chairperson of the Mak RIF fund Makerere University Prof. William Bazeyo congratulated CoVAB for choosing to associate with development that was to take Uganda to the next level through research and innovation and the determination to cause change. He commended Prof. John David Kabasa, the Principal CoVAB for taking lead in the research effort on issues affecting the people, citing the Tick project as an example.
Prof. John David Kabasa, the Principal CoVAB while welcoming guests on behalf of the management and staff of CoVAB said as scientists, they were ready to take off given the various grants they receive. He commended the Minister for Science Technology and Innovation for the support rendered to the college more so the revamping of the research infrastructure more so the centre for Bio security.
He presented to the Minister some of the projects that were being disseminated and they included the following;
Developing Monitoring System for Quantifying and Mapping antibacterial used in Livestock Farming Systems in Uganda by Prof. Lawrence Mugisha.
Developing Novel Phytonutraceuticals from wild edible fruits and vegetables for Mitigating Malnutrition among pregnant women and School going children by Dr. Anne Juliet Nalunkuma Kazibwe. The study established that women and children had issues of malnutrition due to poor feeding. There were a number of deaths related to malnutrition. The researchers identified the wild fruits like enderema, matungulu, katunkuma, nakati , mushrooms and added value based on a feeding value. They came up with a cocktail packaged in products like bagiya, cookies, porridge powder to supplement diet.
Establishment of a platform to strengthen production of safe and healthy dairy and chicken derived foods using one health to counter antimicrobial resistance and drug residues in Uganda. (PLAS-SAFE). Dr. Paul Ssajjakambwe and team have established a platform called (PLAS-SAFE) to strengthen the production of safe chicken and diary derived foods using one health drug residue approach. This is expected to support health, trade and research which are some of the key strategic directions of the country.
Developing a community-based model for integrating bioenergy and poultry production using rice agro-waste (Integrated bioenergy agriculture model) by Prof. David John Kabasa. The study was aimed at addressing the challenges of accessing wood fuel arising from destruction of nature. They came up with briquettes made from rice husks.
Optimization of the dosage, adjuvant and route for the candidate anti-tick vaccine with Dr. Kokas Ikwap as the Principal Investigator.
An Assessment of veterinary drug residues in milk, chicken and eggs and development of a residue monitoring plan for these foods in Uganda and Dr. John Kateregga.
Cytokines as novel therapeutic agents in the management of late-stage Trypanosoma brucei rhodesiense sleeping sickness: a preclinical trial (CaNTMS) by Dr. Charles Drago Kato.
Strengthening veterinary clinical research, training and outreach at Makerere through a learner-centered herd-health and community action research program (SHARP) for improved animal welfare, health and productivity by Prof. James Okwee-Acai. The study was aimed at documenting the baseline animal health, welfare, productivity indices in peri urban Kampala and Wakiso Districts. It aimed at strengthening the capacity of veterinary clinical research, training and community outreach as well as improved animal welfare, health and productivity.
Optimizing SMART Dairy Technologies for Efficient Sustainable Productivity of Dairy Farmers in Uganda Dr. Robert Tweyongyere.
Agrochemical residues in meat and milk of cattle in the acaricide-tick-resistant infested areas, A case study of Gomba District by Dr. Peter Waiswa. The study established that majority of the farmers use chemicals to kill ticks instead of the conventional acaricides due to the effectiveness of the drug. The study established that milk and beef from the study area contained agrochemical residues and that although they were below the recommended maximum residue limits, this could reach critical levels if no intervention was done to stop the vice.
Uganda One Health Epidemiological Bulletin Sept-Nov 2021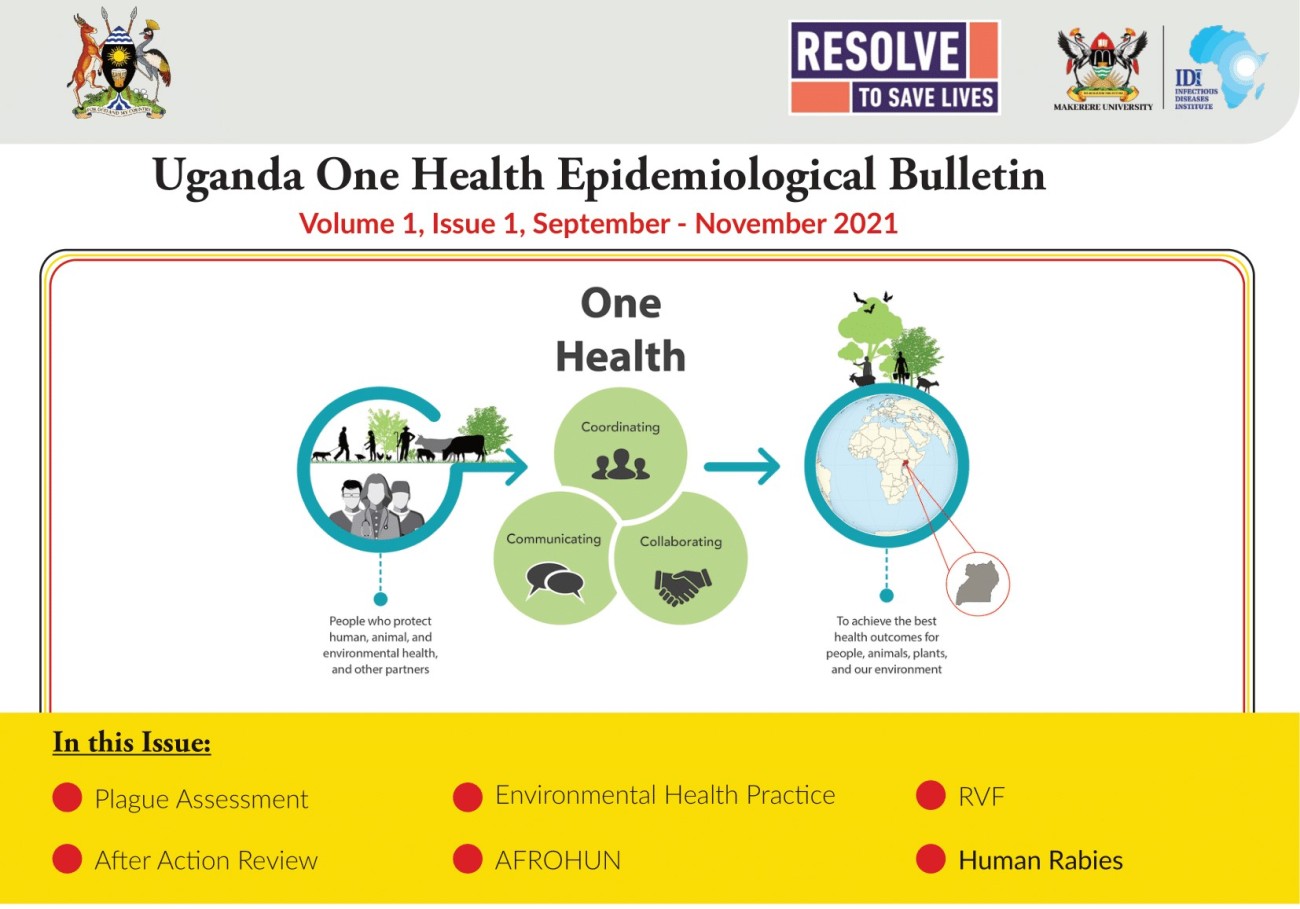 Africa One Health University Network (AFROHUN) formerly One Health Central and Eastern Africa (OHCEA) seeks to promote global One Health Workforce development services beyond the traditional One Health disciplines and institutions. AFROHUN received a five-year USAID sub-award funded through a consortium led by the University of California Davis to implement the One Health Workforce – Next Generation (OHW-NG) Project.
Under OHW-NG, Uganda is training personnel at Mbarara University of Science and Technology (MUST) and Makerere University (MAK). The country office is based at the Makerere University College of Veterinary Medicine, Animal Resources and Biosecurity (COVAB).
Number of personnel trained
Students
Faculty
Since 2016, Makerere University has conducted a didactic preservice online course in Infectious Disease Management. The 21-30-day course trains students on management of infectious and zoonoses emergencies using a One Health approach. Additional competences enhanced are: Gender, Bio-risk Management, Disease Outbreak an Emergency Response, Disease Control and Environmental Health, Managing Antimicrobial Resistance, Community Engagement and Community Public Health.
Pre-service cadres undertake a ten-day field activity. Here, undergraduate students apply their knowledge and skills to identify, design and implement interventions to public health issues in communities using a One Health approach.
Graduate students undergo a two-month OHI graduate fellowship program in host institutions including FAO-ECTAD, President's Initiative on Epidemics, FHI (Family Health International) 360º, Red Cross Community Pandemic Preparedness Program (CP3), and the Infectious Disease Institute (IDI). At host sites, fellows receive mentorship in outbreak investigation, data collection and analysis, leadership, scientific writing and communication.
Please see Downloads for the full Bulletin.
Congratulations to CoVAB Graduands!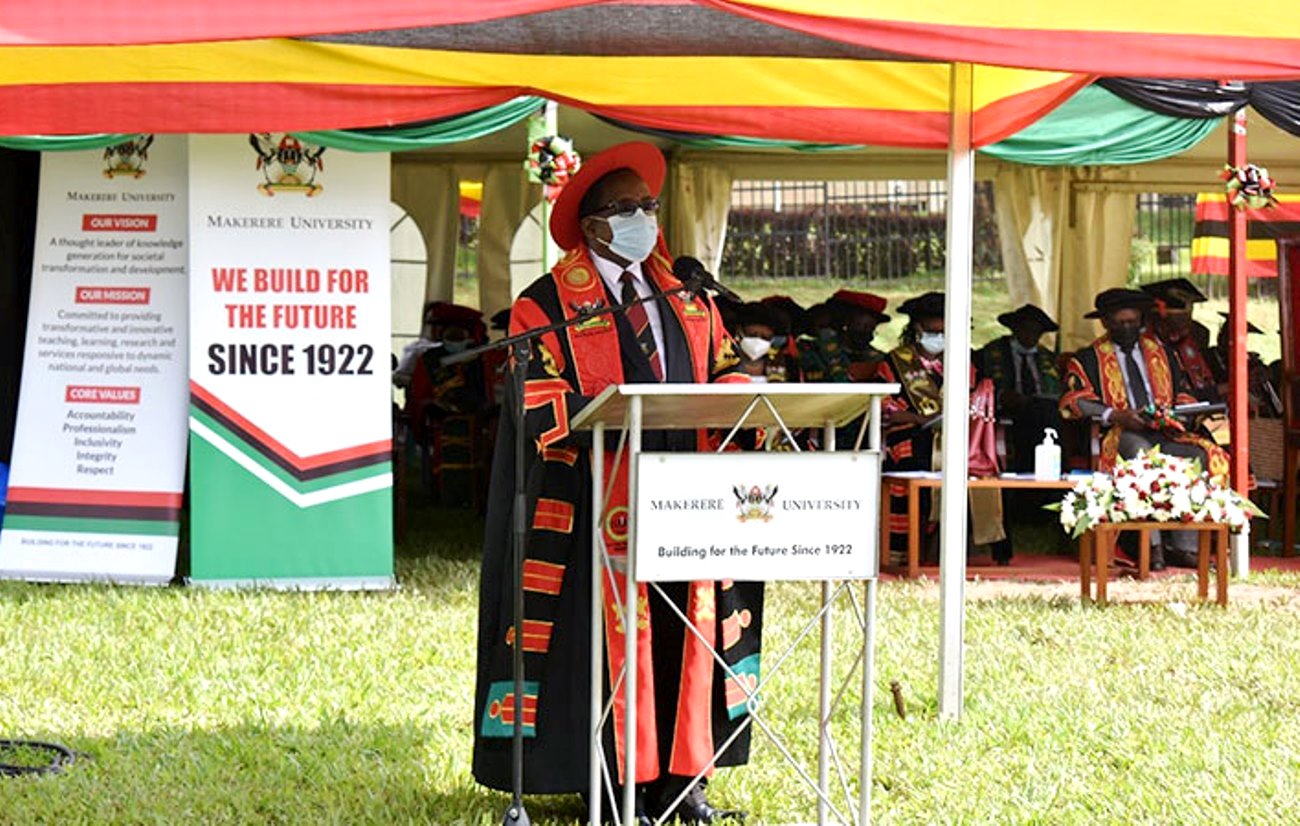 The College of Veterinary Medicine, Animal Resources and Biosecurity (CoVAB) presented her students for the award of degrees in the third session of the 71st Makerere University Graduation Ceremony which was held on Wednesday 19th May, 2021 in the University Freedom Square.
During the graduation ceremony, CoVAB administration spearheaded by Prof. John David Kabasa presented 5 PhDs, 59 Masters, 12 Post graduate Diploma, and 278 Undergraduate students to the Chancellor, Prof. Ezra Suruma for conferment of degrees in various disciplines.
Of the 5 PhD graduands, 1 was female while 4 were male. Of the 59 Masters graduands 17 were females while 42 were males. Of the 12 Post graduate Diplomas, 1 was female while 11 were male and of the 278 Undergraduates 90 were females while 188 were male.
On presenting the Bachelor of Veterinary Medicine (BVM) students to the Chancellor, the Dean School of Veterinary Medicine and Animal Resources (SVAR), Prof. Robert Tweyongyere read the Oath which was as well taken by the BVM students virtually. He informed the Chancellor that this oath is to be signed by each student and handed in at the School on picking their transcripts.
The participating colleges in the third session of this graduation ceremony were CoVAB, College of Business and Management Sciences (CoBAMS), and College of Computing and Information Sciences (CoCIS).
Mak, Alfasan Sign Anti-Tick Vaccine Production MoU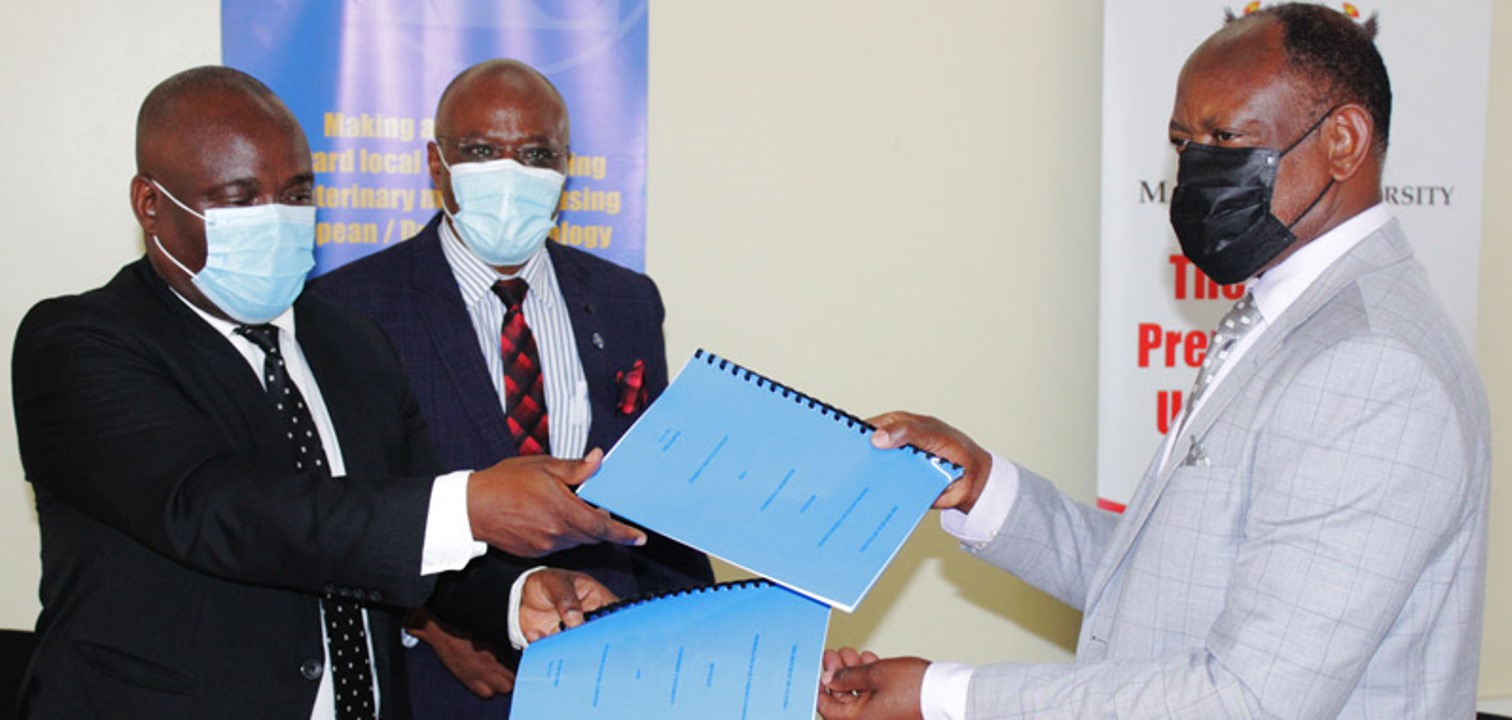 Makerere University on Friday 19th March, 2021 signed a Memorandum of Understanding (MoU) with Alfasan Uganda Limited to facilitate production of test batches of the Anti-Tick Vaccine developed by the College of Veterinary Medicine, Animal Resources and Biosecurity (CoVAB). The MoU was signed on behalf of Makerere University by the Vice Chancellor, Prof. Barnabas Nawangwe and on behalf of Alfasan by the Managing Director Dr. Stephen Birungi. The Principal CoVAB-Prof. John David Kabasa, Anti-Tick Vaccine Initiative Principal Investigator (PI)-Dr. Margaret Saimo-Kahwa and Acting (Ag.) Manager Intellectual Property Management Office (IPMO)-Canon Goddy Muhumuza signed as witnesses.
The Anti-Tick Vaccine Initiative is hosted under the Centre for Biosecurity and Global Health, CoVAB. According to the Prof. Kabasa, the Centre was one of the milestones endorsed by the University when the then faculty to college transition was proposed. "I am happy to report that the Centre is being vigorously supported by the Government to undertake activities of vaccine development together with other scientists."
He thanked the Vice Chancellor always taking keen interest in the multidisciplinary programmes undertaken by the college with a view improving the livelihoods of both small and large scale livestock farmers. He equally lauded the CoVAB scientists for their efforts to develop the Anti-Tick Vaccine and stakeholders such as the Africa Institute for Strategic Animal Resource Services and Development (AFRISA), Centre of Tropical Medicine and the Ruth Keesling Wildlife Health, Research and Outreach Centre (RK_WHERE) for their support.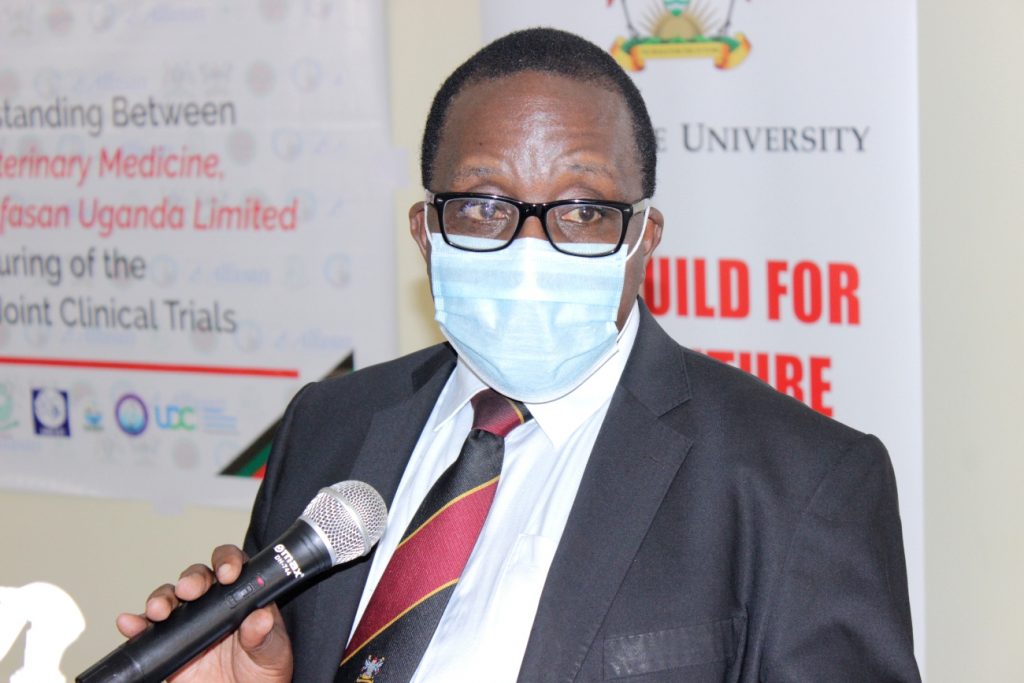 Unveiling the research challenge and solution, the PI Dr. Margaret Saimo-Kahwa noted that ticks as vectors for diseases like East Coast Fever are an economic threat to farmers with herds of exotic breeds, their crosses and increasingly, local breeds raised in a tick-free environment. Furthermore, common tick species in Uganda have developed resistance to acaricides used in spraying as a method of their control. This resistance is further exacerbated by acaricide contamination of the environment, leading to residues in animal products like milk and meat, which have implications on human health.
"Therefore, alternative methods like anti-tick vaccines that reduce the use of acaricides are urgently needed to protect the livestock sector that plays a role in poverty reduction and contributes at least 3.2% to Uganda's GDP, which is equivalent to about 1 Trillion Uganda Shillings" said Dr. Saimo-Kahwa.
The efficacy of any innovation is measured by how well it has worked elsewhere. The Anti-Tick Vaccine Initiative therefore sought inspiration from Australia, where the first anti-tick vaccine was developed in the 1980s as well as Cuba where the vaccines have been used successfully for over 20 years. Gleaning further from Brazil, the team used biotechnology approaches to develop antigens that can target the ticks in Uganda.
"Testing of these molecules under laboratory conditions with funding from the Government of Uganda has been done" remarked the Principal Investigator before adding, "The next step is to test these molecules in clinical trials. However, the molecules should be manufactured under Good Manufacturing Practice (GMP) and not under laboratory conditions."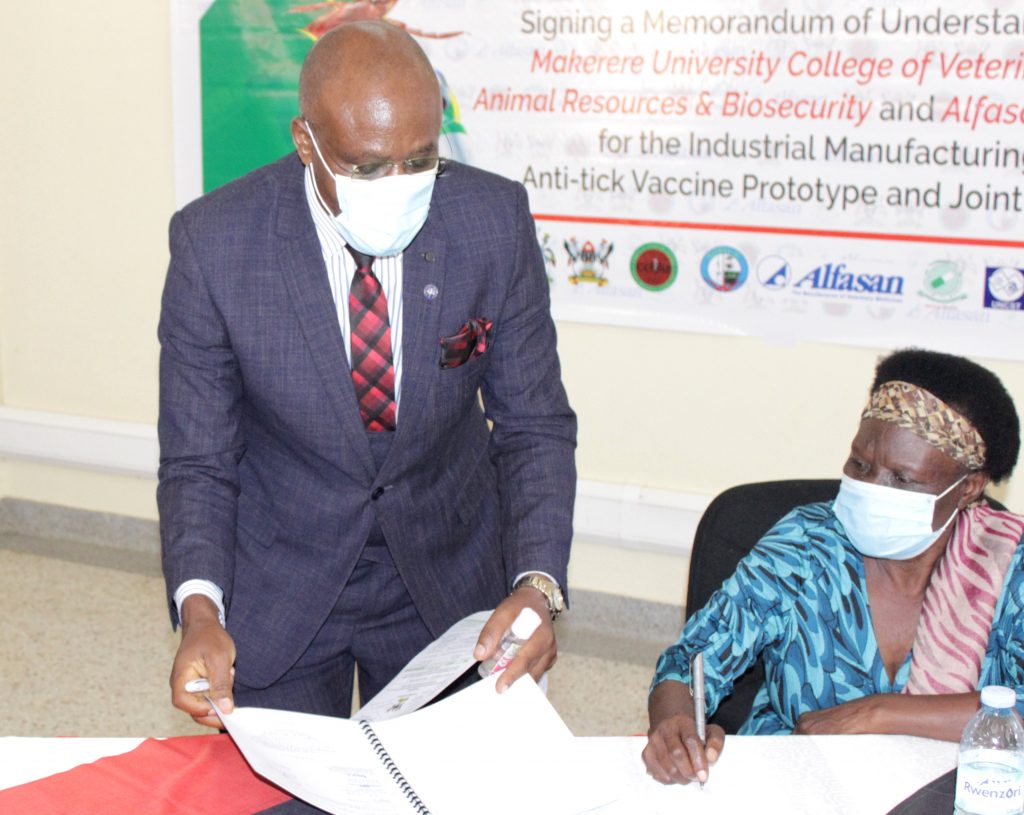 Dr. Saimo-Kahwa at this point thanked the President, H.E. Yoweri Kaguta Museveni, whose advice led the research team to the GMP-certified Alfasan Uganda Limited. "These negotiations have been fruitful, leading to the drafting of a memorandum of understanding for production of test batches of the potential vaccine, with funding from Government of Uganda."
Dr. Stephen Birungi a Makerere University alumnus from CoVAB was all praises for his alma mater and commended Prof. Barnabas Nawangwe for ushering in era of innovation in the short time he has served as Vice Chancellor. "If we are seeing a threat to the livestock industry, we need to act now to save the 20-30% of Uganda's 15million head of cattle that we lose annually due to tick-borne diseases."
He reassured all present that Alfasan, a private company certified for the production of veterinary biologicals, was fully committed to improving the livelihood of Ugandan livestock farmers by partnering with the Government of Uganda and institutions such as Makerere University.
"Alfasan as a factory that was born out of partnership between Uganda and Holland is ready to give the facilities that will convert this beautiful innovation from Makerere; once again proving that Makerere is not just a theoretical teaching institution but is ready to bring out those products that can change lives in our country" affirmed Dr. Birungi.
He thanked Makerere University for recognizing the need to produce homegrown vaccines, noting that imported batches tend become less efficacious after multiple applications due to varying protein compositions of the ticks in countries where the remedies originate and Uganda.
"It is therefore important that Government doubles the effort to support CoVAB and Makerere University so that we don't only stop at this solution but go out and solve even bigger problems using research that has been proven such as this anti-tick vaccine" Dr. Birungi added.
Makerere University is home to a number of innovations, whose number keeps growing thanks to generous funding from the Government and other partners. In recognition of the need to translate these innovations into commercially viable products, the University introduced an Intellectual Property Management Office and appointed Canon Goddy Muhumuza as Ag. Manager. Guiding the MoU signing ceremony, Canon Muhumuza, who also doubles as Principal Legal Officer, made specific mention of the clause on "Ownership" clarifying that Makerere University shall own the patent of the vaccine.
"A new dawn is setting on Makerere University. Makerere University is becoming a truly international research university," commenced the Vice Chancellor as he made closing remarks following the brief MoU signing and exchange ceremony.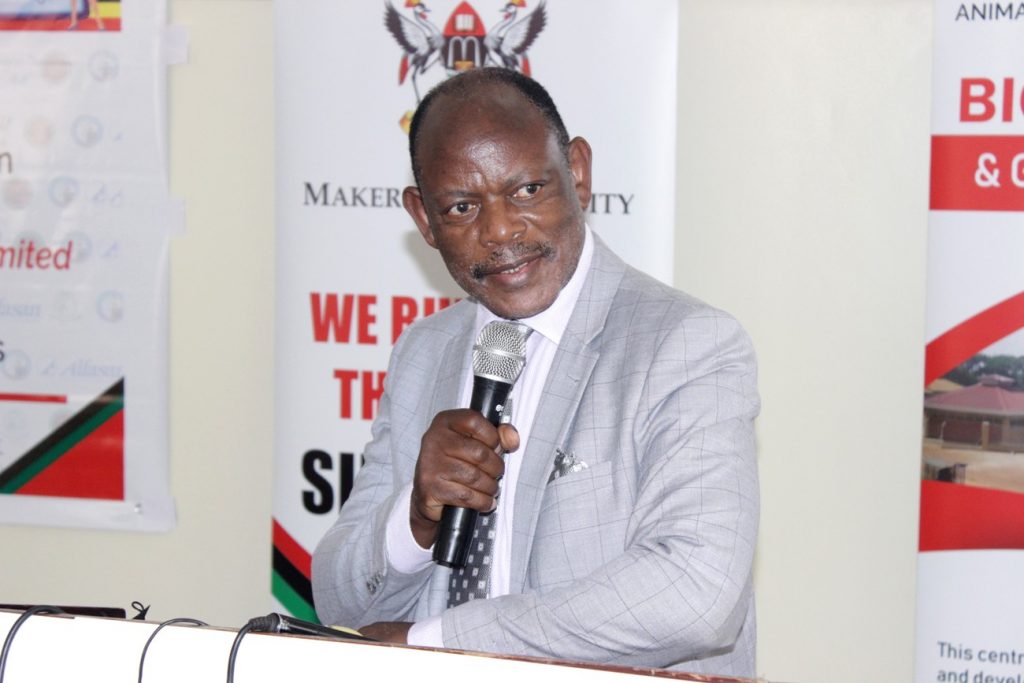 He thanked Dr. Saimo-Kahwa for her great work and mentorship as shown by the constitution of her team, mainly made up of young people. The team is made up of Scientists; Dr. Olaho Mukhani William, Dr. Kokas Ikwap, Dr. Mukiibi Herbert, Dr. Ochwo Sylvester, Dr. Musadha Zachary and Mr. Peregrine Sebulime.
In order to study the life and breeding cycles of ticks, the Initiative included a specialist (Acarologist), Mr. Charles Ssekitto. Technicians who form part of the team include; Mr. Geoffrey Ssentamu, Mr. Nalumenya David, Ms. Namubiru Sarah and Mr. Abubaker Musoba. Mr. Gerald Brooks Musinguzi is in charge of Communication while Ms. Kaudha Rose is the Administrator.
The Vice Chancellor noted that the capacity to develop vaccines was evidence of attaining to the highest levels of research capacity and expressed great pride to learn that the team was completely Ugandan. He thanked the Government of Uganda for the heavily investing in research at Makerere University and reminded staff of their obligation to give back to the taxpayers by providing good accountability.
"I must thank the leadership of the college for the great work they are doing. Professor Kabasa is passionate about Makerere and Uganda and what we should be doing to develop our country" remarked Prof. Nawangwe.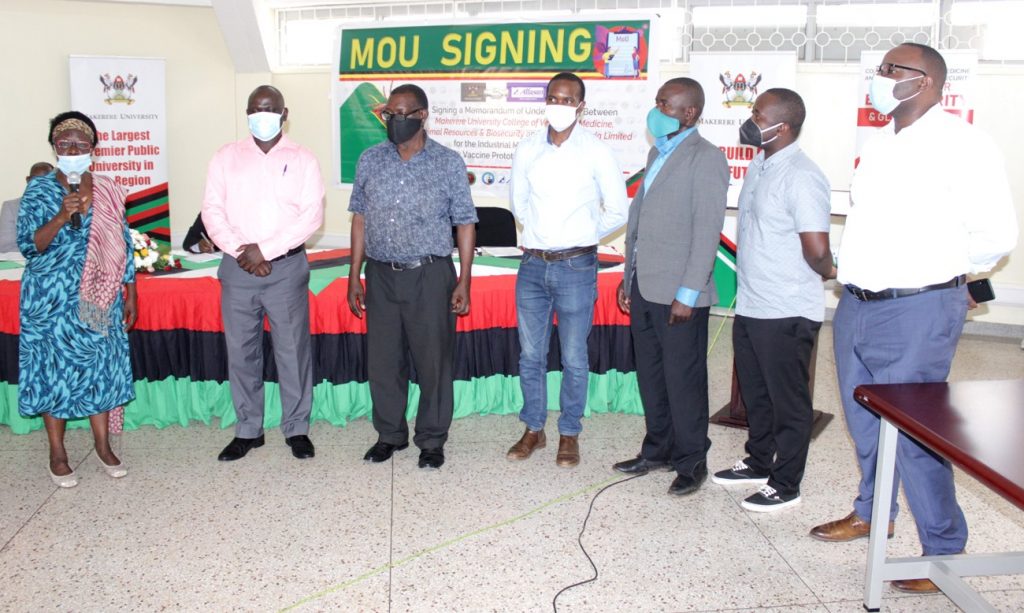 Results from the trials conducted so far showed that the overall efficacy of the vaccine candidate proteins was 86% for R appendiculatas (the brown ear tick) that transmits East Coast Fever (ECF) and 53% for R decoloratus that transmits Babesiosis. "If this vaccine can reduce the burden of tick borne diseases, we will have through one single innovation made a huge contribution to solving one of Uganda's biggest problems."
Prof. Nawangwe thanked Alfasan Uganda Limited for being pioneers in implementing academia-private sector collaboration. "As we come up with more innovations and move towards being a research-led University, it is inevitable that we have to work with the private sector, and I thank Managing Director for this gesture… you are a good alumnus."
This MoU marks the beginning of a long and mutually beneficial partnership between academia and the private sector. The Anti-Tick Vaccine Initiative intends to expand the immunization to include more animals and carry out a clinical trial to determine the appropriate dosage and schedule. Furthermore, the Anti-Tick Vaccine candidate proteins offer more opportunities to include other candidate vaccine proteins of other cattle diseases into the combination.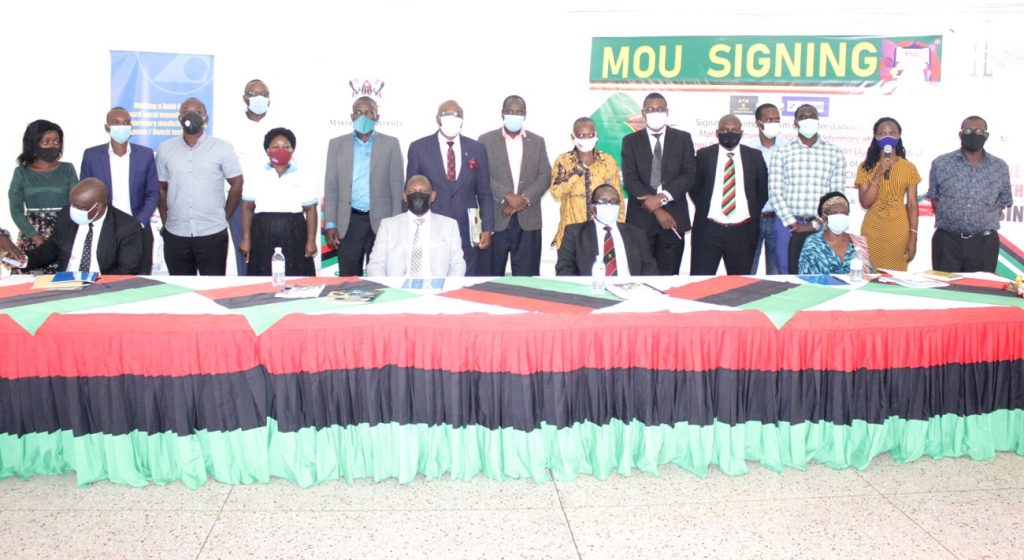 The event was moderated by the Principal Public Relations Officer, Ms. Ritah Namisango and the Communication Officer CoVAB, Mr. Gerald Brooks Musinguzi.
Article by Public Relations Office