Researchers Trained on New Methodologies of Improving Customer Water bill Payment Behaviour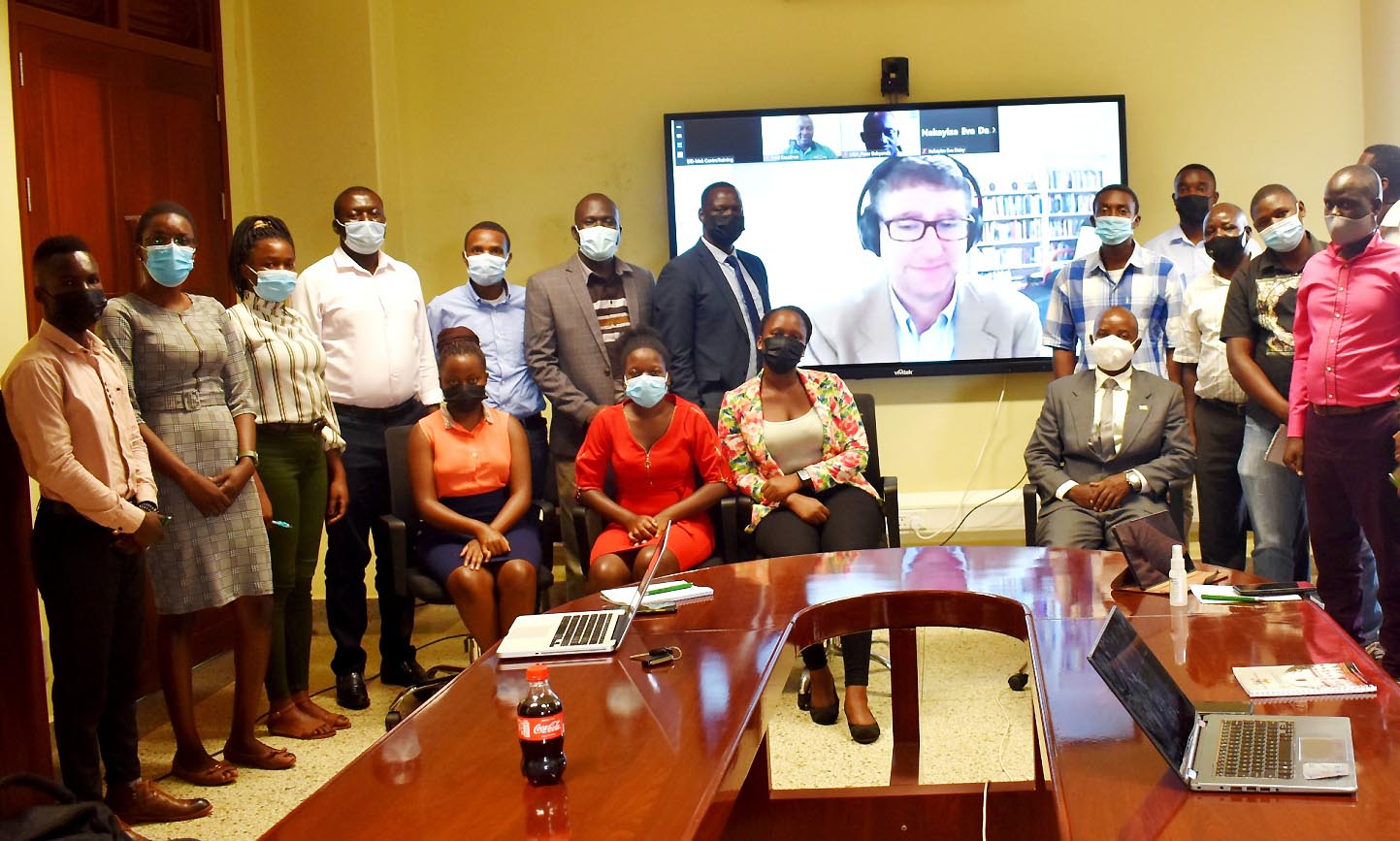 By Jane Anyango
Over 40 Makerere University researchers from the School of Economics were on 14th October, 2021 trained on new methodologies of information treatment into improving Water bills payments in Uganda and other countries.
The training held virtually and physically was organized and hosted by the Environment for Development Imitative (EfD-Mak) Centre.
The seminar was facilitated by Dr. David Fuente from the School of Earth, Ocean and Environment, University of South Carolina USA.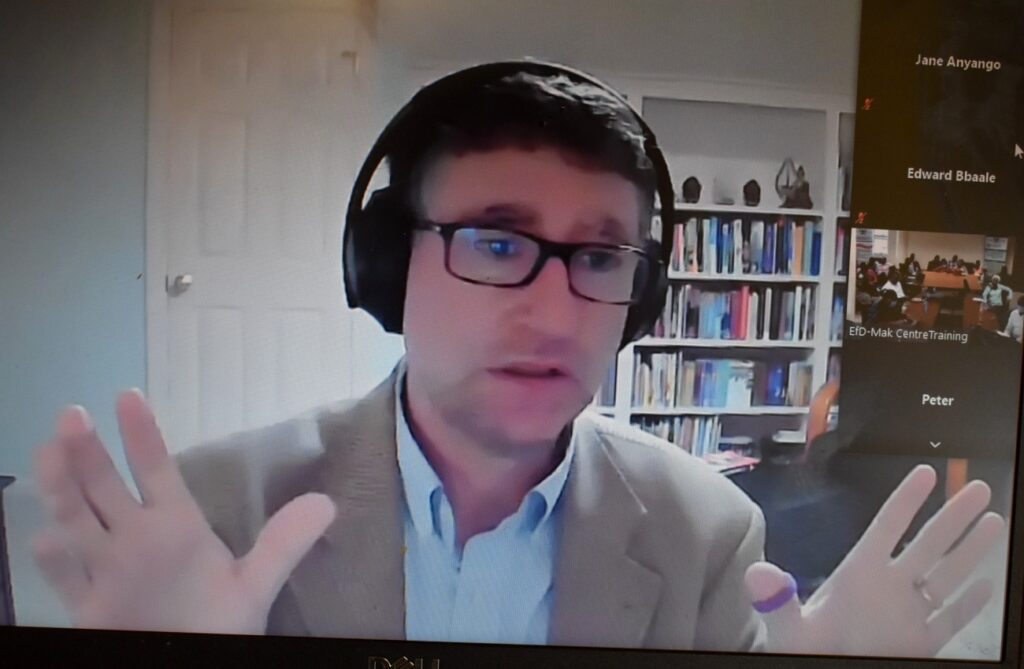 Dr. Fuente presented a number of studies conducted in different countries including Kenya and Ethiopia under the theme, "Testing information treatments to improve the Financial sustainability of water utilities". The studies according to Dr. Fuente are premised on the Global water sanitation and infrastructure challenge and the Sustainable Development Goal on provision of safe and affordable water sanitation for all by 2030.
He said policy makers face the challenge of raising water prices and improving customer bill payment behaviour noting that both are politically difficult.
"Water infrastructure is capital intensive, but largely out of public view. Improving customer awareness of the capital intensity of water supply and sanitation service delivery may increase customer perception of, "fair" water prices, however, mode of information treatment likely matters and further research is needed", the facilitator said.

Dr. David Fuente explained that customer arrears are a chronic problem in the water and sanitation sector in the global South which undermines utilities financial stability.
"Arrears undermine tilities financial stability. For example, in South Africa, households owed municipal governments 40 billion Rand (about 4 billion USD). In Kampala Uganda, 57% of residential customers accounts have arrears while in Nairobi Kenya, 60% of customers have arrears", he cited.
Despite the challenge, Dr. Fuente observed that, very limited work on why customers do not pay their bills and common assumptions may be wrong and lead to substantial policy mistakes.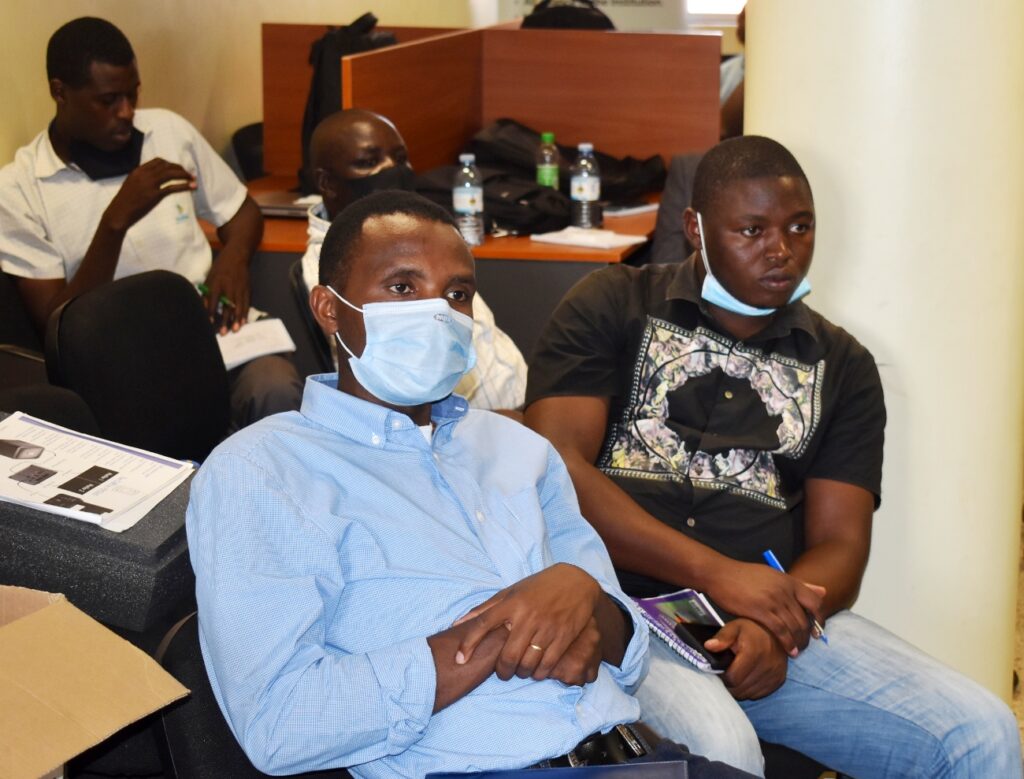 "Simple, low-cost information treatments may improve customer behavior, but evidence is needed and are likely to be panacea.Policy makers need to think carefully about deploying multiple, well targeted policy instruments to improve customer payment behavior", he stated.
Dr. Fuente provided insights from a series of literature and studies from Kenya, Ethiopia and South Africa that examined customer perceptions of, "fair" water prices and information treatments to improve customer bill payment behaviour.
The studies sought to address whether information treatments can improve customer bill payments and which treatments are more effective at improving customer bill payment. The general information treatment interventions discussed to improve bill payment included hard threats of disconnection for non-payment, soft encouragement that informs tenants, simple payment reminders and routine billing information, use of subsidies, sanctions, moral suasion.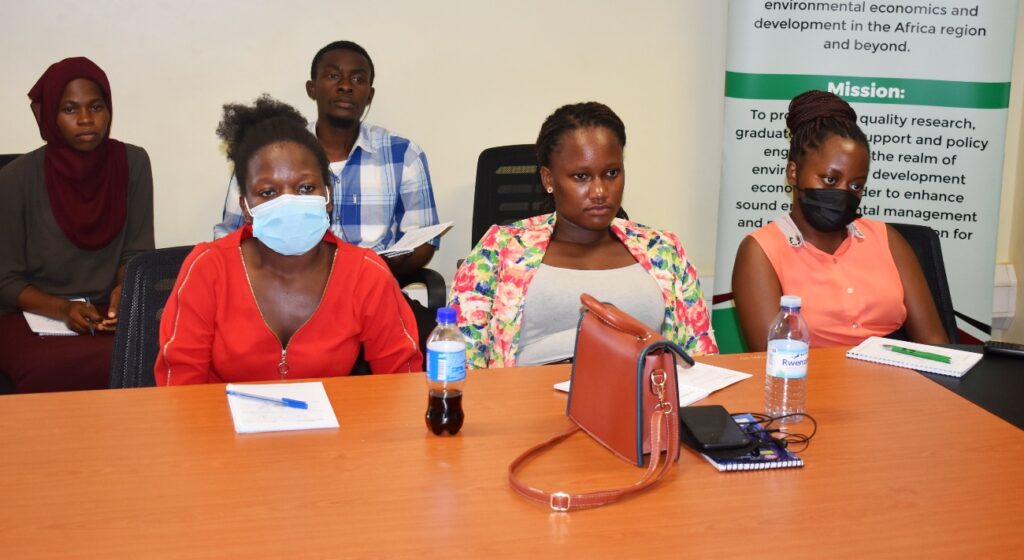 The goals of these studies were to reduce arrears and bill-nonpayment to improve the financial stability of utilities; Boost the agency's financial position to cater for its investments and to increase the social welfare from the agency's investments.
In Uganda Dr. Fuente said there is proposal that is competing for Sida funds titled, "Using information treatments to improve water bill payments under the National Water and Sewerage Corporation".
The Director EfD-Mak Centre Prof. Edward Bbaale said, such a study is practical and primary on how to create a shock in the perceptions of people so that they can start responding to paying their bills.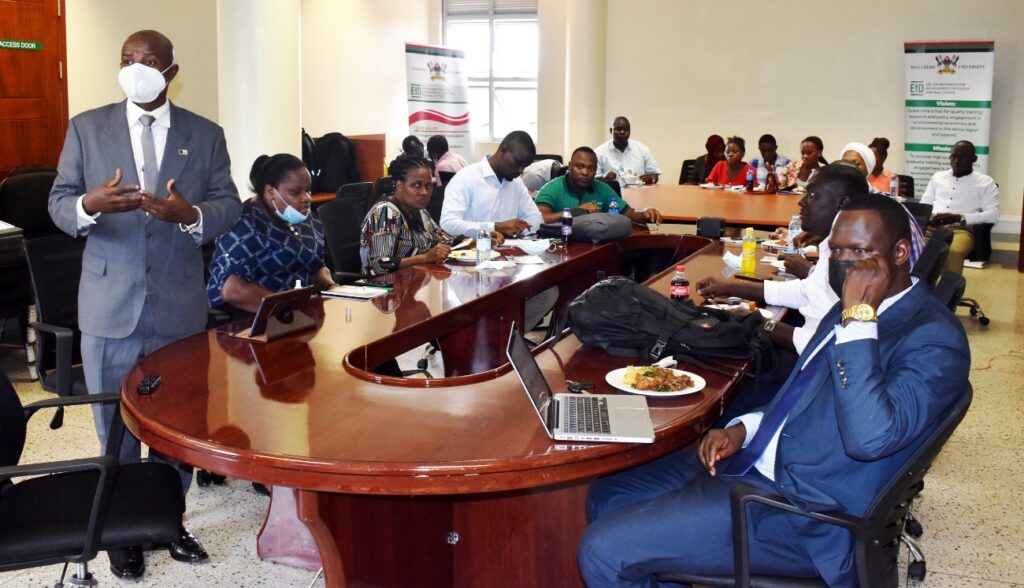 Prof. Bbaale said this training was important not only to the country and researchers, based on reason that these are new techniques of analysis that researchers at the EfD-Mak centre needed to pick up and get interested to undertake similar studies.
The Director expressed the need for water agencies to have financial stability to give a good service noting that what is being proposed is to make sure that financial stability of water agencies is improved.
Prof. Bbaale shared that water supply is capital intensive and requires a lot of money to lay pipes and maintain the treatment plants and yet customers comparatively pay less.  He said, to supply clean water, expand the reach and maintain constant water supply, water supply agencies require substantial resources.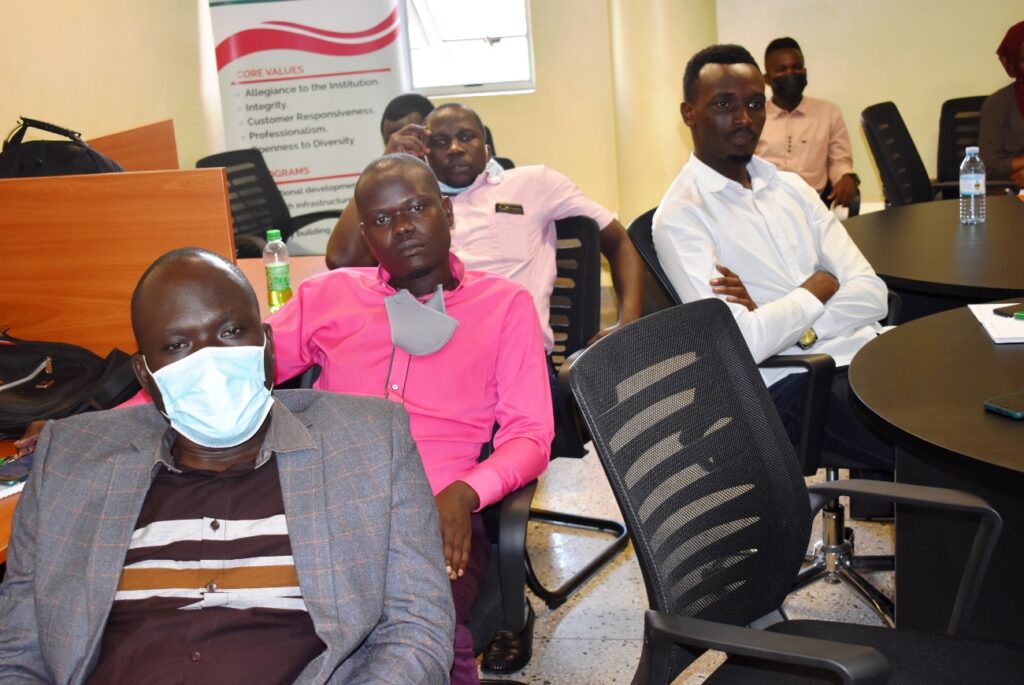 He noted that the National Water and Sewerage Corporation of Uganda is constrained by resources to maintain their supply and pipes and at the same time lack enough resources to reach the unserved areas.
"There is no study yet in Uganda that is trying to utilize the methodologies learnt into analyzing how to improve water bill payments in Uganda despite the common knowledge that many customers have payment arrears.
I am hopeful that the proposed study in Uganda will win the Sida grant and will go a long way in informing NWSC and government on how to improve water bill payments. And, if this study is implemented, it will be a great opportunity for us to see what findings come forth and what recommendations are put forward for government to improve water bill payment". Prof. Bbaale stated.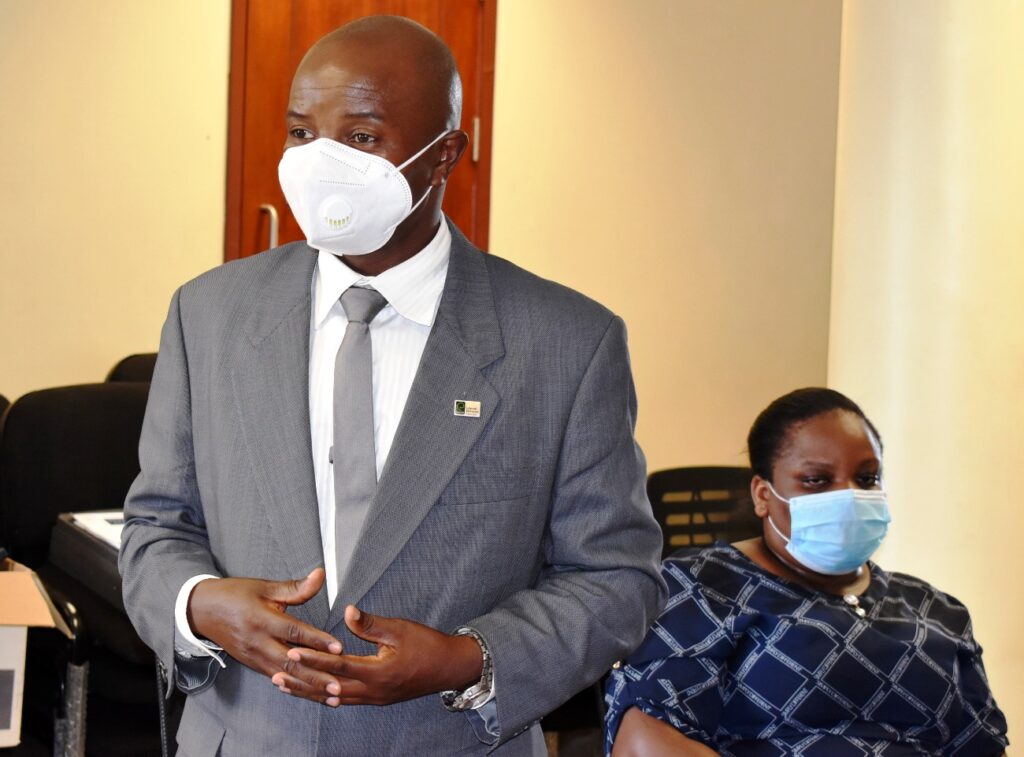 Participants speak on the training
Dr. Oryem John Bosco, a Lecturer in the School of Economics described the training as a good collaboration and chance for researchers to understand what is going on with other researchers.
"And in this case, understanding what research is going on in terms of utility payments and challenges that communities face in paying water bills is a good study which links with the SDGs and the national development goals.
So understanding why payments delay and what can make people pay their water bills is a very good innovation. From this training and the proposed Uganda study, the facilitator is intending to craft messages to the water consumers to ensure that public utilities get the desired revenue that can make them operate without too much financial constraints", Dr. Oryem commended.
Mr. Peter Babyenda the Policy Engagement Specialist in charge of coordinating the Inclusive Green Economy (IGE) training program who is also a PhD student thanked EfD-Mak center for organizing the wonderful training.
"The presentation is new to us, and it touches on of the key issue-water, where we have so many problems. I heard there is a proposal for Uganda which I am so interested in and can't wait to see how this study goes. I am interested in the findings and to learn more on the methodologies", Mr. Babyenda stated.
Jane Anyango is the Principal Communication Officer, College of Agricultural and Environmental Sciences (CAES)
IGE Cross-country National Policy Review & Training Workshop opens in Uganda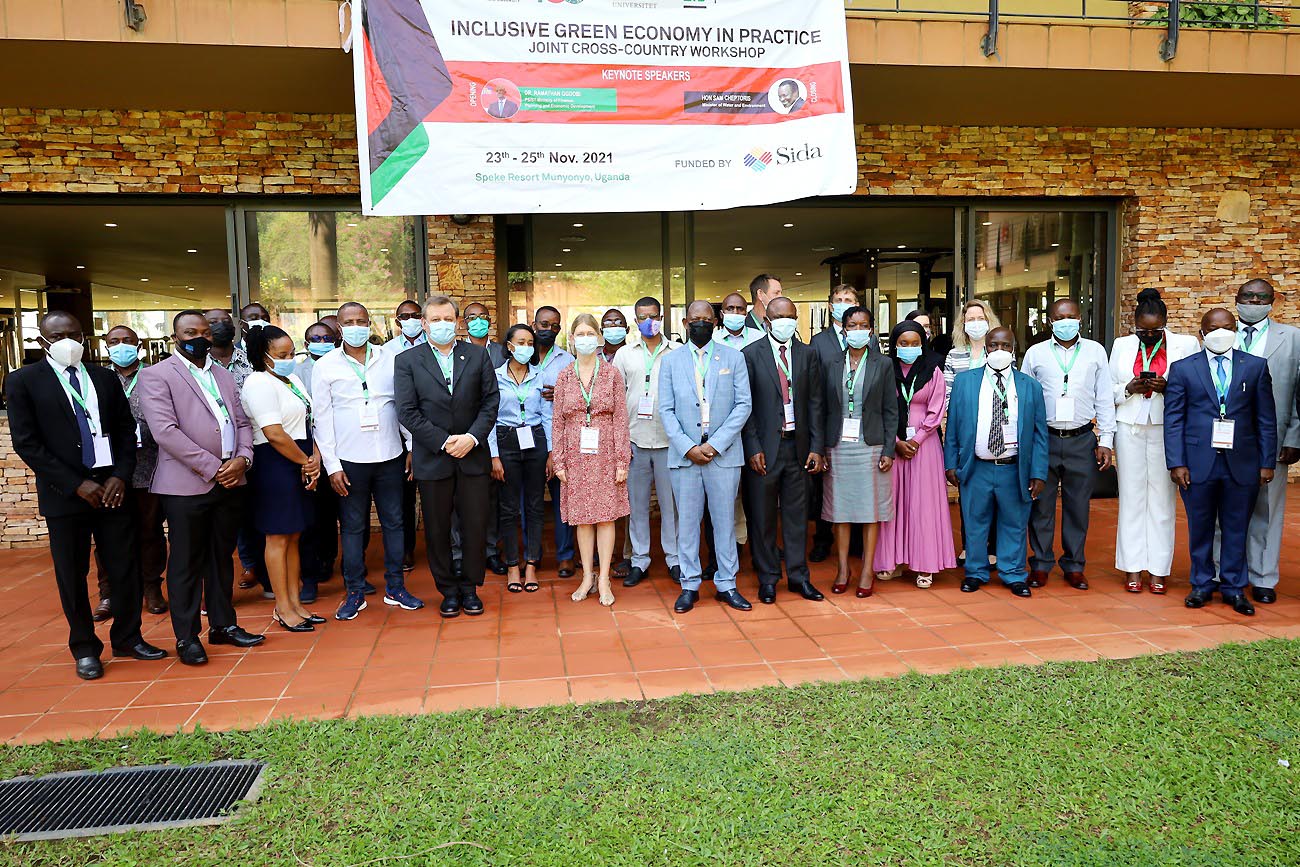 The three-day Inclusive Green Economy (IGE) cross-country National Policy Review and Training Workshop was on 23rd November 2021 opened at the Speke Resort Hotel Munyonyo in Uganda attracting over forty members of academia and policy makers from the Swedish Environment for Development (EfD) Global hub and the East African countries including Uganda, Kenya, Rwanda, Tanzania and Ethiopia.
The function running 23rd -25th November, 2021 was organized by the EfD-Mak Centre, Uganda in collaboration with University of Gothenburg, as part of the activities of the Inclusive Green Economy (IGE) capacity building programme for senior civil servants and policy makers sponsored by the Swedish International Development Cooperation Agency (Sida).
The purpose of the National Policy Review (NPR) training is to strengthen cross-country peer learning by conducting an analytical review of their neighboring country's NPR, and strengthen networks on Inclusive Green Economy in the region.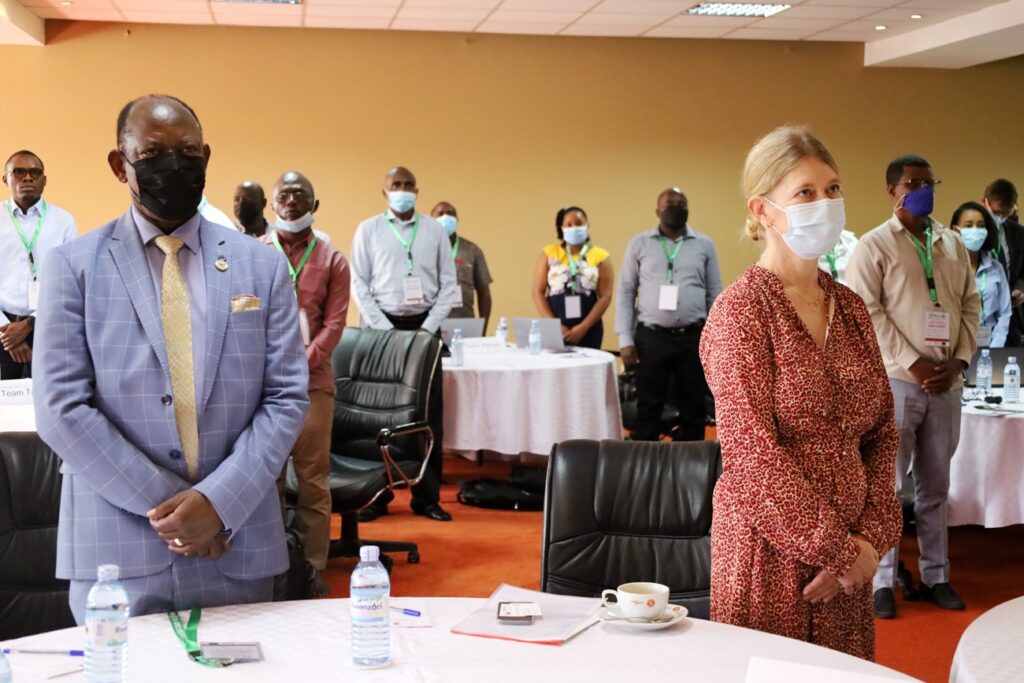 The workshop was opened by the Swedish Ambassador to Uganda H.E. Maria Håkansson. The function was also graced by the Permanent Secretary Ministry of Finance Planning and Economic Development, the Vice Chancellor Makerere University Prof. Barnabas Nawangwe and the Principal College of Business and Management Sciences (CoBAMS) Assoc. Prof. Eria Hisali.
Focus is to keep track towards Agenda 2030 and Paris Agreement for a green transition
Ambassador Håkansson said the workshop comes at a right time as the world experiences the effects of climate change.
"We are living in the mix of climate change. It is no longer a distant problem for the future generation. It affects all of us living now and climate and biodiversity is top priority of my government and we see it clearly linked to poverty reduction and economic development", She said.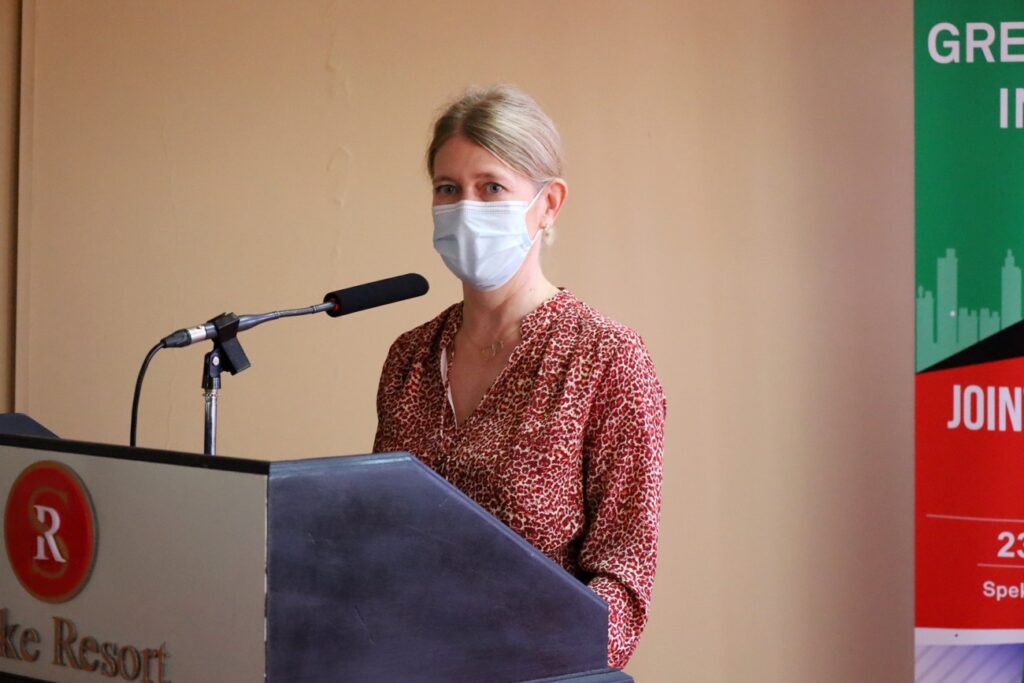 She noted that although a lot of focus today is on COVID-19 pandemic, there is need to start tracking the way out of the crisis towards recovery.
"Recovery strategies need to be developed to promote inclusive growth, employment and competitiveness. Identifying such strategies will depend on how deep and long lasting the economic recession becomes and should also include structural elements that can be used as opportunities to undertake important reforms for the future.
And in doing so, we must endure the approach of the UN Secretary General. We must ensure that the recovery strategies keep us on track towards Agenda 2030 and those of the  Paris Agreement of building  a sustainable  inclusive economy that is a recovery base for a green  transition", the Ambassador emphasized.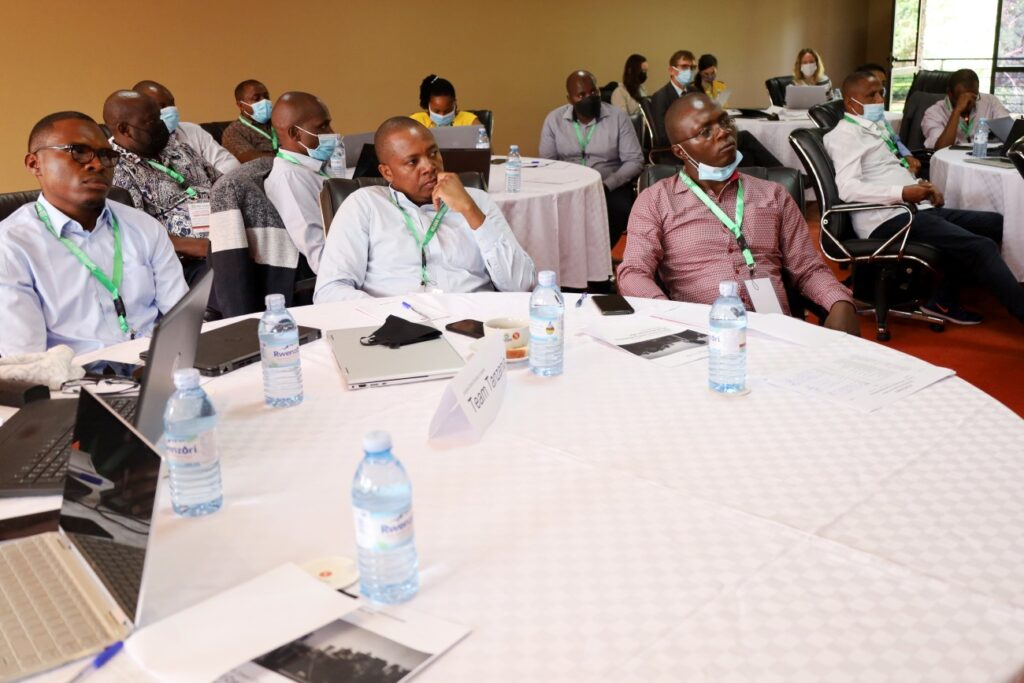 She reported that Sweden was the first country to pass an environmental protection act in 1967 and has continued to take a leading role in tackling climate change to government action and set a goal for carbon neutrality that is more ambitious to the Paris Agreement.
In addition the Ambassador said, the Swedish government has successfully decoupled carbon dioxide emissions from growth since 1997 without compromising public welfare while increasing prosperity for its inhabitants.
By adopting ambitious climate policies, Sweden also wants to set a good example for others to follow and in doing so, it is one of the world largest providers of climate financing and sharing knowledge and incorporating various programmes such as the Inclusive Green Economy in practice
Uganda's progress towards inclusive green economy implementation
Representing the Permanent Secretary, Ministry of Finance, Planning and Economic Development, Ms. Maris Wanyera said, for years, Uganda has experienced a positive trend in population growth which is associated with increased unemployment and environmental destruction.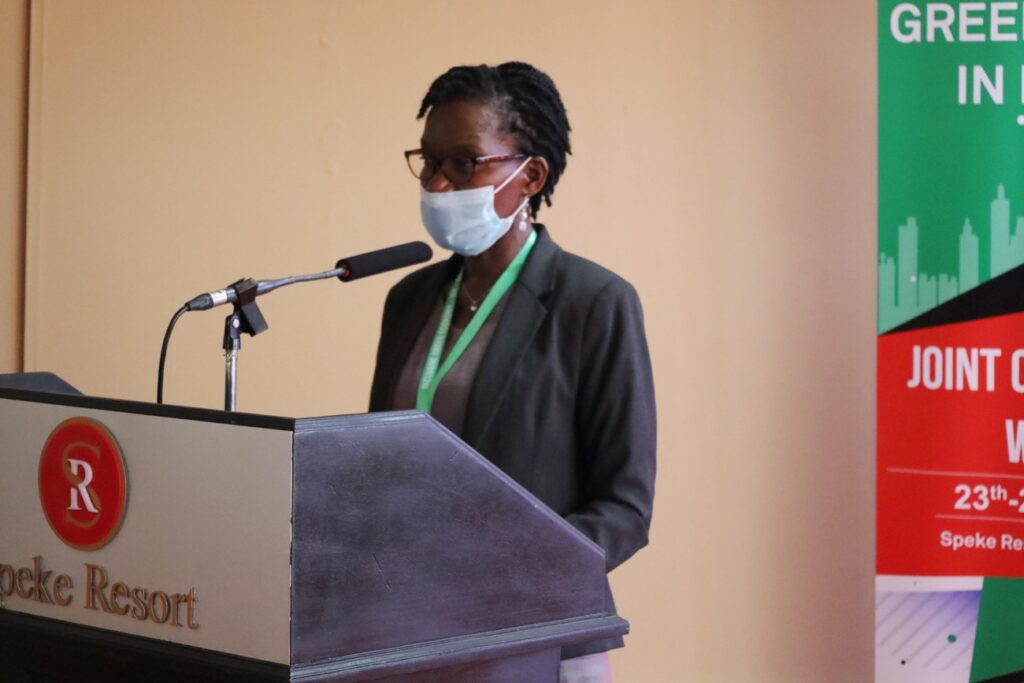 "The country is still challenged with the continuous abuse of natural resources especially forests and wetlands. Relatedly, this has raised concerns on whether the attained economic growth has not been achieved at the expense of the environment and natural resources". Ms. Wanyera said
As the 2030 Agenda took effect globally, Wanyera said, Government took steps to implement principles such as green growth that are embodied in the Sustainable Development Goals (SDGs).
"Uganda was among the first countries to mainstream SDGs into its development plan, although a strategy that unpacks green growth into sectoral interventions that can be implemented had not yet been devised.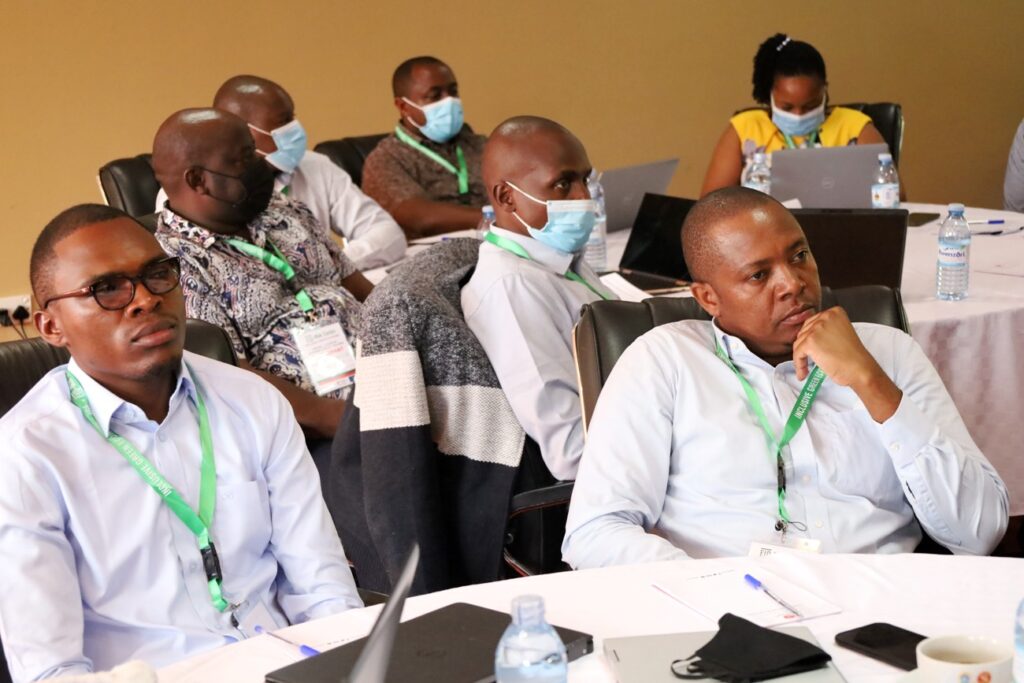 In response, Government developed the Uganda Green Growth Development Strategy (UGGDS) as the blue print to operationalize green growth principles and accelerate the implementation of global development goals, Uganda Vision 2040 and the National Development Plans 2 and 3", Ms. Wanyera said.
The goal of the UGGDS according to Wanyera is to achieve an inclusive low emissions economic growth process that emphasizes effective and efficient use of natural, human and physical capital while ensuring that natural assets continue to provide for present and future generations.
For purposes of achieving the objectives of the UGGDS, Ms. Wanyera said, Government requires that all new projects across all sectors include aspects of sustainable green growth largely emphasized in implementation of the National Development Plan II (2015 – 2020) and currently in NDP III (2021 – 2026).
Accordingly, the NDP III (2021-2026) has a fully-fledged program on climate change in addition to mainstreaming it in all other programmes.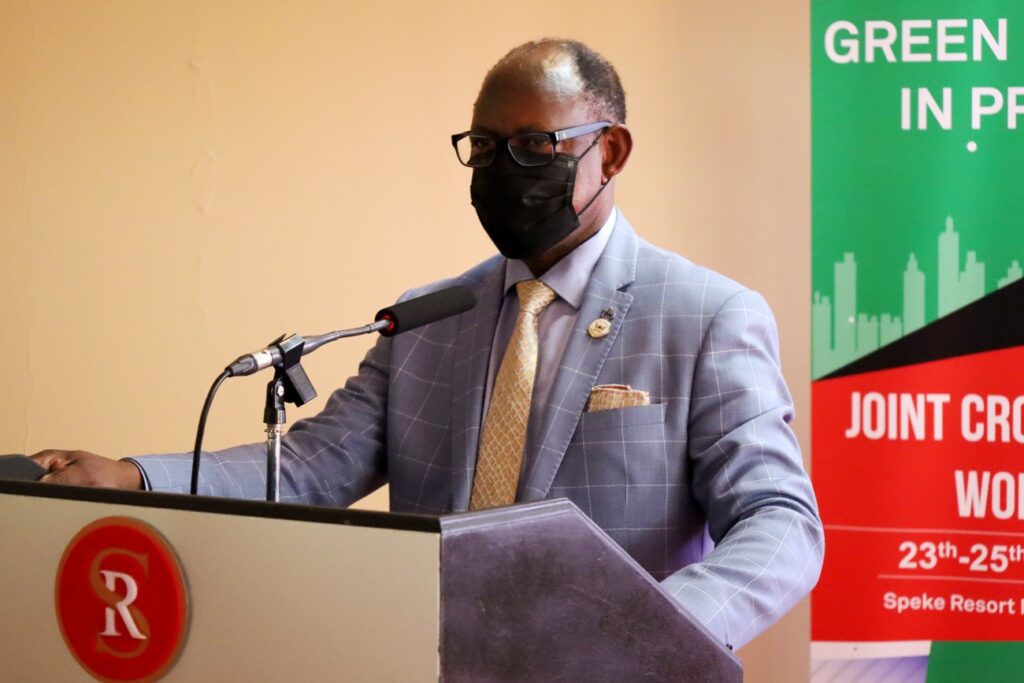 "Uganda has just recently passed the National Climate Change Act 2021 and to further augment the Green Growth Development Strategy and to address the post COVID 19 recovery, the country is working on integrating climate-resilient and low carbon emission measures into Government's stimulus and recovery packages. The priority areas are: climate finance, ICT (Digitalization of sectors), resilient transport, urban and built environment, energy, human capital development and public procurement", Wanyera said.
Environmental degradation a matter of urgency for Uganda's academia
The Vice Chancellor Makerere University Prof. Barnabas Nawangwe said it is extremely urgent for Uganda to think of addressing the issue of environmental depletion.
"There is massive use of firewood as the major source of cooking fuel, cutting down trees for charcoal for home use and export to countries like South Africa. It may be fetching us some little money but we need to think of our future generation.
As a country we need to sit and think seriously about alternative energy sources and reduce the destruction of the environment, otherwise we are heading for real trouble and we are going to leave our children in difficult situations", Prof. Nawangwe said.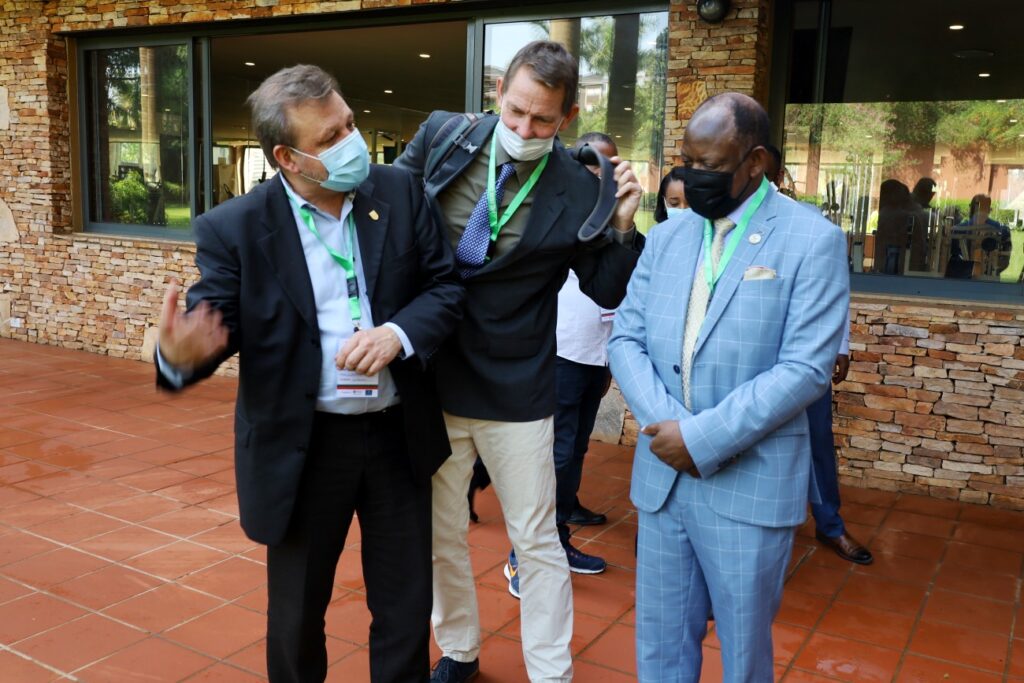 The Vice Chancellor noted that government has tried to come up with laws on protecting the environment but the challenge remains with enforcement. Alternatives such as use of electricity and solar energy are in place but with limitations of affordability and reach. Prof. Nawangwe said these requires the private sector to come on board to supplement government efforts.
As a university, the Vice Chancellor said, the issues of climate change, environmental degradation and the increasing population growth are important to the university.
"The university has a responsibility to conduct research and take the lead in finding solutions to the pressing issues and giving evidenced policy briefs to government to make decisions and come up with new workable policies based on research. We have a number of researchers working on environmental issues and I am happy that the university of Gothenburg is working with Makerere on environment issues through the EfD-Mak Centre", Prof. Nawangwe said.
He said the university promotes multidisciplinary research that brings together expertise in agriculture, economics, forestry, environment and gender among others in trying to seek solutions to environmental challenges facing the country.
IGE fellows challenged on addressing capacity gaps, domestication and monitoring progress of the Inclusive Green Growth concept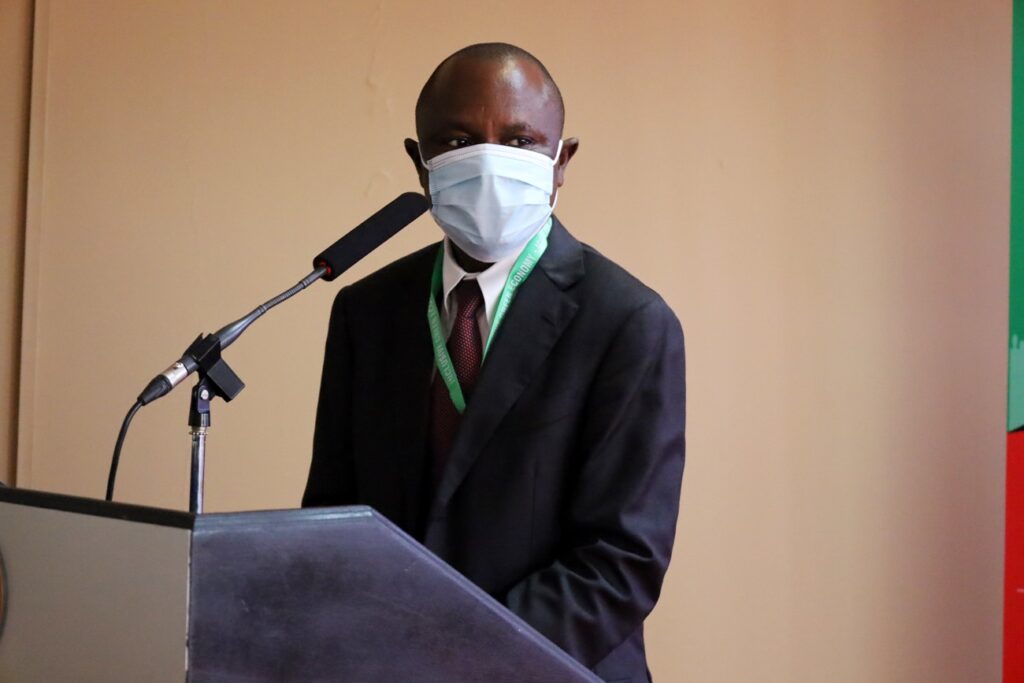 The Principal College of Business and Management Sciences, Assoc. Prof. Eria Hisali paid tribute  to the leadership of the EfD-Mak Centre for  mentoring  the IGE fellows in Uganda pledging commitment to support to the program.
Assoc. Prof. Hisali challenged the IGE fellows to look at the capacity gaps in matters related to inclusive green economy noting that the training in Uganda has covered six fellows and this is only a drop in the ocean compared to size of public service in and the challenges posed by climate change and environmental degradation.
"…how fast are we going to scale up the group to reach out to a bigger number of people? The second challenge is the domestication of the concept of inclusive green economy. With the different international protocols, experience given and many ideas on how to take up the inclusive green economy, how much of this has been domesticated across the different countries?
Do we have a coherent framework in our countries for monitoring and evaluating the progress and how much of  this concept is appreciated out there and if not, what should we do to cover the capacity gaps?", Assoc. Prof. Hisali asked.
Jane Anyango is the Communication Officer, EfD-Mak Centre
Statisticians Urged to Digitalise Data Analysis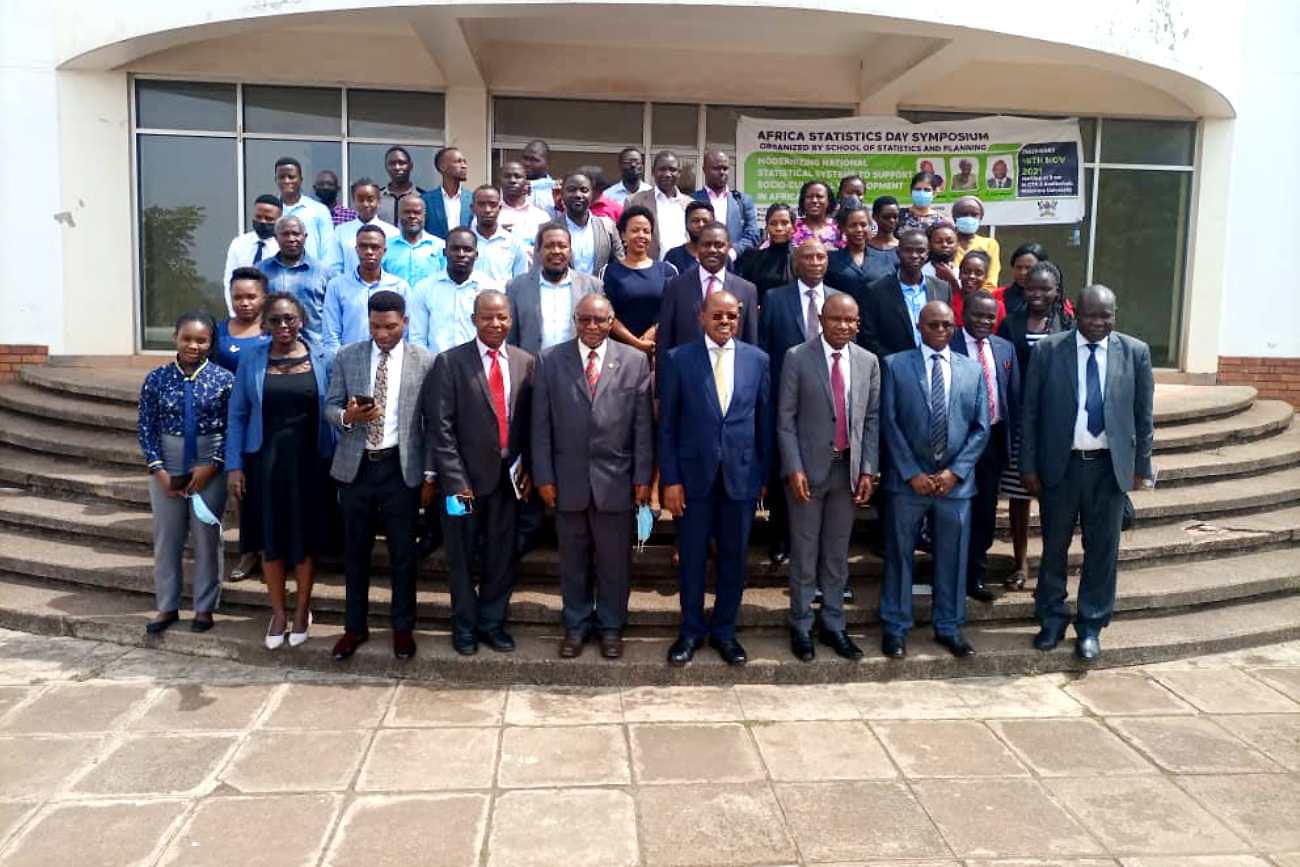 The School of Statistics and Planning has been urged to embrace digitalisation of data analysis as a way of modernising national statistical systems to support sociocultural development in Africa.
The call was made by Prof. Ben Kiregyera, a senior statistician and researcher, during a symposium to mark the Africa Statistics Day held 18th November 2021 at Makerere University.
The symposium was organised by the School of Statistics and Planning in partnership with Uganda Bureau of Statistics (UBoS) and the Uganda Statistics Society (USS), under the theme "Modernizing National Statistical Systems to support sociocultural development in Africa."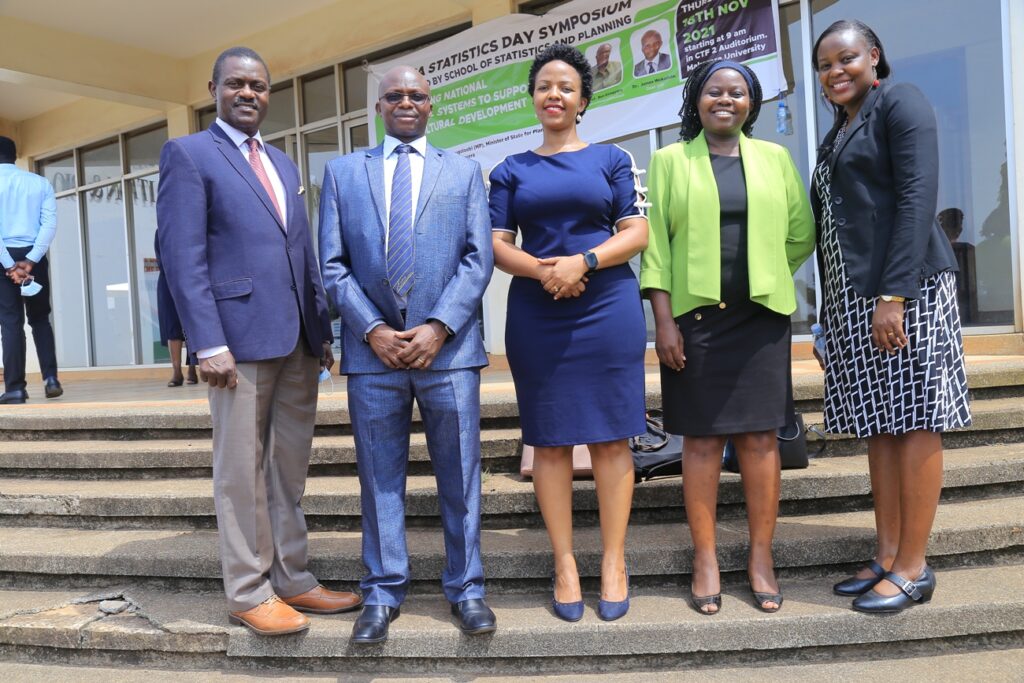 The keynote speaker, Prof. Kiregyera pointed that there is a lot of delay and laxity in collection and delivering real time data to the public by the responsible bodies which jeopardises the work of other bodies that use this same data e.g. the Central Bank and other institutions.
He believes this can be addressed in various ways like scaling up of Statistics advocacy, statistical literacy, extending frontiers to the traditional,national systems through embracing the new data sources that include telecom data, E_ commerce, Web crawling, Social Media and GIS.
Countries in the East Africa that have since migrated digitally in terms of data analysis include Rwanda that uses tabs which are assembled within the country by university students as well as Kenya.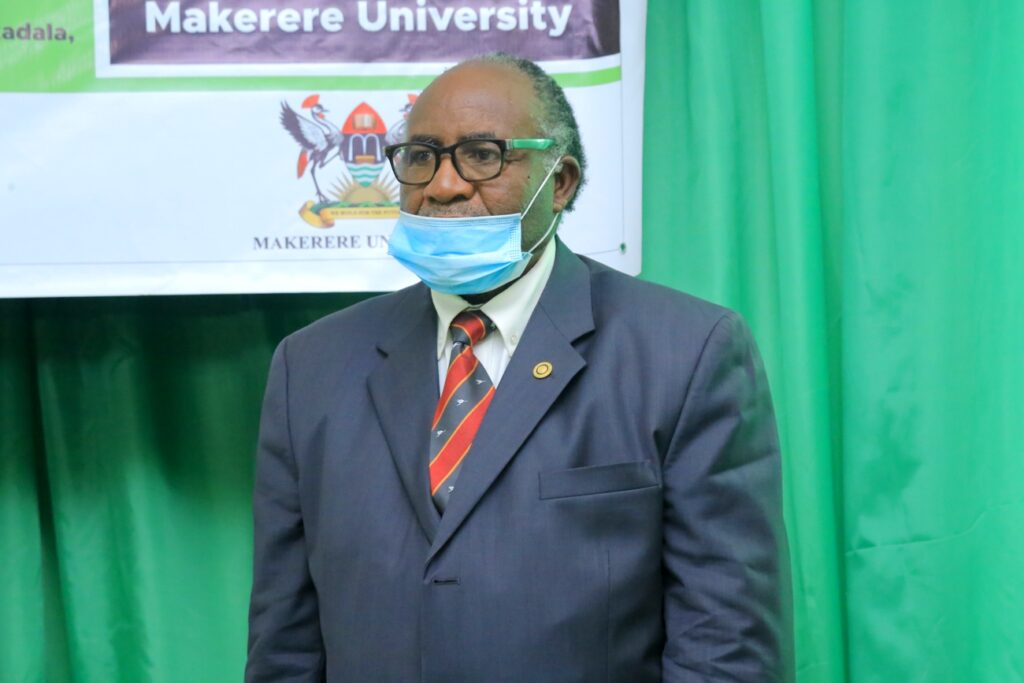 The Professor pointed out that the demand for data analysts in America is higher than that of statisticians something that should push all the statisticians to embrace new skills to increase their competence in a very fast changing world that doesn't need manual work but digital. This he said can be achieved through building new data sources,capacity building in data science as well as producing more data scientists.
Speaking at the opening the symposium, the Principal of the College of Business and Management Sciences, Prof. Eria Hisali said the college intends to launch an initiative dabbed the "The policy Lab series." Witch will attract dignitaries especially policy makers from Parliament,cabinet, senior civil servants and academia to meetings to address various issues affecting the economy of the country.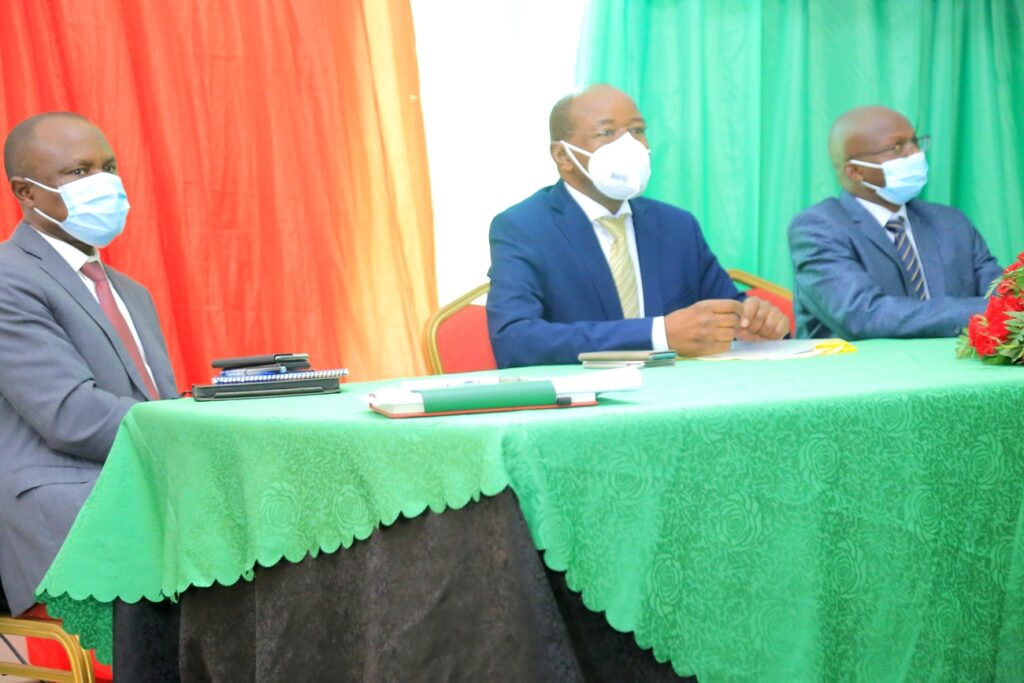 Prof. Hisali added that the college had created a unit specifically for data management, in it's infancy as young as 3 years, intending to support agencies in data analysis.
 "We have been able to run courses in computer management and impact evaluation that attracted over 60 students from various parts of the world," he said.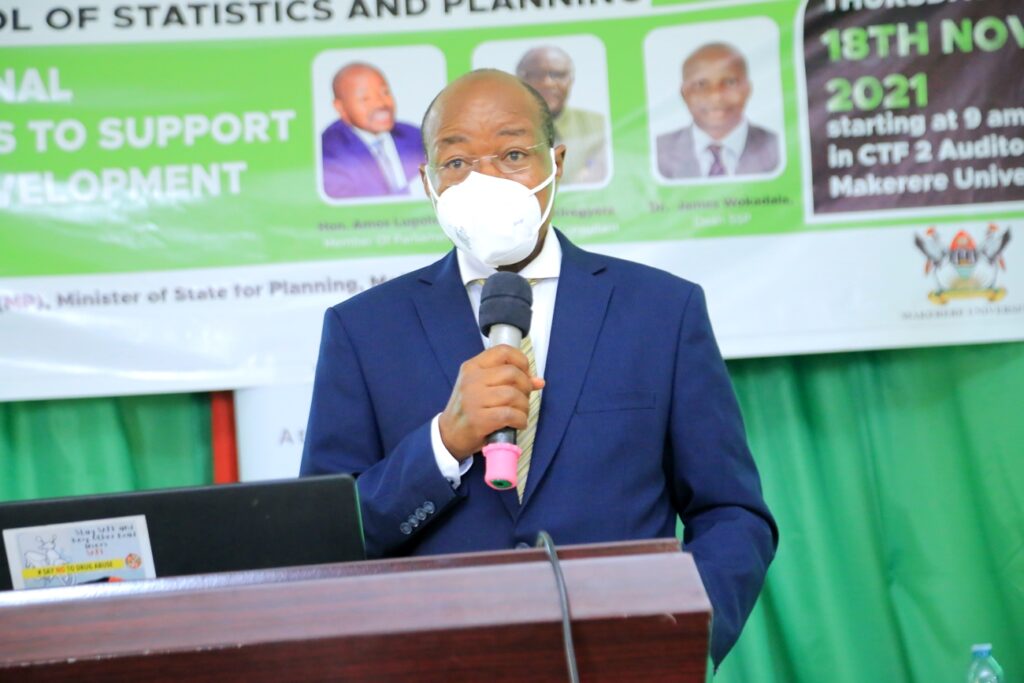 Responding to the Principal, the Minister of State for Planning, Hon. Amos Lugoloobi, who was the guest of honor noted that over the years there has been a gap in dissemination of the service to the public and if such future plans are fulfilled then the college will have played a very big role in developing the economy of this country.
The Dean of the School of Statistics and Planning, Dr. James Wokadala, thanked his staff for their continued contribution to training statisticians in the country. Dr. Wokadala called upon statisticians to be aggressive,proactive and vigilant to fill any gap in the economy even when they are not called upon. The School of Statistics and Planning has been in existence since 1968 and has so far and trained over 2,200 undergraduate students with 5 programmes and 9 post graduate programmes with 3,030 students, the Dean noted.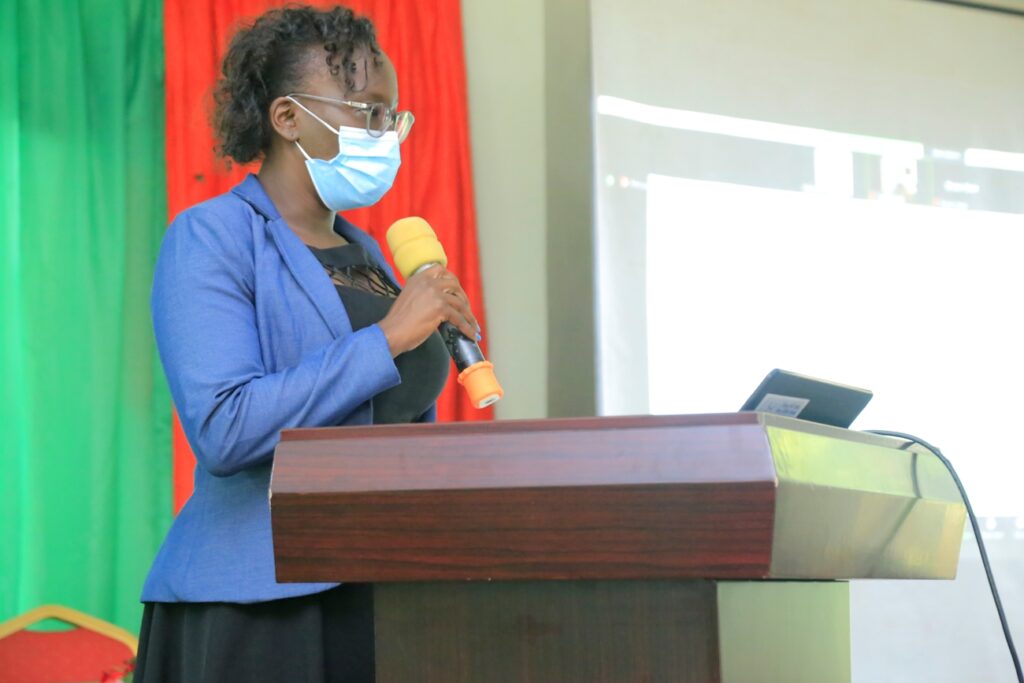 Betty Kyakuwa is the Principal Communication Officer CoBAMS and CEES
The Africa Statistics Day Symposium recording:
MBA Shortlist for Graduate Admission Test (GAT) 2021/2022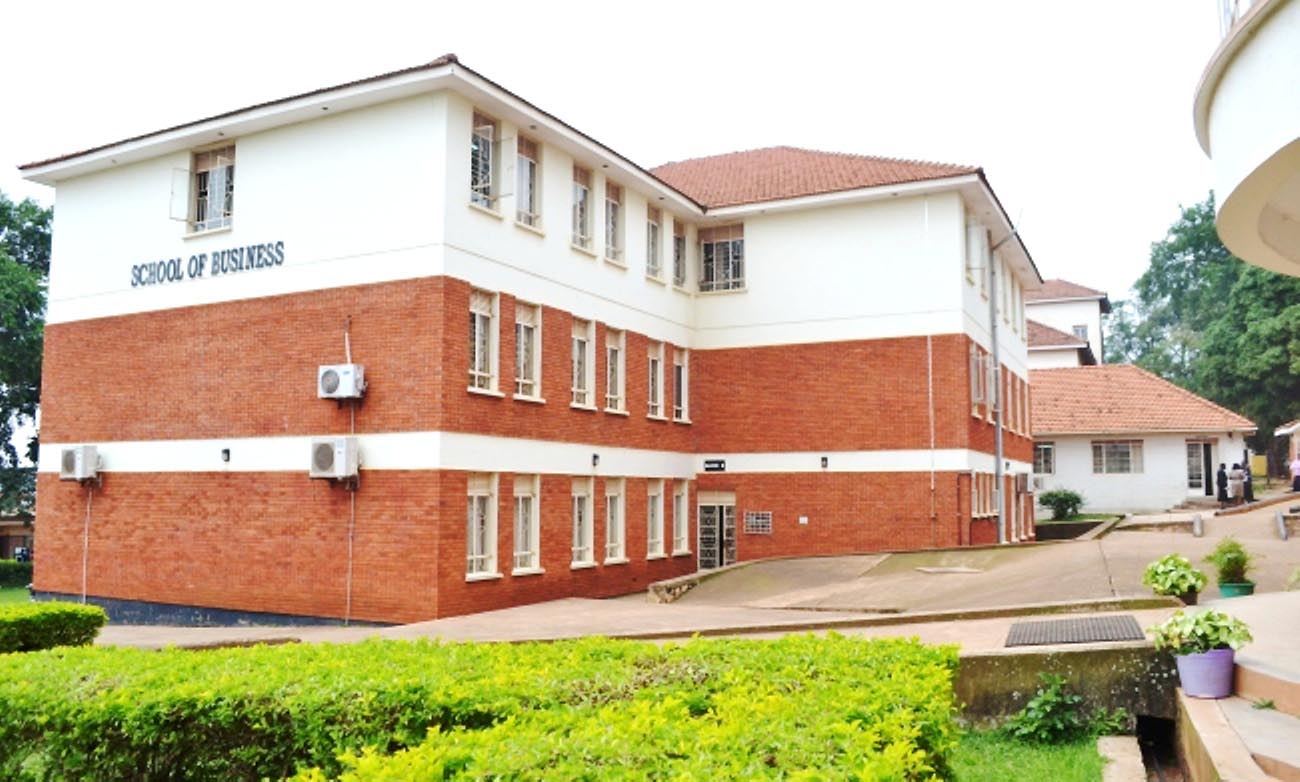 The Academic Registrar, Makerere University, invites all shortlisted candidates who applied for the Master of Business Administration (MBA) programme offered at Makerere University Main Campus; College of Business and Management Sciences (CoBAMS) for academic year 2021/2022 for a Graduate Admission Test (GAT).
The test is scheduled to take place on Saturday 4th December 2021 starting 9:00 AM in the Central Teaching Facility 2 (CTF 2) Auditorium.
For all inquiries contact:
The Dean's Office
School of Business, Block B, Room 3.2B
E-mail: deanbiz[at]bams.mak.ac.ug
Tel. No.: +256-774-716210, +256-704-710810