Address Financial Literacy to Improve Household Income-Study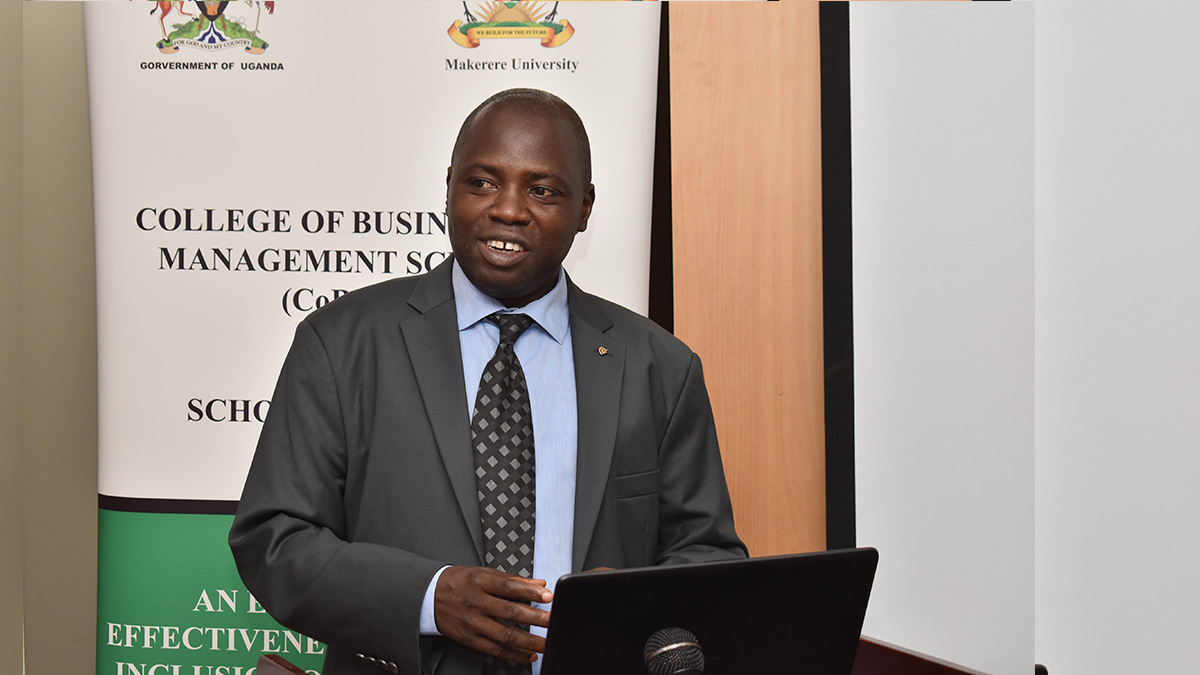 Findings by a team of researchers from the College of Business and Management Sciences (CoBAMS) have recommended that the Government through its agencies should partner with private financial institutions to organise financial literacy trainings to teach households on how to access capital, save and invest in productive ventures. The recommendations were made at a research dissemination workshop for the project titled: Evaluation of the effectiveness of financial inclusion on household's welfare in Uganda: A case study of Busoga region.
While officially opening the hybrid dissemination workshop held on Wednesday 29th September 2020 in the School of Business Conference Room and virtually, the Principal CoBAMS, Dr. Eria Hisali thanked the Government of Uganda for funding the project through the Makerere University Research and Innovations Fund (Mak-RIF). He equally commended the Principal Investigator (PI), Dr. Eric Nzibonera and his team on successfully completing their project and achieving the set objectives.
Dr. Hisali proposed four options to ensure that the findings from the study reach a wider audience.
Immediately upload the findings on the College's new working paper series website, which will enable staff to read the document and provide feedback
Proceed to transform the working paper into a journal article so as to reach audiences from different parts of the world
Proactively review curricular in preparation for the possibility of gradually using research from Makerere as part of course outlines and teaching materials.
Take advantage of the College's planned framework of engaging policy makers formally through policy labs that will be held every quarter.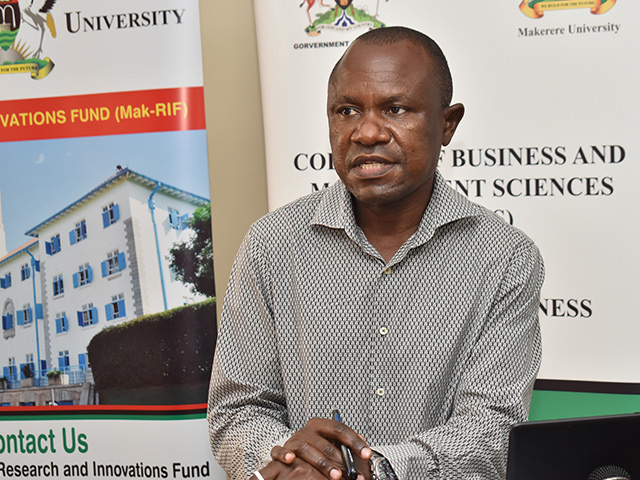 Presenting the findings from the project, the PI Dr. Nzibonera thanked the Principal for his advice and his research team for their hard work. Other members of the team that sampled 430 heads of households included the Dean School of Business Dr. Godfrey Akileng and Ms. Hellen Nambi.
"Financial Inclusion is a process through which financial services are delivered to the disadvantaged and low-income sections of the society on a timely basis and at affordable costs" defined Dr. Nzibonera, adding that "the relationship between financial inclusion and poverty alleviation has been widely discussed but only few studies explore the effect of financial inclusion on household welfare."
He therefore shared the twofold objective of the project as; to establish the extent to which the rural households engage in financial inclusion and to examine the nature of household welfare and establish the extent to which financial inclusion enhance households' welfare. The latter, he noted, would help guide policy recommendations to the Government and private sector.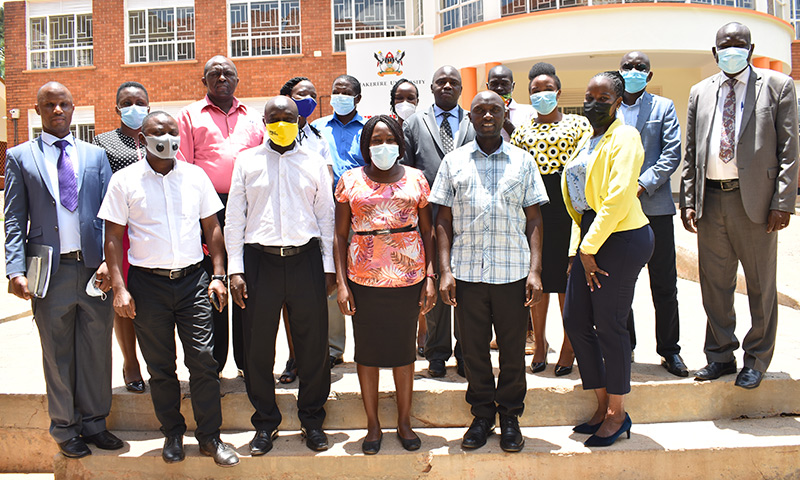 Dr. Nzibonera noted that financial inclusion is measured through establishing the extent of availability and accessibility to financial services, affordability, usage and quality of financial products. He added that household welfare is improved through access to quality education and health services, improved shelter, food production and consumption as well as access to information.
The findings on availability and accessibility to financial services revealed an interesting pattern. "Whereas households still find it hard to access formal financial services for savings and deposits' and services provided by bank agents are irregular, they easily access mobile money services for withdrawals and payments" he shared.
In terms of affordability, findings revealed that although the cost of accessing financial institutions and withdrawing funds from mobile money agents is still high, the cost of accessing financial services through bank agents and carrying out financial transactions through financial institutions is affordable.
Investigations into the usage and quality of services showed that households find it easy to use mobile money and village SACCOs to make deposits and payments for school fees. Despite the ease of use, households find it hard to save with banks, microfinance institutions and SACCOs.
"The accounts opened in banks and SACCOs are not frequently used and the services offered by banks or their agents are not regular" added Dr. Nzibonera.
The research team's findings showed that financial inclusion has partly enhanced the welfare if households in Busoga.
"The study revealed improvement in income levels as a result of accessing loans from financial institutions and SACCOs. The number of school going children has also increased as a result of borrowing opportunities from SACCOs" said the PI.
Dr. Nzibonera added that although it is easy for households to access information about financial services relevant for welfare improvement, "there is limited income to enable households gain access to good healthcare and carry out construction."
The team therefore made the following policy recommendations;
Financial and microfinance institutions should employ agents to at least every parish or sub-county to grant households easy access to financial services.
Government through District commercial officers should encourage households to organise into village savings and credit cooperative organisations (SACCOs) at parish level and identify unique financial products that promote savings and investments for different groups.
Government agencies such as the Micro Finance Support Centre and Operation Wealth Creation (OWC) should partner with private financial institutions to organise financial literacy trainings for households on how to save as well as identify and invest in productive investment ventures.
The cost of financing should be reduced to rates that are affordable by households. This will improve household income for both consumption and investment.
Financial institutions should design financial products that would enable households to access funds for construction as long as there is a clear payment plan and evidence of source of income for loan repayments.
Speaking on behalf of the Mak-RIF Grants Management Committee (GMC) Chairperson Prof. William Bazeyo, Dr. Helen Nambalirwa Nkabala congratulated the research team upon the successful dissemination and thanked Dr. Hisali for proposing policy labs as a means of engaging policy makers.
She urged Dr. Nzibonera as a firsthand witness on the state of financial inclusion to go beyond the policy recommendations and draft a successor project proposal on solutions that can clearly and precisely take financial inclusion at the grassroots level to the next level.
"You are the right people to guide Government on what unique product the community will get and how it will help improve their financial knowledge" she recommended.
Dr. Nkabala thanked the Government for funding research and innovations that inform national development priorities and the University Management for creating an environment conducive to conducting research. In the same breath she thanked the GMC for providing oversight and the GMC Secretariat for ensuring that the projects run smoothly.
"This is a clear example of taking the Ivory Tower to the community" she concluded.
Representing Mr. John Peter Mujuni, Executive Director, Microfinance Support Centre (MSC) and Chief Guest at the dissemination, Mr. Godfrey Mangeni thanked the research team for a job well done, and pledged take the findings and policy recommendations very seriously.
"Please share these findings so that we can work with you in other areas like Bukedi and Karomoja to improve our services" he remarked.
Mr. Mangeni shared that there still remains a lot of work to be done to support Government's Parish Development Model in the Busoga region despite MSC's zonal office in Jinja and a satellite office in Iganga and as such, called upon researchers from Makerere to share their expertise.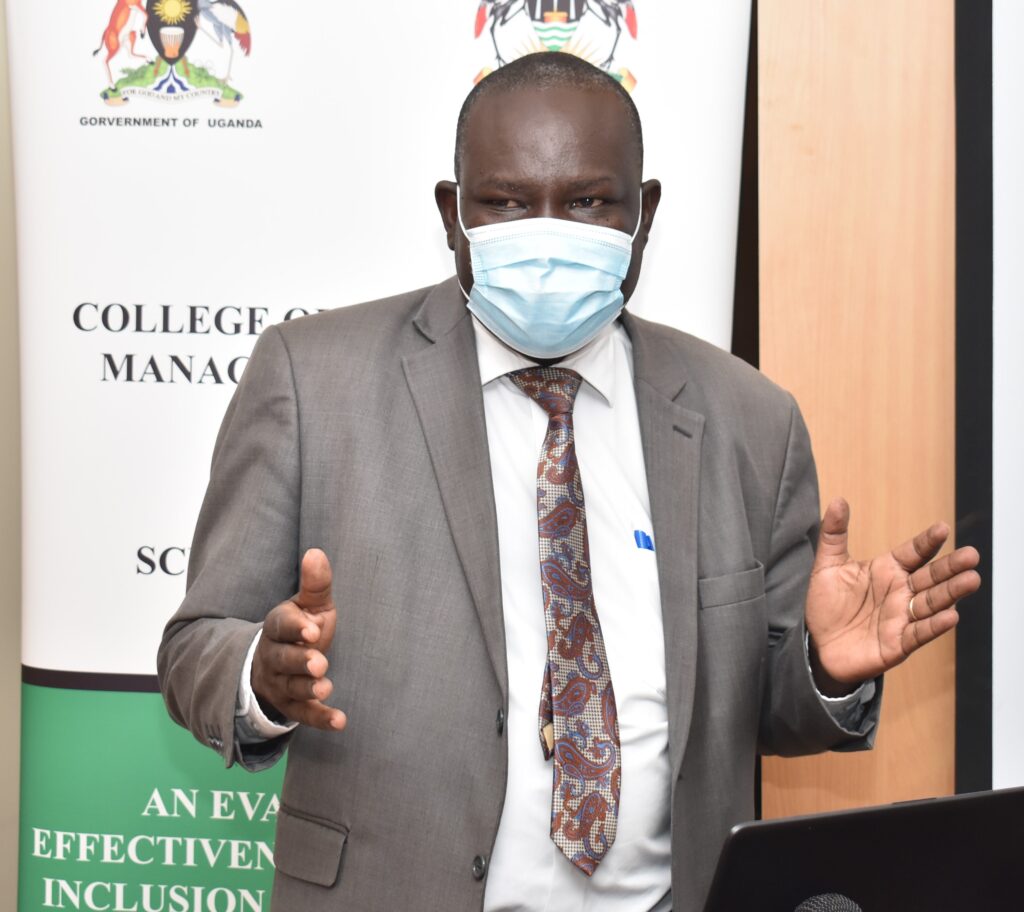 Delivering the concluding remarks, Dr. Akileng in his dual capacity as Research Team member and Dean noted that Financial Inclusion is an important topical issue for national development and therefore expressed happiness that the Government had found it fitting to fund the project.
"As a nation, we need to reflect reflect on Government interventions aimed at addressing gaps of financial inclusion that financial institutions have not been able to fill" he rallied. This reflection, he said, ought to be guided by the question 'Where have been the successes in social impact and where have been the failures?'
He noted that although Financial Technology (FINTECH) is the buzzword when it comes to improving service delivery, its success is hinged on how easy it will be for end-users at the grassroots level to adopt the various solutions offered.
"I believe that a highly informed community with the ability to easily access financial services and mobilise savings is key to the improvement of household earnings as well as boost demand and productivity in the country" he added.
In the discussion that preceded the concluding remarks, Mr. John Emoi, the Manager Investments at Uganda Development Bank who joined the conversation virtually had expressed his organisation's keen interest in the days topic and research findings. Particularly, he had urged the research team to include the development of FINTECH models as a means of disseminating financial services among their policy recommendations.
In conclusion, Dr. Akileng called for affirmative action for business teaching institutions, "Business touches every sector and it is important to appreciate that if we must make money in any sector, we must understand business."
Researchers Trained on New Methodologies of Improving Customer Water bill Payment Behaviour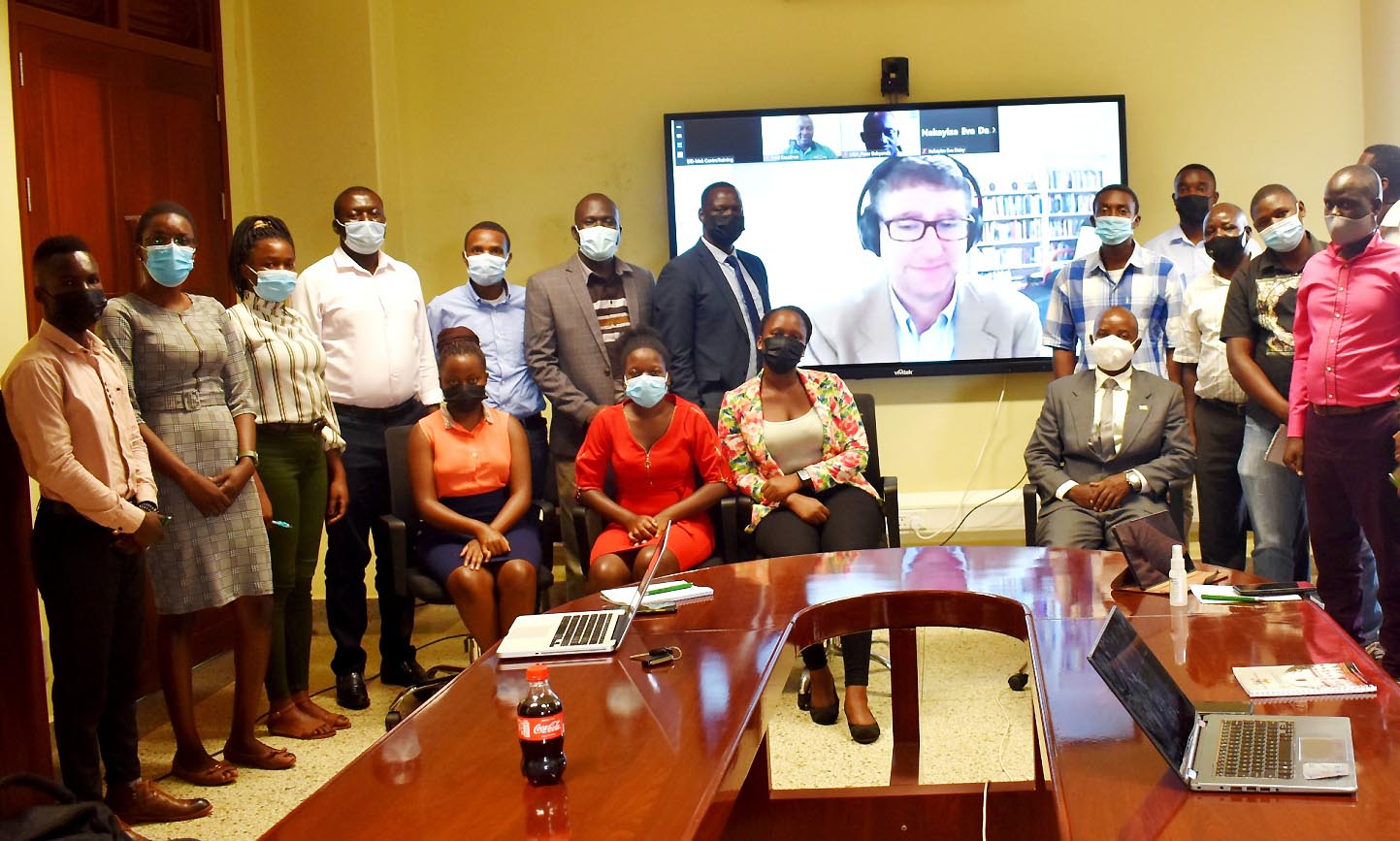 By Jane Anyango
Over 40 Makerere University researchers from the School of Economics were on 14th October, 2021 trained on new methodologies of information treatment into improving Water bills payments in Uganda and other countries.
The training held virtually and physically was organized and hosted by the Environment for Development Imitative (EfD-Mak) Centre.
The seminar was facilitated by Dr. David Fuente from the School of Earth, Ocean and Environment, University of South Carolina USA.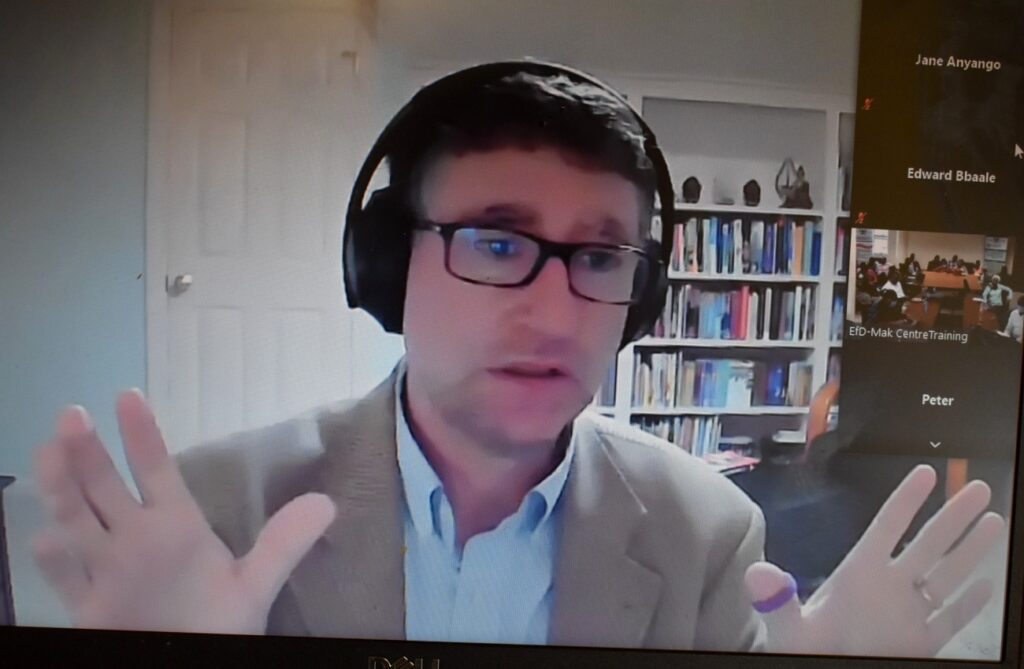 Dr. Fuente presented a number of studies conducted in different countries including Kenya and Ethiopia under the theme, "Testing information treatments to improve the Financial sustainability of water utilities". The studies according to Dr. Fuente are premised on the Global water sanitation and infrastructure challenge and the Sustainable Development Goal on provision of safe and affordable water sanitation for all by 2030.
He said policy makers face the challenge of raising water prices and improving customer bill payment behaviour noting that both are politically difficult.
"Water infrastructure is capital intensive, but largely out of public view. Improving customer awareness of the capital intensity of water supply and sanitation service delivery may increase customer perception of, "fair" water prices, however, mode of information treatment likely matters and further research is needed", the facilitator said.

Dr. David Fuente explained that customer arrears are a chronic problem in the water and sanitation sector in the global South which undermines utilities financial stability.
"Arrears undermine tilities financial stability. For example, in South Africa, households owed municipal governments 40 billion Rand (about 4 billion USD). In Kampala Uganda, 57% of residential customers accounts have arrears while in Nairobi Kenya, 60% of customers have arrears", he cited.
Despite the challenge, Dr. Fuente observed that, very limited work on why customers do not pay their bills and common assumptions may be wrong and lead to substantial policy mistakes.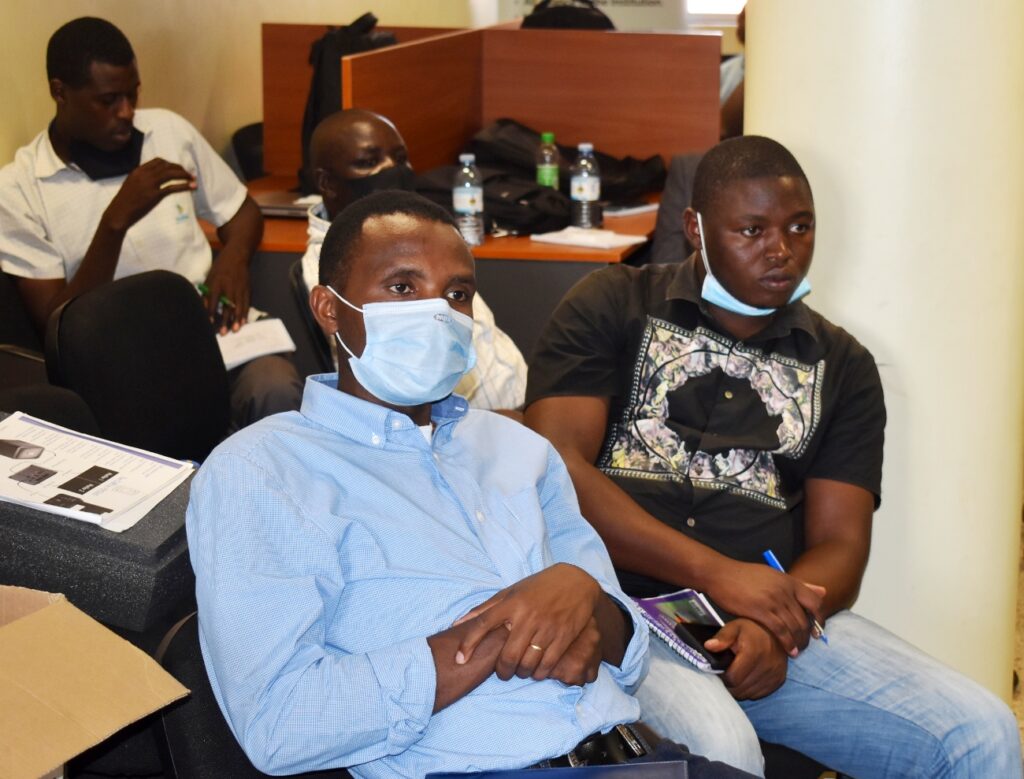 "Simple, low-cost information treatments may improve customer behavior, but evidence is needed and are likely to be panacea.Policy makers need to think carefully about deploying multiple, well targeted policy instruments to improve customer payment behavior", he stated.
Dr. Fuente provided insights from a series of literature and studies from Kenya, Ethiopia and South Africa that examined customer perceptions of, "fair" water prices and information treatments to improve customer bill payment behaviour.
The studies sought to address whether information treatments can improve customer bill payments and which treatments are more effective at improving customer bill payment. The general information treatment interventions discussed to improve bill payment included hard threats of disconnection for non-payment, soft encouragement that informs tenants, simple payment reminders and routine billing information, use of subsidies, sanctions, moral suasion.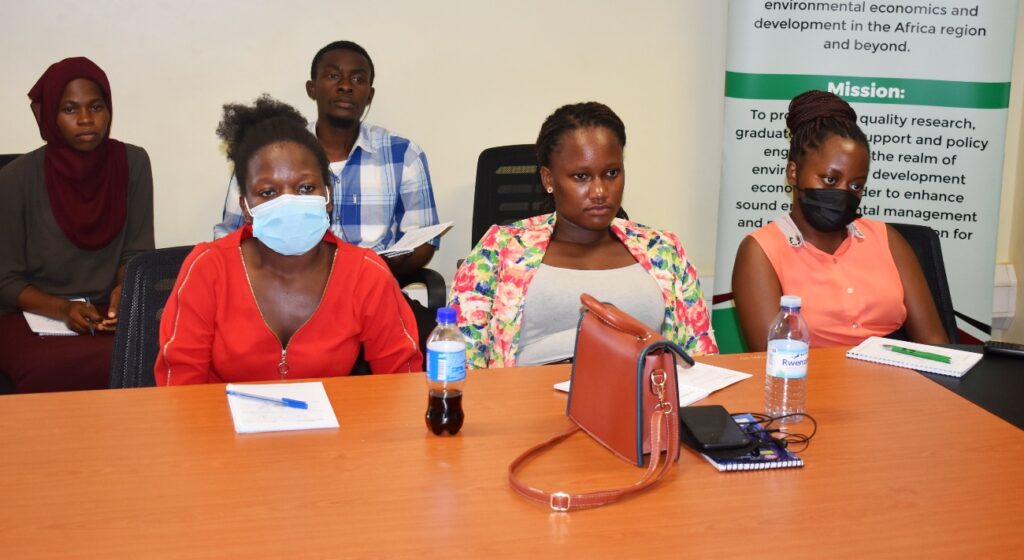 The goals of these studies were to reduce arrears and bill-nonpayment to improve the financial stability of utilities; Boost the agency's financial position to cater for its investments and to increase the social welfare from the agency's investments.
In Uganda Dr. Fuente said there is proposal that is competing for Sida funds titled, "Using information treatments to improve water bill payments under the National Water and Sewerage Corporation".
The Director EfD-Mak Centre Prof. Edward Bbaale said, such a study is practical and primary on how to create a shock in the perceptions of people so that they can start responding to paying their bills.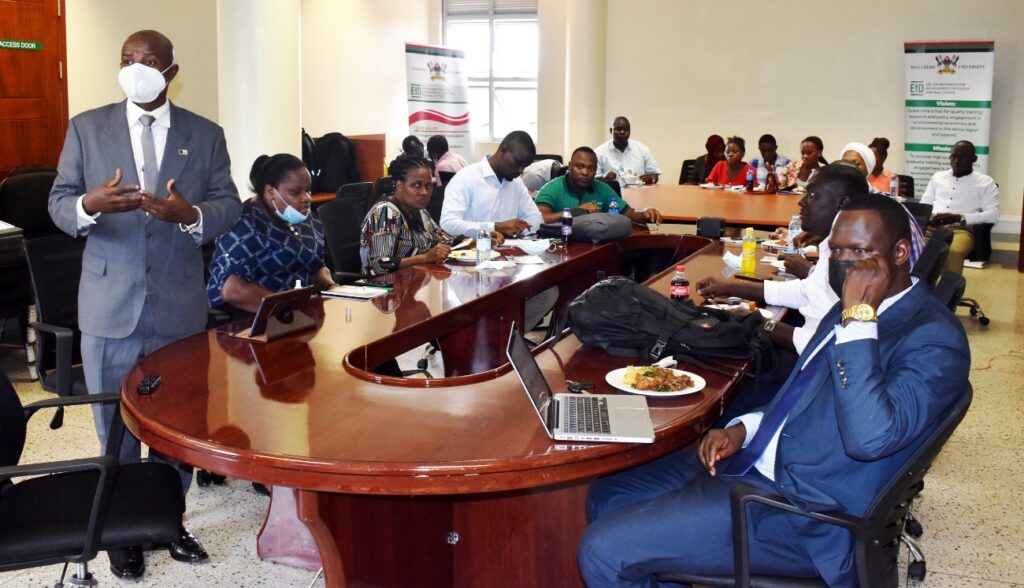 Prof. Bbaale said this training was important not only to the country and researchers, based on reason that these are new techniques of analysis that researchers at the EfD-Mak centre needed to pick up and get interested to undertake similar studies.
The Director expressed the need for water agencies to have financial stability to give a good service noting that what is being proposed is to make sure that financial stability of water agencies is improved.
Prof. Bbaale shared that water supply is capital intensive and requires a lot of money to lay pipes and maintain the treatment plants and yet customers comparatively pay less.  He said, to supply clean water, expand the reach and maintain constant water supply, water supply agencies require substantial resources.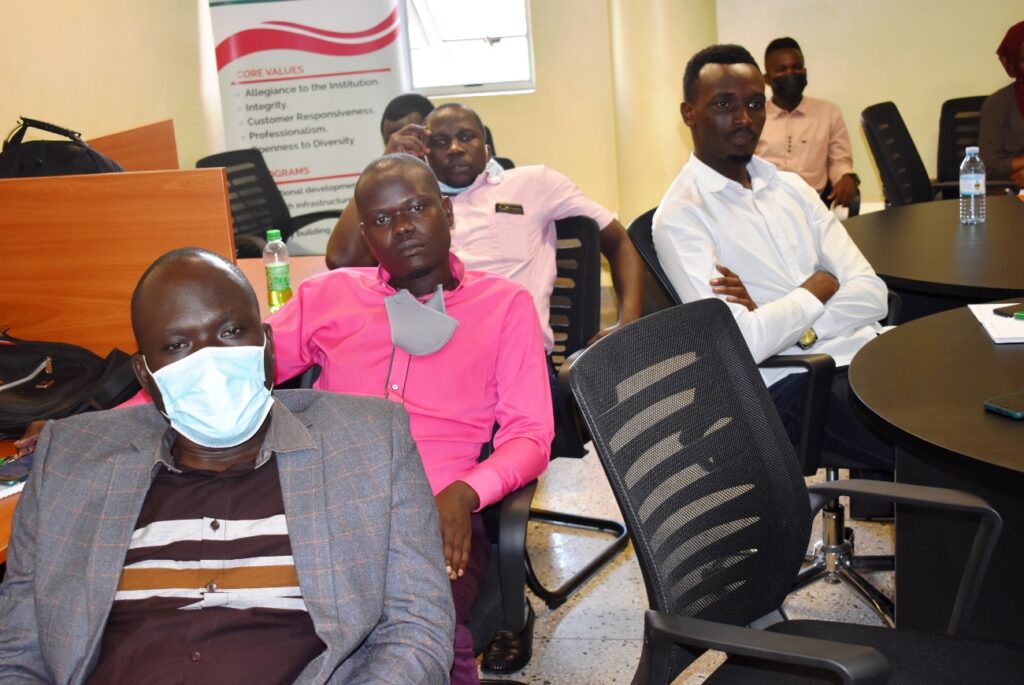 He noted that the National Water and Sewerage Corporation of Uganda is constrained by resources to maintain their supply and pipes and at the same time lack enough resources to reach the unserved areas.
"There is no study yet in Uganda that is trying to utilize the methodologies learnt into analyzing how to improve water bill payments in Uganda despite the common knowledge that many customers have payment arrears.
I am hopeful that the proposed study in Uganda will win the Sida grant and will go a long way in informing NWSC and government on how to improve water bill payments. And, if this study is implemented, it will be a great opportunity for us to see what findings come forth and what recommendations are put forward for government to improve water bill payment". Prof. Bbaale stated.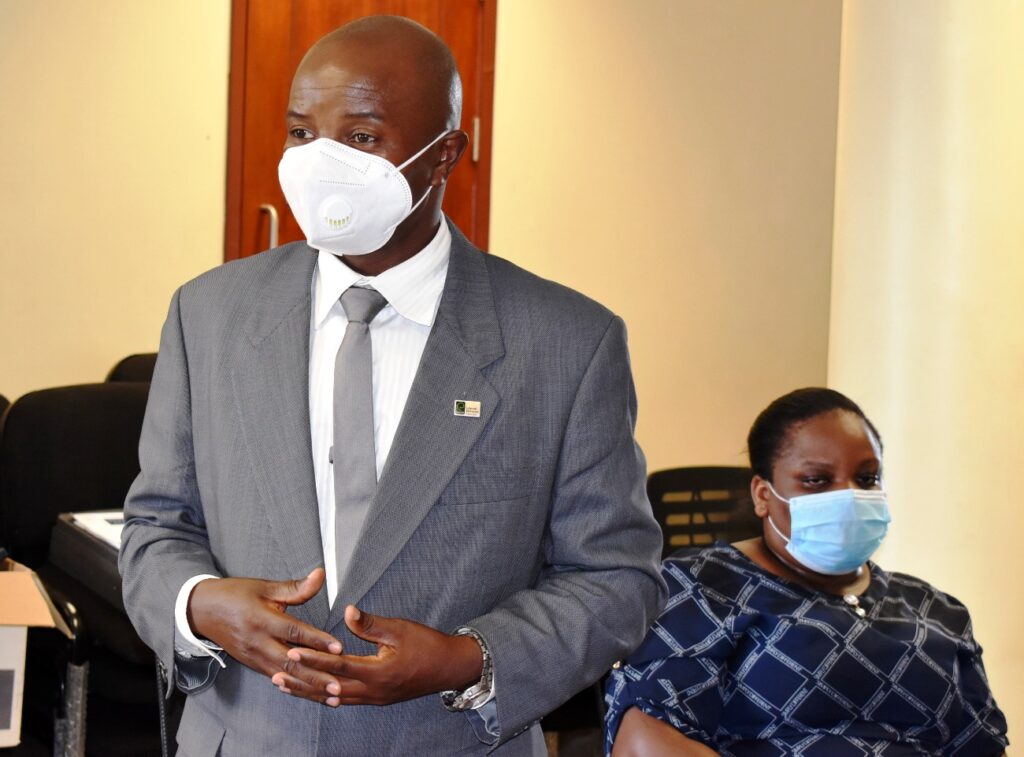 Participants speak on the training
Dr. Oryem John Bosco, a Lecturer in the School of Economics described the training as a good collaboration and chance for researchers to understand what is going on with other researchers.
"And in this case, understanding what research is going on in terms of utility payments and challenges that communities face in paying water bills is a good study which links with the SDGs and the national development goals.
So understanding why payments delay and what can make people pay their water bills is a very good innovation. From this training and the proposed Uganda study, the facilitator is intending to craft messages to the water consumers to ensure that public utilities get the desired revenue that can make them operate without too much financial constraints", Dr. Oryem commended.
Mr. Peter Babyenda the Policy Engagement Specialist in charge of coordinating the Inclusive Green Economy (IGE) training program who is also a PhD student thanked EfD-Mak center for organizing the wonderful training.
"The presentation is new to us, and it touches on of the key issue-water, where we have so many problems. I heard there is a proposal for Uganda which I am so interested in and can't wait to see how this study goes. I am interested in the findings and to learn more on the methodologies", Mr. Babyenda stated.
Jane Anyango is the Principal Communication Officer, College of Agricultural and Environmental Sciences (CAES)
Mak PIM CoE Acquires Modern Video Conferencing Facility & Furniture Worth USD 77,000
By Jane Anyango
Makerere University Centre of Excellence in Public Investment Management (PIM CoE) on 4th October, 2021 launched an assortment of IT equipment and furniture worth USD 77,000 (approximately UGX 277million) funded by the World Bank in collaboration with the Foreign, Commonwealth and Development Office (FCDO).
The WB and FCDO supported the university with a grant of USD 810,000 to undertake a number of activities including training, research and capacity building at the School of Economics. Part of the capacity building is the procurement of IT equipment and furniture.
The equipment was commissioned by the Principal, College of Business and Management Sciences (CoBAMS) Prof. Eria Hisali on behalf of the University Management witnessed by representatives from the Government of Uganda and the World Bank online.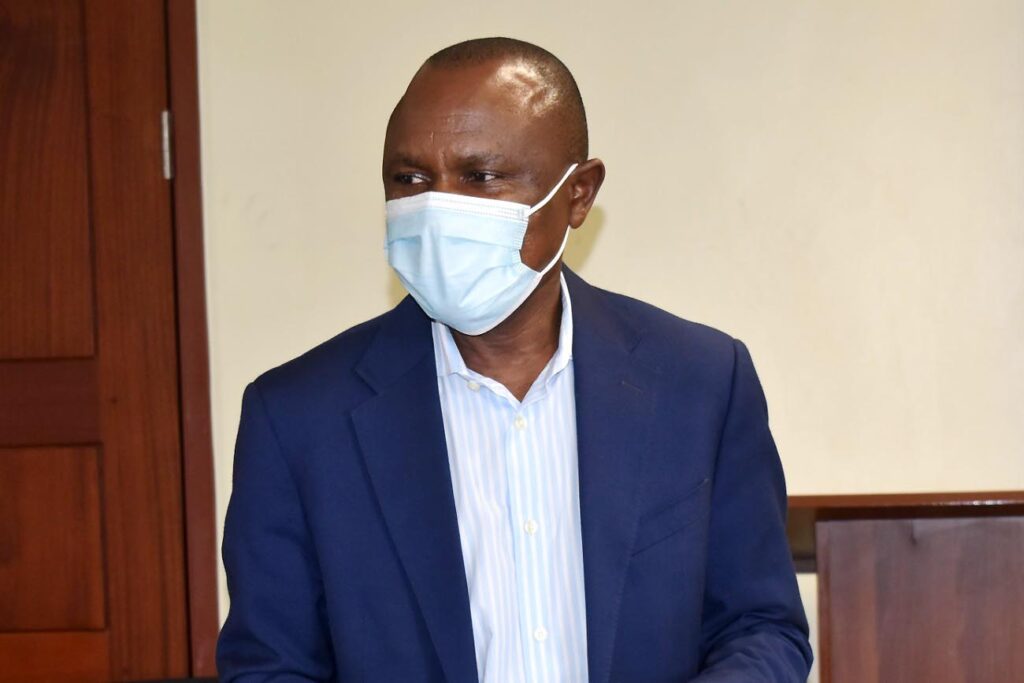 The equipment launched includes a state-of-the-art video conferencing facility theVivitek86" collaborative and interactive flat Novo touch screen that cost USD 34,000. On the screen, you can teach, split and have different people connected to it wirelessly. You can also demonstrate and annotate your presentation on this screen. The smart board has an inbuilt camera that can zoom in and reset videos at any time.
Other IT equipment launched include12 Computers, 4 laptops, 2 LCD projectors, and an all-in-one printer scanner copier all procured at USD 27,000.
The centre also procured office furniture comprising 5 office desks and 5 office tables, 40 training chairs and 20 training tables and a 20-seater boardroom table all worth USD 16,000.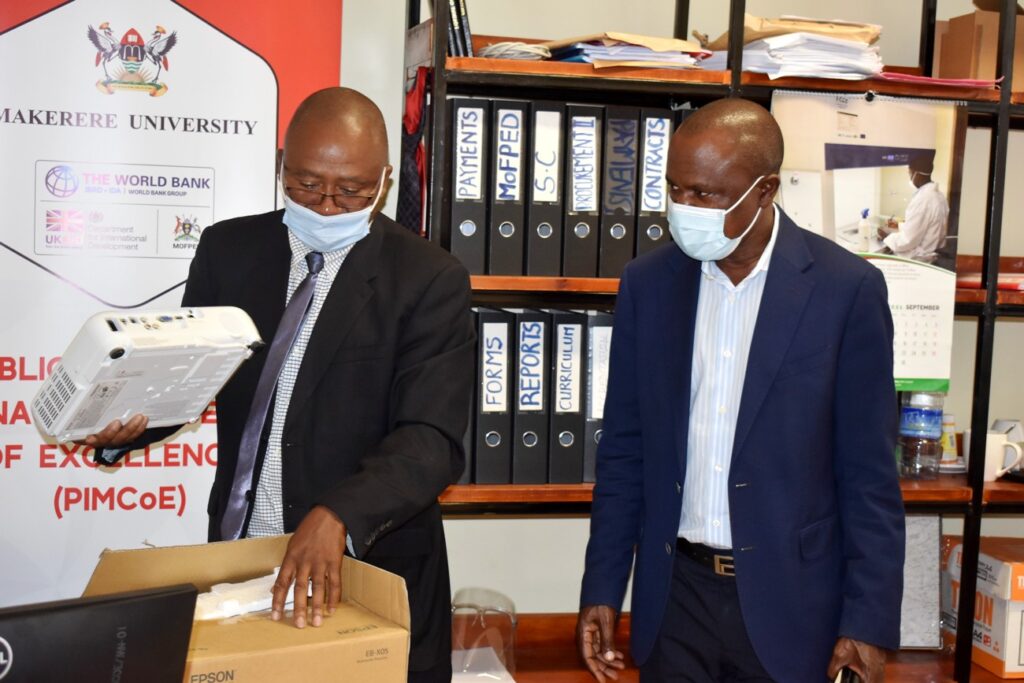 Launching the equipment, Prof. Eria Hisali appreciated the support received from the World Bank, the Foreign, Commonwealth and Development Office and Uganda's Ministry of Finance, Planning and Economic Development. He emphasized that this should not be looked at as the end but rather, an ongoing process of strengthening the collaborations for the mutual benefit of all the participating institutions.
Dr. Hisali reported that the university has made progress in terms of inputs into this exercise of establishing the Centre of Excellence and had started taking huge steps away from looking at inputs to focusing on certain outputs and outcomes.
In terms of outputs, the Principal said, there were ongoing studies and efforts to integrate PIM into the curriculum of the university, initiate a new master's program in investment and economic modelling as well as the training and capacity building that has been undertaken both for staff and officials from other areas of government.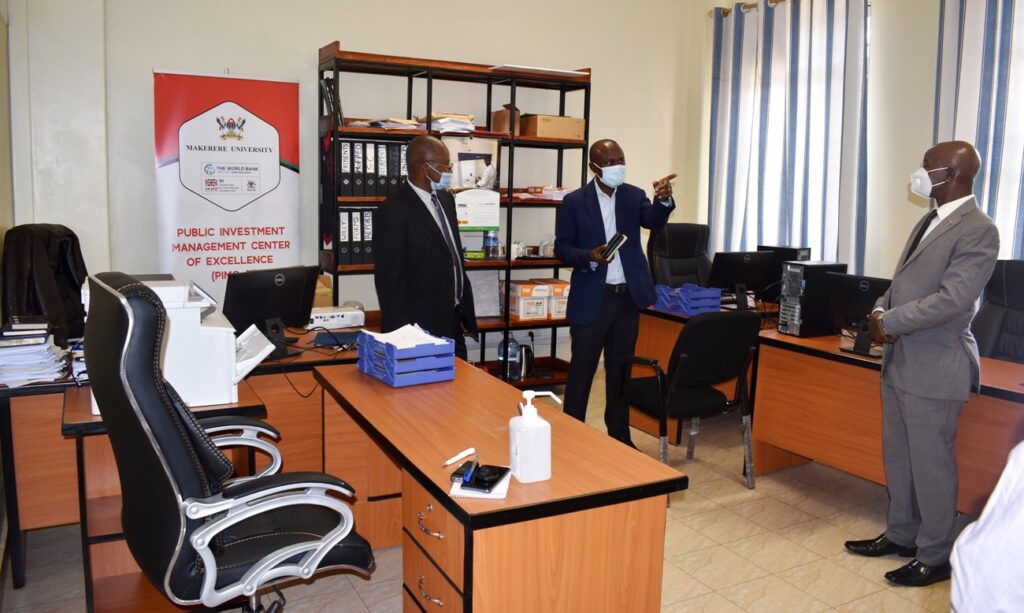 The Principal said, the Makerere has all it takes in terms of staff capacity to undertake studies and was now focused on making the PIM CoE more vibrant and planning for its sustainability.
"The challenge we want to focus on now is to go beyond the outputs we have and even ones that we have conceptualized up to this point. We need to continue to develop this as a very vibrant centre of excellence, a centre that speaks to its name, actualizes research in other areas as well as contributes to computation of certain key parameters like the shadow prices etc.
But all these issues speak to one important subject of sustainability of our centre beyond the current support being given by the bank and they are going to be a number of ways we want to look at this. In our previous engagement, we started discussions with the bank on the possibility of additional support but we will also be looking at other avenues of ensuring that the activities of the centre continue", Dr. Hisali explained.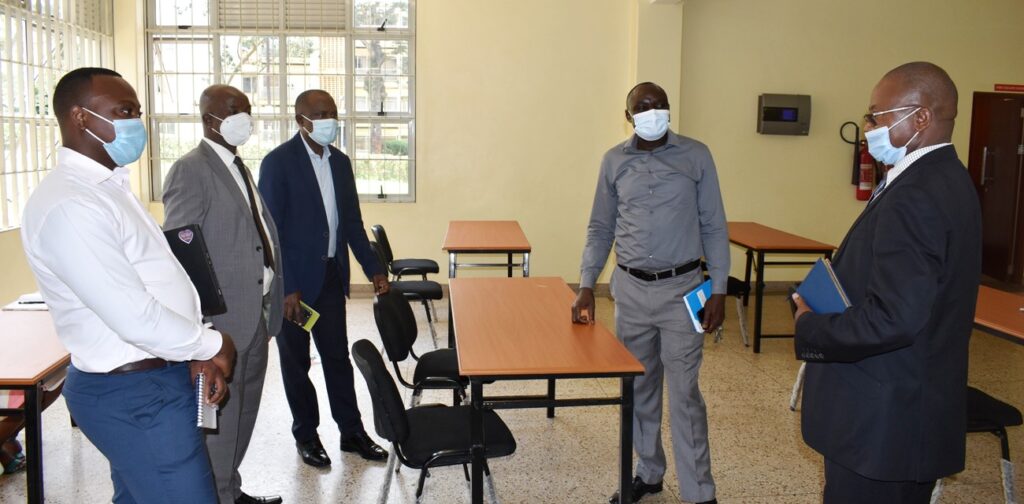 He said the university has resources from the Government of Uganda through the Research and Innovations Fund (Mak-RIF) and a college scheme to support small studies that the centre can benefit from.
The Principal Investigator PIM CoE Prof. Edward Bbaale who is also Dean School of Economics described the day's event as remarkable in the history of the school as well as the PIM CoE and extended gratitude to the World Bank, the Foreign, Commonwealth and Development Office (FCDO) and the Government of Uganda for the support.
Prof. Bbaale said the World Bank and FCDO extended a grant of USD 810,000 to establish the centre of excellence as a response to the fact that so much of public investments were going to waste.
He reported that for every dollar that was being invested, only 38 cents or less was realized meaning 60% was lost. As a result, Prof. Bbaale said many strategies were designed to make sure that when government invests, public resources will gain the maximum out of a very dollar invested.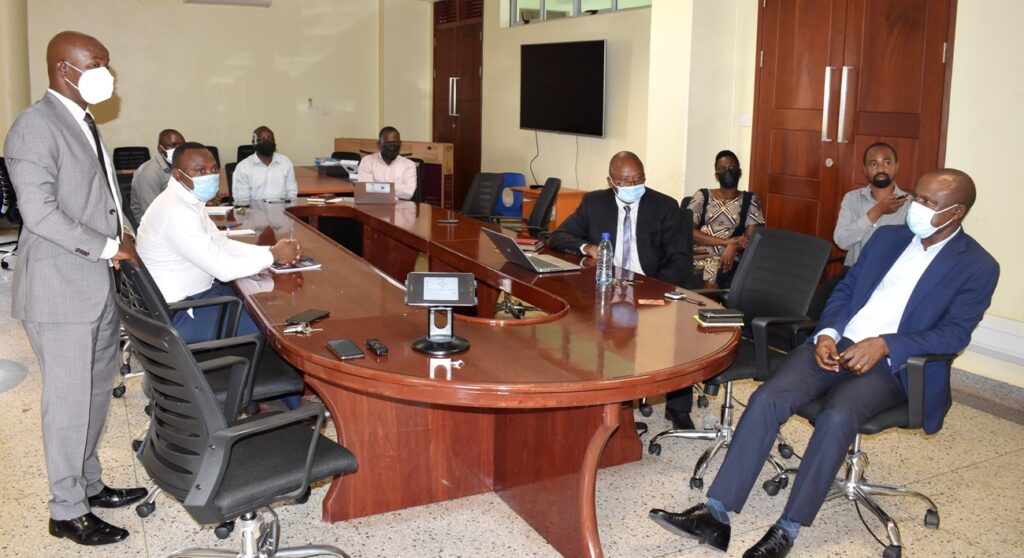 One of the interventions according to the PI was to build capacity on a sustainable basis in a premier institution like Makerere University thus the establishment of the PIM CoE to undertake training in public investment management.
Prof. Bbaale explained that public investment management goes beyond financial analysis of projects to the complex economic analysis of projects.
The Professor said, the computations that are involved in the economic analysis of projects are not only very complicated but also lacking, due to limited capacity in government and universities.
He added that the ongoing intervention is to make sure that this work can be done not only by staff but also graduate students equipped with the required knowledge.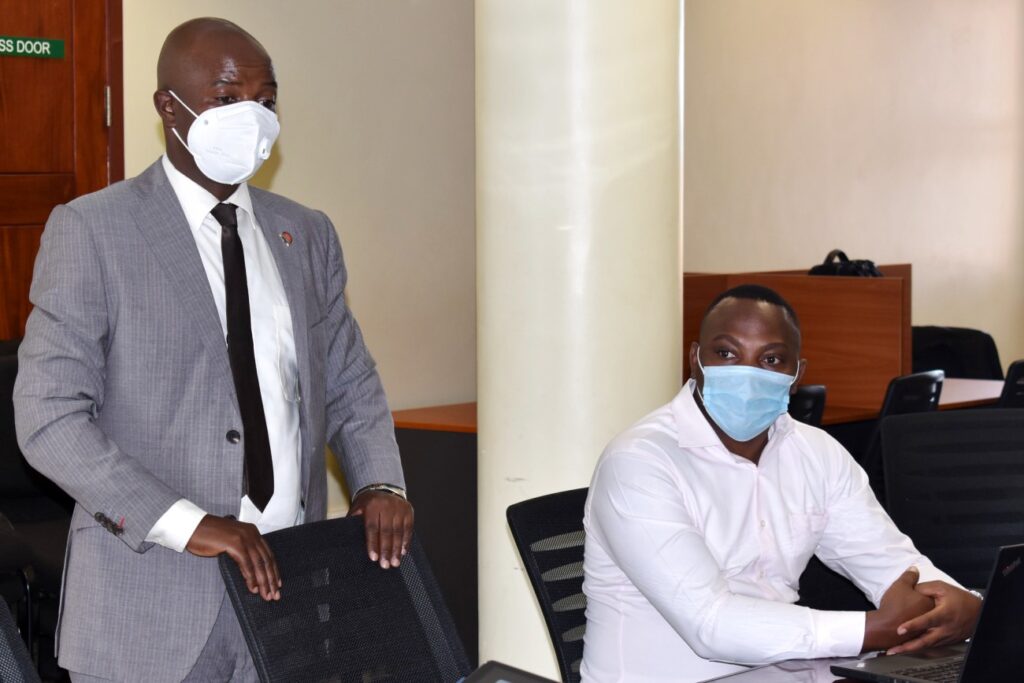 He said the World Bank and FCDO grant has been used for training staff and other stakeholders in impact evaluation methodologies and public investment management and many are lined up including university staff capacity building training slated for November in Ghana.
"What we have done today is one of those things the grant has enabled us to fulfill. We have acquired one of the newest video conferencing facilities at Makerere University that will go a long way in facilitating online learning, online conferencing and online research which is open to be used by the university community.
The World Bank in collaboration with the Foreign, Commonwealth and Development Office has also facilitated us to buy laptops and computers and we have been able to furnish an office with an interim manager. We have a conference table and chairs for training participants and Wi-Fi-enabled projectors which do not need to physically connect to the laptop, but can pick the information on the laptop and project" Prof. Bbaale reported.
The Interim Manager PIM CoE Dr. Willy Rwamparagi Kagarura said, the project aim is to establish a centre of excellence as a training facility that can contribute towards strengthening public investment management in the country.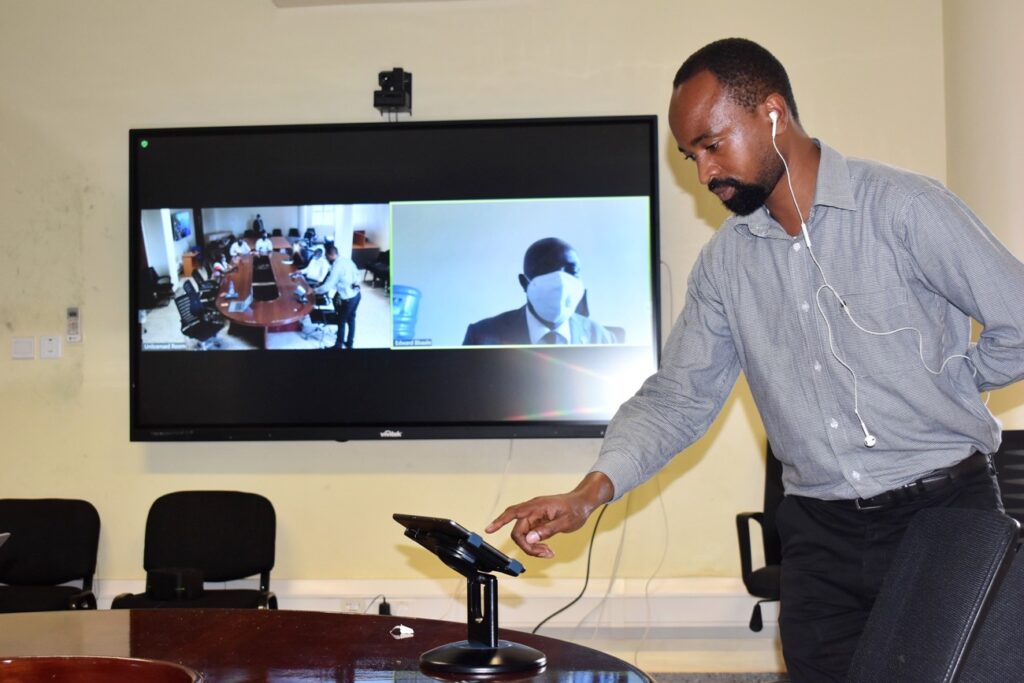 "Out of the USD 810,000, around USD 626,000 (77.3%) has been disbursed. Strategically, this was to sustainably build Capacity in PIM by addressing three areas namely training, research and advising government all aimed at improving returns on public investments.
We targeted to a PIM Centre of Excellence with a pool of experts both physically and structurally. We want to build capacity at the CoE and School of Economics. We are developing Curriculum and training materials to make this a reality. We are to train technical staff at the Ministries, Departments and Agencies and Local Governments, then we have an outreach program where we are doing research and studies after which mainstream PIM into University Economics Curriculum", Dr. Kagarura said.
Besides the acquisition of the IT equipment and furniture, Dr. Kagarura said the centre has moved fast and trained 37 members comprising staff, students and government officials in impact evaluation methodologies, and drafted the Strategic Plan ready for validation and final print.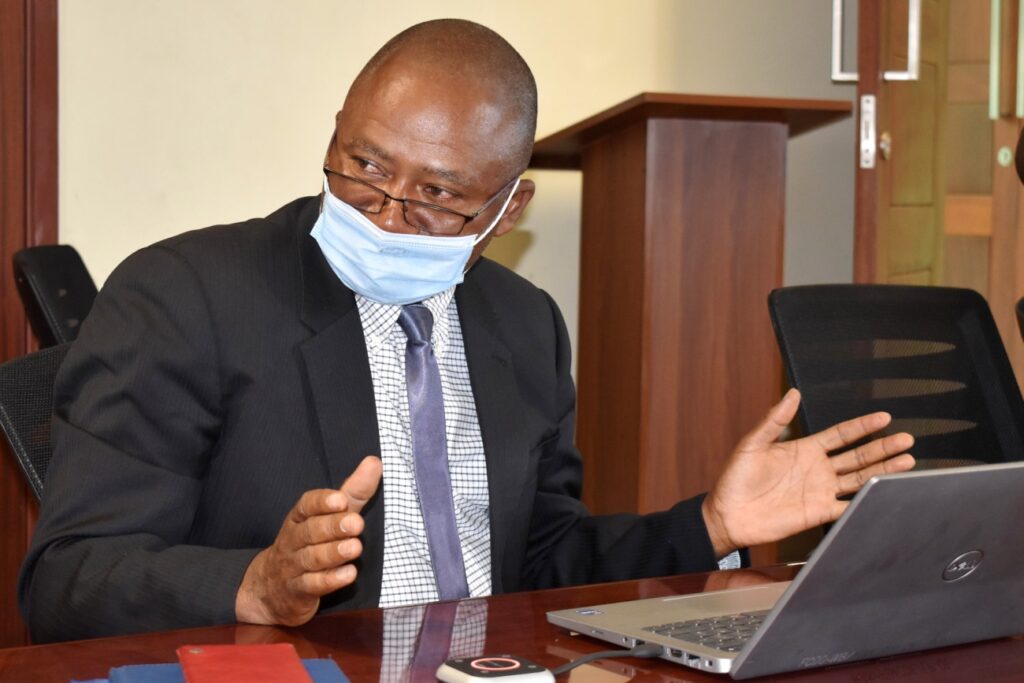 Using local curriculum, Dr. Kagarura reported that the centre has trained 45 MDA staff in the first process of a project cycle on how to develop a concept, profile and how to put it in the Integrated Bank of Projects.
The centre according to manager has also trained 10 lecturers to increase capacity for long-term PIM training, drafted the curriculum in Masters of Economic Investment and Modelling submitted to University Senate for approval and onward submission to NCHE.
Dr. Kagarura further said the centre conducted two impact evaluations on Luweero Rural Development Program and on how the improved stoves affect the welfare of people while that final draft of the study on impact of Covid-19 on public investments was awaiting final comments before validation.
As a matter of preparation, Kagarura said 3 members are scheduled to attend training in Mbale in the Financial Analysis Module of PIAR (Economic Analysis due 10th – 23rd October) while at the beginning (8th Nov – 3rd Dec 2021) 4 core staff will be attending a Training of Trainers in Ghana.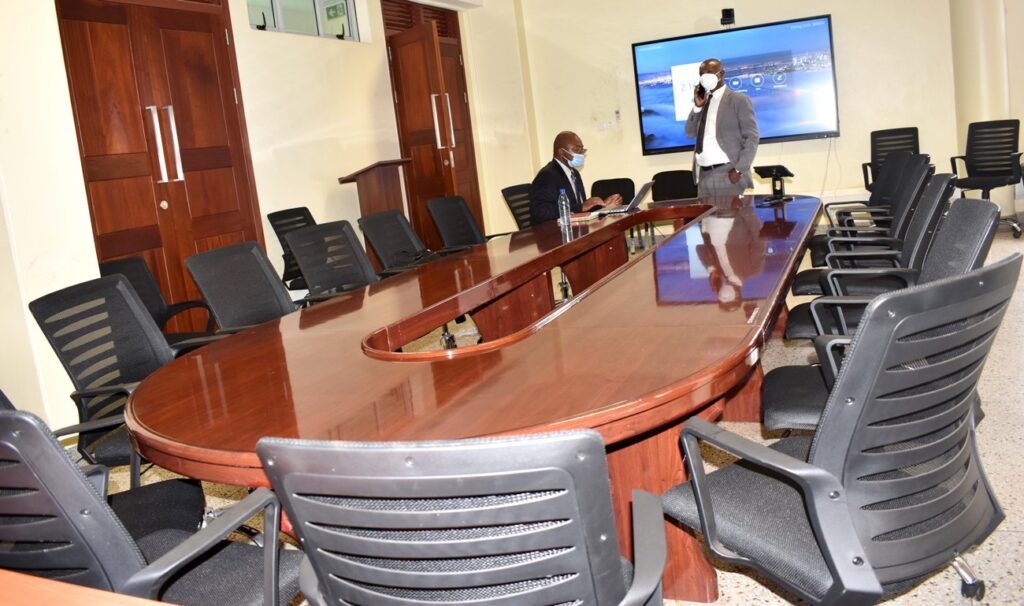 The interim manager hailed the World Bank and FCDO for the funding saying, the startup grant has created a capacity building asset for the country which should be nursed to maturity.
Kagarura however noted that in order to nurture a sustainable capacity building framework or institutional arrangement for the country and the region,there is need for increased capacity among trainers through TOTs whose outputs will be in the areas of capacity building, research and outreach and Advisory Services.
The other need he said, is to lift capacity at the centre to professional levels both in project management professional and impact evaluation so as to completely cover the project cycle.
The centre he also said needs support and to be fully popularized and to work with government so that its collection of tuition from participants is appreciated.
Jane Anyango is the Principal Communication Officer, College of Agricultural and Environmental Sciences (CAES)
Academicians Retooled on the System of Environmental-Economic Accounting (SEEA)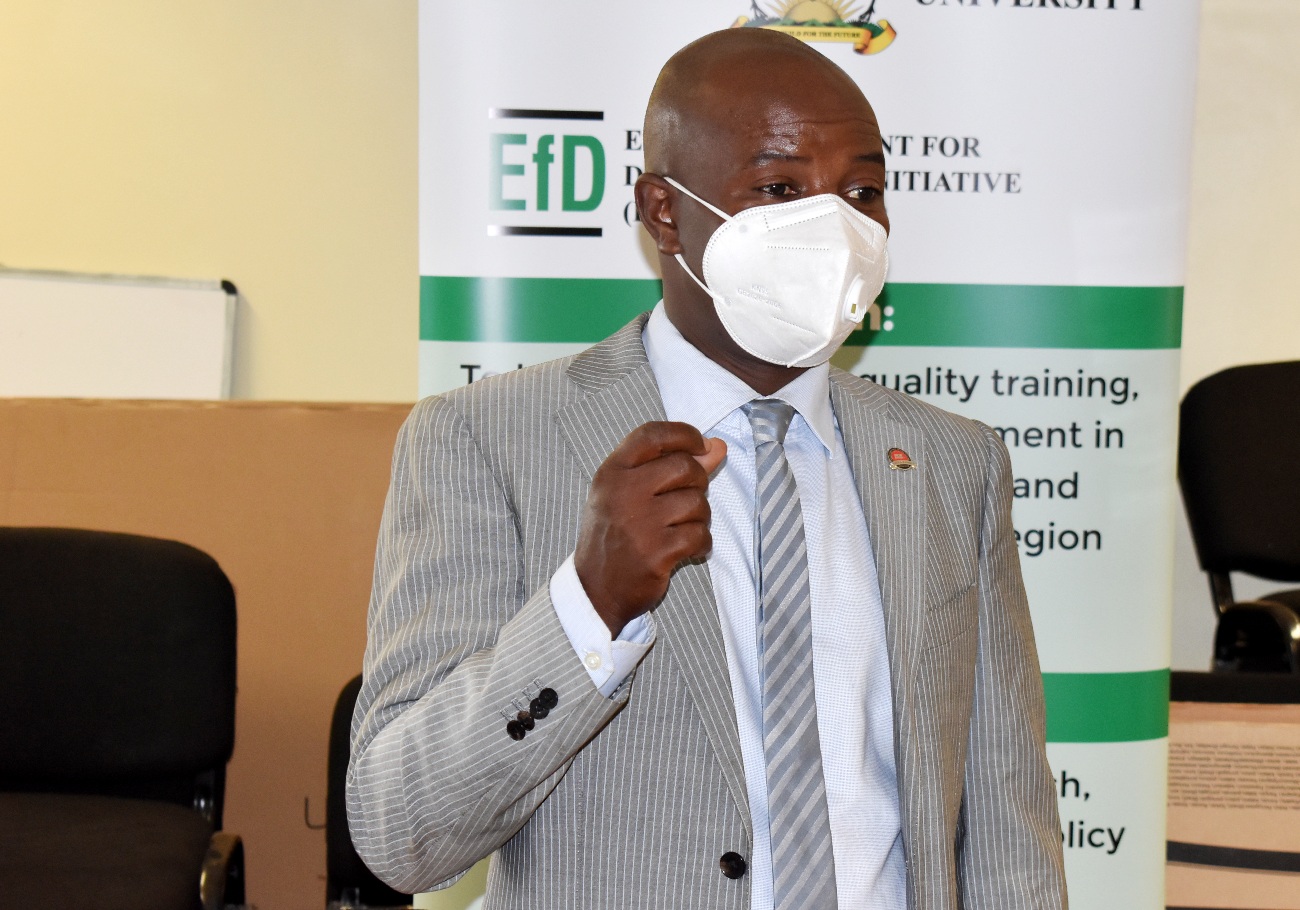 By Jane Anyango
Over 30 members of the academia comprising staff and graduate students from Makerere University School of Economics, Muni University and Makerere University Business School  on 28th September, 2021 converged for a training on the System of Environmental-Economic Accounting (SEEA).
The blended seminar held physically and virtually was organized by the Environment for Development Initiative (EfD-Mak) Centre facilitated by the Makerere University don, who is also Research Fellow at the EfD-Mak center and Fulbright Scholar Dr. Nickolas Kilimani.
Dr. Kilimani streamed live from the USA on the System of Environmental-Economic Accounting focusing on the Integrated Water Resources Management, Policy Analysis and Decision making.
Dr. Kilimani highlighted the recent developments in Environmental-Economic Accounting in Uganda, the System of Environmental-Economic Accounting  and its objectives, Water resources accounting modules and the role of Water Accounting in Integrated Water Resources Management (IWRM).
Dr. Kilimani observed that the national economic policy has been underpinned by macroeconomic theory and the necessary statistics are collected and arranged using the System of National Accounts (SNA) which covers all economic activity from production to consumption and accumulation, and all industries using the Gross Domestic Product (GDP) as the key indicator.
He noted that the basic theoretical foundation of the SNA has not changed since 1953 even with the detail that has evolved with technological, economic and social change adding that, for more than 70 years, governments and business have used the information from the SNA as an information source in economic analysis and policy.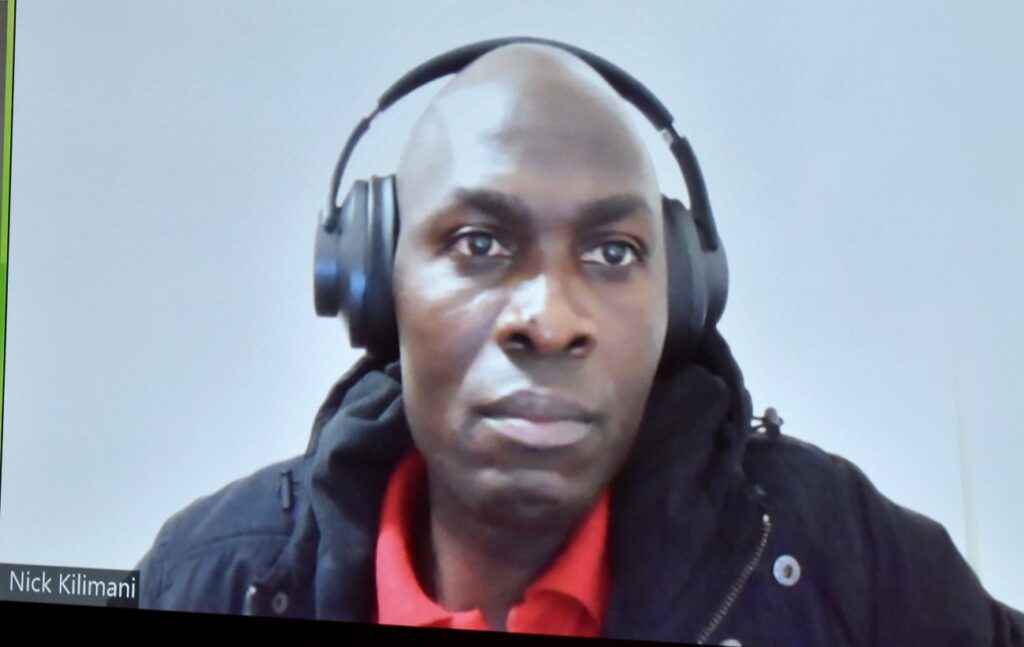 "The SNA does not adequately account for the environment and yet economic activity can adversely drive both observed and unobserved changes in it. The System of Environmental-Economic Accounting (SEEA) aims to address the deficiency of the traditional national accounting (the SNA) by accounting for the environment and linking it to environmental information through common concepts, definitions and classifications" Dr. Kilimani stated.
Compared to the SNA, Kilimani said, the SEEA is not yet widely used in decision making, partly because, it has recently been adopted as an international standard.
Dr. Kilimani said the objectives of SEEA are to develop a consistent data system for economic and environmental data and provide a common system to derive indicators and measure sustainable development.
He explained that the SEEA provides a better measure of national wealth to include not only produced capital but also natural capital, and assesses availability of natural resources, their use in production and final consumption and the cost of depletion. In addition Kilimani said, SEEA assess the level and cost of emissions and other waste from production and consumption and identifies monetary flows related to the environment which are already within the SNA (e.g., expenditures on environmental protection, environmental taxes and subsidies,etc.)
Dr. Kilimani underscored the role of Water Accounting in Integrated Water Resource Management (IWRM) noting that the growing pressure on water resources and high uncertainty on future water availability have caused the urgent need for better planning and management.
He emphasized that water is not only essential to cover basic needs for humans and the environment that underpins them, it is also a key factor for the economic development of diverse sectors with conflicting interests as regard to its use.
"The IWRM paradigm is considered a good approach to deal with those complexities. It proposes a coordinated utilization of water and land resources to support economic and social development without compromising environmental sustainability.
It recognizes that water management is a key aspect since human intervention is the trigger for all trade-offs and conflicts around water. IWRM highlights the influence of catchment management on water resources quantity and quality, as well as the need to preserve the natural capital for future generations." He added.
Dr. Kilimani said Water management is considered a social, economic, and political issue rather than just technical and therefore, stakeholder involvement in water management is needed and this translates into legal requirements for public participation and transparency in water governance.
"The value of water, the opportunity costs of its allocation, or the costs of making it available should be known and recognized in order to incentivize water use efficiency. The implementation of those legal requirements calls for making information about water publicly available in a clear and accessible way. In this sense, water accounting emerges as a useful tool to promote efficiency and transparency in water resource planning and management", Kilimani stated.
The current and proposed framework for IWRM in Uganda
Dr. Kilimani said the existing institutional and policy framework shows the multiple institutions charged with the management of water resources in Uganda, but, there is a need for an explicit connection between water sector policies and those of the social-economic sectors, since water resources are a key input into the country's economic and social sectors.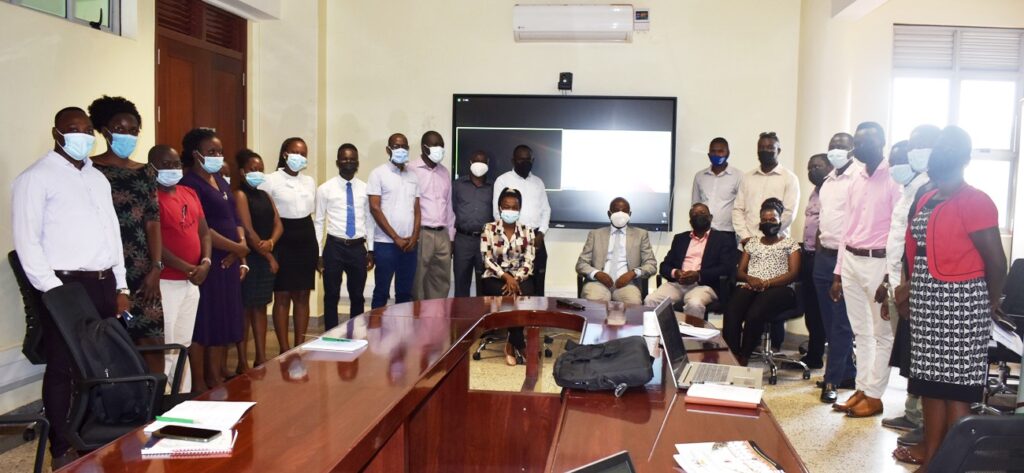 "The institutional framework in Uganda, provides for a key component such as Water for Production. Institutions in charge of managing the productive sectors of the economy, i.e., MoFPED, (MAAIF), and the MTTI need to link their development plans and policies with those of the water sector.  A sound national water policy should relate the different development plans of the social-economic sectors in an explicit manner". Kilimani said.
In the (2015) paper, Dr. Kilimani and other researchers proposed a framework for policy analysis which relates the development plans for the different social-economic sectors to those of the water sector.
This framework he said is aimed at providing policy analysis of IWRM in a typical economy by linking e.g., agriculture, industry, households, hydro-electricity and navigation which are key sectors that primarily depend on water.
The don explained that development plans in these sectors involve several policy variables and inputs. Therefore, the interaction between the policy variables and their impacts are monitored through multiple indicators in the social-economic and ecological domains.
"Given the multiplicity of variables, the SEEA framework uses aggregated water data as do the existing approaches for analyzing the associated policy impacts.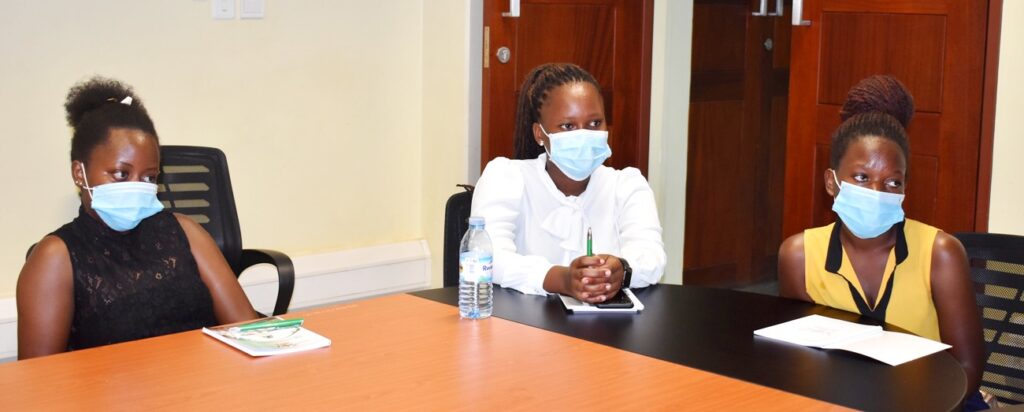 Computable general equilibrium (CGE) models also use aggregation and hierarchical decomposition in order to simplify model development and data compression to manageable sizes.
While the aggregation hides some of the temporal and spatial variability, it still preserves the fundamental trends that help to provide needed answers by policy-makers", Kilimani said.
SEEA, a new area of interest to academicians and the Government of Government
The Director EfD-Mak Center Prof. Edward Bbaale described the seminar as the most exciting because it brought on board a new area which is of interest to the Government of Uganda.
Prof. Bbaale said, Uganda Bureau of Statistics, the National Planning Authority and other partners are trying to work on the system of Environmental-Economic Accounting away from the conventional system of National Accounting.
"Our System of National Accounting is deficient in incorporating Environmental aspects because as we produce and consume, then in one way or another, we are depleting the environment which we refer to as natural capital and this natural capital is all the time depreciating but there is no way in our conventional GDP measurements that, but now, this new system is solution to this", Prof. Bbaale stated.
From the academic perspective, Prof. Bbaale commended the facilitator for showing participants how to undertake the System of Environmental-Economic Accounting and ably bringing participants on board in terms of the key variables that are important in this new system specific to the water sector.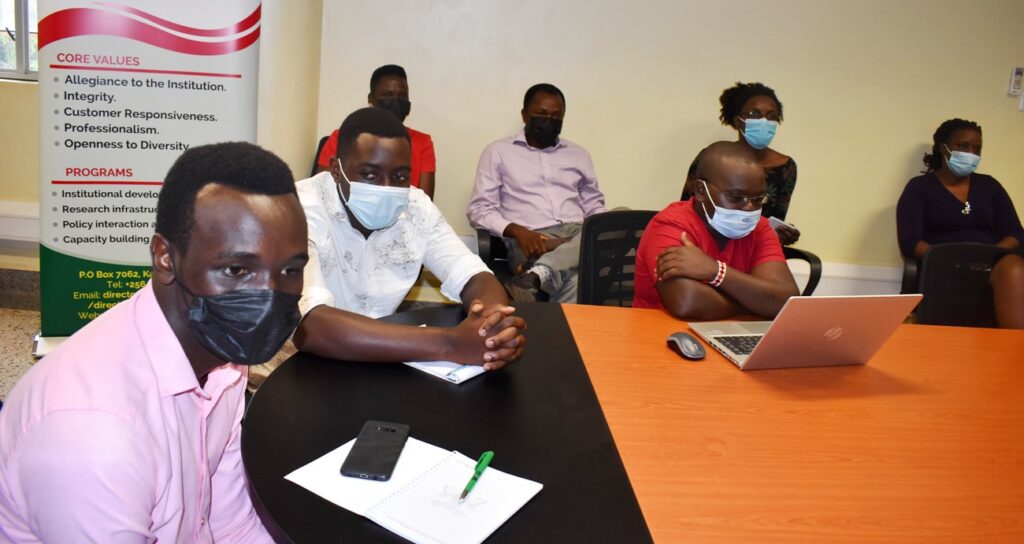 The Director appreciated Dr. Kilimani for exposing participants to the policy, non-policy and the output variables and giving tips on some methods such as the Computable general equilibrium (CGE) which can be utilized to understand the impact of a policy decision on the rest of the economy in terms of the social, economic and environmental outcome.
"The lesson here is that we need to invest our time into understanding this new System of Environmental-Economic Accounting as a way of incorporating new ventures in our research as economists and academicians. And to our graduate students, this is an area worthy of investing their time and I am glad that a number of graduate students attended this seminar", Prof. Edward Bbaale said.
Prof. Bbaale said, a number of reports are already out and that SEEA is an area which is very virgin, where very limited research has been undertaken partly because of lack of numbers that incorporate the environment into the entire national analysis.
"But now, some strides have been taken, some milestones are being achieved and if our own, Dr. Nickolas Kilimani with a Fulbright Scholar in the US is having all these on his fingertips, it is a huge resource to Makerere University, to our country and it is a starting point of deeper analysis into how the environment is being affected when we are doing our production and consumption   activities", Prof. Bbaale said.
He reported that the seminar was quite intriguing and important for national policy and pledged to arrange to involve policy makers from the Ministry of Water and Environment and the National Water and Sewerage Corporation in the next seminar.
Participants comment on the seminar
Makerere University PhD student from the School of Economics Alex Aliga, who is also a lecturer at Muni University Uganda said the seminar was timely.
"It has enriched many of the things that I had learnt in class and I had taken for granted. The System of Environment and Economic Analysis though new is very important and interesting because once you begin to understand Natural Resource Accounting and integrate it into GDP, then we get to understand the full value of our resources. In that case, it means that we may actually be richer than what we thought we are. Some of these things are not easy to bring to the GDP which is the measure of our national economy.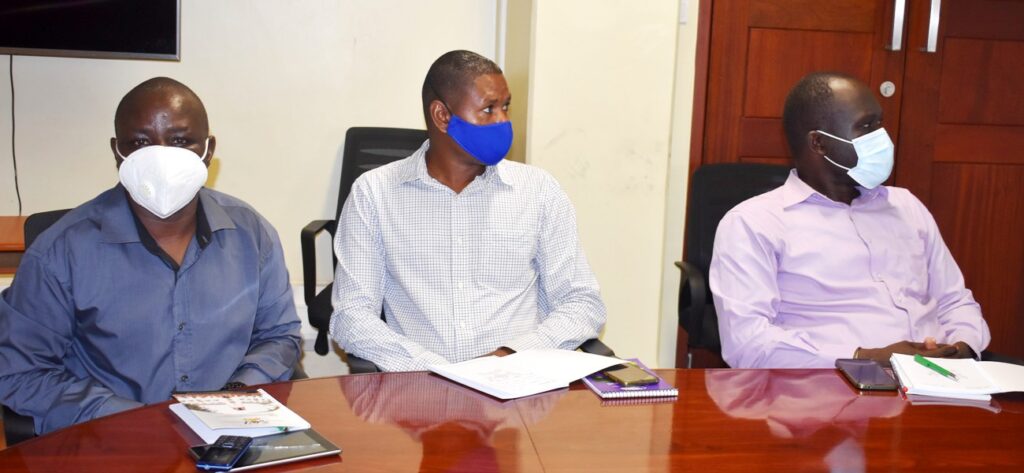 I got many lessons; – understanding how you can apply the theoretical things into practical and to influence policy is very important for our country. Given the fact that our resources are under attack, climatic change and environmental issues are real, we need this knowledge so as to be able to sustainably use our resources for a better future", Mr. Aliga said.
Dr. Paul Edabu, a Senior Lecturer at Muni University said:
"The day's seminar was an eye opener to the current situation in Uganda bearing in mind that we have two blocks of people who are in accounts and economics and there is no integration even in our ministries.
Our country is at a paradox, today people are restricted to cut trees from the forests and also carrying out farming in the wetlands and the next day, a factory is erected in the wetland. This seminar is timely and something I had yearned to learn because it incorporates the environment as a key resource into the national accounting system", Dr. Edabu commented.
SEEA and the Government of Uganda
Government of Uganda (GoU) is moving towards resource-led industrialization by developing a set of natural capital accounts under the Uganda Natural Capital Accounting (NCA) program. The National Biodiversity Strategy and Action Plan (NBSAP), National Development Plan, and Uganda Green Growth Development Strategy (UGGDS) recognize the challenges of development planning without accounting for its effect on natural resources, many of which are non-renewable.
In cognizance of the above, GoU with her development partner UNEP with its World Conservation Monitoring Centre arm is working with the Darwin Initiative to develop Natural Capital Accounts for Uganda.
The project is aligned with existing initiatives on natural capital accounting, i.e., the Gaborone Declaration for Sustainable Development in Africa, the UN project on Natural Capital Accounting, and the World Bank Wealth Accounting and the Valuation of Ecosystem Services programme.
The Uganda Bureau of Statistics (UBOS) Ministry of Water and Environment, and Ministry of Lands, Housing and Urban Development commenced with the development of land accounts and Water accounts in 2019.  Under the NCA program, the country launched the Wood Asset and Forest Resources Accounts.
Natural Capital Accounting effort is based on the international statistical standard, System of Environmental-Economic Accounting (SEEA).
Jane Anyango is the Principal Communication Officer, College of Agricultural and Environmental Sciences (CAES)