Mak Launches IGE in Practice Programme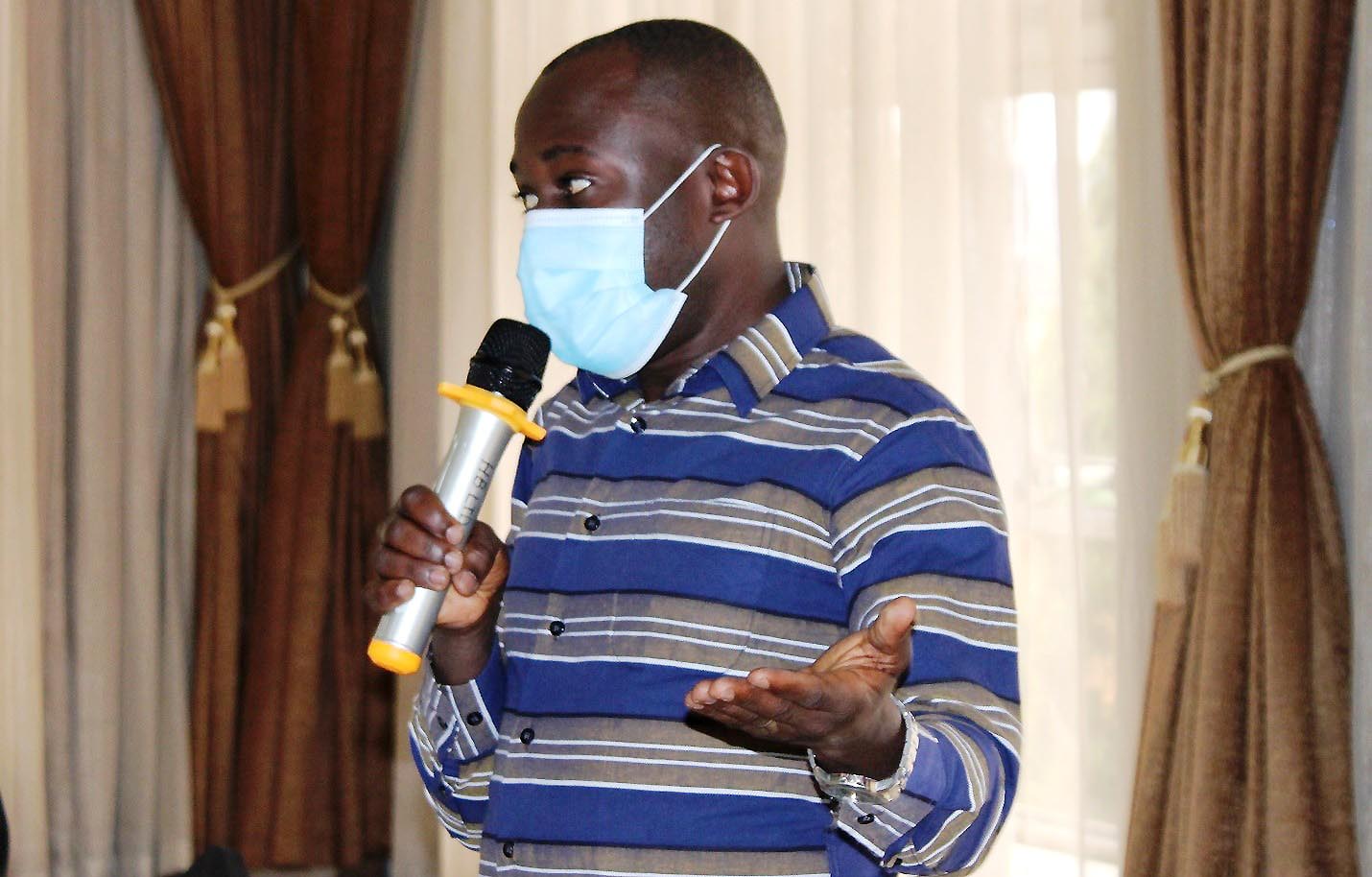 By Hilda Makune for EfD-Mak
Makerere University has launched a new program dubbed "Inclusive Green Economy (IGE) in Practice".  IGE in Practice, is a collaborative programme between Makerere University's Environment for Development Initiative (EfD-Mak) Center and the University of Gothenburg, Sweden fully funded by Swedish International Development Cooperation Agency (Sida). Other participating countries are Ethiopia, Kenya, Tanzania and Rwanda.
The program is aimed at strengthening Uganda's capacity for transformation towards an Inclusive Green Economy largely under the United Nations SDG 8 that focuses on promoting sustained, inclusive and sustainable economic growth, full and productive employment and decent work for all.
IGE in Practice will focus on the use of environmental policy instruments, and specifically economic instruments such as environmental taxes, pollution fees, subsidies or subsidy reduction and other types of fiscal incentives for societal development in line with the Global Agenda 2030.
The program is an advanced in-service training with direct applicability in the participants' daily work involving theoretical training within IGE, practical exercises, project development and support for implementing own change work.
The  official program  launch and training  was held at at Makerere University's Central Teaching Facility 2 (CTF2)  on 4th June, 2021 with  six (6) selected senior public servants competitively selected among the 19 participants nominated through the Permanent Secretary, Minsitry of Finance, Planning and Economic Development and relayed via zoom to other participants.
The selected senior public servants were  from the Ministry of Finance, Planning and Economic Development,  Ministry of Water and Environment,  the National Planning Authority (NPA) and the National Environment Management Authority (NEMA).
These selected public servants will undergo a one year course (running from June 2021 to June 2022) and upon successful completion, given a title of IGE fellows and are expected to become IGE change agents and IGE trainers in their different Ministries, Departments and Agencies.
The function was also attended by the Principal, Makerere University College of Business and Management Sciences (CoBAMS) Assoc. Prof. Eria Hisali, the Director EfD-Mak Centre who is also, Dean, School of Economics Assoc Prof. Edward Bbaale and Makerere University IGE program support team – Dr. John Sseruyange, Lecturer in School of Economics and Mr. Peter Babyenda the Policy Engagement Specialist in charge of coordinating the training program. These were joined by Prof. Anders Ekbom, the IGE program head at the University of Gothenburg, Sweden.

In his opening remarks, the Principal CoBAMS Assoc. Prof. Eria Hisali said the future for sustainable growth across the global is in Inclusive Green Economy, a new phenomenon, yet to be fully tapped into. He thanked the donors for putting trust in the university assuring them that they shall rise to the task that they are taking up.
He underscored the importance of IGE as extremely important in the case of Uganda and across the developing world presenting a number of opportunities and areas of interest to harness such as Water, Agriculture Energy that have been adequately taken care of in the planning frame work under the National Development Plan of Uganda.
"There is vast potential in the area of Renewable Energy; we have a potential to produce up to around 6,000mega watts of renewable energy, and yet what has been exploited as of now is under 500mega watts so, there is quite a big potential in the renewable energy in Uganda.
The good will we still have with the donor community, Inclusive Green Economy naturally includes among others tapping into the appropriate technology, good technology and value addition", the Principal said.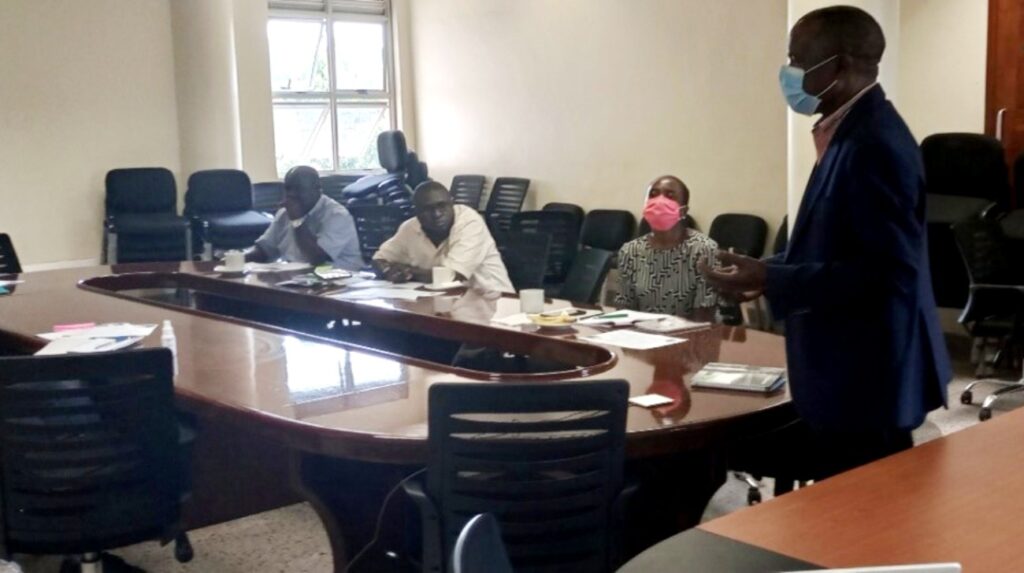 Assoc. Prof. Hisali noted that although there are a number of opportunities and initiatives available in the Inclusive Green Economy, the concept is still new across the private and public arena. He implored the university IGE team to ponder on the issues such as stakeholder coordination, engagement, and involvement.
"Even when you sample across the public and the private sector, not everyone would appreciate the concept in the same way. The coverage is still limited. How do we get the different stake holders on board? How do we exploit now the untapped potential in terms of an Inclusive Green Economy?
The development philosophy of Uganda is largely the private Sector, will naturally play a very big role in driving the development process. Therefore, the question here is how do we incentivize the private sector to take up these different aspects of Inclusive Green Economy investments.
There are a number of initiatives under Inclusive Green Economy investments which are across the country both in the private and public sector. There are different sectors in different locations. How do we plan to coordinate these sectors?" Assoc. Prof. Hisali questioned.
The Director, EfD-Mak Center who is also part of the support team of Inclusive IGE Assoc. Prof. Edward Bbaale introduced EfD as a global network of Environmental Research Centers comprising fifteen centers across the world coordinated in the EfD Secretariat, a special unit in the School of Business, Economics and Law at the University of Gothenburg Sweden.
He said the EfD impact modal values a lot academic training which feeds into the Applied Research and also, institutional development which ultimately leads to Research Policy interaction and then the realization of an impact.
The Director said the meeting was about Inclusive Green Economy in practice, a capacity building program where the trainees will be equipped with information about the IGE Program, what it is about, why IGE, what the training will cover and the role of the centre and the trainees.
Prof. Bbaale expressed the need to ensure commitment by the participants on the program tasks and also connect with each other and understand each other's roles.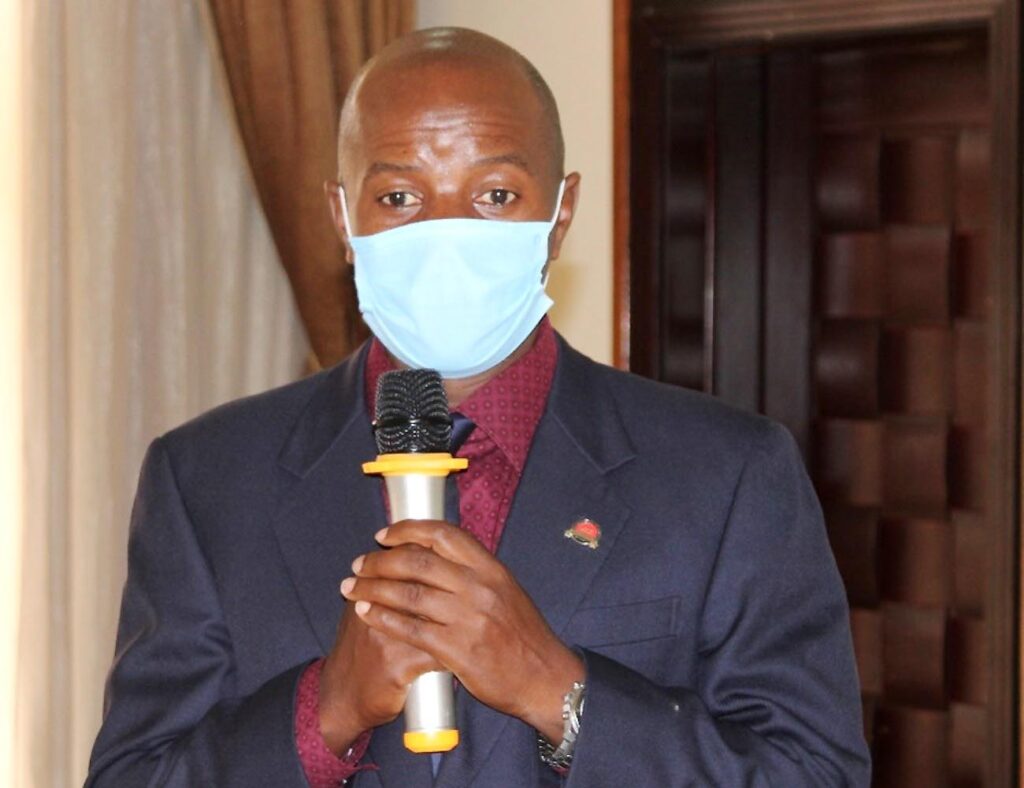 He reported that the first round of this program will run until March 2022 and targets the senior civil servants mainly the economists. In Uganda. Prof. Bbaale said 19 participants were recommended but 6 were selected but the program too has a regional focus with 5 participants from Kenya, Rwanda with 6, then, Tanzania and Ethiopia each with 6.
"The main objective is to strengthen East African countries capacity to transform into an Inclusive Green Economy through; Increased knowledge and Application of Economic and Environmental policy instruments; Organizational change, how do we change the organizations where we work to make sure that we are well aligned in the inclusive Green Economy agenda and; Strengthen National systems for Inclusive and sustainable Economic development", Bbaale said.
In the program out line, Prof. Bbaale said, phase 1 in March –April 2021was a call for applications and phase 2 is the startup meetings which was being done and running according to plan. In phase 3 there will be trainings on the Inclusive Green Economy aspects, theories and practices.
Prof. Bbaale reported that Phase 4 shall have the Golden thread called the Inclusive Green Economy Project where each participant will have to design a project in their different organizations intended to show how they can change their organizations and how well they can align themselves in a Green Economy.
In the same phase 4, the Director said, there will be support workshops, high level policy workshops, support meetings from the mentors and the peer running reviews followed by regional course between October and March 2022 and then national workshops.
"This program is an advanced in-service training with direct applicability, where participants will get great understanding, knowledge and ability to critically review and analyze the current economic policies and conditions while at the same time find opportunities for transformation towards a Greener Economy. Therefore, this means you are a change agent in your organization, the training will strengthen the role of the participant as a change champion.
The program is organized by the UGOT, the center for sustainable development in collaboration with several expert organizations and Makerere University being part of that under the EfD- Mak Center. A team of experts and Lecturers include; those from Sweden but also other international experts with extensive experience.
The program is fully funded by the Swedish International Development operational Agency (SIDA). All costs are covered by the UGOT. Therefore, the participants will only contribute their time." Assoc. Prof. Bbaale added.
He highlighted some of the benefits from the program at individual level, organizational and at the system level that combines the entire country.
At individual level he said, there is peer to peer learning, understanding the inclusive green economy, its usefulness, risks and opportunities of applying these economic instruments, and increased knowledge of organizational change, how does one start up the change at organization level and how to build network efforts at international level.
At organizational level; he explained that one will benefit by building capacity on behalf of the organization in the area of Inclusive Green Economy; Application of economic instruments and increased priority on Inclusive Green Economy and the Introduction of Inclusive Green Economy or economic instrument projects and support of the ongoing IGE projects.
At national level, he said the benefits range from Strengthened National systems for green economic transformation; Improved cooperation between government agencies and across countries of collaboration and; Enhanced application of green economy analysis and economic instruments for IGE transformation
Program Training Methodologies
In terms of training Methodologies, the Director said, these shall include; advanced professional capacity building program, which will have action learning methodologies online; under that shall have online meeting place for professionals in planning and policy development strategic and resource green economy.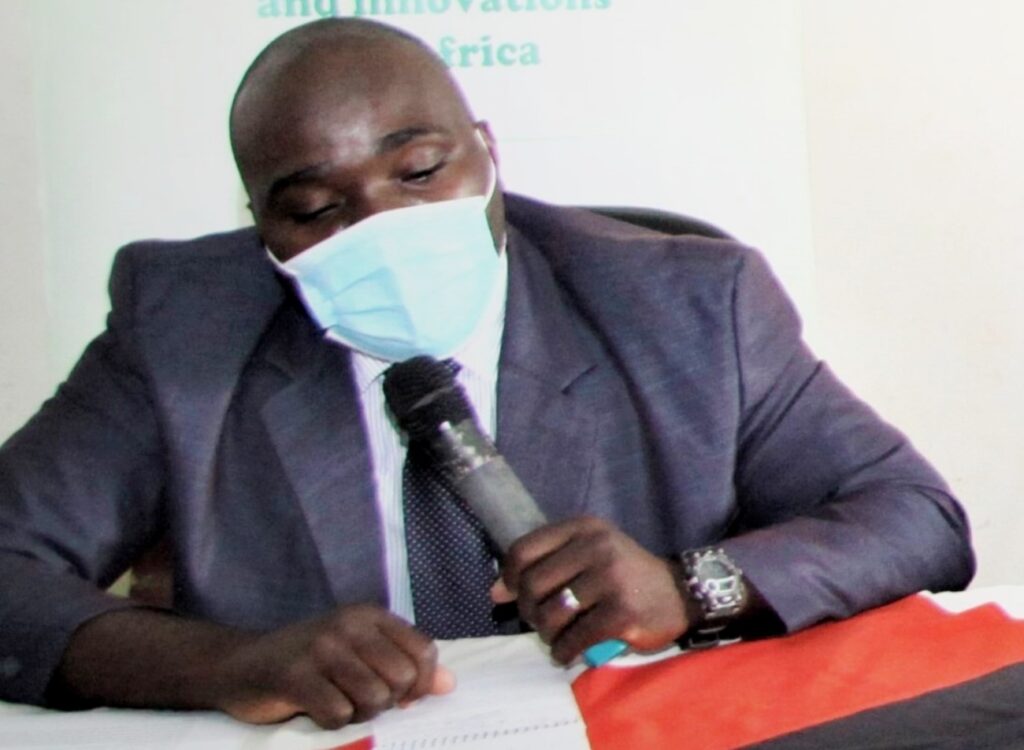 Since it is going to be an action learning experience, part of it shall be exchange of knowledge and sharing of experiences. There shall be interaction in terms of group work, discussions, joint learning i.e. on line and then develop the Golden Thread – the Inclusive Green Economic Project which will be developed from the different organizations.
The Program Tasks according to Prof. Bbaale include participation in the training, developing and implementing the Inclusive Green Economy Project and conducting and participating in National policy review workshops for peer learning.
As part of the tasks; one will be a trainer and as a participant, one will be given a title of Inclusive Green Economy Fellow (IGE-Fellow) which will distinguish one from those that have not undergone this program.
As a Fellow, one will be required to actively involve the workmates/colleagues where one will form a team at their place of work with in their organization. One will work on experiences and work projects and actively contribute on their own expertise and experiences.
One will in addition manage development and implementation of a number of tasks through the 10months of the program duration and upon graduation and successful achievement of all tasks, one will be awarded a certificate and become part of the IGE-Fellow networks or program alumni.
All IGE-Fellows are assigned a support team which includes; Country Academic partners and expert advisors on Inclusive Green Economy.
Prof. Bbaale said, the role of the support team is to; Provide feedback on ones assignments and tasks, offer advice on critical questions, support and encourage one to keep moving on the program. This support team understands the Inclusive Green Economy processes, changes process and organization capacity program and they will challenge, coach , encourage and also critically review the written tasks and helps fellows with the information sharing and IGE networking.
Program Guide for the Trainings
10th-11 June as the first training
17th -18 June second training
9th -10th September third training
16th -17th September fourth training
These trainings will be conducted virtually.
Giving his remarks via zoom, the IGE program head at the University of Gothenburg, Sweden. Prof. Anders Ekbom said, Inclusive Green Economy (IGE) is one of the Agenda of 2030 of the Sustainable Development Goals (SDG 8).
He said the rich and poor countries cannot do things the same way for various reasons and that is why development is not sustainable.
"And therefore we cannot go on the way we do. The Rich countries consume too much while the poor countries cannot invest in technologies that are sustainable. Investments are not environmentally or socially and economically sustainable. Our horizons are too short.
Therefore, the agenda is to guide development and this program focuses on SDG 8 which really deals with jobs, decent work but also sustainable economic development," Prof. Anders Ekbom said.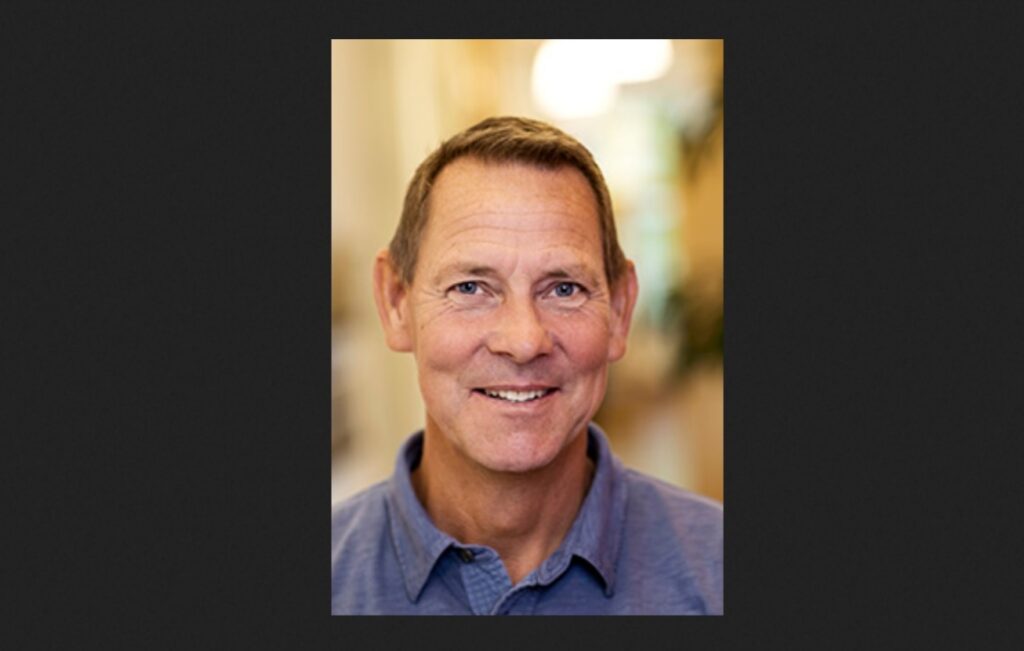 He said IGE is a practical approach to address and work with SDG8 and that it is broader than just Green Economy because one can go for policies that promote green growth but at the expense of the poor or the marginalized people.
He clarified that, one has to emphasize on inclusion or social acceptance as one designs the green economy policies.
He explained that the SDGs are made up of 5Ps, i.e. Prosperity, People, Planet, Peace and Partnerships where the first three Ps represent Inclusive Green Economy.
In the case of IGE Prof. Anders said there is need to ensure that the economy and the environment are brought together in a large extent.
"The concept of IGE is to bring the social, economic and environmental issues together for integration, inclusion of people in planning, decision making and the outcomes. Environmental sustainability, social sustainability and economic sustainability, the three need to come together so as to have a comprehensive sustainable development", Prof. Anders Ekbom said.
IGE according to Prof. Anders is made up of several concepts; resource efficiency, system mitigation, system resilience, strong communities and habitats, sustainable economic growth, Inclusive economic growth, equity, poverty reduction, strengthening of rights and social inclusion.
He said the Green economy wants to reduce pollution, reduce inefficiency, reduce waste, economize the natural resources and go for extensive use of natural resources while IGE has to make use of internal policy plans, and other departments as well.
"This does not mean taking over their jobs but rather working together through campaigns and other means.
IGE needs to promote green jobs and sustainable employment. Need to move from the Ministry of Environment and NEMA, and involve the Ministry of Finance because these organizations sit on very powerful tools to manage the environment through economic empowerment.
IGE needs to move away from the victims being paid for polluting the environment but rather have the polluters pay for polluting the environment. That way the environment will be preserved.
Need to move from environmental conservation and protection to sustainable management". Prof. Anders Ekbom stressed.
Prof. Elly N. Sabiiti Delivers Valedictory Lecture to CAES Community, Recounts His 43-year Experience at Mak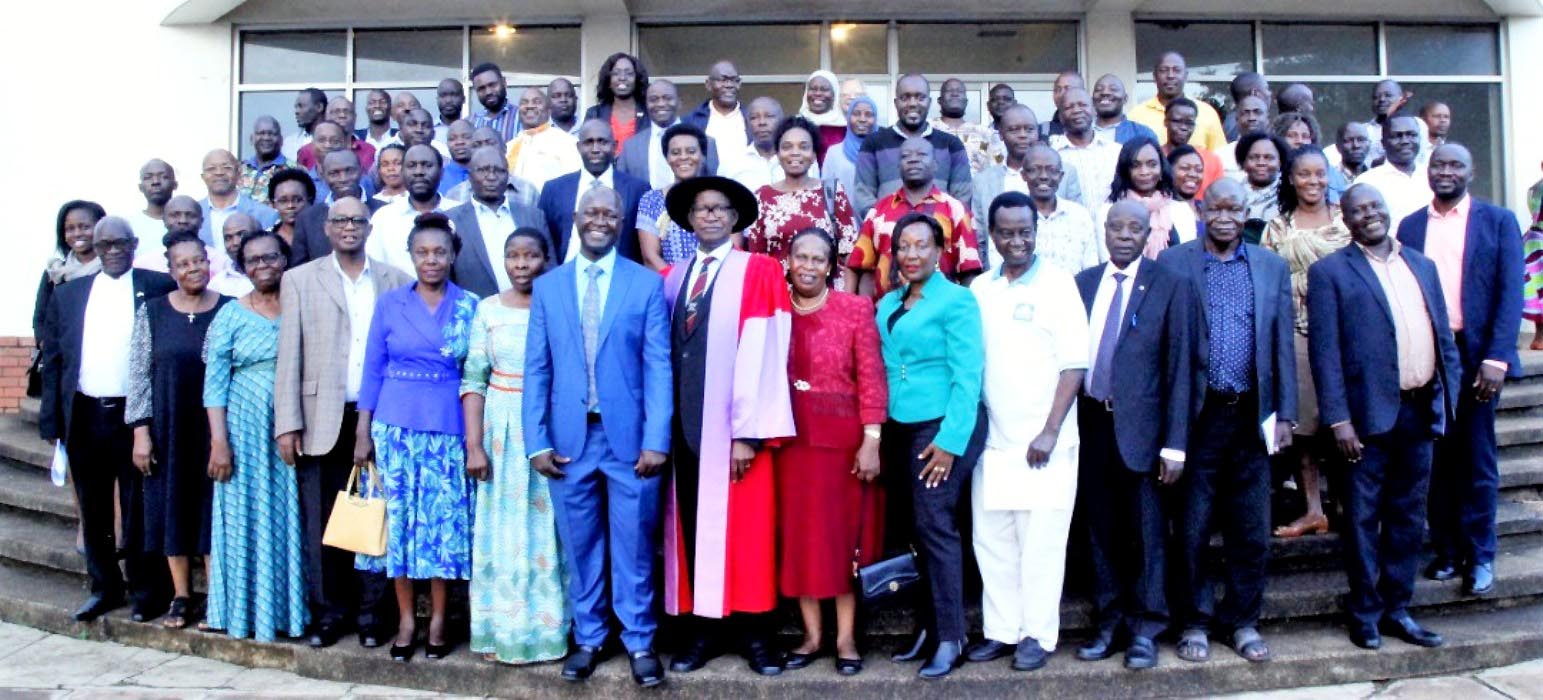 Theme of the Lecture: "My Inspirational Academic Track Service at Makerere University: A Case for CAES"
After 43 years of dedicated service to Makerere University, Prof. Elly N. Sabiiti, a prolific researcher and internationally recognized scholar, currently working at Busitema University–Faculty of Natural Resources and Environmental Sciences, retired from university service in 2021. On 2nd September 2022, Prof. Sabiiti, in company of his wife Joy Sabiiti delivered a valedictory lecture to staff at the College of Agricultural and Environmental Sciences (CAES), Makerere University. The lecture organized by the Office of the Principal, CAES and held in the Conference Hall at the School of Food Technology, Nutrition and Bio-engineering focused on his experiences, achievements, challenges, and strategies that enabled CAES to evolve from a Faculty to one of the most celebrated Colleges at the University. He specifically spoke about his career development in terms of teaching, research, graduate supervision, leadership, resource mobilization, representation on professional bodies, and outreach services, before sharing his thoughts for CAES to grow to higher levels and excel in Agricultural and environmental Sciences.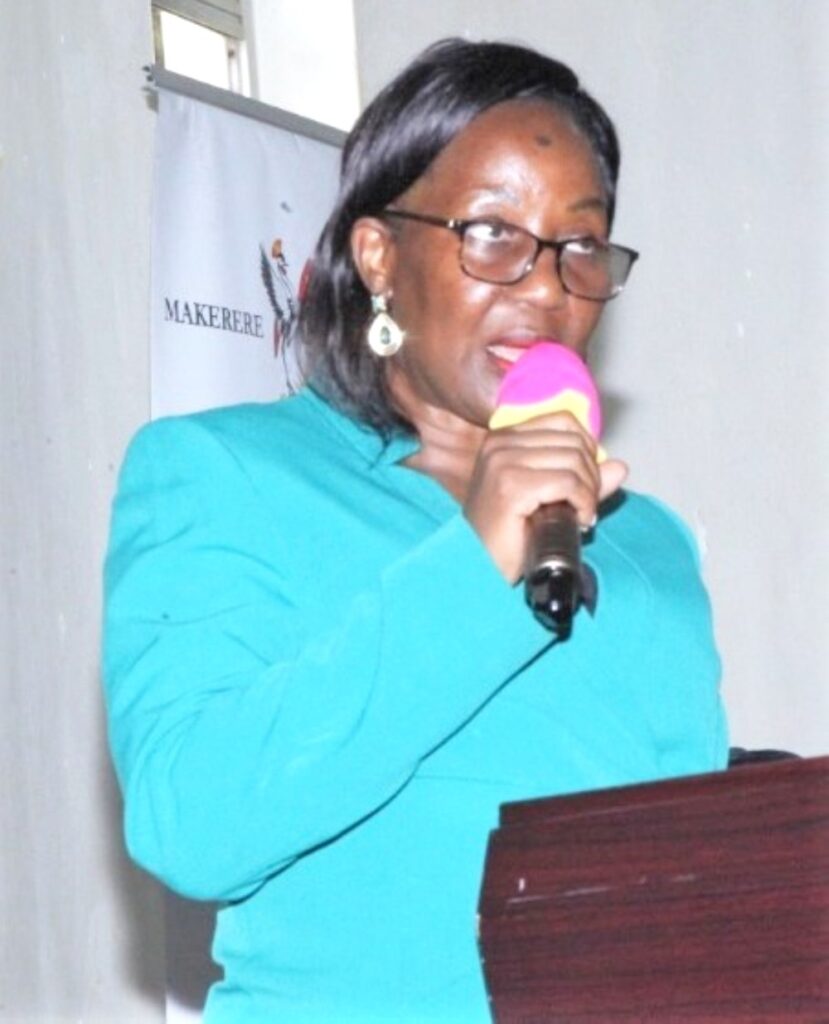 Addressing members of staff, Prof. Sabiiti noted that he was happy to be delivering his Valedictory Lecture at the time Makerere University is celebrating 100 years of existence and excellence.  He appreciated Makerere University Management for providing a conducive environment and facilities that enabled him to excel to become an international professor. He equally appreciated all development partners who supported his academic journey. Having joined Makerere University in 1973 as an undergraduate student, Prof. Sabiiti rose through the ranks to become a professor in 1998. During his time at Makerere, Prof. Sabiiti served in various capacities and made enormous contribution towards the development of the College of Agricultural and Environmental Sciences (CAES) and Makerere in general. At the time of his retirement, he was serving as a Professor in the Department of Agricultural Production at CAES.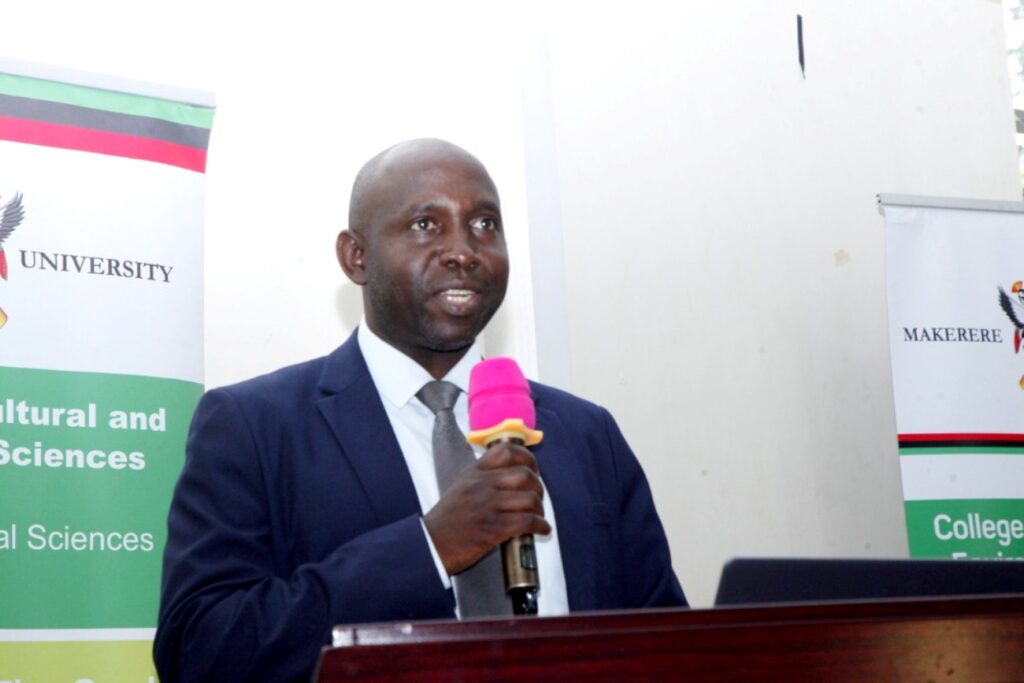 Academic contributions
At Makerere, Prof. Sabiiti had an illustrious career. He developed and taught several undergraduate and graduate courses namely; Undergraduate – Pasture Agronomy, Plant Genetic Resources and Utilization (developed), Seed Science and Technology (developed), Forest Fire Ecology, Agricultural Botany, Ecology and Crop Practical Skills. Graduate courses developed and taught by Prof. Sabiiti included Agronomy of Grasslands, Eco-physiology (developed), Seed Science and Technology (developed), and Plant Genetic Resources and Utilization. He played a key role in the transformation of the Agricultural Husbandry Forum to a Regional Forum based at Makerere University. He established collaboration at local and global levels with various institutions such as Swedish University of Agricultural Sciences, ILCA, AFRINET, ICRAF, NARO, ASARECA and this improved visibility of the Faculty of Agriculture and Forestry. Prof. Sabiiti supervised 33 graduate students, 26 MSc and 7 PhDs and had over 150 publications by the time he retired. He supervised and supported several members of staff to attain doctorates and to raise through the ranks to become senior lecturers and associate professors. These include, Dr Denis Mpairwe, an Assoc. Prof and former Head, Department of Agricultural Production; Dr Justine Kasozi Nambi, Senior Lecturer in the Department of Agricultural Production; Dr C Katongole, Senior Lecturer in the Department of Agricultural Production, and Coordinator Centre for Waste Management; Dr Sylvester Katuromunda, Senior Lecturer in the Department of Agricultural Production; Dr Jeninah Karungi-Tumutegyereize, an Assoc. Prof. in the Department of Agricultural Production; Dr A. Amoding, Department of Agricultural Production; Dr W Ekere, Department of Agricultural Production (Retired); Dr. A. R. Turinawe, Department of Agribusiness and Natural Resource Economics; Dr O. Walekhwa, Department of Agribusiness and Natural Resource Economics (Deceased); Dr Okello, Senior Lecturer, CoVAB; Dr H. Kato, Associate Professor, Kyambogo University; and Dr S. Mugasi, ED, NAADS.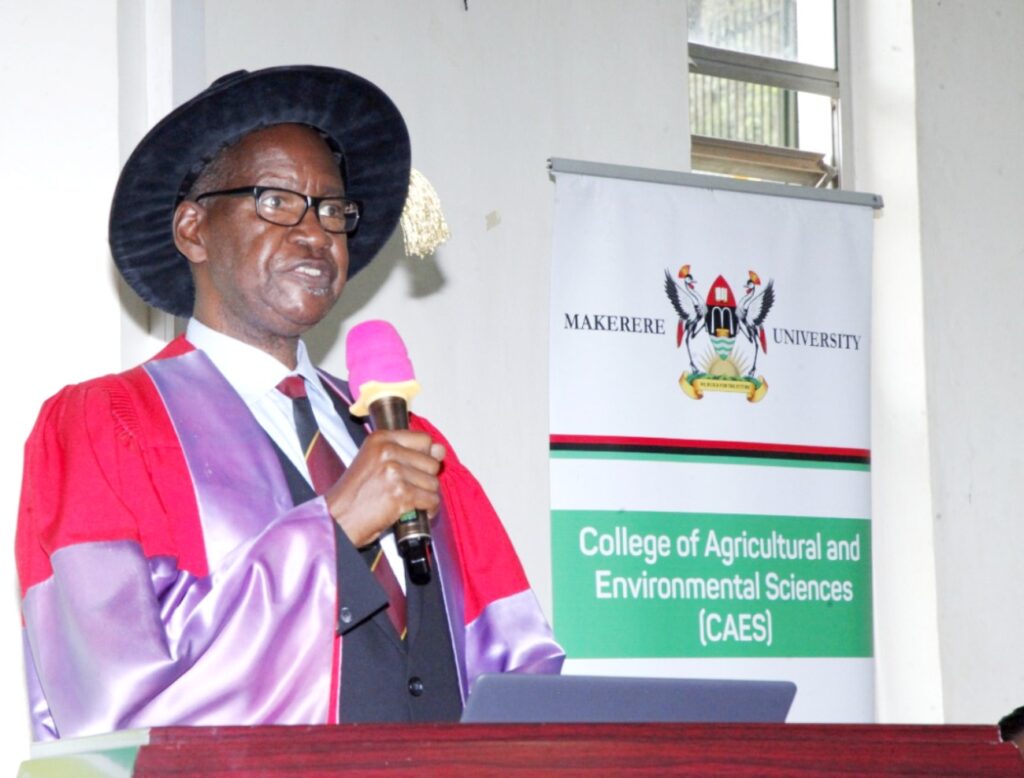 Curriculum Expansion
As Dean Faculty of Agriculture and Forestry, Prof. Sabiiti was instrumental in the review and expansion of academic programmes at CAES.  "There used to be one MSc in Agriculture with options but these would not be reflected on the degree certificate so we revised the old curriculum and proposed specialized MSc degrees of the various options, MSc Crop Science, MSc Soil Sciences, MSc Animal Science, and MSc Agricultural extension and this increased post graduate numbers. I led the development of a highly popular program –Masters in Agribusiness Management that combined science courses with agricultural economics to produce agribusiness entrepreneurs and make agriculture a rewarding business. We also revised the undergraduate degree programme from three: Bsc Agriculture, BSc Food Science and Technology and BSc Agricultural Engineering to over 10 programs," he noted. "By the time I handed over to the next Dean, Prof. Matete Bekunda in 2003, the Faculty was leading in Academic programmes, significant financial research funds, several publications, and staff with PhD as well as MSc."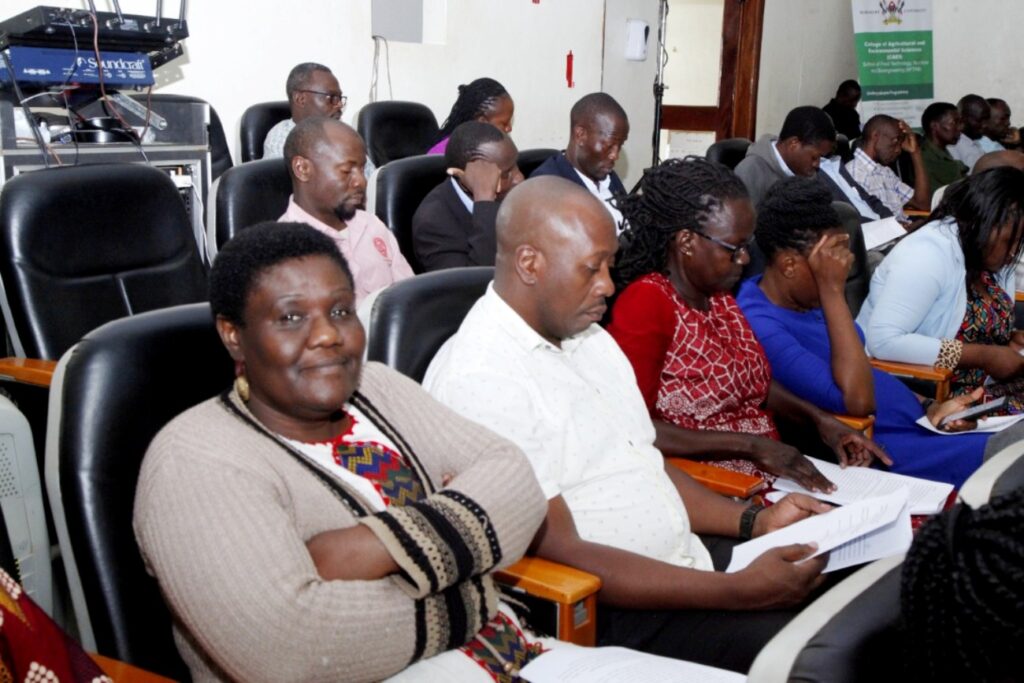 Administrative roles
Administratively, Prof. Sabiiti held several leadership positions spanning a period of nine years, 1993-2003. He served as Head, Department of Crop Sciences, and Dean – Faculty of Agriculture and Forestry (November 1994-2003). Recounting his experience, Prof. Sabiiti said it was during his period as Dean that the Faculty had unprecedented growth in terms of Infrastructural development – the evolution of two Faculties and a Research Institute, and academic programs (under /postgraduate programs). In 1998, the Faculty of Agriculture and Forestry split to two Faculties, Faculty of Agriculture and Faculty of Forestry and Nature Conservation. With NORAD support, a building/home was constructed to house the Faculty of Forestry and Nature Conservation. Kabanyolo University Farm also through a vigorous process was upgraded to Makerere University Agricultural Research Institute Kabanyoro (MUARIK). "With good collaboration with NARO, the Faculty benefited from World Bank funding for five years and the Continuing Agricultural Education Centre (CAEC) was constructed as well as a postgraduate building mainly for girls. Using some innovations, a football field was constructed at MUARIK. With this funding, several staff got further training for Masters and PhD and short courses thus building capacity," he noted. With savings from overhead costs from research and donor-funded projects, the then faculty was able to purchase for the first time a Leyland bus which is still functional-over 24 years), a small Tata bus, a tractor, a car for the Deputy Dean and restored Fish ponds at MUARIK. The other major purchase was about 100acres of land at Namalyagonja bordering MUARIK land. This was to be used for income generation from crop production, especially growing maize. According to Prof. Sabiiti, the idea behind purchasing more land was to prepare for the future plan to have a College and eventually an Agricultural University.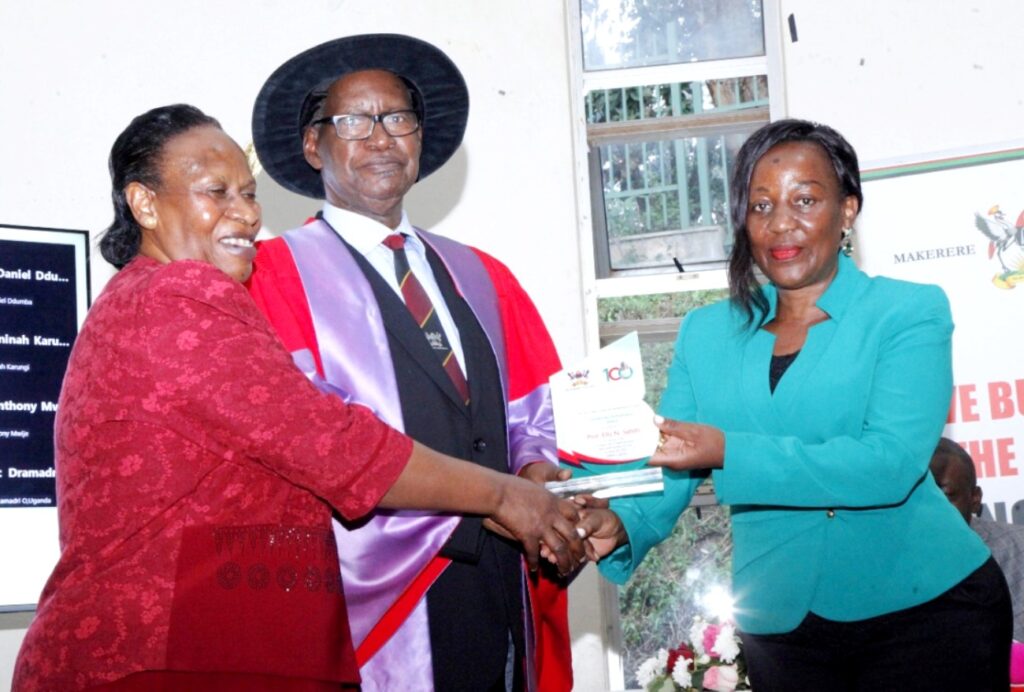 Other important contributions to the University
Prof. Sabiiti represented the Faculty of Agriculture in Senate. He also Coordinated the SIDA program he had initiated in 1999 to build PhD capacity for staff, improve lab equipment and enhance collaboration with Swedish Universities which was about 2m US$ for 15 years, and the Dryland husbandry Project based in Kazo, about US$850,000. He also served on Boards such NAADS, NEMA UNEB, UISTF /committees–I@Mak, where he had been appointed in his professional capacity. "The SIDA funding is one of my celebrated contributions to the College where we trained in joint collaboration with the Swedish University of Agriculture and produced 9 PhD staff, several MSc staff and also supplemented two staff to finish their PhDs (Drs Katuromunda and Obaa). "While in Senate, Prof. Sabiiti   participated in the formation of the Collegiate system at Makerere University. He also defended the approval for the establishment of the Agrostudies program between CAES and Israel Institute funded by the Israeli Government which has become very popular at Makerere and at other Ugandan Universities. He served as Chair for Professorial Inaugural Lectures for 14 years. He initiated collaboration between the University of Western Sydney, Australia and Makerere University 1995 todate where one PhD from CAES was sponsored by that University and she graduated this year in May 2022.  He spearheaded the establishment of the first Makerere University Centre of Excellence in Waste Management at MUARIK which was commissioned by the Swedish Ambassador to Uganda in 2017. It has state-of-the-art equipment for bio-waste research. The Centre was also supported by Edmonton Centre of excellence in Waste management, Edmonton, Canada, Bank of Uganda, Makerere University top management and CAES.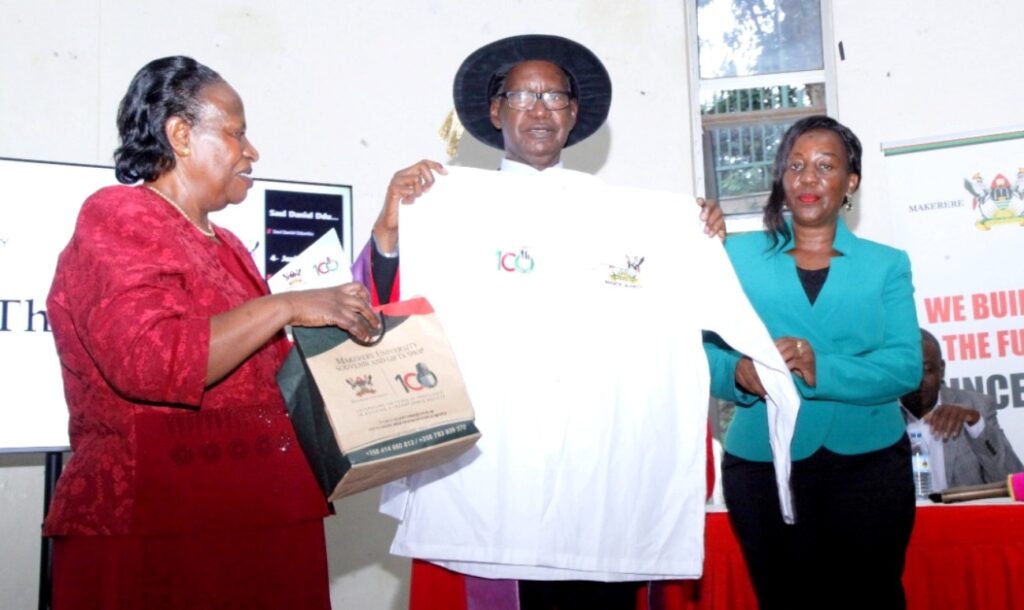 Recognition Awards based on performance as an Academician and administrator
While in service, Prof. Sabiiti received several awards, locally and internationally in recognition of his excellent performance. These include;
Makerere University Appreciation Award by the Vice Chancellor Prof. Barnabas Nawangwe in recognition of his distinguished and dedicated service to Makerere University, specifically for the leadership and devotion as Chairperson for the Professorial Inaugural Lectures Organizing Committee 2007-2021.
Was awarded the highest National award for Civilians as a Hero – Independence Golden Jubilee Medal by H.E. the President of the Republic of Uganda for his outstanding contribution in research, teaching, outreach, institutional building and administration and his loyalty to the Nation – 26th January 2017.
Appointed by the Board of Directors of the Association for Strengthening Agricultural Research in Eastern and Central Africa (ASARECA) as the 1st President of ASARECA General Assembly, December 2011 because of his outstanding contributions in agricultural research and served for two years.
Recognized by Makerere University in April 2015 for coordinating very successful research collaboration with SIDA financial support 2000-2015.
Winner of the Presidential Excellence award for Science, technology Education Excellence 2008 for outstanding contribution in the understanding of ecological dynamics of rangeland /grasslands and institutional development.
Winner of the Makerere University Vice Chancellor's Innovations and Academic Excellence Award 2007/2008 for transforming the living conditions of Pastoral communities in Kazo rangelands.
Received a Certificate of Recognition from Bishop Stuart University, Mbarara for his  outstanding and dedicated services to the University as its pioneer Chairperson of Council 2003-2018.
Received recognition (FELLOW) of the Uganda National Academy of Sciences (UNAS) for exemplary contribution to science and technology, 2004.
Received Recognition Award from the Faculty of Agriculture, Makerere University for having contributed significantly to the establishment of the Continuing Agricultural Education Centre (CAEC) in 2001.
Was awarded a golden plaque by the Faculty of Agriculture – Makerere University, in recognition of his outstanding leadership as Dean 1994 – 2003.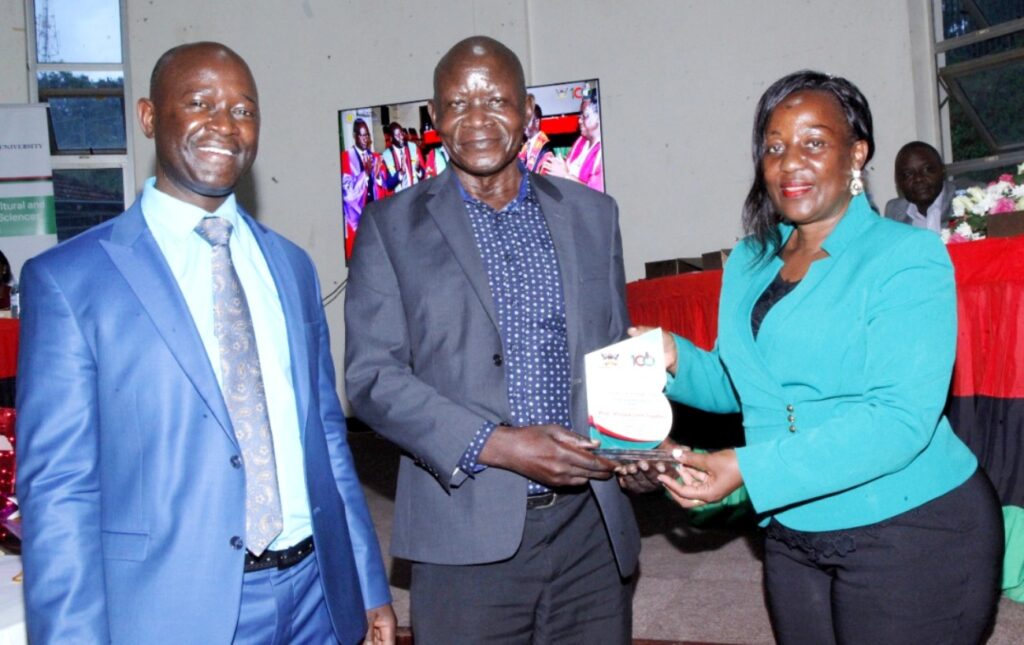 Regional Recognition
Elected Vice President, African Academy of Sciences based in Nairobi 2019 todate.
Recognized Fellow in 2007 of the African Academy of Sciences (AAS) based in Nairobi, Kenya for his outstanding scientific contribution in agronomy and Ecology.
Received recognition award for Distinguished Service as Chairman of the National Steering Committee and National Coordinator of the Dryland Husbandry Project, Uganda from 1995-2003 from the Organization for Social Science Research in Eastern and Southern Africa (OSSREA), July 2004.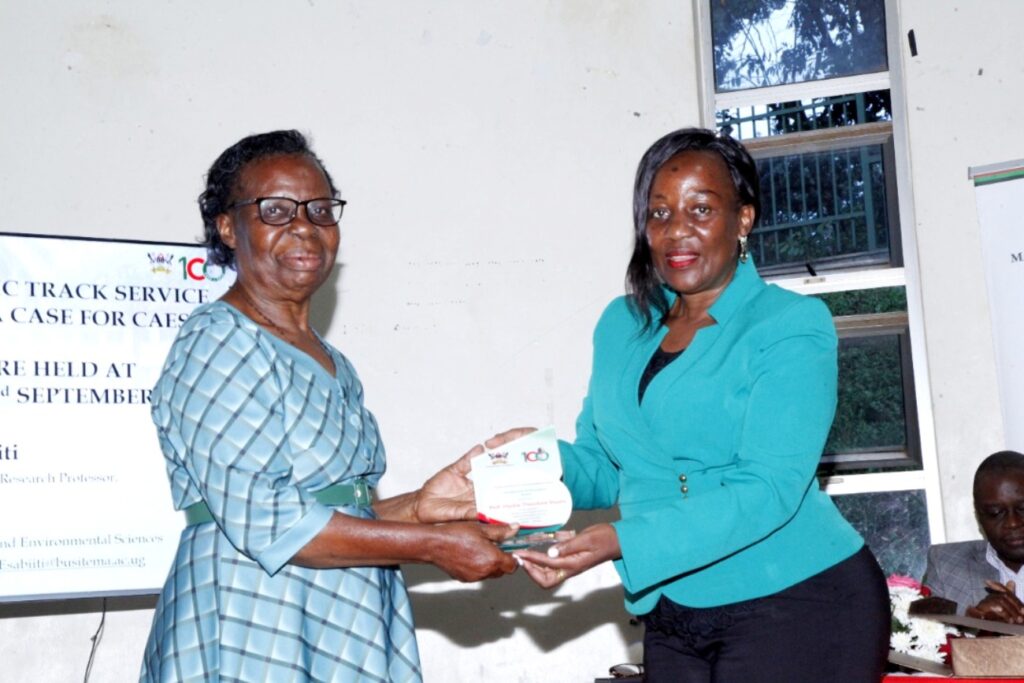 International Awards
Won the prestigious Fulbright Fellowship for Senior African Scholars 2005/16 offered by USA Department of State and was implemented at the Ohio State University and became a Fulbright Scholar 2016 to-date.
Elected a Fellow by the Governing Council of the Academy into The Third World Academy of Sciences (TWAS) 2001.
Received recognition award for extraordinary service to the Inter Academy Council as a Member of the Panel on Science and Technology Strategies for Improving Agricultura Productivity and food Security in Africa from the Board of Inter Academy Council, The Netherlands, 27th August 2004.
Appointed a TWAS Research Professor in Dec 2006 for five years by the Academy of Sciences for the developing World (TWAS) Secretariat based in Trieste, Italy and was hosted by the National University of Rwanda.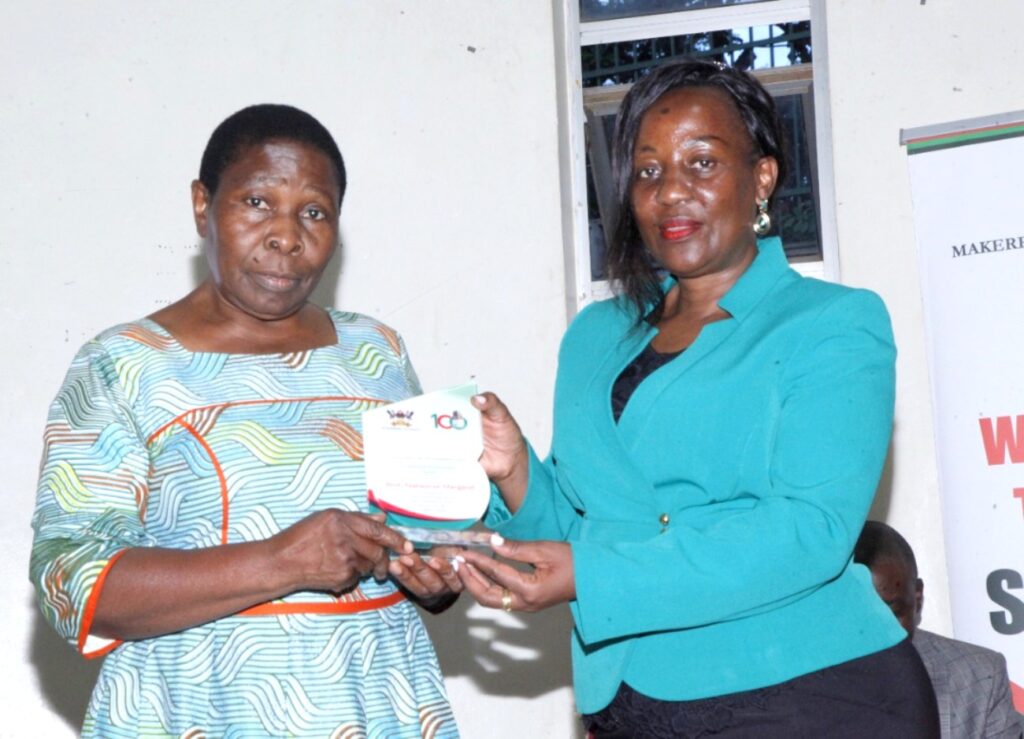 Extra Curricula Activities
Served on Busitema University Council from 2015-2021 and also Chaired Student Affairs and Disciplinary Committee and Appointments Board.
Appointed twice by Makerere University as Orator and presented citation for H.E. Yoweri Tibuhaburwa Kaguta Museveni for recognition of his contribution to education, agriculture, fight against HIV/Aids and was awarded D Laws (H.causa) 2019, and for the Distinguished Authorship Award for writing a dictionary-Katondoozi in local language – presented  to H.E. in 2020.
Appointed member of the Board of Trustees of the Uganda Independence Scholarships Trust Fund March 1999 to date. This is a Presidential Appointment.
Appointed Director on the National Agricultural Advisory Services (NAADS) board by the Minister of Agriculture, Animal Industry and Fisheries, 2002 to 2008.
Appointed by the Permanent Secretary, Ministry of Education and Sports to serve as Chairman of the Curriculum Subcommittee for the Agricultural Colleges in 2000 that reviewed the curriculum and recommended a two-year Diploma instead of three years.
Appointed by the Chancellor of Bishop Stuart University, Mbarara as the first Chairman to its Council, June 2003 to date.
Served as Chairman of the Agribusiness Advisory Committee between the Faculty of Agriculture and the Private Sector in Uganda to monitor a new Masters degree program in Agribusiness Management (1999- 2003).
Appointed by OSSREA as the National Co-coordinator, Dryland Husbandry Project funded by SIDA. The Faculties of Agriculture and Veterinary Medicine and MAAIF and NARO implemented the project from 1996 –2003.
Appointed by the Vice-Chancellor, Makerere University to the MU/Government Committee of 14 that prepared a document on Human Capacity building for decentralization supported by the Rockefeller Foundation in 1999/2000. The project attracted about US$17M from the Rockefeller Foundation, World Bank and Government of Uganda. The implementation committee became  I@Mak.com – Innovations at Makerere Committee.
Appointed by Ministry of Education and Sports as member of the Joint Commission for setting up the University of Agriculture and Environmental Sciences 1995-2002. The university has been established and is called Gulu University. He was also chairman of the Curriculum Committee that worked out the academic faculties and programs.
Appointed member Taskforce for setting up Agricultural University in the North, by the Prime Minister of Uganda, 1994.
 Elected the first President of the newly formed Association of Uganda Professional Agriculturalists (ASUPA) 2002.
Appointed board member of the Uganda National Examinations Board (UNEB) by the Minister of Education and Sports, 2002 to 2005 and was reappointed on the Board from 2006-2009.
Member of the Management Committee of the National Agricultural Research Organization (NARO) 1995-2003.
Member of the National Forum on the Plan for Modernization of Agriculture 1996-2003.
Member of the National Steering Committee for the Plan for Modernization of Agriculture1996-2003.
Appointed by Ministry of Agriculture to be Member of the National Steering Committee to Combat Desertification in Uganda, 1997 to 2010.
National Coordinator, Plant Genetic Resources Coordinating Committee, 1992 -1997.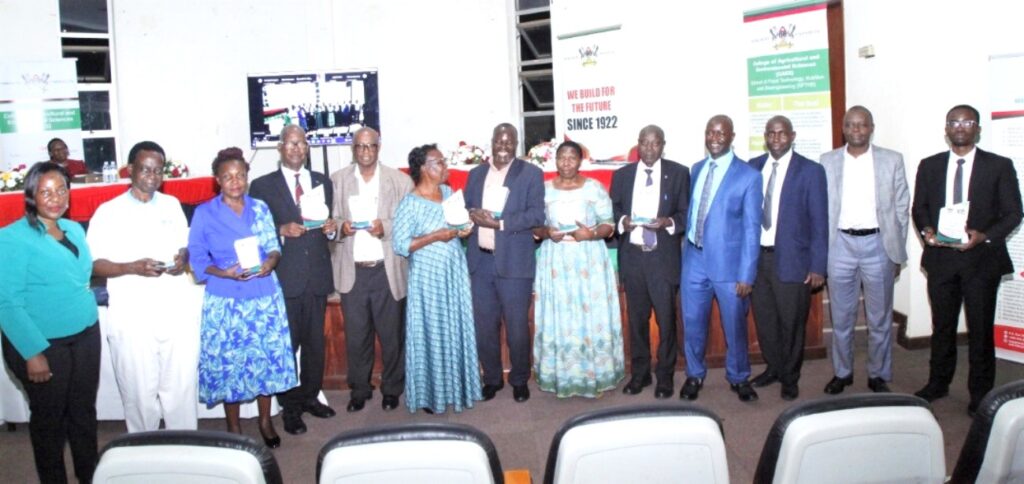 Prof. Sabiiti's advice to members of staff
While in service, work for the good of the institution and the good of others and you will be rewarded.  "As a Professor at Makerere, I had purpose to build human capital. As a Lecturer, you should always have purpose as to why you are teaching and supervising. I came to Makerere to teach and build others. Learn to sacrifice for the good of others."
Mentoring means being able to offer a helping hand to a fallen person or a person struggling with unseen challenges and you do it willingly without expecting rewards from that person. Your expectations from that person is to be a better person.
Makerere gives you the best environment to grow academically if you want to grow. Learn to love the institution and you will excel in whatever you do.
To the academic leaders, there is need to balance administration and academics. If you don't, you will be lost when you leave administration.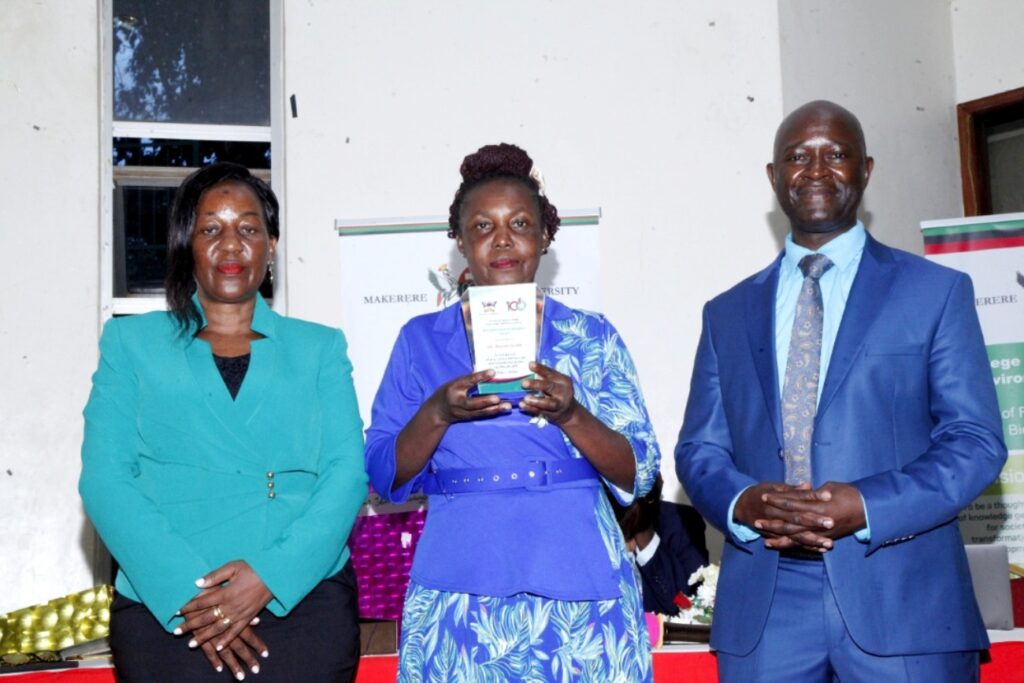 Prof. Sabiiti's thoughts on the future of CAES
Prof. Sabiiti implored staff to remain united with a common vision for the College. "Focus on growing CAES into a University of Agricultural & Environmental Sciences. Looking back, CAES has had steady developmental phases initially from the Faculty of Agriculture and Forestry to a College status and this has been possible through dedicated service of the various leaders and staff. This practice should be further deepened to turn CAES into a much bigger Institution with more Departments, Schools, Centers, Institutes that fit in the NDPIII and Uganda Vision of 2040. You have a very good Strategic Plan 2020-2030 which should now be regularly revised to focus on what you want to achieve. Use the capacity you have on ground to drive your Strategic Plan. You should all remain united with a common vision championed by your leaders if you want to attain higher levels of development."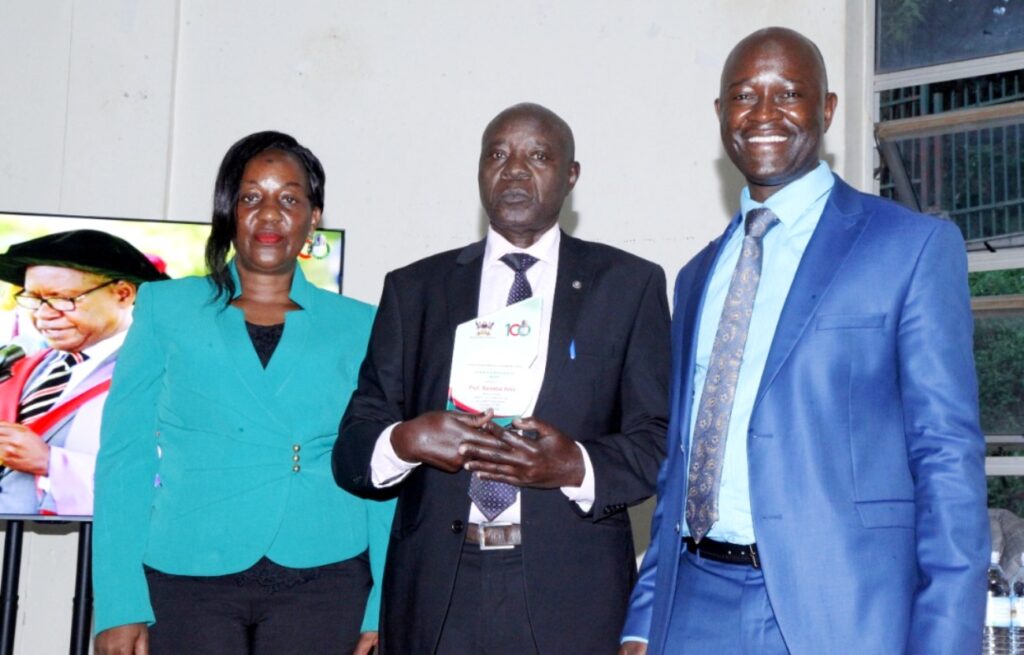 Appreciation
Prof. Sabiiti appreciated the Principal of CAES, Prof. Gorettie Nabanoga for inviting him to deliver his valedictory lecture, and the Deputy Principal, Prof. Yazhidi Bamutaze for coordinating the program.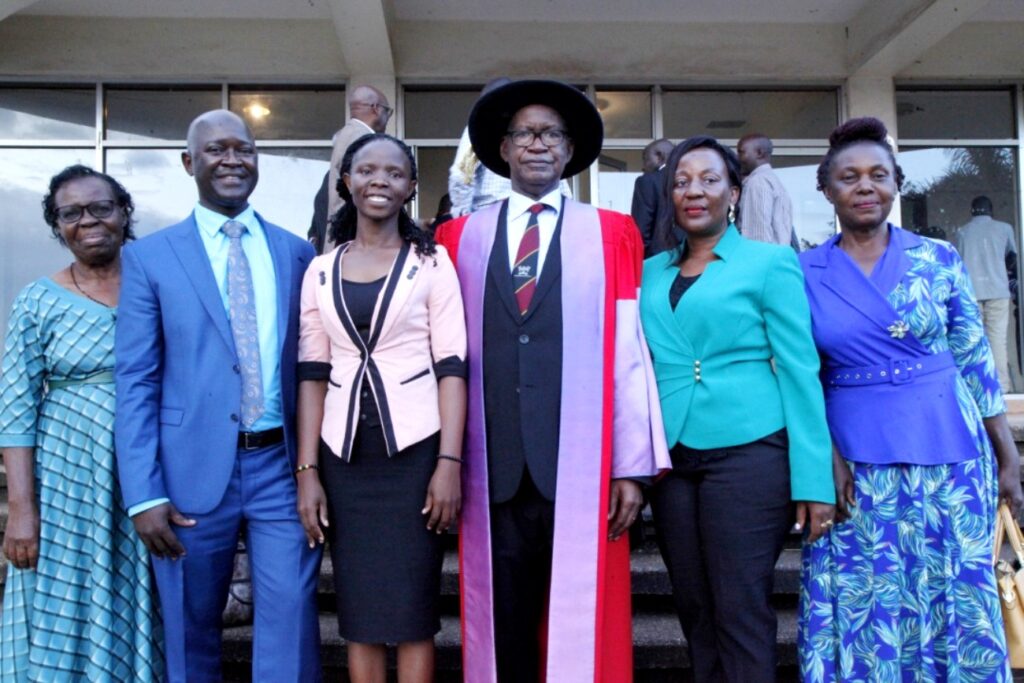 Recognition of retired staff
During the event, the Principal, CAES presented an award to Prof. Sabiiti in recognition of his distinguished service to Makerere University. The Principal, together with the Deputy Principal also presented appreciation awards to other retired members of staff in recognition of their service to Makerere. These included; Prof. Bareeba Felix, Prof. Tenywa Moses, Prof. Hyuha Theodora, Prof. Ssembajjwe Gombya, Prof. William Kyamuhangire, Prof. Nabasirye Margaret, Prof. Mutetikka David, Prof. Tenywa John Stephen, Dr Matsiko Francis, Dr Okiror John James, Dr Nagadya Harriet, Dr Christine Magala Nyago, Dr Michael Iwadra, Ms. Nanziri Sarah, Ms. Kawooya Teddy Mary, Mr. Eugene Manda, Mr. Tibakuzira Arnest, Mr. Emmanuel Nabyama, Ms. Toepista Namayanja, Everst Emuron, and Ms. Benny Kaitesi.
The Principal appreciated Prof. Elly Sabiiti and the other retirees for serving Makerere with utmost diligence. "It's because of their sacrifices that CAES has grown and excelled in many aspects," she noted.
The Valedictory Lecture was moderated by Dr Patrick Byakagaba, a member of staff at CAES.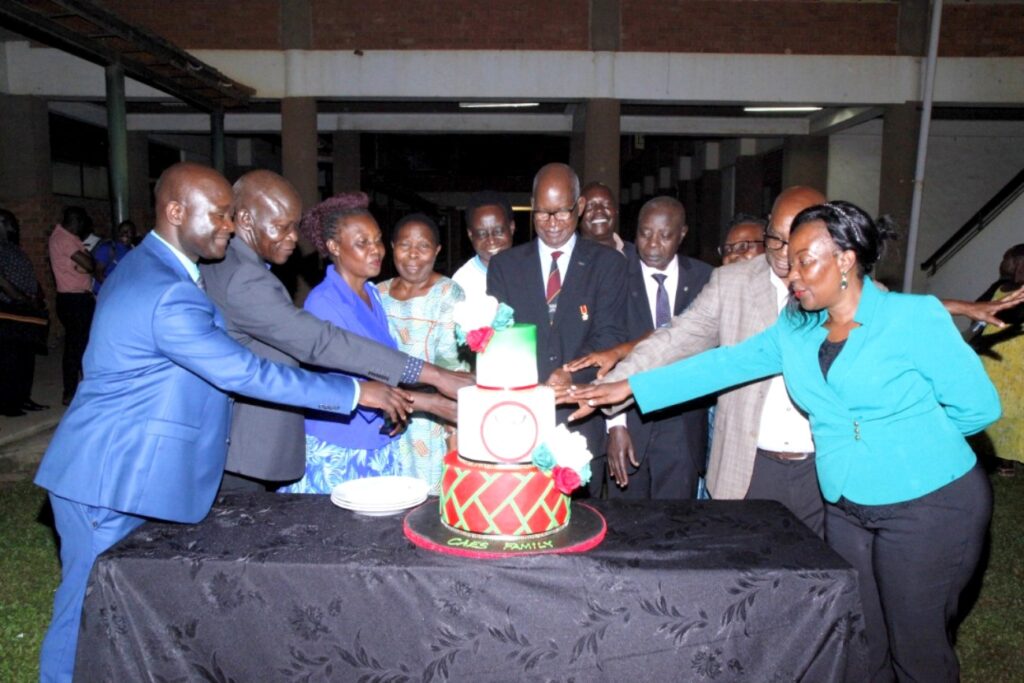 Full presentation attached below.
Researchers Recommend System Dynamics Approach in the Management of Wetlands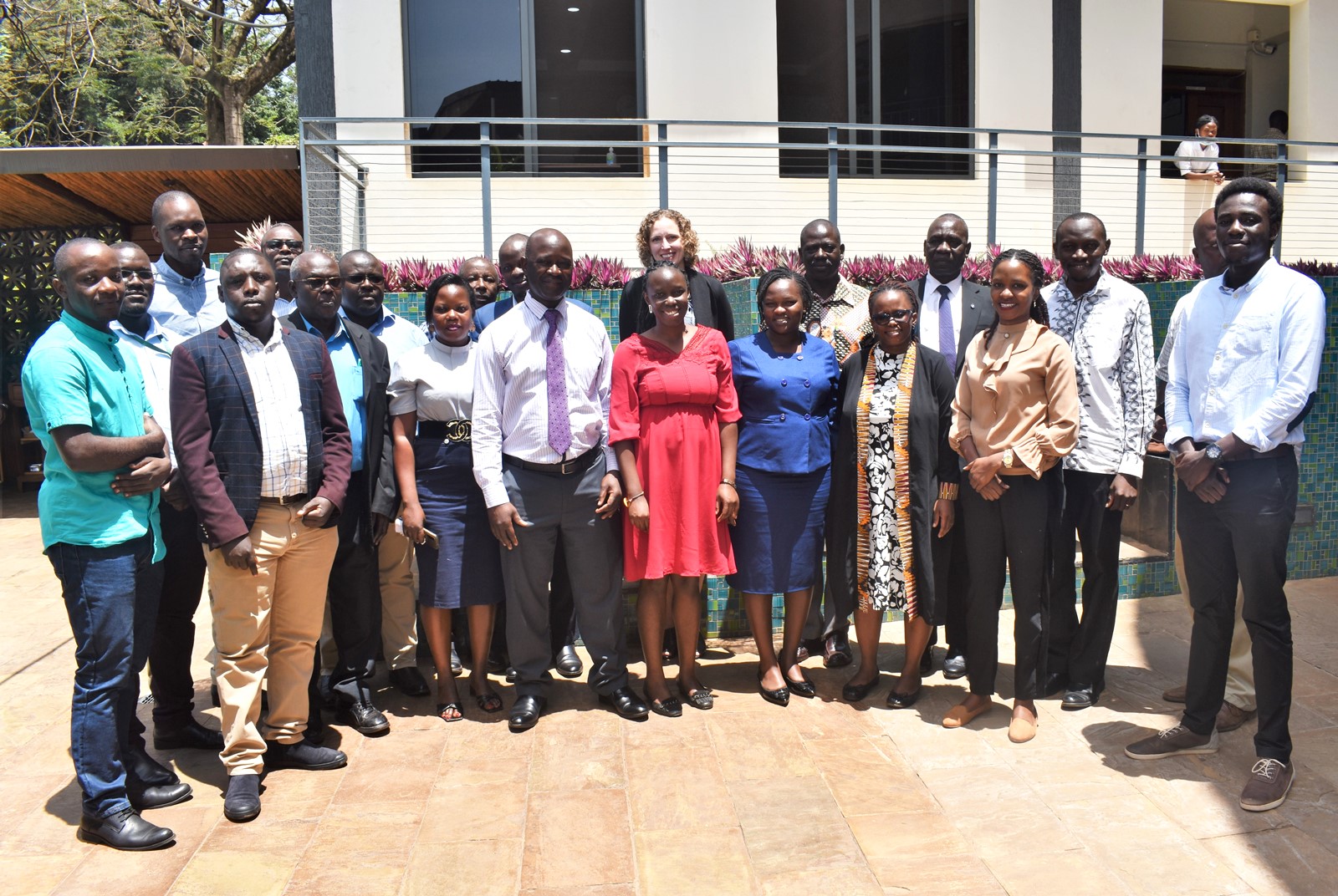 Wetlands provide goods and services like water and fish as well as water purification and flood mitigation. However, they are used unsustainably leading to degradation. The search for fertile soils and water for animals and agricultural use, as well as papyrus for commercial purposes has heightened degradation. According to a study conducted by researchers from the College of Agricultural and Environmental Sciences (CAES), Makerere University and Michigan State University, food and economic security are the main drivers of encroachment and the main activities carried out within the wetland are farming (40%), vegetation harvesting (25%) and fishing (24%). Although a number of interventions have been made to protect wetlands, encroachment persists. To minimize the challenge, it is important for all stakeholders to understand the structure of the wetland system and its linkage with livelihood activities.
Through a project titled, "Participatory Modelling for Livelihood Security and Ecological Integrity in a Ugandan Wetland-Agricultural System", the researchers led by Dr Ellen Kayendeke from the Department of Environmental Management, CAES, and Prof. Laura Schmitt Olabisi from Michigan State University conducted a survey among wetland users on the drivers of wetland degradation and how this impacts ecosystem services. The overall objectives of the project were; i) to generate information about the causal links and feedback mechanisms between wetland management and livelihood activities, and ii) to create an improved and shared understanding of the wetland-agricultural system structure among the stakeholders. Other members on the project included Prof. Frank Kansiime from the Department of Environmental Management; and Prof. David Mfitumukiza from the Department of Geography, Geo-informatics and Climatic Sciences, CAES, Makerere University.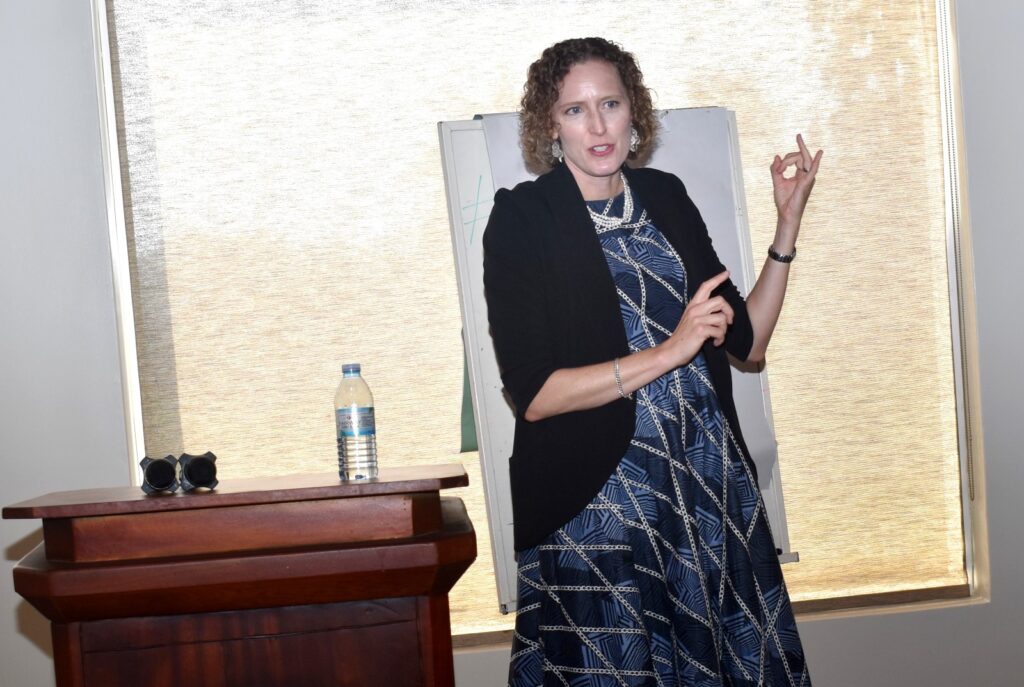 According to the research findings, wetland degradation impacts long-term agricultural productivity, which then perpetuates a cycle of food insecurity and poverty. The short term effects of encroachment include reduction in wetland flora and fauna, and reduced ability to supplement food needs. The long term effects include reduction in soil fertility and low yields.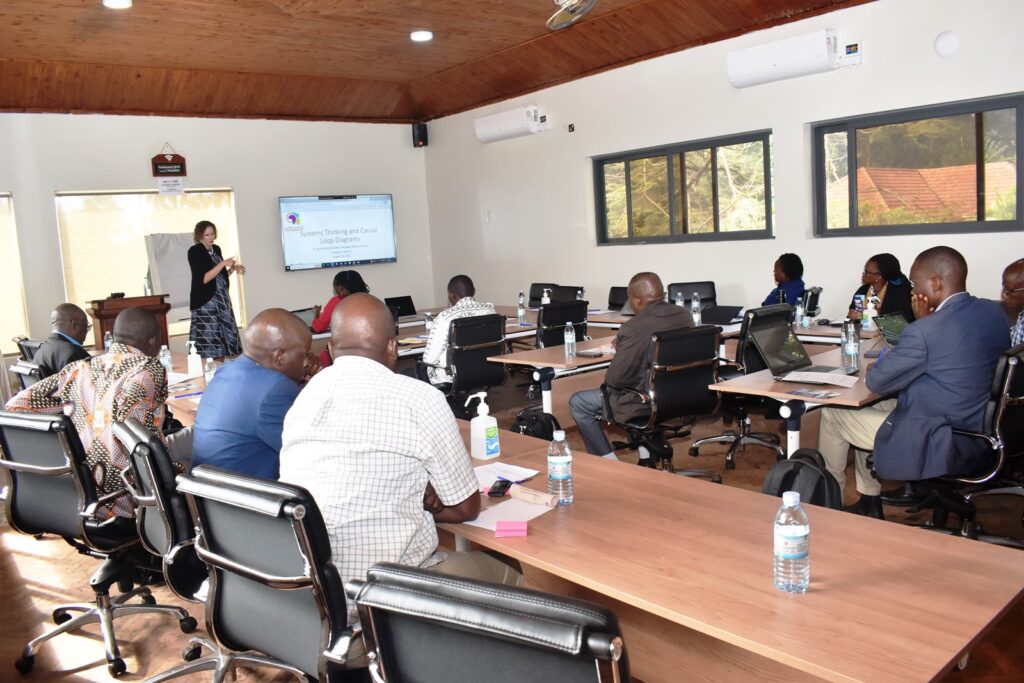 Disseminating their findings to stakeholders on 24th August 2022, the researchers noted that wetland users are aware of the impact of degradation on ecosystem services, but continue to encroach on wetlands. The encroachers claim they cannot vacate the wetlands because of a lack of alternative livelihoods. The researchers advise that efforts to regulate wetland use and educate stakeholders on wise use of wetlands should be complemented with support of alternative livelihoods.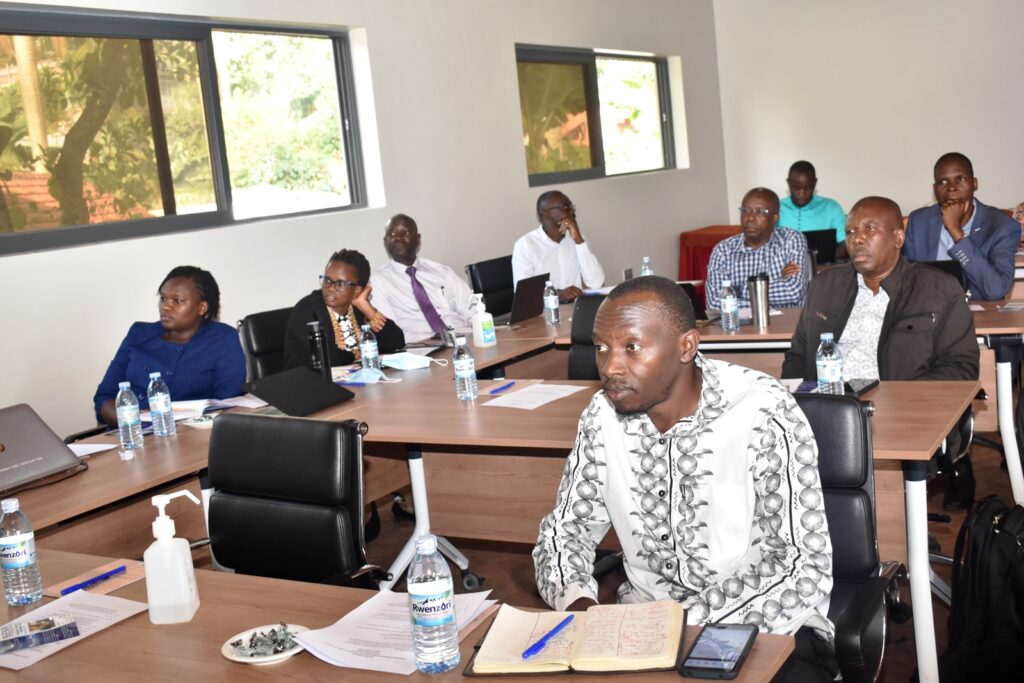 Using a system dynamics approach, the researchers generated visual representations (Causal Loop Diagrams) to illustrate the structure and feedback loops of the wetland-agricultural system in Uganda, with a case study of Naigombwa wetland in Iganga District. According to Prof. Laura Schmitt Olabisi, System Thinking is key when dealing with environmental management given the interconnection between different actors.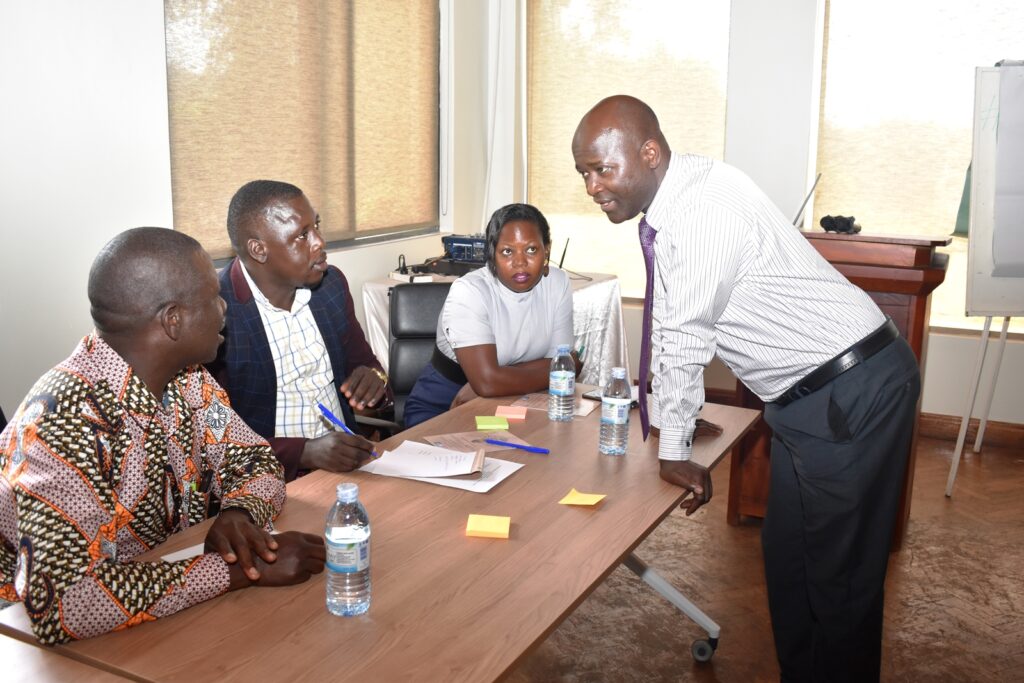 During the research dissemination workshop held at Fairway Hotel in Kampala, the project team sensitized participants on System Dynamics (SD) and Causal Loop Diagram (CLD) methodology and its application to natural resources management. The workshop also served as a platform to validate the CLD of Iganga wetland-agricultural system, and to discuss potential policy measures for effective wetland management.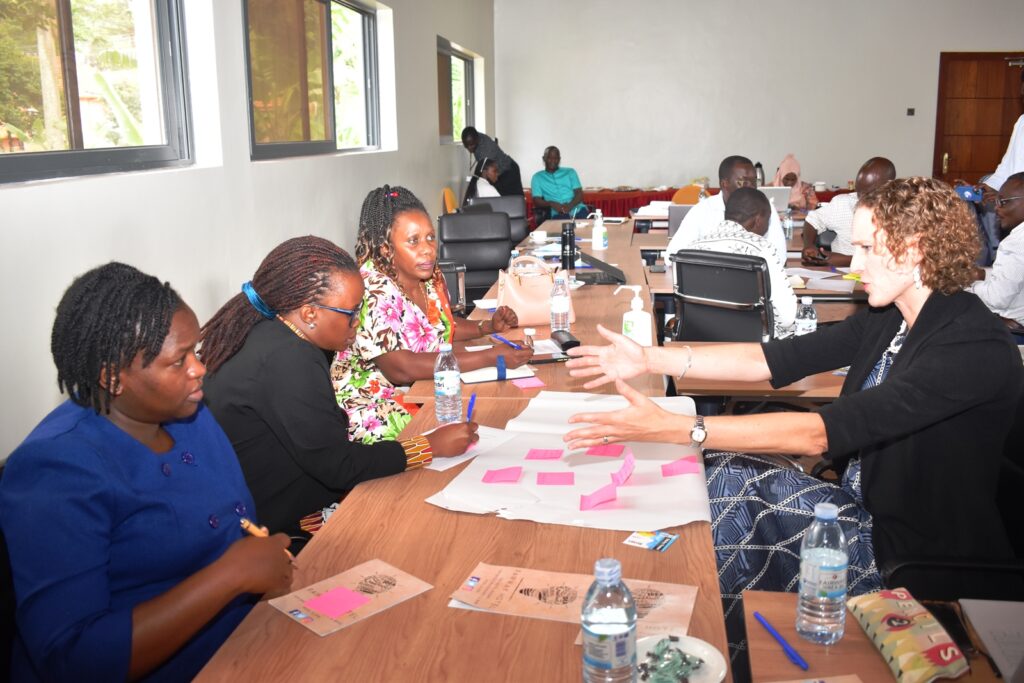 The meeting was attended by the Commissioners, Wetlands Management and Capacity development at the Ministry of Water and Environment; as well as representatives from the National Environment Management Authority; Iganga District Local government; CAES; Ministry of Agriculture, Animal Industry and Fisheries (MAAIF); Institute of Environment and Natural Resources (SIENR), Uganda National Association of Community and Occupational Health (UNACOH), GIZ, the media, and a representative of rice farmers in Iganga District.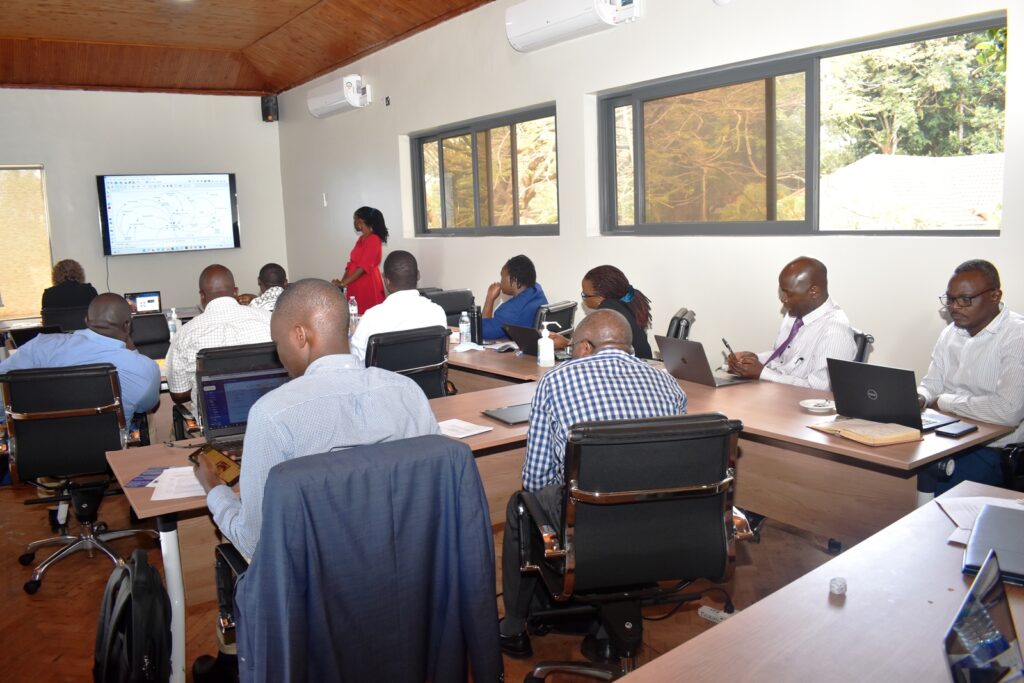 The workshop was graced by the Deputy Principal of CAES, Prof. Yazidhi Bamutaze, and the Head, Department of Environmental Management at CAES, Prof. Justine Namaalwa.
CAES Innovation Scholars Programme Boosts Critical Thinking, Innovativeness amongst Staff & Students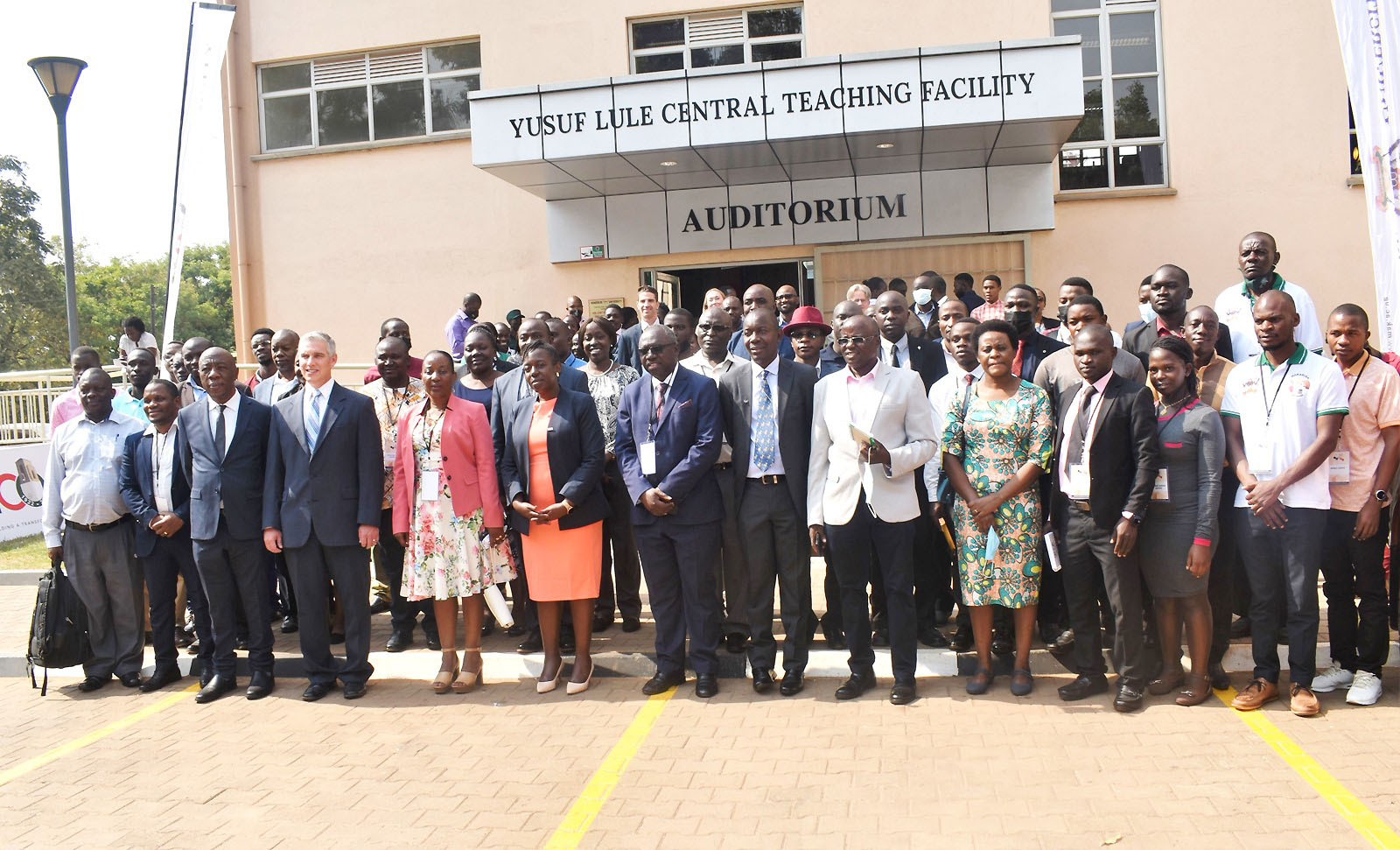 Inadequate curricula to stimulate innovativeness and entrepreneurship within learners and faculty and limited partnerships and collaborations are some of the major bottlenecks to innovativeness at the College of Agricultural and Environmental Sciences (CAES), Makerere University. The current programme design, sequencing and delivery inhibits critical thinking and innovation as it focuses more on theory than practice. Reviewing curricula to make it more learner-centered and entrepreneurial, reducing theory and creating more time for practical sessions can enhance the innovation culture at CAES.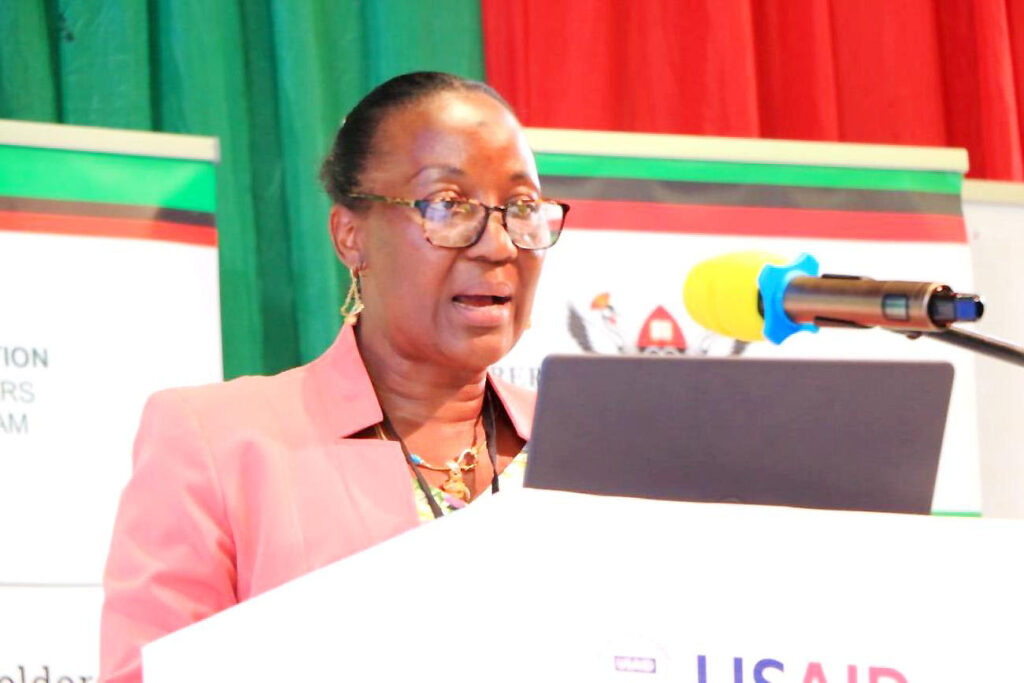 Through the Innovation Scholars Programme, CAES and Michigan State University's Borlaug Higher Education for Agricultural Research and Development (BHEARD) Program with the support of the MSU's Global Centre for Food Systems Innovation (GCFSI) are working together to advance the College toward its strategic vision – "to be a leading institution of academic excellence and innovations in Africa." The CAES Innovation Scholars Programme (CAESISP) offers an eighteen-month opportunity during which CAES academic staff work as interdisciplinary teams to solve problems in the food systems in Africa, while at the same time offering support to the entire CAES academic fraternity in the areas of design thinking, teaching and learning, community outreach, and communicating science.The CAESISP serves as a catalyst to support food system innovations that improve food security, and develop the current and next generation of entrepreneurial scientists at Makerere University and in the region. The programme is modelled after a successful, field-tested faculty development programme implemented at the Lilongwe University of Agriculture and Natural Resources (LUANAR) and the Malawi University of Science and Technology (MUST) —yet tailored for innovation and contextual challenges at Makerere University. The core values of the CAESISP include: participatory, asset-based, learner-centered, contextualized, and evaluative.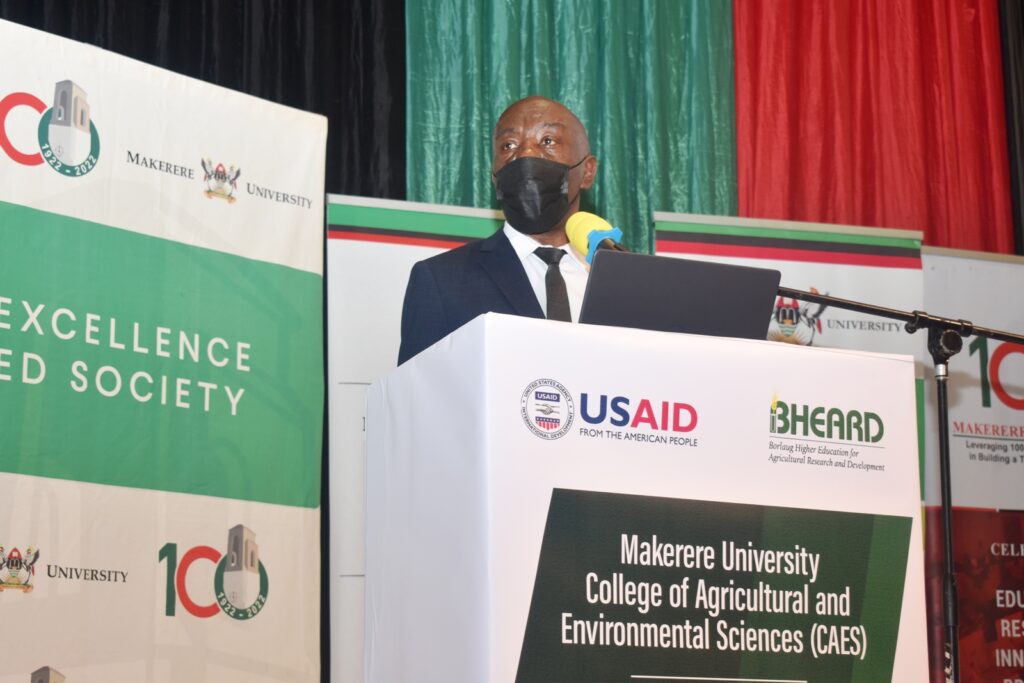 Under the programme, a number of academic staff at CAES have been coached to enhance their innovativeness to provide practical solutions to challenges affecting the agricultural sector. The researchers have also been equipped with various skills to deliver curricula that is practical-oriented and fosters critical thinking as well as entrepreneurship. At Makerere University, the Programme is headed by the Principal of CAES, Prof. Gorettie N. Nabanoga, and coordinated by Prof. Jackie Bonabana – Wabbi from the Department of Agribusiness and Natural Resource Economics (DANRE), CAES. The Michigan State University Coordinator is Dr John Bonnell, BHEARD Director.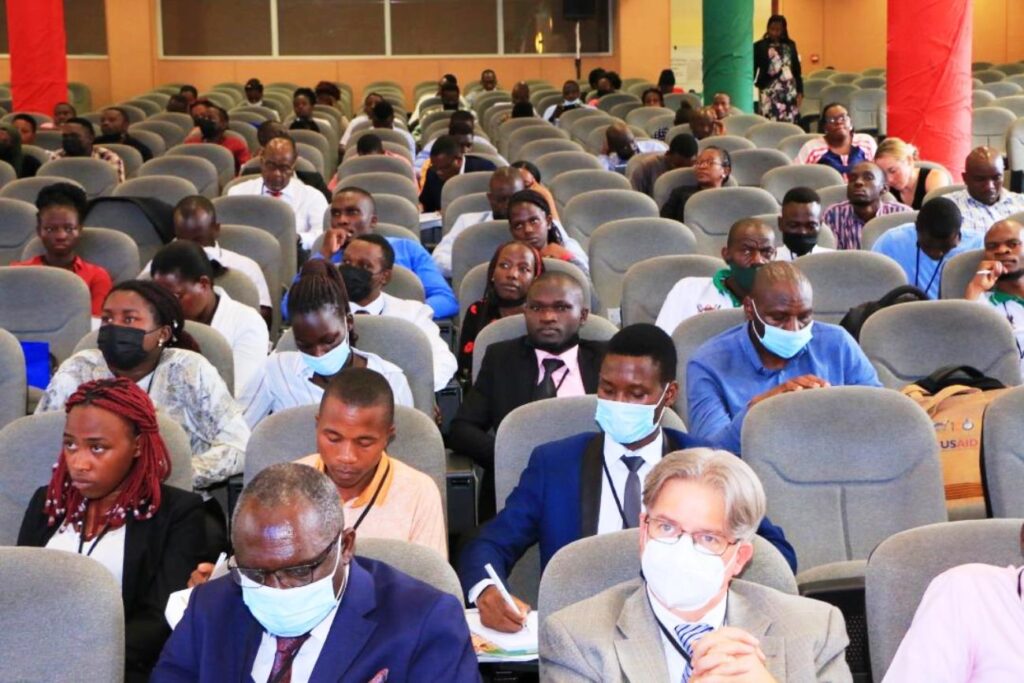 In the second week of August 2022, the College held a two-day workshop under the theme – "University Responsiveness to Innovation" to showcase some of the innovations that have resulted from the programme. The event held at Yusuf Lule Central Teaching Facility from 10th-11th August 2022 was graced by the Deputy USAID Mission Director in Uganda, Daniele Nyirandutiye and the Vice Chancellor of Makerere University represented by the Acting Deputy Vice Chancellor in charge of Finance and Administration, Prof. Henry Alinaitwe. Innovations showcased included the Kebera Organic App intended to detect contaminants in crops before they are put on market. The researchers also developed a tailor-made pasteurizer and fruit pulper for the Medium, Small & Micro Enterprises in the Food Processing Industry; and a Guide for Learner-Centered Processes at the Department of Environmental Management –CAES. They also developed two different audio-visual instruction materials for instructors and students to enhance e-learning at Makerere University; engaged various stakeholders to address challenges of poor seed quality in the horticulture industry; benchmarked approaches for improved delivery of Hands-on Practical Experiences for Business Management Courses at CAES, Makerere University; deployed a problem solving-centered teaching and learning approach using the Teach-Think-Pair-Share model for increased skilling among Agricultural students; and programmed a software platform with a matching algorithm to cross-reference student abilities with company profiles.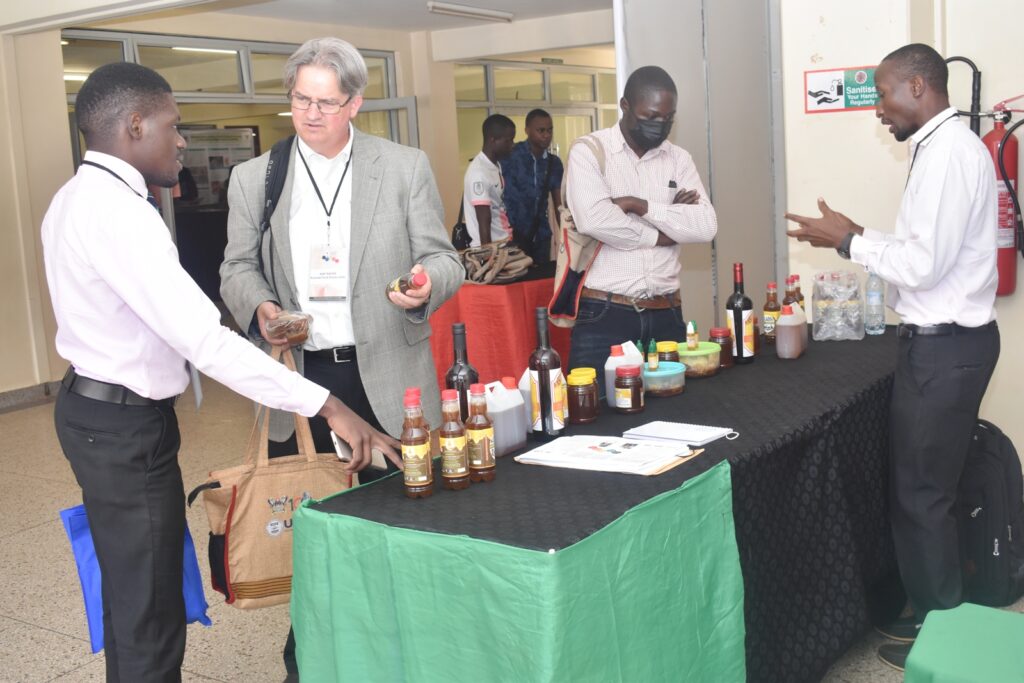 Research projects and innovations showcased
1. Breaking barriers to global organic market access through research and innovations at Makerere University
Organic Agriculture (OA) is a rapidly growing sector due to health concerns by consumers. Globally, Uganda is only second to India in terms of the number of organic producers (210,000 VS 1,366,000). Uganda was the first African country to develop a National Organic Agriculture policy-supporting environment in 2019. Despite an annual global organic market worth $100 billion USD, annual organic exports from Uganda only account for $50 million USD of the totaI. Limited knowledge and high transaction costs in OA are some of the major bottlenecks to market access. Agricultural products from Uganda are usually rejected in international markets due to standard challenges. 45% of organic products in Uganda are reportedly contaminated and this poses a danger to health. To minimize the challenge, researchers led by Prof. Fred Kabi from the Department of Agricultural Production, CAES developed an App that detects pesticides and aflatoxins in organic foods. The Kebera Organic App was designed by a group of researchers from CAES, the College of Computing and Information Sciences (CoCIS) and the College of Engineering, Design, Art and Technology (CEDAT) namely; by Mr. Ramadhan Nkuutu, Mr. Ambrose Kamya, Ms. Fatuma Nabatanzi, Dr. Daniel Basalirwa, Mr. Ronald Walumbusi and Mr. Brian Ogenrwoth. The App has been validated against globally recognised tools and proved suitable for field use and complies with the Food Safety Standards set by the Food and Agricultural Organization (FAO).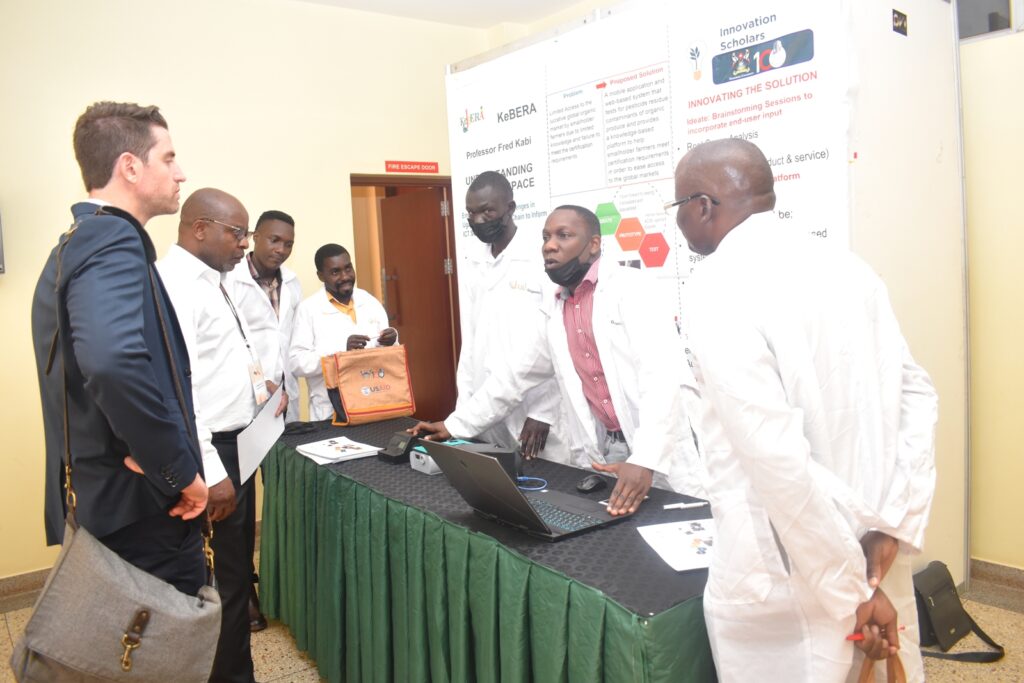 2. Developing Innovative Technology for the Medium, Small & Micro Enterprises (MSMEs) in the Food Processing Industry
A team of researchers led by Dr Julia Kigozi and coached by Dr Amy Jamison investigated the challenges faced by MSMEs Agro Processors in accessing pulping and pasteurizing equipment and discovered that many processors had limited access to the equipment due to the costs involved. To minimize the challenge, and increase access to the equipment, the team developed a tailor-made Pasteurizer and Fruit Pulper adapted according to end-user operational capacity, financial resources and available energy source, and composed manuals on the use and maintenance of the equipment. They also developed capacity among the agro-processors to design, simulate, fabricate and test the equipment. Other members on the project included; Mr. Moses Kalyango, Mr. Emmanuel Baidhe, and Mr. Isaac Oluk.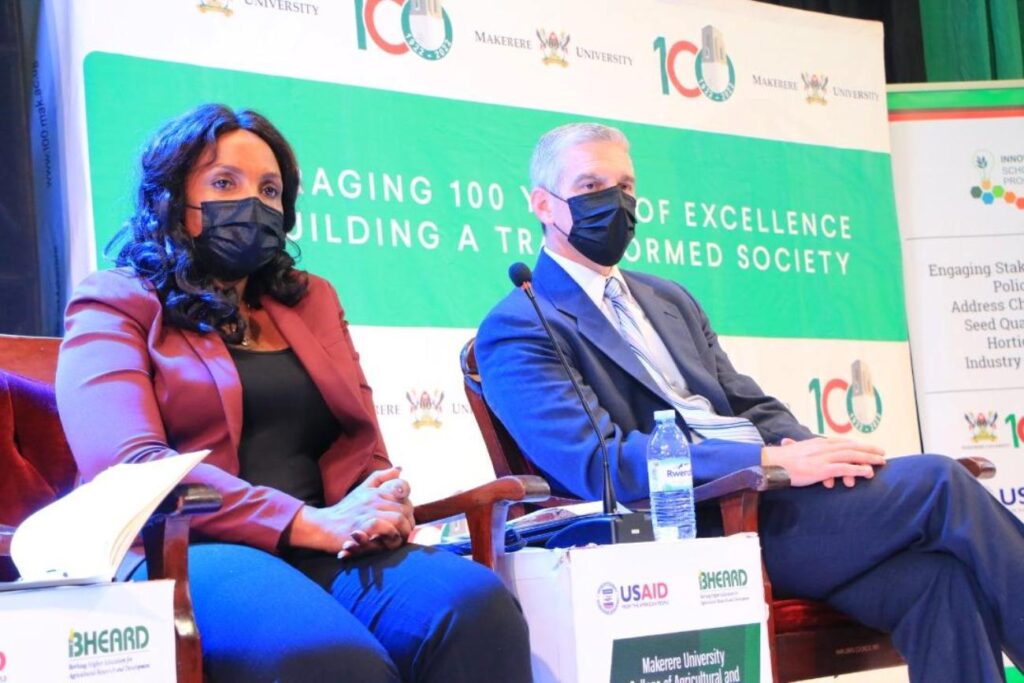 3. Learner-Centered Training in Environmental Science & Management
Strategic Goal No.2 of the Makerere University Strategic Plan 2020-2030 commits to Innovations in Teaching and Learning. The system has mainly been teacher-centred as opposed to learner-centred undermining practical training, critical thinking and innovativeness. Under the project, Prof. Justine Namaalwa and other team members namely: Prof. Anthony Egeru, Dr. Patrick Byakagaba, Dr. Kenneth Balikoowa, Dr. Ellen Kayendeke, Dr. Fred Yikii and Mr. Antonny Tugaineyo developed a Guide for Learner-Centered Processes at the Department of Environmental Management to support practical training and enhance innovativeness. The team worked in collaboration with Dr. Betty Ezati from the College of Education and External Studies, Makerere University; Dr. Jerome Lugumira from NEMA; Dr. Simon Nampindo from WCS; and Ms. Emily Namanya from Kampala Capital City Authority (KCCA).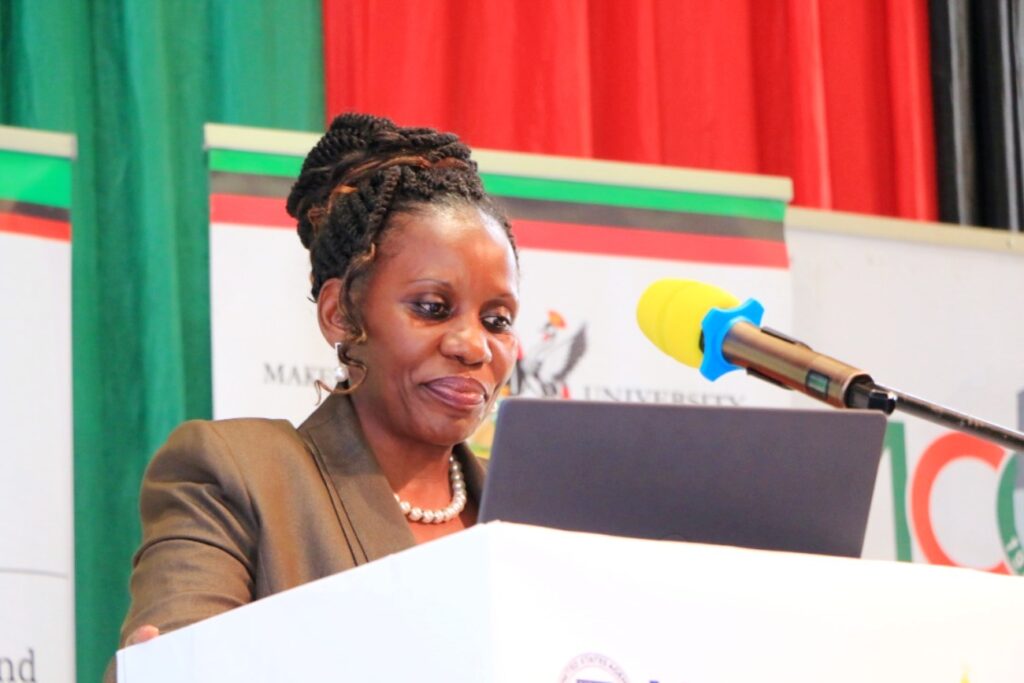 4. Capacity Enhancement for E-learning at Makerere University
Much as Makerere University E-Learning Environment (MUELE), is a common platform used for E-learning at Makerere University, both students and instructors lack the necessary skills to use the platform for learning and teaching because they have not been adequately trained. To enhance capacity for e-learning at the University, researchers led by Prof. Nelson Turyahabwe and coached by Dr. T.R. Silberg developed prototypes of audio-visual instructional materials to train instructors and students on how to access and navigate the MUELE platform for interactive teaching and learning. Other members on the team included Dr. G. Karubanga, Dr. H. Nabushawo, Ms. R. Mukebezi, Mr. I. Mugabiirwe.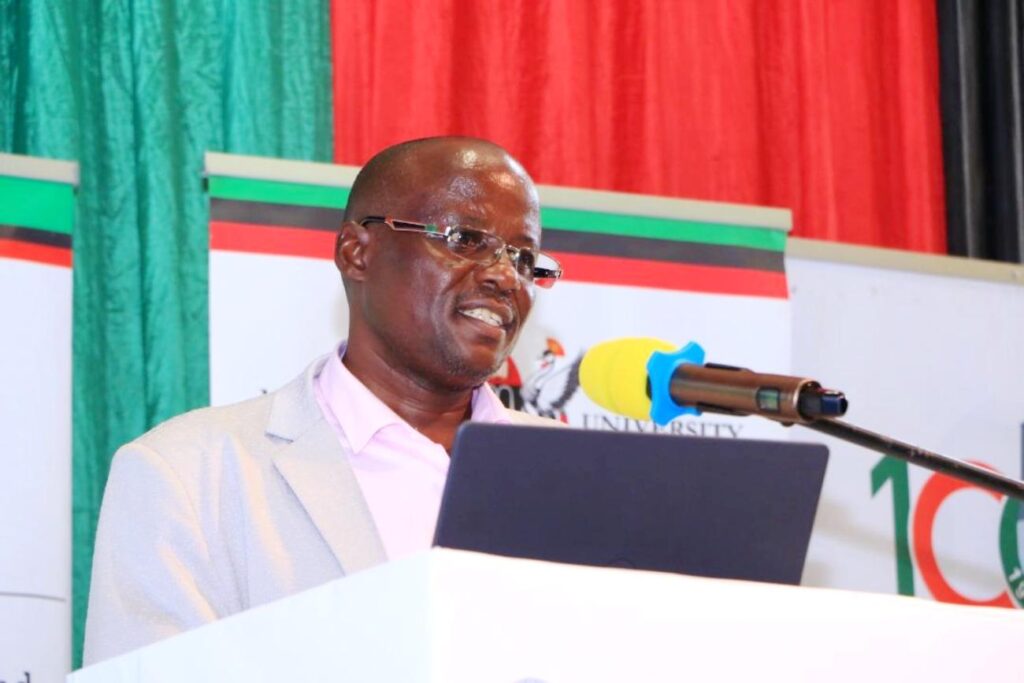 5. Engaging Stakeholders and Policy to Address Challenges in Seed Quality in the Horticulture Industry of Uganda: A Case of Tomato and Pepper
The Horticulture sector relies heavily on seed from the informal sector that is often of low quality and spreads disease. 40% of seed on market is counterfeit.The National Seed Policy (2018) that would contribute to addressing the challenge is not fully operational. There is also inadequate human capacity to conduct snowball efforts for improving seed quality in the horticulture industry. In a bid to increase access to quality seed in the Horticulture Industry in Uganda, the College of Agricultural and Environmental Sciences (CAES), Makerere University through the Innovation Scholars Program (ISP) has engaged different stakeholders in the country to address the challenges in seed quality. Through a project titled, "Engaging Stakeholders and Policy to Address Challenges in Seed Quality in the Horticulture Industry of Uganda: A Case of Tomato and Pepper", researchers led by Dr. Jeninah Karungi-Tumutegyereize, an Associate Professor in the Department of Agricultural Production at CAES, Makerere University seek to enhance the quantity and quality of horticultural crops produce, and to strategically position CAES in agricultural development in the country. Other members on the project are; Prof. Samuel Kyamanywa, and Dr. Mildred Ochwo Ssemakula from the Department of Agricultural Production, Makerere University; Dr. Gabriel Ddamulira (Head, Horticulture Programme, National Crops Resources Research Institute (NaCRRI); Mr. Moses Erongu from the Department of Crop Inspection and Certification at the Ministry of Agriculture, Animal Industry and Fisheries; and Mr. Daniel Kituzi, a farmer and entrepreneur. Team coach was Prof. Andrew Safalaoh. Ideas put forward by stakeholders were compiled and synthesized.A policy brief has been developed as a key output.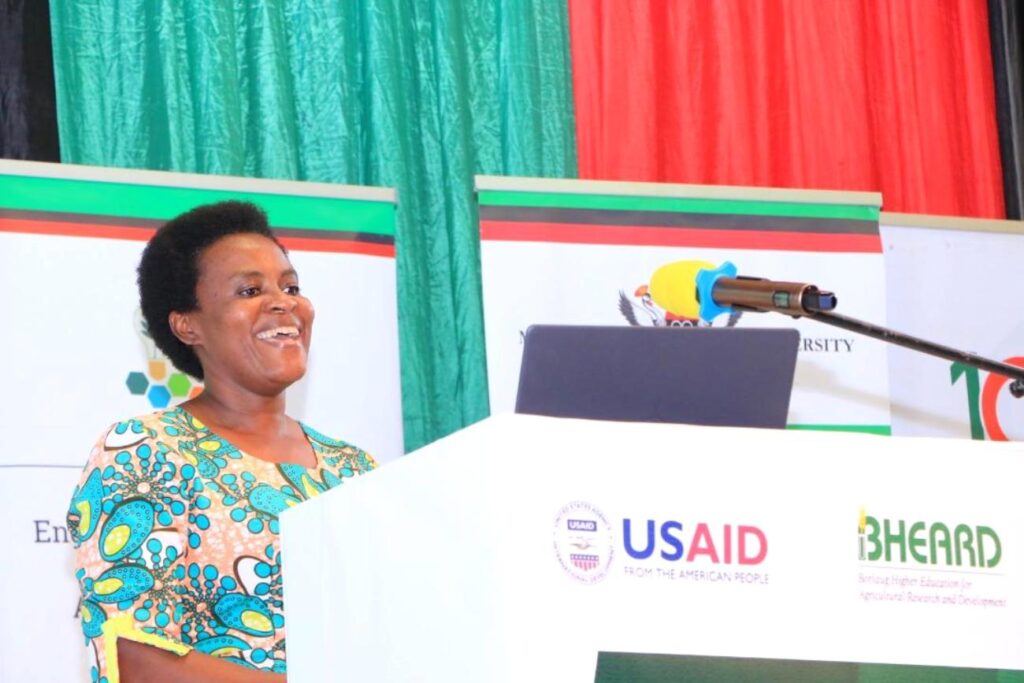 6. Benchmarking Approaches for Improved Delivery of Hands-on Practical Experiences for Business Management Courses at CAES, Makerere University
A team of researchers led by Dr. Alice Turinawe and coached by Dr. Sera Gondwe conducted investigations on topics that can be focused on to improve the delivery of more practical-oriented teaching. The team interviewed students, graduates and their employees to determine key topics that require more hands-on training. The team identified insufficient hands-on and practical exposure for entrepreneurship and marketing students, as well as limited experience and interaction with the world outside the study environment as some of the challenges undermining the performance of graduates. The team also established that potential employers and business partners expect soft skills from students.In a bid to produce better-equipped graduates, ready for life after school, the team strongly advocates for practical, hands-on skilling, as well as stronger connections between the university, private and public sectors.Other members of the team included Dr. Stephen Lwasa, Dr. Paul Aseete, Dr. Peter Walekhwa & Ms. Ahikiriza Elizabet.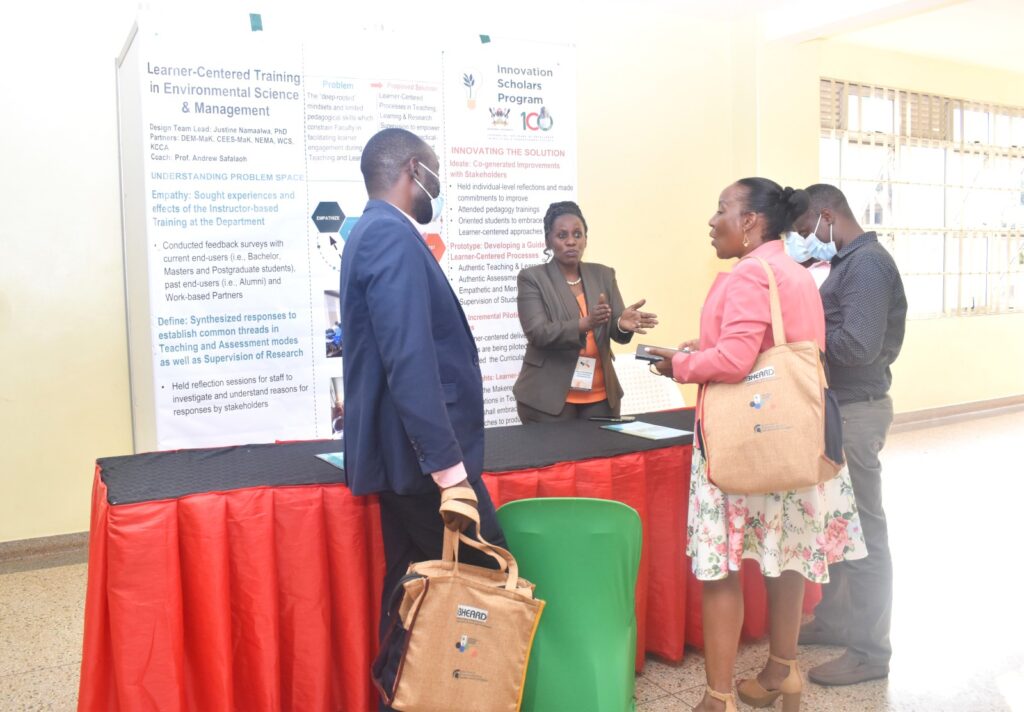 7. Deployment of a problem solving-centered teaching and learning approach using the Teach-Think-Pair-Share model for increased skilling among Agricultural students
Student lack full exposure to field problems for innovative learning and entrepreneurship. There is lack of a robust teaching and learning model that responds to the changing global needs in terms of innovativeness for entrepreneurship among students. Change in the style of delivery of lectures with inclusion of the Teach, Think, Pair, Share Model in new course descriptions is a possible solution for enhancing skills amongst students. The students are keen to learn with the model but they emphasize field practicals with progressive agribusiness entrepreneurship. Researchers including Dr Patrick Musinguzi (Team Leader), Dr Twaha A. Basamba, and Dr Emmanuel Opolot call for the novel Teach-Think-Pair-Share model of teaching and learning to be incorporated in the curriculum review process for agricultural based programmes. Funding to test the model with field-based practical support for students is critical to understand the novel teaching and learning approach.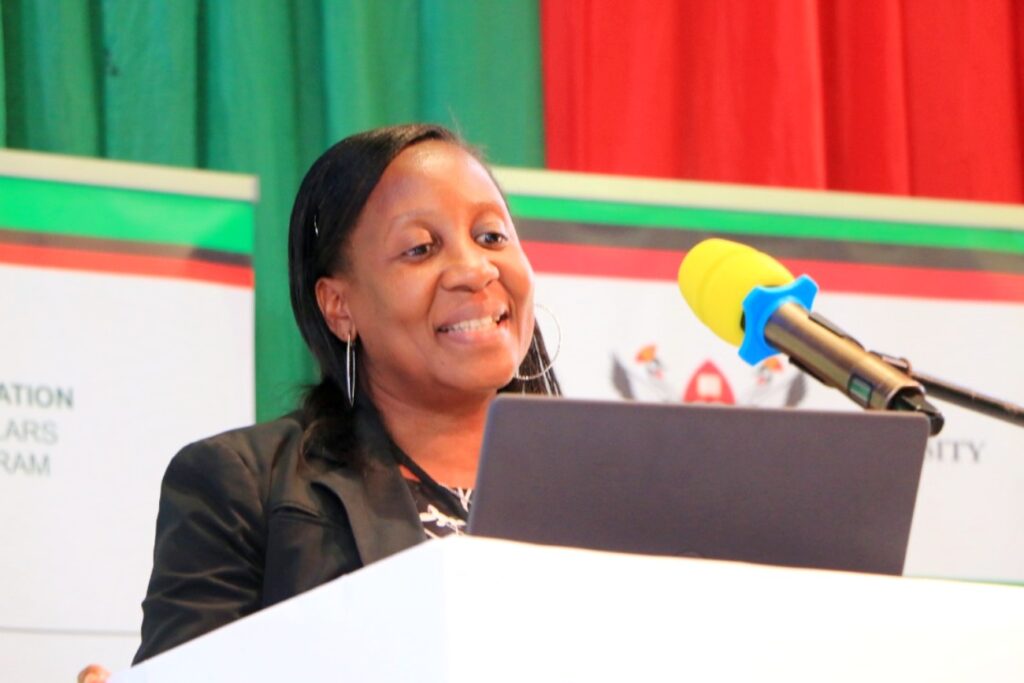 8. Strengthening The Department of Agricultural and Biosystems Engineering's Industrial Training to Improve Students' Innovativeness and Entrepreneurial Ability
Industries where students intern complain that they gain no tangible benefits from industrial training programmes. The students also complain that they are not motivated to be creative since they are forced to train in industries that do not match their strengths and/or interests.A solution that curates data on students' strengths, abilities, interests and preferences and then proposing matching organizations ideal for their internship training comes in handy.Proper matching of students to industries increases their innovativeness.To match students' desires with industry needs, researchers led by Dr Allan John Komakech and coached by Dr N. Peter Reeves developed a software platform programmed with a matching algorithm to cross-reference student abilities with company profiles. The platform will be tested with students and industries relevant to DABE and scaled to CAES.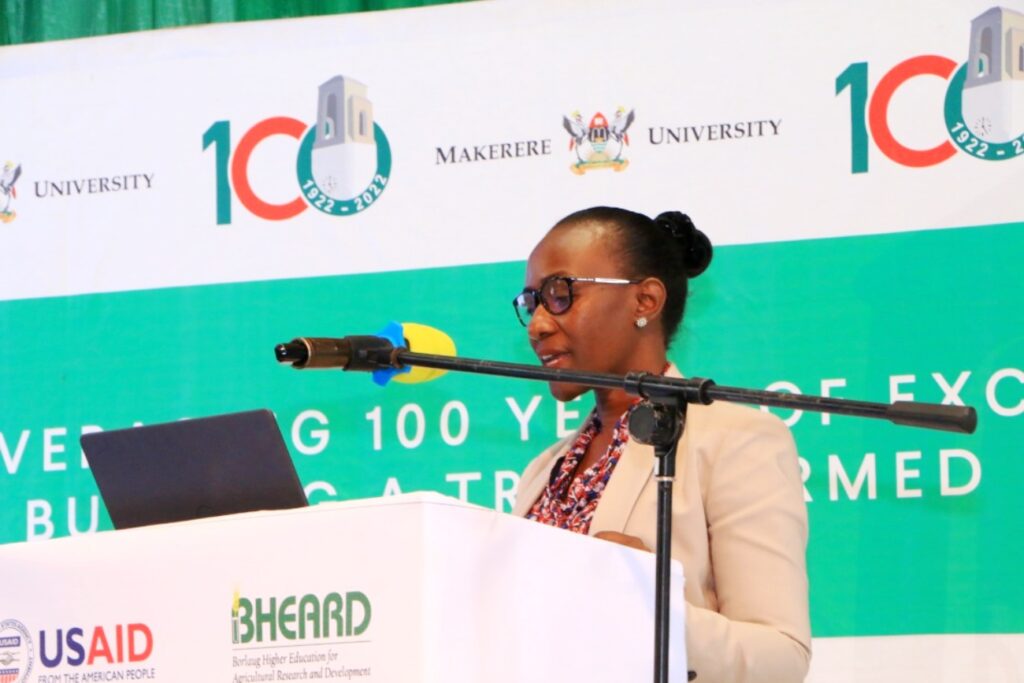 Remarks by the representative USAID
In her remarks, the Deputy Director USAID Mission in Uganda, Daniele Nyirandutiye commended the incredible innovations resulting from the CAESISP noting that they will play an essential role in addressing current and future food security challenges, and serve as a catalyst to spur more critical research and innovations at the University. "The CAESISP has greatly supported staff and students define better career paths and has strengthened the innovation culture at CAES," she noted.Appreciating Michigan State University's Borlaug Higher Education for Agricultural Research and Development (BHEARD) for supporting quality research, collaboration, outreach and capacity building in Uganda, she said the skills acquired by the scholars would greatly enhance the University's capacity to influence policy. "Uganda's ability to deal with food insecurity rests in our ability to drive innovations and adopt new technologies. Academic institutions play an essential role in the global agriculture market space. Collectively we can use our mind power to solve challenges of global food insecurity," she said, calling upon all stakeholders to expand, sustain and nurture the programme beyond its life.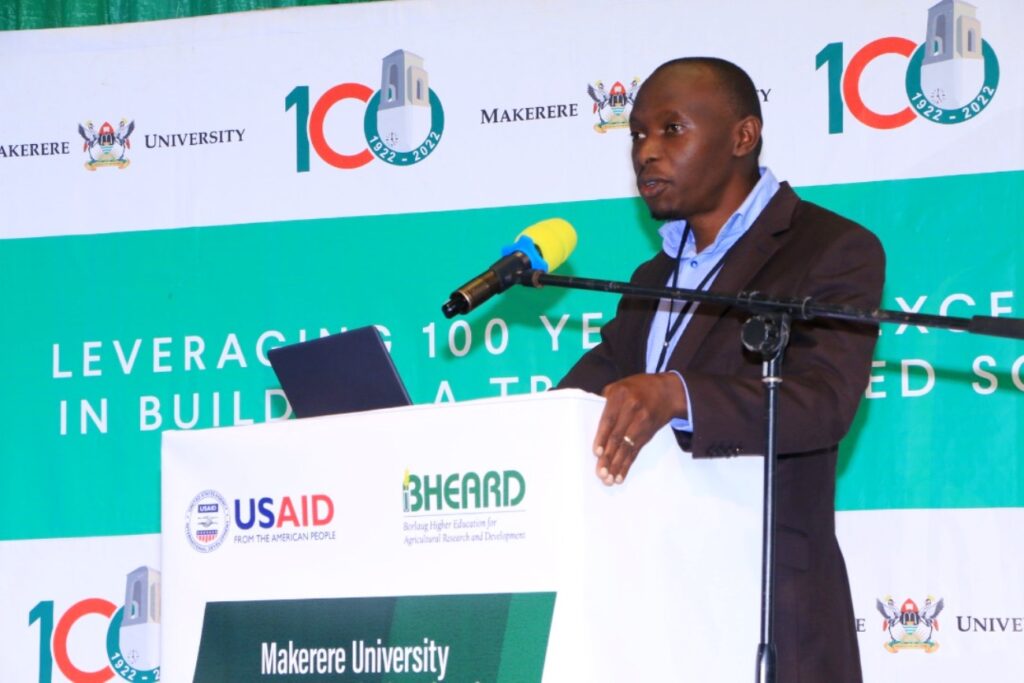 Remarks by the DVC/FA
On behalf of the Vice Chancellor, Makerere University, the Acting Deputy Vice Chancellor, Finance and Administration, Prof. Henry Alinaitwe appreciated USAID for tirelessly supporting Makerere University's efforts towards becoming a research-led University. Over the years, USAID has partnered with and supported various programmes at Makerere. Specific to CAES, USAID through BHEARD supported 5 PhDs and 2 MA students between 2012-2016 to study in Universities in the US. The students participated in top level programmes focusing on Agriculture and nutrition. Between 2015-2019, USAID supported the development of a regional PhD in Agriculture and Applied Economics at the Department of Agribusiness and Natural Resource Economics, CAES. They also supported training of three PhD students in Agricultural Research and Policy Analysis. Emphasizing the central role of CAES in transforming the agricultural sector in the country and highlighting challenges posed by the growing population, Prof. Alinaitwe implored academics at the College to continue venturing into innovations that can address problems of food insecurity.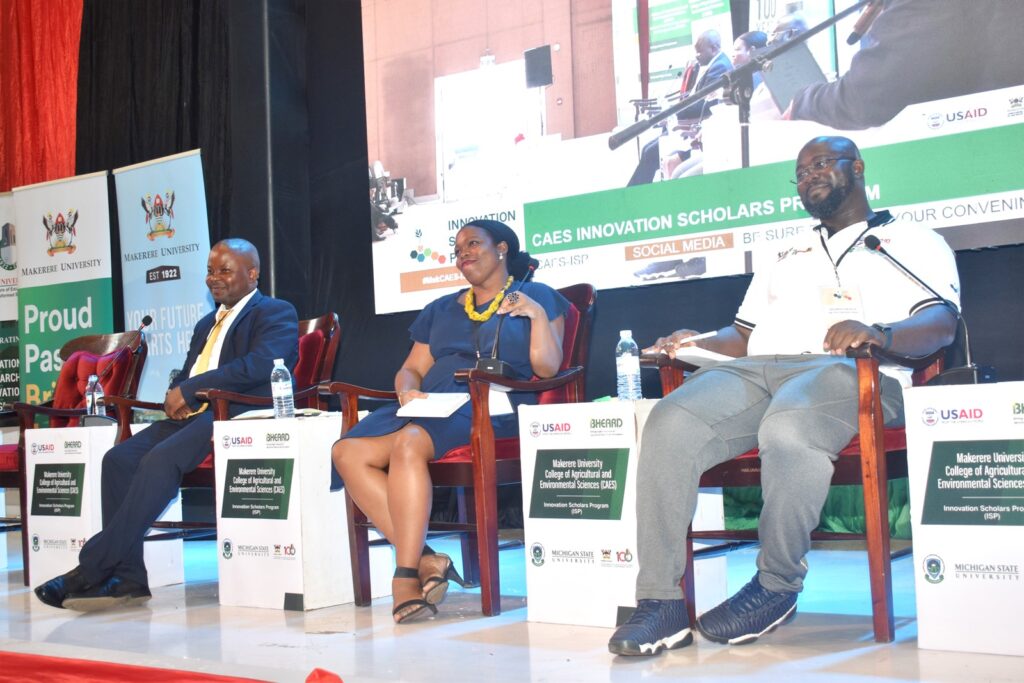 Remarks by the Principal, CAES
Addressing participants, the Principal of CAES, Prof. Gorettie Nabanoga said the College was moving towards more experiential learning & practical orientation of students. "In a bid to produce marketable graduates, we need to re-orient the mind-sets of our students to become critical thinkers & innovative," she noted, appreciating the support rendered by USAID through the Innovation Scholars Programme that has enabled the College to make great strides in the Innovations journey. The Principal informed participants that as part of its strategic goals, the College was targeting to establish an innovations hub specific for agricultural and environmental innovations. She expressed gratitude to the Government of Uganda for the unwavering support towards research and innovations at the University, appealing for funding specifically ring-fenced for agricultural and environmental innovations at CAES. "We committee to remain innovation intentional as we leverage the 100 years of excellence at Makerere University".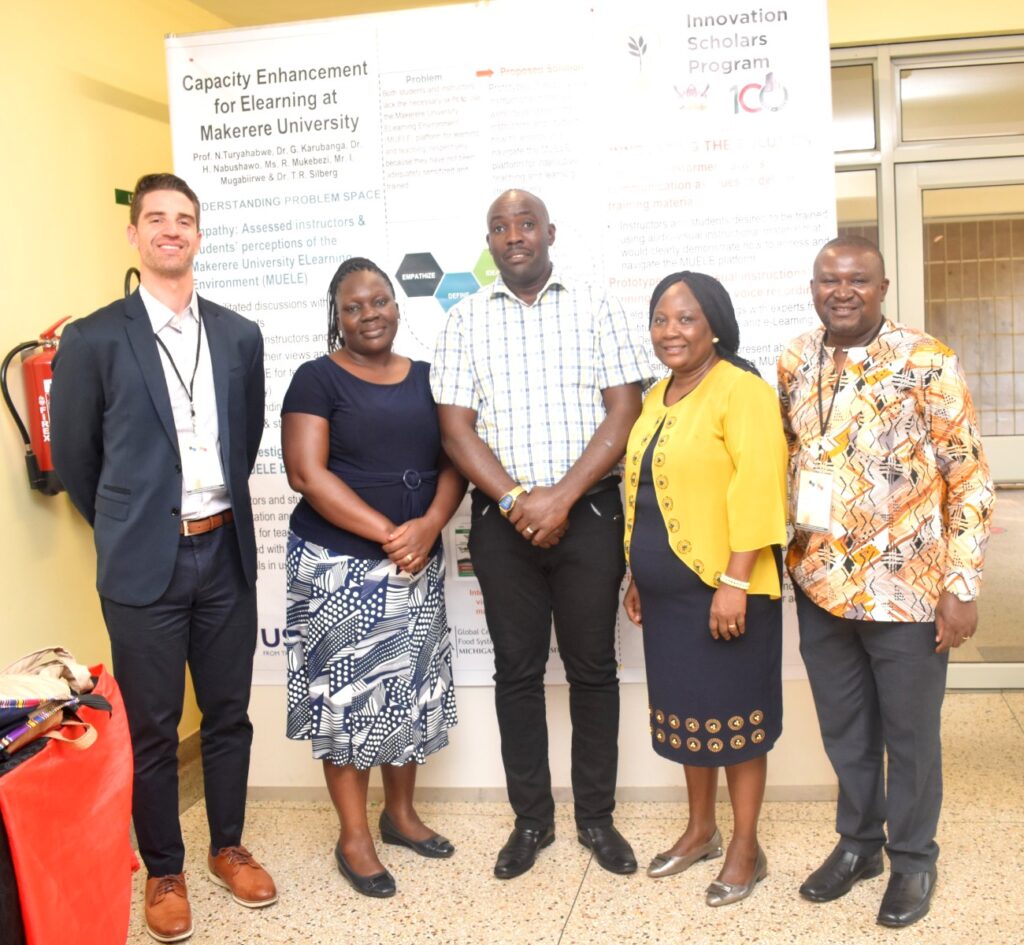 Panel discussion on nurturing innovative mind-sets
Sharing ideas on how to nurture innovative mind-sets, a panel of experts including Mr Apollo Segawa, Executive Director, CURAD Uganda; Mr. Benjamin Gyan-Kesse, Executive Director, Kosmos Innovation Centre – Ghana; Ms Freda Yawson, Entrepreneur and Senior Manager for Infrastructure and Innovation at the Africa Centre for Innovation in Ghana emphasized the need to be intentional about nurturing business mind-sets amongst students. "Every course should have an entrepreneurship unit. There is need to give more time to special projects," they advised.They also emphasized the need to be intentional about developing a strong media policy on innovations, and to create models of intellectual property in context with the African Continent, as a way of promoting local content.
The event was moderated by Dr Patrick Byakagaba, a Lecturer at CAES.