Mak Launches IGE in Practice Programme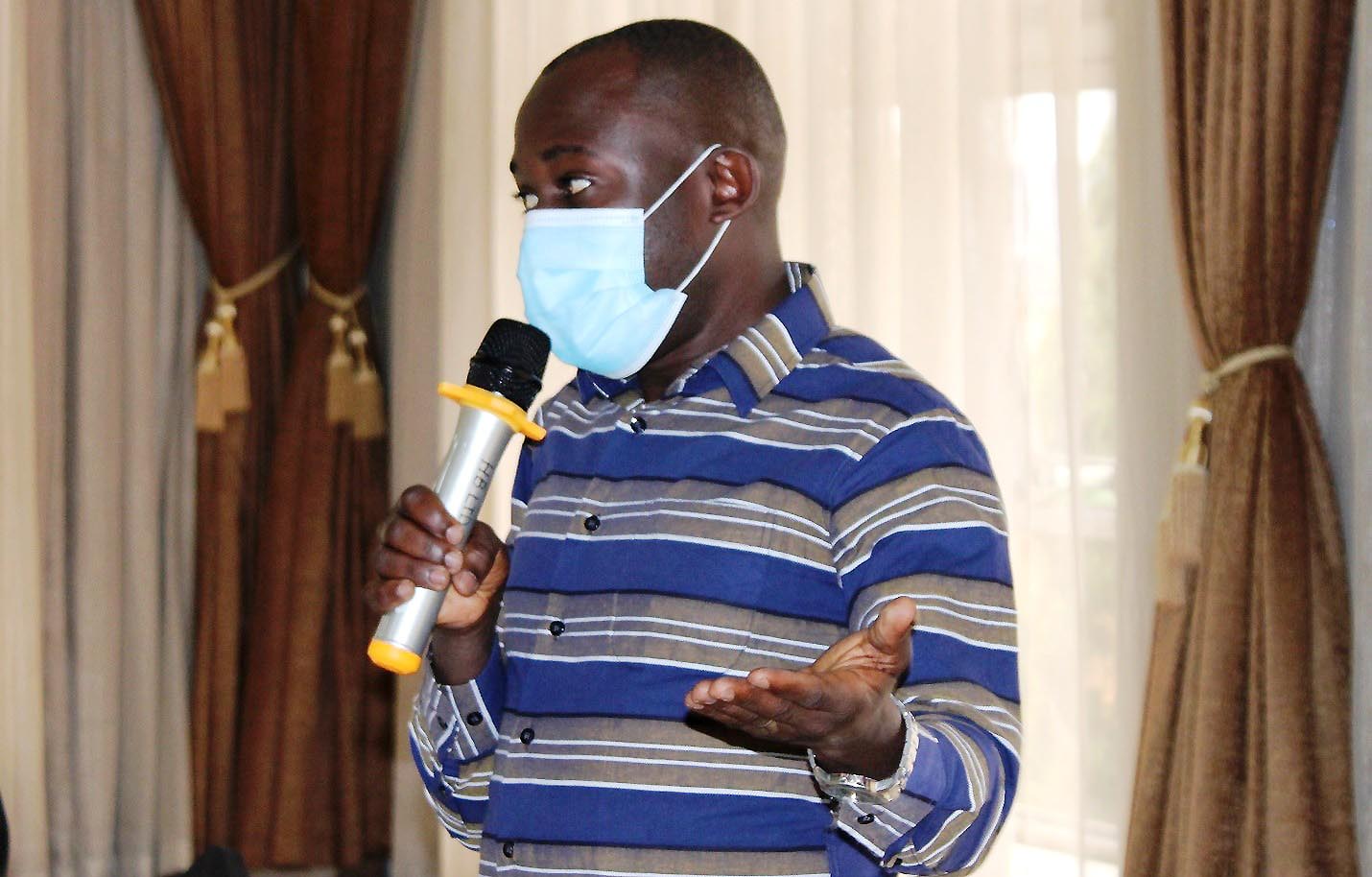 By Hilda Makune for EfD-Mak
Makerere University has launched a new program dubbed "Inclusive Green Economy (IGE) in Practice".  IGE in Practice, is a collaborative programme between Makerere University's Environment for Development Initiative (EfD-Mak) Center and the University of Gothenburg, Sweden fully funded by Swedish International Development Cooperation Agency (Sida). Other participating countries are Ethiopia, Kenya, Tanzania and Rwanda.
The program is aimed at strengthening Uganda's capacity for transformation towards an Inclusive Green Economy largely under the United Nations SDG 8 that focuses on promoting sustained, inclusive and sustainable economic growth, full and productive employment and decent work for all.
IGE in Practice will focus on the use of environmental policy instruments, and specifically economic instruments such as environmental taxes, pollution fees, subsidies or subsidy reduction and other types of fiscal incentives for societal development in line with the Global Agenda 2030.
The program is an advanced in-service training with direct applicability in the participants' daily work involving theoretical training within IGE, practical exercises, project development and support for implementing own change work.
The  official program  launch and training  was held at at Makerere University's Central Teaching Facility 2 (CTF2)  on 4th June, 2021 with  six (6) selected senior public servants competitively selected among the 19 participants nominated through the Permanent Secretary, Minsitry of Finance, Planning and Economic Development and relayed via zoom to other participants.
The selected senior public servants were  from the Ministry of Finance, Planning and Economic Development,  Ministry of Water and Environment,  the National Planning Authority (NPA) and the National Environment Management Authority (NEMA).
These selected public servants will undergo a one year course (running from June 2021 to June 2022) and upon successful completion, given a title of IGE fellows and are expected to become IGE change agents and IGE trainers in their different Ministries, Departments and Agencies.
The function was also attended by the Principal, Makerere University College of Business and Management Sciences (CoBAMS) Assoc. Prof. Eria Hisali, the Director EfD-Mak Centre who is also, Dean, School of Economics Assoc Prof. Edward Bbaale and Makerere University IGE program support team – Dr. John Sseruyange, Lecturer in School of Economics and Mr. Peter Babyenda the Policy Engagement Specialist in charge of coordinating the training program. These were joined by Prof. Anders Ekbom, the IGE program head at the University of Gothenburg, Sweden.

In his opening remarks, the Principal CoBAMS Assoc. Prof. Eria Hisali said the future for sustainable growth across the global is in Inclusive Green Economy, a new phenomenon, yet to be fully tapped into. He thanked the donors for putting trust in the university assuring them that they shall rise to the task that they are taking up.
He underscored the importance of IGE as extremely important in the case of Uganda and across the developing world presenting a number of opportunities and areas of interest to harness such as Water, Agriculture Energy that have been adequately taken care of in the planning frame work under the National Development Plan of Uganda.
"There is vast potential in the area of Renewable Energy; we have a potential to produce up to around 6,000mega watts of renewable energy, and yet what has been exploited as of now is under 500mega watts so, there is quite a big potential in the renewable energy in Uganda.
The good will we still have with the donor community, Inclusive Green Economy naturally includes among others tapping into the appropriate technology, good technology and value addition", the Principal said.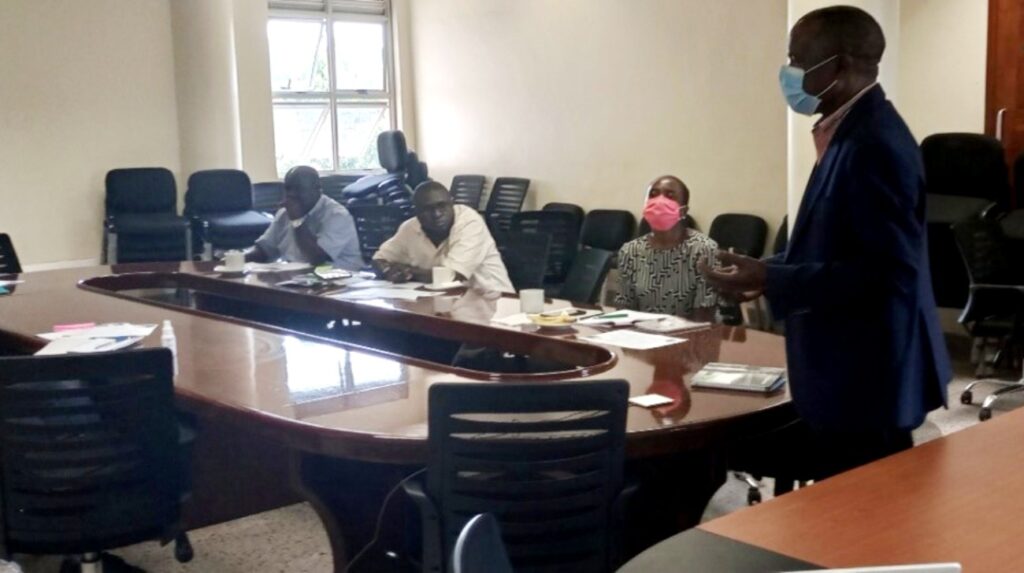 Assoc. Prof. Hisali noted that although there are a number of opportunities and initiatives available in the Inclusive Green Economy, the concept is still new across the private and public arena. He implored the university IGE team to ponder on the issues such as stakeholder coordination, engagement, and involvement.
"Even when you sample across the public and the private sector, not everyone would appreciate the concept in the same way. The coverage is still limited. How do we get the different stake holders on board? How do we exploit now the untapped potential in terms of an Inclusive Green Economy?
The development philosophy of Uganda is largely the private Sector, will naturally play a very big role in driving the development process. Therefore, the question here is how do we incentivize the private sector to take up these different aspects of Inclusive Green Economy investments.
There are a number of initiatives under Inclusive Green Economy investments which are across the country both in the private and public sector. There are different sectors in different locations. How do we plan to coordinate these sectors?" Assoc. Prof. Hisali questioned.
The Director, EfD-Mak Center who is also part of the support team of Inclusive IGE Assoc. Prof. Edward Bbaale introduced EfD as a global network of Environmental Research Centers comprising fifteen centers across the world coordinated in the EfD Secretariat, a special unit in the School of Business, Economics and Law at the University of Gothenburg Sweden.
He said the EfD impact modal values a lot academic training which feeds into the Applied Research and also, institutional development which ultimately leads to Research Policy interaction and then the realization of an impact.
The Director said the meeting was about Inclusive Green Economy in practice, a capacity building program where the trainees will be equipped with information about the IGE Program, what it is about, why IGE, what the training will cover and the role of the centre and the trainees.
Prof. Bbaale expressed the need to ensure commitment by the participants on the program tasks and also connect with each other and understand each other's roles.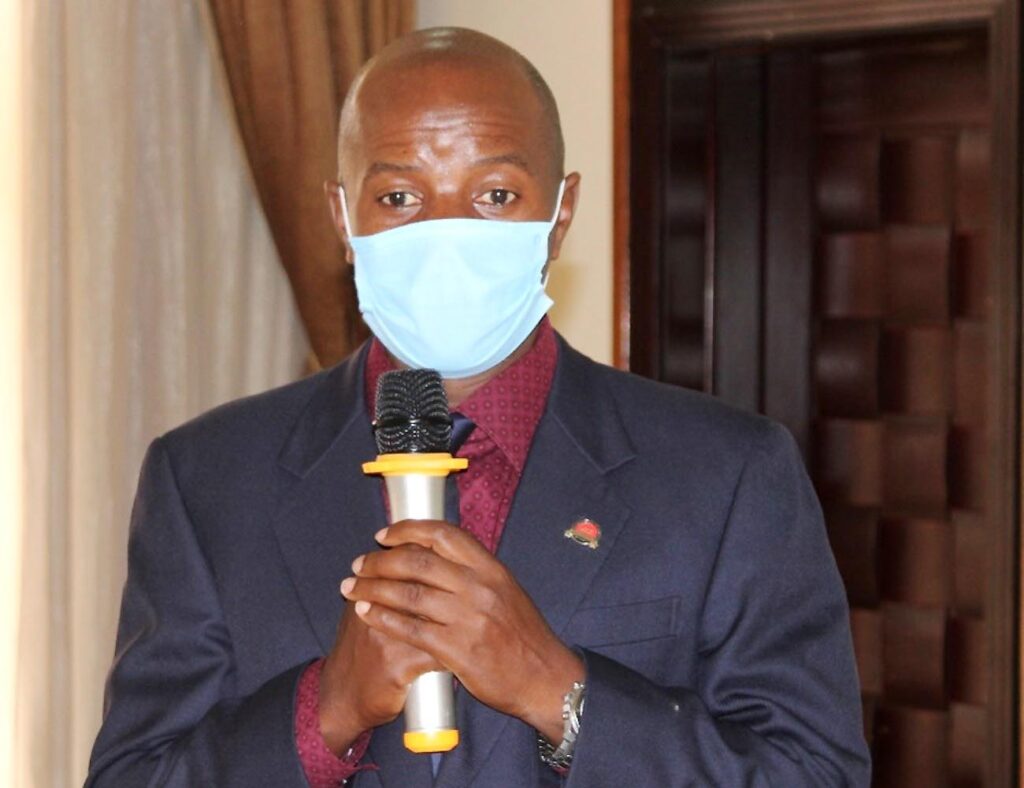 He reported that the first round of this program will run until March 2022 and targets the senior civil servants mainly the economists. In Uganda. Prof. Bbaale said 19 participants were recommended but 6 were selected but the program too has a regional focus with 5 participants from Kenya, Rwanda with 6, then, Tanzania and Ethiopia each with 6.
"The main objective is to strengthen East African countries capacity to transform into an Inclusive Green Economy through; Increased knowledge and Application of Economic and Environmental policy instruments; Organizational change, how do we change the organizations where we work to make sure that we are well aligned in the inclusive Green Economy agenda and; Strengthen National systems for Inclusive and sustainable Economic development", Bbaale said.
In the program out line, Prof. Bbaale said, phase 1 in March –April 2021was a call for applications and phase 2 is the startup meetings which was being done and running according to plan. In phase 3 there will be trainings on the Inclusive Green Economy aspects, theories and practices.
Prof. Bbaale reported that Phase 4 shall have the Golden thread called the Inclusive Green Economy Project where each participant will have to design a project in their different organizations intended to show how they can change their organizations and how well they can align themselves in a Green Economy.
In the same phase 4, the Director said, there will be support workshops, high level policy workshops, support meetings from the mentors and the peer running reviews followed by regional course between October and March 2022 and then national workshops.
"This program is an advanced in-service training with direct applicability, where participants will get great understanding, knowledge and ability to critically review and analyze the current economic policies and conditions while at the same time find opportunities for transformation towards a Greener Economy. Therefore, this means you are a change agent in your organization, the training will strengthen the role of the participant as a change champion.
The program is organized by the UGOT, the center for sustainable development in collaboration with several expert organizations and Makerere University being part of that under the EfD- Mak Center. A team of experts and Lecturers include; those from Sweden but also other international experts with extensive experience.
The program is fully funded by the Swedish International Development operational Agency (SIDA). All costs are covered by the UGOT. Therefore, the participants will only contribute their time." Assoc. Prof. Bbaale added.
He highlighted some of the benefits from the program at individual level, organizational and at the system level that combines the entire country.
At individual level he said, there is peer to peer learning, understanding the inclusive green economy, its usefulness, risks and opportunities of applying these economic instruments, and increased knowledge of organizational change, how does one start up the change at organization level and how to build network efforts at international level.
At organizational level; he explained that one will benefit by building capacity on behalf of the organization in the area of Inclusive Green Economy; Application of economic instruments and increased priority on Inclusive Green Economy and the Introduction of Inclusive Green Economy or economic instrument projects and support of the ongoing IGE projects.
At national level, he said the benefits range from Strengthened National systems for green economic transformation; Improved cooperation between government agencies and across countries of collaboration and; Enhanced application of green economy analysis and economic instruments for IGE transformation
Program Training Methodologies
In terms of training Methodologies, the Director said, these shall include; advanced professional capacity building program, which will have action learning methodologies online; under that shall have online meeting place for professionals in planning and policy development strategic and resource green economy.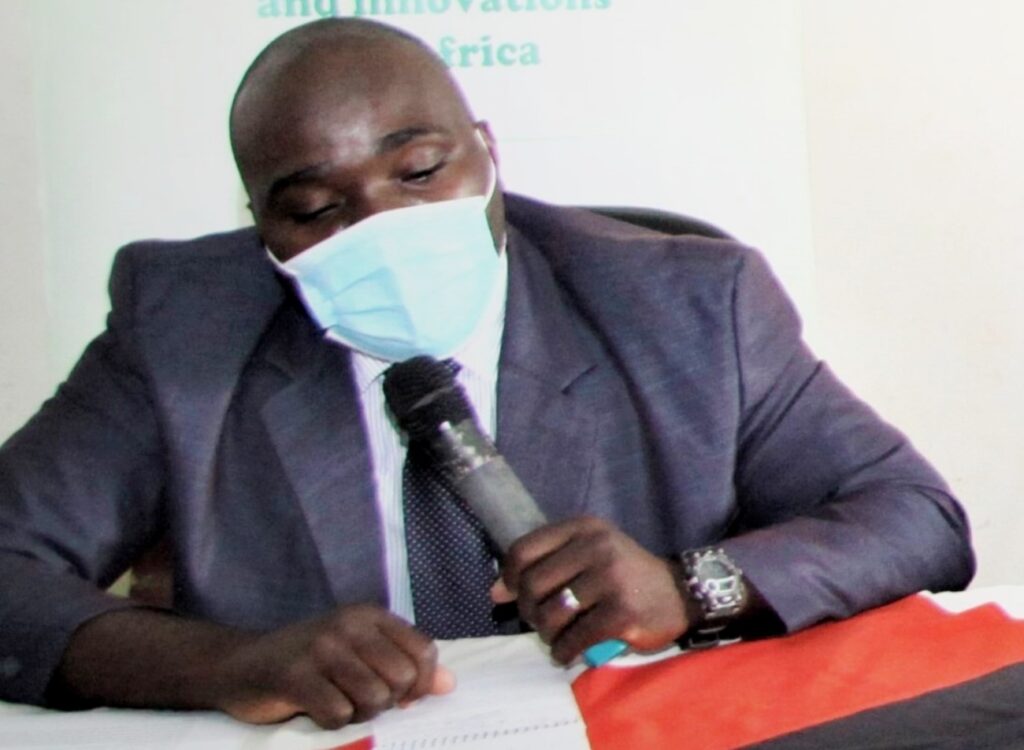 Since it is going to be an action learning experience, part of it shall be exchange of knowledge and sharing of experiences. There shall be interaction in terms of group work, discussions, joint learning i.e. on line and then develop the Golden Thread – the Inclusive Green Economic Project which will be developed from the different organizations.
The Program Tasks according to Prof. Bbaale include participation in the training, developing and implementing the Inclusive Green Economy Project and conducting and participating in National policy review workshops for peer learning.
As part of the tasks; one will be a trainer and as a participant, one will be given a title of Inclusive Green Economy Fellow (IGE-Fellow) which will distinguish one from those that have not undergone this program.
As a Fellow, one will be required to actively involve the workmates/colleagues where one will form a team at their place of work with in their organization. One will work on experiences and work projects and actively contribute on their own expertise and experiences.
One will in addition manage development and implementation of a number of tasks through the 10months of the program duration and upon graduation and successful achievement of all tasks, one will be awarded a certificate and become part of the IGE-Fellow networks or program alumni.
All IGE-Fellows are assigned a support team which includes; Country Academic partners and expert advisors on Inclusive Green Economy.
Prof. Bbaale said, the role of the support team is to; Provide feedback on ones assignments and tasks, offer advice on critical questions, support and encourage one to keep moving on the program. This support team understands the Inclusive Green Economy processes, changes process and organization capacity program and they will challenge, coach , encourage and also critically review the written tasks and helps fellows with the information sharing and IGE networking.
Program Guide for the Trainings
10th-11 June as the first training
17th -18 June second training
9th -10th September third training
16th -17th September fourth training
These trainings will be conducted virtually.
Giving his remarks via zoom, the IGE program head at the University of Gothenburg, Sweden. Prof. Anders Ekbom said, Inclusive Green Economy (IGE) is one of the Agenda of 2030 of the Sustainable Development Goals (SDG 8).
He said the rich and poor countries cannot do things the same way for various reasons and that is why development is not sustainable.
"And therefore we cannot go on the way we do. The Rich countries consume too much while the poor countries cannot invest in technologies that are sustainable. Investments are not environmentally or socially and economically sustainable. Our horizons are too short.
Therefore, the agenda is to guide development and this program focuses on SDG 8 which really deals with jobs, decent work but also sustainable economic development," Prof. Anders Ekbom said.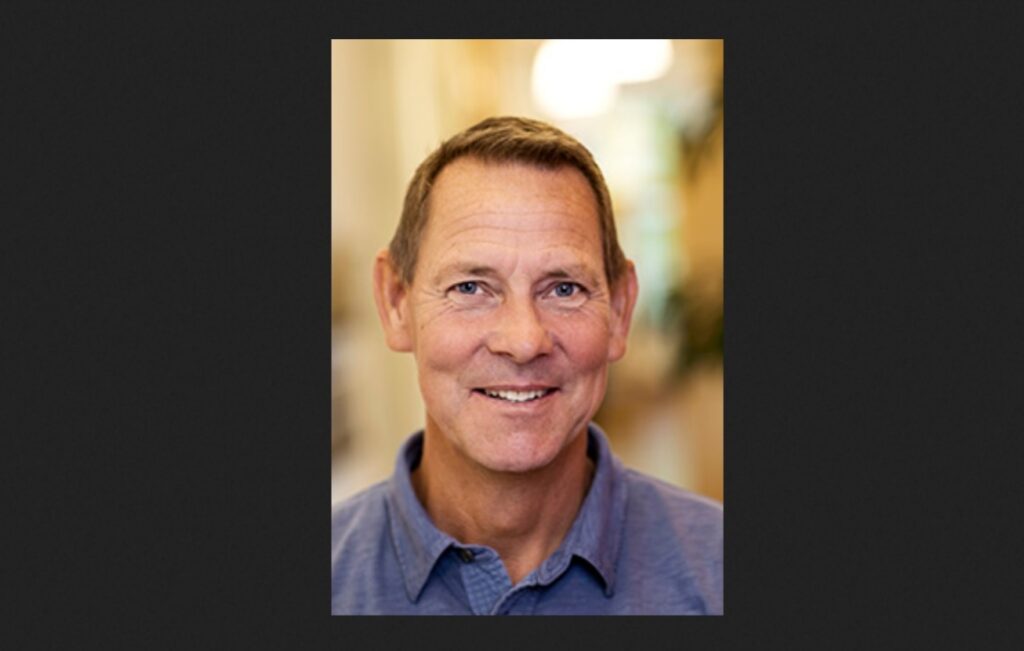 He said IGE is a practical approach to address and work with SDG8 and that it is broader than just Green Economy because one can go for policies that promote green growth but at the expense of the poor or the marginalized people.
He clarified that, one has to emphasize on inclusion or social acceptance as one designs the green economy policies.
He explained that the SDGs are made up of 5Ps, i.e. Prosperity, People, Planet, Peace and Partnerships where the first three Ps represent Inclusive Green Economy.
In the case of IGE Prof. Anders said there is need to ensure that the economy and the environment are brought together in a large extent.
"The concept of IGE is to bring the social, economic and environmental issues together for integration, inclusion of people in planning, decision making and the outcomes. Environmental sustainability, social sustainability and economic sustainability, the three need to come together so as to have a comprehensive sustainable development", Prof. Anders Ekbom said.
IGE according to Prof. Anders is made up of several concepts; resource efficiency, system mitigation, system resilience, strong communities and habitats, sustainable economic growth, Inclusive economic growth, equity, poverty reduction, strengthening of rights and social inclusion.
He said the Green economy wants to reduce pollution, reduce inefficiency, reduce waste, economize the natural resources and go for extensive use of natural resources while IGE has to make use of internal policy plans, and other departments as well.
"This does not mean taking over their jobs but rather working together through campaigns and other means.
IGE needs to promote green jobs and sustainable employment. Need to move from the Ministry of Environment and NEMA, and involve the Ministry of Finance because these organizations sit on very powerful tools to manage the environment through economic empowerment.
IGE needs to move away from the victims being paid for polluting the environment but rather have the polluters pay for polluting the environment. That way the environment will be preserved.
Need to move from environmental conservation and protection to sustainable management". Prof. Anders Ekbom stressed.
CAES Researchers Train Mpigi & Wakiso Pig Farmers on AI, ASF Mgt.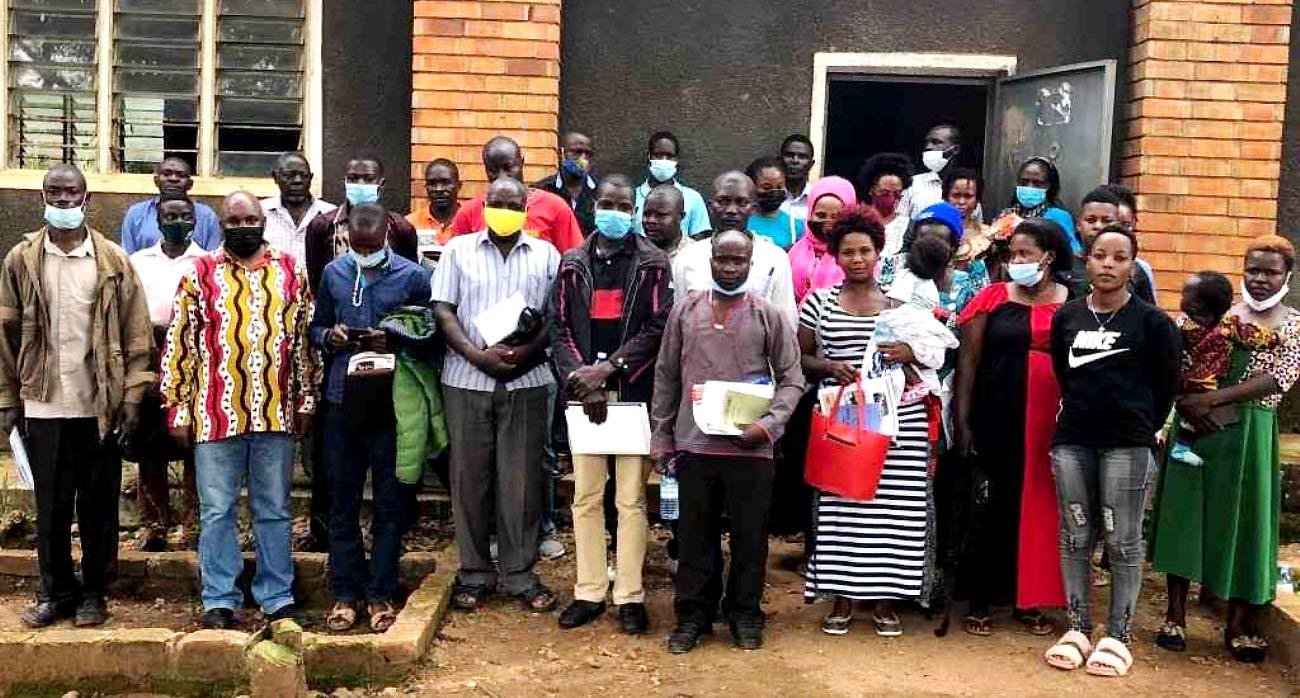 Researchers from the College of Agricultural and Environmental Sciences (CAES), Makerere University in collaboration with Veterinary Officers from Vetline Services, Mukono District have trained farmers in Mpigi and Wakiso districts on pig productivity and African Swine Fever (ASF) management. 
Under their project titled "Improving pig productivity and income through an environmentally sustainable and gender inclusive integrated intervention package", the researchers led by Dr Donald Kugonza have equipped over 300 pig farmers in Buwama, Nkozi, Kyengera, Wakiso, Kakiri, Mende and Kasangati Town Council with skills on Artificial Insemination (AI). The farmers have also been trained on the identification and management of diseases in pigs, vaccination, identification of the best breeds, feeding of pigs, and biosecurity.  
The activity intended to boost pig herd genetics, productivity and marketability of the products is a component of the More Pork Project supported by the International Livestock Research Institute (ILRI). Through the More Pork Project, ILRI works with partners worldwide to enhance the roles that livestock play in food security and poverty alleviation, principally in Africa and Asia. The project is coordinated by Dr Karen Marshall, Principal Scientist at ILRI. It is implemented in four districts in Uganda namely; Mukono, Mpigi, Wakiso and Masaka.
During the five-day activities that started on 22nd November 2021 in Buwama, Mpigi District and ended in Kasangati Town Council, Wakiso District on 26th November 2021, the trainers including Mr Robert Natumanya from CAES, Makerere University, Dr Leonard Kawule from Vetline Services, Mukono and Nalongo Nankya Ruth from the same company extensively trained the farmers on the process of Artificial Insemination (AI), highlighting the benefits and cautioning them on the mistakes. The farmers were specifically trained on the critical success factors of Artificial Insemination. These include proper heat detection by the farmer, supply of quality semen doses, optimal timing of insemination, good farm management practices and herd fertility.
IGE Cross-country National Policy Review & Training Workshop opens in Uganda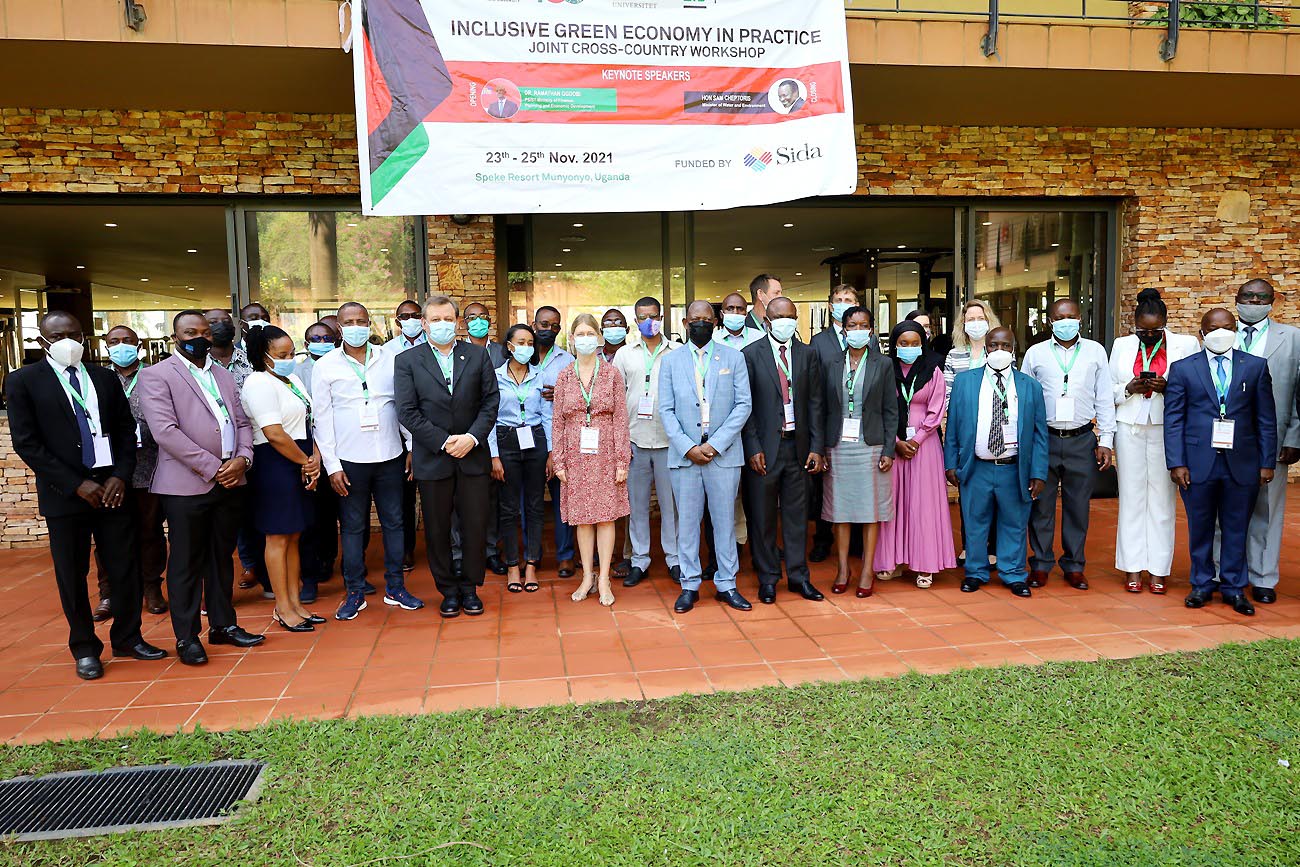 The three-day Inclusive Green Economy (IGE) cross-country National Policy Review and Training Workshop was on 23rd November 2021 opened at the Speke Resort Hotel Munyonyo in Uganda attracting over forty members of academia and policy makers from the Swedish Environment for Development (EfD) Global hub and the East African countries including Uganda, Kenya, Rwanda, Tanzania and Ethiopia.
The function running 23rd -25th November, 2021 was organized by the EfD-Mak Centre, Uganda in collaboration with University of Gothenburg, as part of the activities of the Inclusive Green Economy (IGE) capacity building programme for senior civil servants and policy makers sponsored by the Swedish International Development Cooperation Agency (Sida).
The purpose of the National Policy Review (NPR) training is to strengthen cross-country peer learning by conducting an analytical review of their neighboring country's NPR, and strengthen networks on Inclusive Green Economy in the region.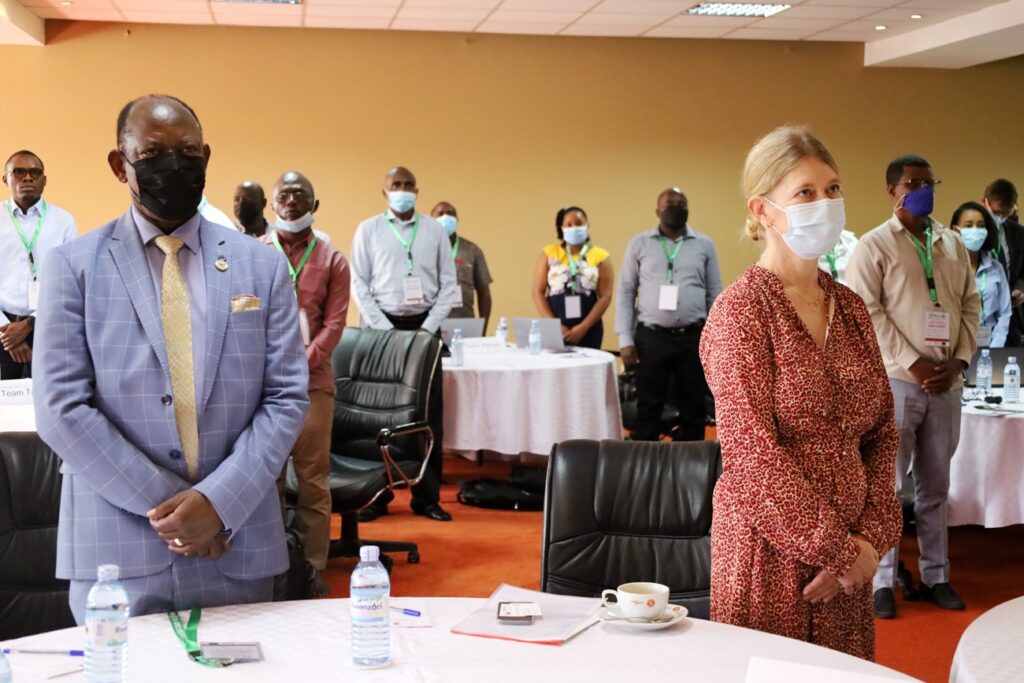 The workshop was opened by the Swedish Ambassador to Uganda H.E. Maria Håkansson. The function was also graced by the Permanent Secretary Ministry of Finance Planning and Economic Development, the Vice Chancellor Makerere University Prof. Barnabas Nawangwe and the Principal College of Business and Management Sciences (CoBAMS) Assoc. Prof. Eria Hisali.
Focus is to keep track towards Agenda 2030 and Paris Agreement for a green transition
Ambassador Håkansson said the workshop comes at a right time as the world experiences the effects of climate change.
"We are living in the mix of climate change. It is no longer a distant problem for the future generation. It affects all of us living now and climate and biodiversity is top priority of my government and we see it clearly linked to poverty reduction and economic development", She said.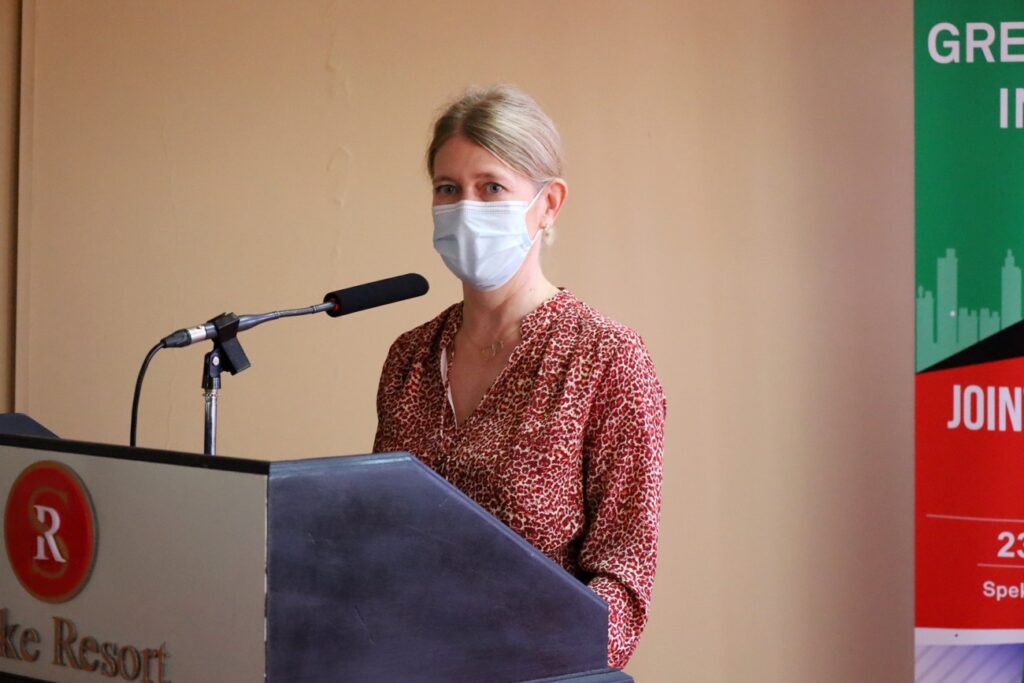 She noted that although a lot of focus today is on COVID-19 pandemic, there is need to start tracking the way out of the crisis towards recovery.
"Recovery strategies need to be developed to promote inclusive growth, employment and competitiveness. Identifying such strategies will depend on how deep and long lasting the economic recession becomes and should also include structural elements that can be used as opportunities to undertake important reforms for the future.
And in doing so, we must endure the approach of the UN Secretary General. We must ensure that the recovery strategies keep us on track towards Agenda 2030 and those of the  Paris Agreement of building  a sustainable  inclusive economy that is a recovery base for a green  transition", the Ambassador emphasized.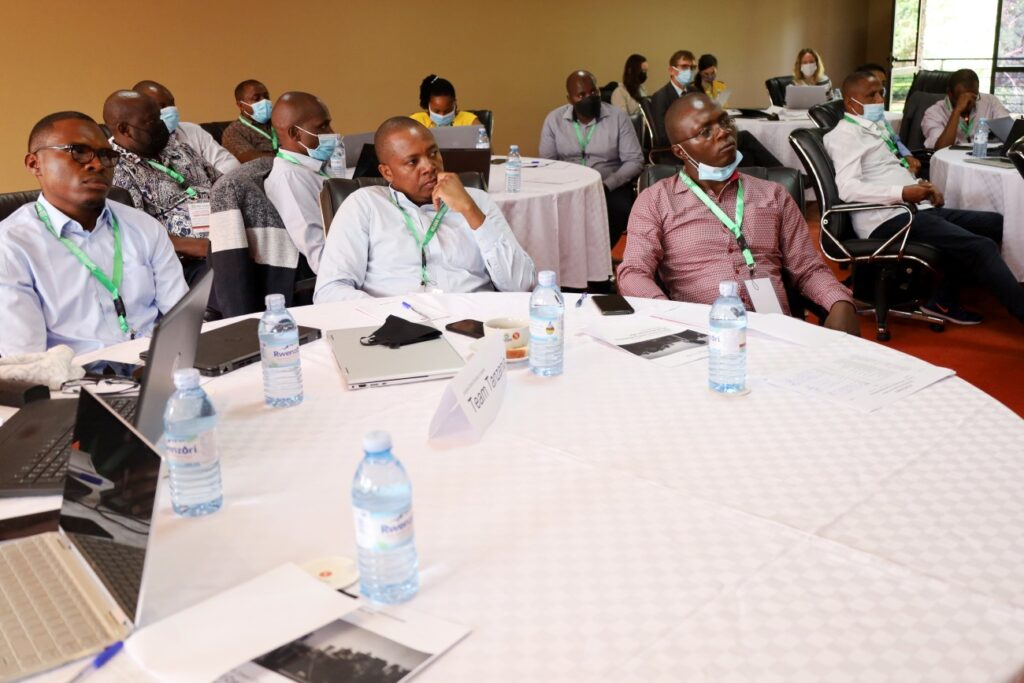 She reported that Sweden was the first country to pass an environmental protection act in 1967 and has continued to take a leading role in tackling climate change to government action and set a goal for carbon neutrality that is more ambitious to the Paris Agreement.
In addition the Ambassador said, the Swedish government has successfully decoupled carbon dioxide emissions from growth since 1997 without compromising public welfare while increasing prosperity for its inhabitants.
By adopting ambitious climate policies, Sweden also wants to set a good example for others to follow and in doing so, it is one of the world largest providers of climate financing and sharing knowledge and incorporating various programmes such as the Inclusive Green Economy in practice
Uganda's progress towards inclusive green economy implementation
Representing the Permanent Secretary, Ministry of Finance, Planning and Economic Development, Ms. Maris Wanyera said, for years, Uganda has experienced a positive trend in population growth which is associated with increased unemployment and environmental destruction.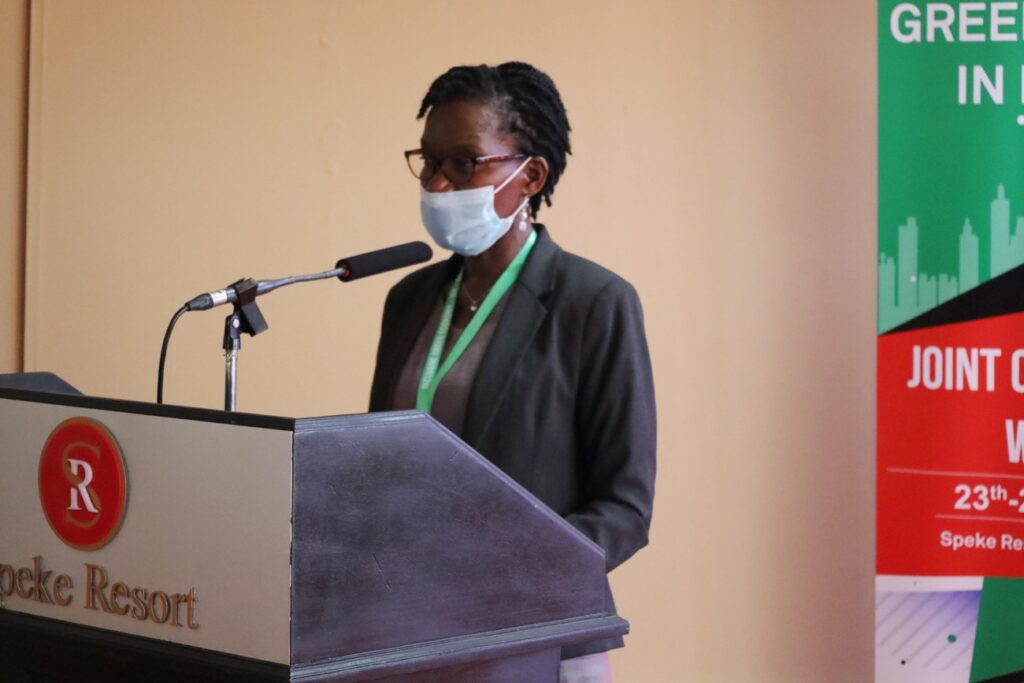 "The country is still challenged with the continuous abuse of natural resources especially forests and wetlands. Relatedly, this has raised concerns on whether the attained economic growth has not been achieved at the expense of the environment and natural resources". Ms. Wanyera said
As the 2030 Agenda took effect globally, Wanyera said, Government took steps to implement principles such as green growth that are embodied in the Sustainable Development Goals (SDGs).
"Uganda was among the first countries to mainstream SDGs into its development plan, although a strategy that unpacks green growth into sectoral interventions that can be implemented had not yet been devised.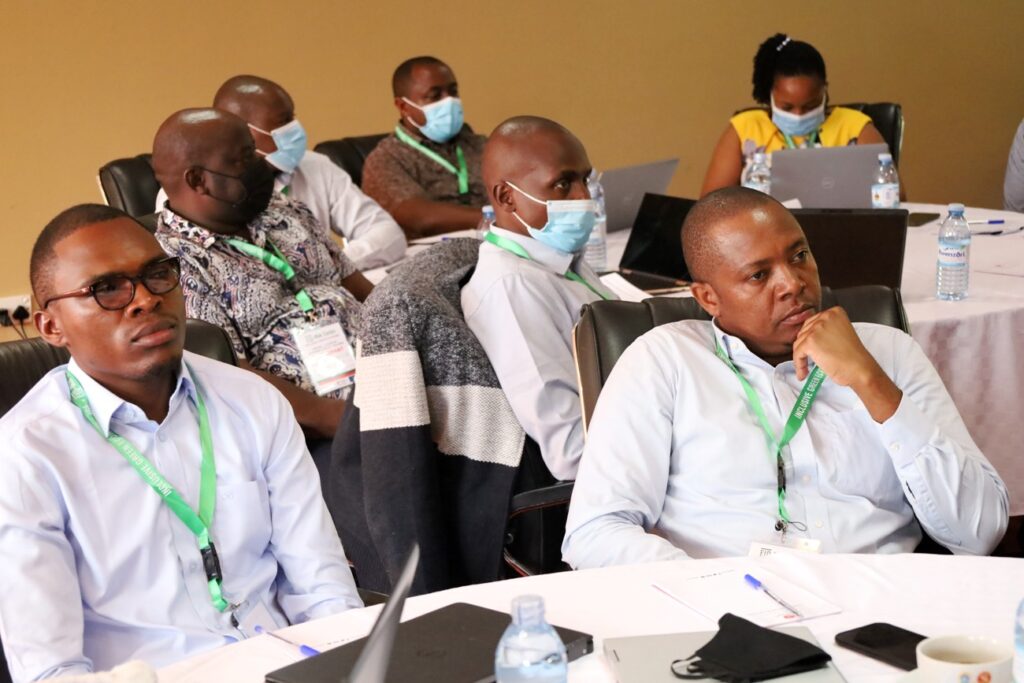 In response, Government developed the Uganda Green Growth Development Strategy (UGGDS) as the blue print to operationalize green growth principles and accelerate the implementation of global development goals, Uganda Vision 2040 and the National Development Plans 2 and 3", Ms. Wanyera said.
The goal of the UGGDS according to Wanyera is to achieve an inclusive low emissions economic growth process that emphasizes effective and efficient use of natural, human and physical capital while ensuring that natural assets continue to provide for present and future generations.
For purposes of achieving the objectives of the UGGDS, Ms. Wanyera said, Government requires that all new projects across all sectors include aspects of sustainable green growth largely emphasized in implementation of the National Development Plan II (2015 – 2020) and currently in NDP III (2021 – 2026).
Accordingly, the NDP III (2021-2026) has a fully-fledged program on climate change in addition to mainstreaming it in all other programmes.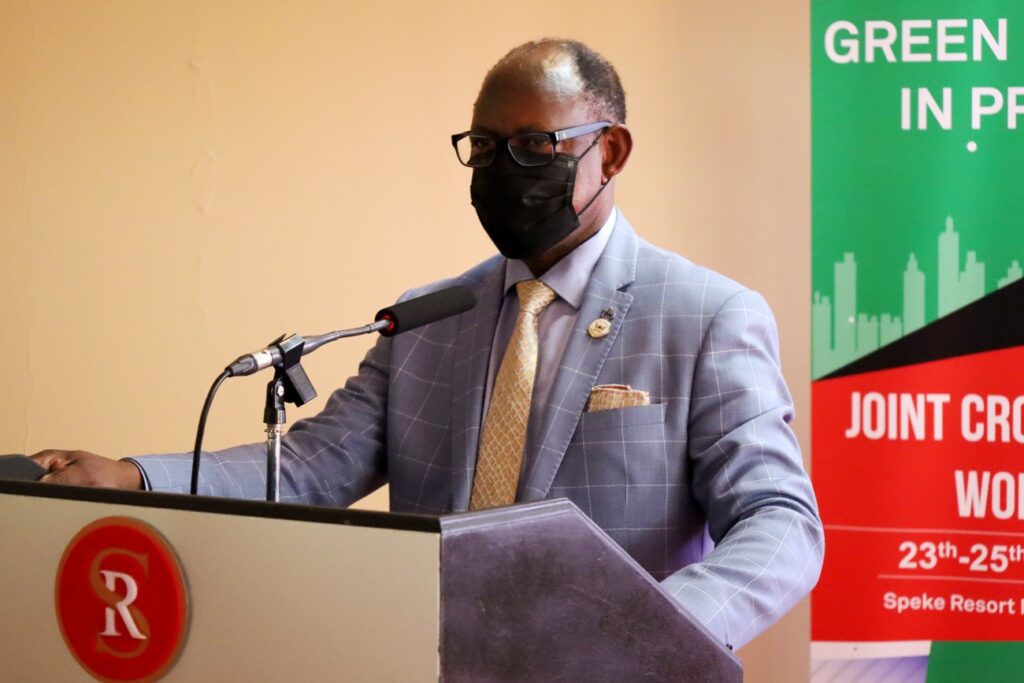 "Uganda has just recently passed the National Climate Change Act 2021 and to further augment the Green Growth Development Strategy and to address the post COVID 19 recovery, the country is working on integrating climate-resilient and low carbon emission measures into Government's stimulus and recovery packages. The priority areas are: climate finance, ICT (Digitalization of sectors), resilient transport, urban and built environment, energy, human capital development and public procurement", Wanyera said.
Environmental degradation a matter of urgency for Uganda's academia
The Vice Chancellor Makerere University Prof. Barnabas Nawangwe said it is extremely urgent for Uganda to think of addressing the issue of environmental depletion.
"There is massive use of firewood as the major source of cooking fuel, cutting down trees for charcoal for home use and export to countries like South Africa. It may be fetching us some little money but we need to think of our future generation.
As a country we need to sit and think seriously about alternative energy sources and reduce the destruction of the environment, otherwise we are heading for real trouble and we are going to leave our children in difficult situations", Prof. Nawangwe said.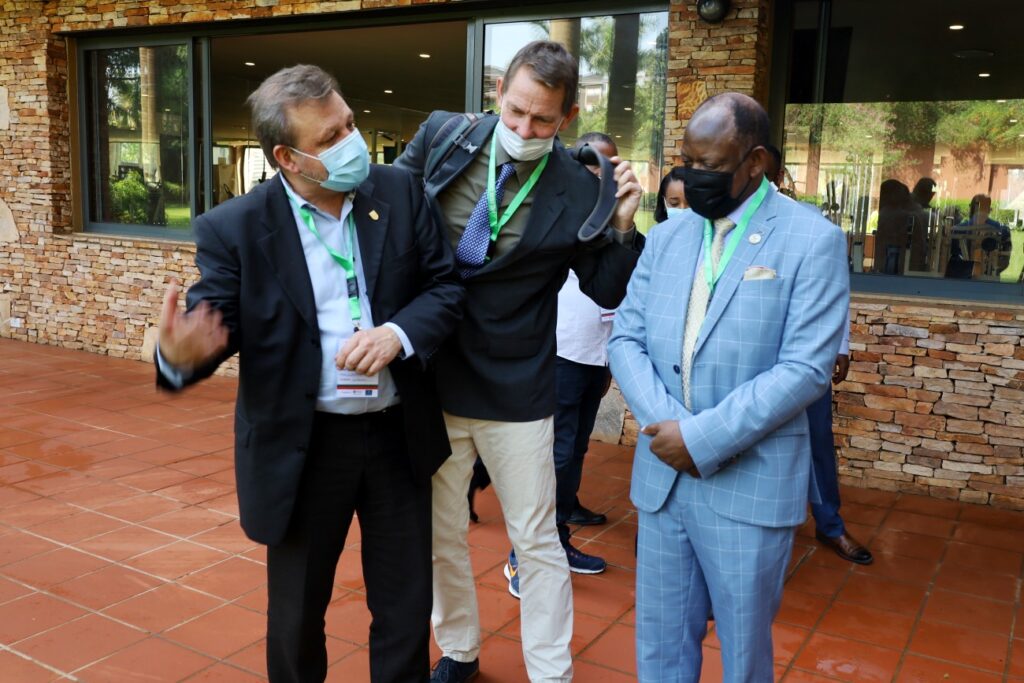 The Vice Chancellor noted that government has tried to come up with laws on protecting the environment but the challenge remains with enforcement. Alternatives such as use of electricity and solar energy are in place but with limitations of affordability and reach. Prof. Nawangwe said these requires the private sector to come on board to supplement government efforts.
As a university, the Vice Chancellor said, the issues of climate change, environmental degradation and the increasing population growth are important to the university.
"The university has a responsibility to conduct research and take the lead in finding solutions to the pressing issues and giving evidenced policy briefs to government to make decisions and come up with new workable policies based on research. We have a number of researchers working on environmental issues and I am happy that the university of Gothenburg is working with Makerere on environment issues through the EfD-Mak Centre", Prof. Nawangwe said.
He said the university promotes multidisciplinary research that brings together expertise in agriculture, economics, forestry, environment and gender among others in trying to seek solutions to environmental challenges facing the country.
IGE fellows challenged on addressing capacity gaps, domestication and monitoring progress of the Inclusive Green Growth concept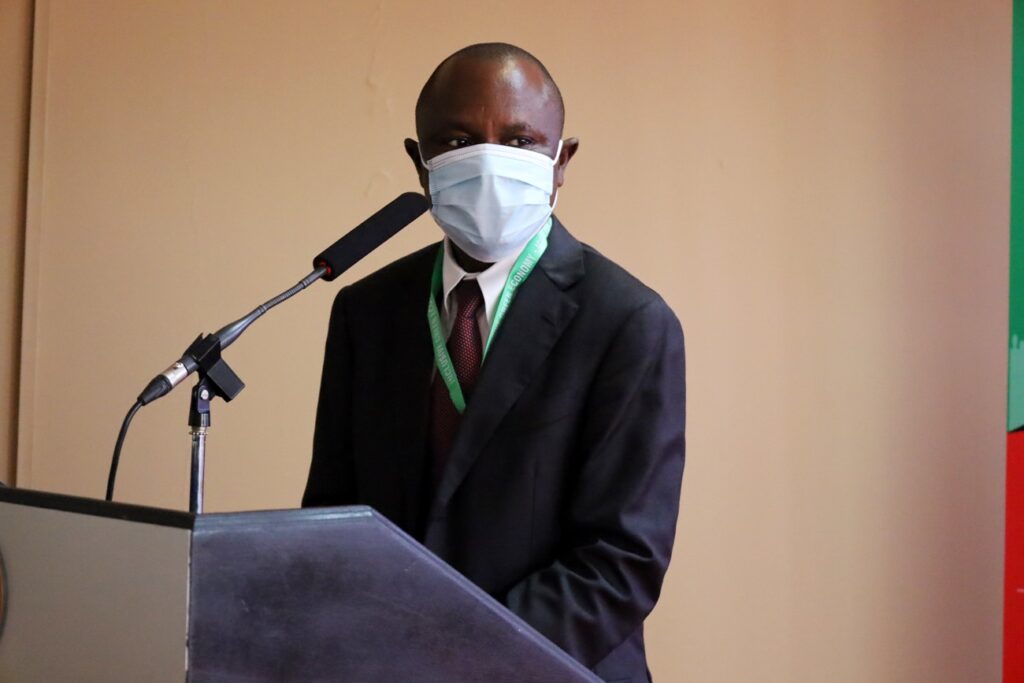 The Principal College of Business and Management Sciences, Assoc. Prof. Eria Hisali paid tribute  to the leadership of the EfD-Mak Centre for  mentoring  the IGE fellows in Uganda pledging commitment to support to the program.
Assoc. Prof. Hisali challenged the IGE fellows to look at the capacity gaps in matters related to inclusive green economy noting that the training in Uganda has covered six fellows and this is only a drop in the ocean compared to size of public service in and the challenges posed by climate change and environmental degradation.
"…how fast are we going to scale up the group to reach out to a bigger number of people? The second challenge is the domestication of the concept of inclusive green economy. With the different international protocols, experience given and many ideas on how to take up the inclusive green economy, how much of this has been domesticated across the different countries?
Do we have a coherent framework in our countries for monitoring and evaluating the progress and how much of  this concept is appreciated out there and if not, what should we do to cover the capacity gaps?", Assoc. Prof. Hisali asked.
Jane Anyango is the Communication Officer, EfD-Mak Centre
Mak Researchers Skilling Roadside Plant Nursery Owners on Business Management & Sustainable Practices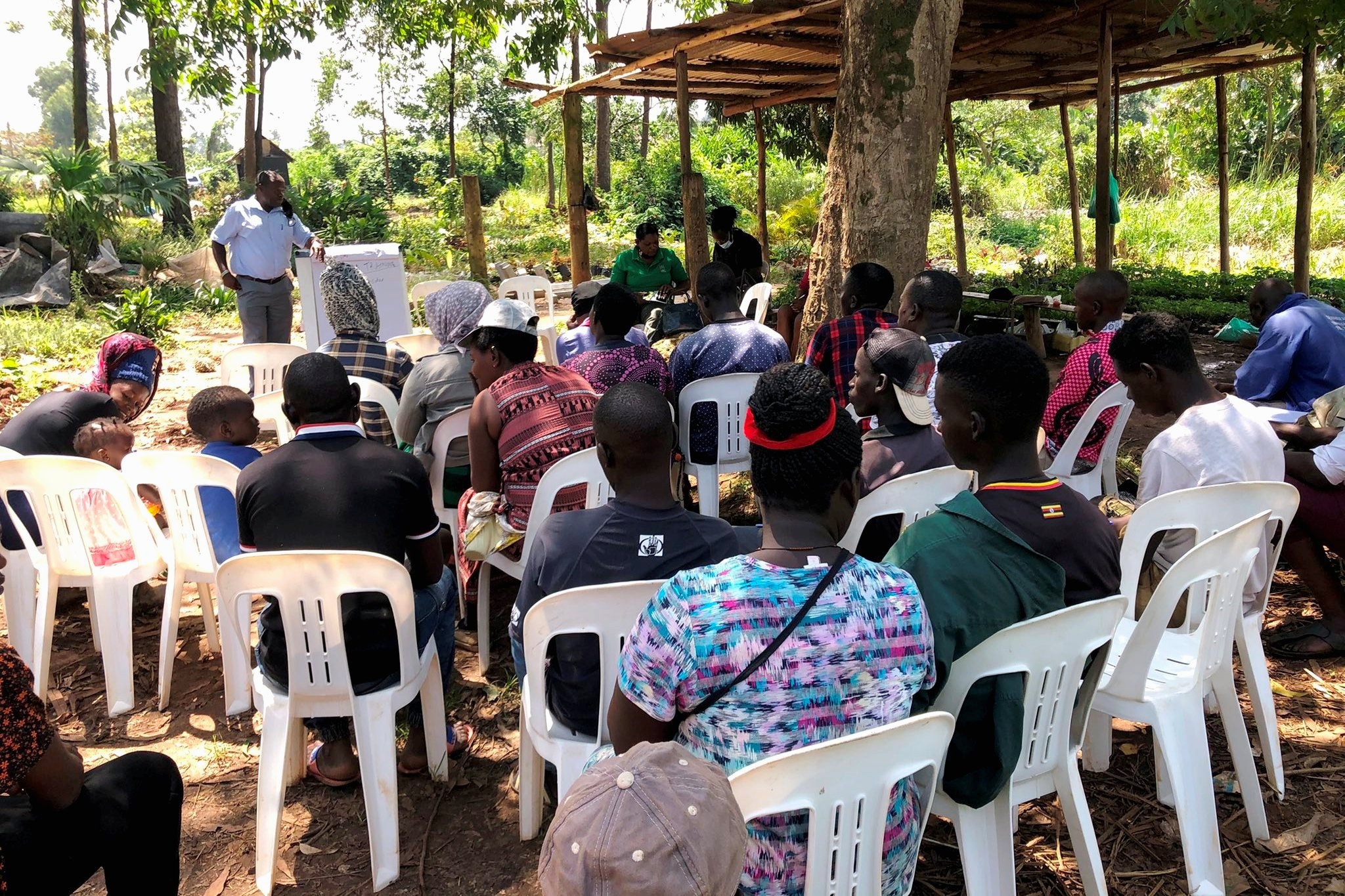 Uganda's roadside urban and peri-urban plant nurseries are a unique small-scale business that play a critical role in poverty eradication by acting as green businesses and providing employment to many youth and women. However, their growth and sustainability is threatened by inadequate requisite business management skills and knowledge. To remedy this, a multi-disciplinary team of researchers from the College of Agricultural and Environmental Sciences (CAES), College of Natural Sciences (CoNAS), and the College of Business Management (CoBAMS), Makerere University have embarked on activities to build business management skills and sustainable plant nursery management practices among their owners, operators, and workers. The researchers namely; Dr Edward Nector Mwavu (Principal Investigator), Dr Anthony Tibaingana, Dr Paul Ssegawa, Dr Grace Nakabonge and Ms. Agatha Syofna are working in collaboration with officials from the Ministry of Local Government and National Agricultural Research Organization (NARO).
The activity is intended to enhance profitability of the roadside plant nursery business.
Through their project titled "Building business management skills and sustainable practices among urban and peri-urban roadside plant nursery owners, operators and workers for resilient 'green' businesses in Greater Kampala, Uganda, the researchers are training roadside farmers on the best plant and business management practices.
The project is supported by the Government of Uganda through the Makerere University Research and Innovations Fund (Mak-RIF).
According to the researchers, building capacity coupled with the provision of access to technical information could greatly help move the nursery businesses from where they are today to where their owners and managers want them to be. Furthermore, the skilling of roadside plant nurseries operators and workers to sustainably manage them as green businesses, is a triple-win strategy since it supports the improvement of livelihoods of many low-income urban and peri-urban households, and boosts plant conservation, urban agriculture as well as forestry development. "If properly managed and maintained these 'green' businesses have the potential to fulfil a variety of financial returns," the researchers advise.