MakSPH METS Program HISTAC Positions: Software Developers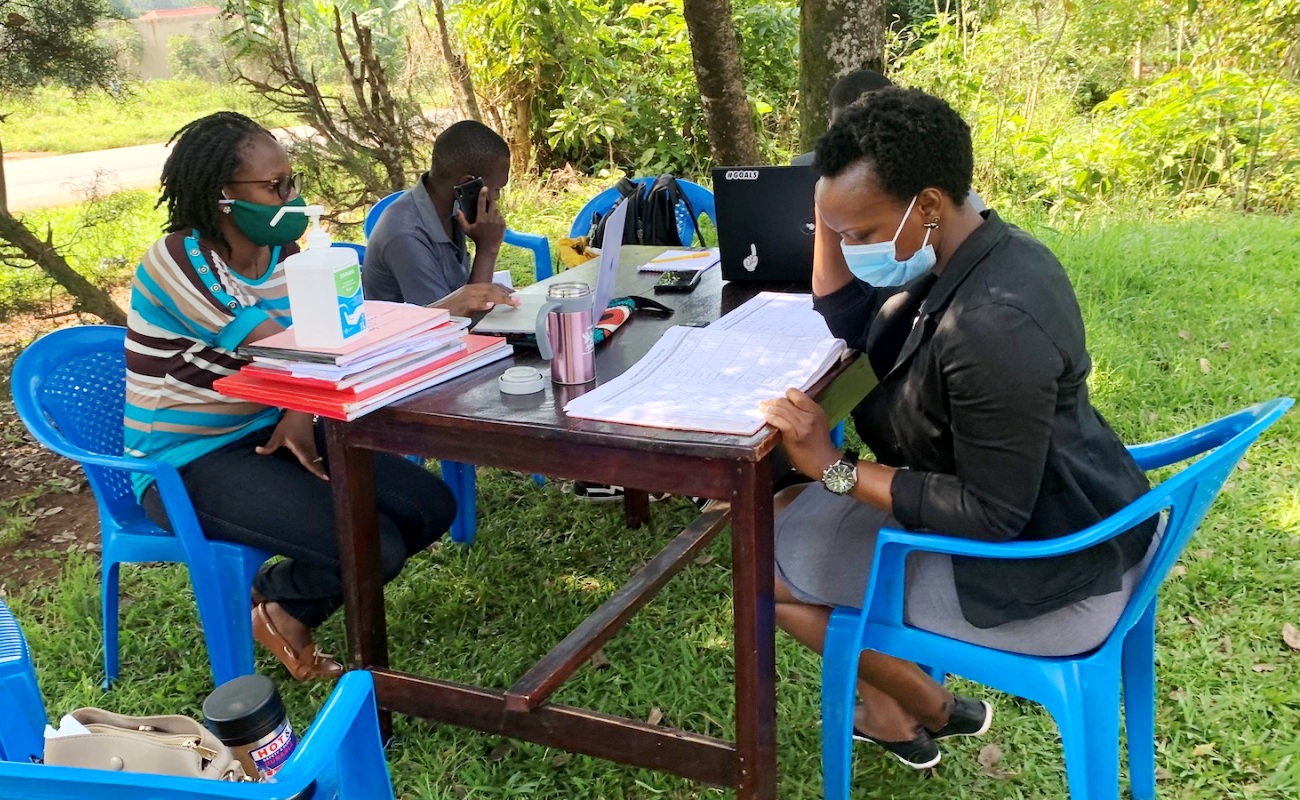 The Makerere University School of Public Health (MakSPH)-Monitoring and Evaluation Technical Support (METS) Program is a five-year (2020-2025) CDC funded Cooperative Agreement. The overall purpose of the program is to establish coordinated and effective national and district systems for management of strategic information for a robust HIV Program.
MakSPH-METS is also working as a Sub-Awardee to the University of California San Francisco (UCSF) on a multi country program entitled HQ Support of Improved Interoperable HIS towards HIV/AIDS and TB Control through Improved HIS Policy, Governance, Workforce Capacity and systems under PEPFAR (HISTAC). The program will provide technical assistance in areas of data base management, software development, case-based surveillance, HIS design and implementation.
POSITION SUMMARIES
MakSPH METS is therefore seeking to hire qualified individuals for the following position under
the HISTAC project:
Software Developer (3)
The Software Developer shall be responsible for designing, developing, implementing, maintaining, auditing and improving new and existing health information systems and project software. He/she shall be responsible to customize national health information systems and integrate biometric and other technology for patients tracking, monitoring and referral across service sites.
Qualifications and Experience
A bachelor's degree in computer science and software engineering and Information systems. A minimum of five years' experience in software development or working with health information systems.
Soft copies of the applications should be submitted as one PDF file to the following email address mets[at]musph.ac.ug by 5:00 pm on March 3, 2021.
CoCIS CIPSD Short Courses Online September 2021 Intake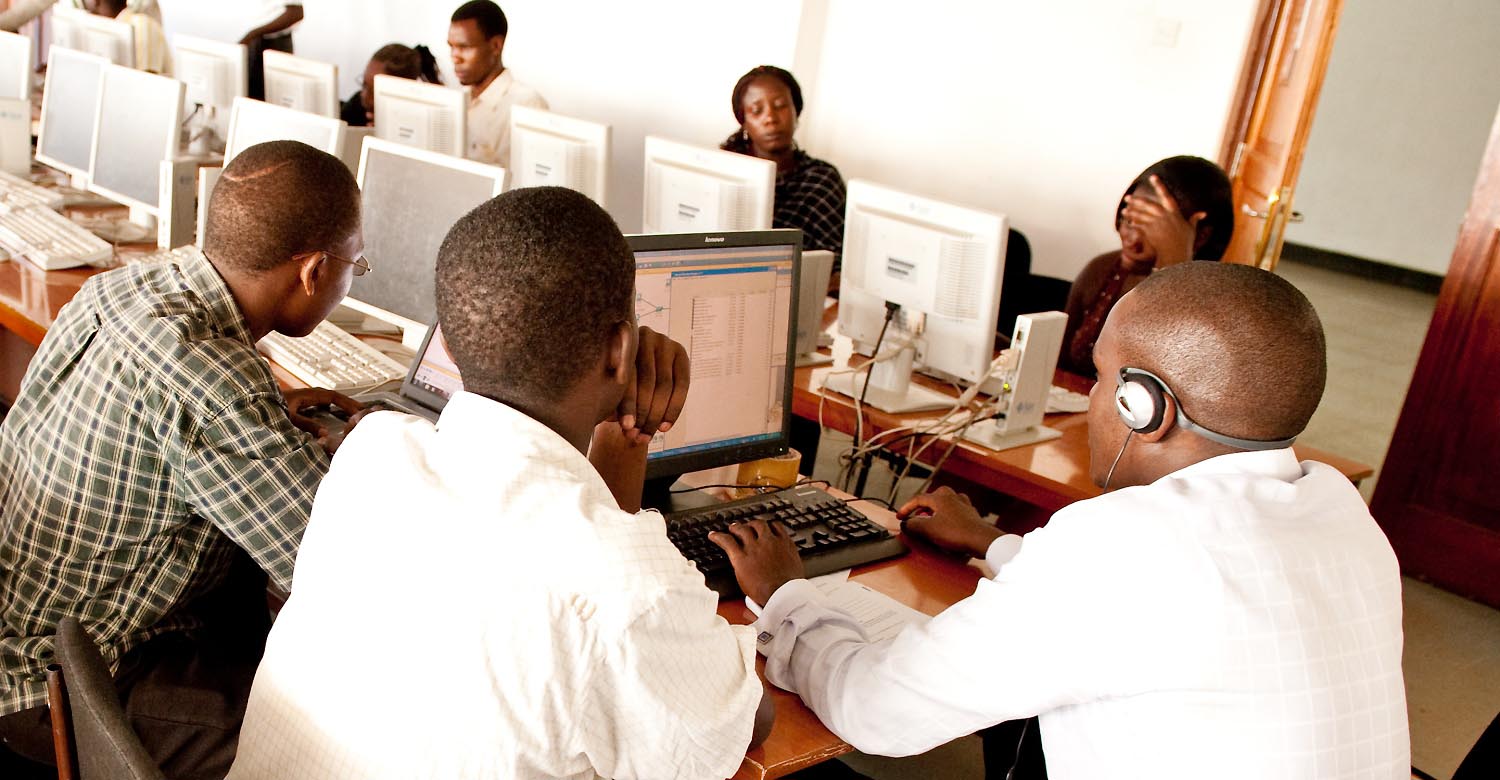 The Center for Innovations and Professional Skills Development (CIPSD), College of Computing and Information Sciences (CoCIS), Makerere University is a specialized unit which delivers state-of-art training in ICT. The training includes; Cisco Networking Academy for Cisco related courses, Microsoft IT Academy Program for Microsoft related courses, International Computer Driving License course, Oracle Certified Training center for Oracle, Linux and Unix Training center. CoCIS is also an authorized Testing center, operating under PearsonVUE and Kryterion.
Please see Downloads for the courses currently offered at the Center.
For further enquiries, contact;
The Center for Innovations and Professional Skills Development (CIPSD)
Level 5, Block B/Front Office, Block A
College of Computing and Information Sciences (CoCIS)
Makerere University
E-mail: psd.cis[at]mak.ac.ug
Url: www.cis.mak.ac.ug/cipsd
Tel: +256 392 000 180
Mob: +256 782 512 897/+256 752 779 964/+256 775 349 730
EASLIS Sends 6 Undergrads to University of Borås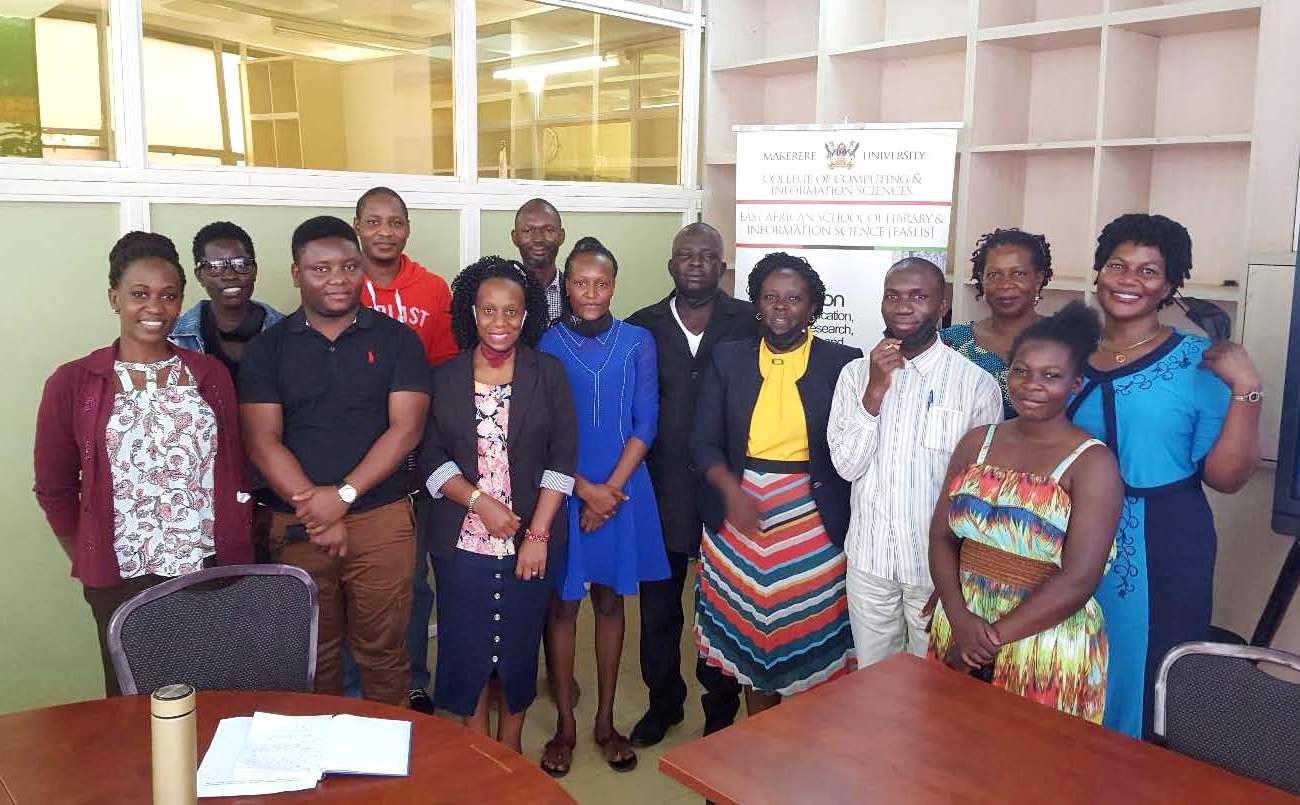 By Charles Halonda-Funa
The East African School of Library and Information Science (EASLIS), College of Computing and Information Sciences (CoCIS), Makerere University in collaboration with the University of Borås, Sweden officially launched the Erasmus+ ICM and Linnaeus-Palme projects. Under the project each institution will exchange and send undergraduate students, academic staff and administrative staff to their respective partner institutions. The project is slated to last three years with a total of 18 students, 9 academic staff and 3 administrative/library staff benefiting from the exchange program.
The collaboration is a partnership that was initiated in 2019 with the approval of the Vice Chancellor, Makerere University– Prof. Barnabas Nawangwe. It consists of two projects and will be funded for three years. The two projects are:
Linnaeus-Palme
• A SIDA-funded programme administered by the Swedish Council for Higher Education. The aim is to contribute to a broader resource base for international development cooperation and increased quality in higher education, through teacher and student exchange between higher education institutions in Sweden and higher education institutions in low- and middle-income countries.
• Sustainable Internalization in Library and Information Education.
• Financed by the Swedish Council for Higher Education.
Erasmus+ International Credit Mobility
• A programme within the Erasmus+ framework promoting the exchange of students, academics, and non-academic staff with partner countries of the ERASMUS+ program (i.e., mostly non-EU and non-EFTA countries and non-candidate countries of the EU).
• Enhanced Sustainable and Integrated Internationalization.
• Financed by Erasmus and the European Union.
Some of the partner countries on these projects include Albania, Brazil, Sweden, Canada, Iran, China, Rwanda and Uganda.
On 1st September 2021, the East African School of Library and Information Science officially bade farewell to the eligible six undergraduate exchange students as the first cohort on these projects. The students are:
Ms. Nakibuka Esther, Bachelor of Library and Information Sciences (BLIS)
Mr. Ssemogerere Abubaker, BLIS
Ms. Kavuhani Immaculate, BLIS
Mr. Ngowi Innocent, BLIS
Mr. Kato Arnold, Bachelor of Records and Archive Management (BRAM)
Ms. Nagujja Jamirah, BRAM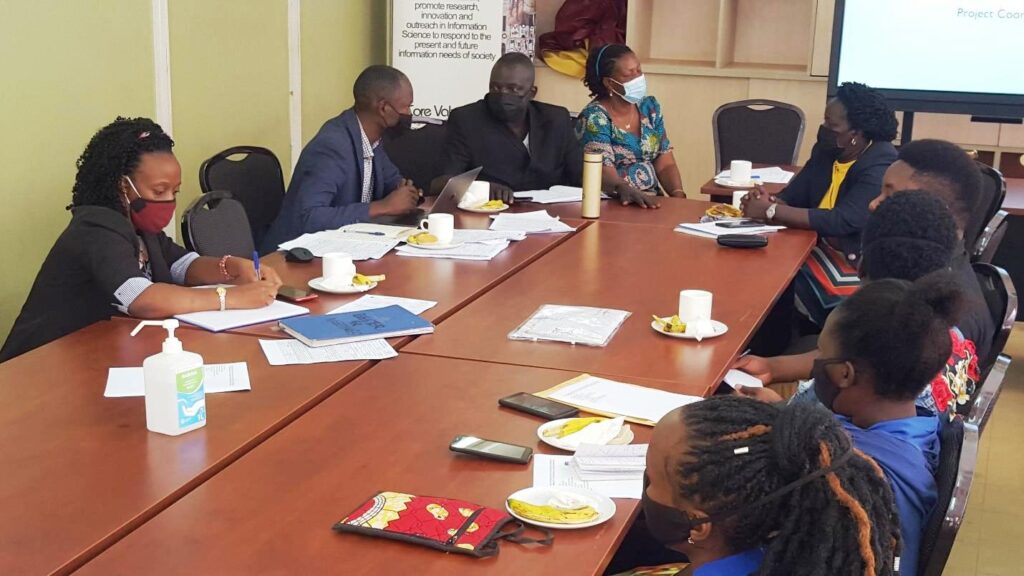 The students were briefed by EASLIS staff on the expectations from them and the partners and in his opening remarks Prof. Constant Okello-Obura (Dean, EASLIS) emphasized on the fact that they would be ambassadors of EASLIS, CoCIS, Makerere University, and Uganda, hence the need for students' maturity, innovativeness and discipline that is reflective of the high standards of Makerere University. He further added that the students should continuously be in touch with their Heads of Department/Project coordinator, document their stay, and embrace the good professional operations in place at the University of Borås. This he said, would enable EASLIS to address the requirements and re-plan where necessary for the benefit of the 2nd cohort and further improve its international relations. "Take the many great things from Makerere University to Borås and come back with only good practices from Borås to Makerere University" Prof. Obura remarked.
Mr. Richard Batte (Project coordinator) briefed them on the project expectations and encouraged them to heed the advice of Prof. Okello-Obura as he wished them a safe journey."This opportunity will be very beneficial to you. I know it's your first time to travel out of Uganda, but it is important to be humble, embrace and learn the culture," said Richard Batte.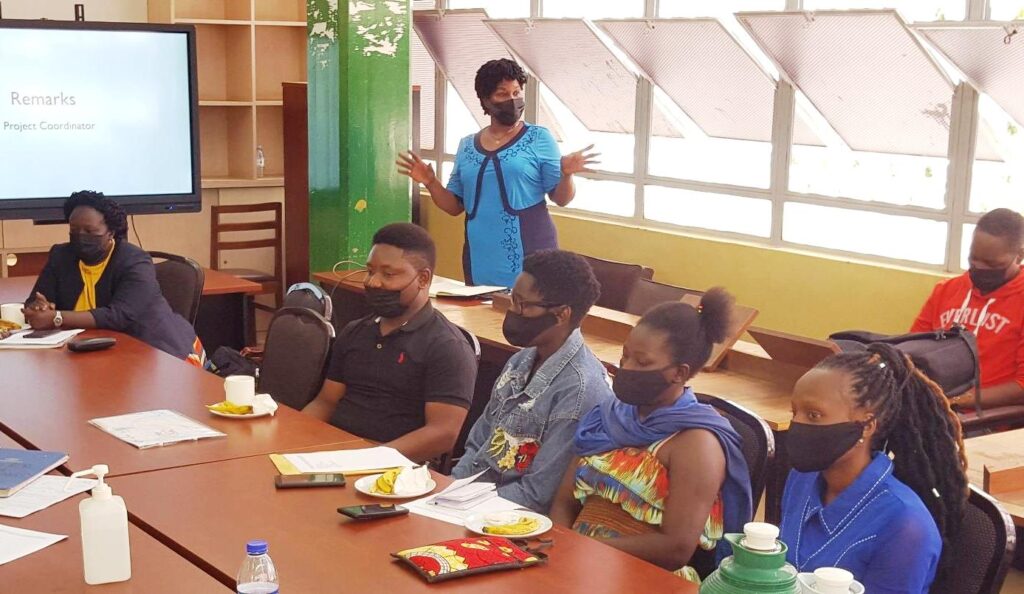 Dr. Joyce Bukirwa also chipped in and encouraged them to make sure that they attend all the classes (physically and online) and take the opportunity to interact and network for the many opportunities that will be made available to them.
Representing the International Office, Makerere University was Ms. Martha Muwanguzi who congratulated the students for this impressive achievement and asked them to fully utilize this opportunity to seek knowledge and establish life long partnerships as mentees or mentors.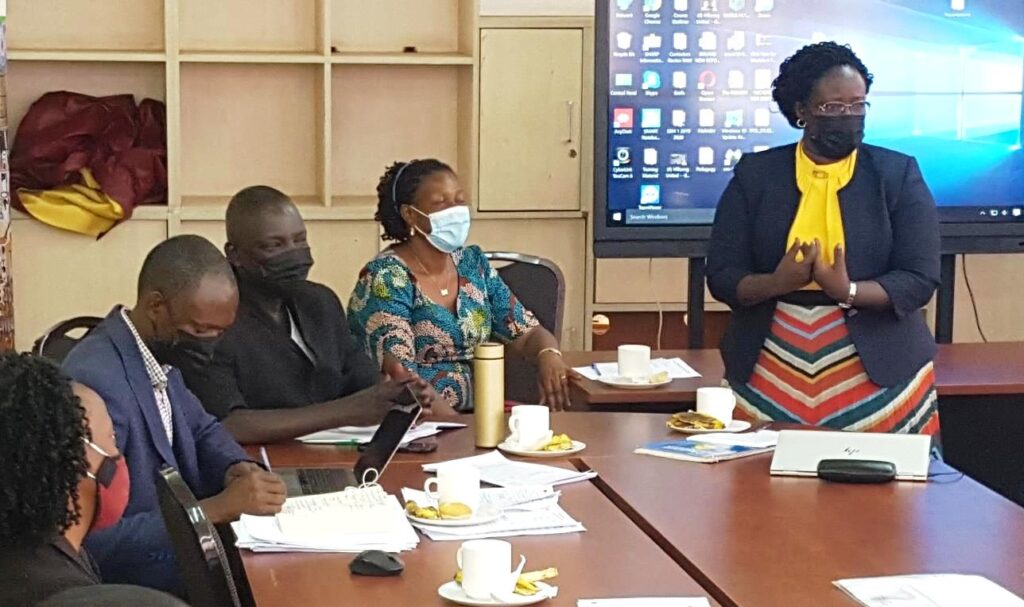 In closing Assoc. Prof. Agnes Rwashana (Deputy Principal, CoCIS) congratulated the East African School of Library and Information Sciences for winning the Erasmus grant and making the effort to collaborate with international universities. She also congratulated the students for being selected and asked them to embrace all the advice given by the Dean, Project coordinator and the rest of the team. Most importantly she advised them to take the opportunity seriously for it might never come again.
Speaking on behalf of the students Mr. Ssemogerere Abubaker (BLIS, Student team leader) thanked the EASLIS management and staff for the opportunity of a lifetime. He asked EASLIS staff for their prayers as they embark on this new journey in their lives and promised they would represent EASLIS and Makerere University in a positive light.
Amity University: Call For Applications July 2021 Intake
In partnership with Amity University (AUUP), Makerere University under the College of Computing and Information Sciences (CoCIS) has been offering e-Learning courses (Bachelor's degrees, Master's, post-graduate diplomas and Post-graduate certificates) for the last over 10 years under the Pan African e-network project on behalf of the Uganda government, Indian government and African union.
Now under a new Partnership M.O.U since inception in the year 2018. We offer a variety of courses tailored for convenient and continued education to students in East Africa unable to attend university physically, using modern information communication and online technologies from AUUP and state-of-the-art e-learning technology. The degrees will be awarded to successful candidates by Amity University.
Please see Downloads for course details.
ADMISSION REQUIREMENTS:
Master and Postgraduate programmes – Minimum is a Bachelor's degree in any discipline.
Bachelor programmes – Minimum is two (2) principal passes at 'A' level.
APPLICATION PROCEDURE:
Pick an Application Form (50,000 UGX) and banking details: ACCOUNT NUMBER: 9030014896898, ACCOUNT NAME: COLLEGE OF COMPUTING & INFORMATION PROJECTS. – STANBIC BANK. (ANY BRANCH IS OK.)
Submit together with photocopies of certified transcripts, certificates, two passport size photos, and a copy of your National ID and Passport (Mandatory for all applicants)
PLEASE NOTE:
All students are required to pay not less than 80% of the tuition fees before registration and enrollment.
Application deadline for July intake is 30th June 2021
For additional details contact:
The Front Office, School of Computing and IT, Block A
Phone: +256 788 864870 OR +256 703 147449 (WhatsApp)