Mak-RIF Plugs Tax Education Gaps in Uganda's Informal Sector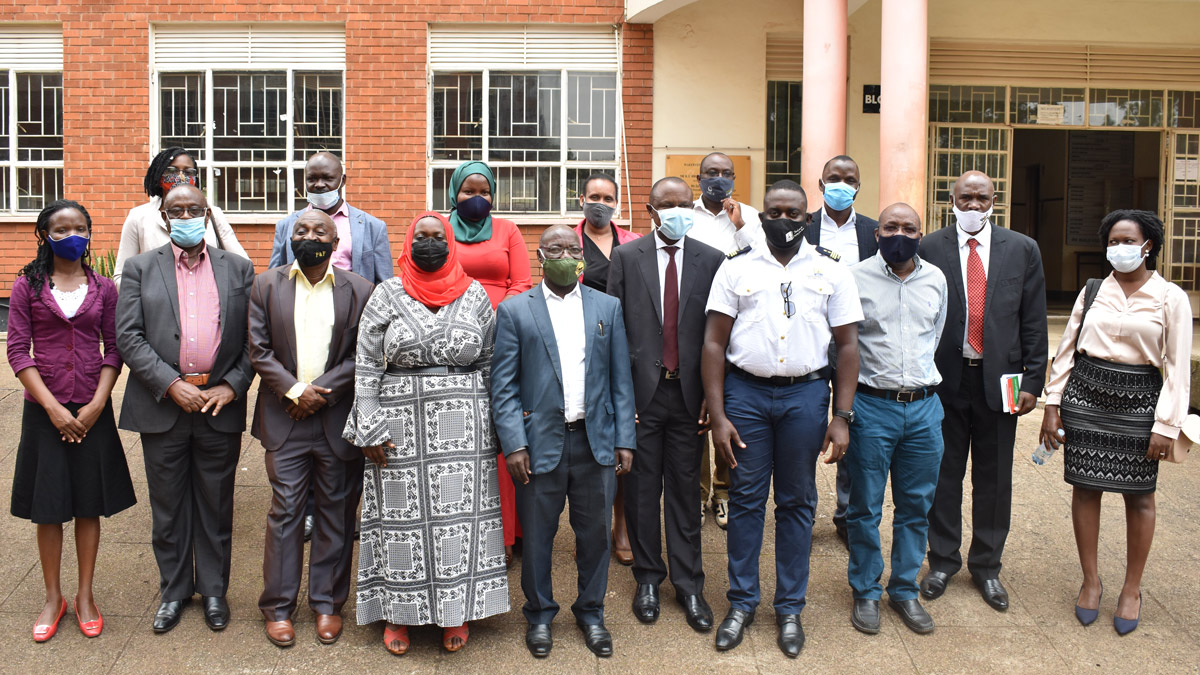 According to statistics from the Uganda Revenue Authority (URA) Annual Data Book 2018/19, at 12.44%, Uganda's average tax to GDP ratio over the last five years is one of the lowest in the region, and far below the sub-Saharan Africa average of 16%. Simply put, the total tax collected by URA has on average over the past five years accounted for only 12.44% of the size of Uganda's economy. Comparatively, Kenya, Tanzania, Rwanda and Burundi recorded average tax to GDP ratios of 16.10%, 12.83%, 15.80% and 13.55% respectively over the same period.
This should not come as a surprise, given that 2016 statistics from the Uganda Bureau of Statistics (UBOS) indicated that approximately 98% of Uganda's population of working age (14-64) were engaged in the informal sector. The title of a 2017 article published by the Economic Policy Research Centre (EPRC) based on the same statistics put it aptly, "Informality Growing Faster than Formality".
Expanding the tax base by tapping into semi-formal economic activities is going to be one of the major focus areas in the Third National Development Plan (NDPIII) 2020/21-2024/25. It is against this background that researchers in the College of Business and Management Sciences (CoBAMS) led by the Principal, Dr. Eria Hisali conducted a study that sought to understand which gaps exist in tax education and how these gaps can be packaged into improving compliance and subsequently broadening the tax base in Uganda.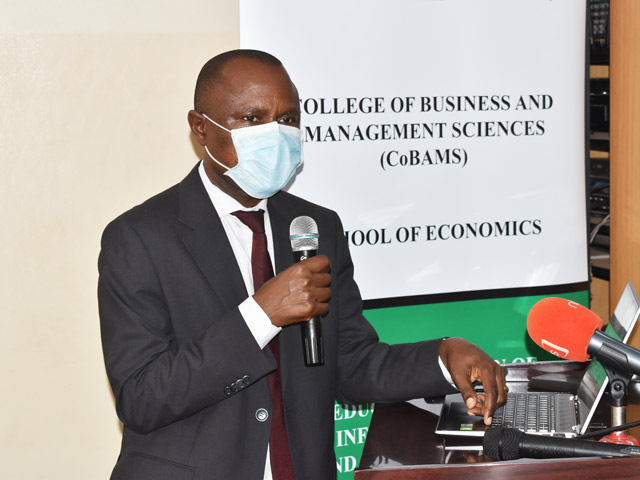 Funded by the Government of Uganda through the Makerere University Research and Innovations Fund (Mak-RIF) the research undertaken in 2020 targeted over 500 respondents with particular focus on the informal sector. In addition to the Principal Investigator (PI) Dr. Eria Hisali, the research team consisted of Dr. Ismail Kintu, Dr. Fred Bateganya, Ms. Marion Atukunda, Ms. Winfred Nalwoga, Mr. Nicholas Musoke, Mr. Patrick Lumala and Dr. Kagarura Willy.
Speaking at the research dissemination workshop held on 10th February 2021 in the School of Business Conference Room, Dr. Hisali shared that "The research advocates for a comprehensive review of Uganda Revenue Authority's tax education programme with focus on linking tax collection to better service delivery,"
The research team's interaction with members of the informal sector revealed that tax education being provided is not well suited to the informal sector. "For instance, tax exhibitions, messages on websites and brochures do not provide the best approach to reach out to the informal sector. The informal sector needs more engagement with emphasis on field visits and face-to-face interaction," explained Dr. Hisali.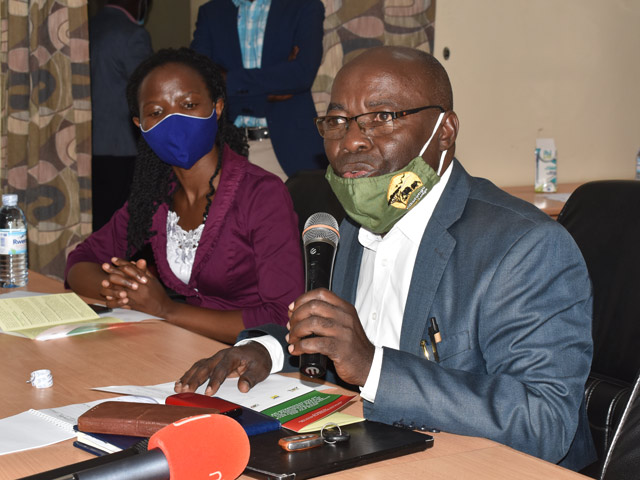 The Principal Investigator however pointed to some quick wins that could be adopted as URA evaluates and updates its tax education programme. He noted that approximately UGX 6 Trillion had been allocated to livelihood programmes by the Government of Uganda between the 2018/19 and current financial years. "How can tax education be included as part of the package that these Government livelihood programmes contain? I think we could see some quick wins because as recipients benefit from livelihood programmes, they could be asked to register as tax payers."
Findings shared by the research team further revealed a limited coverage of tax education. Whereas 53% had been told or heard about the importance of paying taxes, only 40% had received education on how to register for taxes while only 38% had heard about filing tax returns. Furthermore, only 32% had received tax education on fines and penalties, 29% on the benefits of paying taxes and only 16% on audits and assessments.
Nevertheless, some of the registered respondents who admitted to not paying taxes cited low tax morale as well as poor service delivery and unfairness as reasons for their noncompliance. Researchers further took note of the limited personal touch with potential taxpayers in the informal sector, disconnect between the current taxpayer education modality and unique features of the informal sector, as well as the cost implications and overly technical language in existing modalities as some of the reasons for nonpayment of taxes.
The Study concluded that:
Majority of the respondents had limited or no knowledge about the Tax Identification Number (TIN), a critical requirement for tax payment. More than half of respondents did not know how to acquire a TIN.
Actors in the informal sector cannot differentiate between taxes paid to URA and those paid to local governments and other bodies that bring together operators.
Most respondents did not know how to formalize their business/enterprise, another important factor for tax registration.
There exists some form of registration of informal businesses/enterprises upon which formalization can build.
The URA tax education campaigns messaging and targeting has left out some potential tax payers. Messaging and targeting of tax education is key to realizing intended results of growing the tax base and ultimately the tax revenues.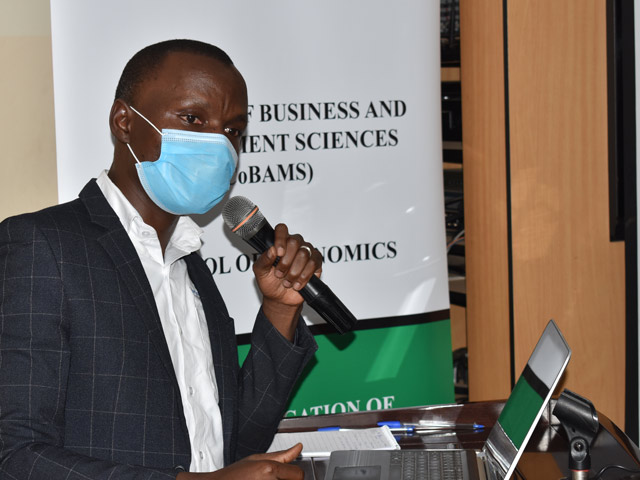 The Research Dissemination attracted participants from URA, Kampala City Traders Association (KACITA), Academia, Private Sector, Civil Society, the Media, Mak-RIF Grants Management Committee (GMC) as well as staff and students from Makerere University.
Painting a picture on the new ideas and innovations to foster a taxpaying culture through tax education, URA's Mr. Nicholas Musoke who represented the Assistant Commissioner Research Planning and Development-Ms. Milly Nalukwago, noted that whereas Uganda's population is approximately 45.7million, the taxpayer register stands at only 1.59million. Approximately 953,000 of those registered are active taxpayers, while 906 URA clients pay 80% of the tax. The informal sector currently contributes less than 1% (0.03%) of tax collected.
To help achieve this, URA plans to roll out the AEN strategy. AEN stands for Awareness, Empower and Nurture. Under Awareness, URA intends to intentionally engage the public on tax laws, roles, rights, obligations and opportunities relating to tax. Under Empower, URA will guide taxpayers on their rights as well as how and when to fulfil their tax obligations, while under Nurture, the Authority will set up and support mechanisms to cultivate and maintain a taxpaying culture.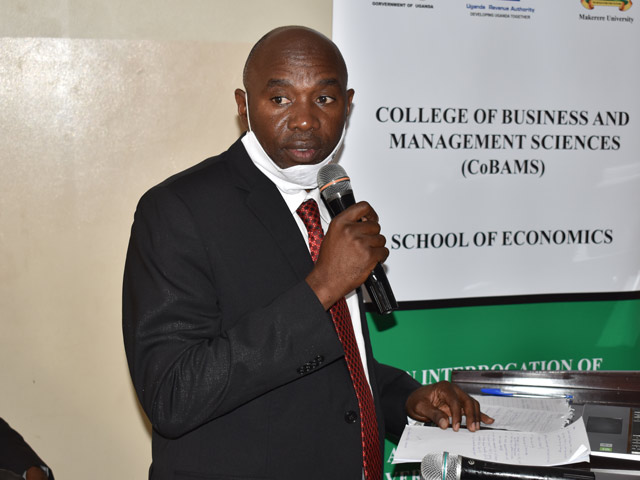 Dr. John Mutenyo who represented the Chairperson of MakRIF GMC- Prof. William Bazeyo in his address commended the Government of Uganda for prioritizing research at Makerere University. "In phase One of Mak-RIF, the Government committed UGX 30billion and this was one of the research projects that
was funded under that phase. To date, over 500 competitive research grants have been supported."

Prof. Bazeyo congratulated Dr. Hisali and the entire research team for undertaking a study geared towards strengthening the implementation of NDPIII and supporting the development of Uganda. "Most importantly, I would like to thank Dr. Hisali and the team for having a collaborative study that involved the key stakeholders such as URA. These are the stakeholders that are going to make it easy to buy into and implement the outcomes of this research."
Commenting on the findings, the other stakeholders at the research dissemination workshop pointed out the need to embark on trust building programmes with the taxpayer. They equally emphasised the need to consider reducing the load on the tax payer. The taxpayer in Uganda is subject to taxes such as;
Value Added Tax (VAT), Pay As You Earn (PAYE), Customs, Demurrage, Income Tax, Withholding Tax, Excise Duty, Over-The-Top (OTT)/Social Media Tax among others.
Article by Public Relations Office
Prof. Bbaale hands over Deanship to Prof. Okumu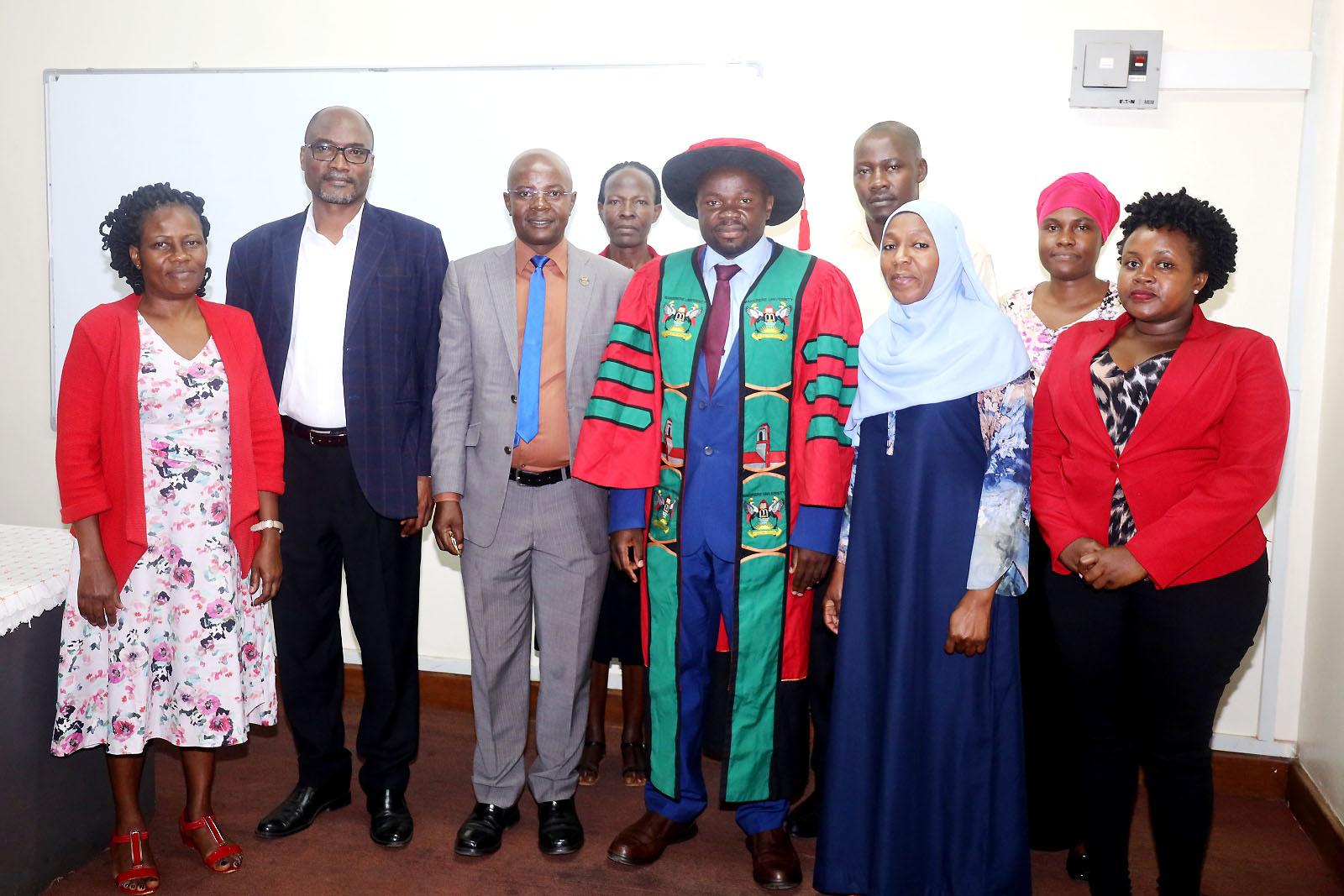 Prof. Edward Bbaale on January 16, 2023 handed over Deanship of the School of Economics to Prof. Ibrahim Okumu Mike. This follows Prof. Bbaale's appointment as the Director of the Directorate of Research and Graduate Training (DRGT). The handover was witnessed by members of staff, the College Human Resources Officer, a representative from the Internal Audit Directorate and the Deputy Principal, College of Business and Management Sciences (CoBAMS).
While handing over, Prof. Bbaale thanked the members of staff for the support offered to him during his tenure of 8 years. He especially thanked the Heads of Department, the internship and examination coordinators for the support rendered to him. Over the last 8 years, the school has registered several achievements which include growth in enrollment, improvement in teaching and learning, research and publications as well as building partnerships and collaborations.
The school has since installed white boards in all classes to replace the traditional chalk boards. The school also procured some ICT equipment for its staff. The school successfully reviewed all its programs and also introduced two new graduate programs; MSc Investment and Economic Modelling and Msc. Development Economics. The school, as noted by the outgoing Dean has maintained a good culture of research and publications.
The outgoing Dean pointed out some challenges that need to be addressed. These include limited lecture and office space, limited finances, limited number of professors, the low propensity of staff to conduct graduate teaching, non-functional computer laboratories, increased examination malpractice among students and the low completion rates especially among graduate students. "Addressing these challenges requires concerted efforts from all of us academic, administrative and support staff," Prof. Bbaale said.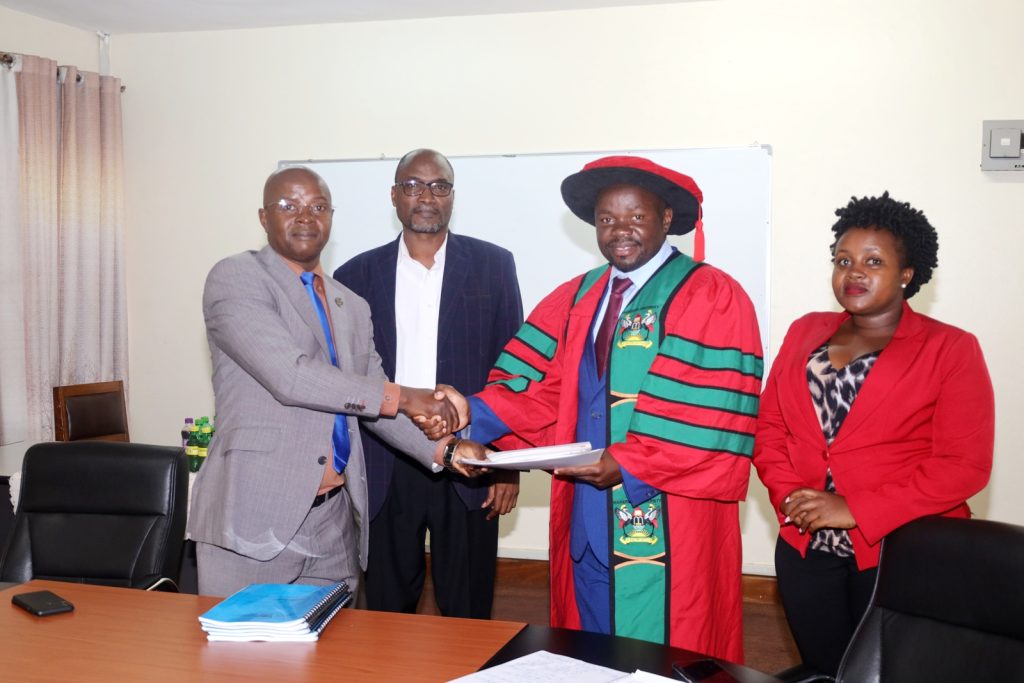 In his acceptance speech, Prof. Okumu said he hopes to enhance the research output of the school. "The zeal to deliver is there," he emphasized. He shared his plans for the school which included building international relationships in an effort to start international reviews of Masters and PhD thesis, improving web presence of all staff members, grow the numbers of collaborations and starting of a mentorship program for graduate students.
The Deputy Principal, Prof. Bruno Yawe, congratulated both professors upon their new appointments and wished them good service to the university. He pledged management's support to the new Dean as well as Prof. Bbaale.
HEED-Africa: Call for Master's, PhD, Staff & Visiting Scholars Mobility Scholarship Applications 2023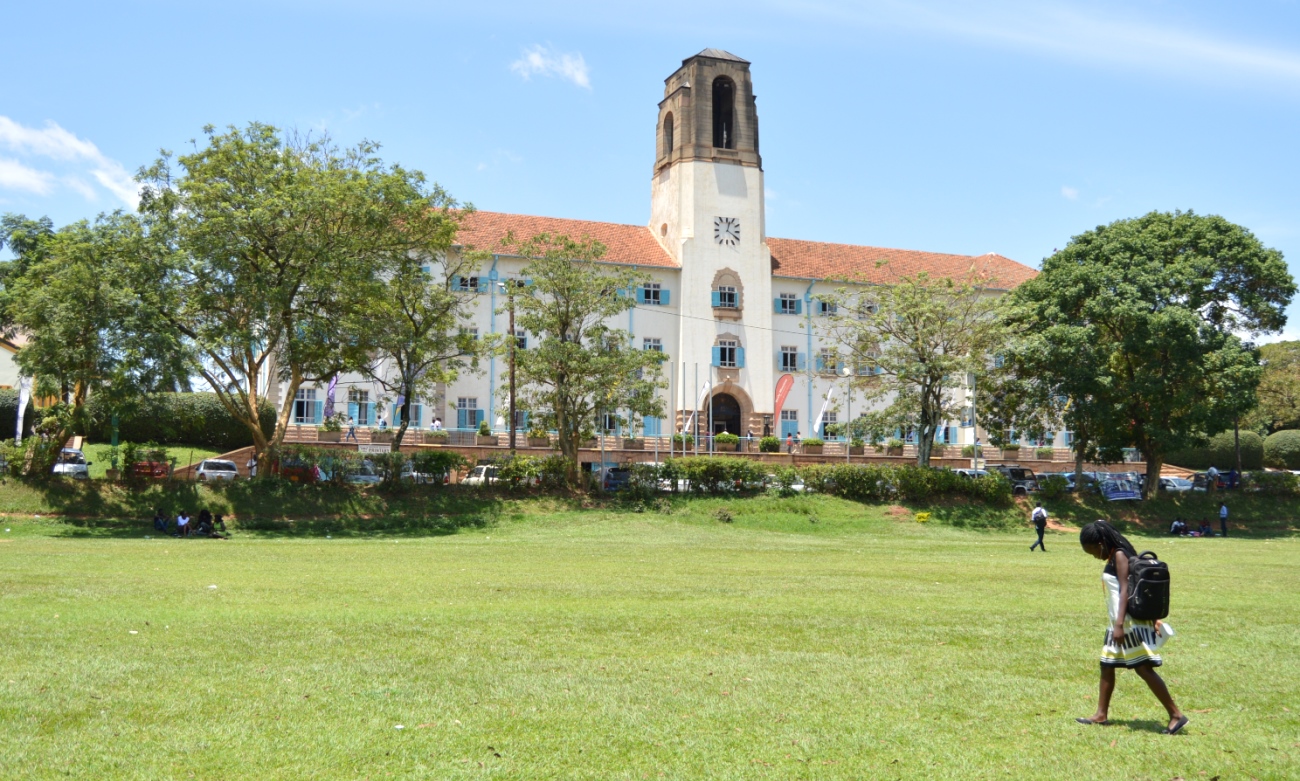 Harmonization of Entrepreneurship Education for Sustainable Development of Africa (HEED-Africa) project is made up of a consortium of partner universities from Africa and Europe. The consortium comprises of Addis Ababa University, Coordinating Institution (Ethiopia), the University of Ghana (Ghana), Milpark Education (South Africa), Makerere University (Uganda), Kyambogo University (Uganda) and the University of Wolverhampton (United Kingdom).
HEED-Africa strives to foster the development of student and staff academic exchange through a systematic academic mobility flows framework in joint study, researches, academic activities, and mobility agreements across five regional higher education institutions.
The main objective of HEED-Africa is to develop and implement harmonized knowledge ecosystems in entrepreneurship through embedding. It also aims to create the learning conditions to increase the ability of graduates to become job creators rather than job seekers administrative staff.
HEED-Africa calls for outstanding students from African universities to apply for Academic Mobility Scholarship-2023 in different Master's Degree and PhD Programme fields of study as well as academic and administrative staff to apply and join one of the five African universities for a short-term Visiting Scholars Academic Mobility.
HEED-Africa will offer a total of 35, 27 and 9 Scholarships for Master's, PhD and Visiting Scholars respectively.
Applications Deadline is 30th January, 2023, and online applications will be closed at 14.00 GMT.
See Downloads for detailed adverts.
EfD Uganda hosts renown energy economist, Marc Jeuland – Duke University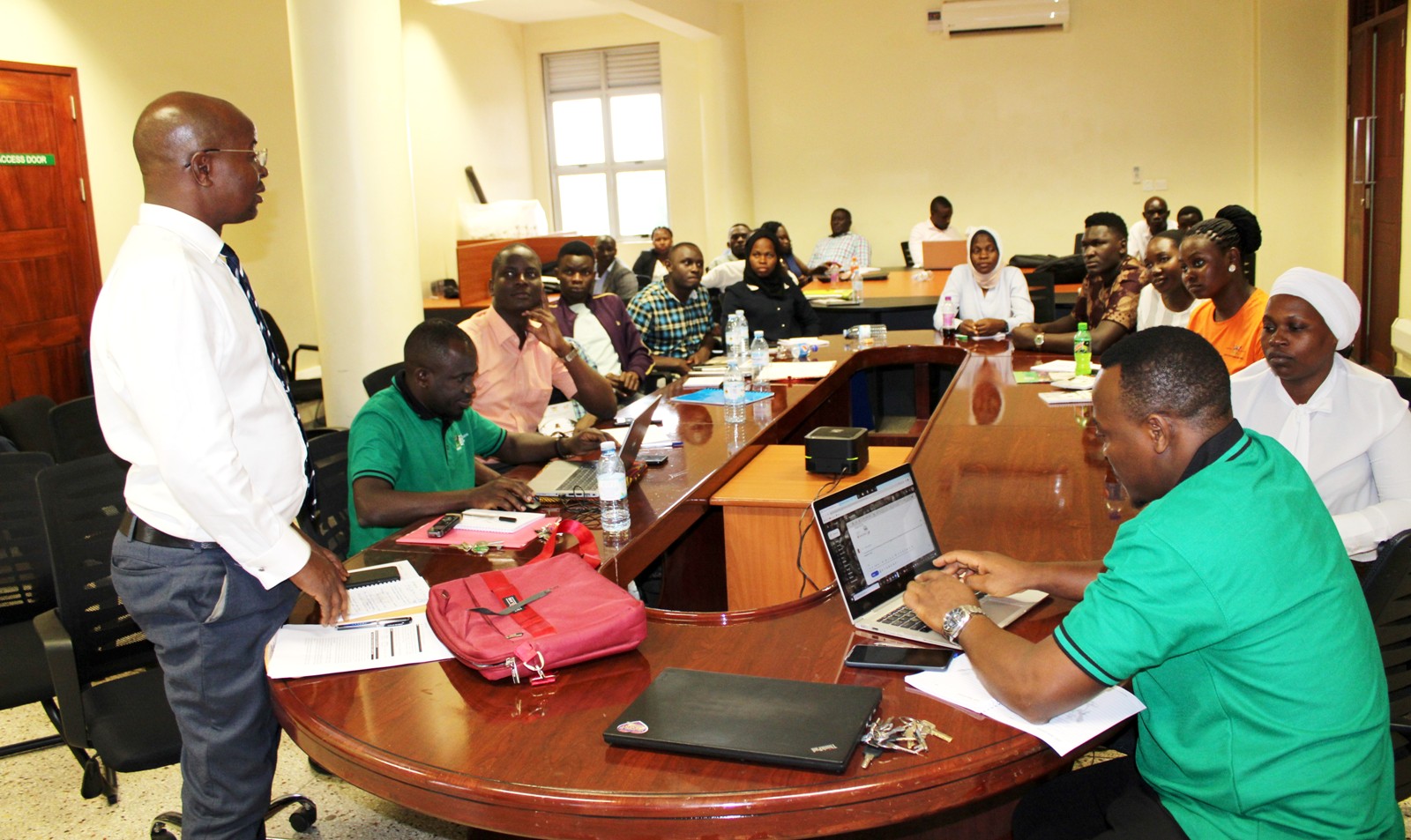 The EfD-Mak Centre Uganda on 1st December, 2022, hosted renown scholar  in the area of economics at the EfD Network and University of Duke in the United States. Marc Jeuland was invited for the seminar to share his work and inspire the research fellows and students of economics because of his deep wealth experience in the area of energy economics.
Presenting a paper on Sustainable energy transitions in developing countries: Research knowledge and research gaps, Marc explained why energy transition is important.
"Energy is the golden thread that connects economic growth, social equity and environmental sustainability. Modern energy can help avoid lung diseases and millions of deaths, and support children to study after dark, farmers to pump water for crops, households to refrigerate food, clinics to keep medicines, and poor people to reduce time-consuming drudgery and entrepreneurs to develop small businesses", he said.
The seminar held via zoom provided an opportunity for researchers and graduate students to learn from him as far as energy transition is concerned by sharing some of the insights, experiences, and the main research gaps and advise about a country like Uganda that is still using unclean energy in all sectors.
Uganda as a country, is still very far on the transition project just starting to think about clean e-vehicles etc. As researchers and graduates, this is an area where they need to go deeper if they are to contribute to this cause of sustainability, adaptation and resilience.
Centre Director Edward Bbaale says, the center is trying to focus on a number of issues that are intended to mitigate climate change, which are much related to energy. According to Bbaale, some of the fellows have done research in energy economics and still have that drive to go deeper into it given the central role of energy transitions as far as resilience, adaptation and sustainability issues are concerned. This is also very important for Uganda that is still very much dependent on unclean energy for many purposes.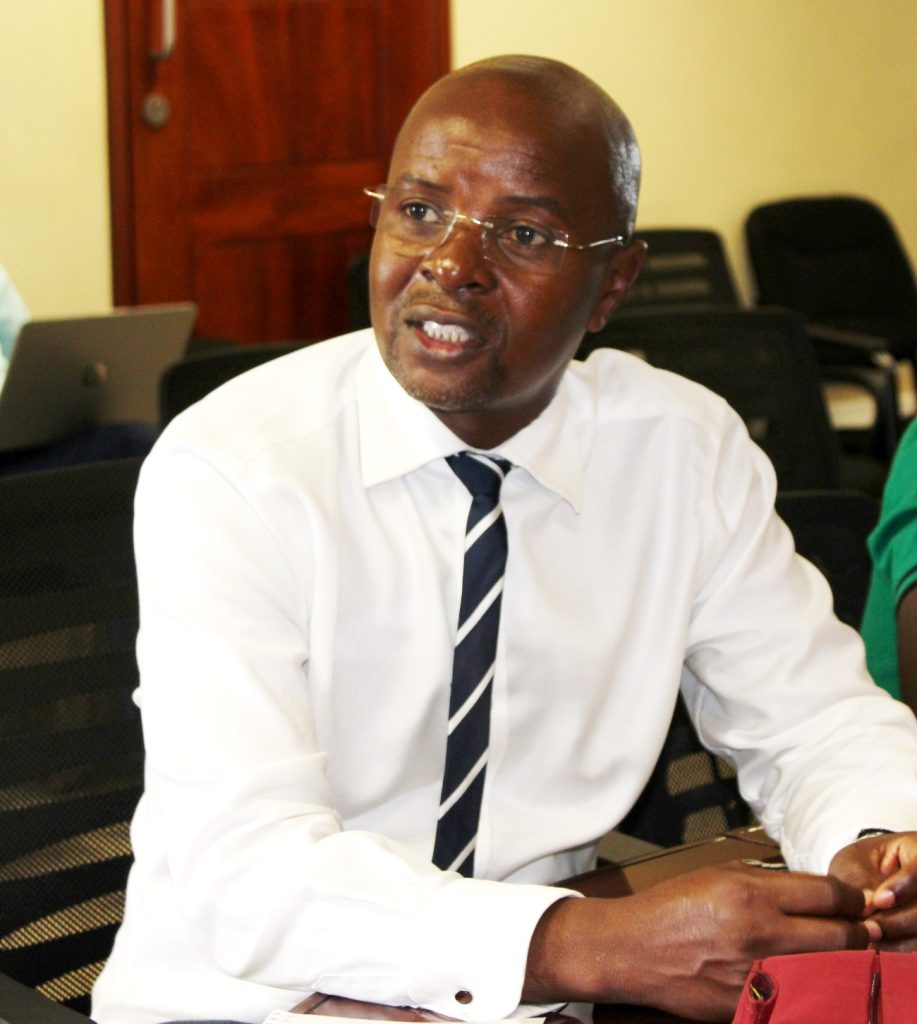 "We wanted to understand the major theoretical aspects that are concerned with developing research in energy economics and we wanted to tap into the experience on how to theoretically model the aspects of energy economics but also understand his experience as far as the empirical methodologies of approaching energy studies are concerned", the Director said.
Marc Jeuland started with the historical perspectives on energy transition and a narrative dominated by the historical account of the industrial revolution and gave the broader definition of energy transition as a change in the fundamental state of an energy system and moved into understanding how different countries are doing as far as energy aspects are concerned.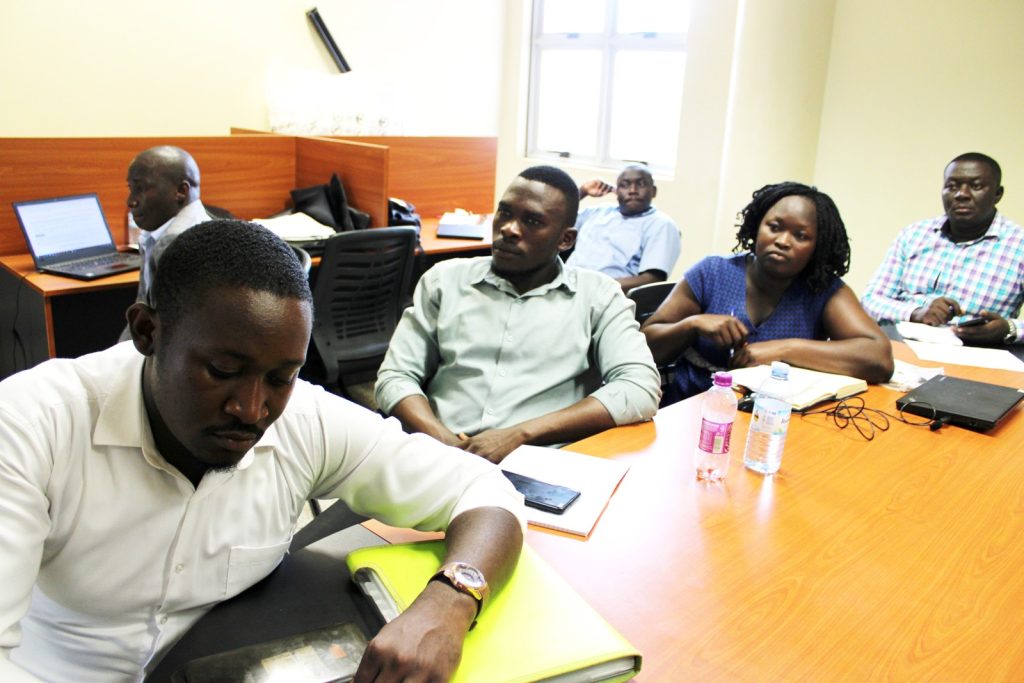 At the same time, he presented the research gaps, missing knowledge and data gaps as well as things to look out for when developing research proposals and the gender nexus as an issue.
"The main issue is the gaps to do in the energy economic literature, but also the methodological aspects that we can look out for when trying to find proposals in energy economics", Bbaale explained.
The EfD Mak Seminar series
The centres hosts a series of seminars on different research aspects bringing together research fellows, undergraduate and graduate students with the aim of helping the faculty learn new things and at the same time help students pick up new ideas.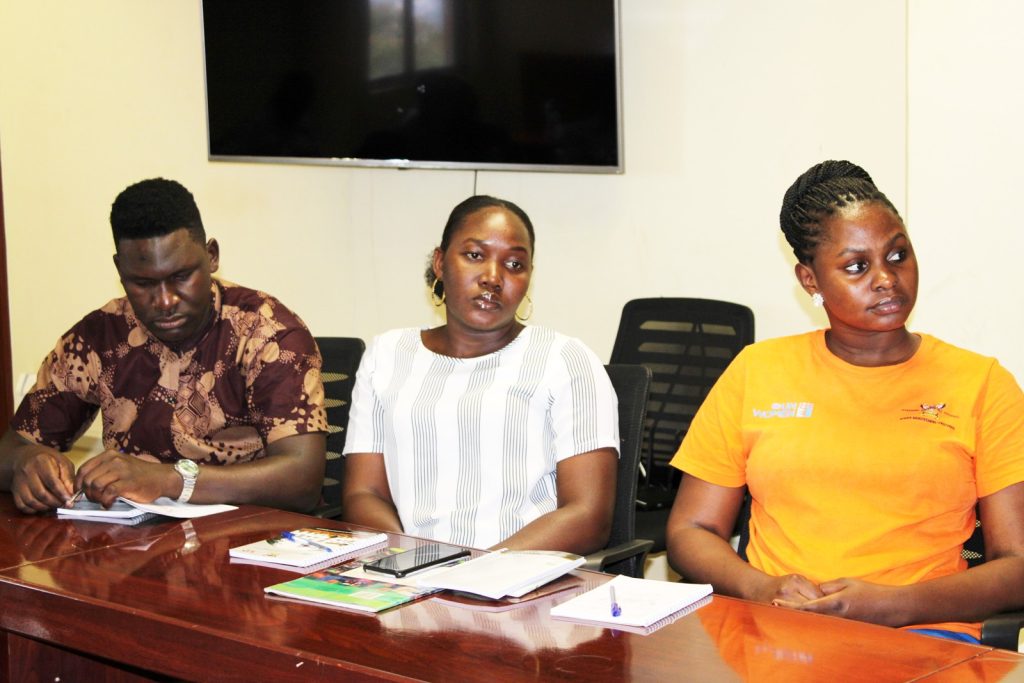 As young economists, these seminars are meant to help students understand what economists do in the profession they are going into beyond a narrow perspective of passing their degrees.
These seminars also open up the students' world into accepting what the subject matter is all about and to appreciate that the journey they have started on answers to global challenges and are therefore relevant in pursuing this profession.