MURBS Declares 10.01% Interest Rate Ahead of 10th AGM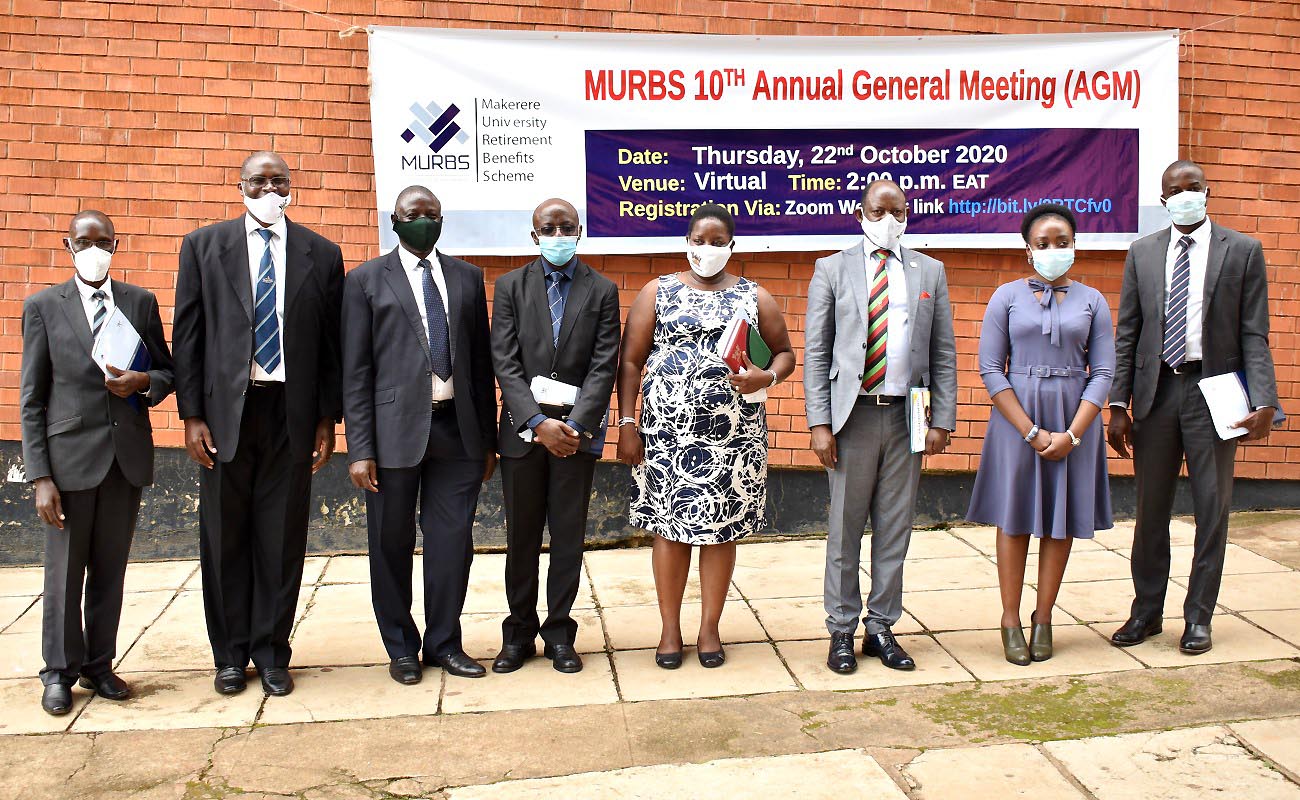 The Makerere University Retirement Benefits Scheme (MURBS) has at a meeting held on Tuesday 20th October, 2020 declared an interest rate of 10.01% on its members' opening balances as at 1st July 2019. The meeting held in the Conference Room, College of Business and Management Sciences (CoBAMS) was aimed at presenting MURBS' performance for the Financial Year 2019/2020 to the Makerere University Council, Management and other stakeholders ahead of the 10th Annual General Meeting (AGM) due to be held virtually on 22nd October 2020.
Welcoming all parties, the Secretary – Board of Trustees (BoT), MURBS, Mr. Wilber Grace Naigambi thanked the Chairperson Council, Mrs. Lorna Magara, represented by Dr. Helen Nambalirwa Nkabala, the Vice Chancellor, Prof. Barnabas Nawangwe, Members of Management, Chairpersons of Staff Associations and service providers present for sparing time to attend the meeting.
He also introduced the new Chairperson – BoT, MURBS, Dr. Godwin Kakuba, elected to replace Rev. Dr. John Kitayimbwa who resigned from University service. Other members of the BoT present at the meeting were Ms. Dorothy Nannozi Kabanda, Mr. John Peter Okello, Mr. William Ndoleriire and co-opted Board Member; CPA David Ssenoga.
Dr. Godwin Kakuba in delivering his statement expressed the BoT's sympathy to the University Council, Management and community upon the gutting of the iconic Main Building by fire on 20th September 2020. "We pray that God may give you wisdom on how to handle all the challenges that have come out of this tragedy."
He stated that MURBS had a total membership of 3,777 as at 30th June 2020, of which 2,062 were active. He added that the scheme received contributions worth UGX 21Billion from Makerere University during financial year 2019/2020 and paid out benefits worth UGX 7Billion to retiring staff in the same period.
The Chairperson allayed his audience's fears on what effects the COVID-19 pandemic might have had on the scheme's performance when he announced that the MURBS fund value grew by UGX 31Billion from UGX 178Billion as at 30th June 2018 to UGX 209Billion as at 30th June 2020. This he partly attributed to the BoT's decision to divest from the equity asset class and strategically invest in the property asset class.
"This decision shielded the part of our portfolio held in land from the volatile behaviour of the equity markets during these uncertain times" explained Dr. Kakuba. He went on to state, "As such, the net return on investments undertaken by the Scheme this year was UGX 22.3Billion compared with UGX 11.1Billion last year. It is this return that is being distributed to members in form of interest this year."
Dr. Kakuba also shared that MURBS emerged winner in the Retirement Benefits Sector category of the Financial Reporting (FiRe) Award Competitions 2019 after beating 20 other schemes. MURBS also took the FiRE Award for Most Improved Reporting. "MURBS has now emerged winner in the Retirement Benefits category for three consecutive years."
The Chairperson Council in her remarks read verbatim by Dr. Nambalirwa Nkabala congratulated MURBS upon declaring a competitive interest rate of 10.01% and commended the Government of Uganda for liberalizing the pension sector that has enabled various schemes to flourish. She congratulated MURBS upon wining two FiRe awards in the November 2019 competition and commended the University Management for providing an environment that is conducive for the scheme to thrive and offer a decent retirement for University employees.
"On its part, Council has provided a home for MURBS on the University Campus free of charge. Council also continues to engage Government not only on enhancing staff salaries, which increases the monthly contributions to MURBS, but also on the payment of the only outstanding debt" read the Chair Council's remarks.
The Chairperson Council's remarks in conclusion urged the BoT to exercise even more caution and wisdom as they make investment decisions, especially now that the fund value is now more than UGX 200Billion. "Keep in mind that the wellbeing of the university employees in retirement, and consequently the smooth running of Makerere University, to some extent, depends on what is happening in the Scheme."
In his remarks, the Vice Chancellor commended the Trustees upon working hard to reduce the number of members with retirement packages below UGX 50Million from 1,308 as at 30th June 2017 to 768 as at 30th June 2020. In the same period, the number of members with retirement packages between UGX 150 Million and 200Million grew from only two to 425.
"This is remarkable! This shows that Makerere University is among the best employers in Uganda and we thank the Government of Uganda for prioritizing the remuneration of University staff" he enthused.
Prof. Nawangwe thanked the University Council for its decision to run an independent Retirement Benefits Scheme for university employees, noting that this has enabled members' benefits to grow at rates above inflation over past financial years. MURBS has over the last two financial years declared interest rates of 10.6% and 17% for 2018/2019 and 2017/2018 respectively.
The Vice Chancellor concluded his remarks by stating that Makerere as the premier University in Africa owes it to Uganda to make best use of all resources allocated by the Government. "The Government continues to handle many challenges including providing quality higher education to a growing number of young people in Uganda. We are doing our best to support Government in this respect and are committed to ensuring that Makerere University plays a strategic role in solving this challenge, especially at graduate level."
The meeting was also addressed by Mr. Ssenyonga Cosmas-Senior Supervision Officer who represented the Chief Executive Officer, Uganda Retirement Benefits Regulatory Authority (URBRA)-Mr. Martin A. Nsubuga. He thanked the Sponsor-Makerere University for remitting employee contributions to MURBS on time and the Trustees for providing accountability for the work done over the past financial years.
"Our regulator's report clearly indicated that Makerere University is one of the biggest schemes in Uganda and when you look at the indicators such as efficiency and profitability compared to peers in the sector, they have been improving over time and we commend the Board of Trustees" added Mr. Ssenyonga.
He said that schemes in the sector have been able to improve in terms of governance, prudent investment and administration thanks largely to URBRA's ability to enforce standards. "The sector assets have increased from UGX 5Trillion in 2013 to 15.2Trillion as at the end of the last financial year."
The URBRA official noted that the sector's current assets are based on contributions from approximately two million employees. "If we had most of the working population contributing towards their retirement, we would probably be talking about UGX 30Trillion today."
Citing the MURBS example where over 80% of assets are invested in Government securities, Mr. Ssenyonga observed that retirement benefits schemes are capable of accumulating domestic resources that can be used by the Government to finance various development projects. He added that sector has over the last five years achieved an average increase in assets of 20.6% per annum, which has enabled it to earn an average interest of 9% and accord members an average interest of 9.6%. All MURBS declarations at the meeting were above the regulator's averages.
As is now the MURBS tradition, the meeting was moderated by the Secretary – Board of Trustees (BoT), MURBS, Mr. Wilber Grace Naigambi assisted by a member of Administrative staff, in this case, Principal Public Relations Officer, Ms. Ritah Namisango.
Article by Public Relations Office
Prof. Bazeyo Named 2021 Tufts University Honorary Degree Recipient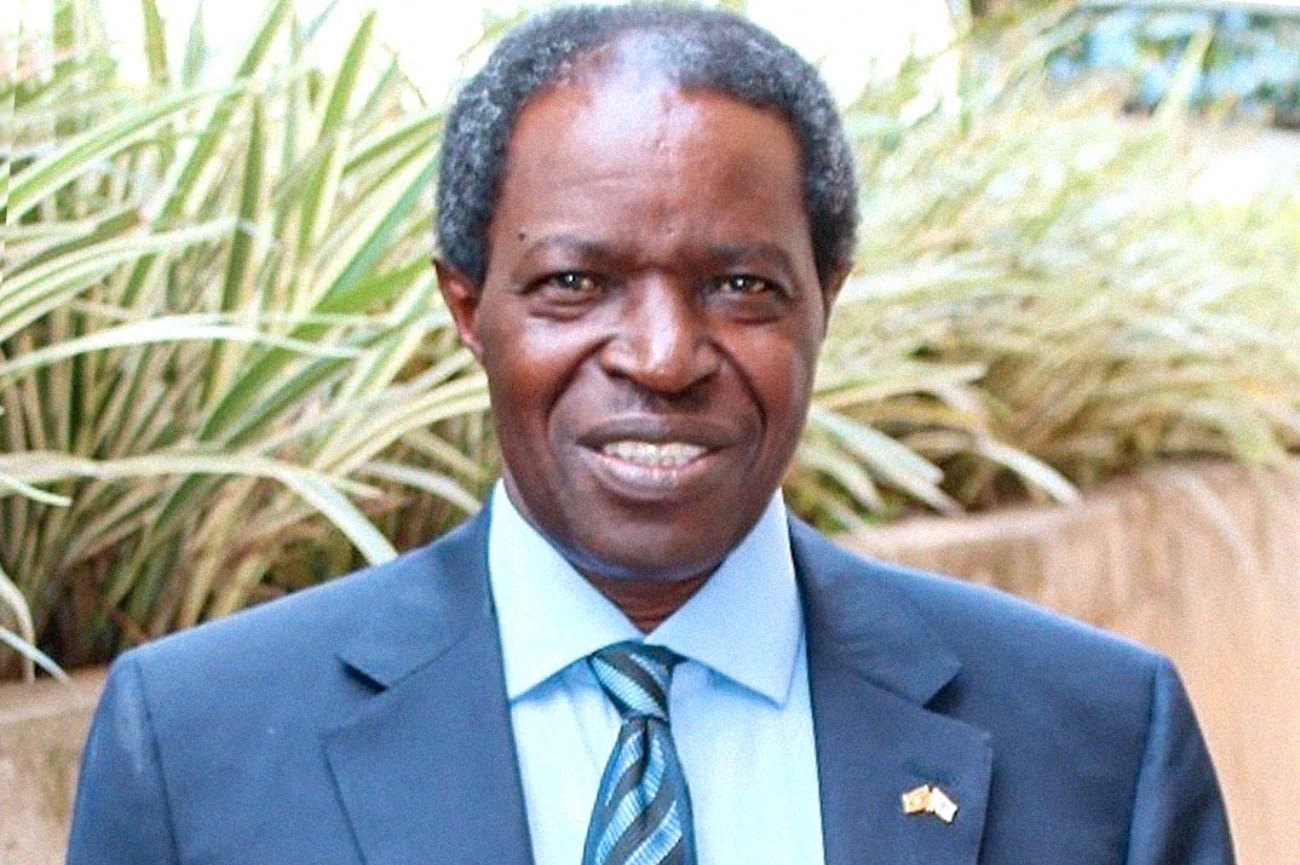 Professor William Bazeyo, a Professor of occupational medicine in the Makerere University School of Public Health (MakSPH) and former Deputy Vice Chancellor (Finance and Administration) has been named as one of six Tufts University honorary degree recipients for the Class of 2021. The announcement published 20th April 2021 on the Tufts University one-stop site for news mentions that Prof. Bazeyo will receive an honorary Doctor of Science degree.
The award is in recognition of Prof. Bazeyo's leadership in research focusing on One Health Innovation and Control of Tobacco use among others. The award also takes note of his service as former Dean MakSPH as well as chair of several boards including Uganda's National Research and Innovation Fund under the Ministry of Science, Technology, and Innovation.
The other recipients named alongside Prof. Bazeyo include; Maria B. Barrett-honorary Doctor of Public Service, Stacey B. Gabriel-honorary Doctor of Science, Hamdi Ulukaya-honorary Doctor of Humane Letters, Ofelia Zepeda-honorary Doctor of Letters, and Bryan Stevenson-honorary Doctor of Laws. The latter will also deliver the commencement address to the Tufts Class of 2021 in a virtual ceremony due to be held on 23rd May.
Makerere University congratulates Professor William Bazeyo upon his meritorious achievement.
Click here for the full announcement.
Embassy of Japan Donates Books to Mak Library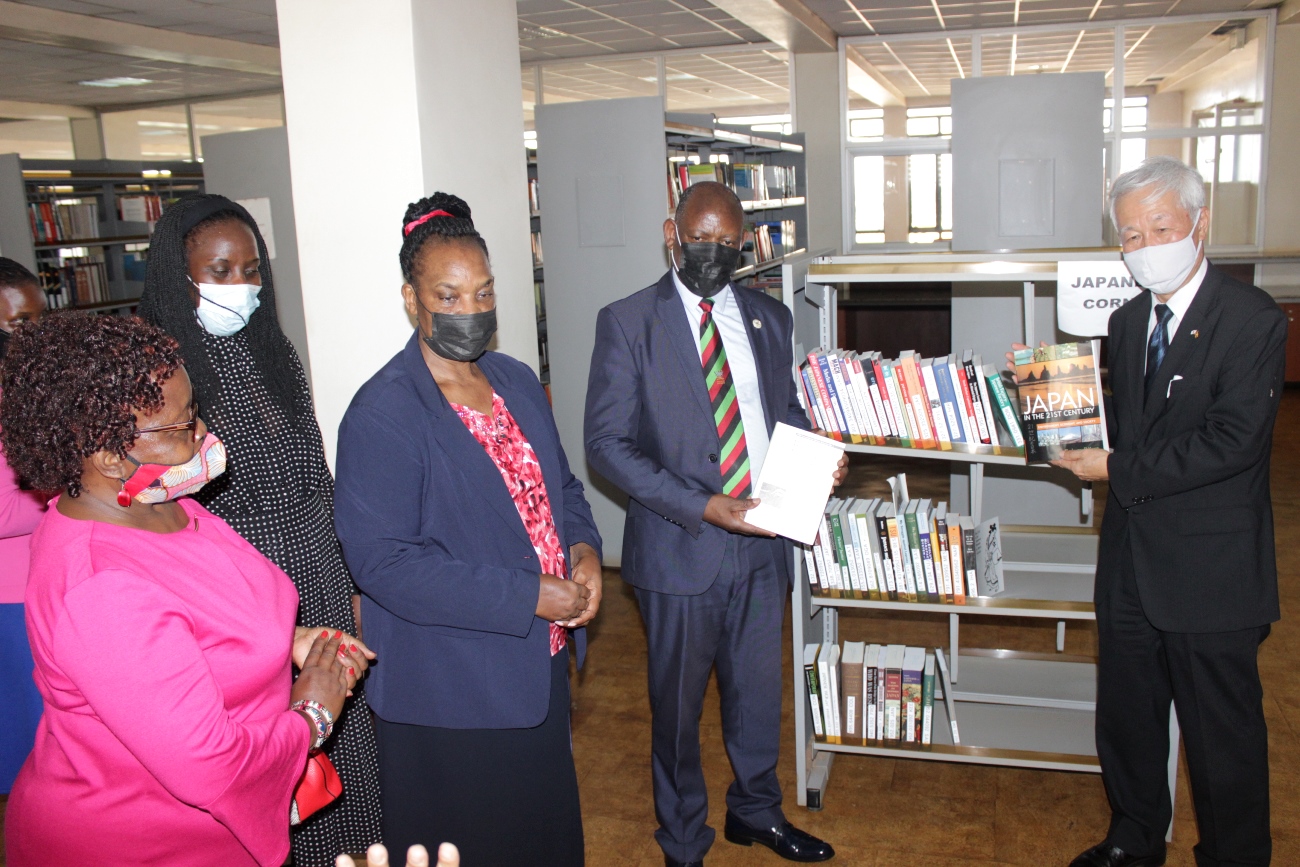 The Ambassador of Japan to Uganda H.E. Fukuzawa Hidemoto during his first official visit to Makerere University on 20th April 2020 handed over a donation 52 books and launched the Japanese Corner in the Main University Library. The donation of books on contemporary Japan was made possible by the Nippon Foundation through the "READ JAPAN PROJECT".
Welcoming the Ambassador, the University Librarian Dr. Helen Byamugisha shared that at over 12,000 square metres and seating capacity of over 2,800, the Library was one of the biggest in Africa. She added that the Library has special access and facilities for persons with disabilities (PWDs) and offers the Document Delivery Service for any materials that library users both on and off campus may require, among other services.
Turning to the benefits of digitization, the Librarian shared that though physically closed, the University Library continued serving users during the COVID-19 orchestrated lockdown thanks to its vast array of over 27,000 electronic journals and other digital resources. She therefore thanked the Ambassador for the book donation, which would enhance the library's ability to serve the needs of its diverse users.
"The book donation has already been processed by our staff and can be accessed through the electronic catalog on the Library's website from anywhere in the world" added Dr. Byamugisha.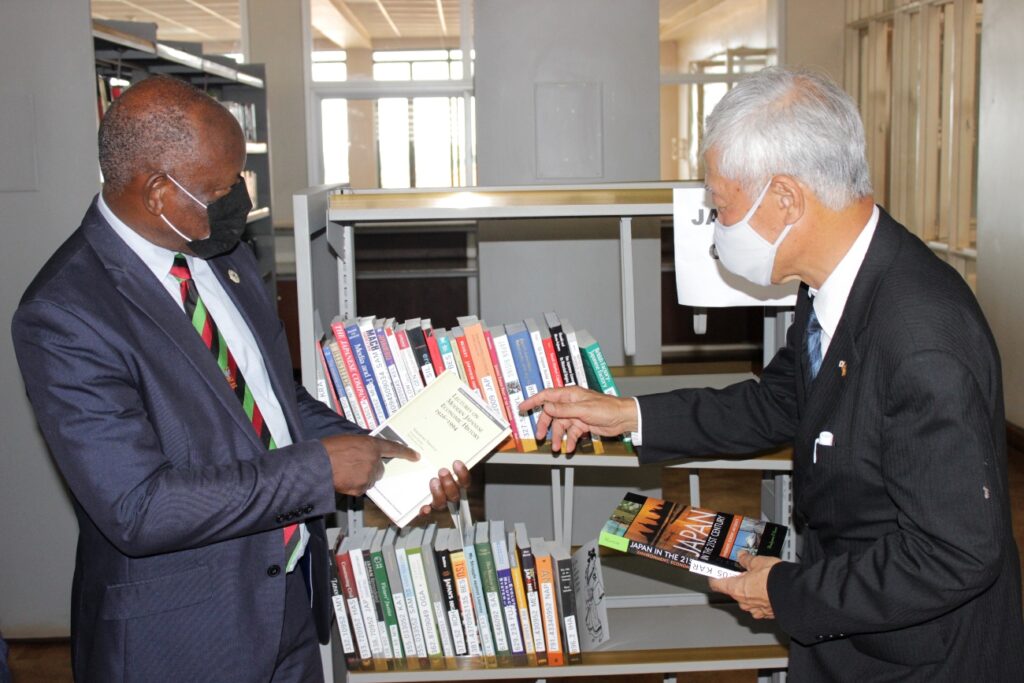 In his remarks, the Vice Chancellor, Prof. Barnabas Nawangwe said that Makerere University has enjoyed a good relationship with the Government and people of Japan, which resulted in the construction of the JICA (Japan International Cooperation Agency) building, home to the College of Natural Sciences (CoNAS). The building was officially handed over on 23rd January 1992.
He informed the Ambassador that the University, which will celebrate 100 years of existence in 2022, conducts a lot of research and is world-renowned for the large number of publications in clinical research as well as tropical medicine. The Vice Chancellor added that Makerere enjoys an excellent relationship with Japanese Universities through which staff and student exchanges are conducted.
"Japanese institutions have trained a lot of our staff and students particularly in geology and seismology and we sincerely thank you Ambassador and the people of Japan for this generous support" said Prof. Nawangwe.
The Vice Chancellor concluded by emphasizing that Makerere values her relationship with the Government and people of Japan and sincerely thanked the Ambassador for the book donation that will enhance knowledge about Japanese culture and economic success. "Makerere is an international university and we are always happy to bring more cultures and languages on board so as to further enhance the diversity of our community."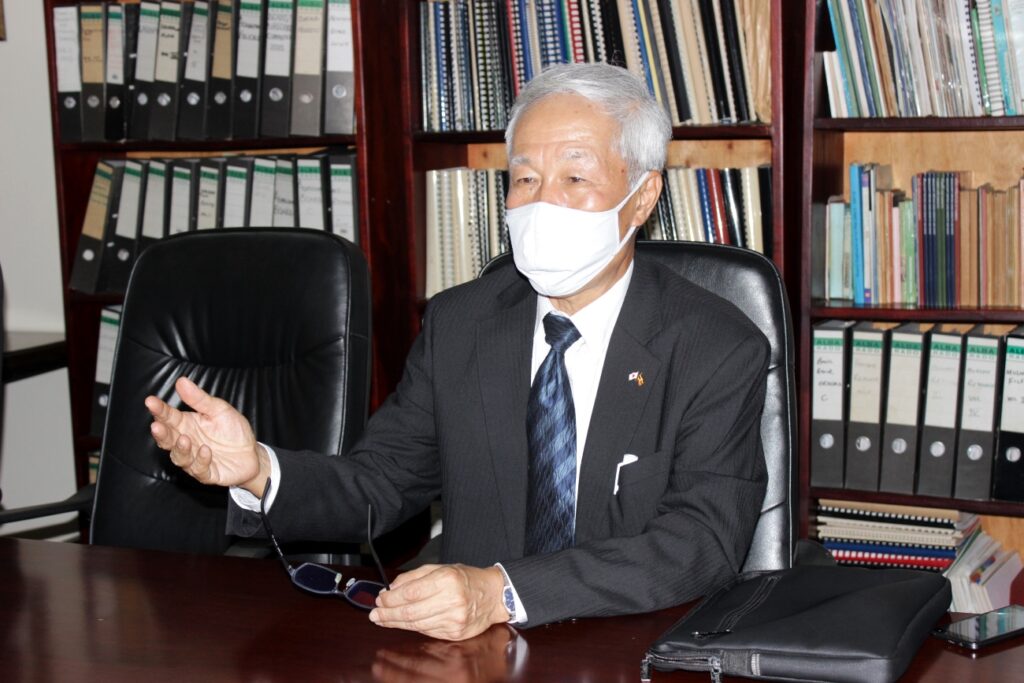 In his remarks, H.E. Fukuzawa thanked the Vice Chancellor, University Librarian and staff for the warm reception and noted that the donation was aimed at promoting the understanding of Japan among the people of Uganda, and especially students at Makerere.
"In particular, it (the donation) aims to reach out to young researchers who are interested in Japan, as well as opinion leaders and intellectuals specializing in areas other than Japanese studies" explained the Ambassador.
He reiterated that Japan has close ties with the University, by observing that eleven out of the twelve Japanese Universities that have partnerships in Uganda each have one with Makerere. "We have been sending Japanese government sponsored scholarship students to Uganda every year and many of them are graduates of this University."
H.E. Fukuzawa expressed happiness that the COVID-19 pandemic had not halted the enhancement of academic relations between Japan and Uganda and looked forward to continued collaboration with Makerere University.
The Ambassador was accompanied by his First Secretary-Ms. Tomoko Ohyama and Public Affairs Officer-Ms. Martha Nankasa. In attendance at the handover were the Deputy University Libarian-Dr. Ruth Nalumaga, Ms. Ferrie Nalusse-Head Technical Services, Ms. Maria Nankya Mwebe-Head Book Bank and Ms. Clementine Namusisi-Head Law Section. Also present was Dr. Edith Natukunda-Togboa, the Head, Department of European and Oriental Languages, College of Humanities and Social Sciences (CHUSS).
Mak Electoral Commission 2020/21 Position: Commissioner for Finance
Monday, 19 April 2021
All Students
ADVERT FOR THE POSITION OF COMMISSIONER FOR FINANCE FOR ELECTORAL COMMISSION 2020/2021
This is to inform you that the position of Commissioner for Finance of the Makerere University Electoral Commission 2020/21 has fallen vacant following the resignation of Mr. Lule Huzaifa (former Commissioner for Finance) on 19th April, 2021.
In accordance with article 50, 68 (2) and 68(4) of the Makerere University Students Guild Constitution as Amended 2016 and Makerere University Students Guild Constitution (Elections) Regulations No.1 of 2018, sections 5(b), 5b(2) and 5b(3) this is to therefore call upon persons who are interested in this position to apply to the Dean of Students.
The deadline for submission of applications is Thursday, 22nd April, 2021 at 5:00pm. Please attach a copy of University Identity Card, Admission letter and proof of registration as a student.
Yours sincerely,
Winifred Kabumbuli
Ag. DEAN OF STUDENTS