1st Summer School on Landscape Ecology funded by VW Foundation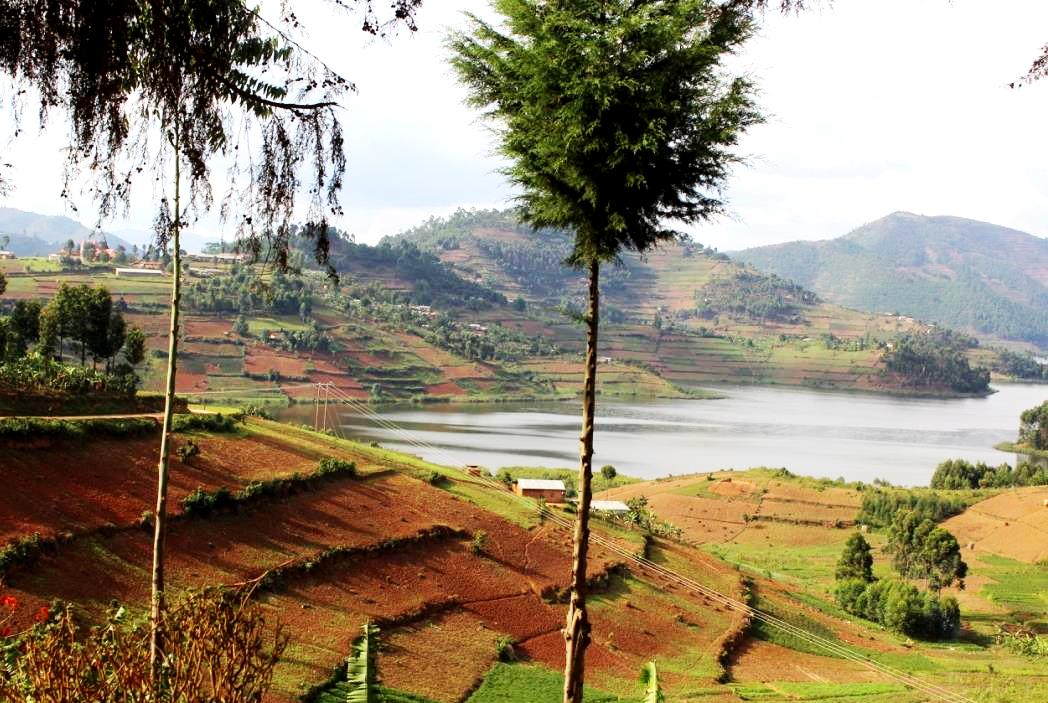 1. Introduction
Issues of social-ecological sustainability, systems resilience and social equity benefiting from nature´s contributions to people continue to occupy a prominent position in the global development dis-course of tropical regions particularly in Sub Saharan Africa (SSA). The dominant narrative paints a dismal picture in SSA and avers that ecological systems are increasingly undergoing enormous degradation linked to natural and human induced processes with adverse implications on local and regional populations whose livelihoods are strongly dependent on environment and natural resources. Feedbacks through increasing intensity and extent of natural hazards, stagnant or declining agricultural yields, and in consequence increasing migration exemplify the magnitude of current impacts of interwoven natural and societal changes at global scale. These have been accelerated by climate change with new prospections of a 50C global warming instead of only 1.50C as intended. Increasing climate variability and tremendous demographic changes jeopardize sustainable development and undermine the suitability of current policy, planning and governance approaches to manage them successfully. A strong desire exists in addressing these issues as seen in the tenets of the Global Development Agenda 2030 and the Africa Union Agenda 2063. Landscape ecology principles provide a framework for sustainable land use planning and natural resource management. Landscape Ecology as an interdisciplinary marriage between geography, biology, ecology and social sciences provides a valid scientific foundation to harness the role of biodiversity for a sustainable livelihood and suggest adequate governance instruments to achieve the SDGs. The VW-summer school series intends to train participants on the knowledge and skills of how landscape ecology can contribute to improve the status of achieving the SDGs and the AU Agenda 2063 objectives. The summer school will entail joint engagement of scientists and practitioners from urban, regional and national planning as well as from governmental institutions who are engaged in socio-ecological system development from multiple perspectives.
2. Target group
Each summer school is planned for 40 participants to be selected from African countries and Germany. The summer school will be a mixture of early career and young scientists as well as established scholars and input providers from practice, such as policy makers/representatives of governmental institutions preparing and implementing environmental policies, planners, actors from business and economy and local knowledge holders. For the young scientists, the focus will be on PhD and postdoctoral students from African and German institutions.
3. Mode of implementing the 1st Summer School
The 1st summer school will consist of three webinars and a physical meeting which will take place in Uganda in July 2021. The webinars will cover the theoretical underpinning of landscape ecology with a view bringing all the participants to the same level of understanding of landscape ecology and its principles. The place and space of landscape ecology in the global development agenda 2030 will explained and discussed.
Webinar 1: December 2020:
Webinar 2: March 2021:
Webinar 3: June 2021
Please see below for poster
Contacts
More information about the summer school can be obtained from the website (vwsummerschool.mak.ac.ug) or by sending an email to: info@vwsummerschool.mak.ac.ug
Sasakawa Africa Association President Dr. Makoto Kitanaka visits Mak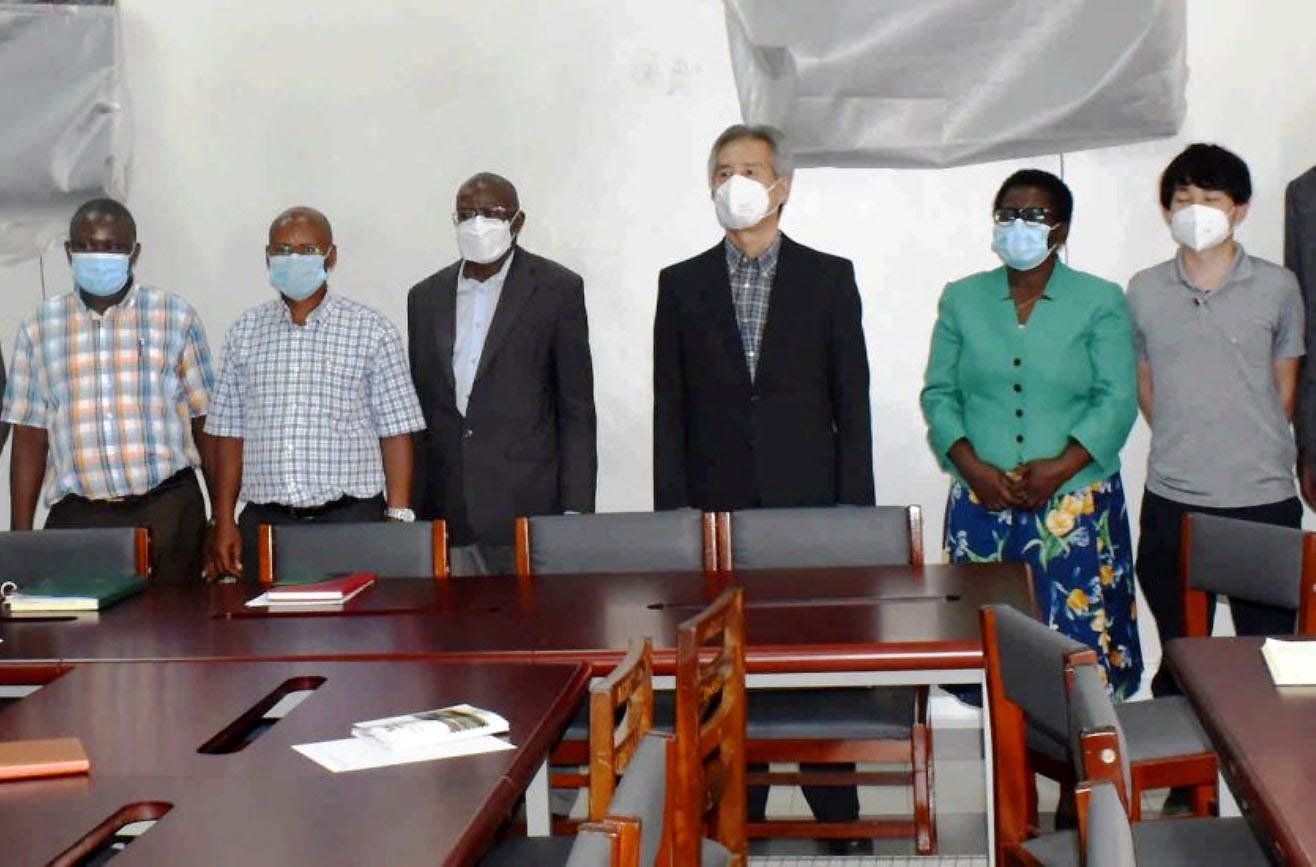 By Jane Anyango
Sasakawa Africa Association (SAA) President Dr. Makoto Kitanaka and several of his entourage from Tokyo, Japan on 4th June 2021  visited Makerere University's College of Agricultural and Environmental Sciences (CAES)  for a partnership meeting with the Department of Extension and Innovation Studies (DEIS). The meeting  was aimed at discussing modalities of enhancing the universities capacity  to engage with the community and also help women and youth to productively engage in Agriculture as a business.
The team also shared what SAA has in store for Makerere and their strategic direction. They emphasized the need to promote sustainable, resilient and regenerative agriculture looking at integrated soil fertility management, Nutrition sensitive agriculture promoting nutrient dense crops and skilling university and rural youth to engage in market-oriented agriculture and agribusiness.
The meeting held in the Conference Room, School of Agricultural Sciences was also graced by the Director SAA Regional Office in Addis Ababa, Ethiopia, Dr. Mel Oluoch,  SAA Country Director Uganda Dr. Roselline Nyamutale and her team.
Also present was the representative of the Principal, Bukalasa Agricultural College. The university runs a program with Bukalasa to reach out to and certify farmers and agribusiness personnel. The outreach program gives farmers credentials recognizing what they are doing in terms of business and good farming practices.
The  team was received by the Principal CAES, Prof. Bernard Bashaasha, the Dean, School of Agricultural Sciences Prof. Johnny Mugisha and the Head DEIS, Prof. Nelson Turyahabwe. Also present were the Head Department of Agricultural Production (DAP), represented by Dr. Mildred Ochwo and DEIS staff led by Drs. Richard Miiro, Sarah Akello, Losira Nasirumbi, Boniface Orum, Prossy Isubikalu and Assoc. Prof. Paul Kibwika.   
Mak GREAT & IRRI Train 30 Scientists from Asia on Gender Responsive Plant Breeding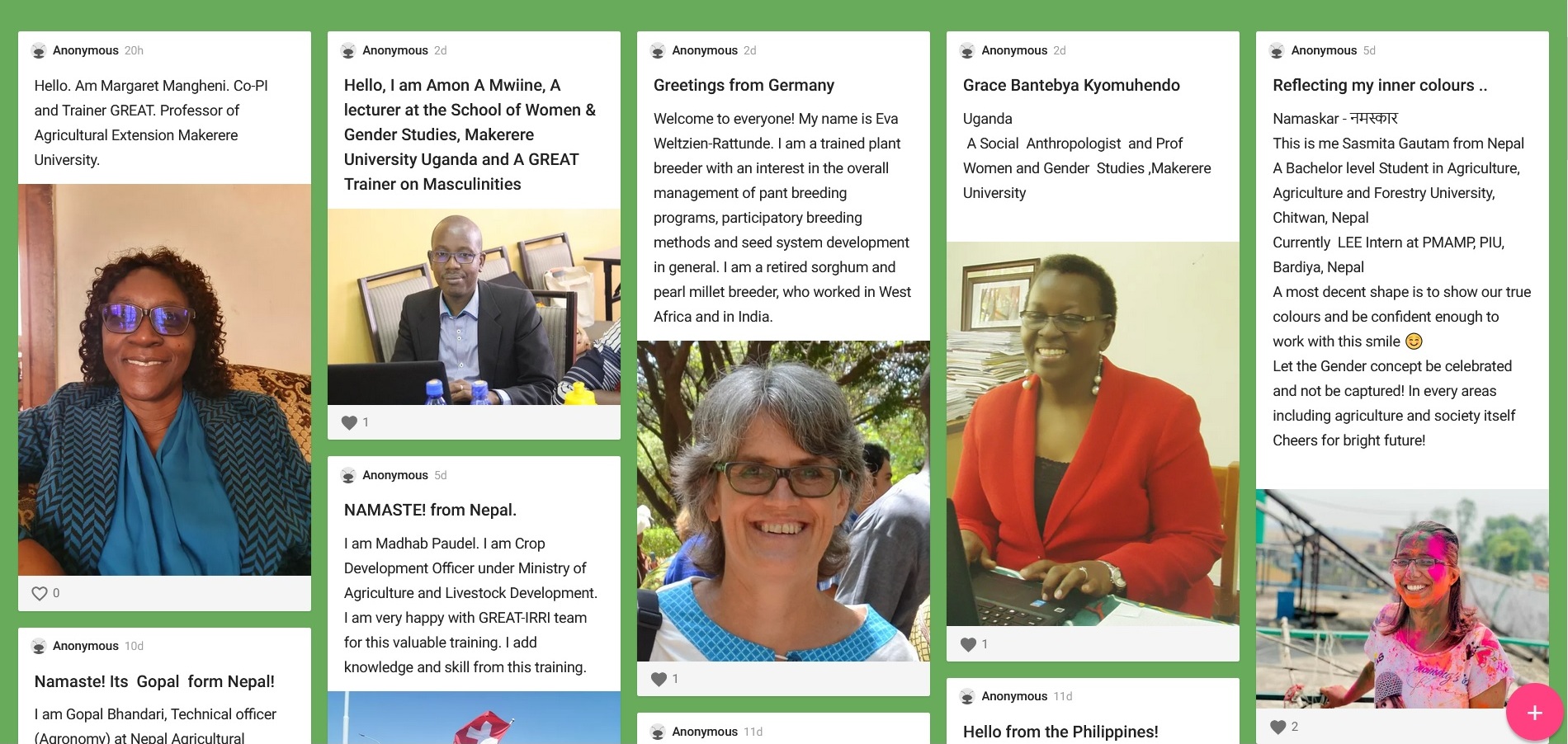 By Jane Anyango
Makerere University's Gender-responsive Researchers Equipped for Agricultural Transformation (GREAT) project in collaboration with International Rice Research Institute (IRRI) has trained 30 plant breeders and social scientists from South Asia and South-East Asia on gender responsive rice breeding. The two weeks training was conducted via zoom from 17th-20th & 24th-27 May 2021
The purpose was to enhance the capacity of partners to develop gender responsive rice breeding strategies and products and understanding of gender responsive preference analysis to ensure the products address needs of men, women and the youth.
At the end of the training, participants virtually received certificates of participation from Makerere and Cornell University signed by the Vice Chancellor Makerere University Prof. Barnabas Nawangwe and the Director of International Programmes at the College of Agriculture and Life Sciences, Cornell University Prof. Ronnie Coffman.
The training dubbed, "GREAT-IRRI" adopted a blended approach of Self-study materials on Google classroom platform comprised of exercises, handouts and discussion activities, Online interaction among trainers and participants through forums and discussion boards and Live delivery/ Synchronous by Trainers through Zoom (3 hours a day).
The  course which  attracted   participants from the biophysical and social  Sciences (28 participants from South Asia and two  from South East  Asia) was  conducted  by  experts in gender and agriculture from Makerere University College of Agricultural and Environmental Sciences (CAES), the School of Women and Gender Studies (SWGS), Cornell University and international experts.
The trainees were drawn from various disciplines including breeders, soil scientists. horticulturalists. plant pathologists, agronomist, seed system experts, agricultural economists, Social scientists , agricultural extensionists and project managers and evaluators among others.
Majority (50%) were from Nepal (15), Bangladesh (10) India (3) and  Philippines(2) representing different institutions including the International Rice Research Institute(CG) Nepal Agricultural Research Council (NARs), Bangladesh Institute of Nuclear Agriculture. Other institutions represented were Indira Gandhi Krishi Vishwavidyalaya, Ministry of Agriculture and Development Nepal and from the Prime Ministers Agriculture Modernization project, Nepal.
Mak Launches Native Chicken Program & Incubator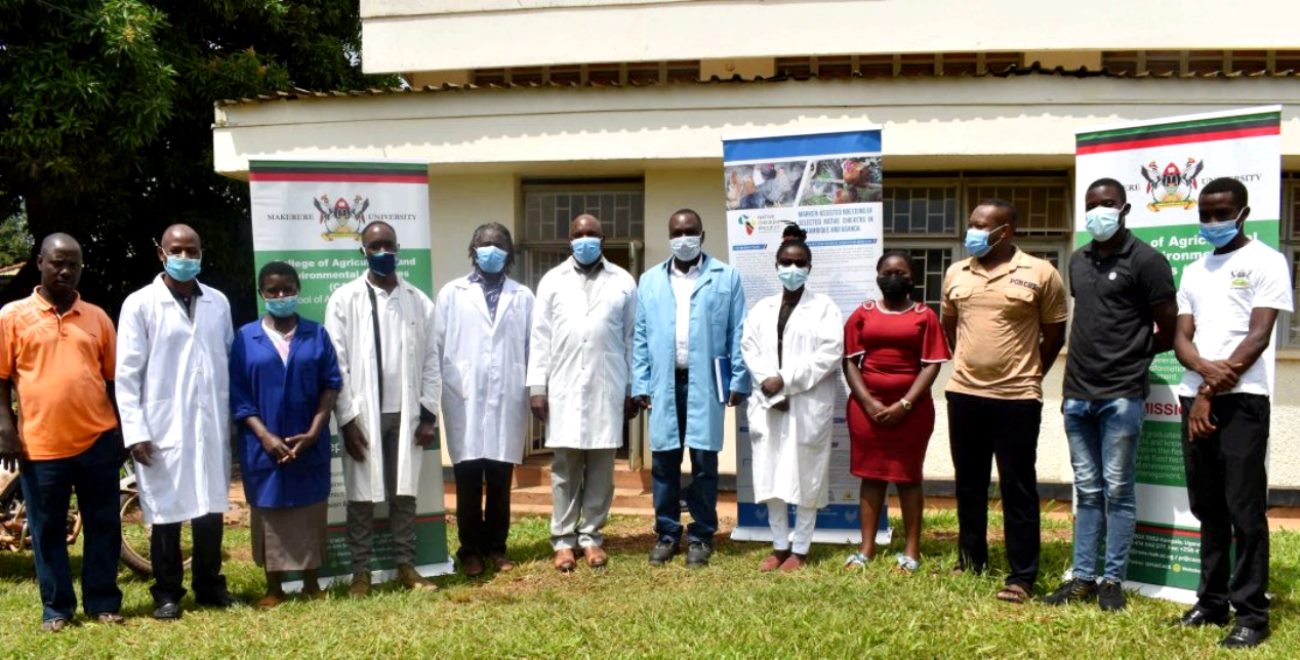 By Jane Anyango
Makerere University College of Agricultural and Environmental Sciences (CAES) has launched a locally manufactured incubator with a capacity of 1000 eggs at the University Agricultural Research Institute Kabanyolo (MUARIK ) for purposes of training, research and farmers capacity building.
The UGX 4.5 million incubator is made in Uganda by Butenga Farmers, a company based in Kiira. An imported incubator of the same capacity costs UGX 10 million. The incubator is to serve the university for teaching courses on poultry production, hatchery management and for people who want to conduct experiments.
The incubator was procured under the Native Chicken Project funded by the African Union (2019-2021). It is a collaboration between institutions from two countries Mozambique and Uganda with the project lead at Eduardo Mondlane University Mozambique.
At Makerere University, the project is spearheaded by Dr. Donald Rugira Kugonza from the Department of Agricultural Production, CAES.
The project objectives are to increase the number of eggs and meat produced by local chickens and to evaluate the effective models or processes of disseminating improved chicken technologies in Uganda and Mozambique.
One of the main challenges of producing native chicken is that a hen lays 10-15 eggs and takes a period of three weeks to incubate and hatch them. The hen takes an additional six weeks brooding the chicks, which translates into 10 weeks lost in terms of egg production. The same hen repeating the cycle three times a year implies that it has limited time laying eggs as it spends more time brooding.
The project researchers carried out surveys in 60 districts of Uganda, collected 2,000 eggs from 40 districts incubated, hatched and evaluated them for growth rate and egg production.
The project aims to breed native chicken that can produce 100 eggs per hen per year as opposed to the current production of 30-45 eggs. The project also aims to reduce the maturity period from the current six to three months.