RAN-backed Yiya Project in MIT Solve 2020 Global Challenge Finals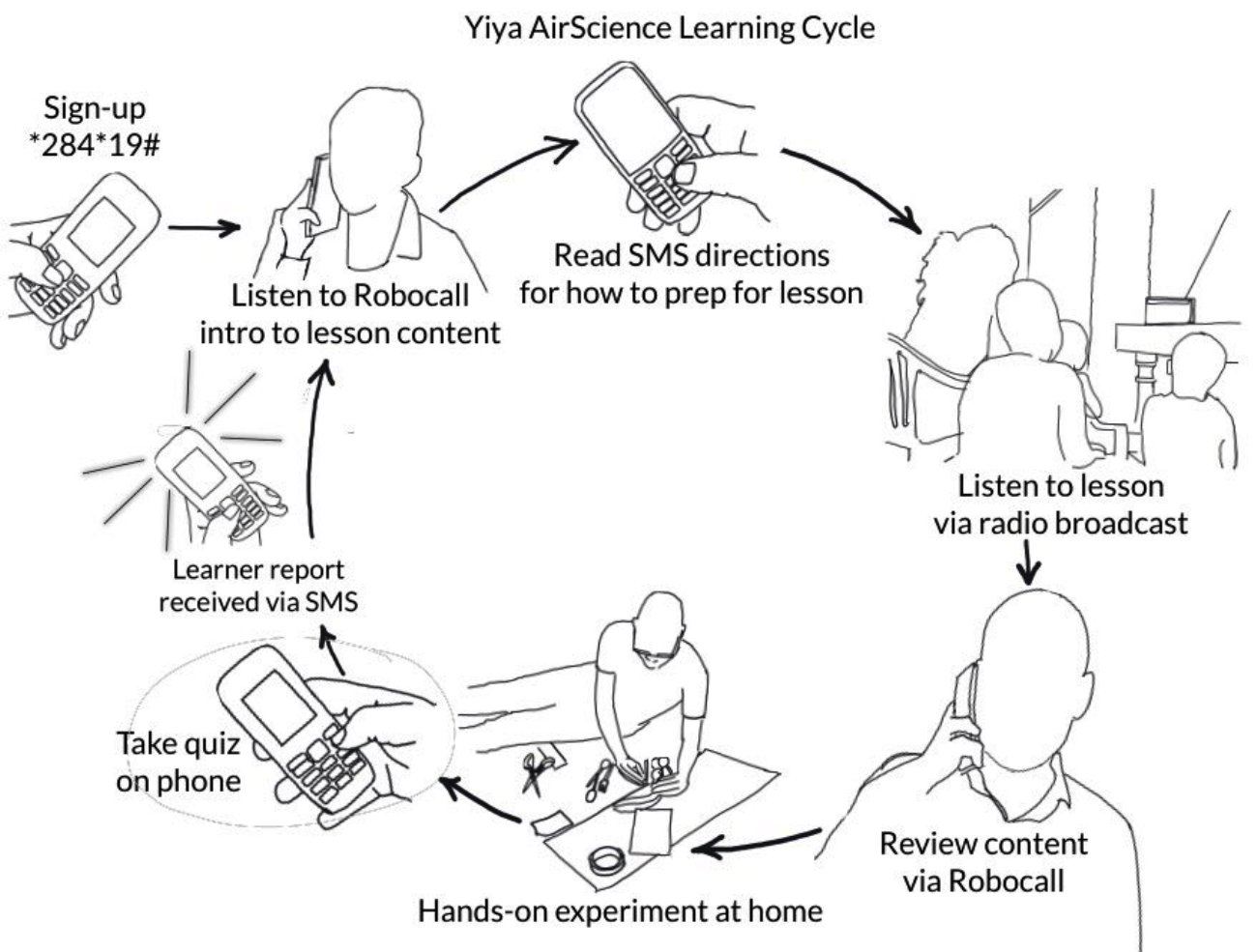 Featured Image: The Yiya AirScience learning cycle.
Yiya (one of the innovative projects supported and incubated at Makerere University-ResilientAfrica Network-RAN) was recently once again selected to the finalist round of MIT Solve 2020 Global Challenges! They were selected for the Yiya AirScience program, their COVID-19 pivot.
Yiya AirScience (currently undergoing a name change from Yiya Robo School) is an interactive STEM learning experience for remote populations that have no access to internet, smartphones, or academic materials, using only simple keypad phones and radios!
Below are some quick statistics of the project's current impact.
They have 5,856 users registered as they begin the third week of lessons. Youths register by dialing the USSD short code *284*19#.
They are receiving 10,000 USSD requests/hops per day.
They have approximately 2,000 youth tuning in to the radio lessons daily, based on the number of users answering lesson quiz questions in the USSD during the radio broadcast times. To answer a question, students dial *284*19# and choose option 1: I am listening to the radio now. In one of the lessons, 1,057 students answered the tech quiz. This is an incredible engagement for a lesson that runs for 25 minutes on one radio station in Lira District.
Click here for a demo of how students interact with the program from registration to answering questions.
Please click the link below to view and vote for the Yiya solution on MIT Solve's website before the voting closes on Tuesday 29th September 2020 at 2:00pm ET (9:00pm East African Time):
https://solve.mit.edu/challenges/learning-for-girls-and-women/solutions/31672
The finalist from each Challenge with the most votes will receive a $2,000 Community Award.
Related article
Ugandan STEM Promoter-Yiya in MIT 2018 Solve Challenge Finals
Mak Alumnus Matovu Wins Impact Award at 2020 GoGettaz Agripreneur Prize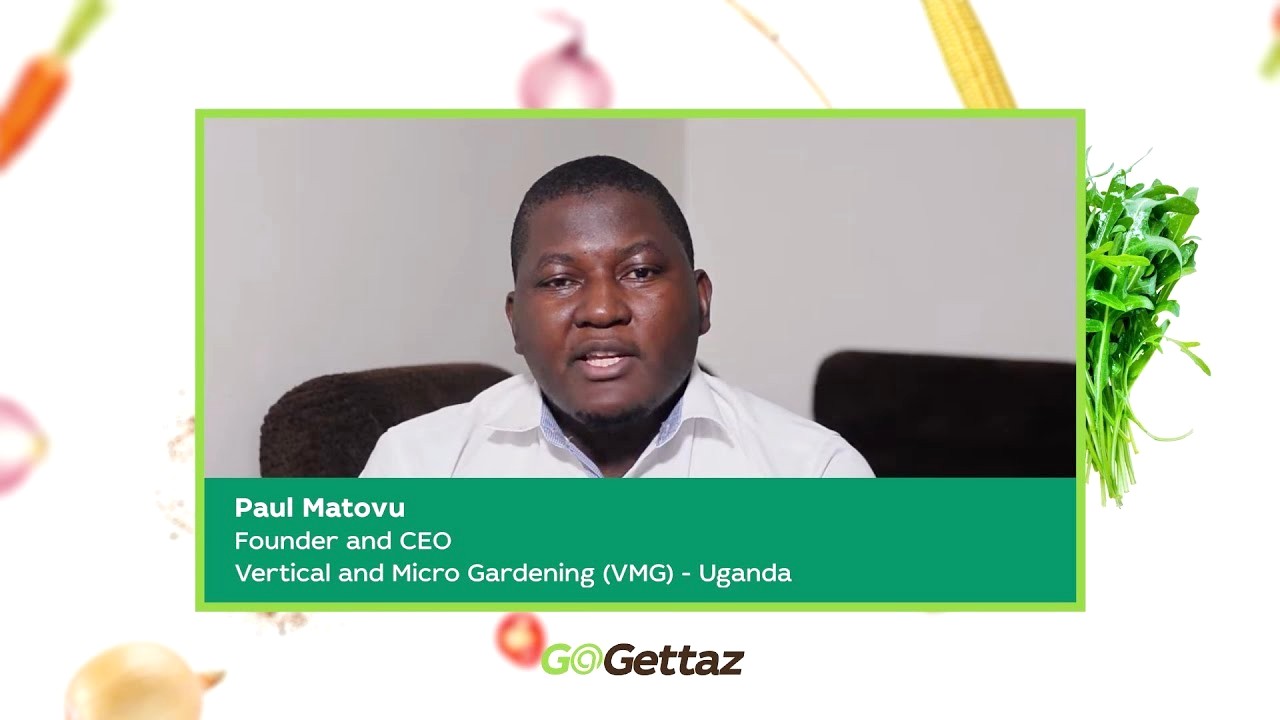 Featured image: Mr. Paul Matovu, Founder and CEO, Vertical and Micro Gardening (VMG), Kampala Uganda. Photo credit: YouTube/Generation Africa
An alumnus of Makerere University-Mr. Matovu Paul has won the Impact Award and US$2,500 cash prize with three other entrepreneurs in the US$100,000 GoGettaz Agripreneur Prize for 2020, alongside the prestigious Africa Food Prize. He was drawn from a pool of Top-12 finalists from Ghana, Kenya, Malawi, Morocco, Nigeria, Rwanda, Sierra Leone, South Africa, Tanzania and Uganda. The overall US$100,000 prize was split between the best male and female entrepreneurs; Moses Katala, co-founder and CEO of Magofarm Limited (Rwanda) and Daniella Kwayu, co-founder and CEO of Phema Agri (Tanzania) respectively. The winners were announced on 15th September 2020 at the Africa Green Revolution Forum Virtual Summit in Kigali, Rwanda.
Mr. Matovu studied Social and Entrepreneurial Forestry at the College of Agricultural and Environmental Sciences (CAES) and graduated during the 68th Graduation Ceremony in January 2018. His social enterprise, Vertical and Micro Gardening (VMG) combines urban micro-gardening and integrated waste management to build autonomous vertical farm towers.
The vertical farms are aimed at making urban farming a viable micro-enterprise for low and middle-income households. They are made up of stackable wooden boxes with a vermicomposting chamber where biodegradable household waste is turned into manure by earthworms, thereby producing nutrients for the plants.
Click here to read the full press release
D-Prize Global Health Oxygen Challenge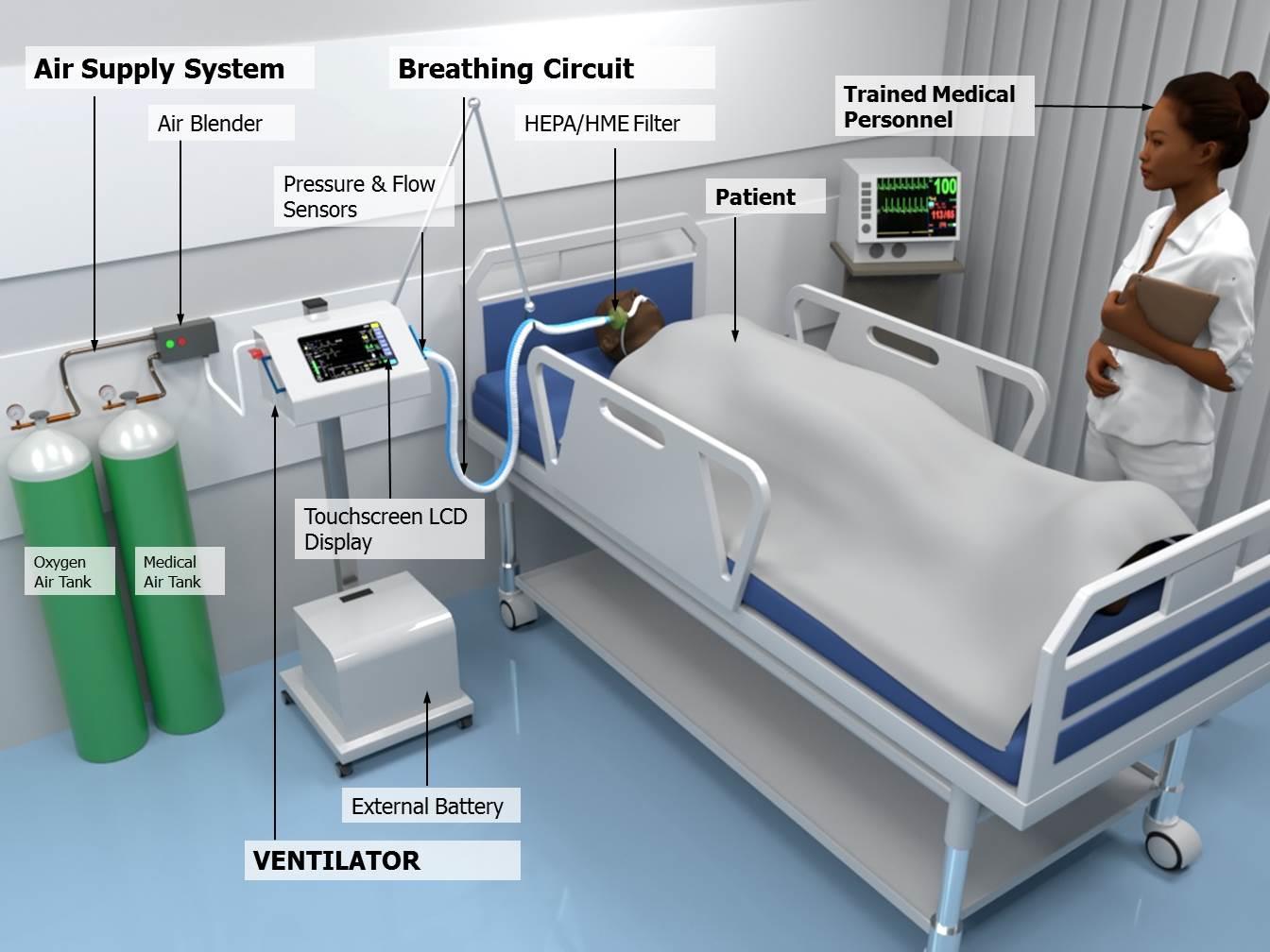 Featured Image: Environmental Context of the Bulamu Low-cost Medical Ventilator, a joint project by MoSTI/Makerere University/Kiira Motors Corporation funded by the Government of Uganda under Mak-RIF
Provide maintenance for oxygen concentrators in rural and peri-urban Sub-Saharan African health clinics and hospitals
Half the world lacks access to medical oxygen – a basic and critical treatment for numerous ailments. Oxygen concentrators are machines that produce medical oxygen in low-resource settings and are being distributed at a large scale – yet without maintenance, many will soon be at risk of breaking down. Can you develop a team of technicians to service existing oxygen concentrators? D-Prize will award up to $20,000 to help teams launch an initial three-month pilot of this idea.
TIMELINE
The Global Competition launches on September 8th, 2020.
Early Submission Deadline: October 18th, 2020 at midnight PT (pacific time)
Regular Submission Deadline: November 8th, 2020 at midnight PT (pacific time)
Extension Deadline (limited to 200 people who register): November 29th, 2020 at midnight PT (pacific time)
Call for Submissions: Innovating Education in Africa Expo 2020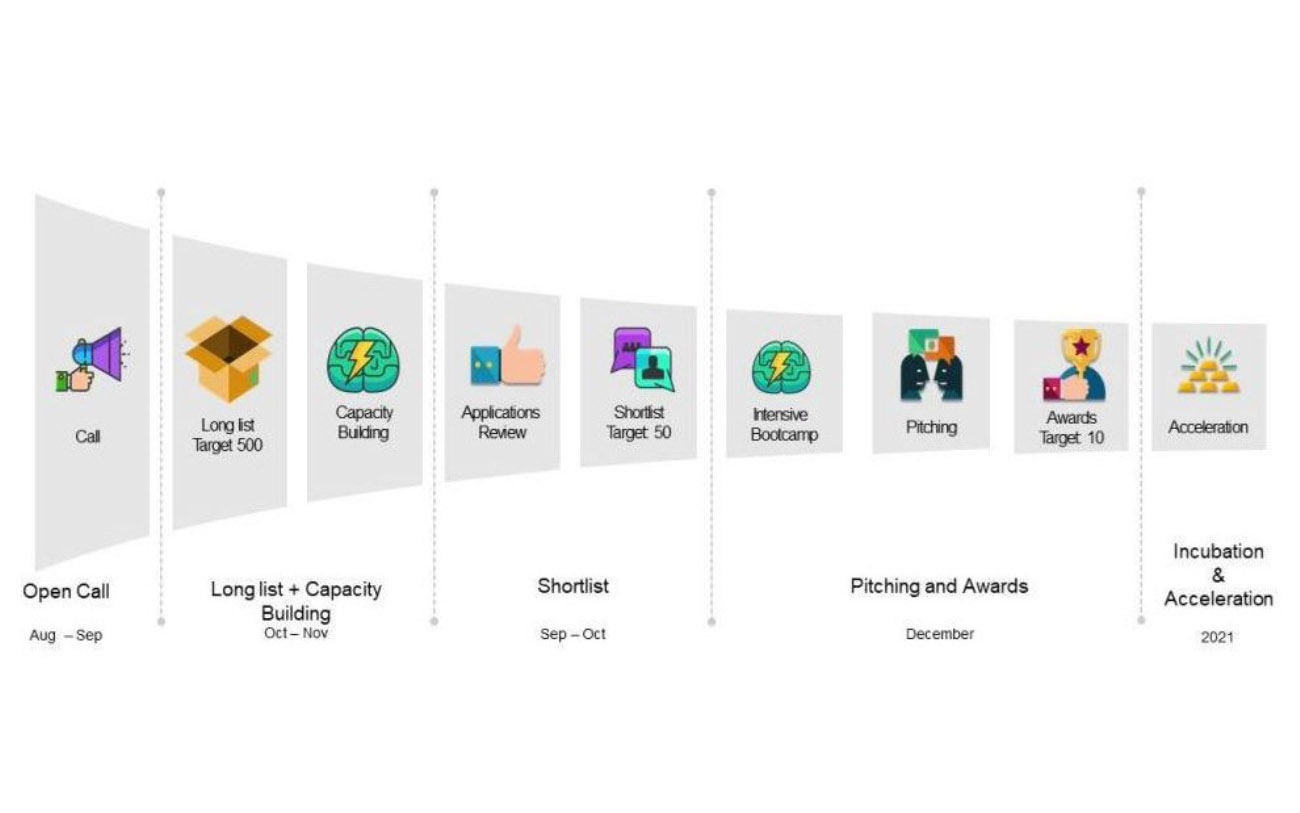 The advent of COVID-19 has exacerbated challenges in Africa's education system and reinforces the need for fit for context, innovative and scalable solutions in education. DOTSS[1] provides an approach for reorienting Africa's education and training systems to meet the knowledge, competencies, skills, innovation and creativity required to nurture African core values and promote sustainable development at the national, sub-regional and continental levels as espoused in CESA.
There is the need to promote innovation in the entire education and skills development ecosystems, taking advantage of the digital revolution, in order to increase its impact and also ensure that disadvantaged groups are not left out. As the Continental Education Strategy for Africa (CESA 16-25) states, ICT is an essential tool for ensuring universal access, quality of provision, and empowerment of school graduates for meaningful personal lives, and contribution to social economic development.
Since its inception in 2018, the Innovating Education in Africa Expo has continued to gather momentum and established itself as the leading Pan-African event promoting the adoption of Education Innovations in Africa. In light of the above, the African Union Commission (AUC) and Partners across Africa will hold the third edition of Innovating Education in Africa Expo as a virtual series of events and activities from October 2020 – June 2021.
Innovations being sought
The innovation should either be in the phase of piloting or implementation in Africa with some demonstrated success. The solutions should focus on one or more aspects of the education delivery system including data and analytics, teaching and learning management software, teaching and learning materials, connectivity of schools, assessment, education hardware and infrastructure, and school administration. Additionally, the innovation should satisfy at least one of the following:
Enable access to education and improved quality of delivery for those who are unable to access existing services.
Demonstrate a scalable, sustainable business and financing model.
Provide services to consumers at lower prices than existing alternatives.
Deadline for submissions is 25th September 2020 by 23:00 (GMT+3). Please send any enquiries to owusum@africa-union.org.
[1] DOTSS is an acronym for Digital connectivity, Online and offline learning, Teachers as facilitators and motivators of learning, Safety online and in schools and Skills focused learning.