Mak-IUCEA KfW-Funded Masters Scholarships COHORT 2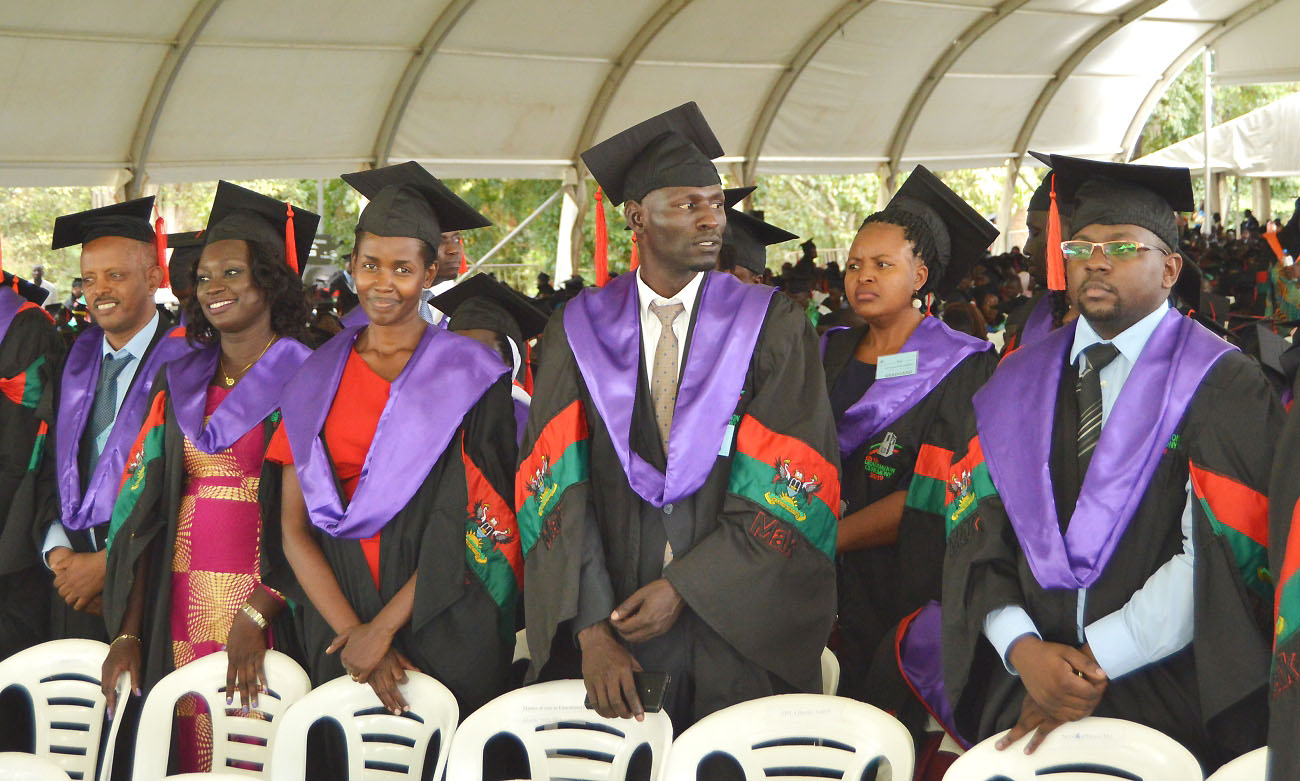 Opening date: 2nd October 2020
Closing date: 22nd October 2020, 17:00 hours, East African Time. Only successful candidates will be contacted after the selection process is complete.
Thematic areas: 1) Mathematics, 2) Engineering, 3) Informatics, 4) Science, 5) Technology and 6) Business Science
Eligible applicants: Nationals of the East African Community (EAC) Partner states.
Duration of the Scholarship: 2 years
1. BACKGROUND
The EAC Scholarship Programme is an initiative of the East African Community (EAC), the Inter-University Council for East Africa (IUCEA) and German Development Bank-KfW. The project begun in 2018 when the EAC and IUCEA entered into a memorandum of understanding (MoU) with KfW geared towards the training of students within the EAC Region. This Project aims at creating future change agents, who identify themselves with the integration agenda of the EAC and are willing to share economic and development-oriented expert knowledge. The goal of this initiative is to contribute towards training leaders that will foster the EAC Regional integration. This goal will be partly achieved through the establishment of academic collaboration and an exchange programme between universities/institutions within the EAC Region, by encouraging students to study in countries other than their own. In order to achieve these impacts, the project offers a comprehensive package including scholarships for Master's programmes, internships, mentoring, networking events and further leadership training activities. The scholarship will support Master's students in i) Mathematics, ii) Engineering, iii) Informatics, iv) Science, v) Technology and vi) Business Science programmes.
The programme will include a minimum of 30 percent female students with a special consideration for South Sudan female applicants in order to support women's participation and enhance gender equality.
IUCEA hereby invites applications from students who are citizens of the East African Community (EAC) Partner States (Burundi, Kenya, Rwanda, South Sudan, Tanzania and Uganda) to apply for cohort 2 of the KfW- funded Master's Scholarships.
2. OBJECTIVE
The objective of the programme is to train Master's scholars who will serve as change agents for regional economic development and integration in the EAC.
3. SCHOLARSHIP DESIGN
The project offers financial support to academically skilled and disadvantaged Master's students with the main focus on priority areas. Women and persons with disabilities are encouraged to join the programme. Up to 60 scholarships are available this year.
The scholarship covers:
a) University tuition fees: payable directly to the university according to an official invoice;
b) Stipend: EUR380 per month to support living expenses including housing, food, utilities, local transportation and settlement expenses;
c) Allowances for study materials and research: EUR 1,500 one- off allowance;
d) Medical insurance; and
e) Extracurricular events: at least one event per year.
The students shall be required to apply to study in another EAC country (not their country of origin).
Programmes offered at Makerere University under COHORT 2 of KfW-Funded Masters
Master of Public Infrastructures Management
Master of Science in Zoology, Entomology and Fisheries Science
Master of Science in Statistics
Master of Science in Technology, Innovation and Industrial Development
Master of Science in Mechanical Engineering
Master of Science in Quantitative Economics
How to apply for Masters offered at Makerere University
Visit the Makerere University's Admissions URL http://admissions.mak.ac.ug and generate a Payment Reference Number (PRN) by following the guide below.
Sign up using full name, e-mail and Mobile No. Please note that your name must be similar to the one on your supporting academic documents for your application to be considered valid.
A password will be sent to both your e-mail and mobile number.
The system will prompt you to change the password to the one you can easily remember.
To fill a form the applicant clicks on the APPLY NOW button displayed on the appropriate scheme i.e. Postgraduate and Taught PhD or PhD Research
Obtain a payment advice slip by clicking on "Pay for Form" button
Make a payment at any of the following Banks:
Stanbic
Post Bank
Centenary Bank
DFCU Bank
UBA Bank
Print 2 copies of the filled biodata form and attach 2 certified copies of your academic documents, 2 copies of all other relevant academic documents, 2 passport photos and the three referees' letters of recommendation.
Submit in office No. 307; level 3 Senate Building Or email scanned copies of the mentioned documents to drgt@rgt.mak.ac.ug.
PROCEDURE FOR OBTAINING A PAYMENT REFERENCE NUMBER FOR PAYMENT OF APPLICATION FEES
Go the payment reference site: https//:payments.mak.ac.ug
Fill in your name;
Fill in your email;
Fill in your telephone number – Go to the next
Click on the option number;
Application fee = Ugx 50,000
the pay reference number
Go to the Bank and pay
For foreign applicants, application fees can be transferred either by EFT or any other means in UGX to a designated URA collection account in Bank of Uganda as follows:Account Name: UGANDA REVENUE AUTHORITY COLLECTIONS Account No: 003410158000002 Swift Code: UGBAUGKAU
Please see Downloads for the detailed Call for Applications, Mak Application forms and other important documents.
Guidelines for printing provisional admission letters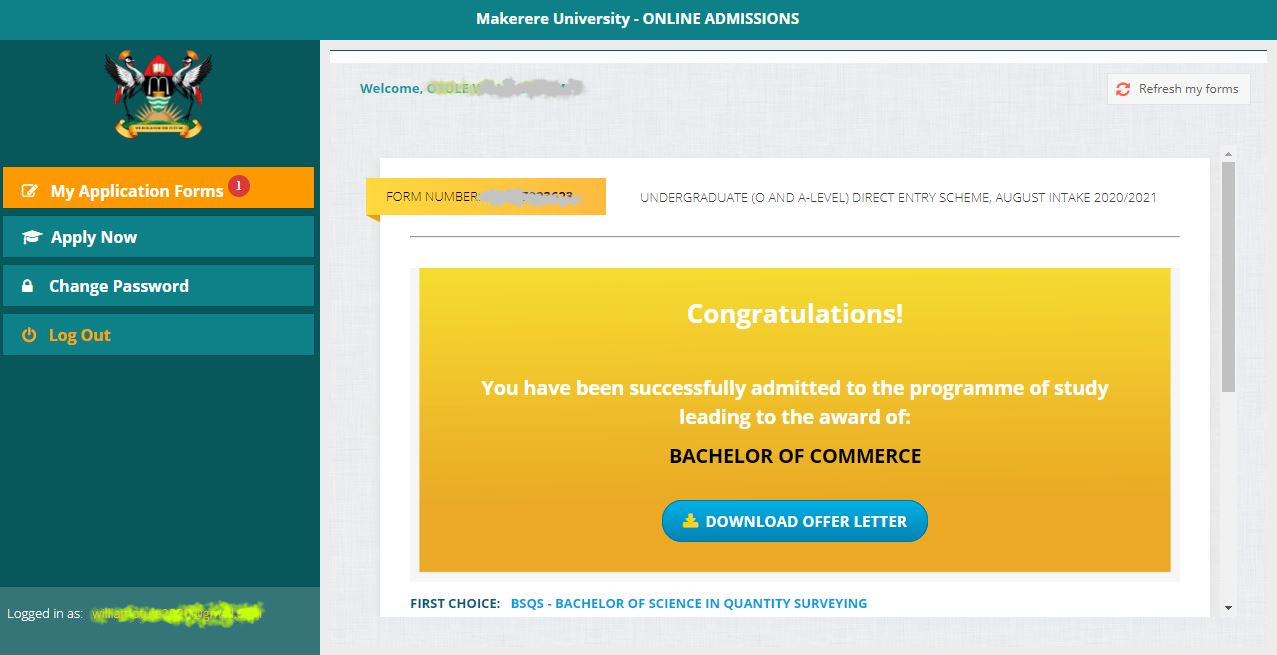 The Office of the Academic Registrar informs undergraduate applicants admitted under the Private Sponsorship Scheme for the 2020/2021 Academic Year that provisional admission letters can be printed from the Admissions Portal following the guidelines below:
Log into the application portal at (https://admissions.mak.ac.ug ) using the same e-mail address and password  you used for application.
This will lead you to a page where you will see a congratulatory message for admission to Makerere University as shown in the screenshot as shown above.
Applicants admitted under the Government Sponsorship Scheme should pick admission letters from their respective Colleges.
Prof. Nawangwe Appointed Director, Worldwide Universities Network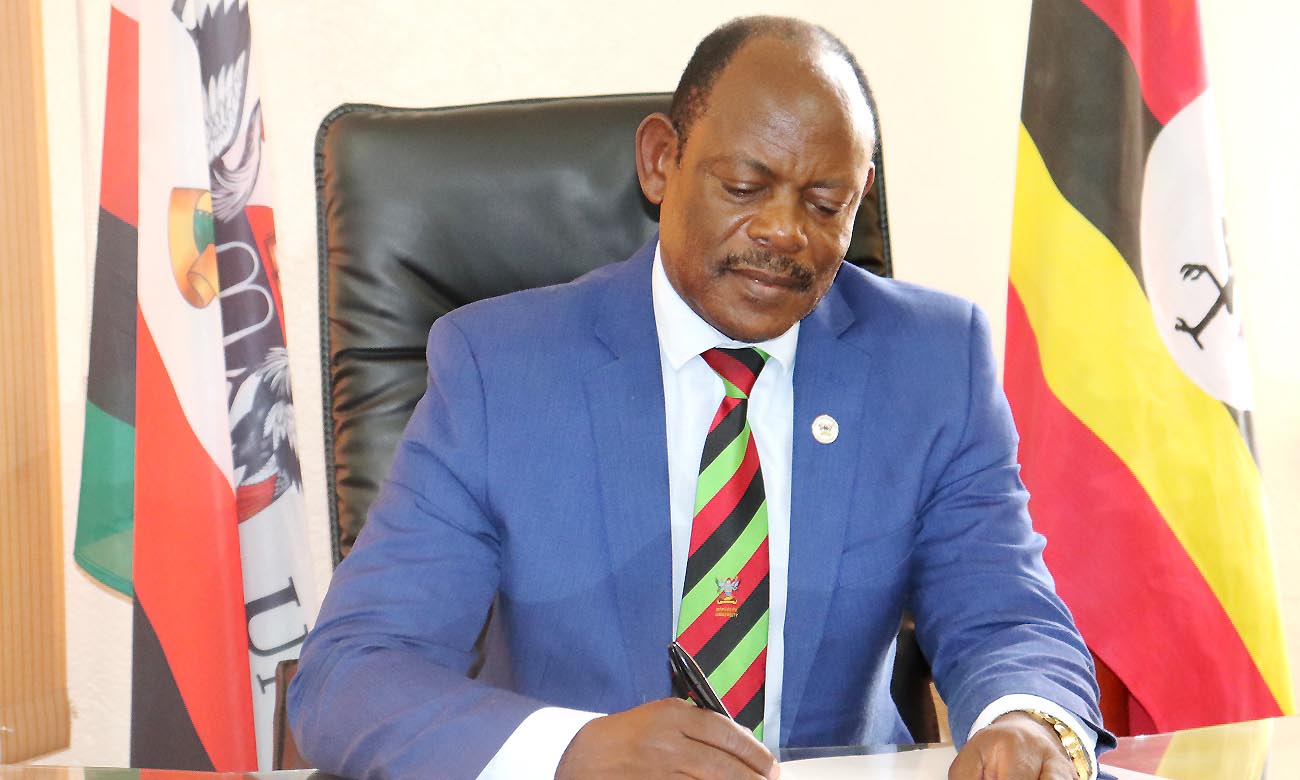 The Vice Chancellor, Prof. Barnabas Nawangwe has effective 19th October 2020 been appointed Director of the UK-based Worldwide Universities Network (WUN). WUN is a not-for-profit association of universities, whose principal activity is the creation of new multilateral opportunities for international collaboration in research and graduate education.
The association is made up of 23 universities, spanning 15 countries on six continents. Makerere University was welcomed into this leading global higher education and research network on 20th September 2020. Other members of the network in alphabetical order are; University of Alberta (Canada), The University of Auckland (New Zealand), University of Bergen (Norway), University of Bristol (UK), University of Cape Town (South Africa), The Chinese University of Hong Kong and University College Dublin (Ireland).
University of Ghana, University of Lausanne (Switzerland), University of Leeds (UK), Maastricht University (Netherlands), University of Massachusetts Amherst (US), National Cheng Kung University (Chinese Taipei), Renmin University of China, University of Rochester (US), The University of Sheffield (UK), University of Southampton (UK), Tecnológico de Monterrey (Mexico), Universidade Federal de Minas Gerais (Brazil), The University of Western Australia, University of York (UK) and Zhejiang University (China) complete the list.
Through its Research Development Fund WUN provides support to establish collaborative research that falls within four globally significant themes:
    Responding to Climate Change
    Public Health
    Global Higher Education and Research
    Understanding Cultures
Commenting on this appointment, the Vice Chancellor said: "This is an important recognition of Makerere University as one of the top research universities in the world and I believe that it will spur innovations."

We congratulate Prof. Nawangwe upon his appointment and wish him a fruitful tenure.
Uganda Military Academy -Kabamba students trained in library resources and information access

On 16th October 2020, Makerere University Main Library conducted a training in library resources
and information access. The orientation was attended by 65 freshers from Uganda Military Academy
Kabamba; enrolled for the Bachelor of Arts in Defense Studies of Makerere University.
In 2017, The Government of Uganda commissioned Kabamba Military Academy into an East African
Military University offering a three years' degree leading to a Bachelor of Arts in Defense Studies.
Affiliated to Makerere University, the institution works hand in hand with the School of Social
Sciences to ensure that the course is well administered.
The Bachelors of Arts in Defense Studies -degree program is run concurrently with a one-year
military program at Kabamba Military Academy. Attended by cadets from the East African countries,
the programme aims at professionalizing the Army through combating both military and academic
skills to tackle the ever growing societal and security challenges in the region.
According to the Dean, School of Social Sciences, College of Humanities and Social Sciences who is
also a member of the committee that oversees the Degree programme Dr. State Andrew Ellias, two
intakes have been so far undertaken. The pioneer class was enrolled in 2019 with 60 cadets drawn
from East Africa and the second intake is expected to start 19 th October 2020 with 65 cadets.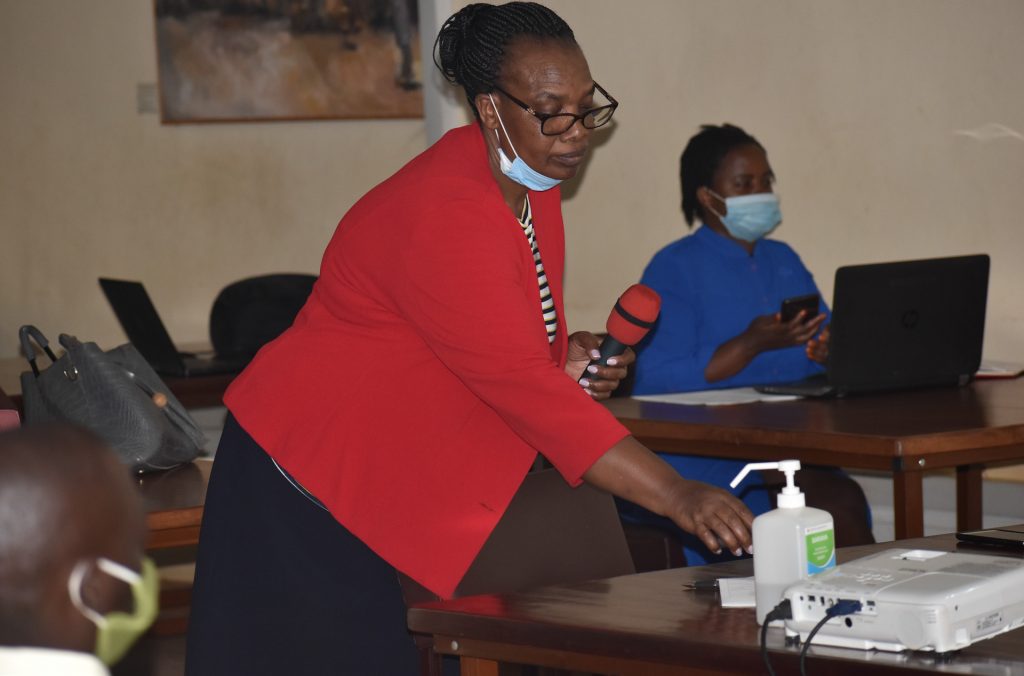 "As the University responsible for the course, we have ensured that the institution receives all the
necessary equipment and services including lecturers, internal and external examiners, tools and
resources to enable the students successfully complete their degree," he said.
Every academic year, enrolled students at Kabamba Military Academy visit Makerere University on
an orientation program that enables them to acquaint themselves with the critical areas and
procedures of the University. Among these include; the Academic Registrar's office, the College of
Humanities and Social Sciences where the degree is administered and the University Library.
On 16 th October 2020, cadets visited the Makerere University to understand the operations of the
library and how they can access both physical and online resources.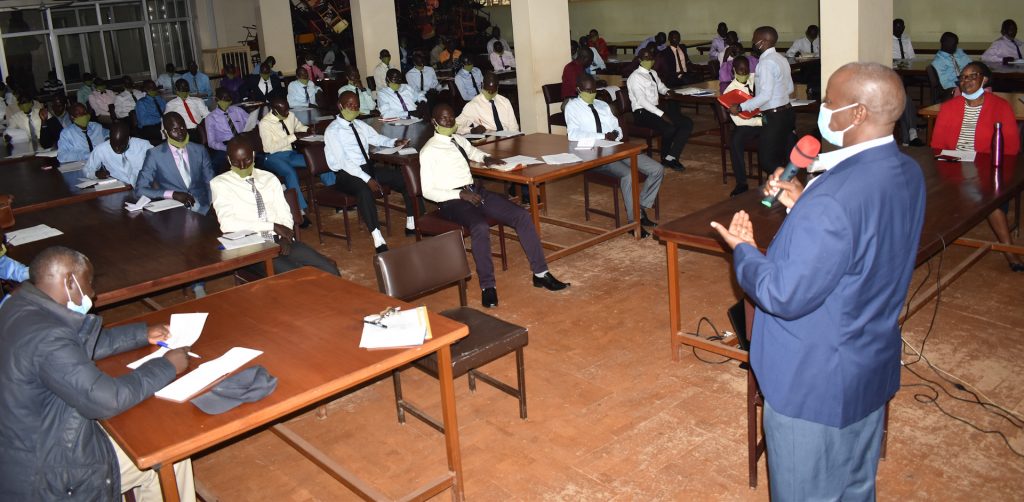 Speaking to cadets, Dr. Helen Byamugisha the University Library urged them to utilize the library
resources for their academic and research development. "We have ensured that you access the
library remotely at your institution. I therefore urge you to fully utilize the resources. The library is
one of the major instruments that help students to a achieve their academic goals, therefore it
should be a place you visit regularly," she emphasized.
During the training, cadets were orientated on;
Searching strategies and searching the library catalogue by Mr. Patick Sekikome
Search library databases (JSTOR, ebooks) and remote access to the library by Ms. Rachael Nabbosa
Using Grammarly and Academic Phrasebank by Ms. Martha Lyaka
Article by: Nabatte Proscovia