1st GLACAM Report: Great Lakes Water Resources under Increasing Pressure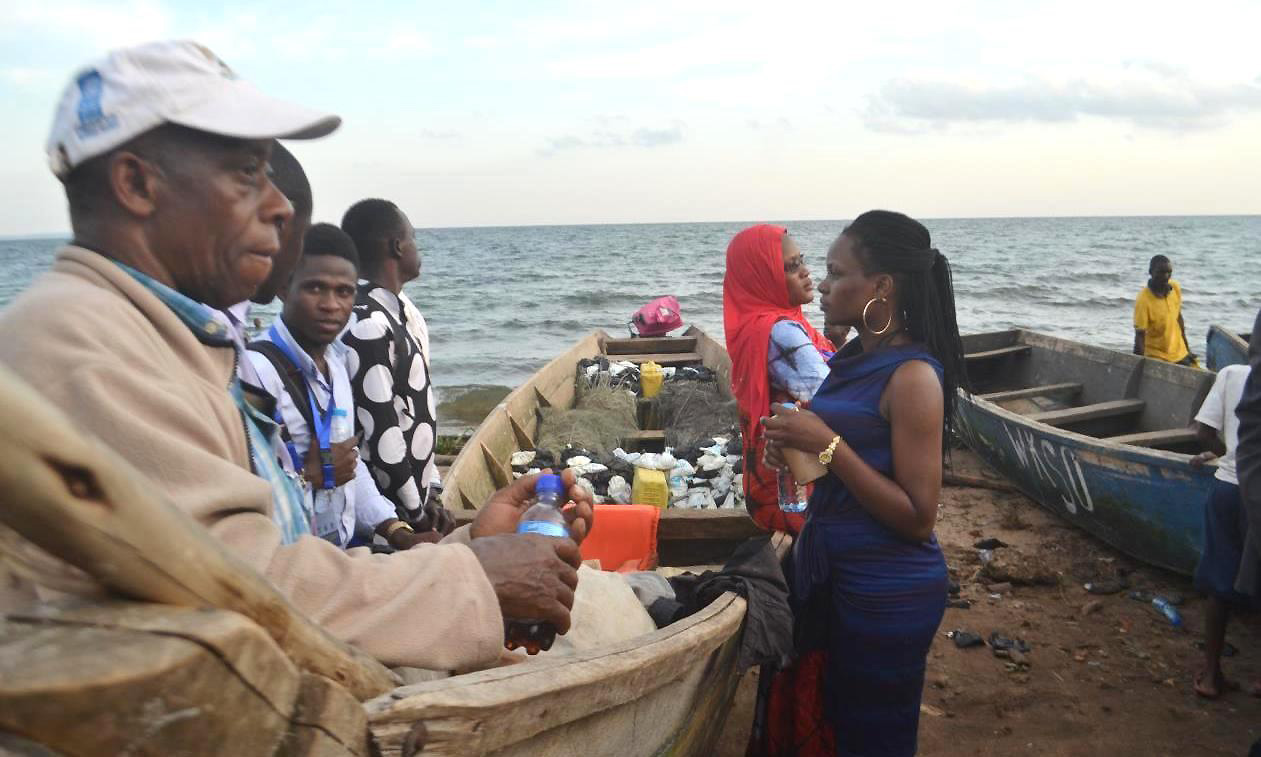 From 5th to 7th June 2019, the Makerere University College of Agricultural and Environmental Sciences (CAES) and the Ministry of Water and Environment (MoWE) jointly organized the First Great Lakes and Catchment Management (1st GLACAM) Conference at the Water Resource Institute, Entebbe, Uganda.
More than 200 participants from Uganda, Kenya, Tanzania, South Sudan, Mali, Benin, Congo (DRC), Botswana, Nigeria, South Africa, Malawi and Germany participated in the conference. They included students, academia, practioners, researchers, farmer's representatives, private sector actors and policy makers.
The conference had five (5) keynote paper presentation from lead scientists in each of the thematic areas of the conference. A panel of discussants gave highlights of the issues that have affected water and land resources protection and development for improved livelihoods, income security and climate change adaptation in Africa.
Please see below for a statement from the 1st GLACAM.
WE DO HEREBY AFFIRM THAT:
Water remains a vital resource for sustenance of life, agriculture production, and industrial processes for cities and rural communities but also for sustainable development in Africa. Effective management of water resources has several benefits including poverty reduction, economic growth and environmental sustainability.
The water resources of the Great Lakes region are under increasing pressure. The critical drivers of water resources degradation are mainly as a result of mismanagement of catchments. Declining water quality and quantity is evidently becoming a major threat to energy, food, forage, fiber, income, environment and social security in the Great Lakes of Africa. Pollution of the water resources is high with evidences of sedimentation, weed invasion, and toxic substances.
The main cause of decline in water quality and quantity has been identified as poor catchment management, also referred as watershed mismanagement; and climate change uncertainty. Over grazing, massive deforestation, bush burning, inappropriate agricultural practices, over application of chemicals and many human induced land use measures have led to loss of productive soils through erosion; leading to increased siltation and pollution of water systems, and increased threats to fresh water biodiversity.
Impacts of degradation include reduced fish stock in rivers and lakes, drying streams and rivers, reduction in groundwater levels, wide spread wetland encroachment, reduced soil depth and soil fertility in agricultural landscapes, rapid agricultural land use intensification and increased migration of people by abandoning unproductive land.
Degradation of water resources has increased production risks, reduced hydropower production potential, sky-rocketed maintenance costs of infrastructure such as hydropower installations, roads and water supply systems, affected cost of irrigation infrastructure, reduced storage capacity of dams and increasing water treatment costs. These effects are consequently impacting on the livelihoods and the quality of life of millions of people in the great lakes region.
WE HAVE OBSERVED THAT:
There are emerging technologies for catchment management, waste water treatment, judicious use of agro-chemicals, recycling water and nutrients that should be embraced
Law enforcement for improved natural resources management in the region and promoting circular economy needs to be strengthened.
Partnerships among various stakeholders (Governments, Academia, NGOs, Private sector and the general public) have improved across the region to counter environmental challenges and livelihood limitations in the region. Sustainable partnerships can be promoted to achieve higher impacts that can benefit the intended beneficiaries
The ongoing collaborative water resources management efforts with stakeholder coordination structures and social cultural behaviors are commendable. A shared vision with sectoral integration of the thinking is vital for a sustainable environment.
A catchment provides the needed framework for interactions between sectors and actors that do not often come together to share knowledge and visions for the future. Attaining the Sustainable Development Goals (SDGS) will therefore require embracement the integrated approach following a catchment with consideration of the water-food-energy- ecosystem nexus
There are efforts to improve the management of water and land related resources in the region. The efforts should be promoted across different Water Management Zones and catchment in the country to ease access and use of quality water, soils and other land resources
A key challenge to scaling up land and water management approaches and measures to address climate change such as ecosystem based adaptation approaches (EbA), is the limited funding especially at the local government level especially for natural resources and environmental management.
Over dependency on natural resources at community level is a key challenge that undermines catchment restoration and application of approaches such as EbA, which build the resilience of ecosystems to climate change. The lack of alternative livelihood sources, is the main reason behind the ever increasing pressure on natural resources.
There is limited human capacity to integrate the key tenets of the integrated catchment management approach in the region. The low human capacity in the region has affected advocacy and policy action efforts for boosting approach among stakeholders
Social, institutional and financial approaches should focus on increasing productivity, environmental conservation and resource costing for livelihood improvement strategy resilience of communities to drought and other climate stressors
Chemical contamination has caused lesions and other changes in fish and human health. Anthropogenic and industrial activities are the main causes of pollution to rivers and other water bodies
Land use practices in fragile ecosystems (like the Mountainous areas), especially those of the agricultural sector are contributing to accelerated impacts of climate change and environmental degradation. An example are the continuous landslides within the Mt. Elgon landscape, which are partly due to destabilization of steep slopes through poor agricultural practices.
Enforcement of Laws and regulations is still a challenge, and this undermines catchment management efforts. In Uganda for example, the amended National Environment Act (2018) has provided for an Environment police which is independent from the Uganda Police Force. It is anticipated that the independent Environment Police will be more efficient in enforcement of laws and regulations.
There is imbalance in the sustainable utilization of catchment with more focus on production rather than balancing production, environmental conservation, income and social acceptability.
High vulnerability and low resilience of communities to extreme events like landslides, floods and drought
Need for shared data, if better weather and climate predictions are to be made
WE AGREE AND RECOMMEND THAT:
Special attention be given to water harvesting technologies such as road water harvesting, controlled run-off systems into water retention ditches etc that maximum re-use of water resources to avert climate change effects. These should be integrated in government policy and strategies.
The contribution of land use change monitoring approach on water bodies and river systems using sound datasets should be demonstrated
Advanced technologies that enhance biodiversity and conserve systems using modern sustainable water and land management, and agroforestry technologies should promoted.
Governments, NGOs, Private sector and Development Partners should prioritize funding research and training in all sectors dealing with land and water resources management to create the best Integrated Water Resources Management (IWRM) options for the countries in the Great Lakes region.
Alternative income generating activities should be fully integrated in catchment management efforts to ensure that the communities have improved livelihoods and do not over rely on natural resources.
A consortium or program be created by Makerere University (MAK) and Ministry of Water and Environment (MWE) to coordinate the generation and dissemination of knowledge, innovations and technologies for integrated management of Great Lake Catchments emphasing communities engagement and livelihoods improvement
Great Lakes and Catchment Management (GLACAM) conference be held regularly to bring together the Governments, Academia, NGOs, Private sector and the general public to share practical experiences, knowledge, innovations and practical technologies for integrated management of Great Lake Catchments.
Community based natural resource management should be promoted and encouraged that the enforcement of laws, byelaws and regulations is carried out by the community to make enforcement more effective and sustainable.
There is need to adopt Catchment based approach to planning and implementation as it provides the needed framework for interactions between sectors and actors that do not often come together to share knowledge and visions for the future
Promote and enhance multilevel governance, dialogues and engagements to improve collaboration and partnerships in achieving our collective goals and enhance sustainability on the ground. Working with local and national government, regional networks such as LVRLACC and international centres of excellence such as the Cities Biodiversity Centre and ICLEI-Local Governments for Sustainability
A water-food-energy and ecosystem nexus approach should be adopted by all countries as this is key in the attainment of the Sustainable Development Goals and management of water catchments
There is need for regular awareness sessions by government and other stakeholders about mindset change in vulnerable communities. This will enable them take a shared responsible
Please see Downloads for detailed report
Innovations using low cost locally available materials for point of use water treatment system unveiled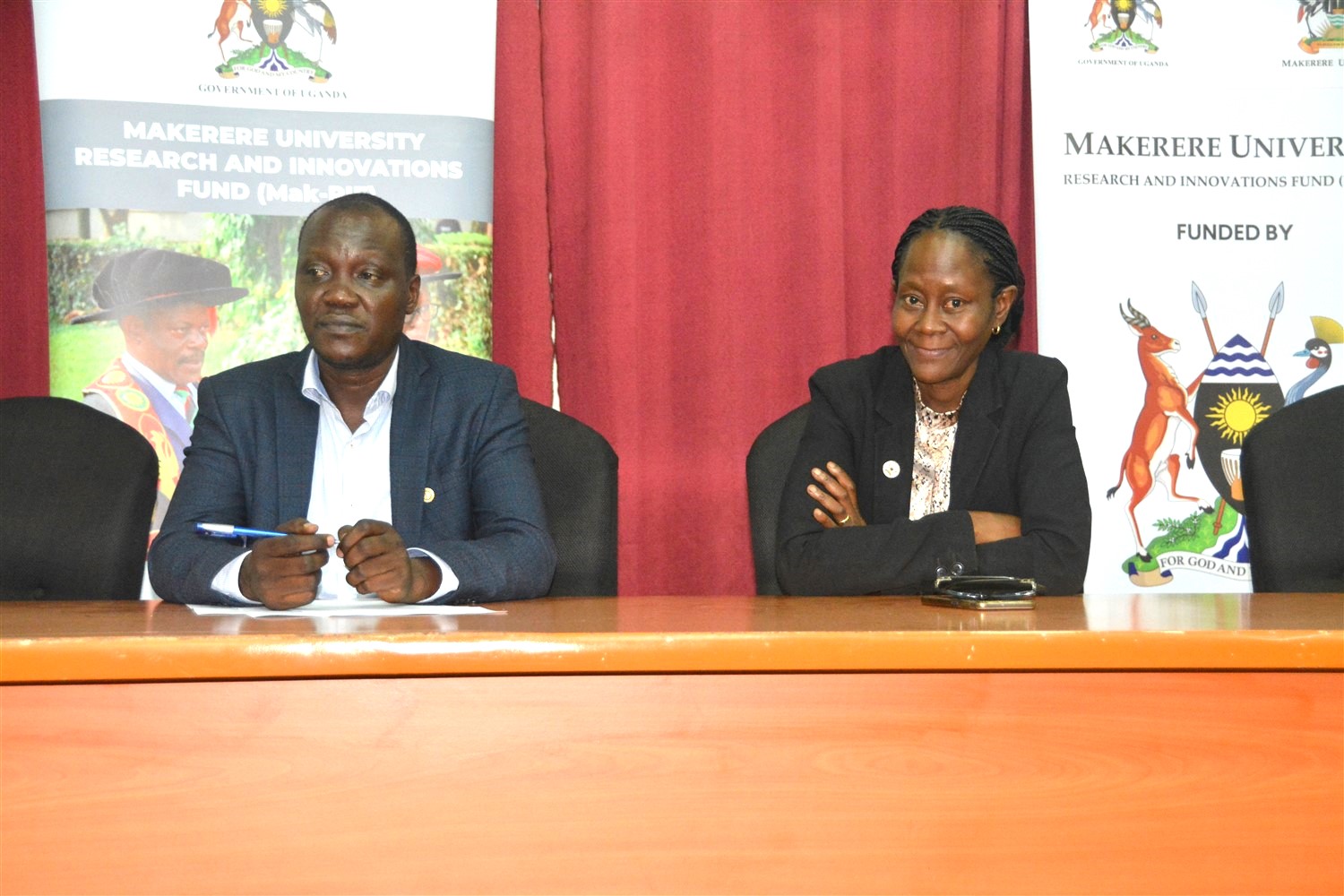 The College of Engineering, Design, Art and Technology (CEDAT) conducted a Research Dissemination of two studies aimed at the Development of Materials for point of use water treatment systems.
The investigations were conducted by a team of researchers comprised of P. W. Olupot, H. M. Kalibbala, E. Menya, G.M. Wangi, J. Jjagwe, J. Wakatuntu, M. Turyasingura, R. Walozi, C. Kanyesigye and R. N. Kulabako.
The dissemination event held on Wednesday 29th November 2023 follows the successful completion of two MakRIF supported Research projects namely; Development of rice husk based granular activated carbon for point-of-use water treatment systems and Development of zeolite-based nanocomposite filters for drinking water treatment.
Apac District gains from CEDAT's Research on Piloting a Rural Broadband Connectivity Model and Efficacious patient management system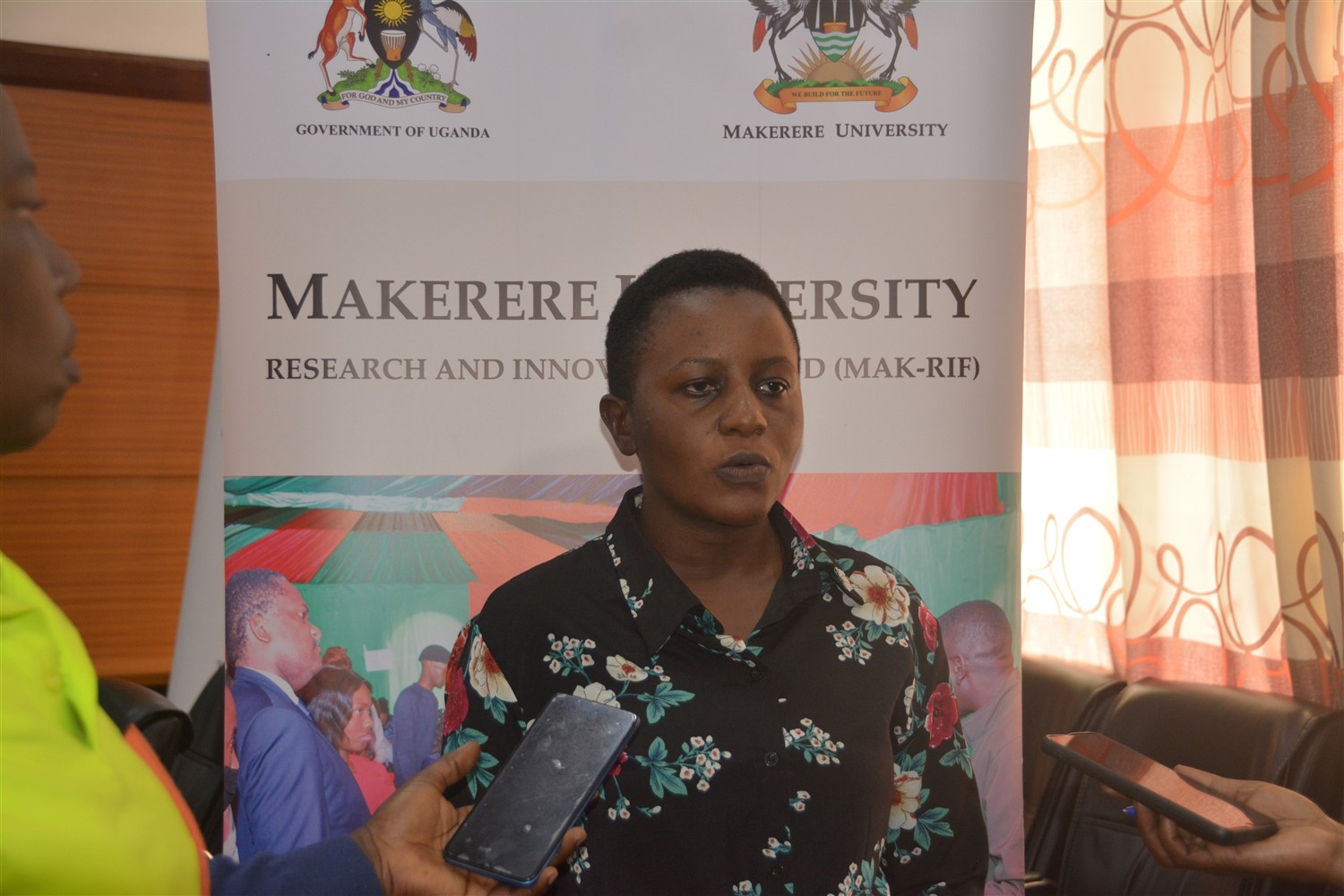 The School of Engineering at the College of Engineering, Design, Art and Technology (CEDAT) shared findings of research that was conducted in Apac Districts through two projects namely Piloting a Rural Broadband Connectivity Model (RCBM) and Efficacious patient management system (EPMS).
The findings of the research sponsored by the Government of Uganda through the Makerere University research and Innovation Fund(MakRIF) were disseminated during a dissemination seminar held in the College on Friday 24th November 2023, where it was revealed that  Apac the host District greatly benefited from the services that not only led to the increased uptake of internet services but also gained through other socio economic areas.
Application Forms for Admission to Public Universities 2024/2025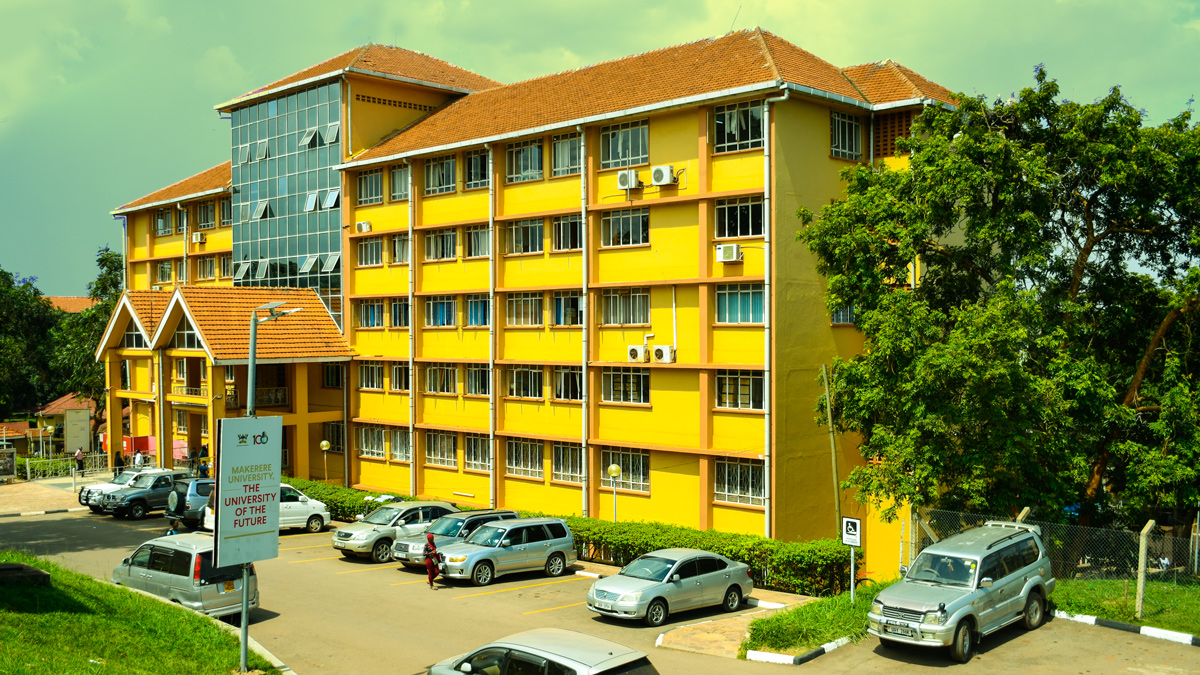 The Academic Registrar, Makerere University informs all Head Teachers of A 'Level schools that application forms for admission to public universities for senior six candidates (UACE 2023) for the 2024/2025 academic year will be ready for collection from the university from Monday 4th December, 2023.
The application forms should be collected from the Office of the Academic Registrar, Senate Building, Level 3, Makerere University.
Issuing of the application forms will start on Monday, 4th December 2023 on payment of a non-refundable application fee of Uganda Shs. 52,000/=(fifty two thousand Uganda shillings only) per application form.
You are advised to get a pay reference number (PRN) using the ACMIS system (http://pay.mak.ac.ug) to enable you pay the application fees in any bank used by Uganda Revenue Authority (URA).
The forms are for Ugandans only.
Please note that only Head Teachers or their authorized representatives will be served.
The closing date for submitting the completed application forms will be Wednesday 31st January, 2024.
Prof. Buyinza Mukadasi
ACADEMIC REGISTRAR