Mak-Sweden APM 2019 off to Inspiring Start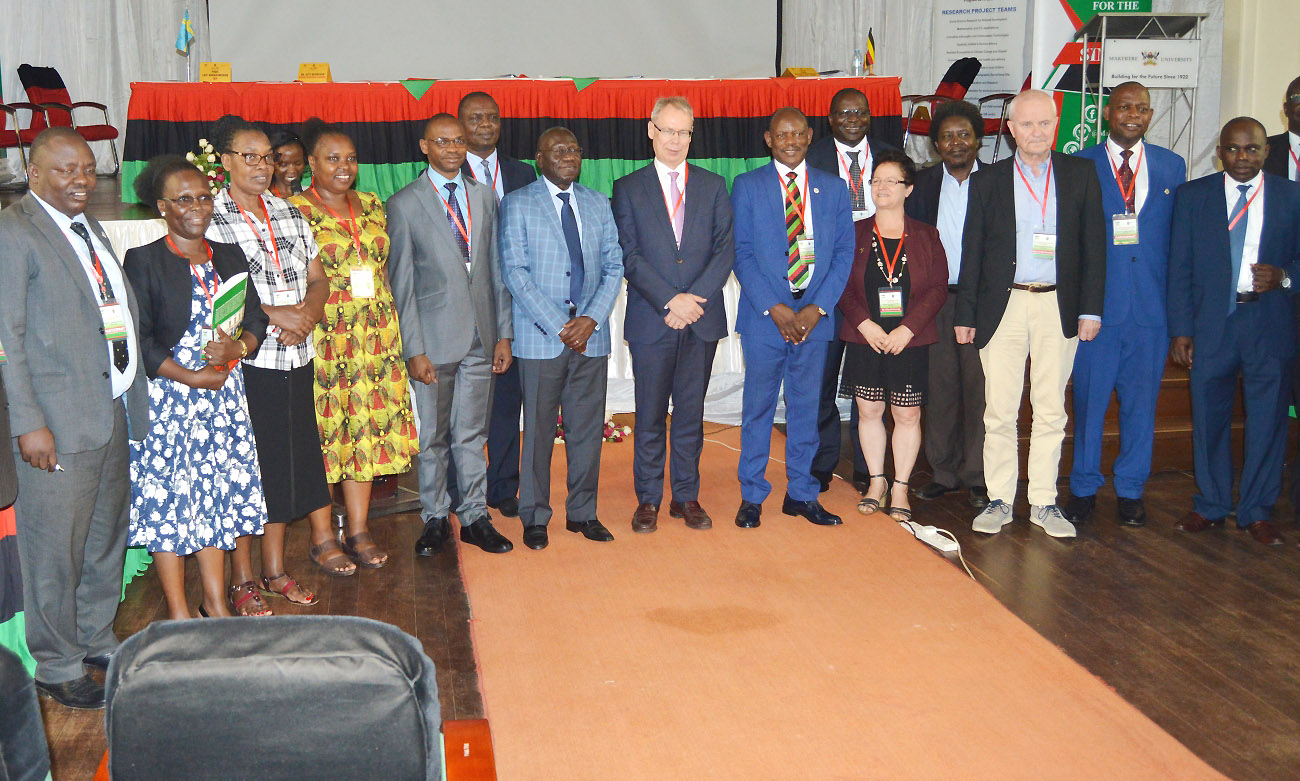 The Makerere University-Sweden Bilateral Research Programme's Annual Planning Meeting (APM) 2019 got off to an inspiring start as participating institutions underlined their intention to comply with the theme; Building a Collaborative Research Future. The Vice Chancellor, Prof. Barnabas Nawangwe's remarks on Ugandan partner universities working on exit strategy to sustain the research investments beyond 2020 and reactions from Swedish partners expressing willingness to collaborate with Session 1 presenters on application of research findings all clearly attested to this.
Addressing participants and dignitaries at the opening ceremony of the APM on Monday, 8th April 2019, the Ambassador of Sweden to Uganda, H.E. Per Lindgärde welcomed the discussion on strengthening the ownership and securing the sustainability of his Government's investment in Uganda's research over the past twenty years.
"Despite the challenges faced in the implementation of this programme, 361 scholars have been recruited and a number of new curricula have been developed. I congratulate you for this and other important achievements" remarked Ambassador Lindgärde.
He nevertheless urged the implementing Ugandan Public Universities to strengthen the quality of supervision and put in place systems for monitoring and analyzing data concerning student progress on the programme.
Earlier, Ambassador Lindgärde had noted with pleasure the Uganda Government's plans to review the Higher Education Sector Strategic Plan and National Policy for Science, Technology and Innovation. "This will help to facilitate the very much needed transformation of the Higher Education Sector in Uganda and reequip the sector with the policies and resources to make it a dynamic engine that can help power the Ugandan economy as stated in the Vision 2040."
The Ambassador also thanked the Department of Performing Arts and Film (PAF) students for singing Swedish Anthem "so beautifully."
In his opening remarks, the Vice Chancellor, Prof. Barnabas Nawangwe thanked the Government of Uganda for allocating UGX30billion in the 2019/2020 financial year to support research at Makerere University. This, he noted, would go a long way in enabling Makerere's pool of researchers; including over 250 PhDs and 100 Masters and 50 Postdoctoral fellows trained under the Bilateral Research Programme since 2000, to gainfully contribute to national development.
"This support has greatly improved the research culture of the University. I must say that many proposals are now being funded both in the basic and social sciences. Our publications have also greatly increased and this achievement is largely due to the support from Government of Sweden through Sida.
"The Swedish support has enabled us to implement all our research priorities including Health and Health Systems; Agricultural Transformation, Food Security and Livelihoods; Natural Resources Governance and Climate Change; Education and Education Systems; Governance, Culture, Social Justice and Sustainable Development; Science and Technology. The cross-cutting areas include Biotechnology, Knowledge Translation, Gender and Human Resource Development" added the Vice Chancellor.
Prof. Nawangwe further noted that Makerere University has with the support of Sida been able to establish strong collaborations with leading universities including those from Sweden. "We have learnt best practices from these universities and also benefitted from joint supervision, which has ensured high quality of our graduates."
In this regard, he thanked Swedish institutions such as Karolinska Institute for working with Ugandan universities on programmes beyond the current phase of Swedish Government support. The final phase of the Makerere-University Sweden Bilateral Research Programme runs until June 2020.
The Director, Directorate of Research and Graduate Training (DRGT) and Overall Sida Programme Coordinator, Prof. Buyinza Mukadasi noted that the five-day APM has been organised to provide an opportunity for the five Ugandan Public Universities to share research findings, take stock of performances as per the agreed research undertakings and engage with policy to transform society.
"In recent years, Makerere has placed more emphasis on research and scholarly productivity of faculty. Despite the regional faculty shortage, we were able to recruit and appoint a number of PhD-prepared and research-active faculty and to support junior faculty to get their PhDs. Capacity building has been a major goal of the University and will continue to be so in the future" reassured Prof. Buyinza.
Prof. Buyinza also introduced participants from the eleven Swedish collaborating institutions namely; Stockholm University, Karolinska Institute, University of Boras, KTH Royal Institute of Technology, University of Gothenburg, Uppsala University, Chalmers University of Technology, Lund University, Swedish University of Agricultural Sciences, Linköping University and Mälardalen University.
The APM's Science Day presentations kicked off in a session chaired by the Sida Programme Coordinator in Kyambogo University, Assoc. Prof. Nabalegwa Wambede. Dr. Gaston Ampek Tumuhimbise from the Department of Food Technology and Human Nutrition, Makerere University presented on the use of amaranth leaves and skimmed milk powders to enrich orange fleshed sweet potato flour while Mbarara University of Science and Technology (MUST)'s Mr. Vincent Mwesigye presented on the sero-antigen prevalence, risk factors of lymphatic filariasis and podoconiosis in Busiriba, Kamwenge District.
However, the shock and awe moment of the day belonged to Mr. Okot Fred David whose presentation on partial findings of characterisation of anti-venom compounds from selected plants locally used for treatment of snakebites in Uganda left the audience gaping. His findings will seek to document and determine the anti-venom potential of medicinal plants used by traditional medical practitioners to treat snakebites since time immemorial. This indigenous knowledge, he observed, is sadly not so prevalent among the youth and risks being lost with the passing on of the older generations.
Article by Public Relations Office
A Successful Ph.D. Defense by Vianney Andrew Yiga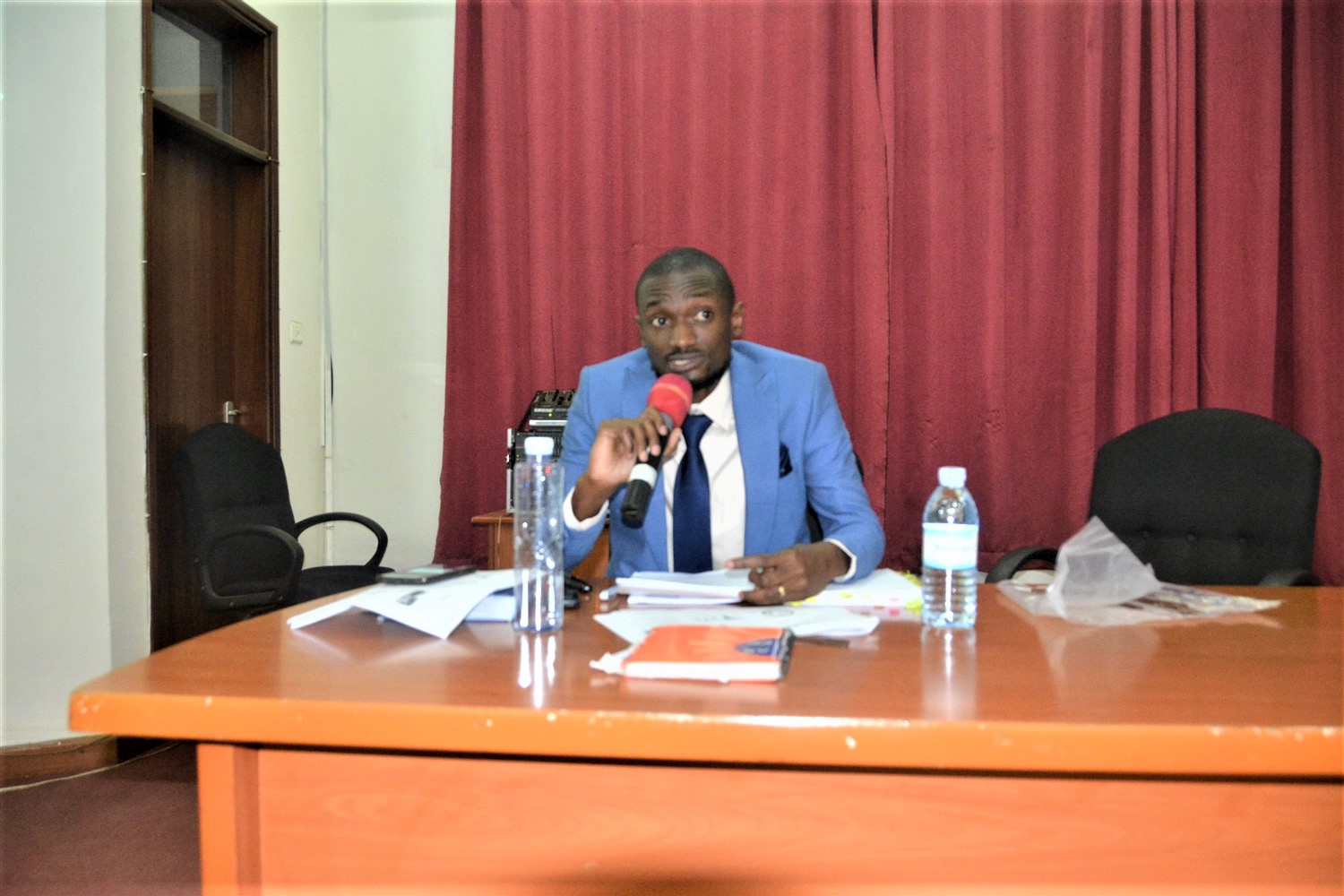 The CEDAT community is proud to share our congratulations to Vianney Andrew Yiga following his successful Ph.D. defense that happened yesterday Monday 3rd October 2022 at the College of Engineering, Design, Art, and Technology (CEDAT).
His Thesis was titled; Thermal Stability of Fiber- Reinforced Polylactic Acid Composites for Flameretarded Applications.
The candidate was supervised by Eng. Dr. Michael Lubwama and Eng. Dr. Peter W. Olupot both from the Department of Mechanical Engineering, at CEDAT.
Dr. John Wasswa, Department of Chemistry, College of Natural Sciences (CONAS), Makerere University was the opponent that interrogated the candidate to enable a clear understanding of the study.
Makerere University Launches National Parenting Draft Manual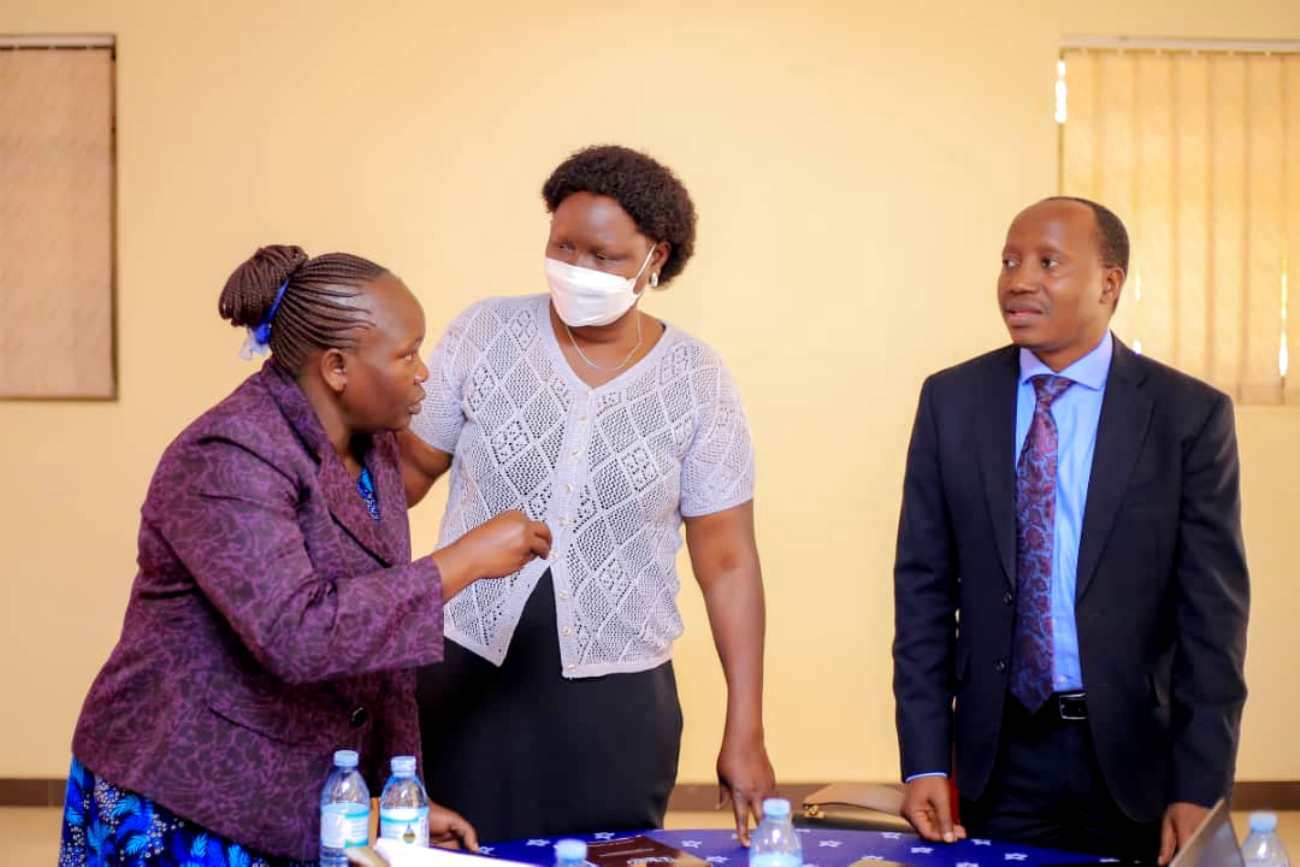 By Agnes Namaganda
On July 22nd 2022, Makerere University–Child Health and Development Centre (Mak–CHDC) launched a draft manual for the National Parenting Standards. The Centre has been working together with the Ministry of Gender, Labour and Social Development (MGLSD) with funding from UNICEF (United Nations Children's Emergency Fund), to develop standards that are agreeable to all organisations in the country that are involved in parenting work. The draft manual was being presented to members of a consortium that brings together all these organisations together, called the Parenting Agenda Consortium.
"We produce many documents and they are shelved," Irene Ayot Chono, who was speaking on behalf of UNICEF said. "We hope that this document will not be one of them," she emphasized.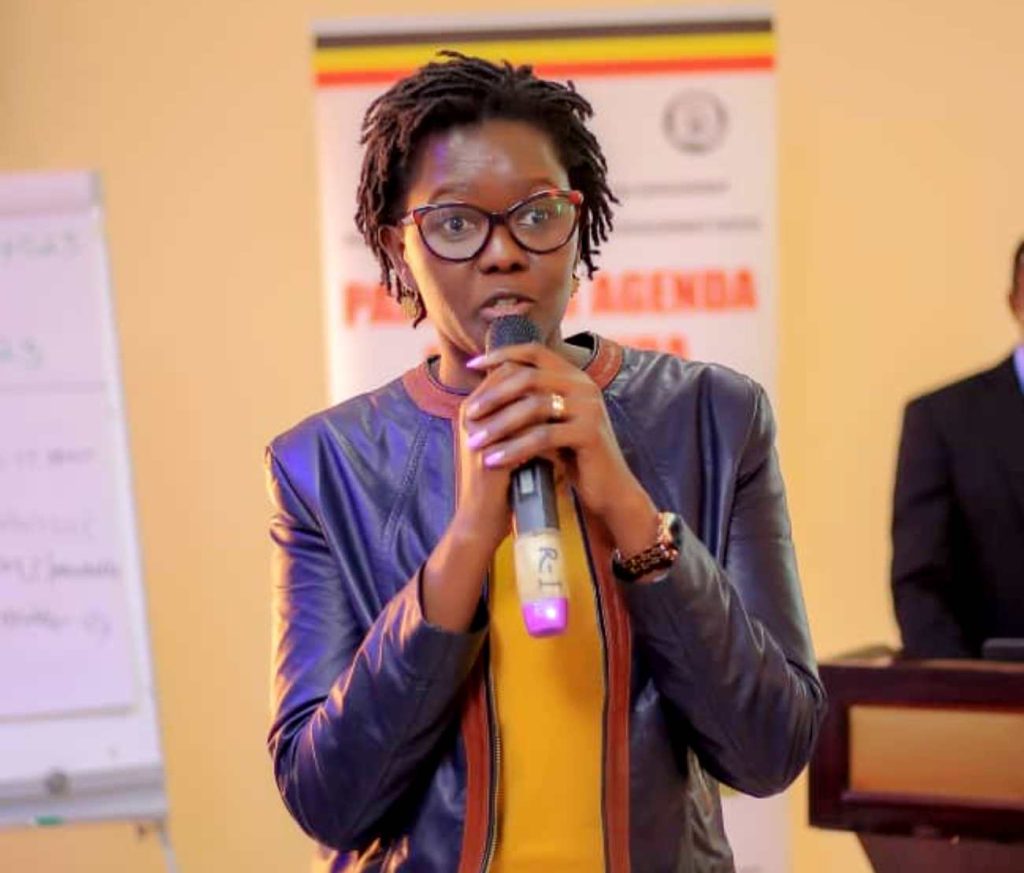 Dr. Godfrey Siu, the Principal Investigator from Mak-CHDC who presented the draft manual to participants, emphasized that if any organization is doing parenting work, there should be a minimum package that they should offer.
Draft Manual Content
The manual which will have several modules. These modules will be delivered face-to-face in 1.5 hour sessions. Some of these include; Module 6 which will focus on "understanding responsible masculinity and fatherhood" and on "understanding the concept of head of family."The draft manual also proposed that Module 11 focuses on Parenting in the 21st Century. Some of the sessions in this module will include Children and Technology, Contemporary Influence on Children and Modernity, Culture and Morality.Module 9 will focus on Parenting for Adolescents and some of the suggested sessions within this module are Needs for Adolescents and The Art of Communicating with Adolescents. Module 5 will focus on Preventing Violent Parenting and Promoting Alternative Discipline Strategies while Module 10 will be about Parenting to Address the Mental Health for Children and Adults.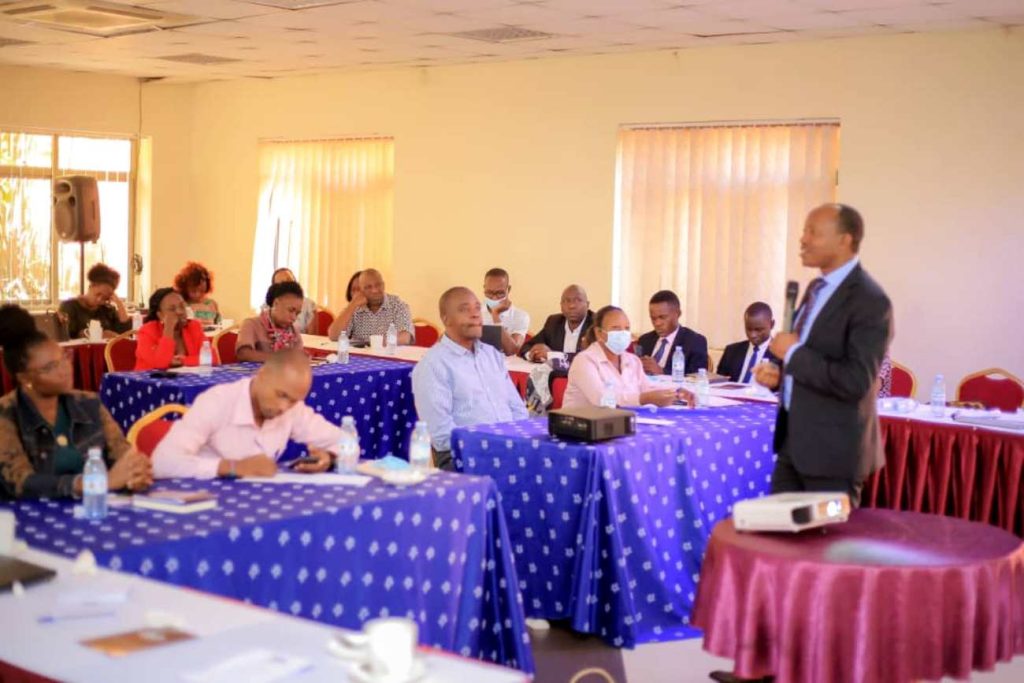 Participants' suggestions
After the presentation, participants raised several suggestions for discussion and consideration. These included whether there should be a module on spirituality since Uganda is a strongly religious nation. There was also the concern of how children in remand homes should be parented. Another concern raised by a participant was as to whether teachers who make an undeniable contribution to parenting, should be taken through the parenting manual.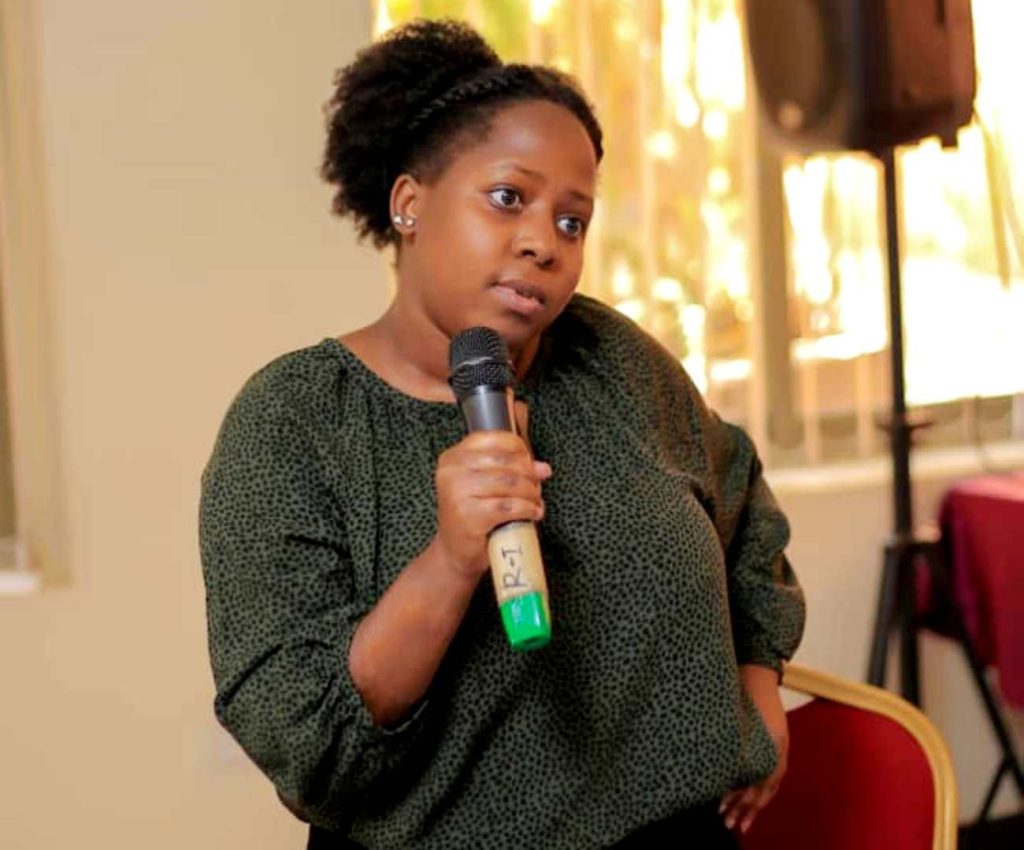 In her closing remarks, Ms. Juliana Naumo Akoryo, the Director of Cultural Affairs at the Ministry of Gender, Labour and Social Development (MGLSD) said that the manual is for the parenting organisations to utilize and not for MGLSD.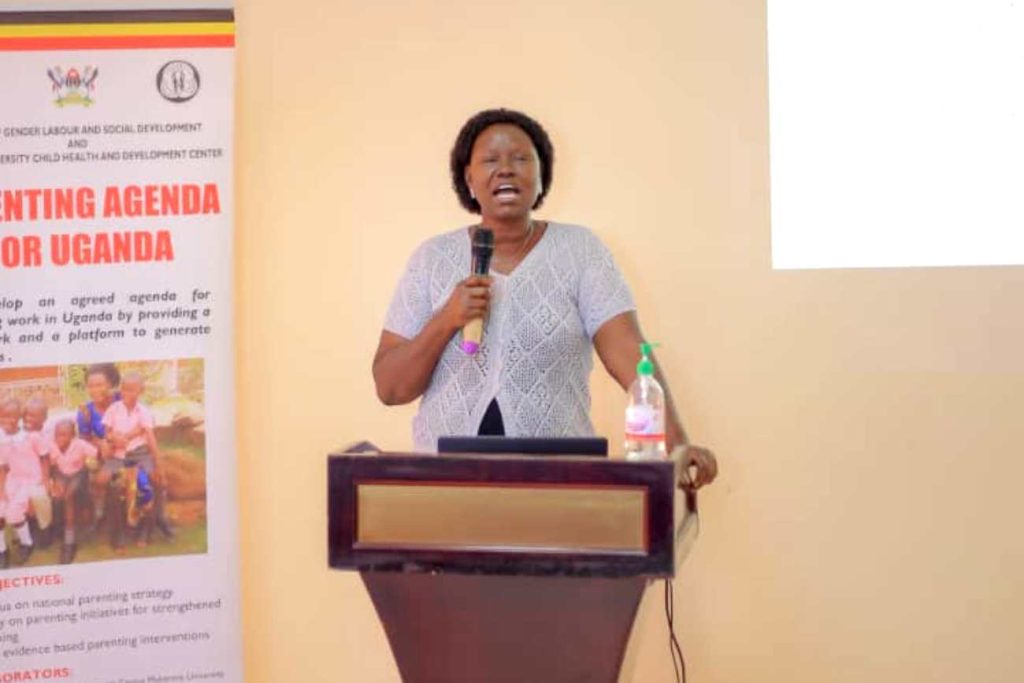 Ms. Chono also adjured the team behind the manual to use picture illustrations in the manual that can be relatable by the Ugandan parents.
Contact: Agnes Namaganda – agnesvioletnamaganda@gmail.com
Launch of Mak-RIF Round 4 Awards & PhD Call for Proposals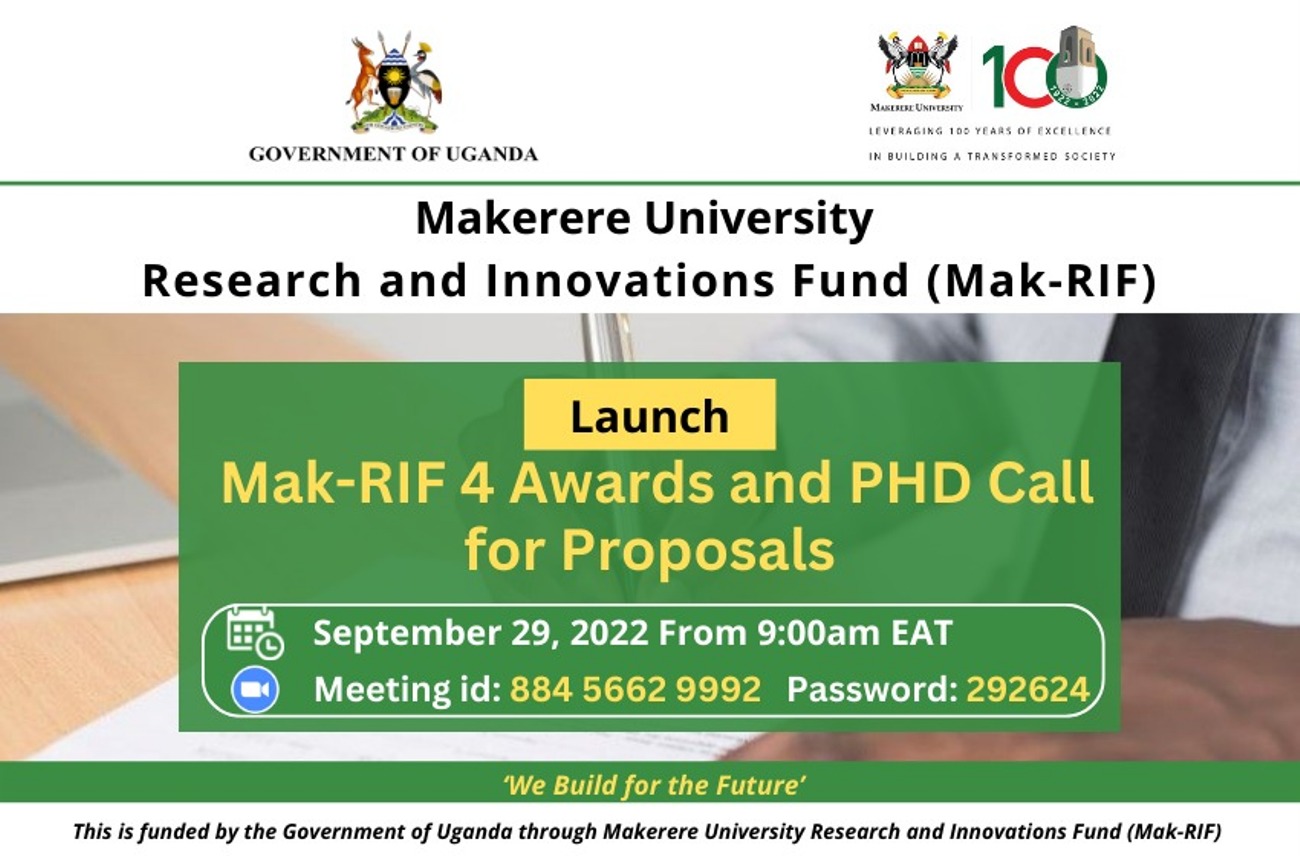 Makerere University received funding from the Government of the Republic of Uganda, earmarked to support high impact Research and Innovations. This unique initiative arose after engagements between the top University Management and the Government of Uganda. This fund illustrates the increasing importance that the Government attaches to Research and Innovation as a driver of development and transformation. The objective of the fund is to increase the local generation of translatable research and scalable innovations that address key gaps required to drive Uganda's development agenda. 
In the Financial years 2019/2020, 2020/2021 and 2021/2022 the Government of the Republic of Uganda through Mak-RIF has funded implementation of over 750 multidisciplinary research and innovations within the various Colleges, while engaging multiple stakeholders within and outside Makerere University. The Grants Management Committee (GMC) has finalized the award process for the Mak-RIF round 4 call for funding for this Financial Year 2022/2023.
The Grants Management Committee (GMC) hereby invites you to the Launch of the Mak-RIF Round 4 awards and PhD Call for Proposals scheduled to take place tomorrow Thursday 29th September 2022 from 9:00 to 10:00 a.m. EAT. 
Please use the following details to join the launch.
Register in advance for this meeting:
https://us06web.zoom.us/meeting/register/tZwpcu-urDIjE9ZgxdsbEmA2IkNMMiJVECt_ 
Meeting ID: 884 5662 9992
Password: 292624