Meet Mak Professor with 10 Acres of Livestock Fodder for the December–February Dry Season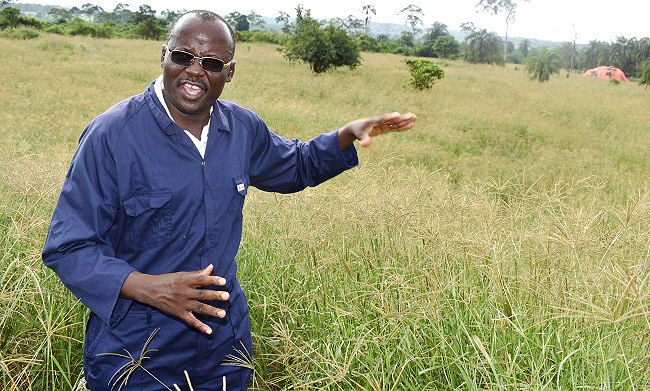 Can Agriculture Professionals roll up their sleeves and blunt the biting effect of drought, occasioned by climate change, on livestock production through research, innovations and entrepreneurship?
The situation
Seasonality of forage is one of the major challenges in meeting nutritional requirements of dairy, beef and dual-purpose cattle, goats, sheep, horses and donkeys in Eastern Africa. Feed scarcity for the livestock is occasioned by frequent and erratic droughts some of which are prolonged. To address this challenge, fodder production and conservation technologies such as hay, silage and haylage production technologies have been introduced and promoted as a potential strategy to addressing feed scarcity among farmers. These technologies are aimed at increasing livestock feed availability during the dry periods in addition to diversifying income through sale of hay bales and grass seed among communities. However, while previous studies have shown an increasing trend of acceptance and adoption of forage and its conservation as hay among farmers in Kenya, Tanzania, Ethiopia, Somalia and Djibouti, farmers in Uganda have not fully embraced the fodder conservation technologies. Failure by farmers to adopt scientific innovations to solve the real challenges of feed scarcity that face livestock farmers during prolonged drought makes us wonder why?
Why the Need for agricultural professors to roll up their sleeves?
Despite the known benefits of fodder conservation, which has been taught at Makerere University and other institutions of higher learning for over 50 years, there is scarcity of information on fodder value chain that is crucial in informing development and up scaling the technology of hay production as a business among the communities.
Prof. Kabi, an animal scientist from the College of Agricultural and Environmental Sciences (CAES), Makerere University has innovated an alternative way of taking the university lecture room to the communities. Prof. Fred Kabi has rolled up his sleeves and has dedicated his livestock science knowledge, skills and over 10 acres of land situated in Kapeka to production of Chloris gayana hay intercropped with Centrosema pubscens legume. This could also be a driver for aspiring farmers to open up and learn a new approach to growing pastures and its conservation as hay for livestock feed as a way of diversifying enterprises at the farm. He is optimistic that within four years , he should open up about 40 acres populated with Chloris gayana and Cencherus ciliaris grasses together with Desmodium and Stylosanthes guianensis legumes all of which are drought tolerant pastures. In his words, this action is intended to blunt the biting effect of drought among dairy and beef farmers most of whom lose revenue during prolonged droughts when the milk prices are very high yet milk production drops due to insufficient fodder availability.
Ecological green gold for job creation and sustainable employment
High demand for milk and meat consumption in urban and peri-urban areas irrespective of seasons will be the major market driver for feeding hay to livestock as an alternative to the green chop of elephant grass during the dry seasons in Uganda. While elephant grass can be a promising source of fodder due to its prolific growth during the rainy season, its growth is seriously curtailed during the dry season leading to fodder deficiency. Moreover, it is during the dry season when the prices of milk go very high. Since the crude protein content of Chloris Gayana grass is comparable to that of elephant grass (about 9 to 12 %), Prof. Kabi thinks production of Chloris Gayana grass and the drought-tolerant legume pastures conserved as hay and their seeds needs to be exploited as an enterprise to meet the growing needs of farmers. Uptake of hay and seed production by entrepreneurs with the necessary factors of production, knowledge and skills is one way of turning the challenge of erratic and prolonged droughts into an opportunity for job creation and employment especially for the youth and women.
Together with his graduate students, Prof. Kabi thinks innovation along the dairy and meat value chains can lead to cottage industries where pasture hay can be pulverized into small pieces and mixed with other ingredients such as maize, cotton seed cake and minerals as a total mixed ration. When bagged rather than baling, Prof. Kabi considers this as a practical application of innovative feed solution for not only peri-urban farmers but as a potential export to the region. This is where the University don is advocating for a deliberate effort and government policy to make sure that just like Tourism is advertised, a deliberate effort to create jobs for the youth can be made by advertising Uganda as a possible source of bagged hay as green gold. Production of hay for local, regional markets is one of those efforts that can meaningfully engage the youth in the dairy and beef value chains. For effective exploitation of pasture hay as green gold, there is need for deliberate effort to organize not only production but the market. It is the belief of the professor of animal nutrition that the future of the youth involvement in the dairy or beef value chain only belongs to the organized. But organization of the youth in any production enterprise along any given value chain will only be successful if such production is driven by the market incentives Kabi says.
Turning the challenge into an opportunity
The CAES Communication office followed up Professor Kabi to Kapeka to establish the motivation behind his involvement in pasture grass establishment for livestock among the communities. The Don says that after careful analysis of the beef and dairy value chains from the perspective of an animal nutritionist, he has established that there were so many people who want to do dairy or beef farming business but lack pasture feed resource for their animals. Moreover, the scarcity of pastures is more prominent among peri-urban farmers with a good market of their milk and beef but with limited land to produce fodder for livestock. So, he took on that challenge as an opportunity.
"Secondly, during prolonged dry seasons which are due to the challenge of climate variability, livestock farmers cannot sustain the same number of animals at the farm kept in the wet season due to limited access to feeds. Since the consumers' demand for milk and meat has gone up yet the farmers who produce milk and meat for one reason or the other cannot adopt technology for producing feeds for the milking animals during the dry season, someone has to close the gap but at a cost.
Scientists who preach the science of fodder conservation and nutrition in lecture room can now innovate and participate in value addition to pastures to bridge the gap of limited milk and meat supply during the dry season. Producing hay in Kapeka is like constructing a lecture room among the communities. This was one of my incentives to go into pasture production for hay. This will not only demystify the science of fodder production and conservation but will also create jobs among the youth, help in diversification of income and help build market for the hay and seed", Prof. Kabi explained.
The don cites the experience of farmers in Uganda who planted maize and had to sell it at a price of UGX200 a kilogram. But a kilogram of hay goes for UGX500-700 or a bale of 10 to 15 kg from UGX5,000-7,000 while a kilogram of Chloris Gayana seeds fetches up to UGX3,000-4,000 while that of green leaf desmodium can fetch up to UGX150,000. This puts a farmer's land and knowledge to good use and contributes to the dairy and beef value chain.
Clad in his blue overalls, the Professor cuts the mature Chloris Gayana, pauses and says, "Here, we are with the question – Can agricultural sciences, innovations and entrepreneurship blended with policies be able to solve the challenge of youth unemployment?"
The answer according to the Professor can be yes or no.
Prof. Kabi observed that farming in Uganda has been mainly on a small-scale subsistence without organized markets and this can never appeal to the youth as a cool engagement. In the affirmative, however, once there is organized market, this will be the driver for accepting scientific innovations and a way of igniting entrepreneurial skills among the youth for as long as they can be able to earn from their engagement in agriculture.
However, Kabi explains that understanding the whole dairy or beef value chains at the local, regional or at international level is crucial for positioning agriculture as a source of employment to the youth. For instance, about 50 years ago, Africa commanded about 6% of the global trade volume. This has been declining over the years and right now, Africa transacts about 2.4% of the global trade volume. To be specific, the current trend now indicates that the volume of trade of Africa excluding South Africa, Egypt and Morocco i.e. Sub Saharan Africa is 1.7% of the entire global trade. According to the Professor, this creates a worrying challenge of unemployment because there is an imbalance of trade.
"So how can agricultural sciences, innovations and entrepreneurship be able to take us back into commercial trade and export that was enjoyed by Africa in the 1950s? This is where export drive livestock production is so crucial to the nation Uganda. Uganda needs to understand the dairy, and meat value chains so that we can be able to position ourselves to penetrate the international market. This can be through non-conventional agricultural produce such as hay and pasture seed production", explained the Professor as he pointed at the garden.
Borrowing from the Ethiopian experience, Professor Kabi said, at the last quarter of the year 2018 there was a deliberate effort in Addis Ababa for the country to access regional markets in terms of hay. Demand for hay market could go as far as the Middle East as a result of climate change, a development that entrepreneurs were taking advantage of.
In the middle East, Kabi cited that the market is interested in live meat goats of a given conformation. Finishing such goats on processed hay seems like a plausible way of meeting standards for such external markets. Relatedly, in an international meeting organized by the International Livestock Research Institute (ILRI) under the auspices Food and Agricultural Organization (FAO) of the United Nations, the representatives of Intergovernmental Authority for Development (IGAD) opined that some countries can indirectly participate in the dairy and meat value chain by producing fodder that is required for the industry.
Prof. Kabi asserts that Uganda too, can have a cottage industry to process hay and make it ready for farmers who keep dairy and beef animals, spearheaded by professors who are the proponents of feed conservation but driven by the youth. The whole of Kampala for example has small holder farmers practicing zero grazing. The 10 acres of land under Chloris Gayana pasture production for hay is equivalent to 4 hectares. Each hectare can yield 25 to 35 tons of hay dry matter per year, which is estimated to annually feed 5-6 mature cows.
Kabi says, if we have several of such hay farmers organized into a cooperative, we can feed the dairy industry at a local level but with excess available for export to countries like Kenya which are yearning for feeding materials. But is there a deliberate effort by Uganda to organize both production and market of non-conventional produce so that people do not only look at growing priority crops such as maize but diversify to fodder as an alternative source of foreign exchange?" He asked.
Prof. Kabi notes that Uganda can be able to export hay to Kenya and middle east but this requires a deliberate effort to get both production and market organized. This he said is what happened when colonialists were able to organize markets for coffee, minerals and cotton.
"This explains why paradoxically the African share of the global trade almost a sixth of what it was 50 year back. The decline in the volume share of trade from Africa as a proportion of the global trade is certainly a reflection of the real poverty on the continent and together with unemployment for the youth", He said.
The professor thinks that the only way to solve the challenge of imbalance of trade is to think beyond conventional trade especially of agricultural produce and to diversify it with alternative ecological exportable produce including processed hay for income and employment creation for the youth. Value addition through cottage industries where science, innovation and entrepreneurship is blended with deliberate policy of production driven by export trade is needed. Uganda can surely be marketed and known to be a hay basket for the whole region.
Prof. Kabi further notes that if a deliberate effort is not taken to create the markets for unconventional products, then the country can never have its agriculture produce access regional and international markets. However, he emphasized the need to export produce in a sustainable way, where sustainability means making use of low input natural resources like the Chloris Gayana intercropped with Centrosema as a legume that is naturally occuring but with value addition to be competitive in the market. This can be the basis for inspiring the youth to get involved in agriculture.
Nutritional value of Chloris Gayana
The high yield of Chloris Gayana of 25 to 35 tons per ha per year coupled with its high crude protein content of between 9-12% is comparable to that of 10 to 50 tons of elephant grass with crude protein content of 10 to 13 %. The most important point is that Chloris Gayana can withstand dry conditions making it the right crop in the face of climate change. It simply rejuvenates after cutting unlike elephant grass which is only prolific in growth during the rainy season. Besides, Chloris Gayana can be intercropped with legumes such as centrosema , desmodium (both green and silver leaf), siratro (Bishops purple), stylosanthes and glycine.
Farm management practices
The seedbed for Chloris has to be a fine tilled just as is the case for millet, because the seeds of the pasture are quite small. After seedbed preparation, you have to ensure that you plant at the onset of the rains in the same planting season of maize. Furrows are dug either manually or mechanically. Chloris Gayana is planted in rows like maize at spacing of 2ft from one row to another to allow ease of weeding because while young it can easily succumb to weeds. The seeds are mixed with sand, black soil or preferably composted cattle manure and broadcast within the dug furrows. A thin layer of soil is used to cover the seeds so that they do not fail to emerge and to protect them from being systematically eaten up by birds. After some 7 to 14 days, the seed will germinate. However, if it is dry, it may fail to germinate. If the germination percentage of the seed is 50% and above, the seed bed should be entirely covered by three months. If the germination percentage is below 50%, allow the seeds to shutter in the garden. With proper weeding and rains, the next ratoon will be ready for seed harvesting after 30 to 50 days. After harvesting you weed and manure the grass to that it can maintain the growth vigor.
Unlike the Chloris gayana seed which has to be harvested as soon as it is ready to avoid shuttering and its destruction especially by the birds, hay should preferably be harvested at dough stage when half way the garden is flowered. However, the harvesting should coincide with the onset of the dry season to avoid moulding. The cut grass should be raked to enable thorough drying to only 15 % moisture content like maize grain. The dried hay should then be baled using either tractor driven hay balers or hand-operated hay baler boxes. Baled hay should then be kept in a cool and dry shelter that is water proof preferably raised on pallets or in a crib like maize. Failure to adhere to these conditions will lead to moulding.
Challenges of farming Chloris Gayana
Growing the fodder on ten acres requires machinery including a tractor and accessories such as a reciprocating mower, a rake, a tractor-operated baler and a drying shed for green curing so that customers end up with green rather than golden hay color before its storage. This is crucial in conserving the beta carotene or the precursor for vitamin A necessary for the yellowish creamy color of milk.
The other major challenge challenge is labor. Youth do not think hay is a lucrative business to be engaged in. However, professor Kabi thinks if organized and turned into an enterprise, the youth will realize hay production is green gold that is worth getting engaged in especially if the market is streamlined. This is the reason why the professors should roll up their sleeves, get their hands dirty as role models for the youth and attempt to turn the challenge of prolonged drought occasioned to livestock by climate change into an opportunity.
Report compiled by;
Jane Anyango,
Principal Communication Officer, CAES
Notice: Makerere Disability Scheme 2022/23 Medical Review Exercise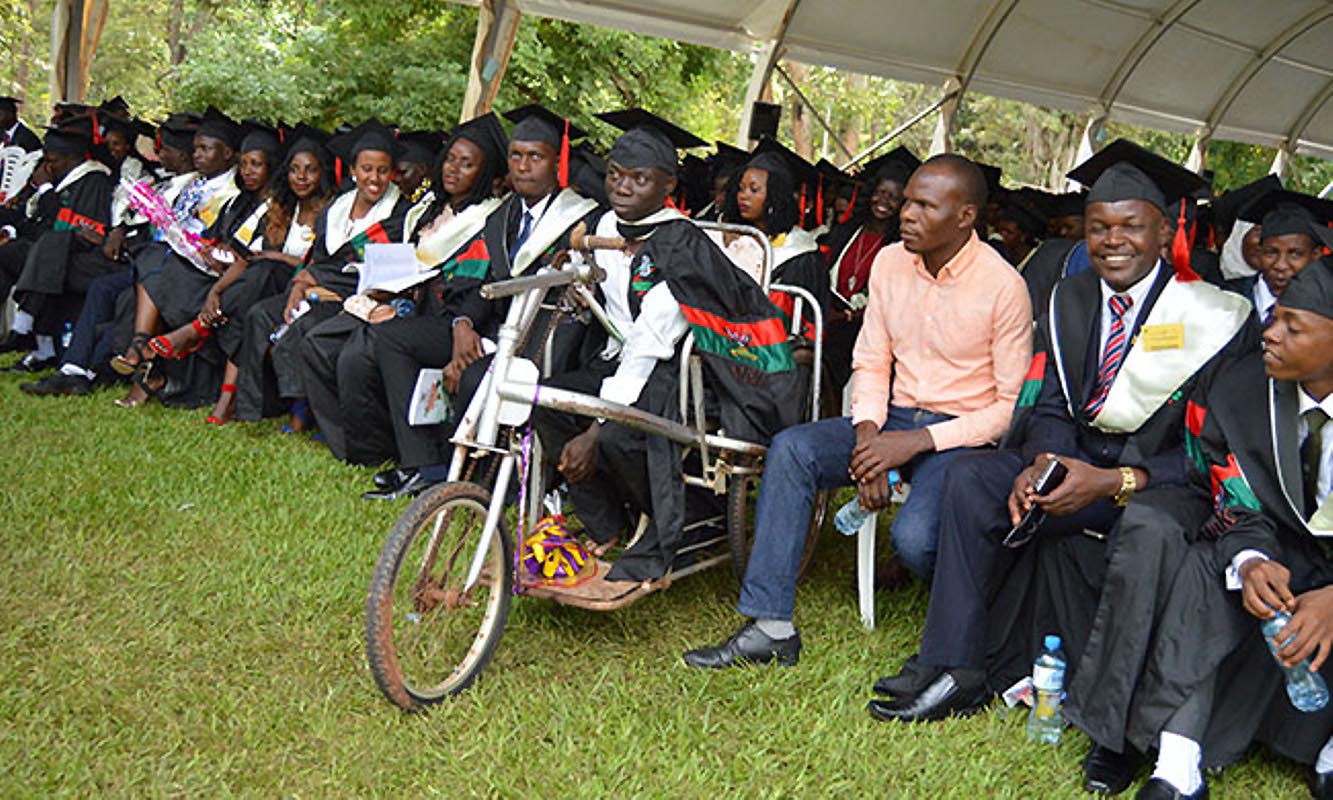 The Academic Registrar, Makerere University invites persons with disability who applied for admission to public universities under the disability entry scheme for 2022/2023 Academic Year to appear for medical/review exercise at Makerere Unive, Senate Building, Level Two (2) in the Telepresence Centre.
NOTE: Only those who have the minimum entry requirements of at least two principal passes at A' Level or its equivalent and at least five (5) passes at O' Level or its equivalent will be interviewed.
Only candidates who sat 'a' level in 2020, 2019 and 2018 are eligible for admission.
THE EXERCISE WILL BE CONDUCTED ON 3rd, 4th and 5th October, 2022 respectively from 9.00 A.M – 1.00 P.M each day.
IMPORTANT:
(i) If you fail to appear on any of the given days above, there will be no other chance for you.
(ii) Applicants with Government Scholarship for the previous years are not eligible for admission
ALFRED MASIKYE NAMOAH
Acting. ACADEMIC REGISTRAR
Uganda's policymakers implored to address forest loss, plastic & water pollution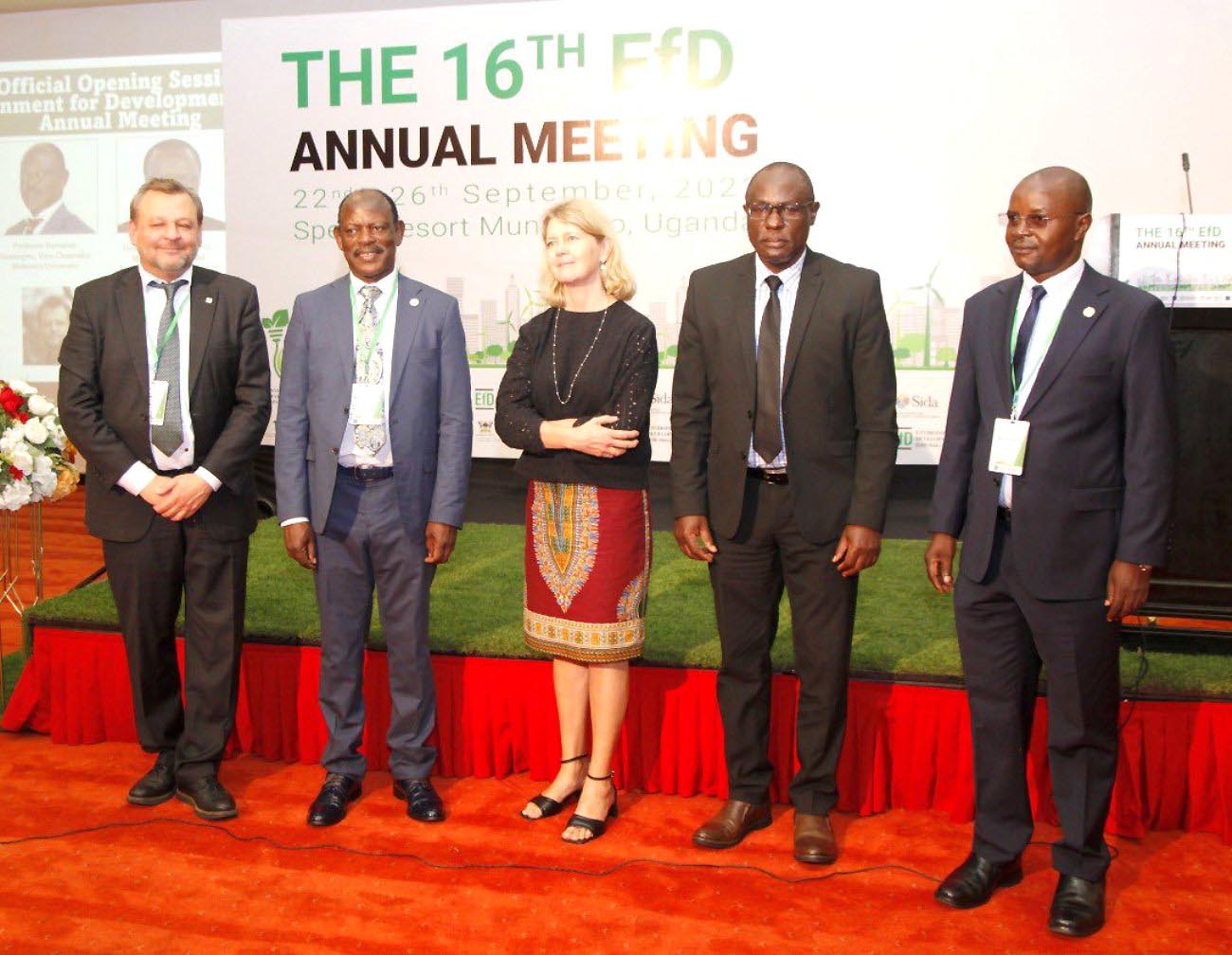 The Vice Chancellor Professor Barnabas Nawangwe on Thursday 22nd September, 2022 participated in the opening of the EfD Annual meeting hosted by Makerere University at Speke Resort Munyonyo where he appealed to government to implement the ban on kaveera and address other environmental issues.
The opening ceremony moderated by the EfD Global Hub Manager Gunnar Köhlin and was graced by Uganda's Minister for Water and Environment represented by the Commissioner for Water, Mr. Julius Mafumbo and the Swedish Ambassador to Uganda, H.E. Maria Håkansson.
Prof. Nawangwe urges Makerere University community to support the Mastercard Foundation E-learning Initiative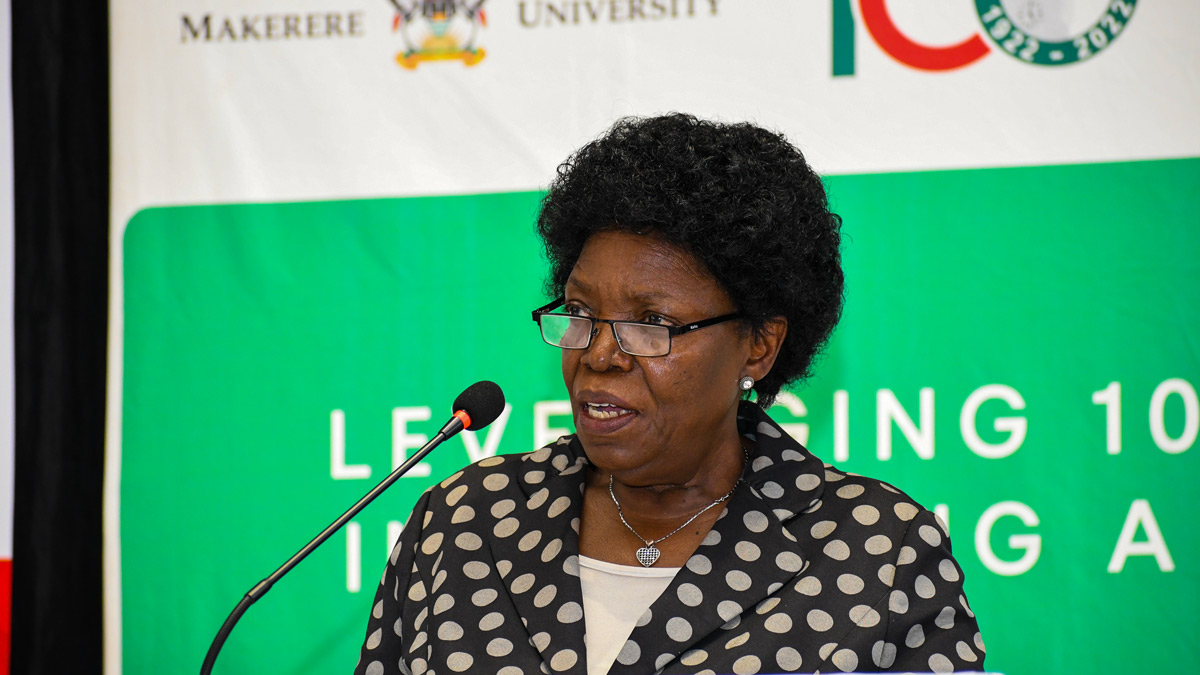 By Bernard Buteera
Makerere University has launched a two million dollar E-learning Project, dubbed The Mastercard Foundation Scholars Program E-learning initiative.  
The launch was held on Tuesday 20th September 2022 at Makerere University, Yusuf Lule Central Teaching Facility Auditorium. It attracted over 200 participants, who included members of University Management, College Principals, School Deans, Academic and Administrative staff, students and the general university community.
While addressing the gathering, the Chief Guest, Prof. Mary Okwakol, the Executive Director of National Council for Higher Education (NCHE), congratulated Makerere University for winning such a huge grant, which will go a long way in transforming the eLearning infrastructure at Makerere University.
"I am happy to be joining you in launching a project that is at the heart of National Council for Higher Education. Online learning is at the heart of the Council, not only because of the challenges presented by the Covid-19 pandemic, but also the world is now a digital world." Prof. Okwakol remarked.
Prof. Okwakol thanked Mastercard Foundation and other development partners who have continued to support initiatives that help transform higher institutions of learning in Uganda.
"I sincerely thank the Mastercard Foundation and other partners who have continued to support higher education in Uganda, especially in the area of research and online learning. Globally, the outbreak of the COVID-19 pandemic, greatly disrupted education systems forcing learners and some schools to shift to virtual learning to curb the spread of the pandemic." Prof. Okwakol pointed out.
On his part, the Vice Chancellor, Prof. Barnabas Nawangwe urged the university community, especially the academic staff to take advantage of the Mastercard Foundation E-learning initiative to develop e-content across all Colleges of the University, to enhance capacity for eLearning at Makerere University.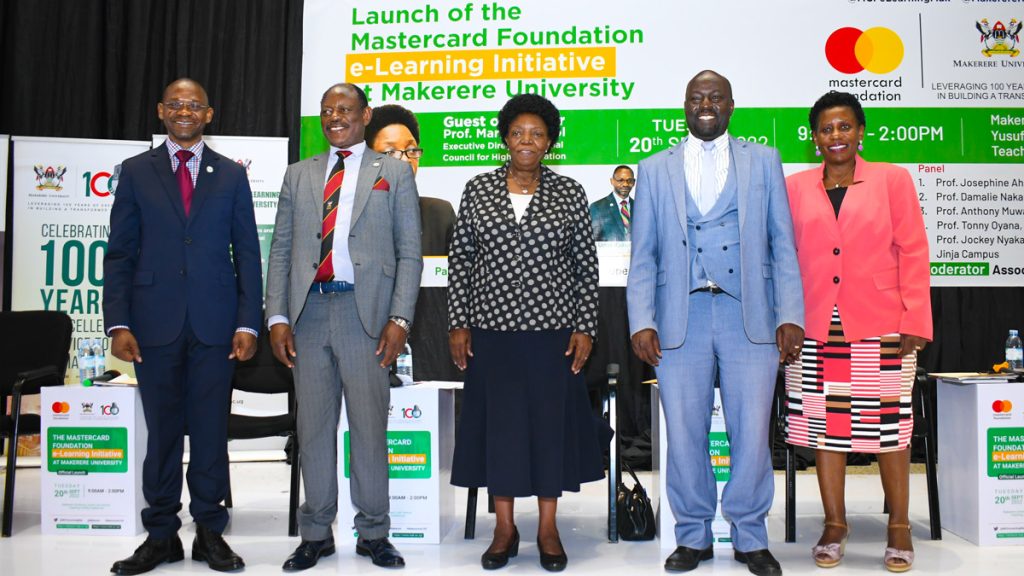 "I appeal to the Colleges to embrace this project and have as many courses adopt this pedagogy development system, even though students will continue with face-to face and phyisical learning, they should be allowed the option of online learning. The platforms that are going to be built, will give our students an opportunity to interact with international students, scholars, teachers and with each other." Prof. Nawangwe applealed.
The Vice Chancellor, further called upon all other development partners to emulate Mastercard Foundation in supporting Makerere University and other universities on the entire African continent in strengthening digital literacy, so that Africa is not left behind.
"In 2018 I attended a conference on E-learning in Beijing China, where a critical question was asked; Will Africa be left behind again? This was in reference to many advancements that were taking place in the western world, in which Africa had been left behind." The Vice Chancellor reminded the audience.
Prof. Nawangwe further emphaised the importance of e-learning as one of the critical modes of teaching and learning in the 21st first century.
"Ladies and Gentlemen, I cannot over emphasise the importance we attach to e-learning the 21st Century, that is why we took a decision to elevate the Department of Open and Distance Learning into an Institute of Open and Distance E-learning with an intention of having e-learning extended to other Colleges of the university." Prof. Nawangwe pointed out.
The Deputy Vice Chancellor Academic Affairs, and Chairperson of the Steering Committee of the E-learning Initiative, Prof. Umar Kakumba, rallied the University community to support the implementation of the project in the University.
"The Mastercard Foundation Scholars Program E-learning initiative could not have come in at a better time than post COVID19 era. A pandemic, which exposed our systems and methods of teaching and learning. You all recall, when were hit by the pandemic, with lockdowns and closures of institutions of learning, we all went into a panicky mode on how were going to cope with online learning. I therefore call upon every member of the university to give this project the support it deserves.
Prof. Kakumba reminded the audience the importance and relevancy of online learning at Makerere University and other universities in Uganda.
"The online method of learning is best suited for everyone. This digital revolution has led to remarkable changes in how the content is accessed, consumed, discussed, and shared. Office goers and stay home mothers can take up online educational courses too, at the time that suits them. Depending on their availability and comfort, many people choose to learn at weekends or evenings." Prof. Kakumba remarked.
Prof. Paul Birevu Muyinda, the Coordinator of the Mastercard Foundation E-learning Initiative, informed the audience the importance of the project and the expected outcomes for the University.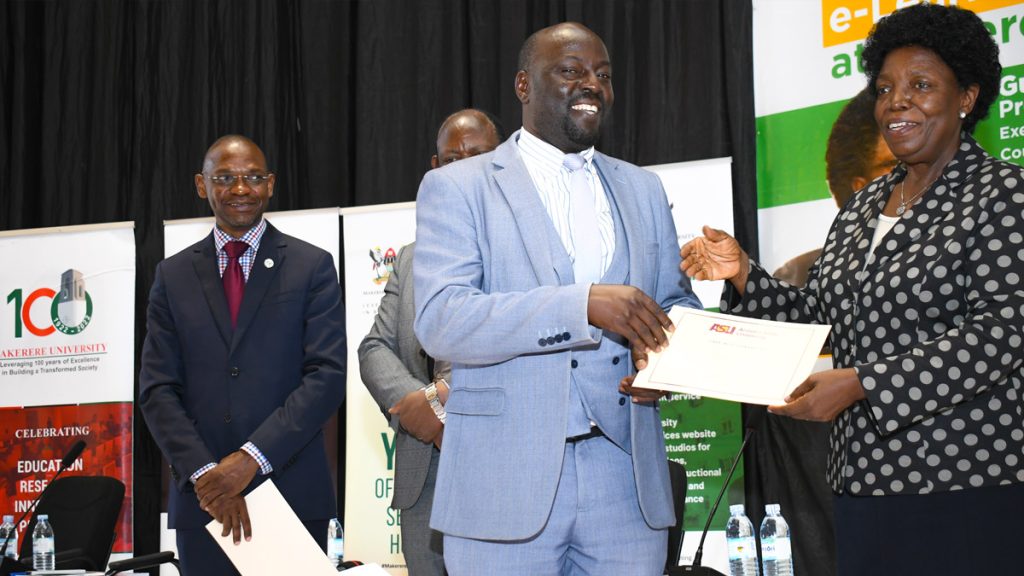 "The Mastercard Foundation e- Learning Initiative is a Project funded by Mastercard Foundation aimed at addressing the negative impact of COVID-19 pandemic that constrained access and continuity of teaching, learning, research and community engagement activities at Makerere University" Prof. Muyinda pointed out.
Prof. Muyinda further thanked the team that he worked with in putting up the proposal in a very short time that yielded such an important grant for the University.
"I thank the team that spent sleepless nights putting together the proposal that resulted into this project. I must report that Makerere University is privileged to be having the most highly qualified persons in online instruction design and online pedagogy at the IODeL and beyond. It is now up to Makerere University in particular and the Country in general to make use of these persons to transform the terrain of online, blended distance and e-learning education." Prof. Muyinda remarked.
Prof. Justine Namaalwa, the Program Coordinator for Mastercard Foundation Scholars Program at Makerere University, informed the audience, that the E-learning initiative was one of the many partnerships between Mastercard Foundation and Makerere University geared at supporting the young people to succeed on the African continent.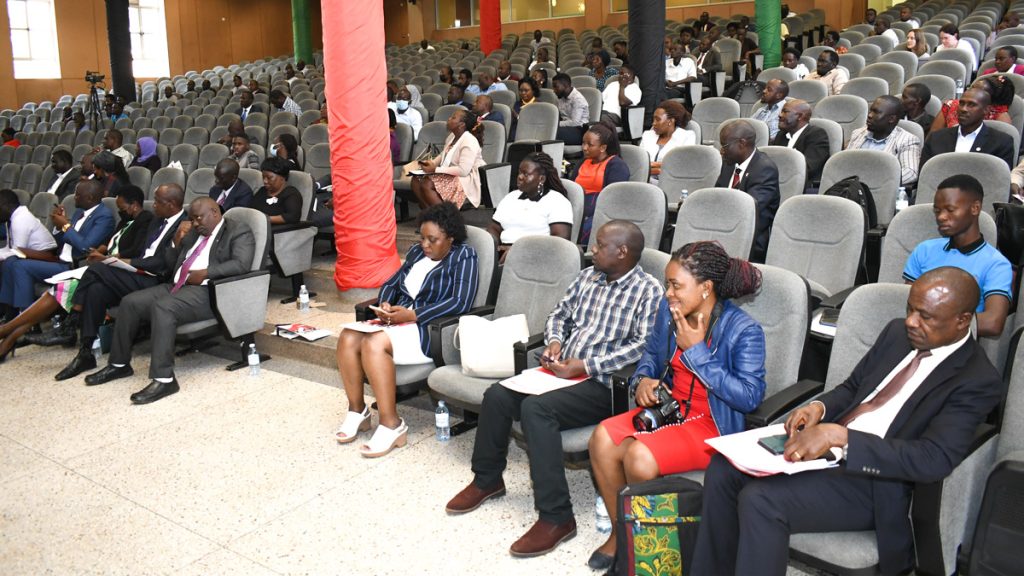 "The Mastercard Foundation Scholars Program continues to recognize that in order to enable young people across Africa to succeed, there is need to; Address systemic barriers in Higher education, Strengthen the capacity of Institutions that serve the Young People, and Support innovative solutions across critical sectors." Prof. Namaalwa remarked.
The colourful launch ended with a panel discussion in which panelists digested the importance and opportunities for open distance and eLearning in higher institutions of learning.
Bernard Buteera is the Communications Officer of the Mastercard Foundation Scholars Program at Makerere University.