Ugandan Journalists trained on Aflatoxins Communication and Reporting
A National Media Aflatoxin Group formed
Makerere University's Professor Archileo Kaaya is the Patron
About 30 journalists from different Media Houses in Uganda have undergone a two-day training on Aflatoxins Communication and Reporting, culminating in the establishment of a National Aflatoxin Journalist Network. The network will serve as an advocacy group to enhance public awareness and drive more actions to mitigate aflatoxin contamination of food and feeds.
The training was sponsored by the Platform for Aflatoxin Control in Africa (PACA), a program of the Africa Union Commission (AUC). This media training is the second of its type that the commission is supporting member states to implement. The first training took place in Senegal, in September 2018.
The training was officially opened by the Director for Extension in the Ministry of Agriculture, Animal Industry and Fisheries (MAAIF) Mrs. Beatrice Byarugaba on Monday, 29th October, 2018 at Fairway Hotel in Kampala.
The function was also attended by the AUC-PACA Program Officer, Ms. Wezi Chunga-Sambo, Chair, Aflatoxin Technical Working Group, Prof. Archileo Kaaya, members of the PACA Secretariat and the Uganda Mycotoxin Mitigation Steering Committee among others.
The journalists received Certificates of participation signed by the AUC Officer in Charge and Head, Rural Economy and Agriculture Dr. Janet Edeme, after induction through a series of topics on aflatoxins and responsible reporting.
Topics included: Aflatoxins – their impacts on public health, trade and agriculture at national and continental levels; Aflatoxins – stakeholders and their roles; Aflatoxin Research findings with emphasis on groundnuts; Media /Research interface on aflotoxin information packaging; Interventions by AUC-PACA, and a summary of the C-SAAP Report on Uganda among others.
Key presenters included Makerere University's Prof. Archileo Kaaya, Dr. David Kalule Okello from the National Agricultural Research Organisation (NARO), PACA Secretariat members; Ms. Grace Akao, Ms. Wezi Chunga-Sambo and Mr. Ibrahim Gariba.
In her opening remarks, Director for Extension MAAIF Mrs. Beatrice Byarugaba noted that the country had been awoken by research findings that aflatoxins are indeed a big threat. She expressed appreciation to Makerere University and NARO Researchers for the job well done.
Mrs. Byarugaba further appreciated the PACA Secretariat for involving the media saying, the aflatoxins have reached a threatening level, affecting all staple foods, public health and trade.
"Aflatoxins are consumed by everyone at all stages of the food value chain and have impacted on trade and exports which is very sad.

"Aflatoxins are caused by poor handling practices starting on-farm to the value chain, traders, stores, retail industries, manufacturers and when we eat eggs and milk.
"Schoolchildren and all institutions are at risk as many take groundnut paste (odi) and serve a variety of foods in all forms", the Director said.
Mrs. Byarugaba described the research findings on aflatoxins as a blessing towards finding lasting solutions to the threat posed.
"The best option is prevention and this is why we need the media to help educate people, since you are the eye and mouthpiece of society. We need you as communication experts to be part of us to relay the findings in our development programs.
"People are consuming aflatoxins without knowing. Aflatoxins are affecting trade; we had a big consignment to Kenya and when it was sampled it had aflatoxins.
"One time we had a consignment to Korea which was also rejected and a lot of money was lost in this consignment, affecting the economy.
"We have a problem of stunting. Cancer has become an epidemic at Mulago Hospital and is linked to aflatoxins. We need people to know about it and the media to be our change agents." The Director stated.
Mrs. Byarugaba also emphasized the need for the media to report correctly so as to help the masses protect themselves from aflatoxins. She expressed the Government's confidence in the media and commitment to partner with it to raise public awareness and promote good management practices of aflatoxins.
Ms. Wezi Chunga-Sambo in her remarks said the AUC is committed to raising Africa's food safety and quality standards at par with the rest of the world, in order to make Africa's agriculture a competitive and vibrant sector that promotes trade and agribusiness.
She reported that PACA has a 10 year strategic plan which has identified public awareness, advocacy and communication as one of the strategic thematic areas. In addition to the strategy, she said PACA has developed a continental communication strategy currently being adopted by various member states in coming up with their own national communication plans.
"Right from the onset when PACA was created, stakeholders realised that awareness of aflatoxins and their impacts on health of consumers, trade and agriculture is generally low. However it also dawned on stakeholders that creating awareness of aflatoxins to the general public is complex due to the technical nature of the information involved". She said
Noting that aflatoxins are a silent killer which cannot be seen by the naked eye and with their health effects mostly manifesting over a period of time, Ms. Chunga-Sambo implored journalists to communicate findings responsibly without causing alarm and panic among the population.
"This requires scientists and communication experts to work in synergy to develop clear, evidence-based, action-driven messages and information targeted at specific audiences and delivered using media, formats and languages most appropriate and accessible to those groups", she advised.
Ms. Chunga-Sambo described media professionals as very important stakeholders who play a pivotal role in how modern societies view and believe, accept or reject information hence the need to capacitate them in communicating about the aflatoxin threat. This, she concluded, would help the media provide clear evidence-based information on aflatoxins to the target groups.
Report compiled by;
Jane Anyango;
Principal Communication Officer CAES
Innovations using low cost locally available materials for point of use water treatment system unveiled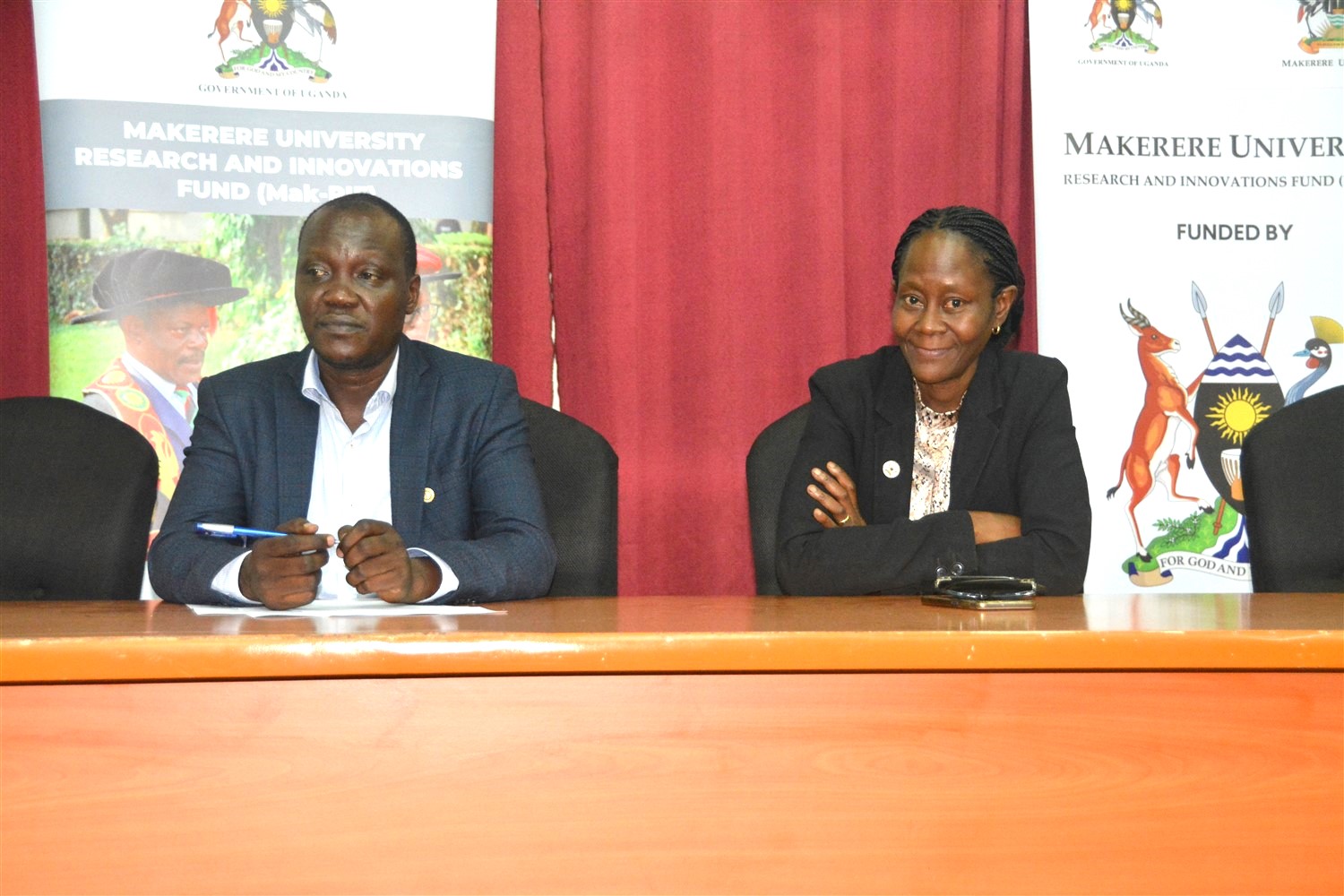 The College of Engineering, Design, Art and Technology (CEDAT) conducted a Research Dissemination of two studies aimed at the Development of Materials for point of use water treatment systems.
The investigations were conducted by a team of researchers comprised of P. W. Olupot, H. M. Kalibbala, E. Menya, G.M. Wangi, J. Jjagwe, J. Wakatuntu, M. Turyasingura, R. Walozi, C. Kanyesigye and R. N. Kulabako.
The dissemination event held on Wednesday 29th November 2023 follows the successful completion of two MakRIF supported Research projects namely; Development of rice husk based granular activated carbon for point-of-use water treatment systems and Development of zeolite-based nanocomposite filters for drinking water treatment.
Apac District gains from CEDAT's Research on Piloting a Rural Broadband Connectivity Model and Efficacious patient management system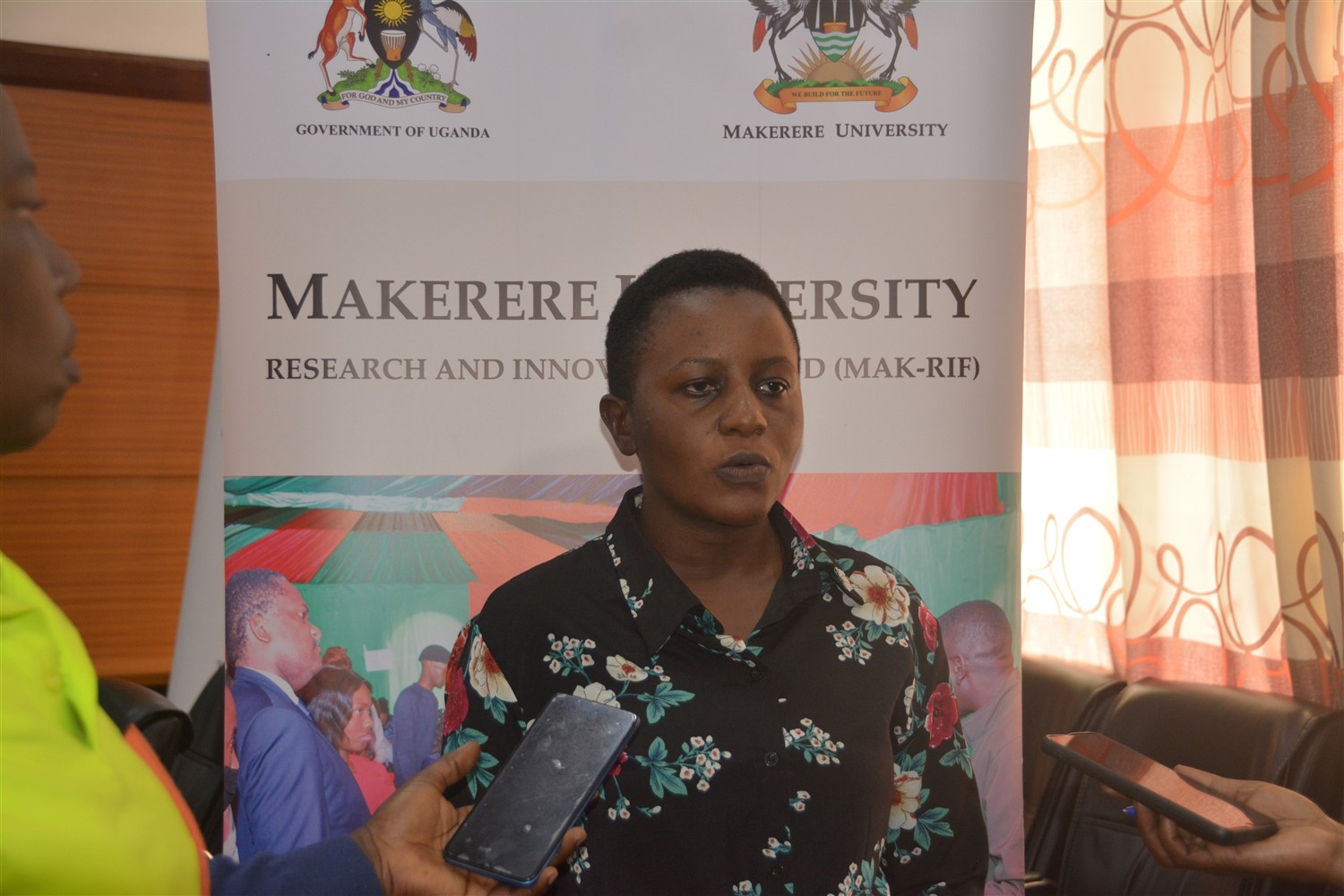 The School of Engineering at the College of Engineering, Design, Art and Technology (CEDAT) shared findings of research that was conducted in Apac Districts through two projects namely Piloting a Rural Broadband Connectivity Model (RCBM) and Efficacious patient management system (EPMS).
The findings of the research sponsored by the Government of Uganda through the Makerere University research and Innovation Fund(MakRIF) were disseminated during a dissemination seminar held in the College on Friday 24th November 2023, where it was revealed that  Apac the host District greatly benefited from the services that not only led to the increased uptake of internet services but also gained through other socio economic areas.
Application Forms for Admission to Public Universities 2024/2025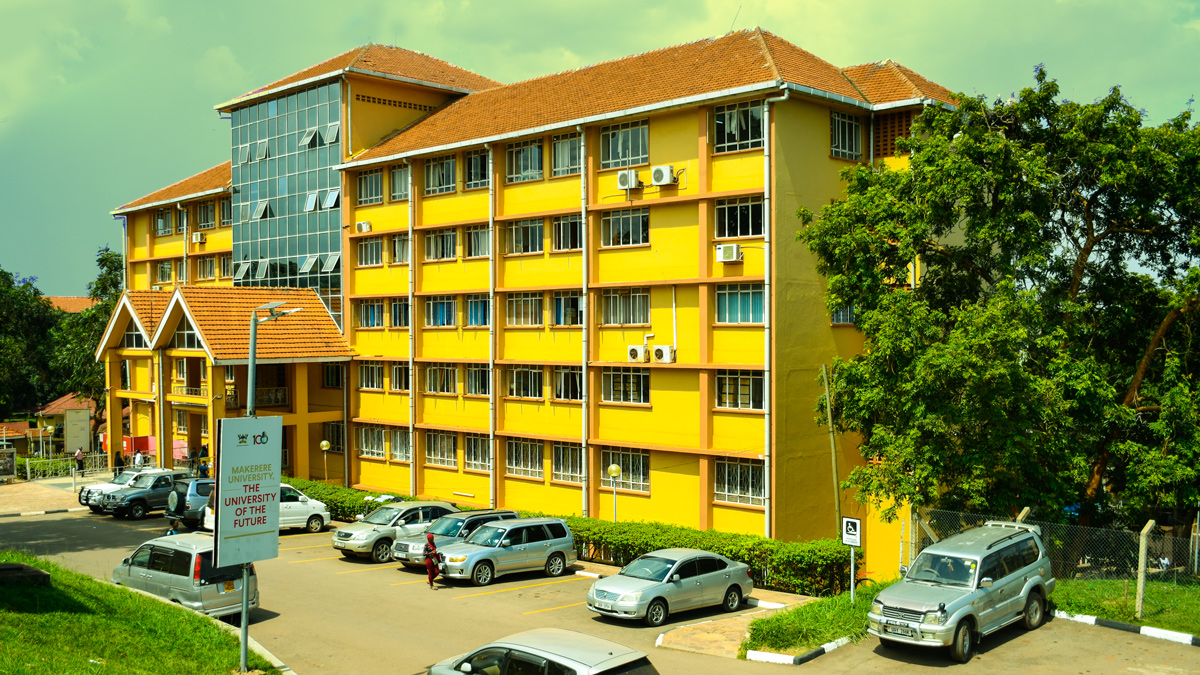 The Academic Registrar, Makerere University informs all Head Teachers of A 'Level schools that application forms for admission to public universities for senior six candidates (UACE 2023) for the 2024/2025 academic year will be ready for collection from the university from Monday 4th December, 2023.
The application forms should be collected from the Office of the Academic Registrar, Senate Building, Level 3, Makerere University.
Issuing of the application forms will start on Monday, 4th December 2023 on payment of a non-refundable application fee of Uganda Shs. 52,000/=(fifty two thousand Uganda shillings only) per application form.
You are advised to get a pay reference number (PRN) using the ACMIS system (http://pay.mak.ac.ug) to enable you pay the application fees in any bank used by Uganda Revenue Authority (URA).
The forms are for Ugandans only.
Please note that only Head Teachers or their authorized representatives will be served.
The closing date for submitting the completed application forms will be Wednesday 31st January, 2024.
Prof. Buyinza Mukadasi
ACADEMIC REGISTRAR