Ugandan Journalists trained on Aflatoxins Communication and Reporting
A National Media Aflatoxin Group formed
Makerere University's Professor Archileo Kaaya is the Patron
About 30 journalists from different Media Houses in Uganda have undergone a two-day training on Aflatoxins Communication and Reporting, culminating in the establishment of a National Aflatoxin Journalist Network. The network will serve as an advocacy group to enhance public awareness and drive more actions to mitigate aflatoxin contamination of food and feeds.
The training was sponsored by the Platform for Aflatoxin Control in Africa (PACA), a program of the Africa Union Commission (AUC). This media training is the second of its type that the commission is supporting member states to implement. The first training took place in Senegal, in September 2018.
The training was officially opened by the Director for Extension in the Ministry of Agriculture, Animal Industry and Fisheries (MAAIF) Mrs. Beatrice Byarugaba on Monday, 29th October, 2018 at Fairway Hotel in Kampala.
The function was also attended by the AUC-PACA Program Officer, Ms. Wezi Chunga-Sambo, Chair, Aflatoxin Technical Working Group, Prof. Archileo Kaaya, members of the PACA Secretariat and the Uganda Mycotoxin Mitigation Steering Committee among others.
The journalists received Certificates of participation signed by the AUC Officer in Charge and Head, Rural Economy and Agriculture Dr. Janet Edeme, after induction through a series of topics on aflatoxins and responsible reporting.
Topics included: Aflatoxins – their impacts on public health, trade and agriculture at national and continental levels; Aflatoxins – stakeholders and their roles; Aflatoxin Research findings with emphasis on groundnuts; Media /Research interface on aflotoxin information packaging; Interventions by AUC-PACA, and a summary of the C-SAAP Report on Uganda among others.
Key presenters included Makerere University's Prof. Archileo Kaaya, Dr. David Kalule Okello from the National Agricultural Research Organisation (NARO), PACA Secretariat members; Ms. Grace Akao, Ms. Wezi Chunga-Sambo and Mr. Ibrahim Gariba.
In her opening remarks, Director for Extension MAAIF Mrs. Beatrice Byarugaba noted that the country had been awoken by research findings that aflatoxins are indeed a big threat. She expressed appreciation to Makerere University and NARO Researchers for the job well done.
Mrs. Byarugaba further appreciated the PACA Secretariat for involving the media saying, the aflatoxins have reached a threatening level, affecting all staple foods, public health and trade.
"Aflatoxins are consumed by everyone at all stages of the food value chain and have impacted on trade and exports which is very sad.

"Aflatoxins are caused by poor handling practices starting on-farm to the value chain, traders, stores, retail industries, manufacturers and when we eat eggs and milk.
"Schoolchildren and all institutions are at risk as many take groundnut paste (odi) and serve a variety of foods in all forms", the Director said.
Mrs. Byarugaba described the research findings on aflatoxins as a blessing towards finding lasting solutions to the threat posed.
"The best option is prevention and this is why we need the media to help educate people, since you are the eye and mouthpiece of society. We need you as communication experts to be part of us to relay the findings in our development programs.
"People are consuming aflatoxins without knowing. Aflatoxins are affecting trade; we had a big consignment to Kenya and when it was sampled it had aflatoxins.
"One time we had a consignment to Korea which was also rejected and a lot of money was lost in this consignment, affecting the economy.
"We have a problem of stunting. Cancer has become an epidemic at Mulago Hospital and is linked to aflatoxins. We need people to know about it and the media to be our change agents." The Director stated.
Mrs. Byarugaba also emphasized the need for the media to report correctly so as to help the masses protect themselves from aflatoxins. She expressed the Government's confidence in the media and commitment to partner with it to raise public awareness and promote good management practices of aflatoxins.
Ms. Wezi Chunga-Sambo in her remarks said the AUC is committed to raising Africa's food safety and quality standards at par with the rest of the world, in order to make Africa's agriculture a competitive and vibrant sector that promotes trade and agribusiness.
She reported that PACA has a 10 year strategic plan which has identified public awareness, advocacy and communication as one of the strategic thematic areas. In addition to the strategy, she said PACA has developed a continental communication strategy currently being adopted by various member states in coming up with their own national communication plans.
"Right from the onset when PACA was created, stakeholders realised that awareness of aflatoxins and their impacts on health of consumers, trade and agriculture is generally low. However it also dawned on stakeholders that creating awareness of aflatoxins to the general public is complex due to the technical nature of the information involved". She said
Noting that aflatoxins are a silent killer which cannot be seen by the naked eye and with their health effects mostly manifesting over a period of time, Ms. Chunga-Sambo implored journalists to communicate findings responsibly without causing alarm and panic among the population.
"This requires scientists and communication experts to work in synergy to develop clear, evidence-based, action-driven messages and information targeted at specific audiences and delivered using media, formats and languages most appropriate and accessible to those groups", she advised.
Ms. Chunga-Sambo described media professionals as very important stakeholders who play a pivotal role in how modern societies view and believe, accept or reject information hence the need to capacitate them in communicating about the aflatoxin threat. This, she concluded, would help the media provide clear evidence-based information on aflatoxins to the target groups.
Report compiled by;
Jane Anyango;
Principal Communication Officer CAES
Uganda's policymakers implored to address forest loss, plastic & water pollution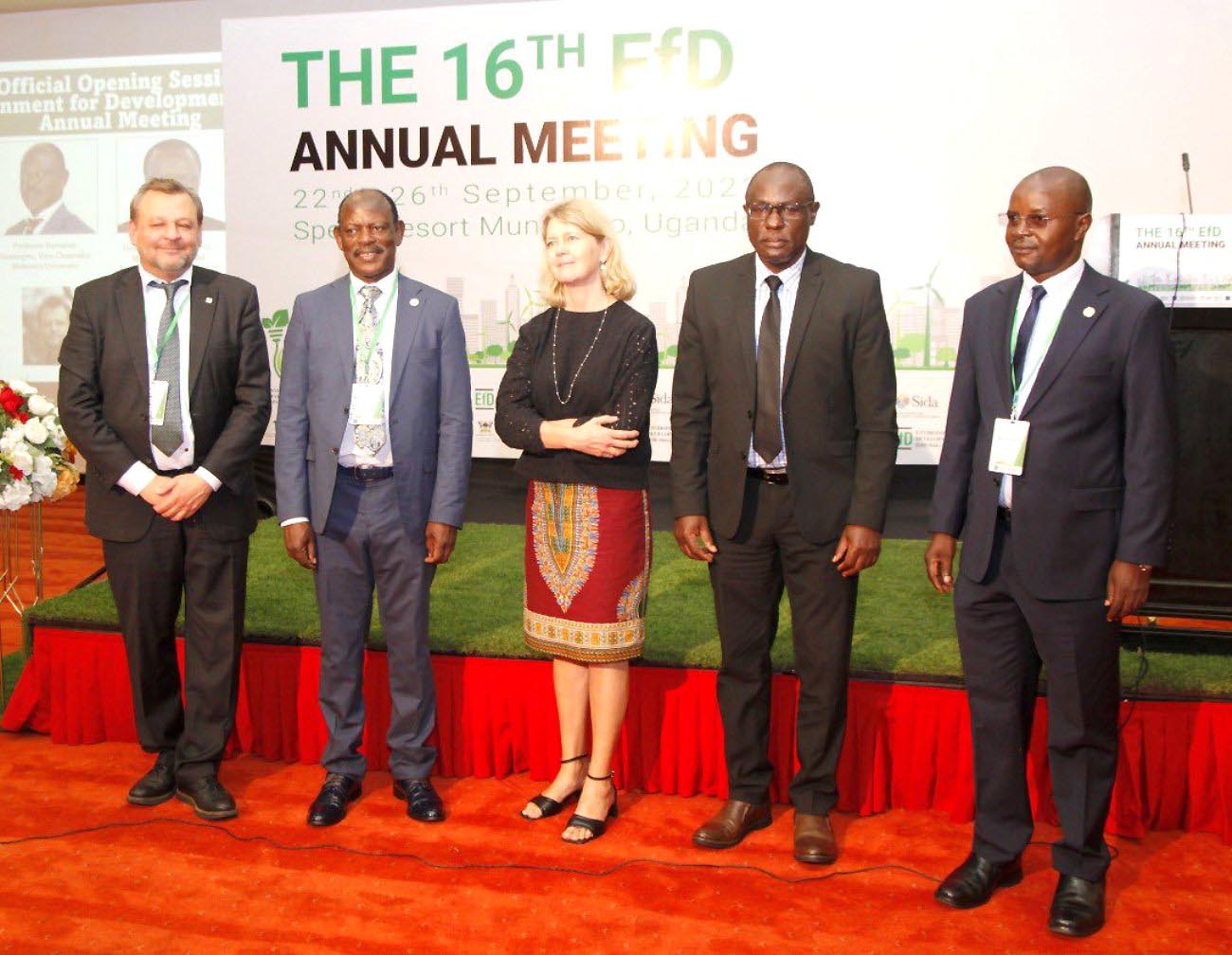 The Vice Chancellor Professor Barnabas Nawangwe on Thursday 22nd September, 2022 participated in the opening of the EfD Annual meeting hosted by Makerere University at Speke Resort Munyonyo where he appealed to government to implement the ban on kaveera and address other environmental issues.
The opening ceremony moderated by the EfD Global Hub Manager Gunnar Köhlin and was graced by Uganda's Minister for Water and Environment represented by the Commissioner for Water, Mr. Julius Mafumbo and the Swedish Ambassador to Uganda, H.E. Maria Håkansson.
Prof. Nawangwe urges Makerere University community to support the Mastercard Foundation E-learning Initiative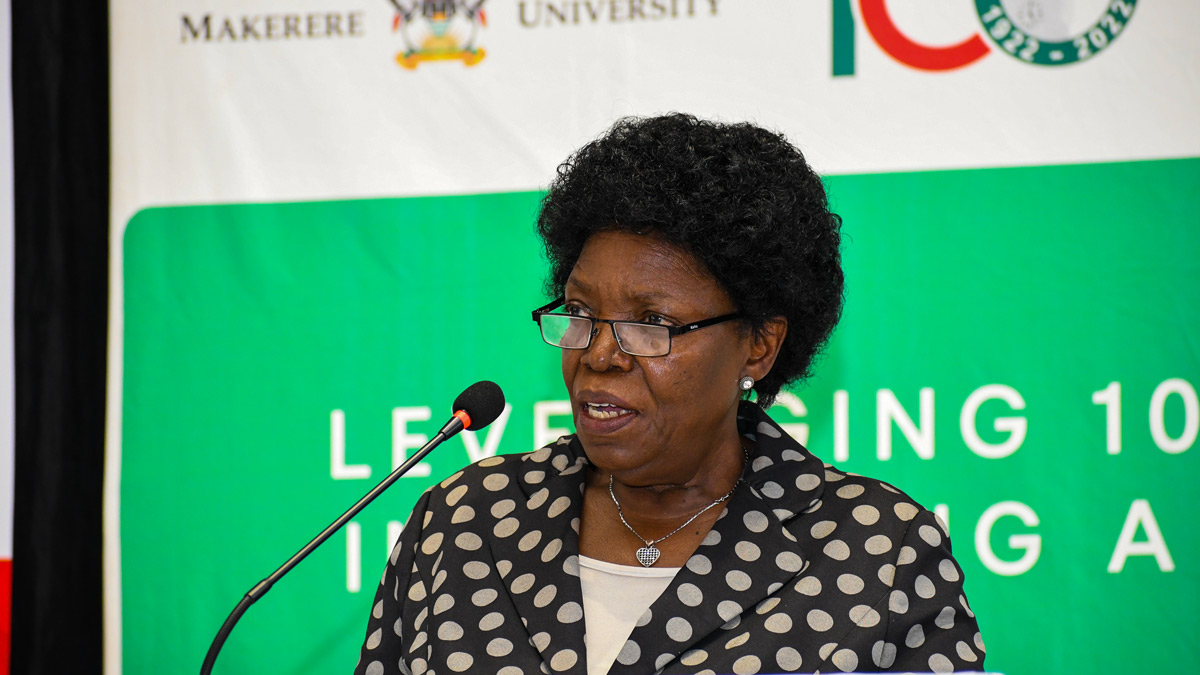 By Bernard Buteera
Makerere University has launched a two million dollar E-learning Project, dubbed The Mastercard Foundation Scholars Program E-learning initiative.  
The launch was held on Tuesday 20th September 2022 at Makerere University, Yusuf Lule Central Teaching Facility Auditorium. It attracted over 200 participants, who included members of University Management, College Principals, School Deans, Academic and Administrative staff, students and the general university community.
While addressing the gathering, the Chief Guest, Prof. Mary Okwakol, the Executive Director of National Council for Higher Education (NCHE), congratulated Makerere University for winning such a huge grant, which will go a long way in transforming the eLearning infrastructure at Makerere University.
"I am happy to be joining you in launching a project that is at the heart of National Council for Higher Education. Online learning is at the heart of the Council, not only because of the challenges presented by the Covid-19 pandemic, but also the world is now a digital world." Prof. Okwakol remarked.
Prof. Okwakol thanked Mastercard Foundation and other development partners who have continued to support initiatives that help transform higher institutions of learning in Uganda.
"I sincerely thank the Mastercard Foundation and other partners who have continued to support higher education in Uganda, especially in the area of research and online learning. Globally, the outbreak of the COVID-19 pandemic, greatly disrupted education systems forcing learners and some schools to shift to virtual learning to curb the spread of the pandemic." Prof. Okwakol pointed out.
On his part, the Vice Chancellor, Prof. Barnabas Nawangwe urged the university community, especially the academic staff to take advantage of the Mastercard Foundation E-learning initiative to develop e-content across all Colleges of the University, to enhance capacity for eLearning at Makerere University.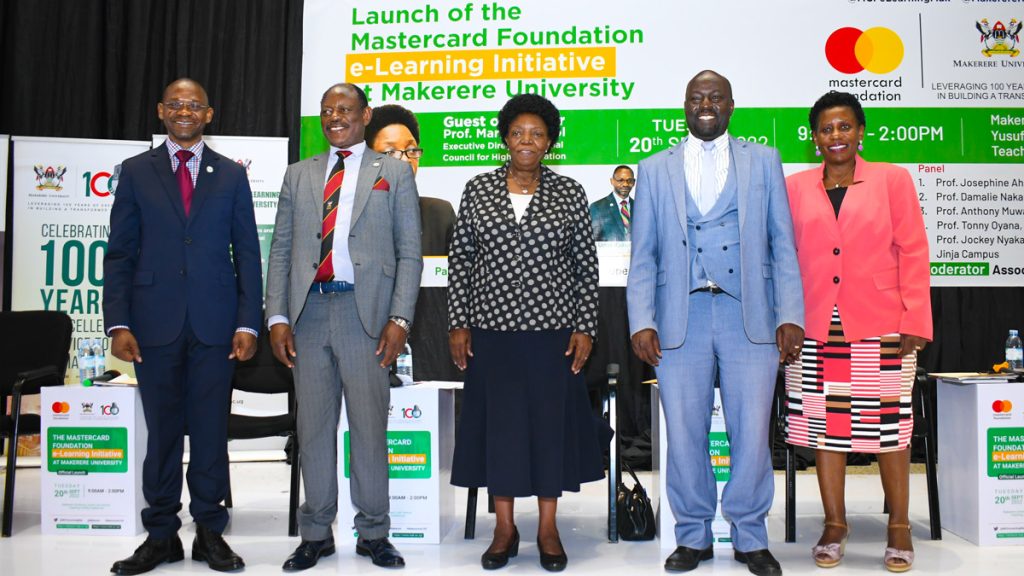 "I appeal to the Colleges to embrace this project and have as many courses adopt this pedagogy development system, even though students will continue with face-to face and phyisical learning, they should be allowed the option of online learning. The platforms that are going to be built, will give our students an opportunity to interact with international students, scholars, teachers and with each other." Prof. Nawangwe applealed.
The Vice Chancellor, further called upon all other development partners to emulate Mastercard Foundation in supporting Makerere University and other universities on the entire African continent in strengthening digital literacy, so that Africa is not left behind.
"In 2018 I attended a conference on E-learning in Beijing China, where a critical question was asked; Will Africa be left behind again? This was in reference to many advancements that were taking place in the western world, in which Africa had been left behind." The Vice Chancellor reminded the audience.
Prof. Nawangwe further emphaised the importance of e-learning as one of the critical modes of teaching and learning in the 21st first century.
"Ladies and Gentlemen, I cannot over emphasise the importance we attach to e-learning the 21st Century, that is why we took a decision to elevate the Department of Open and Distance Learning into an Institute of Open and Distance E-learning with an intention of having e-learning extended to other Colleges of the university." Prof. Nawangwe pointed out.
The Deputy Vice Chancellor Academic Affairs, and Chairperson of the Steering Committee of the E-learning Initiative, Prof. Umar Kakumba, rallied the University community to support the implementation of the project in the University.
"The Mastercard Foundation Scholars Program E-learning initiative could not have come in at a better time than post COVID19 era. A pandemic, which exposed our systems and methods of teaching and learning. You all recall, when were hit by the pandemic, with lockdowns and closures of institutions of learning, we all went into a panicky mode on how were going to cope with online learning. I therefore call upon every member of the university to give this project the support it deserves.
Prof. Kakumba reminded the audience the importance and relevancy of online learning at Makerere University and other universities in Uganda.
"The online method of learning is best suited for everyone. This digital revolution has led to remarkable changes in how the content is accessed, consumed, discussed, and shared. Office goers and stay home mothers can take up online educational courses too, at the time that suits them. Depending on their availability and comfort, many people choose to learn at weekends or evenings." Prof. Kakumba remarked.
Prof. Paul Birevu Muyinda, the Coordinator of the Mastercard Foundation E-learning Initiative, informed the audience the importance of the project and the expected outcomes for the University.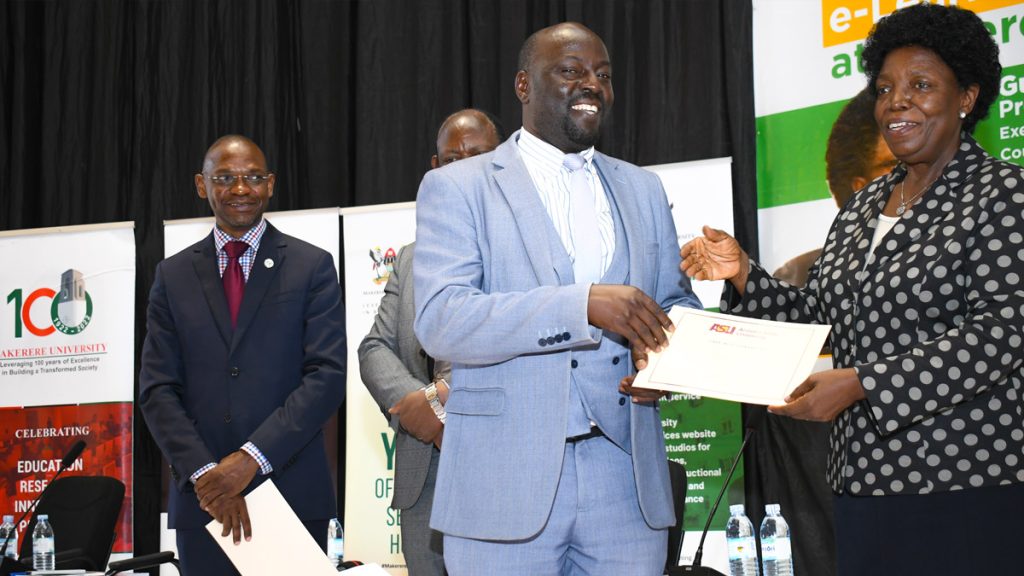 "The Mastercard Foundation e- Learning Initiative is a Project funded by Mastercard Foundation aimed at addressing the negative impact of COVID-19 pandemic that constrained access and continuity of teaching, learning, research and community engagement activities at Makerere University" Prof. Muyinda pointed out.
Prof. Muyinda further thanked the team that he worked with in putting up the proposal in a very short time that yielded such an important grant for the University.
"I thank the team that spent sleepless nights putting together the proposal that resulted into this project. I must report that Makerere University is privileged to be having the most highly qualified persons in online instruction design and online pedagogy at the IODeL and beyond. It is now up to Makerere University in particular and the Country in general to make use of these persons to transform the terrain of online, blended distance and e-learning education." Prof. Muyinda remarked.
Prof. Justine Namaalwa, the Program Coordinator for Mastercard Foundation Scholars Program at Makerere University, informed the audience, that the E-learning initiative was one of the many partnerships between Mastercard Foundation and Makerere University geared at supporting the young people to succeed on the African continent.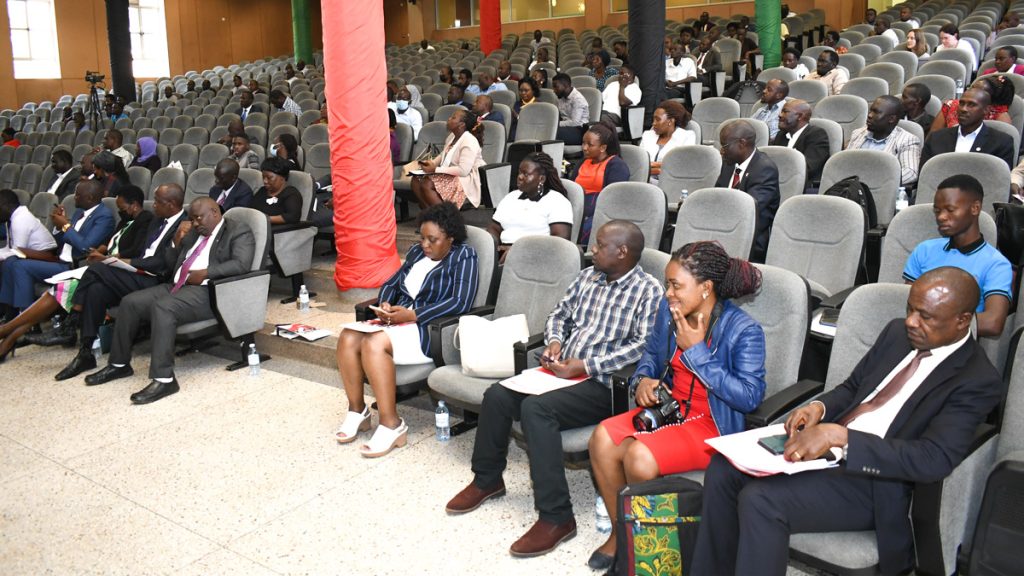 "The Mastercard Foundation Scholars Program continues to recognize that in order to enable young people across Africa to succeed, there is need to; Address systemic barriers in Higher education, Strengthen the capacity of Institutions that serve the Young People, and Support innovative solutions across critical sectors." Prof. Namaalwa remarked.
The colourful launch ended with a panel discussion in which panelists digested the importance and opportunities for open distance and eLearning in higher institutions of learning.
Bernard Buteera is the Communications Officer of the Mastercard Foundation Scholars Program at Makerere University.
Supplementary Admissions to Bachelor of Laws Under Private Sponsorship 2022/23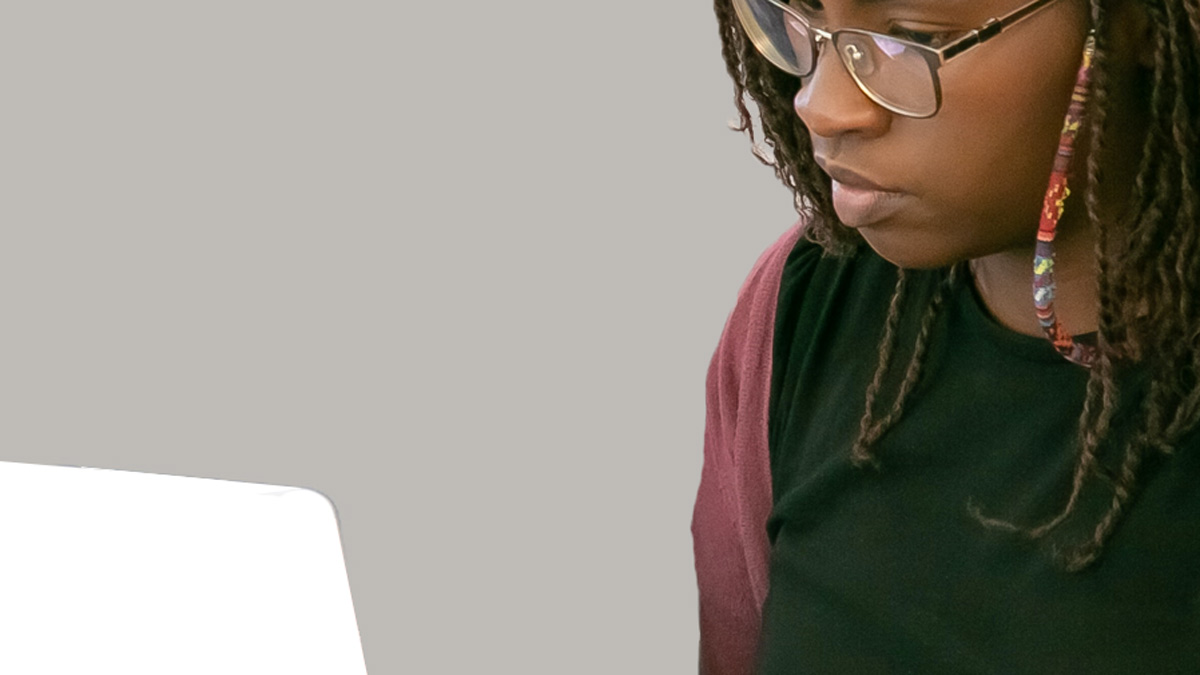 The Academic Registrar, Makerere University, informs applicants wishing to be admitted to Bachelor of Laws Private for 2022/2023 Academic year but failed to submit their application online to submit their applications from Friday 23rd to Friday 30th September, 2022 at a non-refundable fee of 50,000/= (Fifty thousand shillings only).
The applicants MUST have passed the Pre-entry Examinations for Bachelor of Laws.
Diploma/Degree holders should submit certified copies of their academic transcript to Room
315 Level 3, Senate Building.
Applicants who have already been admitted need not apply.
For any additional information, contact Undergraduate Admissions Offices 301/303 for A'Level Applicants and Office 315 for Diploma/Degree holders.
ALFRED MASIKYE NAMOAH
AG. ACADEMIC REGISTRAR
Date: 22nd September, 2022