Prof. Tukamuhabwa Wins UBBC Biotechnology Award 2018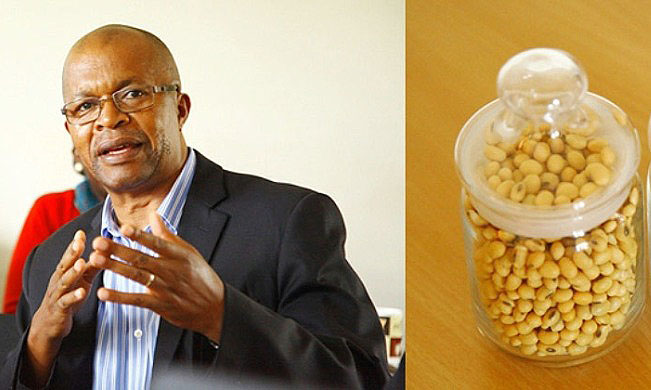 Makerere University's prolific Plant Breeder Prof. Phinehas Tukamuhabwa has won the Biotechnology Award 2018 during the first Annual Biotechnology Awards ceremony by the Uganda Biotechnology and Biosafesty Consortium (UBBC) on Wednesday, 19th September 2018.
The award is in honor of his immense contribution to socio- economic development through biotechnology, scientific research and innovations.
Prof. Tukamubwa's current research thrust is in genetics of resistance to soybean rust disease and development of varieties that are resistant to soybean rust, groundnut leaf miners and adzuki bean bruchids. These efforts are integrated with adaptation of soybean genotypes to farmers' conditions and research on soybean seed systems.
He has spearheaded the development of soybean varieties; Maksoy 6N, Maksoy5N, Maksoy 4N, Maksoy 3N, Maksoy 2N, Maksoy 1N, Namsoy 4M, Namsoy 3 and Nam 2 and climbing bean varieties; Nabe 12C, Nabe 9C, Nabe 8C, Nabe 7C and Nabe 6C. All these varieties are widely grown at commercial level in Uganda and the region.
Tukamuhabwa has also pioneered development of glyphosate tolerant soybeans in Africa, in containment at Makerere University Agricultural Research Institute Kabanyolo (MUARIK). Glyphosate is a non selective herbicide that kills all plant forms except crops engineered to glyphosate resistance.
One of the biggest challenges in soybean production is the high cost of weeding hindering large scale production and profits to farmers.
Prof. Tukamuhabwa's idea is to develop an agronomically acceptable soybean variety which when sprayed with glyphosate will be tolerant, unlike other plants and weeds in the garden.
The Professor explained that this type of soybean however, is not an ordinary soybean. It is genetically modified, that is, there is a transgene to cause resistance to the glyphosate.
"Glyphosate-tolerant soybean reduces time required for weeding, the cost of weeding and avails more time to the farmer and makes soybean productive and more profitable.
All the current soybean varieties produced at Makerere University are conventional and non-GMO.
GMO soybean is being grown in containment under regulations established by the Uganda National Council for Science and Technology (UNCST)", Prof. Tukamuhabwa clarified.
About Prof. Phinehas Tukamuhabwa
Phinehas Tukamuhabwa is a Professor of Plant Breeding and Genetics at Makerere University. He holds a Bachelor of Science Degree (Makerere University), Master of Science (University of Bath, UK) and a PhD in Genetics and Plant Breeding (Makerere University).
He has acquired knowledge and skills in Genetics, Plant Breeding, Biotechnology, Seed Science and Technology and Intellectual Property Management.
Tukamuhabwa has supervised and mentored many young scholars and scientists.
Before joining Makerere University, he worked with the National Agricultural Research Organisation (NARO) as a Plant Breeder.
He has served two terms on the National Biosafety Committee and is currently on the National Seed Board and several committees at Makerere University.
Prof. Tukamuhabwa has also served as the Director of Makerere University Agricultural Research Institute Kabanyolo (MUARIK) from 2013 to date.
About Uganda Biotechnology and Biosafesty Consortium (UBBC)
Uganda Biotechnology and Biosafety Consortium (UBBC) is a coalition of stakeholders with common cause to safeguard the advancement of Biotechnology for socio-economic development and transformation in the country.
UBBC is uniquely born out of a strong need for a multi-sectoral, multi-stakeholder and multi-competence organisation around a common cause.
UBBC works towards the development of health, agriculture, environment, trade and social justice and, is among the stakeholders involved in ensuring Biosafety Legislation for Uganda right from the time of its formation.
The UBBC has organized annual biotechnology award ceremony to honor individuals who have contributed immensely to socio-economic development through biotechnology.
This annual event provides a platform for periodical information to the country and policy makers on current developments in the field of science and innovation. This is in line with the country's vision of attaining a lower middle-income status by 2020 through bio-economy.
This year 2018, UBBC has recognized winners with awards inform of plaques in the fields of biotechnology in the following categories:
Biotechnology Innovator/Researcher (who have excelled in research and innovation of biotechnology products to solve challenges faced by stakeholders)
Biotechnology Entreprenuer (who have rolled out their research to commercialization stage)
Biotechnology Communicator (who have excelled in sensitization and outreach in biotechnology to stakeholders in the media and community space)
Champions (who have excelled in mentoring and advocacy of biotechnology among stake holders)
The Objectives of the UBBC are to identify and inspire innovators in the bio-economy in Uganda, establish linkages through the value chain from research to the market and, to motivate bio-innovators with awards.
Report Compiled by;
Jane Anyango;
Principal Communication Officer, CAES.
Innovations using low cost locally available materials for point of use water treatment system unveiled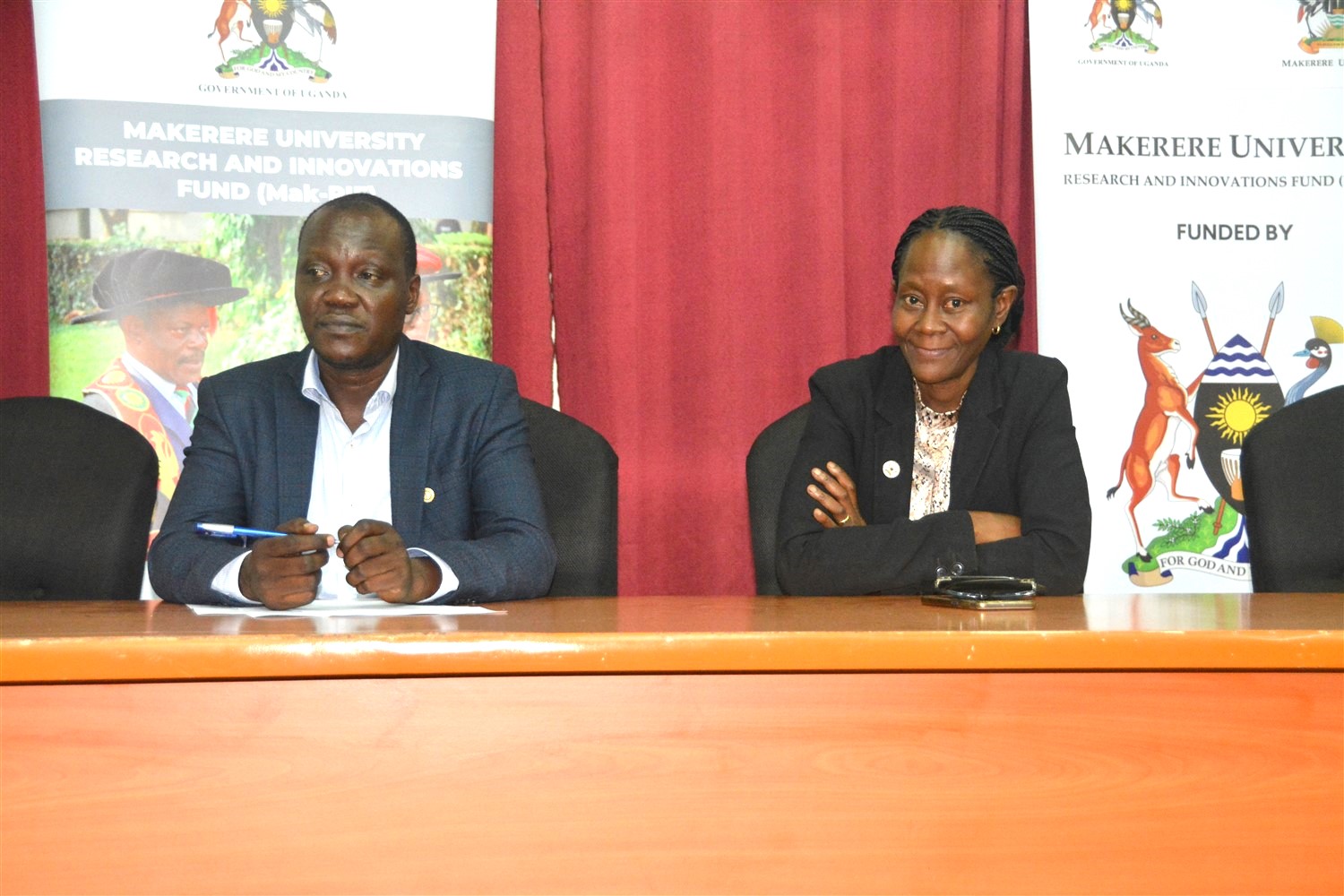 The College of Engineering, Design, Art and Technology (CEDAT) conducted a Research Dissemination of two studies aimed at the Development of Materials for point of use water treatment systems.
The investigations were conducted by a team of researchers comprised of P. W. Olupot, H. M. Kalibbala, E. Menya, G.M. Wangi, J. Jjagwe, J. Wakatuntu, M. Turyasingura, R. Walozi, C. Kanyesigye and R. N. Kulabako.
The dissemination event held on Wednesday 29th November 2023 follows the successful completion of two MakRIF supported Research projects namely; Development of rice husk based granular activated carbon for point-of-use water treatment systems and Development of zeolite-based nanocomposite filters for drinking water treatment.
Apac District gains from CEDAT's Research on Piloting a Rural Broadband Connectivity Model and Efficacious patient management system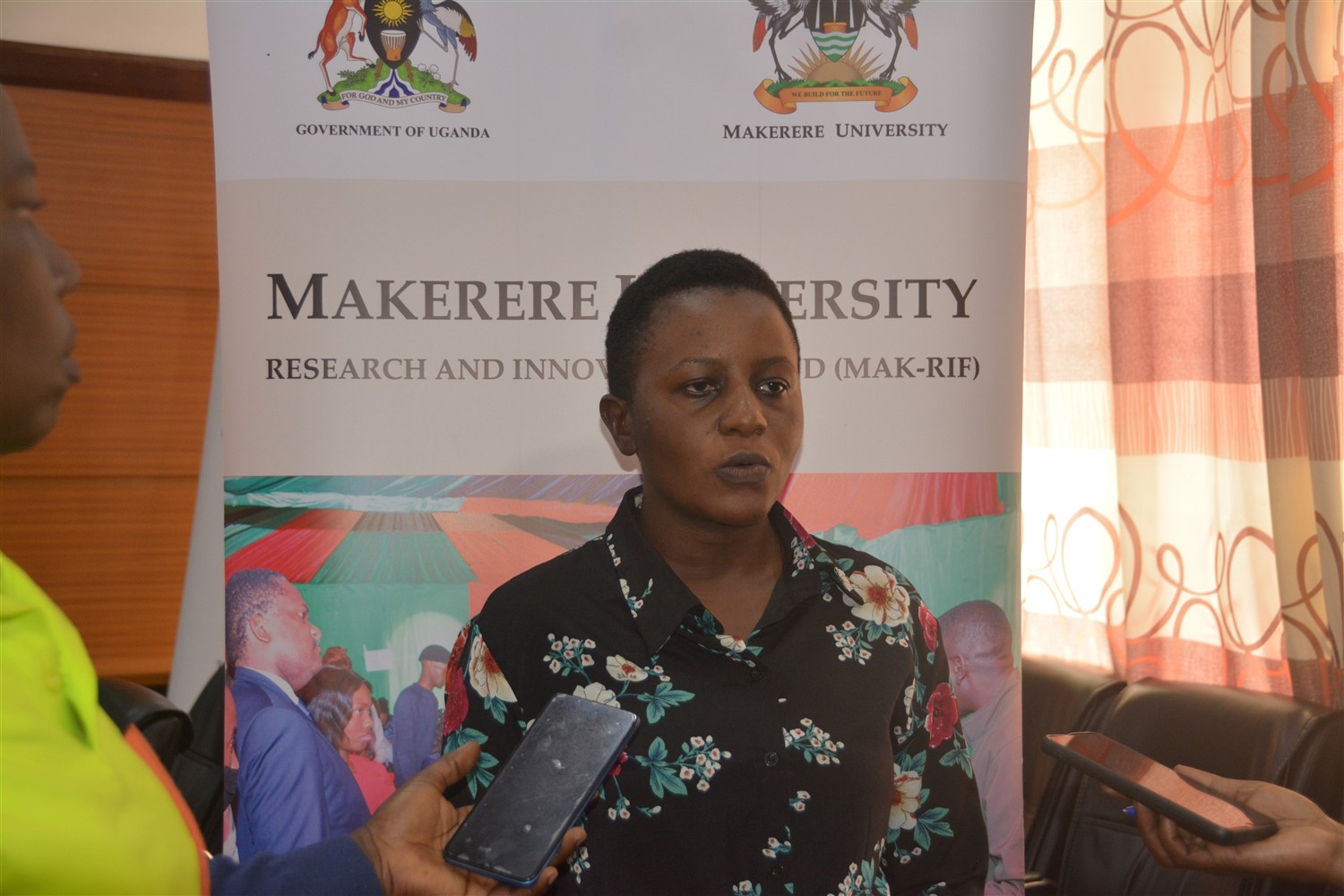 The School of Engineering at the College of Engineering, Design, Art and Technology (CEDAT) shared findings of research that was conducted in Apac Districts through two projects namely Piloting a Rural Broadband Connectivity Model (RCBM) and Efficacious patient management system (EPMS).
The findings of the research sponsored by the Government of Uganda through the Makerere University research and Innovation Fund(MakRIF) were disseminated during a dissemination seminar held in the College on Friday 24th November 2023, where it was revealed that  Apac the host District greatly benefited from the services that not only led to the increased uptake of internet services but also gained through other socio economic areas.
Application Forms for Admission to Public Universities 2024/2025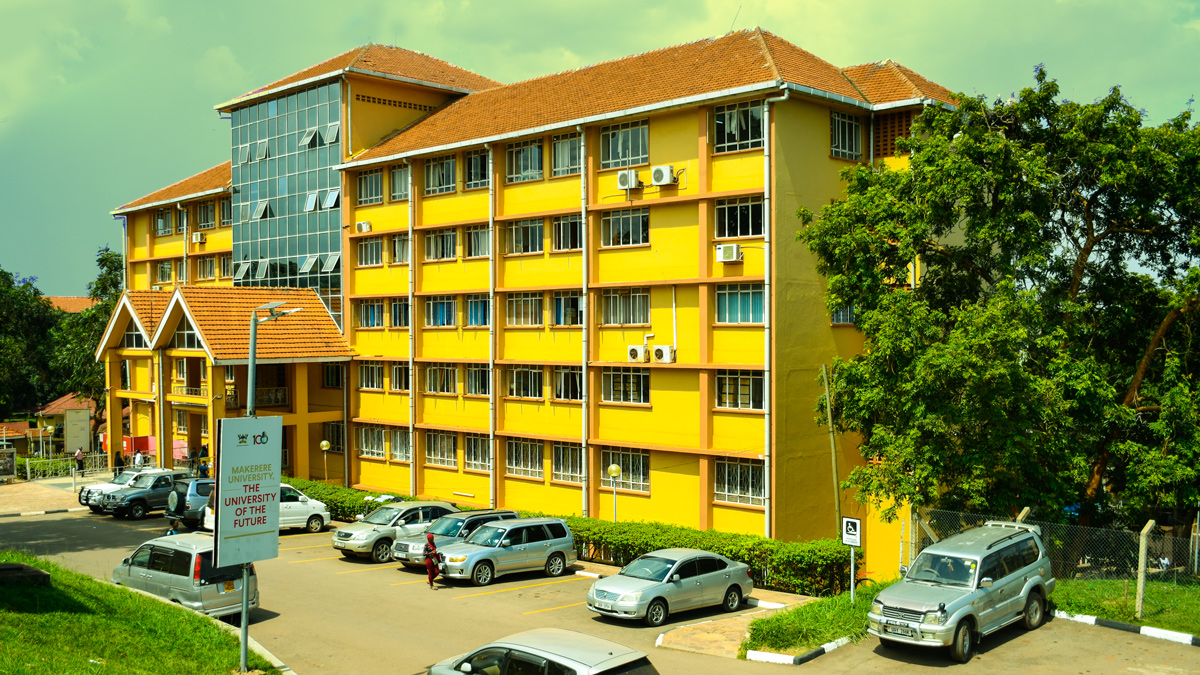 The Academic Registrar, Makerere University informs all Head Teachers of A 'Level schools that application forms for admission to public universities for senior six candidates (UACE 2023) for the 2024/2025 academic year will be ready for collection from the university from Monday 4th December, 2023.
The application forms should be collected from the Office of the Academic Registrar, Senate Building, Level 3, Makerere University.
Issuing of the application forms will start on Monday, 4th December 2023 on payment of a non-refundable application fee of Uganda Shs. 52,000/=(fifty two thousand Uganda shillings only) per application form.
You are advised to get a pay reference number (PRN) using the ACMIS system (http://pay.mak.ac.ug) to enable you pay the application fees in any bank used by Uganda Revenue Authority (URA).
The forms are for Ugandans only.
Please note that only Head Teachers or their authorized representatives will be served.
The closing date for submitting the completed application forms will be Wednesday 31st January, 2024.
Prof. Buyinza Mukadasi
ACADEMIC REGISTRAR