Government Pledges Support as HERS-EA Second Academy Closes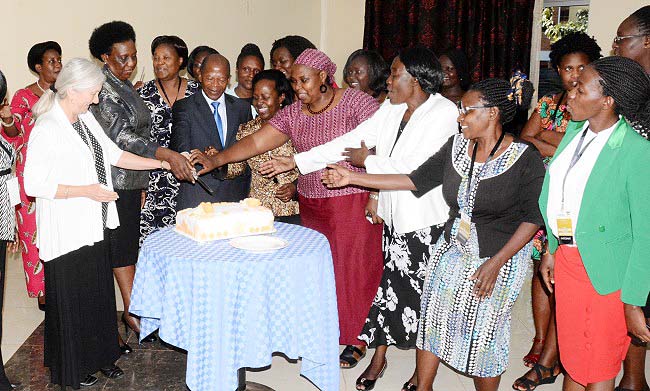 The Government of Uganda through the Ministry of Education and Sports (MoES) has pledged to support the good work being done under Higher Education Resource Services, East Africa (HERS-EA), aimed at promoting the advancement of women in leadership and management in Higher Education through training. Speaking at the closing ceremony of the Second Academy on Friday, 6th July 2018 at Grand Global Hotel, the State Minister for Higher Education-Hon. Dr. John Chrysostom Muyingo reassured the audience that HERS-EA's efforts had not gone unnoticed and the Government would arrange to meet the leadership and deliberate on the terms of support.
"In the Ministry of Education and Sports, we have a culture of sharing, and so when I told the Minister of Education and Sports and First Lady that I was coming to preside over this closing ceremony, she was not only excited to learn about what you have been doing here but also sent her warm greetings to each and every one of you" remarked Hon. Dr. Muyingo.
Earlier, the HERS-EA Coordinator, Ms. Naomi Lumutenga had shared that HERS-EA is solely run by support from volunteers and its concept of empowering women leaders and managers in Higher Eduction has now been embraced by all East African Community Member countries. "We are now at a point where we need government buy-in, in the same way that the government of the Republic of South Africa bought into HERS-South Africa. We have support from IUCEA and we would prefer to take HERS-EA forward as a regional organisation that is aligned to the EA regional agenda" she added in address to the State Minister.
"I wish to reassure you that before your request came, the conversation had already started in the Ministry of Education and Sports" said Hon. Dr. Muyingo. "I therefore urge you to get in touch with my office so that we can discuss this matter further" he added.
The State Minister thanked the facilitators for demonstrating their love for Uganda by volunteering their time and resources to impart knowledge to their fellow ladies. He also thanked participants for dedicating time to the course and prayed that they would put all that they had learnt into practice.
"Our problem in society is the shortage of people who are equipped with good leadership and management skills. The skills that you have gained during the course of this workshop will help provide solutions to some of our problems. We need more women in leadership than in any other sector. I therefore urge you to go out and share the skills you have acquired freely" encouraged Hon. Dr. Muyingo.
He further urged his audience to read Robin Sharma's book The Leader Who Had No Title, the take home being that leadership is not about titles or the salary at the end of the month but rather how brilliantly we work, how expertly we go about our behaviour and how unshakable our faith is in the visions of our respective institutions.
"Uganda's national Agenda – Vision 2040 and Second National Development Plan are rooted in the Global Agenda that emphasises gender mainstreaming, if the country is to develop. Universities admissions continue to provide special dispensation to female candidates but we all recognise that there is more work to be done, to improve the experiences of female students at university campuses.
"I wish to reassure you that the additional 1.5 points affirmative action for the girl child will remain and as Government, we appreciate what you are doing here to empower women professionals and we shall support you" concluded Hon. Dr. Muyingo.
Representing the Vice Chancellor-Prof. Barnabas Nawangwe, the Acting Director, Gender Mainstreaming Directorate (GMD)-Dr. Euzobia Mugisha Baine thanked the honourable State Minister for sparing time to attend the closing ceremony; an act that demonstrated the Government's appreciation of the role women play in leadership and management.
A 2009 alumna of HERS-South Africa, Dr. Mugisha Baine shared that as attendees then, they were encouraged to look at themselves as brands, because "you must stand for something or you will fall for anything." She also encouraged participants to look at all their placements in life as a privilege so as to be able to consciously and meaningfully make a difference every day.
"Where I am is a mission and a conviction. I am either functioning or I am not. Therefore as a Directorate, our daily quest is to see how we can make Makerere University more inclusive for both women and men. We also emphasise gender-focussed research. We must look at what this research is for and whose it is.
"I warmly congratulate everyone who has been involved in this event and I hope that you will continue to build your team and to work together, for the betterment of your institutions, countries and our continent of Africa. I wish each one of you the best of luck in your future endeavours." concluded Dr. Mugisha Baine.
Speaking on behalf of her fellow participants, Dr. Jane Akinyi Aduda from the Jomo Kenyatta University of Agriculture and Technology (JKUAT), Kenya could not hide her admiration and respect for the HERS-EA leadership and workshop facilitators.
"When we came here on the first day, we were like chicken, comfortable in our spaces; happy to move along the ground and fly short distances, only to realise that we were expected to soar like eagles" she remarked, before adding "And all week we've been wondering what these women eat! Every speaker and facilitator has been so full of wisdom and their sharing has been enlightening. We are definitely coming for tips on your diet as well" to which her audience responded with thundering applause and laughter.
"I can't stop asking what we did to deserve this but all I want to say is thank you to HERS-EA, the partners, funders, facilitators and my fellow participants. It has been phenomenal!" she concluded.
Sharing some parting words of wisdom with the participants, Ms. Lumutenga said, "Congratulations and welcome to the HERS Community where 'Empowered Women Empower Women'!"
Quoting the Biblical Parable of the Talent, Ms. Lumutenga went on to say "You all have your God-given talents which, for personal or institutional reasons may have been lying low or completely undiscovered. We hope that we have helped you to figure out how to dig into yourself, discover that/those talents. When you do; develop and use them so that they can multiply!
"So step out boldly and pull others; you might get some bruises along the way but, keep going, the scratches will heal!" encouraged Ms. Lumutenga.
The ladies were then awarded certificates of completion by the Chief Guest, who later joined HERS-EA leadership, facilitators and participants in a cake cutting ceremony to mark the successful conclusion of the Second Academy.
Article by Public Relations Office
Mak Participates in New Vision Education Expo 2023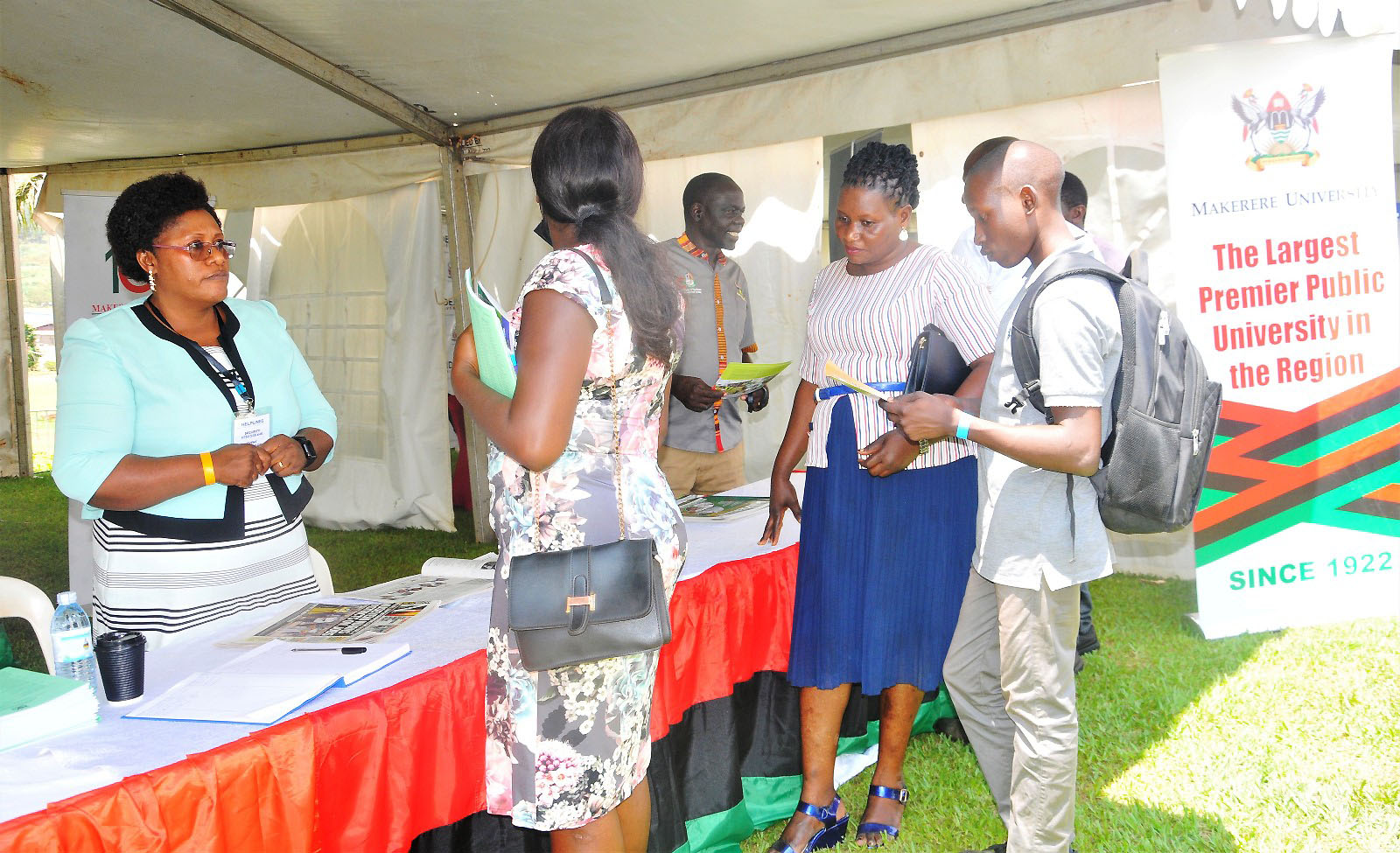 Makerere University is participating in the New Vision Education Expo 2023 to strengthen its niche as the leading provider of education services.
The three-day New Vision Expo (Friday 27th January 2023 to Sunday 29th January 2023) at the Uganda Institute of Information and Communications Technology (UICT) Nakawa brings on board players in the education and business fields to forge partnerships to improve the quality and outcomes of education in Uganda.
Makerere University seeks to maximally utilize the three days to ensure that the participants at the Education Expo gain a deeper understanding of its 100 year journey of providing excellent services to humanity through academic programmes, services offered and ongoing efforts aimed at producing employable graduates as well as entrepreneurs.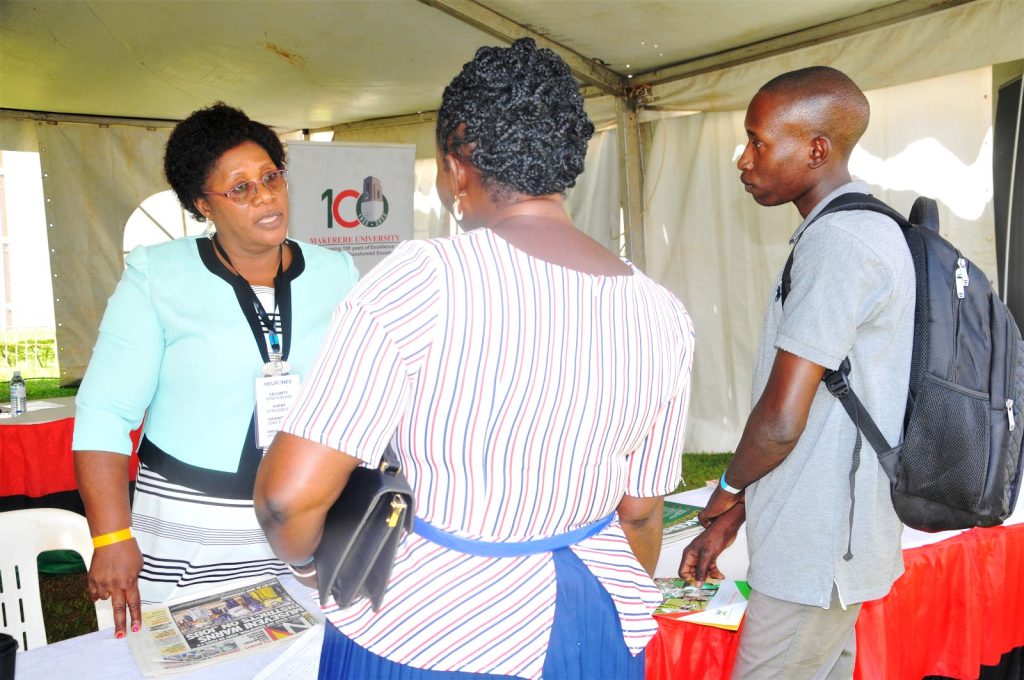 The Vice Chancellor, Prof. Barnabas Nawangwe highlights that Makerere University values stakeholder engagements and partnerships.  "The New Vision Expo 2023 presents Makerere University with an opportunity to enhance stakeholder engagements. It is about consolidating the relationships with schools, prospective students and parents, and partners in the education sector. I applaud the CEO of Vision Group-Mr. Don Wanyama for coming up with the Education Expo."
To respond to the information needs of stakeholders, Makerere University has lined up a team of experienced staff from the Department of the Academic Registrar, the Admissions Office, Public Relations Office, Career Guidance experts as well as the Institute of Open Distance and e-Learning (IODeL) under the College of Education and External Studies (CEES).
According to the Principal PRO of Makerere University Ms. Ritah Namisango, the Education Expo provides a platform to reach out to the clients that Makerere University exists to serve. "You must be in touch with your prospective parents, students as well as schools and partners that continue to recommend you as the leading university in the region. Makerere University has celebrated 100 years of excellent service to humanity (1922-2022). So, as we continue to promote the academic programmes, innovations and services that we offer, we are ready to listen, interact and learn from respective stakeholders about what they expect from the University as we embark on the next 100 years."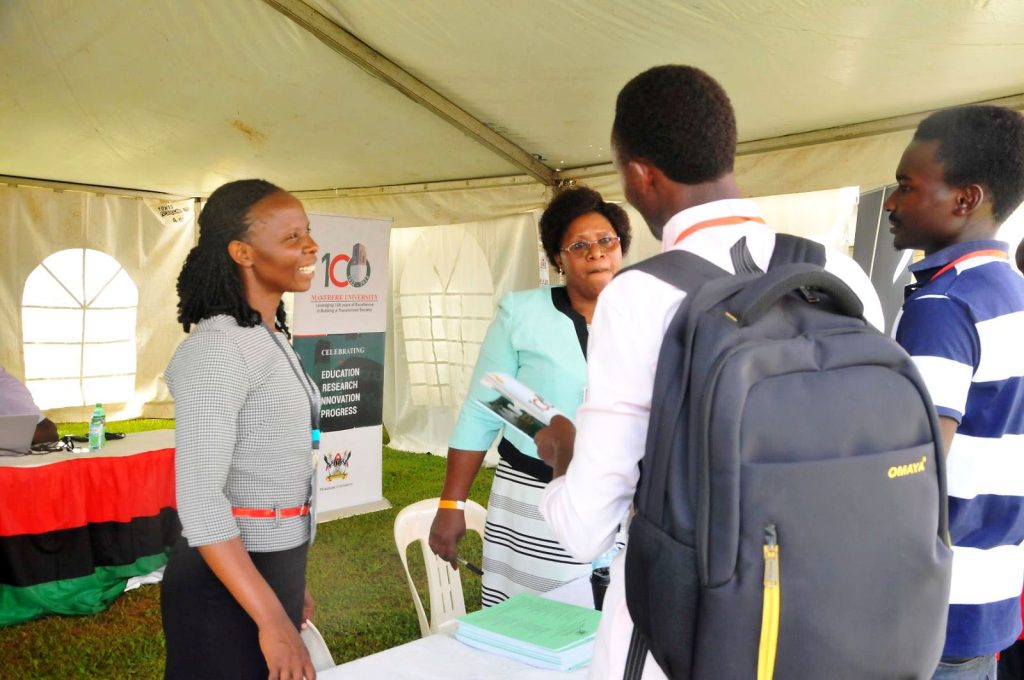 The New Vision Expo 2023 is happening at an opportune (holiday) time, which accords the students, parents and guardians quality time to visit the exhibition and interact with experts in the education sector.
In addition, Makerere University has recently advertised its academic programmes and it is preparing to receive students for the Academic year 2023/2024. Sharing her experience about the interaction with participants who visited the Makerere University exhibition space, Ms Joyce Muhanguzi, Senior Assistant Registrar in the Department of the Academic Registrar noted that most of the prospective students and parents wanted to know about the academic programmes, the subject combinations that students should study to qualify to apply for the respective academic programmes, and the available admission avenues i.e. government sponsorship, private sponsorship, diploma entry, direct entry, national merit, talented sports entry and district quota programme).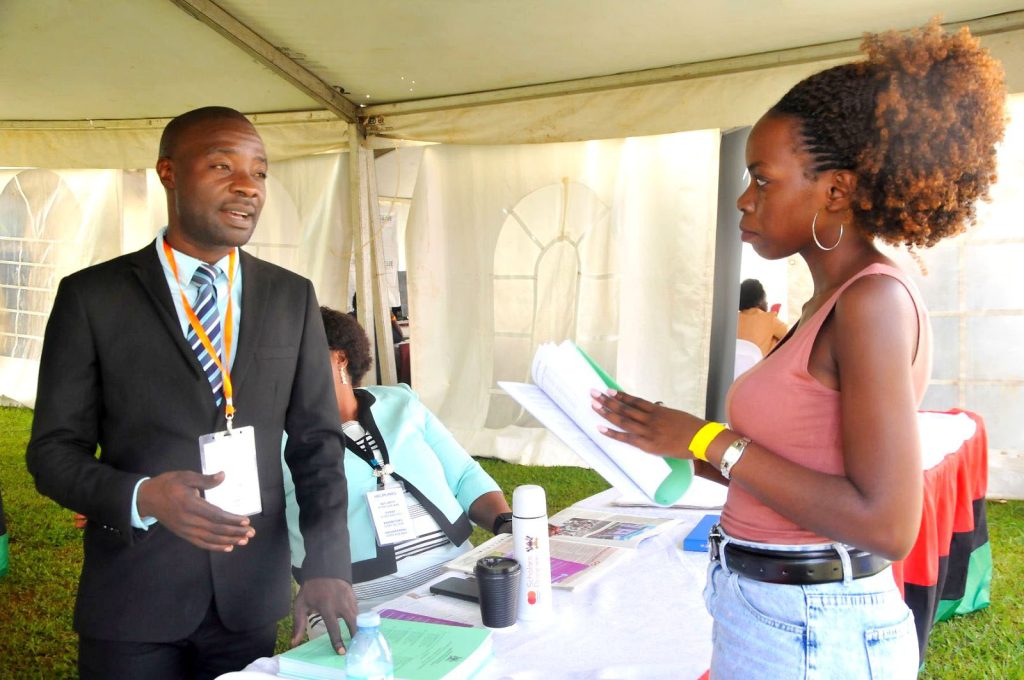 Ms Joyce Muhanguzi and Mr. Dennis Kibuuka's interaction focused on students who expressed their desire to join Makerere University in the coming years, and needed a case by case approach to their information needs, career guidance and linkages to Professors and Administrative staff in the respective Colleges at Makerere University.
The prospective students and parents also disclosed that in addition to the information on the Makerere University website, they welcome interactive and friendly approaches such as the New Vision Education Expo where they are presented with a golden opportunity to interact with Makerere University officials face-to-face.
At the New Vision Education Expo 2023, Makerere University joins other exhibitors that include; Government agencies, NGOs, Telecom companies, Banks, Insurance companies, Kindergartens/Daycare Centres, Primary and Secondary schools, Ugandan and Kenyan Universities, International schools, Study Abroad Agencies, Vocational institutions, Scholastic materials suppliers and SME service providers.
73rd Graduation Highlights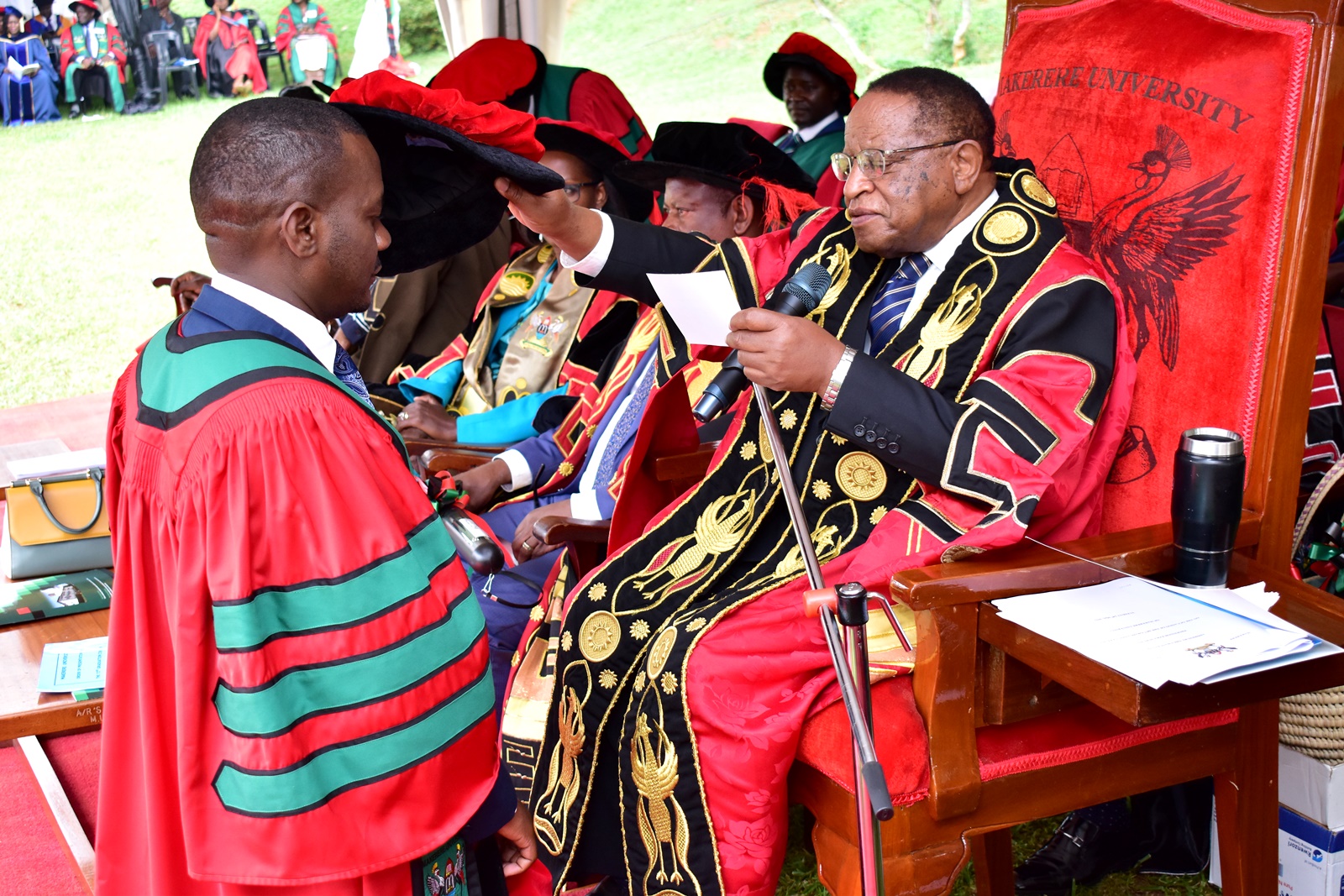 The 73rd Graduation Ceremony of Makerere University will be held from Monday 13th to Friday 17th February 2023 following the schedule below:
Monday, 13th February, 2023
College of Health Sciences (CHS)
College of Natural Sciences (CoNAS)
School of Law (SoL)
Tuesday, 14th February, 2023
College of Agricultural and Environmental Sciences (CAES)
College of Education and External Studies (CEES)
Wednesday, 15th February, 2023
College of Business and Management Sciences (CoBAMS)
College of Computing and Information Sciences (CoCIS)
College of Veterinary Medicine, Animal Resources and Bio-security (CoVAB)
Thursday, 16th February, 2023
Makerere University Business School (MUBS)
Friday, 17th February, 2023
College of Engineering, Design, Art and Technology (CEDAT)
College of Humanities and Social Sciences (CHUSS)
HEST Graduate Programme: Internship Placement Advert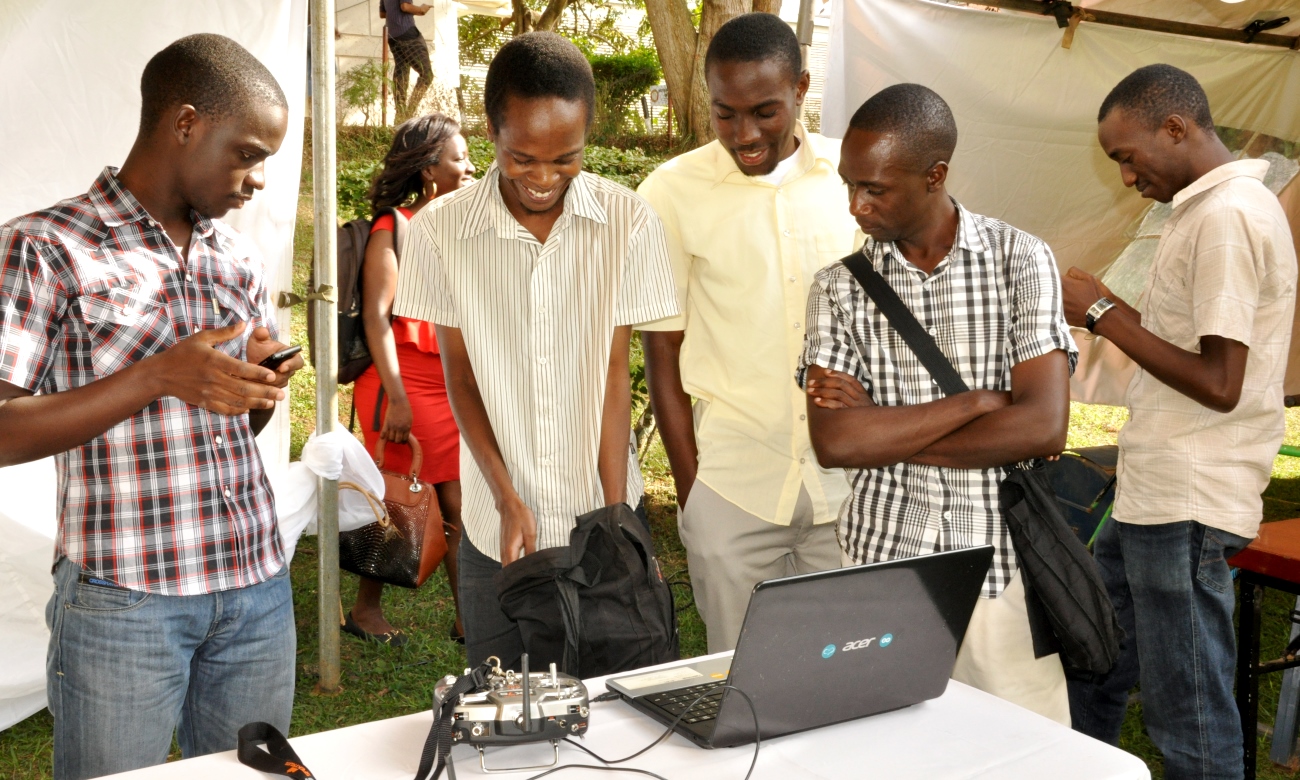 Purpose
The program aims to improve graduates' skills by placing them into selected partner industries for skills gain, facilitating the process and supervising placed interns. Graduates will be placed in their areas of study accordingly.
Time frame
The phased recruitment and placement will start from 1st December 2022 for a period of three months. Recent university graduates and those awaiting graduation should apply for this opportunity.
Eligibility
The project mainly focuses on university graduates from Makerere University (Mak), Makerere University Business School (MUBS) and Kyambogo University (KYU) who have undertaken the following courses
Makerere University and Kyambogo University
Bachelor of Science in Civil Engineering
Bachelor of Science in Electrical Engineering
Bachelor of Science in Computer Engineering
Bachelor of Science in Telecommunication Engineering
Bachelor of Science in Mechanical Engineering
Bachelor of Architecture
Bachelor of Science in Construction Management
Bachelor of Science in Land Economics
Bachelor of Science in Quantity Surveying
Bachelor of Science in Land Surveying and Geomatics
Bachelor of Visual Communication Design
Bachelor of Science in Actuarial Science
Makerere University Business School
Bachelor of Arts in Economics
Bachelor of Science in Business Statistics
Bachelor of Business Administration
Bachelor of Commerce
Bachelor of Real Estate Business Mgt.
Bachelor of Science in Accounting
.Bachelor of Science in Finance
Bachelor of Human Resource Mgt.
Bachelor of Leadership and Governance
Bachelor of Procurement and Supply Chain Mgt.
Bachelor of Transport & Logistics Mgt.
Bachelor of International Business
Bachelor of Catering and Hotel Mgt.
Bachelor of Science in Marketing
Bachelor of Travel and Tourism Mgt.
Bachelor of Entrepreneurship and Small Business Mgt.
Bachelor of Business Computing
Bachelor of Office and Information Mgt.
They should not be employed anywhere and should have gone through the traditional internship placement required by their respective universities.
How Students join
Interested university graduates shall submit an online application and contact the designated university contact or focal persons. Successful applicants will be required to complete the three (3) months internship pgoram uninterrupted to fully benefit from the program. Apply here: https://bit.ly/HEST2022
How companies participate
A company interested in hosting interns under the program can fill out an internship acceptance form and forward it to the internship placement officer.
Contacts of University focal persons
Makerere University (Mak)
Dr. Christine Amito
Tel: +256-771-321384
Email: amitoxtine@gmail.com
Makerere University Business School (MUBS)
Ms. Christine Nantambi
Tel: +256-772-654454/+256-703-878277
Email: cnantambi@mubs.ac.ug
Kyambogo University (KYU)
Ms. Nandugwa Harriet
Tel: +256-786030640
Email: hnandugwa@kyu.ac.ug
Contacts of IEED Project Team
Makerere University School of Public Health (MakSPH)
Ms. Mary Kaakyo,
IEED Project Coordinator
Email: mkaakyo@musph.ac.ug
Tel: +256-706-960075
Makerere University School of Statistics and Planning (MakSSP)
Ms. Afazali Zabibu,
HEST Study Coordinator
Email: zabibu.afazali@gmail.com
Tel: +256-779-912365/+256-705-587072