Mak Signs Collaboration Agreement with Guangdong University of Foreign Studies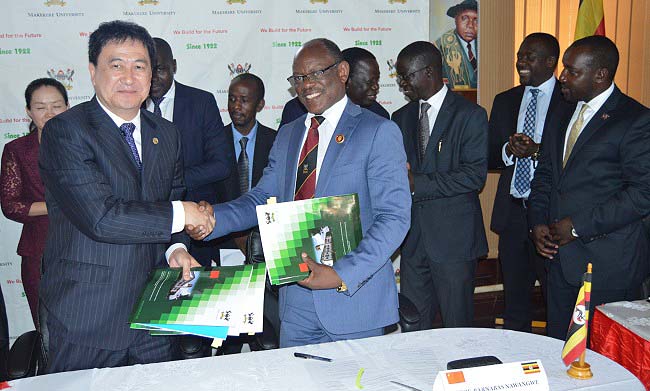 Makerere University on Thursday, 17th May 2018 signed a Memorandum of Understanding (MoU) with Guangdong University of Foreign Studies (GDUFS) to promote cultural, educational exchange, collaboration and technical interchange between the two Universities. The MoU was signed on behalf of Mak by the Vice Chancellor, Prof. Barnabas Nawangwe and on GDUFS' behalf by the President, Prof. Sui Guangjun. GDUFS is a public university and the only higher education institution in the Peoples Republic of China providing all-English programs in International Business, Chinese Business Culture and an all-English MBA program.
Speaking on behalf of the University Council, the Chairperson Eng. Dr. Charles Wana-Etyem who on 23rd April 2018, accompanied by the Chairperson Appointments Board Mr. Bruce Kabaasa visited GDUFS welcomed Prof. Sui as well as the Dongsong Energy Group CEO, Ms. Chen Wei and their respective delegations to Makerere University.
"Guangdong University of Foreign Studies has already made provisions for some of the things we are trying to start in Makerere University. While visiting Guangdong, we stayed at a hostel built by the University under Public-Private Partnership (PPP) and managed by the private sector," remarked the Chairperson.
"Universities are incubation centres for knowledge. When you devote all your energies to foreign studies, you can be sure that the foreign policy of the Peoples Republic of China is underpinned by staff doing academic work at the Guangdong University of Foreign Studies," continued Eng. Dr. Wana-Etyem in address to Prof. Sui.
The Chairperson further remarked that the presence of all-English programs at GDUFS indicates that there will be no barrier for Mak staff and students who will take part in exchange activities under the MoU. Additionally, he appreciated the role played by the Dongsong Energy Group in fostering collaboration between Mak and GDUFS.
"I hope that soon after signing this MoU with Guangdong, we shall expedite the process of renewing the MoU between Makerere and Dongsong Energy Group, so that our students can undertake their internship at your factory and when the fertiliser production commences, more students will be at the forefront of training our farmers on how to use them. I once again thank the President and CEO for coming to Makerere University. You have my assurance that the University Council will support activities under this MoU one hundred percent," concluded the Chairperson.
In his remarks, the Acting Commissioner for Higher Education, Mr. Mukwatampola Muzamir who represented the State Minister for Higher Education, Hon. Dr. John Chrysostom Muyingo, on behalf of the Ministry of Education and Sports (MoES) thanked the Chinese Government for the continued support to the Government of Uganda, especially the education sector.
"The Ministry of Education and Sports has enjoyed a lot of support in the form of scholarships to Ugandan students every year, for which we are grateful. I therefore thank you for accepting to partner with Makerere University in an MoU that will facilitate staff and student exchanges and further strengthen collaboration between the Peoples Republic of China and Uganda," remarked Mr. Mukwatampola.
Mr. Mukwatampola thanked the Mak and GDUFS leadership for their hard work that culminated into the MoU signing and hoped that the parties would each fulfill their respective obligations under the agreement. He reassured the audience of the Government's support and prayed that only the most deserving staff and students would benefit from the opportunities presented by the MoU.
In his remarks, the Vice Chancellor Prof. Barnabas Nawangwe thanked Prof. Sui Guangjun, Ms. Chen Wei and their respective delegations for visiting Makerere University to personally take part in and witness the MoU signing.
"We are delighted to have these high powered delegations from Guangdong University of Foreign Studies and the Dongsong Energy Group as well as our own Chairperson of Council, Chairperson of Appointments Board, representative of the State Minister of Higher Education join the University Management to witness the signing of this MoU," said the Vice Chancellor.
Prof. Nawangwe shared that Makerere University seeks to internationalise more intensely and the MoU signing ceremony with GDUFS presented the perfect opportunity to enhance this aspiration. He thanked the Dongsong Energy Group CEO Ms. Chen Wei for the role played in initiating the contact with Chinese universities four years ago and equally expressed Mak's readiness to sign an MoU with her company.
"I thank you for hosting the Chairperson Council and his delegation during his recent visit to Guangdong and I know that this agreement we are signing today will pave the way for expanding collaborations between our two institutions even further," said Prof. Nawangwe to Prof. Sui.
In his acceptance speech, Prof. Sui Guangjun thanked the Vice Chancellor and University leadership for the warm welcome, noting that it made him feel right at home. He shared that his University is located in Guangzhou, capital of Guangdong; one of China's most advanced and developed provinces, and home to a thirty thousand-strong African Diaspora population.
"Similar to Makerere University, internationalisation is a major objective and we have collaborations with 355 universities in the world. Twenty five percent of our students have the opportunity to go abroad during their study and we offer double degrees in collaboration with our partners," remarked Prof. Sui.
Prof. Sui who was fresh from attending the 2018 Joint Conference of Confucius Institutes in Africa held in Mozambique on 14th May shared that an extra 1,000 scholarships had been announced for African students, which pointed to the progress of friendship between China and Africa.
"Guangdong University of Foreign Studies is home to the only Research Institute in African Studies in Southern China. This is therefore the perfect opportunity to look forward to collaborations between our two universities and our Dean of the Institute for International Education, Mr. Liang Xuehong is here to promote student exchange," remarked Prof. Sui.
In her remarks, Ms. Chen Wei thanked the Vice Chancellor and Chairperson Council for the warm welcome upon her first visit to Uganda. She expressed happiness at facilitating collaborations between the two institutions, noting that the Government of Uganda and delegation led by Eng. Dr. Wana-Etyem and Mr. Bruce Kabaasa had put in a lot of effort to make the MoU signing come to fruition. Ms. Wei acknowledged that her company would be a beneficiary of the MoU. "We can recruit some of the graduates trained as a result of this partnership," she added.
The MoU signing ceremony was also witnessed by University Secretary-Mr. Charles Barugahare, Academic Registrar-Mr. Alfred Namoah Masikye, Director Human Resources-Mr. Andrew Abunyang, Director Internal Audit-Mr. Walter Yorac Nono, Director Legal Affairs-Mr. Henry Mwebe, Director Research and Graduate Training-Prof. Buyinza Mukadasi, Acting Director Gender Mainstreaming-Dr. Euzobia Baine Mugisha, Deputy University Secretary-Mr. Yusuf Kiranda, Principal, College of Humanities and Social Sciences- Prof. Edward k. Kirumira, Deputy Principal, College of Natural Sciences-Prof. Fredrick Muyodi, Dean School of Women and Gender Studies-Dr. Sarah Ssali, PA to the Vice Chancellor-Mr. Gordon Murangira, Senior Public Relations Officer-Ms. Ritah Namisango as well as members of staff of Makerere University and GDUFS.
Article by Public Relations Office
Innovations using low cost locally available materials for point of use water treatment system unveiled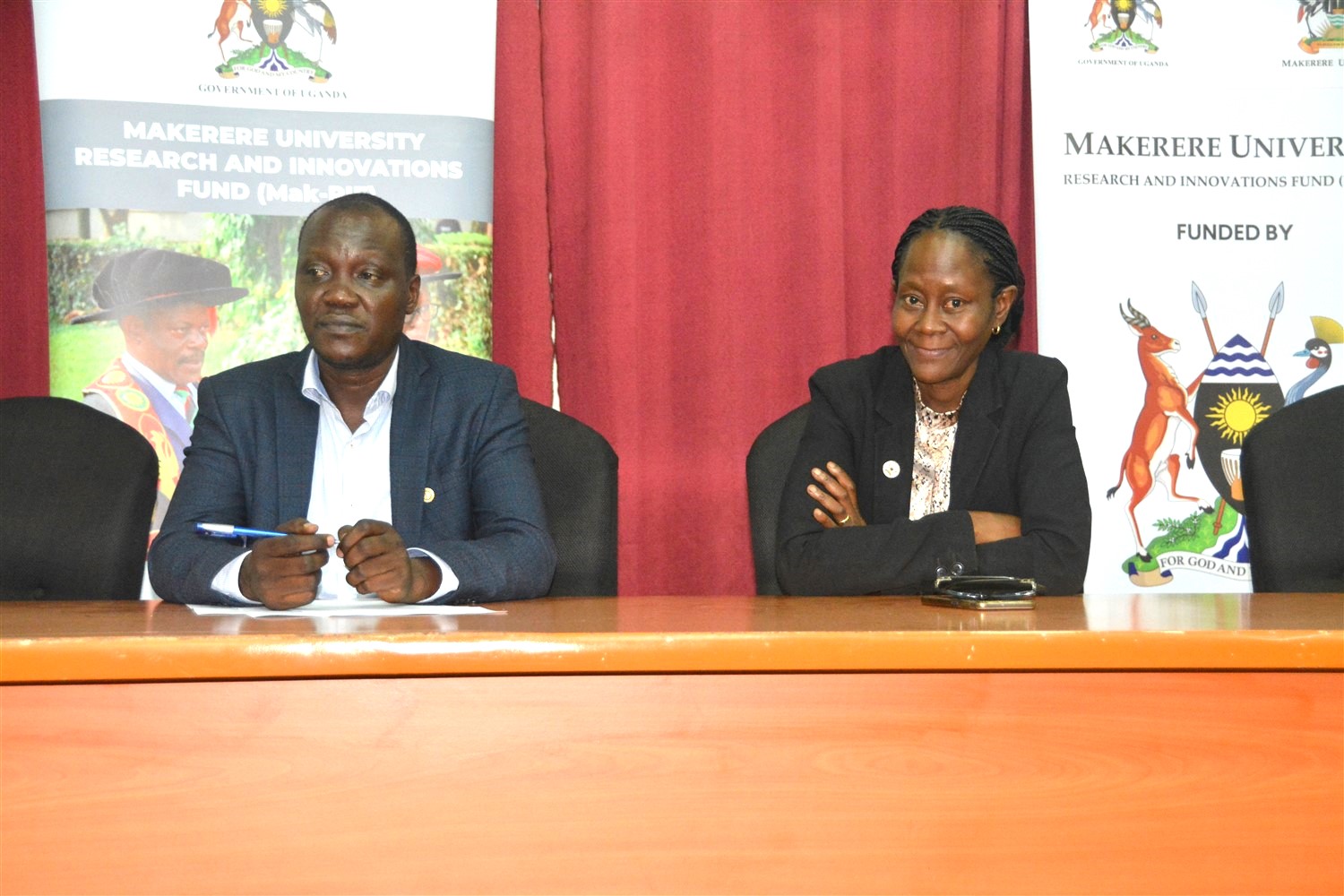 The College of Engineering, Design, Art and Technology (CEDAT) conducted a Research Dissemination of two studies aimed at the Development of Materials for point of use water treatment systems.
The investigations were conducted by a team of researchers comprised of P. W. Olupot, H. M. Kalibbala, E. Menya, G.M. Wangi, J. Jjagwe, J. Wakatuntu, M. Turyasingura, R. Walozi, C. Kanyesigye and R. N. Kulabako.
The dissemination event held on Wednesday 29th November 2023 follows the successful completion of two MakRIF supported Research projects namely; Development of rice husk based granular activated carbon for point-of-use water treatment systems and Development of zeolite-based nanocomposite filters for drinking water treatment.
Apac District gains from CEDAT's Research on Piloting a Rural Broadband Connectivity Model and Efficacious patient management system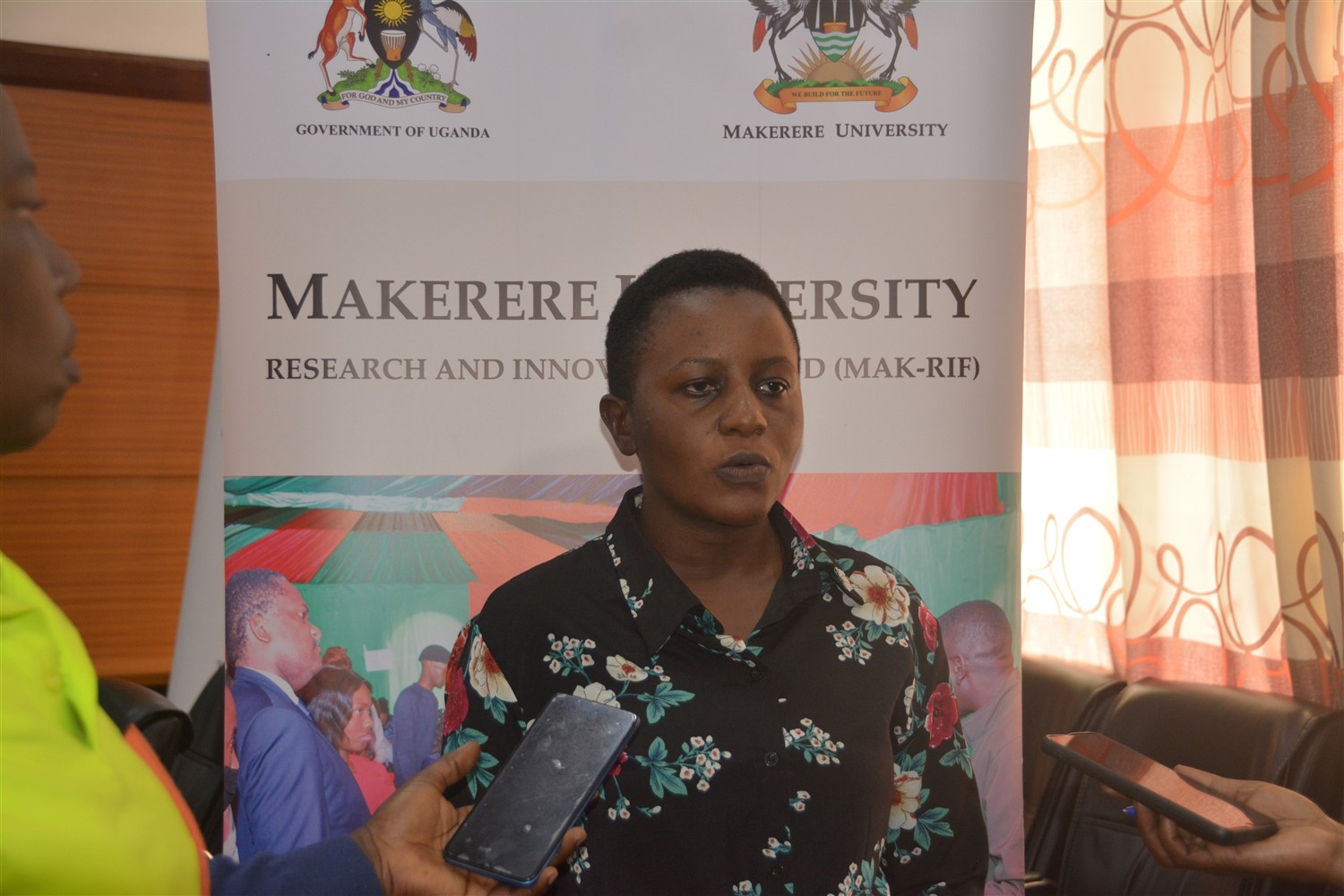 The School of Engineering at the College of Engineering, Design, Art and Technology (CEDAT) shared findings of research that was conducted in Apac Districts through two projects namely Piloting a Rural Broadband Connectivity Model (RCBM) and Efficacious patient management system (EPMS).
The findings of the research sponsored by the Government of Uganda through the Makerere University research and Innovation Fund(MakRIF) were disseminated during a dissemination seminar held in the College on Friday 24th November 2023, where it was revealed that  Apac the host District greatly benefited from the services that not only led to the increased uptake of internet services but also gained through other socio economic areas.
Application Forms for Admission to Public Universities 2024/2025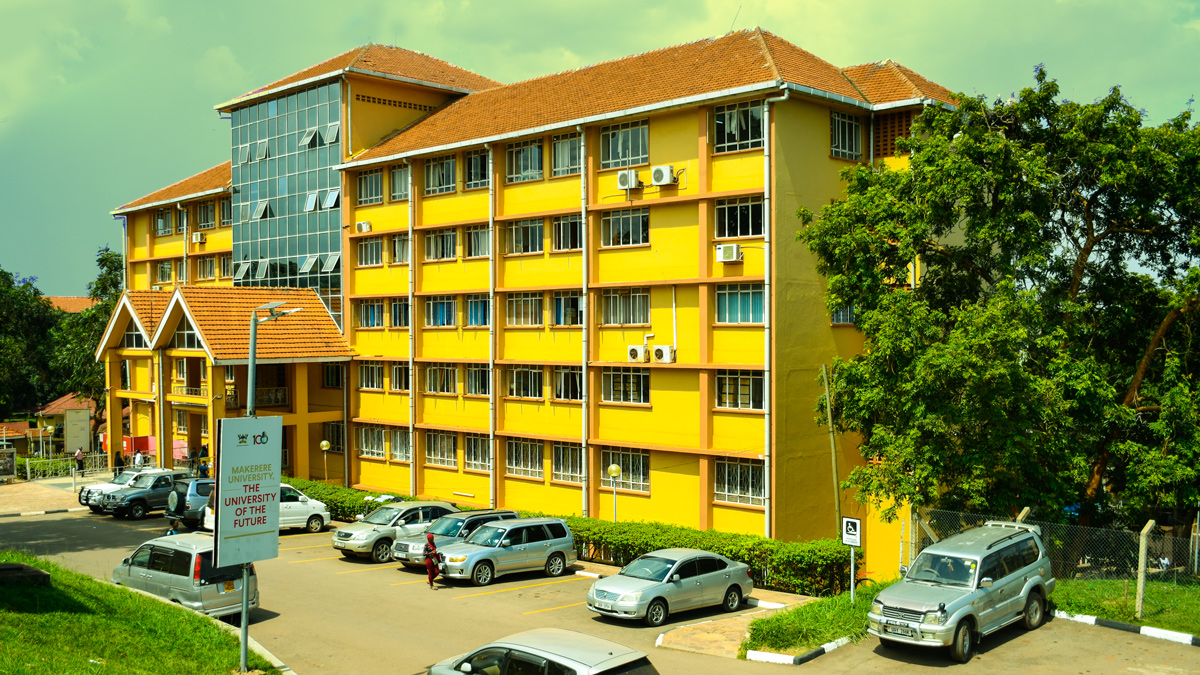 The Academic Registrar, Makerere University informs all Head Teachers of A 'Level schools that application forms for admission to public universities for senior six candidates (UACE 2023) for the 2024/2025 academic year will be ready for collection from the university from Monday 4th December, 2023.
The application forms should be collected from the Office of the Academic Registrar, Senate Building, Level 3, Makerere University.
Issuing of the application forms will start on Monday, 4th December 2023 on payment of a non-refundable application fee of Uganda Shs. 52,000/=(fifty two thousand Uganda shillings only) per application form.
You are advised to get a pay reference number (PRN) using the ACMIS system (http://pay.mak.ac.ug) to enable you pay the application fees in any bank used by Uganda Revenue Authority (URA).
The forms are for Ugandans only.
Please note that only Head Teachers or their authorized representatives will be served.
The closing date for submitting the completed application forms will be Wednesday 31st January, 2024.
Prof. Buyinza Mukadasi
ACADEMIC REGISTRAR