Mak-Binghamton Explore Collaboration to Strengthen Internationalisation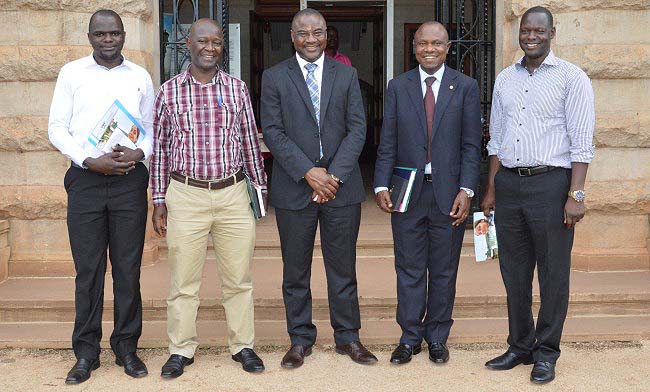 As the current 10 year strategic plan nears its end of life in 2019, the Makerere University Management held a three-day Strategic Planning Retreat from 20th to 22nd February, 2018 that embarked on the yearlong process of formulating the next ten year Strategic Plan (2020/21-2029/30). One of the key areas of focus for the new strategic plan is the Internationalisation of academic programmes, collaborations, student admissions as well as faculty recruitment.
On 7th March 2018, Makerere University hosted Prof. Aondover Tarhule, Vice Provost and Dean of the Graduate School at Binghamton University; one of the top public research universities in the U.S. Prof. Tarhule's mission was to explore ways of diversifying Binghamton's international graduate student population (40%), currently comprised largely (65%) of students from India and China.
Welcoming Prof. Tarhule to Makerere University, the Principal College of Business and Management Sciences (CoBAMS)-Assoc. Prof. Eria Hisali, who represented the Acting Deputy Vice Chancellor (Finance and Administration)-Prof. William Bazeyo noted the timeliness of this visit, in the wake of commencement of the aforementioned strategic planning process.
"We appreciate you reaching out to us and I must say that your visit fits well within our aspirations for the next ten years, where our key focus is going to be Internationalisation," remarked Assoc. Prof. Hisali.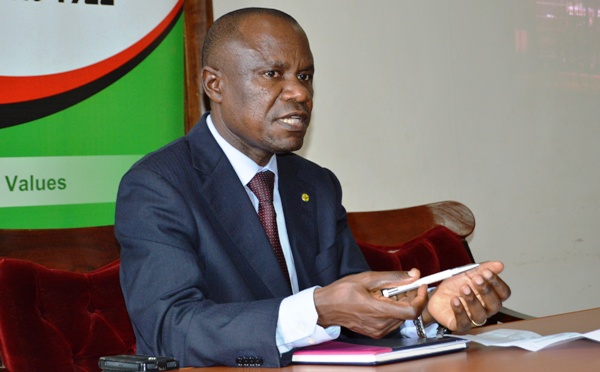 He informed Prof. Tarhule that Makerere runs a collegiate system, whose introduction was aimed at combining discipline synergies with intention of boosting the implementation of University core functions, with a particular focus on research. "I therefore encourage you to kindly consider visiting some of our colleges in case your schedule permits" added Assoc. Prof. Hisali.
Starting off his presentation, Prof. Tarhule highlighted that Binghamton is part of the State University of New York (SUNY) system comprised of 64 institutions with a combined student population of 400,000. Located in Binghamton where IBM was founded, the city is also home to other high-tech companies such aerospace giant Lockheed Martin, Johnson & Johnson among others. Binghamton is also ranked one of the top six most affordable universities in the world for international students; thanks to subsidies by the New York State.
"Unlike Makerere's 45,000 students, Binghamton's student population is only 17,000 with 13,000 of these undergraduate; a population we plan to maintain, but we have room for growth of the graduate student population up to 6,000. The low cost of living in the greater Binghamton area allows our graduate students to enjoy reasonably priced housing in a safe community with free bus transportation to campus. These buses are driven by our students to help them finance their education" said Prof. Tarhule.
Prof. Tarhule further shared that Binghamton has come up with a number of innovation to make education more efficient in the face of changing market demands. One such innovation is the Accelerated Degree Programs, where undergraduate students are admitted well knowing that they will proceed directly to a Masters program in the same discipline. "This means that undergraduate students begin taking graduate courses during their senior years, which has made it easier and cheaper for students to come in" he added.
The second innovation shared by Prof. Tarhule was a refined pedagogy which seeks to produce graduates with T-Shaped skills, who can meet both academia and industry demands. Under the T-Shaped pedagogy, students are take both general education courses (horizontal part of the T), which equip students with a broad range of knowledge, and deep learning courses (vertical part of the T) which seek to ground the student in concepts specific to their discipline.
Prof. Tarhule nevertheless noted that education in the U.S. was also embracing the AGILE pedagogy, characterised by increased oral presentations that necessitate students to think on their feet whenever prompted. "The goal of this kind of training is to build transferable skills within one disciplinary area" he added.
In the reactions that followed, the Deputy Principal, College of Humanities and Social Sciences (CHUSS)-Assoc. Prof. Josephine Ahikire sought to understand how the Humanities and Social Sciences can be helped to nurture the new generation of scholars to become experts in their field. "Can our collaboration consider including the aspect of resident scholars to help mentor the young generation of academics?"
Mr. John Bosco Oryema an Assistant Lecturer, CoBAMS noted that the field of Business Analytics is not well developed in the region. He therefore hoped that collaboration with Binghamton would expose students at Makerere to this vibrant sector. He further sought the possibility of introducing joint supervision of graduate students; with US-based and Makerere-based supervisors, a practice, he noted, quickens the process of finalising theses.
Mr. Charles Ssemugabi from School of Public Health, College of Health Sciences (CHS), sought to find out Prof. Tarhule's Internationalisation diversification strategy moving forward. "Most partnerships start in the form of research at departmental level, then progress to staff and student exchanges and eventually summer schools" he commented.
Wrapping up the responses, Assoc. Prof. Hisali thanked Prof. Tarhule for his presentation, noting that Makerere indeed had a lot to learn from Binghamton's innovations. "We need to come up with a broad Memorandum of Understanding at institutional level then work out the specifics at unit level, which can then help us identify issues of support and financing" he concluded.
Prof. Tarhule thanked the staff present for their responses, noting that they had been both "profound and insightful." He reiterated that his visit was exploratory and it was important for both institutions to identify mutual strengths and complementarities, so as to forge a mutually beneficial collaboration. "Whatever you decide to do, think mutuality; what are you offering? What do you want to get? Think as an equal partner who is seeking to bring something to the table."
He shared that Binghamton was very strong in the fields of Engineering, Business and Smart Energy. "We are also in the final stages of developing a degree in Data Analytics and so the comment in that direction was timely." Prof. Tarhule however, urged his audience to look beyond the competences within their individual disciplines to those within the entire University or region, "think of what you can do broadly as a region. Foundations out there will always seek to sponsor programmes that have a broader regional or even continental impact" he advised.
He concurred that mentorship for graduate programmes had been observed to be a major challenge for African Universities. He however hoped that many more students would stand to benefit from programmes such as the Council for the Development of Social Science Research in Africa (CODESRIA), funded in part by the Carnegie Corporation of New York through which he is personally mentoring three African students as a Diaspora-based professor.
Prof. Tarhule further admitted that whereas training students abroad was expensive, it is essential. He noted that we live in a globalised world where intellectual power is no longer limited by political power and hoped that African institutions would increasingly emulate nations like China and India, who despite having large economic resources, still aggressively take advantage of cost effective models such as joint degree programmes.
"Setting up high-tech labs is a very expensive venture. Therefore summer programmes that expose African students to these high-tech facilities in the U.S. are a win-win, especially as internationalisation increasingly becomes a major contributor to institutional rankings. Therefore, my key message is that we are as much interested in internationalisation as you are. Thank you" concluded Prof. Tarhule.
Please see Downloads for Binghamton presentation
Article by Public Relations Office
Mak Commissions CoVAB@50 Celebrations, Awards Certificates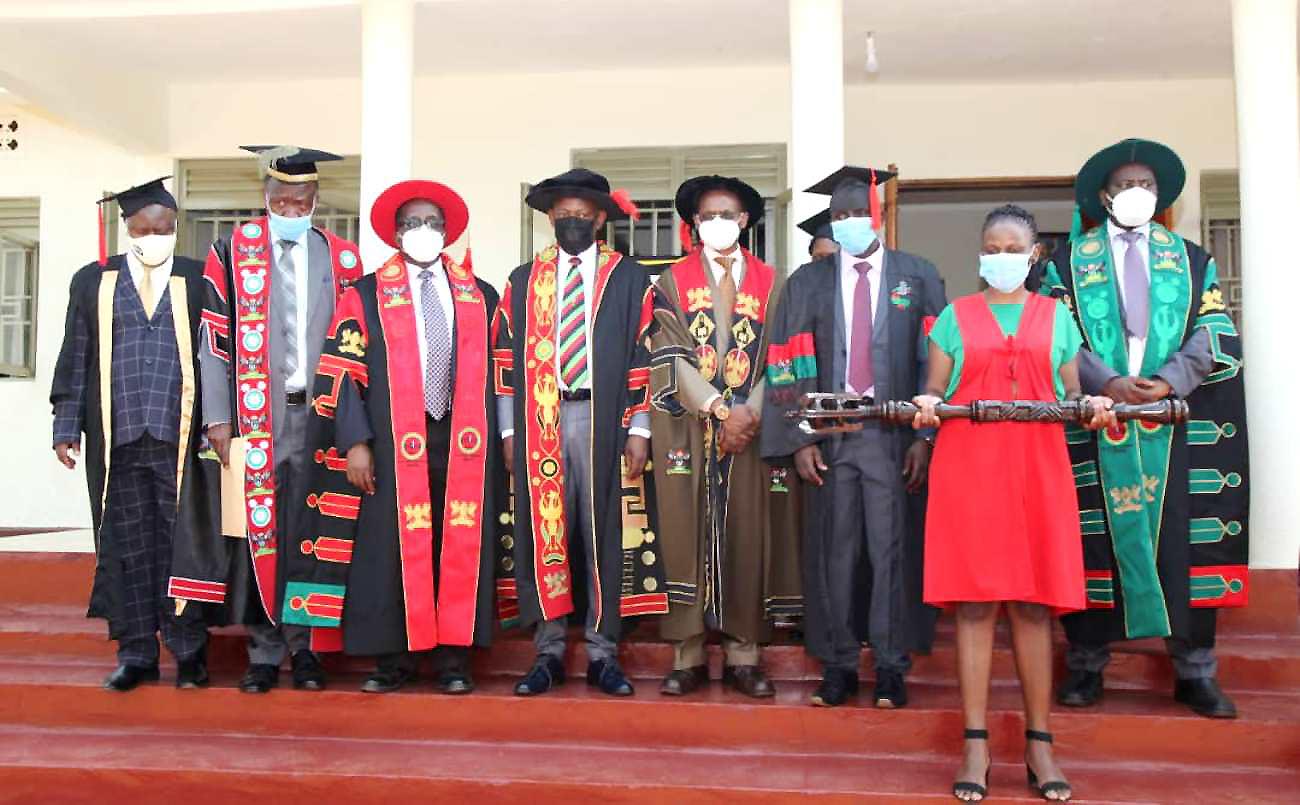 The College of Veterinary Medicine, Animal Resources and Biosecurity (CoVAB) on Thursday 17th June, 2021 commenced celebrations to mark 50 Years of Veterinary Higher Education, Science, Technology, Innovation and Services (HESTIS) in Uganda. The blended event held at the Industrial Livestock Research, Incubation and Skilling (ILRIS) Center at Nakyesasa, Namulonge as well as online was presided over by the Chancellor, Prof. Ezra Suruma and First Lady and Minister of Education and Sports (MoES), Hon. Janet Museveni both represented by the Vice Chancellor, Prof. Barnabas Nawangwe.
The event, held as part of Makerere University Centenary Celebrations (1922-2022) was a moment of celebration for 1,930 skilled livestock agribusiness entrepreneurs who were awarded certificates in recognition of completion of their respective courses. Owing to the strict Standard Operating Procedures (SOPs) instituted by the Ministry of Health (MoH) to curb the spread of COVID-19, the students from Incubation Hubs in Atiak, Butaleja, Mubende, Nakyesasa, Sheema and Wakiso were awarded their certificates virtually.
In her remarks read by Prof. Barnabas Nawangwe, Hon. Janet Museveni thanked Makerere University for supporting grassroots level development through groundbreaking innovations under the Africa Institute for Strategic Services and Development-Skills for Production Enterprise Development and Accreditation (AFRISA-SPEDA) model.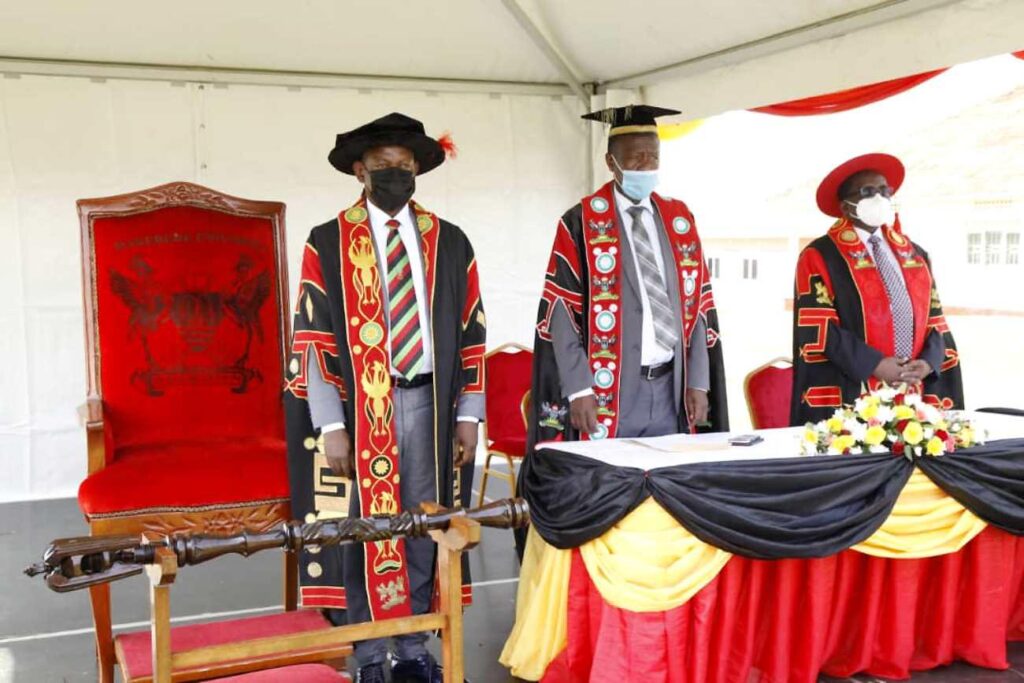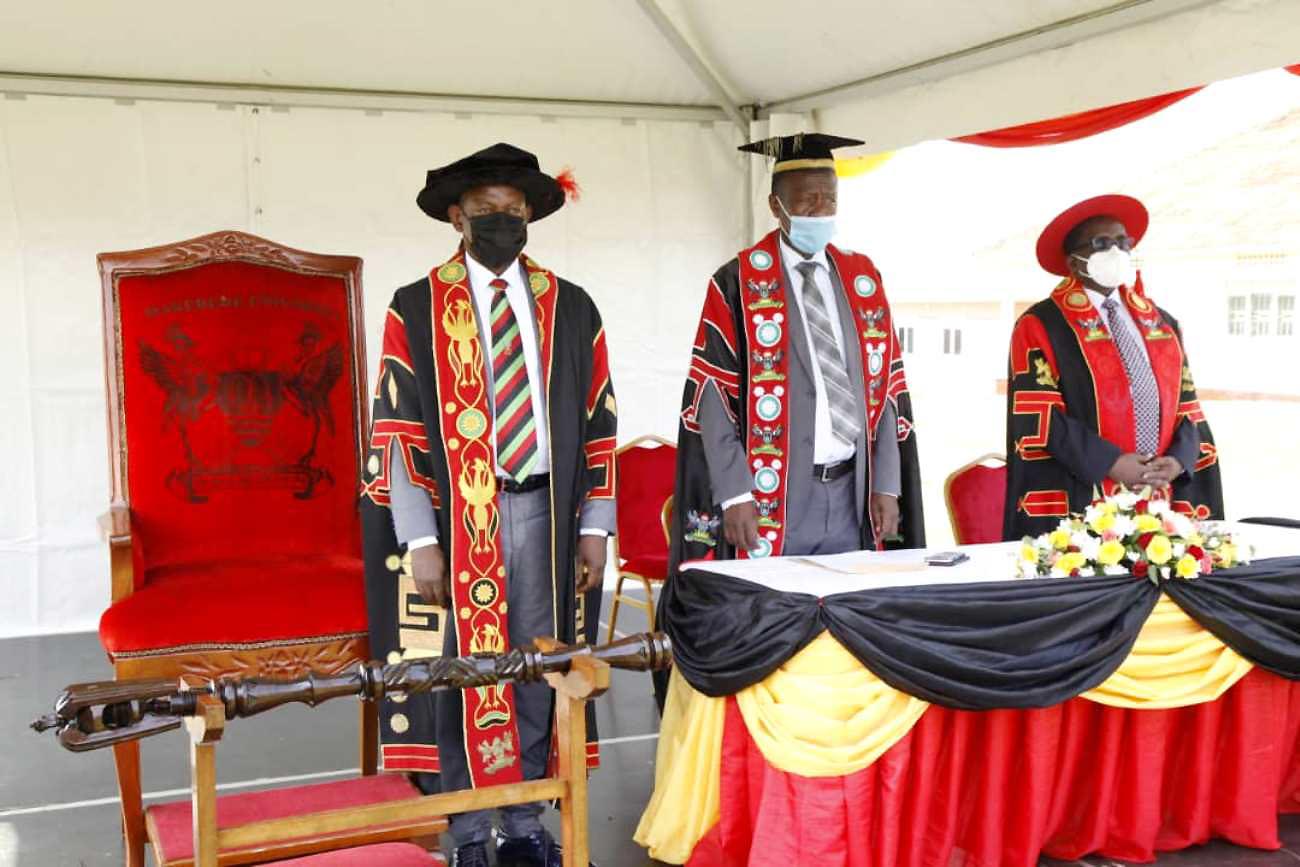 "I am extremely pleased that Makerere University, through those innovative approaches, has developed and launched the alternative approach to building human capital and transferring knowledge to enterprises in communities.
"I would like to encourage all those involved in skills development to adopt methodologies that transform those trainees that go through these programs in ways that enable them also transform the societies they live in" read the Minister's remarks.
She further noted that commissioning of the CoVAB@50 celebrations was both timely and rewarding. "The commissioning of the college innovations indeed has made meaning. This is a true path to growth of an Academic and Development College of the University, and we congratulate you again."
Addressing the congregation as Chancellor, Prof. Barnabas Nawangwe congratulated CoVAB alumna and incoming Minister of Science, Technology and Innovation (MoSTI) under the Office of the President, Dr. Monica Musenero upon her recent appointment. "We thank His Excellency the President for identifying you. Science is in good hands."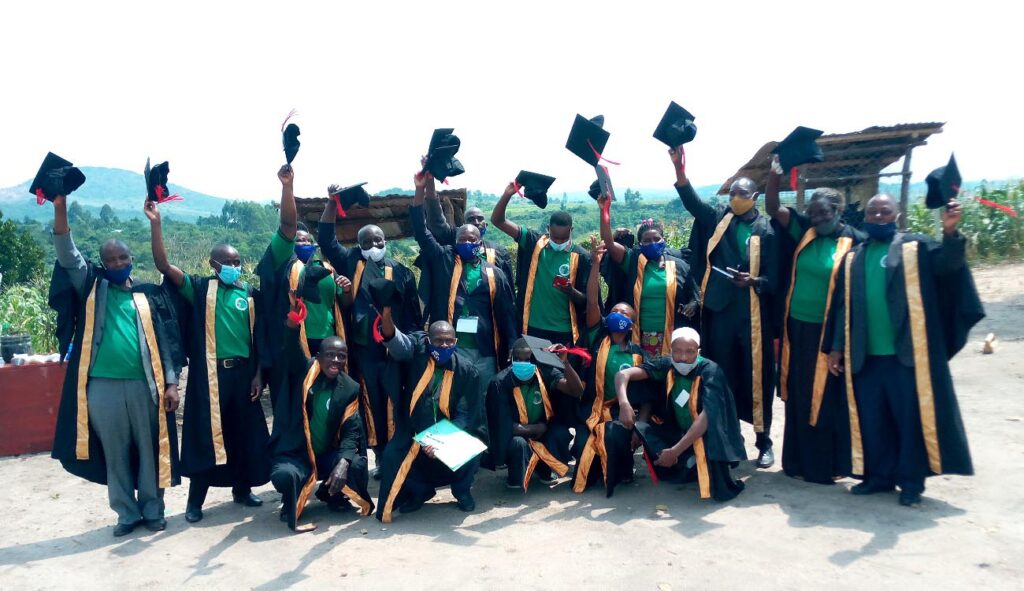 Prof. Nawangwe urged Dr. Musenero to address the structures of managing research and innovation in Uganda, "including the role of the Uganda National Council for Science and Technology and the apparent need to establish a Research Council for Uganda."
In the same breath he thanked the outgoing and pioneer Minister of Science, Technology and Innovation, Hon. Dr. Elioda Tumuwesigye, for his role in ensuring that the ministry is empowered to carry out its mandate.
The Chancellor congratulated CoVAB upon training the bulk of Veterinary Doctors in Uganda over the last 50 years and more recently, Laboratory Technologists at the highest level. He recognised Makerere University's obligation to contribute to the economic self-determination of Uganda and thanked CoVAB for conducting research that addresses hindrances to national development, especially in the livestock industry.
"The anti-tick vaccine is one of such innovations which will solve the huge problem of tick-borne diseases that have caused enormous losses to our farmers. There are many other problems on which the college is researching and we thank you for the enthusiasm" he added.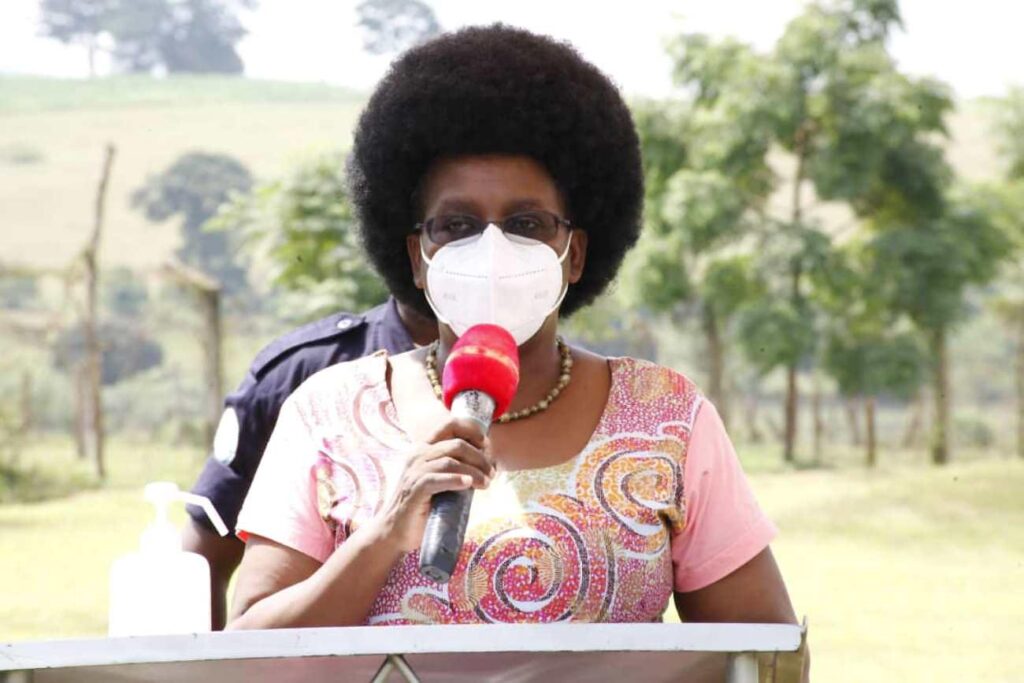 The Chancellor commended CoVAB for being the vanguard of transformation of the grassroots communities through the SPEDA model. "I urge Government to fund this important initiative so that it can more meaningfully contribute to solving the big problem of youth unemployment."
In her remarks, Dr. Monica Musenero commended the Principal, CoVAB, Prof. John David Kabasa for fulfilling the College's dream of enabling the masses who drop out of the education value chain as well as those who complete education but have no skills for livelihood, to attain certification in agribusiness entrepreneurship.
"Many people attain academic success and write papers, publish and they become professors but without demonstrable impact on their nation. You have shown by the thousands that you have touched nationwide that indeed you are a professor of national transformation. Congratulations," remarked Dr. Musenero.
She therefore congratulated the teams at CoVAB and AFRISA upon successfully conceiving and executing a model that is non-traditional, informal, not easily understood and not documented in any textbooks.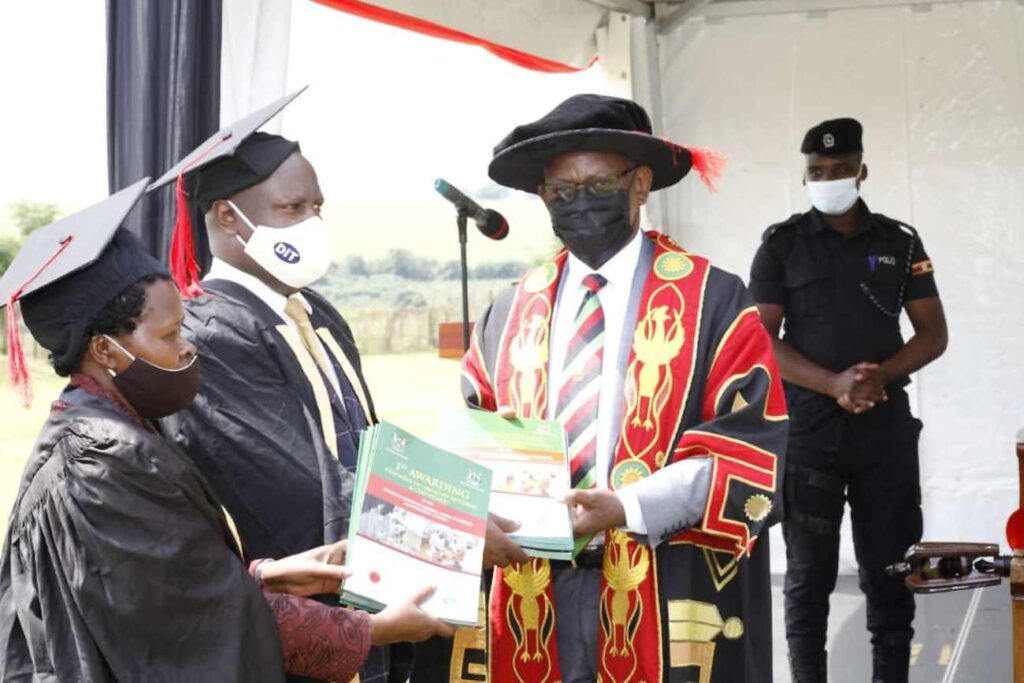 As Minister, Dr. Musenero noted that witnessing thousands of individuals from across the country whose skills had been honed through a university programme receiving certificates gave her a lot of hope and material to embark on her tenure with. "I will be looking forward to harnessing these resources as we initiate work on the next leg of Science, Technology and Innovation in the country under the President's Office."
The invitation to the Principal, CoVAB to present students for the award of the ordinary diplomas, ordinary certificates and artisan certificates was given by the Deputy Vice Chancellor (Academic Affairs), Dr. Umar Kakumba. He congratulated the awardees upon successfully completing their respective courses and graduating with evidence on an enterprise.
Prof. Kabasa clarified that the approach used to train the day's awardees was not simply a vocational skilling. "The combination of action research with knowledge transfer, skilling, plus assessment and accreditation processes done by organs like the DIT (Directorate of Industrial Training, MoES) has given us this result, for the University to provide true leadership and transformation of the community."
Present at the celebrations were the Director, DIT, MoES-Mr. Byakatonda Patrick and the Deputy Commissioner Social Services Development, MoES Madam Elizabeth Bateme who have worked through the Academic-Community-Public-Private-Partnership model to ensure that students graduate as entrepreneurs with micro enterprises.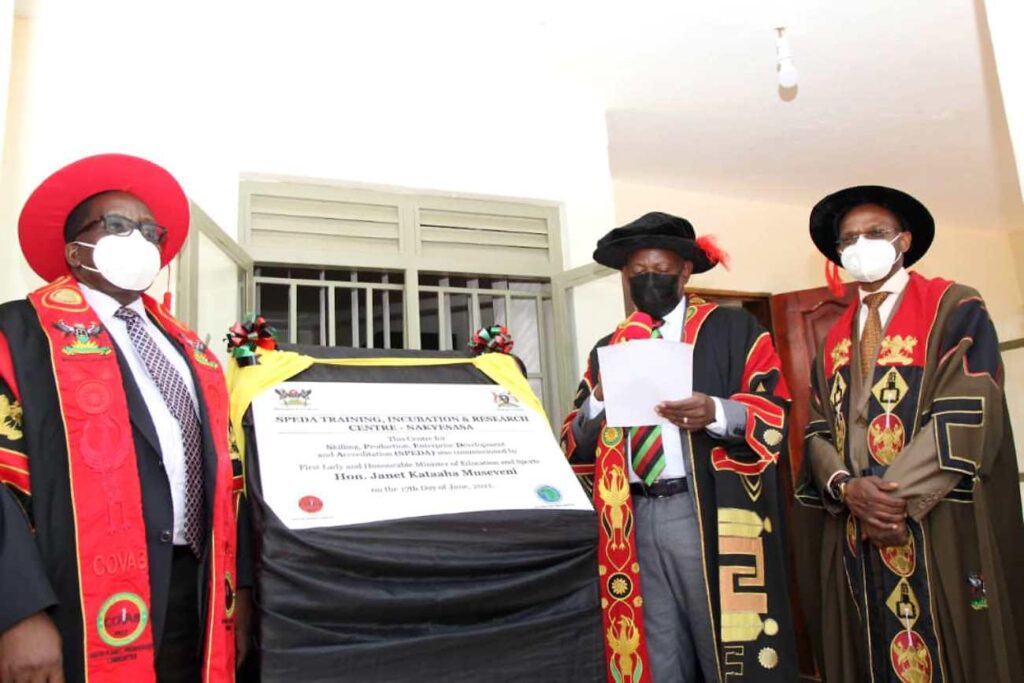 Prior to presiding over the ceremony, Prof. Barnabas Nawangwe, on behalf of the First Lady and Minister of Education and Sports officially commissioned the SPEDA Training, Incubation and Research Centre – Nakyesasa.
UNMA Advisory on Agriculture and Food Security Jun-Aug 2021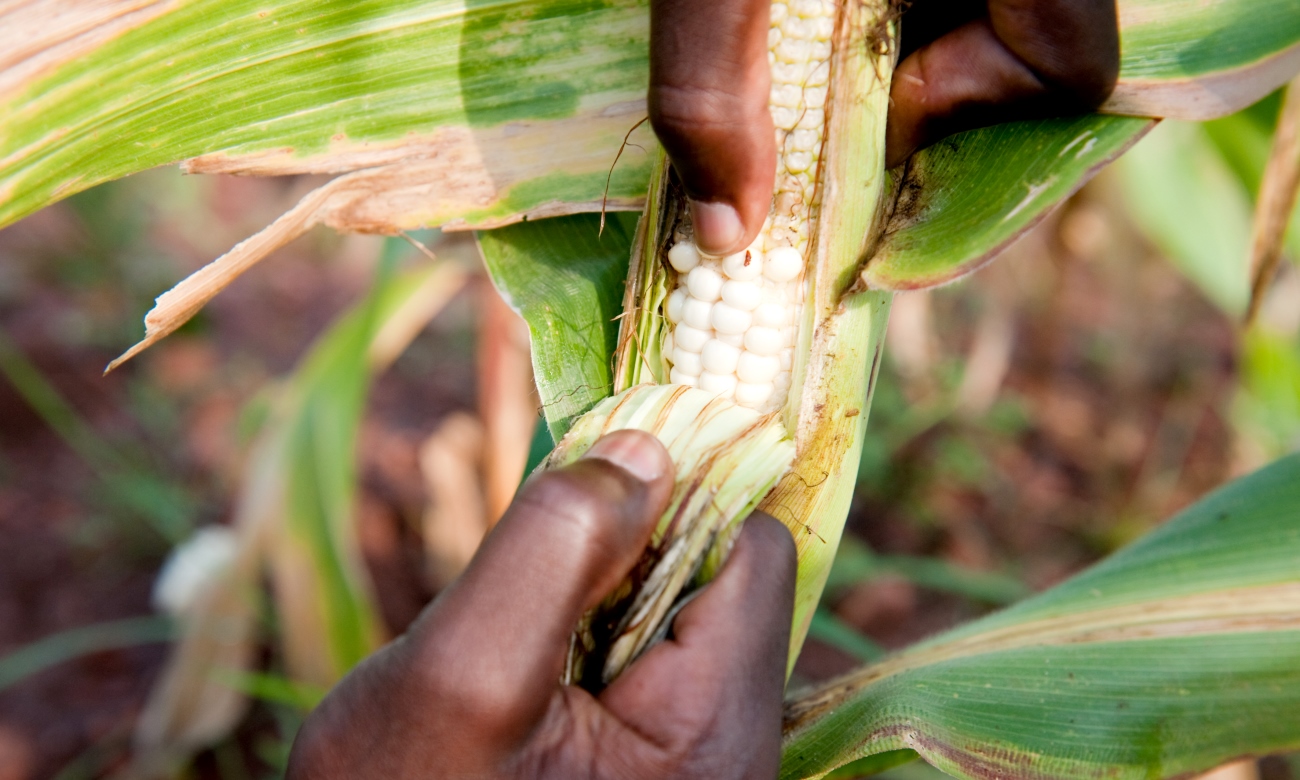 The Uganda National Meteorological Authority (UNMA) on 7th June 2021 released the seasonal rainfall outlook for the June-July-August (JJA) 2021 period. Contained in the outlook were advisories to various strategic sectors of the economy.
Particularly, the advisory to the Agriculture and Food Security sector was;
JJA season is often part of the normal dry season in the areas of South-western, western, parts of the eastern, and central Uganda. The farming communities in these areas are therefore advised to be vigilant during post-harvest handling by considering proper drying of the harvest on clean surfaces, use of tarpaulins and drying on racks;
Preparation of good storage facilities of produce to avoid compromising on quality and safety;
Channeling of the run-off water into the gardens in order to maximize on the soil moisture conservation;
For those areas where near normal to above normal rainfall is expected (most parts of northern and eastern Uganda), farmers are encouraged to continue with regular weeding, pest and disease surveillance and control;
Due to the expected enhanced rainfall in those areas, water logging and proliferation of fungal and bacterial crop diseases are likely to occur.
Open drainage channels around household and gardens to reduce risks from stagnant water causing damage to root tuber crops;
Flash floods and waterlogging are highly anticipated to occur in low lying areas expected to receive enhanced rainfall such as Katakwi and Kapelebyong. Therefore, communities are encouraged to keep watch over their crops, animals and property;
In Karamoja sub-region, where wetter conditions are expected, the pastoral communities are advised to diversify into boosting the production of cereals (sorghum, millet, and maize), beans, and ground nuts and sustain pasture availability for livestock.
Please see Downloads for the detailed outlook.
4th Call For Applications: MURBS Departmental Ambassadors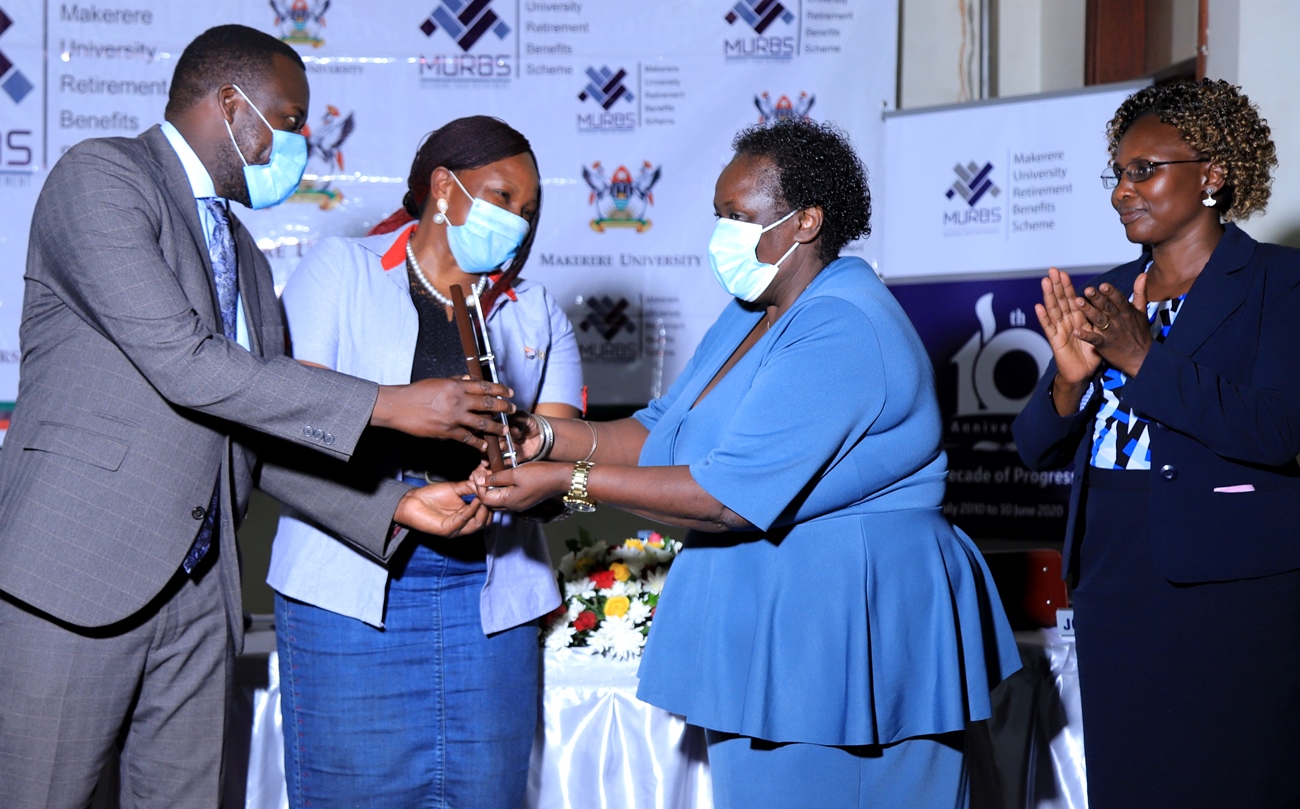 In February 2018, the Makerere University Retirement Benefits Scheme (MURBS) launched the Departmental Ambassadors Programme. MURBS hopes to use this Ambassadors Programme to engage more directly with its membership and enhance member education. MURBS further perceives this Programme as a means to mitigate succession planning risks.
MURBS Fund Value continues to grow, and as at 31st March 2021, it stood at Ushs 235.5bn as compared to Ushs 209.6bn as at 30th June 2020. Given this growth, there is increased need for prospective Trustees, who are well equipped with relevant knowledge and skills, and with practical exposure to the management and governance of MURBS.
Eligibility
Must be employed by the University on permanent terms
Must be an Active Member of the Scheme (currently contributing to the Scheme) and appear on the Official Register of the MURBS Active Membership as at 30th April 2021.
Must be willing to commit time to trainings and other ambassadorial activities organised by the Scheme.
Mode of training for 4th Cohort of Ambassadors
Training for this (4th) Cohort of Ambassadors is envisaged to be conducted over the zoom online platform only, due to Covid-19 restrictions. The Scheme does not envisage any face-to-face interactions.
Tenure of Office & Termination or Withdrawal
There is no tenure of office for the Departmental Ambassador. As long as a member is willing to continue serving as an Ambassador, and the Ambassador continues to satisfy the eligibility criteria above, she or he will remain a MURBS Ambassador.
How to Apply
Interested members should complete the MURBS Departmental Ambassador Application Form 01-0218. The completed Form together with the requested attachments should be sent to info[at]murbs.mak.ac.ug and copy to wilber.naigambi[at]mak.ac.ug no later than 5:00 p.m. on Monday, 14th June 2021. We discourage hand delivery of applications.
Confirmation/Approval Process
MURBS shall acknowledge receipt of each application received within 12 hours and will respond to the applicants to confirm the status of their application in writing (by e-mail). Upon approval of the application, the name of the approved Ambassador together with the Department and School/Unit will be updated on the list of the MURBS Departmental Ambassadors in the Group 4 category and published on the MURBS website.
NOTE: There is no limit as to the number of ambassadors that MURBS can have in a department.
Please see Downloads for the detailed call and application form.