First ever Campus France Antenna opens in Uganda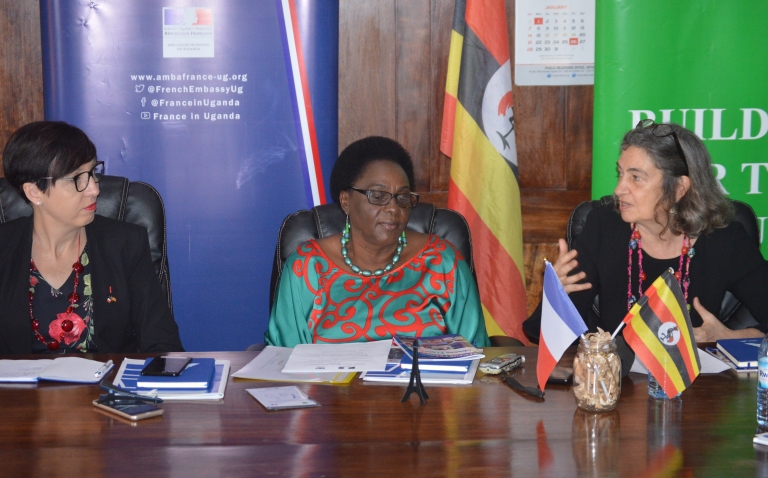 The French Government through its Embassy in Uganda has opened up a Campus France Antenna at Makerere University to help Ugandan students to have access to information and guidance on education and business projects in France.
Officially launched on 30th January 2018 by the Ambassador of France to Uganda, Her Excellency Stéphanie Rivoal and the Minister in Charge of General Duties in the Office of the Prime Minister Hon. Karoro Okurut who represented the Minister of Education and Sports and First Lady Hon. Janet Kataha Museveni, the Campus France offices will be a one stop center for students to access information and resources on scholarships and other study opportunities in France.


Campus France is the French National Agency that promotes international mobility and French Higher Education. Created by the Act on external State Action of 27 July, Campus France focuses on simplifying the French procedures for the reception of foreign students and researchers in an increasingly competitive environment. According to the Director Campus France Ms. Beatrice Khaiat, the initiative supports the development of international academic and scientific mobility by promoting training programmes and ensuring guidance to students as well as inviting teachers and researchers to French institutions.
"This programmes helps to improve the conditions for the reception and stay in France for foreign students, manage French government scholarships and foreign government scholarships granted to foreign students staying in France on an individual or group basis for the purpose of training, gathering information, research among others," she said.
On 29th September 2017, Makerere University and the Embassy of France in Uganda signed a Memorandum of Understanding (MoU) to promote cultural, linguistic, higher education and research cooperation in Uganda. The MoU also stated the interest of setting up a Campus France Antenna in Makerere University International Relations Office. Since its establishment in Uganda in 2017, Campus France has already guided and sponsored several Ugandan student in their education and business projects.
Addressing students and invited guests in the Makerere University Freedom Square on 30th January 2018, Her Excellency Stéphanie Rivoal encouraged students to learn French and acquaint themselves with the French culture in order to increase their chances of getting jobs both nationally and internationally. The Ambassador mentioned that French as a language is one of the easiest and most spoken language in the world.
"I am quite sure that you are thinking of the very complicated French language. Today 250 million people speak French and they are here on the African continent, they are your brothers and sisters from Congo, Burundi, Djibouti, Ivory Coast, Senegal and many more. Learn French and increase your chances of getting a job in many of the African countries," she remarked.
She encouraged students to utilize the opportunity and apply for the available study courses to improve and upgrade their academic qualifications. "This is your right and freedom, kindly utilize it. Freedom of access to education, mobility and most of all the freedom of being a citizen of the world is what the Government of Uganda and the Government of France want to humbly contribute to by opening the first ever Campus France Office in Uganda, at Makerere University International relations Office," she said.
She thanked the Minister of Education and Sports, First Lady Hon. Janet Kataha Museveni and Makerere University for embracing and supporting the idea of hosting Campus France at the noble institution. In a special way she thanked the President of the Republic of Uganda H.E General Yoweri Kaguta Museveni for maintaining the long term relationship between France and Uganda that has led to the introduction of Campus France in Uganda.
In a speech read by the Minister in Charge of General Duties in the Office of the Prime Minister Hon. Karoro Okurut, the Minister of Education and Sports Hon. Janet Kataha Museveni appreciated the drive by the French Embassy to make France visible in Uganda. According to her, such a move like opening up Campus France at Makerere University will enable students from the region that is predominantly Anglophone to access information about educational opportunities that do exist in France.
"It came to our notice that few students seek access to higher education in your great country, even though is a well-known fact that France has some of the most deeply cultured and most excellent institutions of higher learning in the world. I am sure that the advent of Campus France in Uganda and in the Great Lake Regions, opens a door for our scholars and researchers to more readily access those opportunities," she said.
The Minister was glad to learn that the Antenna will assist students to apply and access various scholarships open to international students, and also assist them to process their applications, assess their documents and send them to colleges of their choice. The Minister appreciated the move in which students will be assisted to apply for visas to France and the guidance on how to obtain suitable accommodation once they are in college.
"Such a degree of detailed care assures us that Campus France will indeed be 'a home away from home' for our students who will be fortunate enough to access higher education programmes in France. I have no doubt that the presence of Campus France in this region, and at Makerere University specifically, will take cooperation between Uganda and France to a new level, because the more students we send to France, and the more French students we receive at Makerere University and other institutions in the region, the richer that cooperation will be across the borders" she explained.
"Such a program will also go a long way in bridging the cultural chasms that were created among the various African regions by colonial divisions, complicated as they were by the fact that the different colonizers spoke different languages which has continued to make it difficult to Africans to communicate with one another," the First Lady added.
At the same function, the Ambassador officially unveiled the French Corner at Makerere University Main Library. Located in the IDA Section of the Library, the French Corner will host French books and learning materials purposeful to students and other learners. The University Librarian Dr. Helen Byamugisha thanked the Embassy of France in Uganda for the up to date learning package, saying that it will simplify the lives of students learning French and those pursing their courses in French.
On behalf of Makerere University, the Acting Vice Chancellor Dr. Ernest Okello Ogwang appreciated the support rendered to the University by the Embassy of France in Uganda through provision of scholarships for PhD students, the student exchange programmes with French Universities particularly Sciences. In the same spirit, the Makerere University Chairperson of Council Eng. Dr. Charles Wana-Etyem thanked the Embassy of France in Uganda through their hardworking Ambassador for opening yet a fresh chapter of Internationalization in Makerere University.
"I am aware that the Embassy has held a number of activities in partnership with Makerere University such as the public debate and dialogue on 'the use of the French language' and a debate on the theme "Let's Save the World Together" as well as the debate to discuss "the Role of the Youth in Media on one hand and Politics on the other Hand. Through these various interactions, the Embassy has been able to expose the young minds to international approaches and solutions aimed at addressing challenges that affect global village, through constructive dialogue. I am therefore confident that the exposure the students are receiving is the spark that will ignite the fire in tomorrow's leaders that go through the gates of Makerere to think beyond the scope of solutions that solely fit in the Ugandan setting," he said.
The Chairperson of Council assured the Ambassador of the University's commitment to creating the policy and governance atmosphere that provides an environment conducive to the promotion of networking, exchange of ideas and the creation of truly global citizens.
The launch of Campus France Antenna was accompanied by a "French Expo" in which different French companies, restaurants, and other enterprises as well as Makerere University exhibited their research, services, culture and innovations. Impressed with the way Juliet Anena is developing Tissue Culture Technology to generate new planting materials especially sweet potatoes, cassava and banana plantains, the Ambassador awarded Juliet Anena; a Makerere University student pursuing a Bachelor's Degree in Agriculture a scholarship to go to France and share knowledge and experience with the French agricultural experts.
Through a lottery, the Ambassador also awarded three Makerere University students with grand prizes. The students included Mr. Tenywa Hamid who received Campus France Promotional goodies, Ms. Amina Nannozi who was awarded with a French training session at Alliance Française and Ms. Mollen Nyiraneza; awarded with a Cultural & linguistic scholarship in France.
The Acting Deputy Vice Chancellor for Finance and Administration Dr. Eria Hisali congratulated the winners and urged them to support the initiative and work as Ambassadors of Campus France. He thanked the organizing team comprising Embassy of France, Mak Public Relations Office, International Office, Estates and Works Department, and Security Departments for putting up a successful function and encouraged students to utilize the Campus France offices for more opportunities.
Article by Mak Public Relations Office

Mak Charts the Way Forward for a Solid IP Management Office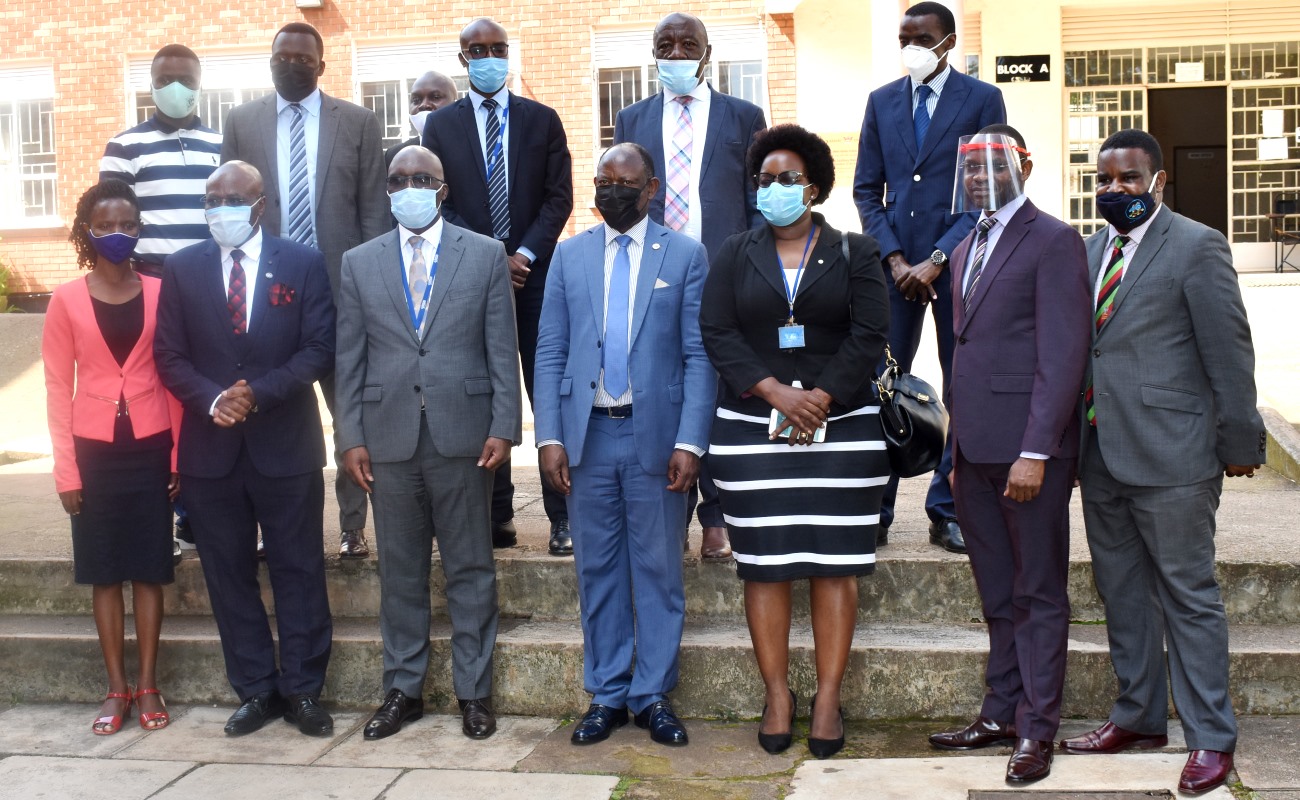 A team from Makerere University headed by the Vice Chancellor, Prof. Barnabas Nawangwe on Tuesday 1st December, 2020 met with the Registrar General, Mr. Bemanya Twebaze and a team from the Uganda Registration Services Bureau (URSB) and held discussions aimed at operationalising the Intellectual Property Management Office (IPMO) at Mak. The meeting held in the College of Business and Management Sciences (CoBAMS) Conference Room was attended by the Deputy Vice Chancellor (Academic Affairs), Dr. Umar Kakumba, Acting (Ag.) Deputy Vice Chancellor (Finance and Administration), Dr. Josephine Nabukenya and Ag. University Secretary, Mr. Yusuf Kiranda.
Also present were the Ag. Director Legal Affairs, Mr. Hudson Musoke, Interim Chairperson Intellectual Property Management Committee and Principal College of Engineering, Design, Art and Technology (CEDAT), Prof. Henry Alinaitwe, Deputy Director, Directorate of Research and Graduate Training (DRGT), Dr. Robert Wamala and Interim Manager IPMO, Can. Goddy Muhanguzi Muhumuza. URSB Staff-Ms. Mercy K. Kainobwisho, Mr. Agaba Gilbert and Mr. Dominic Ddamulira were also in attendance.
Acknowledging Intellectual Property (IP) as a vital component of the knowledge economy, the Interim IPMO Manager, Can. Muhanguzi Muhumuza applauded the Vice Chancellor and Members of Management for recognizing the need to protect and commercialize Mak's research and innovations by setting up the office. He thanked the Registrar General and his team for sparing time to be part of this initiative right from the start and pledged to do his part to ensure that the office takes off.
In his welcome remarks, Prof. Nawangwe congratulated the Mr. Twebaze upon his recent election as Director General of the African Regional Intellectual Property Organisation (ARIPO) for a five year period. He also applauded him for making the URSB brand more visible nationally and internationally.
He noted that whereas the University has since inception been acclaimed as a beacon of research and innovation in Africa, the amount of IP and startup companies attributed to the institution were still very low. "Makerere University staff and students are highly innovative. The IPMO will therefore help us to commercialise these innovations into ventures that can create much-needed employment for our exploding young population."
The Vice Chancellor in this regard appreciated the Registrar General for sparing time to personally attend the operationalisation meeting and his willingness to help commercialize IP at Makerere University. In the same breath, he thanked the Ministry of Science, Technology and Innovation (MoSTI) for offering to support the IPMO and second experienced staff to the Mak unit where necessary.
"The University has allocated ample office space to the IP Management Office and Resource Centre as an asset not only for Makerere but other Universities as well. Makerere has highest concentration of PhDs in the country and we have absolutely no reason why we cannot transform this country" said the Vice Chancellor.
Introducing the Registrar General, URSB's Director IP-Ms. Kainobwisho shared that Mr. Twebaze is not only the incoming Director General ARIPO but also a Member of the International Trademark Association (INTA) and President of the World Intellectual Property Organisation (WIPO) Advisory Committee on Enforcement. She added that Mak's IPMO will greatly benefit from the Registrar General's national and international experience.
Mr. Twebaze in his remarks thanked Prof. Nawangwe his invitation, noting that it was a great honour and privilege for him as an alumnus from the School of Law and proud Lumumbist to visit his alma mater. "I am happy to always introduce myself as an alumnus of Makerere everywhere I go in the world and I thank the Vice Chancellor and his leadership for the great visibility they have brought to this University in so many ways."
He applauded the Vice Chancellor for recognising that the IPMO will not only serve Makerere but also other established and upcoming Ugandan Higher Education Institutions. The Registrar General expressed happiness that his alma mater had taken the lead nationally by formulating an institutional IP Policy. The Makerere University Intellectual Property Management Policy was approved by the University Council on 13th March 2008.
"The National Intellectual Property Policy was launched by His Excellency the President in September 2020 but the only way we shall be able to demonstrate that IP actually works is by translating our good ideas and innovations into solutions that solve local problems, create jobs and wealth and enable the people to thrive" shared Mr. Twebaze.
The Registrar General equally took note of the recognition accorded by the President during the aforementioned launch to Ugandan scientists and Makerere University for taking the lead in finding solutions to societal problems, despite challenges posed by the COVID-19 pandemic. "Makerere University has been at the forefront of Uganda's response to COVID-19 and I commend the leadership and researchers for this."
In 2018, URSB set up a Technology Innovation Support Centre (TISC) at the Mak Main Library to help promote quality research and innovations by providing access to patent information, scientific journals and training on Intellectual Property (IP) laws and patents. Mr. Twebaze shared that URSB has since then set up over 20 other TISCs in Uganda and urged the Interim IPMO Manager and Deputy Director DRGT to help popularise the facility.
In the interactive session that followed, Dr. Robert Wamala shared the proposed IPMO process flow. The steps include; Sensitization, Disclosure, Audit, Application (Form Filling and Submission to URSB), Grants Management, Commercialization and Enforcement. The URSB team pledged to support the IPMO along every step of the proposed process and reiterated the need for students and staff to make the most of the TISC if they were to come up with innovations that can be commercialized.
The meeting agreed to; establish a fully fledged resource centre at the IPMO manned by a team that can undergo further training by ARIPO and WIPO, share the Mak IP Policy currently under review with the URSB team for input, and periodically review the use of the TISC, applications for IP and other goals.
Article by Public Relations Office
Related article
Hon. Tumwebaze, Dr. Muvawala To Champion MakLIB E-resources Fundraising Initiative
Notice: Makerere Disability Scheme 2020/21 Medical Review Exercise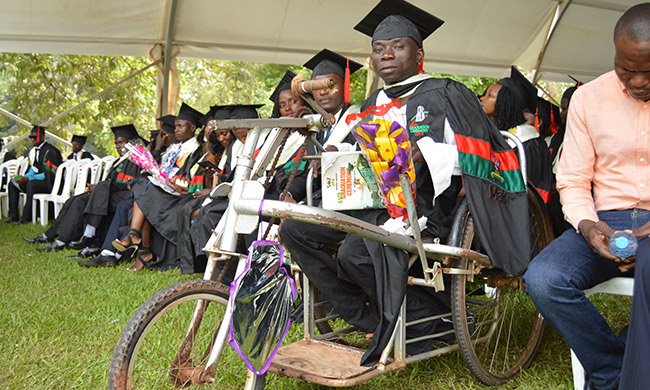 The Academic Registrar, Makerere University invites persons with disability who applied for admission to public universities under the Disability Scheme for 2020/2021 academic year to appear for medical/review exercise at Makerere University, Senate Building, Level Two (2) in the Telepresence Centre.
Note: Only those who have the minimum entry Requirements of at least two principal passes at A'level and at least five (5) Passes at O'level will be interviewed.
The exercise will be conducted on 7th, 8th, 9th and 10th December, 2020 respectively from 9.00 a.m – 1.00 p.m. each day.
Important: If you fail to appear on any of the given days above, there will be no other chance for you.
Alfred Masikye Namoah
ACADEMIC REGISTRAR
25th November 2018
Prof. Bazeyo Hands over DVCFA Office to Dr. Nabukenya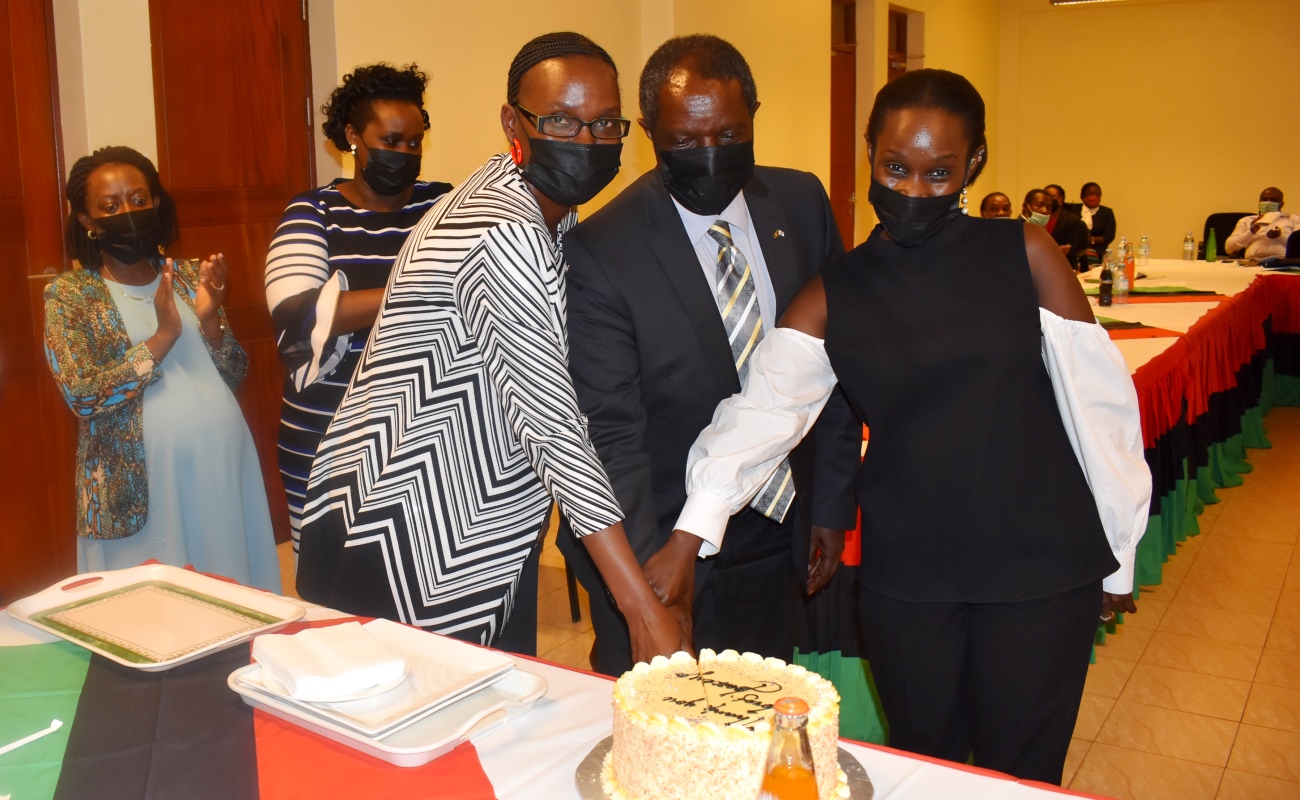 The outgoing Acting (Ag.) Deputy Vice Chancellor (Finance and Administration)-DVCFA on 30th November 2020 officially handed over office to the incoming Ag. DVCFA Dr. Josephine Nabukenya at a ceremony presided over by the Chairperson of Mak Council Mrs. Lorna Magara. The event held in the Central Teaching Facility 1 (CTF1) was guided by the Ag. University Secretary-Mr. Yusuf Kiranda and witnessed by the Chairperson Finance, Planning, Administration and Investment Committee (FPAIC) of Council-Mr. Bruce Kabaasa, the Vice Chancellor-Prof. Barnabas Nawangwe, Deputy Vice Chancellor (Academic Affairs)-Dr. Umar Kakumba, Members of University Management and Prof. Bazeyo's family.
In his remarks, the Vice Chancellor paid tribute to Prof. Bazeyo for the tremendous achievements registered which made his own job very easy.
"One of Prof. Bazeyo's tremendous achievements has been to move the University out of huge debt, with the most outstanding one; the In-House benefits scheme, almost completely settled," remarked Prof. Nawangwe.
He also commended Prof. Bazeyo for his negotiation skills, which enabled the University to secure the Research and Innovations Fund (Mak-RIF) from the Government of Uganda. Mak-RIF is the first of its kind Government funding dedicated purely to supporting research and innovations at Makerere University, and is open to competitive bidding by any member of staff.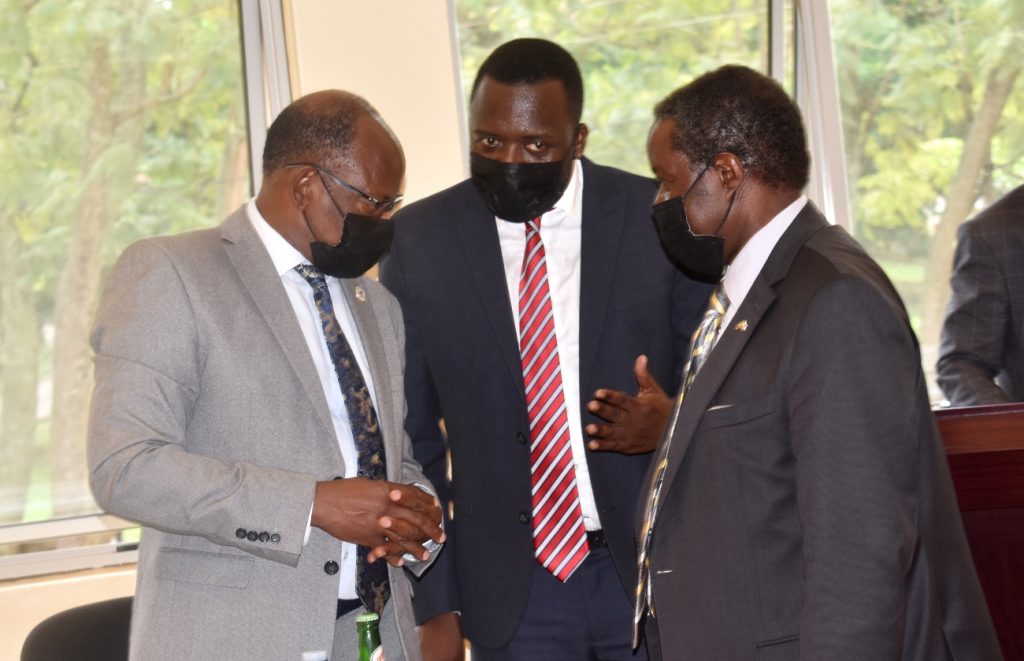 Prof. Nawangwe thanked the outgoing DVCFA for his exemplary service and accepting to continue chairing the inaugural Grants Management Committee (GMC) of Mak-RIF. This selflessness, he noted would help Makerere to become a truly research-led university.
The Vice Chancellor equally expressed gratitude that Prof. Bazeyo was handing over to Dr. Nabukenya who is known for her steadfastness, prolific research and grant winning abilities. "Dr. Nabukenya has been very responsive when called upon to serve on various University Committees and we pledge to continue according you all the necessary support until a substantive DVCFA is appointed."
In his handover speech, Prof. William Bazeyo thanked God for the negotiation and other skills that have enabled him to be a contribution to Makerere University right from his date of appointment on 23rd August 1993 until he attained the mandatory retirement age on 22nd June 2017. Now serving on a post-retirement contract valid until May 2021, Prof. Bazeyo shared that these skills had enabled him to transform the School of Public Health (MakSPH) from being virtually unknown to the second-best School of Public Health on the African continent.
Speaking about what motivated him to take up the role of DVCFA, Prof. Bazeyo outlined; the Media coverage of Makerere's indebtedness, need to achieve research-led status, need to improve staff remuneration, unpaid retirement benefits and the absence of an institutional grants policy as some of the challenges that spurred him on.
"On the research front, I am glad to say that today, we have 595 project groups concurrently engaged with full funding by Government under Mak-RIF. And whereas Government had initially committed to avail this funding for only five years, they are now willing to funding every financial year having seen Makerere's demonstrated capacity," Prof. Bazeyo said.
Addressing Dr. Nabukenya, the outgoing Ag. DVCFA said, "I have never seen an office as challenging as this but the fact that I have tried means that you too can do the same through initiatives like strategic planning, participatory budgeting and a host of others as outlined in my handover report. I pledge that I will be available to introduce you and support you where you need me."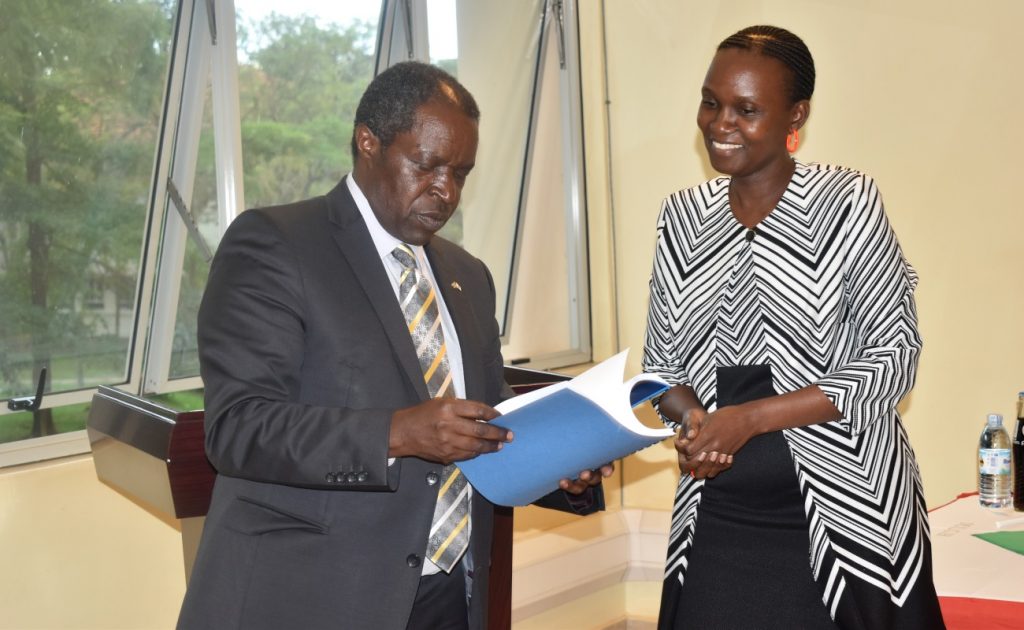 In conclusion, Prof. Bazeyo thanked the Chairperson and Members of Council for entrusting him with the role of DVCFA and Prof. Nawangwe for always listening to his proposals and offering much-needed guidance. He thanked Dr. Kakumba for always speaking honestly and Dr. Eria Hisali for continually stepping-in to act on his behalf whenever he was out of office. Prof. Bazeyo equally thanked rest of the members of Management for their support throughout his term of office and staff in the Office of the DVCFA for enabling him to serve efficiently.
In her acceptance speech, Dr. Josephine Nabukenya thanked the University Council for giving her the opportunity to act as DVCFA, a role she pledged to use wisely. "I thank the Chairperson Council, Mrs. Lorna Magara, Vice Chancellor, Deputy Vice Chancellor (Academic Affairs) and all members of Management for being part of this handover ceremony. I am humbled to be assigned the role of next Acting DVCFA, a great responsibility and at the same time, a great honour."
She paid tribute to her predecessor Prof. Bazeyo for the achievements registered during his term of leadership and for not losing sight of his goals especially in research, despite the challenges faced. She attributed this to Prof. Bazeyo's passion for Makerere University, which has been a good driving force during his three years in office.
Dr. Nabukenya nevertheless made appealed to her outgoing colleague to continue working with the institution to cement the successes that had been registered during his term. She pledged to work hand in hand with her colleagues in Top Management to ensure that several projects currently being undertaken such as automation of services are accomplished.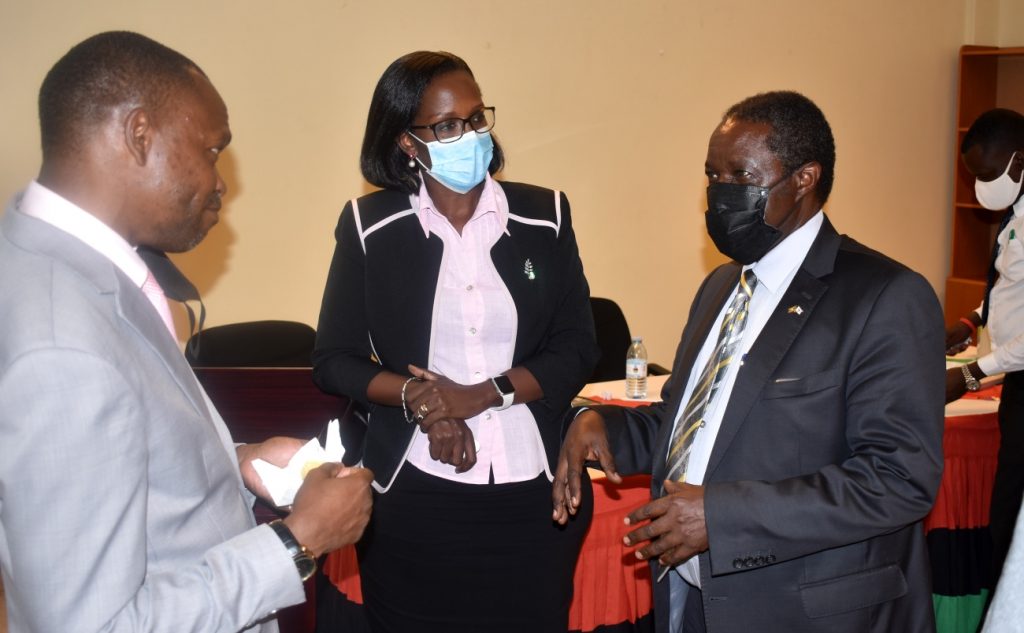 In her remarks, the Chairperson Council thanked Prof. William Bazeyo for his selfless service to Makerere University, especially for his role in spearheading negotiations with Government to secure the remainder of funds owed to the Makerere University Retirement Benefits Scheme (MURBS). Mrs. Magara noted that the University Council is still looking forward to working with Prof. Bazeyo in various capacities.
Turning to Dr. Nabukenya, the Chairperson noted that the University Council celebrates her as a woman who has ascended to a top position of University Management. She nevertheless noted that Dr. Nabukenya's prolific record made her a good candidate for the position. "Drawing on the gender card was never a necessity in considering your candidature because your past attainments in research and especially automation made you a perfect fit for the role."
Quoting Proverbs 22:1 "A good name is to be chosen rather than great riches, Loving favor rather than silver and gold", Mrs. Magara urged Dr. Nabukenya focus on leaving a legacy in Makerere University because her legacy would outlive her. She added that Council's expectations of the DVCFA role are high but nevertheless expressed confidence that Dr. Nabukenya would deliver as much as Prof. Bazeyo had and hopefully, exceed expectations.
The Chairperson noted that whereas the University aspires to be research-led, the institution should not conduct research just for the sake. "Our drive must be to conduct research that responds to the National Development Agenda" remarked Mrs. Magara before posing a question, "What do we need to do to ensure that Makerere becomes the Think Tank for the National Development Agenda?"
She concluded her remarks by pledging the University Council's and her personal support to the new Ag. DVCFA and urged Dr. Nabukenya to stay focused on her duties.
Members of Management also present included the University Librarian-Dr. Helen Byamugisha, University Bursar-Mr. Evarist Bainomugisha, Director Estates and Works Directorate-Eng. Christina Kakeeto, Director Internal Audit-Mr. Walter Yorac Nono, Ag. Director Legal Affairs-Mr. Hudson Musoke, Representing the Ag. Director Human Resources-Mr. Deus Mujuni Tayari and other officials.
Article by Public Relations Office