New MUASA Chairperson Swears In: Emphasises Association's Financial Sustainability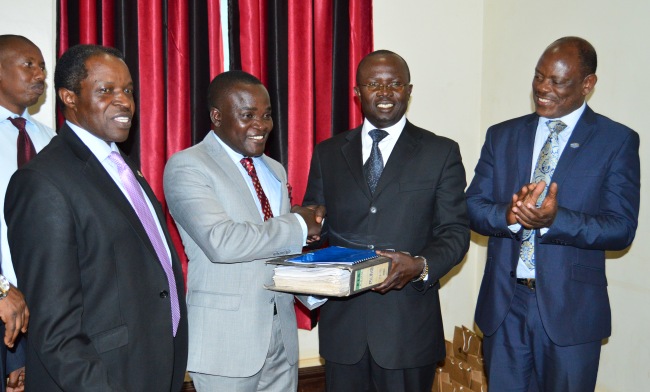 The newly elected Chairperson of Makerere University Academic Staff Association (MUASA) Dr. Deus Kamunyu Muhwezi has vowed to use his term of office to create a MUASA SACCO with the aim of strengthening the financial position of the Association. Speaking to the joyful audience at the swearing in ceremony held on 15th January 2018, Dr. Kamunyu said that the New MUASA Executive is committed to resource mobilisation and strengthening the financial position of the Association beyond the current income generating activities.
To achieve this, he pledged to institute processes and procedures that are guided by approved operating manuals with an improved outlook to governance as well as increased trust in the Association's ability to handle finances and guide investments.
"This SACCO will increase our social cohesion, empower us financially and increase our love for the Association. MUASA SACCO will not compete with any available saving options in the university as many may anticipate, it will instead expand saving opportunities for members but this time with clear social development objective and governance structure. The two years which we have started today seem few but will endeavour to lay a foundation for most viable projects," he said.
Dr. Kamunyu envisions a meaningful and stronger MUASA that focuses on not only uniting but also positively changing the lives of its members beyond salary enhancement and harmonisation. According to Dr. Kamunyu, his team is also ready to work with the University Management to improve governance and promote compliance to policies and regulations.
"We want consistent improvement in ethical standards especially in the handling of financial, administrative and academic matters. We want transparency in staff development and promotions policy and procedures, college financial management and improved budgeting and compliance budgets. We will continue to call for action towards a pro service delivery procurement system and one that guarantees good value for money," he said.
After serving as the Association's Public Relations Officer for two years, Dr. Deus Kamunyu Muhwezi was on Monday 11th December 2017, elected as the new Chairperson of MUASA replacing Dr. Muhammad Kiggundu-Musoke; his term officially starting on 5th January 2018. He pointed to the past two years of serving MUASA as a period of learning to; serve people selflessly, take MUASA's position seriously, listen to others carefully and be open minded.
"I therefore believe that my victory as the MUASA Chairperson was not out of persuasive campaign but out of the trust that MUASA fraternity have in me. Even when I know that the tasks ahead are many and yet with no straight forward methods of accomplishing them, I will be reminded of your resolute trust in my ability and push forward," he remarked.
Dr. Kamunyu Muhwezi who was in the company of his beloved wife Mrs. Mariam Kamunyu and children Charles and Rebecca Kamunyu thanked the Almighty God and the MUASA fraternity for allowing him to serve the Association as the Chairperson. He also thanked the outgoing Chairperson Dr. Muhammad Kiggundu-Musoke and his Executive for steering the Association for the last five years. "Your leadership has brought various staff welfare achievements such as salary enhancement and health insurance. Together with my team, I promise to build on from where you have stopped. We hope that you will be available for consultation where need arises especially when we move to tap from your wealth of experience as MUASA leader" he said.
"I also thank the MUASA Electoral Commission for delivering a credible election. The election you organised has never been held in the history of MUASA. We are glad and honoured to have taken these respectable positions with undisputed mandate which we believe you made possible. We are partners in strengthening your mandate because we are aware that at some point, bad elections were threatening to undermine MUASA," he added.
The swearing in ceremony was presided over by the Commissioner of Oaths His Worship Mr. Lawrence Tweyanze and witnessed by Jolly J. Sonko representing the Permanent Secretary, Ministry of Public Service, the Representative from the Ministry of Educ ation and Sports, Makerere University Management and staff among others.
The Vice Chancellor Prof. Barnabas Nawangwe congratulated the new Executive and looked forward to their cooperation with the Management. He encouraged the team to consider looking for more aid and funds to boost the institution's research.
"Research is one of the biggest pillars of Makerere University. This means that it needs to be heavily funded. We also have to enforce our policies that can keep the intuition's research at the highest rank that is why I suggest that every PhD and Masters Student must begin to publish at least one publication before they finish. This is what the best universities do," said the Vice Chancellor.
Prof. Nawangwe appreciated Dr. Kiggundu-Musoke and his Executive for employing diplomacy to win the negotiations on salary enhancement.
In the same spirit the Deputy Vice Chancellor (Finance and Administration) Prof. William Bazeyo thanked the outgoing Executive for the tireless efforts to defend the rights of teaching staff. Prof. Bazeyo congratulated the incoming Executive and urged them to be that strong bridge between MUASA and Management so as to foster positive change at Makerere University.
He challenged the MUASA Executive to explore the available opportunities within the university so as to improve their finances.
The outgoing Chairperson Dr. Muhammad Kiggundu-Musoke congratulated Dr. Deus Kamunyu Muhwezi and his team upon being elected as the new MUASA Executive. He advised the new leadership to always use the appropriate solution for the situation at hand for the good of the people. "Leadership is not about doing a lot of talking, writing, striking, dialoguing, tweeting, whatsapping and mailing. It is about appropriate judgement that suits an environment to deliver services that promote the good of the community," said Dr. Kiggundu-Musoke.
He urged the new leadership to create a close working relationship with the Government of Uganda and always engage Management when finding solutions to issues concerning the University.
"Makerere University is a Public Institution that demands close working relationship with the Government. Therefore, take this as important because the Government has a great stake…. In addition Management should not be treated as enemies but as a team that requires effective engagement. Both Academic and Non-Academic staff are great stakeholders and also require maximum respect as you deliver your services. Students are indispensable and they are the reason we exist," he said.
He thanked the University Management, Council and members of staff for the support they have rendered to his Executive during the five years of his service. In a special way, Dr. Kiggundu-Musoke thanked the Government of Uganda, specifically H.E. Yoweri Kaguta Museveni for his decision to enhance staff salaries.
"I thank the IGP Kale Kayihura for ensuring peace and stability at Makerere University and for his support that enabled us to meet the President on the salary issue. We thank the Ministry of Education and Sports for both moral and financial support towards our staff. I thank our fellow associations; Makerere University Administrative Staff Association, Non-Teaching Fraternity and NUEI for the generous support when we pushed the university and the Government to work on our demands," he nostalgically said.
The newly elected MUASA Executive will be led by the Dr. Deus Kamunyu Muhwezi, the Chairperson and other remembers include:
• Assoc. Prof. Edward Nector Mwavu (Vice Chairman),
• Dr. Michael Walimbwa (General Secretary),
• Dr. Geoffrey Nuwagaba (Deputy General Secretary),
• Mr. Hussein Oria (Treasurer),
• Dr. Ronald Kakungulu-Mayambala (Academic & Research),
• Mr. Arthur Mugisha (Welfare),
• Mr. Allan Ochieng (Public & External Relations),
• Assoc. Prof. John Bosco Lamoris Okullo (CAES college representative),
• Mr. Milton Wabyona (CHUSS college representative),
• Dr. Anthony Tibaingana (CoBAMS college representative),
• Dr. Andrew Tamale (CoVAB college representative),
• Dr. Amin Kiggundu Tamale (CEDAT college representative),
• Dr. Erem Geoffrey (CHS college representative) and
• Mr. Mwanje Aloysius Desire (COCIS college representative).
Article by Public Relations Office
Prof. Bazeyo Named 2021 Tufts University Honorary Degree Recipient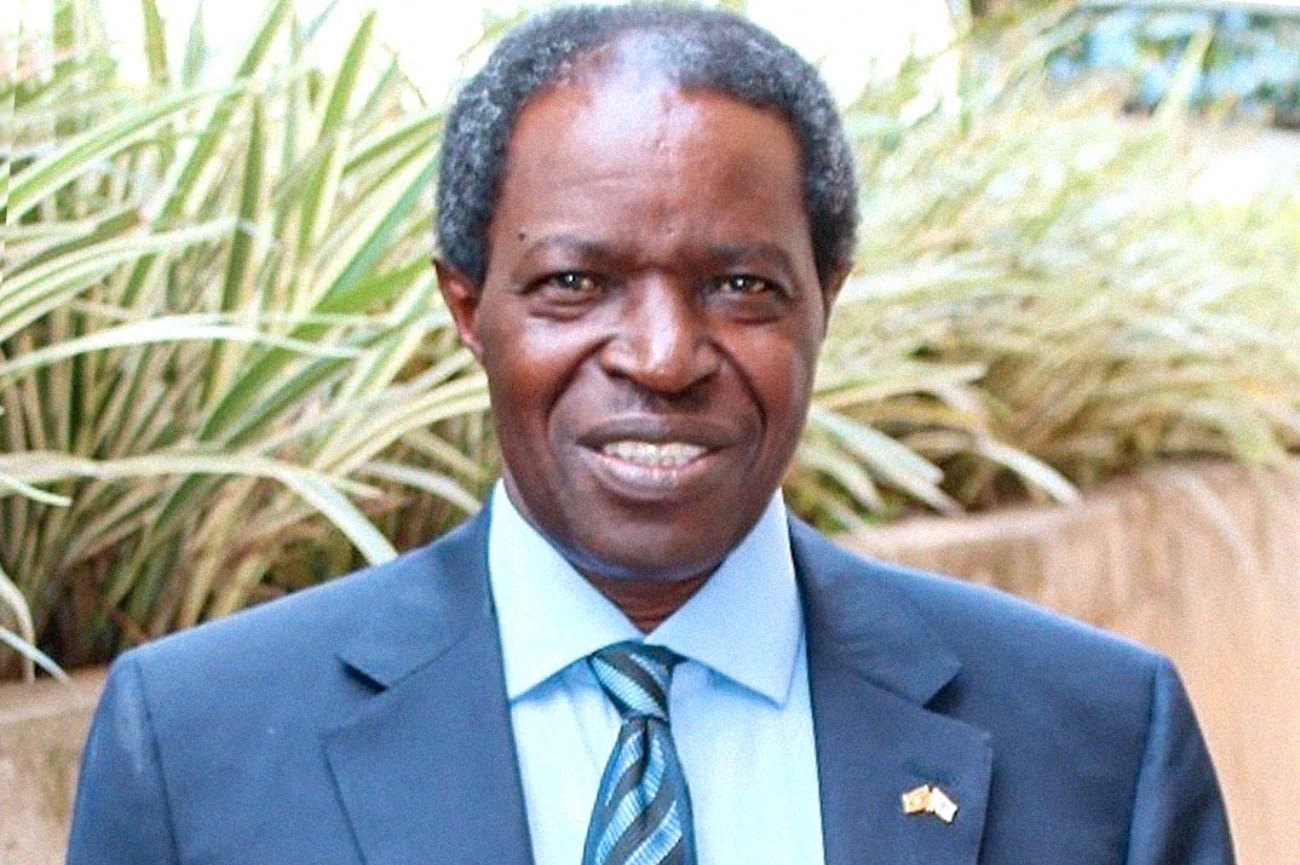 Professor William Bazeyo, a Professor of occupational medicine in the Makerere University School of Public Health (MakSPH) and former Deputy Vice Chancellor (Finance and Administration) has been named as one of six Tufts University honorary degree recipients for the Class of 2021. The announcement published 20th April 2021 on the Tufts University one-stop site for news mentions that Prof. Bazeyo will receive an honorary Doctor of Science degree.
The award is in recognition of Prof. Bazeyo's leadership in research focusing on One Health Innovation and Control of Tobacco use among others. The award also takes note of his service as former Dean MakSPH as well as chair of several boards including Uganda's National Research and Innovation Fund under the Ministry of Science, Technology, and Innovation.
The other recipients named alongside Prof. Bazeyo include; Maria B. Barrett-honorary Doctor of Public Service, Stacey B. Gabriel-honorary Doctor of Science, Hamdi Ulukaya-honorary Doctor of Humane Letters, Ofelia Zepeda-honorary Doctor of Letters, and Bryan Stevenson-honorary Doctor of Laws. The latter will also deliver the commencement address to the Tufts Class of 2021 in a virtual ceremony due to be held on 23rd May.
Makerere University congratulates Professor William Bazeyo upon his meritorious achievement.
Click here for the full announcement.
Embassy of Japan Donates Books to Mak Library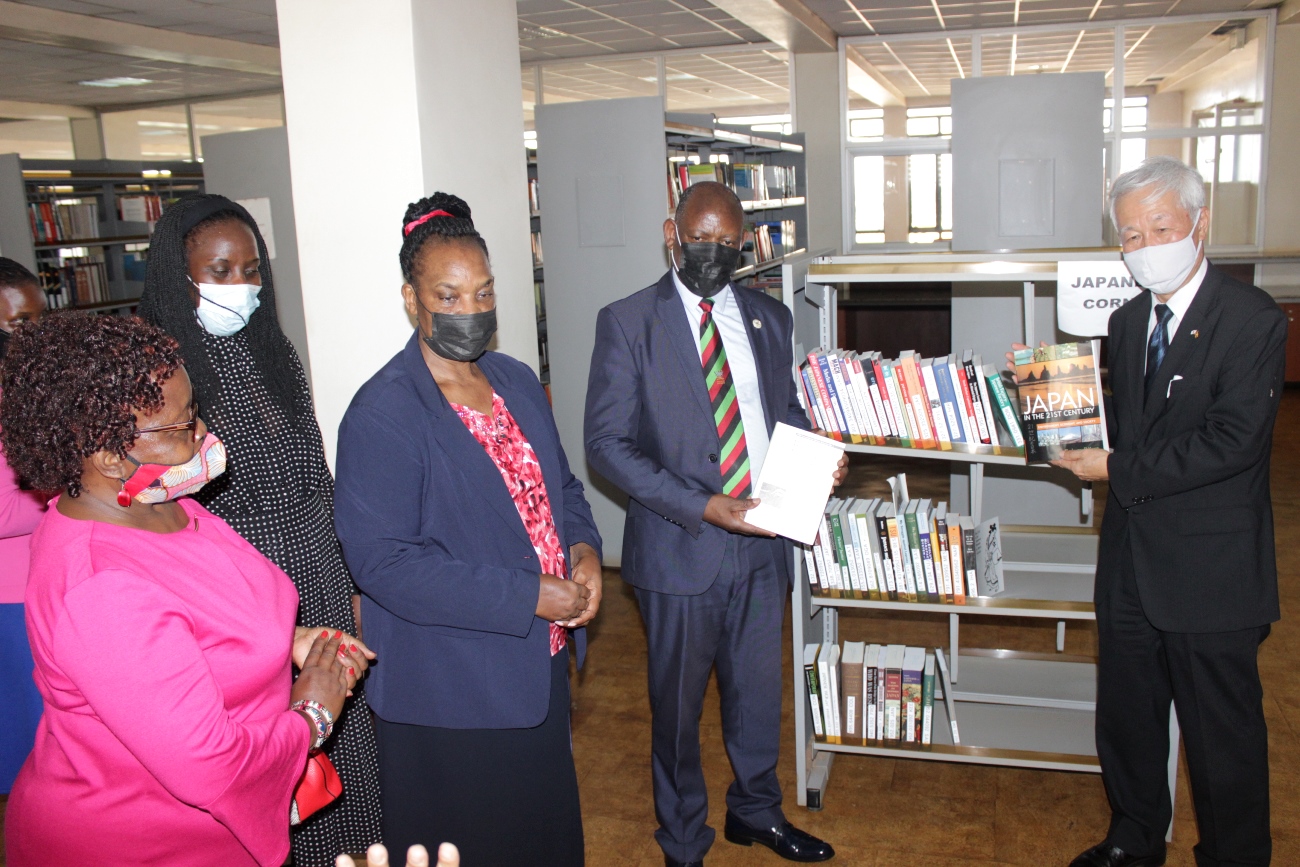 The Ambassador of Japan to Uganda H.E. Fukuzawa Hidemoto during his first official visit to Makerere University on 20th April 2020 handed over a donation 52 books and launched the Japanese Corner in the Main University Library. The donation of books on contemporary Japan was made possible by the Nippon Foundation through the "READ JAPAN PROJECT".
Welcoming the Ambassador, the University Librarian Dr. Helen Byamugisha shared that at over 12,000 square metres and seating capacity of over 2,800, the Library was one of the biggest in Africa. She added that the Library has special access and facilities for persons with disabilities (PWDs) and offers the Document Delivery Service for any materials that library users both on and off campus may require, among other services.
Turning to the benefits of digitization, the Librarian shared that though physically closed, the University Library continued serving users during the COVID-19 orchestrated lockdown thanks to its vast array of over 27,000 electronic journals and other digital resources. She therefore thanked the Ambassador for the book donation, which would enhance the library's ability to serve the needs of its diverse users.
"The book donation has already been processed by our staff and can be accessed through the electronic catalog on the Library's website from anywhere in the world" added Dr. Byamugisha.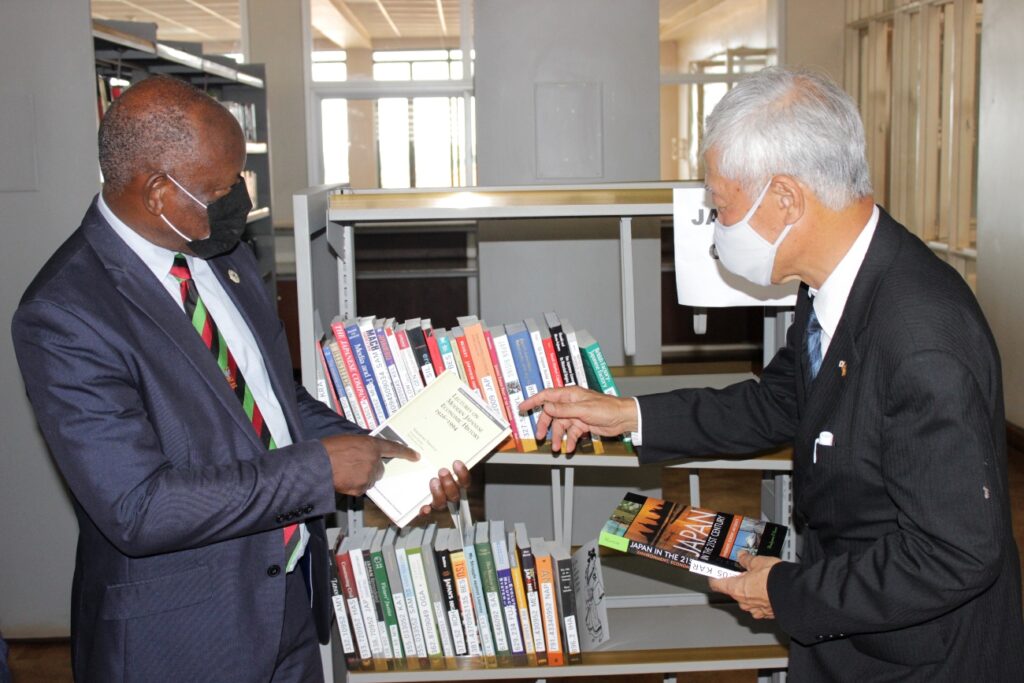 In his remarks, the Vice Chancellor, Prof. Barnabas Nawangwe said that Makerere University has enjoyed a good relationship with the Government and people of Japan, which resulted in the construction of the JICA (Japan International Cooperation Agency) building, home to the College of Natural Sciences (CoNAS). The building was officially handed over on 23rd January 1992.
He informed the Ambassador that the University, which will celebrate 100 years of existence in 2022, conducts a lot of research and is world-renowned for the large number of publications in clinical research as well as tropical medicine. The Vice Chancellor added that Makerere enjoys an excellent relationship with Japanese Universities through which staff and student exchanges are conducted.
"Japanese institutions have trained a lot of our staff and students particularly in geology and seismology and we sincerely thank you Ambassador and the people of Japan for this generous support" said Prof. Nawangwe.
The Vice Chancellor concluded by emphasizing that Makerere values her relationship with the Government and people of Japan and sincerely thanked the Ambassador for the book donation that will enhance knowledge about Japanese culture and economic success. "Makerere is an international university and we are always happy to bring more cultures and languages on board so as to further enhance the diversity of our community."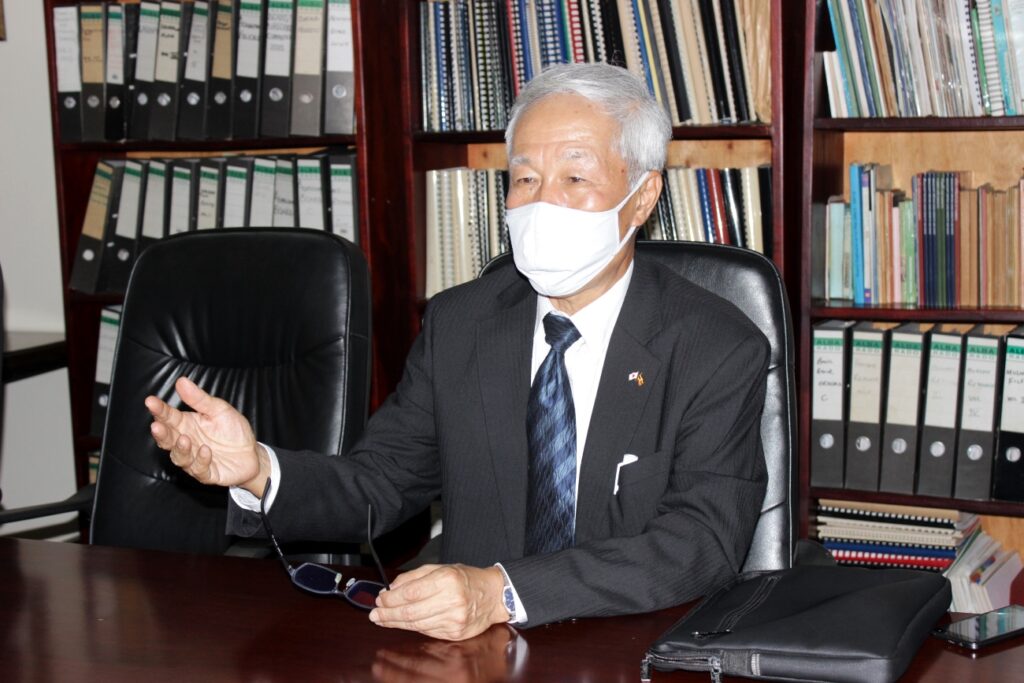 In his remarks, H.E. Fukuzawa thanked the Vice Chancellor, University Librarian and staff for the warm reception and noted that the donation was aimed at promoting the understanding of Japan among the people of Uganda, and especially students at Makerere.
"In particular, it (the donation) aims to reach out to young researchers who are interested in Japan, as well as opinion leaders and intellectuals specializing in areas other than Japanese studies" explained the Ambassador.
He reiterated that Japan has close ties with the University, by observing that eleven out of the twelve Japanese Universities that have partnerships in Uganda each have one with Makerere. "We have been sending Japanese government sponsored scholarship students to Uganda every year and many of them are graduates of this University."
H.E. Fukuzawa expressed happiness that the COVID-19 pandemic had not halted the enhancement of academic relations between Japan and Uganda and looked forward to continued collaboration with Makerere University.
The Ambassador was accompanied by his First Secretary-Ms. Tomoko Ohyama and Public Affairs Officer-Ms. Martha Nankasa. In attendance at the handover were the Deputy University Libarian-Dr. Ruth Nalumaga, Ms. Ferrie Nalusse-Head Technical Services, Ms. Maria Nankya Mwebe-Head Book Bank and Ms. Clementine Namusisi-Head Law Section. Also present was Dr. Edith Natukunda-Togboa, the Head, Department of European and Oriental Languages, College of Humanities and Social Sciences (CHUSS).
Mak Electoral Commission 2020/21 Position: Commissioner for Finance
Monday, 19 April 2021
All Students
ADVERT FOR THE POSITION OF COMMISSIONER FOR FINANCE FOR ELECTORAL COMMISSION 2020/2021
This is to inform you that the position of Commissioner for Finance of the Makerere University Electoral Commission 2020/21 has fallen vacant following the resignation of Mr. Lule Huzaifa (former Commissioner for Finance) on 19th April, 2021.
In accordance with article 50, 68 (2) and 68(4) of the Makerere University Students Guild Constitution as Amended 2016 and Makerere University Students Guild Constitution (Elections) Regulations No.1 of 2018, sections 5(b), 5b(2) and 5b(3) this is to therefore call upon persons who are interested in this position to apply to the Dean of Students.
The deadline for submission of applications is Thursday, 22nd April, 2021 at 5:00pm. Please attach a copy of University Identity Card, Admission letter and proof of registration as a student.
Yours sincerely,
Winifred Kabumbuli
Ag. DEAN OF STUDENTS