Mak VC Holds Thanksgiving: Praises God for Vice Chancellorship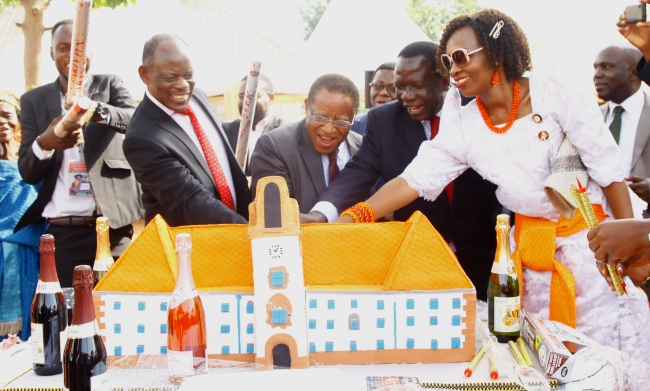 On Saturday, 6th January 2018, all roads led to Busiwondo Village, Busia Municipality as Prof. Barnabas Nawangwe and his wife Susan hosted clergy, cultural leadership and guests to a thanksgiving service held to commemorate his election as Vice Chancellor (VC) of Makerere University.
The colourful ceremony was presided over by the Chancellor, Prof. Ezra Suruma; the day's Guest of Honour, and attended by the Chairperson-Eng. Dr. Charles Wana-Etyem and members of the University Council, State Ministers, Members of Parliament, Political leaders, Members of Management, University staff and a host of other dignitaries and invited guests.
From the onset, the day's theme was clear, it was a day to give thanks and glorify God for all the good that He had done for Prof. Barnabas Nawangwe and the Hasafu family. Giving the opening remarks, Pastor Titus Kamya-a nephew to Prof. Nawangwe, thanked God for steering his Uncle through the competitive race to the Vice Chancellorship and eventual election as Busia's first Vice Chancellor.
"It is a serious matter to give thanks to God. When you give thanks, you are glorifying God; you are pointing to God and not yourself as the source of your achievements. Thank you Professor Nawangwe for coming back to give thanks to God publicly and may God bless you indeed," said Rt. Rev. Dr. Michael Kyomya the day's preacher as he began his sermon.
Quoting the parable of the lepers from Luke 17:11-19, the Retired Bishop of Busoga Diocese observed that just like the nine lepers who did not return to thank Jesus for their healing, not many people want to point to God for their achievements. He therefore urged all present to emulate Prof. Nawangwe by always giving thanks to God for all that He does for them.
As part of the thanksgiving service, Prof. Barnabas Nawangwe and his family donated altar furniture to St. John's Church Busia as its construction nears completion. Receiving the donation, the Retired Bishop thanked Prof. Nawangwe and his family for the good gesture to love and serve God. "I bless you in the name of The Father, the Son and the Holy Spirit," consecrated Rt. Rev. Dr. Kyomya.
"We return all the glory, all the honour and all the exaltation to God for everyone who has participated in making us what we are, by using you all in your respective capacities," remarked Mrs. Nawangwe as the family began their acceptance remarks. She thanked the University Senate and Council for choosing the best candidate for the Vice Chancellorship, observing that "God is using you to favour my husband."
Mrs. Nawangwe further testified that in the run-up to the VC race, she assembled an army of prayer warriors who fervently prayed for her husband to win the election. "All that we could do as a family was to pray and we thank the Almighty God that the time we spent before Him was not in vain," she enthused.
In his remarks that followed, Prof. Nawangwe thanked his wife for rescuing him from the tide of Communism and Socialism that had threatened to sweep him away from God. "I thank my wife for taking me from so far. She has transformed me and I am now saved and able to say 'Praise the Lord!'" beamed the Vice Chancellor.
"I thank God who I now believe used the minds of these great men and women to find me worthy of being elected as the Vice Chancellor of Makerere University," shared Prof. Nawangwe as he paid tribute to the Chancellor, Chairperson and Members of Council, Members of Senate, Leaders of Staff Associations and Student leadership.
"I thank President Museveni who said at my Installation Ceremony that 'the last shall be the first' which is indeed a fulfillment of my father's dream that one of us his children would one day also follow in his footsteps and become a Headmaster," continued Prof. Nawangwe.
He thanked the people of Samia-Bugwe, the St. Augustine and St. Francis Makerere communities, the Makerere Imam and Muslim community as well as his family for all the prayers that culminated in his successful election. "We shall use all the wisdom from the East to transform our University and leave it better than we found it" pledged Prof. Nawangwe as he concluded his remarks.
"Prof. Barnabas Nawangwe has invited us to come here and through this function, thank Jesus for what He has done in his life. All things come from God and the achievements and successes that we are celebrating here today all come from God," remarked Eng. Dr. Wana-Etyem as he addressed the guests.
The Chairperson Council continued to thank God for uplifting Prof. Nawangwe; a Mugwe – the smaller grouping of the Samia-Bugwe community, to the highest office of University leadership, reiterating President Museveni's biblical quotation that indeed, 'the last shall be the first'.
Eng. Dr. Wana-Etyem reassured guests present that Prof. Nawangwe's election was not by mistake but rather based on the fact that he was the best candidate for the position. He reminded Prof. Nawangwe that the entire country was now watching his performance and urged him to take Makerere University to the next level. He noted that Makerere University was not an easy institution to lead by virtue of its diverse constitution but expressed confidence that Prof. Nawangwe's inclusive leadership style held the key to enable him succeed.
The Chairperson was thereafter joined by 10 members of Council and together, they presented an Appreciation Award to Prof. Nawangwe, in recognition of his distinguished service to Makerere University. Council members present included; Mr. Bruce Balaba Kabaasa, Hon. Thomas Tayeebwa, Dr. Ernest Okello Ogwang-Deputy Vice Chancellor (Academic Affairs), Mr. Charles Barugahare-University Secretary, Dr. Euzobia Baine Mugisha, Dr. Sarah Ssali, Dr. Umar Kakumba, Dr. Winston Tumps Ireeta, Dr. Tanga Odoi and Mr. Musoke Joseph.
Earlier, Mr. Okello Waata-Clan Leader of the Sirwa Clan had presented Prof. Barnabas Nawangwe with the Inaugural Award of Excellence, in recognition of his excellent academic and professional achievements. The presentation was witnessed by His Highness the "Omwenengo", Philip Wanyama Nahama, the cultural head of the Samia-Bugwe community.
"To be grateful is an important source of joy," quoted Prof. Ezra Suruma, further explaining "To be grateful, you have to receive the gift of sight to see value in what God has given you."
Delivering his remarks as the Guest of Honour, Prof. Suruma had earlier expressed his gratitude to Prof. Nawangwe and his family for their invitation to the thanksgiving ceremony. "I am especially glad that Prof. Nawangwe has recognised the value of what God has given him. He has opened a chapter for the rest of us to be thankful to God." said the Chancellor.
Prof. Suruma extended warm greetings from Rt. Hon. Dr. Ruhakana Rugunda to Prof. Nawangwe and his family, and announced that the Prime Minister would donate a cow towards the fundraising drive aimed at completing St. John's Church Busia.
He thanked the Makerere Community present at the function for honouring the Vice Chancellor's invitation to his thanksgiving ceremony. "Your presence here is a demonstration your support for Prof. Nawangwe and this spirit of unity is going to open a greater and more important chapter in the future of Makerere University," said Prof. Suruma.
Following a sumptuous lunch, Prof. Ezra Suruma was joined by Eng. Dr. Charles Wana-Etyem and Prof. Barnabas and Mrs. Susan Nawangwe to cut the thanksgiving cake, an artistic impression of the Main Administration Building.
Article by MAK Public Relations Office
A Successful Ph.D. Defense by Vianney Andrew Yiga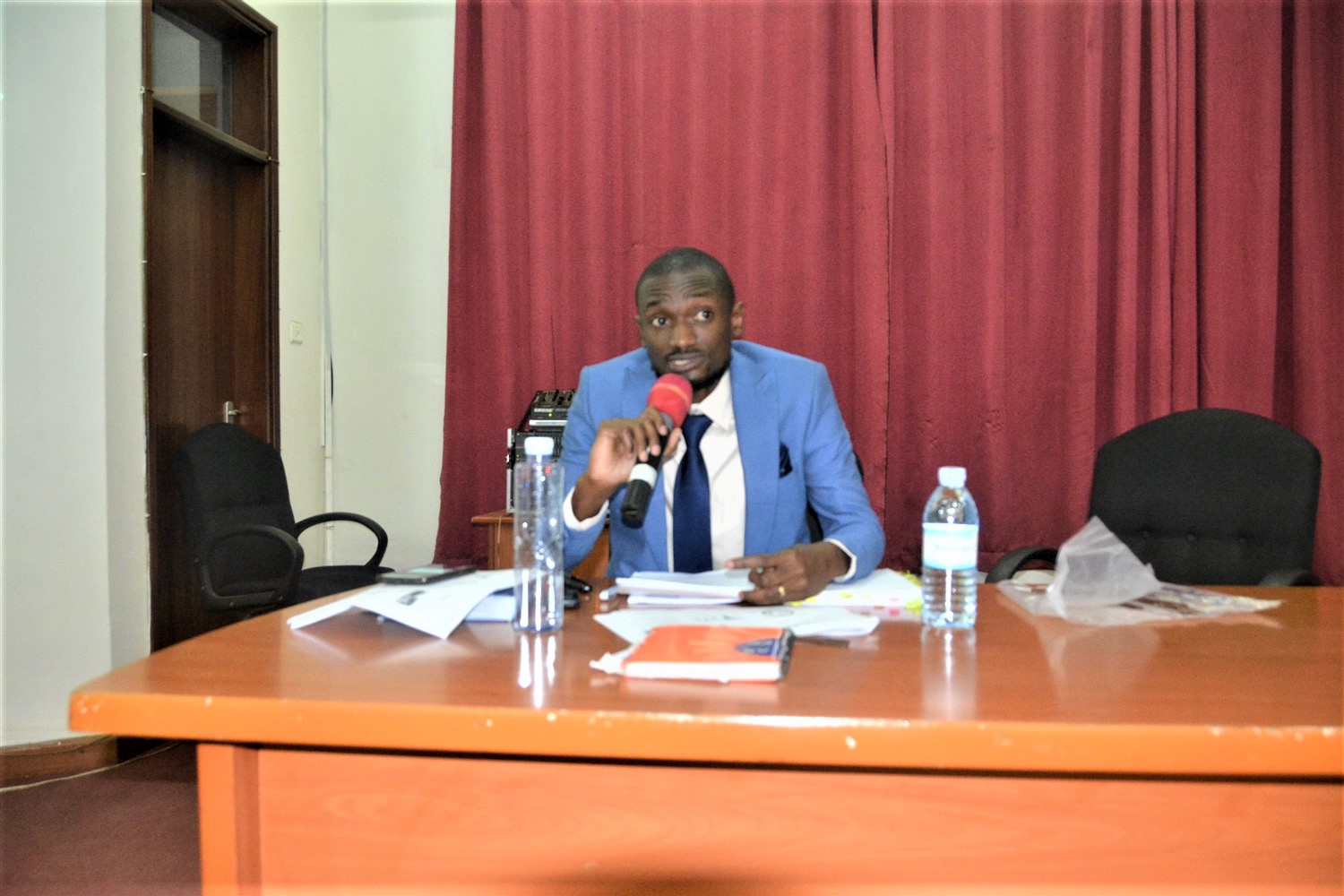 The CEDAT community is proud to share our congratulations to Vianney Andrew Yiga following his successful Ph.D. defense that happened yesterday Monday 3rd October 2022 at the College of Engineering, Design, Art, and Technology (CEDAT).
His Thesis was titled; Thermal Stability of Fiber- Reinforced Polylactic Acid Composites for Flameretarded Applications.
The candidate was supervised by Eng. Dr. Michael Lubwama and Eng. Dr. Peter W. Olupot both from the Department of Mechanical Engineering, at CEDAT.
Dr. John Wasswa, Department of Chemistry, College of Natural Sciences (CONAS), Makerere University was the opponent that interrogated the candidate to enable a clear understanding of the study.
Makerere University Launches National Parenting Draft Manual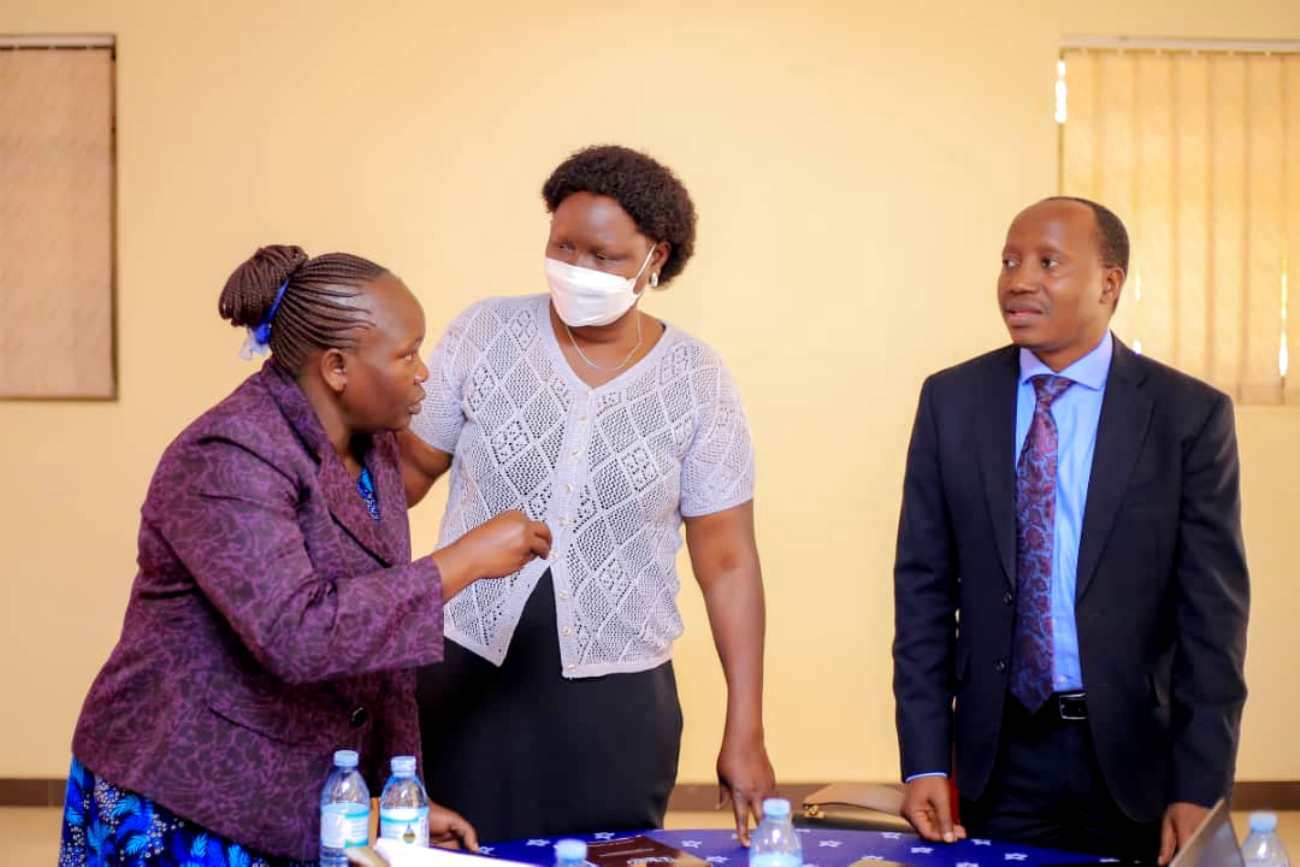 By Agnes Namaganda
On July 22nd 2022, Makerere University–Child Health and Development Centre (Mak–CHDC) launched a draft manual for the National Parenting Standards. The Centre has been working together with the Ministry of Gender, Labour and Social Development (MGLSD) with funding from UNICEF (United Nations Children's Emergency Fund), to develop standards that are agreeable to all organisations in the country that are involved in parenting work. The draft manual was being presented to members of a consortium that brings together all these organisations together, called the Parenting Agenda Consortium.
"We produce many documents and they are shelved," Irene Ayot Chono, who was speaking on behalf of UNICEF said. "We hope that this document will not be one of them," she emphasized.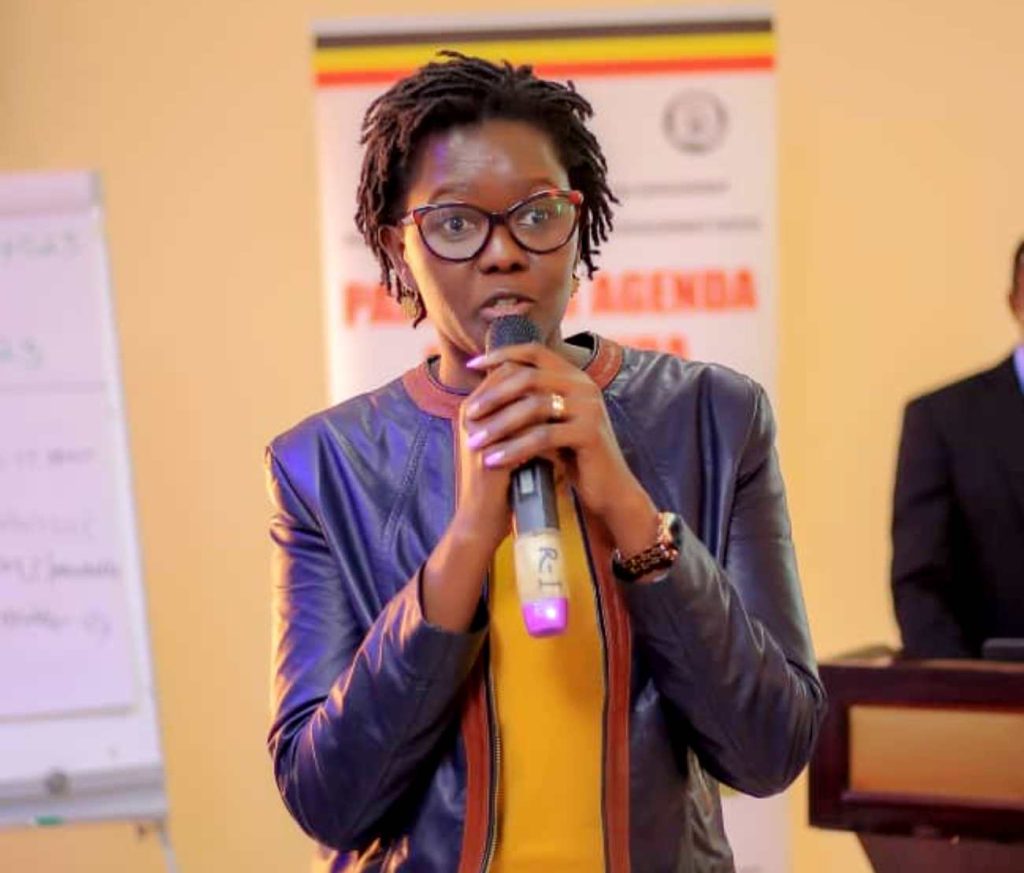 Dr. Godfrey Siu, the Principal Investigator from Mak-CHDC who presented the draft manual to participants, emphasized that if any organization is doing parenting work, there should be a minimum package that they should offer.
Draft Manual Content
The manual which will have several modules. These modules will be delivered face-to-face in 1.5 hour sessions. Some of these include; Module 6 which will focus on "understanding responsible masculinity and fatherhood" and on "understanding the concept of head of family."The draft manual also proposed that Module 11 focuses on Parenting in the 21st Century. Some of the sessions in this module will include Children and Technology, Contemporary Influence on Children and Modernity, Culture and Morality.Module 9 will focus on Parenting for Adolescents and some of the suggested sessions within this module are Needs for Adolescents and The Art of Communicating with Adolescents. Module 5 will focus on Preventing Violent Parenting and Promoting Alternative Discipline Strategies while Module 10 will be about Parenting to Address the Mental Health for Children and Adults.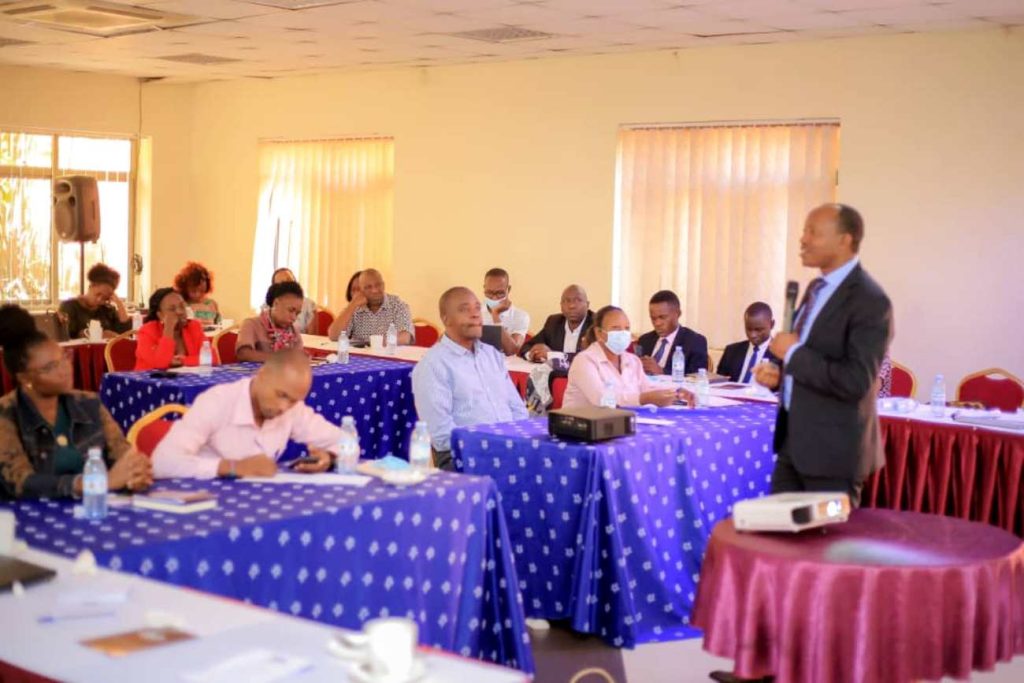 Participants' suggestions
After the presentation, participants raised several suggestions for discussion and consideration. These included whether there should be a module on spirituality since Uganda is a strongly religious nation. There was also the concern of how children in remand homes should be parented. Another concern raised by a participant was as to whether teachers who make an undeniable contribution to parenting, should be taken through the parenting manual.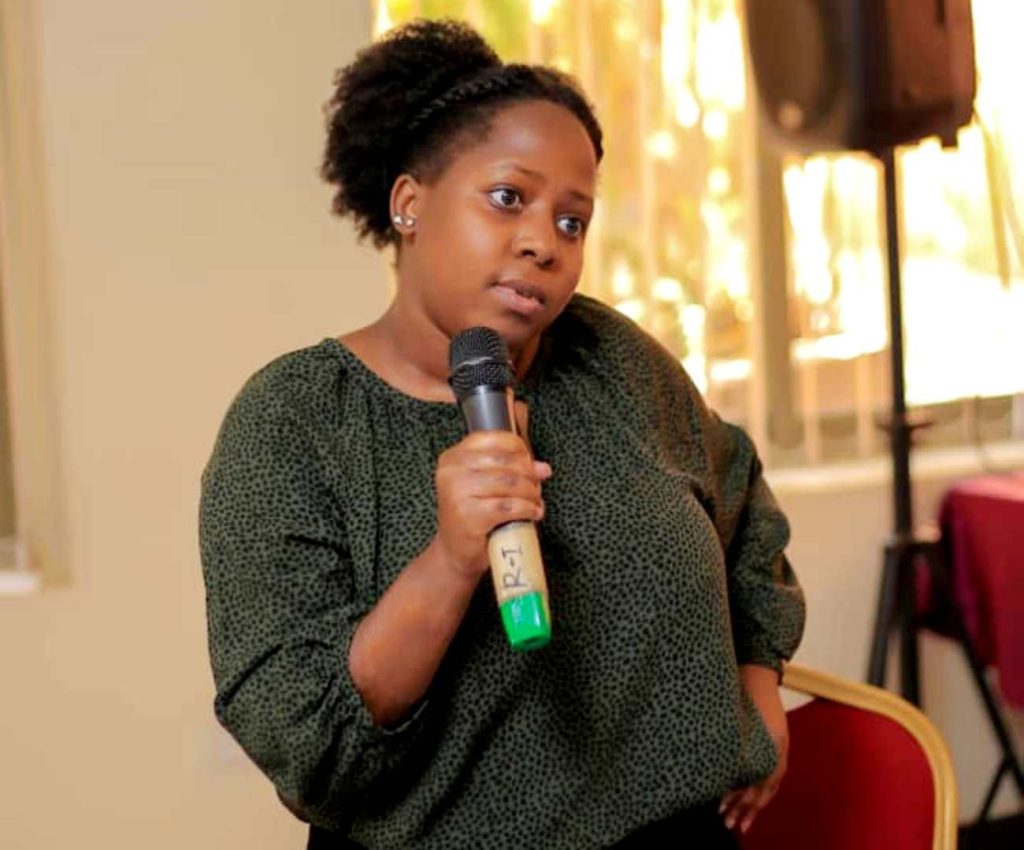 In her closing remarks, Ms. Juliana Naumo Akoryo, the Director of Cultural Affairs at the Ministry of Gender, Labour and Social Development (MGLSD) said that the manual is for the parenting organisations to utilize and not for MGLSD.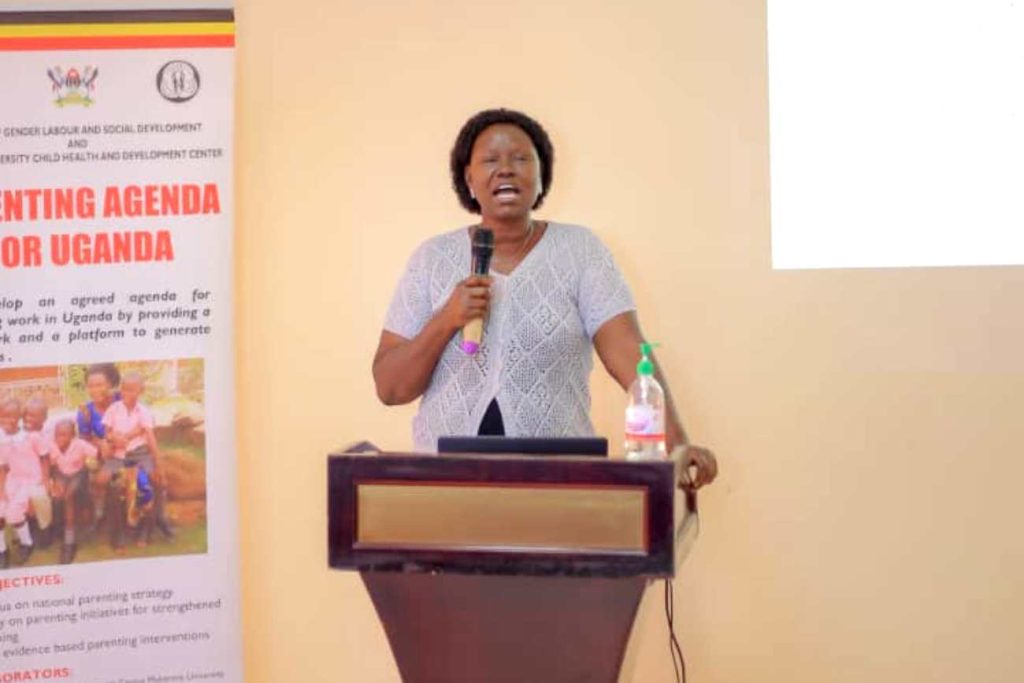 Ms. Chono also adjured the team behind the manual to use picture illustrations in the manual that can be relatable by the Ugandan parents.
Contact: Agnes Namaganda – agnesvioletnamaganda@gmail.com
Launch of Mak-RIF Round 4 Awards & PhD Call for Proposals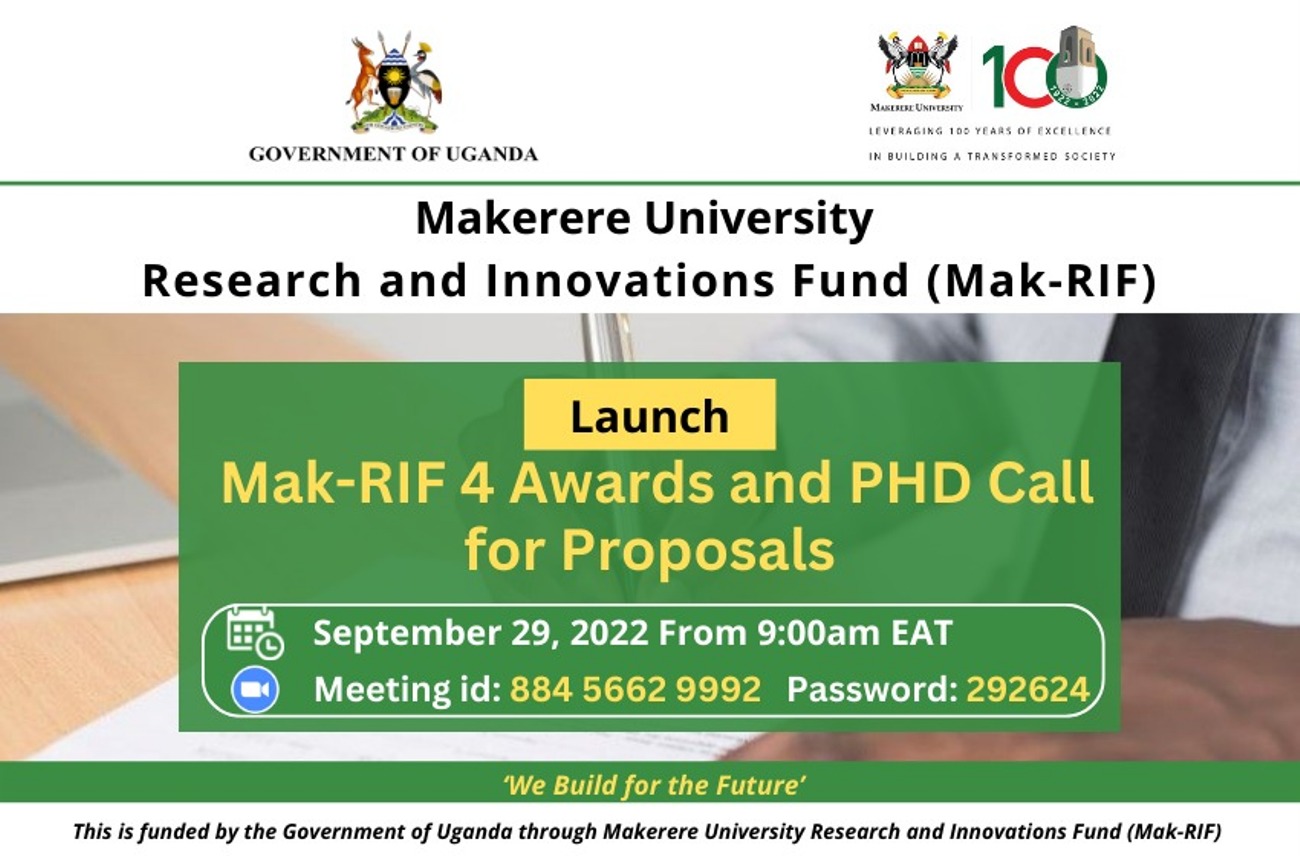 Makerere University received funding from the Government of the Republic of Uganda, earmarked to support high impact Research and Innovations. This unique initiative arose after engagements between the top University Management and the Government of Uganda. This fund illustrates the increasing importance that the Government attaches to Research and Innovation as a driver of development and transformation. The objective of the fund is to increase the local generation of translatable research and scalable innovations that address key gaps required to drive Uganda's development agenda. 
In the Financial years 2019/2020, 2020/2021 and 2021/2022 the Government of the Republic of Uganda through Mak-RIF has funded implementation of over 750 multidisciplinary research and innovations within the various Colleges, while engaging multiple stakeholders within and outside Makerere University. The Grants Management Committee (GMC) has finalized the award process for the Mak-RIF round 4 call for funding for this Financial Year 2022/2023.
The Grants Management Committee (GMC) hereby invites you to the Launch of the Mak-RIF Round 4 awards and PhD Call for Proposals scheduled to take place tomorrow Thursday 29th September 2022 from 9:00 to 10:00 a.m. EAT. 
Please use the following details to join the launch.
Register in advance for this meeting:
https://us06web.zoom.us/meeting/register/tZwpcu-urDIjE9ZgxdsbEmA2IkNMMiJVECt_ 
Meeting ID: 884 5662 9992
Password: 292624