Stellenbosch University Strengthens Ties with Makerere University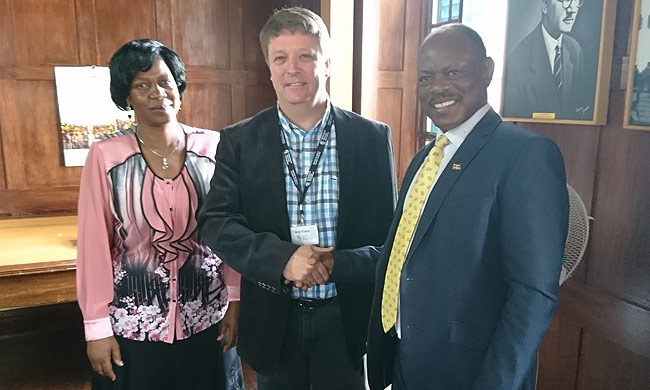 A delegation of postgraduate students and their lecturers led by Mr. Nico Elema, Manager Centre for Collaboration in Africa (CCA) at Stellenbosch University visited Makerere University from Tuesday 5th – Friday 8th September 2017. Over the a number of years, fruitful and well established relations has existed between Stellenbosch University and Makerere University with various activates emanating from this relationship.
To further nurture this relationship, young academics that comprised of Masters and PhD students and members of staff planned an outreach to Makerere University to focus on the existing collaboration initiatives between the two institutions, and further enhance the cultural appreciation of the region.
The delegation paid a courtesy call on the Vice Chancellor, Professor Barnabas Nawangwe on Thursday morning in the Council Room. The delegation was introduced by Ms Martha Muwanguzi, Head of the International Relations Office who gave a brief about collaborations with Stellenbosch University over the years. Mr Nico Elema said, it was the first time to have such a big delegation from Stellenbosch visiting at ago. The selection of the team was aimed at bringing young academics on board so as to take the collaboration further when the senior professors and researchers finally retire from service and for sustainability of the collaboration.
The Dean, School of Liberal and Performing Arts, Professor Patrick Mangheni from CHUSS said his School had benefited from the PANGeA (Partnership of Africa's Next Generation of Academics) a network where members of staff had done their doctoral studies at the African Doctoral Academy at Stellenbosch University. The Principal College of Business and Management Sciences, Professor Eriya Hisali said their relationship with Stellenbosch was relatively new. The College sends two PhD students every year to Stellenbosch and so far three cohorts have been completed. The College has also received Refresher trainings by way of short courses and they also do joint publications and research with Stellenbosch University.
Dr Julius Kikooma, Dean School of Psychology's interest was in initiating a relationship with Stellenbosch University staff working on "Stress Disorders". Dr Ruth Nalumaga said that the University Library had cordial relations with the Graduate School at Stellenbosch University.
The Vice Chancellor said, "We very much value our collaboration although Stellenbosch University always beats us in rankings. Makerere University is working hard to get into the first position and most of the academic staff have had interactions with Stellenbosch University in one way or another and congratulated Stellenbosch University for being in the second position on the continent. He was impressed with the programme in Space Exploration where a satellite was sent into space.
Makerere University is also dealing with the same issues that affect the continent such as climate change, poverty, tropical diseases research, alternative seeds research to ensure food security. Later, the Vice Chancellor gave Mr. Elema, souvenirs of Makerere University to remind him of his visit to the great institution, Makerere University.
The team visited the College of Health Sciences and held discussions with the Principal Professor Charles Ibingira and respective deans. Professor Rhoda Wanyenze, Dean School of Public Health elaborated on the different interventions they have engaged to solve public health issues such as establishing surveillance sites in Eastern Uganda to demographic characteristics of the population, the teaching and learning activities while engaging in interdisciplinary research. She welcomed the idea of incorporating music in public health issues as it sends a direct message to the public. The University has good internet connectivity to sustain distance learning education through Video conferencing where students at both institutions can interact in real time. The School of Public Health is ready to engage in research that benefits both institutions as well as writing proposals together to be able to win research grants.
At the School of Food Technology, Nutrition and BioEngineering, the visitors were received by the Dean Professor John Muyonga who talked about the mission and mandate of the School and the various undertakings there. Professor Muyonga said, their mandate is to share their research by turning into products. They train job creators instead of job seekers who after graduating, go and set up their own industries. The School has State-of-the-Art processing lines and the products they make compete with those on the market. The equipments were received through a grant from the Presidential Initiative in Science and Technology for institutions engaging in research. Through the Telematic service technology, Stellenbosch lecturers teach students at the School although our students can only interact through emails. We need to improve on this technology or get an alternative that will allow students to respond and ask questions as the lecture is being delivered. There is need to train our lecturers in the use of this technology and increase on the number of lectures delivered through this service and also encourage staff exchanges between the two institutions.
In the Afternoon, the team had an interactive session with the Deputy Director Research and Graduate Training – Professor David Owiny, the Director Quality Assurance – Dr Vincent Ssembatya and postgraduate students from various colleges. Professor Owiny, an alumnus of Stellenbosch University said that Makerere University and Stellenbosch University are two great universities in Africa and therefore right for them to collaborate. He explained how graduate training is conducted through masters and PhD training by coursework and research. PhD by research is run in all the colleges and students are encouraged to do cross cutting courses to get skills required in analyzing their research data. Makerere University is strong in publications and throughput for PhD studies has been increasing every year with 77 PhDs in the last graduation of 2017 and 54 PhDs in 2016.
Dr Vincent Ssembatya, Director Quality Assurance said, due to the many universities coming up in Uganda, it was necessary to ensure that the right quality of education was delivered by Makerere University. Quality Assurance is about "fitness for purpose". The products you produce must meet the standards. Standards in higher education within the East African region are monitored by the Inter University Council of East Africa (IUCEA) while standards in higher education in Uganda are monitored by the National Council for Higher Education (NCHE). He added, the Higher Education Research and Advocacy Network in Africa (HERANA) mobilized universities in Africa to share data about graduate training to ensure that universities were moving towards being research-led universities. The project was initiated to explore the link between universities and development on the continent. The study started with the collection of data at both the national and institutional levels at universities in eight African countries. The research in this network is exploring the use of research in policy-making in Africa. Eight flagship universities were chosen to participate namely; Makerere University, University of Nairobi, University of Dar es Salaam, University of Ghana, Eduardo Mondlane University in Mozambique, University of CapeTown, University of Botswana and University of Mauritius. The eight universities were selected because each had been the most prominent national university in its country since independence, and because each has broad, flagship goals built into its vision and mission statements.
Each of the universities aims to have a high academic rating, which would make it a world-class university or at least a leading or premier university in Africa, being a centre for academic excellence, engages in high quality research and scholarship and delivers products that will enhance both national and regional development. At Makerere University, we do Total Quality Management from the entry point to the exit. The research done here must be relevant and in line with the National Development Agenda. Both Directorates look out for innovations and new knowledge generated that will help solve some of the problems in this Agenda such as Refugees, (Uganda having the highest number of refugees), climate change, Oil and Gas and how it affects human rights of the population, and so on. As a result of this pre-entry examinations were introduced for Law degrees, GMAT for the MBA programme and now planning to introduce the examinations for Medicine and Engineering courses. The idea behind this is not to train them for everything but ensure that students are trainable to fit into the industry after completion.
The completion rates at postgraduate level are not yet commensurate with the intakes but struggling to bring it at par. There was one-to-one session between the visitors and our postgraduate students to make friends and establish networks here.
The Visitors also visited Kabanyoro Agricultural Research Institute and taken round by Mr Chris Tweyambe, the Assistant Farm Manager and other places of interest like the Source of the River Nile at Jinja.
Written by Martha L.Muwanguzi, international Office
UNMA Advisory on Agriculture and Food Security Jun-Aug 2021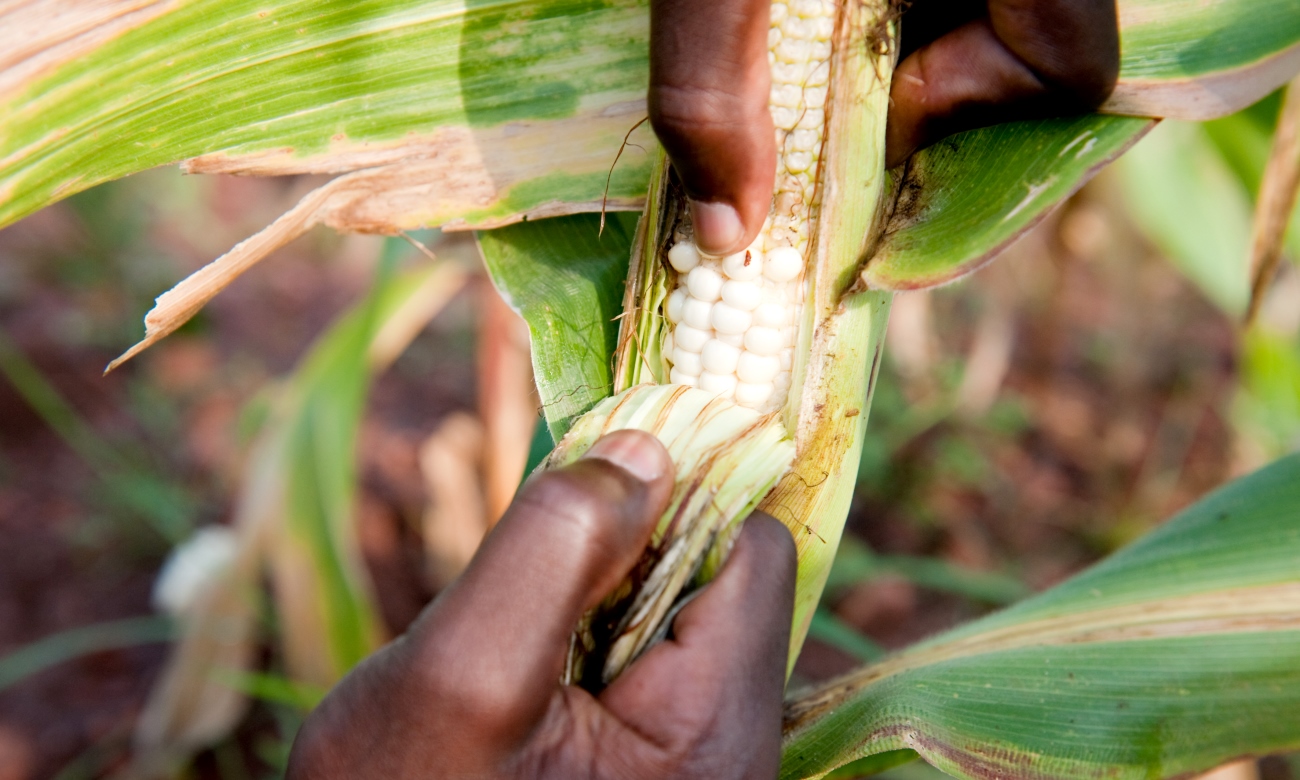 The Uganda National Meteorological Authority (UNMA) on 7th June 2021 released the seasonal rainfall outlook for the June-July-August (JJA) 2021 period. Contained in the outlook were advisories to various strategic sectors of the economy.
Particularly, the advisory to the Agriculture and Food Security sector was;
JJA season is often part of the normal dry season in the areas of South-western, western, parts of the eastern, and central Uganda. The farming communities in these areas are therefore advised to be vigilant during post-harvest handling by considering proper drying of the harvest on clean surfaces, use of tarpaulins and drying on racks;
Preparation of good storage facilities of produce to avoid compromising on quality and safety;
Channeling of the run-off water into the gardens in order to maximize on the soil moisture conservation;
For those areas where near normal to above normal rainfall is expected (most parts of northern and eastern Uganda), farmers are encouraged to continue with regular weeding, pest and disease surveillance and control;
Due to the expected enhanced rainfall in those areas, water logging and proliferation of fungal and bacterial crop diseases are likely to occur.
Open drainage channels around household and gardens to reduce risks from stagnant water causing damage to root tuber crops;
Flash floods and waterlogging are highly anticipated to occur in low lying areas expected to receive enhanced rainfall such as Katakwi and Kapelebyong. Therefore, communities are encouraged to keep watch over their crops, animals and property;
In Karamoja sub-region, where wetter conditions are expected, the pastoral communities are advised to diversify into boosting the production of cereals (sorghum, millet, and maize), beans, and ground nuts and sustain pasture availability for livestock.
Please see Downloads for the detailed outlook.
4th Call For Applications: MURBS Departmental Ambassadors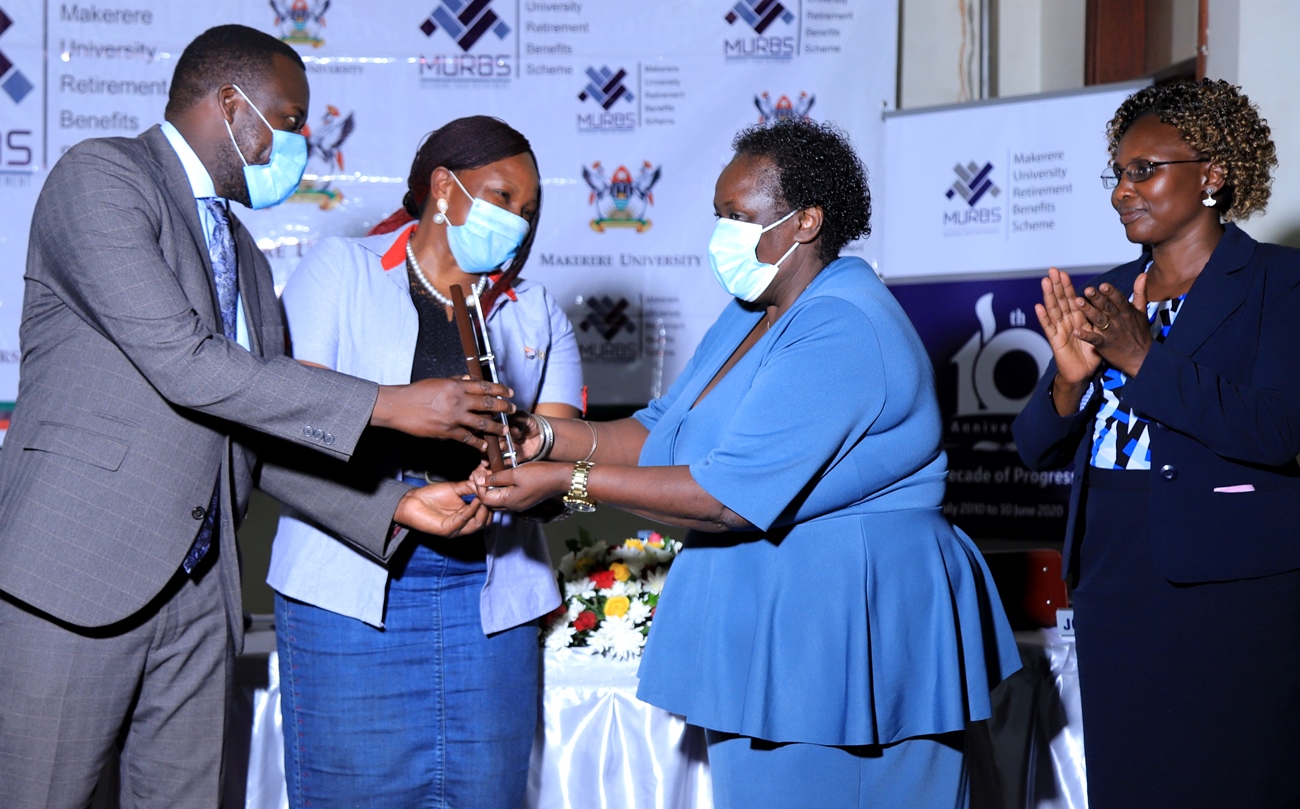 In February 2018, the Makerere University Retirement Benefits Scheme (MURBS) launched the Departmental Ambassadors Programme. MURBS hopes to use this Ambassadors Programme to engage more directly with its membership and enhance member education. MURBS further perceives this Programme as a means to mitigate succession planning risks.
MURBS Fund Value continues to grow, and as at 31st March 2021, it stood at Ushs 235.5bn as compared to Ushs 209.6bn as at 30th June 2020. Given this growth, there is increased need for prospective Trustees, who are well equipped with relevant knowledge and skills, and with practical exposure to the management and governance of MURBS.
Eligibility
Must be employed by the University on permanent terms
Must be an Active Member of the Scheme (currently contributing to the Scheme) and appear on the Official Register of the MURBS Active Membership as at 30th April 2021.
Must be willing to commit time to trainings and other ambassadorial activities organised by the Scheme.
Mode of training for 4th Cohort of Ambassadors
Training for this (4th) Cohort of Ambassadors is envisaged to be conducted over the zoom online platform only, due to Covid-19 restrictions. The Scheme does not envisage any face-to-face interactions.
Tenure of Office & Termination or Withdrawal
There is no tenure of office for the Departmental Ambassador. As long as a member is willing to continue serving as an Ambassador, and the Ambassador continues to satisfy the eligibility criteria above, she or he will remain a MURBS Ambassador.
How to Apply
Interested members should complete the MURBS Departmental Ambassador Application Form 01-0218. The completed Form together with the requested attachments should be sent to info[at]murbs.mak.ac.ug and copy to wilber.naigambi[at]mak.ac.ug no later than 5:00 p.m. on Monday, 14th June 2021. We discourage hand delivery of applications.
Confirmation/Approval Process
MURBS shall acknowledge receipt of each application received within 12 hours and will respond to the applicants to confirm the status of their application in writing (by e-mail). Upon approval of the application, the name of the approved Ambassador together with the Department and School/Unit will be updated on the list of the MURBS Departmental Ambassadors in the Group 4 category and published on the MURBS website.
NOTE: There is no limit as to the number of ambassadors that MURBS can have in a department.
Please see Downloads for the detailed call and application form.
Chair Council Communication on Closure of Makerere University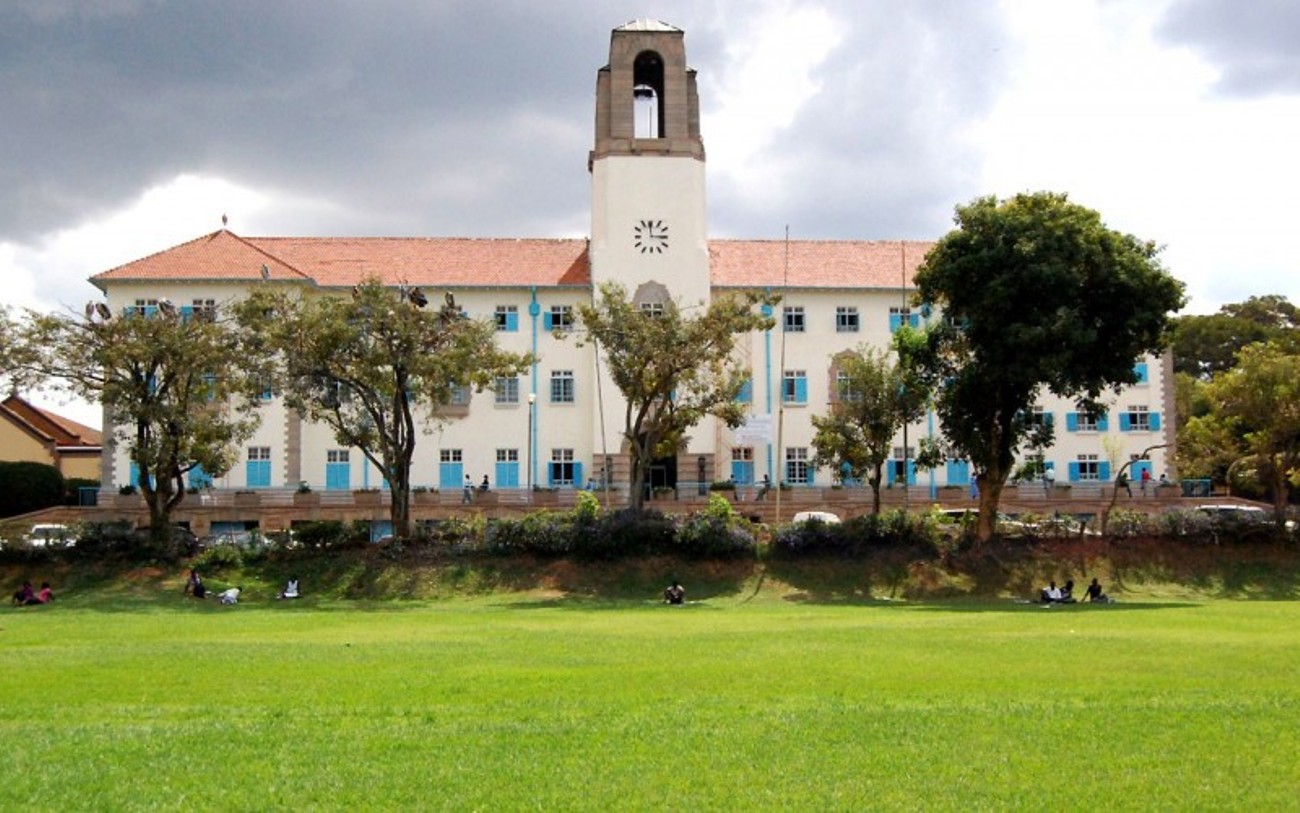 7th June 2021
All Members of Staff
All Students and Stakeholders
Makerere University
RE: CLOSURE OF MAKERERE UNIVERSITY
Following the address to the Nation by H.E. Yoweri Kaguta Museveni, President of Uganda, on 6th June 2021, this is to inform you that the University will be closed with effect from today 7th June 2021 for 42days.
During the closure, the University shall observe a 30% physical presence of staff while other faculty and administrative staff shall continue to work online.
Management will inform staff and students on the implementation of teaching, learning, and research activities online. Construction activities shall continue as per the President's directives and with strict adherence to the COVID-19 SOPs.
Yours sincerely,
Lorna Magara (Mrs.)
Chairperson, Makerere University Council