Scholarly Book launched to immortalize Prof. James Patrick Manyenye Ntozi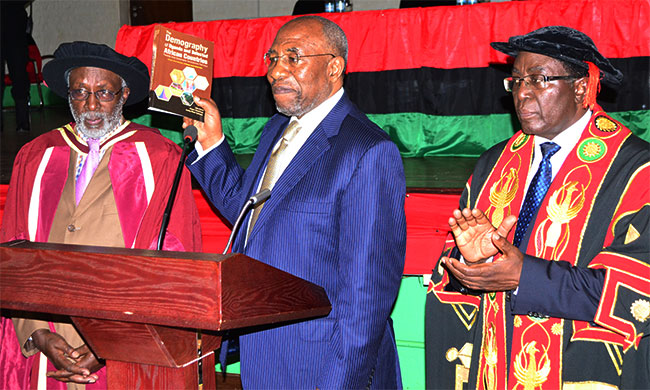 Scholars from the field of Demography and Population Studies have written a scholarly tribute to Prof. James Patrick Manyenye Ntozi; celebrating his 45 years of dedicated and distinguished service in the field of demography at Makerere University, Uganda, Africa and beyond.
The book titled: Demography of Uganda and Selected African Countries: Towards more Sustainable Development Pathways was officially launched by the Prime Minister of the Republic of Uganda Rt. Hon. Dr. Ruhakana Rugunda at a high profile ceremony that was organized by Makerere University College of Business and Management Sciences (CoBAMS) and the Centre for Population and Applied Statistics (CPAS).
Edited by Prof. John Oucho, Dr. Gideon Rutaremwa and Prof. Jockey Baker Nyakaana, the book will immortalize Professor Ntozi's work and inspire other demographers and their colleagues elsewhere to undertake a similar exercise for their deserving mentors. "We hope readers will find this book a fitting accolade to a man who dedicated his life to scholarship in demography and through which his students and compatriots alike have laid strong foundation for immortalizing the scholar."
Speaking to the congregation in the Makerere University Main Hall on 23rd March 2017, Rt. Hon. Dr. Ruhakana Rugunda commended Prof. James Manyenye Ntozi for being a strong fighter with a dedicated spirit in liberating his country from poverty. According to Rt. Hon. Rugunda, Prof. Manyenye Ntozi is a unique and outstanding personality whose works have shaped the field of demography in Makerere University, the nation and indeed the continent.
"I congratulate you on this great achievement. I would like to say that your distinguished contribution to the scholarly world and your excellence in the field of Demography and Population Studies has inspired many people around the globe. I am happy to say that you will always be remembered as a famous person that has taught, mentored and nurtured many people on this continent," the Prime Minister said.
The Prime Minister appreciated Makerere University's efforts to recognize distinguished academicians and called upon other institutions to emulate Makerere University so that academicians receive the recognition they deserve. He shared concern on the policy of retiring professors, and advised Makerere University Management to engage the concerned Ministries so that the University continues to benefit from the treasure within professors perpetually.
Speaking about the book, the Prime Minister said, "This book is very relevant and specifically talks about the needs of our country Uganda. I therefore thank the authors who contributed articles to this book. I also thank the editors for the wonderful job well done."
Makerere University Vice Chancellor Prof. John Ddumba-Ssentamu acknowledged Prof. Manyenye Ntozi's efforts in promoting Makerere University locally and globally through his tremendous achievements in Demography and Population Studies. According to Prof. John Ddumba-Ssentamu, Prof. Manyenye Ntozi has diligently served Makerere University in various capacities.
"Prof. Manyenye Ntozi has served as a Lecturer, Head of Department, Dean, Member of Senate and Ambassador of the University to the outside world. His unique skills and knowledge in the field of demography, acquired over a period of more than four decades of scholarly work, have been utilized in the world over. This is evidenced by his various appointments to Boards of organizations and parastatals, as well as international engagements as Visiting Scholar and Researcher," he said.
Prof. Ddumba-Ssentamu congratulated Prof. Manyenye Ntozi upon being recognized through a scholarly tribute that presents him as a brilliant academician with remarkable scholarly services in the field of Population studies.
"There is truly no greater achievement for an academician than to be recognized by not only your peers but your students as well. Congratulations! The book has been put together by Prof. Ntozi's compatriots and students across the African continent. It is, therefore, a product of highly organized collaborative effort, achieved with professional support of the Fountain Publishers," said the Vice Chancellor.
In his keynote address titled Old is Gold; Harnessing Academicians in old Age, John Oucho a Professor of Demography and Geography at the University of Nairobi said that there is a need to respect and fully utilize knowledge and advice of old people. Defining the two terms, Prof. Oucho stated that Old is that experience a person has gained over the years and gold is one of the expensive metals in the metal industry.
Professor Oucho said that the experience that old people like Prof. Ntozi have, is as expensive as gold because they have taken many years to learn the lessons of life as well as accumulating a wealth of experience. "Therefore don't disrespect or neglect them because they are old but do take care of them as precious gold," he said.
Citing a verse from the book of Exodus, Prof. Oucho encouraged the young generation to respect and show love to the old people since they are a source of knowledge and inspiration to them. "Exodus 20:12 says; "Honor your father, your mother that your days may be prolonged in the land which the LORD your God gives you". We academicians we are like fathers of our students. Therefore you should respect us through giving us time, listening to us, being polite to us and asking for our advice. We must strive to have a society for all ages including the old and retirees. Discriminating against old academicians is like discriminating your own parents," he said.
In the spirit of harnessing academicians in old age, Prof. Oucho appealed to Makerere University to appoint Prof. James Patrick Manyenye Ntozi-Professor Emeritus.
James Patrick Manyenye Ntozi is a Professor of Population Studies at Makerere University. He is a Medical Demographer and Statistician by training whose distinguished experience is well observed in conducting evaluation, needs assessment and baseline studies at international and national levels. His most recent monitoring and evaluation work included evaluating the PEPFAR project in Nigeria for the USA National Academy of Sciences and Congress (2005 – 2007).
Introducing him, as a great scholar, the Minister of Tourism, Wildlife and Antiquities Prof. Ephraim Kamuntu said Prof. Ntozi's legacy will live on through his works, scholarship and mentorship. He described Ntozi as a faithful and lovable person, very consistent and focused.
"I have known Ntozi since 1960, he is a dedicated fighter. He is a father who has managed to devote considerable amount of time to bring up his children. Ntozi is an excellent husband to Aidah Ntozi," he passionately said.
The book titled, Demography of Uganda and Selected African Countries: Towards more Sustainable Development Pathways is a climax of an idea by Prof. Ntozi's peers and students who thought of writing a paper to recognize their lecturer. When the staff in the Department of Population Studies committed themselves to writing a book, the idea of writing a journal article metamorphosed into a book that would forever immortalize Prof. Manyenye Ntozi.
According to Dr. Abel Nzabona, one of Prof. Ntozi's students and writer of the book, Prof. Ntozi is Uganda's most illustrious population demographer. He will always be remembered for establishing the Department of Population Studies at Makerere University; attracting funding to support national and international programmes in the field of population studies and demography; and his track record in scholarship, mentorship and career guidance. He applauded Prof. Ntozi for over 75 papers published in peer reviewed journals.
Highlighting the book writing process, Dr. Nzabona said 15 writers and 4 editors from countries namely Uganda, Tanzania, Kenya, Nigeria, France and organizations including, Uganda National Bureau of Standards provided tremendous contributions to the book. He paid special tribute to all authors of the 16 Chapters who produced the material that builds the book. One of the Editors, Dr. Gideon Rutaremwa shared with the audience a brief on the book composition and contents.
It was a nostalgic moment when Prof. Ntozi clad in his academic regalia shared special moments regarding his student life at Makerere University.
"I joined Makerere University in June 1968 as an undergraduate student pursuing Bachelor of Science (Economics and Statistics)-Institute of Statistics and Applied Economics and I completed in March 1971. I registered for my Masters in the same Institute in September 1971 and completed in July 1973. I completed a PhD in Medical Demography in 1977. Because of the political turbulence during the Idi Amin Regime, I stayed in the University of Nairobi for two years. I returned to Makerere University in 1979, and since then, I have remained here despite many temptations in form of greener pastures at regional and international levels. I made a decision to stay at Makerere University to serve my alma mater and my country-Uganda. I did not abandon Makerere University."
Prof. Ntozi also applauded Prof. Livingstone S. Luboobi, former Vice Chancellor of Makerere University, who was part of the audience for choosing to stay at Makerere University.
During his stay at Makerere University, Prof. Ntozi significantly contributed to the evolution of demography and population studies including mobilization of resources from bodies such as Rockefeller Foundation, World Bank, IDRC and National Population Council among others.
Prof. Ntozi expressed gratitude to his students and the authors for recognizing his contribution to the academia while he is still alive. He thanked the contributors for the scholarly tribute that will forever preserve his legendary work as Uganda's most illustrious medical Geographer.
"I take this opportunity to appreciate all these efforts. In a special way, I thank Associate Professor Gideon Rutaremwa for spearheading efforts to publish this book. I also thank Prof. John Oucho, from the University of Nairobi for successfully accomplishing the task of Chief Editor of the publication and my wonderful students; I am more delighted to know that my students whom I trained and taught have vividly participated in putting together this piece of scholarly work," he said.
Prof. Ntozi commended Dr. Fredrick Tumwine, Dr. Abel Nzabona and Mr. John Mushomi for working tirelessly to produce a piece of work that their teacher can proudly identify with. He thanked the College of Business and Management Sciences under the leadership of Dr. Eria Hisali for providing all the support required by the Centre for Population and Applied Statistics (CPAS) to publish the book.
He equally acknowledged the efforts of the Centre for Population and Applied Statistics (CPAS) under the able leadership of Mrs. Ssekiboobo Agnes for successfully hosting this publication process of the book. He also thanked Makerere University and the Government of Uganda for providing an environment that is conducive for scholars to freely write and publish their work.
According to Prof. Ntozi, his recognition will set the precedent at Makerere that more scholars/academicians ought to be recognized for the precious time devoted to the University. He was happy for his tremendous contribution and achievements in the university when he said, "I am happy that I have diligently served Makerere University with passion. I am sure that I will fulfill my decision to stay in my Alma Mater and my country Uganda as long as my life is not in immediate danger," said James Ntozi.
Prof. James Patrick Manyenye Ntozi received a plaque from Uganda Bureau of Statistics presented by the Executive Director, Mr. Ben Paul Mungyereza in recognition of Prof. Ntozi's outstanding work at Makerere University and invaluable support to Uganda Bureau of Statistics. The plaque was presented to him by the Prime Minister Rt. Hon. Ruhakana Rugunda.
Dr. Fredrick Ruguma Tumwine who was supervised by Prof. Ntozi both at Masters' and PhD, praised Prof. Ntozi for changing him from a physical into a human geographer. Representing students taught by the Professor, the overjoyed Tumwine said that Prof. Ntozi will never fade from the minds of his students, owing to the unique and fatherly character he always exuded. "He has always been good at time management and perfect in the way he articulates points. He is a superb supervisor," he said.
Giving a vote of thanks, the Dean-School of Statistics and Planning, Dr. Robert Wamala thanked the Government, Makerere University, the family of Prof. Ntozi, authors and students for their contribution towards the process of honouring Prof. Ntozi.
The students from the Department of Performing Arts and Film together with the Head of Department Dr. Sylvia Antonia Nannyonga-Tamusuza treated guests to energetic performances including special presentations depicting the academic journey of Professor James Patrick Manyenye Ntozi.
Article by Mak Public Relations Office
WHS Regional Meeting Africa 2021: Finance Chairperson's Update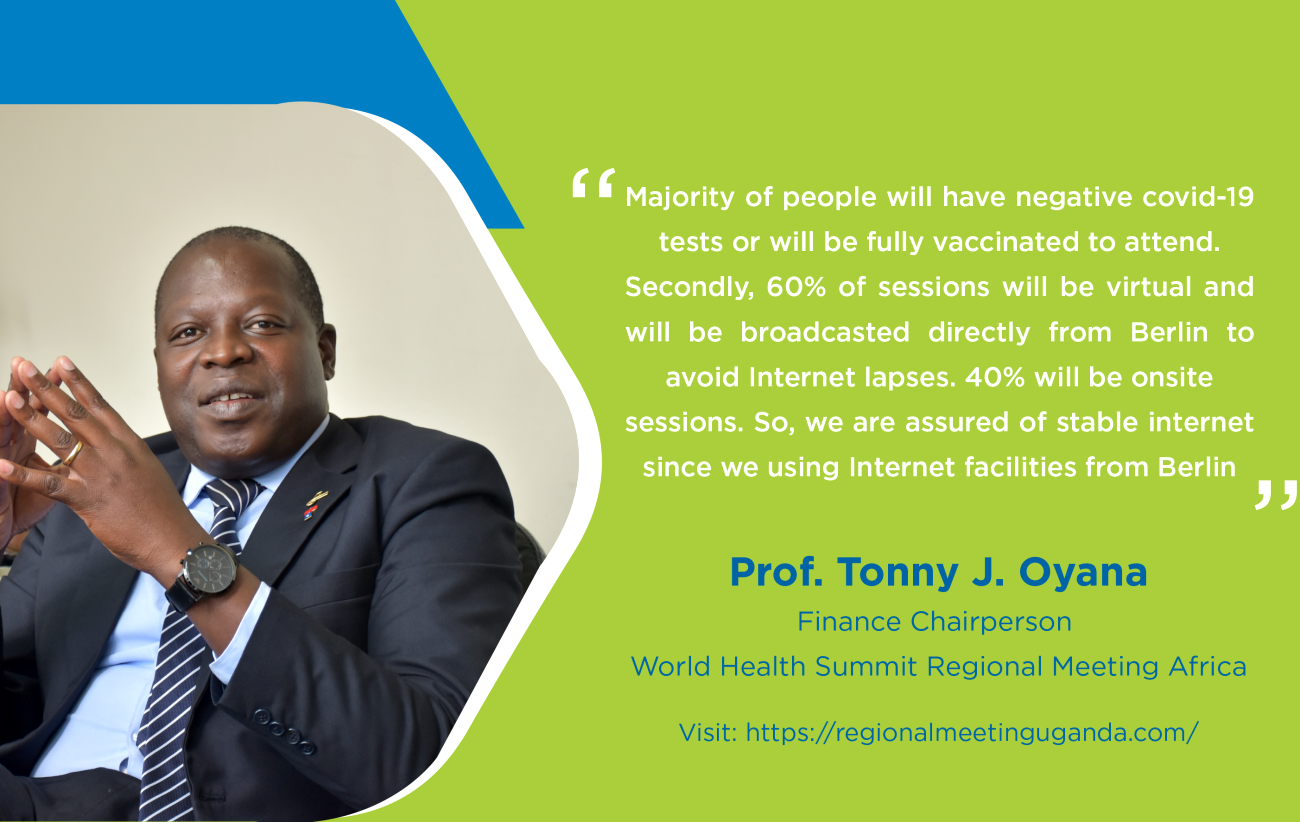 SOPs: Our plan is to have 200 sets of people in different spacious rooms…

Prof. Tonny j. oyana, finance chairperson whs regional meeting africa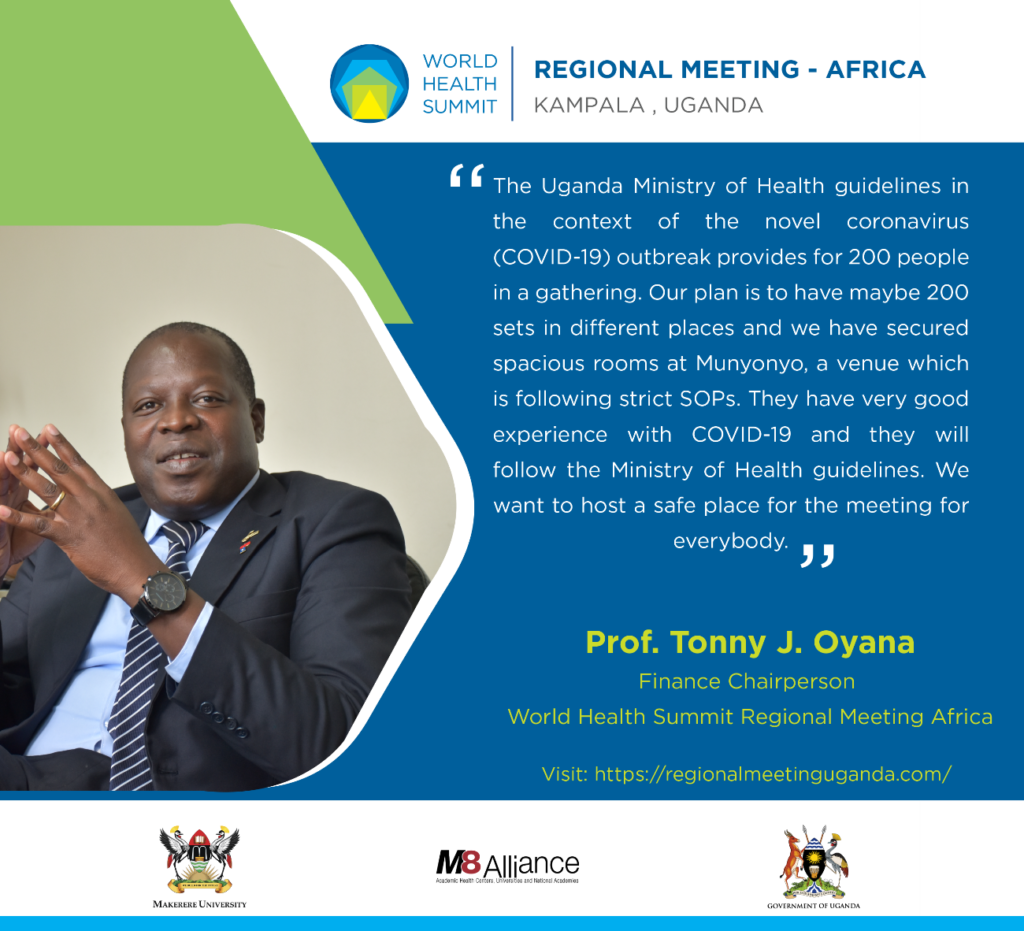 We are sincerely grateful to our sponsors…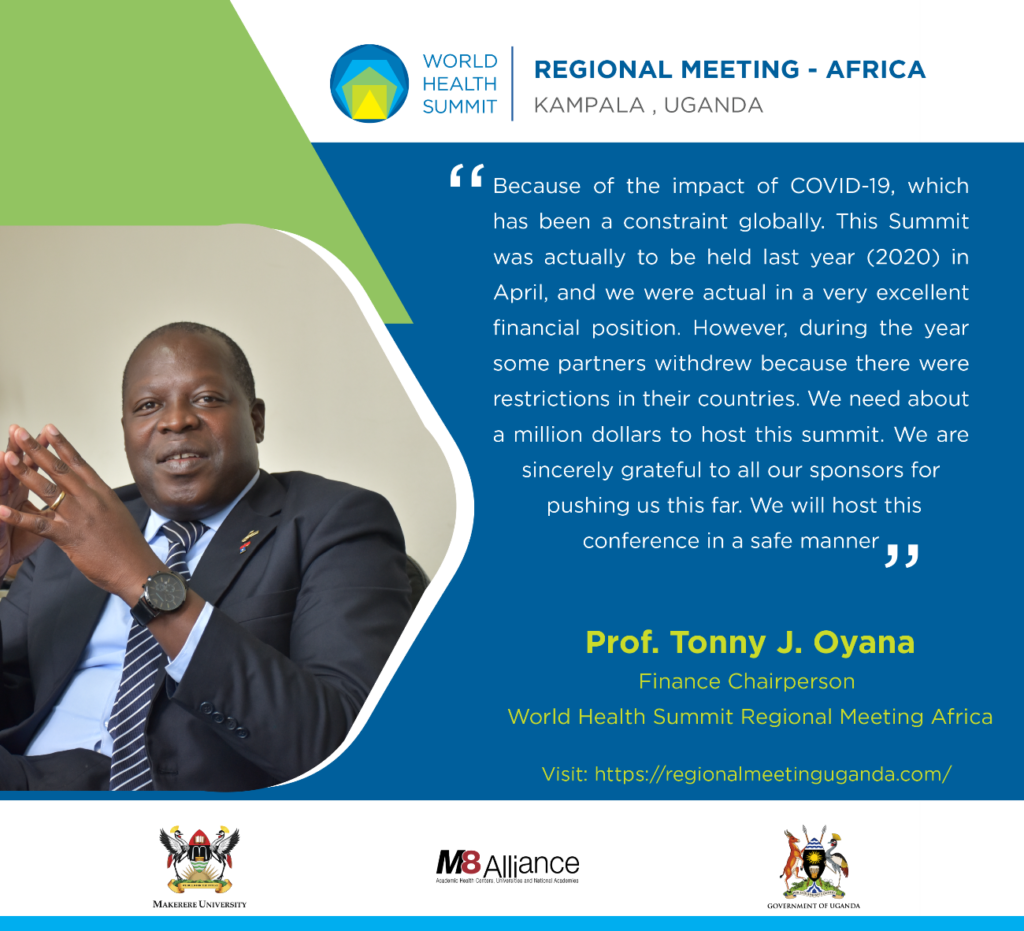 Over 15 core sponsors…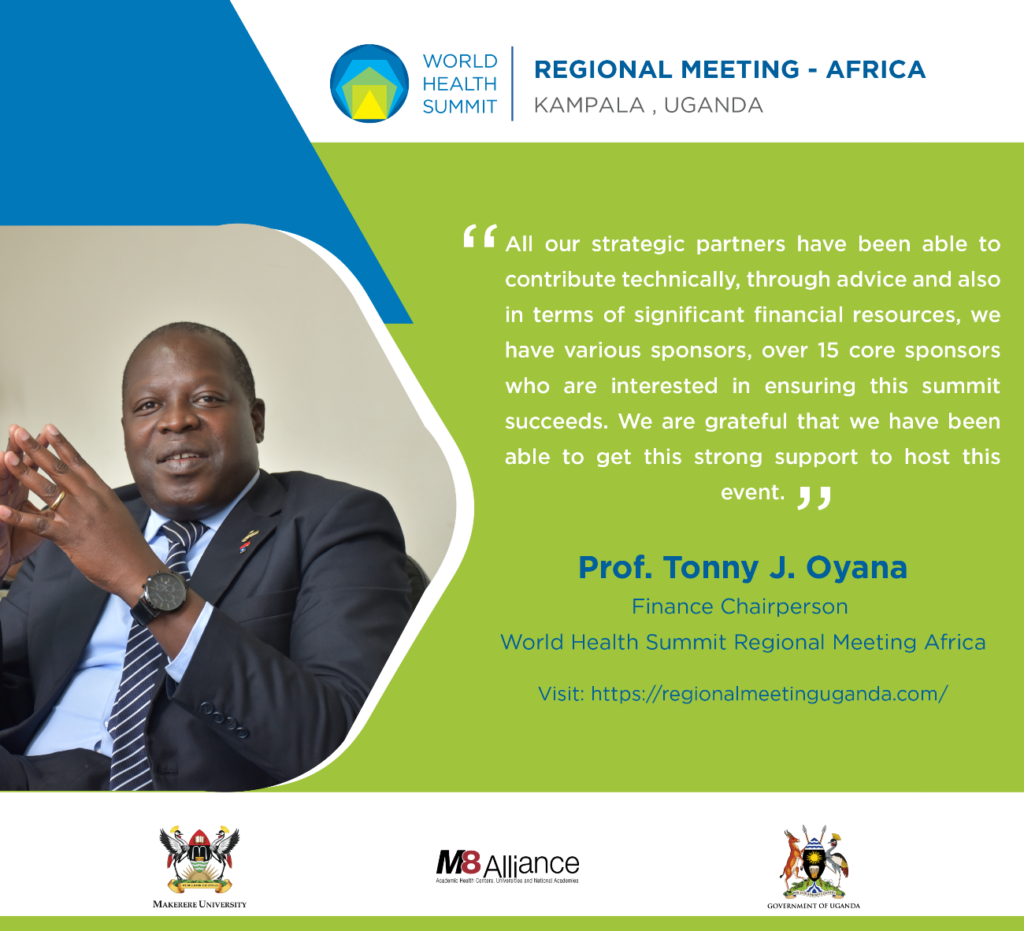 Sessions: 60% Virtual, 40% Onsite…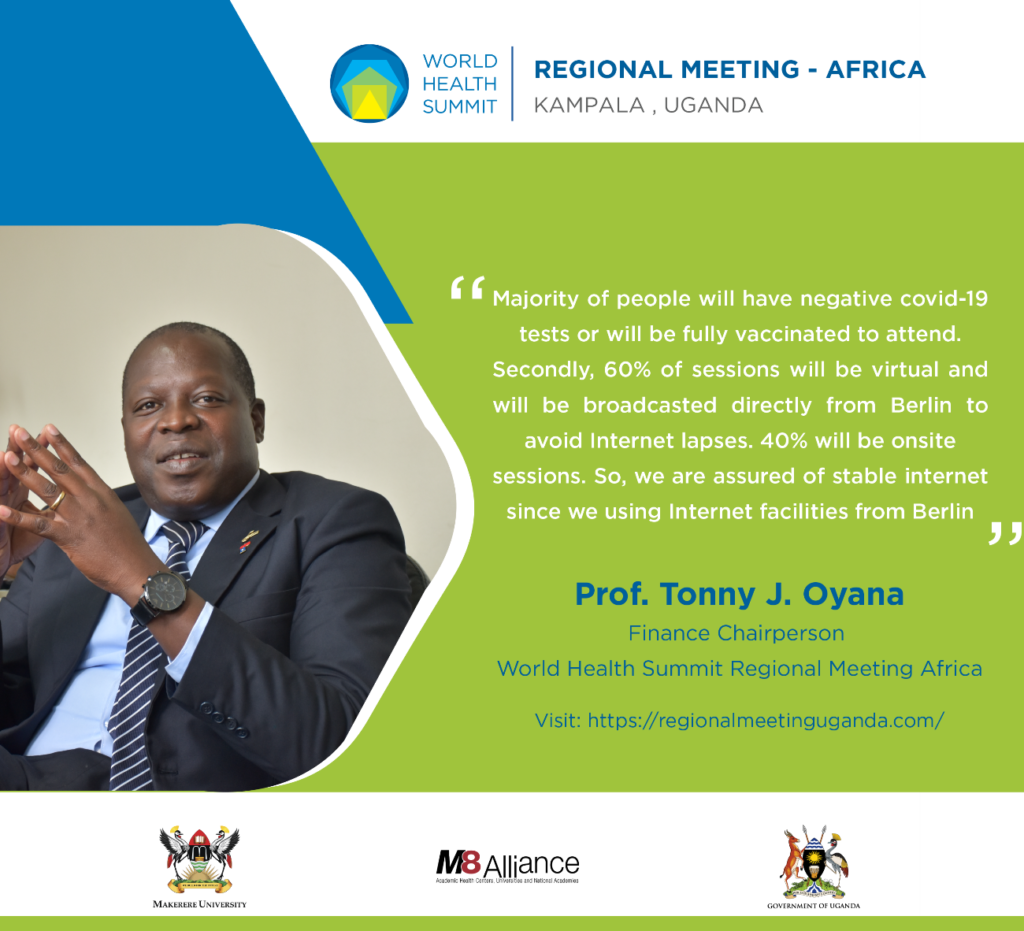 HERS-EA Fourth Leadership Academy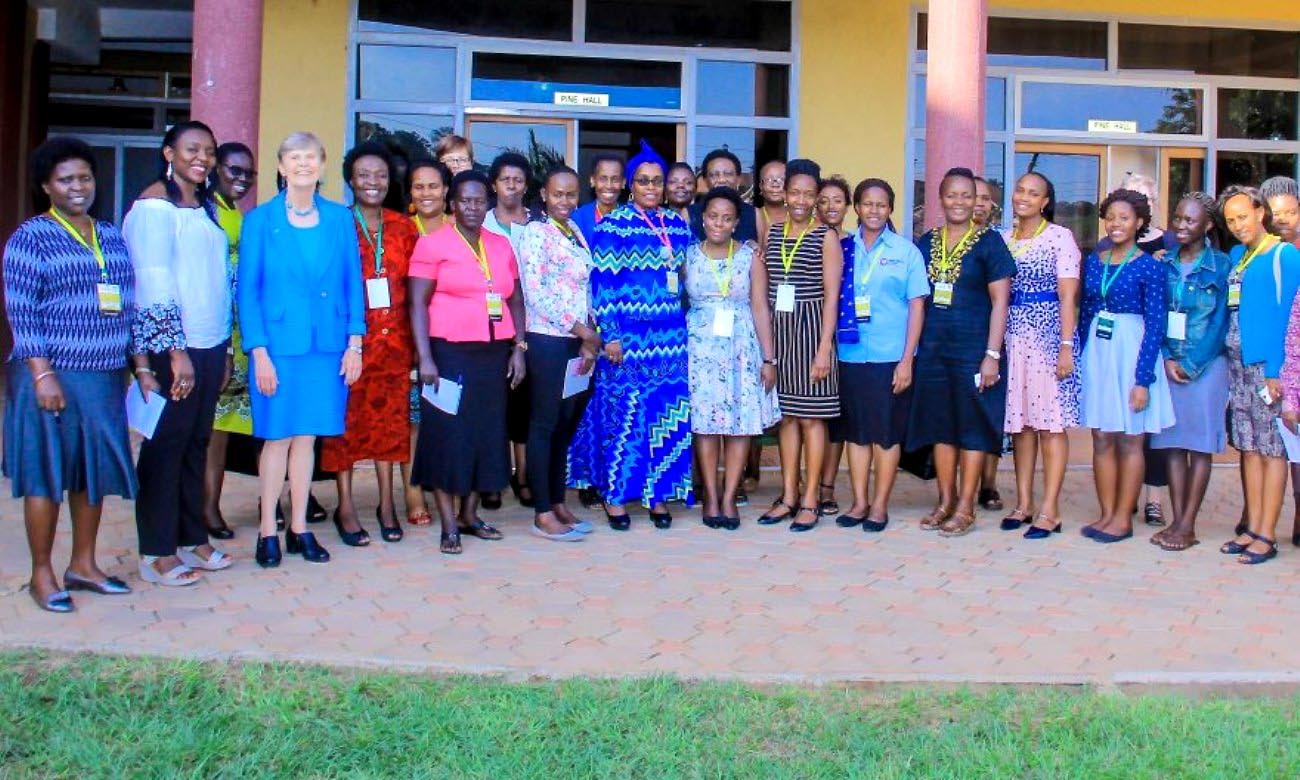 The Higher Education Resource Services-East Africa (HERS-EA) provides an intensive residential one-week leadership and management development curriculum focused on women, mainly in higher education institutions and administration.
In response to the current Covid-19 pandemic, HERS-EA Fourth Academy will be a totally virtual one. As such, the Academy previously scheduled to take place between June 28th – July 3rd has been postponed by one week to July 5th-9th. 
Theme: "Positioning Women for Leadership in Higher Education"
A. Institutional Development
1. Managing and Leading Change
2. Reframing Organizations for effective work
3. Developing Effective Partnerships in Higher Education for Women and gender focused advancement
B. Personal Development
4. Career Mapping/building dossier/personal development
5. Professional Women's economic empowerment through Enterprise development and management for profit maximization
6. Research and Publishing; Leadership and Fundraising for projects including research and publication.
C. Networking
7. The Power of Mentoring; Networking
Who Should Attend?
HERS-EA expects many diverse and dynamic women leaders to attend the ACADEMY, to share and learn from multiple institutional perspectives with guidance from women with a wealth of experience in higher education, national academic organizations, government and non- governmental organizations. Participants are expected hold mid to senior-level positions and bring expertise from all parts of a college or university. They also represent a range of national groups, ages and years of experience in higher education and other fields.
Applying to the ACADEMY:
The deadline for registration has also been extended to June 30th. For more information regarding registration, please visit the website: www.hersea.org Completed registration forms should be emailed, with a scanned payment slip to: info@hersea.org, by 5.00 p.m. on Wednesday 30th June.
A complete application includes:
a) CV
b) A self-descriptive letter (not > 500 words) to include:
Current Title (e.g. Associate Professor of Economics; Deputy Dean, e. t. c.)
Name and Contact Information for 2 Recommenders (e.g. Vice Chancellor, Head of Department, Chief Officer in your area, and/or direct supervisor)
Short- and long-term career goals
Your expectations for the HERS-EA ACADEMY.
c) Passport size photograph
d) A developmental project you have been assigned or you would like to initiate at your campus (maximum 500 words)
e) Registration fee of $100, please attach a copy of the deposit slip to your application (Bank A/C details below):
Contact Information
If you have any further questions, please email:
info[at]hersea.org or call the HERS-EA Administrator on: +256 (0)772082011 Please,also, visit the HERS-EA website for further updates: www.hersea.org.
Payment Bank Account Details:
Account Name: Higher Education Resource Service East Africa
HERS-EA US $ ACCOUNT
Name of Bank: DFCU Bank
Makerere University Branch
A/C No: 02083553153181
Swift Code: DFCUUGKA
HERS-EA UGX ACCOUNT
Name of Bank: DFCU Bank
Makerere University Branch
A/C No: 01083553153172
Mak Commissions CoVAB@50 Celebrations, Awards Certificates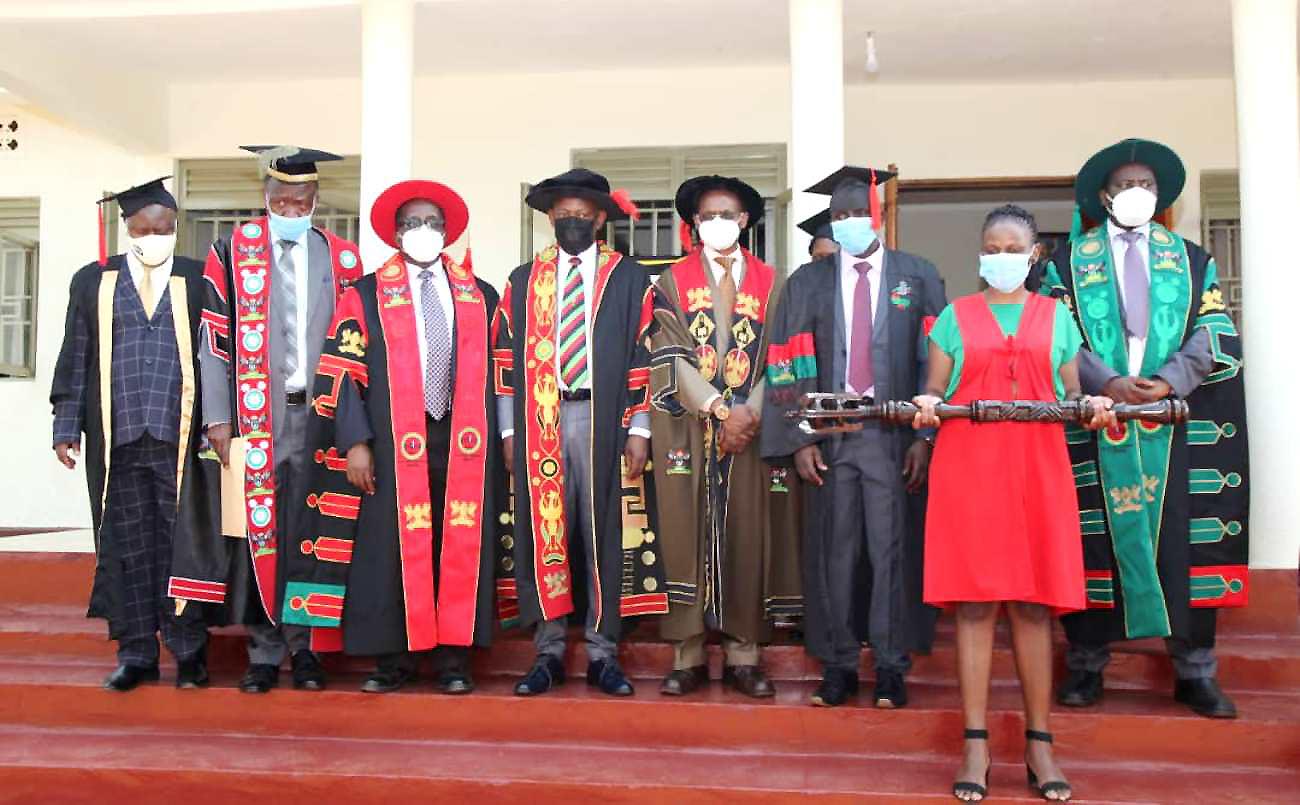 The College of Veterinary Medicine, Animal Resources and Biosecurity (CoVAB) on Thursday 17th June, 2021 commenced celebrations to mark 50 Years of Veterinary Higher Education, Science, Technology, Innovation and Services (HESTIS) in Uganda. The blended event held at the Industrial Livestock Research, Incubation and Skilling (ILRIS) Center at Nakyesasa, Namulonge as well as online was presided over by the Chancellor, Prof. Ezra Suruma and First Lady and Minister of Education and Sports (MoES), Hon. Janet Museveni both represented by the Vice Chancellor, Prof. Barnabas Nawangwe.
The event, held as part of Makerere University Centenary Celebrations (1922-2022) was a moment of celebration for 1,930 skilled livestock agribusiness entrepreneurs who were awarded certificates in recognition of completion of their respective courses. Owing to the strict Standard Operating Procedures (SOPs) instituted by the Ministry of Health (MoH) to curb the spread of COVID-19, the students from Incubation Hubs in Atiak, Butaleja, Mubende, Nakyesasa, Sheema and Wakiso were awarded their certificates virtually.
In her remarks read by Prof. Barnabas Nawangwe, Hon. Janet Museveni thanked Makerere University for supporting grassroots level development through groundbreaking innovations under the Africa Institute for Strategic Services and Development-Skills for Production Enterprise Development and Accreditation (AFRISA-SPEDA) model.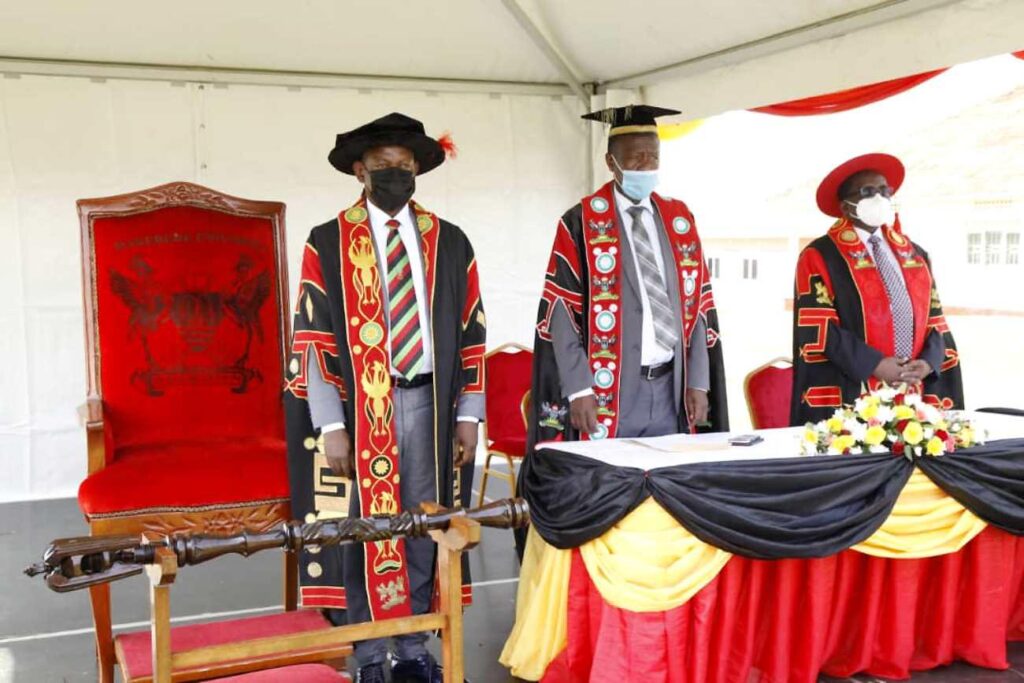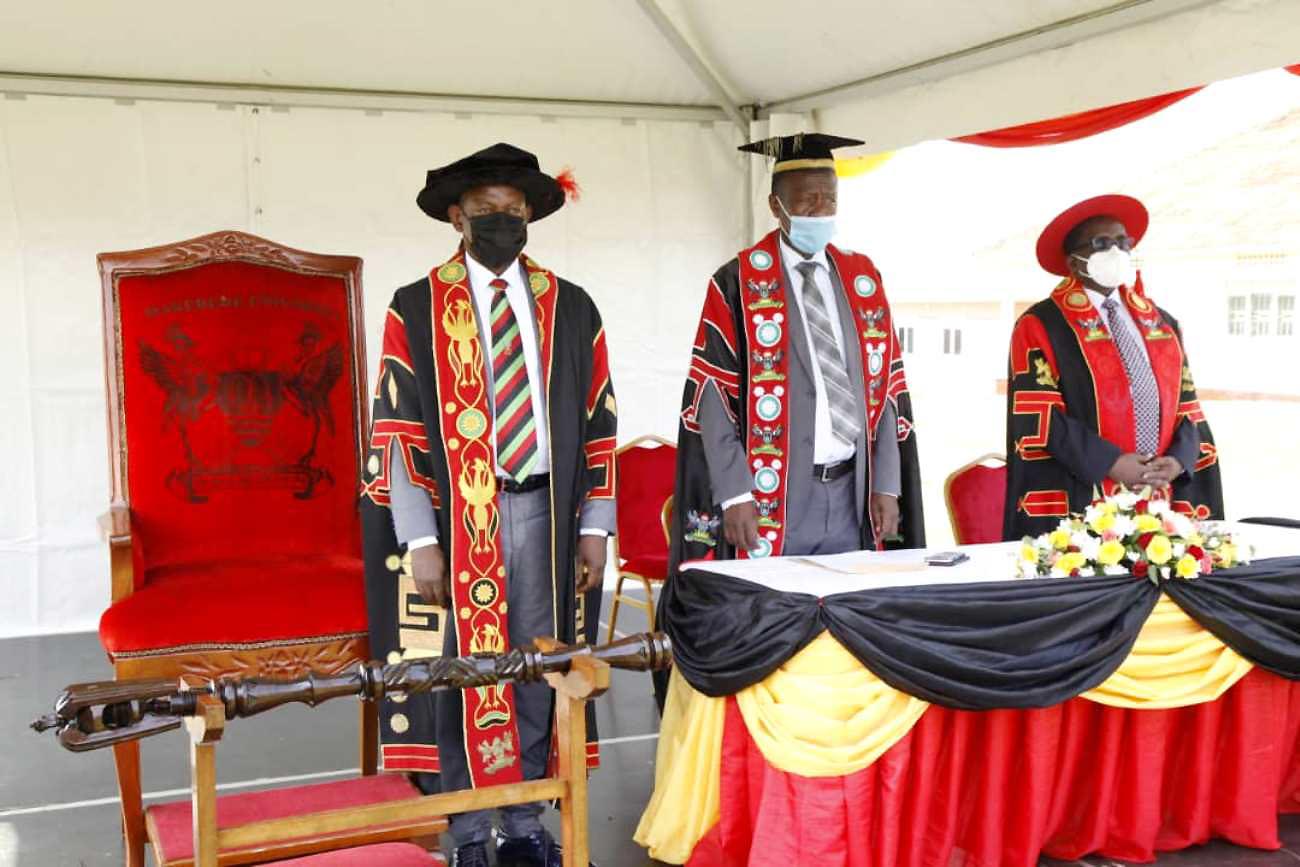 "I am extremely pleased that Makerere University, through those innovative approaches, has developed and launched the alternative approach to building human capital and transferring knowledge to enterprises in communities.
"I would like to encourage all those involved in skills development to adopt methodologies that transform those trainees that go through these programs in ways that enable them also transform the societies they live in" read the Minister's remarks.
She further noted that commissioning of the CoVAB@50 celebrations was both timely and rewarding. "The commissioning of the college innovations indeed has made meaning. This is a true path to growth of an Academic and Development College of the University, and we congratulate you again."
Addressing the congregation as Chancellor, Prof. Barnabas Nawangwe congratulated CoVAB alumna and incoming Minister of Science, Technology and Innovation (MoSTI) under the Office of the President, Dr. Monica Musenero upon her recent appointment. "We thank His Excellency the President for identifying you. Science is in good hands."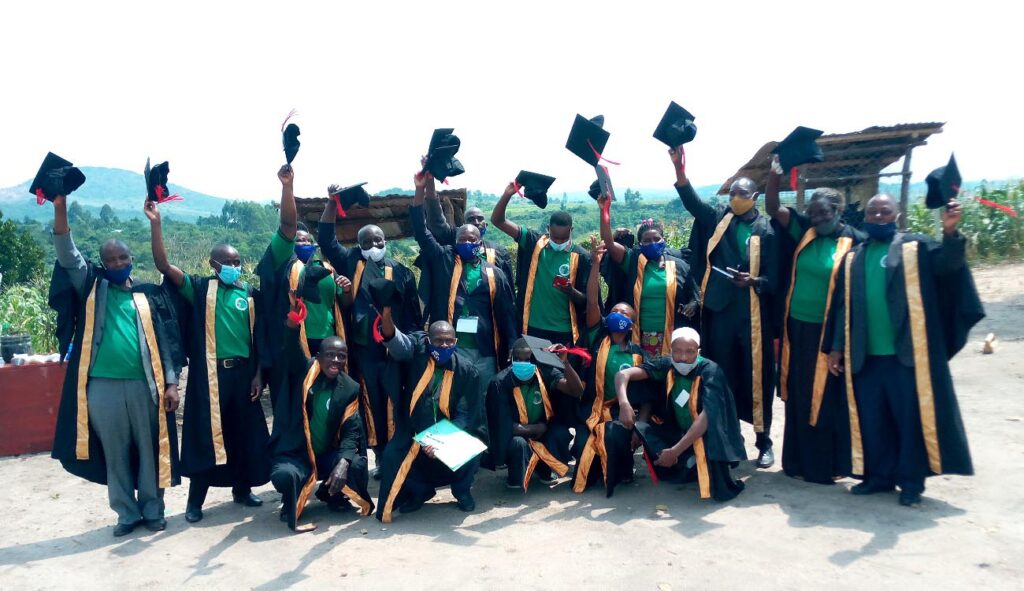 Prof. Nawangwe urged Dr. Musenero to address the structures of managing research and innovation in Uganda, "including the role of the Uganda National Council for Science and Technology and the apparent need to establish a Research Council for Uganda."
In the same breath he thanked the outgoing and pioneer Minister of Science, Technology and Innovation, Hon. Dr. Elioda Tumuwesigye, for his role in ensuring that the ministry is empowered to carry out its mandate.
The Chancellor congratulated CoVAB upon training the bulk of Veterinary Doctors in Uganda over the last 50 years and more recently, Laboratory Technologists at the highest level. He recognised Makerere University's obligation to contribute to the economic self-determination of Uganda and thanked CoVAB for conducting research that addresses hindrances to national development, especially in the livestock industry.
"The anti-tick vaccine is one of such innovations which will solve the huge problem of tick-borne diseases that have caused enormous losses to our farmers. There are many other problems on which the college is researching and we thank you for the enthusiasm" he added.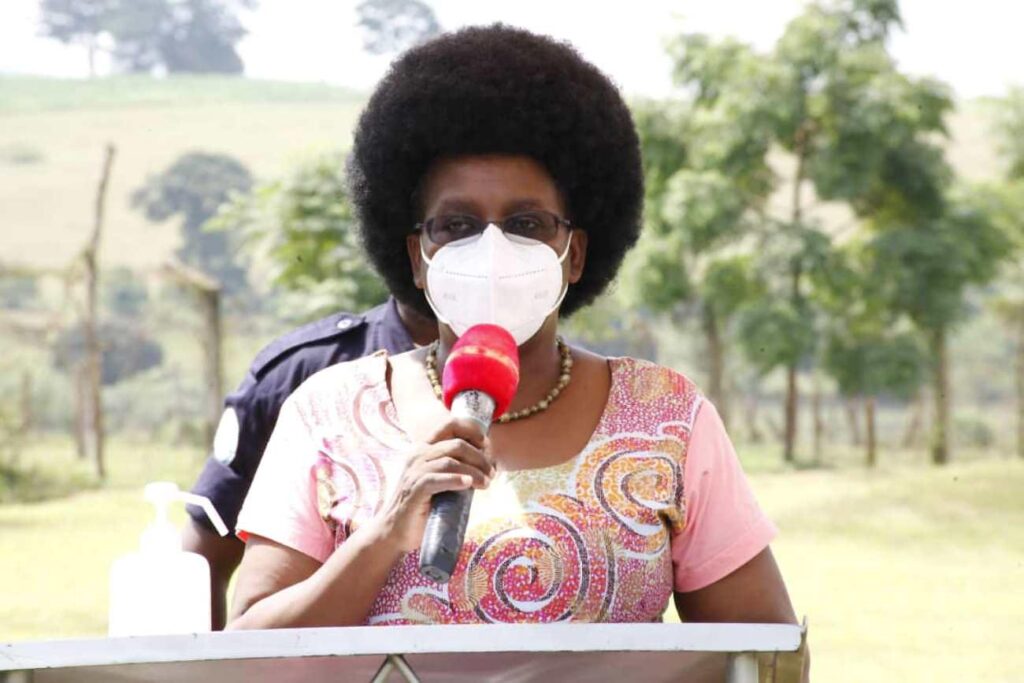 The Chancellor commended CoVAB for being the vanguard of transformation of the grassroots communities through the SPEDA model. "I urge Government to fund this important initiative so that it can more meaningfully contribute to solving the big problem of youth unemployment."
In her remarks, Dr. Monica Musenero commended the Principal, CoVAB, Prof. John David Kabasa for fulfilling the College's dream of enabling the masses who drop out of the education value chain as well as those who complete education but have no skills for livelihood, to attain certification in agribusiness entrepreneurship.
"Many people attain academic success and write papers, publish and they become professors but without demonstrable impact on their nation. You have shown by the thousands that you have touched nationwide that indeed you are a professor of national transformation. Congratulations," remarked Dr. Musenero.
She therefore congratulated the teams at CoVAB and AFRISA upon successfully conceiving and executing a model that is non-traditional, informal, not easily understood and not documented in any textbooks.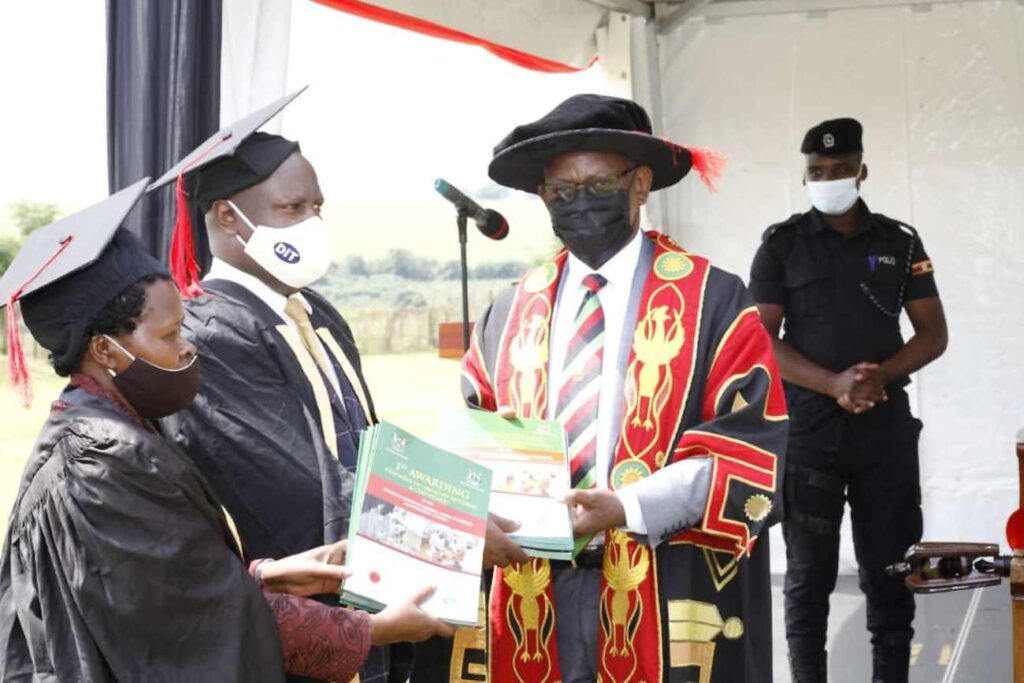 As Minister, Dr. Musenero noted that witnessing thousands of individuals from across the country whose skills had been honed through a university programme receiving certificates gave her a lot of hope and material to embark on her tenure with. "I will be looking forward to harnessing these resources as we initiate work on the next leg of Science, Technology and Innovation in the country under the President's Office."
The invitation to the Principal, CoVAB to present students for the award of the ordinary diplomas, ordinary certificates and artisan certificates was given by the Deputy Vice Chancellor (Academic Affairs), Dr. Umar Kakumba. He congratulated the awardees upon successfully completing their respective courses and graduating with evidence on an enterprise.
Prof. Kabasa clarified that the approach used to train the day's awardees was not simply a vocational skilling. "The combination of action research with knowledge transfer, skilling, plus assessment and accreditation processes done by organs like the DIT (Directorate of Industrial Training, MoES) has given us this result, for the University to provide true leadership and transformation of the community."
Present at the celebrations were the Director, DIT, MoES-Mr. Byakatonda Patrick and the Deputy Commissioner Social Services Development, MoES Madam Elizabeth Bateme who have worked through the Academic-Community-Public-Private-Partnership model to ensure that students graduate as entrepreneurs with micro enterprises.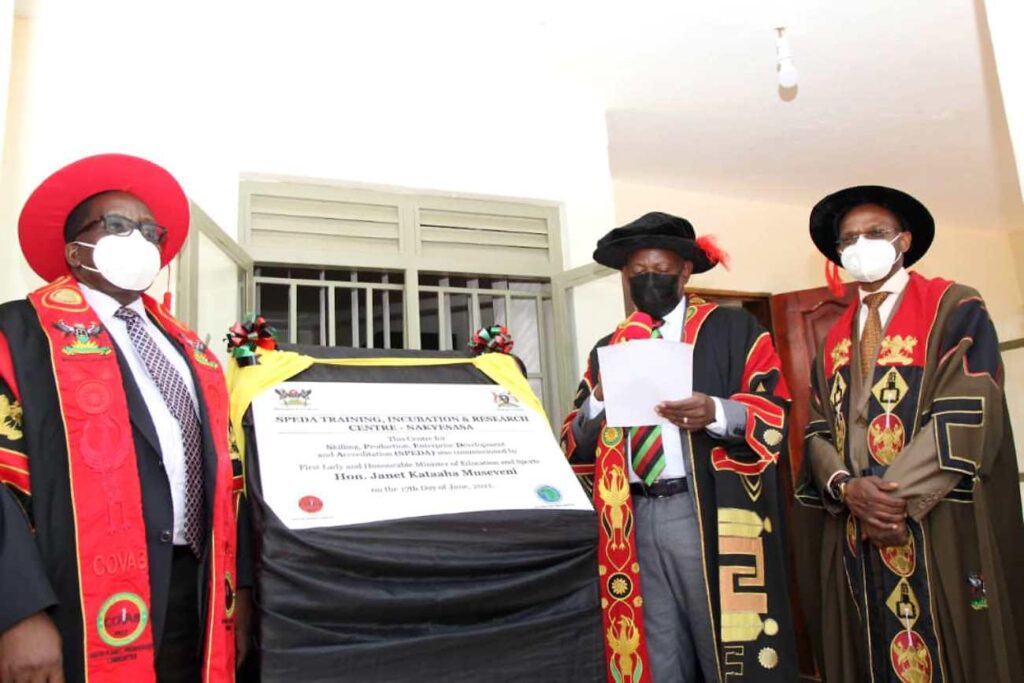 Prior to presiding over the ceremony, Prof. Barnabas Nawangwe, on behalf of the First Lady and Minister of Education and Sports officially commissioned the SPEDA Training, Incubation and Research Centre – Nakyesasa.