MCF Scholars at Makerere University receive 199 laptops
It was moment of jubilation on Friday 27th January 2017 when Makerere University MasterCard Foundation (MCF) Scholars of Academic Year 2016/2017 received laptops. The 199 laptops were handed over to the Cohort Three Scholars by the Chairperson of the MCF Steering Committee, Dr. Ernest Okello Ogwang on behalf of the Vice Chancellor Prof. John Ddumba-Ssentamu at a highly colorful ceremony.
Makerere University entered into a partnership with MasterCard Foundation to offer Scholarships to 1000 academically bright but economically disadvantaged youth in Africa to study at Makerere University from 2013 to 2024. The aim of the project is develop the next generation of African Leaders, who will contribute to the development of the African continent.
MasterCard Foundation (MCF) Scholars Program provides a comprehensive financial, academic and social support to each and every Scholar. This include; tuition and functional fees, a laptop, books and other learning materials, accommodation, beddings and meals medical insurance, stipend, transport to and from home, psychosocial and mentorship support as well as career education. A laptop therefore is an entitlement to every scholar.
In a speech read by the Dr. Ernest Okello Ogwang, the Vice Chancellor said that the laptops received will enable Scholars to have easy access to information, improve on their writing and typing skills as well as having more interactions with the MasterCard Foundation.
"I now expect you to be more efficient, have better accessibility to the Internet, and to present timely assignments to your lecturers," he said.
According to Prof. Ddumba-Ssentamu, the laptops offered give the Scholars a comparative advantage towards their academic pursuit especially when they are combined with International Computer Driving License (ICDL) that covers the key concepts of computing and its practical applications. He therefore urged scholars to properly manage and take good care of their laptops. "This is a resource in your hands. Use the laptops in the most effective way during your studies," he said.
He reminded the Scholars that the laptops remain the property of Makerere University until when the Scholars have satisfactorily completed their study program. "These laptops have therefore been engraved and occasionally you will be required to personally present them to the program office to ascertain that you still own them," he explained.
He applauded the Development Partners for assisting the Ugandan youth to access quality education; a foundation to stability and prosperity in Uganda and Africa as a continent. The Vice Chancellor thanked the Program Implementation Team led by Dr. Florence Nakayiwa for the commitment and success thus far.
Speaking to the cheerful audience, the Chairperson of Mak-MCF Steering Committee Dr. Ernest Okello Ogwang urged Scholars to use their laptops as gadgets for solving problems.
"A computer is a facility that can help you manage your business, do you work and so many other things in a favorable timeframe. I therefore challenge you to make this computer work for you in this era of the 21st century," he said.
Mr. Enock Muwanguzi, a third year student pursuing a Bachelor's degree in Agricultural Engineering tipped the Scholars on the advantages and disadvantages of computers as well as the proper management of laptops.
In the presentation, Mr. Muwanguzi highlighted that laptops provide access to free and useful information, facilitate research, interactivity and networking. "Computers play an important role in our lives. However, we must use them properly and effectively," he said.
Mr. Muwanguzi also cautioned Scholars on thugs who can take advantage of their innocence and steal their laptops. "Moving with these laptops from class to class and at the night is very risky. Take care of your laptops because if you handle them carelessly someone will take them from you," he said.
Pellusce Kabarokole- a third year student pursuing a Bachelor's Degree in Science with Education shared a personal life story that touched many people.
"I never thought of being an important person in the future because I had no hope of continuing with my studies after the death of my father in a fatal accident. However, I am so happy that I have managed to reach this far because MasterCard Foundation Scholarship Program has supported me," she happily testified.
Kabarokole said that she focused on science courses to change the attitude that sciences were meant for boys. "Many girls in my village fear to pursue science courses thinking that they are meant for boys. So I want to prove to them that even girls can do science courses and excel," she said.
The Senior Public Relations Officer, Makerere University, Ms. Ritah Namisango reiterated the need for the Scholars to use the laptops for the best purpose. "Many students would like to have personal laptops, but they don't have the required financial resources. You are lucky to have a scholarship with a comprehensive package that includes a laptop. Please use the laptops to excel in academics, research and networking," she said.
During the occasion, the Vice Chancellor also launched the "AlumNet" a Scholar's Magazine that provides a platform to all Scholars to express their views and opinions about the MCF Scholars Program and other topical issues.
The MCF Communication and Web Officer Mr. Bernard Buteera Butare, highlighted that the AlumNet is an Annual Scholars Magazine that focuses on providing vital information on the MasterCard Foundation Scholars Program Network at Makerere University and the alumni of the Program after they have completed their studies.
"In this maiden issue of 2016-2017, you will find stories and activities undertaken. In here, you will also find the scholars stories, testimonies in forms of writings and pictorials. So flip through all the pages and you will be treated to a lot of infotainment," he explained.
The Award Ceremony was graced by important people including: MasterCard Foundation Mentors, Members of the MasterCard Steering Committee, College Principals, Acting Director of Makerere University Gender and Mainstreaming Directorate Ms. Florence Nyachwo, Acting Director of Makerere University Directorate of Legal Affairs Mr. Goddy Muhumuza, Acting Director of Makerere University Internal Audit Mr. Patrick Akonyet and Manager, Makerere University Counseling and Guidance Centre, Mr. Henry Nsubuga.
Written by: Mak News Reporters
Aptitude Test Exam Results for the Mature Age Entry Scheme 2023/2024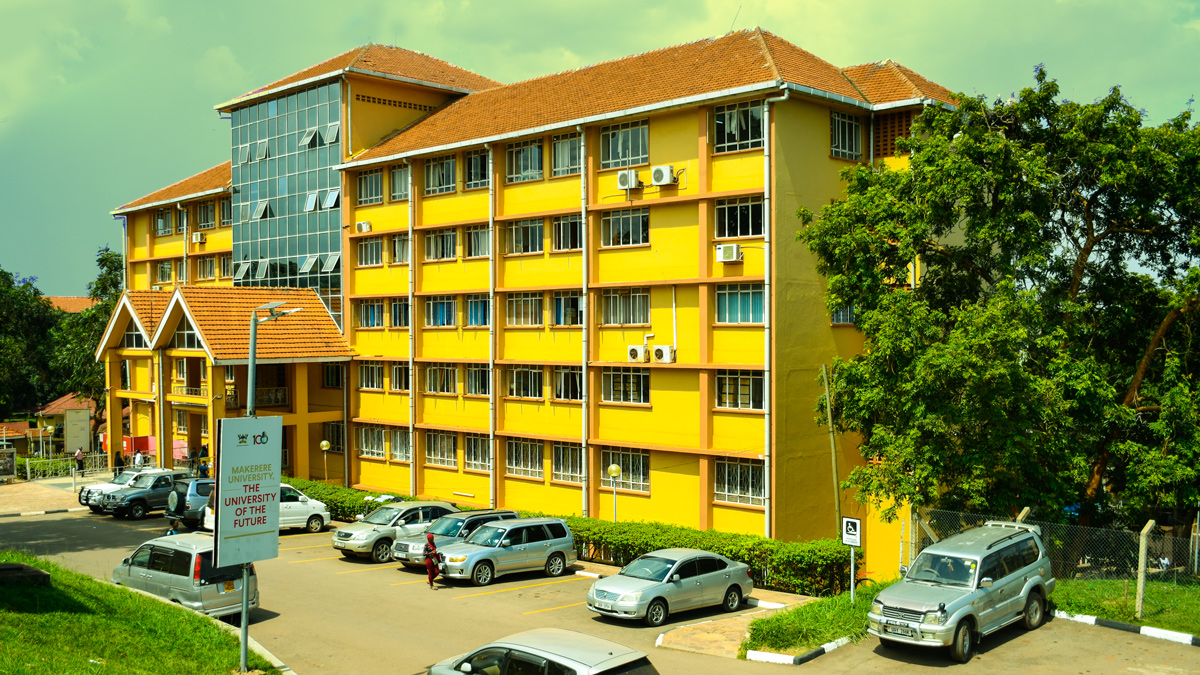 The Office of Academic Registrar, Makerere University has released Aptitude Test Examination results for the Mature Age Entry Scheme Examinations held on Saturday 17th December, 2022.
The Candidates who scored 50% and above in the aptitude test passed the aptitude examination and will have their programme -specific examination paper marked. Those who scored less than 50% failed.
Access the links below for the lists categorised under Science-based and Humanities based programmes respectively:
Mak Participates in New Vision Education Expo 2023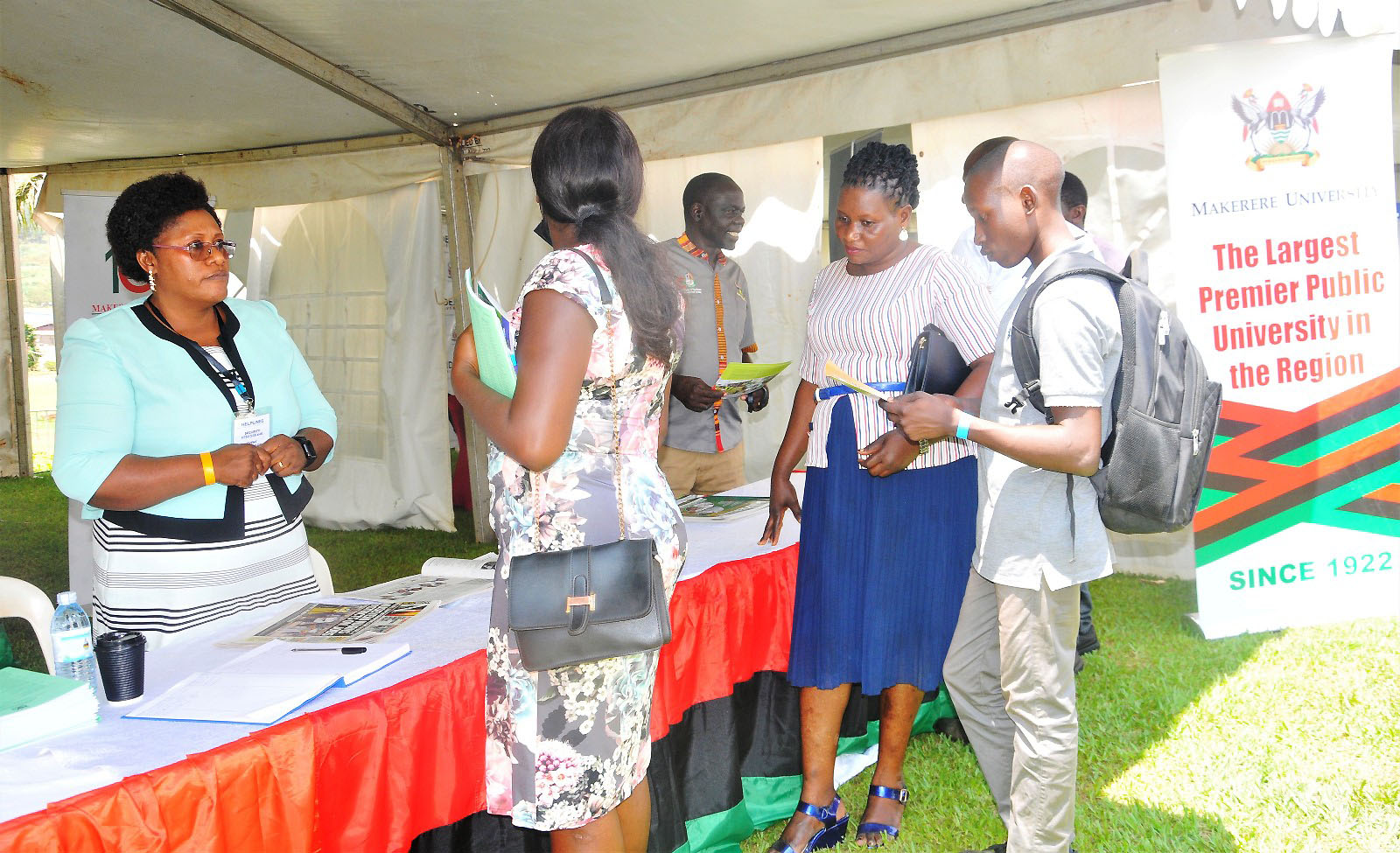 Makerere University is participating in the New Vision Education Expo 2023 to strengthen its niche as the leading provider of education services.
The three-day New Vision Expo (Friday 27th January 2023 to Sunday 29th January 2023) at the Uganda Institute of Information and Communications Technology (UICT) Nakawa brings on board players in the education and business fields to forge partnerships to improve the quality and outcomes of education in Uganda.
Makerere University seeks to maximally utilize the three days to ensure that the participants at the Education Expo gain a deeper understanding of its 100 year journey of providing excellent services to humanity through academic programmes, services offered and ongoing efforts aimed at producing employable graduates as well as entrepreneurs.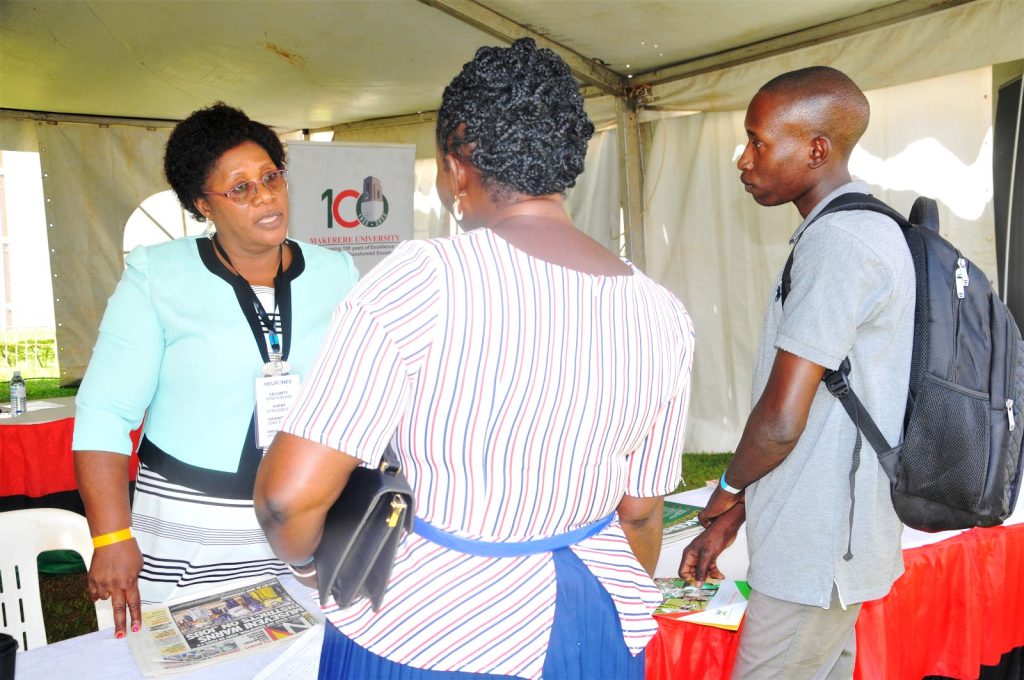 The Vice Chancellor, Prof. Barnabas Nawangwe highlights that Makerere University values stakeholder engagements and partnerships.  "The New Vision Expo 2023 presents Makerere University with an opportunity to enhance stakeholder engagements. It is about consolidating the relationships with schools, prospective students and parents, and partners in the education sector. I applaud the CEO of Vision Group-Mr. Don Wanyama for coming up with the Education Expo."
To respond to the information needs of stakeholders, Makerere University has lined up a team of experienced staff from the Department of the Academic Registrar, the Admissions Office, Public Relations Office, Career Guidance experts as well as the Institute of Open Distance and e-Learning (IODeL) under the College of Education and External Studies (CEES).
According to the Principal PRO of Makerere University Ms. Ritah Namisango, the Education Expo provides a platform to reach out to the clients that Makerere University exists to serve. "You must be in touch with your prospective parents, students as well as schools and partners that continue to recommend you as the leading university in the region. Makerere University has celebrated 100 years of excellent service to humanity (1922-2022). So, as we continue to promote the academic programmes, innovations and services that we offer, we are ready to listen, interact and learn from respective stakeholders about what they expect from the University as we embark on the next 100 years."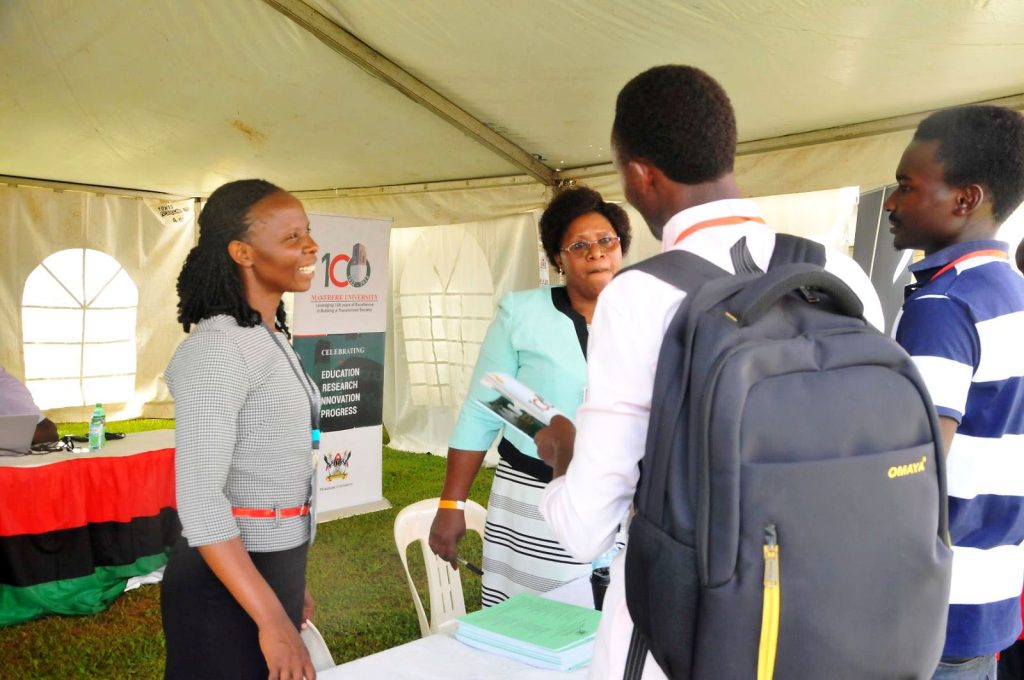 The New Vision Expo 2023 is happening at an opportune (holiday) time, which accords the students, parents and guardians quality time to visit the exhibition and interact with experts in the education sector.
In addition, Makerere University has recently advertised its academic programmes and it is preparing to receive students for the Academic year 2023/2024. Sharing her experience about the interaction with participants who visited the Makerere University exhibition space, Ms Joyce Muhanguzi, Senior Assistant Registrar in the Department of the Academic Registrar noted that most of the prospective students and parents wanted to know about the academic programmes, the subject combinations that students should study to qualify to apply for the respective academic programmes, and the available admission avenues i.e. government sponsorship, private sponsorship, diploma entry, direct entry, national merit, talented sports entry and district quota programme).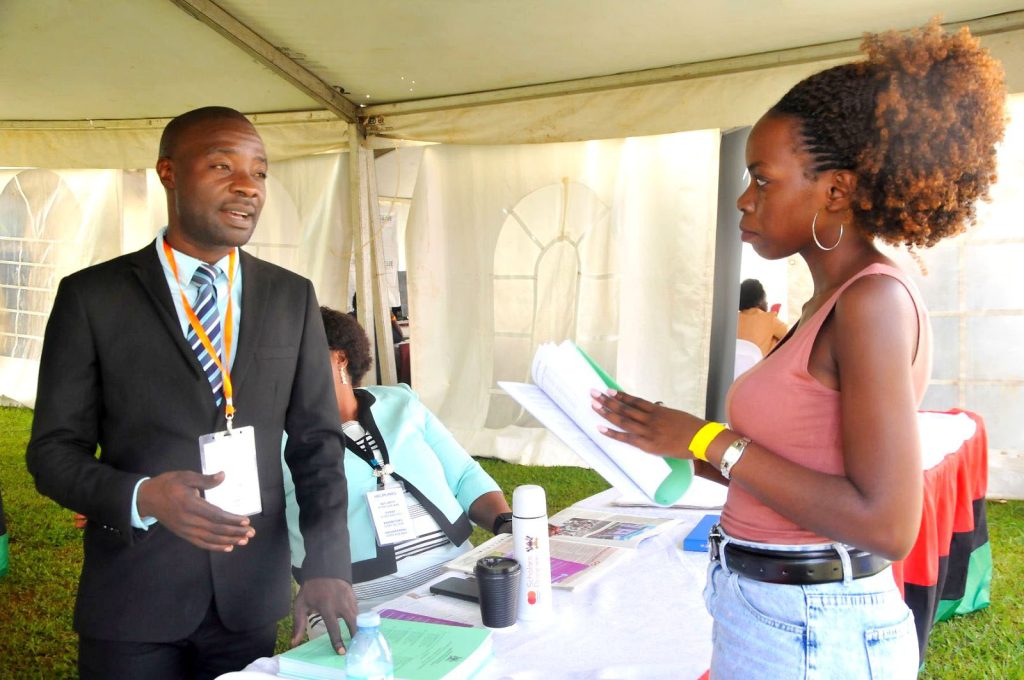 Ms Joyce Muhanguzi and Mr. Dennis Kibuuka's interaction focused on students who expressed their desire to join Makerere University in the coming years, and needed a case by case approach to their information needs, career guidance and linkages to Professors and Administrative staff in the respective Colleges at Makerere University.
The prospective students and parents also disclosed that in addition to the information on the Makerere University website, they welcome interactive and friendly approaches such as the New Vision Education Expo where they are presented with a golden opportunity to interact with Makerere University officials face-to-face.
At the New Vision Education Expo 2023, Makerere University joins other exhibitors that include; Government agencies, NGOs, Telecom companies, Banks, Insurance companies, Kindergartens/Daycare Centres, Primary and Secondary schools, Ugandan and Kenyan Universities, International schools, Study Abroad Agencies, Vocational institutions, Scholastic materials suppliers and SME service providers.
73rd Graduation Highlights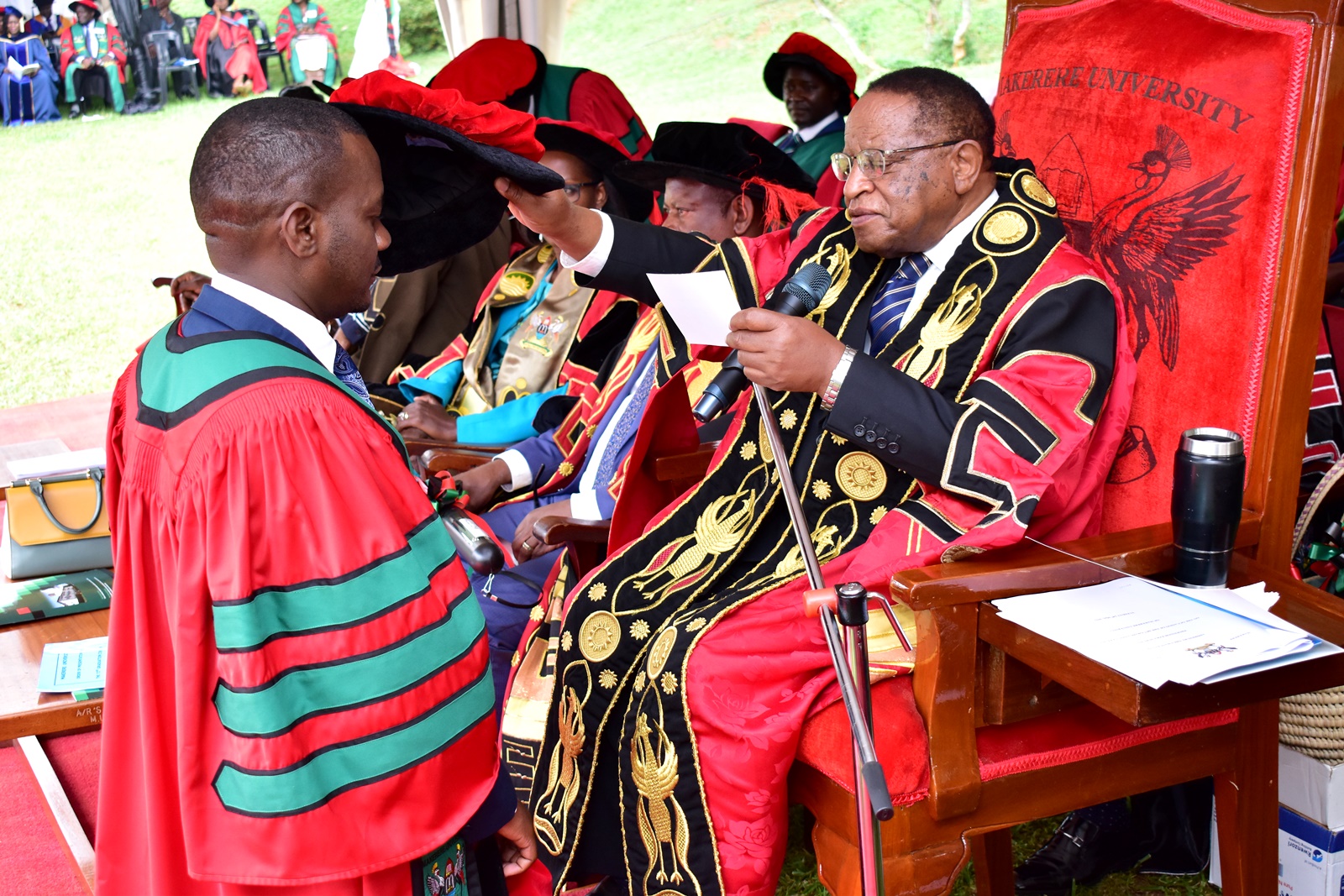 The 73rd Graduation Ceremony of Makerere University will be held from Monday 13th to Friday 17th February 2023 following the schedule below:
Monday, 13th February, 2023
College of Health Sciences (CHS)
College of Natural Sciences (CoNAS)
School of Law (SoL)
Tuesday, 14th February, 2023
College of Agricultural and Environmental Sciences (CAES)
College of Education and External Studies (CEES)
Wednesday, 15th February, 2023
College of Business and Management Sciences (CoBAMS)
College of Computing and Information Sciences (CoCIS)
College of Veterinary Medicine, Animal Resources and Bio-security (CoVAB)
Thursday, 16th February, 2023
Makerere University Business School (MUBS)
Friday, 17th February, 2023
College of Engineering, Design, Art and Technology (CEDAT)
College of Humanities and Social Sciences (CHUSS)