State Building and Political Order key to lasting peace in South Sudan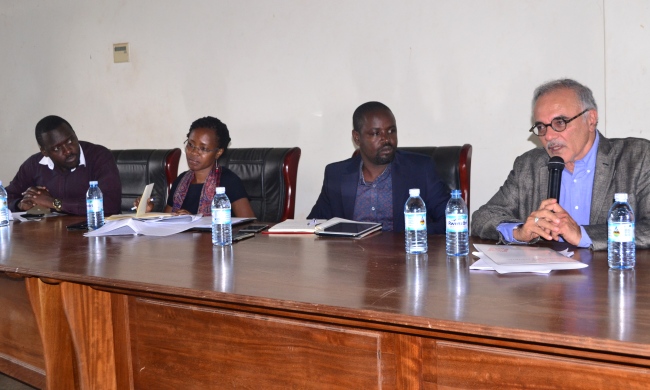 For the world's youngest nation, the fact that reports of violence regularly dominate international news headlines speaks volumes of the work that remains undone in as far as achieving lasting peace is concerned. Points of disagreement often escalate into violent clashes that lead to loss of precious lives. The Symposium and Public Dialogue at Makerere University jointly organized by the University Forum on Governance (UNiFOG), the Makerere University Convocation (MUC) and Konrad Adenauer Stiftung (KAS) was therefore a breath of fresh air in as far as creating a forum to discuss peace in South Sudan is concerned.
"Instability in South Sudan is a loss to Uganda. We shall continue to provide this space on a monthly basis until peace in South Sudan is achieved," reassured Mrs. Diana T. Nyago, Vice Chairperson, Makerere University Convocation as she welcomed participants and kicked off the day's presentations.


Konrad Adenauer Stiftung (KAS) has been greatly involved championing women's political involvement in South Sudan in partnership with other organizations and is currently developing a strategy on involving women in political conversation and dialogue. Speaking on behalf of KAS, the Programme Officer Mr. Donnas Ojok called upon his audience to consider such public dialogues as an opportunity to not only let the world know about the war in South Sudan but also about the possibility of peace.
To tackle the day's topic "Transcending the Shadow of Violence: Alternatives for Fostering Inclusive State Building and Sustainable Peace in South Sudan", the organizers couldn't have chosen a better candidate to give the Keynote address than Prof. Mahmood Mamdani. The current Director of the Makerere Institute of Social Research (MISR), Prof. Mamdani was a member of the five-person African Union Commission of Inquiry on South Sudan that traversed the country for over seven months investigating human rights violations committed during armed conflict.
In his address, Prof. Mamdani noted that historically, colonial rule in Sudan led to the politicization of ethnicity which in turn led to fragmentation of South Sudan along tribal lines. So ingrained was this politicization that both Churches and Chiefs had been developed along ethnic lines. Tracing the lines of history into the present day causes of armed conflict led Prof. Mamdani to disagree with his fellow African Union Commission panelists and write a minority view entitled A Separate Opinion. In this, he argued that the cause of armed conflict had been more of political; requiring a constituency in which it is hard to isolate the perpetrators from the supporters, than criminal; committed by individuals who are easy to identify, judge and punish.


Professor Mamdani further argued that two groups should be held responsible for the violence that literally exploded in December 2013 and left thousands dead in its wake. Firstly the troika comprised of the United States (US), United Kingdom (UK) and Norway and secondly the Cabinet of the Government of South Sudan.
As a way forward to foster inclusive state building and sustainable peace, Prof. Mamdani recommended that "A political process leading to political order needs to precede any attempt at the call for criminal accountability." In response to all the post-December 2013 efforts to usher in peace, he further noted that South Sudan does not need another quick fix, but rather another transition. "South Sudan should not be seen as a failed State, but rather as a failed transition," summed up Prof. Mamdani.
Hon. Thomas Tayebwa is the Member of Parliament for Ruhinda North who has had extensive business dealings in South Sudan. As the day's first panelist, he appreciated Prof. Mamdani's keynote address and recognized the presence of Senator David Amor Majur, a Member of the SPLM National Liberation Council. He commended the work done by organizations such as KAS in South Sudan but reiterated that in order to guarantee sustainable peace and political accountability "you need to build the capacity of local South Sudanese to be able to challenge their leaders."


Biel Boutrous Biel as the second panelist of the day urged the symposium to embrace the practice of talking beyond any preconceived perspectives of South Sudan that they might have garnered from media reports. As Executive Director of the South Sudan Human Rights Society for Advocacy (SSHURSA), Biel urged all warring parties to implement the Comprehensive Peace Agreement (CPA), "How? Curb the violence in South Sudan using an intervention force." He however noted that the intervention force should not be constituted by countries that have interests in South Sudan.


In the true spirit of academic debate, upon taking the podium, Assoc. Prof. Julius Kiiza from the Department of Political Science and Public Administration, CHUSS started by commending his former teacher Professor Mamdani for his address and shortly after, sought to identify what he thought was glaringly unaddressed. "What we seem to be having in this analysis/paper is an oversupply of ethnicity and an undersupply of nationalism." Dr. Kiiza then went on to highlight that the problem with South Sudan lay not in a failed political transition but in a failed state building project. "What we are seeing in South Sudan is a fundamental problem of declaring the westphalia state recognized internationally without building the fundamental s of stateness." In his opinion, owing to the proliferation of arms in the hands of numerous groups each with their own leadership, South Sudan as a Nation did not meet the basic measure of stateness, "to have dominant control of the tools of coercion."


The day's discussion would not have been complete without a gender perspective, and what better candidate to present that than Dr. Sarah Ssali from the School of Women and Gender Studies. Whereas she agreed with previous discussants that the war in South Sudan was not a tribal war, she reminded the audience that tribe/ethnicity has provided the constituencies around which certain interests had been nurtured. "What we should do is look beyond what we always know as politics and institutions," she said, further noting that "violence is not a thing which just comes up and goes because you have pronounced yourself as independent. But it invites us to look at what are the norms and values and structures that are driving that violence."
Dr. Sarah Ssali therefore urged Professor Mamdani to provide a gender analysis in his proceeding edition of his paper, arguing that "A society that does not mind the minorities therein is also very unlikely to be a democratic society; build institutions that respect the minority." She however expressed optimism that "South Sudan provides us with an opportunity to rethink state building. It is providing us with the opportunity to form a Nation State in the 21st Century."


The symposium was moderated by Yusuf Kiranda, Fellow at the Centre for Development Alternatives, a well-known academic research centre in India. The Public Dialogue was preceded earlier in the day by an Experts' Symposium that tabled topics on why state capacity is key to sustainable peace and outlooks for sustainable peace, inclusive development and prosperity for all.
Article by Public Relations Office
Mak Commissions CoVAB@50 Celebrations, Awards Certificates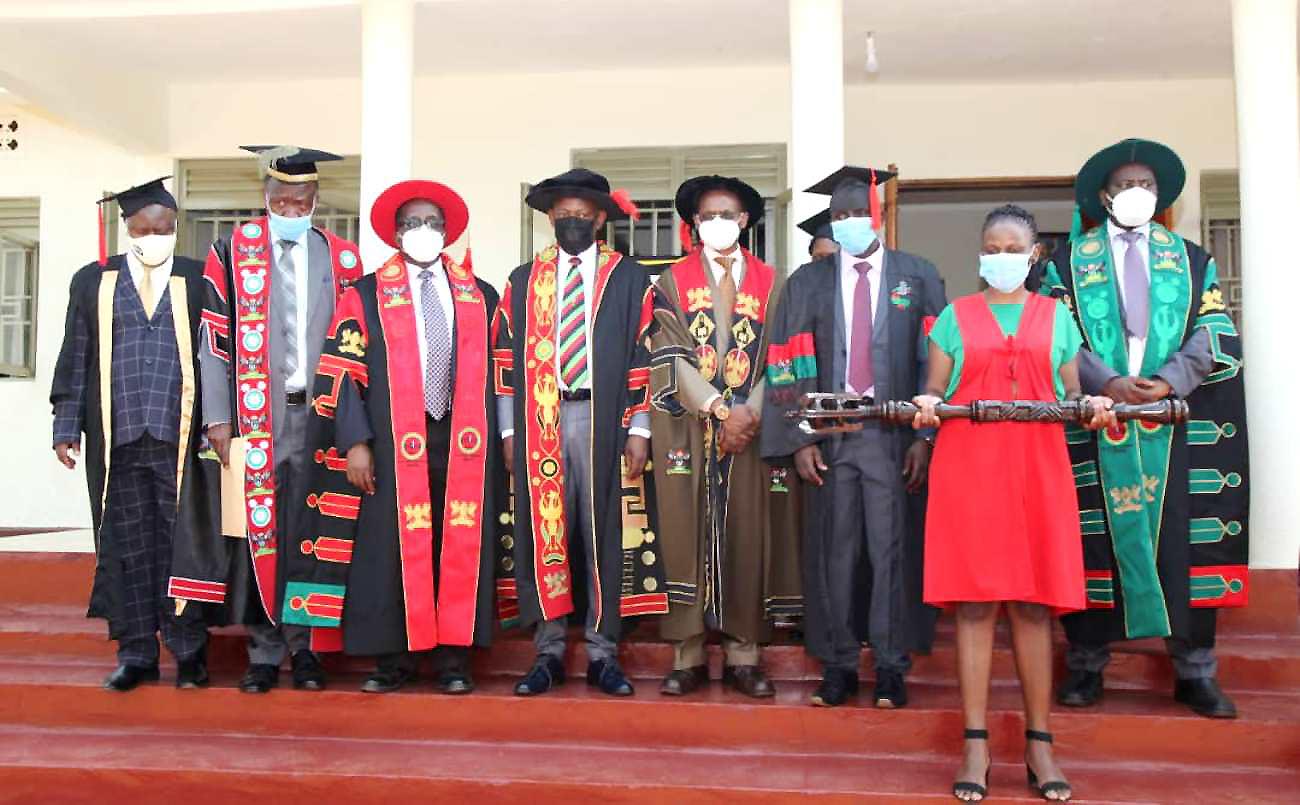 The College of Veterinary Medicine, Animal Resources and Biosecurity (CoVAB) on Thursday 17th June, 2021 commenced celebrations to mark 50 Years of Veterinary Higher Education, Science, Technology, Innovation and Services (HESTIS) in Uganda. The blended event held at the Industrial Livestock Research, Incubation and Skilling (ILRIS) Center at Nakyesasa, Namulonge as well as online was presided over by the Chancellor, Prof. Ezra Suruma and First Lady and Minister of Education and Sports (MoES), Hon. Janet Museveni both represented by the Vice Chancellor, Prof. Barnabas Nawangwe.
The event, held as part of Makerere University Centenary Celebrations (1922-2022) was a moment of celebration for 1,930 skilled livestock agribusiness entrepreneurs who were awarded certificates in recognition of completion of their respective courses. Owing to the strict Standard Operating Procedures (SOPs) instituted by the Ministry of Health (MoH) to curb the spread of COVID-19, the students from Incubation Hubs in Atiak, Butaleja, Mubende, Nakyesasa, Sheema and Wakiso were awarded their certificates virtually.
In her remarks read by Prof. Barnabas Nawangwe, Hon. Janet Museveni thanked Makerere University for supporting grassroots level development through groundbreaking innovations under the Africa Institute for Strategic Services and Development-Skills for Production Enterprise Development and Accreditation (AFRISA-SPEDA) model.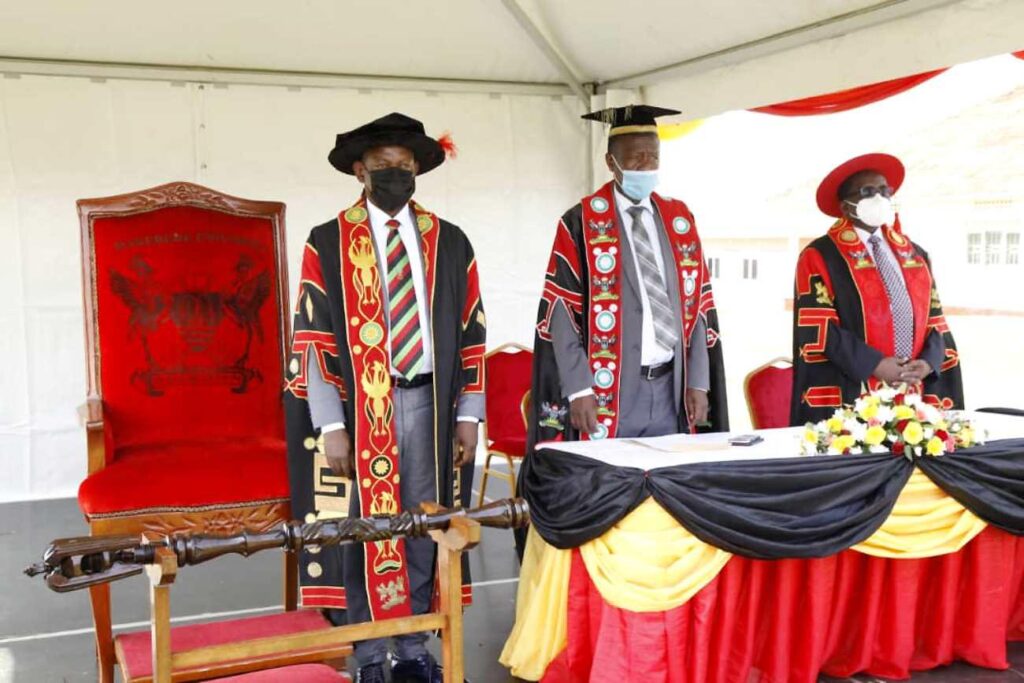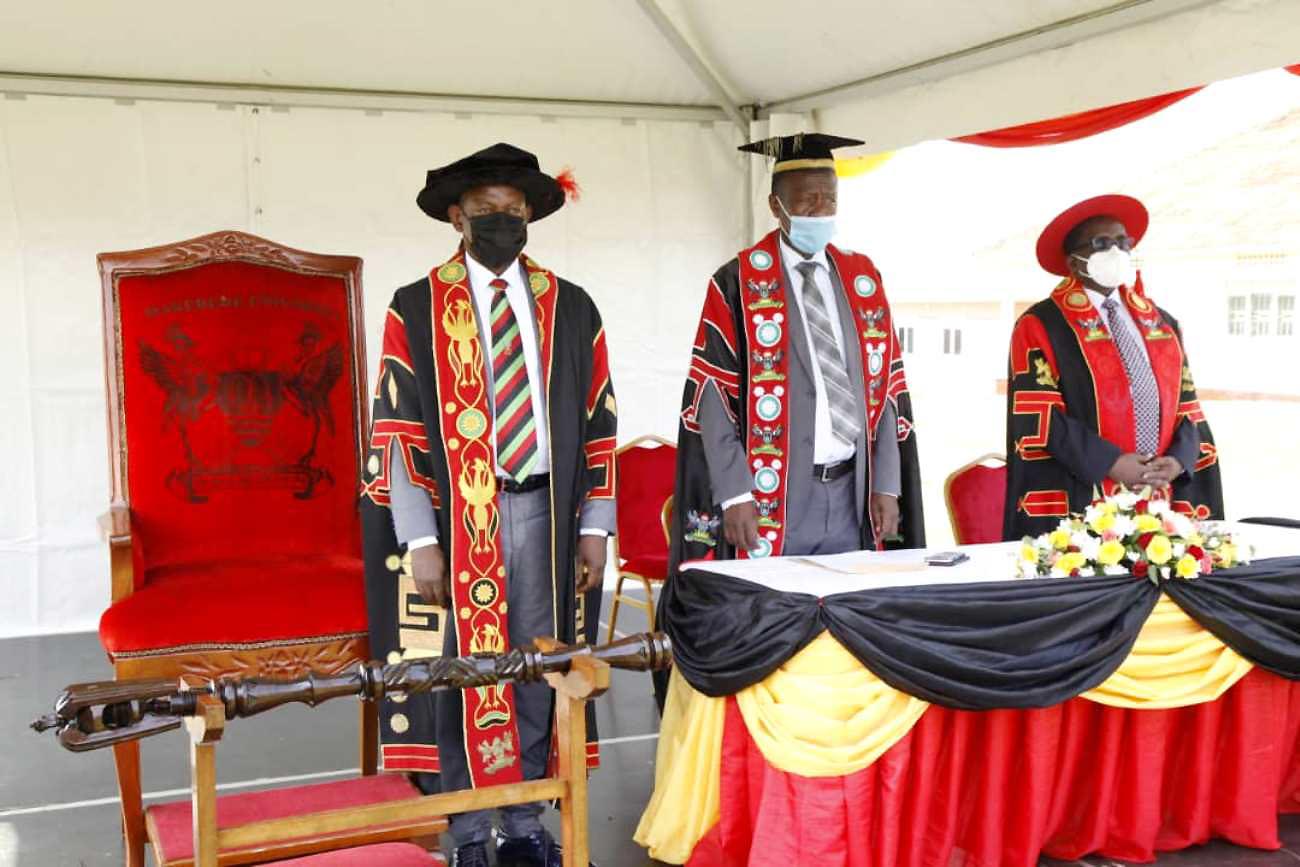 "I am extremely pleased that Makerere University, through those innovative approaches, has developed and launched the alternative approach to building human capital and transferring knowledge to enterprises in communities.
"I would like to encourage all those involved in skills development to adopt methodologies that transform those trainees that go through these programs in ways that enable them also transform the societies they live in" read the Minister's remarks.
She further noted that commissioning of the CoVAB@50 celebrations was both timely and rewarding. "The commissioning of the college innovations indeed has made meaning. This is a true path to growth of an Academic and Development College of the University, and we congratulate you again."
Addressing the congregation as Chancellor, Prof. Barnabas Nawangwe congratulated CoVAB alumna and incoming Minister of Science, Technology and Innovation (MoSTI) under the Office of the President, Dr. Monica Musenero upon her recent appointment. "We thank His Excellency the President for identifying you. Science is in good hands."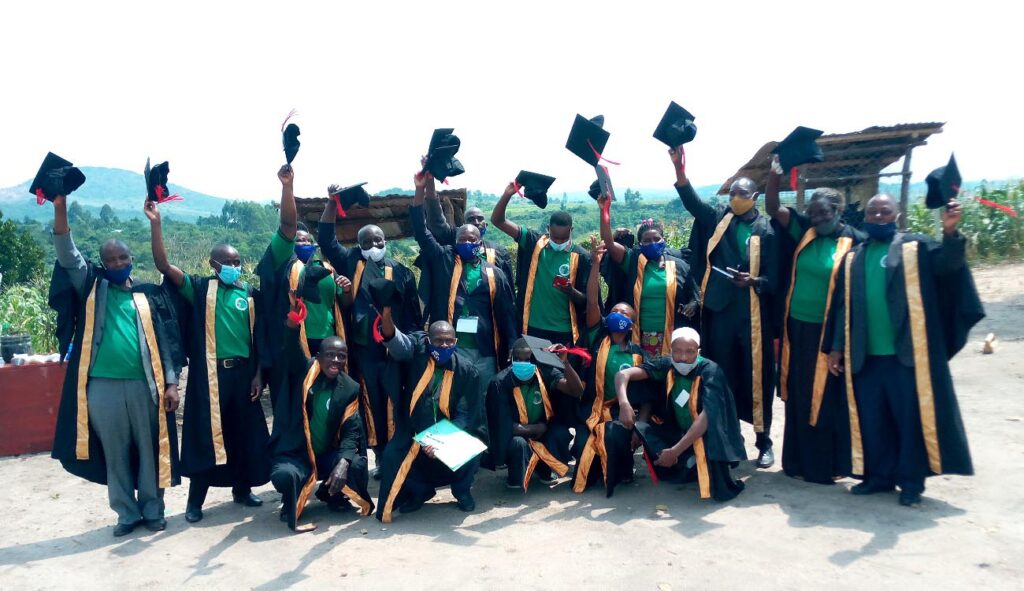 Prof. Nawangwe urged Dr. Musenero to address the structures of managing research and innovation in Uganda, "including the role of the Uganda National Council for Science and Technology and the apparent need to establish a Research Council for Uganda."
In the same breath he thanked the outgoing and pioneer Minister of Science, Technology and Innovation, Hon. Dr. Elioda Tumuwesigye, for his role in ensuring that the ministry is empowered to carry out its mandate.
The Chancellor congratulated CoVAB upon training the bulk of Veterinary Doctors in Uganda over the last 50 years and more recently, Laboratory Technologists at the highest level. He recognised Makerere University's obligation to contribute to the economic self-determination of Uganda and thanked CoVAB for conducting research that addresses hindrances to national development, especially in the livestock industry.
"The anti-tick vaccine is one of such innovations which will solve the huge problem of tick-borne diseases that have caused enormous losses to our farmers. There are many other problems on which the college is researching and we thank you for the enthusiasm" he added.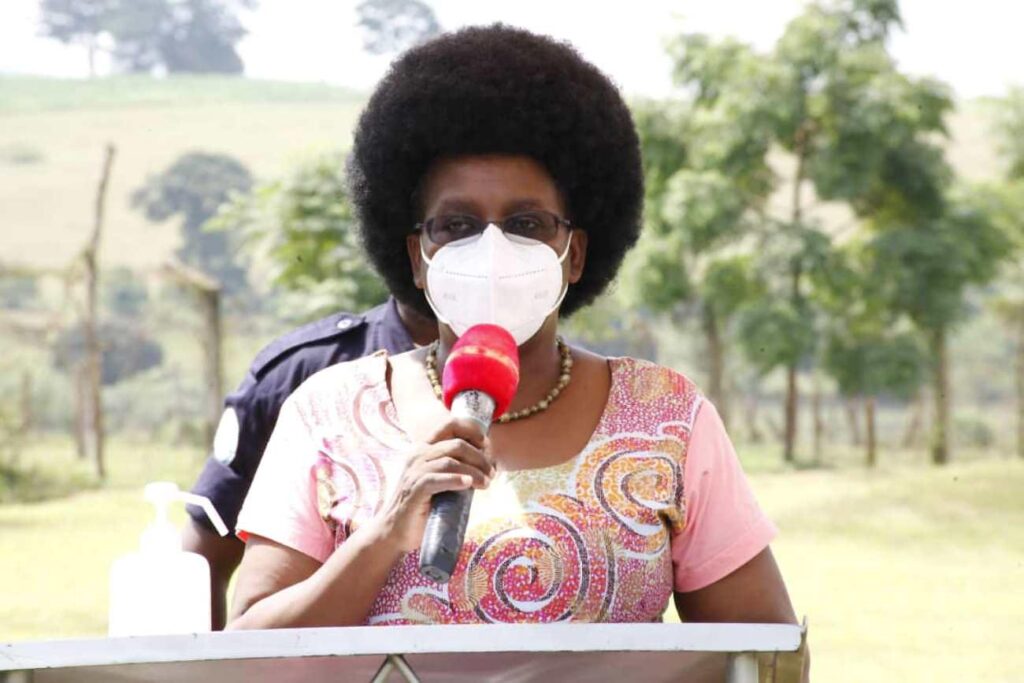 The Chancellor commended CoVAB for being the vanguard of transformation of the grassroots communities through the SPEDA model. "I urge Government to fund this important initiative so that it can more meaningfully contribute to solving the big problem of youth unemployment."
In her remarks, Dr. Monica Musenero commended the Principal, CoVAB, Prof. John David Kabasa for fulfilling the College's dream of enabling the masses who drop out of the education value chain as well as those who complete education but have no skills for livelihood, to attain certification in agribusiness entrepreneurship.
"Many people attain academic success and write papers, publish and they become professors but without demonstrable impact on their nation. You have shown by the thousands that you have touched nationwide that indeed you are a professor of national transformation. Congratulations," remarked Dr. Musenero.
She therefore congratulated the teams at CoVAB and AFRISA upon successfully conceiving and executing a model that is non-traditional, informal, not easily understood and not documented in any textbooks.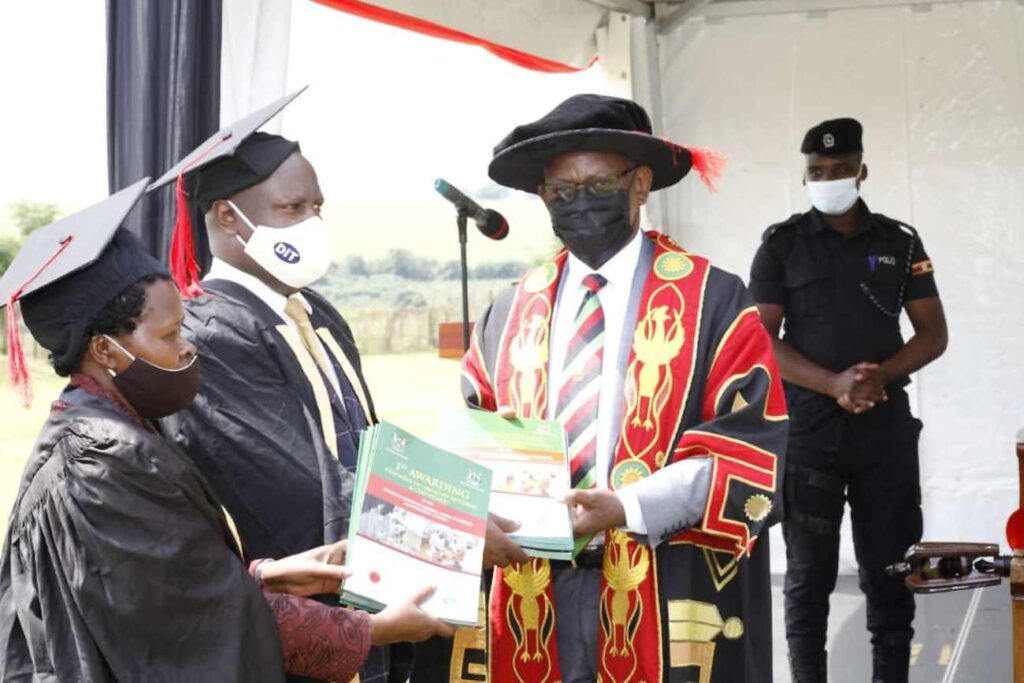 As Minister, Dr. Musenero noted that witnessing thousands of individuals from across the country whose skills had been honed through a university programme receiving certificates gave her a lot of hope and material to embark on her tenure with. "I will be looking forward to harnessing these resources as we initiate work on the next leg of Science, Technology and Innovation in the country under the President's Office."
The invitation to the Principal, CoVAB to present students for the award of the ordinary diplomas, ordinary certificates and artisan certificates was given by the Deputy Vice Chancellor (Academic Affairs), Dr. Umar Kakumba. He congratulated the awardees upon successfully completing their respective courses and graduating with evidence on an enterprise.
Prof. Kabasa clarified that the approach used to train the day's awardees was not simply a vocational skilling. "The combination of action research with knowledge transfer, skilling, plus assessment and accreditation processes done by organs like the DIT (Directorate of Industrial Training, MoES) has given us this result, for the University to provide true leadership and transformation of the community."
Present at the celebrations were the Director, DIT, MoES-Mr. Byakatonda Patrick and the Deputy Commissioner Social Services Development, MoES Madam Elizabeth Bateme who have worked through the Academic-Community-Public-Private-Partnership model to ensure that students graduate as entrepreneurs with micro enterprises.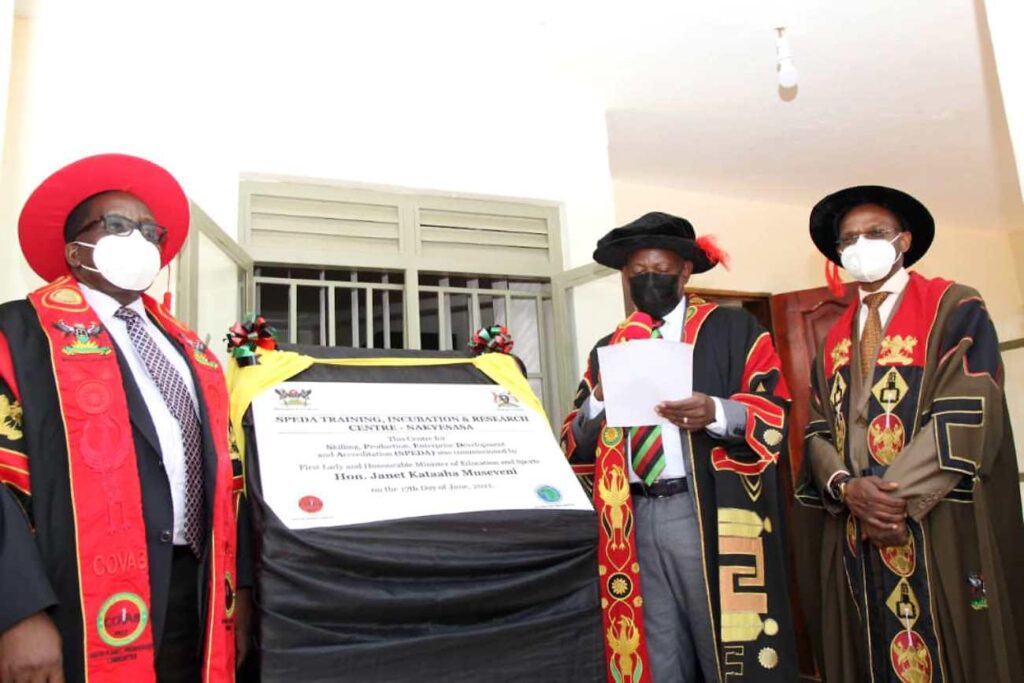 Prior to presiding over the ceremony, Prof. Barnabas Nawangwe, on behalf of the First Lady and Minister of Education and Sports officially commissioned the SPEDA Training, Incubation and Research Centre – Nakyesasa.
UNMA Advisory on Agriculture and Food Security Jun-Aug 2021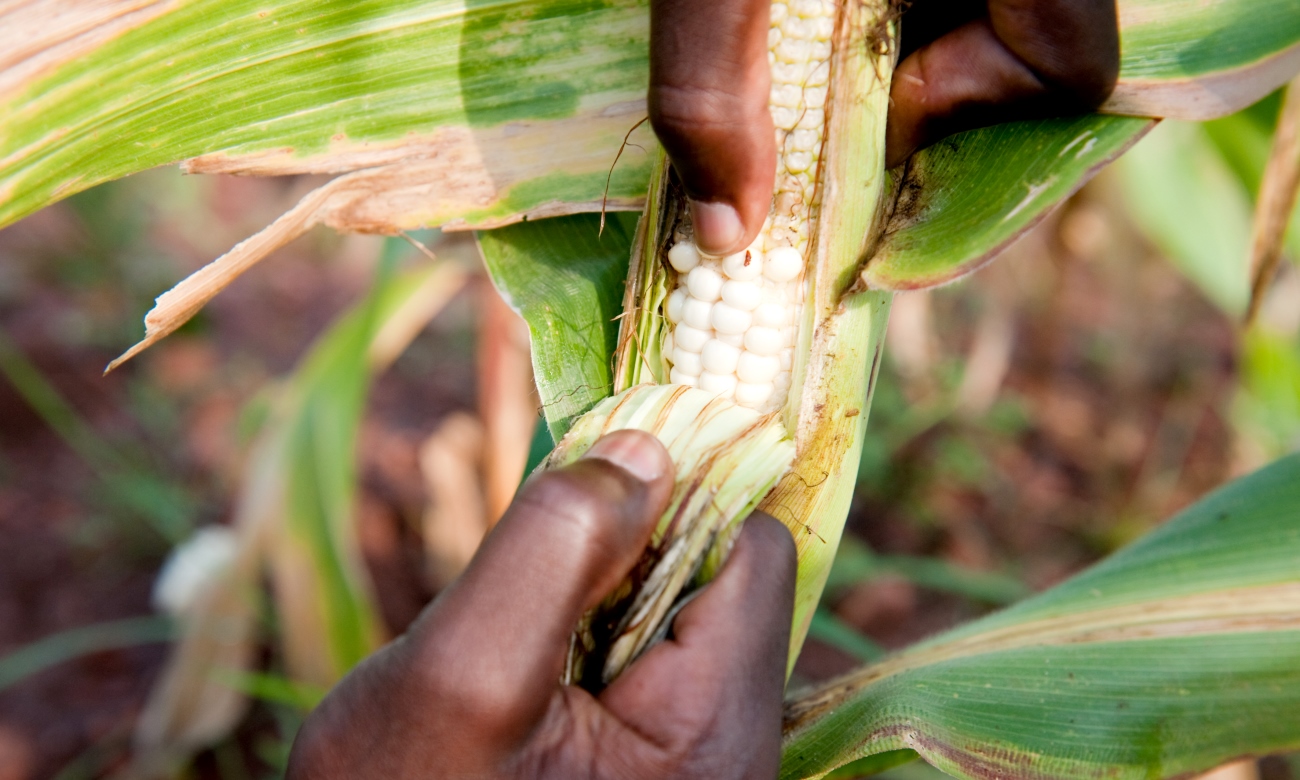 The Uganda National Meteorological Authority (UNMA) on 7th June 2021 released the seasonal rainfall outlook for the June-July-August (JJA) 2021 period. Contained in the outlook were advisories to various strategic sectors of the economy.
Particularly, the advisory to the Agriculture and Food Security sector was;
JJA season is often part of the normal dry season in the areas of South-western, western, parts of the eastern, and central Uganda. The farming communities in these areas are therefore advised to be vigilant during post-harvest handling by considering proper drying of the harvest on clean surfaces, use of tarpaulins and drying on racks;
Preparation of good storage facilities of produce to avoid compromising on quality and safety;
Channeling of the run-off water into the gardens in order to maximize on the soil moisture conservation;
For those areas where near normal to above normal rainfall is expected (most parts of northern and eastern Uganda), farmers are encouraged to continue with regular weeding, pest and disease surveillance and control;
Due to the expected enhanced rainfall in those areas, water logging and proliferation of fungal and bacterial crop diseases are likely to occur.
Open drainage channels around household and gardens to reduce risks from stagnant water causing damage to root tuber crops;
Flash floods and waterlogging are highly anticipated to occur in low lying areas expected to receive enhanced rainfall such as Katakwi and Kapelebyong. Therefore, communities are encouraged to keep watch over their crops, animals and property;
In Karamoja sub-region, where wetter conditions are expected, the pastoral communities are advised to diversify into boosting the production of cereals (sorghum, millet, and maize), beans, and ground nuts and sustain pasture availability for livestock.
Please see Downloads for the detailed outlook.
4th Call For Applications: MURBS Departmental Ambassadors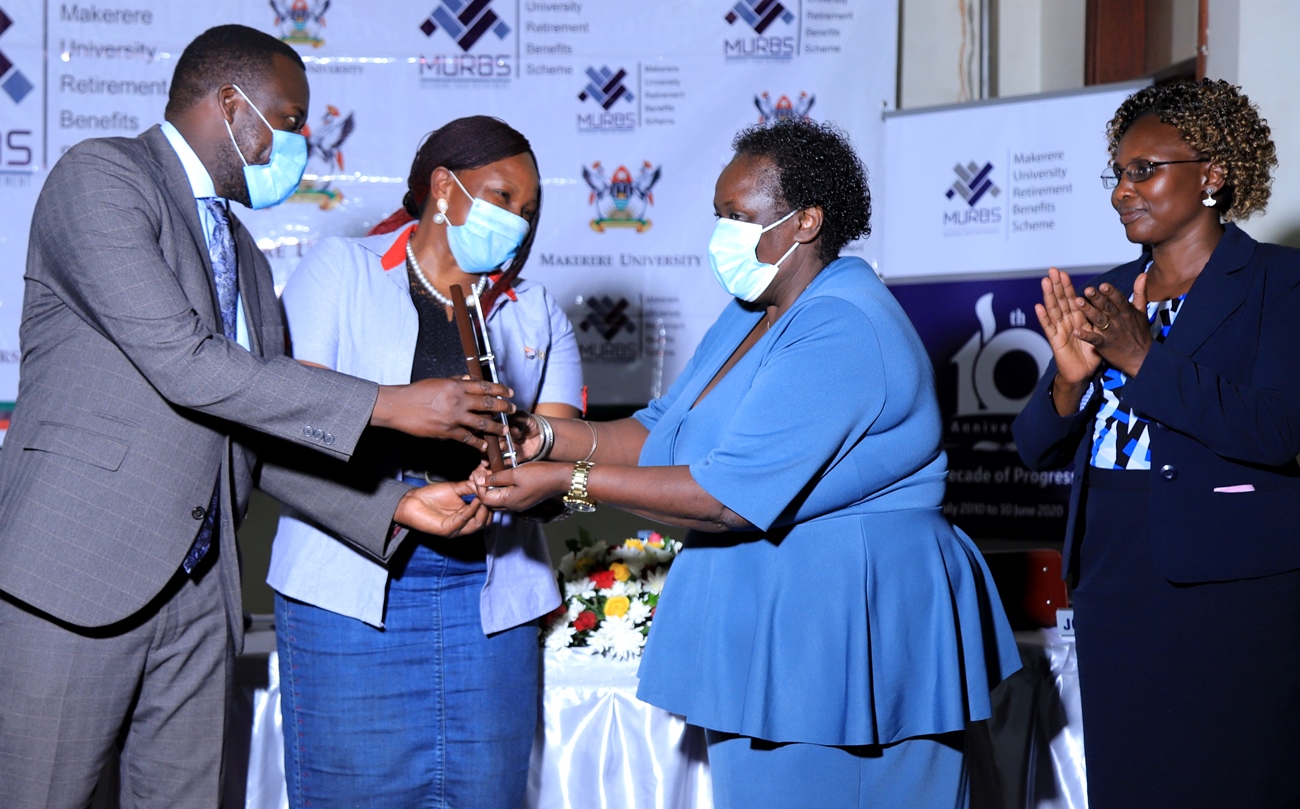 In February 2018, the Makerere University Retirement Benefits Scheme (MURBS) launched the Departmental Ambassadors Programme. MURBS hopes to use this Ambassadors Programme to engage more directly with its membership and enhance member education. MURBS further perceives this Programme as a means to mitigate succession planning risks.
MURBS Fund Value continues to grow, and as at 31st March 2021, it stood at Ushs 235.5bn as compared to Ushs 209.6bn as at 30th June 2020. Given this growth, there is increased need for prospective Trustees, who are well equipped with relevant knowledge and skills, and with practical exposure to the management and governance of MURBS.
Eligibility
Must be employed by the University on permanent terms
Must be an Active Member of the Scheme (currently contributing to the Scheme) and appear on the Official Register of the MURBS Active Membership as at 30th April 2021.
Must be willing to commit time to trainings and other ambassadorial activities organised by the Scheme.
Mode of training for 4th Cohort of Ambassadors
Training for this (4th) Cohort of Ambassadors is envisaged to be conducted over the zoom online platform only, due to Covid-19 restrictions. The Scheme does not envisage any face-to-face interactions.
Tenure of Office & Termination or Withdrawal
There is no tenure of office for the Departmental Ambassador. As long as a member is willing to continue serving as an Ambassador, and the Ambassador continues to satisfy the eligibility criteria above, she or he will remain a MURBS Ambassador.
How to Apply
Interested members should complete the MURBS Departmental Ambassador Application Form 01-0218. The completed Form together with the requested attachments should be sent to info[at]murbs.mak.ac.ug and copy to wilber.naigambi[at]mak.ac.ug no later than 5:00 p.m. on Monday, 14th June 2021. We discourage hand delivery of applications.
Confirmation/Approval Process
MURBS shall acknowledge receipt of each application received within 12 hours and will respond to the applicants to confirm the status of their application in writing (by e-mail). Upon approval of the application, the name of the approved Ambassador together with the Department and School/Unit will be updated on the list of the MURBS Departmental Ambassadors in the Group 4 category and published on the MURBS website.
NOTE: There is no limit as to the number of ambassadors that MURBS can have in a department.
Please see Downloads for the detailed call and application form.