State Building and Political Order key to lasting peace in South Sudan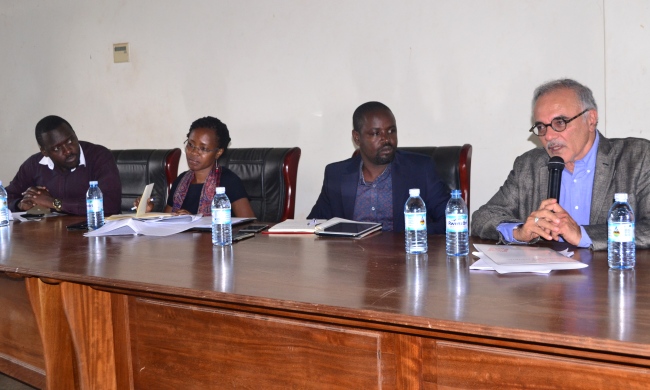 For the world's youngest nation, the fact that reports of violence regularly dominate international news headlines speaks volumes of the work that remains undone in as far as achieving lasting peace is concerned. Points of disagreement often escalate into violent clashes that lead to loss of precious lives. The Symposium and Public Dialogue at Makerere University jointly organized by the University Forum on Governance (UNiFOG), the Makerere University Convocation (MUC) and Konrad Adenauer Stiftung (KAS) was therefore a breath of fresh air in as far as creating a forum to discuss peace in South Sudan is concerned.
"Instability in South Sudan is a loss to Uganda. We shall continue to provide this space on a monthly basis until peace in South Sudan is achieved," reassured Mrs. Diana T. Nyago, Vice Chairperson, Makerere University Convocation as she welcomed participants and kicked off the day's presentations.


Konrad Adenauer Stiftung (KAS) has been greatly involved championing women's political involvement in South Sudan in partnership with other organizations and is currently developing a strategy on involving women in political conversation and dialogue. Speaking on behalf of KAS, the Programme Officer Mr. Donnas Ojok called upon his audience to consider such public dialogues as an opportunity to not only let the world know about the war in South Sudan but also about the possibility of peace.
To tackle the day's topic "Transcending the Shadow of Violence: Alternatives for Fostering Inclusive State Building and Sustainable Peace in South Sudan", the organizers couldn't have chosen a better candidate to give the Keynote address than Prof. Mahmood Mamdani. The current Director of the Makerere Institute of Social Research (MISR), Prof. Mamdani was a member of the five-person African Union Commission of Inquiry on South Sudan that traversed the country for over seven months investigating human rights violations committed during armed conflict.
In his address, Prof. Mamdani noted that historically, colonial rule in Sudan led to the politicization of ethnicity which in turn led to fragmentation of South Sudan along tribal lines. So ingrained was this politicization that both Churches and Chiefs had been developed along ethnic lines. Tracing the lines of history into the present day causes of armed conflict led Prof. Mamdani to disagree with his fellow African Union Commission panelists and write a minority view entitled A Separate Opinion. In this, he argued that the cause of armed conflict had been more of political; requiring a constituency in which it is hard to isolate the perpetrators from the supporters, than criminal; committed by individuals who are easy to identify, judge and punish.


Professor Mamdani further argued that two groups should be held responsible for the violence that literally exploded in December 2013 and left thousands dead in its wake. Firstly the troika comprised of the United States (US), United Kingdom (UK) and Norway and secondly the Cabinet of the Government of South Sudan.
As a way forward to foster inclusive state building and sustainable peace, Prof. Mamdani recommended that "A political process leading to political order needs to precede any attempt at the call for criminal accountability." In response to all the post-December 2013 efforts to usher in peace, he further noted that South Sudan does not need another quick fix, but rather another transition. "South Sudan should not be seen as a failed State, but rather as a failed transition," summed up Prof. Mamdani.
Hon. Thomas Tayebwa is the Member of Parliament for Ruhinda North who has had extensive business dealings in South Sudan. As the day's first panelist, he appreciated Prof. Mamdani's keynote address and recognized the presence of Senator David Amor Majur, a Member of the SPLM National Liberation Council. He commended the work done by organizations such as KAS in South Sudan but reiterated that in order to guarantee sustainable peace and political accountability "you need to build the capacity of local South Sudanese to be able to challenge their leaders."


Biel Boutrous Biel as the second panelist of the day urged the symposium to embrace the practice of talking beyond any preconceived perspectives of South Sudan that they might have garnered from media reports. As Executive Director of the South Sudan Human Rights Society for Advocacy (SSHURSA), Biel urged all warring parties to implement the Comprehensive Peace Agreement (CPA), "How? Curb the violence in South Sudan using an intervention force." He however noted that the intervention force should not be constituted by countries that have interests in South Sudan.


In the true spirit of academic debate, upon taking the podium, Assoc. Prof. Julius Kiiza from the Department of Political Science and Public Administration, CHUSS started by commending his former teacher Professor Mamdani for his address and shortly after, sought to identify what he thought was glaringly unaddressed. "What we seem to be having in this analysis/paper is an oversupply of ethnicity and an undersupply of nationalism." Dr. Kiiza then went on to highlight that the problem with South Sudan lay not in a failed political transition but in a failed state building project. "What we are seeing in South Sudan is a fundamental problem of declaring the westphalia state recognized internationally without building the fundamental s of stateness." In his opinion, owing to the proliferation of arms in the hands of numerous groups each with their own leadership, South Sudan as a Nation did not meet the basic measure of stateness, "to have dominant control of the tools of coercion."


The day's discussion would not have been complete without a gender perspective, and what better candidate to present that than Dr. Sarah Ssali from the School of Women and Gender Studies. Whereas she agreed with previous discussants that the war in South Sudan was not a tribal war, she reminded the audience that tribe/ethnicity has provided the constituencies around which certain interests had been nurtured. "What we should do is look beyond what we always know as politics and institutions," she said, further noting that "violence is not a thing which just comes up and goes because you have pronounced yourself as independent. But it invites us to look at what are the norms and values and structures that are driving that violence."
Dr. Sarah Ssali therefore urged Professor Mamdani to provide a gender analysis in his proceeding edition of his paper, arguing that "A society that does not mind the minorities therein is also very unlikely to be a democratic society; build institutions that respect the minority." She however expressed optimism that "South Sudan provides us with an opportunity to rethink state building. It is providing us with the opportunity to form a Nation State in the 21st Century."


The symposium was moderated by Yusuf Kiranda, Fellow at the Centre for Development Alternatives, a well-known academic research centre in India. The Public Dialogue was preceded earlier in the day by an Experts' Symposium that tabled topics on why state capacity is key to sustainable peace and outlooks for sustainable peace, inclusive development and prosperity for all.
Article by Public Relations Office
Notice: Makerere Disability Scheme 2022/23 Medical Review Exercise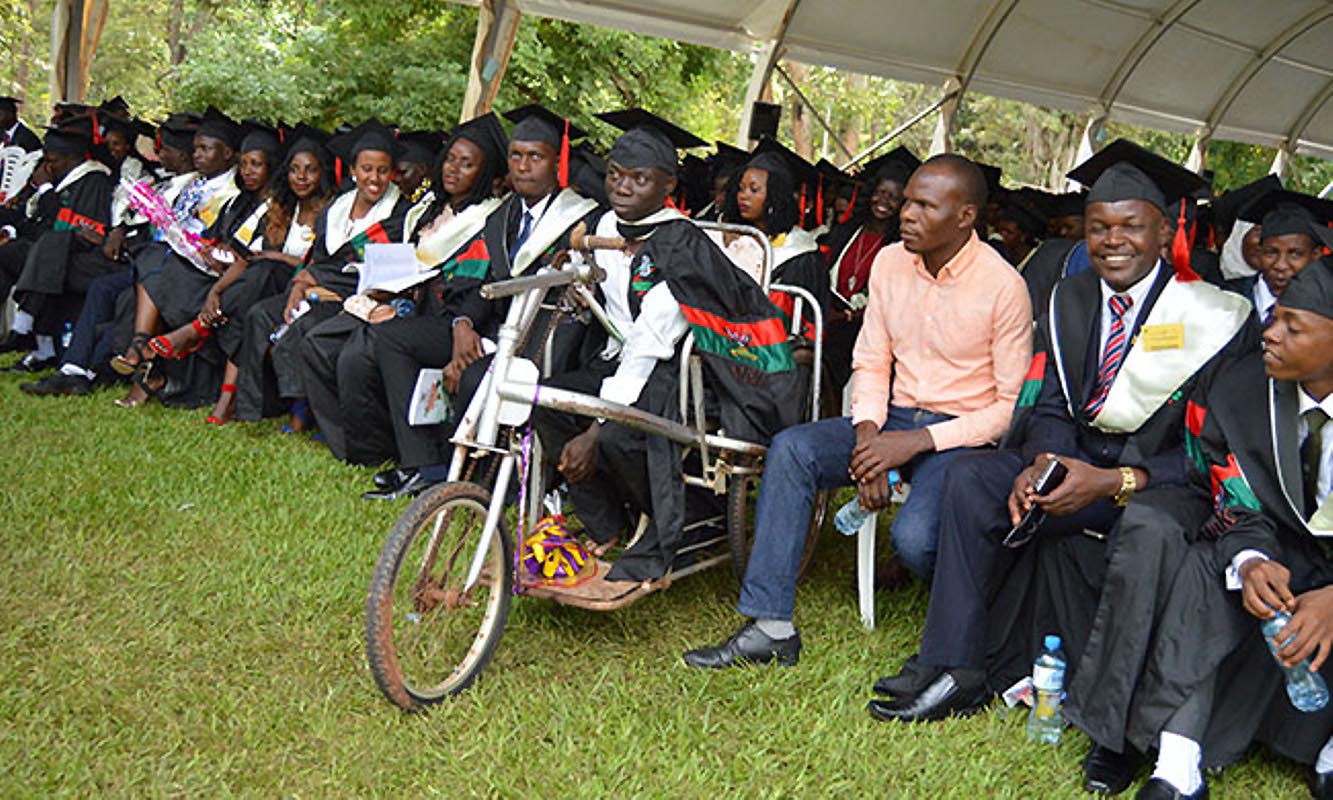 The Academic Registrar, Makerere University invites persons with disability who applied for admission to public universities under the disability entry scheme for 2022/2023 Academic Year to appear for medical/review exercise at Makerere Unive, Senate Building, Level Two (2) in the Telepresence Centre.
NOTE: Only those who have the minimum entry requirements of at least two principal passes at A' Level or its equivalent and at least five (5) passes at O' Level or its equivalent will be interviewed.
Only candidates who sat 'a' level in 2020, 2019 and 2018 are eligible for admission.
THE EXERCISE WILL BE CONDUCTED ON 3rd, 4th and 5th October, 2022 respectively from 9.00 A.M – 1.00 P.M each day.
IMPORTANT:
(i) If you fail to appear on any of the given days above, there will be no other chance for you.
(ii) Applicants with Government Scholarship for the previous years are not eligible for admission
ALFRED MASIKYE NAMOAH
Acting. ACADEMIC REGISTRAR
Uganda's policymakers implored to address forest loss, plastic & water pollution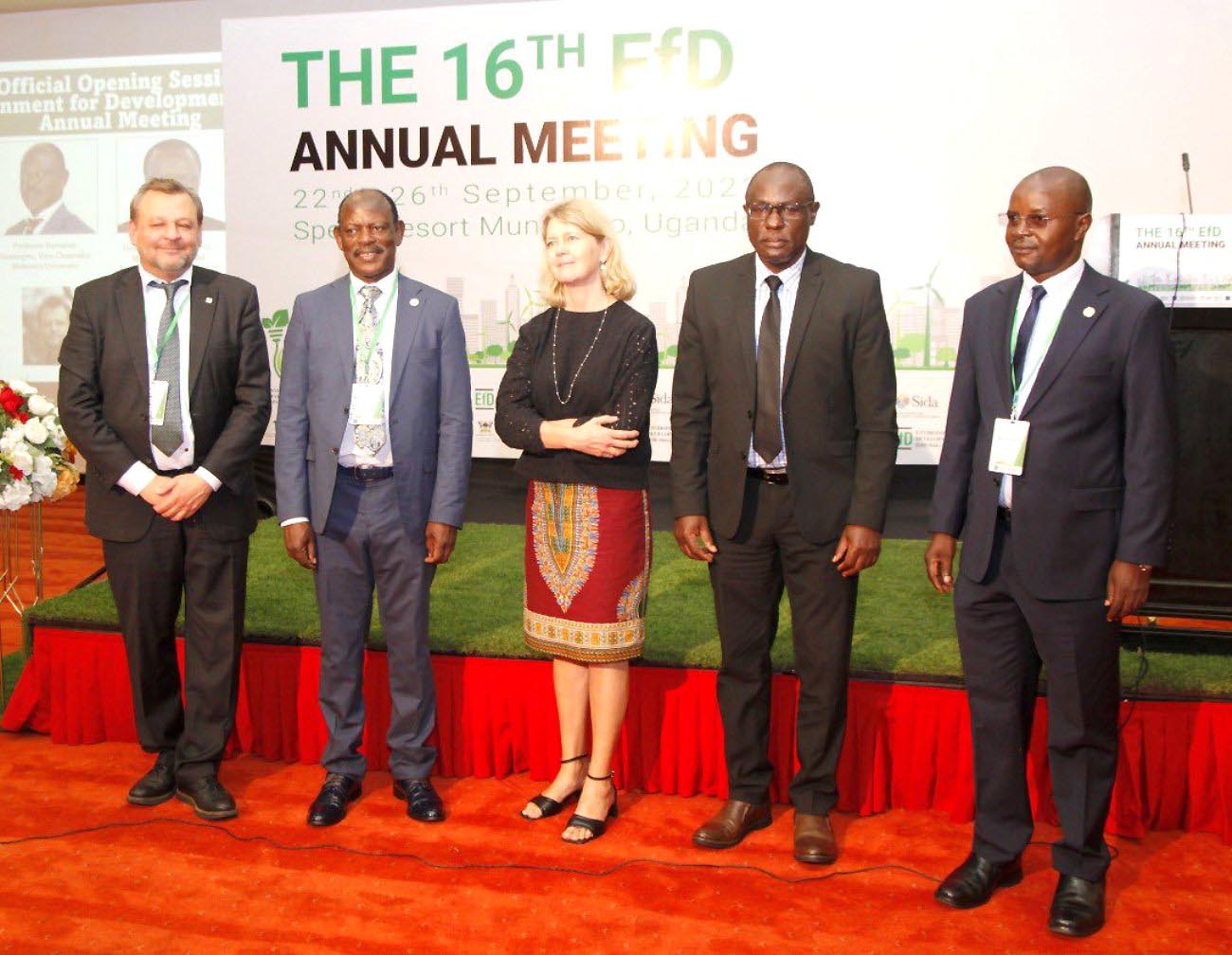 The Vice Chancellor Professor Barnabas Nawangwe on Thursday 22nd September, 2022 participated in the opening of the EfD Annual meeting hosted by Makerere University at Speke Resort Munyonyo where he appealed to government to implement the ban on kaveera and address other environmental issues.
The opening ceremony moderated by the EfD Global Hub Manager Gunnar Köhlin and was graced by Uganda's Minister for Water and Environment represented by the Commissioner for Water, Mr. Julius Mafumbo and the Swedish Ambassador to Uganda, H.E. Maria Håkansson.
Prof. Nawangwe urges Makerere University community to support the Mastercard Foundation E-learning Initiative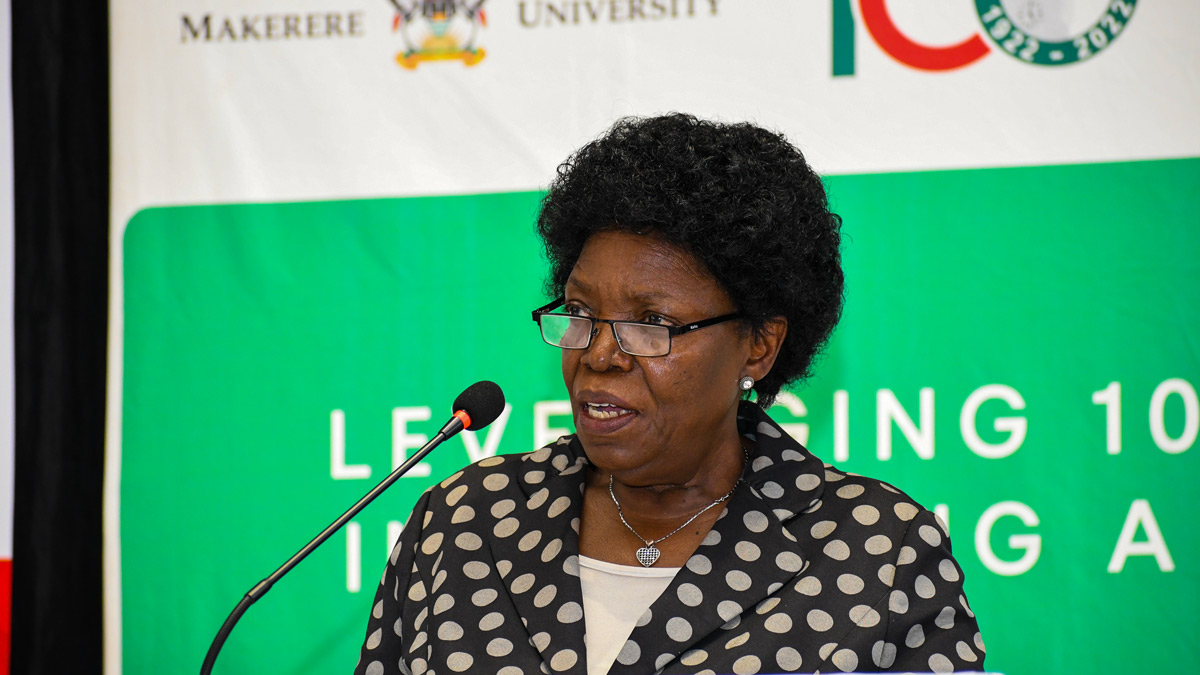 By Bernard Buteera
Makerere University has launched a two million dollar E-learning Project, dubbed The Mastercard Foundation Scholars Program E-learning initiative.  
The launch was held on Tuesday 20th September 2022 at Makerere University, Yusuf Lule Central Teaching Facility Auditorium. It attracted over 200 participants, who included members of University Management, College Principals, School Deans, Academic and Administrative staff, students and the general university community.
While addressing the gathering, the Chief Guest, Prof. Mary Okwakol, the Executive Director of National Council for Higher Education (NCHE), congratulated Makerere University for winning such a huge grant, which will go a long way in transforming the eLearning infrastructure at Makerere University.
"I am happy to be joining you in launching a project that is at the heart of National Council for Higher Education. Online learning is at the heart of the Council, not only because of the challenges presented by the Covid-19 pandemic, but also the world is now a digital world." Prof. Okwakol remarked.
Prof. Okwakol thanked Mastercard Foundation and other development partners who have continued to support initiatives that help transform higher institutions of learning in Uganda.
"I sincerely thank the Mastercard Foundation and other partners who have continued to support higher education in Uganda, especially in the area of research and online learning. Globally, the outbreak of the COVID-19 pandemic, greatly disrupted education systems forcing learners and some schools to shift to virtual learning to curb the spread of the pandemic." Prof. Okwakol pointed out.
On his part, the Vice Chancellor, Prof. Barnabas Nawangwe urged the university community, especially the academic staff to take advantage of the Mastercard Foundation E-learning initiative to develop e-content across all Colleges of the University, to enhance capacity for eLearning at Makerere University.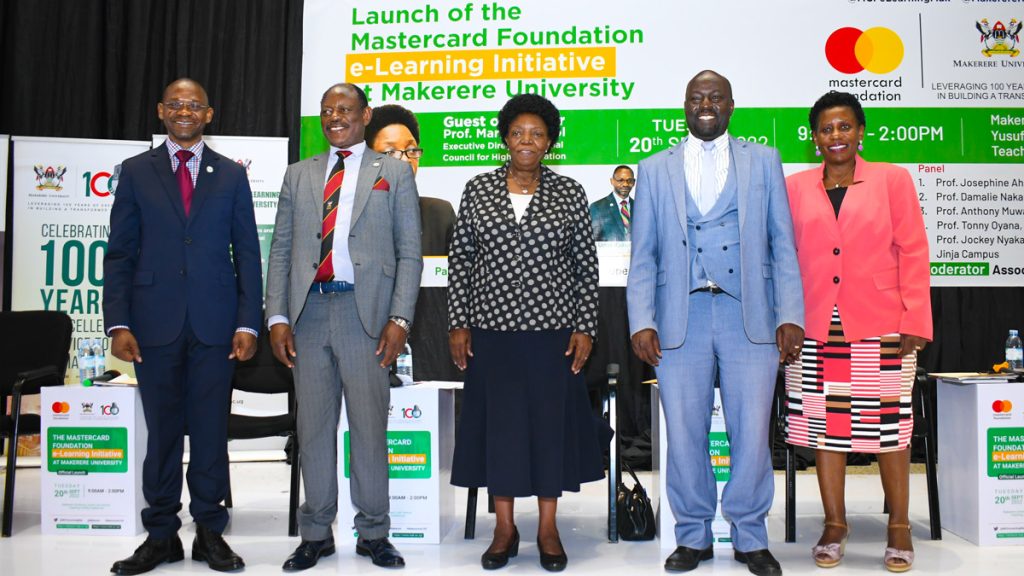 "I appeal to the Colleges to embrace this project and have as many courses adopt this pedagogy development system, even though students will continue with face-to face and phyisical learning, they should be allowed the option of online learning. The platforms that are going to be built, will give our students an opportunity to interact with international students, scholars, teachers and with each other." Prof. Nawangwe applealed.
The Vice Chancellor, further called upon all other development partners to emulate Mastercard Foundation in supporting Makerere University and other universities on the entire African continent in strengthening digital literacy, so that Africa is not left behind.
"In 2018 I attended a conference on E-learning in Beijing China, where a critical question was asked; Will Africa be left behind again? This was in reference to many advancements that were taking place in the western world, in which Africa had been left behind." The Vice Chancellor reminded the audience.
Prof. Nawangwe further emphaised the importance of e-learning as one of the critical modes of teaching and learning in the 21st first century.
"Ladies and Gentlemen, I cannot over emphasise the importance we attach to e-learning the 21st Century, that is why we took a decision to elevate the Department of Open and Distance Learning into an Institute of Open and Distance E-learning with an intention of having e-learning extended to other Colleges of the university." Prof. Nawangwe pointed out.
The Deputy Vice Chancellor Academic Affairs, and Chairperson of the Steering Committee of the E-learning Initiative, Prof. Umar Kakumba, rallied the University community to support the implementation of the project in the University.
"The Mastercard Foundation Scholars Program E-learning initiative could not have come in at a better time than post COVID19 era. A pandemic, which exposed our systems and methods of teaching and learning. You all recall, when were hit by the pandemic, with lockdowns and closures of institutions of learning, we all went into a panicky mode on how were going to cope with online learning. I therefore call upon every member of the university to give this project the support it deserves.
Prof. Kakumba reminded the audience the importance and relevancy of online learning at Makerere University and other universities in Uganda.
"The online method of learning is best suited for everyone. This digital revolution has led to remarkable changes in how the content is accessed, consumed, discussed, and shared. Office goers and stay home mothers can take up online educational courses too, at the time that suits them. Depending on their availability and comfort, many people choose to learn at weekends or evenings." Prof. Kakumba remarked.
Prof. Paul Birevu Muyinda, the Coordinator of the Mastercard Foundation E-learning Initiative, informed the audience the importance of the project and the expected outcomes for the University.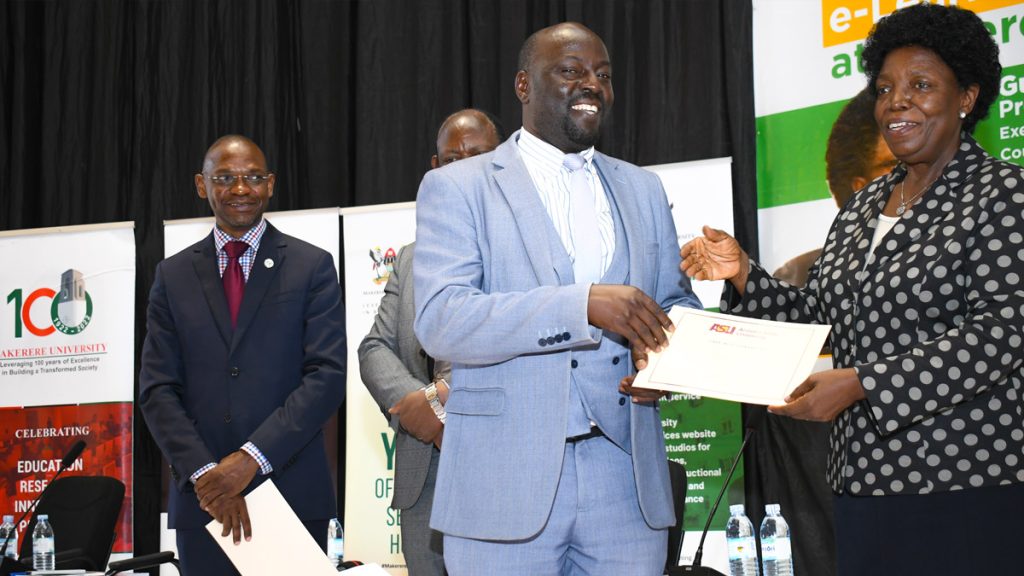 "The Mastercard Foundation e- Learning Initiative is a Project funded by Mastercard Foundation aimed at addressing the negative impact of COVID-19 pandemic that constrained access and continuity of teaching, learning, research and community engagement activities at Makerere University" Prof. Muyinda pointed out.
Prof. Muyinda further thanked the team that he worked with in putting up the proposal in a very short time that yielded such an important grant for the University.
"I thank the team that spent sleepless nights putting together the proposal that resulted into this project. I must report that Makerere University is privileged to be having the most highly qualified persons in online instruction design and online pedagogy at the IODeL and beyond. It is now up to Makerere University in particular and the Country in general to make use of these persons to transform the terrain of online, blended distance and e-learning education." Prof. Muyinda remarked.
Prof. Justine Namaalwa, the Program Coordinator for Mastercard Foundation Scholars Program at Makerere University, informed the audience, that the E-learning initiative was one of the many partnerships between Mastercard Foundation and Makerere University geared at supporting the young people to succeed on the African continent.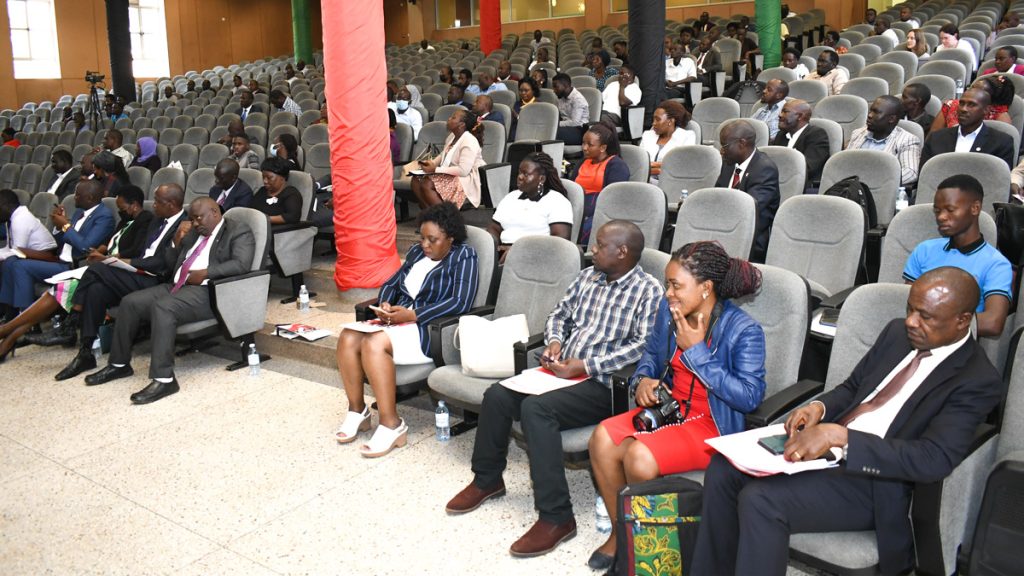 "The Mastercard Foundation Scholars Program continues to recognize that in order to enable young people across Africa to succeed, there is need to; Address systemic barriers in Higher education, Strengthen the capacity of Institutions that serve the Young People, and Support innovative solutions across critical sectors." Prof. Namaalwa remarked.
The colourful launch ended with a panel discussion in which panelists digested the importance and opportunities for open distance and eLearning in higher institutions of learning.
Bernard Buteera is the Communications Officer of the Mastercard Foundation Scholars Program at Makerere University.