CARTA PhD Fellowships 2015-2016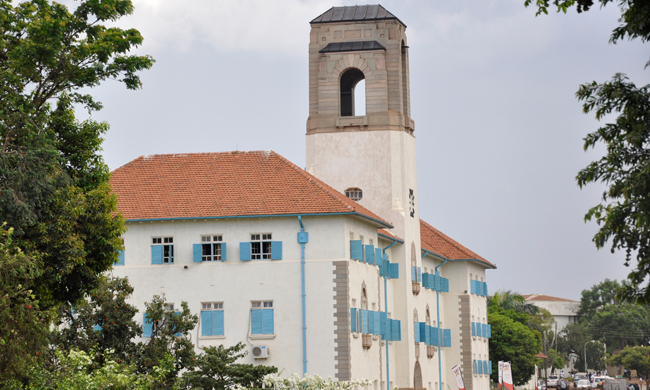 The
Consortium for Advanced Research Training in Africa (CARTA)
is an initiative of nine African universities, four African research institutes, and select northern partners. CARTA offers an innovative model for doctoral training in sub-Saharan Africa to strengthen the capacity of participating institutions to conduct and lead internationally-competitive research.
The multi-disciplinary CARTA program is open to staff of participating institutions who are interested in conducting their PhD research on topics relevant to the broad fields of public and population health. We welcome applications from disciplines, such as public health, demography, anthropology, communication, and economics, among others, as long as the research question aims to contribute to public and population health issues.
Over the medium-term, CARTA aims to produce a critical mass of high-quality graduates trained to address the complex issues surrounding health and development in Africa, retain them in the region, and provide them with a vibrant intellectual environment, as well as viable and challenging research and growth opportunities. CARTA aims to achieve reforms in higher education by:
1. Assisting universities to develop enriching and vibrant academic and research environments; and
2. Supporting promising African scholars who teach at affiliated universities to obtain high-quality doctoral training in public and population health-related fields.
CARTA is currently offering a collaborative doctoral training program in public and population health. This program has been developed in response to the great challenges faced by Africa's institutions of higher education in addressing the training and retention of the next generation of academics in the region. Women are particularly encouraged to apply.
Specifically, CARTA seeks to fund candidates who will be future leaders in their institutions; that is, young, capable, and committed individuals who, in time, will ensure that their universities will be the institutions of choice for future generations of academics and university administrators wishing to make a positive impact on public and population health in Africa.
CARTA hosts a series of Joint Advanced Seminars (JAS) for cohorts of doctoral students admitted and registered in the participating African universities. Both the development and delivery of these courses
are jointly-led by regional and international experts. The seminars consist of didactic sessions, discussions, demonstrations, and practice labs. These activities collectively serve to:
1. Expose students to key theories and concepts, seminal readings, and research methods of disciplines relevant to public and population health;
2. Train students in critical research skills; and
3. Build and maintain a network of researchers for scientific collaborations, professional support, and mutually beneficial exchange of scientific resources.
The advanced seminars are offered once annually for four years to each cohort and build skills and conceptual depth from year to year. Each JAS runs for 3 to 4 weeks. Specific topics covered in each JAS include the following:
JAS-1 builds critical thinking, technical skills, and other core research competencies, and introduce students to the essential concepts and seminal articles of the disciplines brought together under CARTA
JAS-2 focuses on data management and analysis. Fellows learn to use software packages for qualitative and quantitative data management and analyses. Practice sessions use real research data and current software packages for hands-on training
JAS-3 focuses on data presentation, the doctoral dissertation, and scientific writing and communication skills to facilitate results dissemination and policy engagement
JAS-4 addresses professional development including skills necessary to manage and teach large class sizes, raise and manage research funds, grant writing and research management. JAS-4 is also designed to serve as an opportunity for senior fellows to practice mentoring of junior fellows through discussions and laboratory sessions, software training, and general information sharing
During the 2015/2016 academic year, the CARTA program is planning to offer up to 25 PhD fellowships. The Fellowship, which is tenable at one of the participating African universities, includes the cost of fellows' participation in the advanced seminars; a modest monthly stipend; small grants for research activities; a laptop loaded with relevant software; funds for travel to conferences, as well as costs for participating in joint program activities. The fellowship runs for a maximum of four years. Fellowships cover tuition fees, medical insurance, and other university fees in special circumstances only. Partner institutions have committed to continue paying Fellows' salaries (or equivalent) and to modify workloads for the fellows to enable them to fully participate in CARTA organized activities pertaining to their PhD program and also to concentrate on their PhD studies. Fellows are encouraged to seek supplemental funding to cover additional costs of their doctoral program.
Participating African Universities
Moi University, Kenya.
University of Rwanda, Rwanda.
Obafemi Awolowo University, Nigeria.
University of Dar es Salaam, Tanzania.
University of Ibadan, Nigeria.
University of Malawi, Malawi.
University of Nairobi, Kenya.
University of the Witwatersrand, South Africa.
Participating Research Institutes
African Population and Health Research Center (APHRC), Kenya.
Agincourt Health and Population Unit, South Africa.
Ifakara Health Institute (IHI), Tanzania
KEMRI/Wellcome Trust Research Programme, Kenya.
Northern Partners
Canadian Coalition for Global Health Research (CCGHR), University of Toronto, Canada.
Swiss Tropical and Public Health Institute (Swiss TPH), Switzerland.
University of Gothenburg, Sweden.
University of Umea, Sweden.
University of Warwick, UK.
Eligibility
A Masters degree in a relevant field.
Prior admission into a PhD program is not required for application but awards are contingent on such admission being obtained at one of the participating African universities.
Applicants for this program must be teaching or research staff at one of the participating African institutions and should be committed to contributing towards building capacity at their institutions.
Applicants' PhD research proposal must be related to public and population health or to sexuality studies
Fellowships are only open to people who have not yet registered for a PhD or are in the very early stages (first year) of the PhD program
Applicants must commit to participation in all four annual residential Joint Advanced Seminars (JASes), and to engage in inter-seminar activities designed to keep fellows actively engaged and in continual communication with peers and mentors.
Male applicants must be under the age of 40 years and female applicants under the age 45 years.
Application Procedure
Contact the CARTA focal person) at your institution to discuss your interest and obtain application materials. Application forms may also be downloaded from the CARTA website (www.cartafrica.org)
Submit your application to the local CARTA committee in your institution (also email a copy of all application materials to carta@aphrc.org ), which will conduct the initial screening process and submit successful applications to the CARTA secretariat. The deadline for submissions is September 1, 2015.
If successful at the university selection level, the CARTA secretariat will inform and contact you to proceed to the next level
Successful applicants at the university selection level will be expected to:
a. Complete an online-based pre-JAS, Part I tasks
b. A competency course (October 1, 2015 – October 15, 2015)
c. Send a full application to the CARTA secretariat. The deadline for submission of the full application is October 15, 2015.
5. Final fellowship decision, which is independent of the university application, will be communicated by CARTA secretariat by December 1, 2015.
CARTA Focal Persons at Makerere University, Uganda
Prof. Anne Katahoire
Director, Child Health and Development Centre,
College of Health Sciences
Makerere University
P.O. Box 6717, Kampala, UGANDA
Tel: +256 414 541684/530325
Email: annekatahoire@yahoo.co.uk
Pof. Buyinza Mukadasi
Director, Directorate of Research and Graduate Training, Makerere University
P.O. Box 7062, Kampala, UGANDA
Tel: +256-414-530983 Cell: +256-774515366
Fax: +256-414-533809
Email: buyinza@rgt.mak.ac.ug; buyinza@forest.mak.ac.ug
WHS Regional Meeting Africa 2021: Finance Chairperson's Update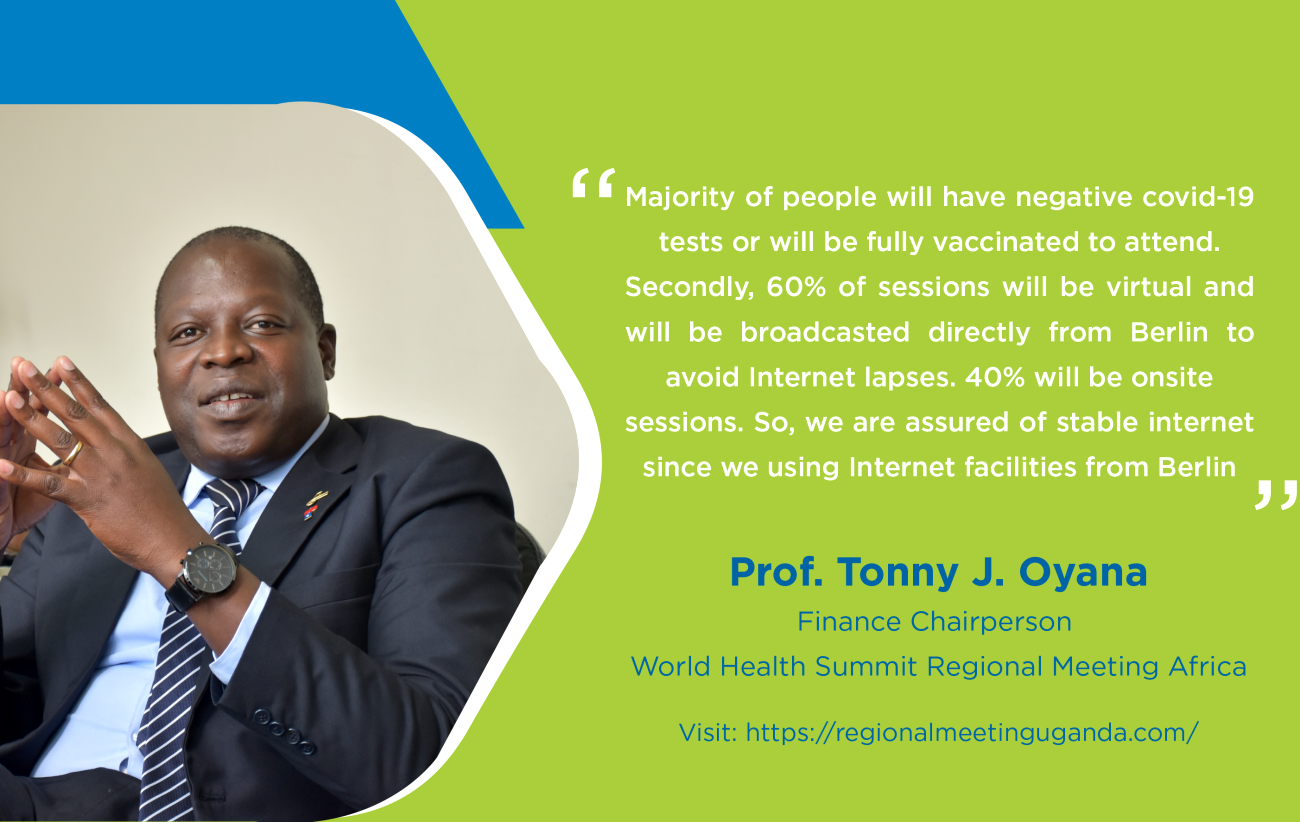 SOPs: Our plan is to have 200 sets of people in different spacious rooms…

Prof. Tonny j. oyana, finance chairperson whs regional meeting africa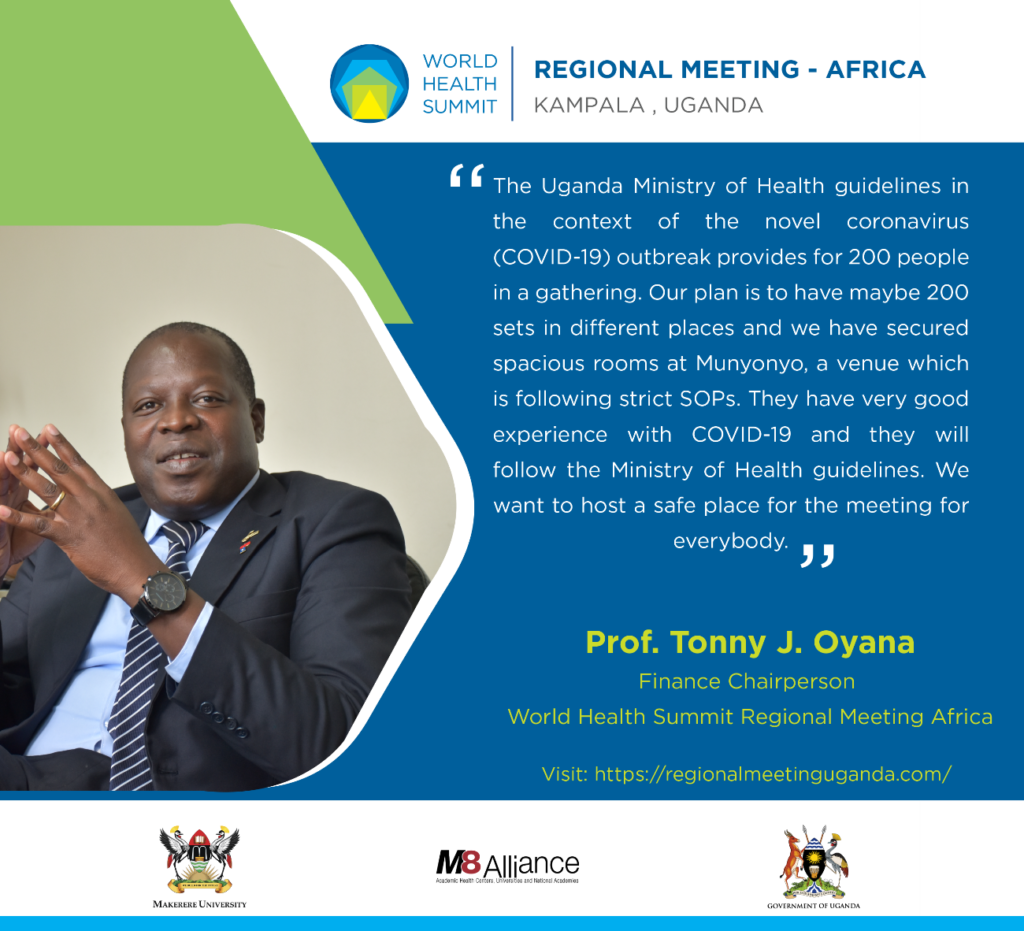 We are sincerely grateful to our sponsors…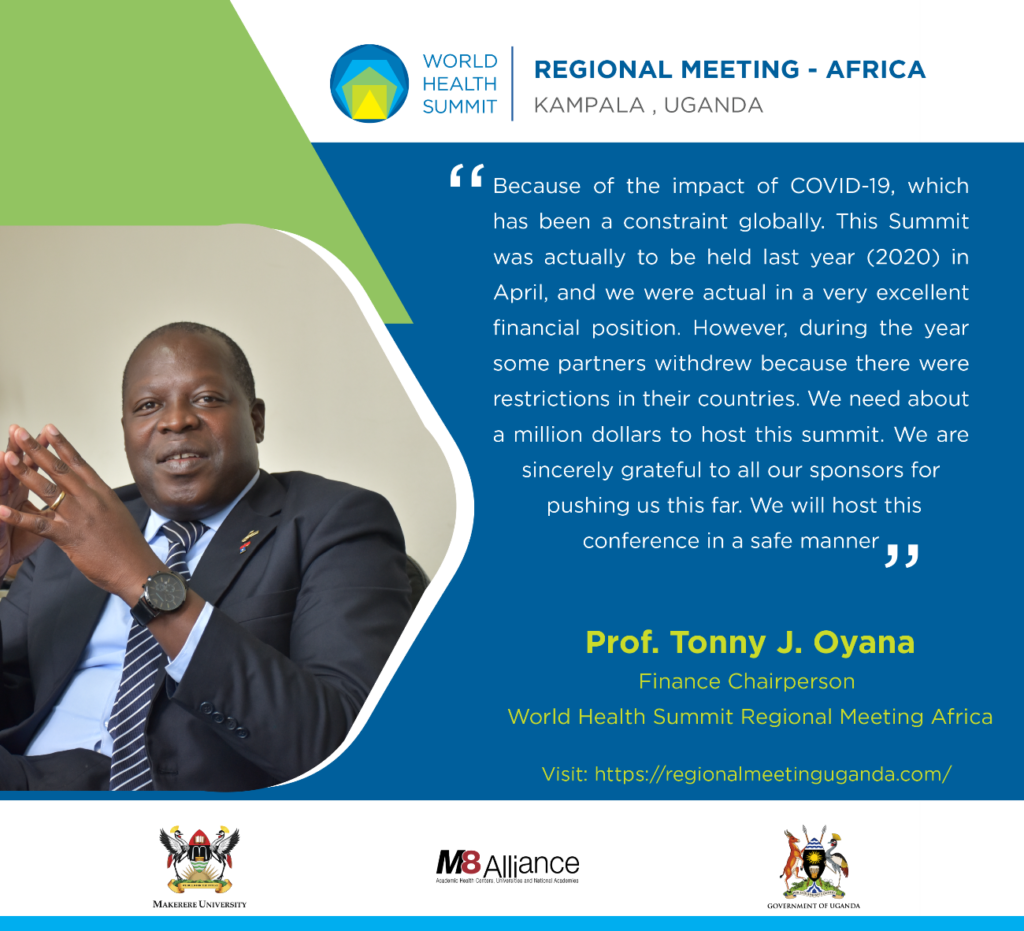 Over 15 core sponsors…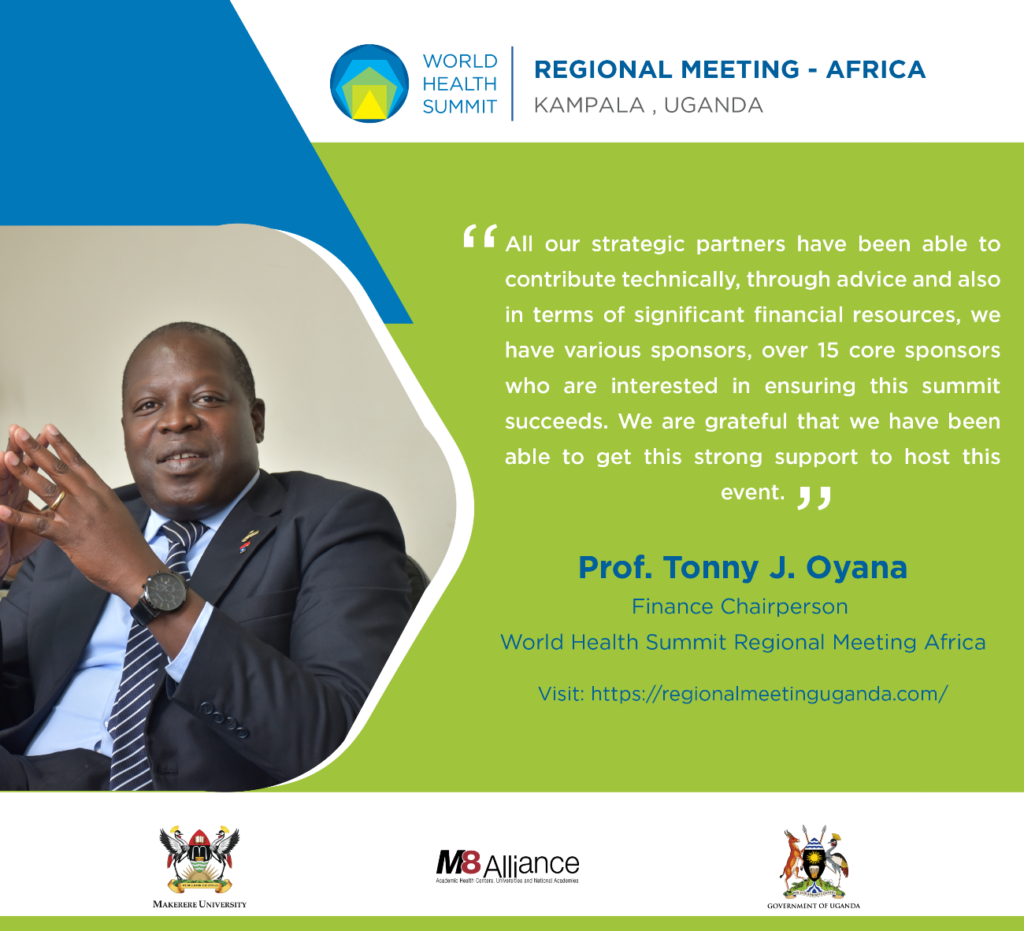 Sessions: 60% Virtual, 40% Onsite…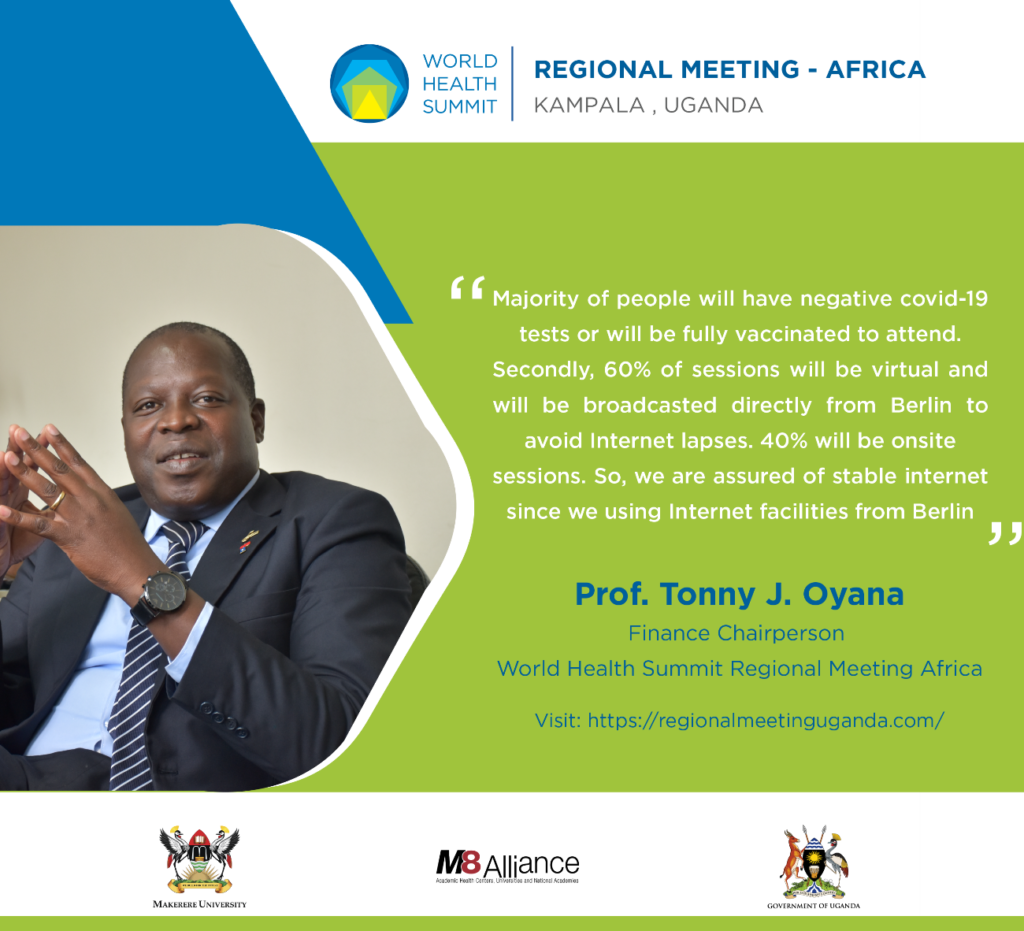 HERS-EA Fourth Leadership Academy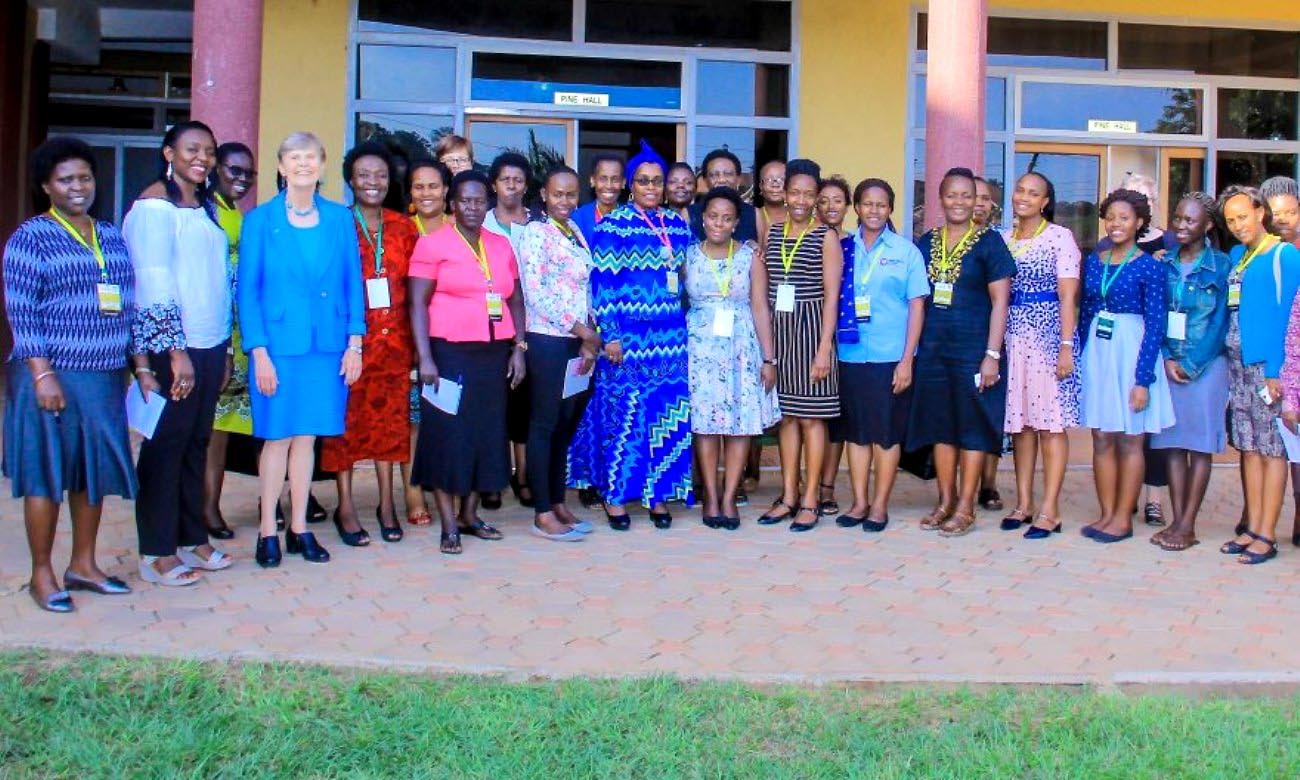 The Higher Education Resource Services-East Africa (HERS-EA) provides an intensive residential one-week leadership and management development curriculum focused on women, mainly in higher education institutions and administration.
In response to the current Covid-19 pandemic, HERS-EA Fourth Academy will be a totally virtual one. As such, the Academy previously scheduled to take place between June 28th – July 3rd has been postponed by one week to July 5th-9th. 
Theme: "Positioning Women for Leadership in Higher Education"
A. Institutional Development
1. Managing and Leading Change
2. Reframing Organizations for effective work
3. Developing Effective Partnerships in Higher Education for Women and gender focused advancement
B. Personal Development
4. Career Mapping/building dossier/personal development
5. Professional Women's economic empowerment through Enterprise development and management for profit maximization
6. Research and Publishing; Leadership and Fundraising for projects including research and publication.
C. Networking
7. The Power of Mentoring; Networking
Who Should Attend?
HERS-EA expects many diverse and dynamic women leaders to attend the ACADEMY, to share and learn from multiple institutional perspectives with guidance from women with a wealth of experience in higher education, national academic organizations, government and non- governmental organizations. Participants are expected hold mid to senior-level positions and bring expertise from all parts of a college or university. They also represent a range of national groups, ages and years of experience in higher education and other fields.
Applying to the ACADEMY:
The deadline for registration has also been extended to June 30th. For more information regarding registration, please visit the website: www.hersea.org Completed registration forms should be emailed, with a scanned payment slip to: info@hersea.org, by 5.00 p.m. on Wednesday 30th June.
A complete application includes:
a) CV
b) A self-descriptive letter (not > 500 words) to include:
Current Title (e.g. Associate Professor of Economics; Deputy Dean, e. t. c.)
Name and Contact Information for 2 Recommenders (e.g. Vice Chancellor, Head of Department, Chief Officer in your area, and/or direct supervisor)
Short- and long-term career goals
Your expectations for the HERS-EA ACADEMY.
c) Passport size photograph
d) A developmental project you have been assigned or you would like to initiate at your campus (maximum 500 words)
e) Registration fee of $100, please attach a copy of the deposit slip to your application (Bank A/C details below):
Contact Information
If you have any further questions, please email:
info[at]hersea.org or call the HERS-EA Administrator on: +256 (0)772082011 Please,also, visit the HERS-EA website for further updates: www.hersea.org.
Payment Bank Account Details:
Account Name: Higher Education Resource Service East Africa
HERS-EA US $ ACCOUNT
Name of Bank: DFCU Bank
Makerere University Branch
A/C No: 02083553153181
Swift Code: DFCUUGKA
HERS-EA UGX ACCOUNT
Name of Bank: DFCU Bank
Makerere University Branch
A/C No: 01083553153172
Mak Commissions CoVAB@50 Celebrations, Awards Certificates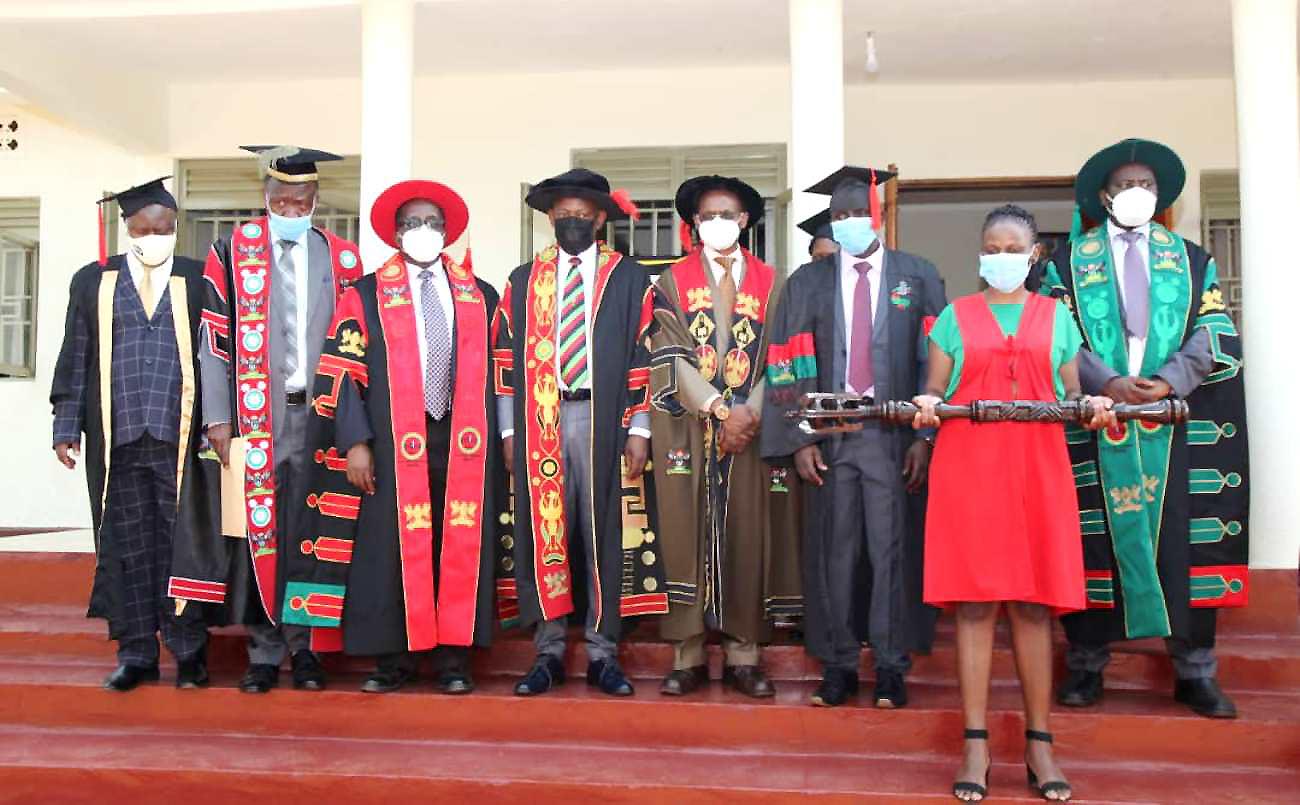 The College of Veterinary Medicine, Animal Resources and Biosecurity (CoVAB) on Thursday 17th June, 2021 commenced celebrations to mark 50 Years of Veterinary Higher Education, Science, Technology, Innovation and Services (HESTIS) in Uganda. The blended event held at the Industrial Livestock Research, Incubation and Skilling (ILRIS) Center at Nakyesasa, Namulonge as well as online was presided over by the Chancellor, Prof. Ezra Suruma and First Lady and Minister of Education and Sports (MoES), Hon. Janet Museveni both represented by the Vice Chancellor, Prof. Barnabas Nawangwe.
The event, held as part of Makerere University Centenary Celebrations (1922-2022) was a moment of celebration for 1,930 skilled livestock agribusiness entrepreneurs who were awarded certificates in recognition of completion of their respective courses. Owing to the strict Standard Operating Procedures (SOPs) instituted by the Ministry of Health (MoH) to curb the spread of COVID-19, the students from Incubation Hubs in Atiak, Butaleja, Mubende, Nakyesasa, Sheema and Wakiso were awarded their certificates virtually.
In her remarks read by Prof. Barnabas Nawangwe, Hon. Janet Museveni thanked Makerere University for supporting grassroots level development through groundbreaking innovations under the Africa Institute for Strategic Services and Development-Skills for Production Enterprise Development and Accreditation (AFRISA-SPEDA) model.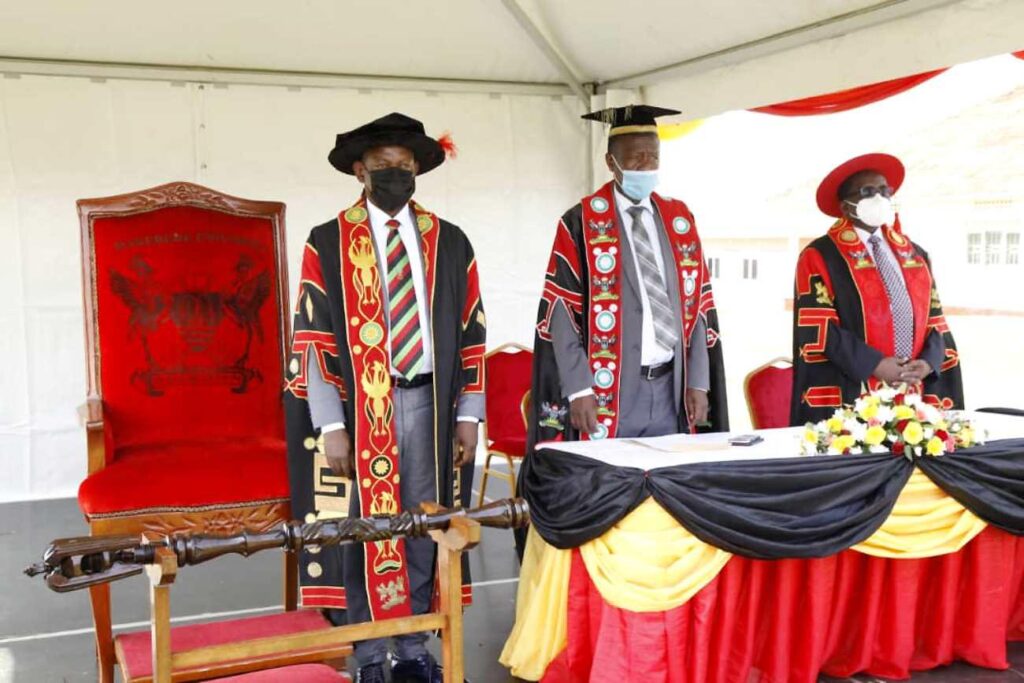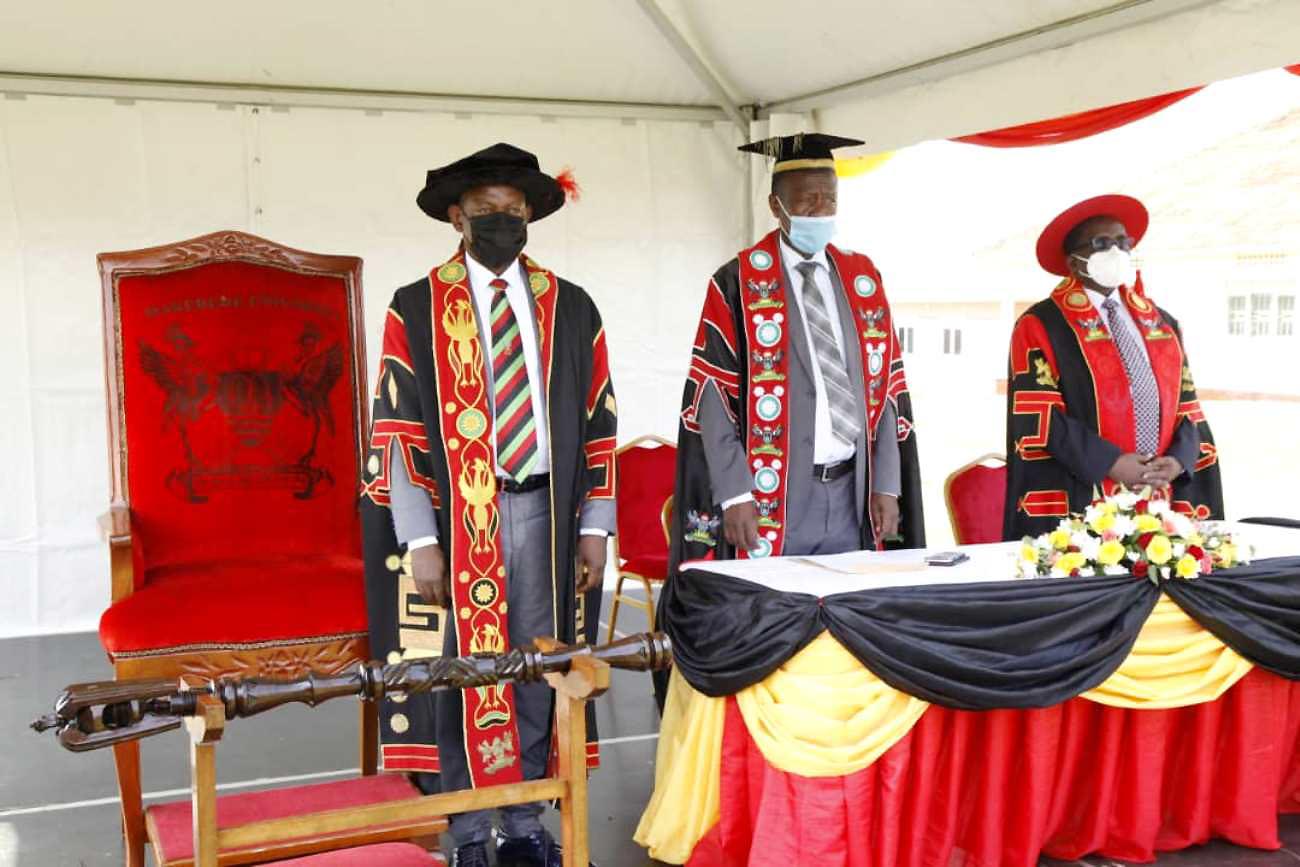 "I am extremely pleased that Makerere University, through those innovative approaches, has developed and launched the alternative approach to building human capital and transferring knowledge to enterprises in communities.
"I would like to encourage all those involved in skills development to adopt methodologies that transform those trainees that go through these programs in ways that enable them also transform the societies they live in" read the Minister's remarks.
She further noted that commissioning of the CoVAB@50 celebrations was both timely and rewarding. "The commissioning of the college innovations indeed has made meaning. This is a true path to growth of an Academic and Development College of the University, and we congratulate you again."
Addressing the congregation as Chancellor, Prof. Barnabas Nawangwe congratulated CoVAB alumna and incoming Minister of Science, Technology and Innovation (MoSTI) under the Office of the President, Dr. Monica Musenero upon her recent appointment. "We thank His Excellency the President for identifying you. Science is in good hands."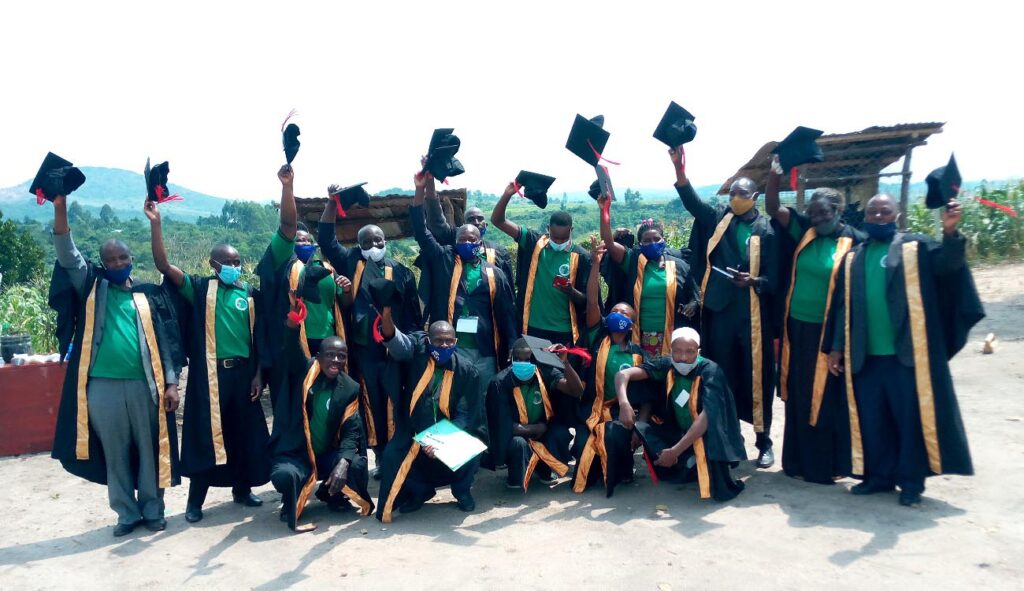 Prof. Nawangwe urged Dr. Musenero to address the structures of managing research and innovation in Uganda, "including the role of the Uganda National Council for Science and Technology and the apparent need to establish a Research Council for Uganda."
In the same breath he thanked the outgoing and pioneer Minister of Science, Technology and Innovation, Hon. Dr. Elioda Tumuwesigye, for his role in ensuring that the ministry is empowered to carry out its mandate.
The Chancellor congratulated CoVAB upon training the bulk of Veterinary Doctors in Uganda over the last 50 years and more recently, Laboratory Technologists at the highest level. He recognised Makerere University's obligation to contribute to the economic self-determination of Uganda and thanked CoVAB for conducting research that addresses hindrances to national development, especially in the livestock industry.
"The anti-tick vaccine is one of such innovations which will solve the huge problem of tick-borne diseases that have caused enormous losses to our farmers. There are many other problems on which the college is researching and we thank you for the enthusiasm" he added.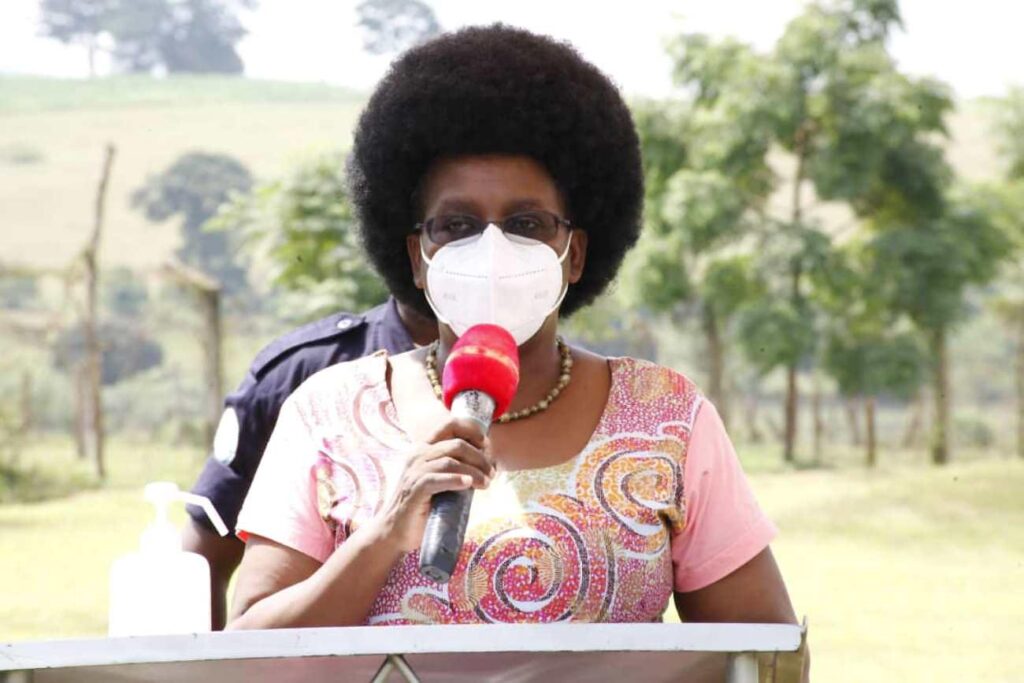 The Chancellor commended CoVAB for being the vanguard of transformation of the grassroots communities through the SPEDA model. "I urge Government to fund this important initiative so that it can more meaningfully contribute to solving the big problem of youth unemployment."
In her remarks, Dr. Monica Musenero commended the Principal, CoVAB, Prof. John David Kabasa for fulfilling the College's dream of enabling the masses who drop out of the education value chain as well as those who complete education but have no skills for livelihood, to attain certification in agribusiness entrepreneurship.
"Many people attain academic success and write papers, publish and they become professors but without demonstrable impact on their nation. You have shown by the thousands that you have touched nationwide that indeed you are a professor of national transformation. Congratulations," remarked Dr. Musenero.
She therefore congratulated the teams at CoVAB and AFRISA upon successfully conceiving and executing a model that is non-traditional, informal, not easily understood and not documented in any textbooks.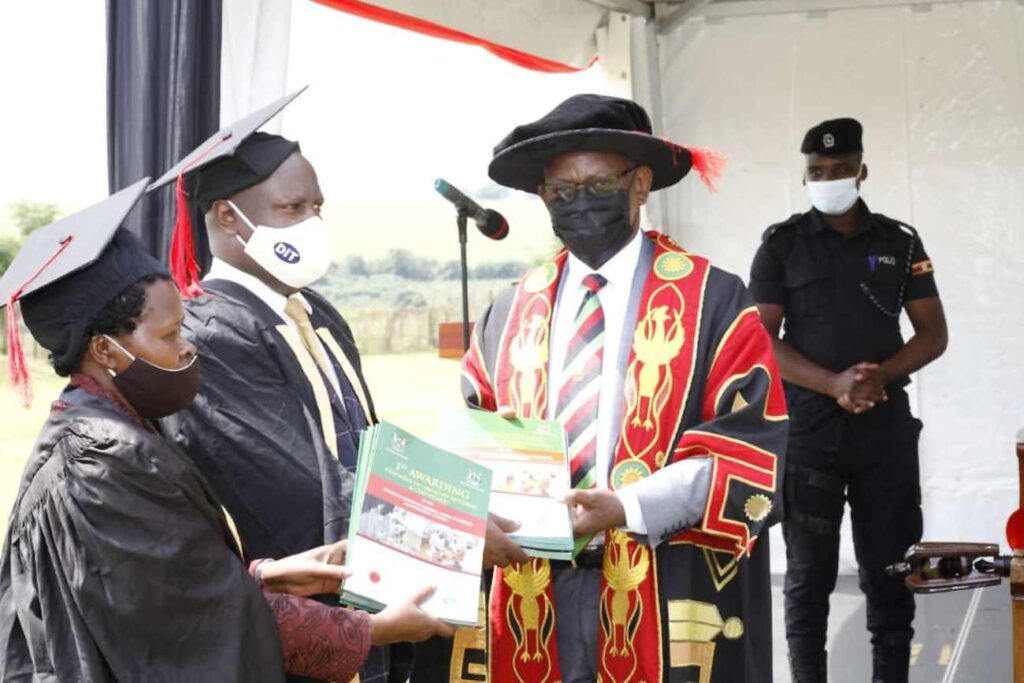 As Minister, Dr. Musenero noted that witnessing thousands of individuals from across the country whose skills had been honed through a university programme receiving certificates gave her a lot of hope and material to embark on her tenure with. "I will be looking forward to harnessing these resources as we initiate work on the next leg of Science, Technology and Innovation in the country under the President's Office."
The invitation to the Principal, CoVAB to present students for the award of the ordinary diplomas, ordinary certificates and artisan certificates was given by the Deputy Vice Chancellor (Academic Affairs), Dr. Umar Kakumba. He congratulated the awardees upon successfully completing their respective courses and graduating with evidence on an enterprise.
Prof. Kabasa clarified that the approach used to train the day's awardees was not simply a vocational skilling. "The combination of action research with knowledge transfer, skilling, plus assessment and accreditation processes done by organs like the DIT (Directorate of Industrial Training, MoES) has given us this result, for the University to provide true leadership and transformation of the community."
Present at the celebrations were the Director, DIT, MoES-Mr. Byakatonda Patrick and the Deputy Commissioner Social Services Development, MoES Madam Elizabeth Bateme who have worked through the Academic-Community-Public-Private-Partnership model to ensure that students graduate as entrepreneurs with micro enterprises.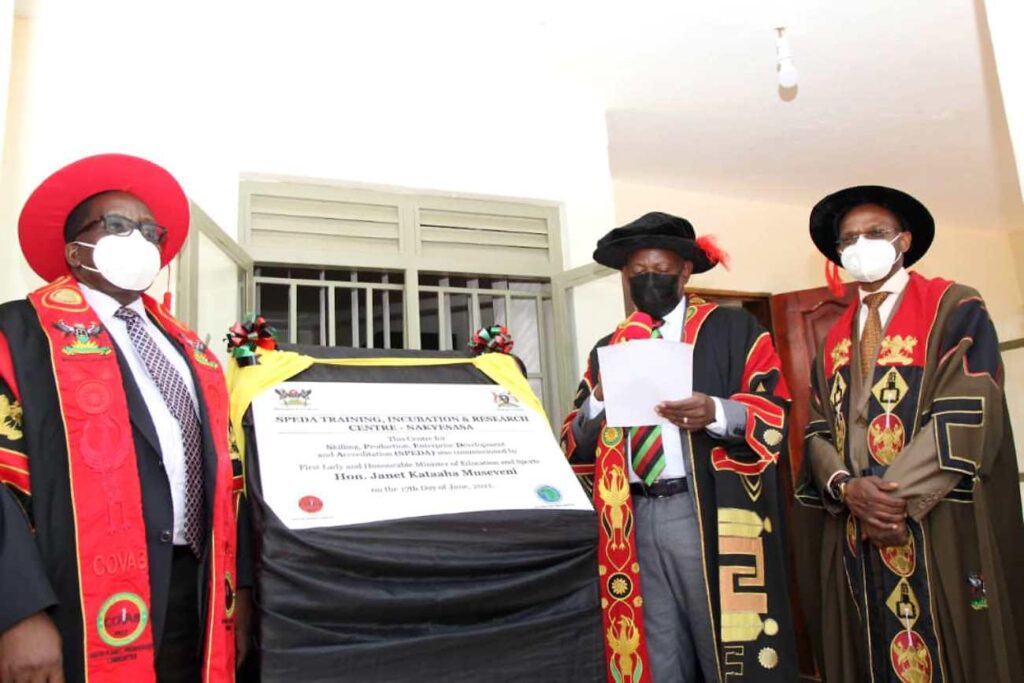 Prior to presiding over the ceremony, Prof. Barnabas Nawangwe, on behalf of the First Lady and Minister of Education and Sports officially commissioned the SPEDA Training, Incubation and Research Centre – Nakyesasa.