Prof. Nsibambi Launches Mak Convocation Sustainability Projects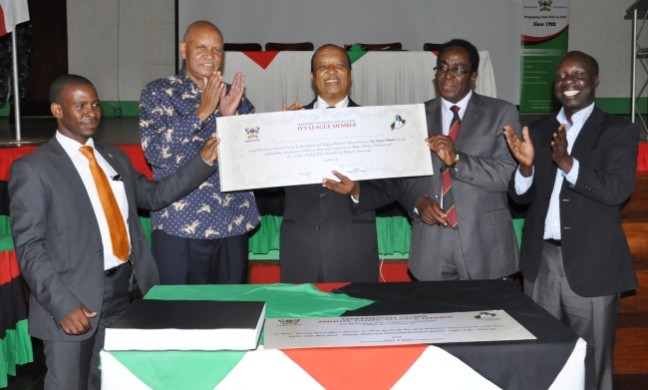 On Saturday 30th May 2015, the former Prime Minister of Uganda and former Chancellor of Makerere University, Rt. Hon. Prof. Apolo Robin Nsibambi launched two sustainability projects initiated by the Makerere University Convocation (MUC) namely the Annual Chancellors' Dinner and the Ivy League Alumni Register.
The Makerere University Convocation comprises over 300,000 Makerere University Old Students and Staff. Most of Makerere University alumni, who have passed through its gates, are now global citizens who would play a key role in determining the future of Makerere University.
The Makerere University Convocation Executive chaired by Dr. Tanga Odoi has embarked on plans to build a solid foundation for a stronger and functional old students and staff association at Makerere University.
Speaking about the two sustainability projects, the Chairperson of the Makerere University Convocation, Dr. Tanga Odoi said that the Annual Chancellors' Dinner presents an opportunity to the old students, staff and friends of Makerere University to interact with their Chancellors. During this dinner, the old students, staff, and friends from all walks of life will have an opportunity and space to express their gratitude and appreciation for what Makerere has done. This can be done through donations and direct financial contributions to any cause of the university.
Dr. Tanga Odoi informed the audience in the Main Hall that the Ivy League Alumni Register will be signed by alumni, staff and students who will have significantly contributed to Makerere University causes. "The Makerere University convocation will give special recognition to the individual as having been an important Alumna or Alumnus. The register will have a permanent place in the Makerere University Main Hall and will be kept under lock and key. The signing function will be accompanied with full honors like the Chancellor's procession, University Anthem and the presence of Alumni, Staff or Friends and Family," he added.
Dr. Tanga Odoi also confirmed the Convocation's plans to build a functional database of old students, and create long term partnerships with both local and international organizations that have interest in supporting Makerere University to fulfill her core objectives.
The Guest of Honour, Prof. Nsibambi delivered a keynote speech on Makerere University's Future and the Role of Makerere University Convocation. Prof. Nsibambi said that the Convocation should be able to mobilize resources, as well as fund and implement the University's activities in relation to its core functions. Citing core functions such as teaching, research, innovation and enhancing frontiers of knowledge, Prof. Nsibambi explained that Uganda is faced with a number of social, environmental and economic problems that require scholarly attention. This attention would then result into theoretical and empirical findings that can in turn serve as a basis of making viable policies.
"Without undermining what Makerere University is doing in research and laying further emphasis on the importance of research, I want to recommend that the institution must emphasize transformational research and carry out innovations that benefit the national social-economic and political trends of our society. Makerere University must embrace technology and knowledge transfer policy. Under such policy, staff will be encouraged to engage in research resulting into knowledge and technologies that can support our young and ever growing economy. Additionally, you also have to consider the protection of these research innovations by patenting them so that they may not be plagiarized," he emphasized.
He also enlightened that universities should recognize a need for cooperation with industry in support of research innovation and public services which consists of a variety of activities, including the following;
• Direct funding of research cost through contracts and grants
• Formal licensing to industry of university–owned patents and technology
• Gifts and endowments (including endowment chairs designated for Colleges, Schools Departments or individuals)
• University-industry exchange programs and student internships specialized programs designed by the university for continuing education and training of professionals, primarily through university extension
• Participation of industry representatives on university forum such as the University Council
• Cooperative research projects. Some of which include government participation and the use of specialized facilities. Each unit can enter into a partnership to conduct research and produce a policy for government
• Use of unique university facilities on a fee-for-service basis. such facilities such as incubation centers, state of art laboratories for private researchers and specialized retreat and scholarly centers as well as fee charged on use of special library services by surrounding emerging institutions
• Research and development facilities of industries housed on University property such as industrial parks like the Silicon Valley at University of California
• Faculty consulting services
• Research activities of the Agricultural Experiment Stations and affiliated stations.
To achieve the aforementioned activities excellently, Prof. Nsibambi said that the Makerere University Convocation should be able to work with the University Management and Academic Staff in ensuring that students are disciplined and their problems addressed.
"You also need to put in place a mechanism for recognizing Alumni and staff who contribute to Makerere University. The Alumni of Makerere can also be invited to give lectures on topical issues such as terrorism, hooliganism and unemployment. Such and many other creative projects can make Makerere University Convocation relevant and strong," Prof. Nsibambi advised.
The Makerere University Chancellor Professor Mondo Kagonyera, encouraged the Makerere University Convocation Executive (2012-2019) chaired by Dr. Tanga Odoi to uphold the zeal that they have portrayed since their election into office. He urged them to put all their efforts together so as to mobilize all members of the convocation and propel Makerere University to greater heights.
"Your duty as a convocation is to mobilize the Alumni, staff and well wishers to support the welfare and progress of Makerere University. I believe that if you effectively pursue this mandate, the convocation will take its place as one of the important assets of the university," the Chancellor emphasized.
Prof. Kagonyera also pointed out the need to construct a permanent and befitting perimeter wall around Makerere University, an idea Dr. Tanga Odoi and his executive welcomed with great enthusiasm.
In his speech, the Vice Chancellor applauded the Makerere University Convocation Executive for the wonderful ideas that will help the university actualize its dreams and help members to rekindle the memories of the time spent at their alma mater.
"We therefore invite you to actively participate whenever we call upon you. We need your ideas, participation, support and good will. As a university, we have several projects lined-up, which require our joint efforts. Key among these is the construction of a one-stop students' center. This is a flagship project toward marking the Makerere University's Centennial Anniversary. We are banking on the support of our Convocation, alumni, friends, well wishers and development partners in their various capacities to make this dream a reality," he said.
Chaired by Dr. Tanga Odoi, the new Makerere University Convocation Executive (2015-2019) comprises, Mrs. Diana. T. Nyago-Vice Chairperson, Mr. Deus Kamunyu Muhwezi-Publicity Secretary, Mr. Justus Nuwajuna-Treasurer, and committee members including; Mr. Dennis Namara, Mr. Richard Olando, Mr. Spenser Oyes, Ms. Juliet Nakalema, Ms. Faith Kirungi, Ms. Najjuka Margret, and Mr. Kamya Bazilio.
Story by: Prossy Nabatte-Intern, Public Relations Office
Photos by: Landmark Media Consultancy Ltd
Veteran Professor changed Makerere and Higher Education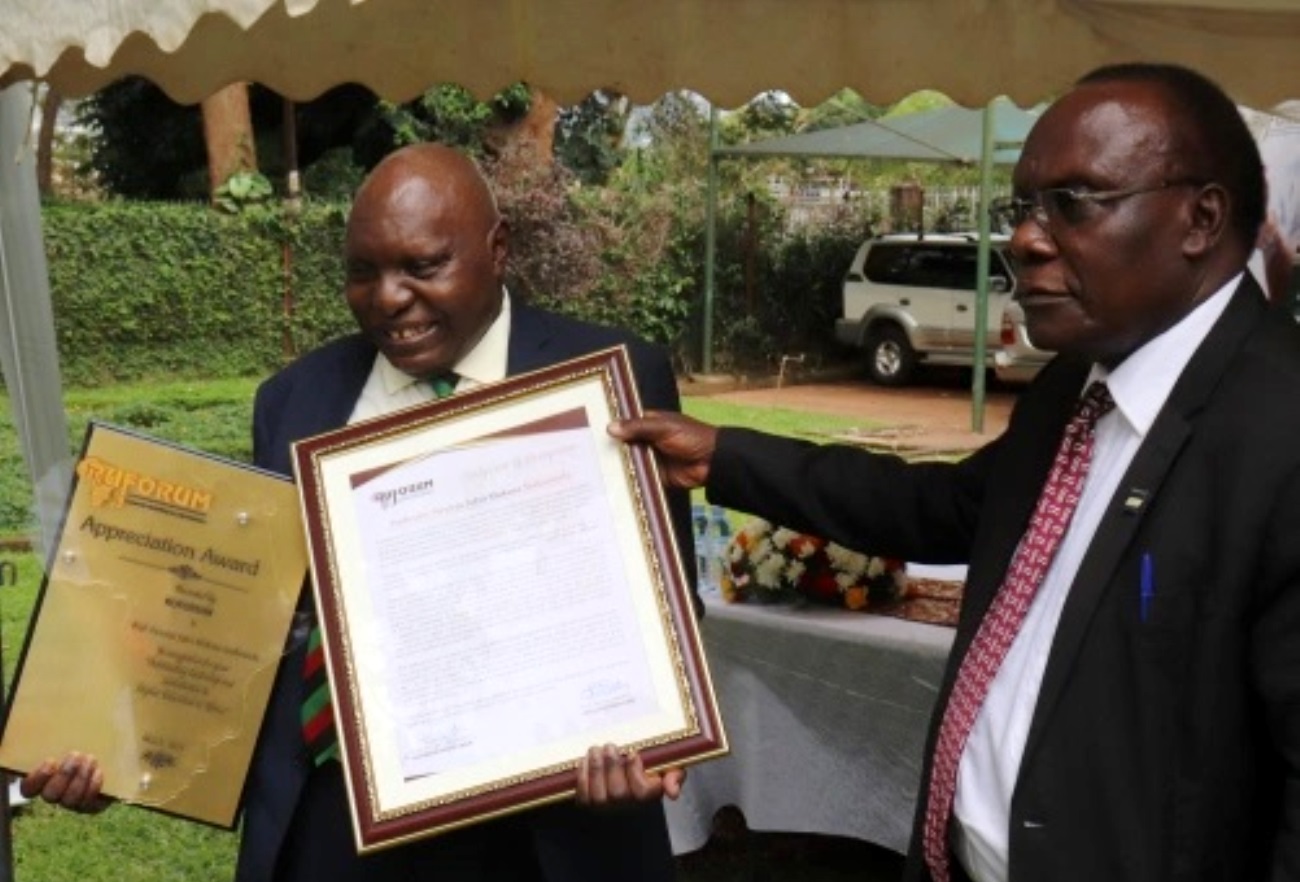 When Professor John Ssebuwufu ambled up to receive a certificate of recognition for his 'exceptional' contribution to higher education from the Regional Universities Forum for Capacity Building in Agriculture (RUFORUM) at Makerere University (MU), he was thinking of many things, such as rewarding staff, that he could have done differently to impact university education more.
But he did what he could have done, under the circumstances.
He presided over MU (in 1993) when student enrolment was 5,000 and left in 2004 when the population was surging to more than 15,000.
He emphasised the use of information communication technologies in almost all the institutions he had been involved in and sent many academic staff on exchanges to boost research and innovation. Now, more African universities engage in ground-breaking research.

So, he proceeded to accept his recognition and make his acceptance speech, which was mostly about gratitude.
Ssebuwufu, 74, who is currently the chancellor at Kyambogo University and the vice-chancellor of the University of Kisubi, is credited for his exemplary leadership and pragmatic methods that have shaped higher education in Uganda and Africa as a whole.
Japan Africa Dream Scholarship (JADS) Program 2021/2022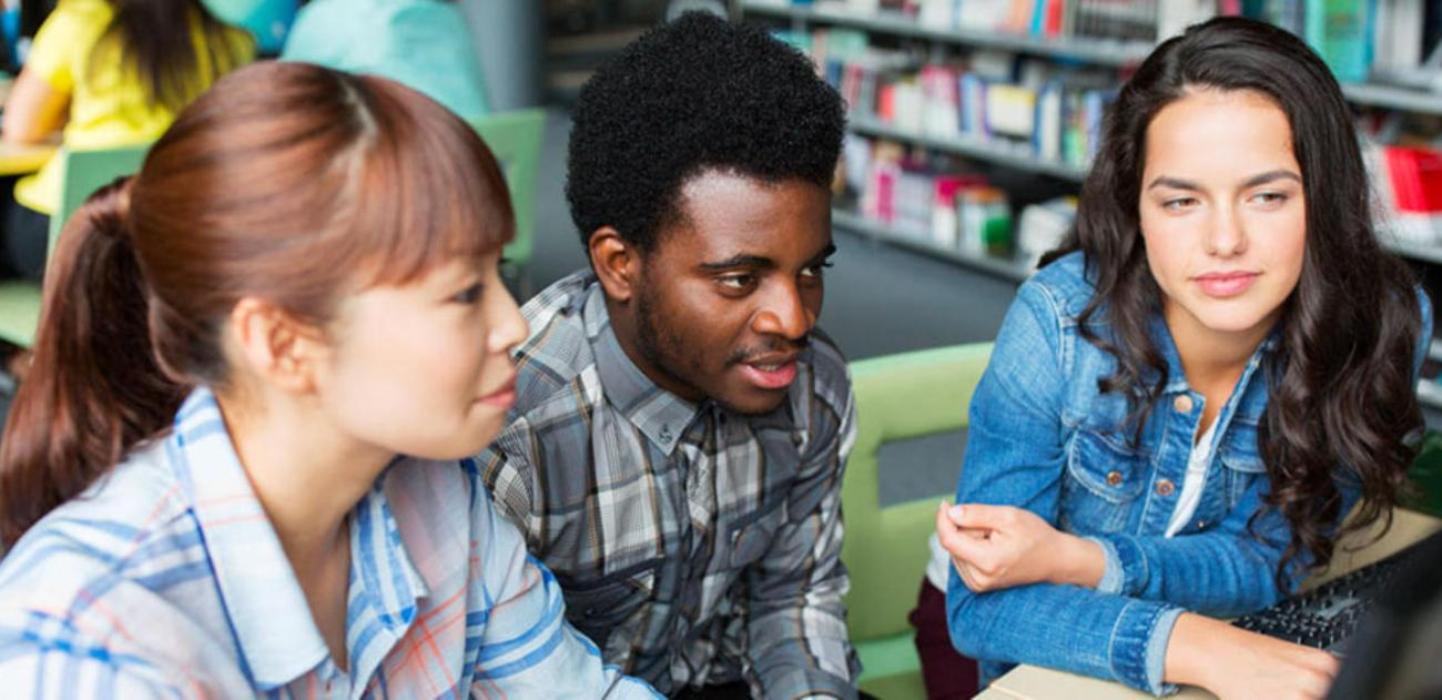 The Japan Africa Dream Scholarship (JADS) Program is a capacity building project by the AfDB and Japan which was initiated in 2017 with the aim of providing two-year scholarship awards to highly achieving African graduate students to enable them to undergo post-graduate studies (i.e. a two-year Master's degree program) in selected priority development areas on the continent and Japan. The overarching goal the AfDB and the Government of Japan seek to attain is to enhance skills and human resources development in Africa in under the Bank's High 5s agenda (i.e. "Feed Africa", "Light up Africa", "Industrialize Africa", "Integrate Africa" and "Improve the quality of life of the people of Africa") and key Japanese development assistance initiatives. JADS core areas of study focus include energy, agriculture, health, environmental sustainability, and engineering. The program also seeks to promote inter-university collaboration and university-industry partnerships between Japan and Africa. Upon completion of their studies, the JADS scholars are expected to return to their home countries to apply and disseminate their newly acquired knowledge and skills in the public and private sectors, and contribute to national and continental socio-economic development.
About the JADS program
The JADS Program is open to applicants from AfDB member countries with relevant professional experience and a history of supporting their countries' development efforts who are applying to a graduate degree program in energy development and related discipline. The program does not provide scholarships to any other graduate degree program.
The scholarship program provides tuition, a monthly living stipend, round-trip airfare, health insurance, and travel allowance.
Upon completion of their studies, the beneficiary scholars are expected to return to their home countries to apply and disseminate their newly acquired knowledge and skills, and contribute to the promotion of sustainable development of their countries.
Who is Eligible to Apply?
The program is open to those who have gained admission to an approved Masters degree course at a Japanese partner university. Candidates should be 35 years old or younger; in good health; with a Bachelor's degree or its equivalent in the energy area or related area; and have a superior academic record. Upon completion of their study programs, scholars are expected to return to their home country to contribute to its economic and social development.
Application Procedures
Applicant requests for information and application forms and procedures from the chosen JADS partner university. For any inquiries, please contact JADS@AFDB.ORG
Applicant completes required documents and sends them to the university.
University evaluates and selects applicants.
University sends selected candidates to the AfDB.
AfDB reviews submissions from universities, prepares and approves the final list.
AfDB contacts selected awardees, and informs the universities.
WHS Regional Meeting Africa 2021: Finance Chairperson's Update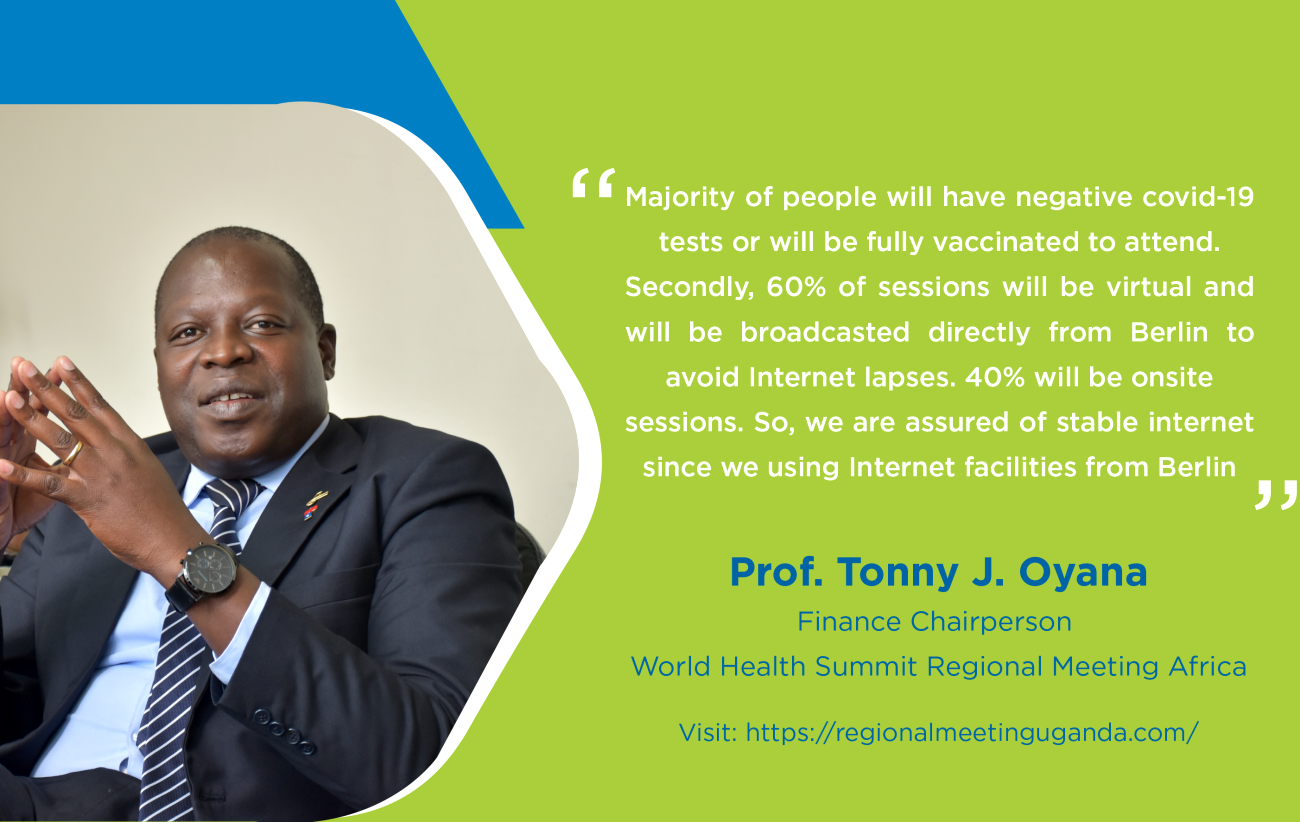 SOPs: Our plan is to have 200 sets of people in different spacious rooms…

Prof. Tonny j. oyana, finance chairperson whs regional meeting africa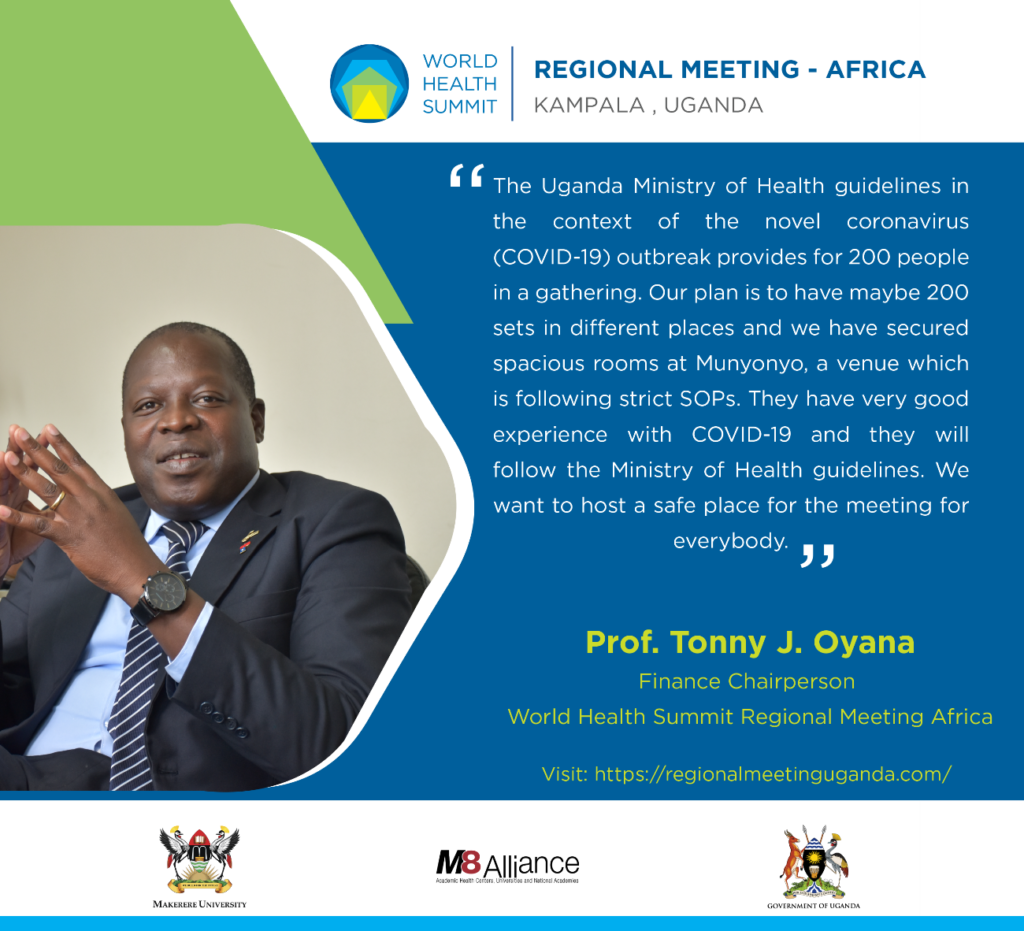 We are sincerely grateful to our sponsors…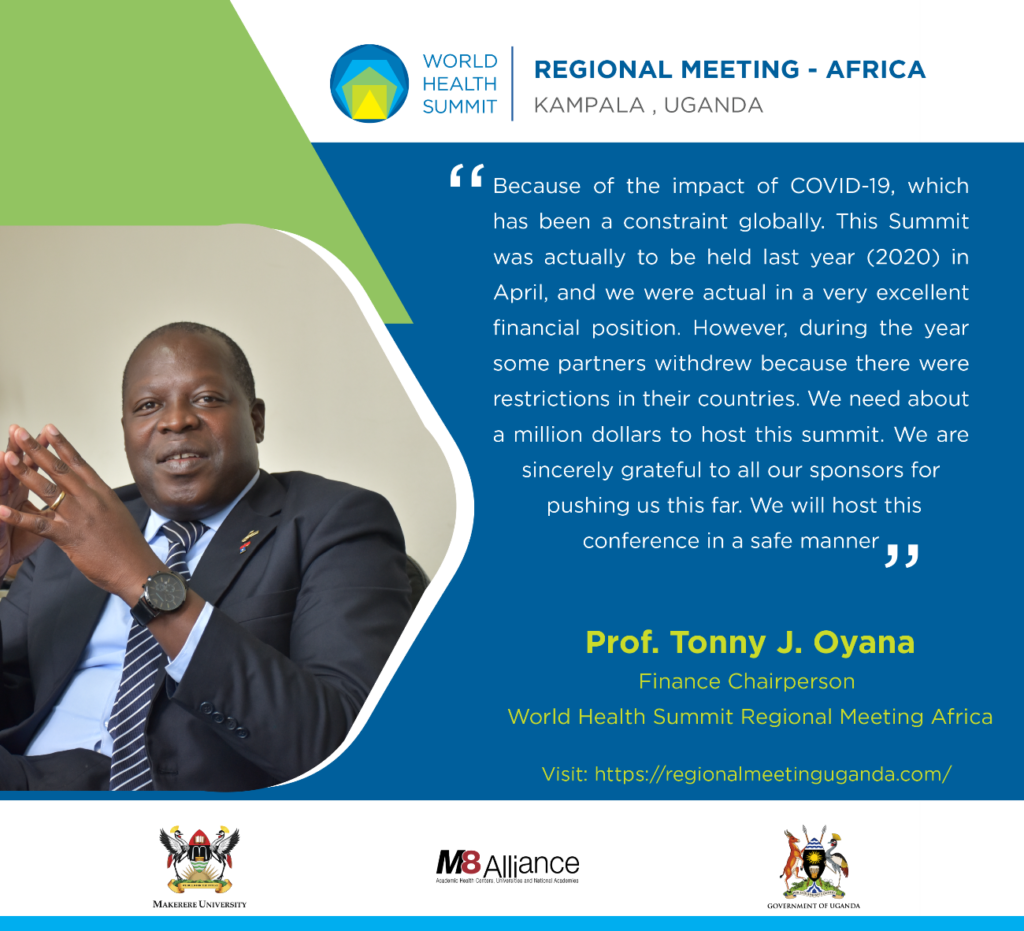 Over 15 core sponsors…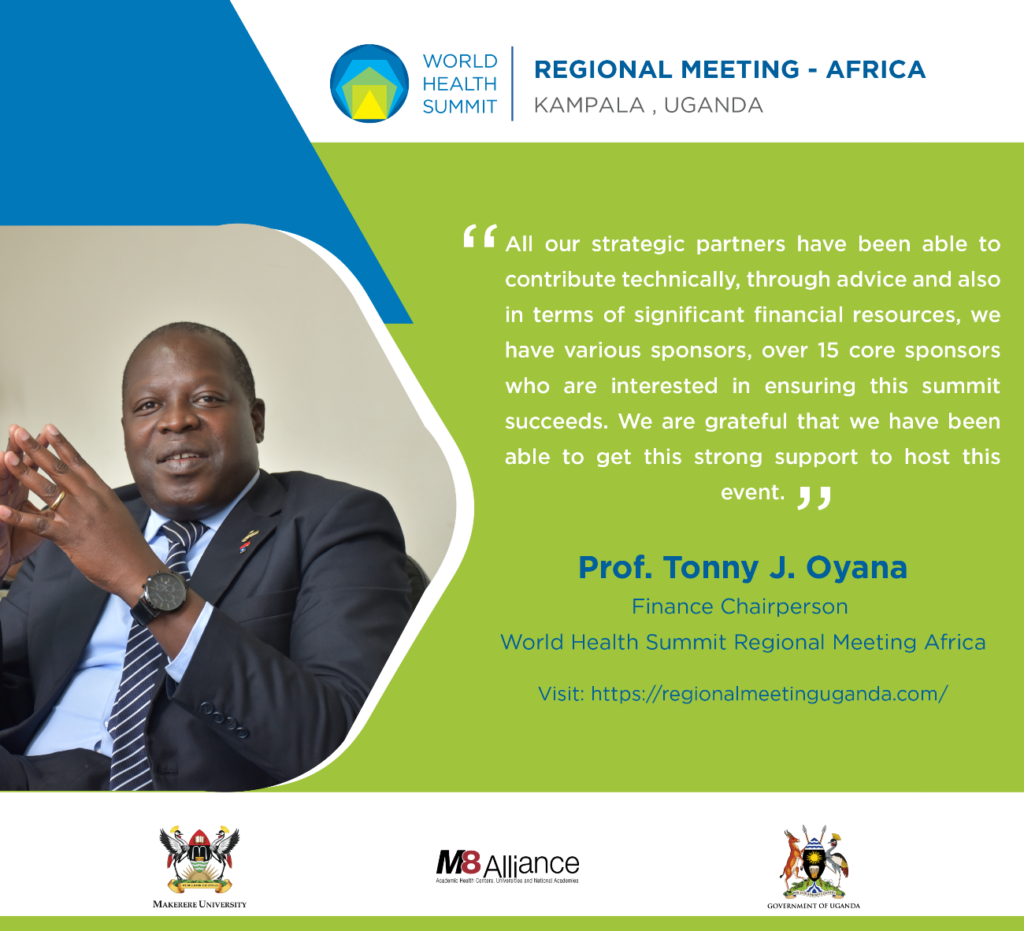 Sessions: 60% Virtual, 40% Onsite…