Mak-UZH symposium tackles One-health from different perspectives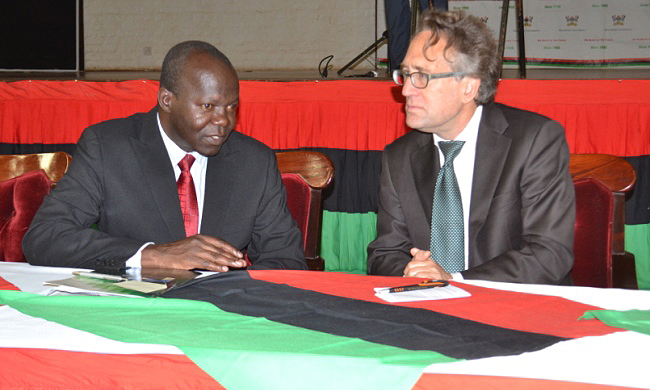 Makerere University and the University of Zurich (UZH) held a two-day health-focused symposium aimed at strengthening the existing collaborations and paving way for new research partnerships.
The symposium which ran from 7th to 8th July 2014 brought together faculty, research teams and scholars from the University of Zurich, Makerere University College of Health Sciences, the Infectious Diseases Institute (IDI) and the College of Veterinary Medicine, Animal Resources and Biosecurity (CoVAB) to share ideas and knowledge premised on the theme, One health from different perspectives.
The symposium was held in line with the Memorandum of Understanding signed between Makerere and the University of Zurich in 2008, as a foundation for the North-South cooperation, which promotes exchange of knowledge and mutual intercultural learning through supporting sustainably well-conceived research projects, teaching and institutional capacity development.
Opening the symposium on 7th July 2014, the Acting Vice Chancellor of Makerere University, Dr. Ernest Okello Ogwang reported that, as a result of MAK-UZH partnership, there are a number of active collaborations between both institutions. These include partnership with: The College of Health Sciences/Infectious Diseases Institute; the SOUTH study that is currently implemented in partnership with the Infectious Diseases Institute (IDI); Makerere University College of Veterinary Medicine, Animal Resources and Biosecurity (CoVAB); and the School of Languages, Literature and Communication and Department of Philosophy both under the College of Humanities and Social Sciences (CHUSS).
"Convening here today represents a great commitment from both institutions, and I would like to urge the two partners to maintain their mutual collaboration, for the future academic excellence," remarked Dr. Okello Ogwang, who is also the Deputy Vice Chancellor (Academic Affairs), Makerere University. He also encouraged the participants to use the symposium to explore and facilitate new research collaborations.
Recounting the formative stages of the partnership, the Principal College of Health Sciences Professor Nelson Sewankambo, then Dean, Faculty of Medicine, expressed his pleasure at having been part of the team that visited UZH, and successfully negotiated the terms that culminated into the signing of the first Memorandum of Understanding in 2008. "I am therefore delighted to be part of this health-focused symposium today, as both institutions seek to strengthen the existing collaboration, and dialogue on the possibility of widening the partnership to encompass other academic disciplines," he remarked.
Professor Sewakambo, also re-echoed to all partners and participants attending the symposium in the Makerere University Main Hall the need to uphold the clause on mutually beneficial engagements as this collaboration continues to grow.
Dr. Daniel Wyler, Vice President, University of Zurich (UZH) appreciated the partnership with Makerere University and reiterated, UZH's support to research backed by the mutually beneficial activities as sealed by the MoU.
"I am really sure that this time, taking part in health issues affecting humans like the infectious disease is more important. Therefore I would like to encourage all researchers in both universities to engage in different research on both the environment and humans in a bid to reduce the rate transmission of infectious diseases in our countries," he said.
The Executive Director, Infectious Diseases Institute (IDI), CHS, Makerere University Dr. Alex Coutinho highlighted that the symposium offered a great learning platform to science researchers in all health disciplines and expressed his belief that after the two days, participants and delegates alike would have acquired more knowledge.
Giving the day's keynote address, Professor John David Kabasa, the Principal, CoVAB emphasized that the term health refers to the total wellbeing of the individual and appealed to participants to embrace a multi-disciplinary approach to research and problems affecting humanity and society in general. With reference to Makerere's ten year strategic plan, which stipulates the need for the University to reposition herself to meet emerging development challenges, Professor Kabasa encouraged academicians, scholars and participants in the symposium to embrace the paradigm shift from the ivory tower mentality to one of knowledge transfer partnerships with the community. He further encouraged the audience to align their collaborative activities in, teaching and learning, research and innovations to those of a development-focused university.
The audience which had for the entire duration of morning sessions been captivated by the well-researched presentations on ideology, cause and implications of infectious diseases then had the chance to engage the panelists in a lively academic debate. Professor John David Kabasa, Prof. Dr. Paul Torgeson, Head of Epidemiology at the Vetsuisse Faculty, UZH and Dr. Taurai Tasara, Head of the Institute for Food Safety and Hygiene, Vetsuisse Faculty, UZH made up the panel that took on a broad range of questions from the eager audience.
The 7th July 2014 symposium programme climaxed with site visits to the Makerere University College of Health Sciencess, the Infectious Diseases Institute, and the College of Veterinary Medicine, Animal Resources and Biosecurity. The afternoon site visits, were aimed at sharing discipline-specific knowledge cognizant of the expectations of respective units.
At the College of Veterinary Medicine, Animal Resources and Biosecurity, Dr. Clovice Kankya guided the participants on a tour of the teaching and research facilities such as the Small Animal Clinic, One-Health residency office, Avian Influenza laboratory among other facilities.
Article by: Ritah Namisango, Public Relations Office
Guidelines for Freshers 2020/21 Academic Year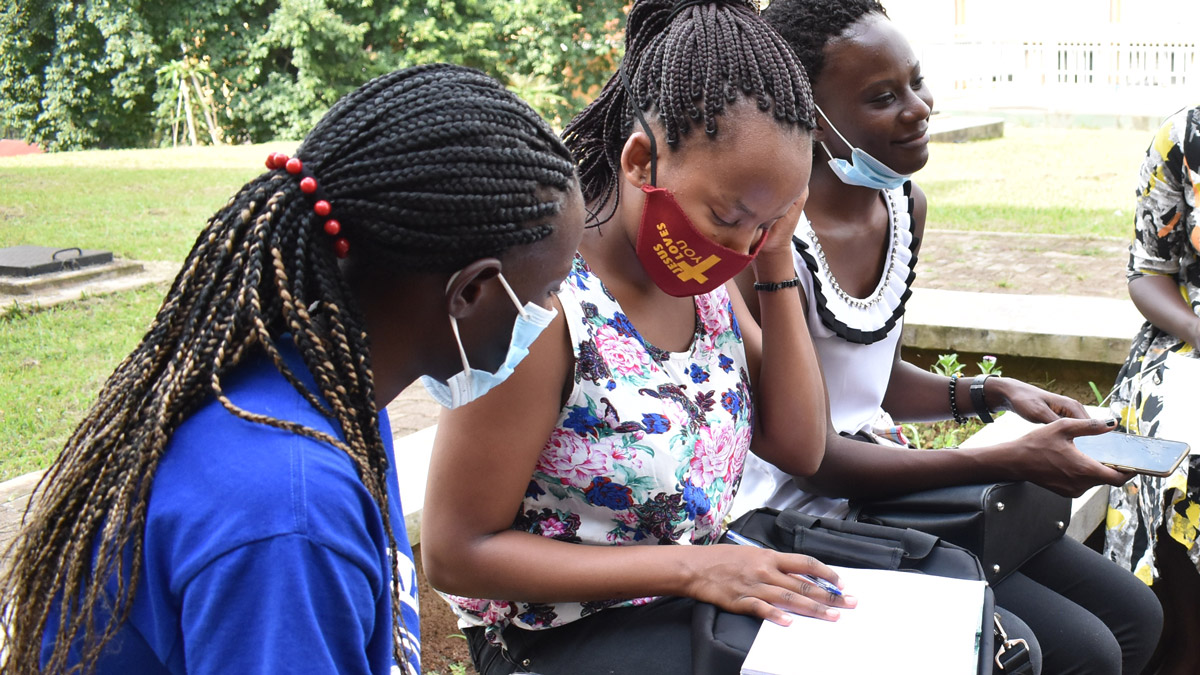 First Year students (Freshers) are by tradition given an "acclimatization" period of normally one week which is referred to as the "Orientation Week". The Freshers report on Campus one week earlier than the Continuing students and during this week they are introduced to the key facilities in the University as well as other important aspects of life at the University.
From Saturday 30th January, 2021 to Friday 5th February, 2021 (7 Days) will be the Orientation Week for all Freshers at their respective Colleges while observing the COVID-19 SOPS, will follow a programme drawn by the College.
After the orientation programme, first year students will undertake an Open Distance and e-Learning education model (ODeL/Blended Learning) subject to further guidance from government. Each student therefore, MUST have a laptop computer as one of the essential tools for study purposes for the programme offered.
Registration
For a candidate to qualify to be a bona fide student of the University, he/she must be registered. Registration is a mandatory requirement of the University which must be done within the first two (2) weeks from the beginning of the semester by every student. Privately sponsored students will pick their original admission letters after payment of 60% tuition and all functional fees from their respective colleges.
Registration will commence on Tuesday 2nd February, 2021 starting at 9.00 a.m. each day.
Ensure that you complete all the required enrollment/registration formalities within the prescribed time in order to avoid disappointments later.
Further details including fees and change and procedures of change of course are available in the documents downloadable from the links below:
NOTE
The information on orientation and registration for non-finalists which was proposed to start on 30th January 2021 is tentative. You should therefore wait for Government of Uganda directive/guidelines on the official opening of Higher Education Institutions.
MU-JHU Position: Director Strategic Planning and Partnerships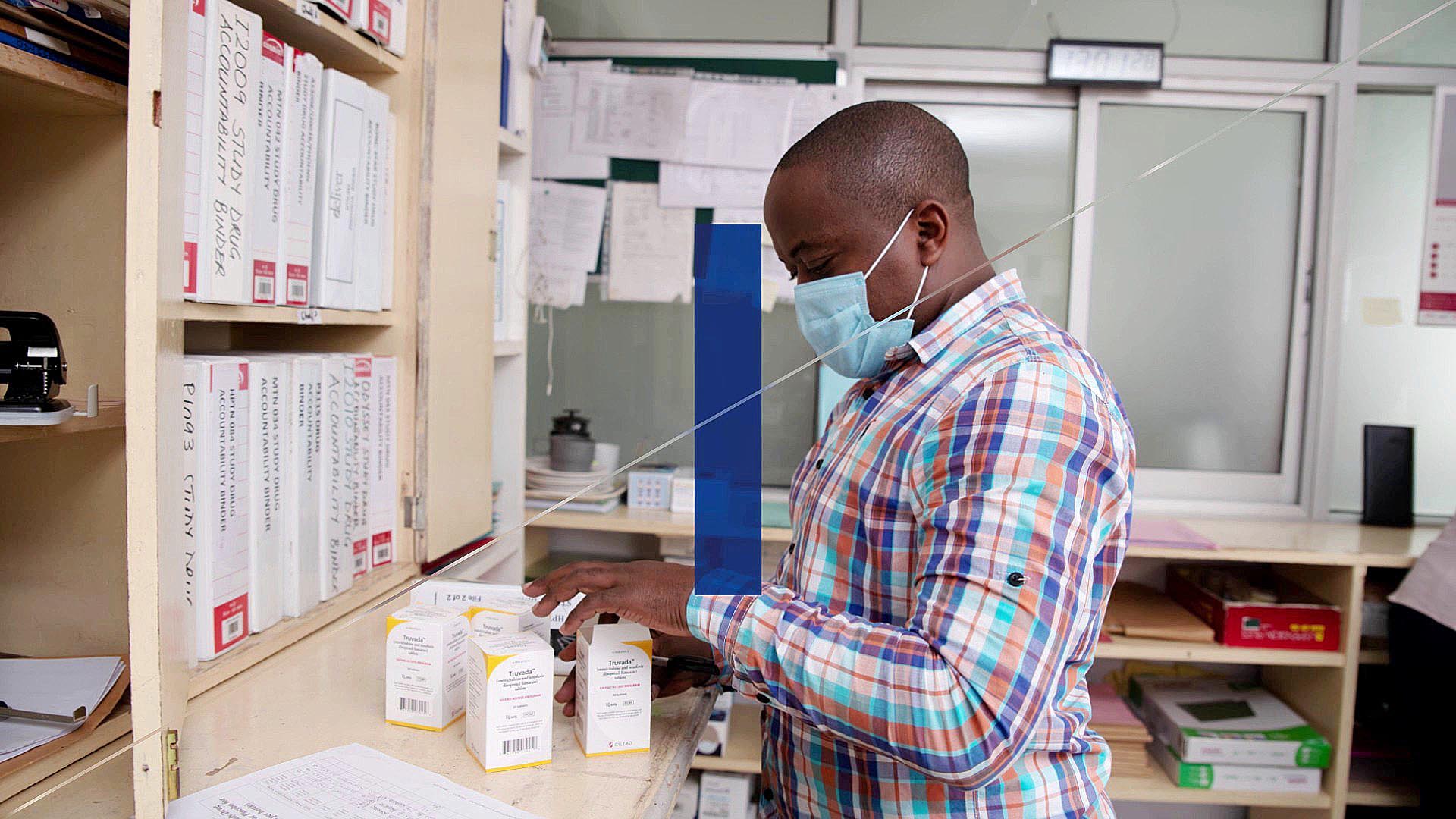 The Makerere University-Johns Hopkins (MU-JHU) Research Collaboration | MU-JHU Care Limited, a Kampala–based equal opportunities Clinical Research and Service Delivery Organisation with more than 350 employees is seeking an interested, committed and reliable senior professional with the described qualifications to apply for the position of Director Strategic Planning and  Partnerships in support of MU-JHU Care Ltd studies/programs to be implemented in Kampala, Uganda.
Job Title: Director Strategic Planning and Partnerships
Reports To: Executive Director
Job Location: MU-JHU Research House, Upper Mulago Hill Road, Kampala.
Description and purpose:
The successful person will be responsible for identifying and managing strategic partnerships within the health research, care and funder fields in Uganda and abroad, including managing the grants portfolio and serving as a lead liaison and advocate on behalf of MU-JHU with major funders and partners and ensuring regular and effective communications for a wide range of stakeholder communications.
Required qualifications and profile:
A Master's degree in a relevant field such as Development, Public Health, Public Policy, Finance, Business or Public Administration. The candidate will demonstrate a minimum of seven years successful experience in strategic planning, grant solicitation, grant management and stakeholder relations in the clinical research and/or health care field in Uganda or a similar setting. General management and communications experience, including project and personnel management, is essential. The candidate should be a self-starter with exceptional communication skills, both written and oral, well-developed interpersonal skills and presence to interact at the most senior corporate, funder and academic levels, experience in strategic planning and in identifying and evaluating potential partner relationships with related organizations. Proven success in resource solicitation and management, funder cultivation and acknowledgement, skilled in general management, including personnel management, basic knowledge of clinical research with a focus on the improvement of the health and well-being of women and children. Knowledge of HIV, TB and vaccine preventable infectious diseases would be an advantage. High level ability to implement short- and long-term goals, ability to foster a cooperative work environment, sensitive to cultural issues and language differences, proficiency in computer systems are core skills. Advanced proficiency in use of Microsoft applications, desktop publishing and willing to travel and work irregular hours will be added advantages.
The holder of this position will work under the direct supervision of the Executive Director, and will be responsible for the following duties:
Strategic and Operational Planning and Development
Consult closely with the Executive Director and Core Management Team to identify areas for strategic program and related infrastructure (space, equipment, resources) expansion that are consistent with the goals and objectives of the organization.
Design, develop and implement short and long term resource development plans and strategies that make possible both the strengthening of the specific programs/components of MU-JHU core competencies (across Research, Program Services and related Capacity/System Strengthening) as well as expansion into approved strategic directions and niches.
Work closely with the MU-JHU Executive Director and Board in developing and reviewing high quality MU-JHU Strategic plans over 5 year cycles.
Working in support of the MU-JHU Executive Director, liaise with all stakeholders to ensure the interests of these major stakeholders are appropriately reflected in MU-JHU planning.
Regular communicate the elements of the Strategic Plan to the Division Directors/Senior Management and coordinate the annual operational planning and reporting cycle aligned to this Strategic Plan.
Analyse, prioritize and pursue funding opportunities among the potential funders that are consistent with the goals and objectives as defined in the Strategic Plan.
Identify and address critical knowledge and skill gaps in middle, senior and executive management staff related to strategic and operational planning processes.
Grants portfolio, partnership and communications leadership
Lead in the development and implementation of the Strategic Resource Generation component of the MU-JHU Strategic Plan.
Leads in the formation and implementation of policies regarding development and resource generation.
Serve as the Authorised Business Official and lead the MU-JHU grants administration office including supervision of the Grants Administration Manager and grants and contracts portfolio. 
With MU-JHU Executive Director, prepares regular reports on development activities and status funder-defined projects underway.
Represents MU-JHU management at various community, funder, stakeholder and board meetings.
Ensure MU-JHU communications reflect MU-JHU's strategic plan and promote visibility with MU-JHU's diverse stakeholders including supervision of the Communications Specialist and communications portfolio.  
Risk management
Work closely with the Board, Executive Director and Director of Administration and Finance to establish and resource effective risk management processes including internal controls and with appropriate separation of duties and accountability to the Board.
Applications with complete C.Vs, including 3 referees and their full addresses or contact Tel No.'s, copies of academic certificates and testimonials, should be sent by email to hr[at]mujhu.org or hand delivered to: MU-JHU Human Resource Manager, through the reception on first floor, MU-JHU 1 Building – not later than January 15, 2021 by 5.30pm. Only short-listed applicants will be contacted.
AFROHUN Position: Regional Lead Africa-USAID STOP Spillover Project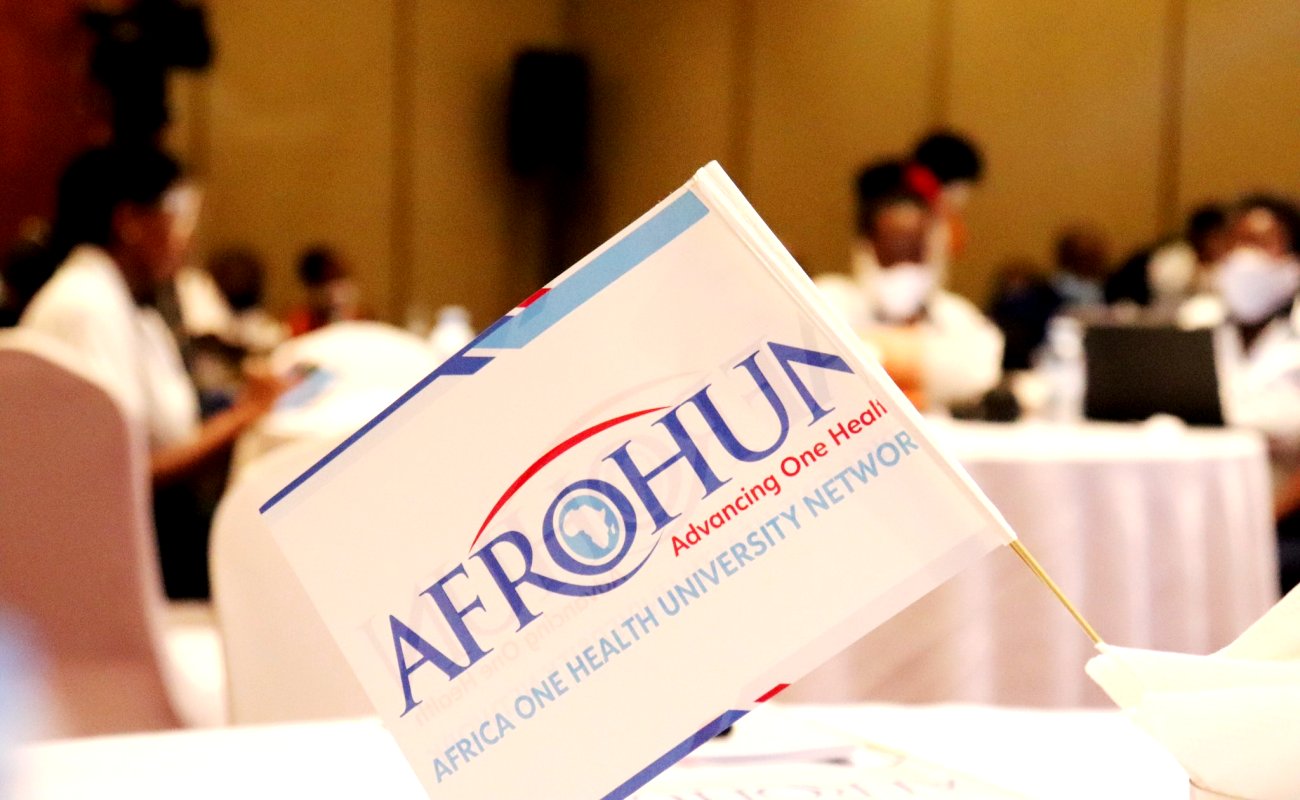 PROJECT DESCRIPTION:
The USAID STOP Spillover program provides a critical opportunity to enhance global understanding of the complex drivers of viral spillover and to augment sustainable national capacities in surveillance, risk analysis, and behavior change. Implementation of the project envisions priority ten countries across Africa and Asia to gain critical knowledge about their Spillover Ecosystems, to refine and use that knowledge effectively, efficiently, and sustainably to reduce the risk of zoonotic viral spillover and
spread. This is a five year project from October 2020 to September 2025.
STOP Spillover is a USAID-funded project to anticipate and address threats posed by the emerging zoonotic diseases that pose the greatest risk of jumping from animals to humans. Tufts University, together with an international consortium of nine core partners including Africa One Health University Network (AFROHUN) and six core sub-award partners are working collaboratively utilizing diverse capabilities among consortium members and stakeholders to implement the STOP project in five countries in Africa over the next five years.
AFROHUN under the STOP project is looking for a competent and passionate person for the position of Regional Lead Africa (RLA).
The RLA is a key position for the STOP project and will preferably be located at AFROHUN Regional Secretariat located in Kampala, Uganda with frequent travels where possible within project target countries.
JOB TITLE: REGIONAL LEAD AFRICA
Reports to:
AFROHUN Chief Executive Officer
Responsibilities:
The RLA will provide leadership to project implementation in Africa and serve as a member of the Global project's leadership team. S/he will offer technical leadership to the project working very closely with global consortium members and AFROHUN leadership. The RLA will be under the overall administrative supervision of the AFROHUN Chief Executive Officer. This is a full-time position, renewed yearly based on performance evaluation, and availability of funds.
Qualifications:
Master's degree in any discipline with relevance to One Health (public health, human health, animal health, wildlife, behavioral sciences, environmental health), project management, international development or related relevant discipline.
Experience with developing and managing projects of partnerships at the highest levels with government partners, academia, international partners, funders, and private sector.
Understanding of One Health concepts and expertise in areas critical to surveillance, risk reduction and management, intervention implementation and mitigation of zoonotic disease amplification and spread, public health and ecosystem health
Excellent collaboration capabilities, working in multi-cultural and multidisciplinary settings.
10-15 years in program/project management experience.
Excellent organizational, written, and verbal communication skills.
Proven experience in managing donor funded projects especially USAID.
Gender and cultural awareness and sensitivity.
Proficient in Microsoft Office Suite, Adobe Acrobat, digital communications.
Willingness to travel locally and internally
How to apply:
If your career aspirations, qualifications and experience match the above requirements, please email your application in English stating Regional Lead Africa as the subject to secretariat[at]afrohun.org and copy to nainembabazi[at]afrohun.org by 17h00 East African Time on January 8th 2021. The application package should include, application letter, CV with 2 referees, and copies of relevant academic certificates.
Please see Downloads for detailed advert