RUFORUM celebrates 10 years of Regional Agricultural Transformation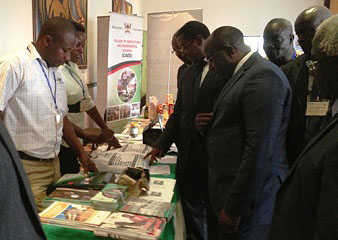 Book on RUFORUM achievements for ten years launched
Outstanding Research Scientists and Farmers get awards
Proposal to operationalize Graduate Teaching Assistantship tabled
Deans urged on Postgraduate completion rates
The 9th RUFORUM Annual General Meeting concluded in Kigali Rwanda with a call for the 32 partner universities to mutually support each others' academic endeavors. The three day conference held from 19th to 21st September 2013 was officially opened by Rwanda's Prime Minister, Rt. Hon. Pierre Damien Habumuremyi at the Serena Hotel.
On arrival, the Prime Minister toured the exhibitions featuring RUFORUM partnering Universities and agricultural related organisations showcasing their latest technologies and innovations including CABI, the National University of Rwanda, Nairobi University of Kenya, Bunda College University of Malawi and University of Swaziland.
Makerere University Uganda exhibited various agro processed products from the Food Technology and Business Incubation Centre, as well as animal and crop technologies that stunned conference participants.
Makerere's Deputy Vice Chancellor in charge of Finance and Administration Assoc. Prof. Barnabas Nawangwe represented the Vice Chancellor John Ddumba-Ssentamu at the conference. Prof. Bernard Bashaasha (Principal), Prof. Patrick Rubayihayo and Assoc. Prof. Patrick Okori represented the College of Agricultural and Environmental Sciences (CAES). Others were Dr. Jessica Nakavuma (Deputy Principal) and Dr. David Owiny (Dean School Biosecurity, Biotechnical and Laboratory Sciences) from the College of Veterinary Medicine, Animal Resources and Biosecurity (CoVAB)
Rt. Hon. Pierre Damien Habumuremyi then launched the RUFORUM book highlighting the network achievements over the past ten years of its existence titled, " DIRTY HANDS, FINE MINDS: The Story of an Agricultural Research and Training Network in African Universities", authored by Mary Anne Fitzgerald and Megan Lindow.
The book discusses RUFORUM programs drawn from solid international experiences which identify how universities are central to achieving successful agricultural transformation. The book shows how the RUFORUM member universities are building strong ties to business enterprises to provide role models, case studies and enhancing opportunities. The book also highlights collaborations among RUFORUM universities that have given students, staff and more importantly farmers access the knowledge and facilities within those universities.
Prime Minister, Pierre Damien Habumuremyi later handed over IMPRESSA awards to Africa's top three research scientists whose work had a continental impact. The first prize winner was Prof. Richard Kiprombeyi from Moi University Kenya. The second prize went to Prof. Robert Okalebo from Eldoret University Kenya as a distinguished scientist in the area of Soil Management in Africa while Prof. Emmanuel Kaunda from Bunda College University of Malawi got the prize for developing the Fisheries and Aquaculture Centre that has benefitted many.
Two outstanding scientists in Agriculture in Rwanda were also awarded for improving peoples' livelihoods. The trophies were handed over by Rwanda's Minister of Education, Dr. Vincent Biruta. Dr. Bucyaca Charles, a lecturer in the Department of Agricultural Sciences was recognized for writing a paper on Soil Conservation Technology used by farmers such as cover terracing which has impacted on the farming communities in Rwanda. The other scientist was Dr. Kagaba Desire working with the Rwanda Agricultural Board. He was recognized for his work in Agricultural Watershed Management.
Five outstanding innovative farmers in Rwanda were also given trophies and awarded 5000 Rwanda Francs to improve their farming activities in recognition of their distinguished efforts and commitment to improve the agricultural sector. The trophies were handed over to Ms. Twimbazimana Consolae, Mr. Simeo Gyizimana and Mrs. Uwera Flora among others by RUFORUM Board chairman Prof. Levy Nyagura.
In his opening remarks, the Prime Minister Rt. Hon. Pierre Damien Habumuremyi told participants that the mission and vision of RUFORUM was in line with that of the Government of Rwanda geared towards transforming the education system and improving people's livelihoods, " This meeting has given Rwanda a golden opportunity to celebrate achievements of RUFORUM for the past ten years and to witness the award ceremony to its outstanding farmers and Scientists", he said.
The Prime Minister thanked RUFORUM for taking a bold step to reach out and promote a broad agenda of not the "Ivory Tower Syndrome" but working in a partnership model that has changed many lives. He appreciated RUFORUM for making a difference in graduate training saying, over 20 Rwandese students had benefited, trained and returned home. He added that to-date RUFORUM support to agricultural research had reached to a tune of 9million USD with support from donors.
Rt. Hon. Pierre Damien Habumuremyi said over the past ten years much had been achieved through RUFORUM network universities including the production of high performing graduates and research output that was responsive to national needs and development , " RUFORUM goal is in line with the Vision of President Kagame in what concerns the development of agricultural sector in Rwanda and the transformation of Africa, elimination of hunger and poverty", The Prime Minister reiterated.
He said Rwanda's next focus was to increase productivity and agriculture value chain and attract the private sector to improve agriculture that require agricultural education and a critical mass to transform agriculture. He pledged his government commitment to support the network activities.
He added that Government of Rwanda would like to be actively involved in the network by linking Rwanda agricultural universities with private institutions, providing exposure to RUFORUM network facilities, accessing network centers of excellence, carrying out research and fighting pests and diseases among others.
The conference brought together, Permanent secretaries, Vice chancellors, Deans and Principals from the partnering universities, colleges and faculties. The committee of Deans and Principal's held a Pre – Annual General Meeting and discussed various issues including the need to improve on the visibility and funding of the network activities, the relevance of the curriculum , graduate completion rates, governance issues, quality assurance and the proposed mobility program of Graduate Teaching Assistant ship(GTA) among other things.
The idea of Graduate Training Assistantship (GTA) was submitted by RUFORUM Secretariat where it was noted that about three quarters of the Vice chancellors of the partnering universities had signed a Memorandum of Understanding endorsing it as a good initiative.
Under this arrangement, the host university provides fellowships / student assistantship that will include waiver on tuition fees and all other related program fees. The hosting university also provides the staff member with research funds available at the university; have such students registered for a PhD or MSc and then fix the candidate on the timetable to teach at the host university as part of their contribution. The sending university on the other hand, will provide their staff or PhD student with return tickets and all related travel expenses including living out allowances during the mobility period.
The proposal was seen as a good initiative that will promote academic mobility among partnering universities as part of the effort to train a pool of PhD level academic staff that will also promote regional integration and cross fertilization of expertise with the region.
Addressing Principals and Deans, the Chairman RUFORUM Board Prof. Levy Nyagura who is also Vice Chancellor University of Zimbabwe described the Deans as champions of research and implored them to support the GTA initiative saying, it was an indirect way of financing Postgraduate studies and a strategy of dealing with limited financial resources to support graduates.
"Let us have a common vision as RUFORUM family regarding uplifting each other in terms of academics. The bottom line is to accept the idea. We have not come up with implementation modalities. Secretariat will engage with you deans and prepare a dozzier to that effect. The Deans should bring suggestions of what they think should be done to make the scheme effective and efficient for the future academics. "Prof. Levy Nyagura appealed to the Deans.
In the same forum, the Deans were also requested to ensure that Post graduate students complete their studies within the stipulated rules and regulations. This followed the Deans and Principals committee meeting which raised concerns over complaints that some students were taking too long to graduate.
The Board chairman asked Deans to consider themselves as responsible for creating a good academic environment for students to complete. "Deans should gauge the number of admissions vis-a-vis the number of supervisors and guide the system on what is possible regarding postgraduate admission and the existing capacity', The Board Chairman advised.
The conference was also punctuated by presentations from other agricultural organizations including ASARECA, CTA and CARDESSA. All RUFORUM partnering universities received membership certificates.
RUFORUM is a consortium of 32 member universities in Eastern, Central and Southern Africa. The Principals and Deans responsible for agriculture in these universities are the main entry point of implementation and achievements of RUFORUM output and impacts in agricultural graduates, the university and sector at large in those countries.
Regular meetings of the Deans and Principals are a key channel for networking, sharing and lesson learning, collective discussion and agreements on regional initiatives that influence change for the better focus in the colleges, faculties and universities. END
Story by Jane Anyango & Agaba Issa Mugabo
Launch of Mak-RIF Round 4 Awards & PhD Call for Proposals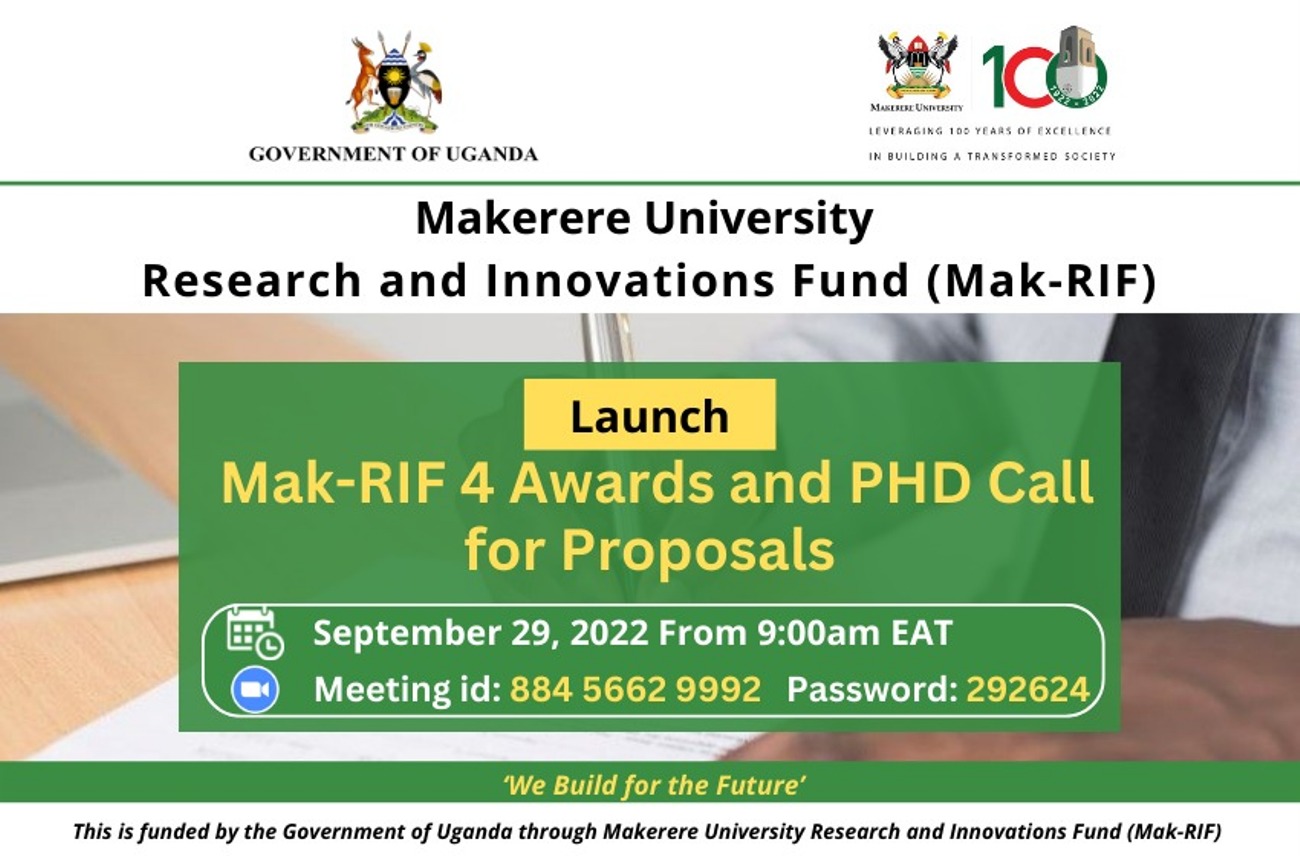 Makerere University received funding from the Government of the Republic of Uganda, earmarked to support high impact Research and Innovations. This unique initiative arose after engagements between the top University Management and the Government of Uganda. This fund illustrates the increasing importance that the Government attaches to Research and Innovation as a driver of development and transformation. The objective of the fund is to increase the local generation of translatable research and scalable innovations that address key gaps required to drive Uganda's development agenda. 
In the Financial years 2019/2020, 2020/2021 and 2021/2022 the Government of the Republic of Uganda through Mak-RIF has funded implementation of over 750 multidisciplinary research and innovations within the various Colleges, while engaging multiple stakeholders within and outside Makerere University. The Grants Management Committee (GMC) has finalized the award process for the Mak-RIF round 4 call for funding for this Financial Year 2022/2023.
The Grants Management Committee (GMC) hereby invites you to the Launch of the Mak-RIF Round 4 awards and PhD Call for Proposals scheduled to take place tomorrow Thursday 29th September 2022 from 9:00 to 10:00 a.m. EAT. 
Please use the following details to join the launch.
Register in advance for this meeting:
https://us06web.zoom.us/meeting/register/tZwpcu-urDIjE9ZgxdsbEmA2IkNMMiJVECt_ 
Meeting ID: 884 5662 9992
Password: 292624
Notice: Makerere Disability Scheme 2022/23 Medical Review Exercise