Mak Immortalises Prof. William Senteza Kajubi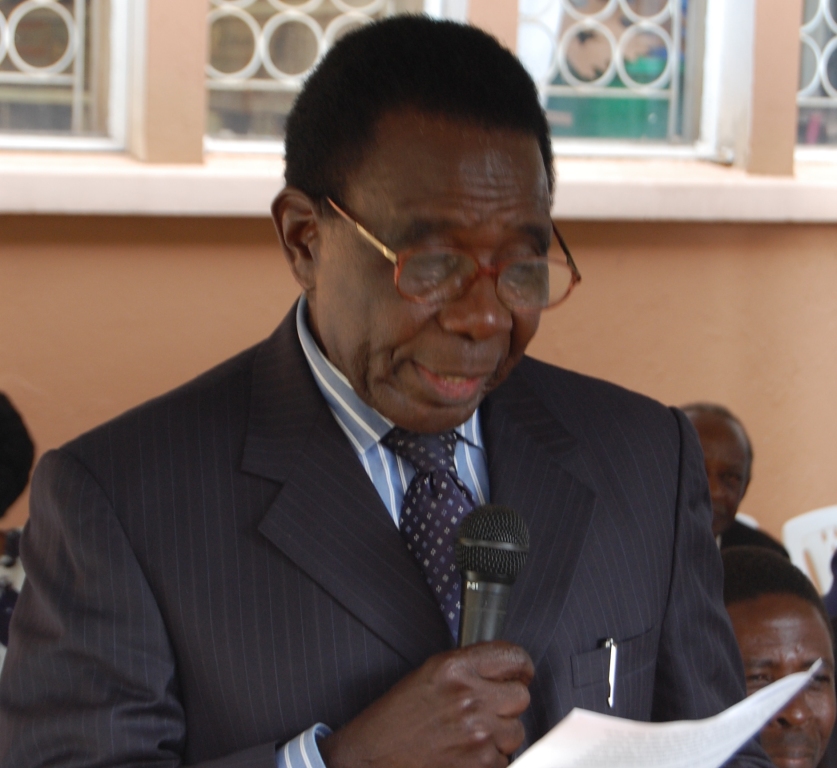 The gathering had a definite aura of composure and respectability about it. Ladies and gentlemen, the majority of whom were well over their fifties gathered on this warm sunny afternoon of 20th December 2010 to witness the unveiling of a Bust of Professor William Senteza Kajubi.

The gathering had a definite aura of composure and respectability about it. Ladies and gentlemen, the majority of whom were well over their fifties gathered on this warm sunny afternoon of 20th December 2010 to witness the unveiling of a Bust of Professor William Senteza Kajubi.
This immortalization in the form of a Bust was done in honour of the good Professor's contributions towards the development of Education in Uganda.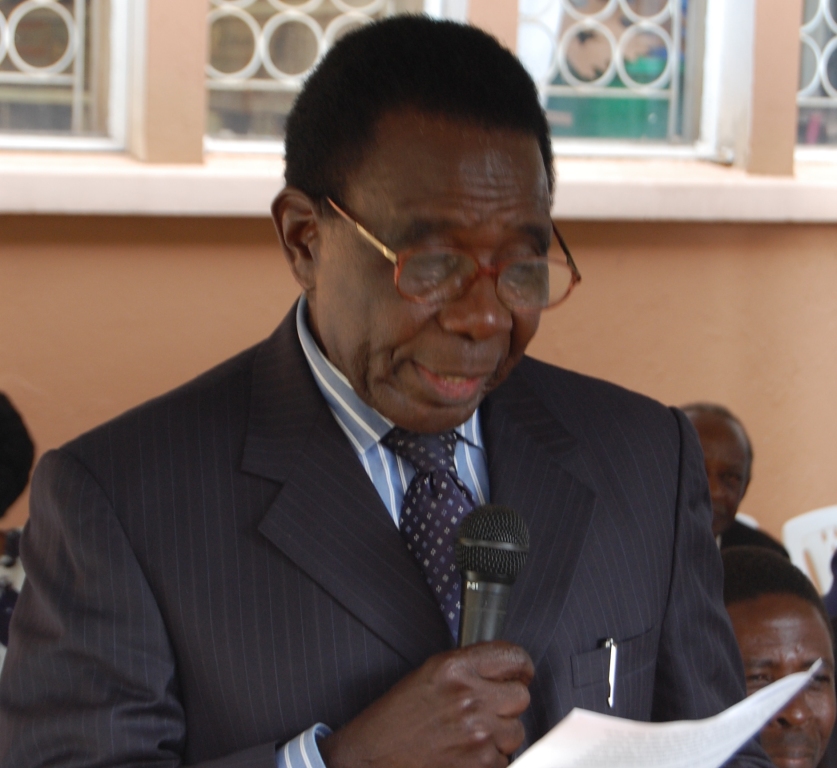 As true testimony to his influence on the lives of the many people he has interacted with, the entire lineup of speakers that afternoon consisted of either very great friends or former students of Prof. Senteza Kajubi.
In his keynote address, Prof. Lutalo-Bbosa, yet another seasoned and well known educationist gave a glowing tribute to his former Vice Chancellor and great friend. Having met him while still only a young man, Prof. Lutalo-Bbosa's and Prof. Senteza Kajubi's academic paths were to later cross at King's College Budo, then Makerere University, where he rose from Lecturer to become Prof. Senteza Kajubi's Deputy Vice Chancellor, and then at the Institute of Teachers Education Kyambogo (ITEK).
Some of the key milestones in Prof. Senteza Kajubi's life were; in 1951 after reluctantly accepting his posting to teach at Kako Secondary School in Masaka, he was later to meet his late wife Princess Elsie Nabaloga and the couple tied the knot on 3rd May 1952. In August 1953, he was granted a scholarship as the first Fulbright Student from Africa, thanks to his late friend and mentor – Professor Emeritus Edwin Munger. Only the year before in 1952, frustrated by the inadequate access to higher education courtesy of a rigid Protectorate Government, he had embarked on a crusade to fight for expanded access to education at all levels in Uganda. In 1955, he returned to King's College Budo as a Senior Geography Teacher, and later set a record in 1958 as the only teacher to have his entire class, save for one student, score distinctions in the Geography Cambridge School Certificate.
Prof. Senteza Kajubi's personality and professionalism greatly aided his impact on the Education system in Uganda. As a member of the Castle Commission on Education of 1963 and the Education Review Commission (Kajubi Commission) of 1989, he authored/co-authored reports which have acted as the blueprint for the Education System in Uganda since Independence. The impact of this strong foundation is still felt today. Of all government sectors, Education has expanded the most in the last two decades; Primary School enrollment has expanded to over 8million, and University and Tertiary Institutions have thrived. His advocacy for the Biological Children's Scheme for Makerere University staff enabled government sponsorship for biological children of staff members, a feat that enabled them to access higher education and motivated staff members. Today, the scheme is used in all public universities in the country.
Prof. Lillian Tibatemwa-Ekirikubinza who represented the Vice Chancellor at the occasion recognized the importance of honoring the contributions of Prof. Senteza Kajubi to Uganda's Education Sector,
"Honouring those who've gone before us gives us a chance to reflect on where we have come from, where we are, and where we wish to be as an institution in the next ten years."
She reiterated Makerere University's commitment to supporting government educational programmes like UPE, USE and most recently Universal Advanced Level Education through continuing to strategically position itself produce enough teachers especially science teachers, so as to support government policies like the compulsory sciences at ordinary level.
Speaking as a former student of Prof. Senteza Kajubi, the Right Honourable Prime Minister Prof. Apolo Nsibambi, while reminiscing about his times as a student praised his former Geography teacher
"He mastered the subject of Geography so well that we were able to understand it very well. His delivery skills were very good. He was, therefore, able to capture and sustain our attention," he added.
Prof. Nsibambi who was later to join his former teacher as a colleague at Makerere University praised Prof. Senteza Kajubi for his dedicated and exemplary service to the East African Community and challenged him to write a book about his life.
In yet another glowing tribute to Prof. Senteza Kajubi, Dr. Martin Aliker, a fellow Budonian, thanked the Professor for his mentorship, which began in Budo and continued all the way to his Masters study in the University of Chicago, USA.
"Since then, we have been together as a family, we have shared in Senteza's triumphs and trials, tragedies and successes, and I am probably the proudest person apart from his family to be here," remarked Dr. Aliker.
After unveiling the bust in his honour, Prof. Senteza Kajubi expressed his sincere gratitude at being immortally put on a pedestal and allowed to bask in the limelight of approval by colleagues and friends in the highest seat of learning in Uganda.
Having started out as a humble boy from Kireku village, Singo, 84 years ago, Prof. Senteza Kajubi attributed his love for and pride in whatever he was assigned to do, to the family work ethic. His late Father Yoweri Kajubi was a driver for the Public Works Department and Post Office, and on his retirement on 12th June 1958, after more than 40years of service; he was awarded "The Certificate of Honour" from Her Royal Majesty, Queen Elizabeth II, for his dedicated service to the Uganda Protectorate. His late Mother, Bulanina Namukomya on the other hand was an entrepreneur, who run a shop, tailored dresses and wedding gowns and baked confectionaries. All this was further emphasized by the family motto "OMULIMU LYE LINNYA LY'OMUNTU" (ONE'S WORK IS ONE'S NAME)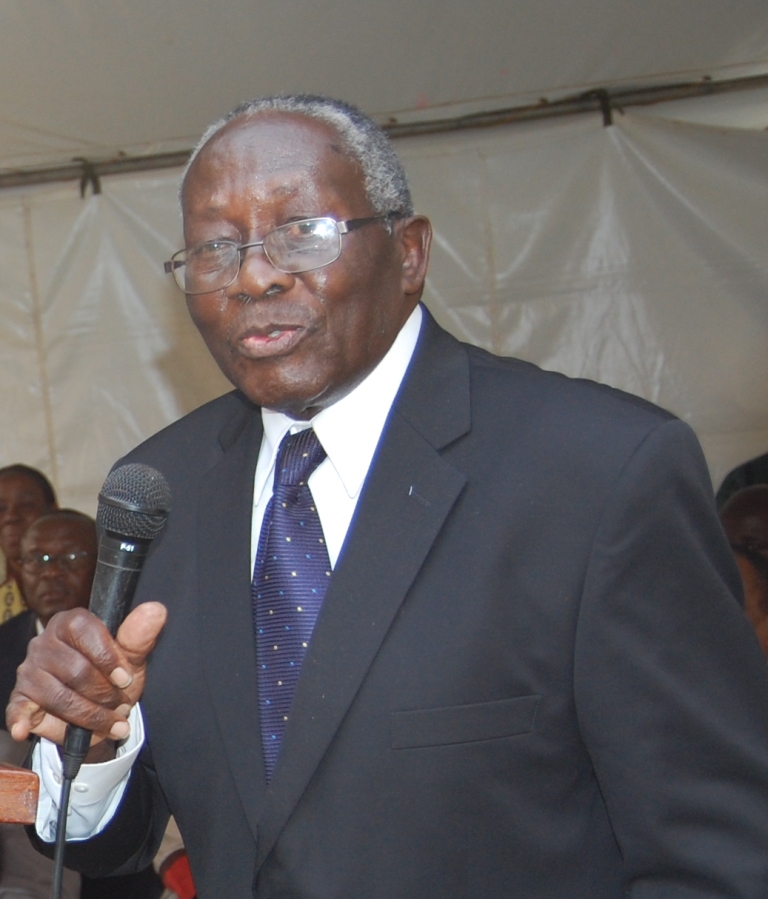 Prof. Kajubi's first contact with higher education was in 1938 as a P.5 pupil, who after marching 7miles from Mackay Memorial School in Nateete with his schoolmates, was privileged to bear witness to the cutting of the first sod for the Main Administration Building (at the then Makerere College) by His Royal Highness, The Duke of Gloucester. The message from His Majesty King George VI on this occasion was
"The College will afford splendid opportunities for service and advancement especially for African men and women of which I am sure they will eagerly avail themselves"
Although he admitted to not having comprehended the message then, he is proud to have been one of those privileged men and women called for service and advancement in this country, and later on be recognized and immortalized with a bust in the oldest School of Education in Eastern and Central Africa.
In his words of wisdom to the gathering, Prof. Senteza Kajubi counseled, "If every man and woman in Uganda and the rest of Africa did his or her duty, we would be able to defeat the combined fleet of ignorance, poverty and disease in no time."
We the members of the Makerere University Community congratulate Professor William Senteza Kajubi upon this worthy honour. As a multi-talented person of integrity with demonstrated commitment to duty, his ability to relate, entertain and socialize, combined with his inexhaustible sense of humour, not to mention his endless list of academic and service accolades impress upon our hearts and minds an unforgettable legacy. Professor William Senteza Kajubi – the "Friend-raiser" is the true embodiment of a mentor for us all.
Downloads
Rt. Hon. Prof. Apolo Nsibambi's Speech: PDF Version, Postscript Version
The Vice Chancellor's Speech: MS Word Version, PDF Version, Postscript Version
mwamai@admin.mak.ac.ug, Public Relations Office
Guidelines for Freshers 2020/21 Academic Year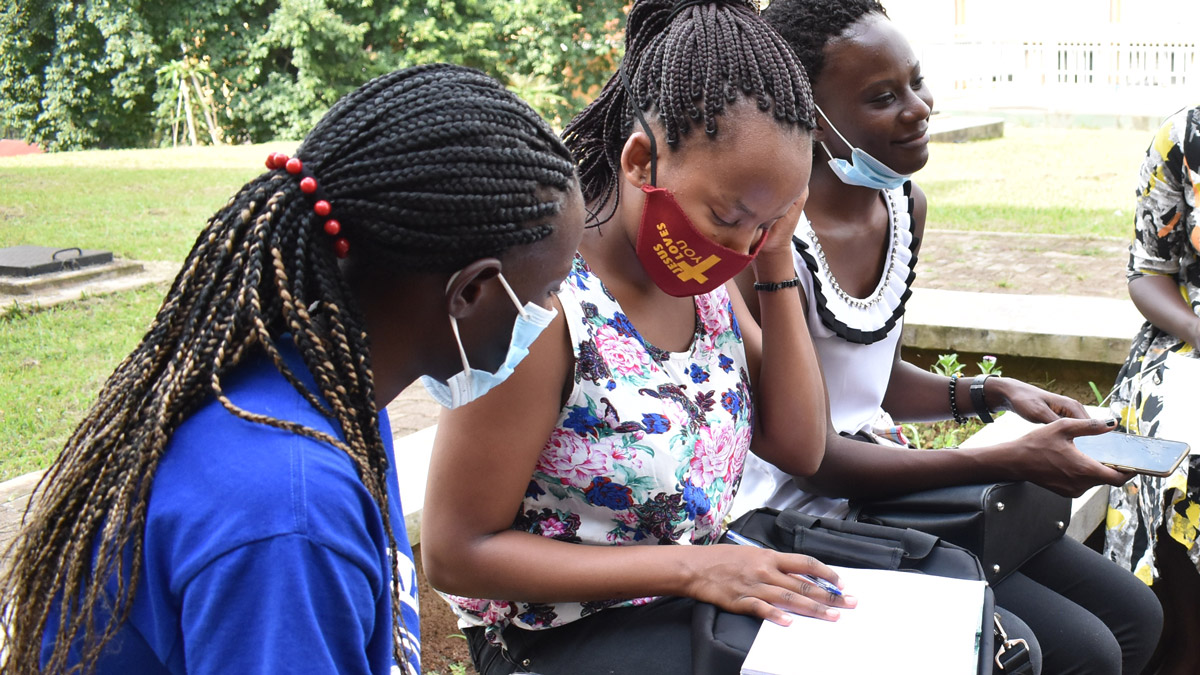 First Year students (Freshers) are by tradition given an "acclimatization" period of normally one week which is referred to as the "Orientation Week". The Freshers report on Campus one week earlier than the Continuing students and during this week they are introduced to the key facilities in the University as well as other important aspects of life at the University.
From Saturday 30th January, 2021 to Friday 5th February, 2021 (7 Days) will be the Orientation Week for all Freshers at their respective Colleges while observing the COVID-19 SOPS, will follow a programme drawn by the College.
After the orientation programme, first year students will undertake an Open Distance and e-Learning education model (ODeL/Blended Learning) subject to further guidance from government. Each student therefore, MUST have a laptop computer as one of the essential tools for study purposes for the programme offered.
Registration
For a candidate to qualify to be a bona fide student of the University, he/she must be registered. Registration is a mandatory requirement of the University which must be done within the first two (2) weeks from the beginning of the semester by every student. Privately sponsored students will pick their original admission letters after payment of 60% tuition and all functional fees from their respective colleges.
Registration will commence on Tuesday 2nd February, 2021 starting at 9.00 a.m. each day.
Ensure that you complete all the required enrollment/registration formalities within the prescribed time in order to avoid disappointments later.
Further details including fees and change and procedures of change of course are available in the documents downloadable from the links below:
NOTE
The information on orientation and registration for non-finalists which was proposed to start on 30th January 2021 is tentative. You should therefore wait for Government of Uganda directive/guidelines on the official opening of Higher Education Institutions.
MU-JHU Position: Director Strategic Planning and Partnerships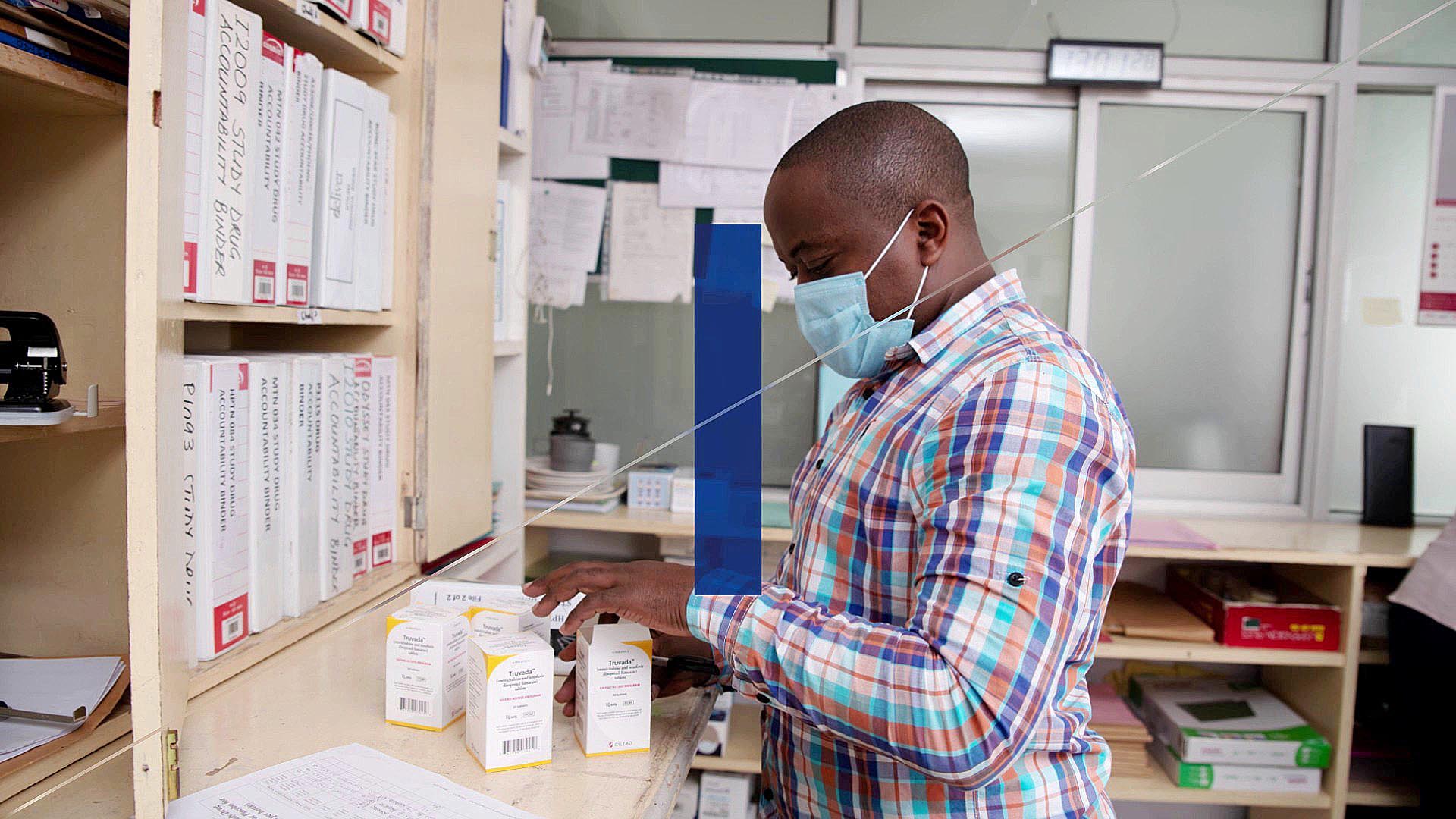 The Makerere University-Johns Hopkins (MU-JHU) Research Collaboration | MU-JHU Care Limited, a Kampala–based equal opportunities Clinical Research and Service Delivery Organisation with more than 350 employees is seeking an interested, committed and reliable senior professional with the described qualifications to apply for the position of Director Strategic Planning and  Partnerships in support of MU-JHU Care Ltd studies/programs to be implemented in Kampala, Uganda.
Job Title: Director Strategic Planning and Partnerships
Reports To: Executive Director
Job Location: MU-JHU Research House, Upper Mulago Hill Road, Kampala.
Description and purpose:
The successful person will be responsible for identifying and managing strategic partnerships within the health research, care and funder fields in Uganda and abroad, including managing the grants portfolio and serving as a lead liaison and advocate on behalf of MU-JHU with major funders and partners and ensuring regular and effective communications for a wide range of stakeholder communications.
Required qualifications and profile:
A Master's degree in a relevant field such as Development, Public Health, Public Policy, Finance, Business or Public Administration. The candidate will demonstrate a minimum of seven years successful experience in strategic planning, grant solicitation, grant management and stakeholder relations in the clinical research and/or health care field in Uganda or a similar setting. General management and communications experience, including project and personnel management, is essential. The candidate should be a self-starter with exceptional communication skills, both written and oral, well-developed interpersonal skills and presence to interact at the most senior corporate, funder and academic levels, experience in strategic planning and in identifying and evaluating potential partner relationships with related organizations. Proven success in resource solicitation and management, funder cultivation and acknowledgement, skilled in general management, including personnel management, basic knowledge of clinical research with a focus on the improvement of the health and well-being of women and children. Knowledge of HIV, TB and vaccine preventable infectious diseases would be an advantage. High level ability to implement short- and long-term goals, ability to foster a cooperative work environment, sensitive to cultural issues and language differences, proficiency in computer systems are core skills. Advanced proficiency in use of Microsoft applications, desktop publishing and willing to travel and work irregular hours will be added advantages.
The holder of this position will work under the direct supervision of the Executive Director, and will be responsible for the following duties:
Strategic and Operational Planning and Development
Consult closely with the Executive Director and Core Management Team to identify areas for strategic program and related infrastructure (space, equipment, resources) expansion that are consistent with the goals and objectives of the organization.
Design, develop and implement short and long term resource development plans and strategies that make possible both the strengthening of the specific programs/components of MU-JHU core competencies (across Research, Program Services and related Capacity/System Strengthening) as well as expansion into approved strategic directions and niches.
Work closely with the MU-JHU Executive Director and Board in developing and reviewing high quality MU-JHU Strategic plans over 5 year cycles.
Working in support of the MU-JHU Executive Director, liaise with all stakeholders to ensure the interests of these major stakeholders are appropriately reflected in MU-JHU planning.
Regular communicate the elements of the Strategic Plan to the Division Directors/Senior Management and coordinate the annual operational planning and reporting cycle aligned to this Strategic Plan.
Analyse, prioritize and pursue funding opportunities among the potential funders that are consistent with the goals and objectives as defined in the Strategic Plan.
Identify and address critical knowledge and skill gaps in middle, senior and executive management staff related to strategic and operational planning processes.
Grants portfolio, partnership and communications leadership
Lead in the development and implementation of the Strategic Resource Generation component of the MU-JHU Strategic Plan.
Leads in the formation and implementation of policies regarding development and resource generation.
Serve as the Authorised Business Official and lead the MU-JHU grants administration office including supervision of the Grants Administration Manager and grants and contracts portfolio. 
With MU-JHU Executive Director, prepares regular reports on development activities and status funder-defined projects underway.
Represents MU-JHU management at various community, funder, stakeholder and board meetings.
Ensure MU-JHU communications reflect MU-JHU's strategic plan and promote visibility with MU-JHU's diverse stakeholders including supervision of the Communications Specialist and communications portfolio.  
Risk management
Work closely with the Board, Executive Director and Director of Administration and Finance to establish and resource effective risk management processes including internal controls and with appropriate separation of duties and accountability to the Board.
Applications with complete C.Vs, including 3 referees and their full addresses or contact Tel No.'s, copies of academic certificates and testimonials, should be sent by email to hr[at]mujhu.org or hand delivered to: MU-JHU Human Resource Manager, through the reception on first floor, MU-JHU 1 Building – not later than January 15, 2021 by 5.30pm. Only short-listed applicants will be contacted.
AFROHUN Position: Regional Lead Africa-USAID STOP Spillover Project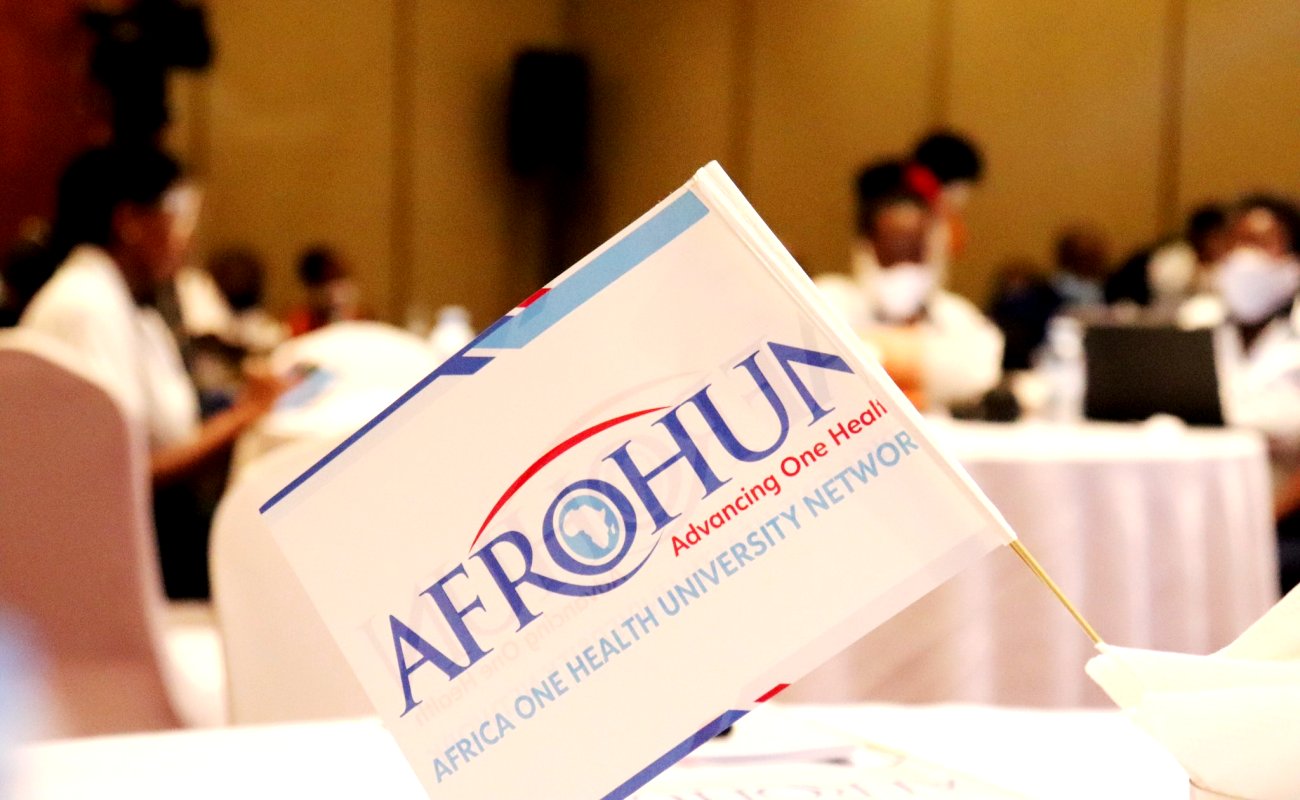 PROJECT DESCRIPTION:
The USAID STOP Spillover program provides a critical opportunity to enhance global understanding of the complex drivers of viral spillover and to augment sustainable national capacities in surveillance, risk analysis, and behavior change. Implementation of the project envisions priority ten countries across Africa and Asia to gain critical knowledge about their Spillover Ecosystems, to refine and use that knowledge effectively, efficiently, and sustainably to reduce the risk of zoonotic viral spillover and
spread. This is a five year project from October 2020 to September 2025.
STOP Spillover is a USAID-funded project to anticipate and address threats posed by the emerging zoonotic diseases that pose the greatest risk of jumping from animals to humans. Tufts University, together with an international consortium of nine core partners including Africa One Health University Network (AFROHUN) and six core sub-award partners are working collaboratively utilizing diverse capabilities among consortium members and stakeholders to implement the STOP project in five countries in Africa over the next five years.
AFROHUN under the STOP project is looking for a competent and passionate person for the position of Regional Lead Africa (RLA).
The RLA is a key position for the STOP project and will preferably be located at AFROHUN Regional Secretariat located in Kampala, Uganda with frequent travels where possible within project target countries.
JOB TITLE: REGIONAL LEAD AFRICA
Reports to:
AFROHUN Chief Executive Officer
Responsibilities:
The RLA will provide leadership to project implementation in Africa and serve as a member of the Global project's leadership team. S/he will offer technical leadership to the project working very closely with global consortium members and AFROHUN leadership. The RLA will be under the overall administrative supervision of the AFROHUN Chief Executive Officer. This is a full-time position, renewed yearly based on performance evaluation, and availability of funds.
Qualifications:
Master's degree in any discipline with relevance to One Health (public health, human health, animal health, wildlife, behavioral sciences, environmental health), project management, international development or related relevant discipline.
Experience with developing and managing projects of partnerships at the highest levels with government partners, academia, international partners, funders, and private sector.
Understanding of One Health concepts and expertise in areas critical to surveillance, risk reduction and management, intervention implementation and mitigation of zoonotic disease amplification and spread, public health and ecosystem health
Excellent collaboration capabilities, working in multi-cultural and multidisciplinary settings.
10-15 years in program/project management experience.
Excellent organizational, written, and verbal communication skills.
Proven experience in managing donor funded projects especially USAID.
Gender and cultural awareness and sensitivity.
Proficient in Microsoft Office Suite, Adobe Acrobat, digital communications.
Willingness to travel locally and internally
How to apply:
If your career aspirations, qualifications and experience match the above requirements, please email your application in English stating Regional Lead Africa as the subject to secretariat[at]afrohun.org and copy to nainembabazi[at]afrohun.org by 17h00 East African Time on January 8th 2021. The application package should include, application letter, CV with 2 referees, and copies of relevant academic certificates.
Please see Downloads for detailed advert