Mak-RIF engages Private Sector, NGOs, and CSO representatives in Uganda Review of the Mak-RIF Research Agenda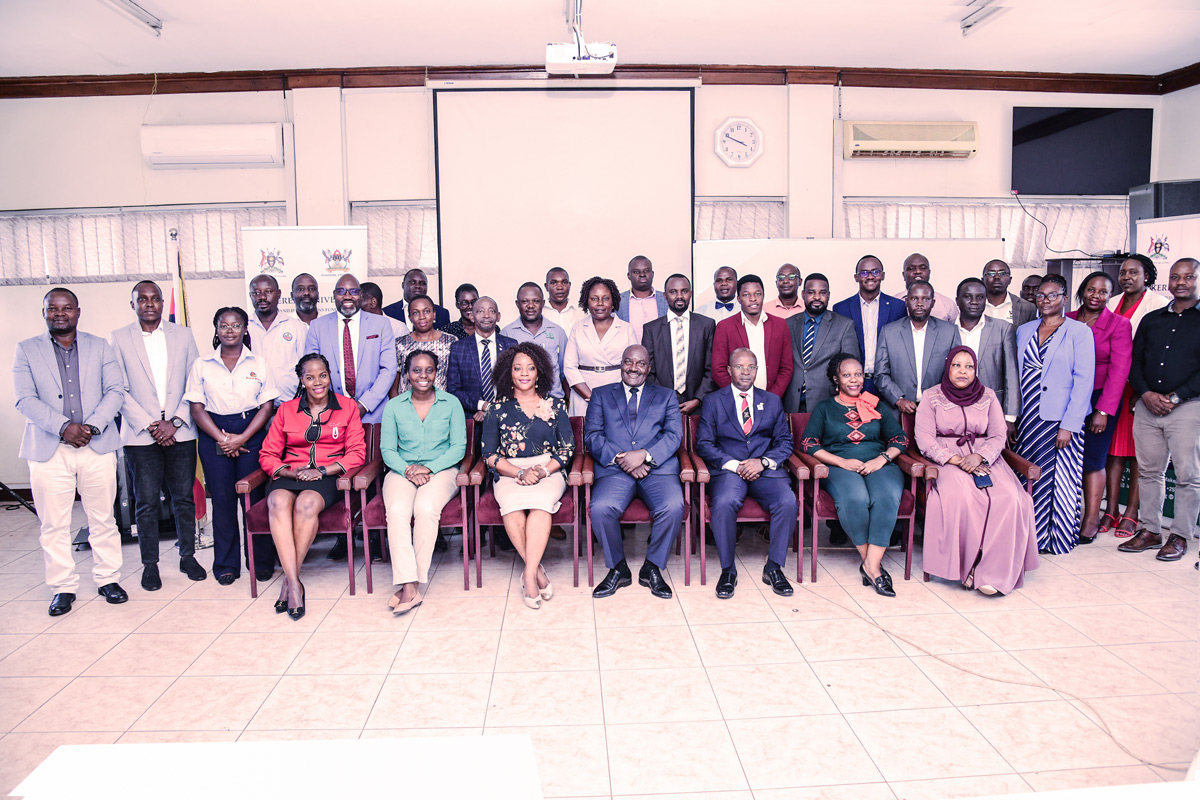 On November 9th, 2023, the Mak-RIF Grants Management Committee (GMC) and Secretariat convened representatives from the Private Sector, Non-Governmental Organizations, and Civil Society Organizations in the Makerere University College of Computing and Information Sciences Conference Room. This was yet an opportunity for Mak-RIF to share her achievements to date while reflecting on the guiding Research Agenda. It was also an opportunity for participants to garner feedback from the engagement participants to inform the review of the Mak-RIF Research Agenda.
It is usually important to know who is in the room not only for purposes of knowing who is with you and or accountability but also to enhance networking and collaborations that might emanate from the networking opportunities therein. In this regard, this engagement started with self-introductions.  Participants included representatives from Joint Medical Stores, Uganda Tourism Association, Legacy Road Safety Initiative, Environmental Rights NGO, Uganda Christian University, Pathfinder International, USAID Uganda Family Planning Activity, Uganda Law Society, Save for Health Uganda, Aloesha Organic, Private Sector Foundation Uganda, Radio Simba, Busitema University, International Rescue Committee, Green Herbs Uganda Limited, Uganda Catholic Medical Bureau, Uganda Moslem Catholic Bureau, Uganda Manufacturers Association, Zimba Women, Fundi Bots, Water for People, M'Omulimisa, Teenage Mothers and Child Protection Organization, RECO Industries, Uganda Connect among others.
Prof. Fred Masagazi Masaazi, Chairperson of Mak-RIF GMC welcomed all participants noting that for the last five years, Mak-RIF's work has been guided by the Research Agenda currently under review. "We are looking forward to receiving views from all of you representatives of stakeholders in the country and beyond to further inform the review of the Mak-RIF Research Agenda," Prof. Masagazi said. He recognized the continuous support from all stakeholders since 2019 during the inception stages towards building the Mak-RIF story. "Several of you or your colleagues in the institutions and organizations in which you serve are part of research teams and have continued to support our researchers in several ways. Some of you have joined in our research and innovation outputs dissemination sessions, thank you all" he added. He highlighted some questions to guide the review of the Mak-RIF Research Agenda including the following;
Has the Mak-RIF met community expectations yet? If not, what else can be done?
Is there a need to develop a new Research Agenda or even review the existing one?
Do the prevailing socio-economic conditions require a new Research Agenda?
What should be included in the new Research Agenda?
Would all our ideas contribute to Uganda's National Development Plan, Sustainable Development Goals, Sector Priorities etc.?
Do our ideas rhyme with the National Development Plan? Can we work together to translate Makerere University into research-led university?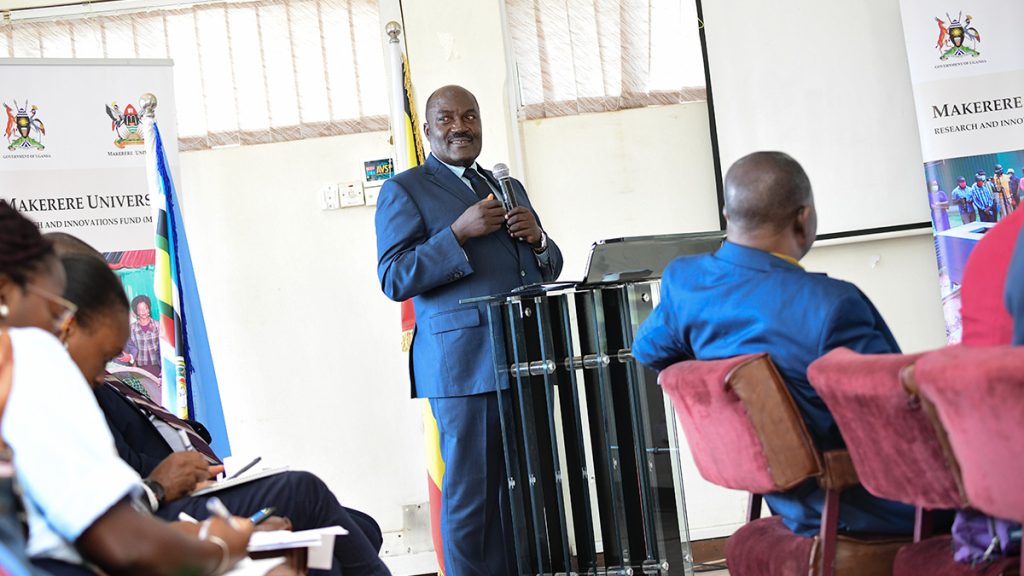 "Our interest is in knowing from you our meeting participants which other areas we can conduct research in. What else can we do together? We still need additional funds to support research, where else can the university source for funding? Can we work together to source more funds because we cannot rely on Government funding alone?" Prof. Masagazi said. He further guided the engagement participants saying that Mak-RIF shall implement all ideas provided they speak and are in line with the National Development Plan, Sustainable Development Goals, Sector Priorities as well as the Makerere University Strategic Agenda of becoming a research-led institution. He concluded his welcome note by calling upon all participants to secure time and interact with the Mak-RIF website for additional information about the ongoing research and innovation work.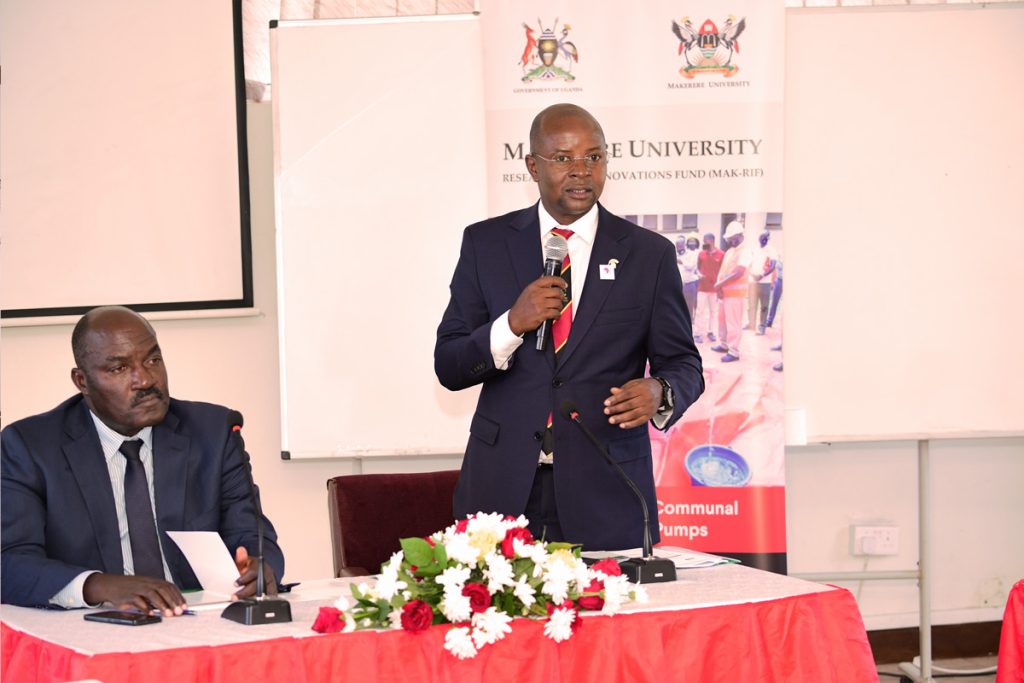 Prof. Edward Bbaale, Director of the Directorate of Research and Graduate Training representing Prof. Barnabas Nawangwe, Vice Chancellor Makerere University officially opened this engagement and later chaired the discussion session to further generate additional input to the operational Mak-RIF Research Agenda. He thanked all participants for honoring the invitation noting that without such engagements the university cannot easily achieve its strategic objectives and goals. He reechoed the fact that Mak-RIF is currently supporting 1,061 multidisciplinary research and innovation projects (including 117 PhD awards and 41 multiyear projects our most recent awardees). These projects receive funding, technical and non-technical support necessary to conduct development research and generate innovative solutions directed towards addressing diverse challenges in the communities in which we live and serve.
Prof. Bbaale also appreciated all researchers and innovators not only from Makerere University but also from other institutions which were represented in the day's engagement and embraced all the previously shared funding opportunities, prepared and submitted applications to benefit from the Government Fund, saying that it is the way to go. "Thank you for remaining open to partnering with researchers from Makerere University to apply for funding and later implement the projects.  It is through the Mak-RIF initiative that Makerere University is enabling several university faculty, students, administration, and collaborating institutions including the Government, Private Sector, Non-Governmental Organizations, and Community Service Organizations to contribute to the local generation of translatable research and scalable innovations that address key gaps required to drive Uganda's development agenda" he added. Prof. Bbaale also emphasized the need to join efforts to scale research and innovation outputs within Makerere University but also in Uganda noting that scaling research and innovation outputs to the market is a task for all of us.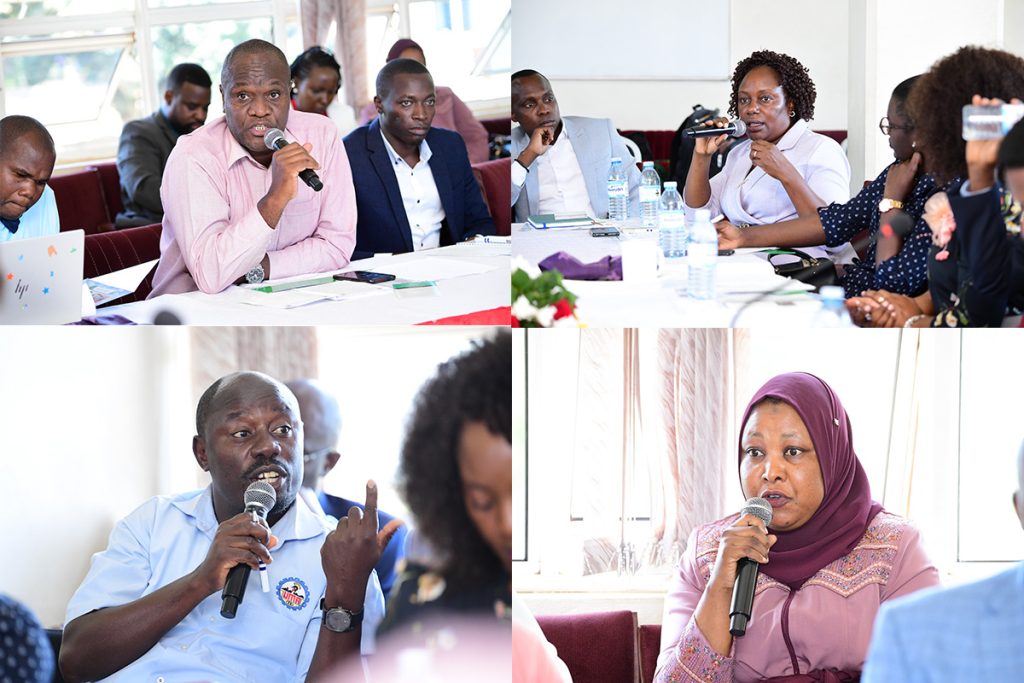 After Prof. Bbaale delivered the Vice Chancellor's remarks, Dr. Roy William Mayega, the Coordinator of Mak-RIF shared a highlight of how far the Mak-RIF Research Agenda had guided operations since 2019. He noted that the Mak-RIF Research Agenda currently comprised of 14 Themes including the following;
Transforming the agricultural sector
Sustainable health
Re-imaging Education
Water, sanitation and environmental sustainability
Harnessing the social sector to drive development
Harnessing tourism, wildlife and heritage to drive development
Sustainable Planning, finance and monitoring
Leveraging public service and local administration for efficient service delivery
Defense and security: Achieving sustainable peace and stability
Strengthening law, governance, human rights and international cooperation
Harnessing Information and Communication Technology to drive development
Manufacturing, science and technology as tools to accelerate development
Catalyzing business and enterprise
Energy and Minerals as drivers of rapid economic development.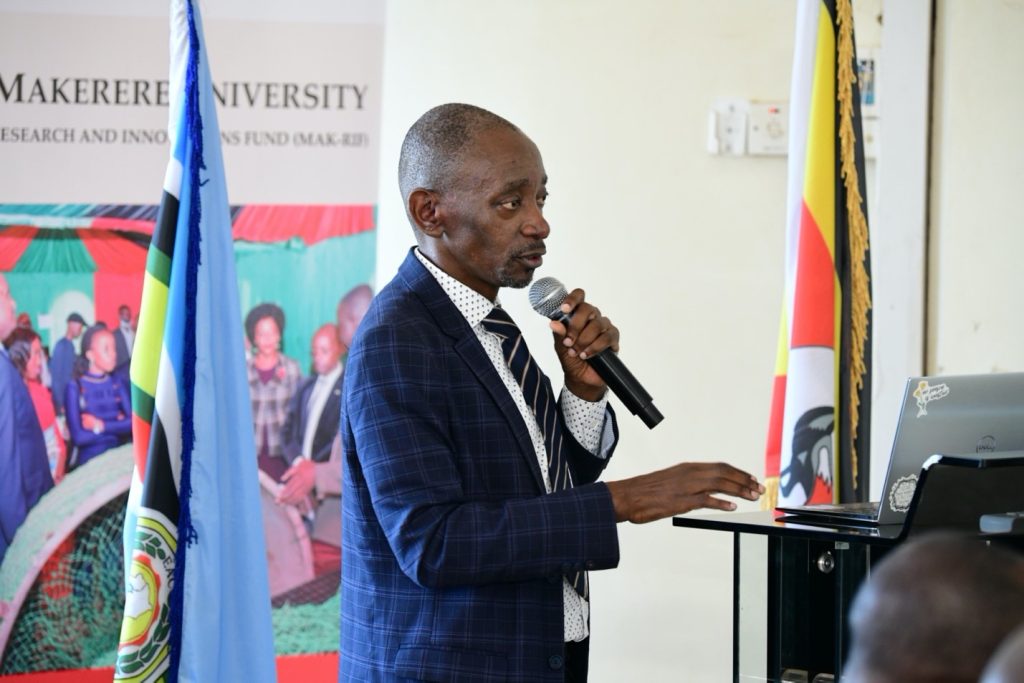 Dr. Mayega also shared examples of research and innovation outputs emanating from the fund. These include the following;
An interrogation of Tax Education Gaps in the Informal Sector and how they can be leveraged in broadening the Tax Base,
Another project is exploring to leverage music as therapy for emotional distress of cancer patients,
Solar Powered Autoclaves for use in Rural Health Centers, The Pedal-Operated Seed Cleaner,
An electronic partograph for improved monitoring of labor, to reduce maternal mortality,
Integration of on – and off-grid decentralized renewable energy systems: Enabling Uganda's largest distributor UMEME to pilot the integration of off-grid decentralized renewable energy systems with grid systems to extend electricity access to unserved communities,
The Organ and Tissue Biobanking project at the Makerere University College of Health Sciences,
A project on Transforming Presumptive Age Estimation in Uganda: Methods, Certainty and The Law,
The Touchless Hand Washing device currently being used in different hospitals and community markets,
Value addition to Sorghum and Potatoes supporting farmers in South Western Uganda to earn a living and avoid wastage of produce among other projects shared on the Mak-RIF Website https://rif.mak.ac.ug/
During the discussion session, several participants applauded the current Research Agenda noting that it was well thought out and should continue to guide Mak-RIF Operations. The engagement participants also shared some ideas to further inform the review of the running Research Agenda. These included the following;
Radio stations being the most popular means of communication, we need to carry out audience analysis on television, radio, and even social media, identify and allocate resources to generate the right content, and further leverage technology innovations in both broadcast and print media.
Youth unemployment and emerging issues as a result of this including skills development/training, tracking and taking into consideration the changing needs of the business world so as to re align Uganda's training approaches,
Herbal medicines and the indigenous innovators, how can we support processes to establish the efficacy of these products?
Can we become more intentional about supporting researchers and innovators through the processes of Intellectual Property acquisition? It is important that Memorandums of Understanding are drafted, reviewed, and signed with relevant Registration Services Bureaus.
It was also suggested that there is a need to continue supporting efforts to transform research outputs into economically viable and scalable innovations and to inform policy review and cause impact.
Collaborations and partnerships with the private sector to further scale research and innovation outputs. At this engagement, Uganda Catholic Medical Bureau, Uganda Moslem Medical Bureau, Uganda Manufacturers Association, Water for People, and Uganda Law Society (specifically supporting Intellectual Property Rights acquisition processes and Revenue and Tax sensitization) among other organizations openly expressed interest in partnering with Mak-RIF to review and move forth some of the innovations within specific and related working areas.
There is a need to support product development and packaging efforts to fit the national, regional, and international markets.
We need to remain intentional in marketing the work we are doing within and outside Uganda.
In an effort to achieve sustainable health, financing health insurance for example is a key issue. How can the National Insurance Scheme be further informed and supported through the work we are all doing? How can we contribute to the Global Health Security-related efforts in Uganda?
For the case of agriculture, how can farmers adopt more organic agriculture so that we can even fight some of the non-communicable diseases with organic agricultural products? Could we also explore more involvement of the rural communities in the research and innovations we are working on? This would enable us to further harness indigenous knowledge. Establishing linkages with the informal sector is paramount.
Could we also re-look at the various existing themes and integrate some of them that speak to each other? In so doing we are dealing with the replication of efforts and knowledge among others.
Can we allocate some resources to further enhance our visibility (showcase what good we are doing) to key stakeholders including the Government of the Republic of Uganda in an effort to solicit for additional funding?
There is a need to identify the Research Agenda niche thematic areas within which we can capitalize on to further publicize the fund and attract additional funding. We can harness the low-hanging fruits and benefit from pushing the agenda forth by leveraging these.
In Uganda, road safety is crucial given the increasing number of traffic injuries, rescue of crash victims and crash data management are important aspects we should also plan to include in the Research Agenda. The research question could be; How can we have safe roads and attain safe travels for all if not majority of the road users?
There is also a need to relook at and up research on Artificial intelligence in addition to early warning systems for natural disasters, early diagnosis of non-communicable diseases, strengthening community health systems, big data for industry, occupational health and safety, issues of regulation, and community accountability among others.
Specifically, under theme 12, innovations developed, tested, iterated, and revised accordingly should reach the targeted end users. How do we commercialize the research and innovation outputs developed to date?
What else can we do together to reduce or even avert teenage pregnancy? How can we further support teenage mothers?
What can we do to improve the management of poison victims in Uganda? Can we do away with poisoning and its related effects in the country?
For tourism, how can we avoid over reliance on international tourism? Can we expound our products range? Strengthen our human resource, explore virtual tours etc.
It would be helpful to have a theme on cross-cutting issues for example indicating that fund beneficiaries are primarily Makerere University staff although others can join the project teams, how the 14 themes feed into the overarching country development themes etc.
We need to have a theme speaking to research on safe water given the dire need now for us to ensure access to safe water for all.
ETC.
Prof. Bbaale thanked the engagement participants for their active participation during the discussion session noting that all the input gathered was going to be further synthesized and made ready to inform Mak-RIF Research Agenda. He reechoed the fact that all input to the Mak-RIF Research Agenda needed to speak to and be in line with the National Development Plan, Sustainable Development Goals, Sector Priorities as well as the Makerere University Strategic Agenda of becoming a research-led institution. He wished all participants the very best saying that Makerere University is focused on building for the future for God and our country.
Prof. Bbaale thanked the engagement participants for their active participation during the discussion session noting that all the input gathered was going to be further synthesized and made ready to inform Mak-RIF Research Agenda. He reechoed the fact that all input to the Mak-RIF Research Agenda needed to speak to and be in line with the National Development Plan, Sustainable Development Goals, Sector Priorities as well as the Makerere University Strategic Agenda of becoming a research-led institution. He wished all participants the very best saying that Makerere University is focused on building for the future for God and our country.
Media mentions
Uganda Broadcasting Corporation News Bulletin on November 9th, 2023 https://youtu.be/Sbc78ojHu30?si=6fnqIrK_Bi7vGcjo
Bukedde Television on November 10th, 2023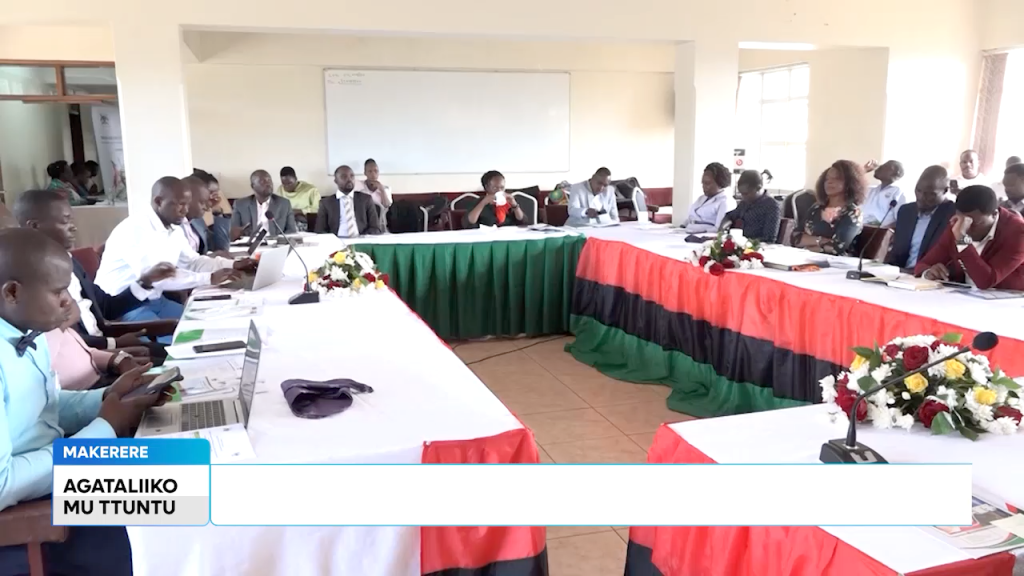 By: Harriet Adong, Mak-RIF Communications Officer
Contributors
Mrs. Phoebe Lutaaya Kamaya, Mak-RIF Deputy Coordinator
Ms. Evelyne Nyachwo, Mak-RIF Research Support Officer
Innovations using low cost locally available materials for point of use water treatment system unveiled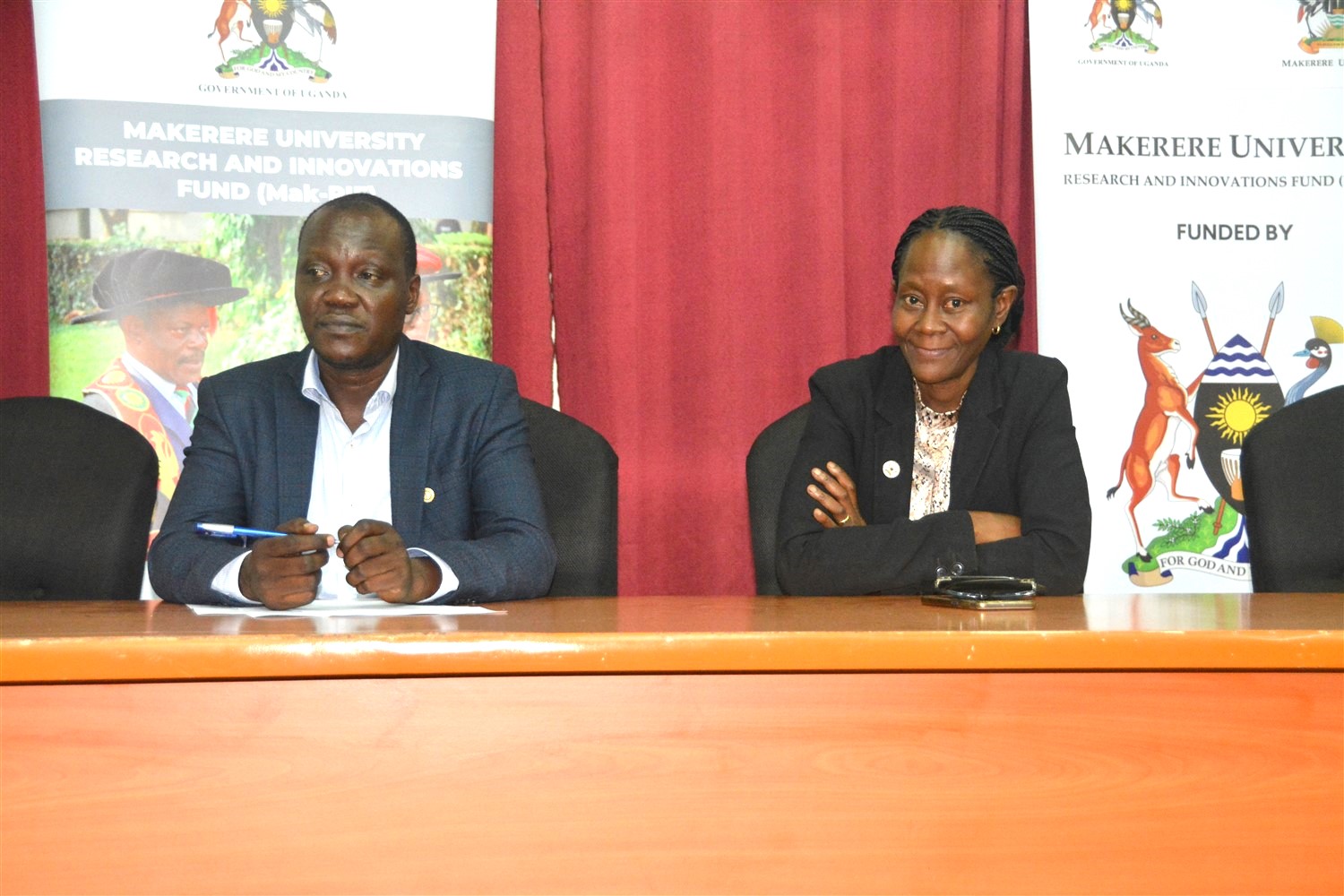 The College of Engineering, Design, Art and Technology (CEDAT) conducted a Research Dissemination of two studies aimed at the Development of Materials for point of use water treatment systems.
The investigations were conducted by a team of researchers comprised of P. W. Olupot, H. M. Kalibbala, E. Menya, G.M. Wangi, J. Jjagwe, J. Wakatuntu, M. Turyasingura, R. Walozi, C. Kanyesigye and R. N. Kulabako.
The dissemination event held on Wednesday 29th November 2023 follows the successful completion of two MakRIF supported Research projects namely; Development of rice husk based granular activated carbon for point-of-use water treatment systems and Development of zeolite-based nanocomposite filters for drinking water treatment.
Apac District gains from CEDAT's Research on Piloting a Rural Broadband Connectivity Model and Efficacious patient management system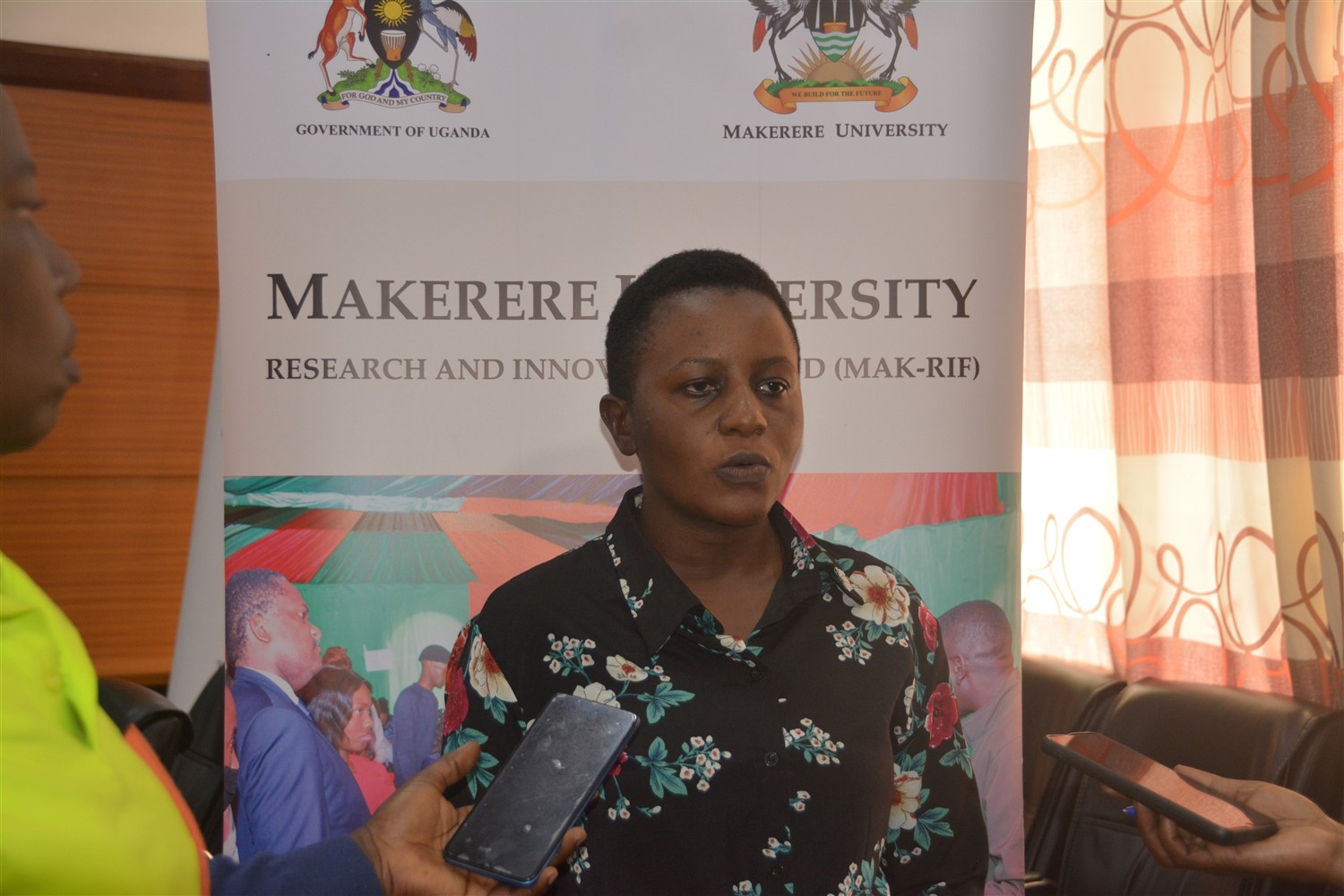 The School of Engineering at the College of Engineering, Design, Art and Technology (CEDAT) shared findings of research that was conducted in Apac Districts through two projects namely Piloting a Rural Broadband Connectivity Model (RCBM) and Efficacious patient management system (EPMS).
The findings of the research sponsored by the Government of Uganda through the Makerere University research and Innovation Fund(MakRIF) were disseminated during a dissemination seminar held in the College on Friday 24th November 2023, where it was revealed that  Apac the host District greatly benefited from the services that not only led to the increased uptake of internet services but also gained through other socio economic areas.
Soybean Breeders Deliberate Strategies for Improving Productivity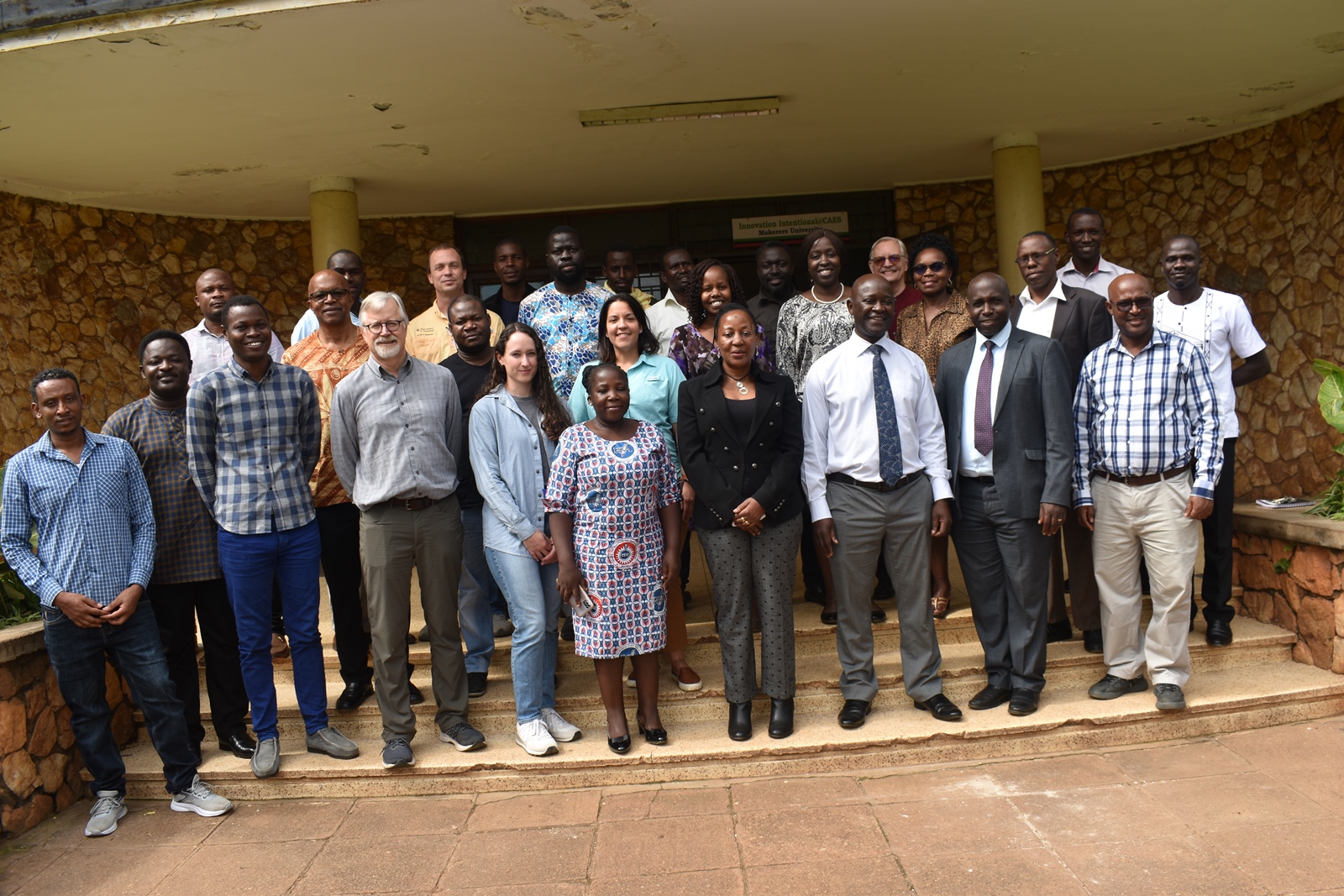 The breeders from USA, Brazil and across Africa, including scientists from CGIAR met at Makerere University on 28th November-1st December 2023 to share experiences, best practices and ideas on collaboration, and to brainstorm on ways of improving productivity.
Overview
Soybean (Glycine max) serves as one of the most valuable crops in the world, not only as an oil seed crop and feed for livestock and aquaculture, but also as a good and cheap source of protein for human diet and as a biofuel feedstock.  The protein content of soybean is the highest among legume crops, averaging 40% on a dry matter basis. Soy-foods are generally considered to be nutritious and healthy based on their nutrient composition which includes protein, fat, carbohydrates, dietary fibres as well as minerals and phytoestrogens (or isoflavones). Due to its nutritional superiority, soybean-based foods are highly recommended for children under 5 years, expectant mothers, and HIV/AIDS patients. Impact studies have shown that regular soy food consumption can reduce the risk of heart disease by lowering serum cholesterol by about 33%. It can also reduce the risk of rectal cancer by 80%, mammary tumour by 40%, and breast cancer by 50%.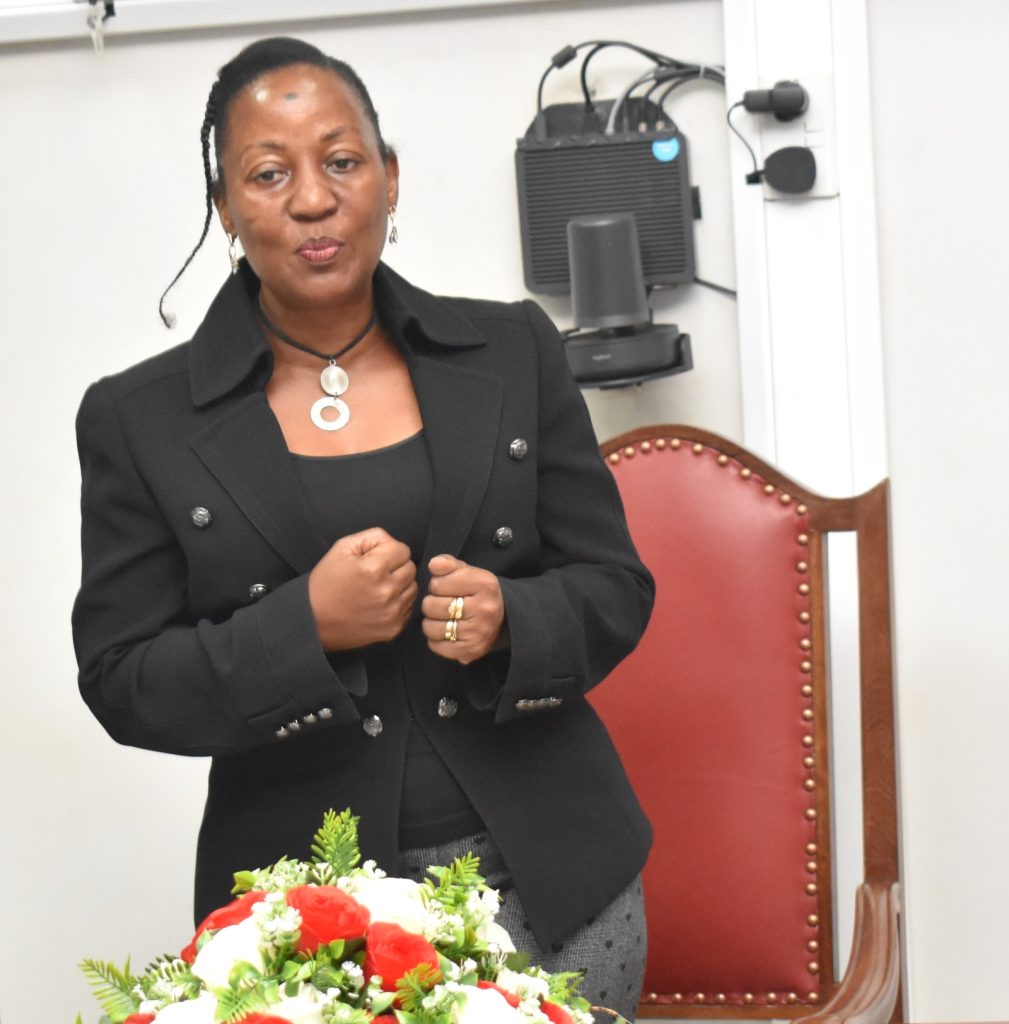 Economic viability
Production of soybean stands at 264 million MT worldwide, with United States of America (USA), Brazil and Argentina being the largest producers. In Africa, Nigeria, South Africa, Zambia and Uganda are the largest producers, with annual volumes estimated at 1.5 million metric tonnes (FAO, 2017). The Soybean Market size is estimated to reach $259 billion by 2030 (IndustryARC – Soybean Market Forecast 2023-2028).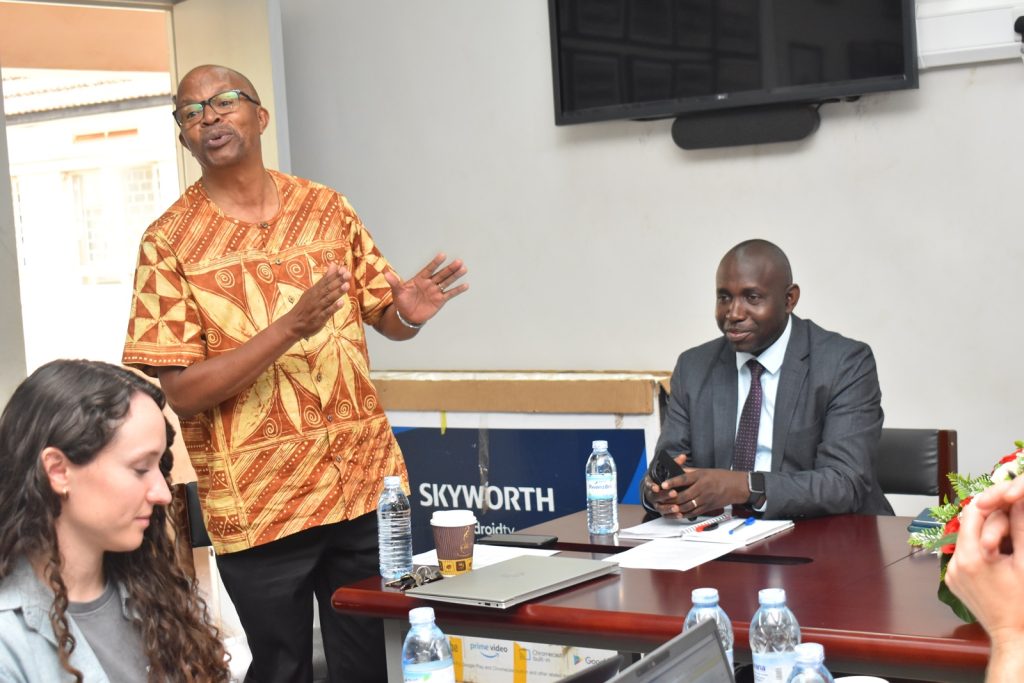 The economic viability of soy production is determined by the commercial utilization of both its sub-products, meal and oil, which, respectively, account for about two thirds and one third of the crop's economic value. Soymeal accounts for over 60% of world output of vegetable and animal meals and occupies a prominent position among protein feedstuffs used in the production of feed concentrates, while soybean oil is the single most important vegetable oil, accounting for 20% of global vegetable oil production. The widespread use of soybean oil in particular as edible oil is mainly due to (i) its plentiful and dependable supplies, (ii) its competitive price, (iii) its neutral flavour, and its stability in both unhydrogenated and partially hydrogenated form. Indirectly, the rapid rise in the demand for compound feed has contributed considerably to the rise in soybean and soyoil production. Soybean contributes significantly to the total value added by the agricultural sector in the major producing countries and particularly so in Brazil, Argentina, Paraguay and the USA. In these countries, soybean and its two main sub-products also occupy an important position in export earnings from agriculture as well as in terms of total merchandise exports (FAO). In Uganda, soybean is number one income earner crop in Northern and Eastern Uganda. Farmers in the region earn at least UGX1,200,000 per hectare per season.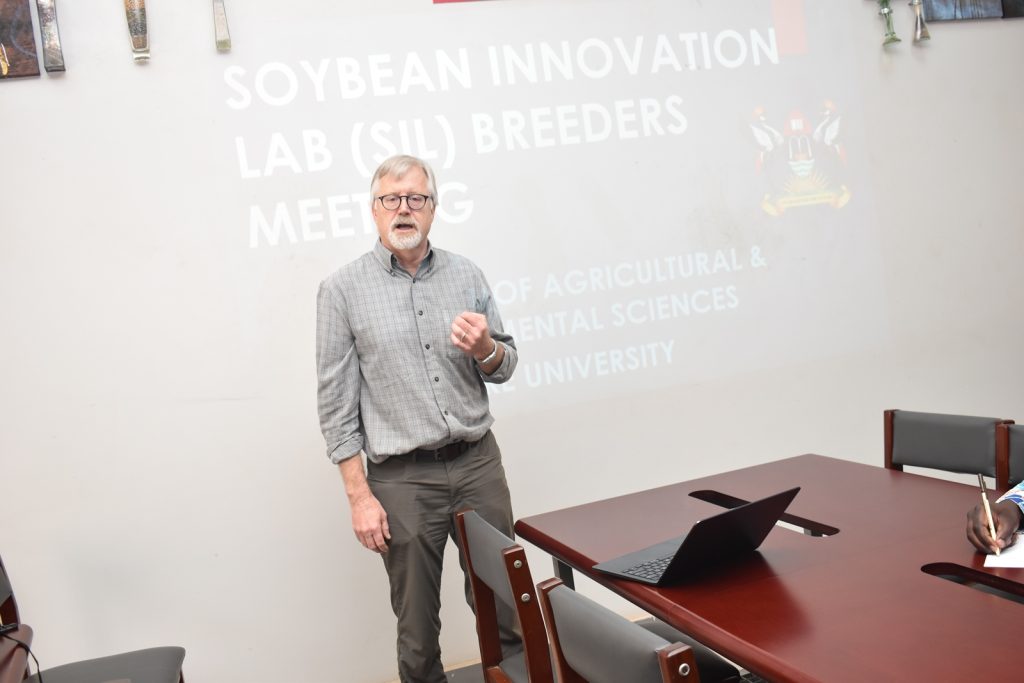 Challenges undermining productivity
Despite the significant strides registered by soybean growing countries, and the health and economic benefits that the crop presents, a number of challenges still undermine productivity. These include; pests and diseases, prolonged droughts and prolonged rains, poor agronomic practices, inaccessibility to good seed by farmers, drudgery in the production chain (Planting and harvesting) and market price fluctuations, as well as mismatches in supply and demand. Surging input costs, supply disruptions of fertilizers and alternative crops caused by Russia's invasion of Ukraine and lingering COVID-19 effects have added more uncertainty and volatility to the soybeans market, driving up the prices. Home grown technologies, local seed business approach, and addressing the whole value chain, are envisaged as some of the strategies to overcome the challenges. Adapting crop management, conserving and improving soil conditions by minimizing tilling, increasing crop diversification, protecting soil from erosion, as well as the development of drought-tolerant varieties, will be key to withstand the emerging climate challenges.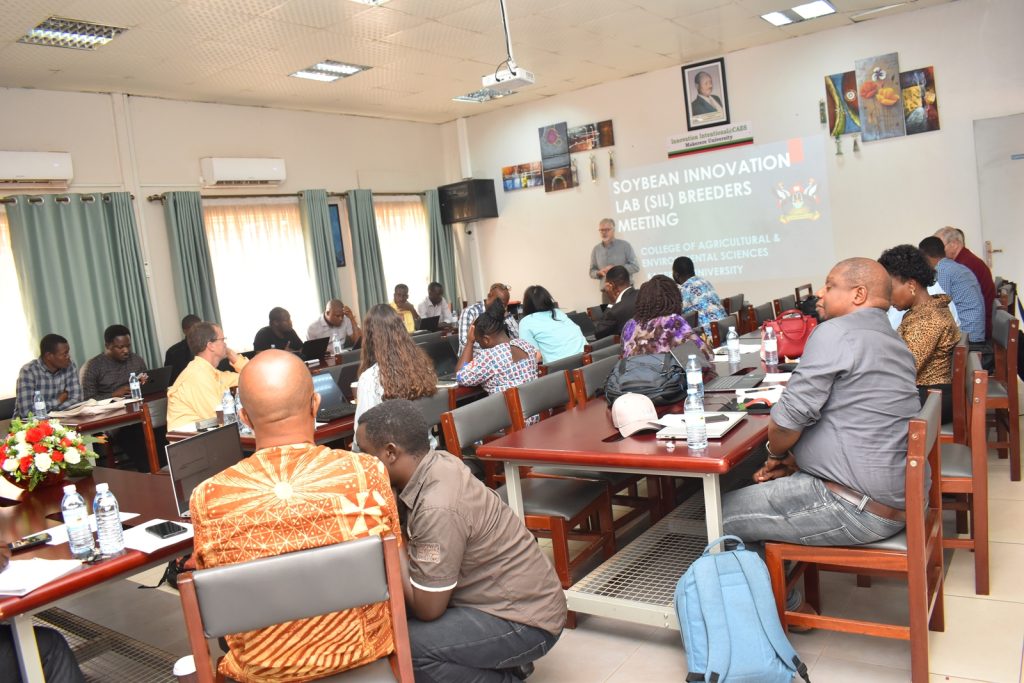 Soybean Breeders meeting at Makerere
Soybean breeders from USA, Brazil, and across Africa including scientists from CGIAR on 28th November 2023 met at Makerere University to share experiences, best practices, and ideas on collaboration, and to brainstorm on ways of improving soybean productivity. The meeting held at the School of Agricultural Sciences (SAS), College of Agricultural and Environmental Sciences (CAES) was organized by the Makerere University Centre for Soybean Improvement and Development (MAKCSID) and the Soybean Innovation Lab (SIL) of the University of Illinois with support from USAID. It was coordinated by Prof. Phinehas Tukamuhabwa, Principal Investigator for the Soybean Breeding and Seed Systems at Makerere, and Prof. Brian Diers from SIL, University of Illinois. It was graced by the Principal of CAES, Prof. Gorettie Nabanoga, the Deputy Principal, Prof. Yazidhi Bamutaze, and the Dean, SAS, Dr John Baptist Tumuhairwe. During the meeting, participants shared progress reports of their respective institutions, highlighting the achievements registered in soybean breeding and seed systems, best practices, challenges undermining productivity, and strategies for improvement. In his presentation, Prof. Diers briefed participants on SIL breeding efforts, indicating that 20 varieties had been developed between 2019-2022 up from the 7 developed between 2013-2018. He also shared updates on the renewed funding from USAID, and the support extended towards new breeding programmes at IITA in Nigeria, IITA in Zambia, EIAR in Ethiopia, Makerere University, and SARI in Ghana.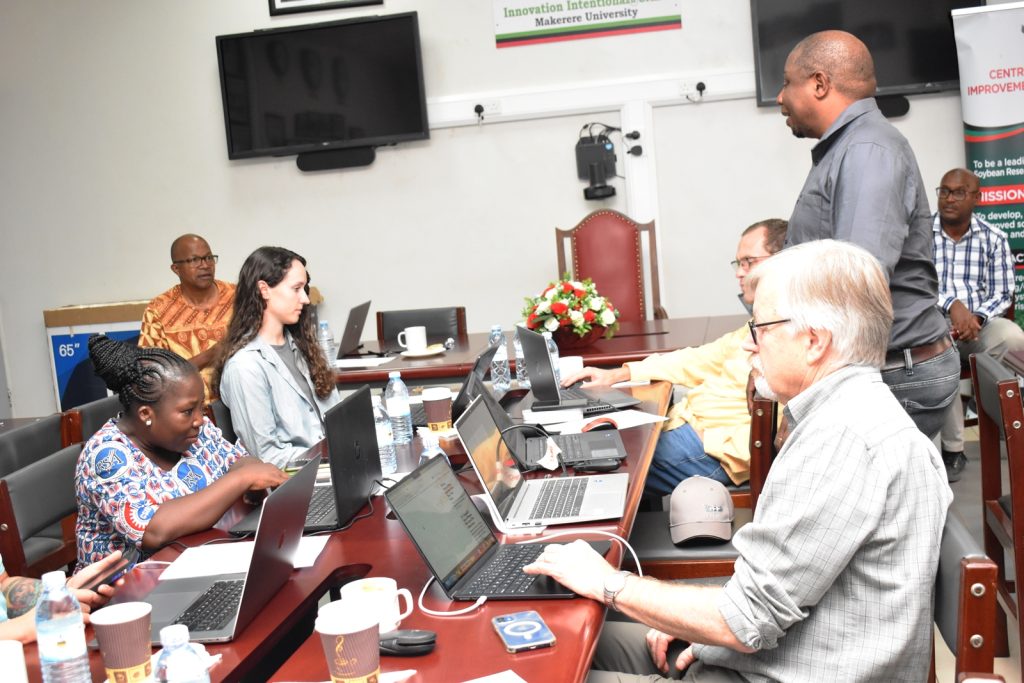 Delivering a presentation on soybean research in Uganda, Prof. Tukamuhabwa noted that the country had registered significant strides with the production of six high yielding varieties namely; Maksoy IN, Maksoy 2N, Maksoy 3N, Maksoy 4N; Maksoy 5N, Maksoy 6N. Recent impact studies indicated that the new varieties developed by MAKCSID were the most planted and accounted for 93% of the soybean varieties grown by Ugandan farmers. Currently, Maksoy 1N is the most widely adopted variety by farmers, while Maksoy 3N has the largest quantities of foundation seed disseminated by the Centre. According to Prof. Tukamuhabwa, the Centre also established a state-of-the-art seed storage facility for early generation seed (Breeders and Foundation seed) and soybean germplasm used for breeding other varieties. Other facilities are soybean processing equipment (soycow) and Soybean roaster that are used to add value to soybeans. The growth of the soybean sub-sector in Uganda is mainly attributed to the availability of a wide range of improved varieties, government investment in soybean research, and increased private sector investment along the soybean value chain. Despite the achievements, Prof. Tukamuhabwa outlined a number of factors undermining soybean seed systems in Uganda including; the presumed high cost of seed by farmers, counterfeit seed in the market, limited interest in self-pollinating crops by most private seed companies, weak seed policy enforcement, limited access to seed, and unpredictable weather conditions. He expressed gratitude to all development partners that have supported the growth of the MAKCSID programme including; USAID through SIL, the Government of Uganda through the Ministry of Agriculture, Animal Industry and Fisheries (MAAIF VODP), NARO, NAcRRI, RUFORUM, AATF, AGRA, Soybean Africa Limited, NAADS, Smart Foods, ISSD Uganda, IITA, and all local soybean stakeholders.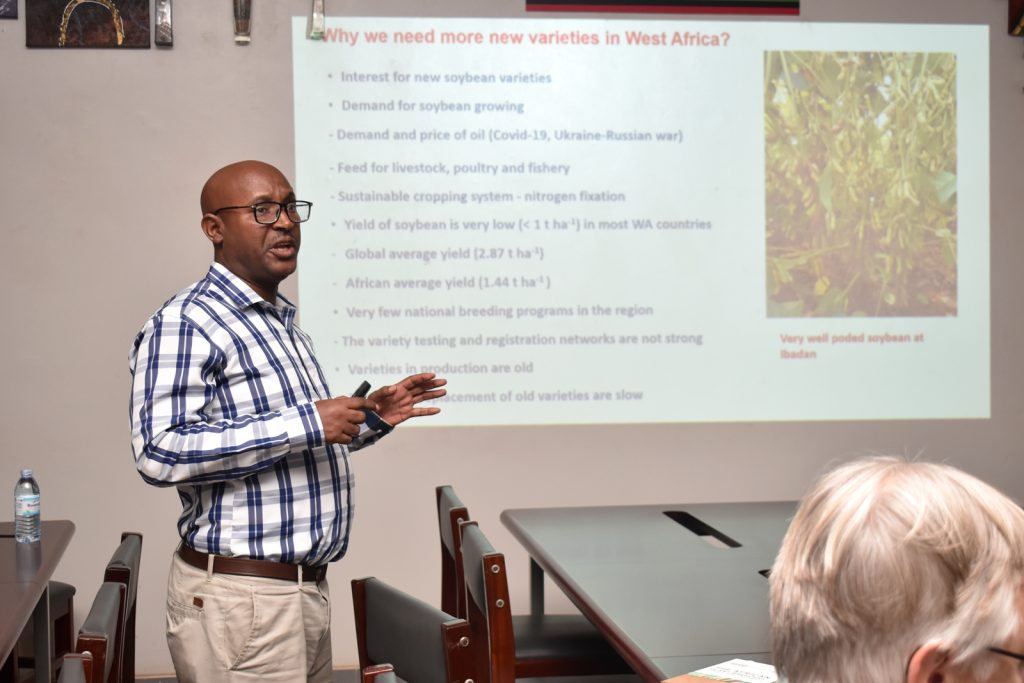 At the meeting, participants including Godfree Chigeza from IITA, Zambia; Abush Tesfaye (IITA, Nigeria), Masresha Yirga (EIAR, Ethiopia), Harun Murithi (SIL), Andrew Scaboo (University of Missouri), Elizabeth De Meyer (University of Missouri), and Carrie Miranda (North Dakota State University) delivered presentations on the progress of their breeding and research programmes.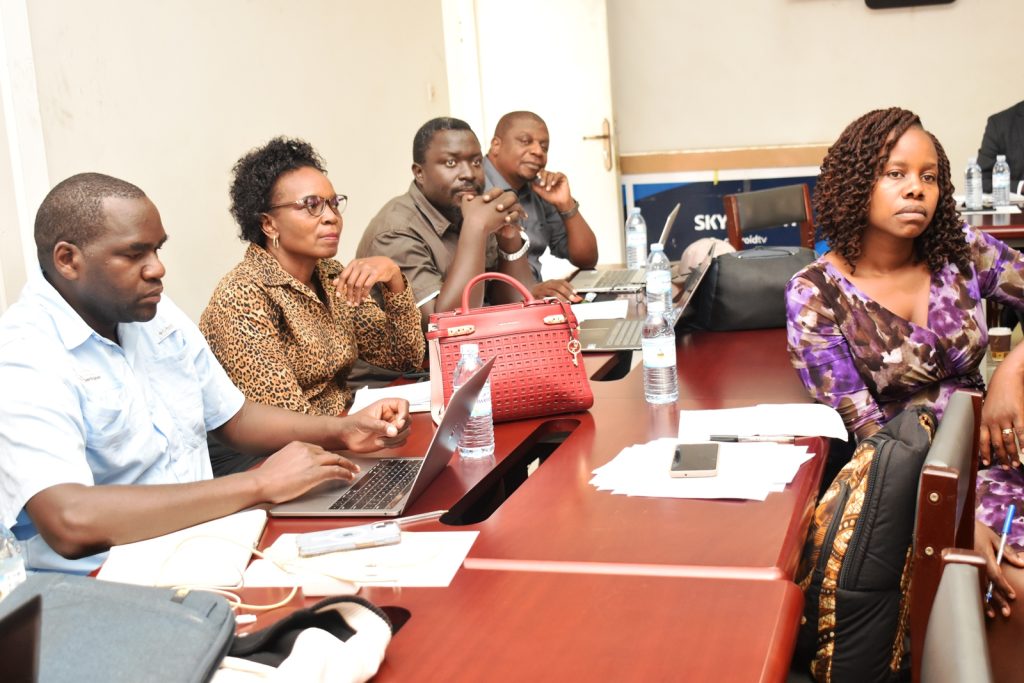 A major concern arising from the meeting was the increasing threat of rust. Through efforts of the Centre for Soybean Improvement and Development (MAKCSID), the soybean rust pandemic was brought under control, through breeding and dissemination of superior varieties to the farming communities.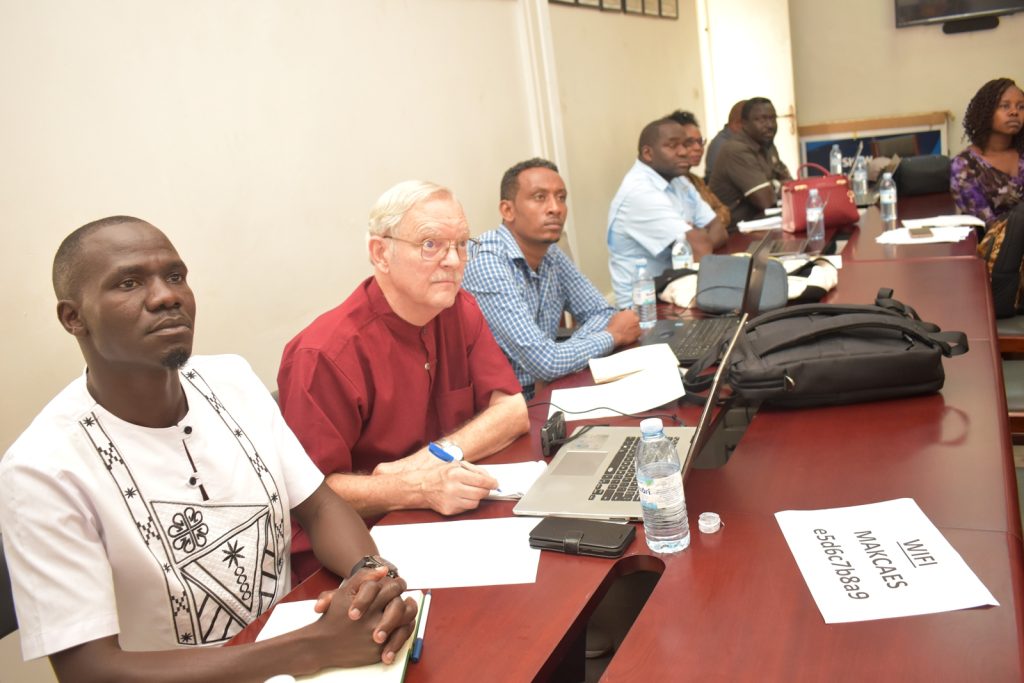 Going forward, participants emphasized the need to set up a rust reference centre, early warning systems, and disease nurseries – potential lines for monitoring virulence. They also called for an increase in germplasm acquisition, capacity building for germplasm storage and utilization, introduction of bruchid tolerant genotypes, introduction of soybean genotypes suitable for mechanical harvest, mechanization of production processes, leveraging the scarce research infrastructure, and the development of necessary skills amongst scientists and staff.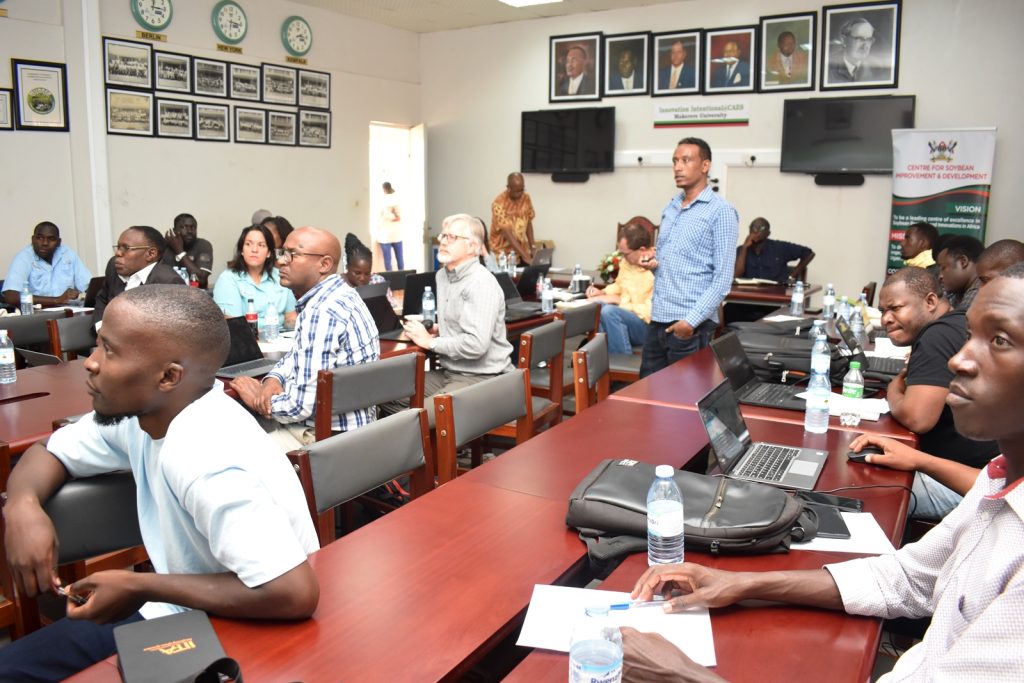 In her remarks, the Principal of CAES, Prof. Gorettie Nabanoga expressed gratitude to participants for leading soybean development initiatives. She also appreciated the development partners for supporting the programme. Commenting on the significance of the crop, she said under NDPIII, soybean had been identified as a game changer and one of the crops to improve the country's food systems. "The crop has been targeted for its oils and nutritional benefits. It is therefore important that we move it to the next level in terms of resistance to diseases, adaption to climate change, and development of fast growing varieties." She specifically thanked the breeding team led by Prof. Tukamuhabwa for making Makerere the leading Centre in quality soybean seed production and distribution in the country. During their four-day visit, the soybean breeders visited the screen houses, soybean fields, and the Early Generation Seed Unit at MUARIK where they provided enriching insights for improvement. The team also toured Nakabango/Jinja trials as well as the Bugi ZARDI highland soybean trials.
---
---
More photos from the meeting