Stakeholder Engagement with representatives from Government Ministries, Departments and Agencies (MDA) to review the Mak-RIF Research Agenda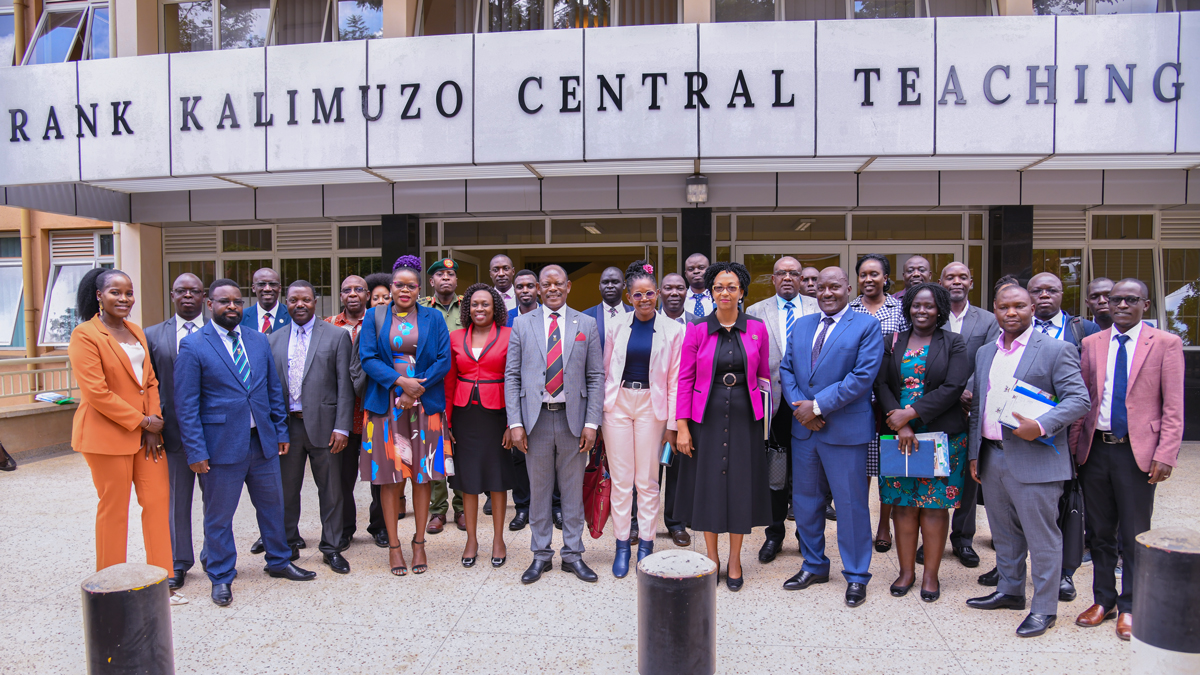 By Harriet Adong
On Tuesday August 29th, 2023, Prof. Barnabas Nawangwe, Vice Chancellor Makerere University working with Prof. Fred Masagazi Massaazi, Chairperson Makerere University Research and Innovations Fund (Mak-RIF), the Mak-RIF Grants Management Committee and Secretariat convened an engagement with representatives from Government Ministries, Departments and Agencies to review the Mak-RIF Research Agenda.
This engagement took place in the Makerere University Council Room. It brought together representatives from Uganda's Office of the Prime Minister, Ministry of Water and Environment, Appropriate Technology Center, Ministry of Defense, Ministry of Finance, Uganda Registration Services Bureau, National Planning Authority, Uganda Media Center, National Agricultural Research Organization, Ministry of Local Government, Ministry of Public Service, Ministry of Tourism, Uganda National Council of Science and Technology, Ministry of Education and Sports, Uganda Revenue Authority, Uganda Communications Commission, National identification and Registration Authority, Uganda Wild Life Authority and Kampala Capital City Authority among others.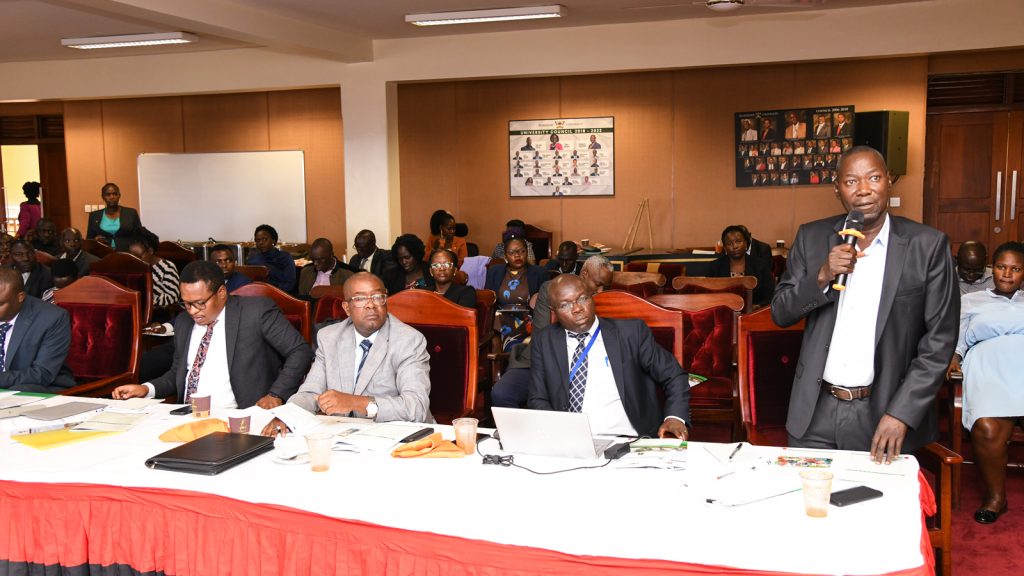 For the last 4 Financial Years, Makerere University is utilizing funding from the Government of the Republic of Uganda to support high-impact Research and Innovations to drive Uganda's Development Agenda. This initiative is being implemented under the Makerere University – Research and Innovations Fund (Mak-RIF). To-date, Mak-RIF is supporting 1,060 multidisciplinary research and innovation projects across all the Colleges at Makerere University. To guide identification of research and innovation projects to fund, support and implement, the Mak-RIF team under the leadership and guidance of the Vice Chancellor widely consulted government, private sector and civil society organizations including agencies to feed into formulation of a Research Agenda. This agenda mainly focused on the need for Uganda to transition from the middle-income status which increasingly requires that countries invest in research and innovations that provide solutions to persistent development challenges. To develop this Research Agenda, the Mak-RIF Grants Management Committee (GMC) conducted a comprehensive review of documents in addition to the multidisciplinary stakeholder consultations.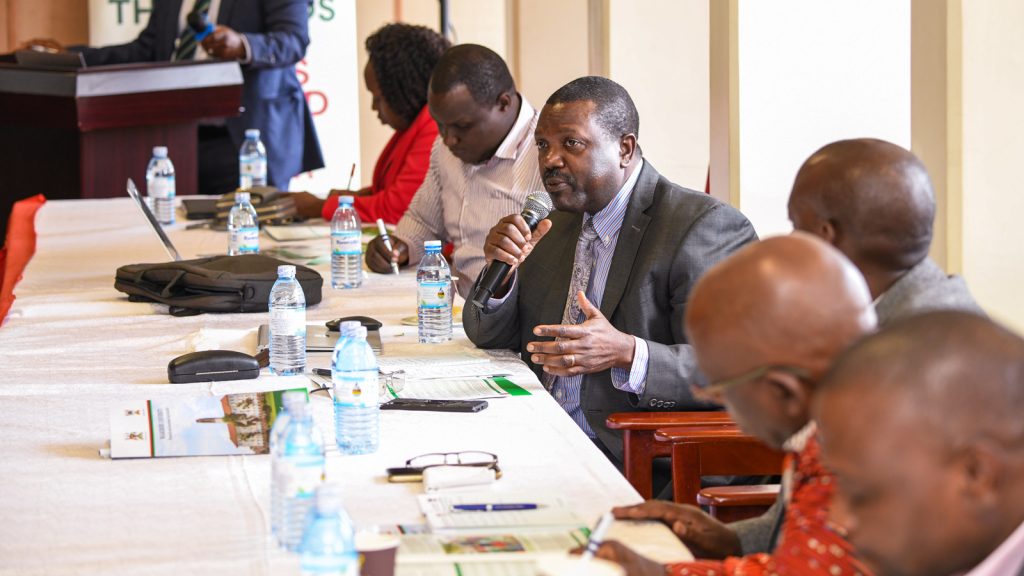 The documents reviewed included the National Development Plan III, the Makerere University Strategic Plan, the existing Makerere University Research Agenda and the project summaries from the Research and Innovations Fund Round 1 Grant Awards that were issued in the Financial Year 2019-2020. The Stakeholder consultations included two workshops: One with representatives from key government Ministries/sectors and semi-autonomous government agencies and the other with the private-for-profit sector and civil society. The GMC triangulated this information with that from the literature review. The information was then synthesized to develop the thematic areas that were included in the Research Agenda. This Research Agenda is still informing work at Mak-RIF; however, it was due for review in an effort to keep in line with the country's priorities as we strive to contribute to Uganda's development efforts.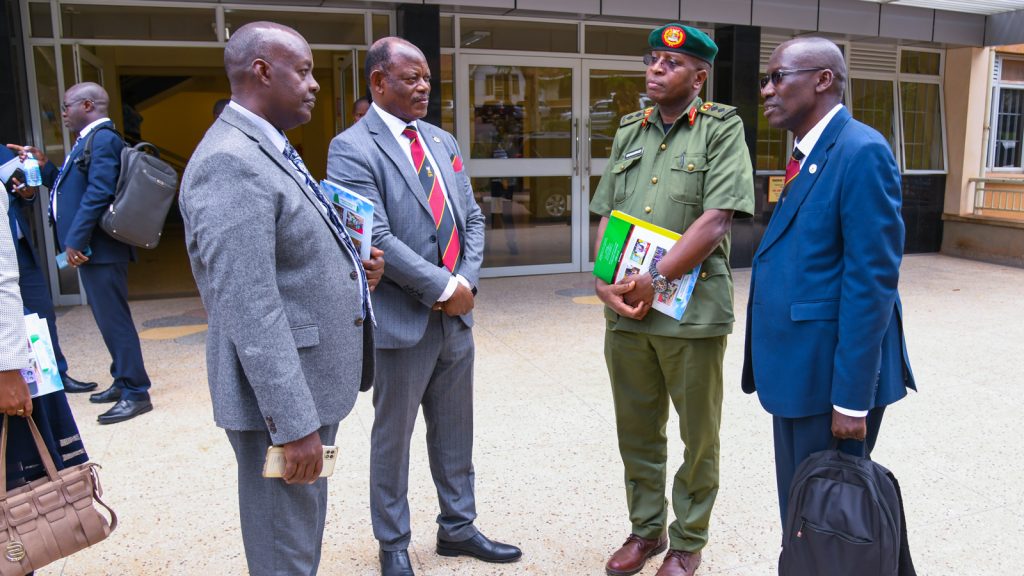 Beyond the review of updated documents in the different sectors, the Mak-RIF team will host targeted stakeholder engagement sessions to review the running Research Agenda. One of the engagements entirely focused on bringing together, generating and sharing knowledge with government stakeholders and this is the one which took place on August 29th, 2023.This engagement created a platform for the team to identify the gaps in the operational Research Agenda to accommodate the emerging needs from the different sectors of Government.
The next engagement will be held with key private sector and civil society players. This is to be scheduled within the coming months before end of the year 2023.
Read more about Mak-RIF on https://rif.mak.ac.ug
Related:
Makerere Innovations Hub celebrates Persons living with Disabilities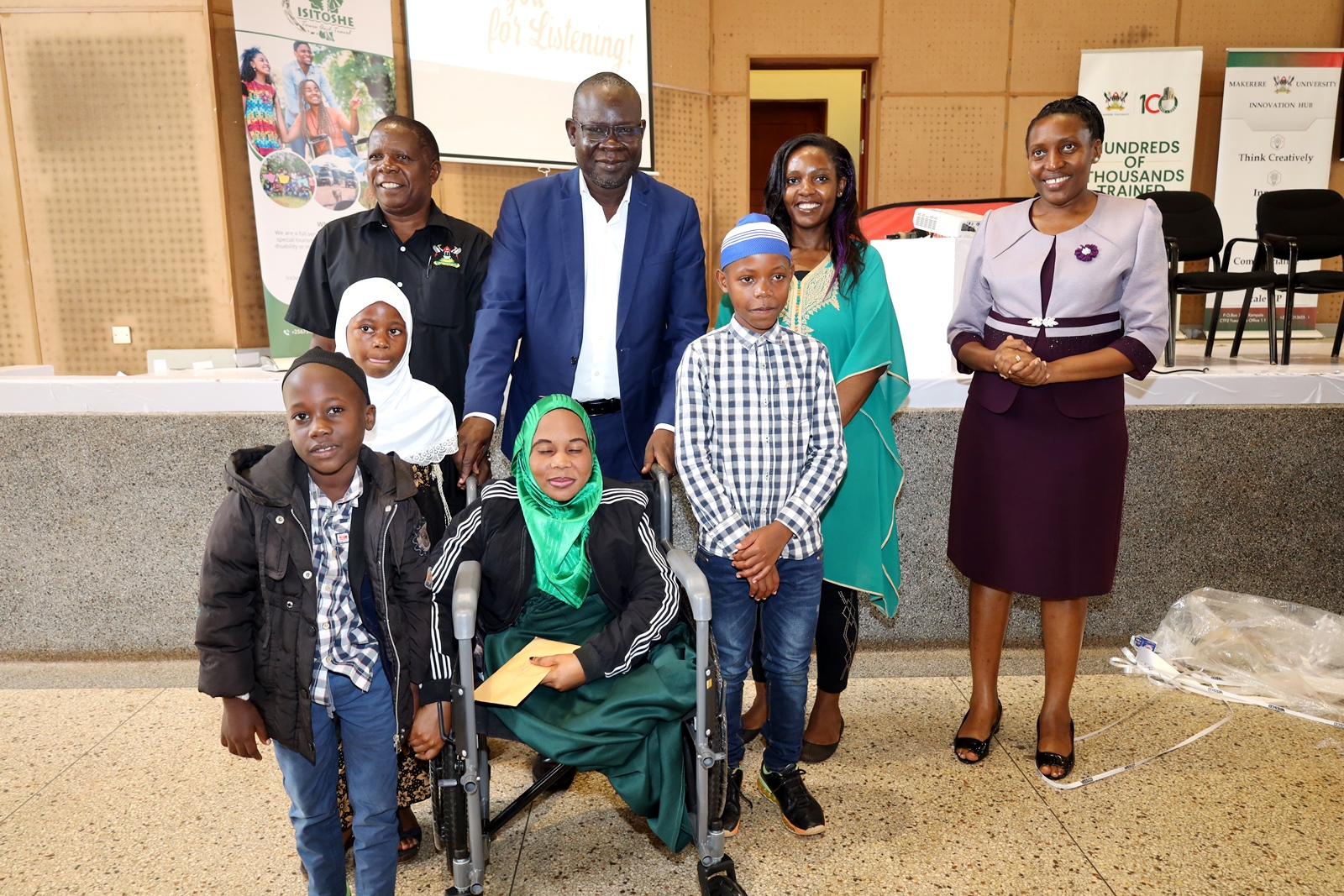 Makerere University Innovations Hub has commemorated the international day for persons living with disabilities by celebrating these young innovators.
The celebrations were held at Makerere University in the Yusuf Lule Teaching Facility-Auditorium on December 01.
The persons living with disabilities showcased different skills in shoe making, soap making, bracelets making, weaving among others, parading their items they make to earn a living.
Makerere University Innovations Hub started up a project last year dubbed, "Innovativeness of Young Persons with Disabilities in Uganda" to support them in discovering their skills and help them to start a journey to economic empowerment. The programme is sponsored by the Royal Academy of Engineering, a UK based agency.
Dr Cathy Mbidde, the Principal Investigator (PI) of this programme, said she conceived the idea in December 2022 from a class assignment that she gave to students to go into the community and identify problems.
"I wanted them to go and find problems in the community to start a business. So they identified a few problems but one of the groups of students had a disabled person and she was struggling as they were arguing how to develop the product. That is how I realized that I can do something to impact people with disabilities," she said
Dr Mbidde said she took a step to initiate a programme that can keep these persons busy and at the same time start up some businesses convenient for them to do.
"In December last year, there was a call from the Royal Academy of Engineering providing grants and I wrote and won the Frontiers Champions grant of around Shs42 million to organize an event," she said.
She says one of the objectives of this programme was to identify persons living with disabilities who are innovative.
"How are they able to maneuver and start an enterprise or do some kind of business in an innovative way. I also wanted to look for stakeholders who can support them to execute their innovativeness," she said.
The PI wanted to get for them a platform where they can come together and share experiences.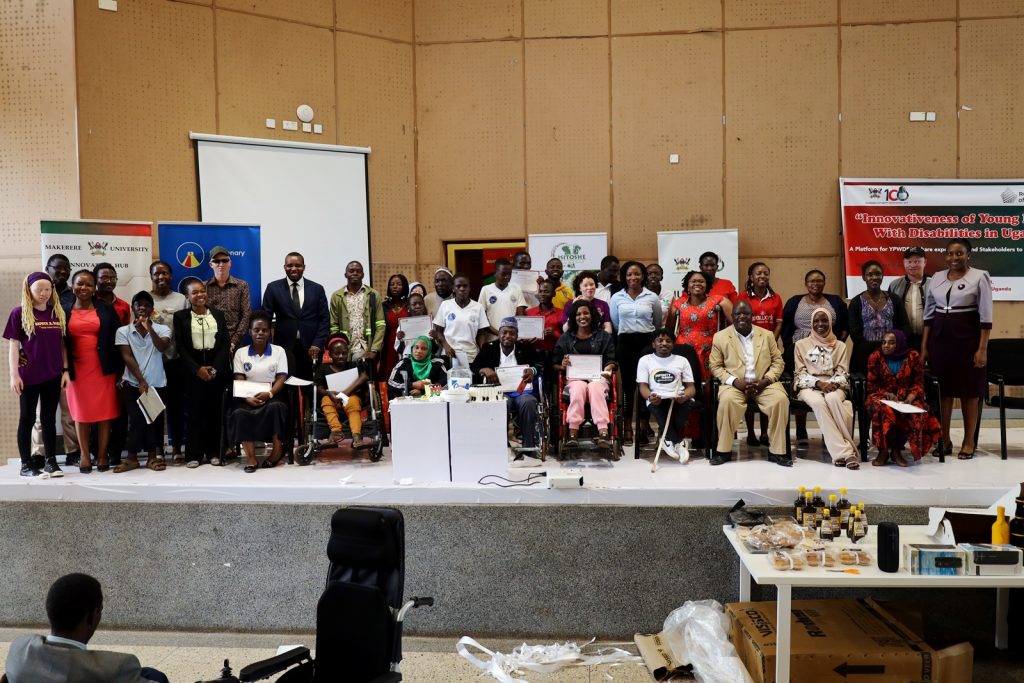 During the initial stages of the programme, Dr Mbidde went out to the field and made research about persons living with disabilities. She identified a few things that they needed including decent housing after noting that some of them were living in houses which could not accommodate them.
She also found out that these people lacked school fees to take their children to school and something needed to be done to see a way to bail them out of this situation.
"They had the skills but did not have the resources, we therefore came up and picked 15 persons during our pilot study of one year," she said.
Dr Mbidde partners with different agencies and organizations to pave a way of helping skilled persons living with disabilities.
Ms Penninah Nakandi, one of the persons living with disabilities who doubles as the Executive Director of Persons with disabilities in Business Uganda (PIB-UG) said she empowers youth and mothers of children living with disabilities through an economic skilling programme.
"We believed that after dropping papers of applications seeking for jobs and people at times don't even respond to us, we decided to startup that initiative and we have moved a long way because we have a total of 55 members," she said adding that PIB-UG offers mentorship and empowers people to work as a team.
Mr Gerald Sunday, the Centenary Bank branch manager at Makerere said they have special packages for PWDs who are doing private businesses, small scale cottage businesses like those doing tailoring, liquid soap making, shoe making among others.
"We invite them to come for startup capital. We have youth negotiable loans at 16 percent per annum right from shs50,000 up to shs5 million as long as they qualify and are in the age bracket of the youth," he said.
Mr Edwin Leroy, the Operations manager at Isitoshe Tours and Travel company, which mostly deals with people living disabilities in touring services said most of these people have been left behind but they have now embarked on helping them to engage in different job opportunities.
"We want to take the initiative to be part of this programme to see that the persons living with disabilities can exercise their skills and at the end of the day, they can improve their well-being," he said.
He added: "We want to help them to engage in different activities that can generate income for them and equally participate and compete with all other people that do not have disabilities."
NCHE Celebrates 20th Anniversary: Mak Showcases Research & Innovations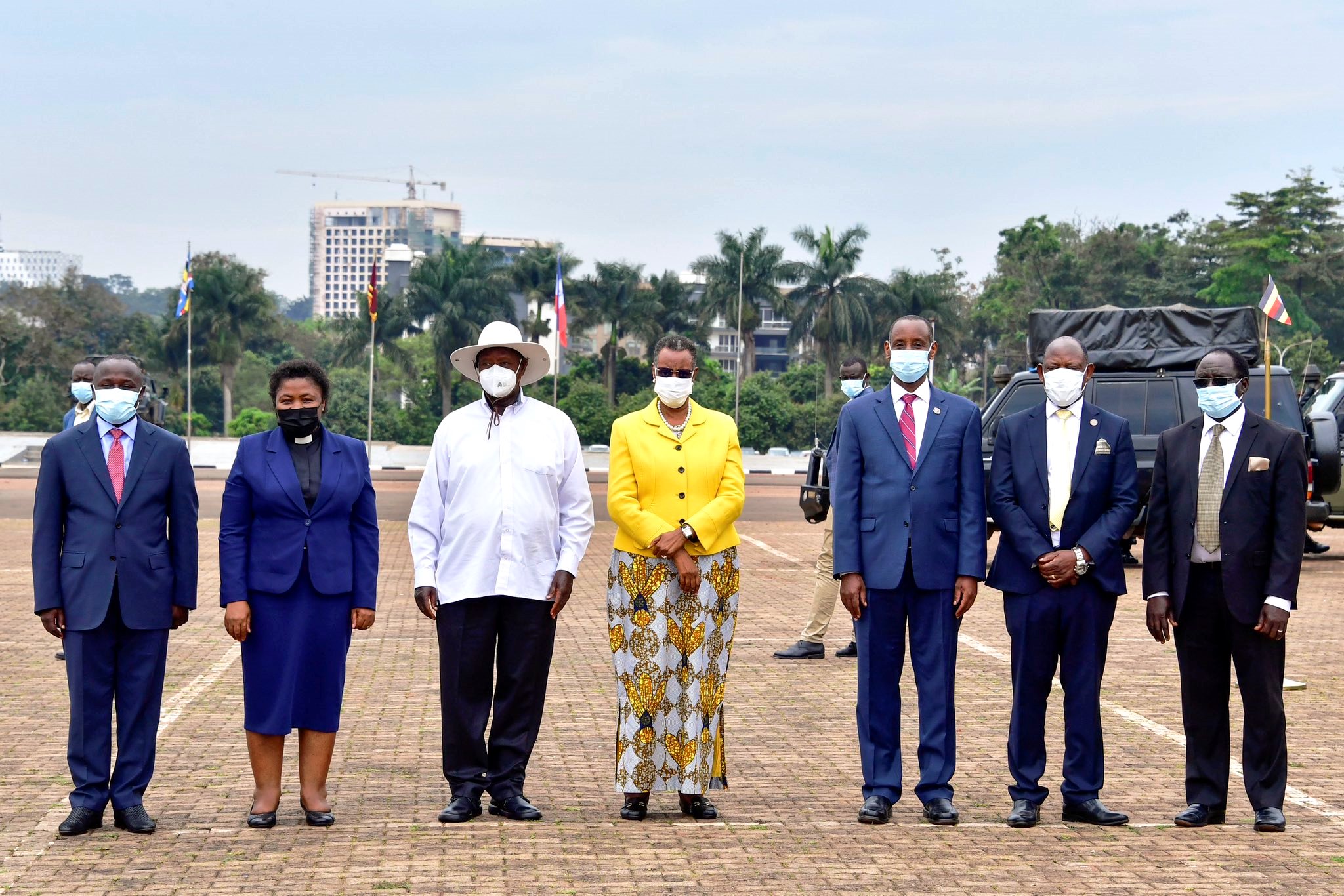 On Thursday 12th October 2023, H.E. President Yoweri Kaguta Museveni officiated at the celebrations to mark twenty years of the National Council for Higher Education (NCHE) at the Kololo Ceremonial Grounds. The celebrations that started in March 2023 were held under the theme "20 Years of NCHE Transforming Higher Education in Uganda" and climaxed at Kololo with a Mini-Exhibition by various institutions, inspected by H.E. President Museveni and the First Lady and Minister of Education and Sports, Hon. Janet Kataaha Museveni.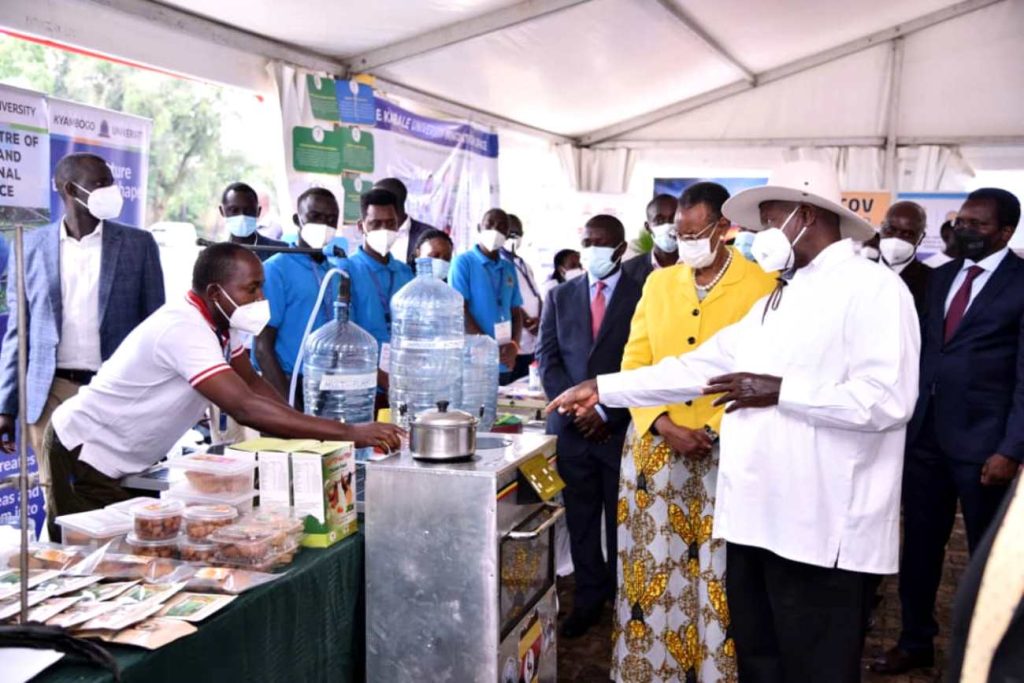 Remarks by H.E. the President and First Lady
Speaking at the celebrations, the President congratulated NCHE upon marking their 20th Anniversary. The Head of State urged NCHE to insist on a well-tailored modern type of education that seeks to understand nature and its laws as well as understanding the society and evolution of man from hunter-gatherer to domestication of crops, livestock, and commercial farming.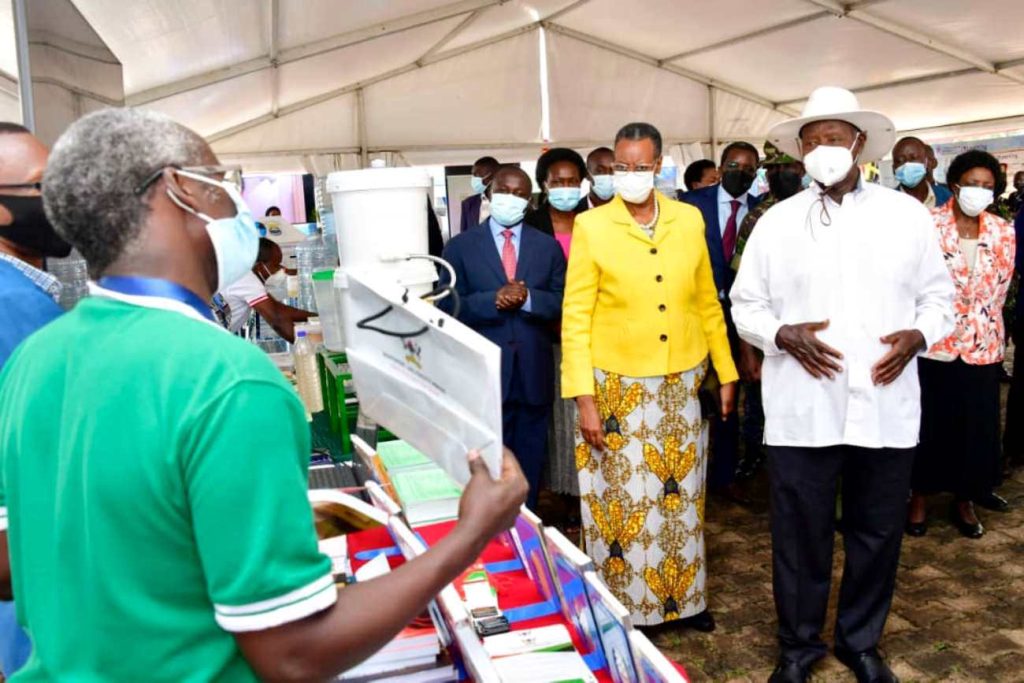 In her remarks, Hon. Janet Kataaha Museveni thanked God for the twenty years that NCHE has been in existence as an agency of the Ministry of Education and Sports. She applauded NCHE for the leaps that the higher education sector has made in the last twenty years in the form of quantitative increase of higher education institutions from 67 to 265. The First Lady nevertheless urged NCHE to position itself as a catalyst for the transformation of the higher education system in Uganda so as to make the country a hub for higher education in the East African region.
Recognition of Higher Education Institutions
During the celebrations, the NCHE recognised Makerere University for its contribution to the transformation of the higher education sector through provision of relevant and high quality education. Equally recognized were Uganda Christian University as the first private university in Uganda, the 7th Vice Chancellor and first female Vice Chancellor of Ndejje University Rev. Canon Prof. Olivia Nassaka Banja and the Ernest Cook Ultrasound Research and Education Institute (ECUREI)'s Prof. Micheal Kawooya.
Mak Exhibitors at NCHE@20
Makerere University featured prominently during the Mini Exhibition. Led by the Vice Chancellor, Prof. Barnabas Nawangwe, the exhibition team showcased research, innovations and services through the following:
Mak Solar Cooker by Dr. Peter Tumutegyereize (College of Agricultural and Environmental Sciences) – an appliance that uses electricity generated by a solar panel system to cook food, requiring no add-ons such as charcoal, rocks, gas, kerosene or even mains electricity.
AirQo by Joel Ssematimba and Priscah Adrine Warigo (College of Computing and Information Sciences) – a custom low-cost air quality monitor that measure particulate matter PM₂.₅ and PM10, the most common pollutants that affect human health deployed across a high-resolution air quality monitoring network in target urban areas in Uganda and across eight African countries.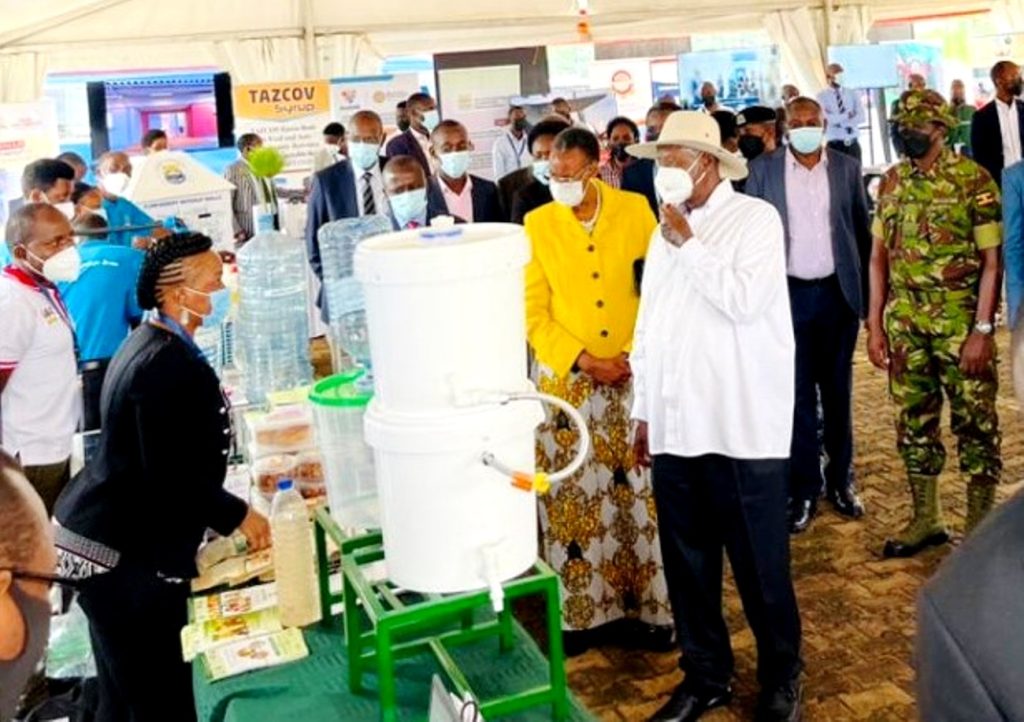 Maka Water Purifier – made with a chicken keratin biosorbent,
Phyto-Nutra Chicken Feed – from indigenous plant species to address Antibiotic resistance and Environmental pollution, and
Value-Added Nutraceuticals – from indigenous plant species in the form of Veggie Cocktails, Porridge cocktails, Nutra Cakes, Cookies, and Bread by Dr. Alice Nabatanzi's projects (College of Natural Sciences). Produced with funding from the Government of Uganda through the Makerere University Research and Innovations Fund (Mak-RIF)
Makerere Regional Centre of Excellence for Crop Improvement (MaRCCI) represented by Dr. Sharon Tusiime Mbabazi (Seed Specialist and Ag. Deputy Director) and Ms. Fiona Nyanzi (8 Technology Limited, Mak-RIF Project Partner) – showcased a variety of value-added products produced from sorghum and cowpea. Demo video of how to grow cowpea and sorghum. Digital applications for growing cowpeas and sorghum.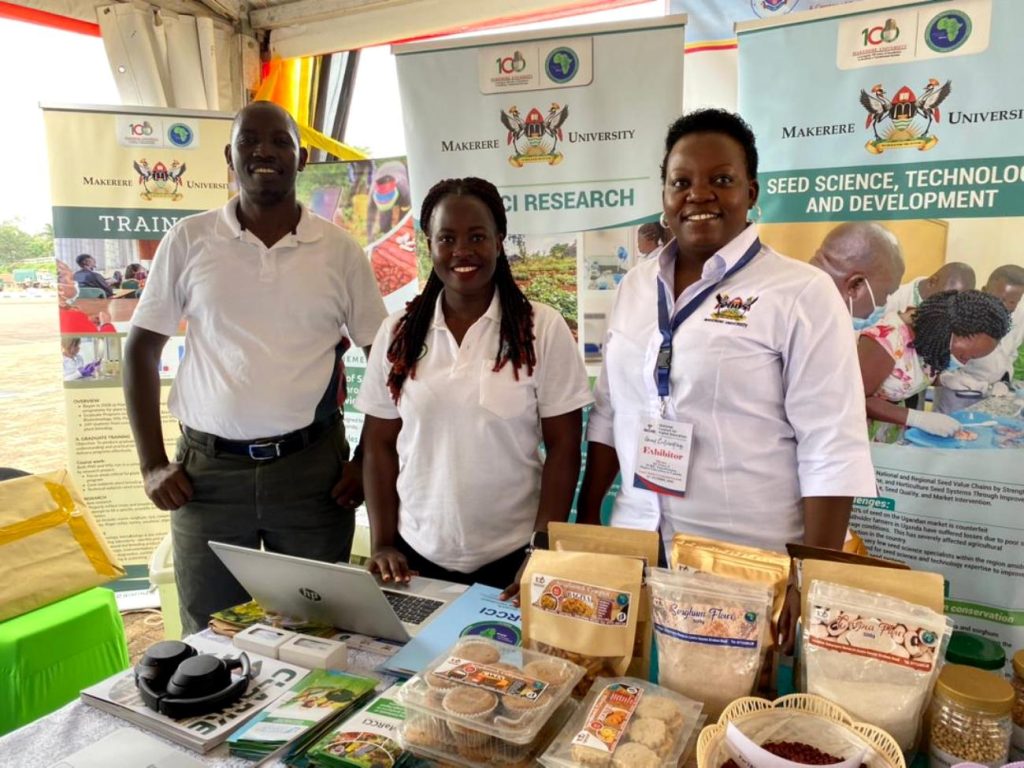 Makerere University Press under the Directorate of Research and Graduate Training represented by Dr. William Tayeebwa – showcased the latest books authored by Makerere University scholars/researchers. They included;

Contemporary African Philosophy: A Critical Appraisal by Wilfred Lajul
The Power of Culture and Identity: Imbalu Initiation Ritual Among the Bamasaaba of Uganda by J. P. Wotsuna Khamalwa
Modernisation of Luganda Terminology in the Field of Linguistics by Saudah Namyalo
Runyakitara Language Studies: A Guide for Advanced Learners and Teachers of Runyakitara by Oswald K. Ndoleriire (Ed.)
Contemporary Issues in Educational Research, Policies, and Practices in the Global South by C. Ssebbunga-Masembe & S.N. Siminyu (Eds.)
What I Saw When I Died by Jimmy Spire Ssentongo
Moving Back into the Future by Dominica Dipio (Ed.)
Countering Violent Extremism in Uganda by Veneranda Mbabazi et al.
Lulu ya Bara by Innocent Masengo
HIV/AIDS in Uganda: Achievements and Challenges by James Kiwanuka-Tondo
Statehood on Trial: Thoughts on the 1966 Uganda Political Crisis by Joseph Bossa
(Mis)management of Sub-Nationalism and Diversity in "Nations": The case of Buganda in Uganda, 1897-1980 by Godfrey Berinde Asiimwe
Department of the Academic Registrar represented by Mr. Justus Karegyeya – showcased the Makerere University online application system and programmes that students can apply to from any location as long as they have an internet connection.
Compiled by Mak Public Relations Office
---
---
Inaugural Youth & Innovation Expo a Roaring Success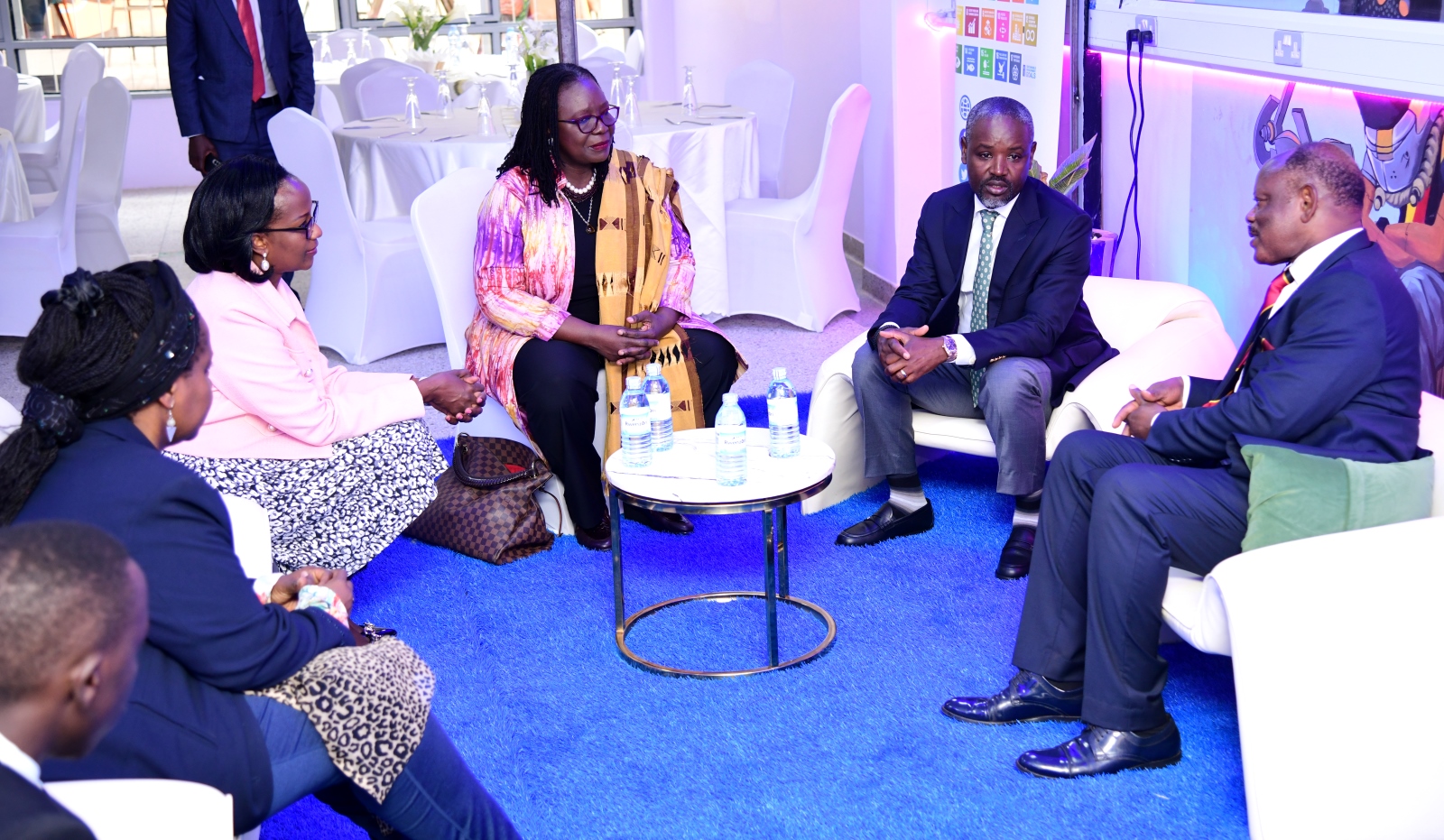 The inaugural edition of the Youth and Innovation Expo was a roaring success as over 300 innovators showcased their creations and thousands of guests walked through the doors of the Yusuf Lule Central Teaching Facility Auditorium, as well as traversed the surrounding spaces on 6th and 7th October 2023. Organised by Makerere University in partnership with the United Nations Development Programme (UNDP), the Expo was held under the theme "Fostering Innovation for Uganda's Transformational Development". The event was sponsored by MTN Uganda, while StartHub Africa – a hybrid-social venture curated all the knowledge sessions over the two-day period.
Officially opened by Rt. Hon. Thomas Tayebwa, the Deputy Speaker of Parliament on 6th October 2023, the Expo was graced by the Chairperson of Council Mrs. Lorna Magara, Resident Representative UNDP Uganda H.E. Elsie Attafuah, Ambassador of Italy to Uganda H.E. Massimiliano Mazzanti, the Vice Chancellor Prof. Barnabas Nawangwe, and the Acting Deputy Vice Chancellor (Finance and Administration) Prof. Frank Norbert Mwine among other dignitaries. The Expo was officially closed on 7th October 2023 by the Minister of State for Youth and Children Affairs Hon. Nyirabashitsi Sarah Mateke.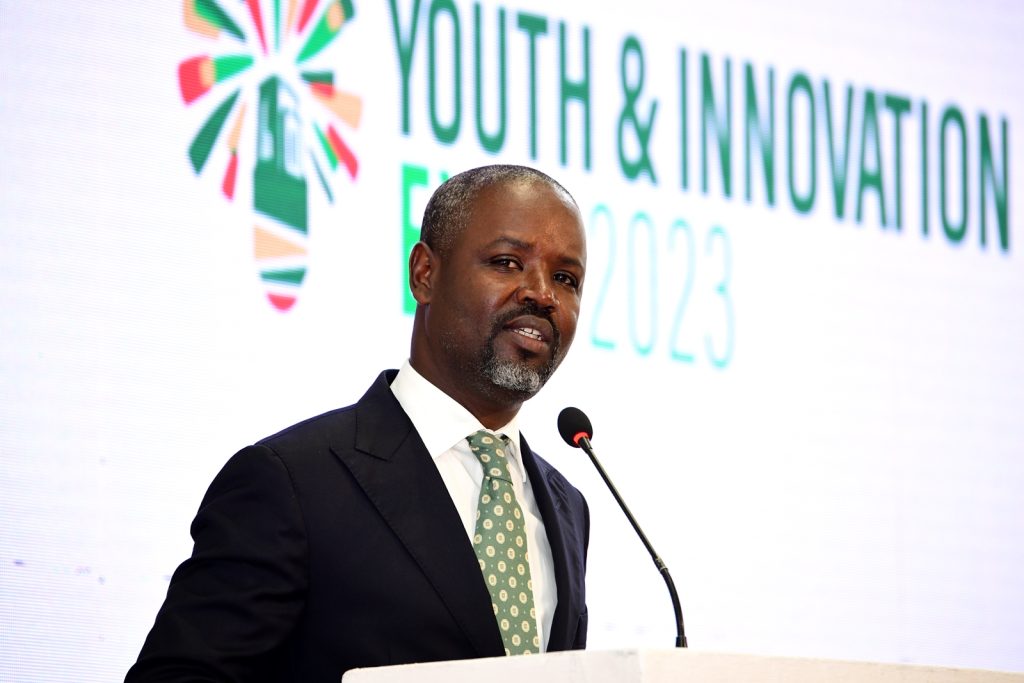 Delivering an abridged version of his keynote address, Rt. Hon. Tayebwa could not help but appreciate the strides that Makerere University is making as it transitions from producing job seekers to producing job creators, through initiatives aimed at nurturing youth innovations and youth enterprise. "I want to thank the Country Director UNDP, H.E. Elsie Attafuah and the entire diplomatic corp for this enormous gesture and timing to help Makerere transition."
Recalling with nostalgia his own academic journey through Makerere, Rt. Hon. Tayebwa could not help but appreciate his Alma mater for not only offering the bedrock upon which he built his career but also according him the opportunity to hone his entrepreneurship skills. "The assurance I can give you is that I might have been a son of a peasant, but I'm no longer a peasant and my children will never be peasants."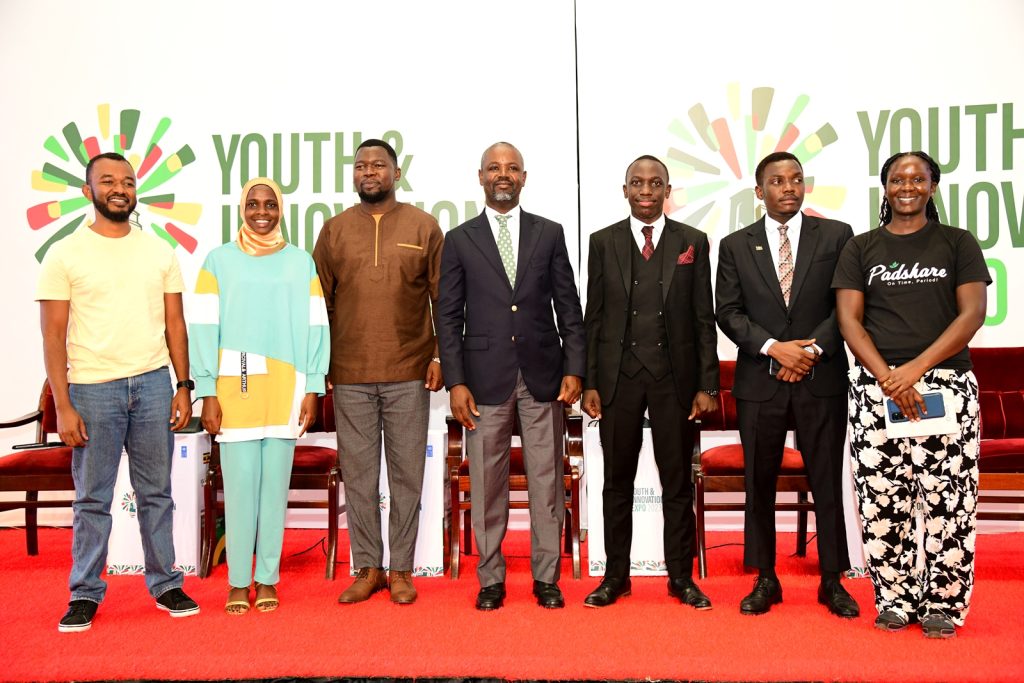 The Deputy Speaker decried the perverse poor saving culture especially among the youth today, noting that "the problem we have is, when we get money, we eat and when we are full, we save. You can't develop that way". He reminded the congregation that funders like UNDP are providing seed, while the Government is proving the environment conducive for innovation to thrive, and it was upon the youth to make the most of it and develop successful enterprises that can help grow the Uganda's tax-to-GDP ratio from the current 13.9%.
In her remarks, the Chairperson of Council, Mrs. Lorna Magara thanked H.E. Elsie Attafuah for steering UNDP's support to nurtur innovation and entrepreneurship at Makerere, noting that the expo was a dream come true. "We are creating a platform that facilitates meaningful engagement between the youth and the various partners to tap into their expertise and experience."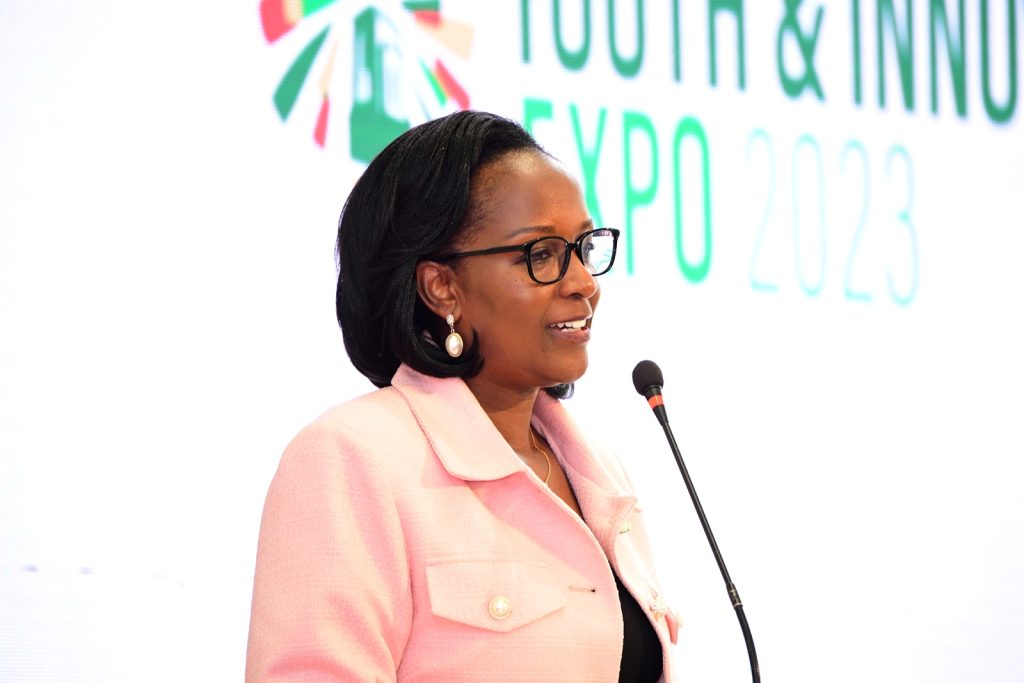 The Chairperson of Council equally thanked the Deputy Speaker for sparing time to preside over the Expo's opening ceremony, noting that Rt. Hon. Tayebwa, while serving as a Council Member wrote the first concept to create a business hub for Makerere University. She added that Makerere is transitioning from a second generation to a third generation university. "Third generation universities are those that not only generate knowledge but also have innovation that is then translated into competitive enterprises that impact society."
Responding to the "why now?" question that could have been lingering in the audience, H.E. Elsie Attafuah shared that since we live in a world of uncertainties such as covid-19, climate change and wars, "we must invest and we must innovate" to enable us overcome the effects associated with these uncertainties. Furthermore, she noted that in the midst of unevenness in development progress, "we must redouble our efforts by investing in innovations and solutions that will help us progress as a country."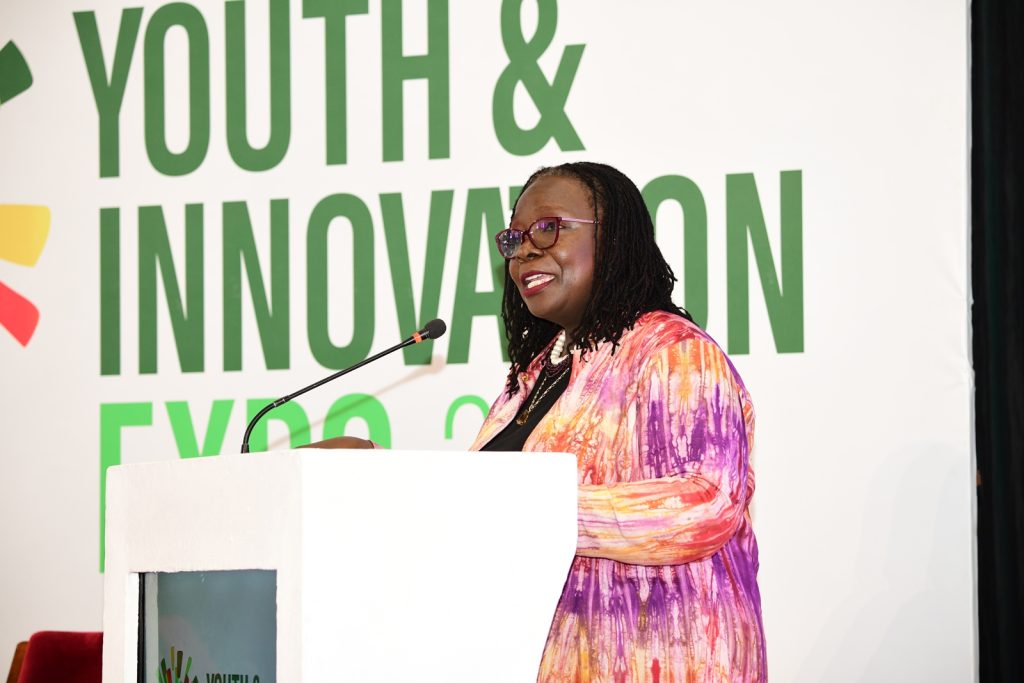 Thirdly on the "why now?", she stressed that the unemployment in Uganda, Africa and other developing countries ought to concern us all. "We must seize this opportunity to create job opportunities for our young people… we can no longer be exporting our wealth and importing poverty into our continent."
In her fourth and final response to the "why now?", H.E. Attafuah revealed that development is being unfunded. "We see the trajectory. While development financing is increasing, it is increasing into other spaces and not necessarily the development agenda of Africa," she noted with concern, before adding "in fact it is moving out of Africa." The UNDP Resident Representative reminded her audience that whereas overseas development assistance is catalytic, it will not solve the problems of poverty in any country.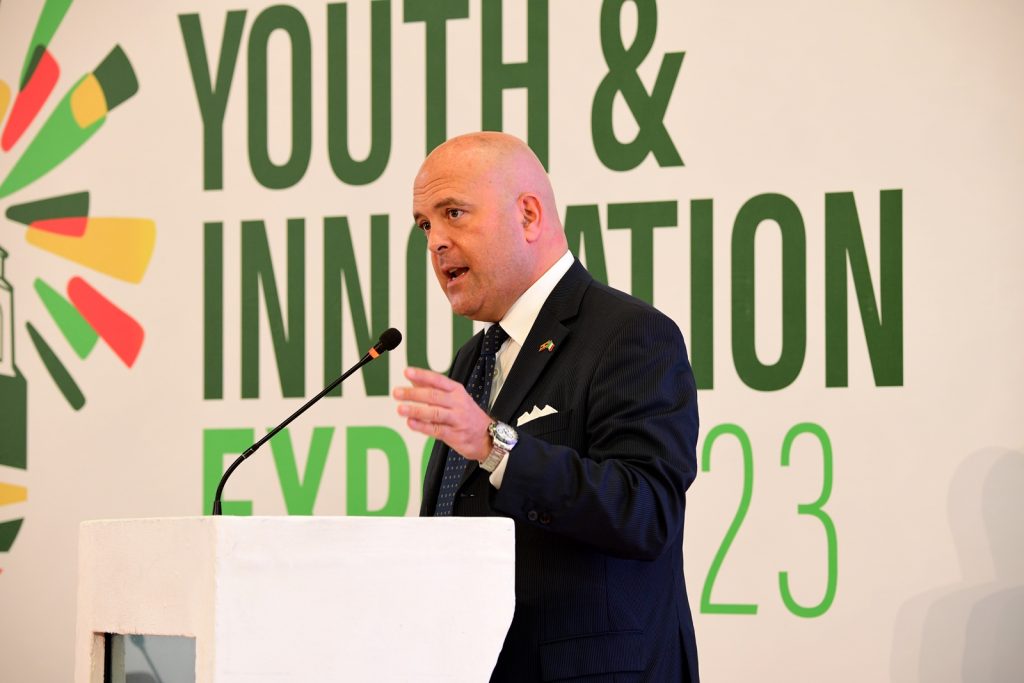 Still on the topic of development, H.E. Massimiliano Mazzanti acknowledged that the need to match his country's support to national development is often prioritized in discussions with Ugandan authorities. That notwithstanding, of particular interest to the Embassy has been support to the Ugandan youth, whom the Ambassador admitted showcase amazing creativity.
H.E. Mazzanti gave the example of the Start-up Africa Road Trip project promoted by "BeEntrepreneurs", an Italian non-profit association created in 2017, that seeks to create inclusive and collaborative ecosystem between young African and Italian start-up companies. "We do this training through road trips and select exclusively the best start-ups in Uganda and as a member of the panel of judges, I am amazed by the creativity and capacity of innovation of start-uppers in this country."
The best three companies are then sent to Italy to develop their ideas together with Italian start-up companies at the expense of the host Government. In the last six years, the initiative has supported 300 African start-ups through workshops, bootcamps and competitions, as well as reached 3.5million youth in Burundi, Kenya, Rwanda and Uganda.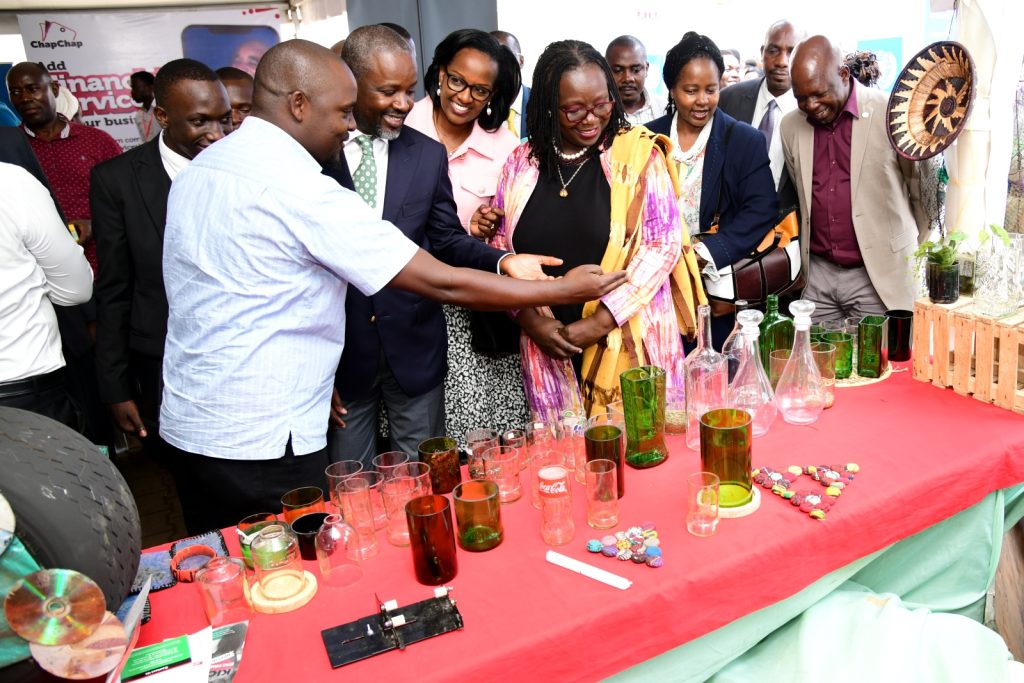 The Youth4Climate is another initiative co-led by the Government of Italy and UNDP to raise awareness of climate change and sustain long-term engagement with youth. "What we want is to create a new class of leaders on climate change for the future" added Ambassador Mazzanti.
"The majority of our population are the youth and we must tap into their energies to move our country and continent forward positively" remarked the Prof. Nawangwe in relation to youth and entrepreneurship. "Makerere has resolved to be a leader in research and innovations because we realize that we must empower these youth to create jobs for themselves and for the other people who are less advantaged than them" he added.
The Vice Chancellor therefore thanked the UNDP for partnering with Makerere to organise the inaugural Youth and Innovation Expo. Additionally, he thanked UNDP for supporting the establishment of the Makerere Innovation Hub, which will accord the students and youth elsewhere the opportunity to develop their ideas, "and move out of these gates with companies in their pockets to go and create jobs for themselves and all other Ugandans."
In addition to the exhibitors from all ten Makerere University Colleges and other participating entities, the Youth and Innovation Expo featured a fireside chat (ekyooto) by H.E. Elsie Attafuah and Mrs. Lorna Magara, five knowledge sessions, and a free medical camp by the Makerere University Hospital and the Nakasero Blood Bank. The two-day event also featured an Art and Fashion Exhibition by the Margaret Trowell School of Industrial and Fine Arts (MTSIFA), a Fashion Show, Entertainment Corners by various partners and the Department of Performing Arts and Film (PAF) as well as Food Vendor Stalls.
Please click the embedded video below to view proceedings of the Youth and Innovation Expo.