Call for Applications: PhD Research Grants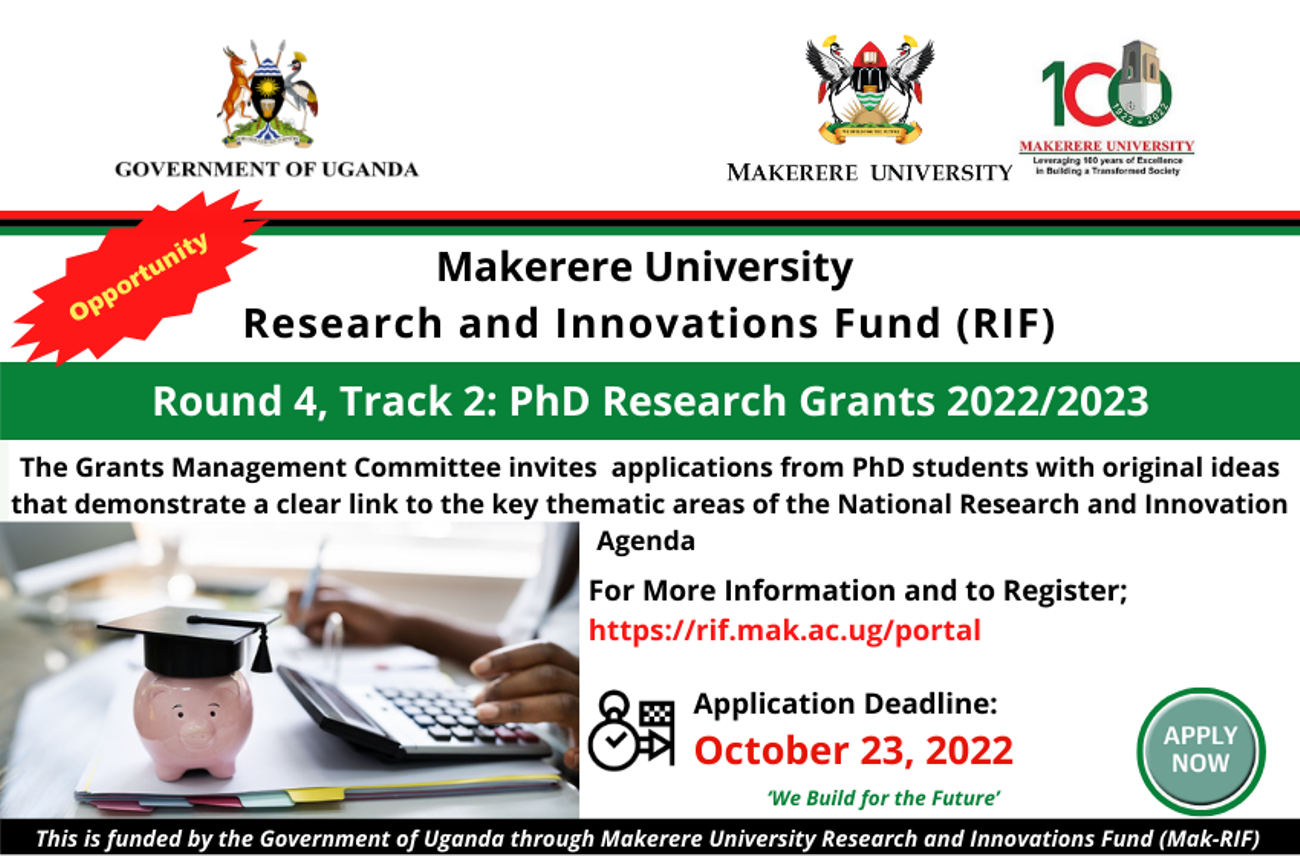 BACKGROUND
Funding opportunity description: Makerere University received special funding from the Government of the Republic of Uganda, to support high impact Research and Innovations that will accelerate national development. The Financial Year 2022/23 will be the fourth year of this fund's availability. The fund illustrates the increasing importance that the Government attaches to Research and Innovation as a driver of socio-economic transformation. The objective of the fund is to increase the local generation of translatable research and scalable innovations that address key gaps required to drive Uganda's development agenda. Over the last three Financial Years (2019/2020, 2020/21 and 2021/2022), government appropriated 79 Billion Uganda Shillings to support this Fund. Between the two years, MakRIF has funded a total of 775 projects across all sectors critical for development. In the next Financial Year (2022/23), Makerere University expects to receive about 30 Billion Uganda shillings (about US$ 8.1 million) under the Government Research and Innovation Fund (RIF). Of this, at least 3 Billion Shillings will fund PhD research ideas that generate knowledge that addresses national development priorities. The Makerere University Research and Innovation Grants Management Committee (GMC) therefore announces the RIF Round 4, Track 2 (PhD Research Grants). Available funds are obligated for the Financial Year 2022/2023, with an expectation of actionable results that speak to the National Research and Innovation Agenda. The GMC therefore invites applications from PhD students with original research ideas that demonstrate a clear link to key thematic areas of the National Research and Innovation Agenda.
This is a closed call that is open to only PhD students. This funding call is specifically targeted to PhD students that are full time at Makerere University.
Grant amounts and estimated number of awards: The GMC estimates to award the following number and amount of PhD Research Grants:
| | | | |
| --- | --- | --- | --- |
| Category | Amount per award | Approximate Number | Total amount |
| Category 1: Arts and Humanities | Up to 25,000,000/= | 50* | 1,250,000,000/= |
| Category 2: Sciences | Up to 35,000,000/= | 50* | 1,750,000,000/= |
| Total | | 100 | 3,000,000,000/= |
*Note: The numbers shown are only indicative. The MakRIF GMC reserves the right to adjust the numbers based on the quality of the proposals submitted.
Applicants should take into consideration the following:
Given that the MakRIF funds are received on an annual basis, and are tied to a specific financial year, the current grant only commits to funding the awardee for a period of one year. This award therefore covers one financial year.
However, the MakRIF GMC is cognizant of the fact that PhD research often spreads over more than one year in which case it requires multi-year funding. Because of this reality, PhD students who are funded under this round will be eligible for extension funding in the following financial year. Second year funding will not be automatic but will be conditional to the following: 1) Availability of funds, 2) Showing cause as to which additional areas of research will be covered in the second year of funding, 3) Successful execution and completion of all the objectives for Year 1 funding, evidenced by full submission of the required deliverables; 4) Full technical and financial accountability for all the funds given to the researcher during the current year of funding. Students would have to apply for the follow-on funding through the next year's PhD Research Grant call.
The GMC recognizes that the amounts indicated for this award may not be sufficient to cover all the necessary costs for a student's project. In such cases, the award should be considered as a contribution and the students should mobilize additional funding to bridge the resource gaps.
The number of awards indicated are only estimated and the GMC retains the discretion to determine the amount and number of awards based on the actual funding that MakRIF funders will make available and the number of quality proposals submitted.
Scope and Technical Description of the Research and Innovation Grant
The GMC conducted a comprehensive stakeholder consultation to identify priority thematic areas of interest for national development. The GMC triangulated this information with that from the National Development Plan III, the Makerere University Strategic Plan and Research Agenda to develop an instructive MakRIF research agenda that responds to national development priorities. The RIF Round 4, Track 2 (PhD Research Grants) will therefore specifically target research and innovation projects that align with priority thematic issues in the MakRIF instructive Research Agenda under 14 thematic areas as follows:
Theme 1: Transforming the Agricultural sector to drive development
Theme 2: Achieving Sustainable health as a means to sustainable development
Theme 3: Re-imagining Education to unlock capacity for economic development
Theme 4: Water, sanitation and the environment: A pre-requisite to sustainable development
Theme 5: Harnessing the social sector, culture and arts to drive development
Theme 6. Harnessing Tourism, wildlife and heritage for development
Theme 7: Sustainable Planning, finance and monitoring as catalysts for growth
Theme 8: Leveraging public service and local administration for efficient service delivery
Theme 9: Defence and security: Achieving sustainable peace and stability
Theme 10: Strengthening law, governance, human rights and international cooperation as prerequisites for development
Theme 11: Harnessing Information and Communication Technology to drive development
Theme 12: Works, manufacturing, science and technology as tools to accelerate development
Theme 13: Solutions to catalyse business and enterprise
Theme 14: Energy and Minerals as drivers of rapid economic development
Click here to view details of each theme.
The Mak-RIF PhD Research Grants will cover all technical disciplines in Makerere University as long as the research questions align with the instructive research agenda themes above. Particular attention will be paid to ideas that have clear potential for scalability to drive development.
Note: This grant covers the coasts of research. It does not cover payment of tuition or living stipends for the PhD students.
Eligibility
The PhD research grants will only be open to PhD students who have been approved for full registration at Makerere University. Students who have already received full scholarships under other award programs are not eligible to apply for these grants as this will constitute double funding. In line with this, PhD students who are members of academic faculty of Makerere University are not eligible since they are covered by the Staff Development Program. This funding is only open to Makerere University students. PhD students registered in other universities are not eligible for this funding. Further specifications on the awards are as follows:
Applicants must be at a stage where they have been approved for full registration as PhD students at Makerere University. Being at the stage of full registration means that they have developed a full research proposal that has been approved by the respective Higher Degrees Research Committee in their academic unit, and that they have been have been recommended for full registration OR are fully registered by Makerere University. Applicants will be required to provide evidence of one of the following: Minutes of the Higher Degrees Research Committee in their Academic college, showing approval of their research proposal, OR a full registration certificate.
Because the research funds are provided for one year funding cycles, PhD students with provisional registration will not be eligible for funding under this award since the time required for them to complete full proposal development and to start data collection is unlikely to fit within the financial year.
These grants are limited to PhD students who do not have prior funding for their studies or whose funding is inadequate to cover their research. Applicants in the latter category must make full disclosure of their other funding sources and what they cover.
Applicants should provide a letter of support from any one of the following: 1) The Head of their Department, or 2) The Dean of their School, or 3) the Principal of their College (Only one of these is sufficient).
Applicants should provide a letter of support from one of their Supervisors within Makerere University. The letter should clearly indicate that they do not have other funding that fully covers their research/training activities, or where such funding is available, they should indicate what aspects of the student's study program it covers and the funding gap. The supporting Supervisor will be designated as a co-Investigator on the research project.
GRANT GUIDELINES
MakRIF PhD Research Grant applicants will submit a competitive project proposal for the available funding. The proposal ought to specify the objectives for the full research project. It should also indicate which of the full research objectives will be specifically met by the available funding for this financial year.
Students intending to apply for multi-year funding in the subsequent years will be required to indicate so. In such cases, the students should indicate which study objectives would be covered by the extension funding.
The research problem: The proposal should clearly articulate the knowledge gap that the researcher targets to address, and why it is important to address this knowledge gap. The research problem should be aligned to at least one theme in the MakRIF research agenda.
The proposed solution: PhD Researchers should present the proposed solution in form of the research focus for the current phase of the funding. They should clearly articulate the objectives of the planned research. Researchers should also describe the critical content of the solution (i.e., the 'research methodology'). Researchers should defend the relevance of the proposed solution to addressing key development outcomes in the respective sector and its alignment to one or more thematic areas specified in this call. Researchers should also demonstrate that at least one objective of their research project is implementable within one (1) year and will result in tangible results within one year of execution.
Research projects that require multi-year implementation will only be considered if they can show actionable intermediate results or objectives attainable within 1 implementation year, since funding will be on a yearly basis. Apart from a summary of the proposed approach, researchers will provide a more detailed description of their technical approach (research methodology) to enable a robust assessment of the rigor of the proposed methodology.
Outputs, outcomes and impact: Researchers should articulate the overall scientific outputs, outcomes and anticipated impact of the PhD research project. They should state the primary (Direct) and secondary (Indirect) beneficiaries of the planned research project. They should state the anticipated outputs (the outputs of the activities of the entire project as well as the specific milestones to be attained with the one-year funding) and the outcomes (both the outcomes of the entire project and those for the current funding phase). Researchers should also state the anticipated impact of the the project (Note: Impact might not be achievable in one or even a few years in which case the current phase only contributes to it). Since this funding is specific to the current financial year, projects must demonstrate clearly the deliverables they expect within one year, matching the level of investment made and attainable in the 1-year timeframe. Multi-year projects should show clearly what will be achieved in the current year of funding as well as what would be achieved overall when the full PhD research is completed in the subsequent years.
Translation and dissemination for impact: Since this fund is aimed at supporting government and its partners to improve service delivery and to accelerate development, researchers should show a clear plan for disseminating their findings to audiences critical for policy and program change so as to achieve impact at scale. This will include a clear description of the knowledge translation and dissemination plan to stakeholders in the relevant sectors including the knowledge products anticipated to arise from the study (e.g., publications, policy briefs, knowledge briefs, etc.). Innovation-based projects should articulate a scaling strategy, including linkage to scaling partners within the industry (for commercially viable enterprises), or within the relevant public sectors (for innovations targeted to the public) or within relevant implementing agencies (for social enterprises). Innovations targeting commercial interest should demonstrate the anticipated commercial potential, anticipated demand, anticipated patents/copy-rights/industrial design claims/trademarks if applicable and the path to commercialization. Innovations targeting social impact (social innovations) should elucidate the path to wide scale community uptake.
Ethical implications: The implications of the research to human subjects, animal subjects and the environment should be articulated where necessary including how key ethical or environmental concerns arising from the study will be addressed. It is anticipated that at the time of full registration, projects requiring ethical approval will have already obtained that approval from their respective ethics committees.
Budget: Researchers will prepare a summary budget for the one-year phase of their project as well as a detailed budget. Budgets should be submitted in the official currency (Uganda Shillings). Because these are university funds, academic units (Departments, Schools and Colleges) will not charge institutional overheads to any of the research funds. Budgets should not spread beyond one Financial Year. Even if the projects to be funded under this mechanism are multi-year, researchers should provide a budget for only one Financial Year. The budgets will include the following sections:
1.0 Personnel costs
2.0 Travel
3.0 Supplies and services
4.0 Equipment
5.0 Program activity costs
6.0 Dissemination
Under Personnel costs, applicants should not budget for 'Salaries' for staff who are paid a salary by Makerere University or another Government of Uganda institution (whether on permanent or contract terms) as this would constitute double payment from government funds. However, such researchers can budget for 'activity-based' time input or 'level-of-effort-based' costs for their additional time input into the project in form of allowances. The latter should be justified by specifying the extra-time demands from the project for each individual involved.
Researchers can budget for salaries for critical project staff that are not paid by Makerere or the Government of Uganda e.g., Project Coordinators, Administrative Assistants, Research Officers etc. Regular Personnel costs excluding field research assistants should not exceed 33% of the budget. Field research assistants (or Data collectors) if needed should not be included under 'Personnel costs' but should instead be included under 'Program Activity Costs'. All salaries and all repetitive allowances will be subject to mandatory statutory deductions at source, to pay the relevant taxes. Because these funds are earmarked to support actual research, PhD students cannot budget for a monthly stipend under this award.
In addition to the summary budget, research teams will be required to attach a detailed budget (As an MS Excel attachment) that breaks down all expenditure line items, inclusive of a budget justification that explains the rationale behind the different budget items. The total budget in the budget summary should exactly match that in the detailed breakdown. You should budget within the category that your project was funded in RIF-1. Budgeting in another category will lead to disqualification. The total budget should not exceed the highest amount indicated for the respective funding category in which your project lies. Exceeding the indicated category maximum can result in disqualification.
PhD Researchers can also budget for Tuition.
Workplan: Researchers will provide a list of key milestones for the project clearly demonstrating the deliverables expected at each point during the extension phase of the project. These milestones will be used as the basis for tracking implementation of activities towards project goals and outputs. Given the one-year time-frame for the awards, it will be important that researchers commit to a clear time-bound set of deliverables all achievable within one year for the main deliverable targeted during the current period of funding. Failure to articulate a one (1) year plan will imply inability to utilize the grant funds within one (1) year
GRANT PROCESS
Submission of applications: Submission of the applications will be online at http://rif.mak.ac.ug/portal All submissions must be online and must be made within the stipulated period. To access the application form, the PhD Research Fund applicant will be required to create a MakRIF account. In your account, select the appropriate funding opportunity and fill out the application form.
Rules governing applications: All applications should be written in English. All applications should be submitted via the online portal mentioned above. Complete applications must be submitted not later than 11.59pm East African Time on the closing date. No submissions after closure of applications will be accepted. Any attempt at solicitation of acceptance beyond this date will not be entertained. The Grants Committee bears no responsibility for submissions that are not completed in time and incomplete submissions will not be considered. If none of the submitted applications meets the requirements to receive a grant, the call may be reopened at the sole discretion of the Grants Management Committee. An individual researcher should not submit more than ONE application.
Participants agree to assume any and all risks, and to waive claims against Makerere University and the Grants Management Committee for any injury, death, damage, or loss of property, revenue, or profits, whether direct, indirect, or consequential, arising from their participation in this grant implementation.
Evaluation and selection of projects: Applications will be reviewed by the GMC. Submission of an application does not mean the project must be funded. The GMC will evaluate five main aspects of the project:
The alignment of the proposed research to national priorities as stipulated in the MakRIF research agenda
Clear articulation of the knowledge gap and how the planned research will contribute to building new knowledge
Quality of the proposal in terms of the relevance and innovativeness of the proposed solution, the planned activities and the articulation of a sound methodology
Clear stipulation of outputs and outcomes and feasibility of tangible achievements within one year of funding
Potential impact and transformativeness of the proposed research idea
Submission of a realistic budget
Notification of successful applicants: Successful applicants will be informed by email to their designated point of contact.
Grant timeline:
| | |
| --- | --- |
| Milestone | Date |
| Issuance of RFA | Thur 29th Sept 2022 (Closed to PhD students only) |
| Closing date for applications | Sunday 23rd Oct 2022 |
| Selection | Monday 24th October 2022 to Friday 18th November 2022 |
| Award notification | Friday 18th November 2022 |
| Induction | Tuesday 22nd November 2022 |
To submit application, please create an account on https://rif.mak.ac.ug/portal and login to start the application process.
Stakeholders to work with Academia to strengthen Education & Research in Biodiversity Conservation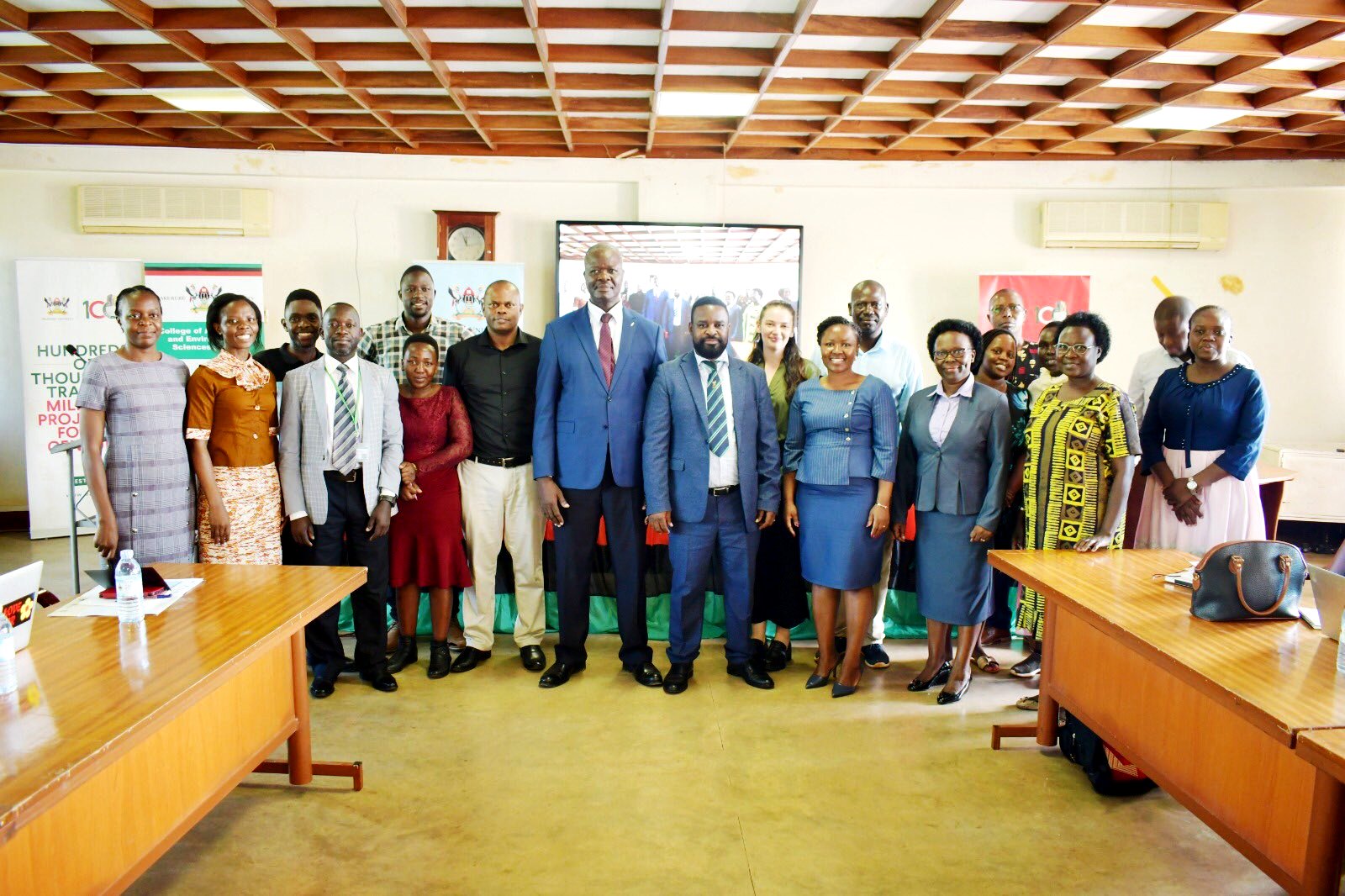 On 16th November 2023, national and international stakeholders participated in the kick off workshop hosted at Makerere University to further consolidate various schools of thought aimed at producing a holistic and relevant graduate student equipped with practical skills, research and problem solving abilities aligned to Sustainable Development Goals.
The blended kick off workshop, which brought on board the academia, researchers, private sector, civil society, business community and graduate students set the pace for the implementation of the Sustainable Development Goals (SDG) Partnership Project titled: Strengthening Education and Research Capacity for Enhancing Biodiversity Conservation and Sustainable Natural Resources Use."
Expected to benefit over 350 graduate students and 20 members of staff, the SDG Partnership project that will be implemented by Makerere University (Mak) through the College of Agricultural and Environmental Sciences (CAES) in collaboration with Rhine-Waal University of Applied Sciences (HSRW), and Central University of Technology (CUT) is funded by the German Academic Exchange Service (DAAD).
Welcoming the stakeholders to the kick off workshop, the research project team represented by Prof. John Tabuti from Makerere University and Ms Nele Vahrenhorst from Rhine Waal University of Applied Sciences highlighted that the project seeks to contribute to the following SDGs: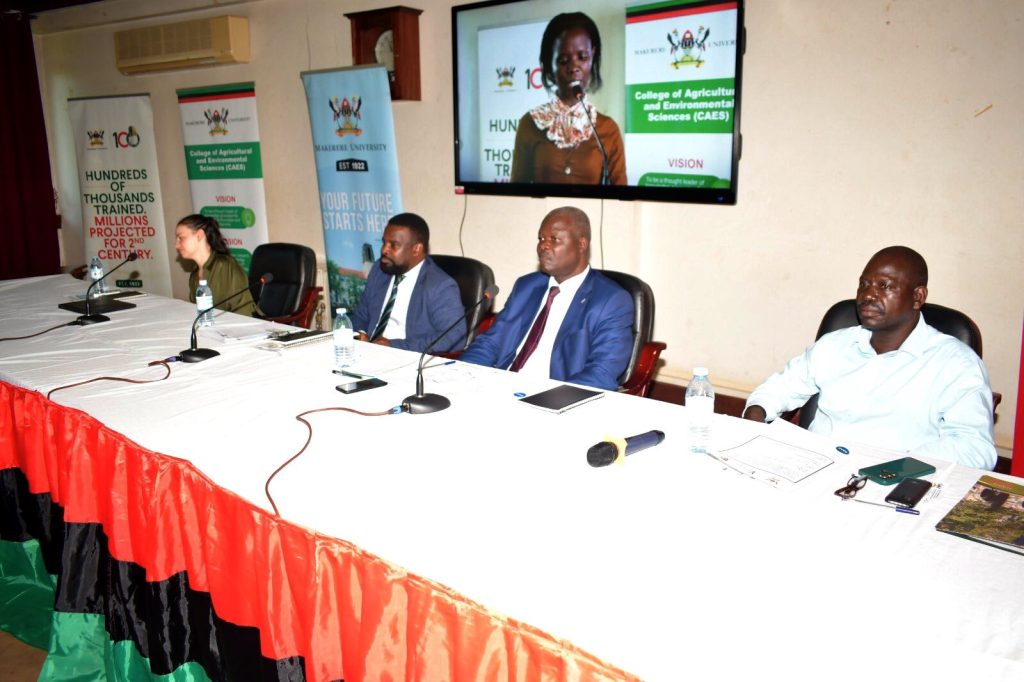 Poverty Eradication (SDG 1), Zero Hunger (SDG 2), Quality Education (SDG 4), Economic Growth (SDG 8), promoting sustainable consumption and production through developing business opportunities in natural resources use (SDG 12), Climate action through better management technologies and protection on natural resources and ecosystems reducing carbon emissions (SDG 13), as well as protect, restore and promote sustainable use of terrestrial ecosystems, sustainably managed forests, combat desertification and halt reverse land degradation and halt bio diversity loss (SDG 15).
Prof. Tabuti stated that the mode of delivery will prioritise the student using an approach referred to as 'Student-centred learning."
The main objective of the project is to enhance SDG research and teaching through a strong North-South-South partnership between HSRW, Mak, and CUT, so as to prepare graduate students for the societal challenges ahead, and the requirements of the job market. The SDG project partnership will ensure that university graduates are highly equipped with the necessary competencies to develop appropriate resource management responses, and implement optimum biodiversity conservation strategies as well as dealing with dynamic and complex business problems. The project will address the issue of environmental degradation hence poverty reduction, food insecurity, natural resource depletion, and climate change.
The project will focus on mainly Uganda, being the most bio-diverse country in Sub-Saharan Africa, with over 70% of its population relying on agriculture and use of natural resources. In addition, the loss of substantial parts of the natural habitat used in infrastructure development and extension is a major issue of concern. The research project states the urgent need to encourage the youths and students to foster their passion for SDGs premised on the rapid population growth in Uganda, with 50% of the population being under 16 years old.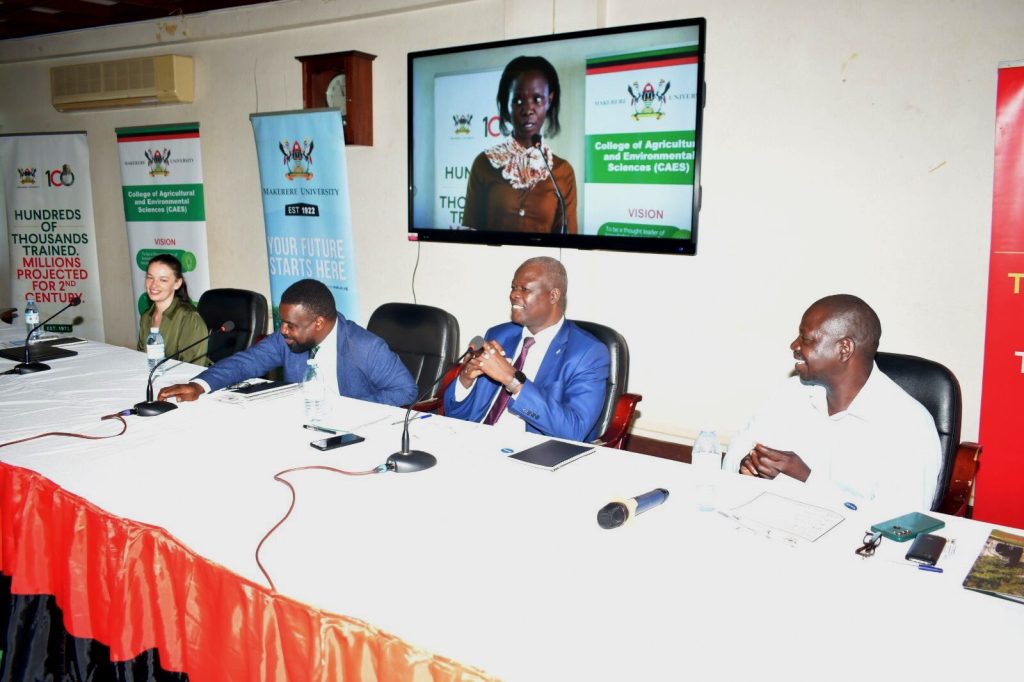 Officially opening the kick off workshop for the SDG partnership project, the Vice Chancellor of Makerere University, Prof. Barnabas Nawangwe, represented by Associate Prof. Robert Wamala from the Directorate of Research and Graduate Training commended the physical and online participants for accepting to engage in this highly interactive workshop. He further underscored the need to conduct research aligned to the SDGs, national development goals, and global challenges.
The Vice Chancellor pointed out that biodiversity, despite sustaining the planet, faces unprecedented challenges including: Climate change, habitat loss, pollution, and unsustainable resource use. He highlighted education and research as the most formidable tools in addressing these challenges. He noted the role played by Makerere University through its 5-year Strategic Plan that aligns with the National Development Plan III (2020/21-2024/25), by contributing to our transformation into a "research-led" institution with a multi-faceted research agenda and enhanced engagement with industry players.
Associate Professor Robert Wamala concluded by informing the audience that DAAD has been instrumental in his career growth, having sponsored both his Masters' and PhD studies. Currently serving as Deputy Director (Research Innovations and Partnerships) at Makerere University, he applauded DAAD for supporting research and capacity building programmes at Makerere University.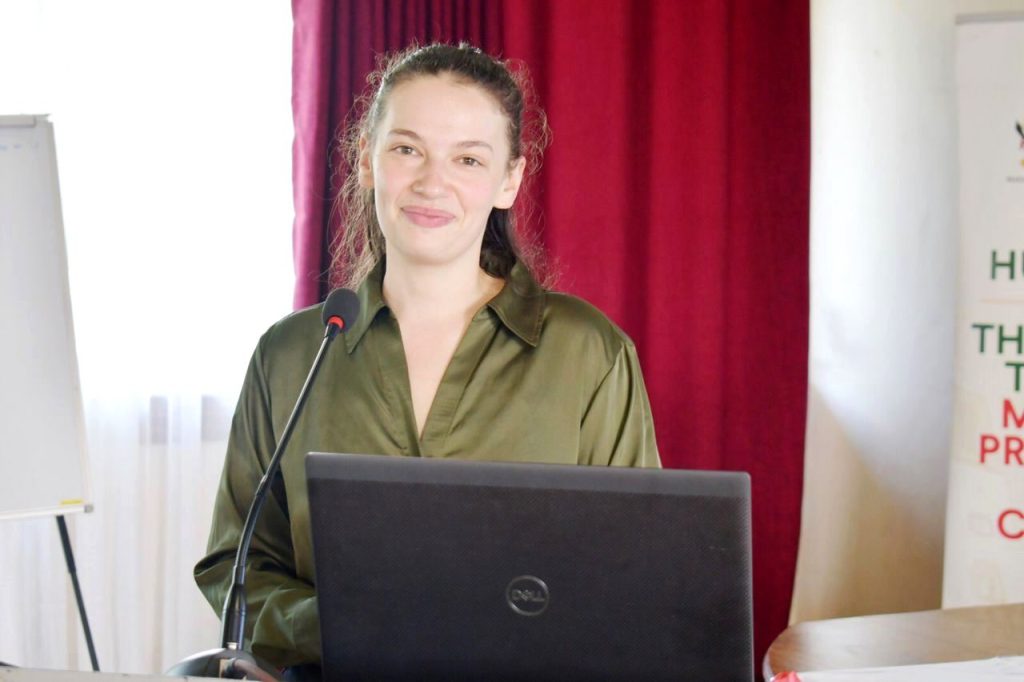 According to the Acting Head, Department of Environmental Management at Makerere University, Associate Professor Vincent Muwanika, the project will support practical training of students on problem identification, and staff in identifying and publishing local cases that are key in enhancing growth, not only at Makerere University but also in the private sector.
Associate Prof. Muwanika observed that the project's alignment with SDG 15 will be guided by and greatly benefit from partnerships. He noted that partnerships are key in enabling us share and cross fertilize academic ideas and experiences, a feat that has kept Makerere University among top-tier research institutions.
Highlighting the importance of policies in churning out relevant products, Associate Prof. Muwanika commended the Vice Chancellor of Makerere University-Prof. Barnabas Nawangwe for spearheading and overseeing policies and programmes that recognize, incentivize, and promote partnerships with industry, people and institutions outside Makerere University.
To further onboard the stakeholders, the project team leads namely Prof. John Tabuti and Ms Nele Vahrenhorst specified that the main activities of the project would include: improving the teaching material on courses that assemble natural resources for use, socio-ecological issues, data analysis, genetics, entrepreneurship, and sustainable tourism. The project will focus on capacity building of teaching and research staff on various methods, develop case studies on sustainable natural resources use, develop networks with non-academic actors, enhance student mobility to strengthen international perspectives, as well as promote inter-country inter-disciplinary learning exchange, incorporate higher education management, internationalization, digitalization as well as monitoring and evaluation.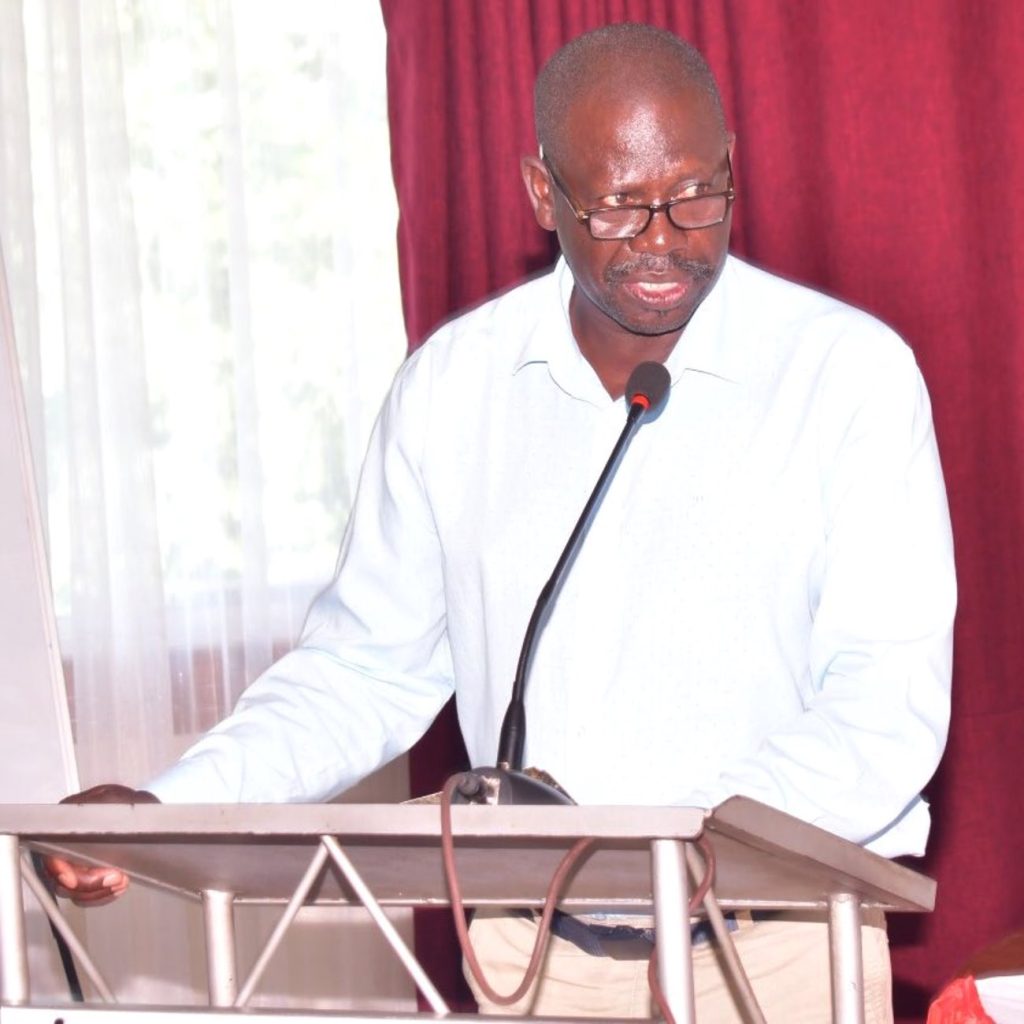 Prof. Tabuti advocated for a strong stakeholder engagement for content development, research undertakings and case studies. "We have brought you on board because you are key people in the field. You are going to play an instrumental role in the development of case studies. Stakeholders will work with the academic staff to develop the content and teach our students," said Prof. Tabuti.
In a highly interactive session involving a plenary and group sessions, the stakeholders contributed to the discussion on their needs and expectations regarding the graduate competencies and skills in biodiversity conservation and sustainable natural resources.
Matters arising from the stakeholder workshop:
With regard to the kind of graduates' employers would wish to have, participants presented a number of qualities including: good communication skills, practical orientation, humility, openness to diversity, readiness to learn and unlearn, ability to adopt to work ethics, problem solving skills, articulateness, confidence with ability to collaborate, design thinking mindset, and innovativeness.
In response to a question on how the partnership with stakeholders to support teaching and research shall be made possible, the participants presented proposals including: Identification of case studies linking to the lecture to be delivered, identification of key stakeholders, stakeholder engagement, identification of valid course content, design access and agreement on methodological approach to be used during the teaching and learning process, compilation of issues to be addressed before they are presented, design of a working document that can guide who does what, coming up with a team to develop a framework for developing the curricular.
Responses to a question on how partners can collaborate in development of case studies included: contribution of knowledge to case study development, establishment of linkages with the community, identification of research gaps, sharing of available resources in public domain, documentation of intellectual property rights, collaboration in teaching and training of students, provision of internship opportunities, giving notifications for advance preparation.
During the presentations, stakeholders indicated the readiness to partner with Makerere University to contribute to the development of case studies and content production for lectures and community outreach.
Closing the kick off workshop, Prof. Tabuti conveyed his gratitude to Makerere University management for supporting the project. He acknowledged Ms Ritah Namisango, the Principal Public Relations Officer of Makerere University for moderating the workshop. He thanked Dr. Dorothy Nampanziira, Ms Ritah Namisango, Ms Aziidah Namatovu and Dr. Godfrey Mayende for the excellent coordination of activities leading to the successful hosting of the workshop. He also thanked the physical and online participants for actively contributing to the stakeholders' workshop.
The 19th RUFORUM AGM in Yaoundé calls for consolidated efforts towards transforming higher agricultural & tertiary education to contribute to sustainable development & food security in Africa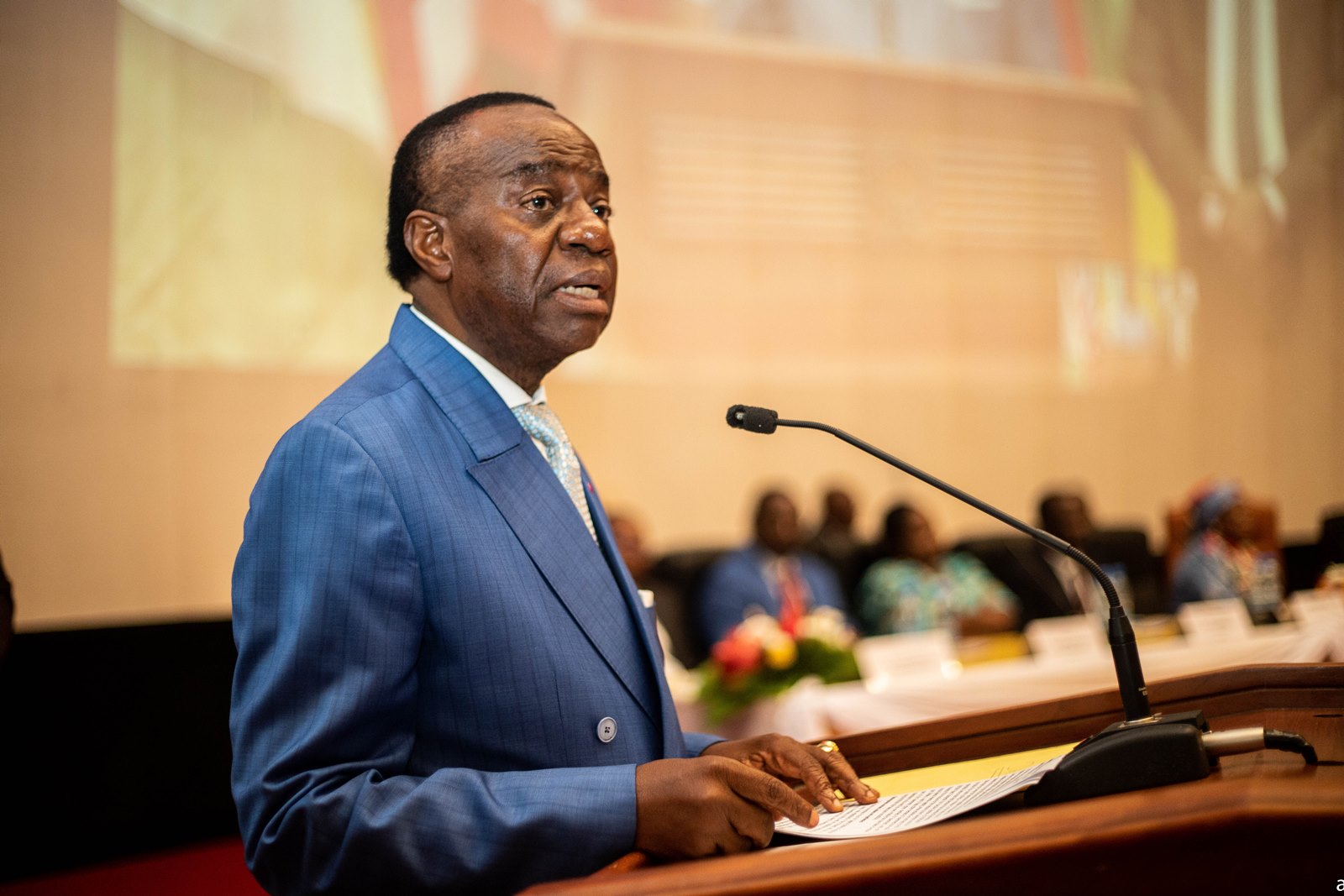 The Regional Universities Forum for Capacity Building in Agriculture (RUFORUM), a consortium of 163 universities in 40 African countries held its 19th Annual General Meeting at the Palais De Congres in Yaoundé, Cameroon from 28th October to 2nd November 2023. The first of its kind in West and Central Africa, the RUFORUM AGM 2023 provided an opportunity for over 600 delegates from Africa and beyond including; Ministers, Development Partners, University leaders, students, private sector leaders; farmers and farmer representatives; emerging and early career researchers as well as other key stakeholders in agriculture and higher education to share experiences and chart a way forward for transforming higher agricultural and tertiary education to contribute to sustainable development in Africa under the theme: Transforming Higher Education to Sustainably Feed and Create Prosperity for Africa.
Officially opened by His Excellency Paul Biya, President of the Republic of Cameroon, represented by Professor Jacques Fame Ndongo, Cameroon's Minister of State, Minister of Higher Education, the 19th RUFORUM Annual General Meeting in Yaoundé provided a platform for participants to deliberate on key strategies for transforming higher agricultural and tertiary education to contribute to national, continental and global development as well as building consensus among key stakeholders in agriculture and higher education on the actions required to strengthen the role and/or integration of universities in agricultural and national development processes in line with the aspirations of the African Union Agenda 2063 'The Africa We Want'.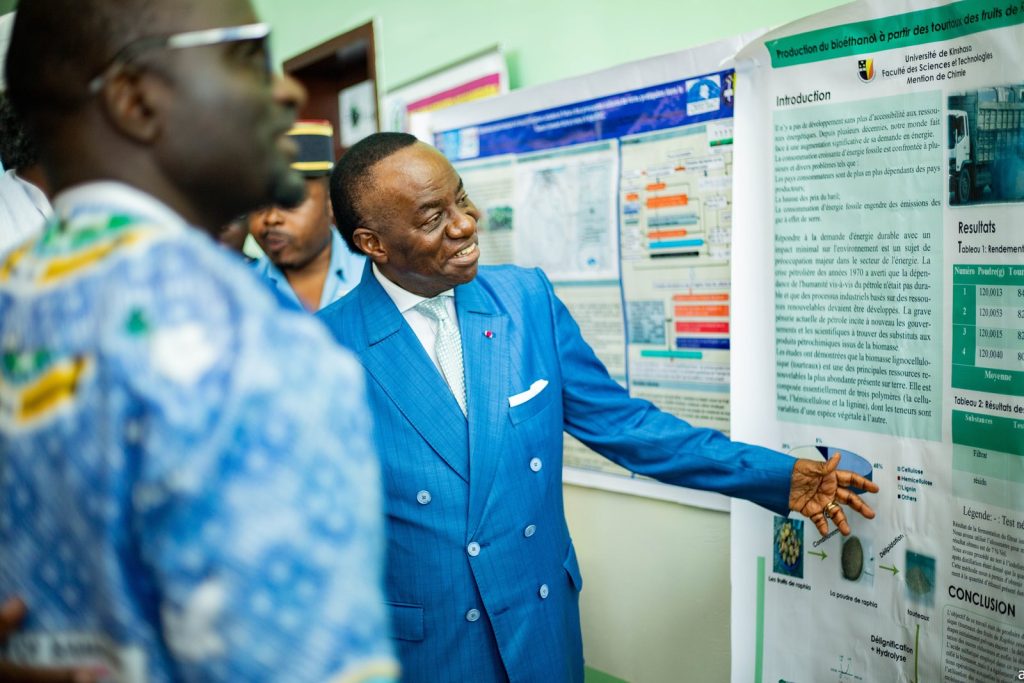 In a speech presented by Professor Jacques Fame Ndongo at the official opening ceremony, His Excellency Paul Biya, President of the Republic of Cameroon stressed RUFORUM's significant efforts to support the African Union Agenda 2063 when he said, "RUFORUM's vision 2030, makes the body a significant contributor to transformation of Africa and vehemently seeks to harness the discovery, engagements and learning of vibrant transformative universities to catalyze sustainable, inclusive agricultural development to feed and create prosperity for Africa."
According to him, it is worth indicating that agriculture in Africa should be understood in its broadest sense to include but not limited to animal and crop production, livestock, wild life, fisheries and forestry. Hence RUFORUM's mission since its inception in 2004, of strengthening the capacities of universities to foster innovation responsive to demands of small holder farmers through the training of higher quality researchers, the output of impact-oriented research and maintenance of collaborative working relations among researchers, farmers, national agricultural research institutions, the Private sector and government is worthy prioritizing.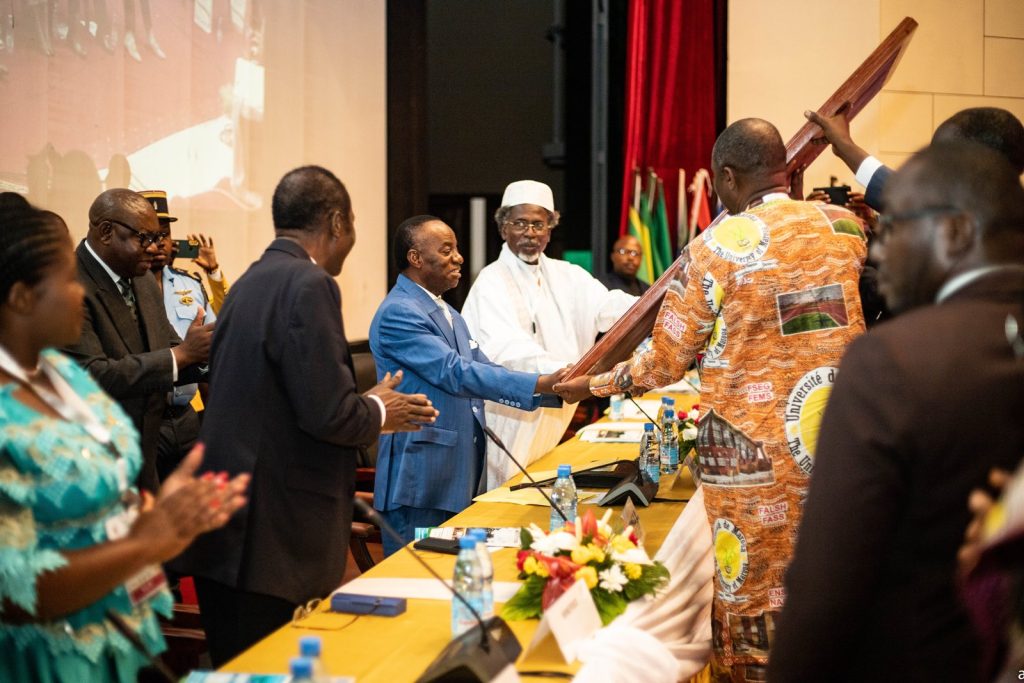 He called upon participants to use the meeting forum to change the face and image of the African continent through constructive and fruitful deliberations on agricultural production, food safety research and better health food security. To him the RUFORUM AGM is a bigger opportunity to think and act, make proposals, formulate recommendations and necessary resolutions which if acted on can change the face of the African continent.
"This is the turning point for the African continent to think big and have the courage to dream big. This is our opportunity to make a difference in our world. This is the opportunity Africa needed to change the target of its demand of action. We have to mutualize and federate our actions and voices in the interest of a united, strong and prosperous Africa," he said.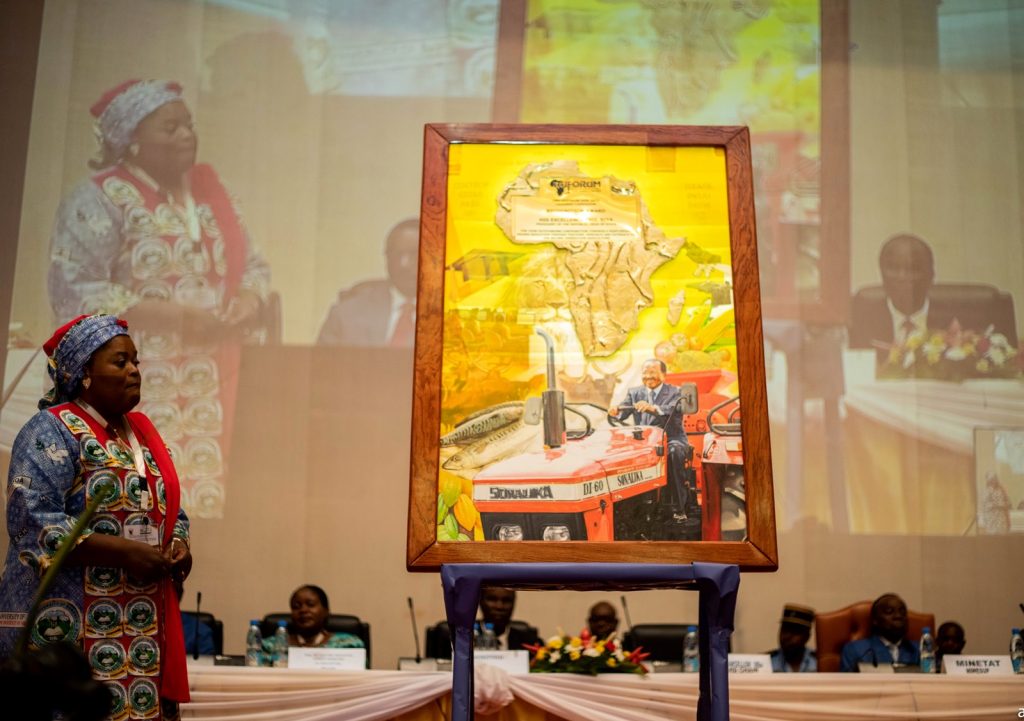 The 19th RUFORUM Annual General Meeting carried a unique vibrant turn as being the first to be held in West and Central Africa. The weeklong event broke the record as the most and well attended ever with over 600 participants across the region as well as international delegates. The colorful event was embroiled with informative, constructive, edutainment activities in form of pre-AGM events, side events, Business Meetings, capacity building and mentoring sessions, scientific conferences, poster sessions and exhibitions well aligned to key thematic areas as well as the AGM theme: Transforming Higher Education to Sustainably Feed and Create Prosperity for Africa.
Additionally, high-level policy dialogues with Ministers, Senior Government Leaders and Development Partners were held to review the finance and other resource mobilization strategies as well as following up on the actualization of the available national, regional and global policies geared towards higher education transformation and ensuring of food security in Africa.
Speaking at the Opening Ceremony, Prof. Theresia Nkuo-Akenji, the RUFORUM Board Chair and Vice Chancellor University of Bamenda thanked His Excellence Paul Biya and the Government of Cameroon for accepting to host the 19th RUFORUM Annual General Meeting and equally appreciated the financial support towards the same cause.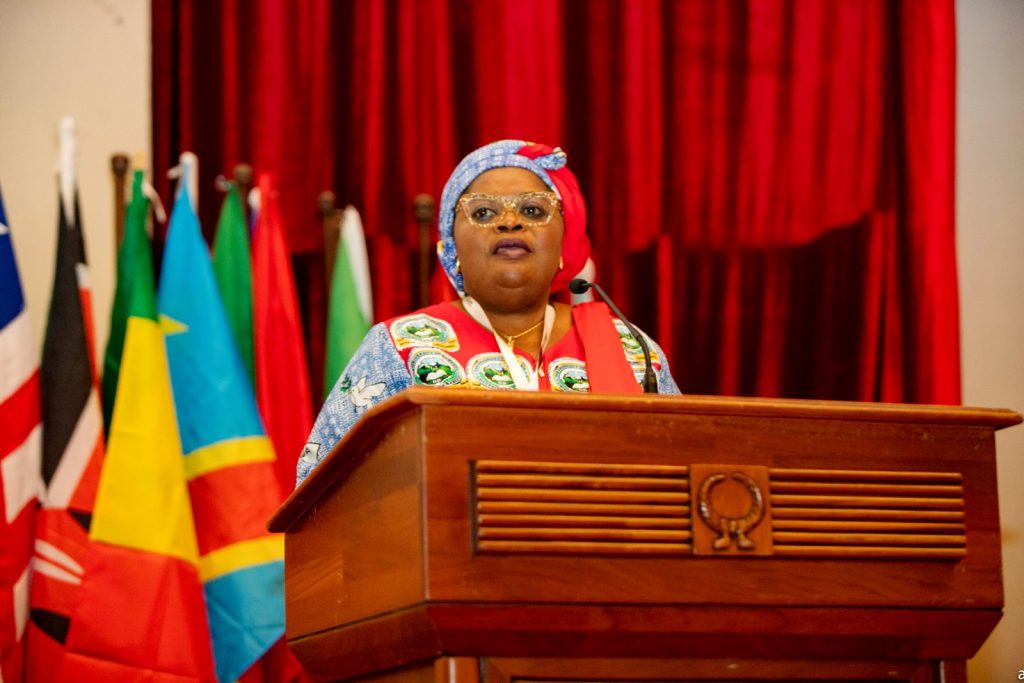 In a special way, Prof. Theresia Nkuo-Akenji thanked the Ministry of State for Higher education and all the sister ministries of Government of Cameroon that worked hard to see to it that the 19th RUFORUM AGM is a success. Equally, the Board Chair, extended her sincere gratitude to the people of Cameroon for the warm reception and support.
"My special tribute goes to the members of AGM 2023 Sub committees. You have indeed done a great job throughout the ten months of organizing this significant event. On behalf of RUFORUM Network, I thank you. To the RUFORUM Secretariat under the dynamic leadership of Prof. Patrick Okwori, accept our immense gratitude for your strong determination and dedication," she gratefully said.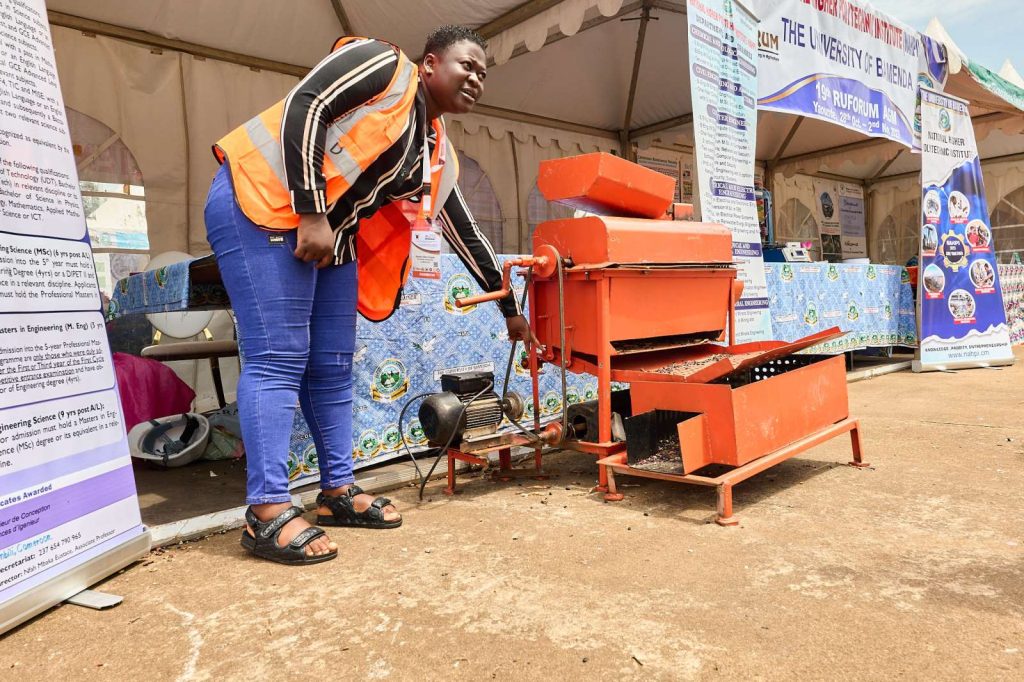 She recognized the tremendous achievements and developments aligned to RUFORUM's nineteen years (19) of existence noting that the strong network has wisely selected its priority areas of focus to transform higher education and agricultural sector in Africa as;
Reform the training agenda for Africa to meet the development needs
Entrepreneurship and business incubation for wealth creation
Research for Development and wealth creation
Partnerships for scale and impact
"As African people, permit me to use the adage of a broom; it is easy to break a single broom piece but when you combine several small brooms together they then make a broom stack that will not be easy to break. The collective power that RUFORUM has put together through 163 universities from across 40 countries bears such strength. The Vice Chancellors gathered here today remain committed to the core values and foundations of the network. To illustrate this Your Excellency, each of the Vice Chancellors meet their own costs of participation." She happy said.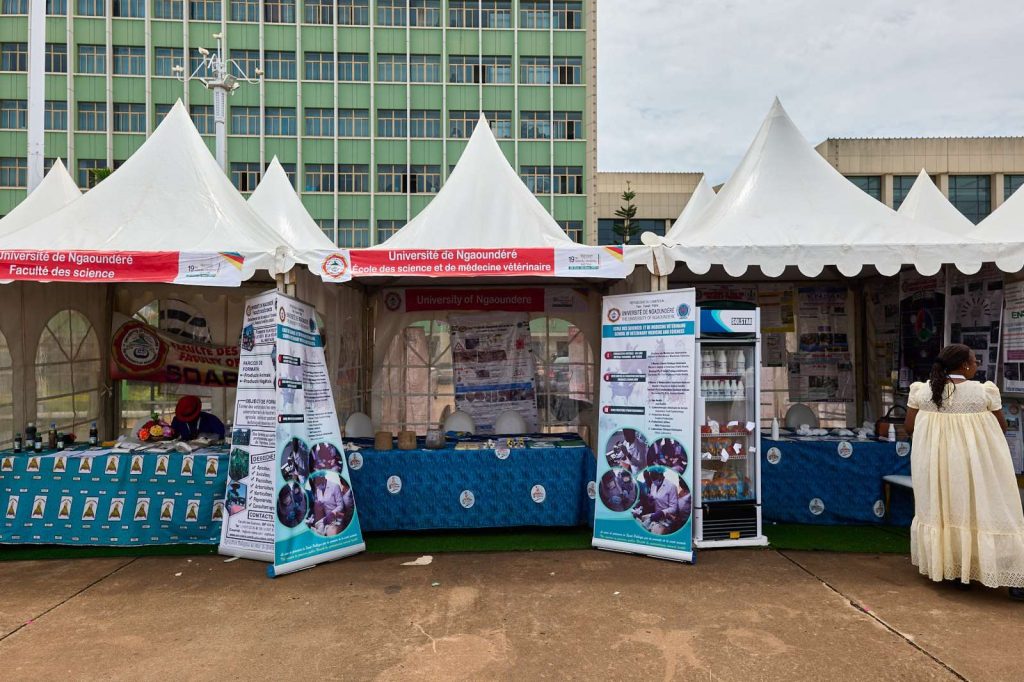 In the same spirit the RUFORUM Executive Secretary Prof. Patrick Okori deeply thanked the host Universities that is, University of Bamenda, University of Ngaoundere, University of Dschang, University of Buea and University of Maroua under the strong and able leadership of the RUFORUM Board Chair, Prof. Theresia Nkuo-Akenji for successfully hosting the 19th RUFORUM Annual General Meeting.
He also recognized the Former Vice Chancellor of University of Ngaoundere Prof. Florence Uphie Chinje Melo who heavily supported the AGM preparations. He was astonished with the presence of the Africa Development Bank, MasterCard Foundation, research international communities, RUFORUM for Agricultural Research in Africa, the Africa Forum for Agricultural Advisory Services, sub regional Agricultural organizations such as the Association for Strengthening Agricultural Research in Eastern and Central Africa (ASARECA), the Centre for Coordination of Agricultural Research and Development for Southern Africa (CCARDESA) and the West and Central African Council for Agricultural Research and Development (CORAF).
"You have all provided support for this engagement, thank you very much. Together we will continue this journey of transforming Africa's Agricultural and higher education to produce human resources and development solutions that Africa and indeed the world needs," he said.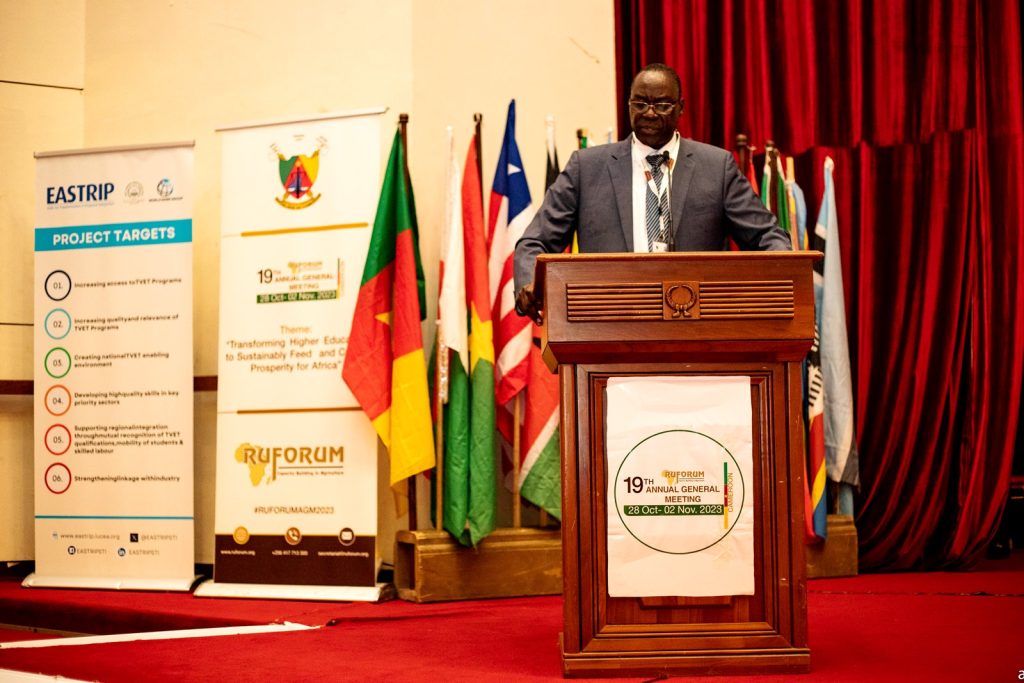 Reflecting on the AGM's theme, Prof. Okori emphasized the need for Africa to become food secure when he said, "Africa must be an equal opportunity creator for the young generation, it must create wealth for its people and provide opportunities for the present and future and these are well summarized in agenda 2063. It is our collective duty therefore to turn these opportunities and actions into investment."
According to him, the RUFORUM Network remains strong in building capacity and providing the necessary development solutions and opportunities. He noted that Africa generates about 10-12 million job entrants annually but the continent's economy in its current configuration can only produce 3 million jobs. To him, for Africa to therefore reap from its demographic dividends, there is need to strengthen the paths to demographic transition of keeping young girls in school.
Prof. Okori also mentioned that RUFORUM is currently intensifying its inclusion and diversity targets. From 45%, the network has an ambitious target of at least 70%. "We must slow the rate at which girls give birth when young. It is the only way we are going to benefit from our population dividend," he said.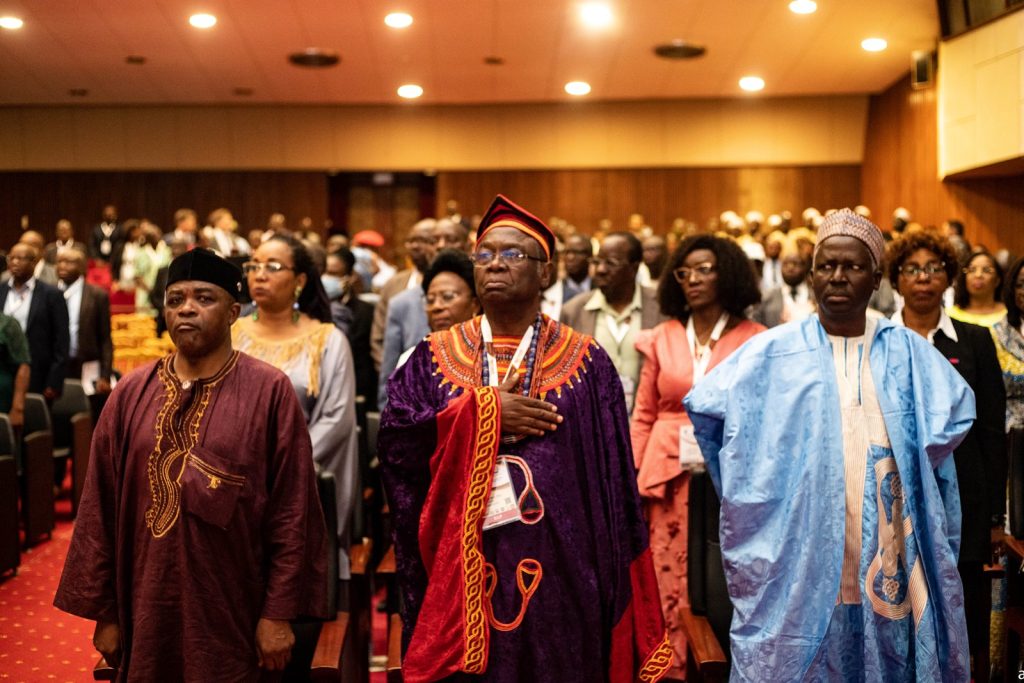 According to him, the higher degree needs for Africa is pretty dire. The World Bank recommends 10,000 PhDs to Africa. This can be compared to India whose signal population of 1. 4 billion registers 24000 PhDs a year. The pressure therefore on Africa's side to intensify graduate training is real.
"Our graduate training in sciences therefore is one of the drivers to achieve this and it is the immense reason as to why in this meeting we have social and development partners. We are launching a journey with the Africa Development Bank that will bring us together as apex organizations in Africa to work together and solve our own challenges. However, as we do all these, we need to celebrate Africa. We should be recognizing and celebrating people who made what Africa is today," he said.
Africa is informed by a number of important mutually interacting factors that collectively, are affecting the growth and progress of the continent. The economic outlook of the African continent in 2023 by the African Development Bank and other global apex development financial institutions was positive. However, Africa's economic growth has since then decelerated, and is now projected to be lower than the previously projected rate of 4.1%.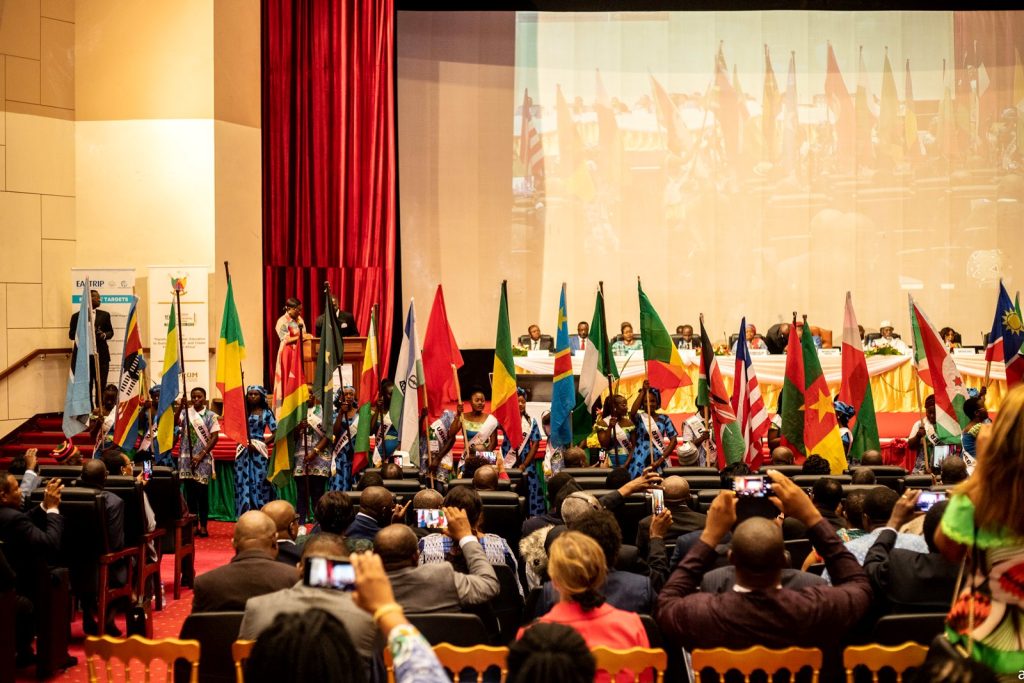 Agriculture a key sector, continues to be affected by both natural and human induced factors. It continues to face serious threats from climate. Studies by the United Nation's Convention to Combat Desertification show that Africa accounts for 44% of severe droughts recorded globally in the last 50 years, causing economic losses of more than USD 70 billion. In 2022, an estimated loss of US$ 8.5 billion in economic damages was experienced due to climate change. Clearly, climate change and weather variability, remains one of the grand challenges of the 21st century for Africa and the World, because it affects key livelihood and strategic areas of emerging economies.
Unemployment facing Africa's dominant demographic-the youth, raises questions about education, skilling and jobs creation while inclusion and diversity, the underpinning for an equal society, remains challenging. The question then to academia, researchers, development practitioners and policymakers is, "what step must we take right now to address the challenges to our current and future generations?"
"Our resounding response as RUFORUM is in line with what Malcolm X said many years ago, "Education and research for development are the passports to the future, for tomorrow belongs to those who prepare for it today," said Prof. Partick Okori.
According to the Deputy Minister for Education in Malawi, Her Excellence Mdooko Nancy Chawola who represented the visiting ministers of RUFORUM partner countries, African countries should put in place vibrant resource mobilization mechanisms to collectively finance Africa's education and support governments that are battling with competitive budgetary demands.
"For the universities to offer solutions for the challenges the continent is facing, there is need to rebuild the curriculum that responds to our current needs and not what we needed yesterday. Our respective countries are grappling with higher levels of unemployment, can investors assist by producing graduates with entrepreneurial skills so that they are able to employ themselves and others. Of course there will be need to put in place support mechanism for such graduates to take over," she said.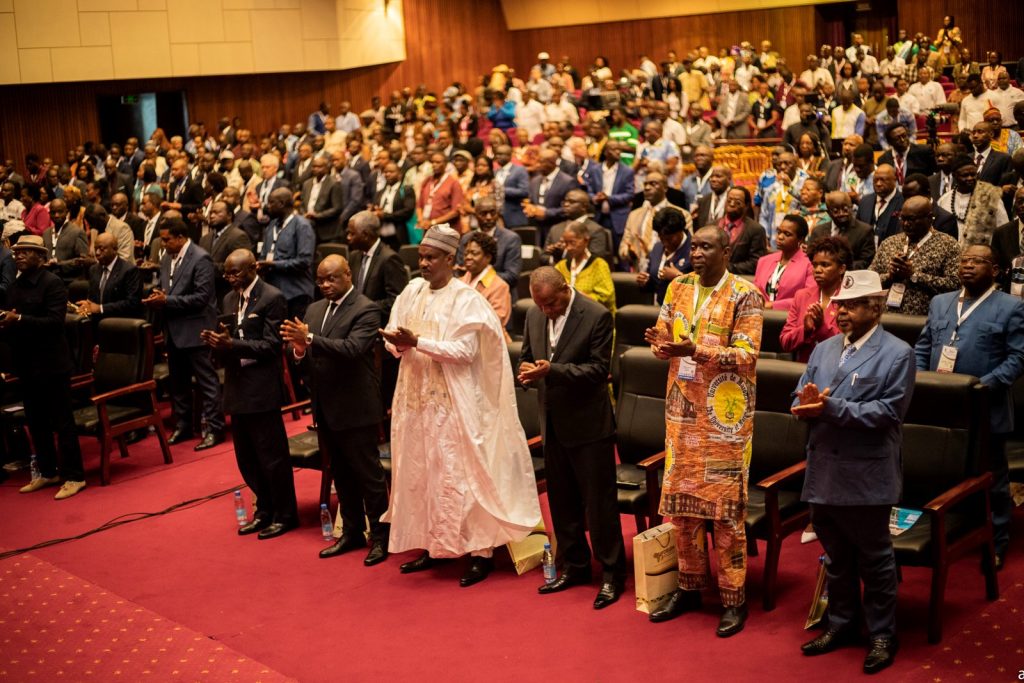 She equally acknowledged the national regulatory frameworks such as the Malawi Regulation Framework 2063 developed inline with the African Union Agenda 2063 the Africa we want, in which the continent aspires to be prosperous by 2063 through various means such as modernizing agricultural for increased production and productivity there by making people food secure.
She applauded RUFORUM's efforts towards zero hunger in Africa through its vision 2030. According to Mdooko Nancy Chawola, food security is supposed be prerogative as well highlighted in the Sustainable Development Goal 2 (SDG 2) that is geared towards ending hunger, attaining food security, improving nutrition and promoting sustainable development.
In Cameroon, Agriculture and Education have been prioritized as drivers for economic growth and transformation. Through an agricultural flagship program initiated by His Excellence Paul Biya, science programmes and financial services as well as favorable ways of accessing market have been introduced in the country with the aim of transforming agricultural sector into a value added industrialized and integrated system engine of economic growth.
According to Prof. Ngomo Horace Manga- Vice Chancellor, University Buea, the government of Cameroon has resolved to grant its people with education that can help them manage their personal, national and Africa's present and future economic destiny. In 2022, His excellence Paul Biya endorsed the recruitment process of 2000 lecturers in universities to ensure the quality of higher education in Cameroon.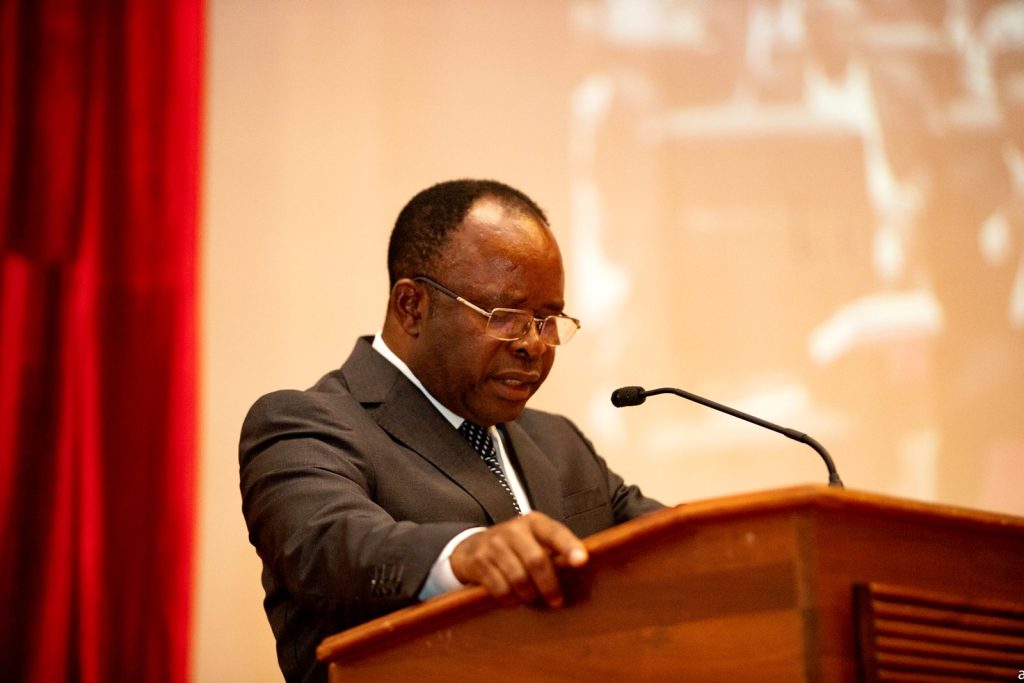 "Collectively these education reforms and investment actions affordably can transform the people of Cameroon into a strong emerging market. Cameroon carries the highest science female adoptive rate in sub-Saharan Africa at 73%. This is a strong result of government delivery of United Nations SDG 5 of achieving education and build human capital for the country," he noted.
The Opening Ceremony for the 19th RUFORUM Annual General Meeting unlocked the floor for critical discussions and meetings throughout the week. At the same function, RUFORUM presented a contemporary painting to His Excellence Paul Biya, President of the United Republic of Cameroon in recognition of his outstanding, selfless and patriotic services s to the people of Cameroon and Africa at large.
On 25th October 2023, the RUFORUM Network equally participated in the Cameroon Higher Education Day, the first of its kind in the country.
Mak-RIF engages Private Sector, NGOs, and CSO representatives in Uganda Review of the Mak-RIF Research Agenda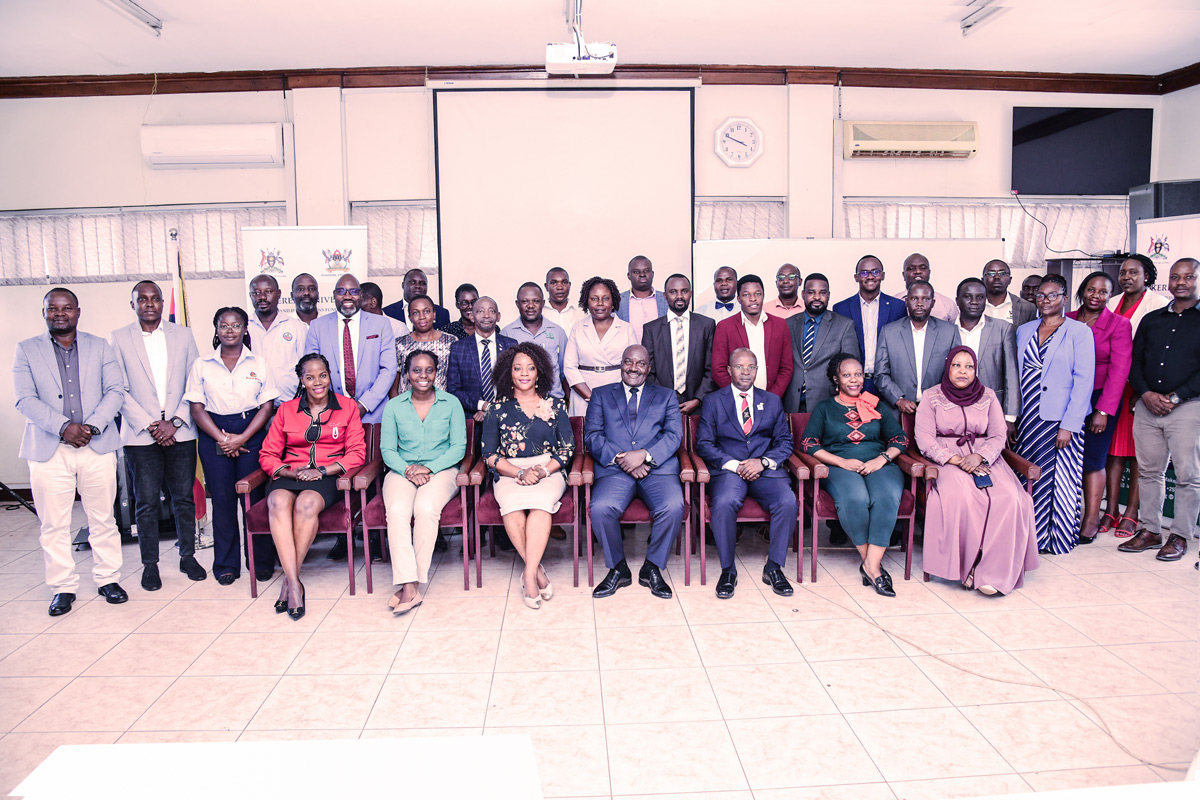 On November 9th, 2023, the Mak-RIF Grants Management Committee (GMC) and Secretariat convened representatives from the Private Sector, Non-Governmental Organizations, and Civil Society Organizations in the Makerere University College of Computing and Information Sciences Conference Room. This was yet an opportunity for Mak-RIF to share her achievements to date while reflecting on the guiding Research Agenda. It was also an opportunity for participants to garner feedback from the engagement participants to inform the review of the Mak-RIF Research Agenda.
It is usually important to know who is in the room not only for purposes of knowing who is with you and or accountability but also to enhance networking and collaborations that might emanate from the networking opportunities therein. In this regard, this engagement started with self-introductions.  Participants included representatives from Joint Medical Stores, Uganda Tourism Association, Legacy Road Safety Initiative, Environmental Rights NGO, Uganda Christian University, Pathfinder International, USAID Uganda Family Planning Activity, Uganda Law Society, Save for Health Uganda, Aloesha Organic, Private Sector Foundation Uganda, Radio Simba, Busitema University, International Rescue Committee, Green Herbs Uganda Limited, Uganda Catholic Medical Bureau, Uganda Moslem Catholic Bureau, Uganda Manufacturers Association, Zimba Women, Fundi Bots, Water for People, M'Omulimisa, Teenage Mothers and Child Protection Organization, RECO Industries, Uganda Connect among others.
Prof. Fred Masagazi Masaazi, Chairperson of Mak-RIF GMC welcomed all participants noting that for the last five years, Mak-RIF's work has been guided by the Research Agenda currently under review. "We are looking forward to receiving views from all of you representatives of stakeholders in the country and beyond to further inform the review of the Mak-RIF Research Agenda," Prof. Masagazi said. He recognized the continuous support from all stakeholders since 2019 during the inception stages towards building the Mak-RIF story. "Several of you or your colleagues in the institutions and organizations in which you serve are part of research teams and have continued to support our researchers in several ways. Some of you have joined in our research and innovation outputs dissemination sessions, thank you all" he added. He highlighted some questions to guide the review of the Mak-RIF Research Agenda including the following;
Has the Mak-RIF met community expectations yet? If not, what else can be done?
Is there a need to develop a new Research Agenda or even review the existing one?
Do the prevailing socio-economic conditions require a new Research Agenda?
What should be included in the new Research Agenda?
Would all our ideas contribute to Uganda's National Development Plan, Sustainable Development Goals, Sector Priorities etc.?
Do our ideas rhyme with the National Development Plan? Can we work together to translate Makerere University into research-led university?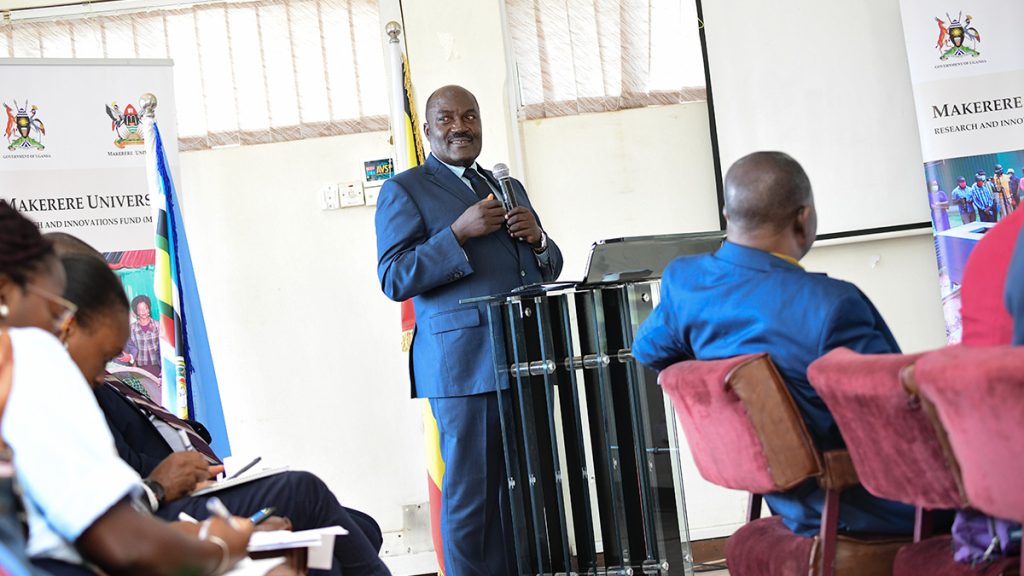 "Our interest is in knowing from you our meeting participants which other areas we can conduct research in. What else can we do together? We still need additional funds to support research, where else can the university source for funding? Can we work together to source more funds because we cannot rely on Government funding alone?" Prof. Masagazi said. He further guided the engagement participants saying that Mak-RIF shall implement all ideas provided they speak and are in line with the National Development Plan, Sustainable Development Goals, Sector Priorities as well as the Makerere University Strategic Agenda of becoming a research-led institution. He concluded his welcome note by calling upon all participants to secure time and interact with the Mak-RIF website for additional information about the ongoing research and innovation work.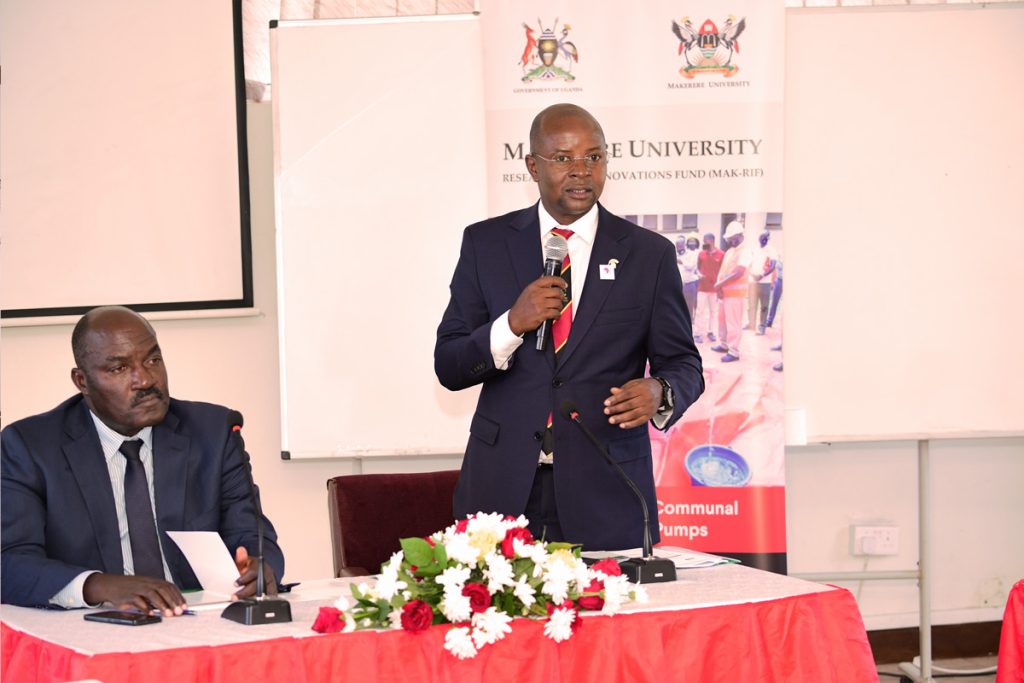 Prof. Edward Bbaale, Director of the Directorate of Research and Graduate Training representing Prof. Barnabas Nawangwe, Vice Chancellor Makerere University officially opened this engagement and later chaired the discussion session to further generate additional input to the operational Mak-RIF Research Agenda. He thanked all participants for honoring the invitation noting that without such engagements the university cannot easily achieve its strategic objectives and goals. He reechoed the fact that Mak-RIF is currently supporting 1,061 multidisciplinary research and innovation projects (including 117 PhD awards and 41 multiyear projects our most recent awardees). These projects receive funding, technical and non-technical support necessary to conduct development research and generate innovative solutions directed towards addressing diverse challenges in the communities in which we live and serve.
Prof. Bbaale also appreciated all researchers and innovators not only from Makerere University but also from other institutions which were represented in the day's engagement and embraced all the previously shared funding opportunities, prepared and submitted applications to benefit from the Government Fund, saying that it is the way to go. "Thank you for remaining open to partnering with researchers from Makerere University to apply for funding and later implement the projects.  It is through the Mak-RIF initiative that Makerere University is enabling several university faculty, students, administration, and collaborating institutions including the Government, Private Sector, Non-Governmental Organizations, and Community Service Organizations to contribute to the local generation of translatable research and scalable innovations that address key gaps required to drive Uganda's development agenda" he added. Prof. Bbaale also emphasized the need to join efforts to scale research and innovation outputs within Makerere University but also in Uganda noting that scaling research and innovation outputs to the market is a task for all of us.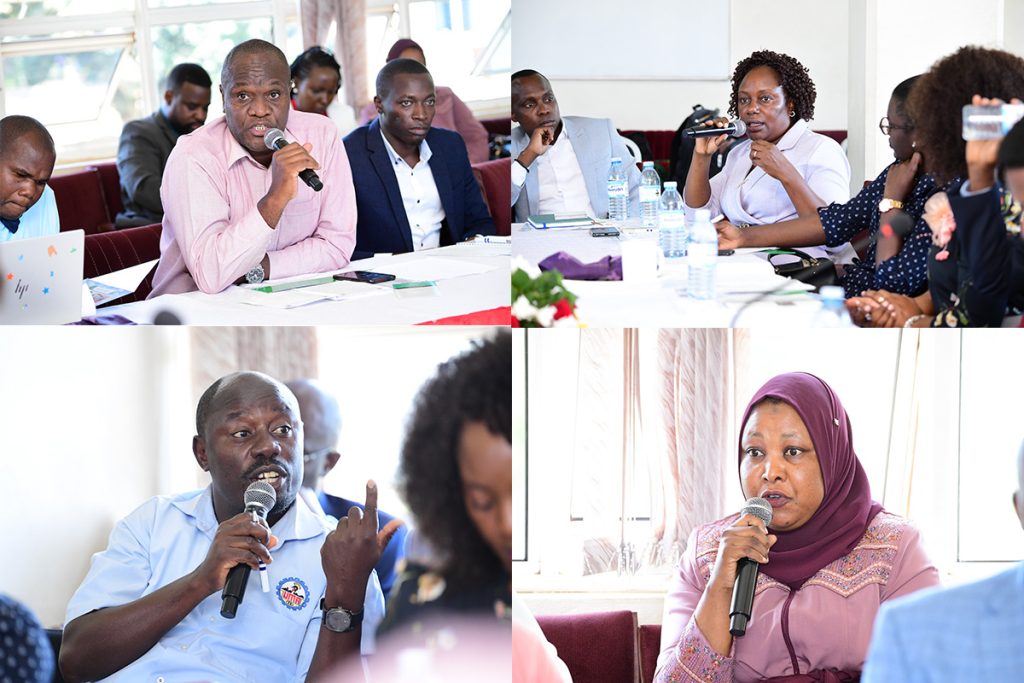 After Prof. Bbaale delivered the Vice Chancellor's remarks, Dr. Roy William Mayega, the Coordinator of Mak-RIF shared a highlight of how far the Mak-RIF Research Agenda had guided operations since 2019. He noted that the Mak-RIF Research Agenda currently comprised of 14 Themes including the following;
Transforming the agricultural sector
Sustainable health
Re-imaging Education
Water, sanitation and environmental sustainability
Harnessing the social sector to drive development
Harnessing tourism, wildlife and heritage to drive development
Sustainable Planning, finance and monitoring
Leveraging public service and local administration for efficient service delivery
Defense and security: Achieving sustainable peace and stability
Strengthening law, governance, human rights and international cooperation
Harnessing Information and Communication Technology to drive development
Manufacturing, science and technology as tools to accelerate development
Catalyzing business and enterprise
Energy and Minerals as drivers of rapid economic development.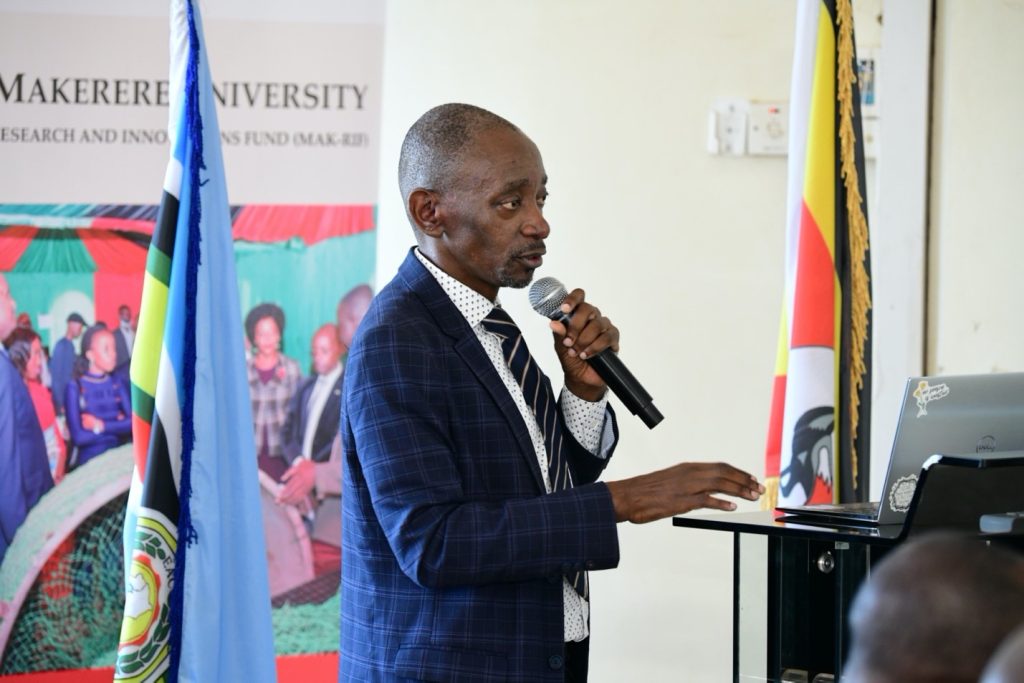 Dr. Mayega also shared examples of research and innovation outputs emanating from the fund. These include the following;
An interrogation of Tax Education Gaps in the Informal Sector and how they can be leveraged in broadening the Tax Base,
Another project is exploring to leverage music as therapy for emotional distress of cancer patients,
Solar Powered Autoclaves for use in Rural Health Centers, The Pedal-Operated Seed Cleaner,
An electronic partograph for improved monitoring of labor, to reduce maternal mortality,
Integration of on – and off-grid decentralized renewable energy systems: Enabling Uganda's largest distributor UMEME to pilot the integration of off-grid decentralized renewable energy systems with grid systems to extend electricity access to unserved communities,
The Organ and Tissue Biobanking project at the Makerere University College of Health Sciences,
A project on Transforming Presumptive Age Estimation in Uganda: Methods, Certainty and The Law,
The Touchless Hand Washing device currently being used in different hospitals and community markets,
Value addition to Sorghum and Potatoes supporting farmers in South Western Uganda to earn a living and avoid wastage of produce among other projects shared on the Mak-RIF Website https://rif.mak.ac.ug/
During the discussion session, several participants applauded the current Research Agenda noting that it was well thought out and should continue to guide Mak-RIF Operations. The engagement participants also shared some ideas to further inform the review of the running Research Agenda. These included the following;
Radio stations being the most popular means of communication, we need to carry out audience analysis on television, radio, and even social media, identify and allocate resources to generate the right content, and further leverage technology innovations in both broadcast and print media.
Youth unemployment and emerging issues as a result of this including skills development/training, tracking and taking into consideration the changing needs of the business world so as to re align Uganda's training approaches,
Herbal medicines and the indigenous innovators, how can we support processes to establish the efficacy of these products?
Can we become more intentional about supporting researchers and innovators through the processes of Intellectual Property acquisition? It is important that Memorandums of Understanding are drafted, reviewed, and signed with relevant Registration Services Bureaus.
It was also suggested that there is a need to continue supporting efforts to transform research outputs into economically viable and scalable innovations and to inform policy review and cause impact.
Collaborations and partnerships with the private sector to further scale research and innovation outputs. At this engagement, Uganda Catholic Medical Bureau, Uganda Moslem Medical Bureau, Uganda Manufacturers Association, Water for People, and Uganda Law Society (specifically supporting Intellectual Property Rights acquisition processes and Revenue and Tax sensitization) among other organizations openly expressed interest in partnering with Mak-RIF to review and move forth some of the innovations within specific and related working areas.
There is a need to support product development and packaging efforts to fit the national, regional, and international markets.
We need to remain intentional in marketing the work we are doing within and outside Uganda.
In an effort to achieve sustainable health, financing health insurance for example is a key issue. How can the National Insurance Scheme be further informed and supported through the work we are all doing? How can we contribute to the Global Health Security-related efforts in Uganda?
For the case of agriculture, how can farmers adopt more organic agriculture so that we can even fight some of the non-communicable diseases with organic agricultural products? Could we also explore more involvement of the rural communities in the research and innovations we are working on? This would enable us to further harness indigenous knowledge. Establishing linkages with the informal sector is paramount.
Could we also re-look at the various existing themes and integrate some of them that speak to each other? In so doing we are dealing with the replication of efforts and knowledge among others.
Can we allocate some resources to further enhance our visibility (showcase what good we are doing) to key stakeholders including the Government of the Republic of Uganda in an effort to solicit for additional funding?
There is a need to identify the Research Agenda niche thematic areas within which we can capitalize on to further publicize the fund and attract additional funding. We can harness the low-hanging fruits and benefit from pushing the agenda forth by leveraging these.
In Uganda, road safety is crucial given the increasing number of traffic injuries, rescue of crash victims and crash data management are important aspects we should also plan to include in the Research Agenda. The research question could be; How can we have safe roads and attain safe travels for all if not majority of the road users?
There is also a need to relook at and up research on Artificial intelligence in addition to early warning systems for natural disasters, early diagnosis of non-communicable diseases, strengthening community health systems, big data for industry, occupational health and safety, issues of regulation, and community accountability among others.
Specifically, under theme 12, innovations developed, tested, iterated, and revised accordingly should reach the targeted end users. How do we commercialize the research and innovation outputs developed to date?
What else can we do together to reduce or even avert teenage pregnancy? How can we further support teenage mothers?
What can we do to improve the management of poison victims in Uganda? Can we do away with poisoning and its related effects in the country?
For tourism, how can we avoid over reliance on international tourism? Can we expound our products range? Strengthen our human resource, explore virtual tours etc.
It would be helpful to have a theme on cross-cutting issues for example indicating that fund beneficiaries are primarily Makerere University staff although others can join the project teams, how the 14 themes feed into the overarching country development themes etc.
We need to have a theme speaking to research on safe water given the dire need now for us to ensure access to safe water for all.
ETC.
Prof. Bbaale thanked the engagement participants for their active participation during the discussion session noting that all the input gathered was going to be further synthesized and made ready to inform Mak-RIF Research Agenda. He reechoed the fact that all input to the Mak-RIF Research Agenda needed to speak to and be in line with the National Development Plan, Sustainable Development Goals, Sector Priorities as well as the Makerere University Strategic Agenda of becoming a research-led institution. He wished all participants the very best saying that Makerere University is focused on building for the future for God and our country.
Prof. Bbaale thanked the engagement participants for their active participation during the discussion session noting that all the input gathered was going to be further synthesized and made ready to inform Mak-RIF Research Agenda. He reechoed the fact that all input to the Mak-RIF Research Agenda needed to speak to and be in line with the National Development Plan, Sustainable Development Goals, Sector Priorities as well as the Makerere University Strategic Agenda of becoming a research-led institution. He wished all participants the very best saying that Makerere University is focused on building for the future for God and our country.
Media mentions
Uganda Broadcasting Corporation News Bulletin on November 9th, 2023 https://youtu.be/Sbc78ojHu30?si=6fnqIrK_Bi7vGcjo
Bukedde Television on November 10th, 2023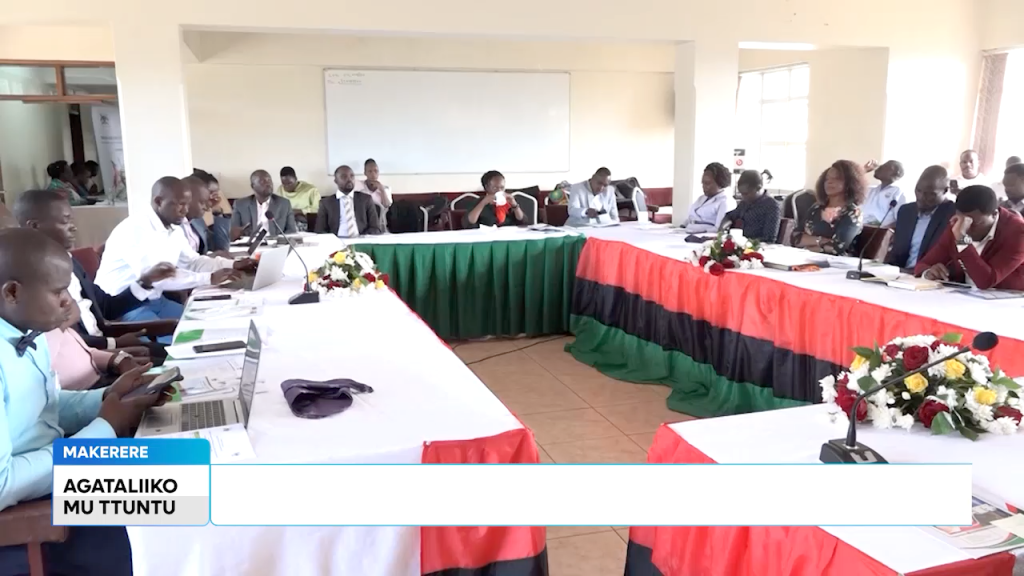 By: Harriet Adong, Mak-RIF Communications Officer
Contributors
Mrs. Phoebe Lutaaya Kamaya, Mak-RIF Deputy Coordinator
Ms. Evelyne Nyachwo, Mak-RIF Research Support Officer